If you are looking for the healthiest veggie side, THIS IS NOT IT. Leave now; you're better off sticking to roasted broccoli or grilled asparagus. Consider yourself warned 😉 But, if you are looking for a ridiculously delicious weeknight dinner side that incorporates veggies and will without a doubt be a crowd pleaser, you have come to the right place! You will definitely want to pin/print/save/bookmark this favorite weeknight side dish: easy Cheesy Broccoli Cauliflower Casserole recipe.
*Posts on KelleyNan.com may contain affiliate links. Click HERE for full disclosure.*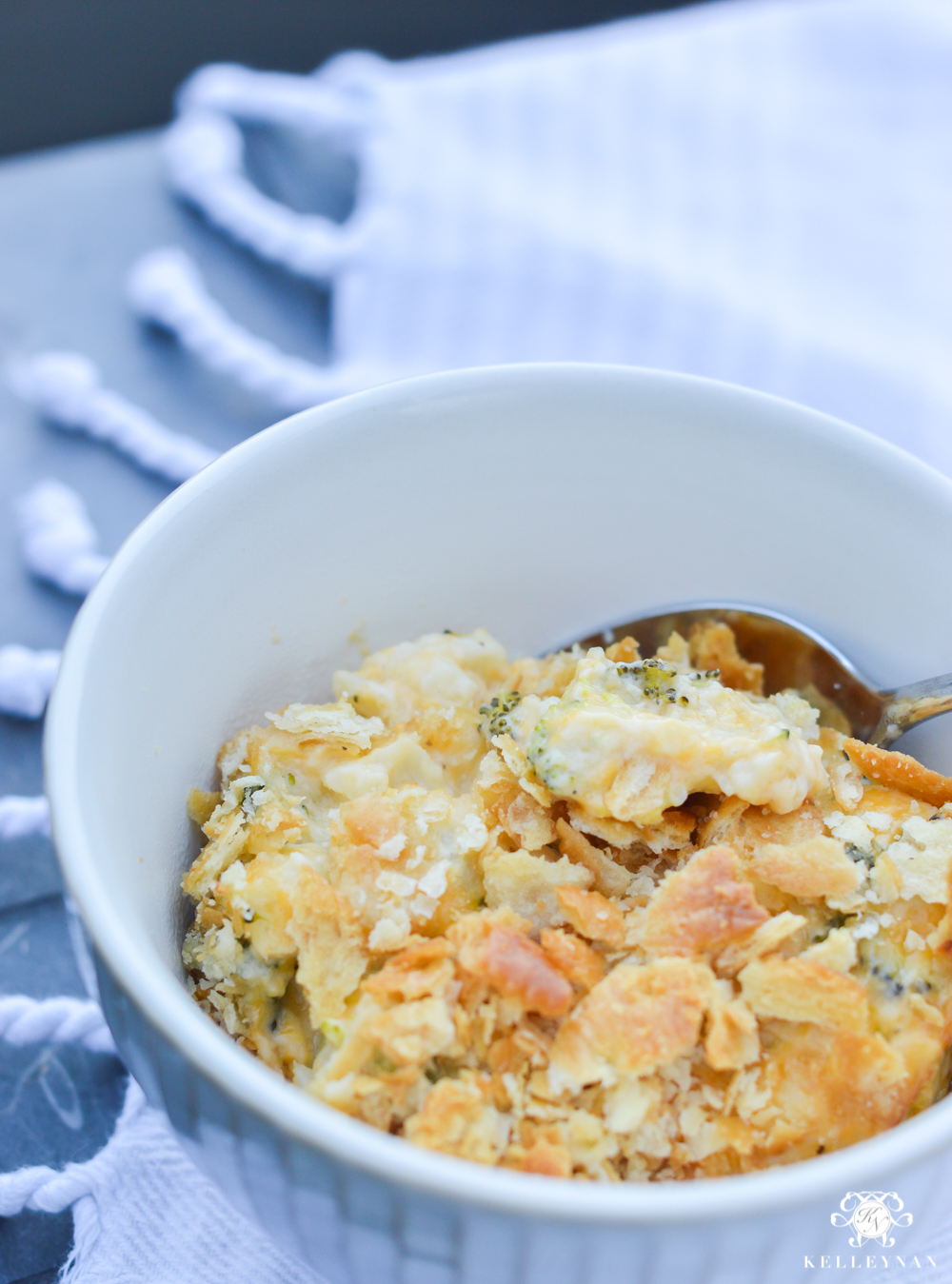 In the south, everything is better in casserole form. Anyone else grow up in a small Baptist church? You better believe that casseroles were king- chicken casserole, corn casserole, hashbrown casserole… my favorite was always broccoli casserole. Dave, on the other hand, grew up in south Texas. His casseroles were called "enchiladas" ;). He has since adapted to our Georgia-livin' lifestyle and we now have the best of both worlds- he whips up the most incredible Mexican feasts while I deliver aaaallll the casseroles.
The night before we left to head to South Carolina, I fought off the temptation of ordering takeout; as much as I didn't feel like cooking, I also didn't want to waste any produce in the fridge. I took inventory, checked the pantry and in an effort to "use up" the half heads of broccoli and cauliflower, decided to take my standard broccoli casserole a step further. And, it was amazing. After our trip, we came home, finished the leftovers, and I turned around and immediately made two more broccoli cauliflower casseroles- one for neighbors and a second for us.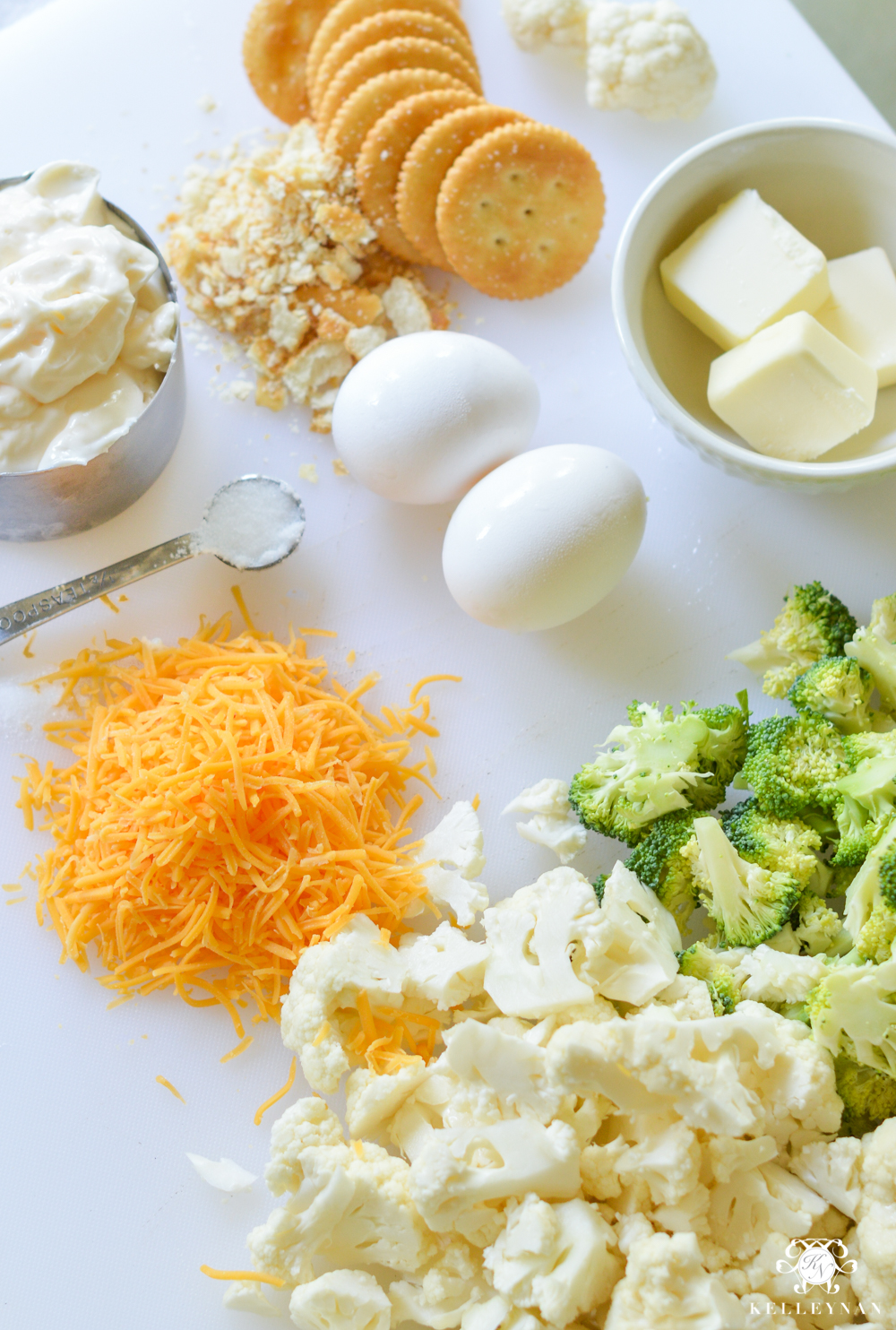 CHEESY BROCCOLI CAULIFLOWER CASSEROLE RECIPE
It takes very little prep time, most of it dedicated to pre-cooking the veggies. After making this the first time, you can decide how generous you want to be with the cheese and crackers. We like ours cheesy and with lots of topping 😉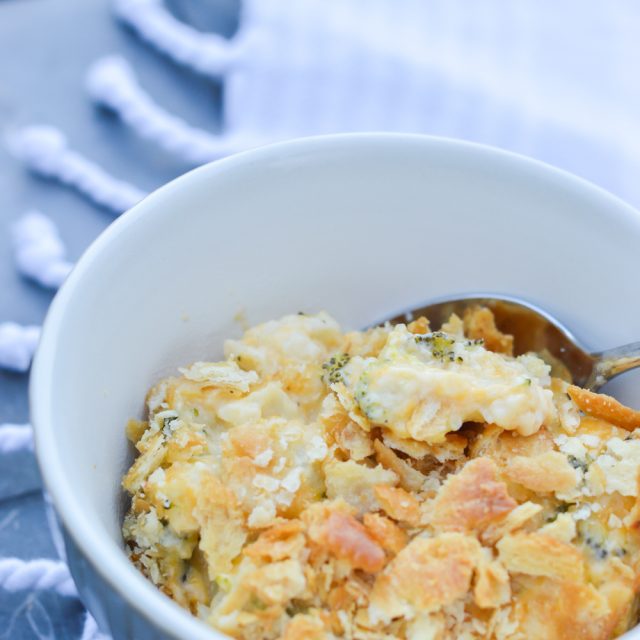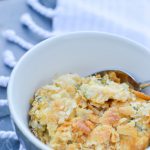 Cheesy Broccoli Cauliflower Casserole
A favorite weeknight dinner side dish for the entire family - easy, Cheesy Broccoli Cauliflower Casserole (kid approved!)
Ingredients
1/2

head

broccoli

(large sized)

1/2

head

cauliflower

(large sized)

1/2

can

cream of mushroom soup

1/2

cup

mayonnaise

(light is fine)

2

cups

shredded sharp cheddar cheese

1

egg

1

sleeve

Ritz crackers

2

Tbsp

butter

salt

(to taste)

pepper

(to taste)
Instructions
Rinse broccoli and cauliflower and chop into small pieces. Add to a pot of water and boil until tender. When cooked through, drain in colander and set aside.

Coat casserole dish with non-stick cooking spray

Break the egg in a large mixing bowl, and lightly scramble

Add cream of mushroom soup and mayonnaise to the egg and mix together well.

Add cheese to the bowl and mix well.

Add cooked broccoli and cauliflower to the bowl and mix well. Add a pinch of salt and pepper, to taste.

Pour mixture into greased casserole dish and spread evenly.

Crush Ritz crackers and add as the casserole topping, distributing the crumbles evenly.

In a microwave-safe dish, add butter and heat for 30 seconds, or until melted. Drizzle crackers with the melted butter.
WHAT TO DO WITH THE REST OF THE BROCCOLI & CAULIFLOWER
What do you do with the other halves of the unused broccoli and cauliflower crowns that don't make it into the broccoli cauliflower casserole? Roast them as a side on a different night, later that week. You instantly have two dinner sides for the week that you don't have to think about. Here's how I roast my broccoli and cauliflower: pre-heat oven to 400 degrees, rinse and chop veggies, and lay them on a baking sheet. Drizzle with olive oil, sprinkle with red pepper flakes, salt, and two cloves garlic. I use a basting brush to stir and coat thoroughly. Bake for 15-20 minutes until edges are brown and veggies are tender.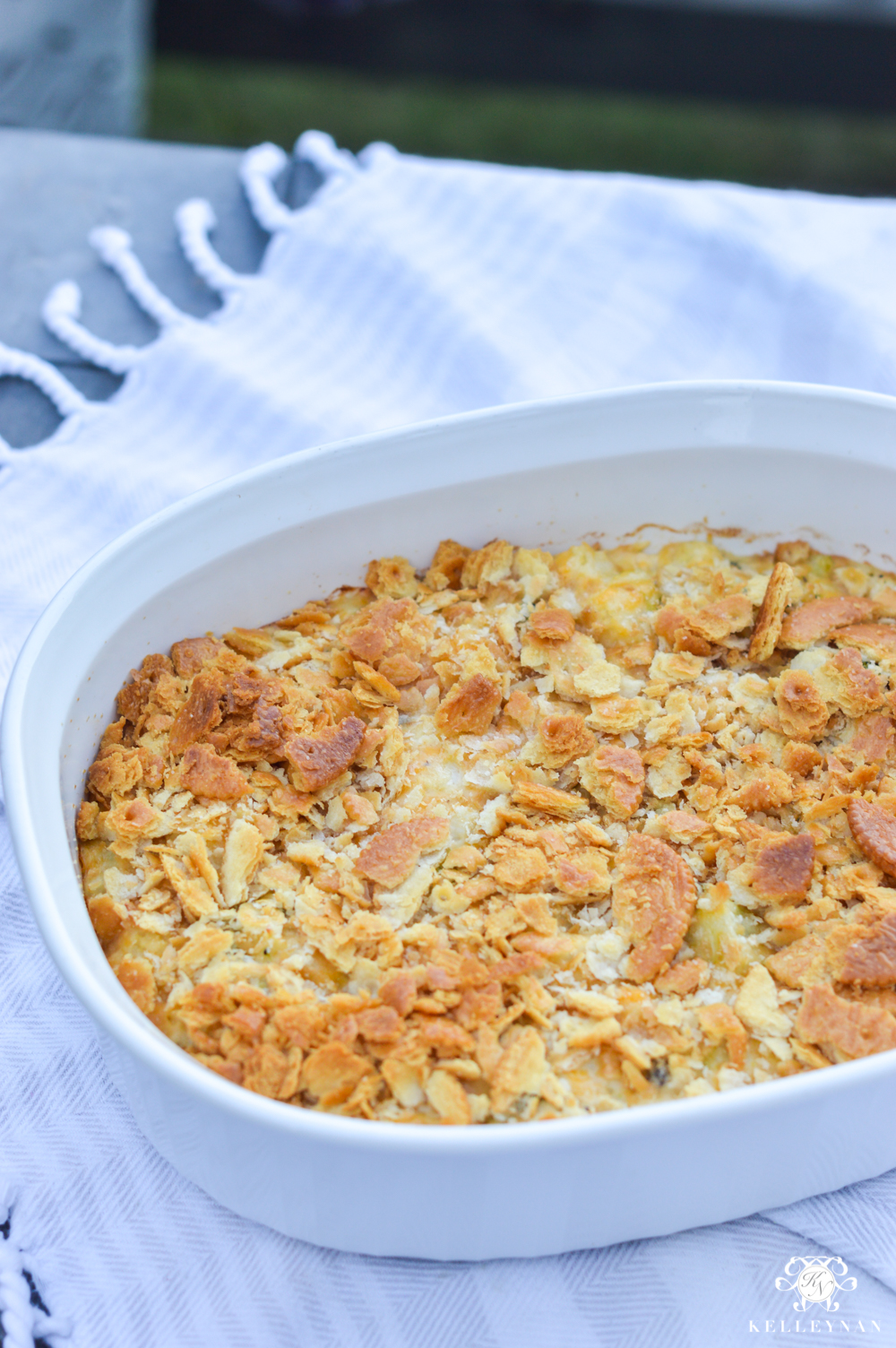 ---
SCROLL & TAP TO SHOP FAVORITE CASSEROLE ESSENTIALS

---
If you make this cheesy broccoli cauliflower casserole this week, let me know your thoughts! Have a SAFE and happy total eclipse Monday.
LIKE THIS RECIPE? HERE ARE A FEW OTHER DINNER SIDES TO TRY