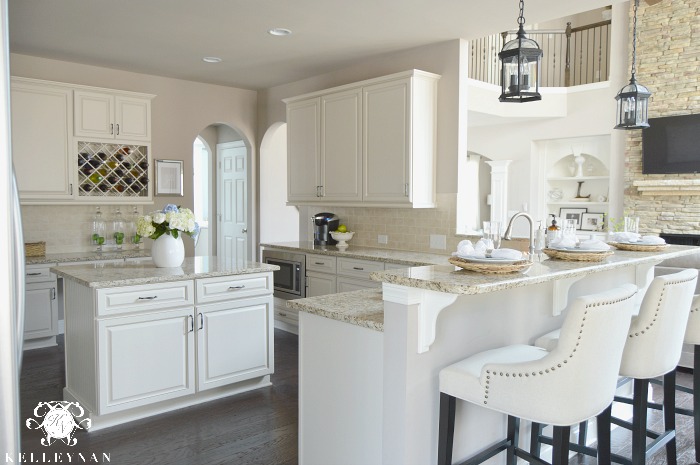 Even though we are two weeks into April, we are coming off of a weekend where we had to turn the heat on in the house and shed a tear for the flowers we planted prematurely, unknowing to the surprising freeze that was on its way. We are in Georgia but I feel even worse for our friends up north, still seeing snow! You know the saying, "don't dress for the job you have, dress for the job you want"? Well, I guess the same applies for seasonal decorating because despite the temperature, I have been getting our home ready for spring since Valentine's Day! We may not have gorgeous blooms filling our yard just yet, but you would never know it by taking a look at the inside of our house. I totally have it dressed for the season I want 😉
I have already started sharing some of my transitional spring spaces such as my living room and my dining room, but when Kathleen at Lindsay Hill Interiors invited me to participate in her One Room Spring Tour, I was thrilled to have the opportunity to share the subtle signs of the season in my kitchen. This week, 25 bloggers will be sharing their spring spaces – one room per day, five bloggers each day. The schedule is at the bottom of this post so you won't miss a room. If you are joining me from Marg and Liz over at Fancy Farm Girls, welcome and I hope you will visit again 🙂 I absolutely love how those girls can personalize and beautify second hand pieces!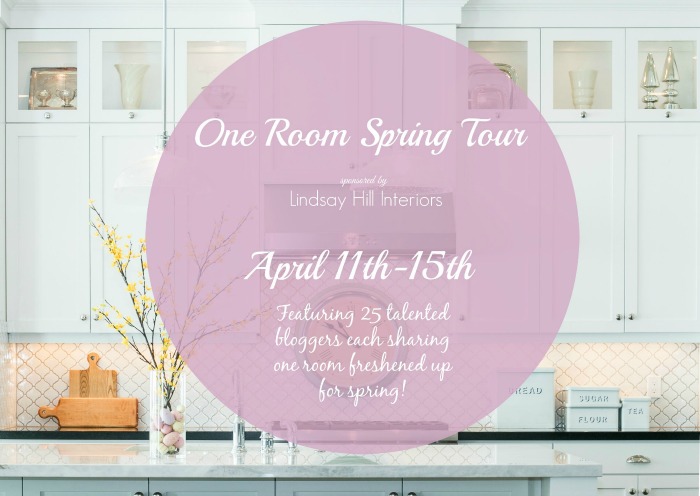 So, now that you're here and we have literally talked about the weather, let's move on to how I'm celebrating spring in our most used room, the kitchen. If you follow me on Instagram or have seen my previous kitchen tour post HERE, you know that more than any room in our home, I prefer to keep our kitchen decor minimal and our counter tops free of clutter. Because we eat at our kitchen bar 99% of the time, I have enjoyed setting simple, casual place settings.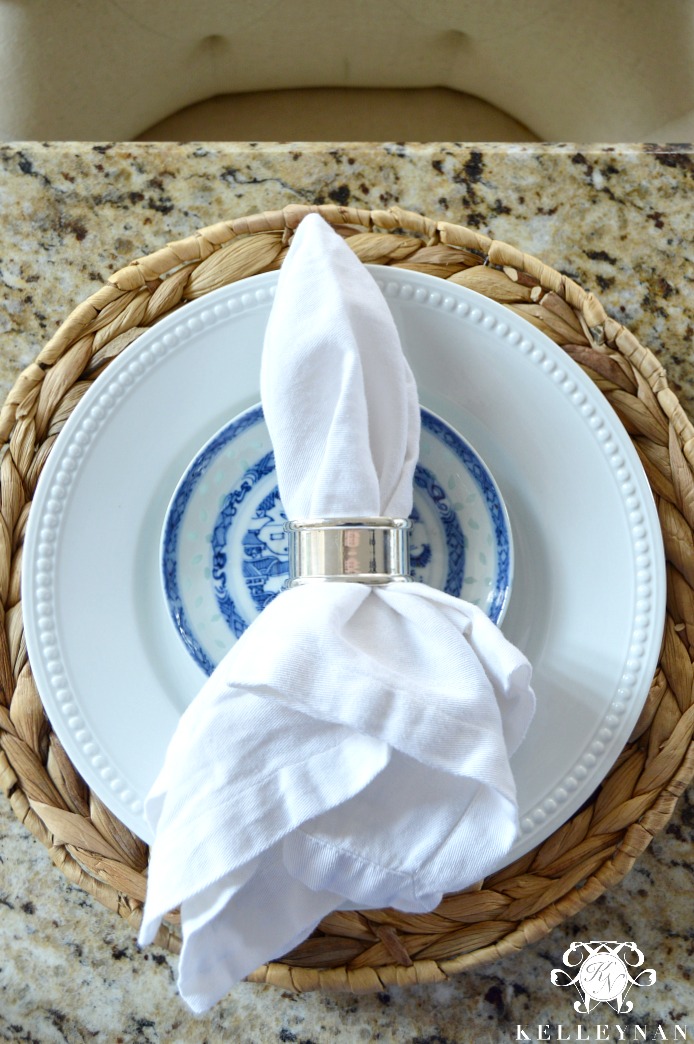 GET THE LOOK

I have also enjoyed taking a little break from chili and cold weather soups to start bringing out some warm weather salads. One of my all time favs is the Baby Blue Salad, introduced to me by my Aunt Susan. It is the perfect spring side because you can take advantage of those strawberries that are just starting to come in season, the colors are gorgeous and vibrant and everything you want spring to be, and it is DELICIOUS! A huge thank you to my Aunt Susan for bringing this into my life, and to my mom for wrangling the recipe for me. Total game changer. Don't worry, I will be sharing the step-by-step recipe at the bottom of this post. (That space just off the kitchen is the breakfast nook; you can find my latest update on that space HERE.)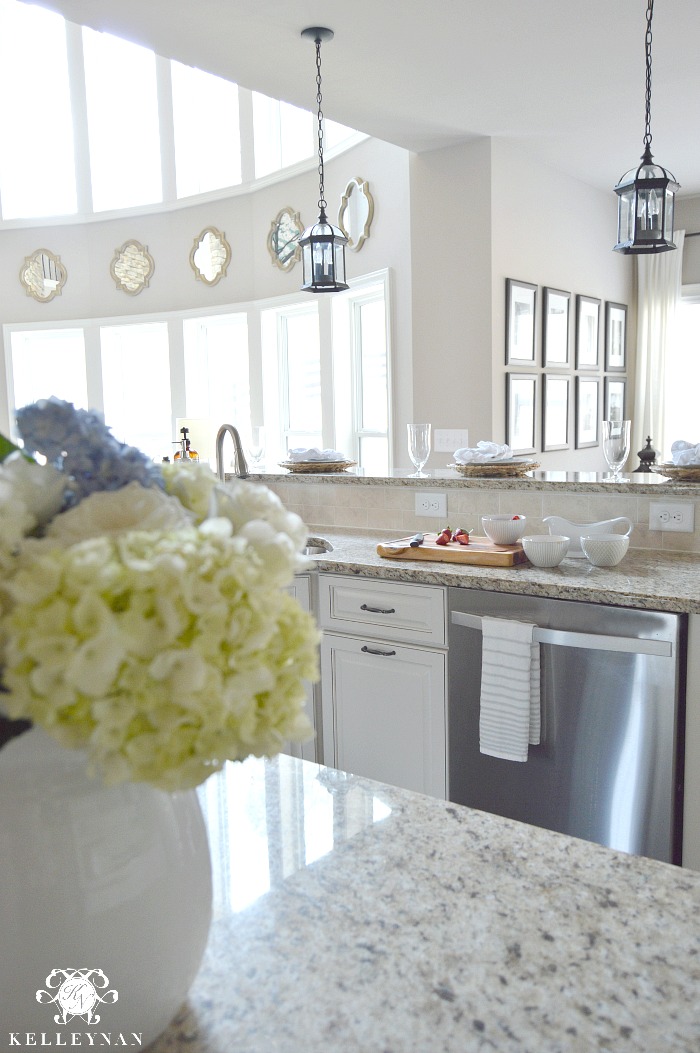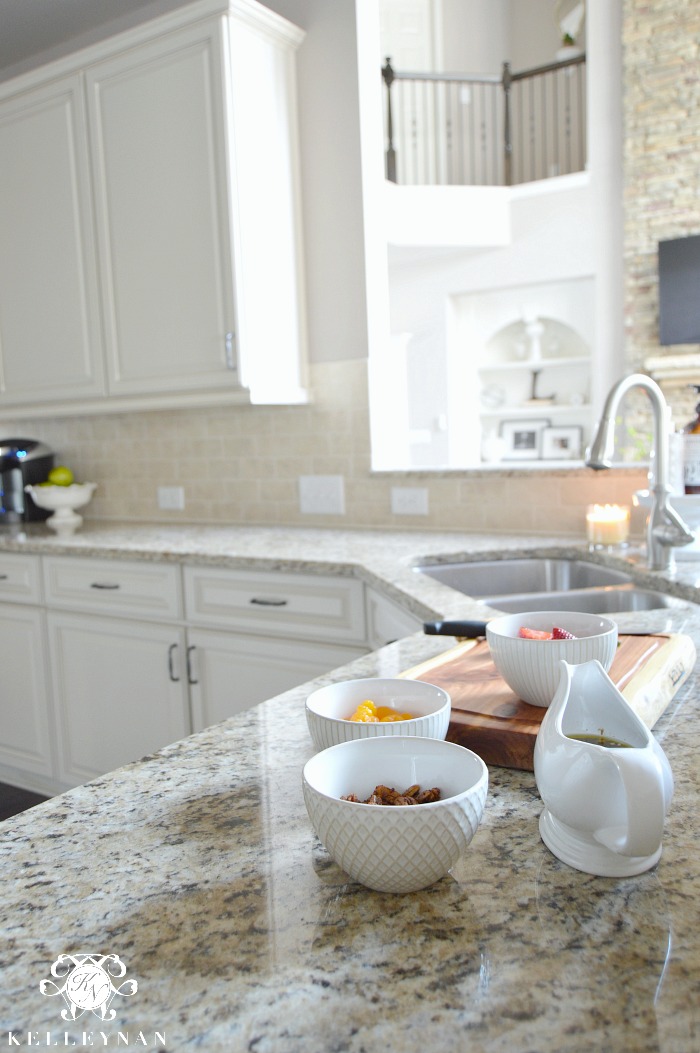 I will also be sharing how to whip up these sweet and spicy pecans; perfect for a salad or to keep on hand as a snack.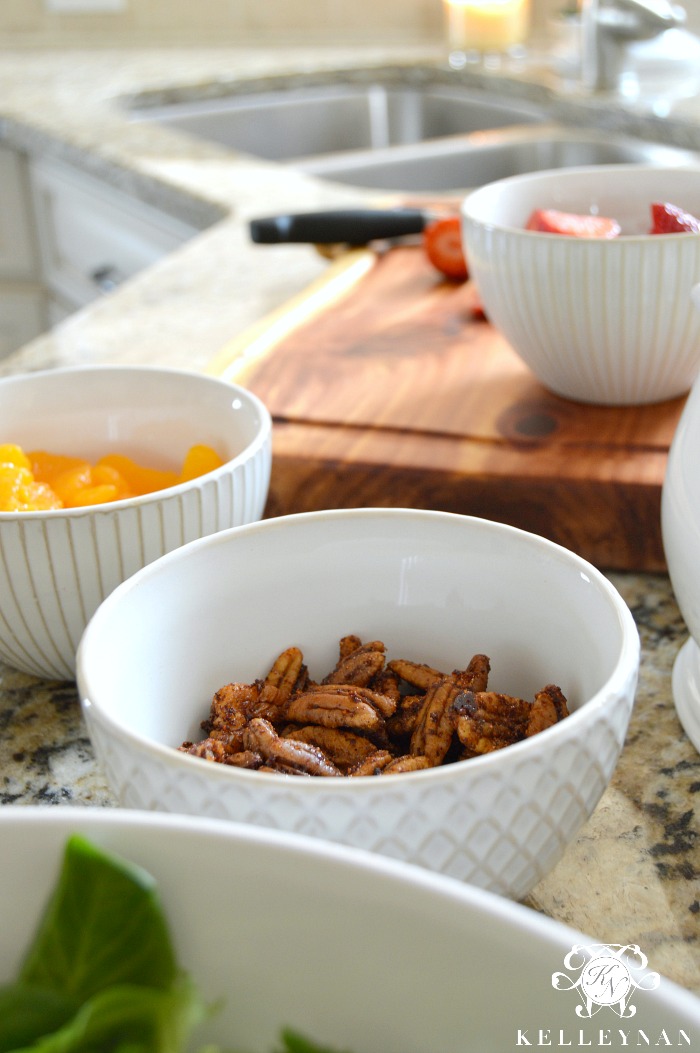 I have been going for a lot of soft, cool tones with subtle pops of lime green this season. While I use hydrangeas and roses year-round, the blue-white color combo makes my kitchen feel bright and fresh. The beautiful thing about incorporating seasonal touches in your kitchen, is that you can accomplish a whole new look simply by stopping by your grocery store. You can purchase the prettiest florals and fruit that are in season, display them, and voila! You are set.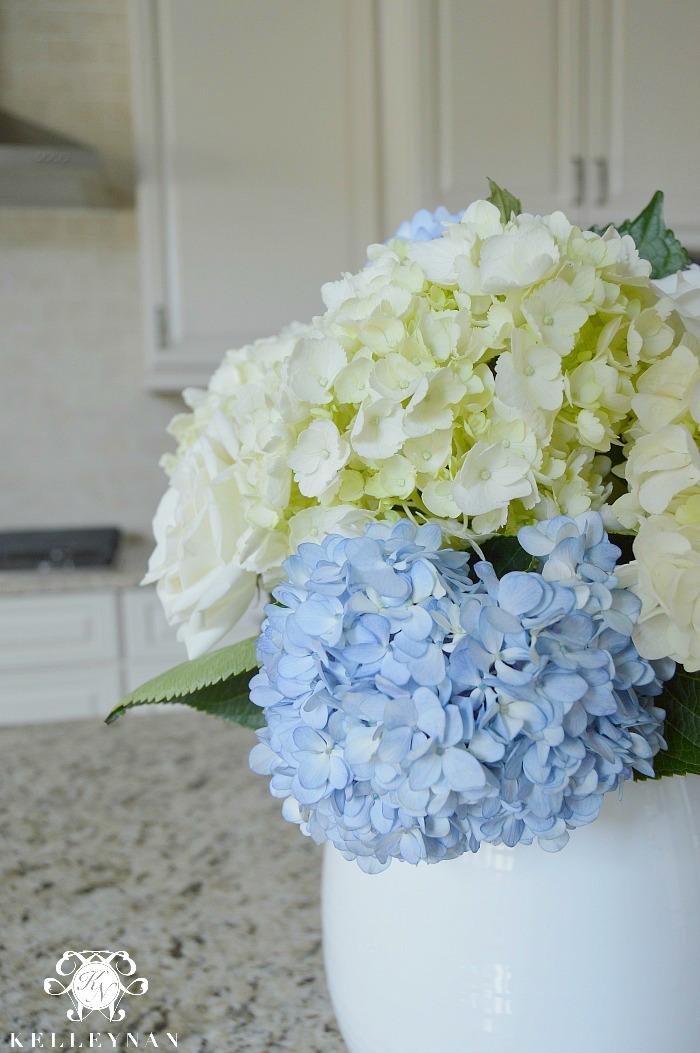 With a kitchen that has a neutral backdrop, it is super easy to switch up colors for seasons, gatherings, or just a change in mood. I depend on my island as the central space where most of the changes takes place.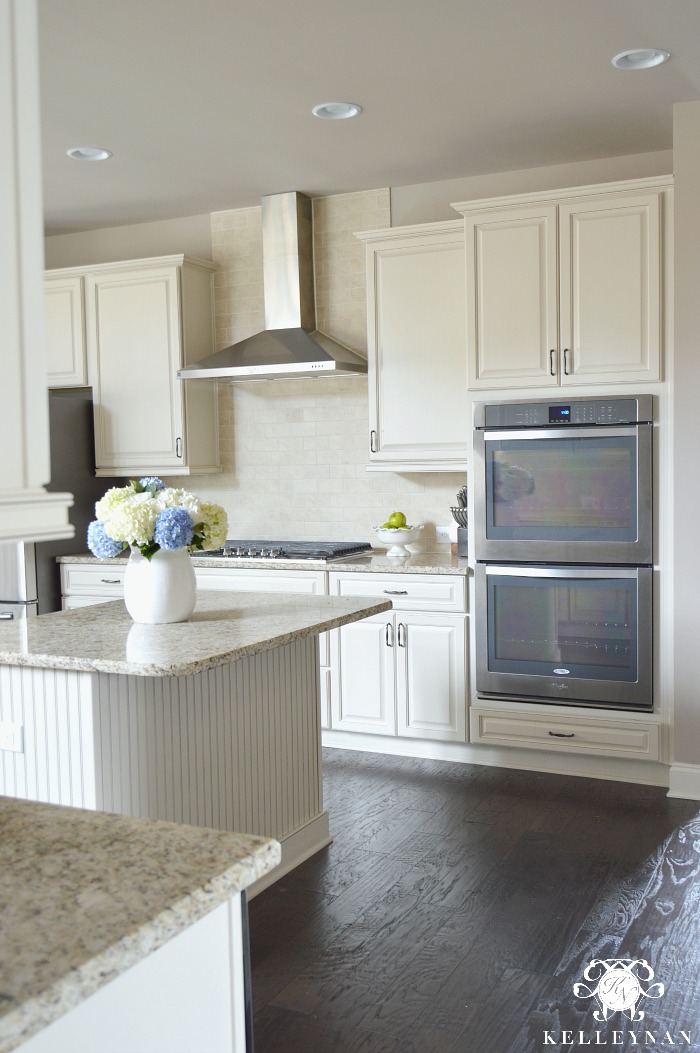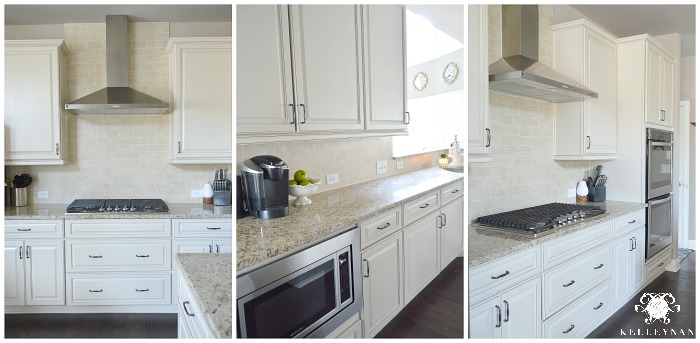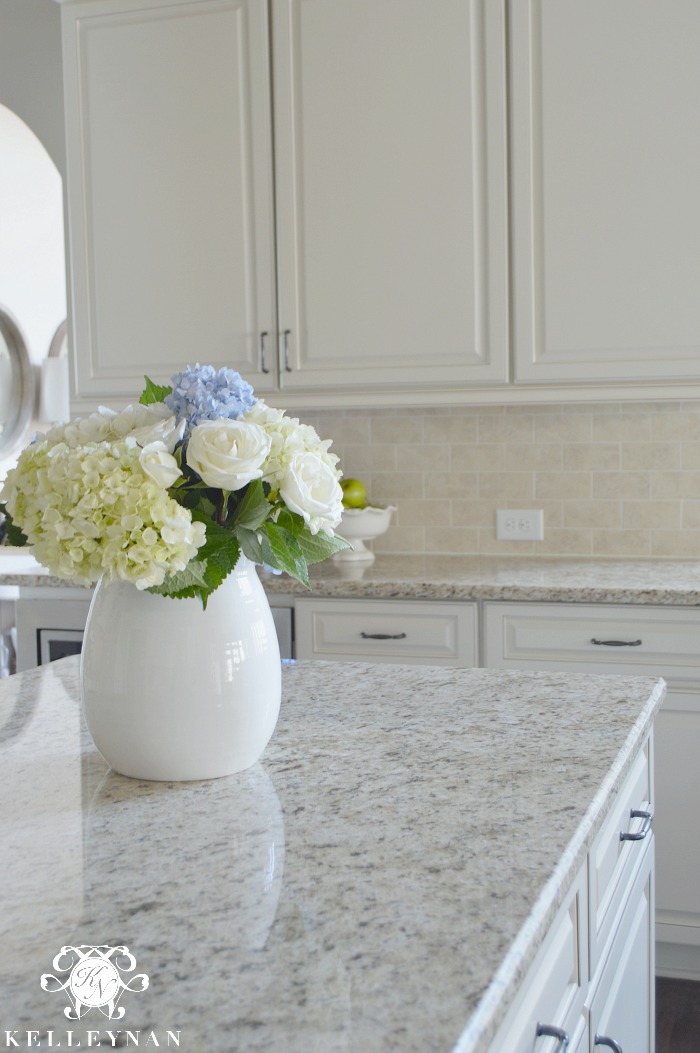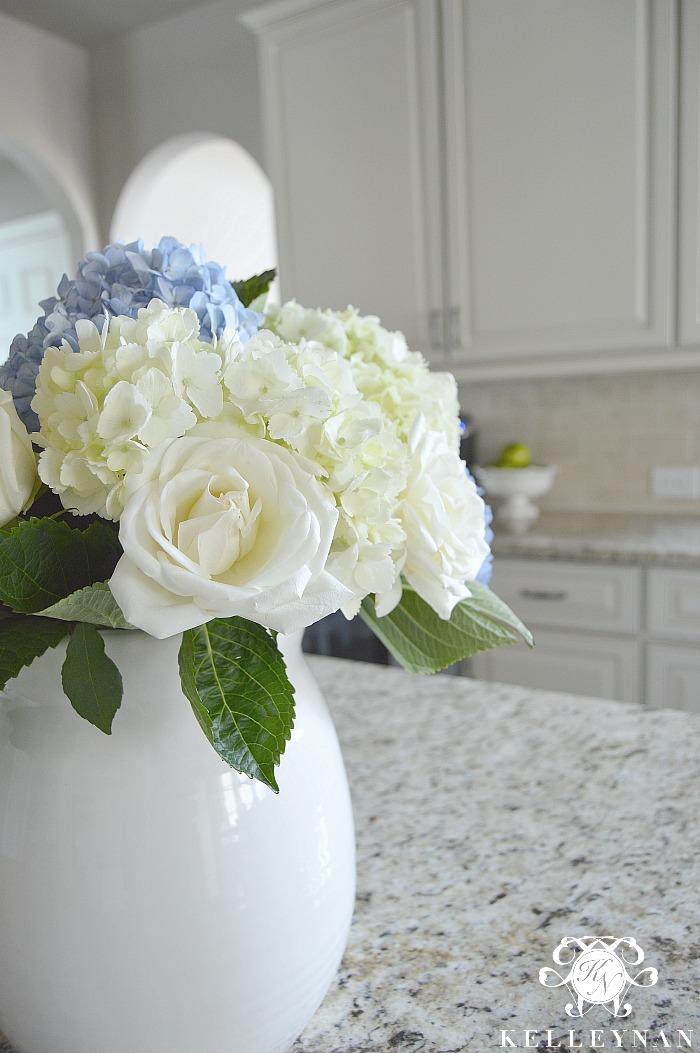 Those pops of green I talked about? While I do display fresh fruit also, I have been on a big faux fruit kick for the last several months. Apples, limes, and pears have been making appearances all over my home and I'm pretty sure that trend will continue.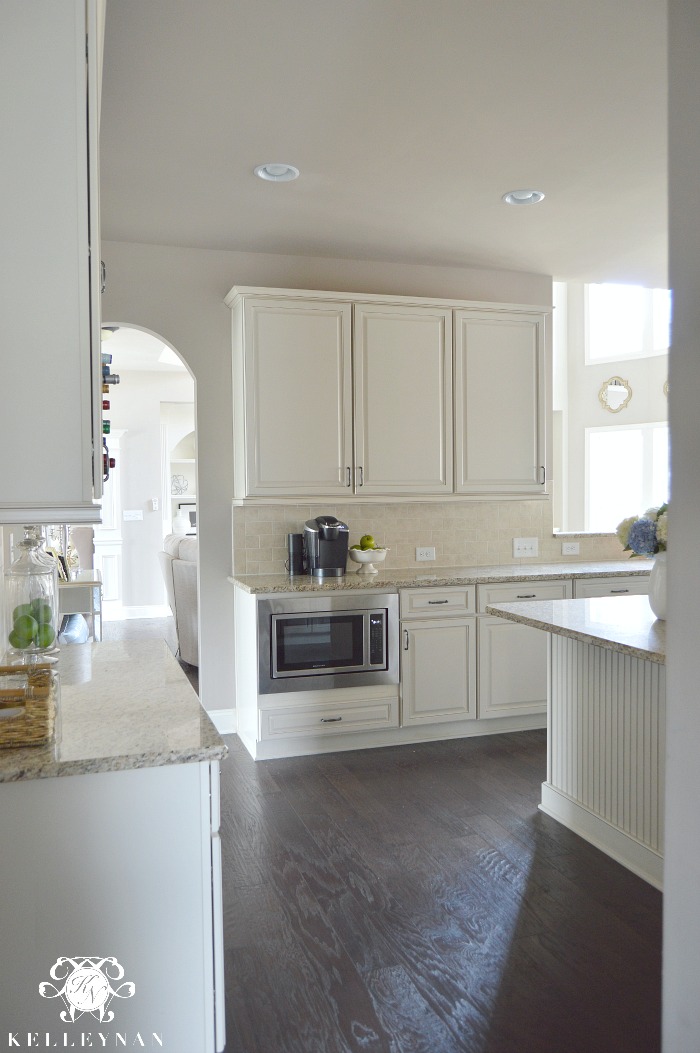 Between my butler's pantry, kitchen, and dining room, I like to create seasonal beverage stations, such as this hot cocoa bar I created on a tray table for winter (HERE). I am always on the lookout for fun accessories like colored, patterned straws and paper snack cups. The Target Dollar Spot, Michaels, and World Market are all great sources for cute beverage accessories.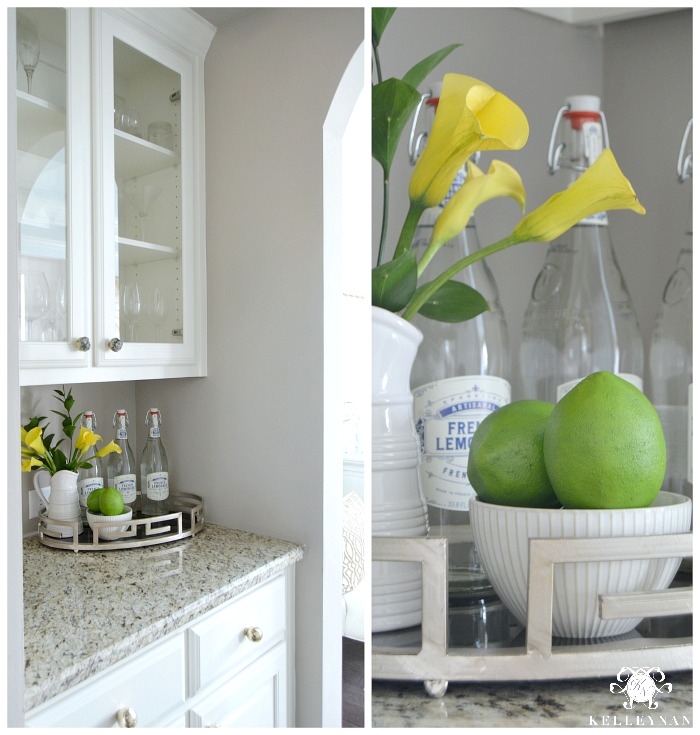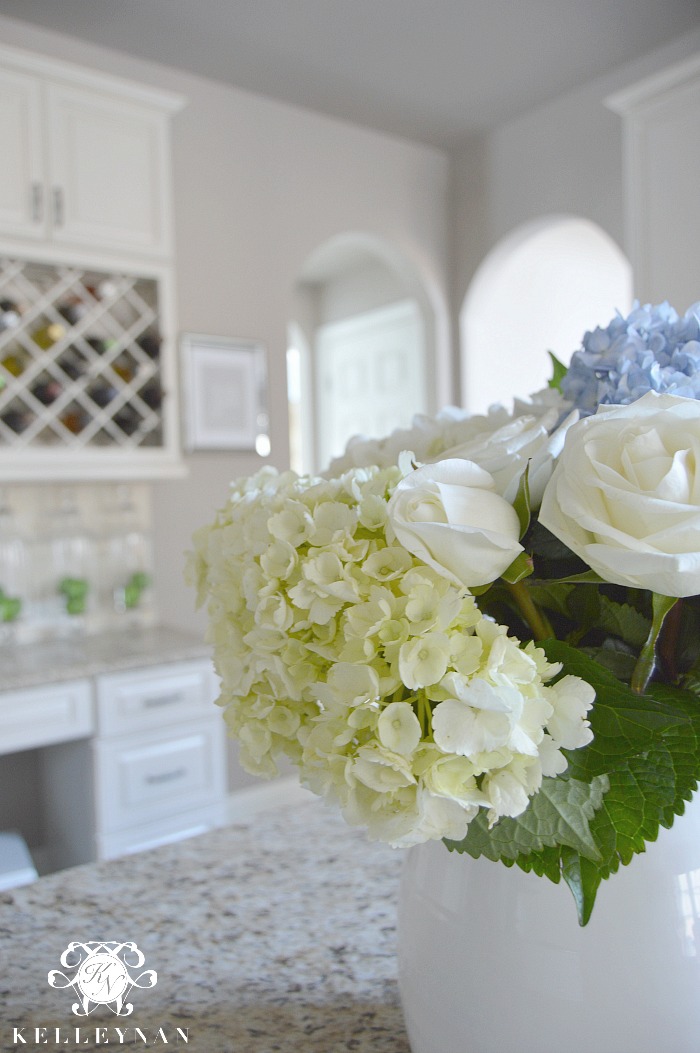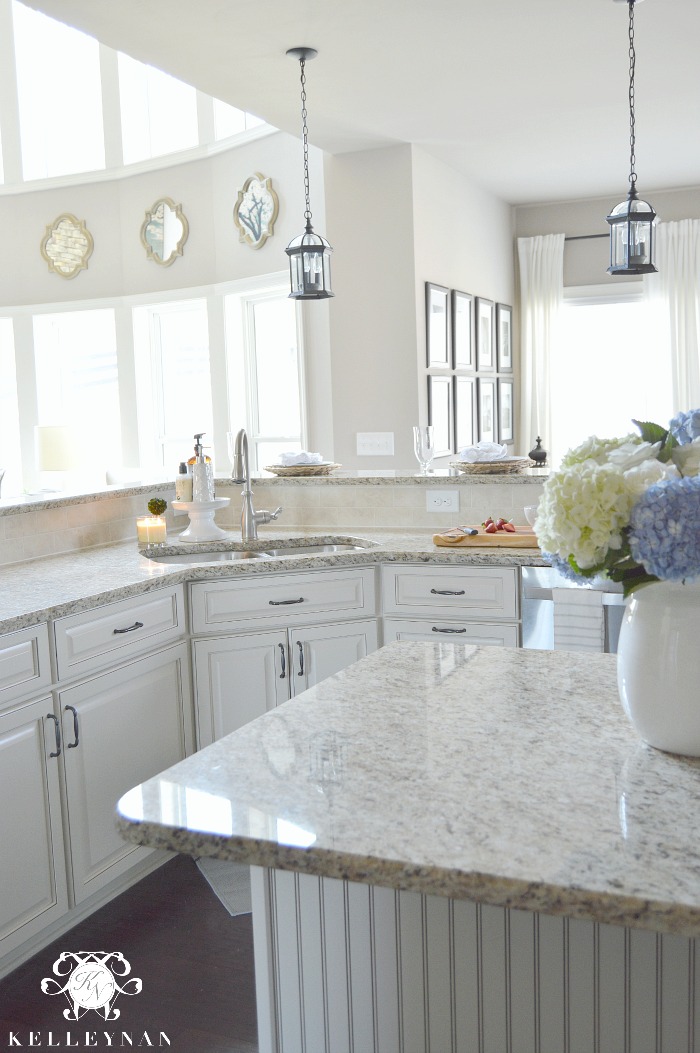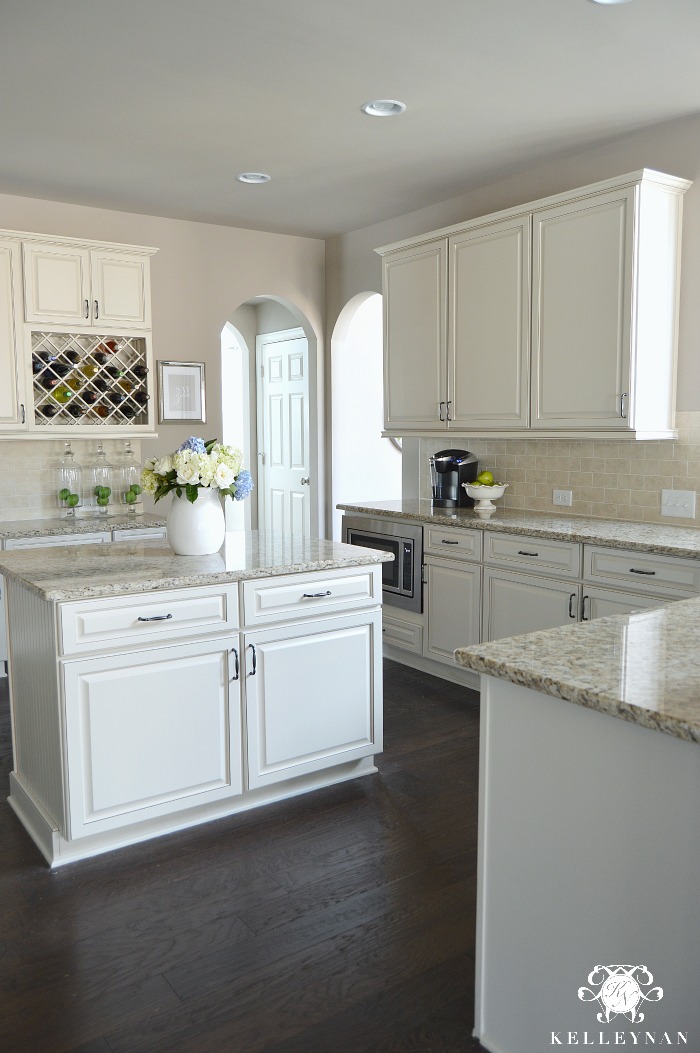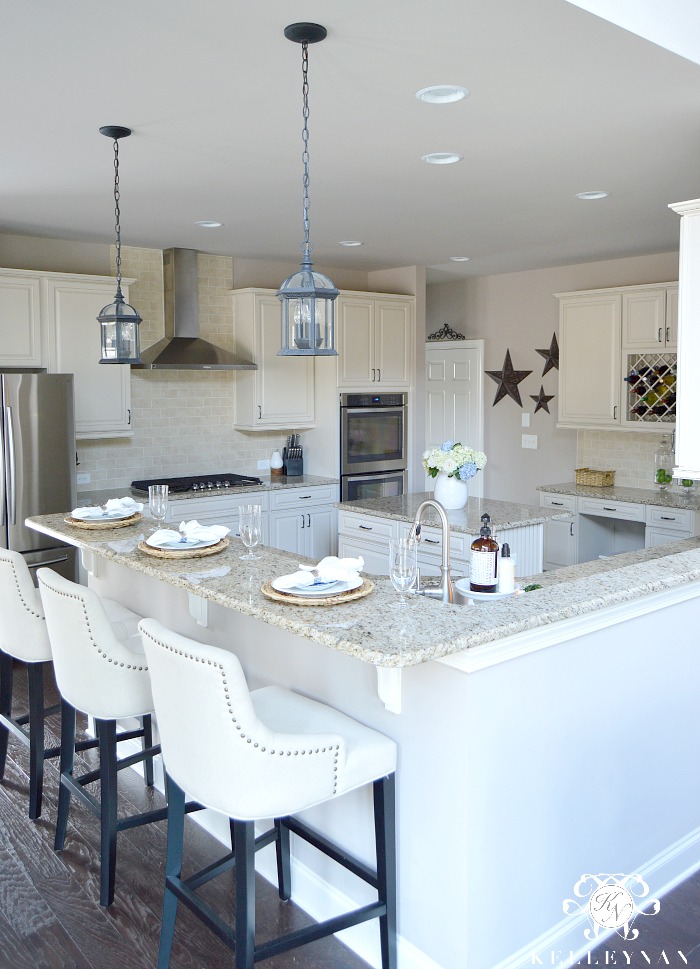 Ok, ok, so I am getting to the best part- the food! As a note, the homemade dressing and pecans are both delicious on their own. Even my husband who will usually choose Ranch dressing over a house/vinaigrette dressing can't get enough of this.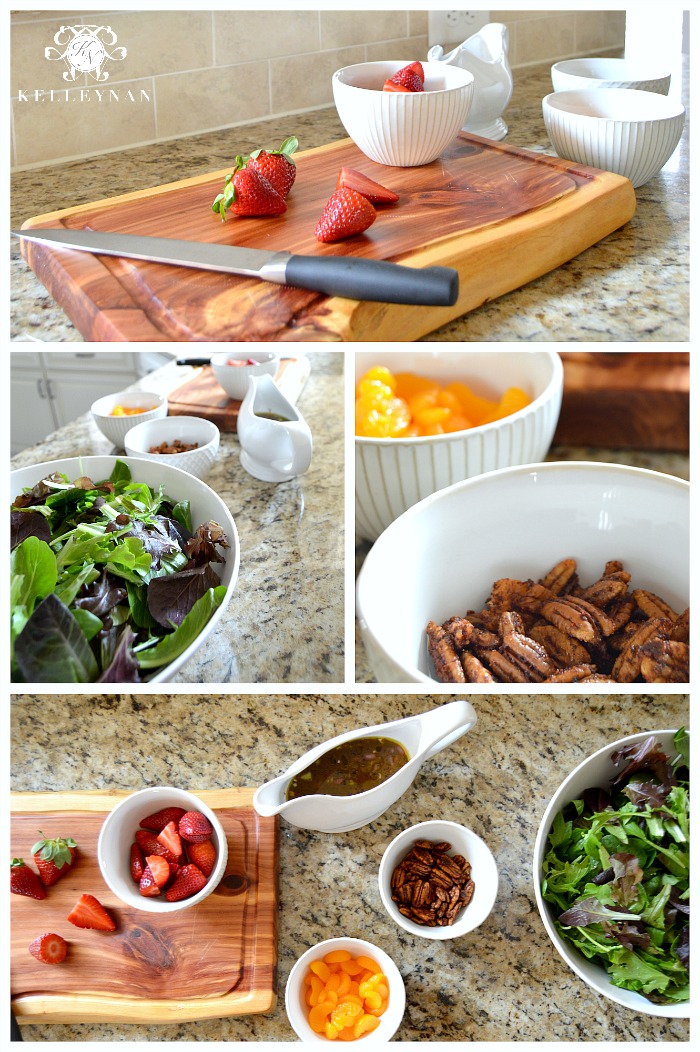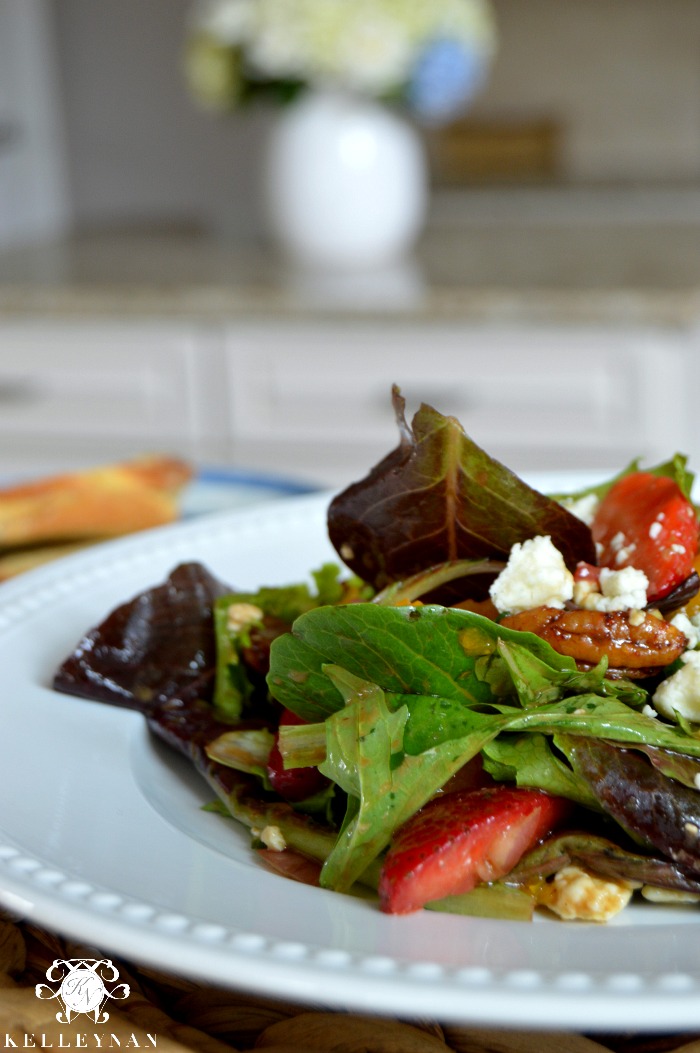 2 bags gourmet mixed salad greens

3 large oranges, peeled and cut into thin slices (I substitute Mandarin oranges)

1 qt. strawberries, quartered

4 oz. blue cheese – crumbled

*Sweet and spicy pecans (see additional recipe below)

**Balsamic vinaigrette (see additional recipe below)
Place greens in a bowl and top with oranges and strawberries. Sprinkle with blue cheese and pecans. Toss with balsamic vinaigrette.
*Sweet & Spicy Pecans
1/4 cup sugar

1 cup warm water

1 cup pecan halves

2 Tbsp. sugar

1 Tbsp. chili powder

1/8 tsp. ground red pepper
Preheat over to 350°. Stir together 1/4 cup sugar and warm water until dissolved. Add pecans and soak 10 minutes. Drain and discard syrup. Combine 2 Tbsp. sugar, chili powder, and red pepper. Add pecans, tossing to coat. Place pecans on greased cookie sheet. Bake at 350° for 10 minutes or until golden brown, stirring after 5 minutes.
**Balsamic Vinaigrette
1/2 cup balsamic vinegar
3 Tbsp dijon mustard
2 large garlic cloves, minced
2 small shallots, minced
1/4 tsp salt
1/4 tsp pepper
1 cup olive oil
Whisk together ingredients except the olive oil. Gradually add olive oil in a slow, steady stream. Whisk continually until blended.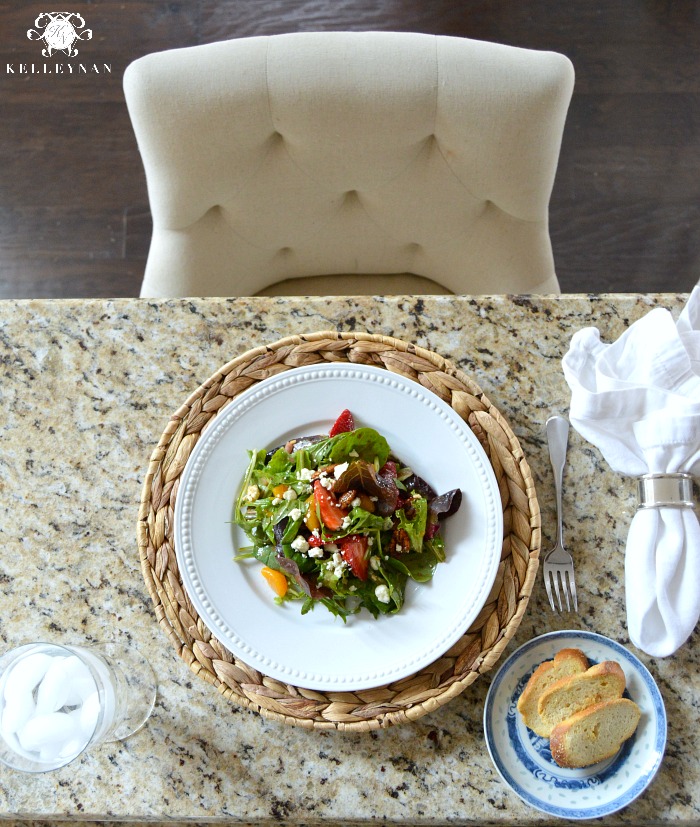 KITCHEN ACCESSORIES | GET THE LOOK

KITCHEN APPLIANCES, HARDWARE, AND STAPLES | GET THE LOOK

*affiliate links used in this post*
Questions on counters, floor, tile, and additional sources? Check out my Kitchen Essentials Tour HERE
Thank you for stopping by my kitchen for a little tour and hopefully, a new fresh recipe you can try soon! If you missed any of the other inspiring rooms on the tour, check out the schedule below to see catch up on what you missed and what will be coming tomorrow!
Monday, April 11th – Front Porch