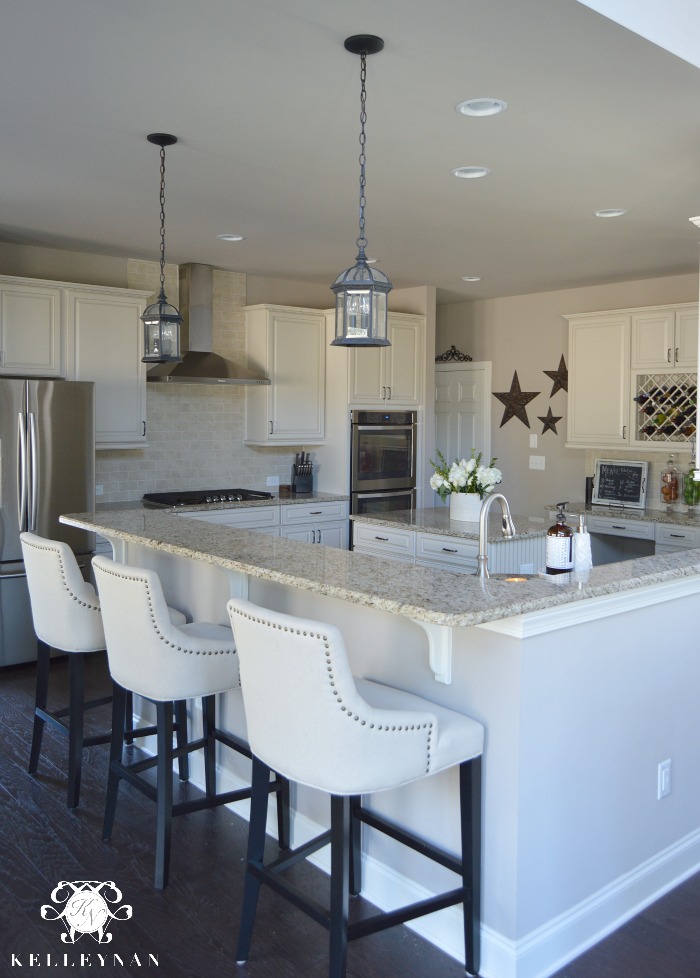 The kitchen layout is what sold me on our house plan. The house plan is what sold me on our builder. So ultimately, you could say that this kitchen is why we are now in this home, in this neighborhood. Because I have had a lot of questions through Instagram on specifics such as the color of our granite and type of backsplash, I thought it was the perfect opportunity to share a little kitchen tour along with some of my favorite must-haves and necessities.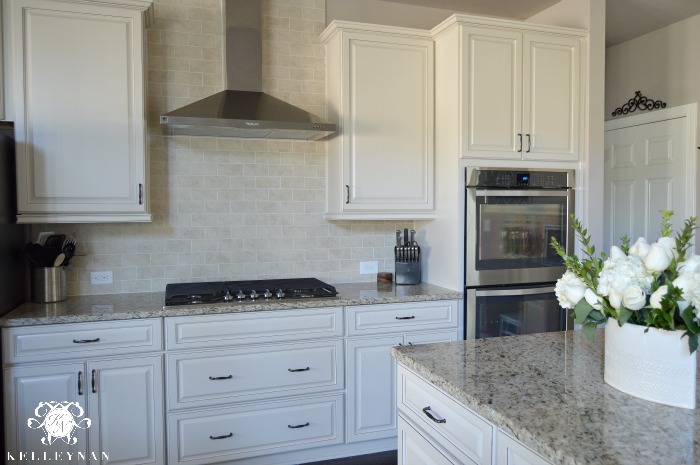 My top kitchen requirements were lots of cabinet space, lots of counter space, and accessibility to the main living area. I've mentioned before, but being from the south, we are all about hosting platters and casserole dishes a-plenty (possibly the understatement of the year… imagine cabinets upon cabinets filled with Pyrex and Corningware). Also, because I am my mother's daughter, I have never met a set of bowls I didn't need.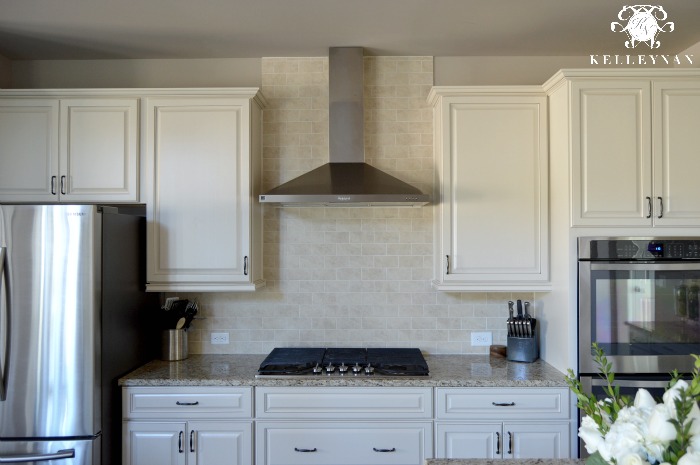 I am inundated with gorgeous kitchens that I lust after daily. While I am responsible for everything that went into this kitchen, I still experience pangs of kitchen envy when I see stark white, carrera marble, sub zero fridges, and farmhouse sinks. I don't know if the aesthetic I went for in here will satisfy me forever, but my goal was practical and pretty, with a few extras thrown in. We spent more on upgrades in this space than any other space in our home… times 5 haha. What I quickly discovered is that while I knew kitchens were the most expensive part of your home, I didn't realize just how quickly things could spiral out of control if you weren't paying attention. We splurged in some places, but were more conservative in others. Ultimately, I am happy with all our decisions.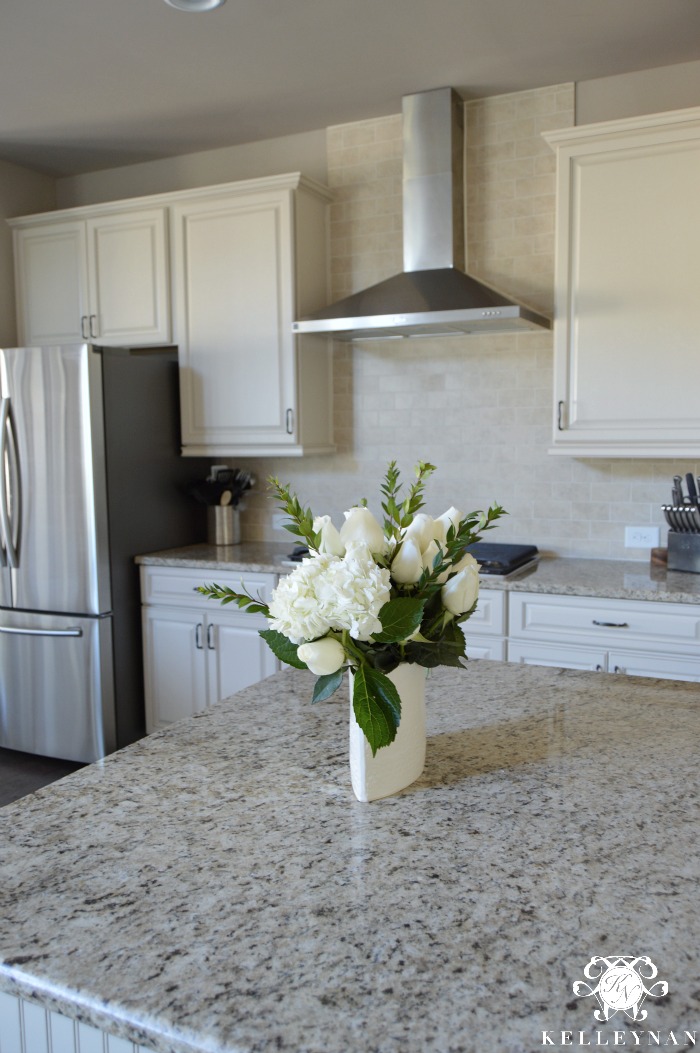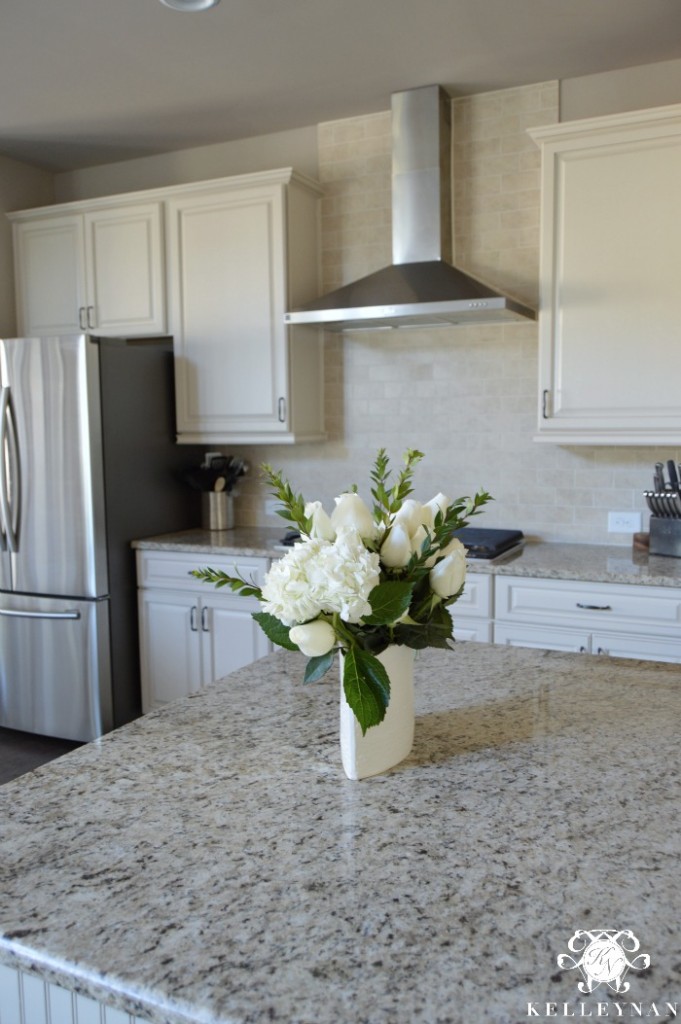 Our refrigerator was a big upgrade from our previous side by side fridge/freezer combo. I am in love with the french doors, spaciousness, and the huge pull out freezer with drawers. If you are considering a change, you can check our model out HERE
.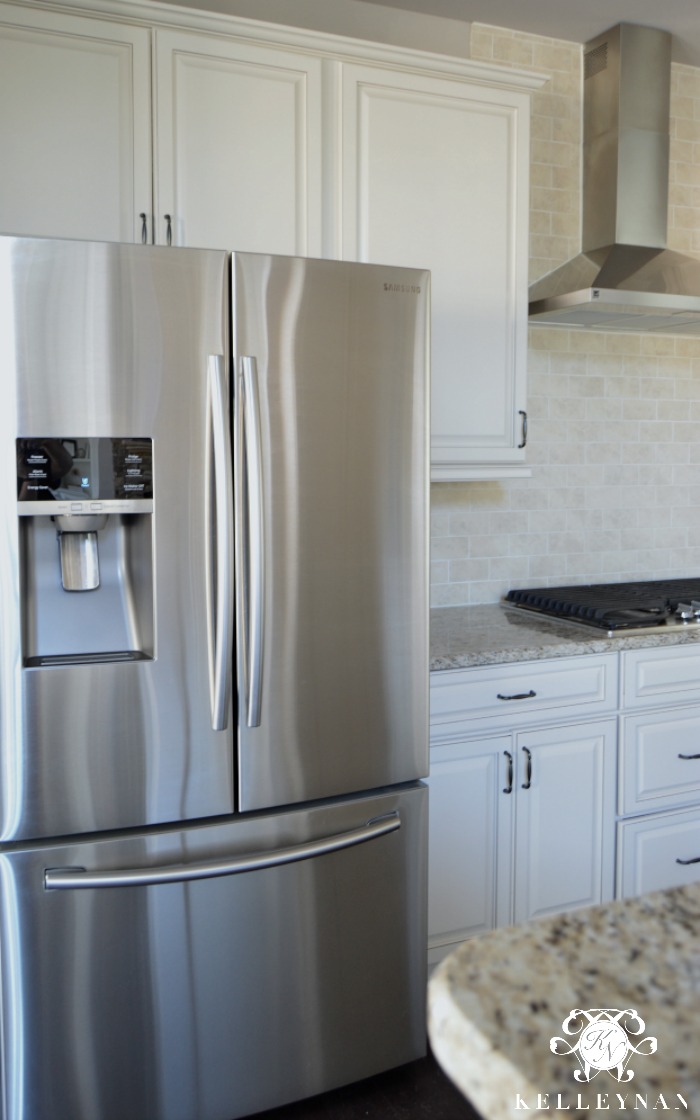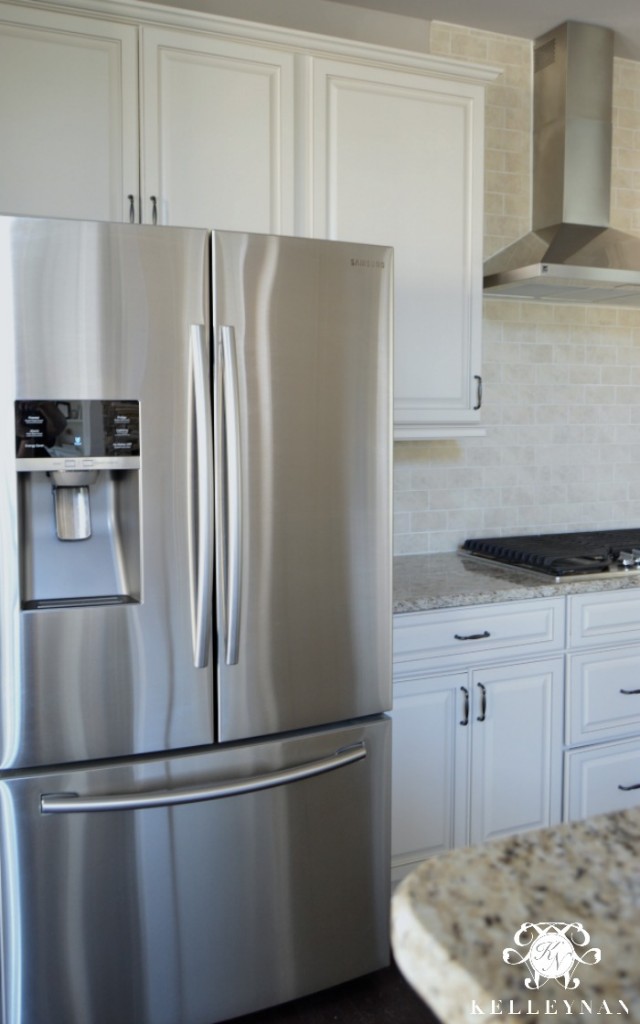 Our cabinets are a cream color with coffee glaze; the glaze is subtle but adds a touch of dimension. My favorite feature is that the doors and drawers are soft-close.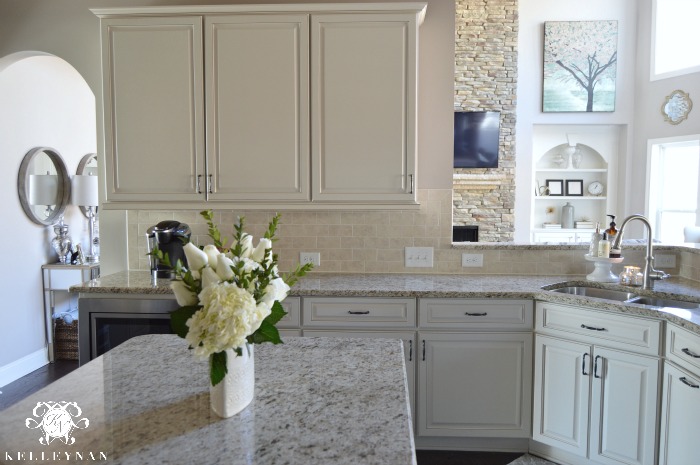 Another feature I had installed was a pull-out trash receptacle. It is set between the sink and dishwasher and I love not having to make room for a separate container. The drawer holds two cans; who knew how much pleasure I would get out of such a simple thing?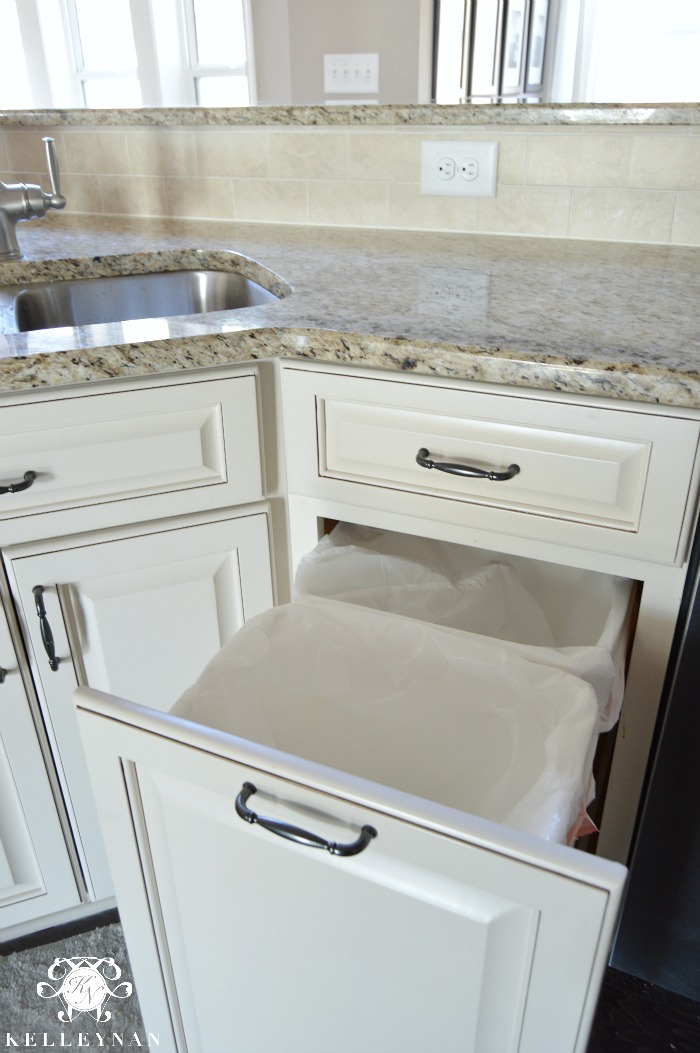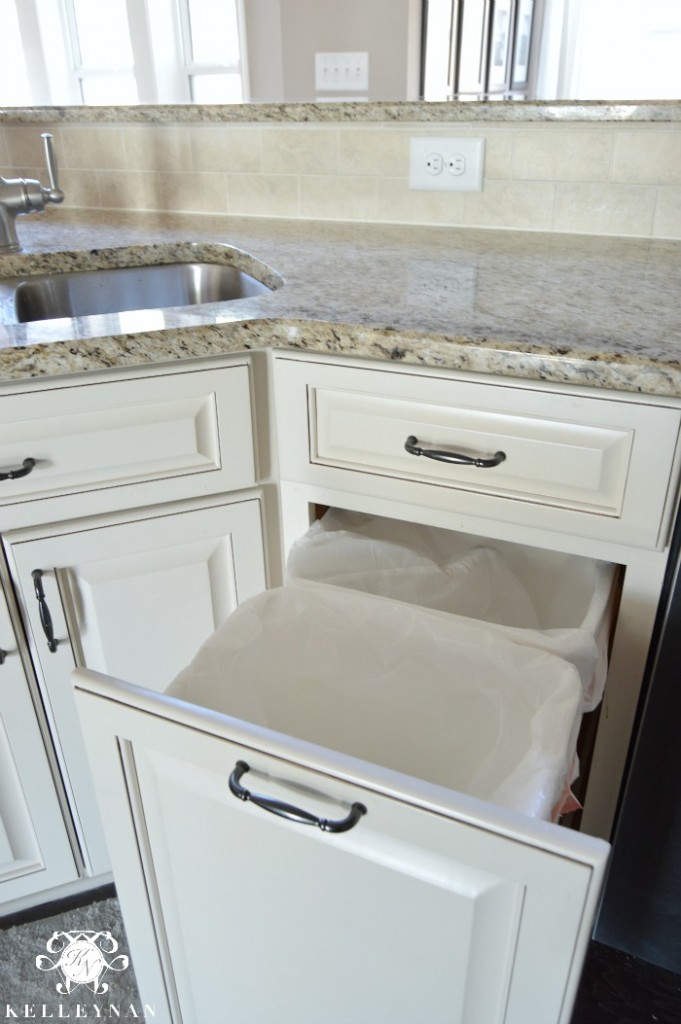 While I don't have a big, beautiful farmhouse sink, I do love the extra deep and spacious sink we went with. And, I can still pile those flowers in for a drink of water before arranging them.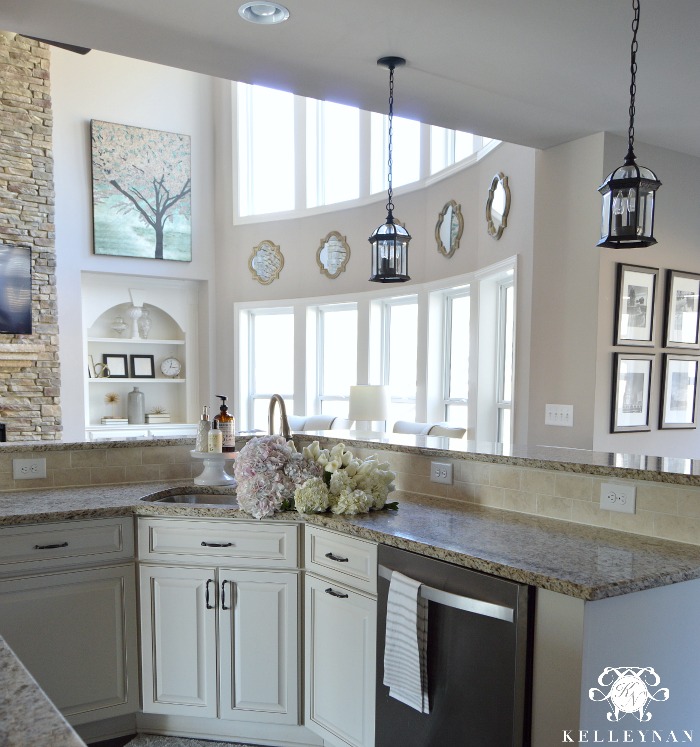 I keep a pretty bottle of hand soap, dish soap in a pump dispenser, and lotion on a pedestal next to the sink. The pedestal is no longer available from Crate and Barrel, but I love the idea of using this dessert stand
as a soap holder. Also a necessity (in my kitchen and everywhere else in my home), are these volcano candles. You will seriously never smell anything more delicious! And, the mercury glass finish coordinates in my home perfectly.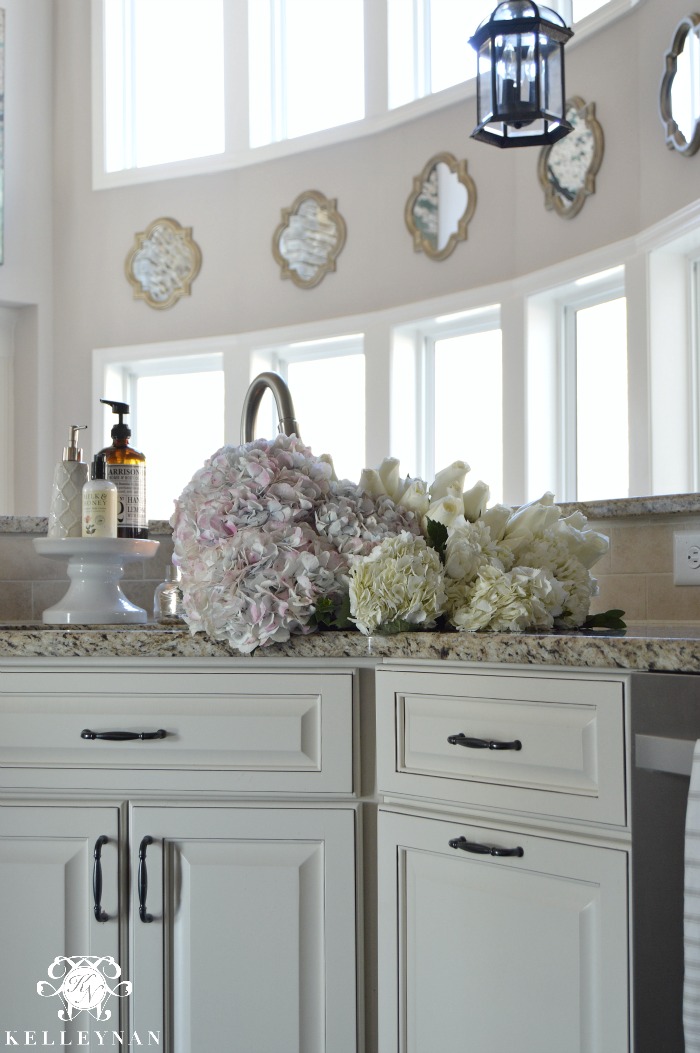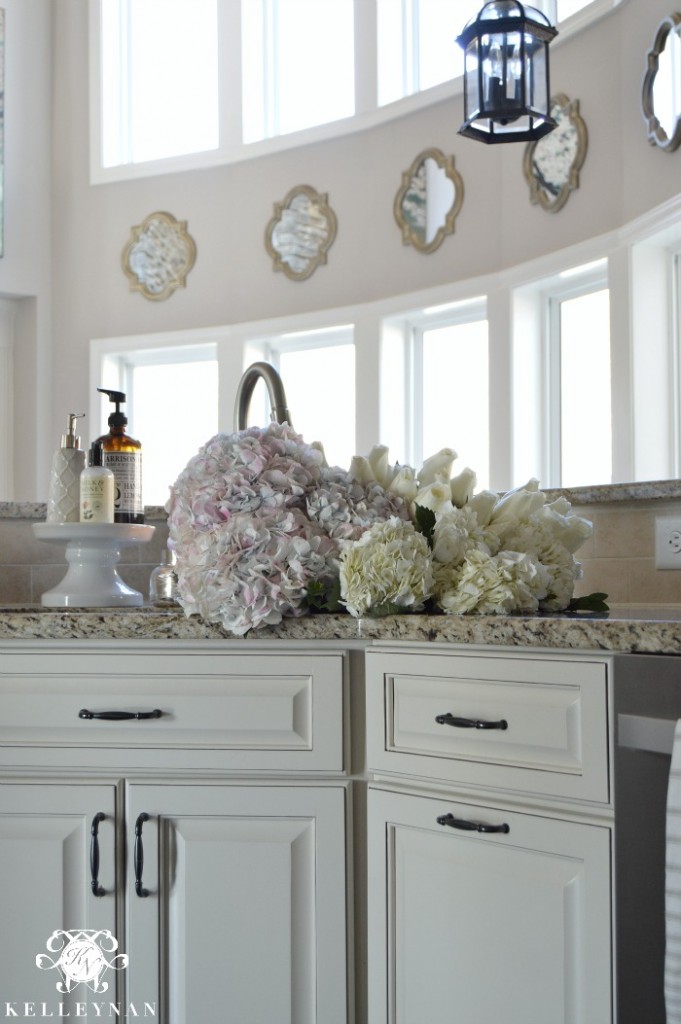 When I was picking out cabinet and drawer pulls, I agonized over brushed nickel vs. bronze vs. chrome. I ultimately went with an aged pewter which was a great compromise between each of those original thoughts. It is still in the silver steel family, but is dark enough to go with a bronzed look. A similar style can be found HERE
.
I love having this island for extra counter and cabinet space. We keep several small appliances in the bottom cabinets and zip lock baggies, foil, plastic wrap, etc. in the drawers. To dress up the island a little, I opted to have bead board applied around the non-cabinet sides. Also, you may notice we keep candy in a bowl next to the Keurig on the side counter… candy from this past Halloween to be exact haha.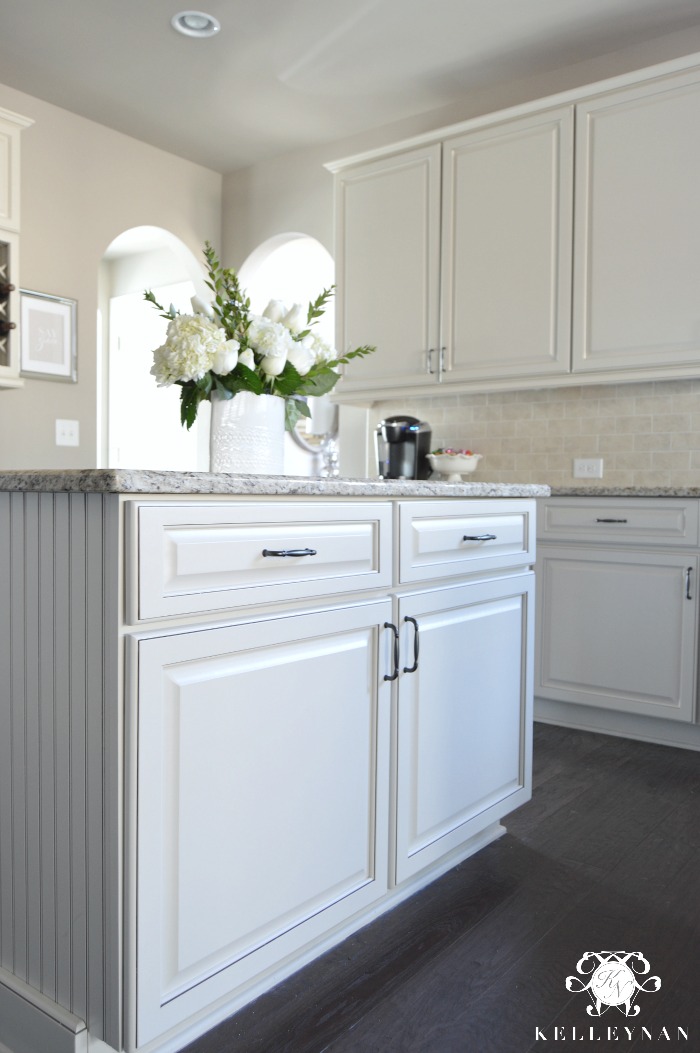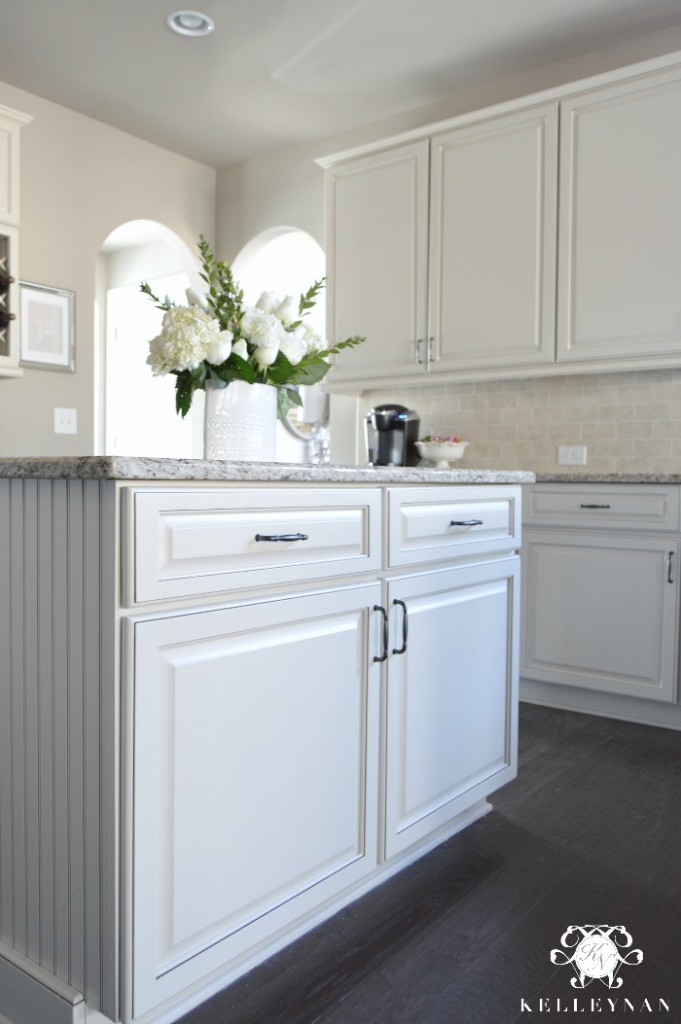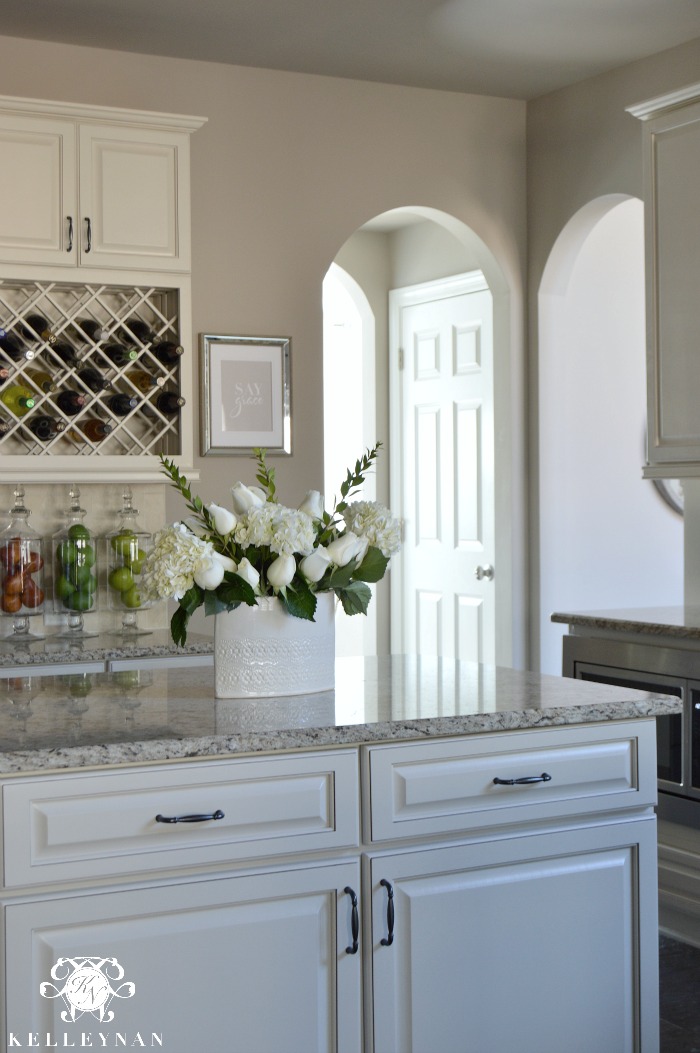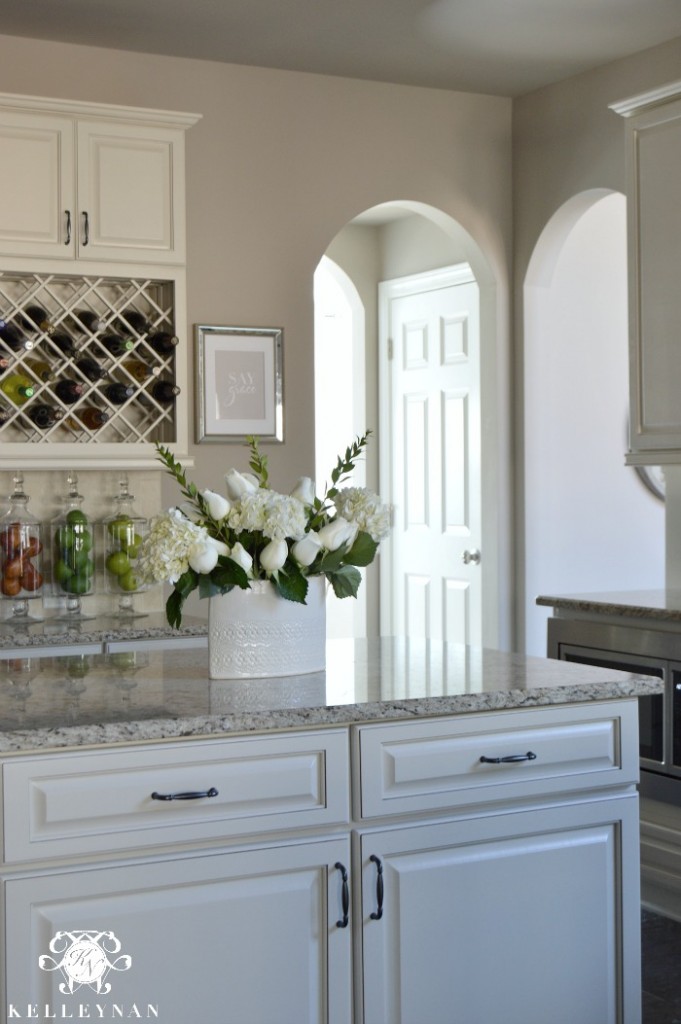 This gorgeous pottery was crafted by my friend Jamie. I am fortunate that she has actually gifted me with a few pieces of her work. Isn't that detail ridiculous?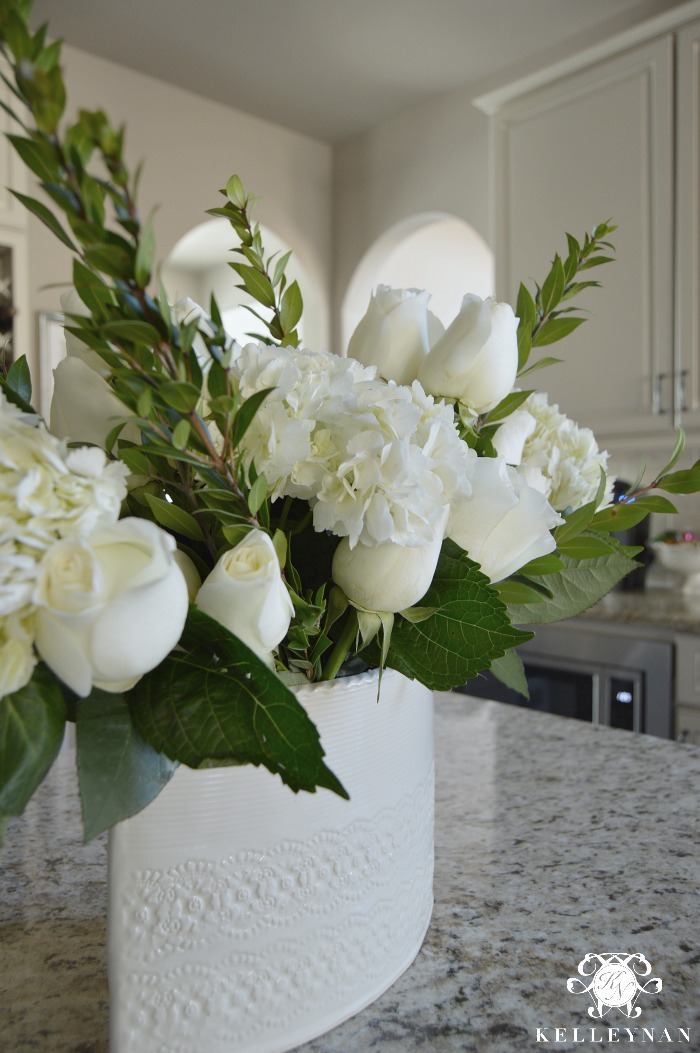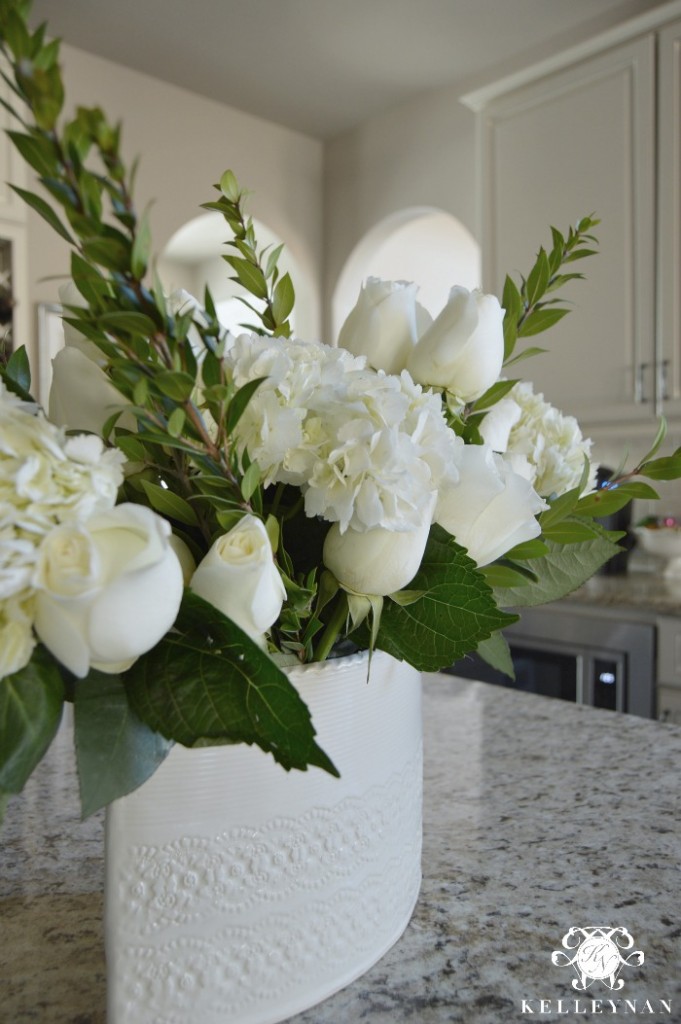 Our floors are Nottaway Hickory in Weathered Saddle in 5″ planks. While they do show a little more than I hoped, even with two pups, I am totally in love with them. They are scraped and textured which help with disguising the visibility of some debris, and knock on wood (no pun intended), we still have no scratches almost one year after having moved in.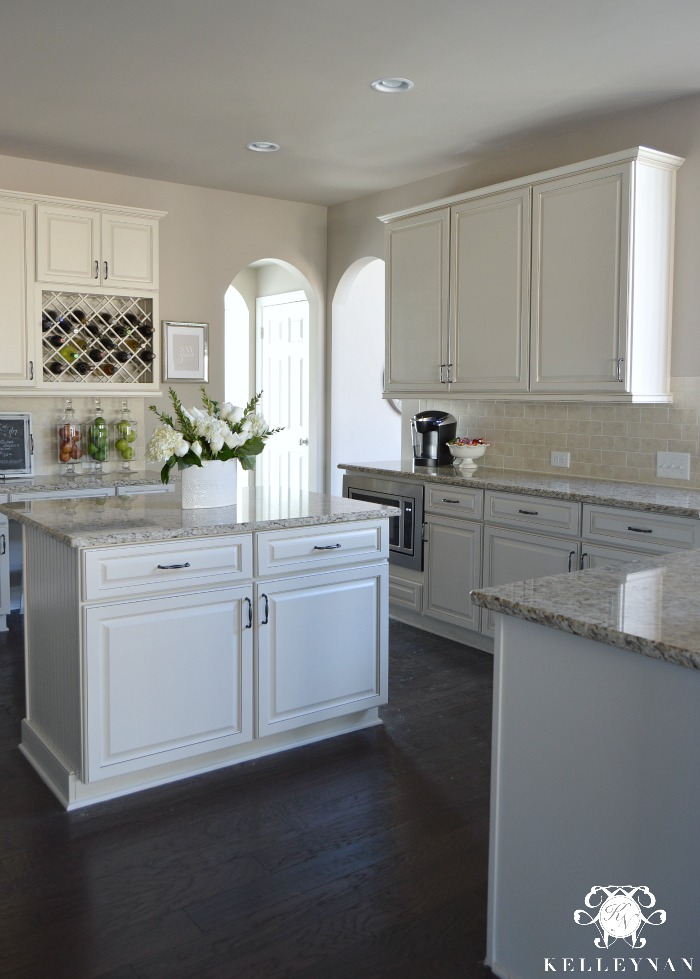 I love having a butler's pantry which separates our kitchen and dining room. I keep our nice stemware in the glass cabinets, cordials and mis-matched "fun" glasses in the cabinets below, and accessories and beverage napkins in the drawers. I am hoping to do something to the back of the glass cabinets and add some lighting at some point.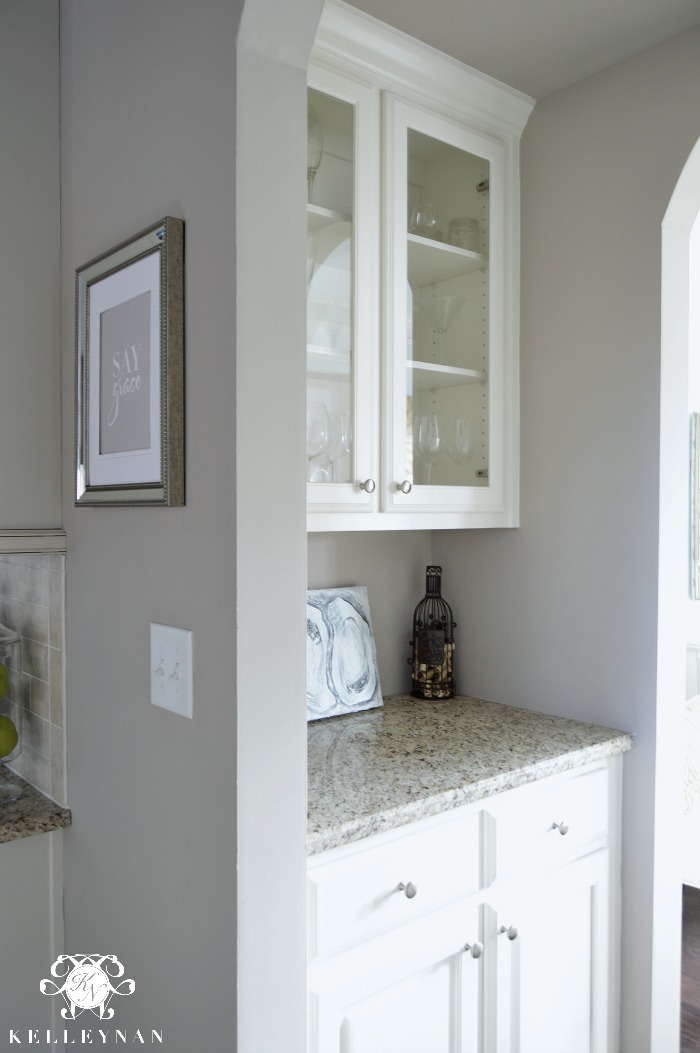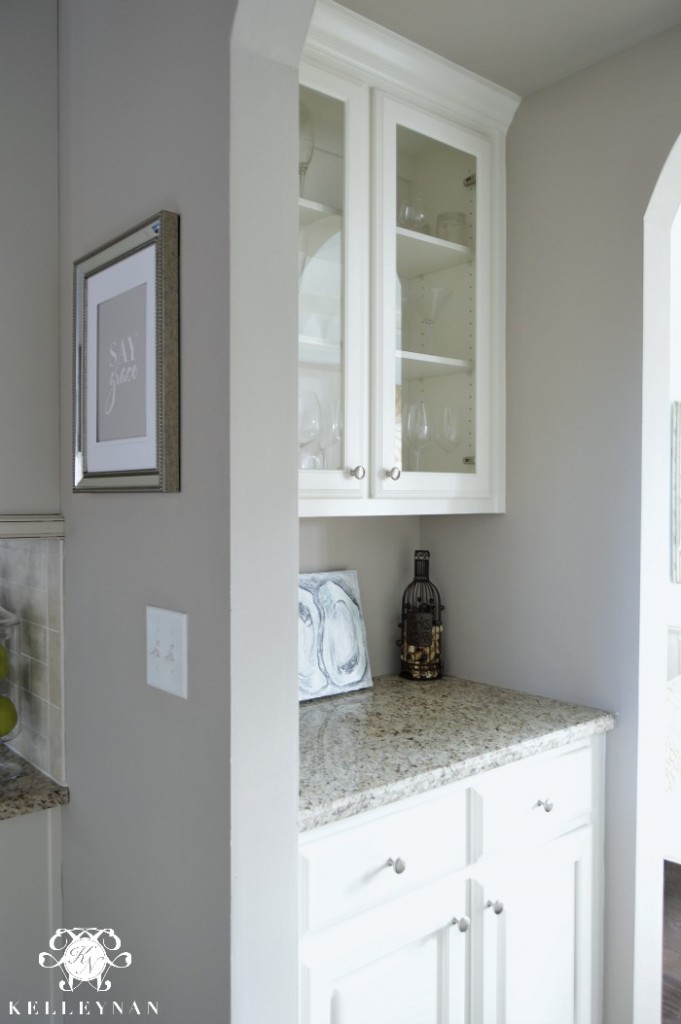 The oyster painting was a gift from Amy Fogg Art and once spring hits, it will be moving to a more prominent spot in my living room.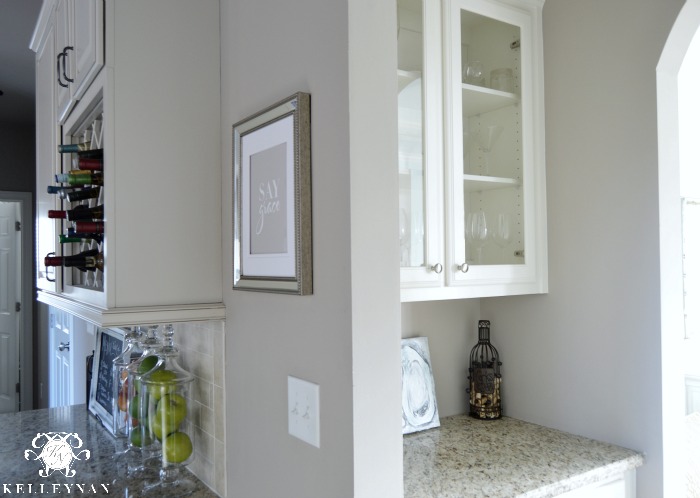 I desperately wanted wine lattice, but didn't want to compromise on shelf space in our small butler's pantry. I opted to have it built above the stationery desk and since it is just around the corner, I haven't missed it being in the actual butler's pantry one bit.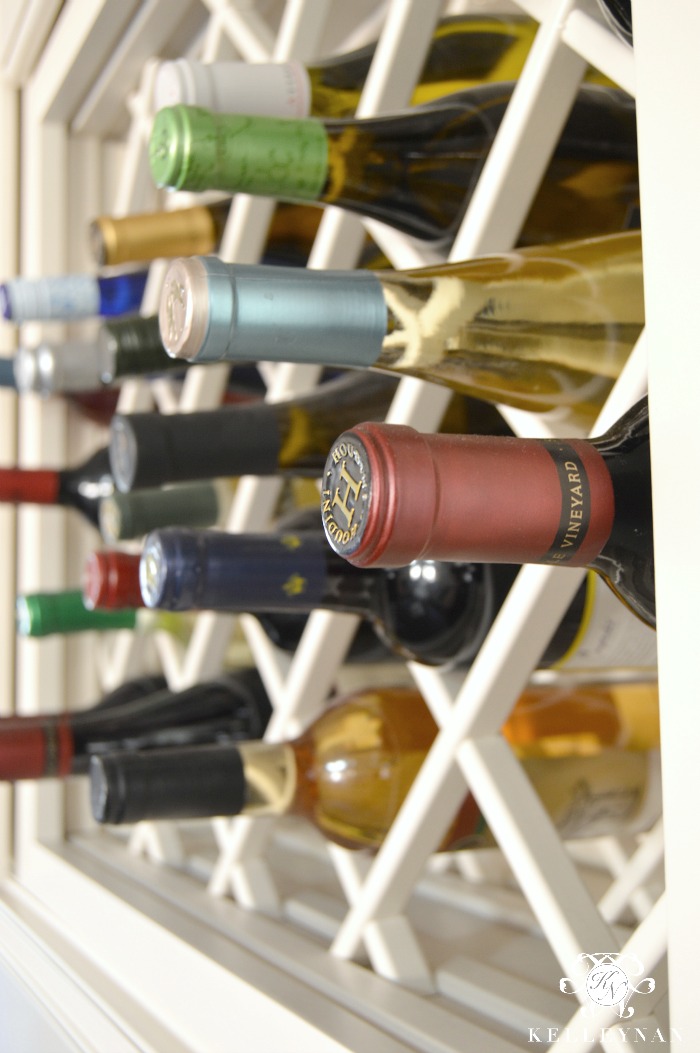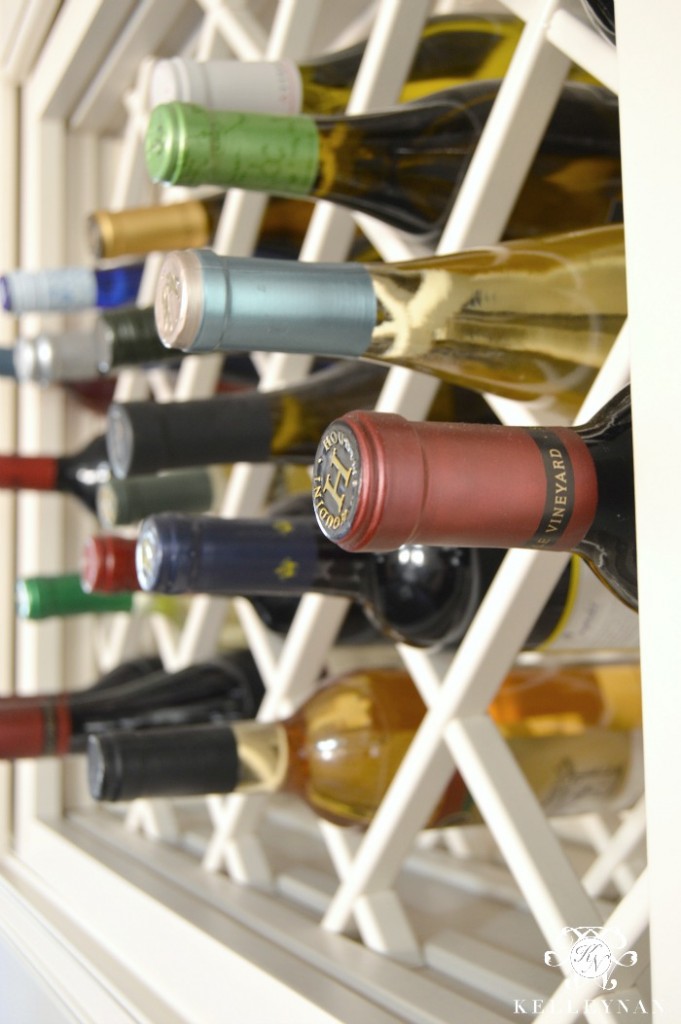 Sometimes, our little desk area has a tendency to be overtaken by mail and random papers to be filed. I am hoping to get a new system in place this year to prevent that from happening. In the upper cabinets, I keep extra candles, vases, and cookbooks. Desk supplies and other typical "junk drawer items are all down below. I keep our menu board (which I try to keep updated each week- you can check out my method for weekly meal planning HERE) and "Alexis" here as permanent fixtures. We purchased "Alexis", the Amazon Echo, when you had to be put on a wait list to be "invited" to purchase. I think she is a little easier to purchase now and you can check her out HERE
. For those who aren't familiar, "she" works similarly to Siri for iPhone, but in your home- you can ask her to play music, set timers while you are cooking, ask her questions, or even ask her to place an order for you. She is pretty much awesome! I also recently shared my apothecary jar ideas and am still enjoying the fruit I styled in these.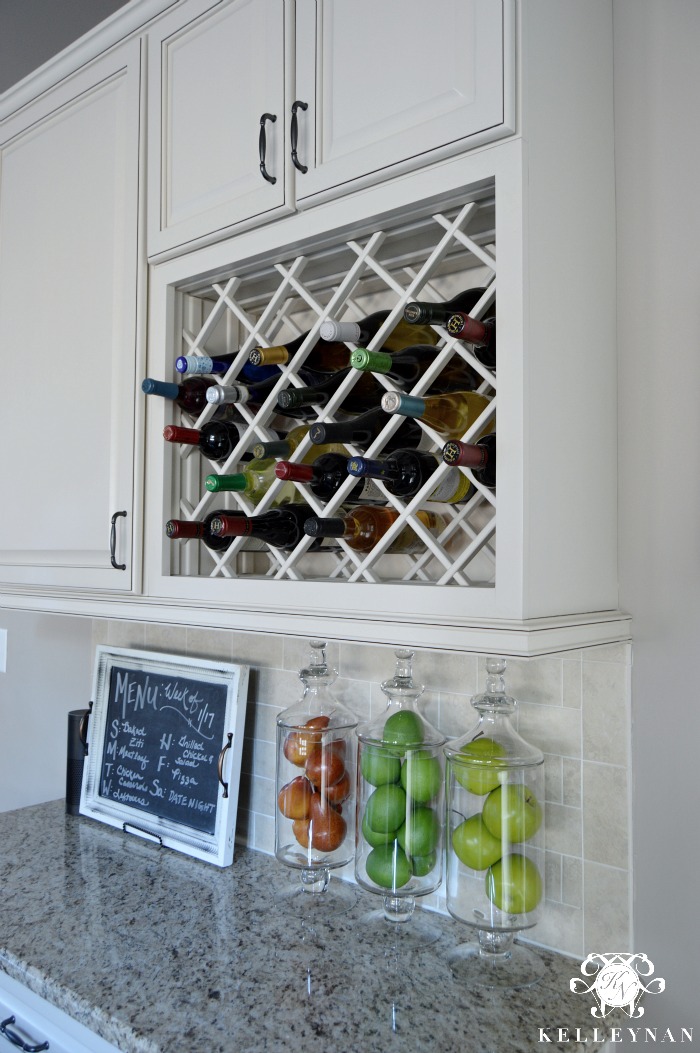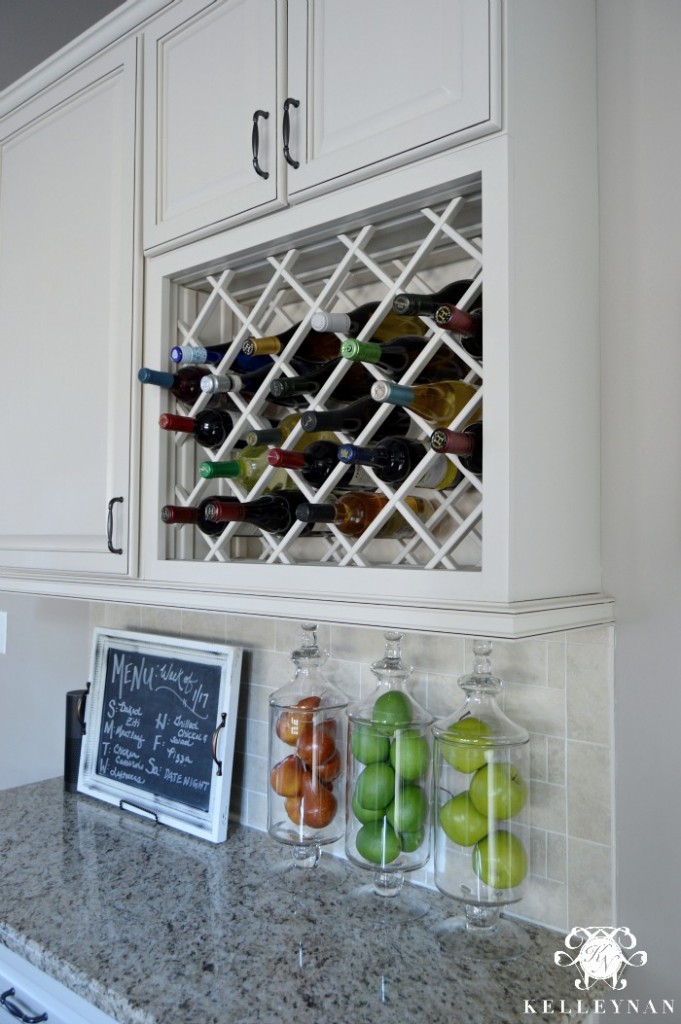 One of my latest additions is this sweet print from Designs by Maria. I dressed it up a little with a mirrored frame and double white matte; it was the perfect way to bring in typography while keeping it kitchen/dining appropriate. You can find this mirrored frame HERE
.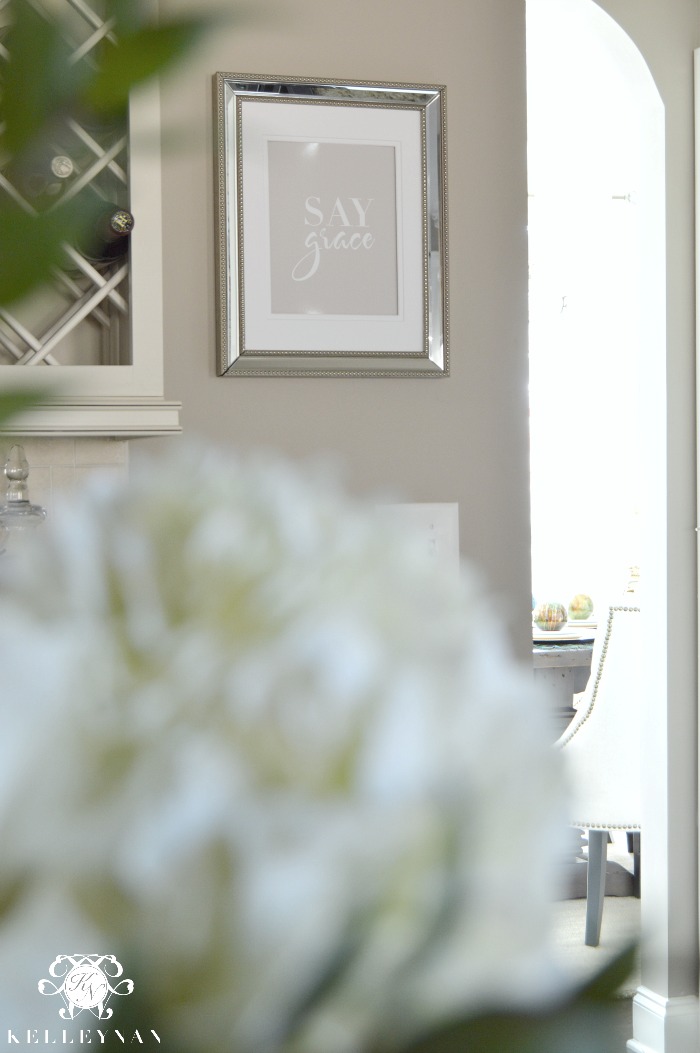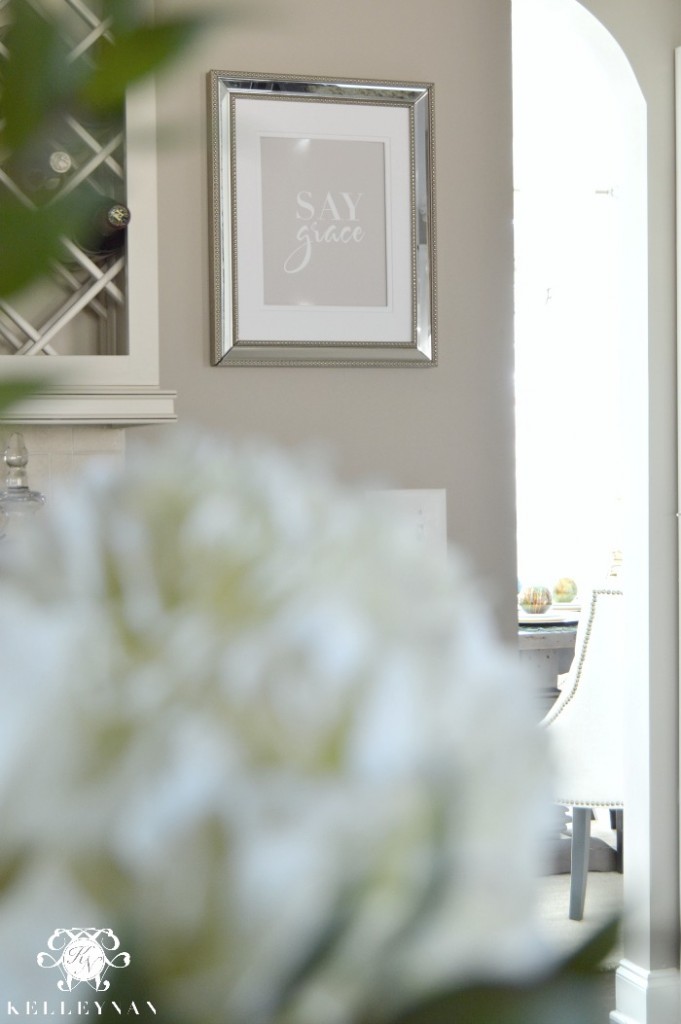 Double ovens have made life so much easier. Not only are they a huge help for larger meals such as Thanksgiving, but we cook dinner most every night. We use both even more often than I thought we would. I even love the small drawer below, which holds grill pans and accessories.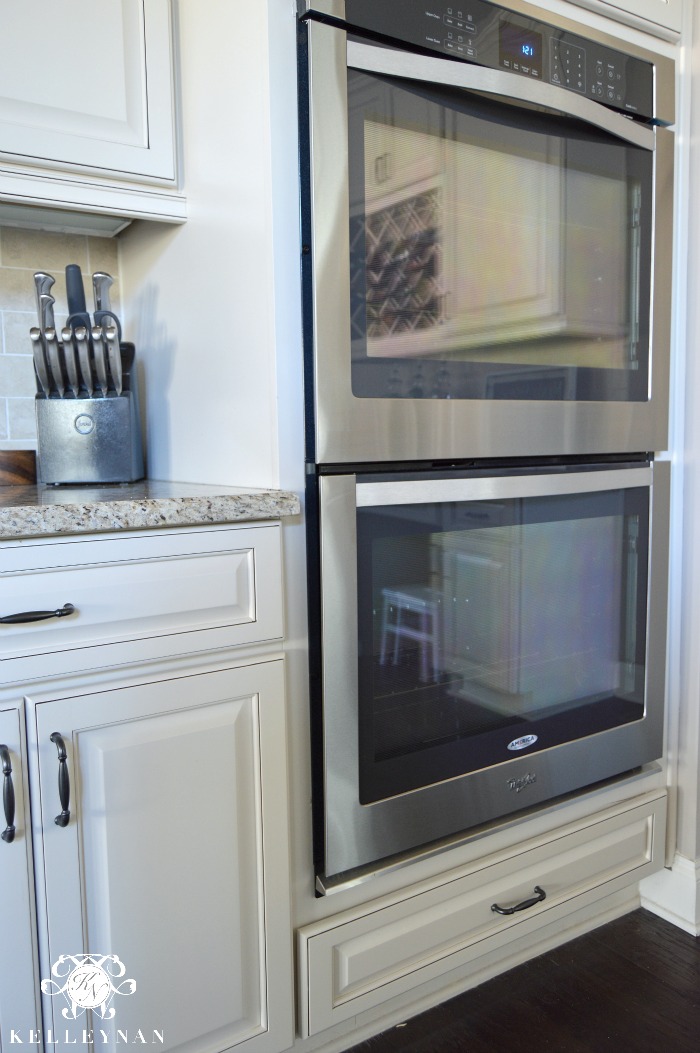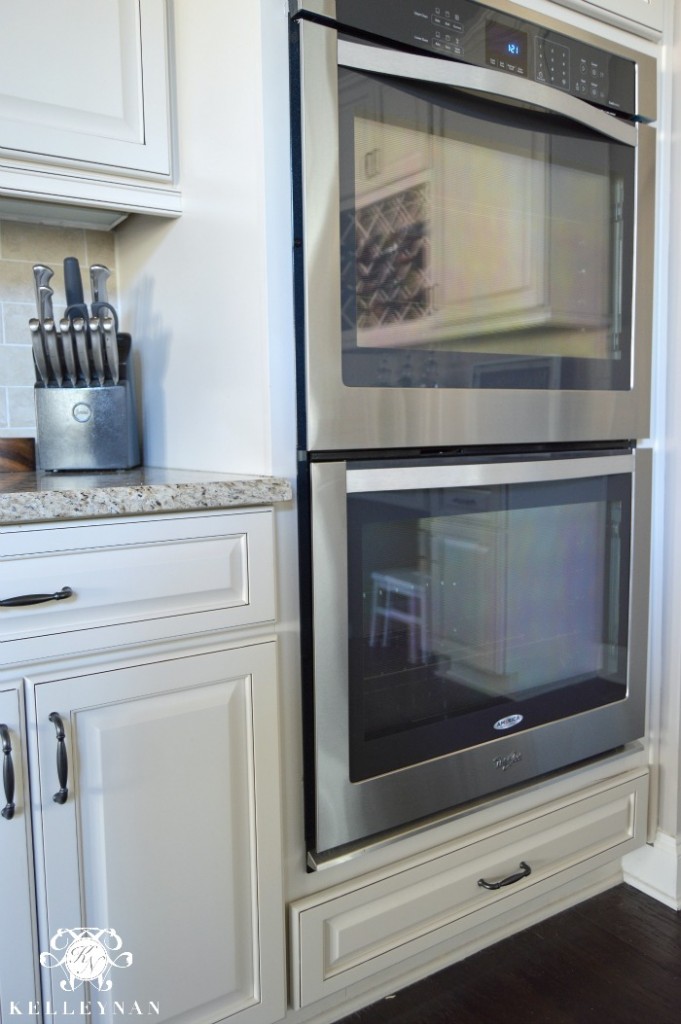 Because we have a breakfast nook off the kitchen, and barstools at the bar, I didn't think it was necessary to put stools at the island. Instead, I leave this area open for more room to prep.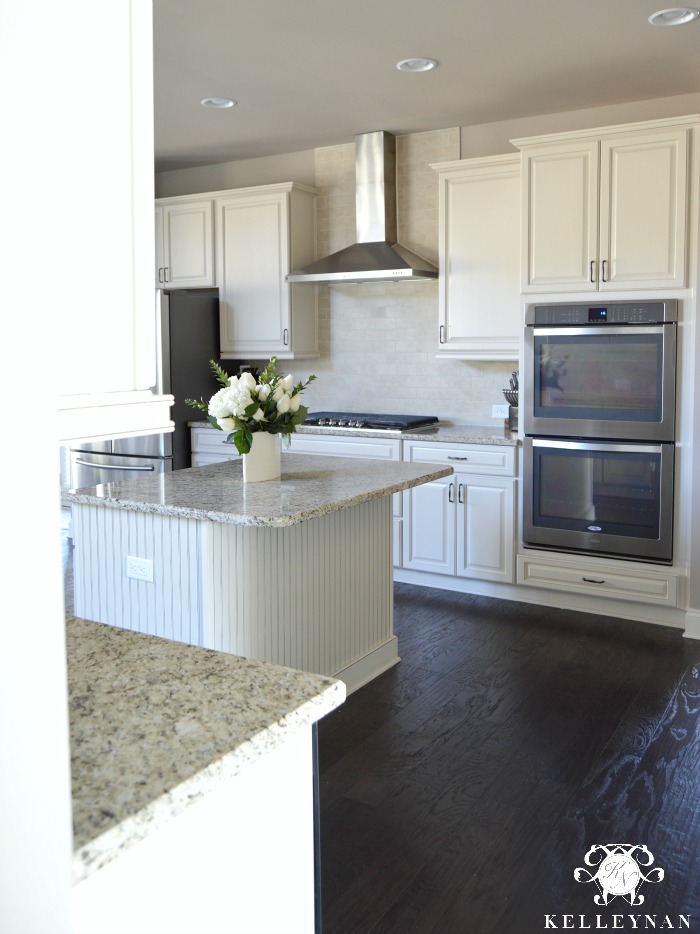 Here are our barstools; we eat dinner here and do computer and evening work here most every night. They are super sturdy and I could not be more pleased with them- we have them in the linen color and you can find them HERE. They are basically the taller version of our dining room chairs.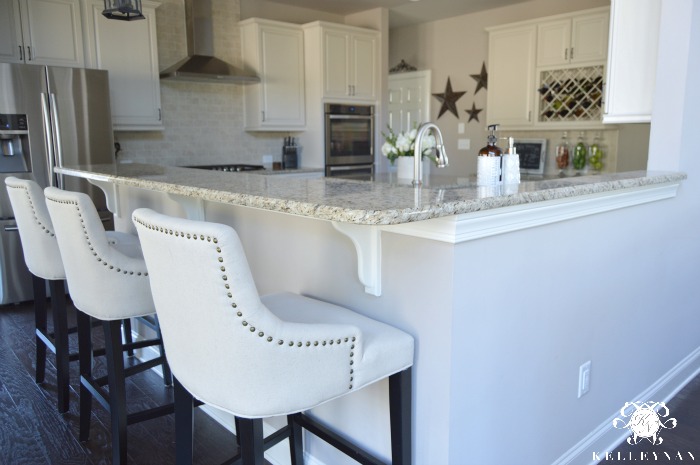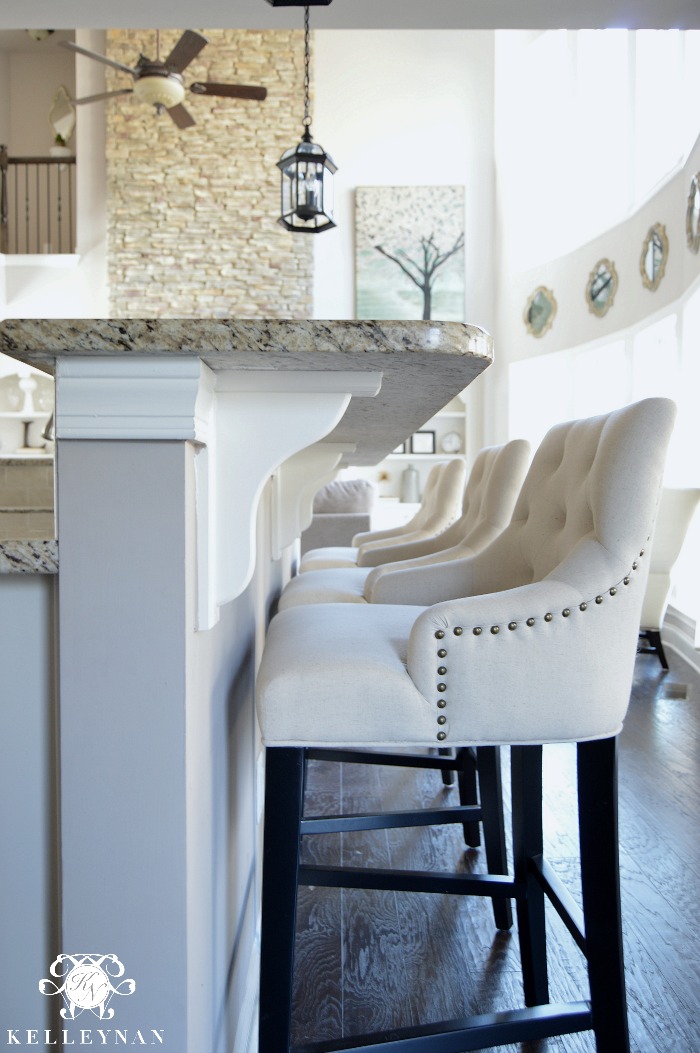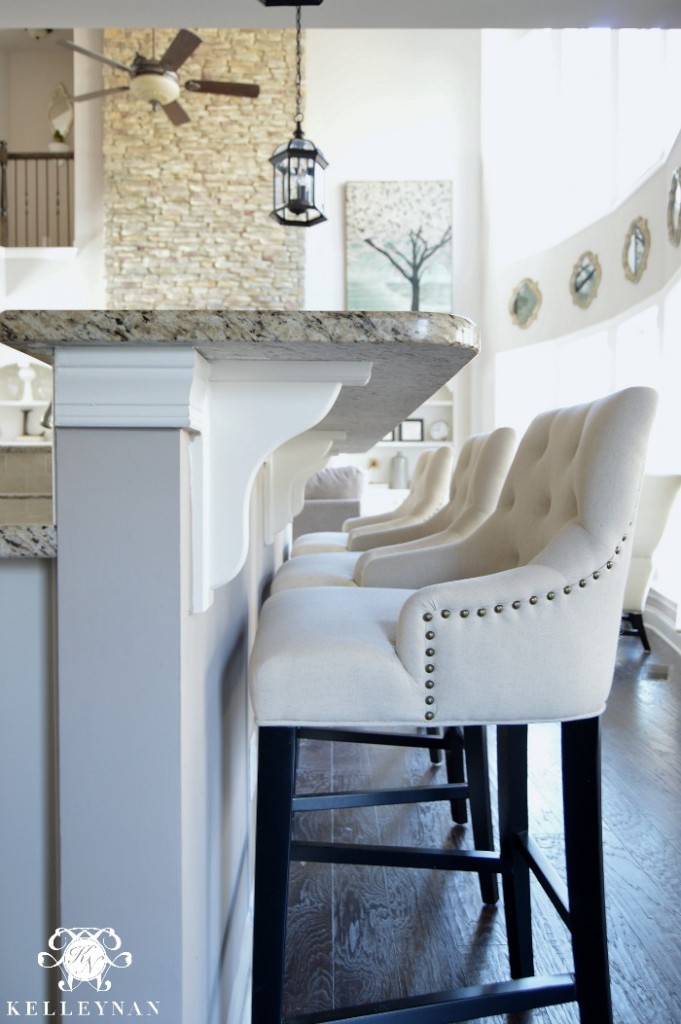 Because we have double ovens and a range hood, we chose to install the microwave in the lower cabinets. I wasn't sure I would like it, but it hasn't been an inconvenience at all. In fact, I like that it is in a more inconspicuous space.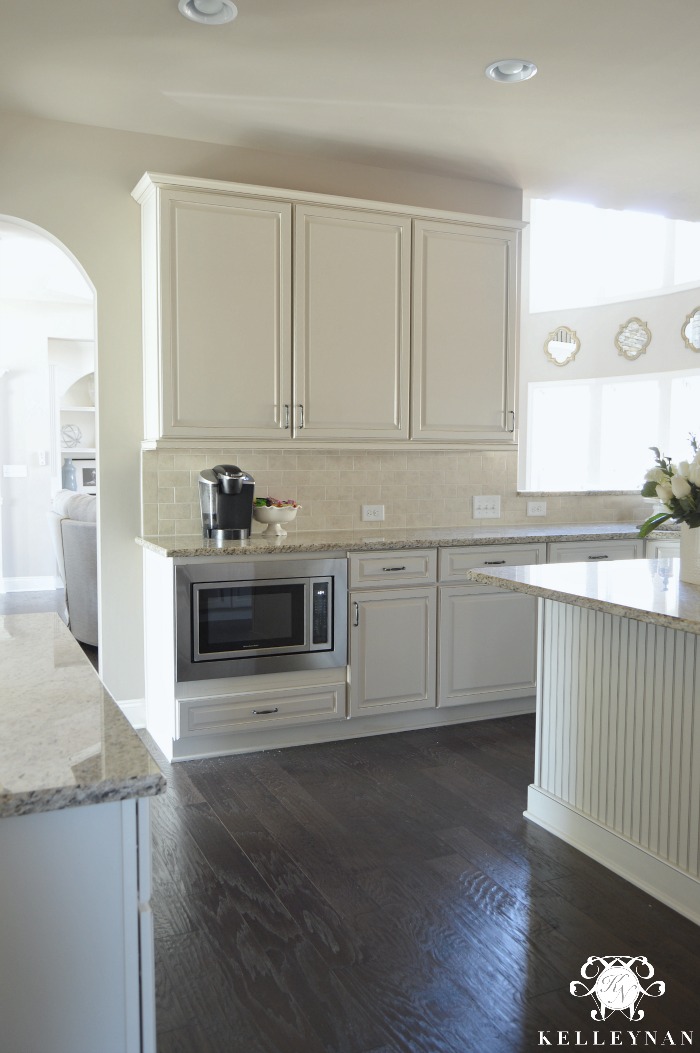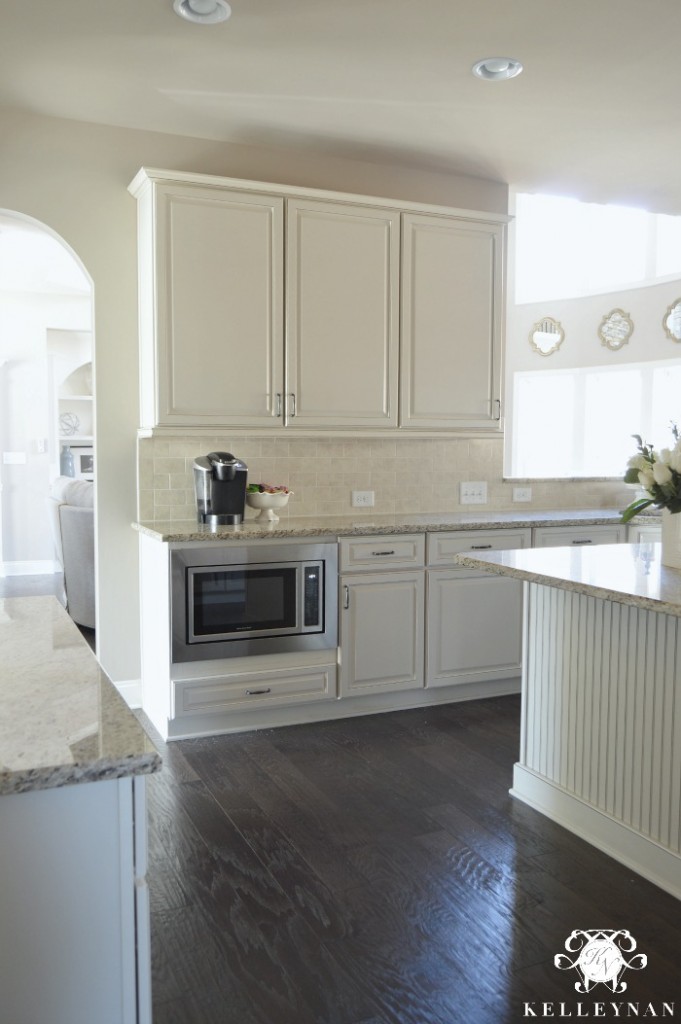 You may notice that we have outlets everywhere. And, I wouldn't have it any other way.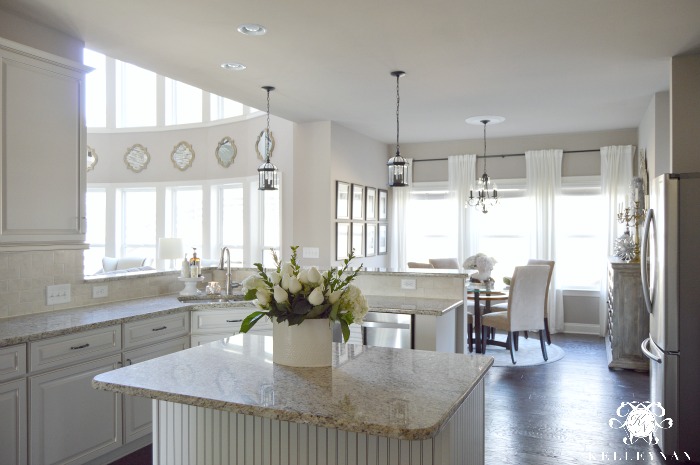 Instead of pendants or traditional lighting, I knew I wanted dual lanterns over the bar area. As a matter of fact, these are identical to the lanterns hanging on our front porch. Similar options can be found below: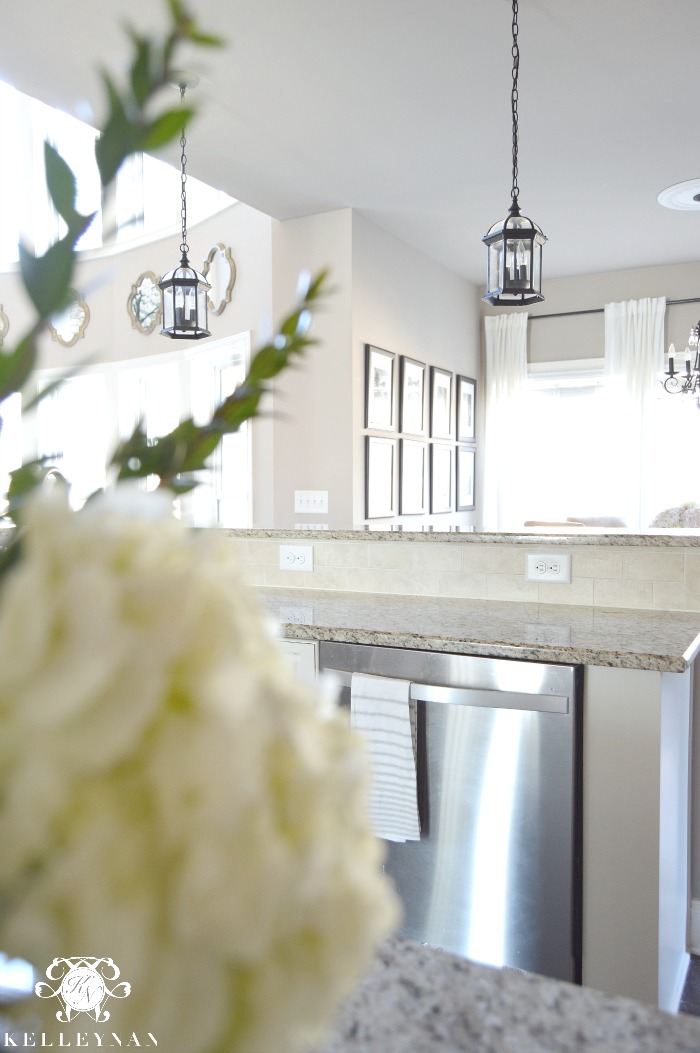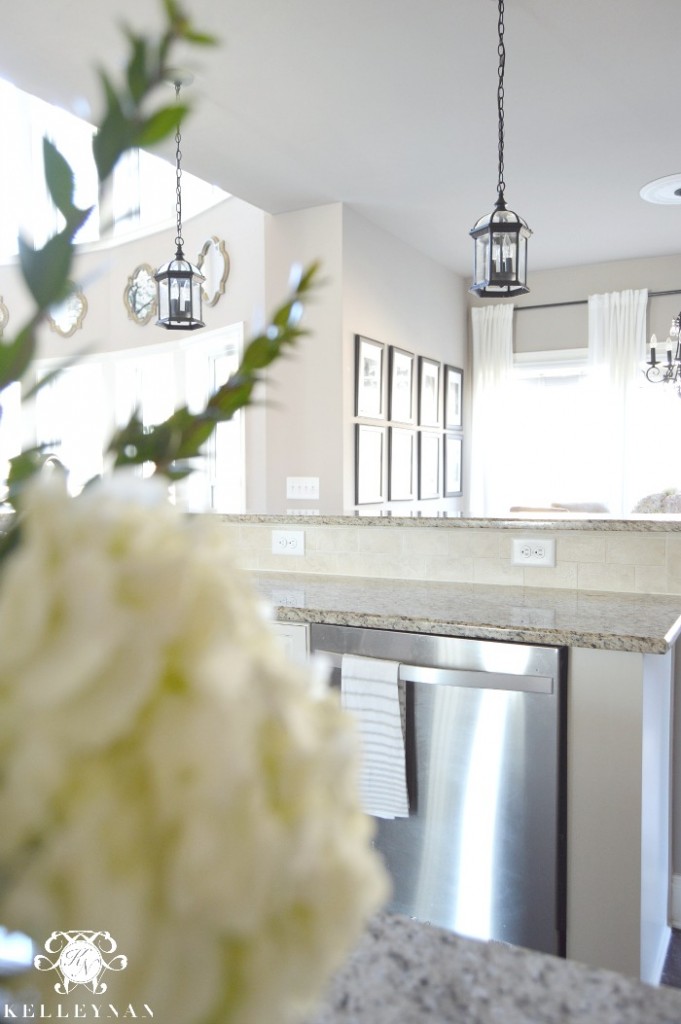 I am not a fan of much overhead lighting so I try to keep many lights on dimmers. Our under-cabinet lighting is the perfect way to bring a small amount of light to the kitchen without overhead or can lights. The builder originally installed a bright white color which went straight back and were exchanged for a soft, warm white.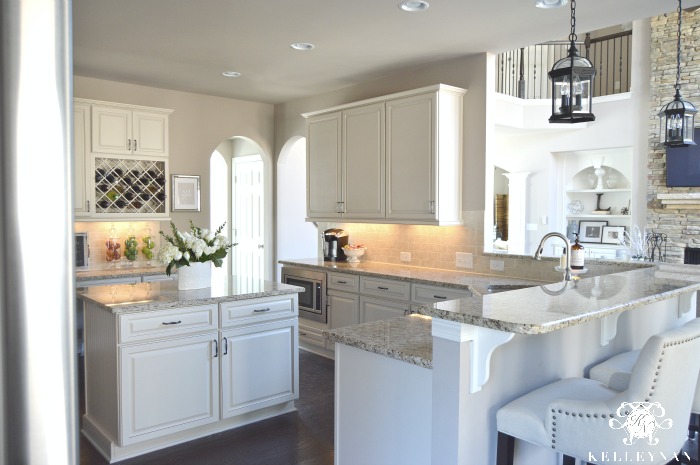 To bring a little warmth into the space, and also to disguise streaks and crumbs, I went with Giallo Ornamental granite countertops. The backsplash is Puebla Travertina Beige in 3×6 tiles with Snow White grout. While I don't have enough guts to go with a stark, white floor grout, the grout on the walls has remained bright and unstained.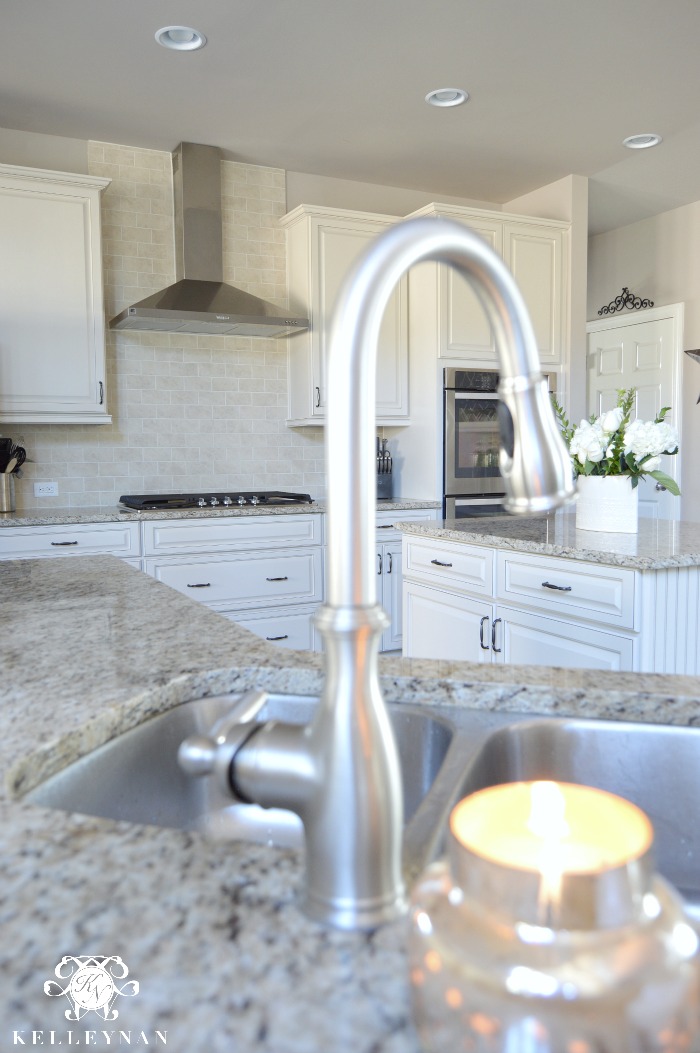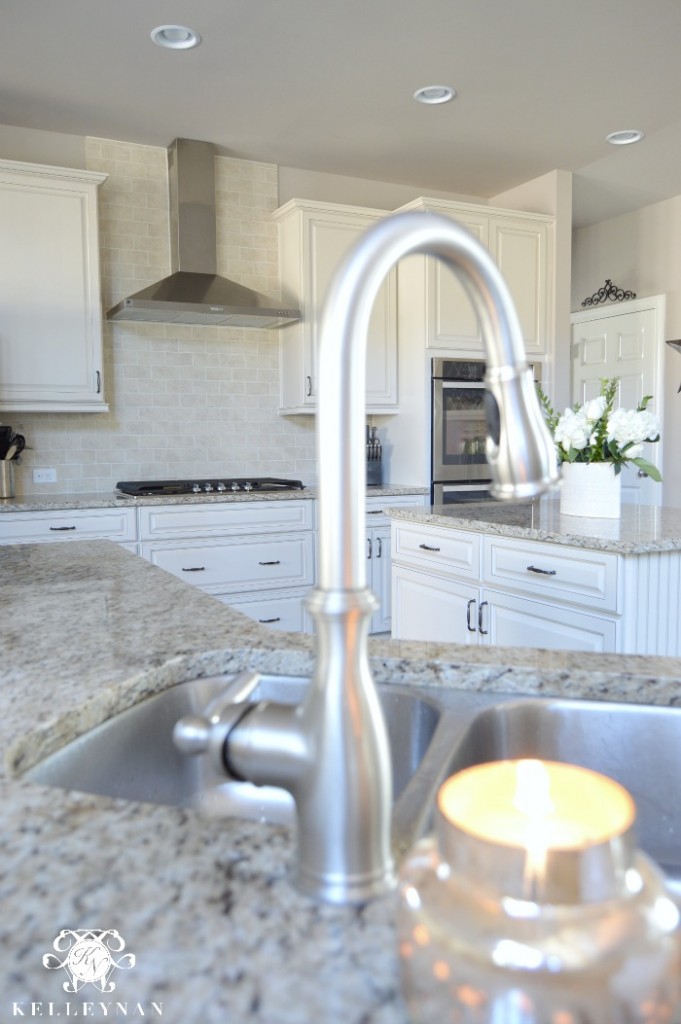 The wide, five-burner gas stove top was a huge help in cooking our dinners, coming from a small, four-burner range. The pot and pan drawers below have also become an absolute necessity.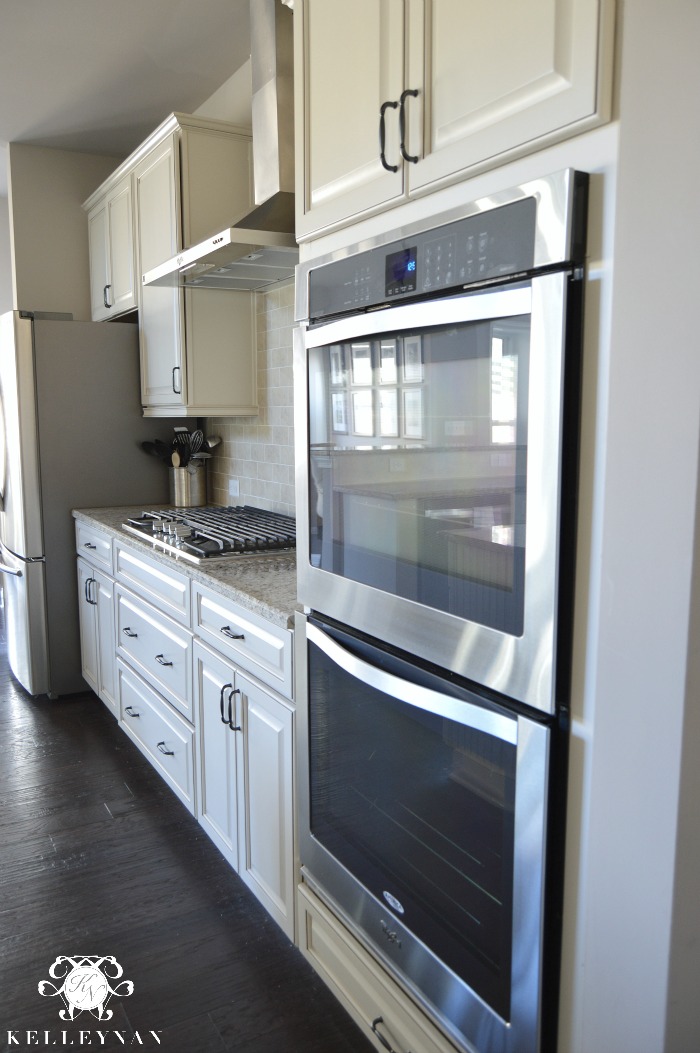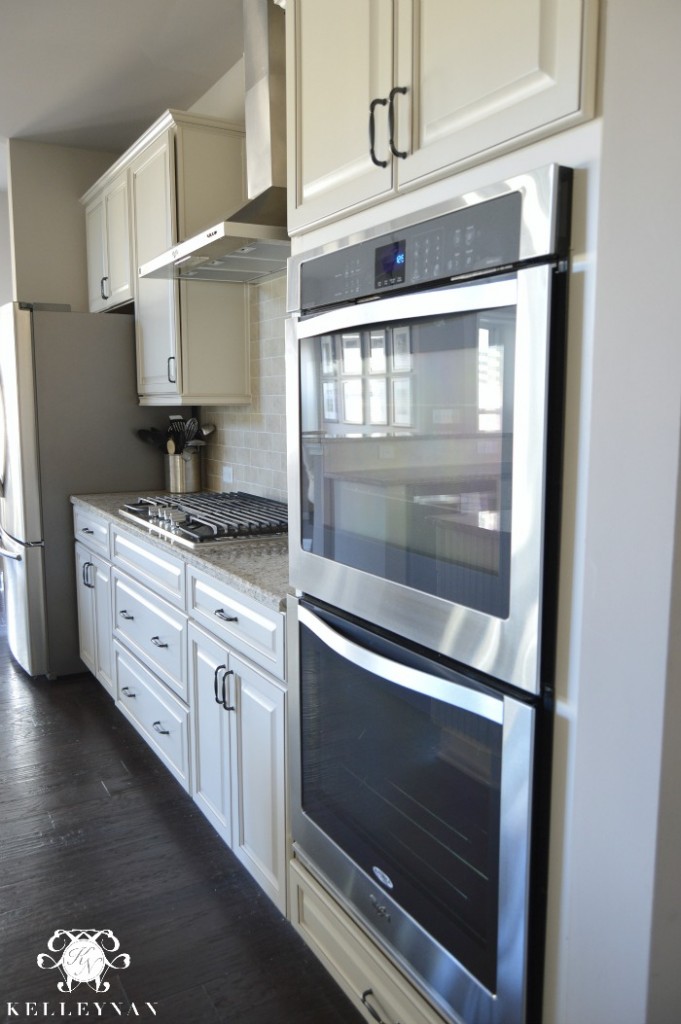 Much like I decided against counter stools at the center island, I also decided against a chair at the stationery desk, choosing to house a small step stool in the opening instead. Our cabinets are deceptively tall, with the cabinet pulls falling directly at my eye level. Like I said, tall, but I had to have space for those casserole dishes!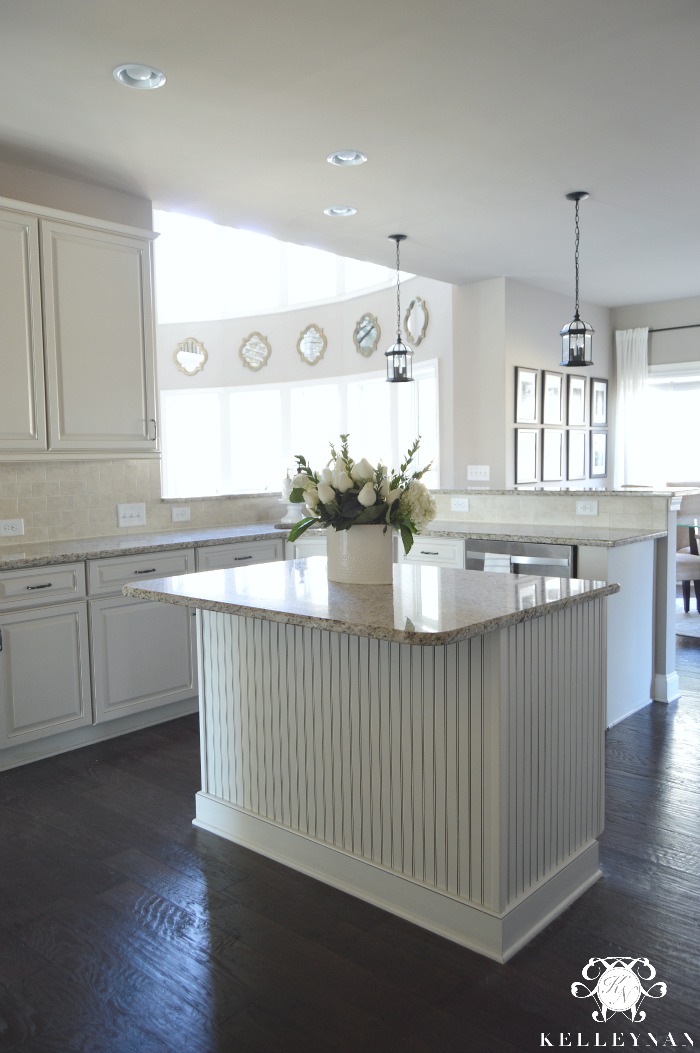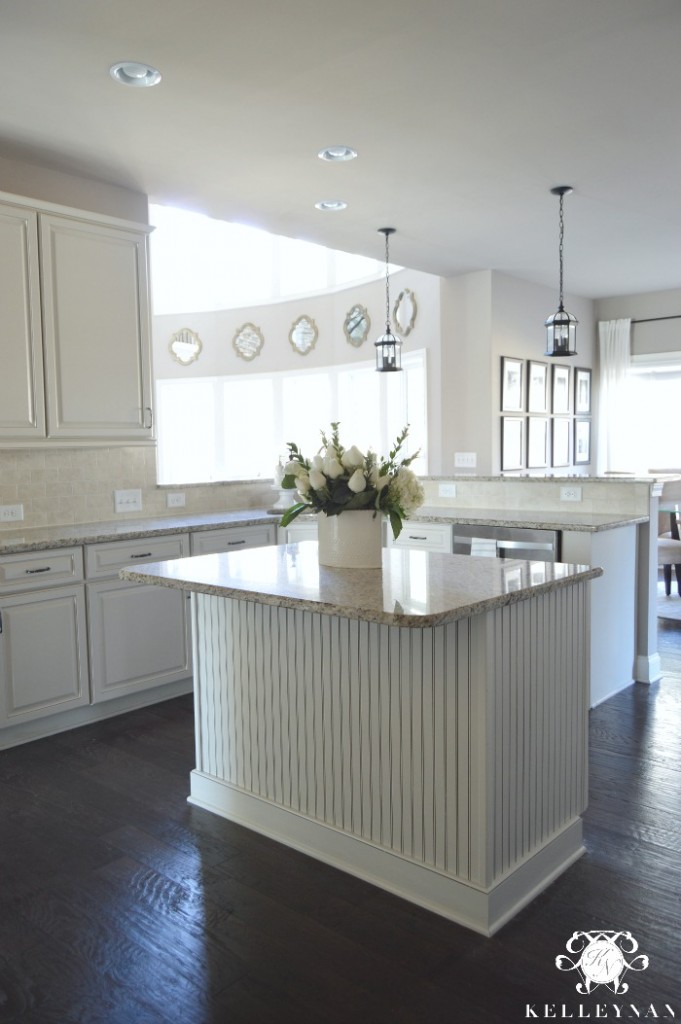 I still have some plans for this space, such as installing crown molding throughout the kitchen and breakfast nook, but since moving in, this remains one room I have been most content with. I tried to keep it pretty traditional in here to withstand several years to come. Most importantly, when picking out your kitchen, or any room for that matter, make sure you are designing it for you. If you prefer a contrasting island, go for it. If white marble isn't your thing, go with a counter in which you feel comfortable cooking. If you want to renovate but can't accomplish everything at once, prioritize areas and take your time. Whatever you choose, do it for you and what works for your family. While this may be my favorite room and I think it is perfect for our family, I know it may not suit everyone, and that is ok.
There are so many "fun" add-ons for kitchens and I hope some of my favorites have been helpful. I would love to hear about some of your favorite kitchen features in your kitchens in the comments section below! Stay tuned; another room tour will be coming soon!
Other available sources:
*Note: some affiliate links used in this blog post.