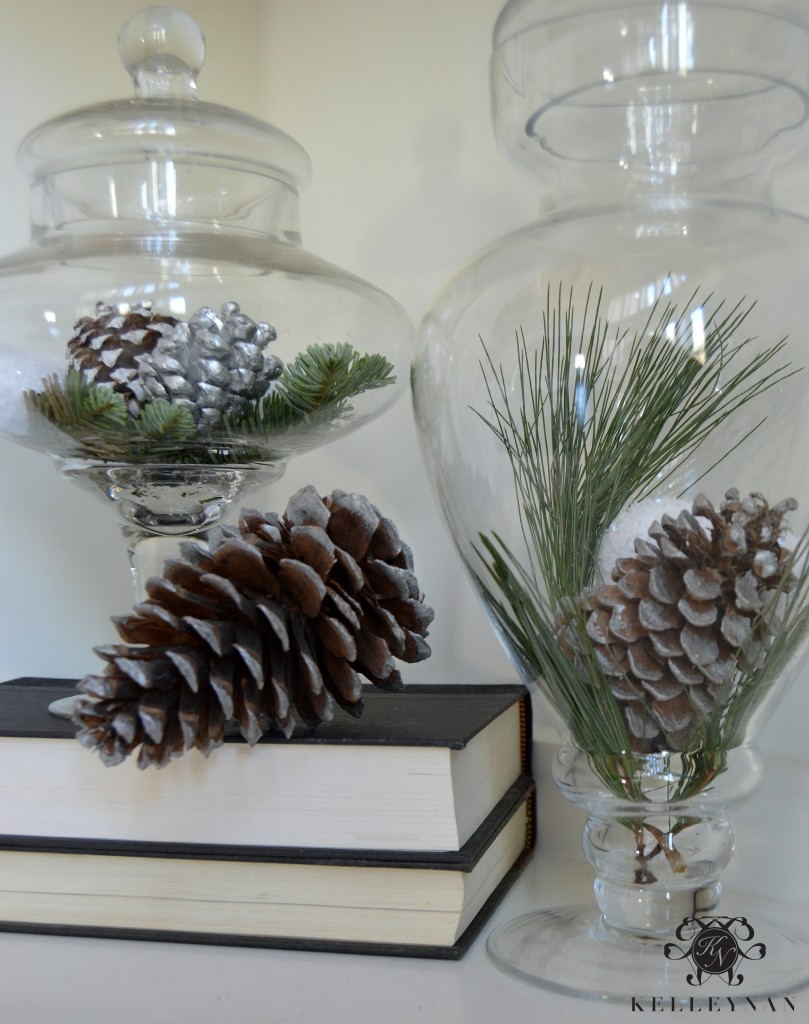 As someone who has the constant "itch" to decorate and redecorate, classic and versatile pieces are key in affordably satisfying this not-so-uncommon habit. Apothecary jars are similar to trays inthat whatever you decide to fill them with, they instantly adopt a structured, intentional look. In this post, I am going to take you through 16 easy-to-achieve styles. The possibilities are endless and with each season comes new opportunities to style these classic lidded jars.
One of my favorite ways to style my apothecary jars is by setting the season in a little vignette within the jars. Since it is winter, I laid a bed of evergreens, topped with a couple of pine cones and flocked stones. Similarly, in the spring, you could use moss with bird nests or in summer, sand with shells and sea glass. Trying to create a snapshot of the time of year within the glass instantly sets the seasonal tone for the room.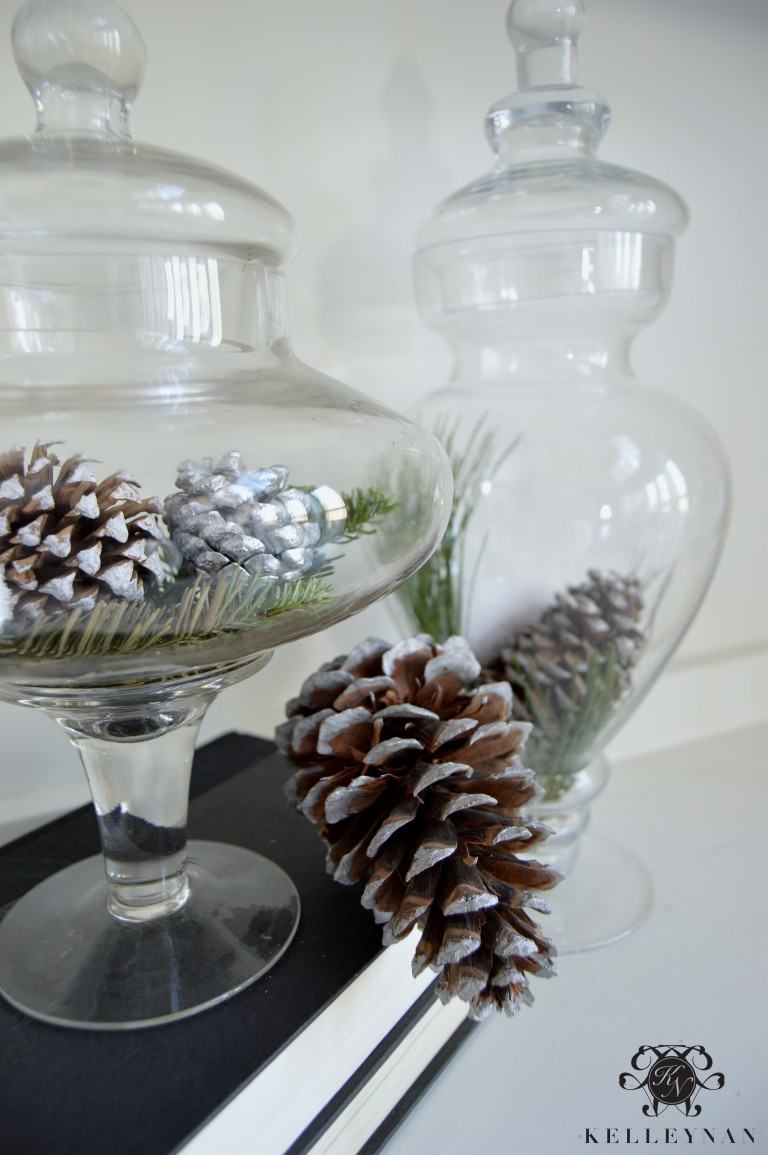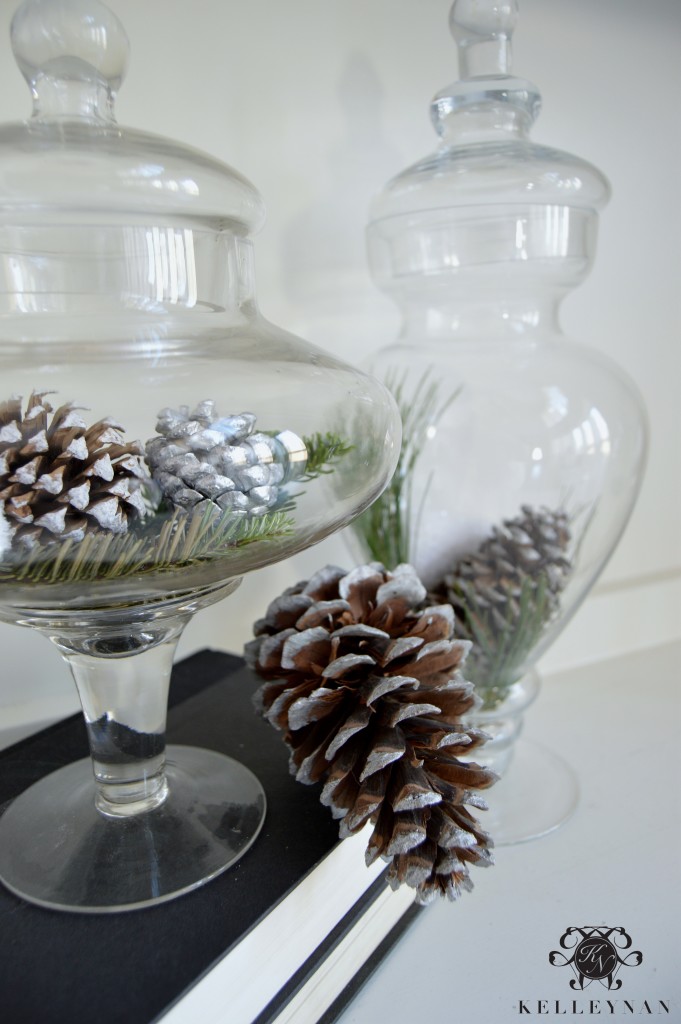 Apothecary jars in the bathroom are perfect for making simple necessities appear elegant. Along with cotton balls and q-tips, you can use a tall jar for makeup brushes or decorative soap.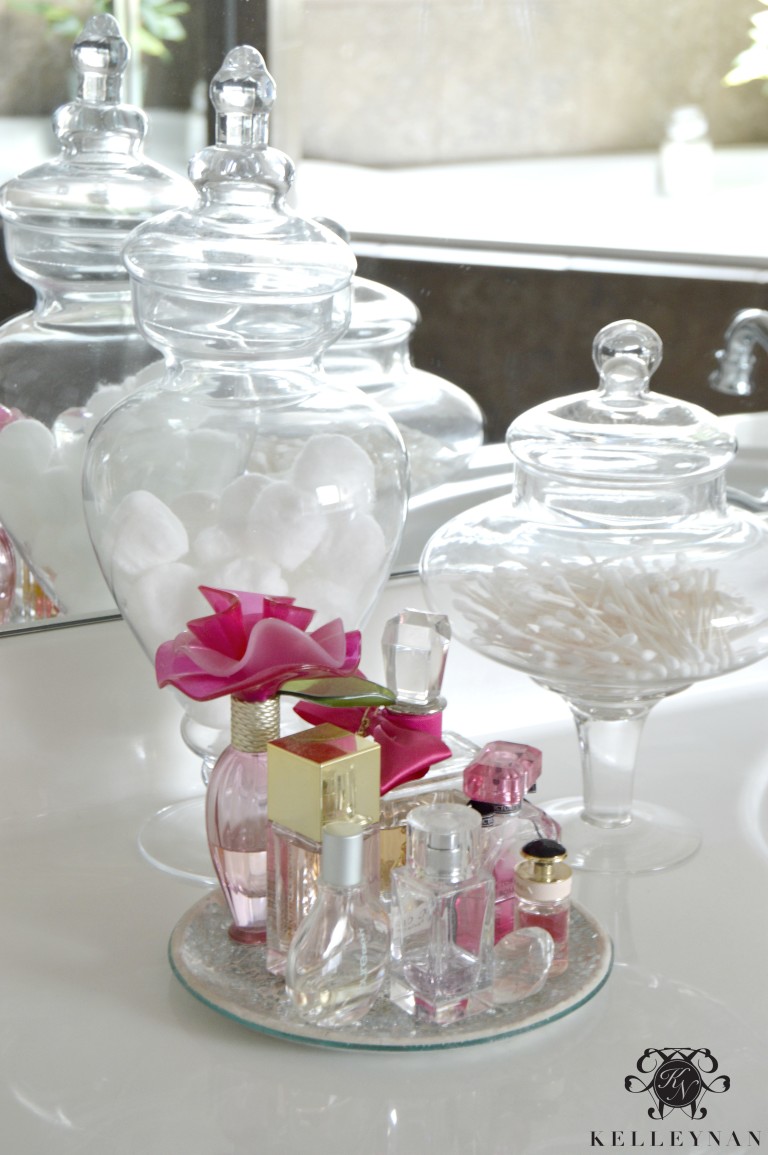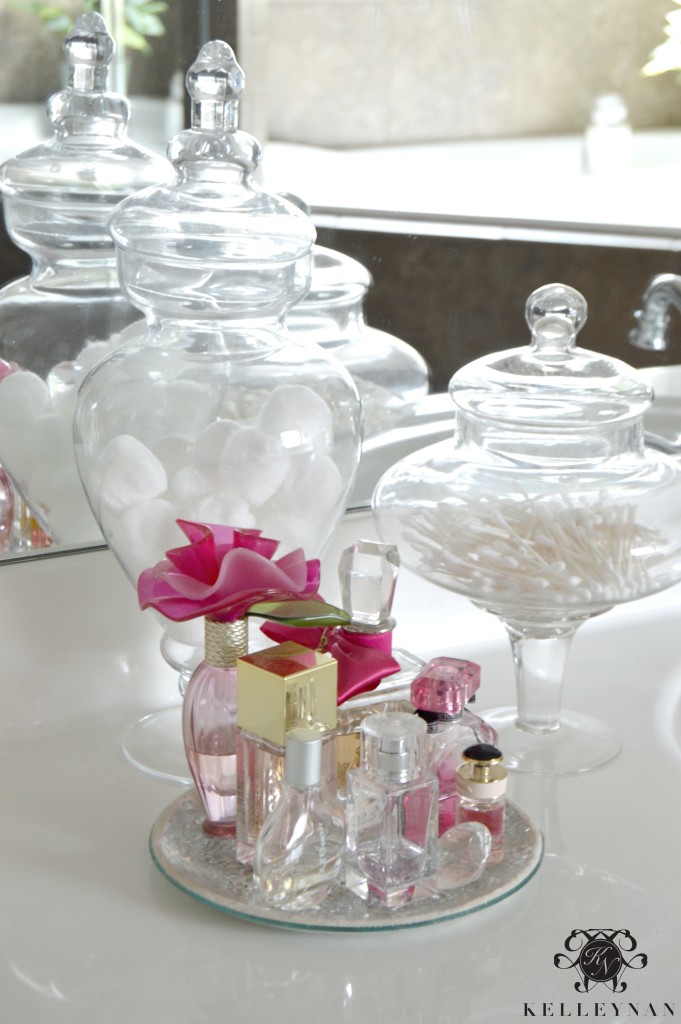 So this is more of a lidded jar, but the same concept applies. I keep these in my guest bathrooms stocked with collected miniature toiletries. You can find this two-gallon, gigantic jar HERE. For other bathroom ideas, you could fill a jar with sea sponges, or bath salts with a scoop. Since I don't have those immediately on hand, you will just have to imagine those.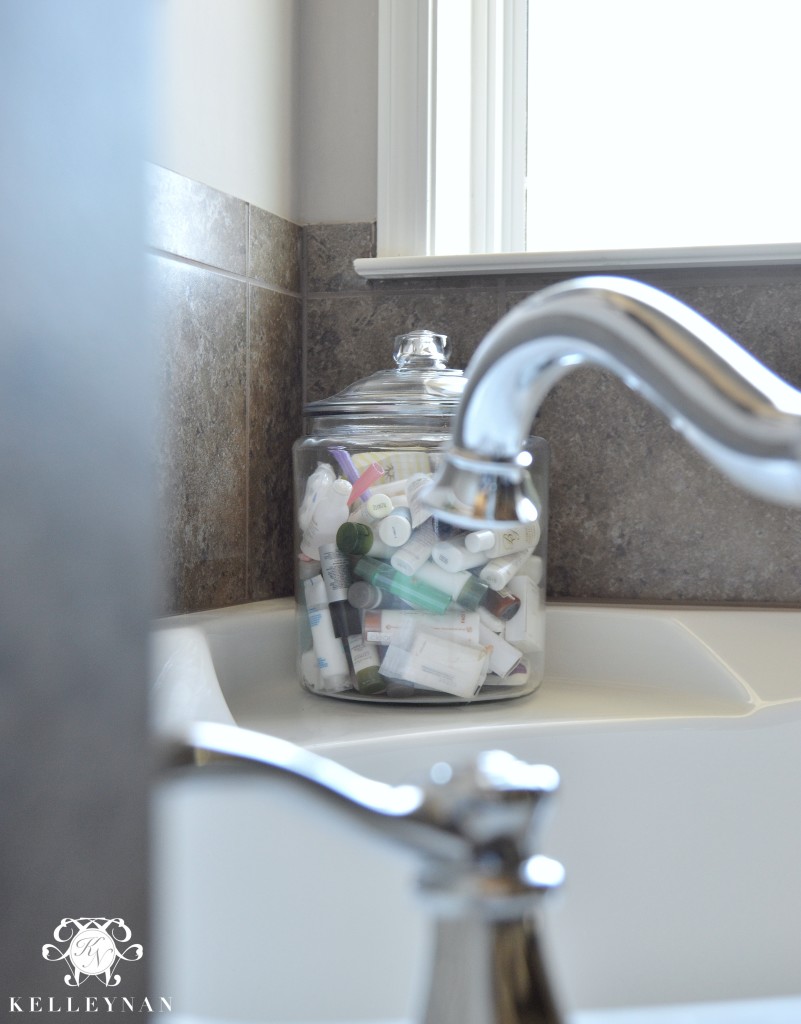 Arguably the most common way to style apothecary jars is by purchasing bags of "filler". Petals, potpourri, and balls of varying sizes and textures are easy to find and can achieve a cohesive look quickly.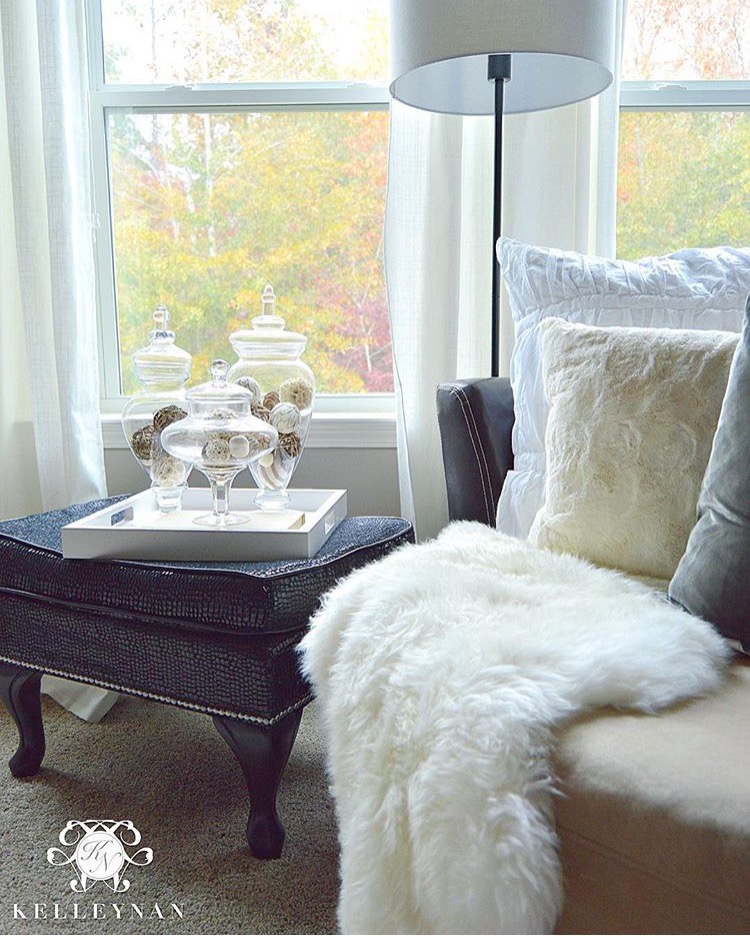 These white anemones were purchased together as "filler".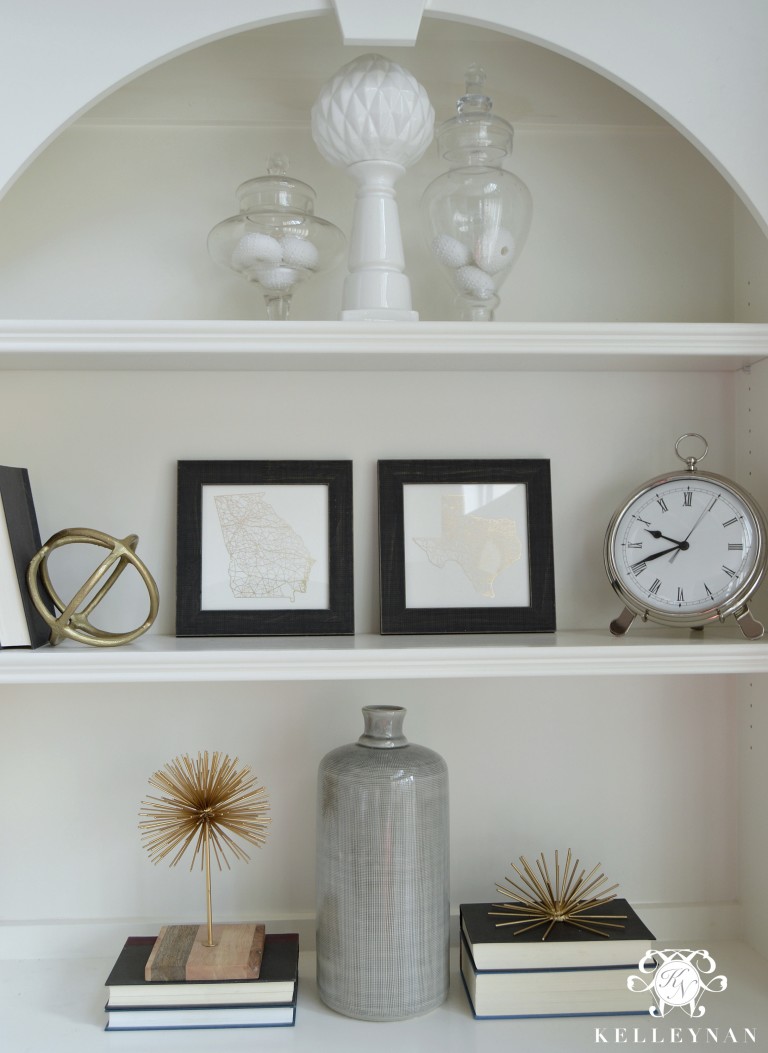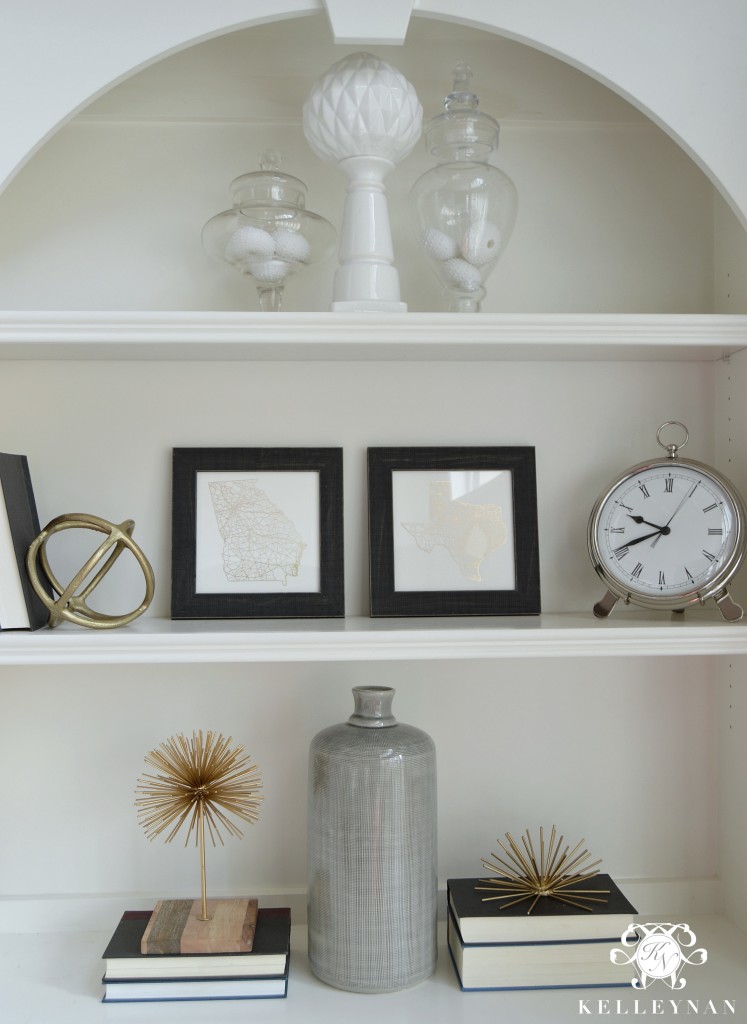 There are so many options in using apothecary jars in the kitchen. Currently, I have them as a focal point in our kitchen, filled with pears, apples, and limes for a pop of color to our otherwise neutral space.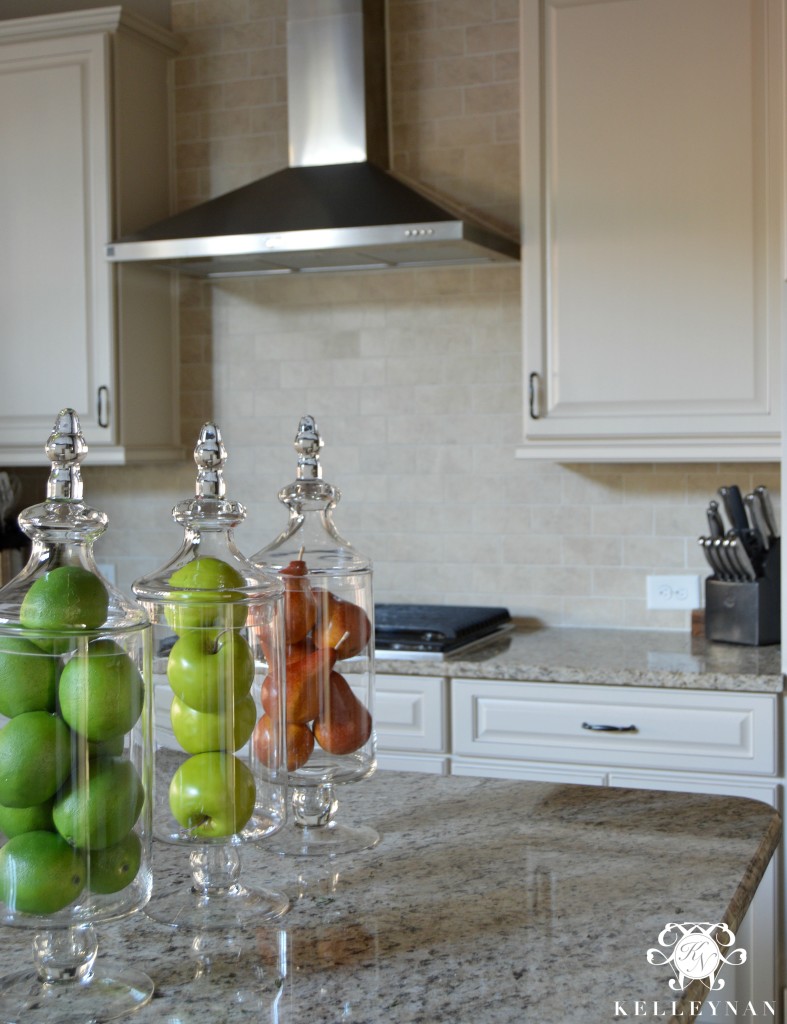 You can use them in a beverage station to hold coffee beans, mints, or marshmallows as I did with my hot chocolate bar. If you missed my hot chocolate bar post, you can check it out HERE. Dried beans, pasta, sugar, flour all make for great filler in the kitchen.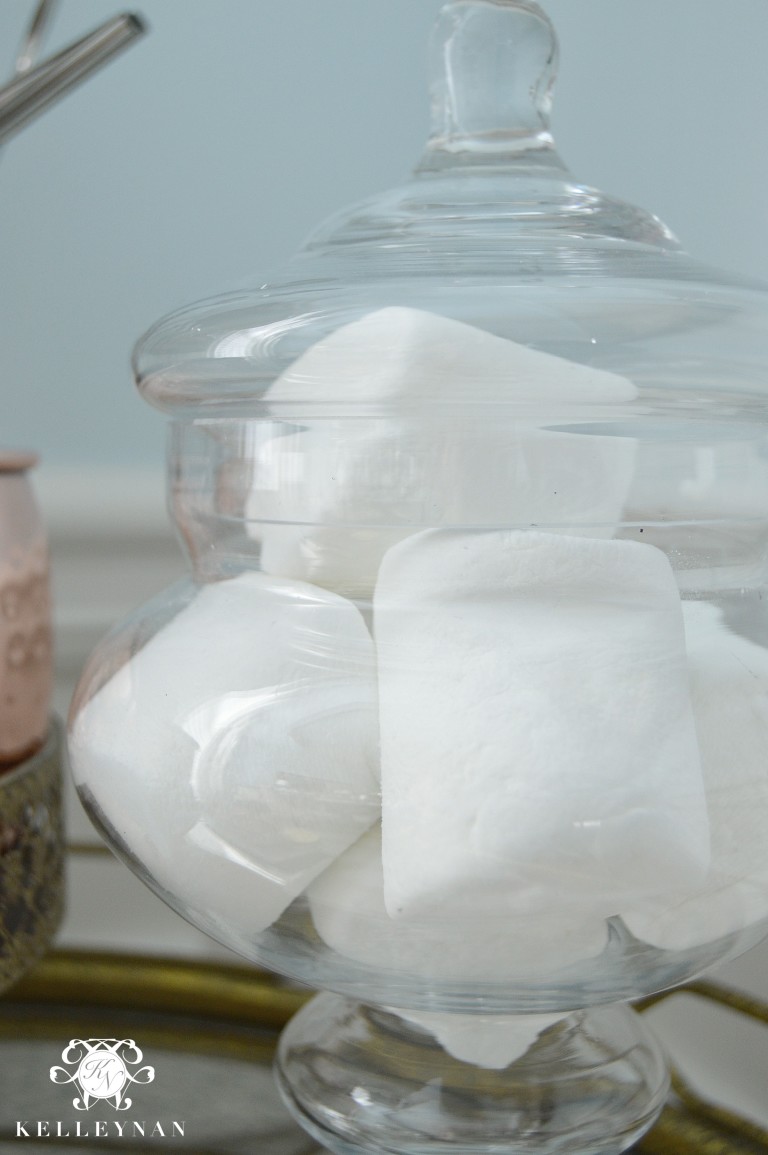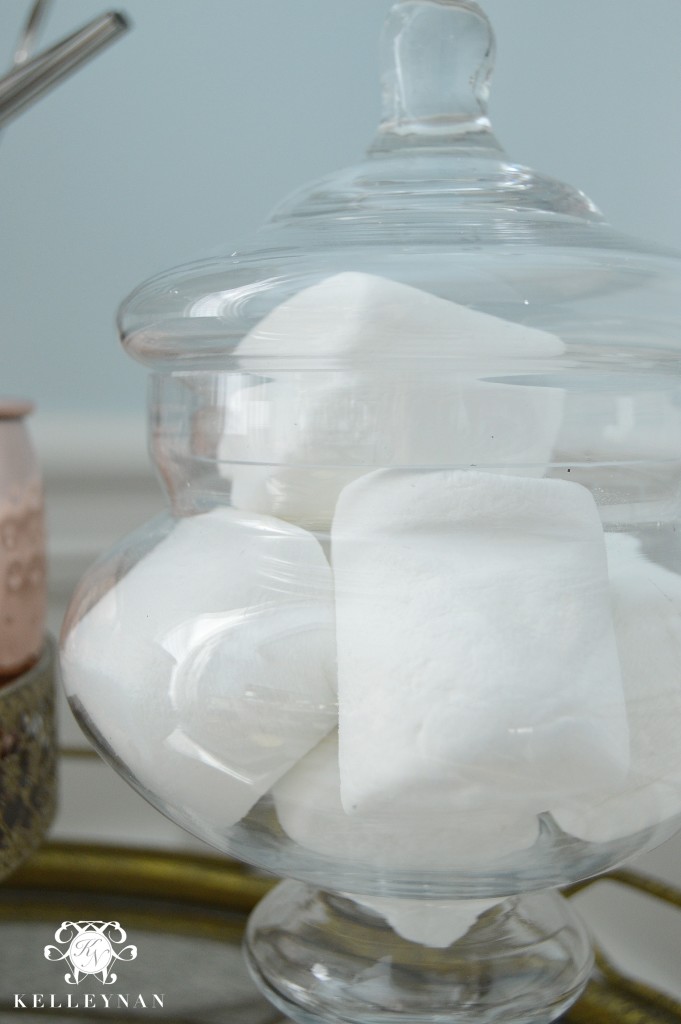 Another fun, colorful way to free up some pantry space is to stash some treats in them. I love treat jars with unwrapped candy, but if you still have a lot of wrapped Halloween candy like I do, sticking to one color family per jar also looks nice.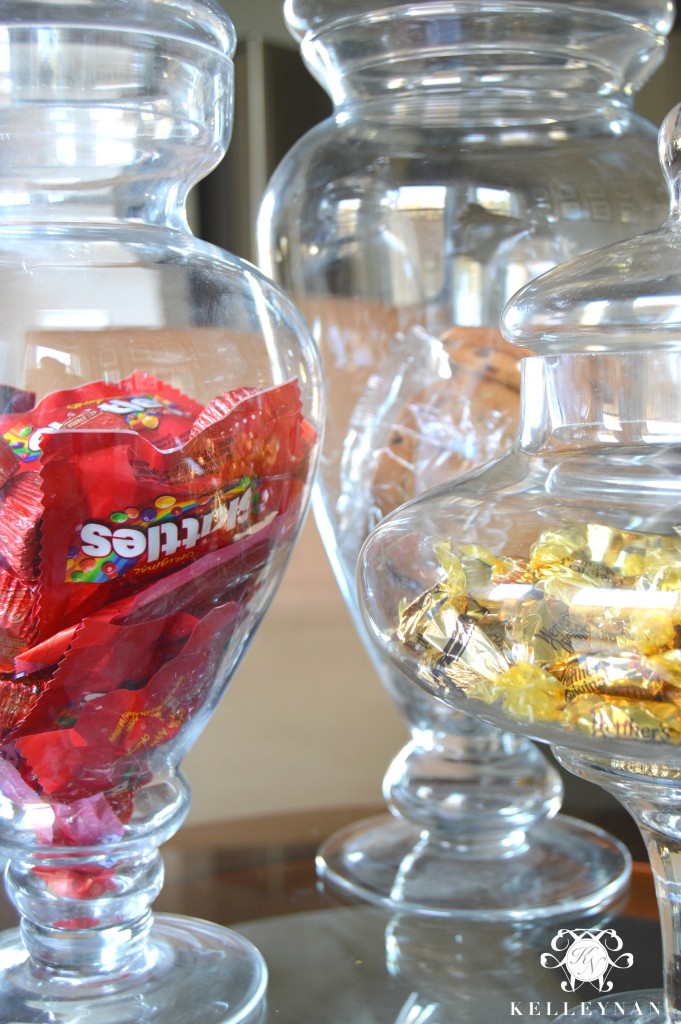 Because I keep my home pretty neutral, I rely on florals, plants, and other natural elements to bring a bit of warmth to my spaces. Apothecary jars don't have to be filled to be beautiful. Below, I simply placed a spring of greenery inside each jar from one of our bushes in the yard. I love how these look next to the light, streaming through the windows.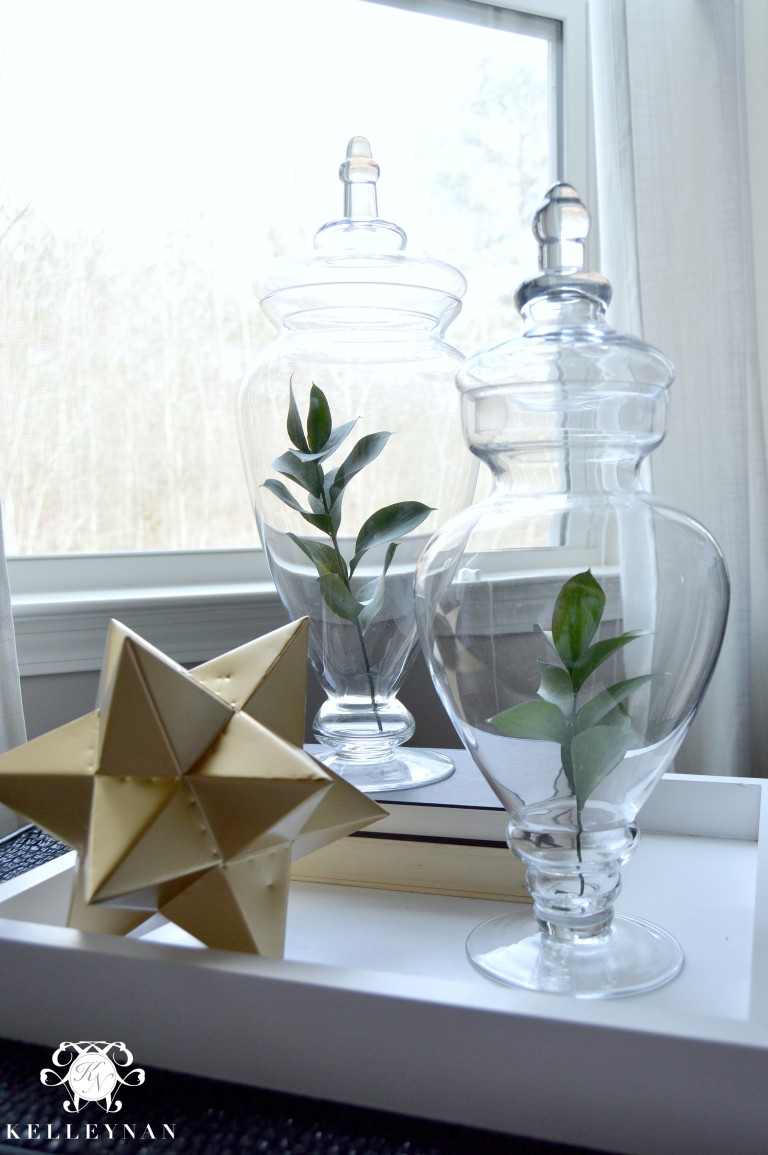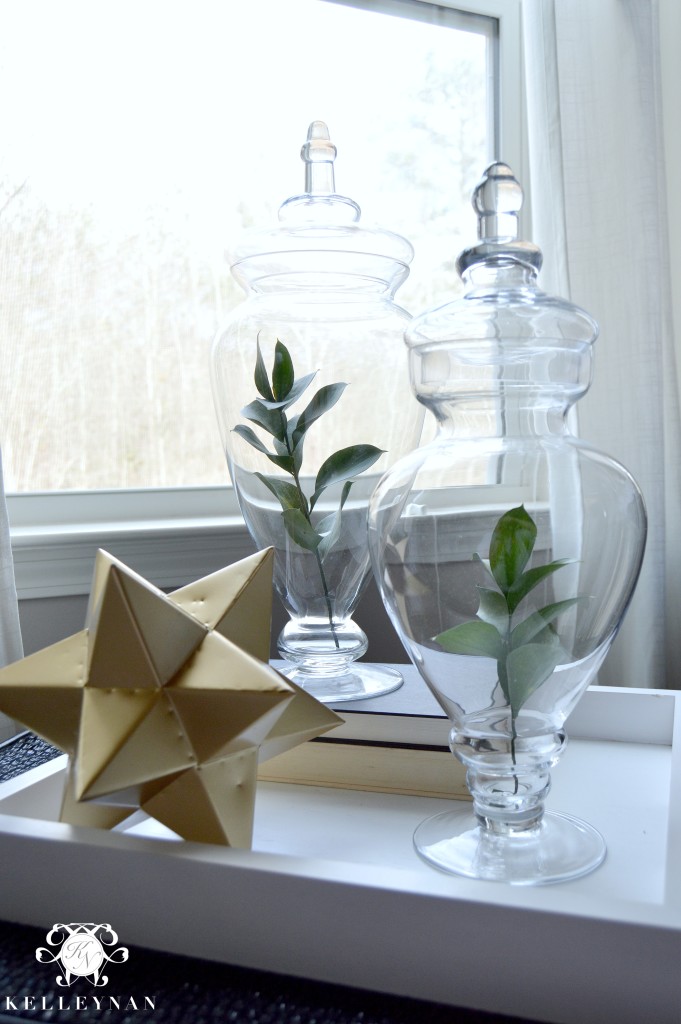 Here, I have used a miniature topiary, purchased for $2 at our local Tuesday Morning. Standalone, it is fine, but I'm really liking this terrarium-style greenery.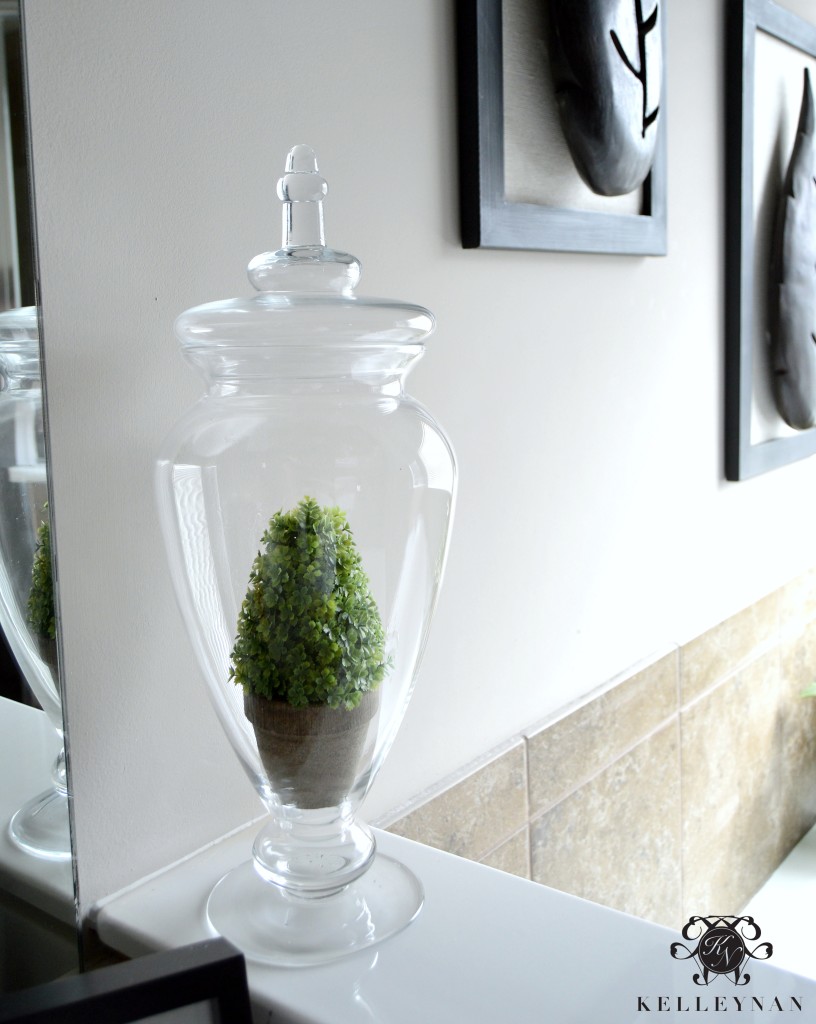 I use pine cones in my decor from fall through winter. Similar to the first photo, it doesn't get much easier than this. For winter, I add some frosted and silver pine cones to the natural varieties. Alone, pine cones could bring too rustic of a vibe for this space, but "glassing them in" elevates their sophistication.
As I said previously, you don't have to fill the jar to make a statement. As long as it is proportional to the size jar you are using, showcasing a favorite item by itself can achieve a sleek, clean look.
In the above photo, I used the sole magnifying glass while in the second photo, I added a like item, a book, to create a small "collection" within the jar. Think of the jar like a shadow box, displaying a few things together that deserve notice. While this magnifying glass is not available online, I love this horn magnifying glass HERE.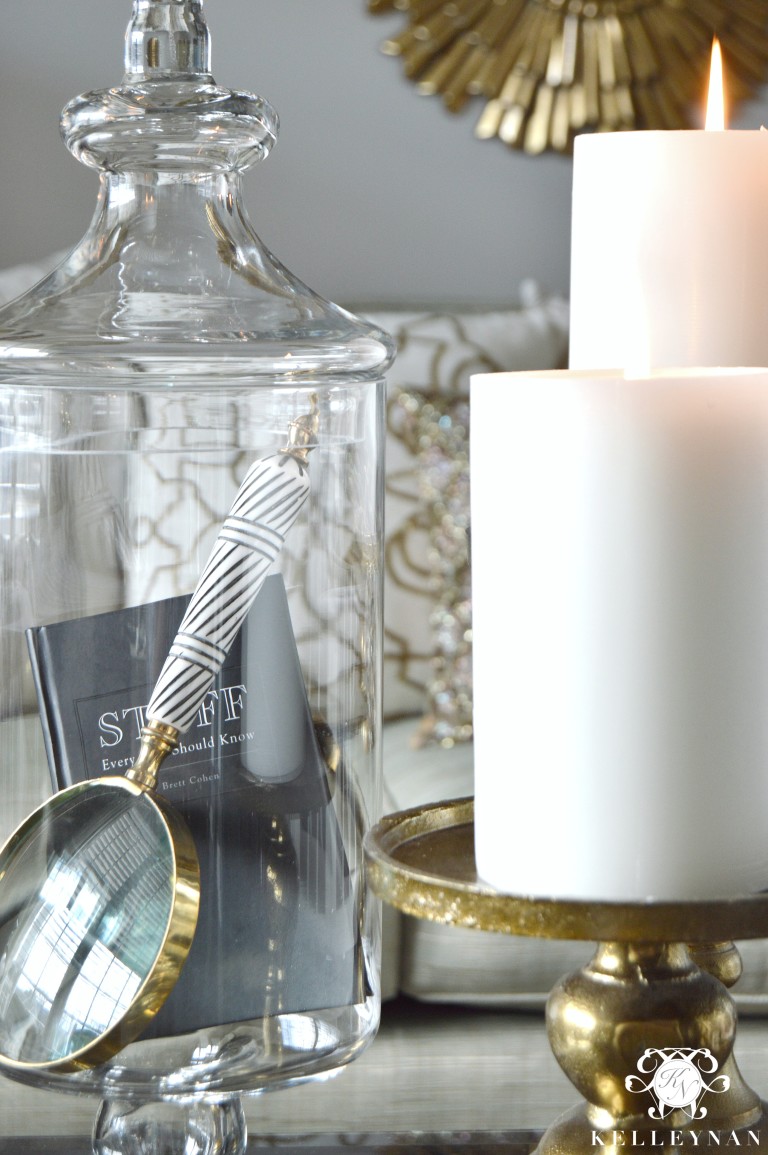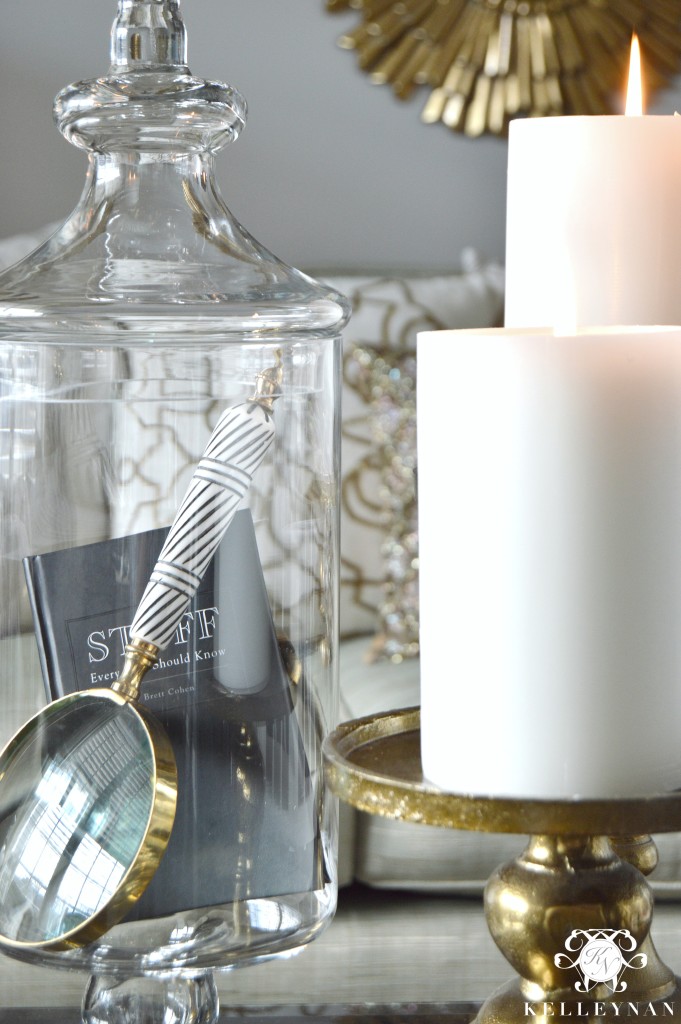 I love creating grand centerpieces with fresh flowers. But, one of the most beautiful ways to achieve an elegant look without spending a lot of money on stems is to put varying sizes in apothecary jars. You can get away with using fewer because the glass jars take up greater space, and the glass reflects the flowers. *Please note that this is not a long-term decor solution as flowers need oxygen to thrive.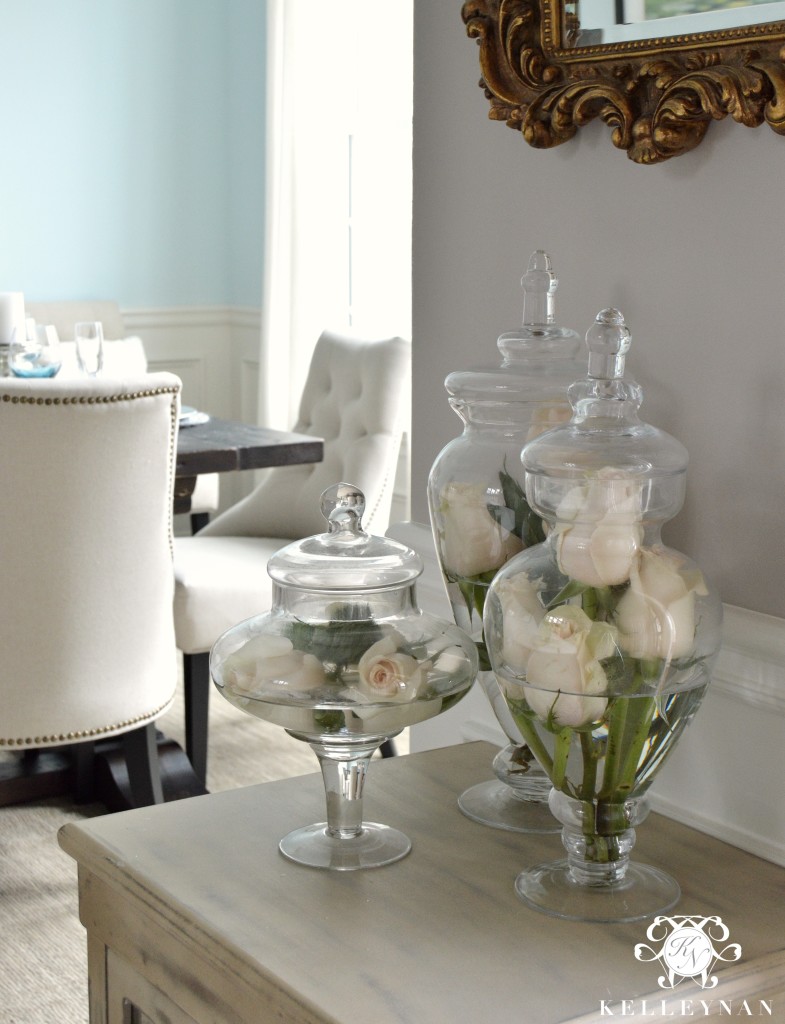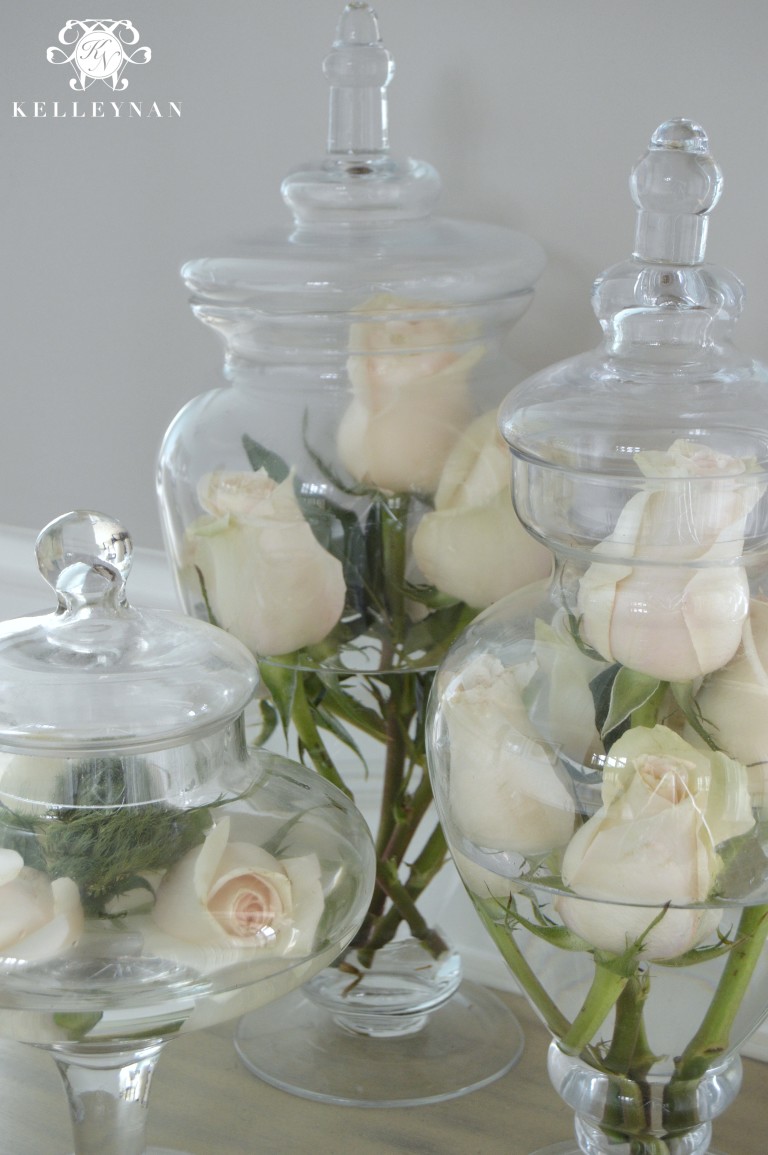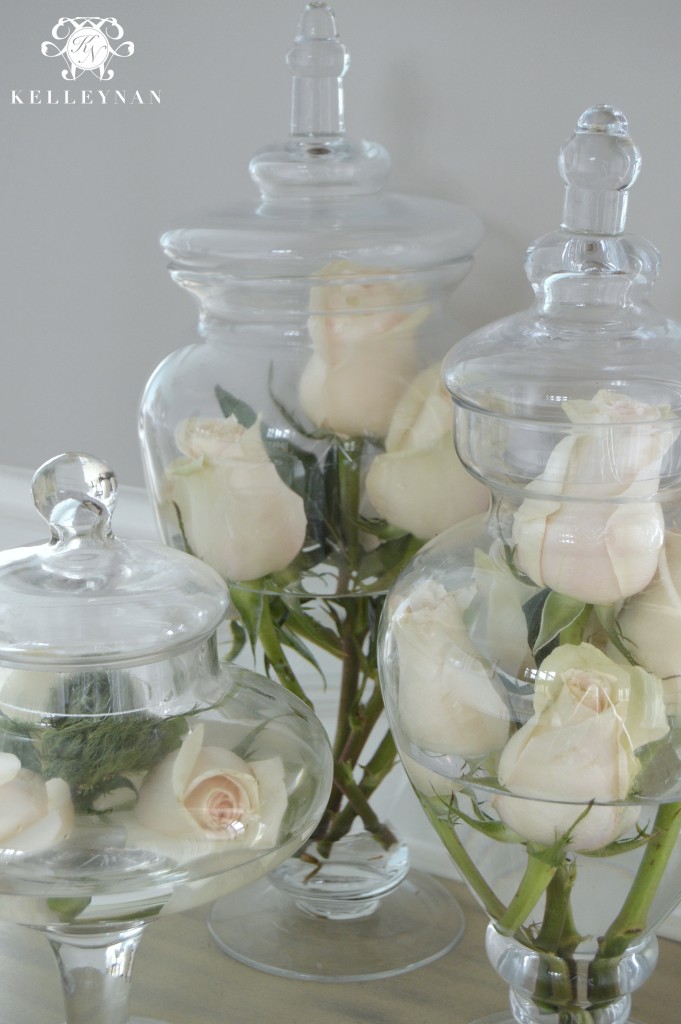 I used copper wire lights a lot throughout the Christmas season in centerpieces, displays, and woven through greenery. The simplicity of the dainty lights here resemble a jar of fireflies and to me, just resonates twinkling magic. This strand specifically is very long and exudes a lot of light- they can be found HERE.
Whenever I am hosting a party or gathering, I am always gathering baskets, trays, and receptacles to display food and beverages, and other items. We are always pulling out our stashes of koozies, forcing them on people and secretly hoping that they will take them home. Since the fall of 2012, we have successfully given away I don't even know how many wedding coozies and we still have a ton. Displaying them in a clear jar next to the beverages makes them more visible and provides a nicer way to display what is basically thin pieces of foam.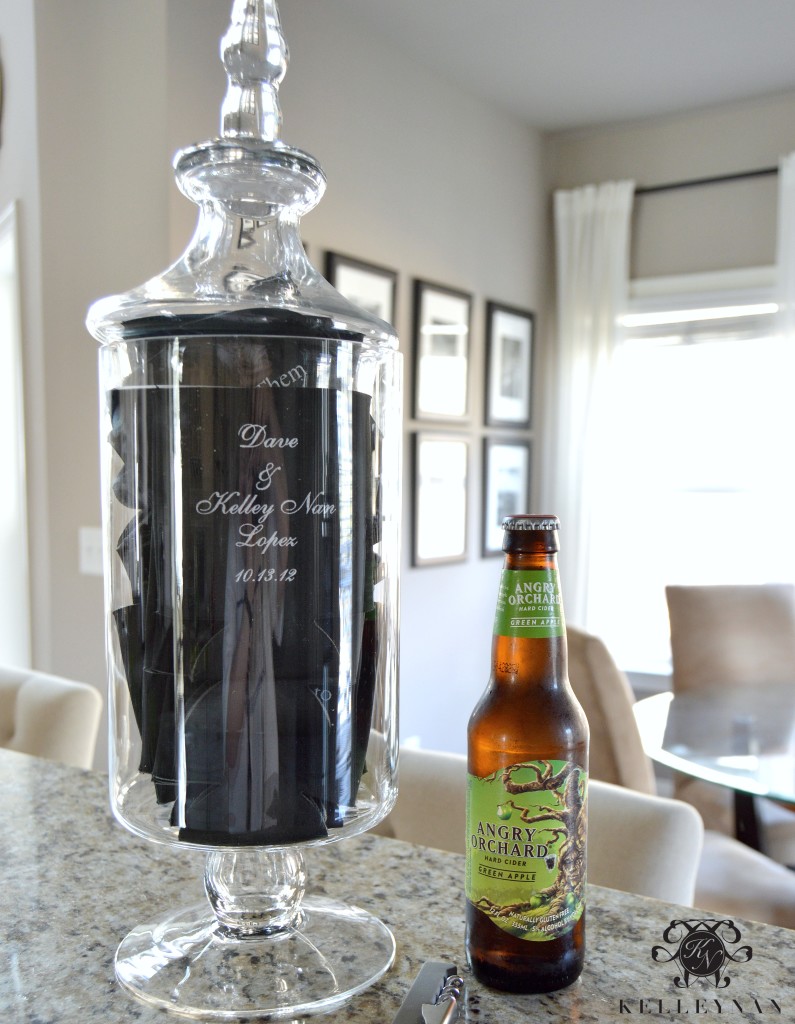 Like many people, I save wine corks. While I can't get totally on board with lining the upper cabinets with displays of empty bottles from nights we "survived", corks in apothecary jars read more "classy-Tuscan" and less "college-apartment". They also look beautiful mixed in with other clear glassware as shown here in my butler's pantry."
If you have several empty jars shoved in storage or sitting empty on a shelf, I hope these ideas help you to start brainstorming of how you can style areas all over your home. If you do not have apothecary jars, or are now convinced that you need them for every room, here are a few affordable sets and options to get you started:
Other Available Sources: