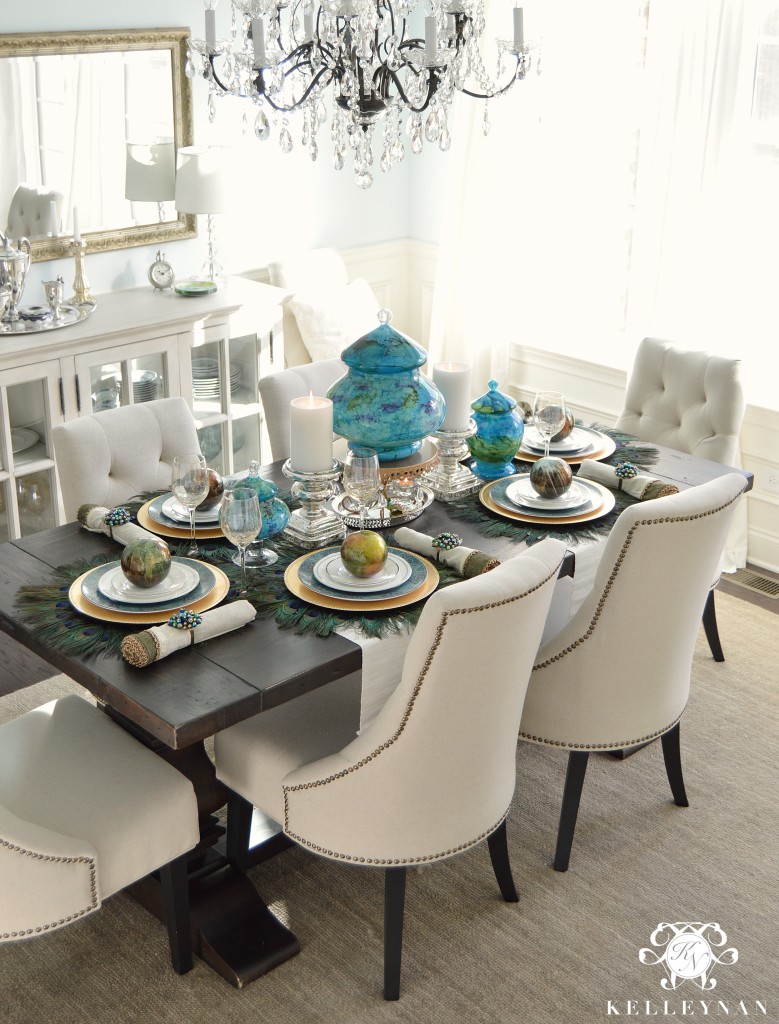 Long before we even had a home with a formal dining room, I dreamed of the day I would be able to dress a table in a peacock inspired colors. When we built our new home, the dining room was the space I was most excited to decorate, and I planned and shopped my tablescape before our walls were even constructed. The pale blue I chose for the walls (Lauren's Surprise by Sherwin Williams) is versatile enough to compliment all the tablescapes I have created thus far, but I chose the color specifcially to compliment the brights and deep blues and greens I would be bringing in with my peacock feathers. The pale blue is a little unexpected but I love how it keeps the room light instead of weighing it down with too dark of a color.
Note: Sources linked throughout
I didn't document my first peacock tablescape so now that the holidays are over and 2016 has commenced, I thought it was the perfect time to bring it back, and with a few enhancements.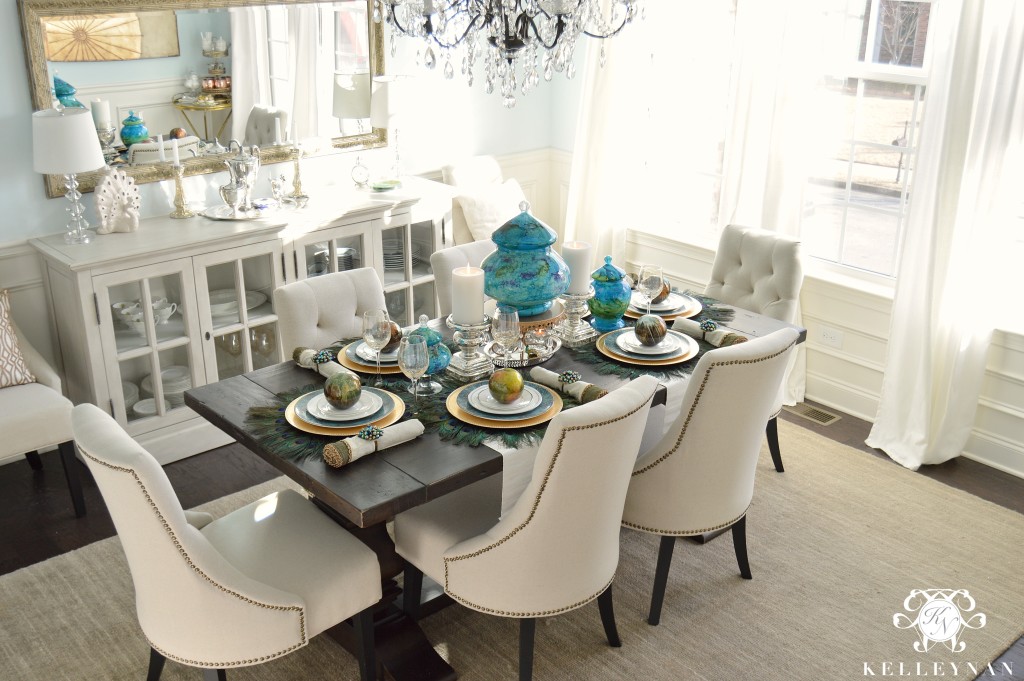 While many of the pieces used on this table were originally purchased specifically for my peacock table, you will see many elements that I have used across several of my tablescapes. In case you missed any, here are a few other recent tables I have designed:
Like most of my tables, I rely on lots of layers and a dramatic centerpiece. For this peacock table, I started with two table runners (HERE
), draped horizontally. Then, added the peacock feather placemats. I topped those with gold chargers, then my blue and green patterned plates, and finally two smaller plates from my formal china.
Note: The feather placemats purchased from ZGallerie are currently unavailable, but these
are a great substitute.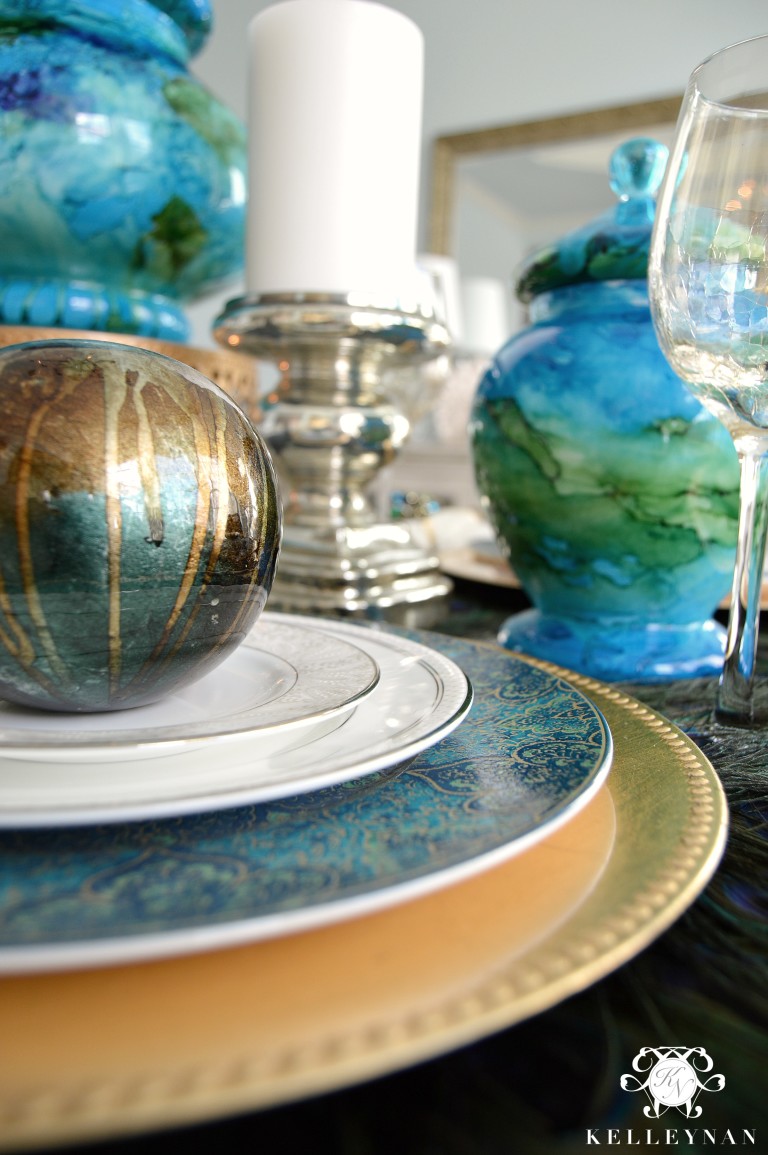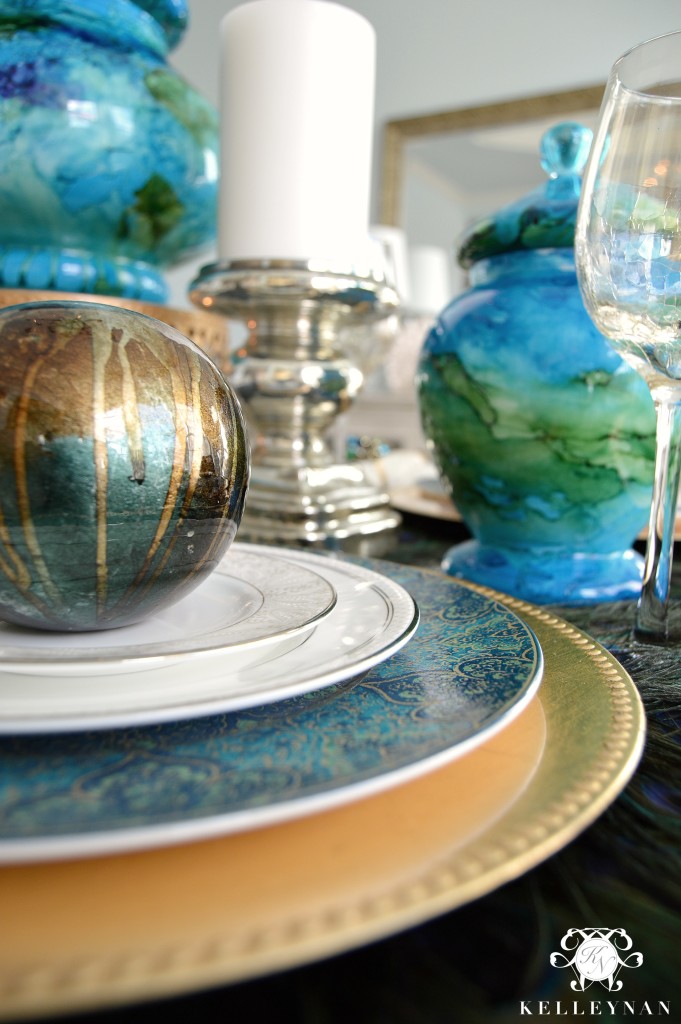 I love mixing and matching plates and having our china as a neutral base has served me well in each table I create. You can find the Waterford Padova collection HERE and the Waterford Bassano collection HERE.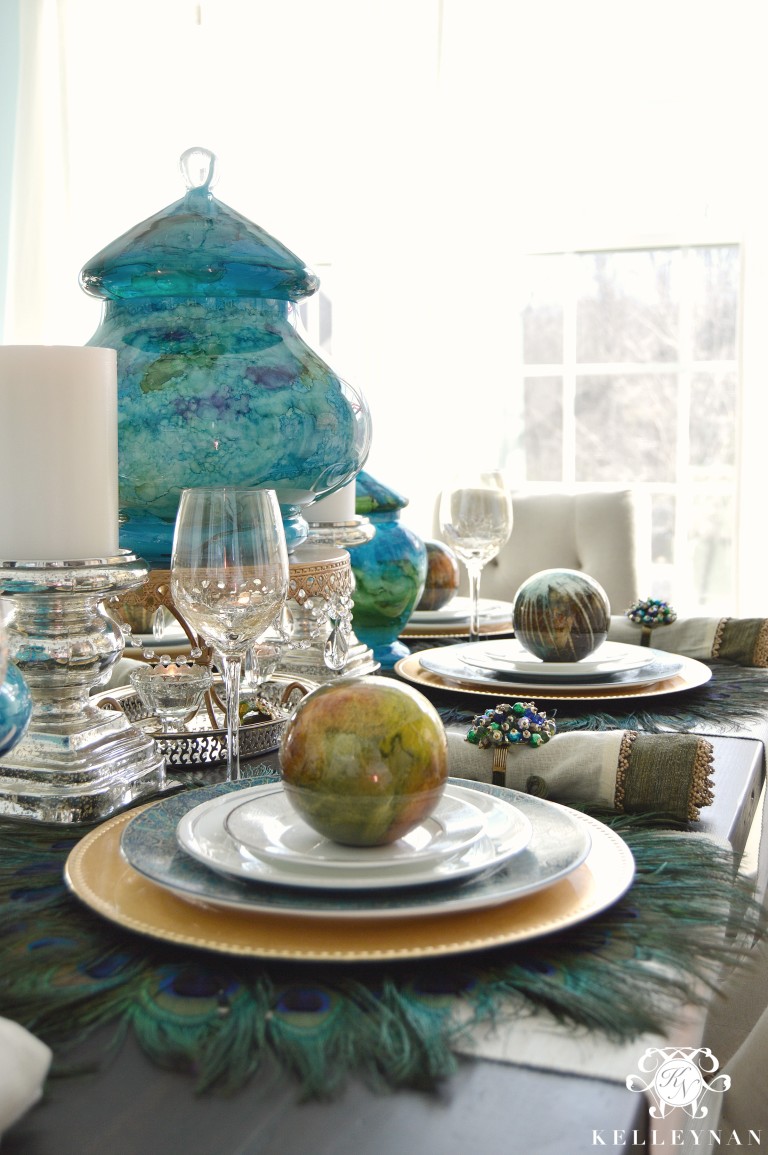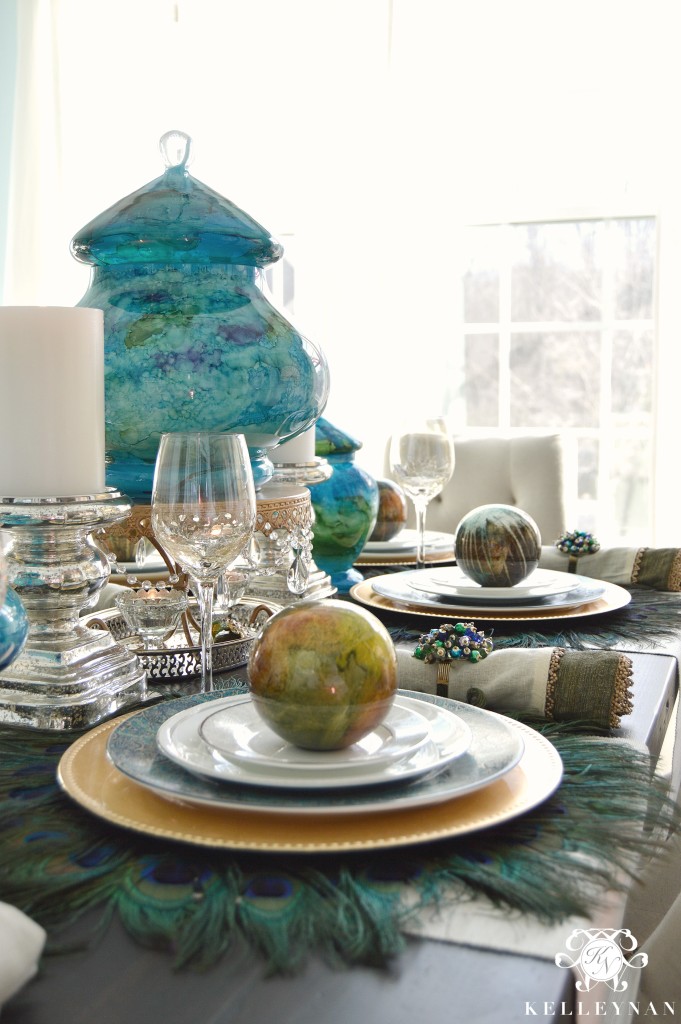 Another trick I use is that I always try to layer my napkins. I mix and match napkins I have on hand and switch things up by switching out the napkin ring. I have had these napkins with the beaded detail for several years and they are still my "go-to". You can find the cream color HERE and the dark green HERE.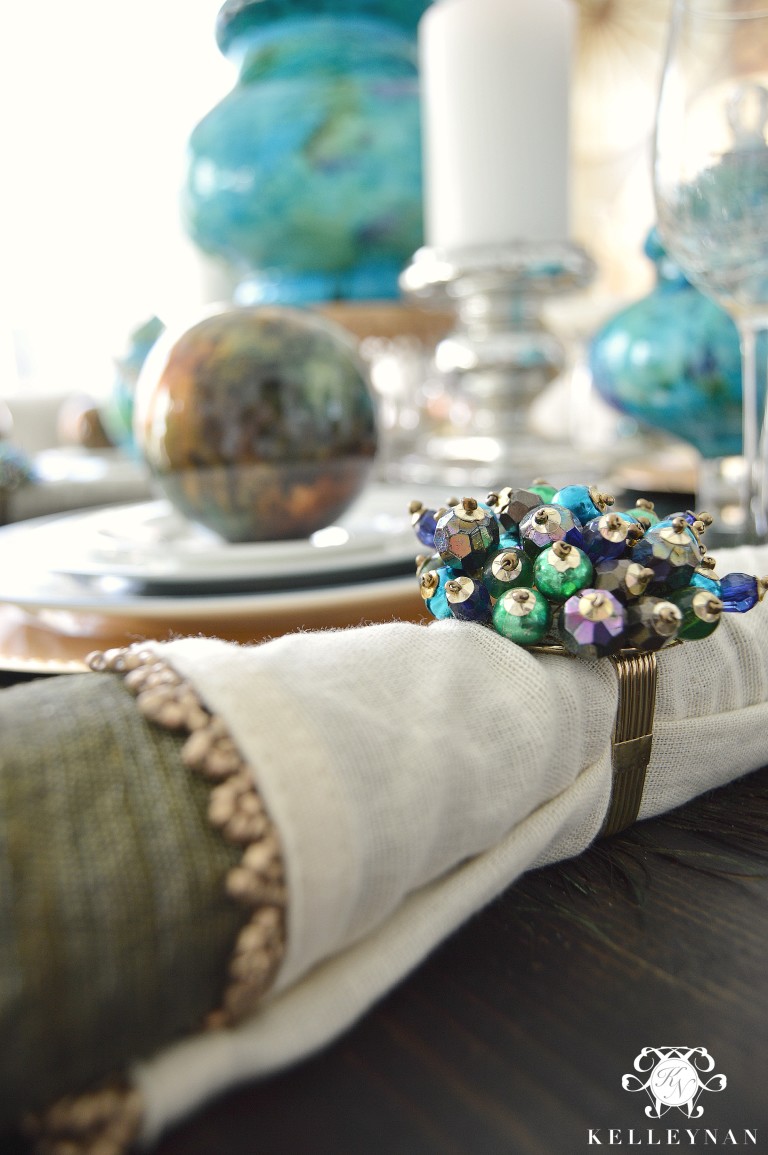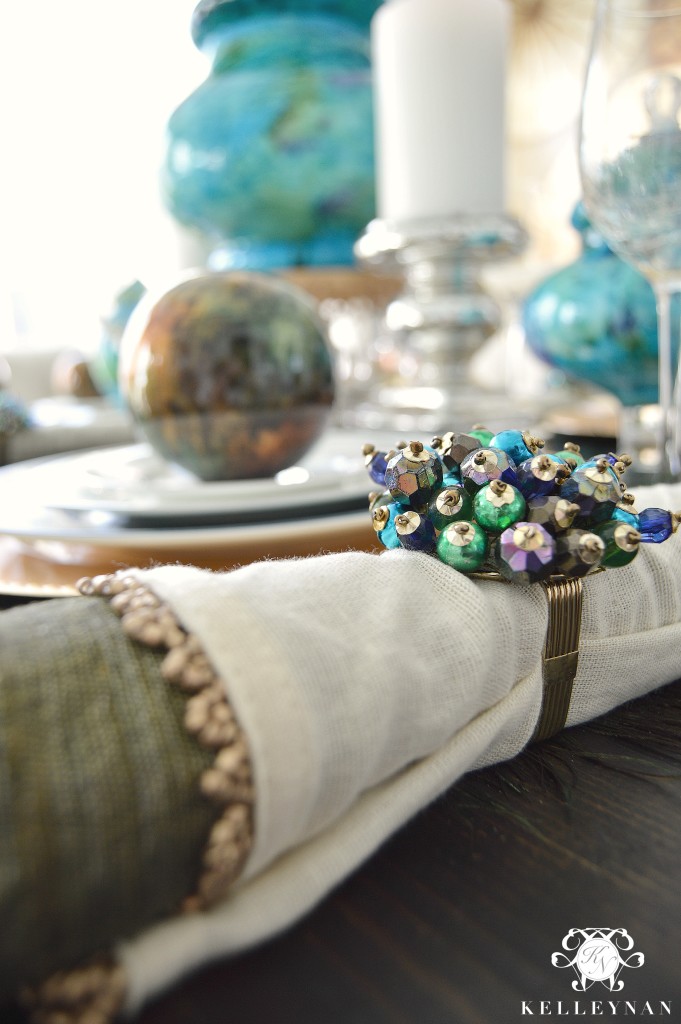 I also have a few sets of tinted crackle wine glasses; I love how they make a subtle statement. They are available in several colors, but you can find the gold variety HERE.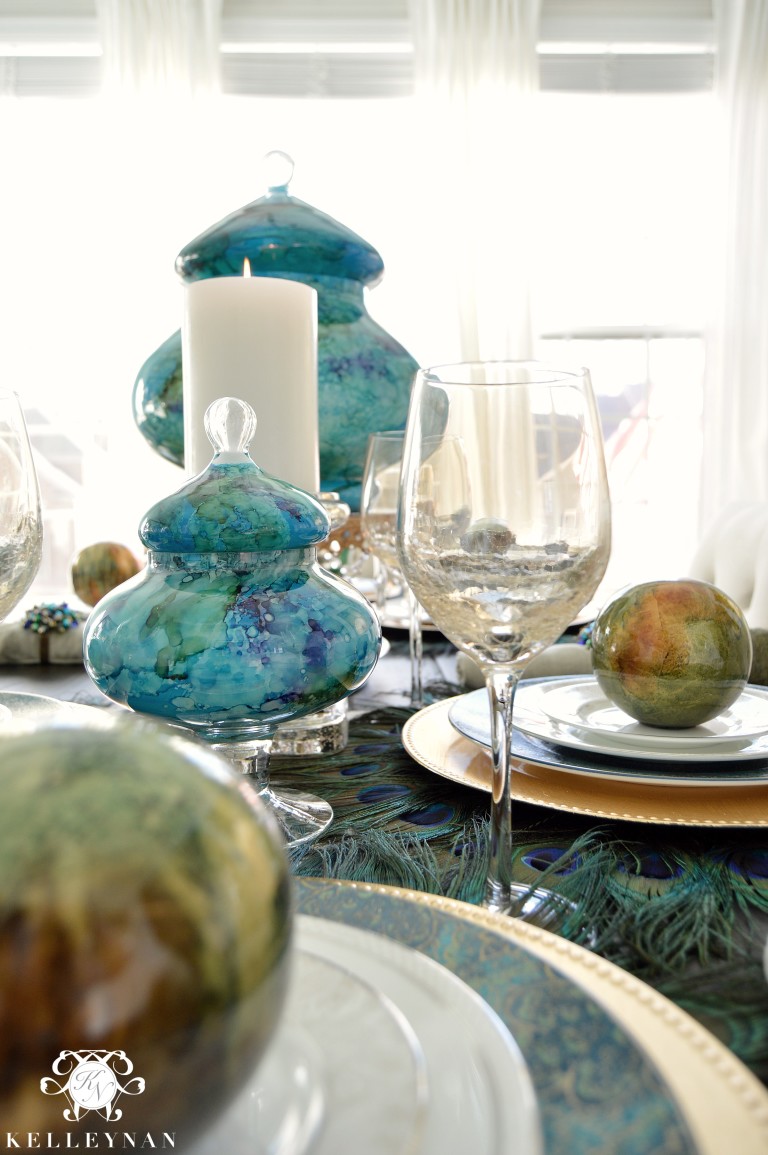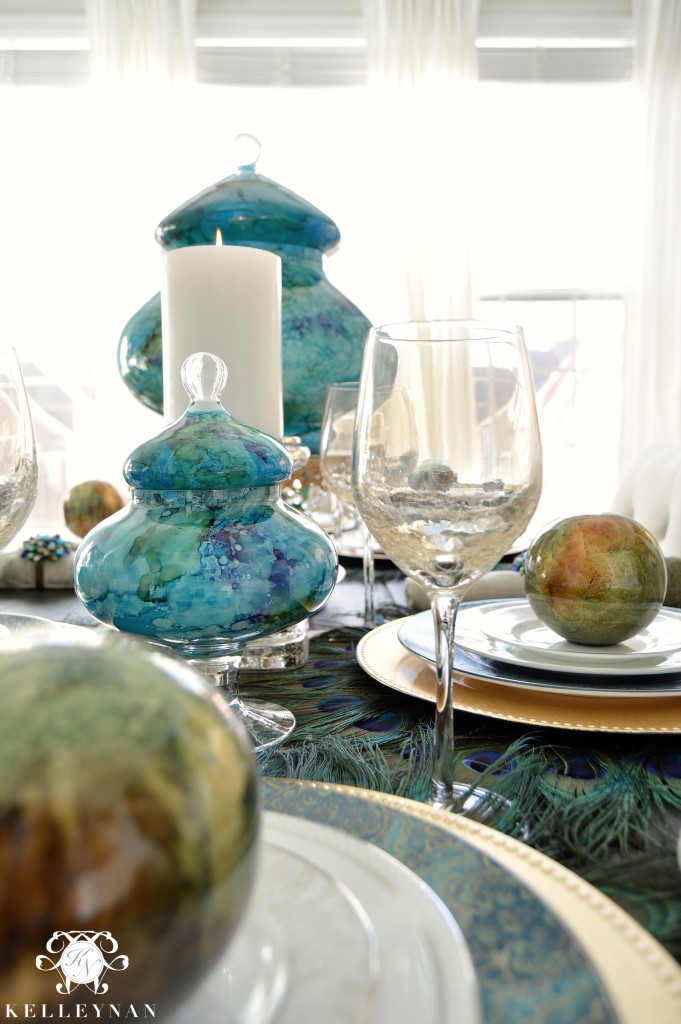 The decorative spheres (HERE) I placed in the middle of each place setting are weighted and have a small flat edge to prevent rolling.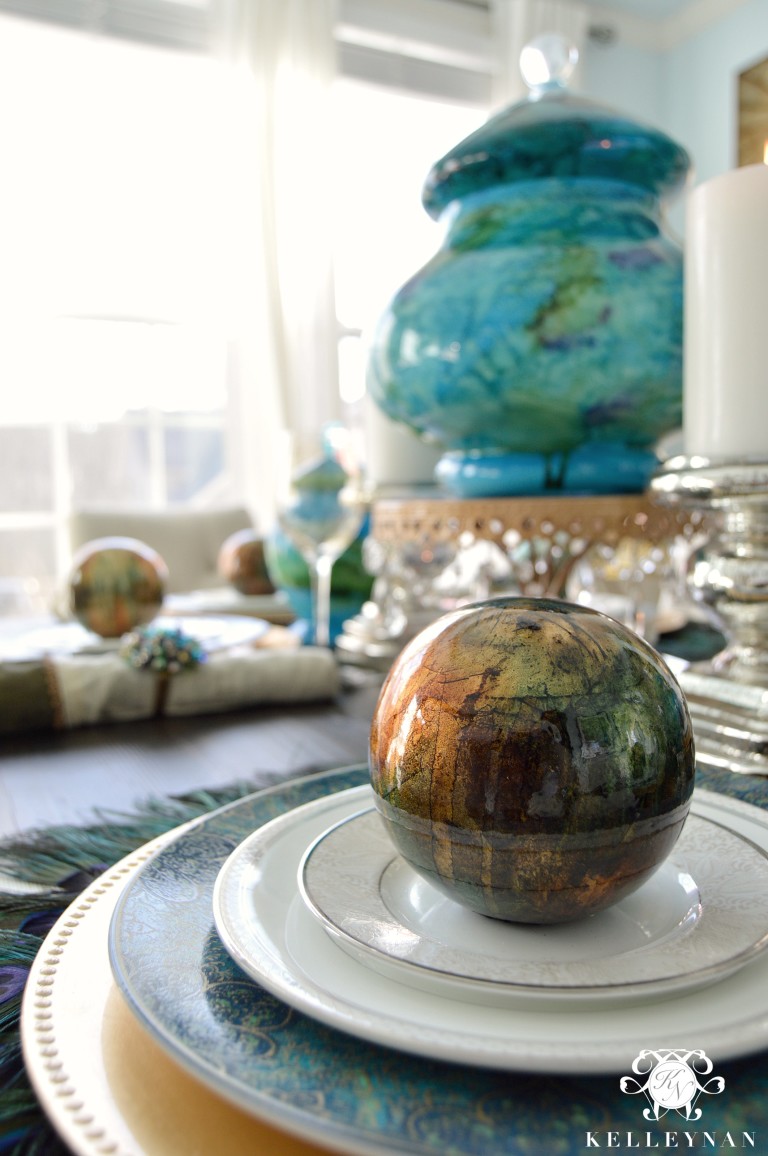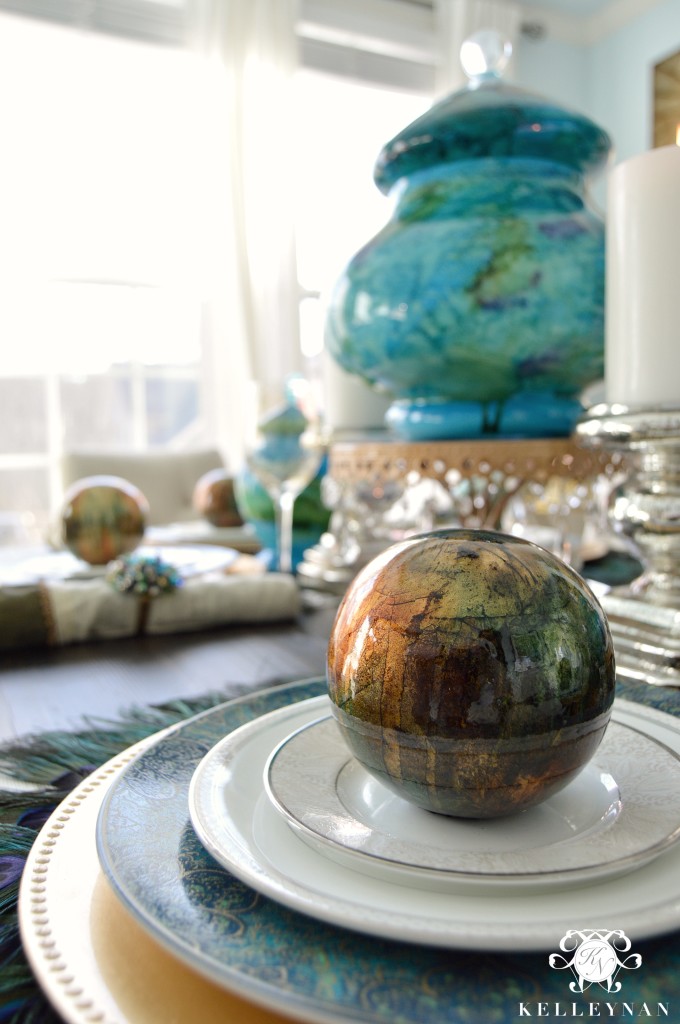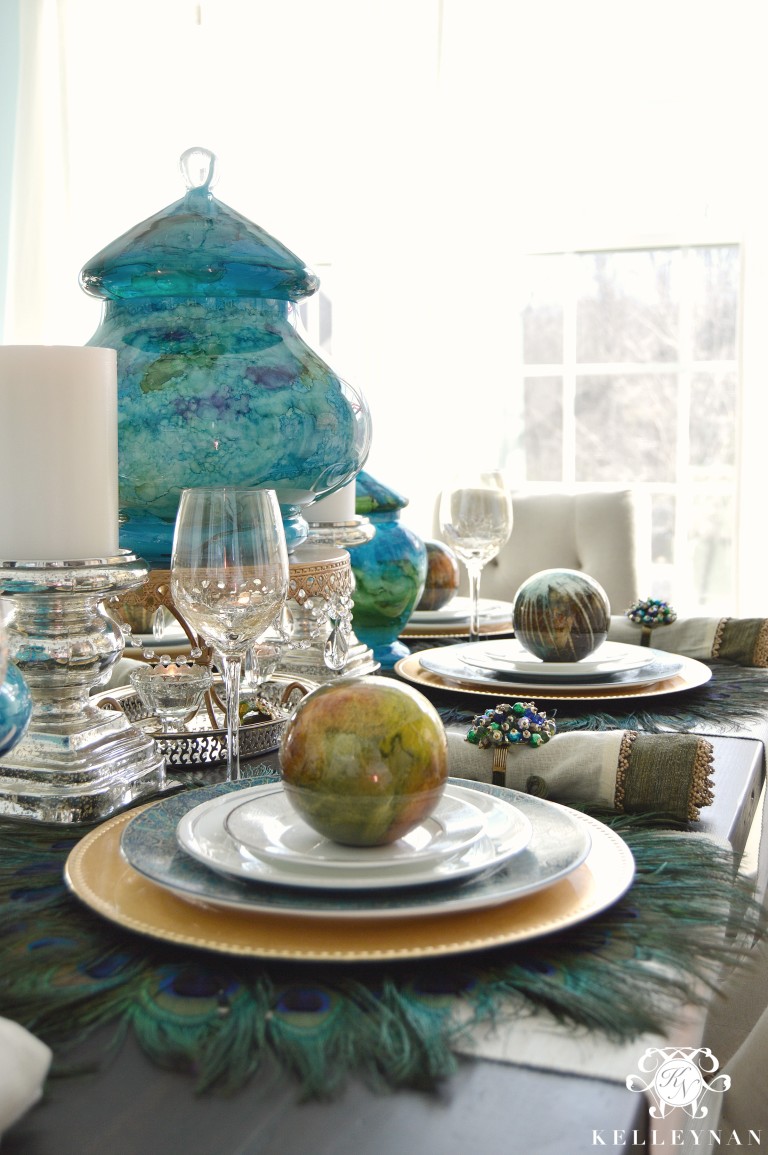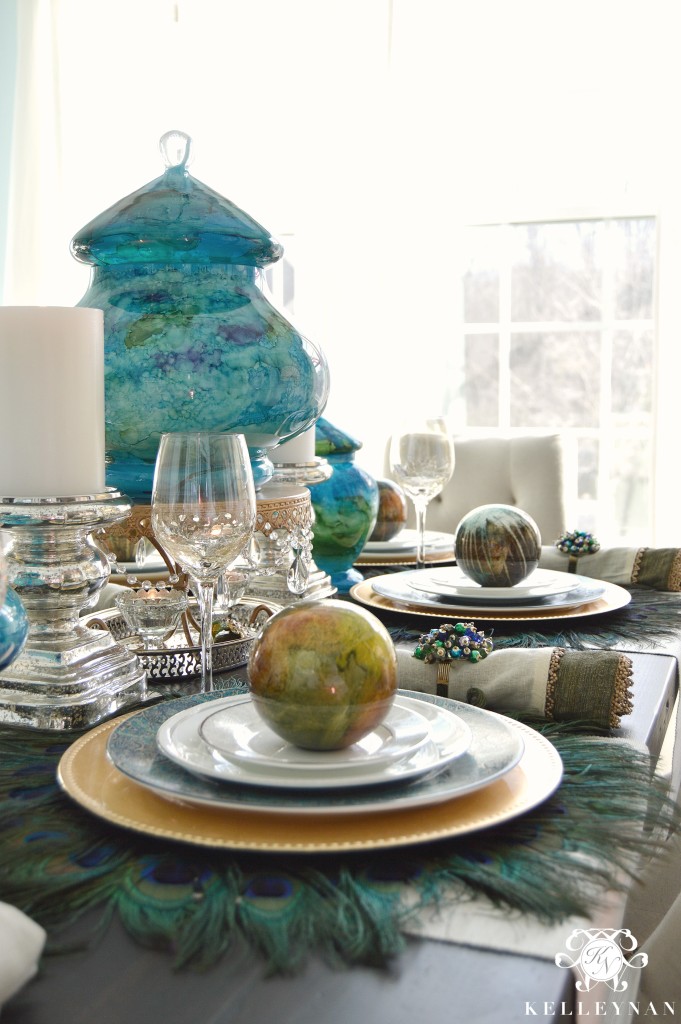 Here is a peek of how the setting looks layered together.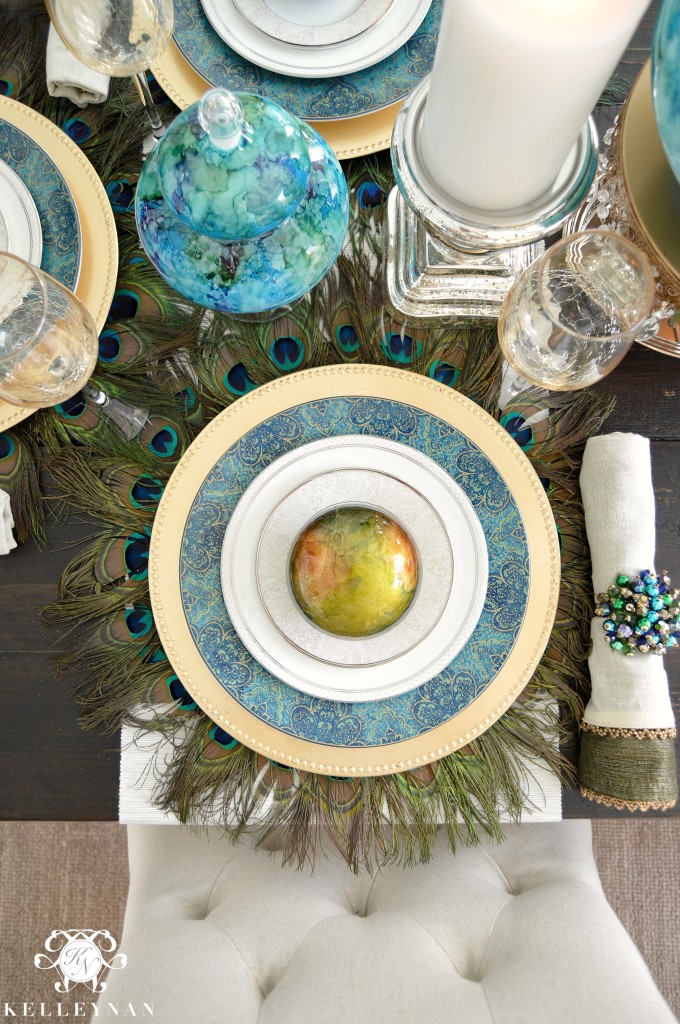 My latest finds were these blue glass lidded jars I found at HomeGoods. Although a few of my accessories have hints of this bright blue, the jars take this muted table and add the touch of vibrance I was looking for.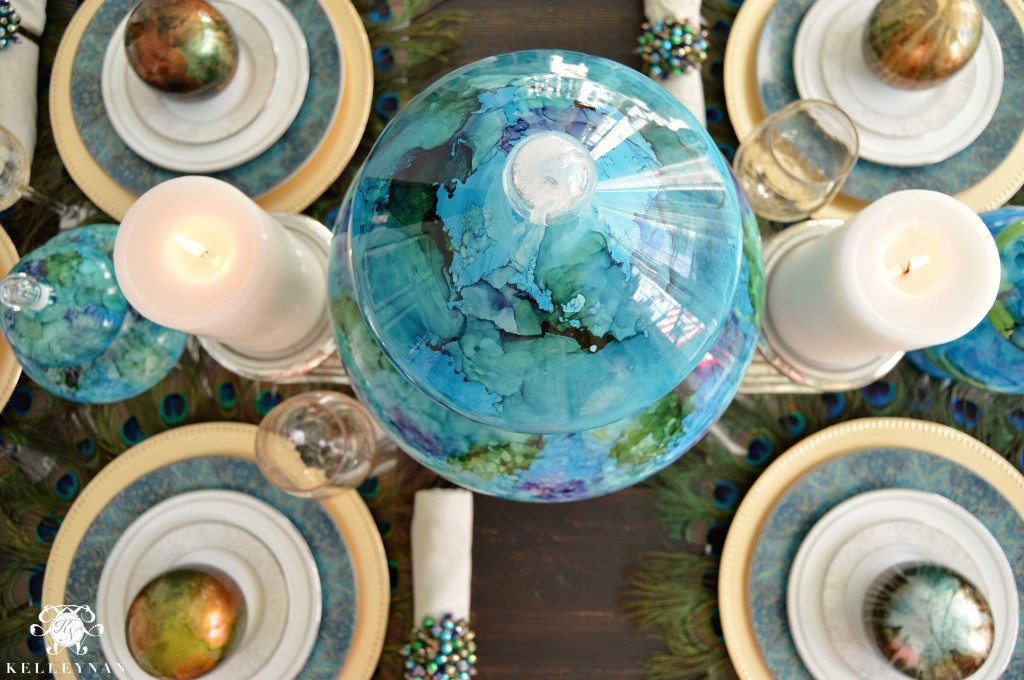 I love how the new centerpiece enhances the two framed prints on the side wall, also. I could have gone for peacock prints, but I wanted to keep the peacock theme less literal and more suggested by the colors I used.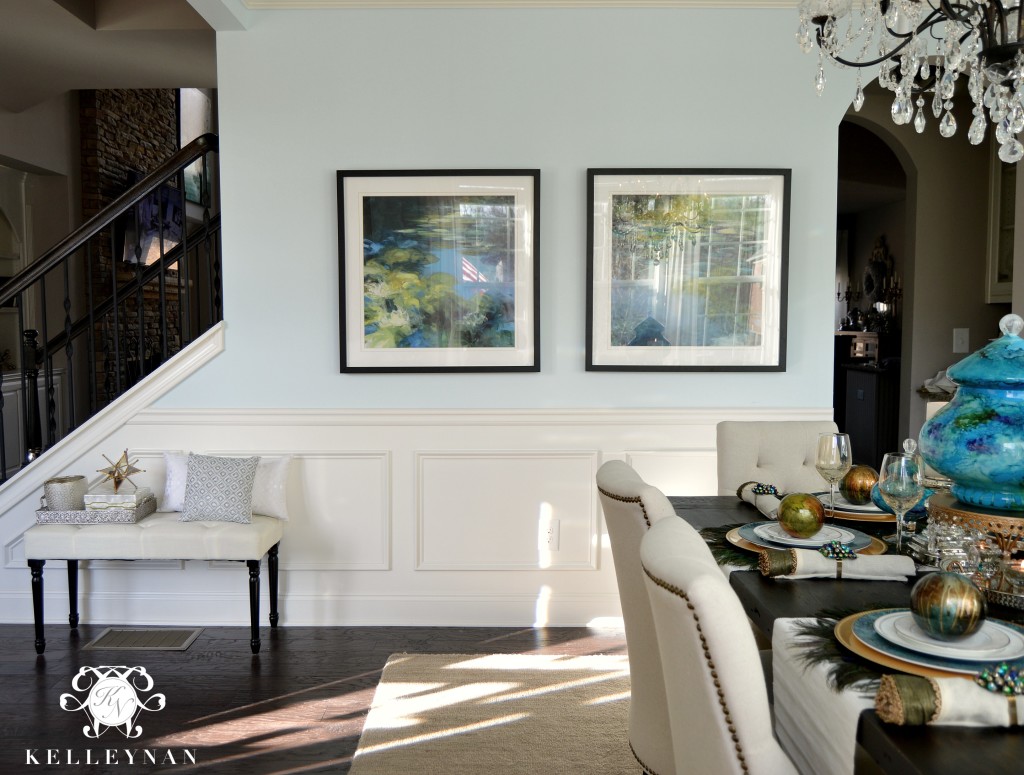 I was fortunate to find this little entry bench at HomeGoods, but am in LOVE with this one (HERE). As soon as I figure out where to put it, I will be ordering one.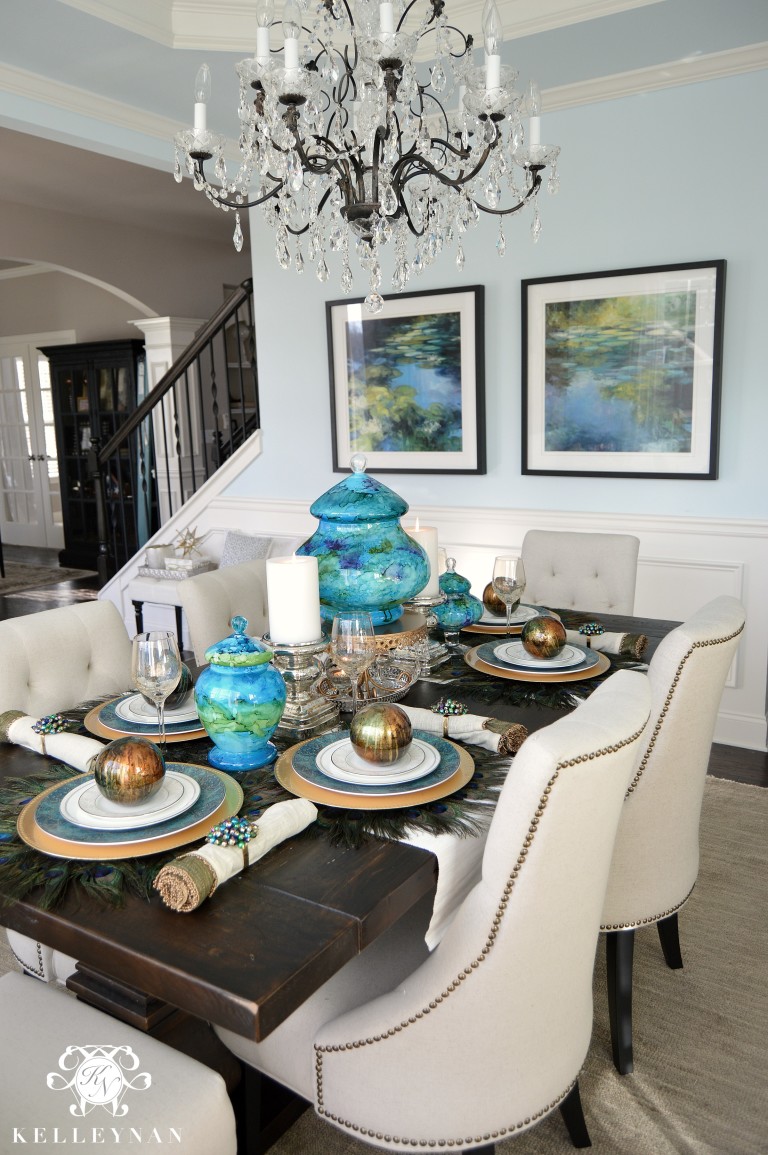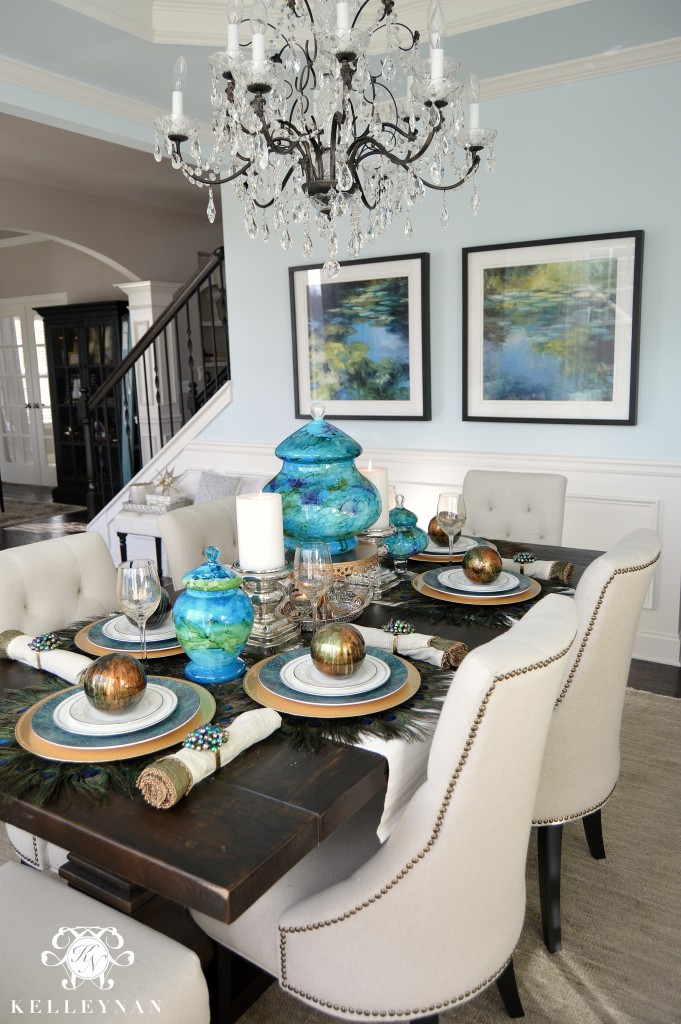 Because I like height and I wasn't satisfied with the center jar sitting directly on the table, I added a gold cake stand with embellishments (HERE
) to a silver tray, gifted to me by my mother. I placed a couple of votives underneath, alongside a small peacock (the only actual bird present on the table).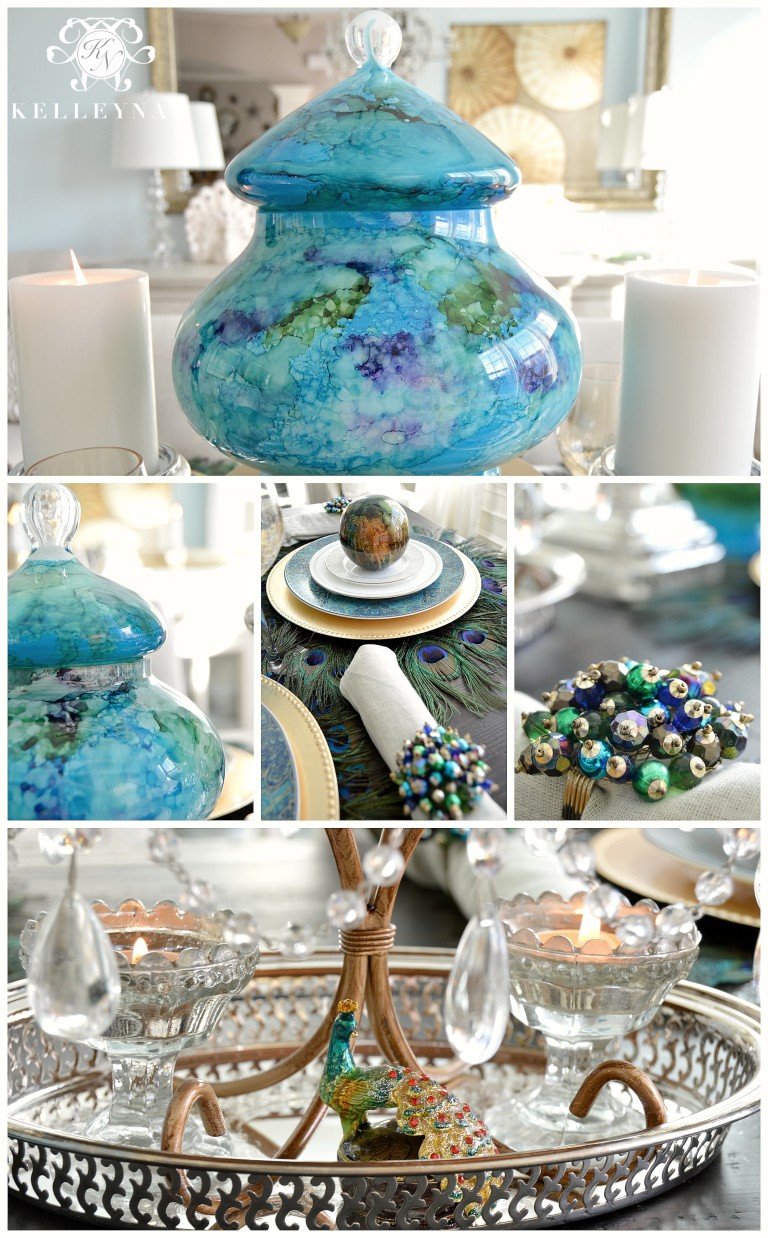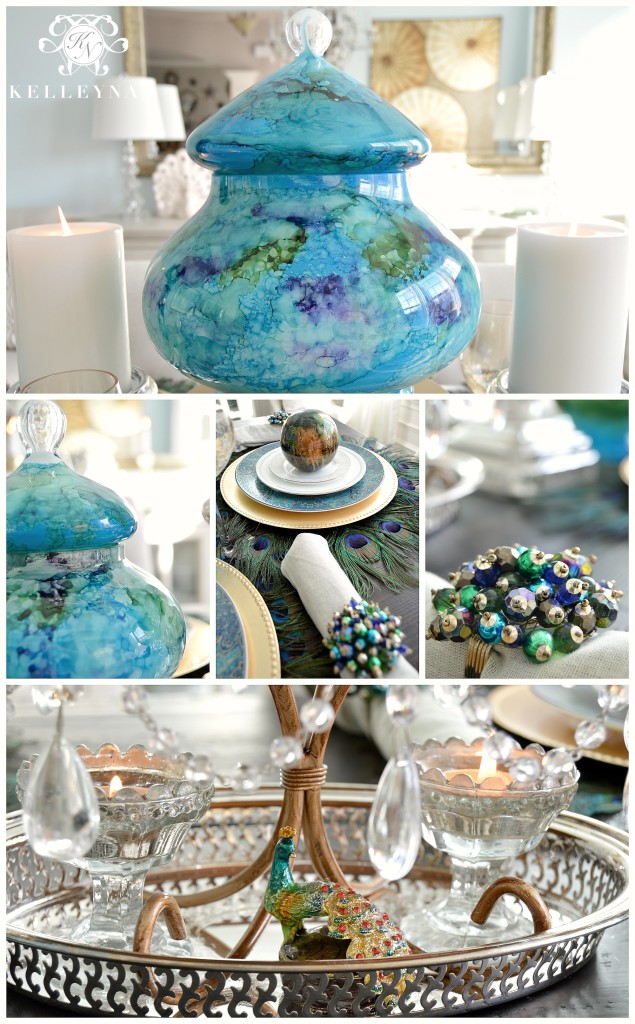 As evident through my dining room decor, you can see I am a big believe in mixing metals. While gold is the primary, I paired it with silver and mercury glass. Another element you can always find on my table and buffet is candles.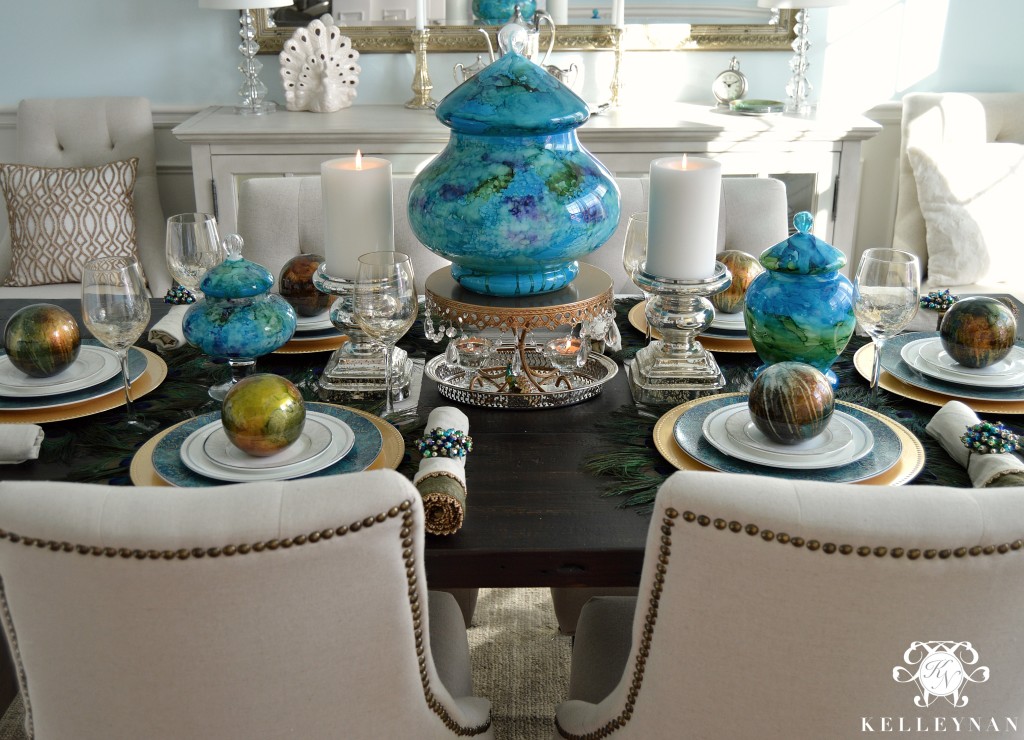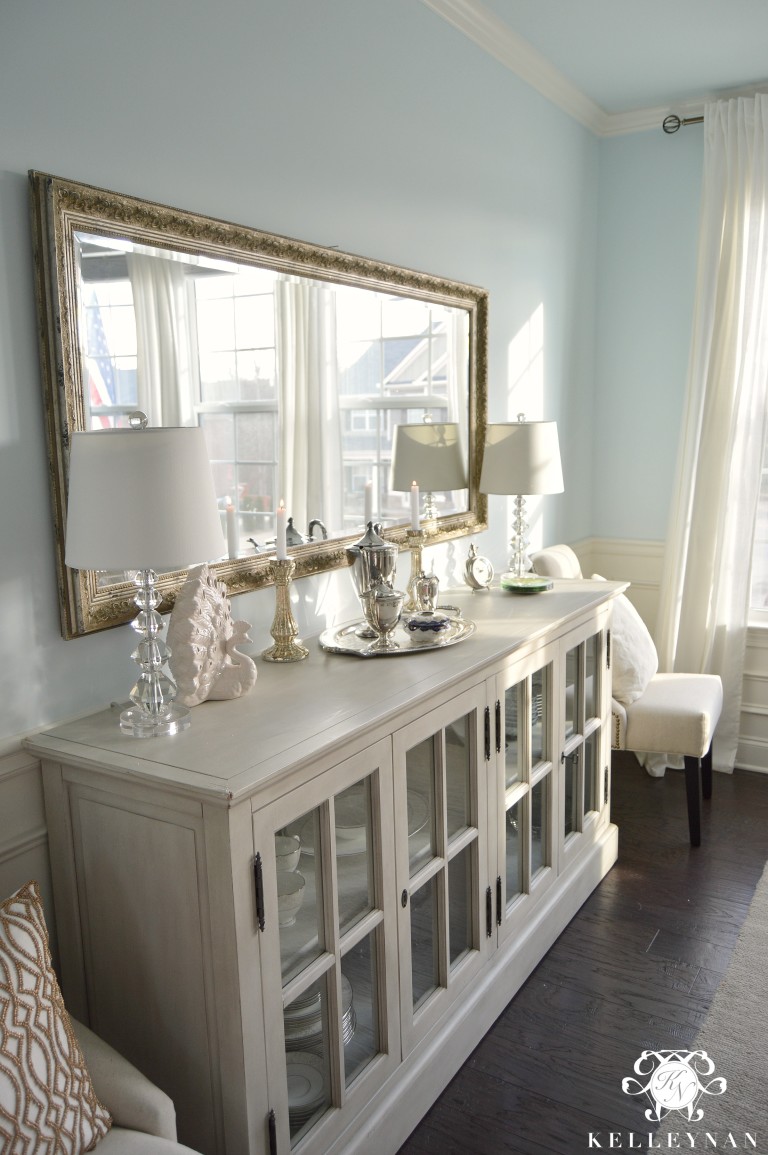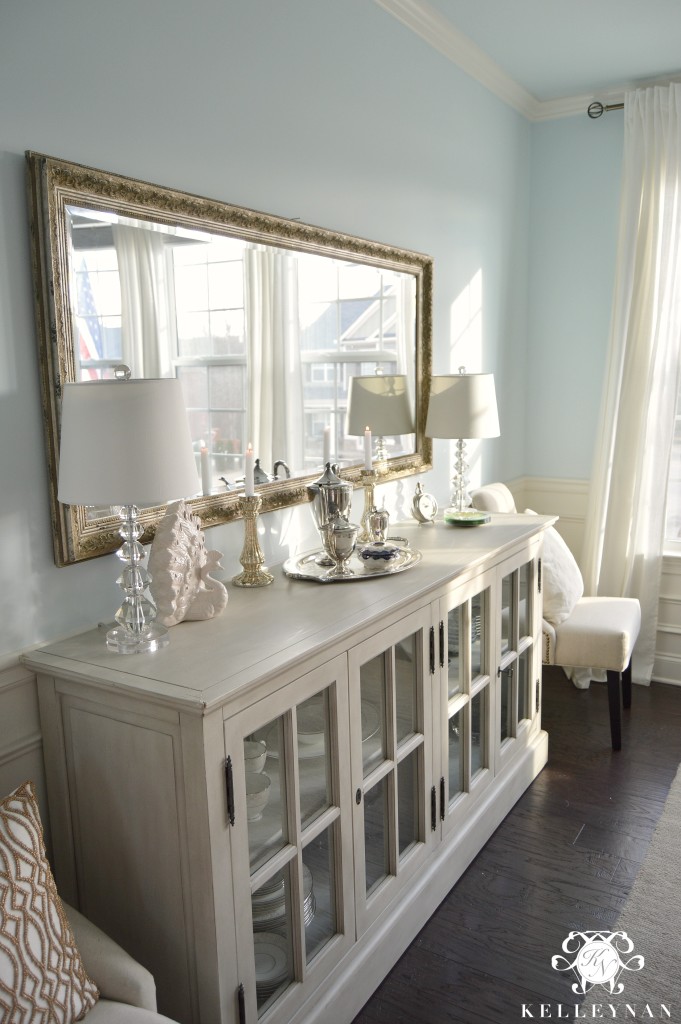 The iron in the chandelier also brings in contrast, and regardless of the table I create, the crystals keep it formal.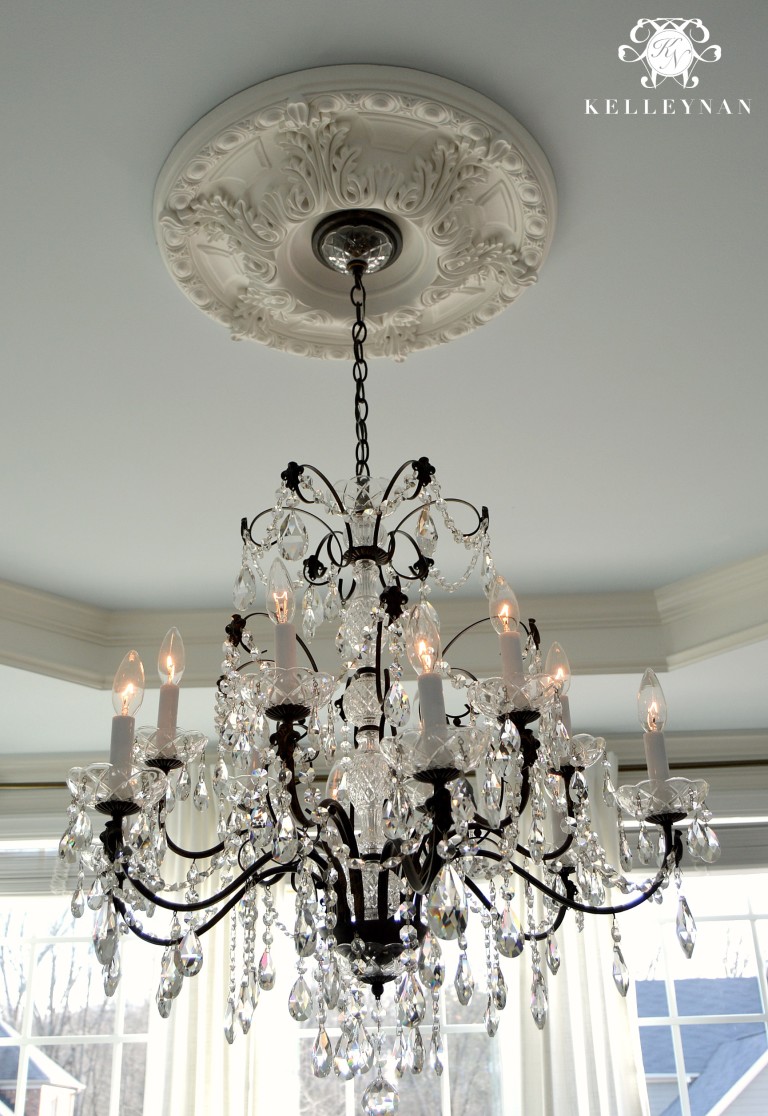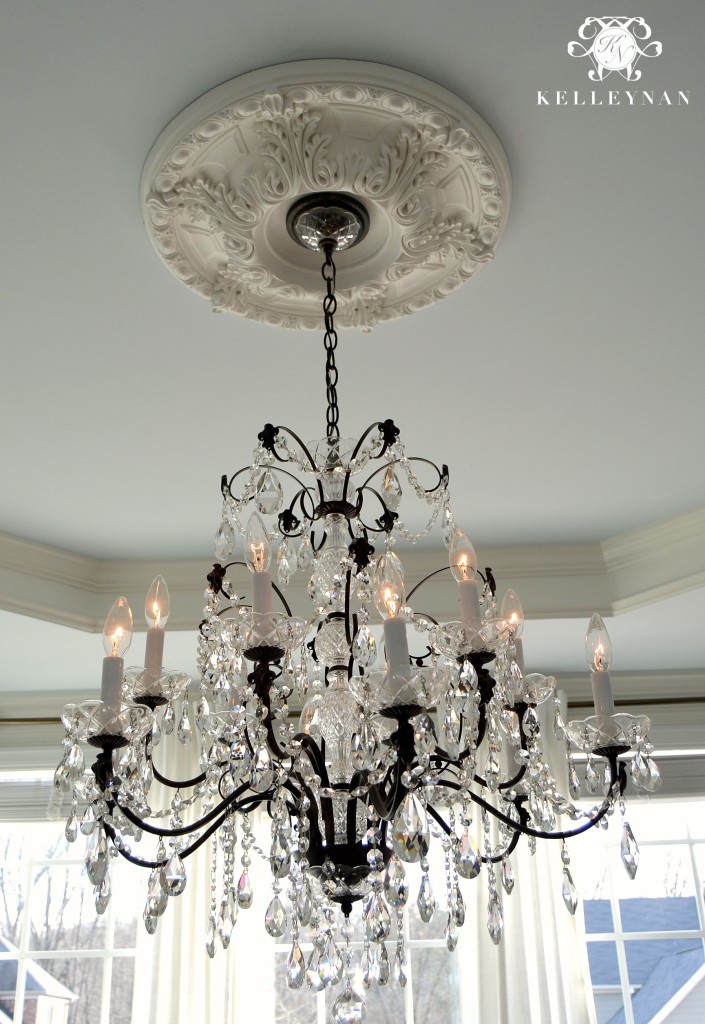 In the corner, you can catch a glimpse of my hot chocolate bar. You can find all the details HERE.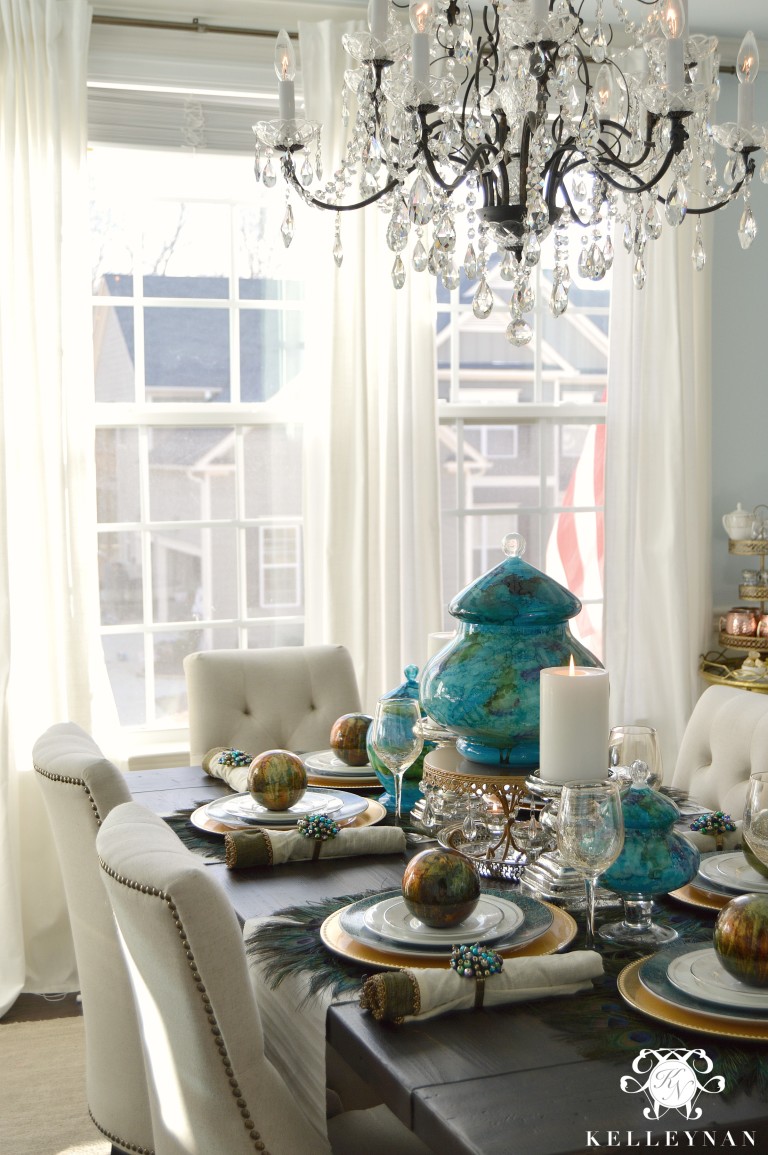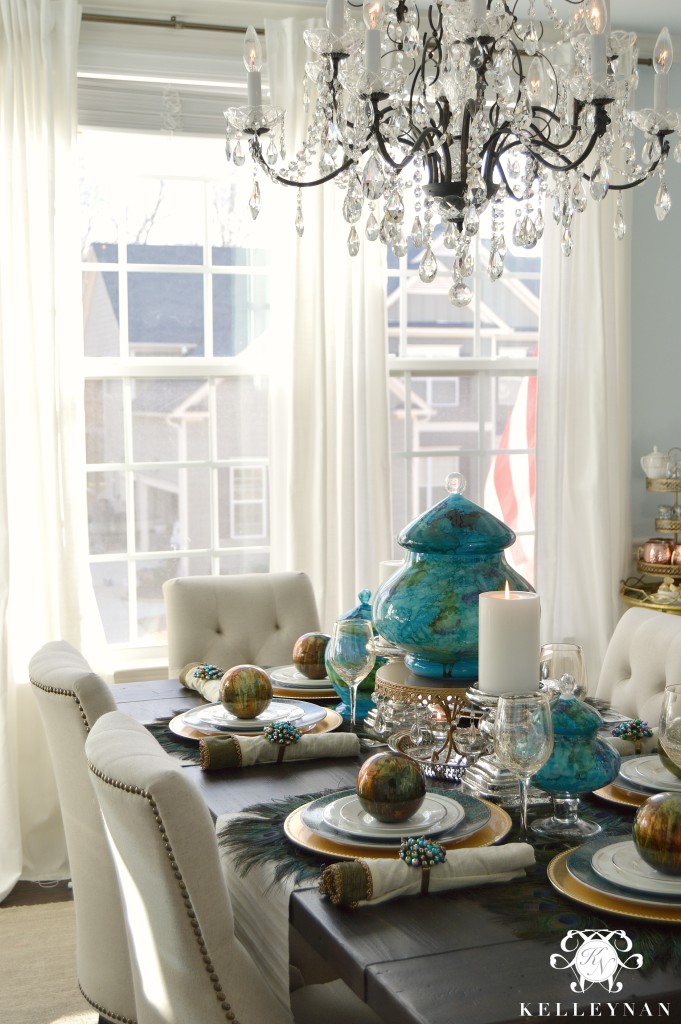 Because I have several patterns on the table, I like to use some solids to break them up a bit with the gold chargers, neutral china, and embellished but solid napkins.
Our table takes two leaf extensions but I typically keep it set for six unless we are having a gathering that calls for extra seating.
I will likely be switching the table again prior to Valentine's Day but am so pleased with the fresh new dining room look for the new year. If there are other tablescapes you would like to see, please let me know in the comment section below! Wishing you all a wonderful and happy New Year, filled with happiness, health, and unlimited pretty tables.
*Additional Sources:
Dining Table:  (84″ in Salvaged Brown)
Buffet: (72″ in Distressed White)
Curtain Panels: (98″ in White)
Rug: HomeGoods- Calvin Klein wool
Mirror: HomeGoods
Pillows: Pier 1
Curtain Rod: (120″ in Antique Brass)
Lamps: HomeGoods
Silver Tea Service: Family Heirloom
Paint: Sherwin Williams- "Lauren's Surprise"
Chandelier and Medallion: Progressive Lighting (Roswell, Georgia)