This past month, our sweet Eliza Nan turned one year old. I can't even believe how quickly this past year flew and how I blinked and she was suddenly this tiny person, with all the personality, doing all the things. The blessing she is and the joy she has brought to our family — there are no words. There's been a lots of learning and lots of trial and error over the past year and while we don't always get it right, looking back, there are several decisions we made that I'm so thankful for. From major to more trivial, today, I'm sharing the eight best things we did — along with a few things I may have done differently — over the course of the first 12 months.
*Posts on KelleyNan.com may contain affiliate links. Click HERE for full disclosure.
Best Things We Did
Parenting is complex; it's comprised of ongoing personal decisions and navigating choices and practices that best suit the individual needs of each of our unique families. Trying things, hoping for successes, and working to troubleshoot as we go along. As a note, before we jump in, remember I am obviously no health or baby expert, and I recognize all babies are different and parents have to learn to adapt to what best suits their child and family. None of what I share that has worked for us should be taken as medical advice — always consult with your pediatrician and do your own research. Nevertheless, I'm ready to dish on some of our most sound decisions and efforts!
1. Resisted Going Along with the Crowd
Before Eliza arrived, I didn't know much about babies — much less all the "popular" things to do. In photography alone, it didn't take much digging to become overwhelmed by all new-to-me concepts, like "fresh 48" and milk baths (we did neither, by the way). The fact of the matter is, learning the basics and essentials is an ongoing process but the deeper I dug into mom forums and naturally becoming more aware of what other moms were doing, it was impossible not to notice repeat trends that have seemingly become the "norm". More than a handful of people had asked our plans for Eliza's first birthday party, with notable high expectations, and I'll be honest — even before our current pandemic climate, I had intentionally planned on not having a birthday celebration with guests. I recognize my stance is more unusual as I've attended many early birthdays over the years, but as a mom, I just wanted for Dave, Eliza and myself to mark the occasion (with the traditional smash cake and a few balloons), and do something fun as a family — go to the zoo or aquarium. I had no interest in hosting an event for our friends on her birthday or inviting older kids where my time would be spent on figuring out activities to entertain guests, instead of Eliza. With what's going on currently, our plans remained unchanged. We did have cake with a couple grandparents as Dave's mom's visit ended up coinciding with Eliza's birthday but aside from that, our attention was able to remain focused on celebrating one year with our girl.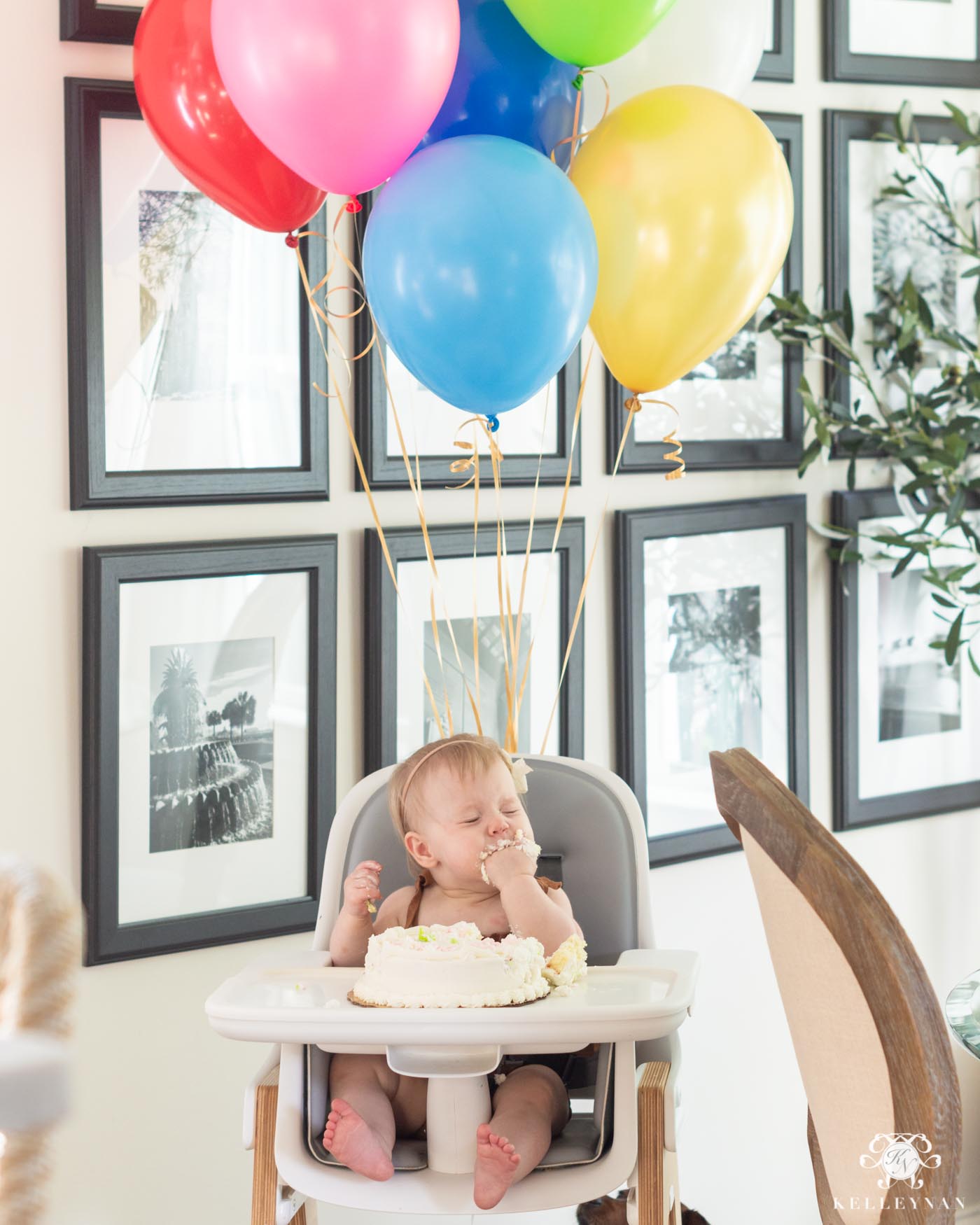 I surely don't want to deny Eliza of any experiences or memories but taking a more conservative and logical approach and not jumping on every trend we see, or conforming because it seems "all other moms" are doing something, is something I wouldn't change. We continue to do what feels right to us, snapping photos and rolling video along the way.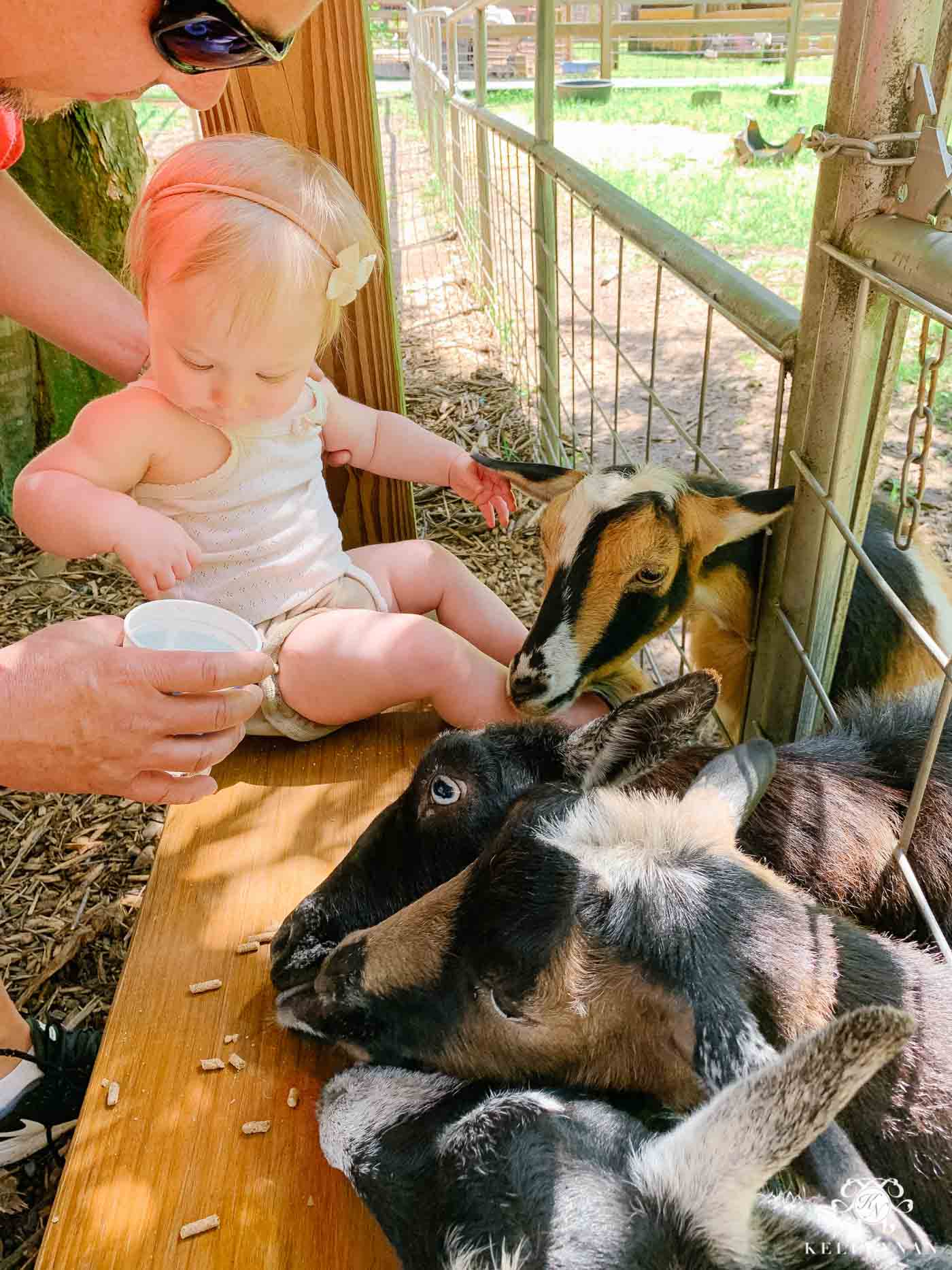 2. Established a Consistent Schedule
Even though we've chosen not to follow the crowd on everything, I am beyond grateful we've had the opportunity to learn from others' experiences. One of the best — if not the best — decisions we made was to follow the schedule and methods recommended in Moms On Call. Honestly, since month eight or so, we've adapted our own consistent schedule and are no longer following book guidelines but in those first several months, I credit MOC to how smoothly we transitioned from stage to stage, and to maintaining our overall sanity. The book — written by two moms who are also pediatric nurses — details sleep schedule and methods, meal times, nap times, bath times, and overall daily routines. It's a clearly laid out formula that worked for us to a "t". It also provides tons of reference material on safety, frequent baby questions, and tons of other useful topics. Because I work from home and was able, I was dedicated to sticking to the schedule — almost to the minute. That may not work for everyone but our consistency paid off. We didn't "quit" our life but we did try to plan outings around nap and eating schedules, to an extent. Even so, we never felt enslaved to our schedule, as rigorous and strict as it may have appeared. And to us, it was worth it. Eliza started sleeping in her nursery at around six weeks. After a couple nights, she began sleeping through the night almost immediately. She had (and still has) a bath every single night and her internal clock knows when every nap time is coming. Our schedule helped take the guess-work out of it but being consistent and following it thoroughly (even with the nighttime order, sound machine, and swaddle method) was instrumental in the schedule's success. But, Eliza has also been an incredibly "easy" baby (at least as "easy" as a baby can be) and we'll probably never know just how much is credited to her natural disposition vs. the regularity of her schedule. Now, we still follow a schedule but are much more relaxed about adapting our days and adjusting times as needed. The consistency is still there. You can find the first book which details the first six months — and the only one we ever read — HERE.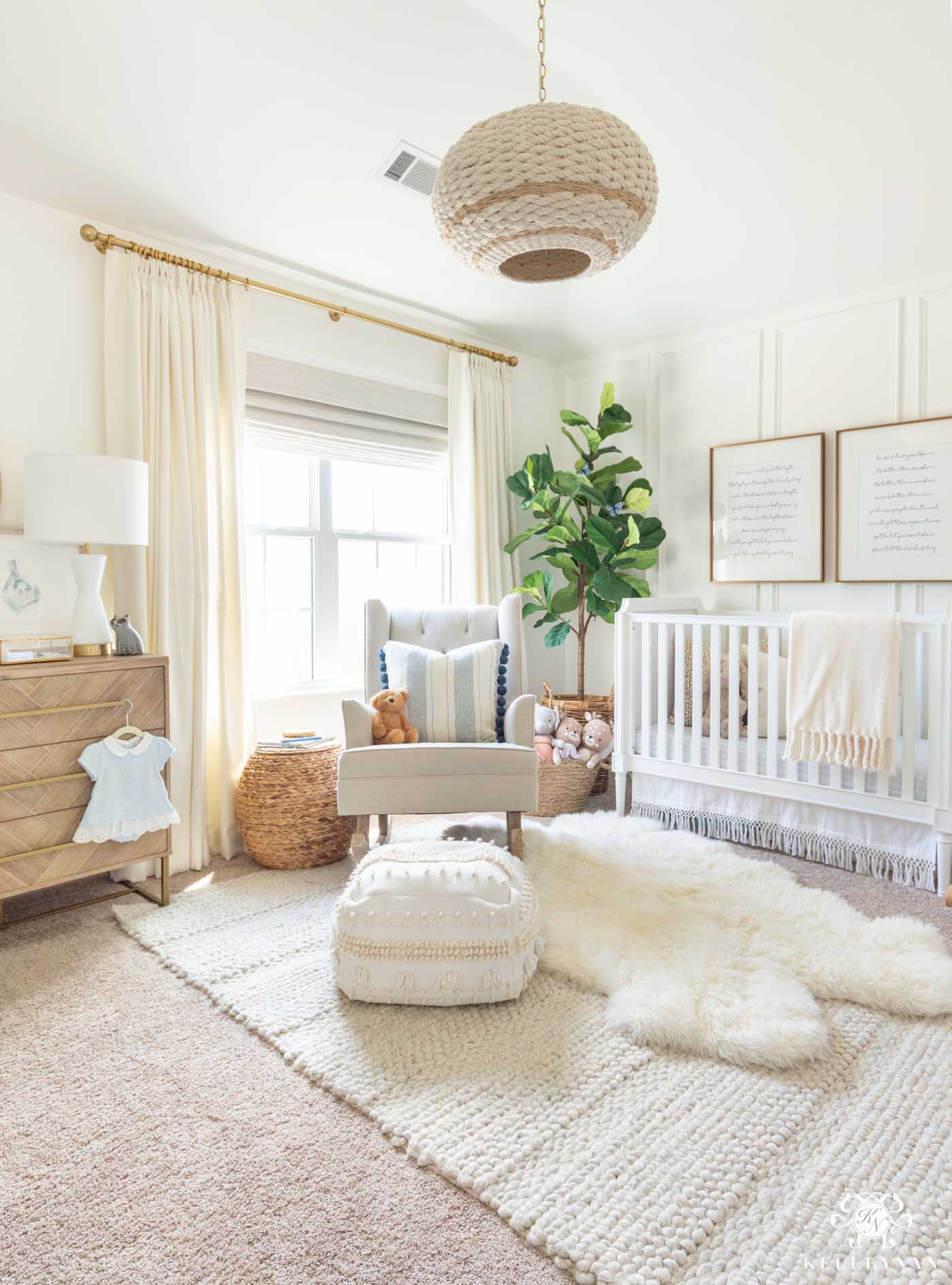 Room Sources & Details: Crib | Dresser | Rocking Chair (in Sunbrella Performance Slub Tweed, Pebble, Driftwood) | Rope Pendant Light | USB Table Lamp | Bluebird Print (leaning on dresser in 16″x16″) | Round Brass Mirror(36×36) | Personalized Song Lyrics — no longer available (SIMILAR) (16″x20″, style 2, above crib) | Brass Frames w/ Mats (16×20) |  Macrame Crib Skirt | Blue & White Pom Pom Pillow (in Rocking Chair) | Pale Blue Gingham Crib Sheet |  Fawn Print Pillow | Ivory Velvet Crib Pillow | Ivory Tassel Throw | Sheepskin (SIMILAR) | Chunky Knit Rug  | Curtains (Linen Weave Vanilla Bean – Privacy Lining) | Shades (Bali White, Cordless, Blackout Liner) | Curtain Rod | Curtain Rings | Ottoman Pouf | Fiddle Leaf Fig Tree | Fiddle Leaf Fig Tree Basket (no longer available) | Water Hyacinth Lidded Storage Ottoman Stool (next to rocking chair) |  Woven Basket Toy Dump | Stuffed Bear | Stuffed Crib Bunny |  Fawns — Cuddle & Kind | Walls — Simply White by Benjamin Moore (Regal Select Eggshell Finish; Flat Ceiling Paint on Ceiling)
3. Followed Baby Led Weaning
Another topic I researched heavily before Eliza was born was "baby led weaning". It's essentially a feeding method that skips the purees and allows the baby to learn and be in control of his/her own food — not to be started until at least six months (and after the pediatrician okays incorporating solids). I was really interested in the concept and the methods it utilizes — like feeding your baby everything you eat, cut and prepared appropriately to not be a choking hazard but able to be grasped easily (in finger-length strips). I joined THIS Facebook group, searched for questions, and continued to watch and learn as others posted, shared and inquired. To ensure safety, it is important to understand all practices thoroughly — you can find the book on Amazon and of course, talk to your pediatrician. As crazy as it sounds, Eliza was eating well-done meat, even without teeth, for months! I try to have at least two meals with her each day so she can watch and learn from me but our friends and family are often 1. shocked at Eliza's plate, and 2. impressed with how well she eats. As a caveat, because she is in charge of feeding herself, there's a lot of exploring and things can get messy. I keep lots of fresh fruits and veggies on hand and try to keep her meals balanced but feeding her has become so simplified. Whenever we make dinner, I always make sure to save some for her for a meal the next day. She's familiar with all kinds of textures and flavors and while she resists some things (seriously, very, very few), overall, she isn't a picky eater.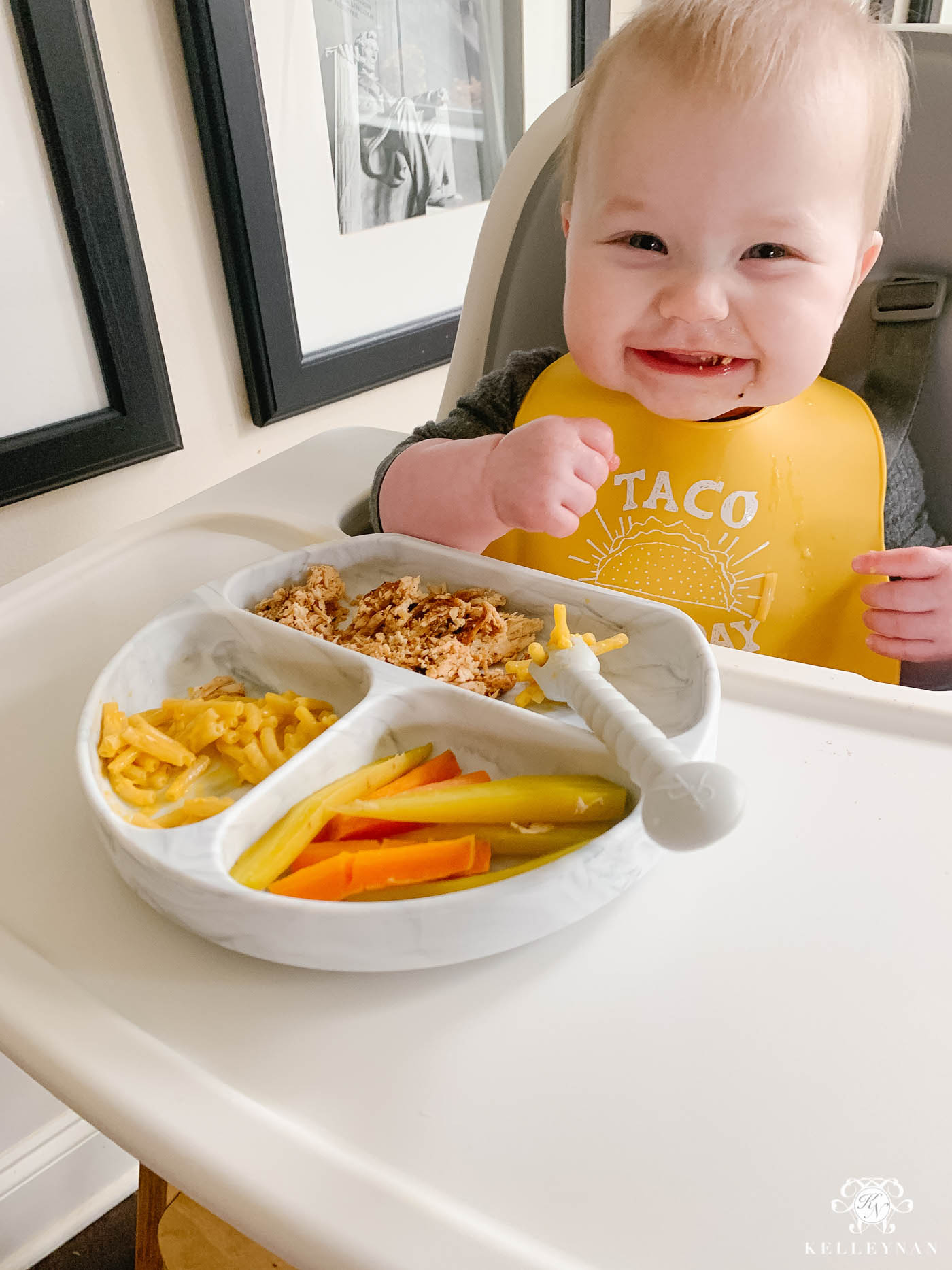 Plates | High Chair | Bib 
4. Invested in Comfies
I'll admit, I was early to the shopping game and got a little carried away. No regrets, though! I've shared before that buying tiny outfits throughout our wait was a great comfort and one of the only things I felt I could control. As adorable as dresses and separates are for baby girls, I realized months before she arrived that if I live in comfies and am at the house 98% of the time, she probably would be, too. I put my efforts into finding the softest, cuddliest, casual pieces and we wore (and still do!) the heck out of those gowns, footies, rompers and bodysuits. I would rather have a few nice, quality pieces that feel good to her (and me) than a ton of scratchy cotton. I get a lot of questions about where I shop for Eliza's clothes; I've included both the comfies she wears the majority of the time (that I recommend 100%), as well as where we shop for regular clothes, for reference.
Comfies:
KYTE Baby: bamboo rompers, footies, bodysuits, & sleep sacks — get one piece and you'll be addicted!
Lou Lou & Company: Knotted gowns, huge stretchy swaddles, tops and bottoms — she lived in these gowns more than anything. They are designed to dress from the bottom up, have built-in cuffs, and are just absolutely amazing. We also buy all of her bows and headbands here. Their mittens were the only ones actually small enough for newborn hands and they also have accessories (like top knot hats) to coordinate with gowns and swaddles. Use THIS LINK to get $5 off!
Regular Outfits: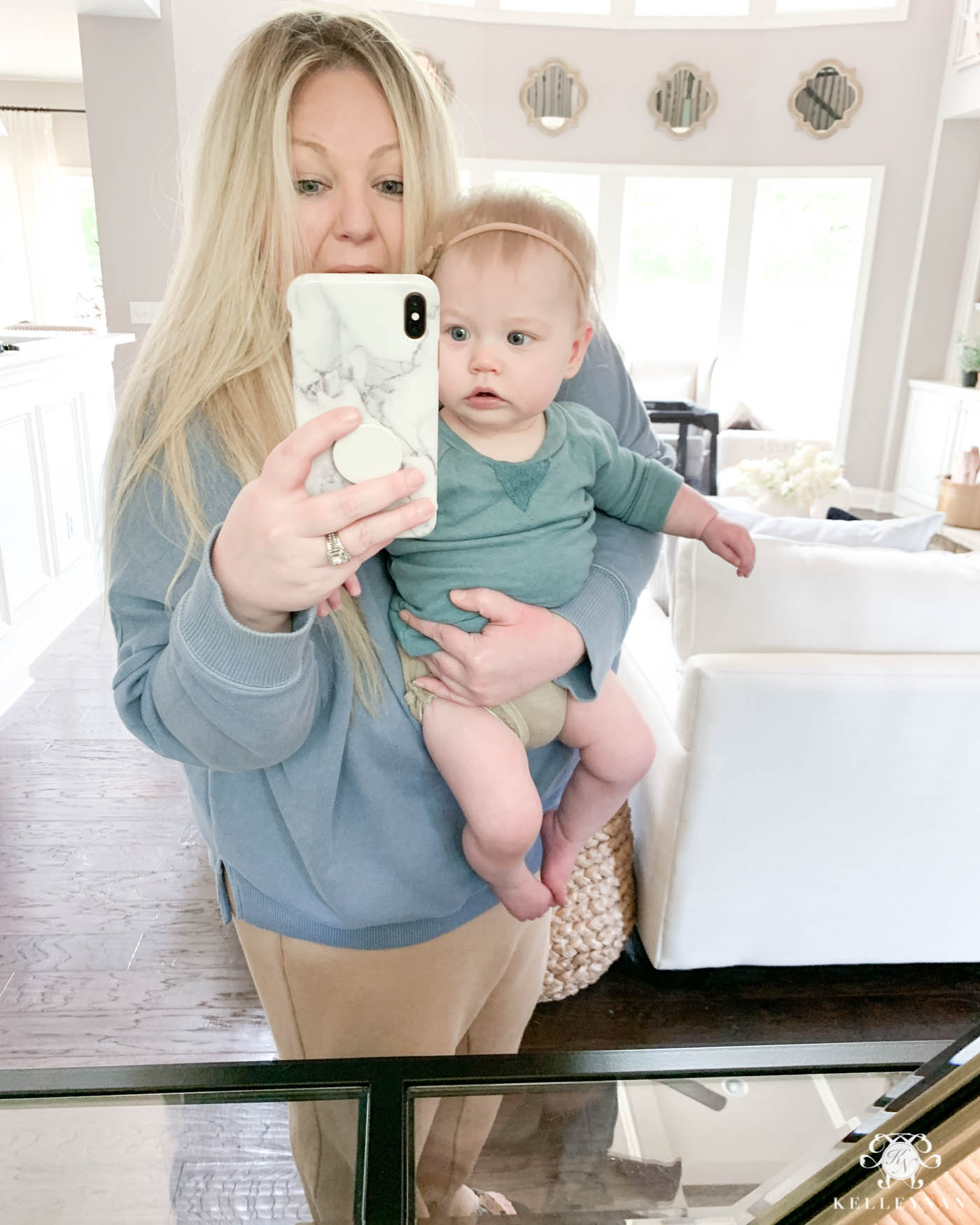 5. Chose a Versatile Nursery with Solutions That Can Grow with Her
I've talked in depth about how happy I am that we went for a neutral nursery — not just for gender safety before we knew, but for a clean palette that can take on any color scheme as we want to switch/add things. But, along with the overall nursery aesthetic, I'm so glad we stuck to furniture (like THIS dresser) that isn't baby (or even child) specific, that we can have for years to come. The Elfa system in Eliza's closet was also a great addition, with adaptable configurations her needs and sizes evolve — I think we'll actually be switching it up before too long as her closet has streamlined a lot since this. You can see Eliza's full nursery reveal HERE, and all the details of her closet HERE.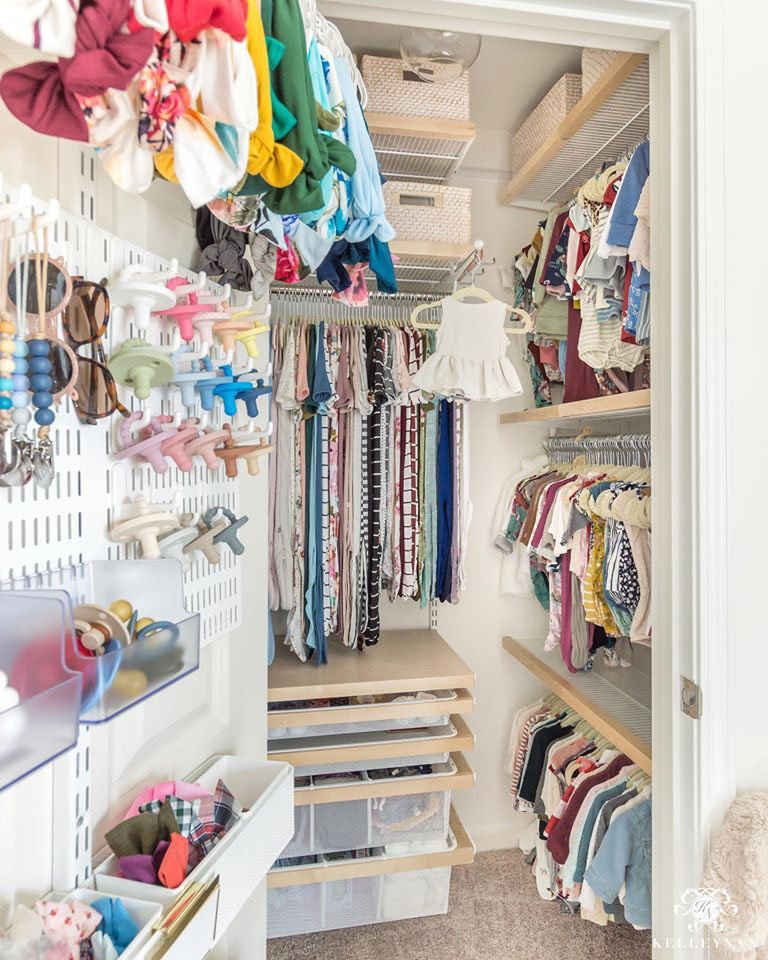 6. Didn't Overbuy Toys
Eliza has some clear favorites and I love planning for future favorites (like a kitchen, craft table, etc.) but in the first year, I am so so happy we didn't over-purchase on toys. Unless she had a new milestone that seemed like she needed something to help hone new skills, or it was a holiday, we weren't buying new toys — we continue to rotate what we have in our dedicated toy baskets in the areas of the house she spends the most time. You can see some of her favorite toys for the first several months — all tried and true winners — HERE.
7. Shared in Parental Responsibilities
I always thought it was a little odd to hear people say their husband was "babysitting" so they could get out a bit. Now that I'm a mom, I honestly find it even more unsettling. To me, when it's your own kid, it isn't "babysitting". This topic could go way deeper and examine all kinds of underlying marriage stuff I'm not qualified to talk about but just as I consider Dave and myself partners in all aspects of our relationship, we approach parenting as a partnership, too. And, that calls for crushing a lot of gender stereotypes, too. One of us will do Eliza's nighttime routing while the other preps dinner. We divide and conquer and for us, it works. In the first several weeks when Eliza was a newborn and still had middle-of-the-night-bottles, most often, Dave was the one to get up to feed her. He has no problem falling back to sleep whereas once I'm up, I'm up! On the flipside, once the clock neared 5:00 a.m., I would be the one to get up. On the weekends or evenings, we always communicate any tasks, goals, work, priorities, or obligations to make sure our outside "stuff" is taken care of while the other holds down the family fort. While there's lots of splitting during waking hours, nothing's better than the times we can set aside everything and just be together.
Things I Would Change, Looking Back
While there's PLENTY of these, I'm sharing a few that stick out in my mind for different reasons.
1. Rested When She Did
This is one of those things you always hear — I never put much stock in it but looking back, oh my word, this is so so true. I've already credited Eliza for her "ease" in the world of babies and maybe because of that, I couldn't see how tired I really was or how much I was trying to do. Just because she wasn't screaming around the clock didn't mean I was rested — even though I couldn't see it in the moment. As she got older and older and started doing more and more, I realized how much more I had to be on my toes and would laugh about how much easier on myself I could have been in those first months. When she was sleeping, I was trying to work and manage the house and when she was awake, even when she couldn't really move, I felt like I needed to give her my full attention. I wish I had left the dishes every once in a while, worked less, taken more showers and gone on more frequent walks. It's a constant battle to find the balance that never truly feels achieved but we're happy and content and continuing to adapt and get creative as she becomes more independent.
2. Set Realistic Expectations with Milestone Photos
This is so silly compared to say… eating and sleeping (haha) but it's more of a funny frustration that still sticks out in my mind. Before Eliza was born, I spent so much time brainstorming uniform milestone photo ideas. I wanted to do something I hadn't seen and landed on the idea to do rainbow milestone photos, with Eliza wearing a progressively different color each month. I think the result actually did turn out darling but around month eight, the efforts to even capture her within the frame were far from cute. Actually, it was next to impossible. Now, I've seen other smiling babies take milestone photos on their backs all the way through the first year but Eliza is like a Weeble Wobble. I don't know if other moms know different tricks or if Eliza is just stubborn and disinterested (my bet is with the latter). If you get her on her back, she will flip over before you can even take your hands off. The last few months were ungracefully captured by having Dave stand over her, while playing Little Baby Bum on his phone — it would grab her attention just long enough for a blank stare, and to take a quick snap. During the earlier months, I would take hundreds of photos of her essentially looking the exact same, in the same pose. The older she got, the fewer shots I was able to get. I think the last round, there were only eight snaps and only one that was even close to "passable". I still love the concept but if I had to do it again, I probably would have propped her in a chair or something that didn't rely on her being on her back with background uniformity. I typed a list before she was born so I knew way in advance which color each month would be — you can omit some of the non-colors (black, white, brown, etc.) and do more variants and shades, but these are the colors I went with to round out the final ROYGBIV collage.
Month 1: White
Month 2: Pink
Month 3: Red
Month 4: Orange
Month 5: Yellow
Month 6: Green
Month 7: Aqua
Month 8: Blue
Month 9: Indigo
Month 10: Violet
Month 11: Gray
Month 12: Black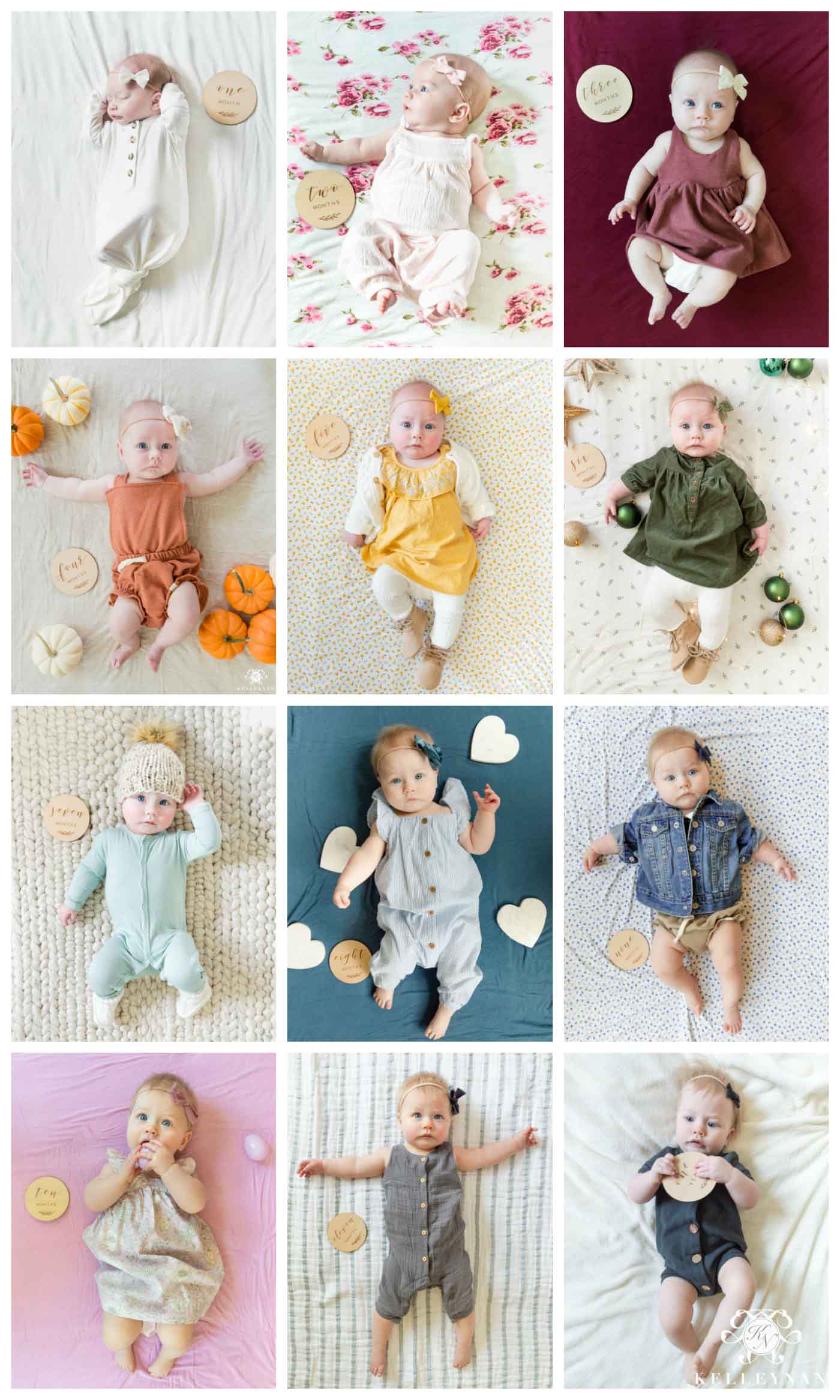 You can find the wooden milestone disks I used HERE. In addition to the single shot monthly milestone photos, I also snapped a shot of Eliza with her Cuddle & Kind flamingo each month, for scale.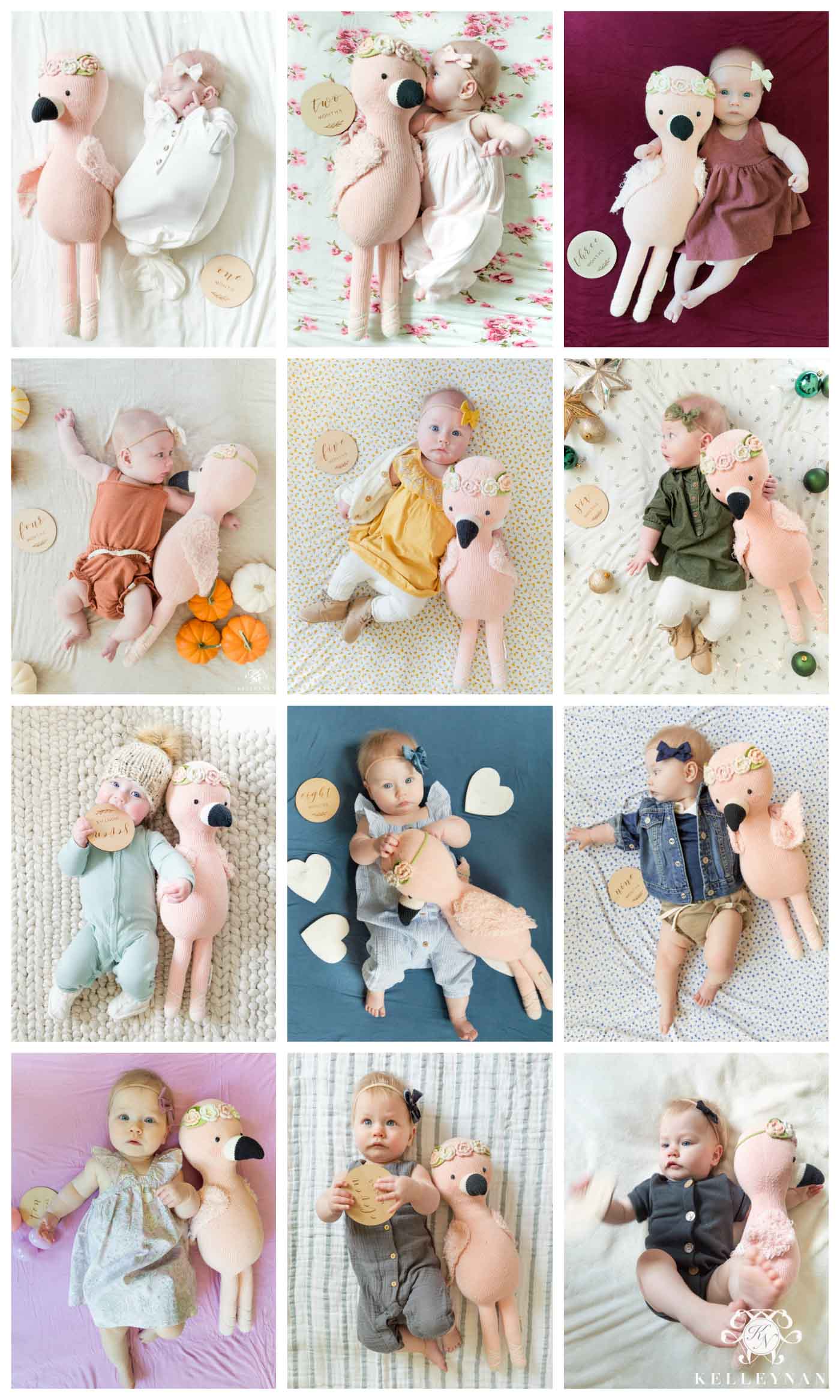 3. Committed to One Pacifier & Stocked Up
I was warned about this but I was so convinced that Eliza was going to love the collection of Ryan & Rose pacifiers I'd collected in all the colors of the rainbow, I paid no attention. As a back-up, I'd grabbed a couple of BIBS pacis… guess which she preferred. Even now, she loves the BIBS and takes one whenever she's in her crib; they are wonderful. But, the huge array of R&R silicon pacis with coordinating clips I spent a small fortune on — they are still hanging on a board in her closet. As much as I like to prepare, I wish I had gotten one or two to test before committing. And speaking of testing before commiting, I would 100% recommend the same for bottles. Don't purchase full sets until you see what your baby likes the best. We tried so many different, elaborate bottles — the one she ended up taking the best was the standard, basic Dr. Brown's (without all the extra parts).
4. Journaled More & Stayed More Organized
I started out totally well intentioned, snapping photos and shooting videos, and logging every single little first in the Notes on my phone (which, was basically every day). I decided to simplify and to start logging only the semi to major(ish) milestones but as soon as I did, I fell off the wagon and quit documenting all together. I'm hoping I'll be able to piece a timeline together with photos and videos I have in my arsenal to put together a baby book but I wish I had followed a template and filled it out as I went along (so I knew what "firsts" I was looking for). In addition to not logging enough in writing, I have the opposite problem with photos. I have SO MUCH video and photo footage that the possibility of creating a video of Eliza's first year seems next to impossible. I wish I had favorited videos as I went along and immediately deleted all the excess photos, keeping only the best one or two from each camera-happy moment.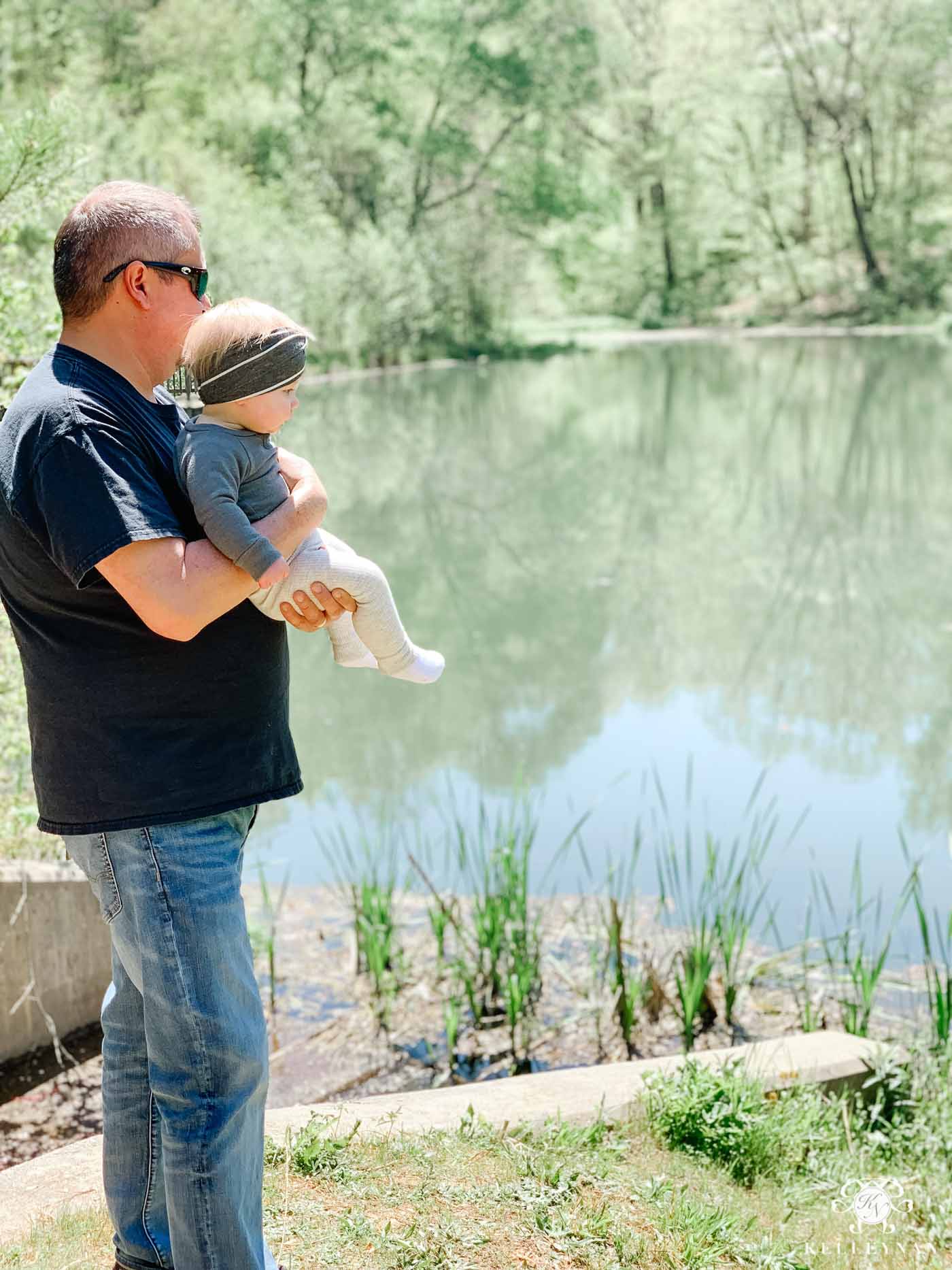 Things That Could Go Either Way
I actually only have one thing to list for this — when I was writing my notes, I had it in both the "things I would change" and "things I wouldn't change" column and even now, I'm still not sure…
1. Stayed Home with Eliza
I was incredibly fortunate to be able to be at home with Eliza. But, while I recognize how lucky I am to be the manager of my own schedule, I didn't take an actual break from work or have any sort of maternity leave. I'm convinced that trying to work full time and stay at home full time as a mom is next to impossible — both require undivided attention. Because of that, I have definitely struggled on the KN front with projects, consistency, energy, and well… all of it (and I thank you all so much for your unwavering support and patience!). That being said, I'm also extremely lucky and grateful to be in the position I'm in — I'm so thankful to be able to spend all the time I do with Eliza every day and I recognize how fortunate I am to be afforded the flexibility to be a little lax when it comes to work from time to time. Sometimes, I wish I had elected for childcare so I could get in so KN could get hours of undivided attention but having her at home — not only have I been able to be with her, but she's also never been sick. To be honest though, I do want her little immune system exposed to germs to be able to build up a bit. I also wish she could have started socializing with other kids a bit more (even though Covid has kind of put a pin in that for the time being, anyway). As you can tell, my thoughts on this are all over the place. Would I have done things differently? Probably not. I don't think there's any perfect situation — some people don't have a choice, some do, and each decision is personal. A few weeks ago, I did make a change that has already been invaluable. I now have someone who comes for two and a half hours, three days a week, to care for Eliza. It has already been life giving — Eliza gets someone with lots of energy, ready to give her attention, and I have a string of a few hours, a few times a week where I can devote my full attention to work. From moms who work out of the house, in the house, are stay at home moms, have kids in school, have kids in daycare — whatever the situation — all our circumstances are unique with challenges; kudos to all of you who do the best you can for your family!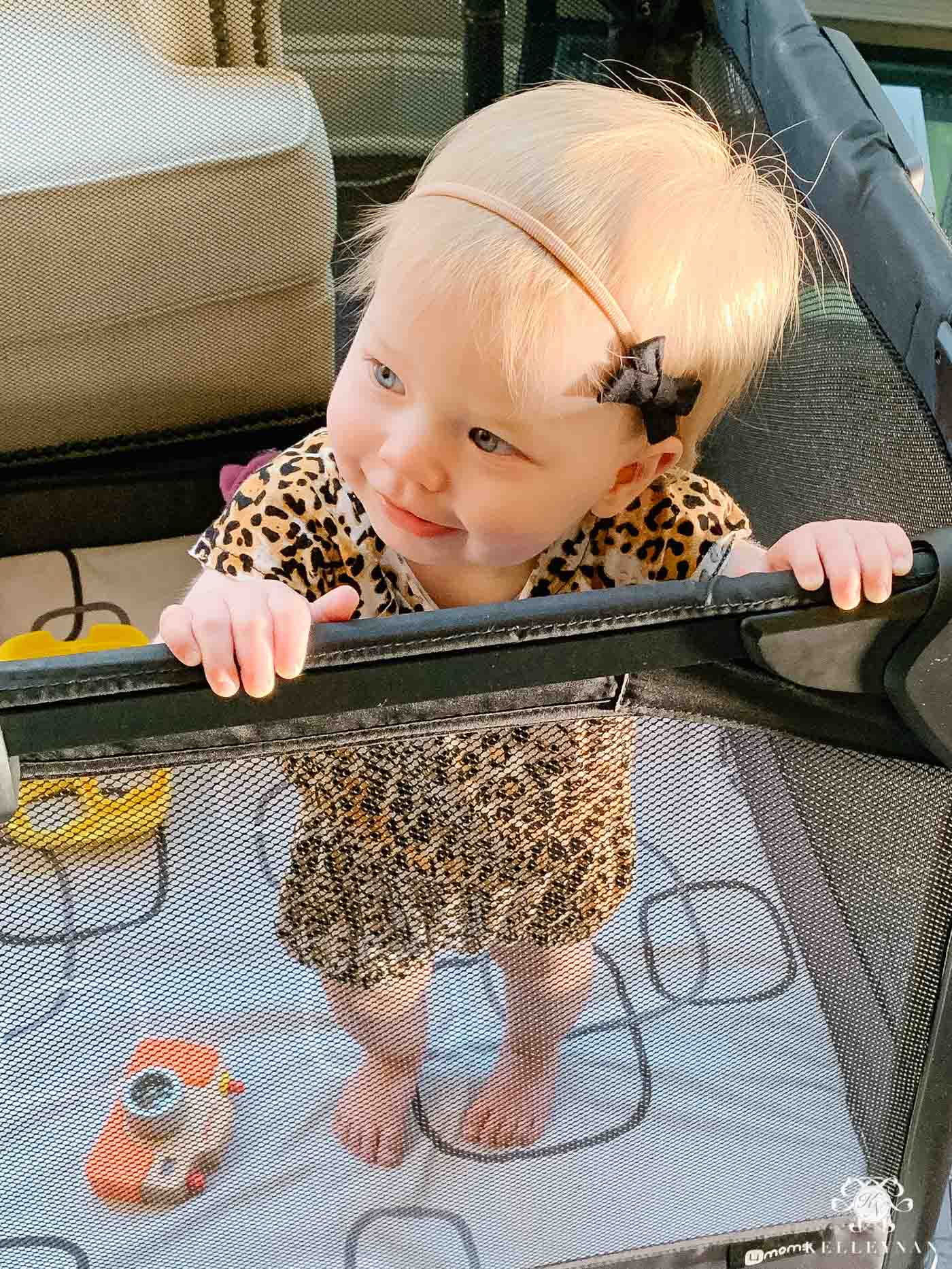 Rehashing the first year was kind of like living it — passionate about the wins, made wiser for the experiences, and tired and happy from the memories of it all. To follow along with our family and everything to come, be sure to subscribe to my emails at the bottom of the post. If there's something you swear by or lessons you've learned, share with us in the comment section below!
CHECK OUT THESE RELATED POSTS