Whether you feel like you're on month 82 of summer, you're just living for something to look forward to beyond our crazy current days, or you're just up for holiday everything any time of year, today I'm bringing some crazy good holiday decor for a little Christmas in July! At this point in the year, many retailers are far from bringing out new winter inventory and a lot of last year's stock was either purchased or pulled until the holidays season. But… I scoured and scoured thinking maybe, just maybe I would find some hidden gems. And… I did!
*Posts on KelleyNan.com may contain affiliate links. Click HERE for full disclosure.
Christmas in July — Crazy Holiday Decor Deals
Holiday decor shopping is always a bit of a gamble because inventory levels typically aren't super high on seasonal items and a lot of times, if you don't act early, you miss out. We can all probably relate to these:
Shop EARLY when inventory first hits, pay full price, or maybe miss out because buying Christmas decor when you're celebrating Labor Day doesn't sound all that fun.
Wait until things are on sale a little more into the season, but you've already decorated and you're already exhausted from spending time decorating and swear you need nothing else. Plus, a lot of things are sold out and if you want something personalized, it's a gamble.
Wait until after Christmas for deep discounts but accept that if there's anything high on your list of must-haves, it will likely be sold out and you'll have to wait another year to purchase.
But then there's 4. Christmas in July — There isn't a ton available but there are some great deals to be had — some that may even be the source of inspiration for your decor in a few months! Low pressure but definite discounts and gems on clearance!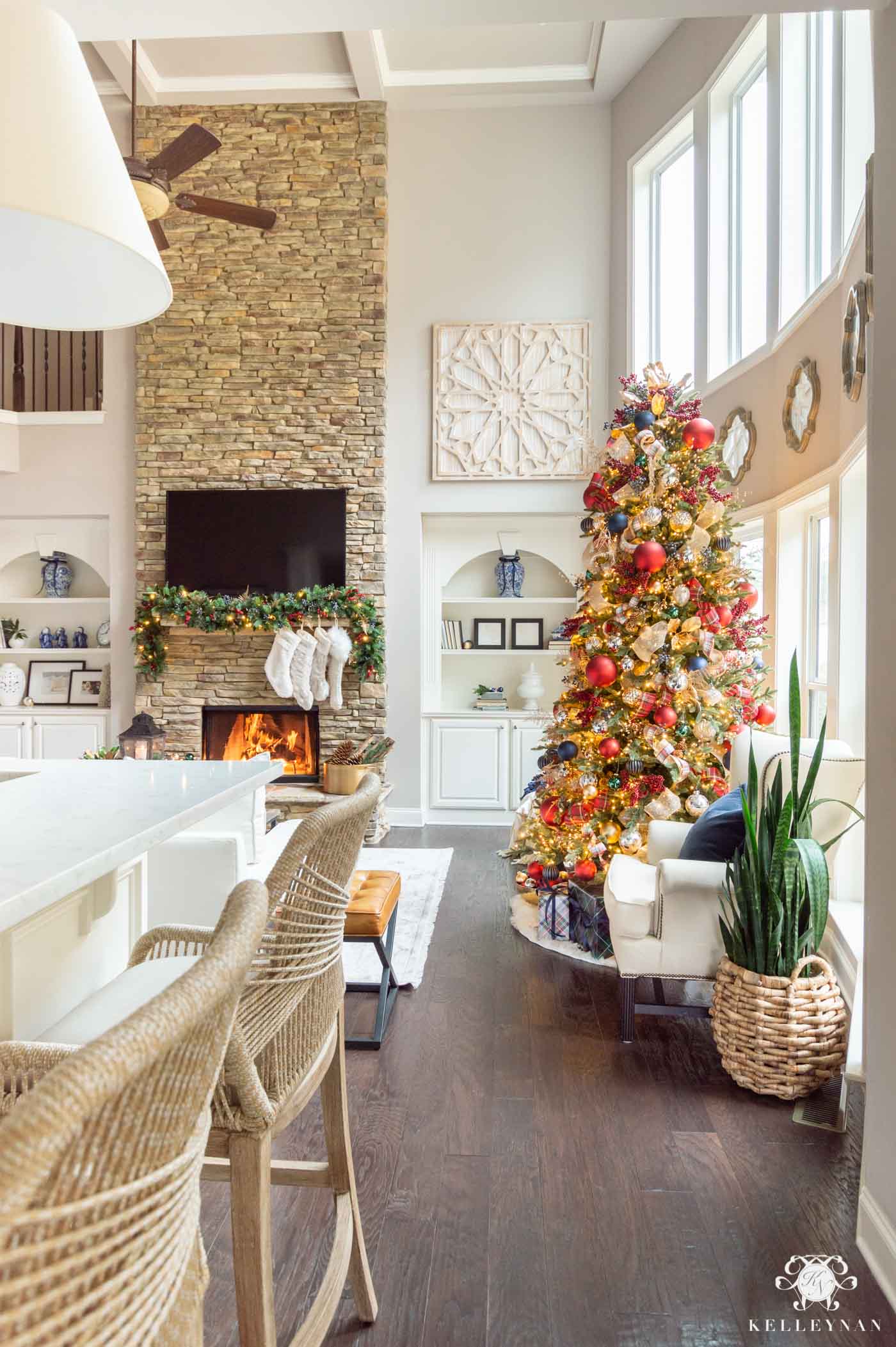 You can see my full 2019 Christmas Home Tour and decor HERE.
Each item is linked below the graphic and full descriptions and details can be found at the bottom of the post!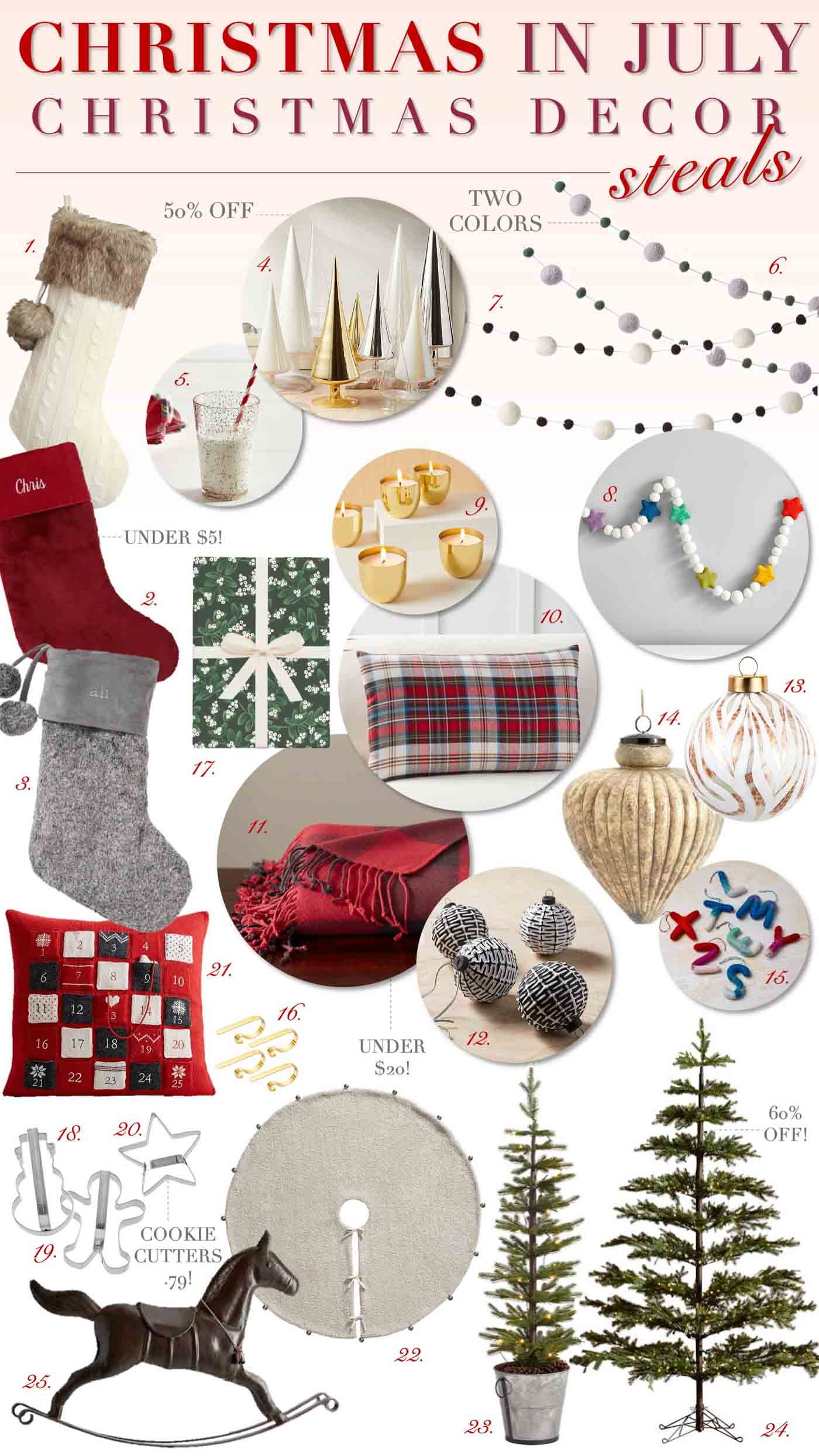 1. // 2. // 3. // 4. // 5. // 6. // 7. // 8. // 9. // 10. // 11. // 12. // 13. // 14. // 15. // 16. // 17. // 18. // 19. // 20. // 21. // 22. // 23. // 24. // 25.
A couple of these finds are available now at a regular low price but the majority are higher end, more expensive holiday pieces that are listed at the lowest price they ever will be, on clearance. I only included items that are in stock and available for shipping, at the time of publishing.
This style of pine has been gaining popularity in recent years — it looks beautiful and clean with or without decor — and is regularly $600. Right now, the 6′ tree is on clearance at PB for $238.99! You can find it HERE.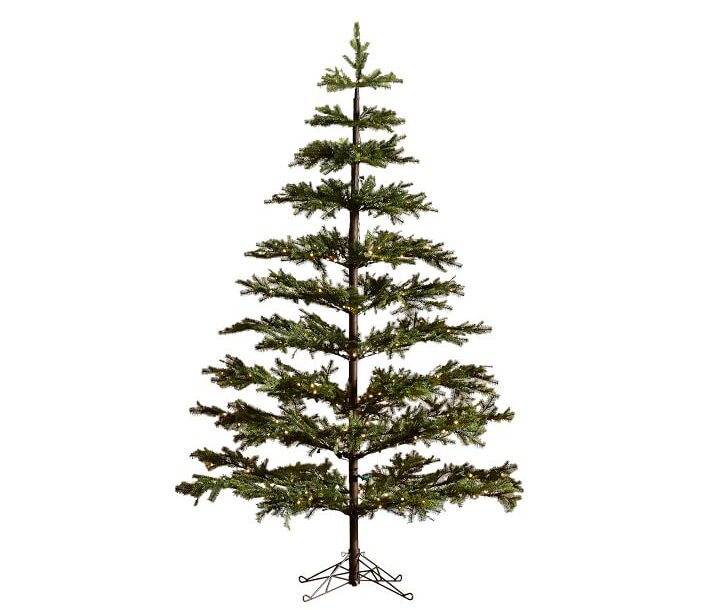 Another crazy-amazing deal — this red and black PB buffalo check throw (I was SUPER into plaids this past year!) is on sale for $18.99. And this is a piece that can be used well beyond the holidays, all around the house.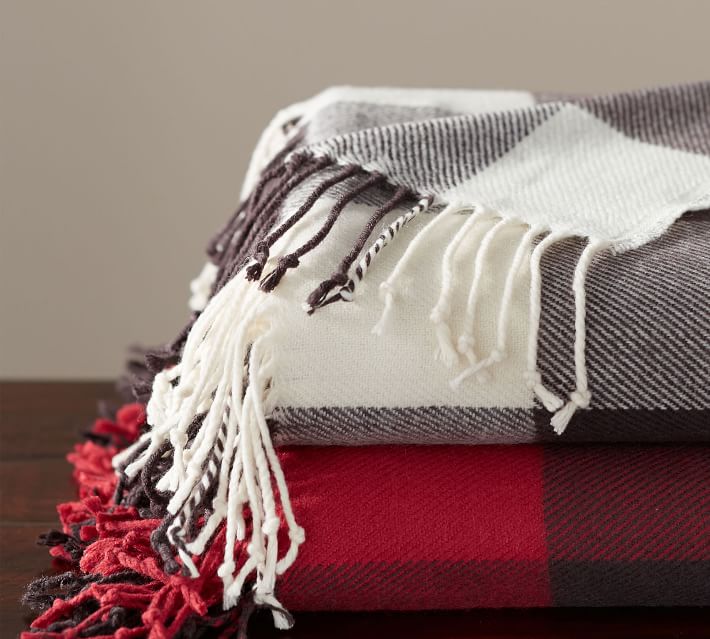 You can find a matching red and black buffalo check pillow — also on clearance for $13.99 — HERE.
One of my favorite shops for paper products is having a sale right now for Buy More, Save More (up to 25% off). These papers aren't cheap but they are special and adorable! You can see close-up prints for the holidays below!
Scroll & Tap to Shop Wrapping Paper

There are a few steals right now for under $1! These cute, ombre felt initial ornaments are now .99/each and these Williams-Sonoma cookie cutters (snowman, gingerbread man, star) are only .79 and .99/each!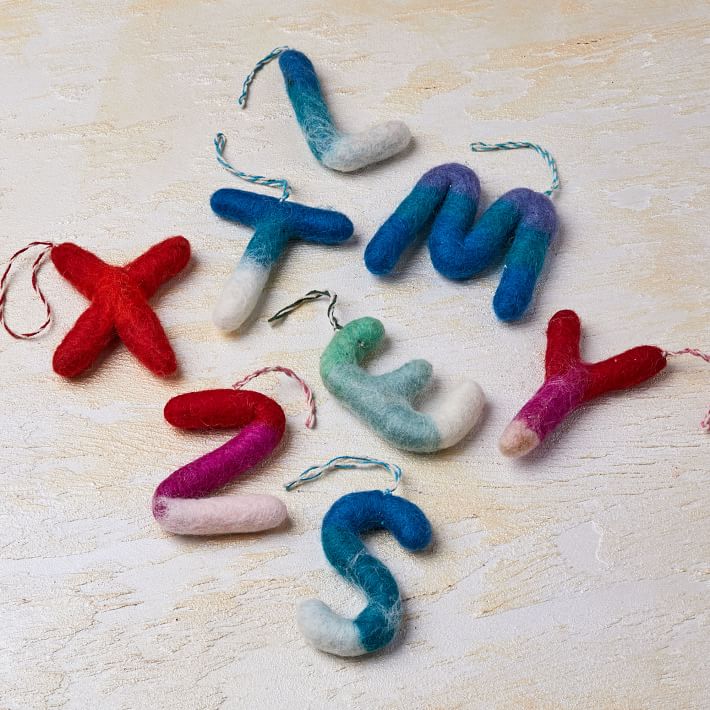 While my throw splurge print last year isn't available for shipping, there is another print — a pretty neutral — of the same lambswool throw that is 25% off HERE.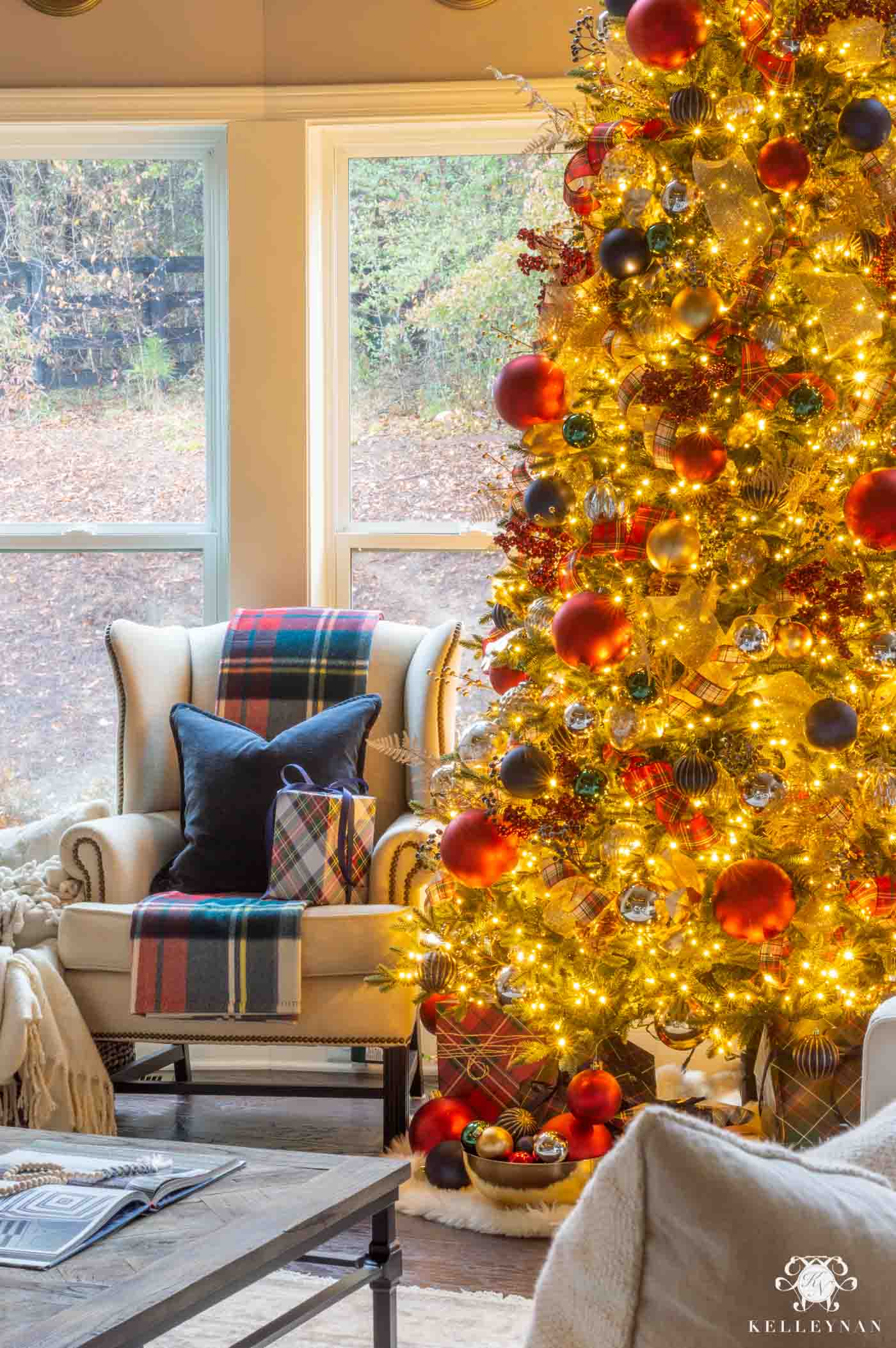 Something that isn't on sale but was a new purchase last year were these discreet stocking hooks — they work perfectly with garland without some sort of topper and also come in silver. A set of four is under $10!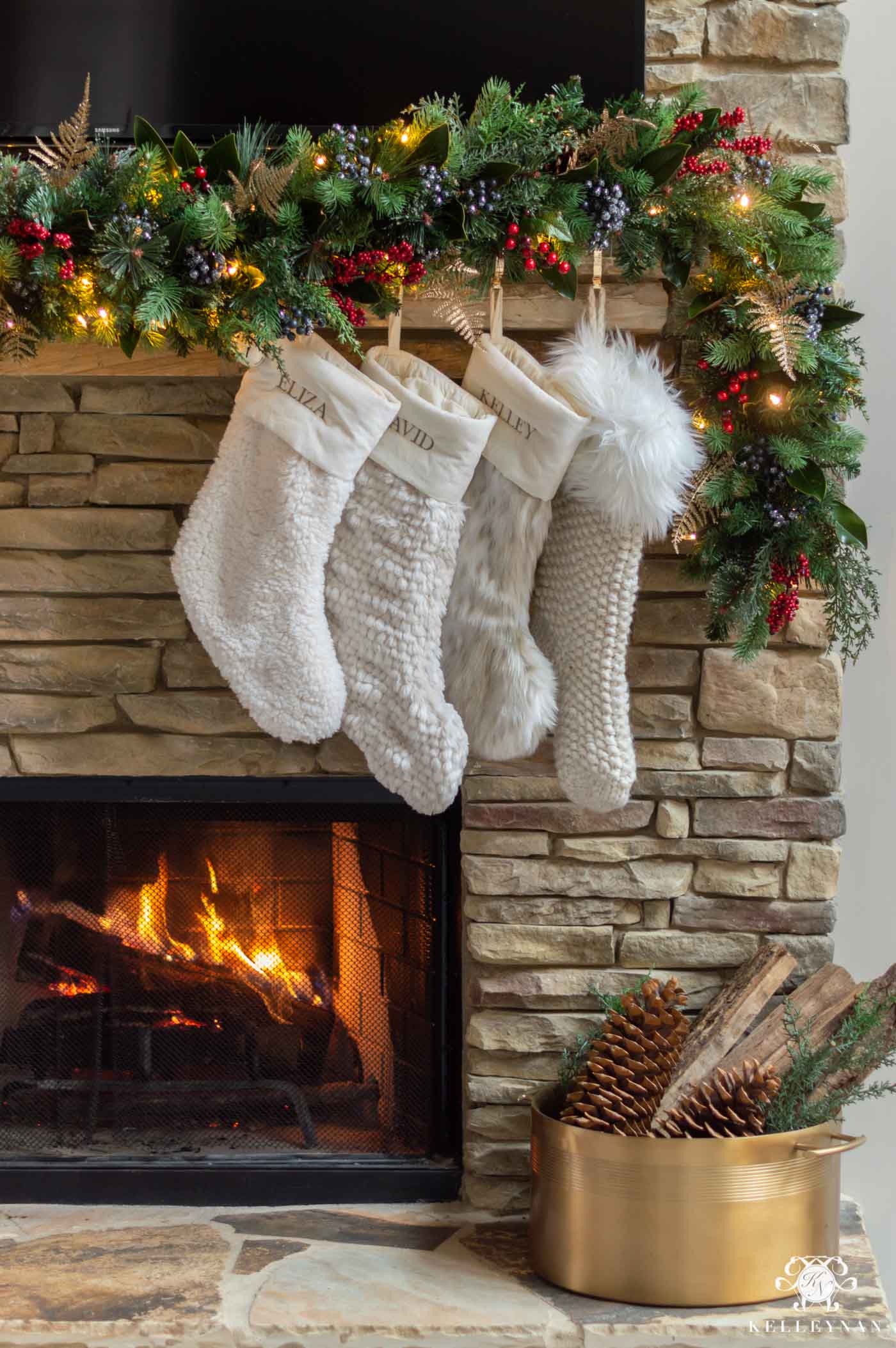 While I included a few stockings that are fantastic deals in this post, THESE faux fur PB stockings in red are on clearance for $5.99. YES! FIVE DOLLAR AND NINETY NINE CENTS! And, you can still get them personalized (for an additional price).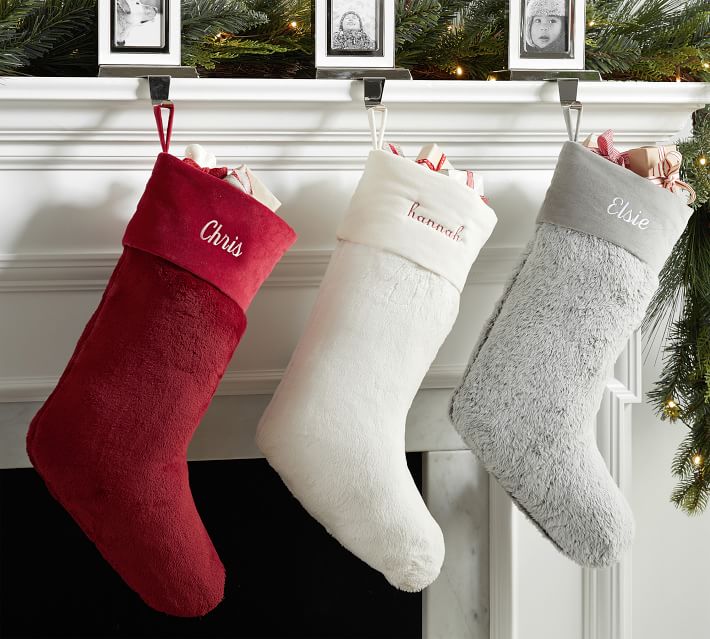 From tree skirts to unique ornaments to entertaining and original under-the-tree decor, check out the details on all my finds below. If you want MORE Christmas in July, you can visit my full Christmas gallery — where I share everything from home to gifts to Elf on the Shelf ideas and photo tips — HERE.
Christmas Decor Deals & Details