It's crazy how much you learn when you're thrown into something. When you're forced to sink or swim. When you know the actual — not just hypothetical — questions to ask. Guys, it was mere months ago that I was Googling baby bedding, thinking that our one-day-baby was supposed to have a crib decked out with a full sheet set, comforter, pillow… y'all, I'm dead serious. That's how little I knew. I thought babies got a full bedding ensemble. I can laugh now because boy, have I come a long way, but I'm learning more all the time. And, I know I always will throughout each stage. Mommy-ing has been several parts intuition, mixed with a healthy amount of Googling, a good bit of crowdsourcing, and then ultimately trial and error. And when you try something that works, or find something that you/your baby loves — it feels so dang good. After several requests, today, I'm sharing my 15 newborn baby necessities. Everything I'm including are infant essentials used on a daily/regular basis and have been since Eliza's earliest days. We aren't talking gear, toys, or any crazy contraptions — I love what we have but I think strollers/car seats/etc. are more preference based with pros and cons and worth of a lot of research. Today's post primarily consists of general baby care — even some of the most basic items — that hone in on the true necessities and the favorites I've found throughout our three month journey. (If you do want to see some of our gear, you can visit THIS post.)
*Posts on KelleyNan.com may contain affiliate links. Click HERE for full disclosure.
Top Newborn Necessities 
I want to be clear — just about everything on this list has been tested against one or more variants; maybe that's why I feel so passionate and strongly about them. These aren't generic. They are specific and while I could have included more, these really are the essentials at the top of our list. So, if you're planning for a baby, in the beginning stages of being a parent, or are wondering about what infants need in general, check out the full item summaries below.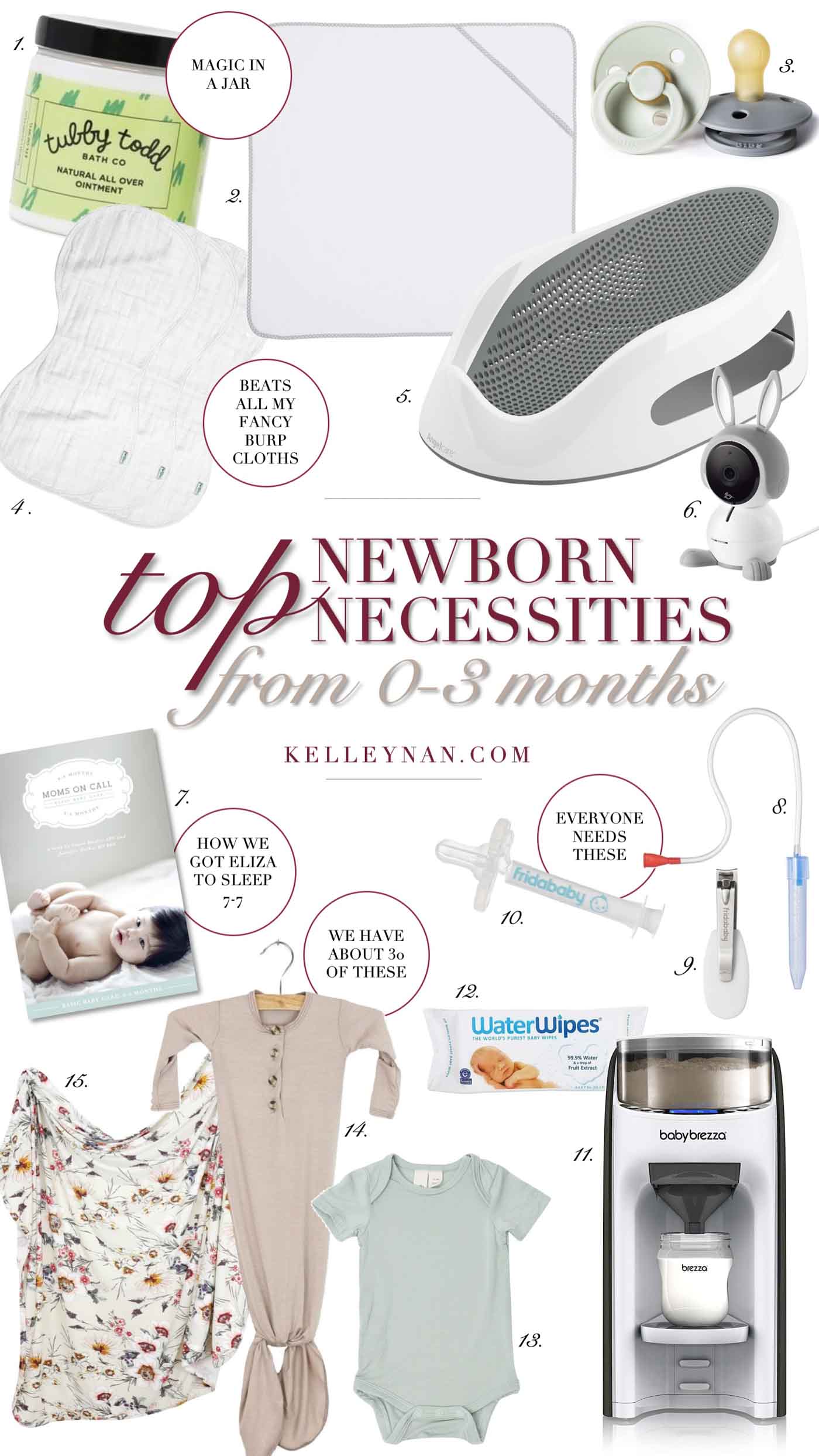 1. // 2. // 3. // 4. // 5. // 6. // 7. // 8. // 9. // 10. // 11. // 12. // 13. // 14. // 15.
1. Tubby Todd All Over Ointment // At a few weeks old, Eliza had a bit of baby acne that didn't seem to be going anywhere. I tried several at-home remedies and ordered things I had read about in groups with zero luck. Then, I sprang for this jar of magic that moms were raving about. It literally cleared up her skin in 48 hours. Crazy. She has sensitive skin (I can't even use regular baby face wipes on her) so since then, I've continued to use it on her face nightly, for little scrapes, any little marks she gets, diaper rash, etc. It's awesome for dry patches and there hasn't been a thing I've used it on where it hasn't worked; it is literally magic in a jar and probably my #1 discovery and recommendation for any new mom. They have several other natural baby bath products I love, but the AOO is crazy amazing.
2. Gingham Hooded Towel // Eliza has several hooded towels — most adorable with animal heads — but despite having a bath every night, we use THIS ONE 95% of the time. It is so absorbent, a great size, and slays all the others in terms of practicality. It comes in several different gingham trim colors and fits all the way up to 30 lbs (or 33″).
3. Bibs Pacifiers // We actually bought probably 15 different colored pacifiers from one brand and while she took them, we spent a lot of time playing paci-pong. I had two Bibs I decided to try without high hopes; the shape was a game changer. While the other one would slide out unless she was intentionally sucking on it, this one is bulbous enough to stay put — especially in the car seat or when she starts to fall asleep. Needless to say, we have them in almost all the colors now haha.
4. Green Sprouts Muslin Burp Cloths // I had purchased several packs of pretty printed burp cloths before Eliza's arrival but had gotten these to keep on hand as back-ups. 3 months later and I haven't used the pretty floral/patterned stock more than once. These are the only cloths I will use now; they are so much more absorbent and soft than any others that claim to be (the others make the milk basically just roll off the surface of the cloth?! Save yourself the pain of searching the sweetest designs and go for these classic white basics. THEY ARE THE BEST!
5. Angel Care Baby Bathtub // I tried two flower bloom style bathtubs but our sink was just too big for them to function how they were supposed to. The bathtub we use now fits perfectly in our large sink, has a vented base so water can run out, and supports Eliza perfectly. As I mentioned before, Eliza gets a bath every single night and I'm so glad we discovered our winning bathtub early in the process.
6. Arlo Baby Monitor // We mulled over monitor reviews for months (literally) before pulling the trigger. We actually got two (Arlo and the Lollipop), set them both up (before we even had a baby), and Arlo won, hands down. I can set the alert parameters for motion (I have hers drawn to within the actual crib instead of the full room), set the sound sensitivity, etc. Not only are you alerted when there's motion or sound, but it can actually distinguish the difference between a sound and a cry. It detects the temperature, humidity and air quality and has been totally dependable since we installed it. We use the video monitor on our phones/ipad instead of a separate screen. There are so many options and capabilities but you can read more about them HERE.
7. Mom's On Call // I remember the first person who raved about this guide — my friend Ansley — a couple years ago when I couldn't believe how well her daughter slept. Once we started prepping for Eliza, I started asking more and more friends and moms I knew and anyone who had used the Mom's On Call guide had had crazy success, when used consistently. We started using the guide and schedule around 8 weeks and it took Eliza hardly any time to adapt. She was sleeping through the night almost immediately and continues to sleep from 7:30 p.m. — 7:00 a.m. when I wake her up for breakfast. It's been so helpful for both of us and while there is a ton of resource and useful information presented in the book (also available in electronic format), the sleeping/napping/routine and schedule portions are what I am a 100% believer in. I know all babies are different but I'm so thankful to have started her with this from the beginning.
8. Nose Frida // Despite the raves, I'll be the first to admit this sounded (and looked) disgusting to me before becoming a mom. Would I taste it? Would I suck too hard and ingest something? If you aren't familiar, the Nose Frida is the modern day snot sucker that will put the blue bulb to shame. And oh my lord, it is so satisfying. I realized once I actually used it that no, with the way it is constructed, I wouldn't accidentally suck any snot into my mouth. It doesn't just suck out what you see; it creates a vacuum seal so when your baby is a little stuffy, it actually gets all that stuff, way back there, that you can't see. This is a need.
9. Fridababy Nail Clippers // I was so nervous to clip Eliza's nails the first time and I just filed them at first until they started growing longer and more quickly. These nail clippers have a safety feature where one side protrudes further out than the other and instead of clamping down, it cuts from one side to the other. These are so easy and I am so glad I found them without ever having had to mess with standard clippers.
10. Fridababy Medicine Dispenser // Giving medecine (even gas drops) to our baby has been no easy feat. It kind of just runs back out of her mouth. Every time. I jumped online to see what options I could find to aid in this process and saw that Fridababy (the same maker of the nose sucker and nail clippers we were already huge fans of) had a pacifier with syringe. It sounded genius but let me tell you, after using it, I confirm it is genius. You fill the syringe with whatever medicine/drops you are trying to administer, connect it to the paci (there's a short channel with a hole), put it in your baby's mouth, and then squirt. There hasn't been a drop wasted.
11. Baby Brezza // This has been worth its weight in gold, especially because our daughter is exclusively formula fed. Basically, it's a Keurig for your baby bottles — it has 3 temperature options and dispenses at 2-10 ounce settings. My friends Kris and Sarah gifted this to me at the beginning of the year and it is used all day, every day.
12. Water Wipes // We actually use Kirkland brand wipes from Costco for our everyday wipes but at any sight of rash or irritation, we switch to these pure water wipes (99.9% water with a drop of fruit extract). They are also good for hands, face, and any other place with sensitive skin. We keep these in our diaper bag for multi use and while we haven't "gotten there" just yet, it says they are good for teething so I'll be diving in to find out more about that soon 😉
13. Kyte Baby Bodysuits // I've shared these before but we are comfy at home. Even before Eliza fit into the footies, the bamboo bodysuits are worth every penny. We will never buy another generic onesie ever.
14. Lou Lou & Co. Knotted Gowns // When Eliza was born, these are all she would fit in. They are so soft, stretchy, have functioning buttons so you can dress from the bottom up, and are your best friend when it comes to diaper changes. She has and continues to sleep in one of these every night and we even have several in the next size up. People go crazy over these specific knotted gown from Lou Lou & Co. and for good reason- no other brand we have tried comes close to quality, softness or fit (many are too baggy!). If you haven't yet, get one to try; you will thank me later. Promise.
15. Lou Lou & Co. Swaddles // Made of the same material as the gowns, these huge blankets are so versatile; we use one to two each day. They are super soft and stretchy, designed for a snug swaddle, but even after that stage or if you prefer something with velcro, these are the blankets I always have draped over her, as a car seat cover, on the floor for tummy time, while she's feeding, literally – everything. We have a ton.
If you swear by any of these, let me know in the comment section. When it comes to baby items, more than ever, reviews and approval from other moms has been critical in my decision making. And, if you're just now looking, hopefully this is a good place to start 😉
OTHER POSTS YOU MAY BE INTERESTED IN