What started as a semi-last minute solution turned into one of my favorite parts of Eliza's nursery and a top reader inquiry. I waited for months for a hanging basket to go above the crib and after my order kept getting delayed more and more, I switched gears. I'm not really into hanging names and baby stats and some of the common baby quotes you've probably seen, but song lyrics, well, that fits our family perfectly. Maybe it's the juxtaposition of something spoken by Axl Rose hanging where someone so innocent sleeps but apparently, I'm not alone! Over the past few months, I've had messages from so many of you, following suit. While the lyrics hanging in our nursery (Soulshine) are personal for us, today, I'm sharing 20 song lyrics quotes that would be fitting, from classic rock, country, and alternative. From advice to statements of love to wishes, dreams, and sleepy themes, all of these would make perfect, unique nursery wall art.
*Posts on KelleyNan.com may contain affiliate links. Click HERE for full disclosure.*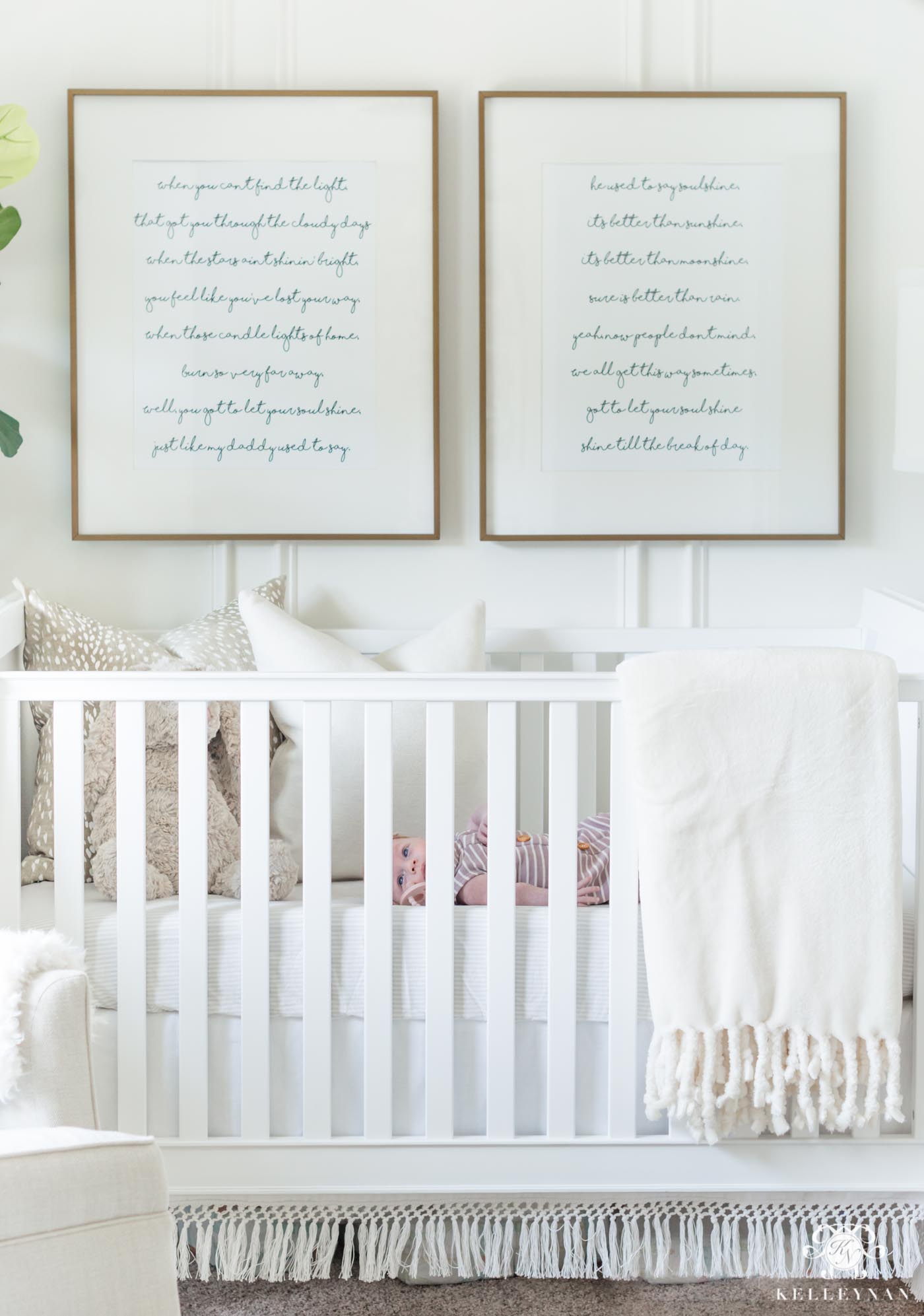 ---
Scroll & Tap to Shop

---
We ordered our lyrics HERE, split between two frames. You can choose the size, front style, etc; we went with Style 2 in 16″x20". You also get to proof and make changes before printing. The brass frames I used can be found HERE.
Nursery Wall Art Idea: 20 Classic Song Lyrics
1. "Soulshine" — Warren Haynes / The Allman Brothers Band (these lyrics are in our nursery 😉 )
When you can't find the light
That got you through the cloudy days
When the stars ain't shinin' bright
You feel like you've lost your way
When those candle lights of home
Burn so very far away
Well, you got to let your soul shine
Just like my daddy used to say
He used to say soulshine
It's better than sunshine
It's better than moonshine
[Sure is] better than rain
Hey, now people don't mind
We all feel this way sometimes
You gotta let your soul shine, shine till the break of day
2. "You've Got a Friend" — James Taylor
When you're down and troubled
And you need a helping hand

And nothing, oh, nothing is going right,
Just close your eyes and think of me
And soon I will be there
To brighten up even your darkest night

You just call out my name
And, you know, wherever I am
I'll come running
To see you again
Winter, spring, summer or fall
All you've got to do is call
And I'll be there,
You've got a friend
3. "Make You Feel My Love" — Garth Brooks
When the rain is blowing in your face
And the whole world is on your caseI could offer you a warm embrace
To make you feel my love

When the evening shadows and the stars appear
And there is no one there to dry your tears
Oh, I hold you for a million years
To make you feel my love
4. "I'll Stand By You" — The Pretenders
When you're standing at the crossroads
And don't know which path to choose
Let me come along
'Cause even if you're wrong

I'll stand by you, I'll stand by you
Won't let nobody hurt you
I'll stand by you
5.  "Time After Time" — Cyndi Lauper
If you're lost, you can look and you will find me
Time after time
If you fall, I will catch you, I will be waiting
Time after time
6. "Unwritten" — Natasha Bedingfield (not exactly "classic" but perfect, nonetheless) 
Drench yourself in words unspoken
Live your life with arms wide open
Today is where your book begins
The rest is still unwritten
7. "Dream On" — Aerosmith
Dream on
Dream on
Dream on
Dream until your dreams come true
8. "Forever Young" Bob Dylan
May God bless and keep you always
May your wishes all come true
May you always do for others
And let others do for you
May you build a ladder to the stars
And climb on every rung
May you stay
May you stay forever young

Forever young
Forever young
May you stay
Stay forever young

May you grow up to be righteous
May you grow up to be true
May you always know the truth
And see the lights surrounding you

May you always be courageous
Stand upright and be strong
May you stay
May you stay forever young
9. "Don't Stop" — Fleetwood Mac
If you wake up and don't want to smile
If it takes just a little while
Open your eyes and look at the day
You'll see things in a different way

Don't stop thinking about tomorrow
Don't stop, it'll soon be here
It'll be, better than before
Yesterday's gone, yesterday's gone
10. "Forever Young" — Rod Stewart
May the good Lord be with you down every road you roam.
And may sunshine and happiness surround you

when you're far from home.
And my you grow to be proud, dignified and true.
And do unto others as you'd have done to you.
Be courageous and be brave.
And in my heart you'll always stay

Forever young.
Forever young.
11. "Here Comes the Sun" — The Beatles
Here comes the sun
Here comes the sun, and I say
It's all right
12. "Keeper of the Stars" — Tracy Byrd
It was no accident me finding you
Someone had a hand in it
Long before we ever knew
Now I just can't believe you're in my life
Heaven's smilin' down on me
As I look at you tonight

I tip my hat to the keeper of the stars
He sure knew what he was doin'
When he joined these two hearts
I hold everything
When I hold you in my arms
I've got all I'll ever need
Thanks to the keeper of the stars
13. "Just the Way You Are" — Billy Joel
I said I love you and that's forever
And this I promise from the heart
I could not love you any better
I love you just the way you are
14. "Never Gonna Give You Up" — Rick Astley (I mean, it would be epic to 'Rick Roll' your baby haha)
Never gonna give you up
Never gonna let you down
Never gonna run around and desert you
Never gonna make you cry
Never gonna say goodbye
Never gonna tell a lie and hurt you
15. "In My Life" — The Beatles
In my life I'll love you more
16. "Ain't No Mountain High Enough" — Marvin Gaye & Tammi Terrell
Listen baby, ain't no mountain high
Ain't no valley low, ain't no river wide enough, baby
If you need me call me no matter where you are

No matter how far don't worry baby
Just call my name I'll be there in a hurry
You don't have to worry

'Cause baby there ain't no mountain high enough
Ain't no valley low enough
Ain't no river wide enough
To keep me from getting to you
17. "Africa" — Toto
It's gonna take a lot to drag me away from you
There's nothing that a hundred men or more could ever do
18. "Your Song" — Elton John
I hope you don't mind
I hope you don't mind
That I put down in words
How wonderful life is while you're in the world
19."Angels Among Us" — Alabama
Oh I believe there are, angels among us
Sent down to us, from somewhere up above
They come to you and me, in our darkest hours
To show us how to live, to teach us how to give
To guide us with the light of love
20. "Simple Man" — Lynyrd Skynyrd
Boy, don't you worry, you'll find yourself
Follow your heart and nothing else
And you can do this, oh baby, if you try
All that I want for you, my son, is to be satisfied

And be a simple kind of man
Oh, be something you love and understand
Baby be a simple kind of man
Oh, won't you do this for me, son, if you can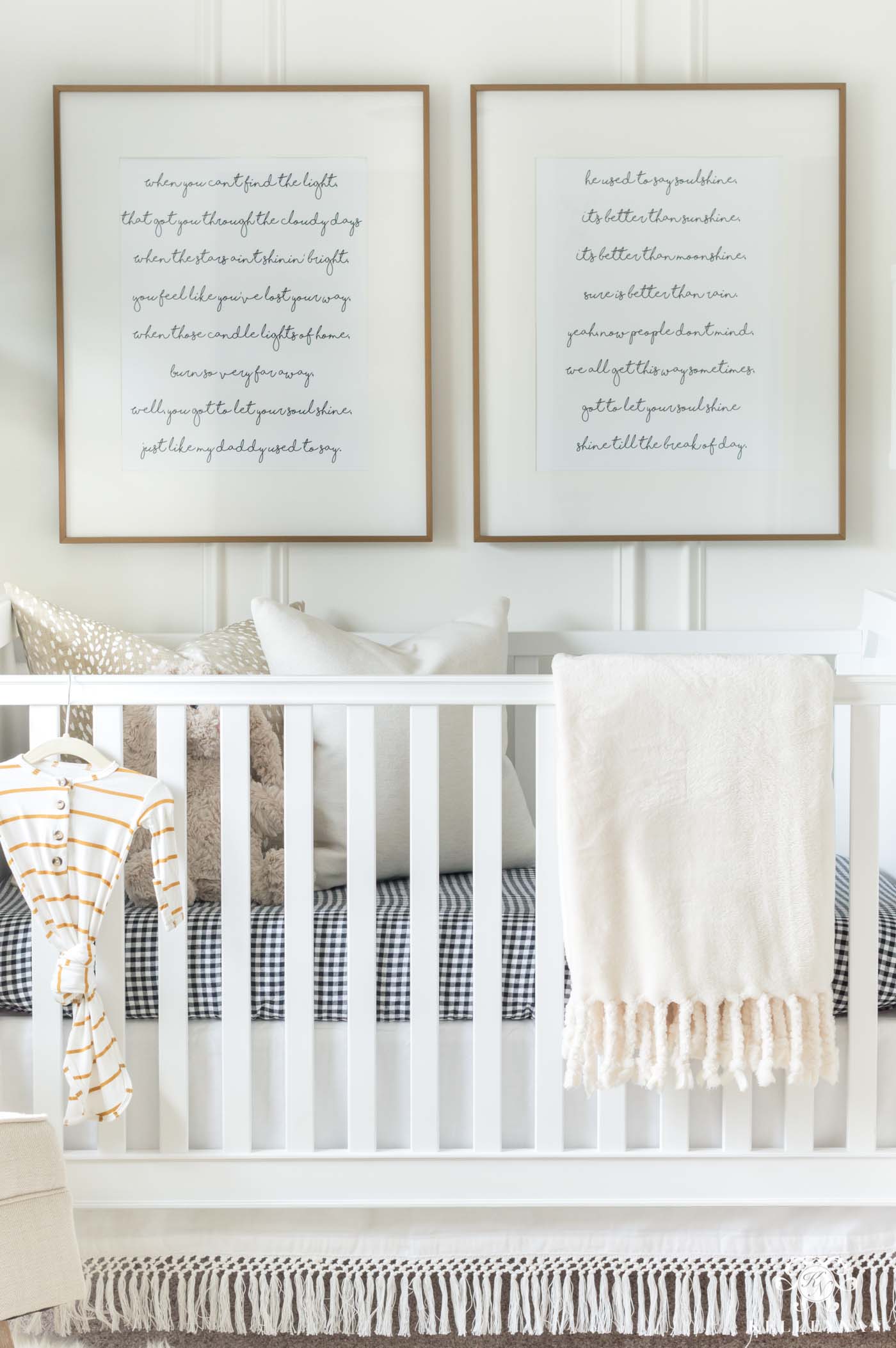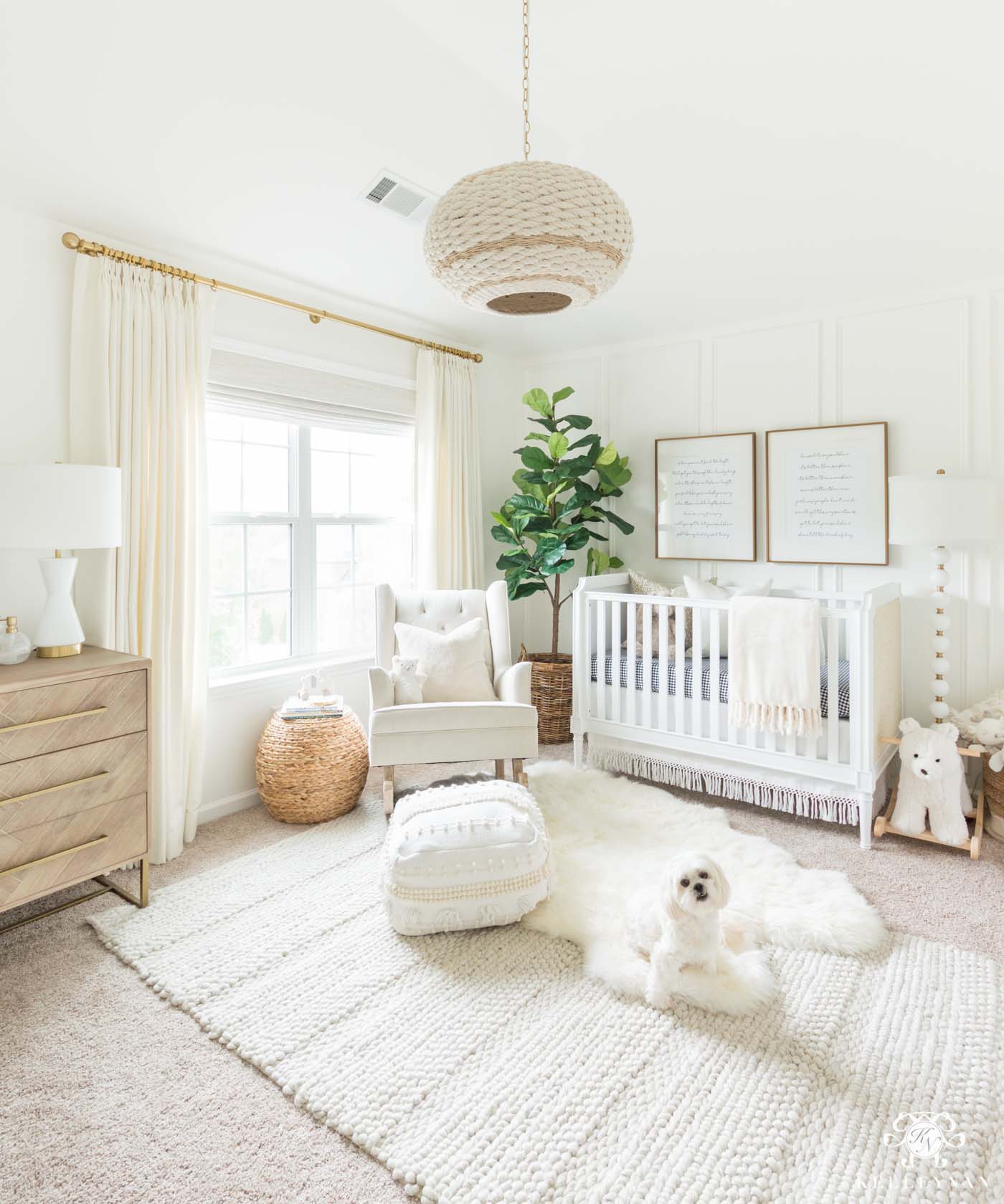 ---
Scroll & Tap to Shop

---
And, even though our song lyrics are prominently featured as a focal point on the crib wall, you could just as easily print some, include them in a small frame, and set them on the dresser/shelf. Have any fitting quotes or lyrics as wall art in your nursery? A special saying? What classic song lyric quotes would you have included? Let us know in the comment section below!
Other Posts You May Be Interested In
Room Sources & Details
Wall Paint: Simply White by Benjamin Moore (Regal Select Eggshell Finish; Flat Ceiling Paint on Ceiling)
Furniture: Crib // Dresser // Bookshelf // Rocking Chair (in Sunbrella Performance Slub Tweed, Pebble, Driftwood)
Lighting: Rope Pendant Light // Floor Lamp // USB Table Lamp
Art/Walls: Round Brass Mirror (36×36) // Personalized Song Lyrics (16″x20″, style 2, above crib) // Brass Frames w/ Mats (for song lyrics) // Forest Art (above book shelf — 40×30) // Baby Hedgehog Art (5×7) // Little Bunny Art (11×11) // Rabbit Art (Gallery) // Raccoon Art (Gallery) // Mouse Art (Gallery)
Textiles: Macrame Crib Skirt // Fawn Print Pillow // Ivory Velvet Crib Pillow // Boho Pillow // Faux Fur Pillow // Black & White Gingham Sheets // Ivory Tassel Throw // Sheepskin (similar) // Chunky Knit Rug 
Windows: Curtains (Linen Weave Vanilla Bean – Privacy Lining)// Shades (Bali White, Cordless, Blackout Liner) // Curtain Rod // Curtain Rings
Accents/Decor/Toys: Woven Changing Basket // Ottoman Pouf // Fiddle Leaf Fig Tree // Fiddle Leaf Fig Tree Basket // Water Hyacinth Lidded Storage Ottoman Stool (next to rocking chair) // Laundry Hamper // Rocking Sherpa Bear // White Rope Baskets (on bookshelf) // Woven Basket Toy Dump // Soap Dispenser // Snake Plant Planter // Stuffed Owl // Stuffed Raccoon // Stuffed Bear // Stuffed Crib Bunny // Stuffed Small Bunny // Bunny Hooded Wrap // Bunny Rattles // Wood Baby Beads // Fawns — Cuddle & Kind