Halloween and all that comes with it was never been a big deal in our house. I can't remember the last time I dressed up and while Dave and I have always tried to live each holiday to the fullest, without children, the Halloween season has kind of been left to one night of trick-or-treaters. This year, that all changes. Since bringing Eliza home, I've been thinking of holidays in a whole new way — all the new experiences and introductions to traditions and old standards. And this year… well, we started building our arsenal of actual Halloween decor! As with any season, I don't think you have to turn your entire house into a holiday showcase. My goal — to incorporate simple, spooky little Halloween moments throughout the house without totally disrupting our entire home. Today, I've partnered with At Home to share easy Halloween decorating ideas that don't require a ton of work to make a statement.
*While this post is written in partnership with At Home Stores; as always, all opinions, concept, and creative are my own. Click HERE for full disclosure.*
Ideas for Incorporating Easy Halloween Decor into Your Existing Everyday Decor
I head to At Home a good bit in preparation for the holidays (I've already scoped out their Christmas aisles for this year and it is a serious must-visit!) but because they don't have an e-commerce site, I never really know what direction I'm going in until I walk the store for inspiration. The only thing I knew this year is that I was starting from scratch, I didn't want to overwhelm myself with any huge projects, and I wanted to be able to live in my house comfortably without necessarily feeling like I was in a bat cave (maybe another year 😉 ). The good thing is that you can totally turn ordinary decor into something fun/spooky without overhauling the house. For Halloween, you can be as subtle or over-the-top as you want! I actually ended up spiraling and doing a little more than I had even anticipate because once I was there, I got a little excited about the possibilities haha. Here's the result.
The front of the house got the most "overt" treatment. I know a lot of people would see a witch's cauldron on the At Home shelf and think "candy bucket" — I saw it as the perfect vessel for a spooky statement floral arrangement.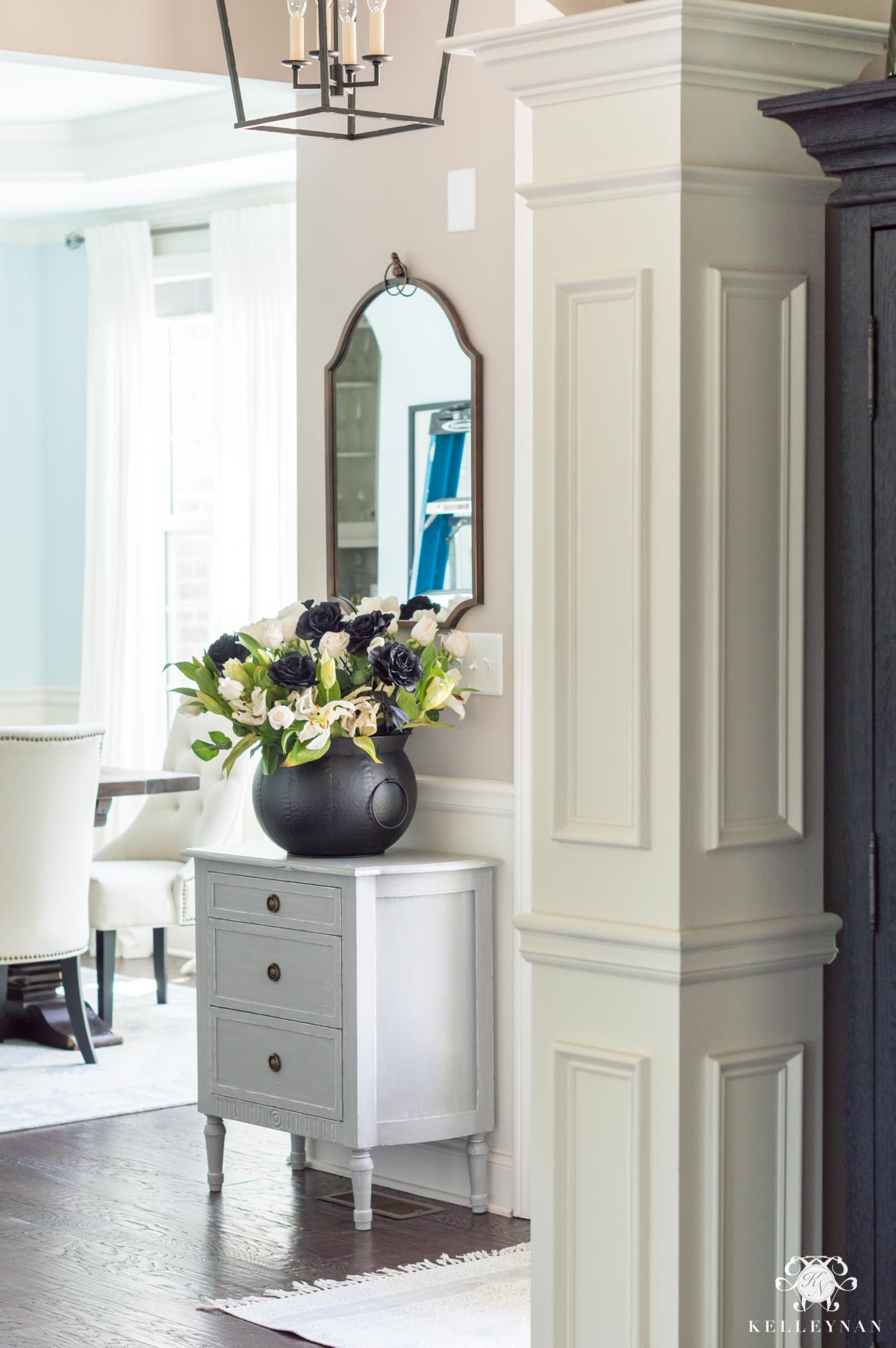 I set a glass vase inside, and went to town on a simple, elegant white rose/lily combo before incorporating some faux black roses and the "cherry" on top. Can you spot it??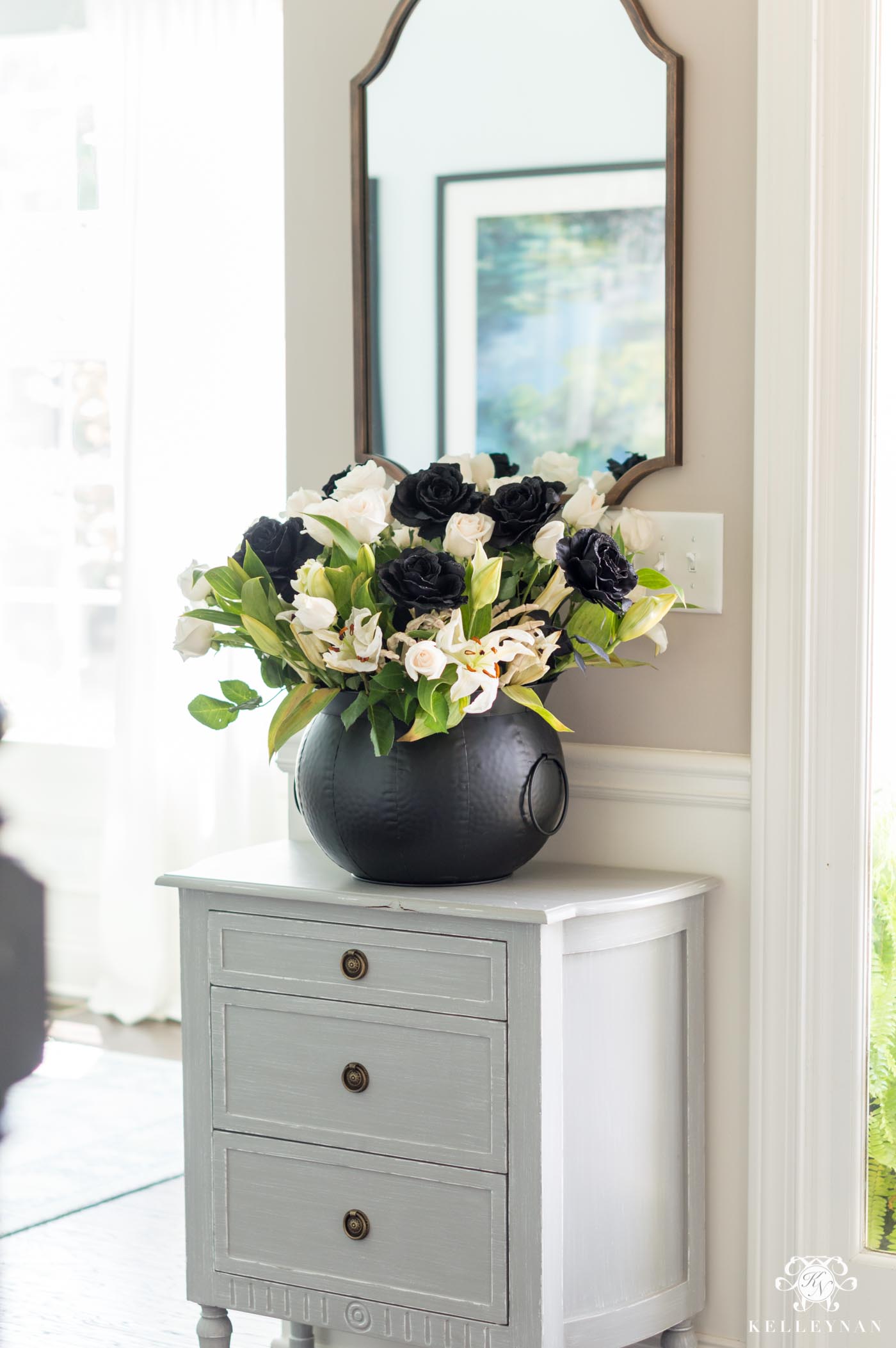 Discreetly nestled at the base are two skeletal hands — crawling out? Waiting to grab someone as they walk by? All of the above? 😉 While I placed our arrangement in the entry, it would be perfect for a party/dinner centerpiece or the kitchen island.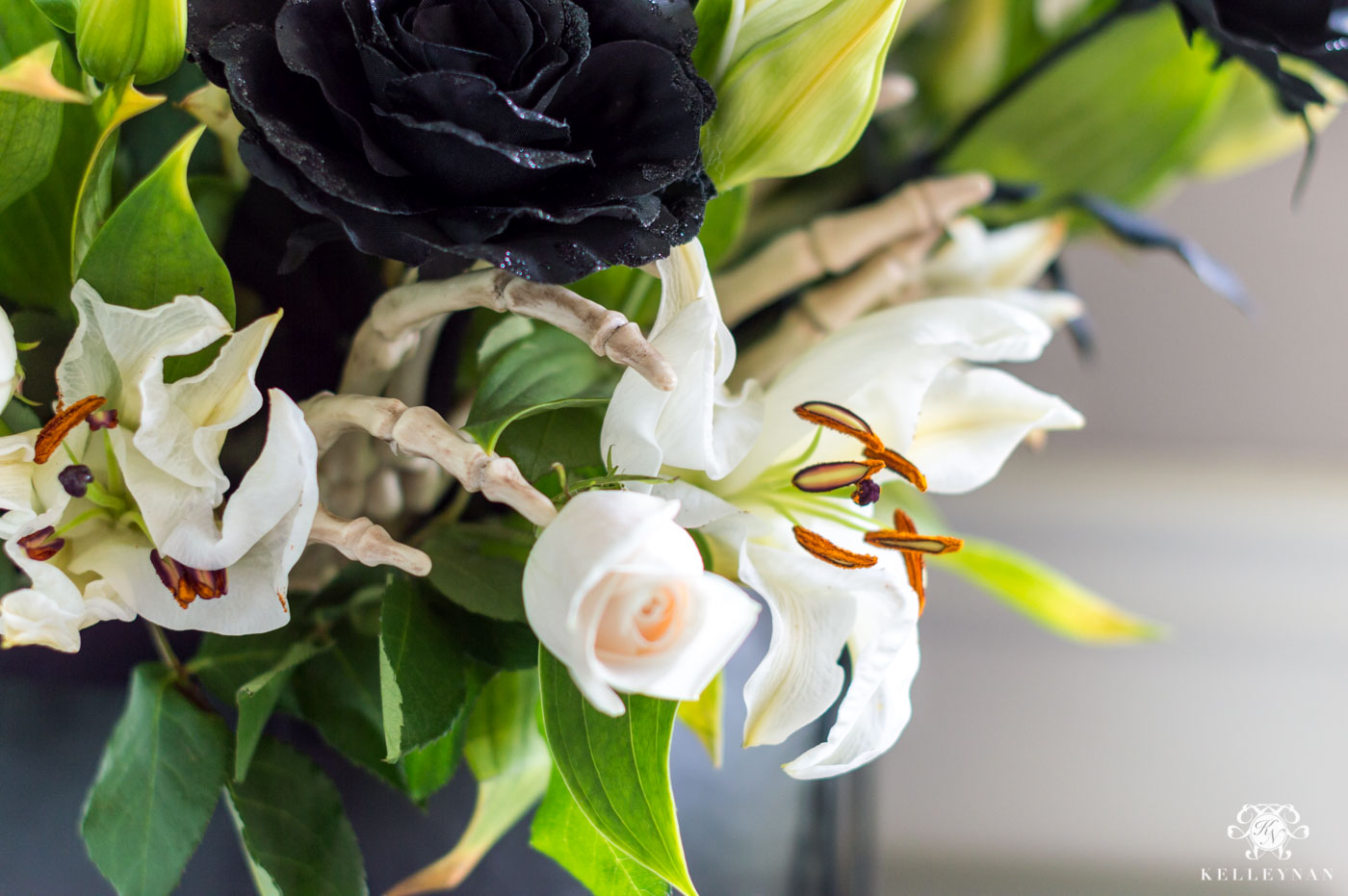 Dave has asked for a skeleton for years. And this guy- well, this may be his most favorite "gift" ever. If you have nothing else but a skeleton, he can easily be moved all around the house throughout the season. This is where I started going a little "deeper" than I had planned haha. There were all kinds of animal skeletons from cats and dogs to mice and mermaids (yes, you read that correctly). I couldn't help but to give my skeleton guy a couple pets (by the way- I think he needs a name?!) Whatever his name is, I felt like he was on the more regal side so I made sure he was outfitted as such 😉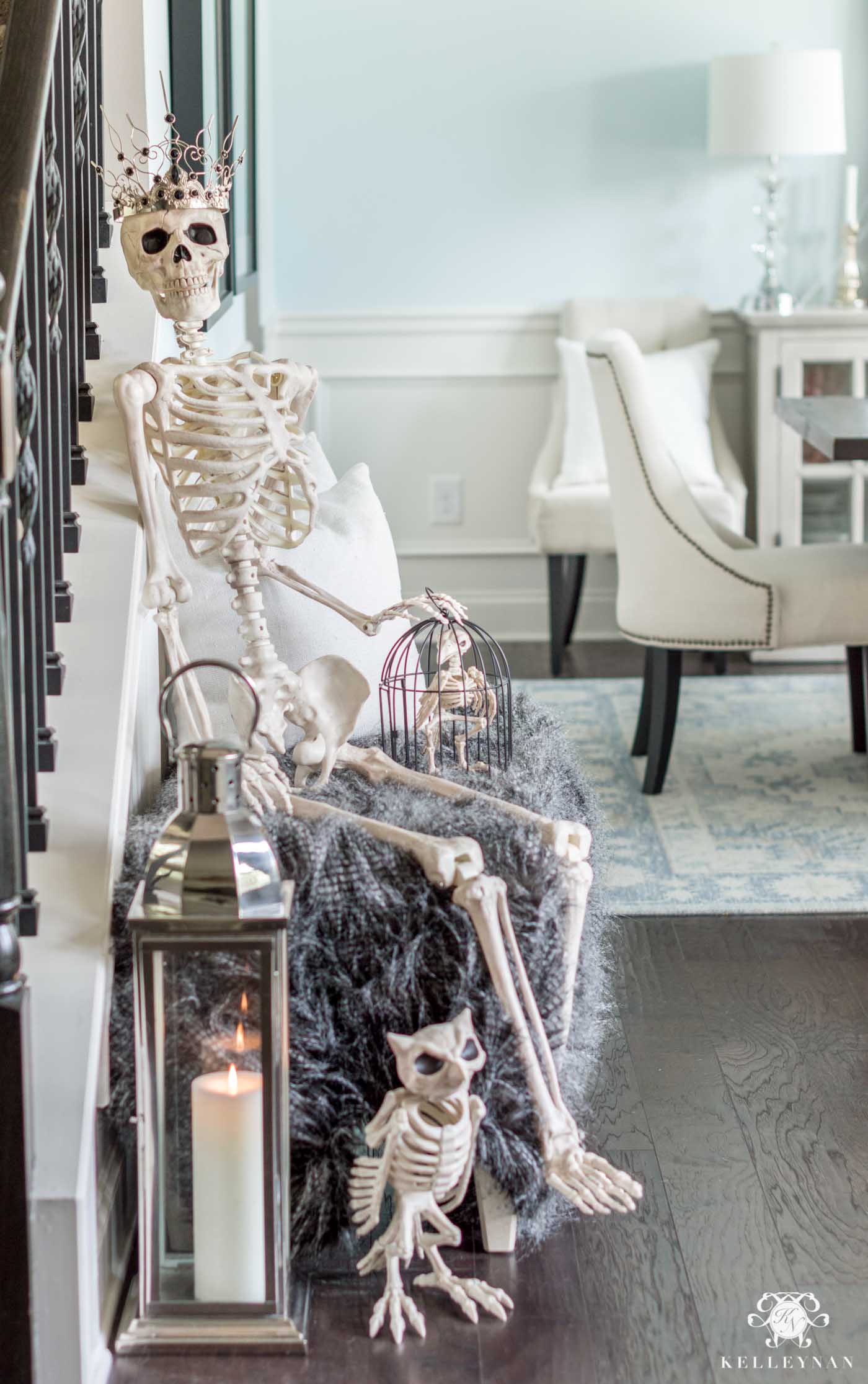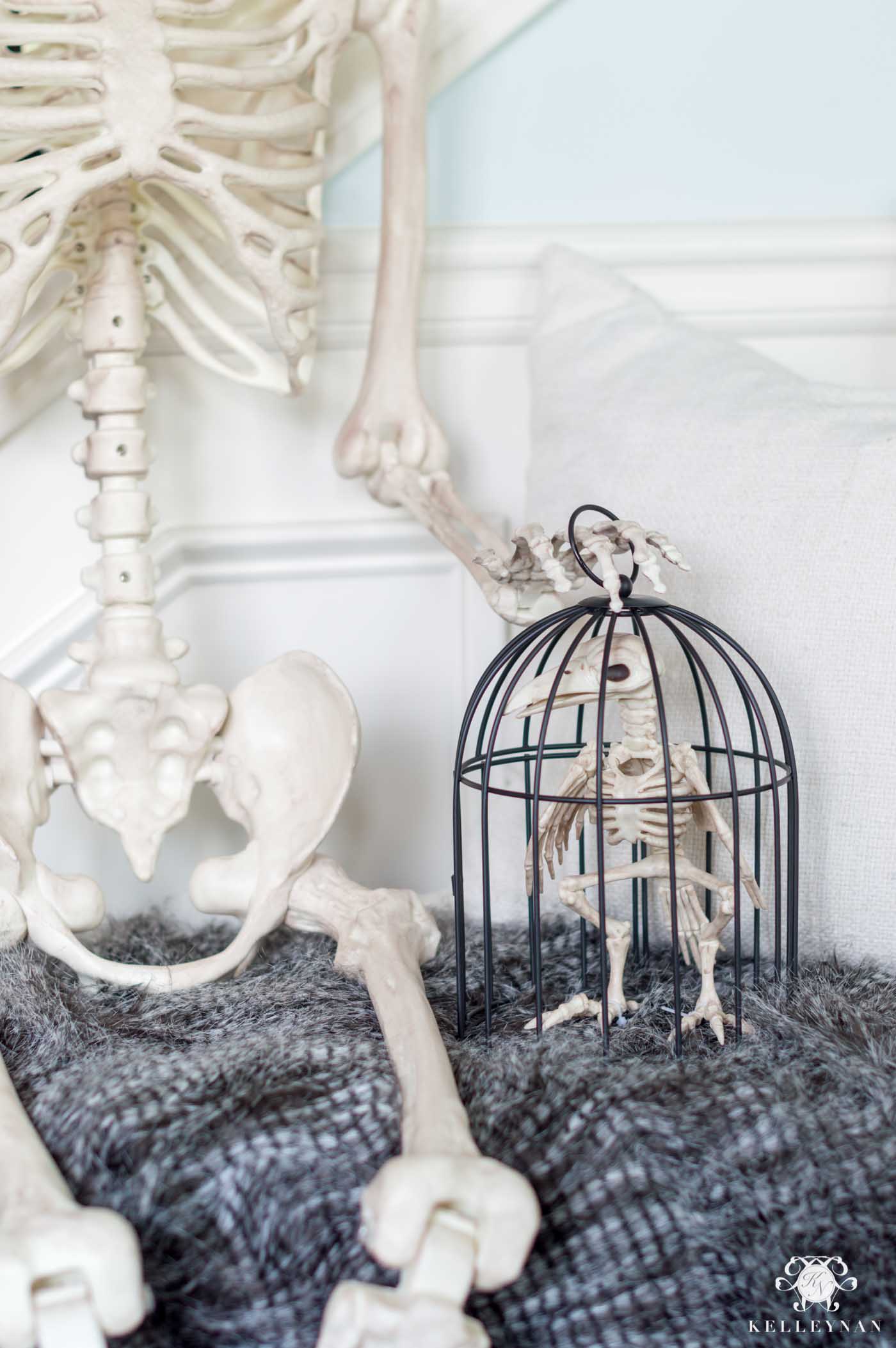 I love elegant, gothic vibes so naturally, our dining room got the treatment…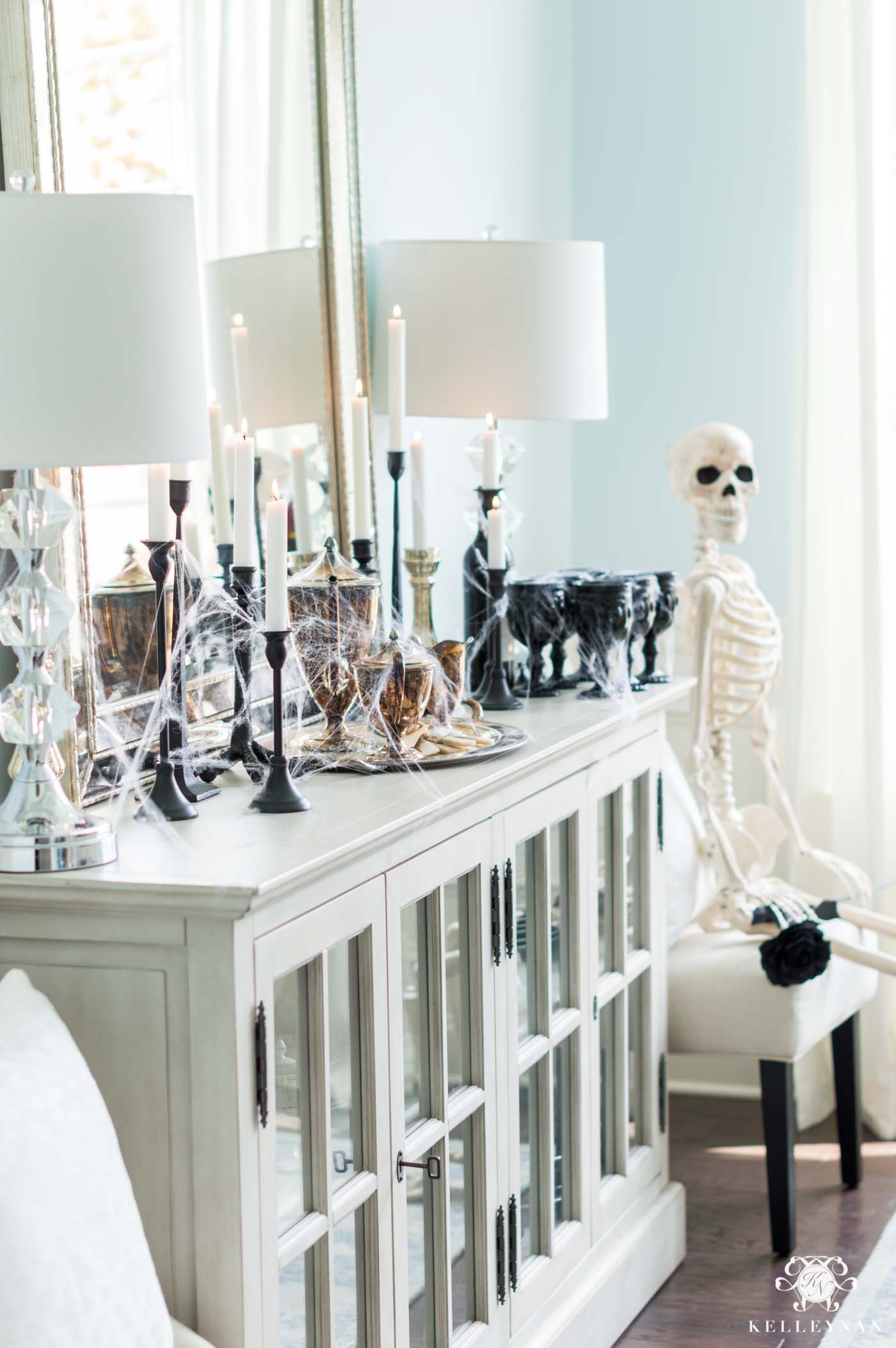 And while I don't know that I would use spider webs outside of Halloween, black candlesticks, goblets, etc. can be repurposed throughout the year.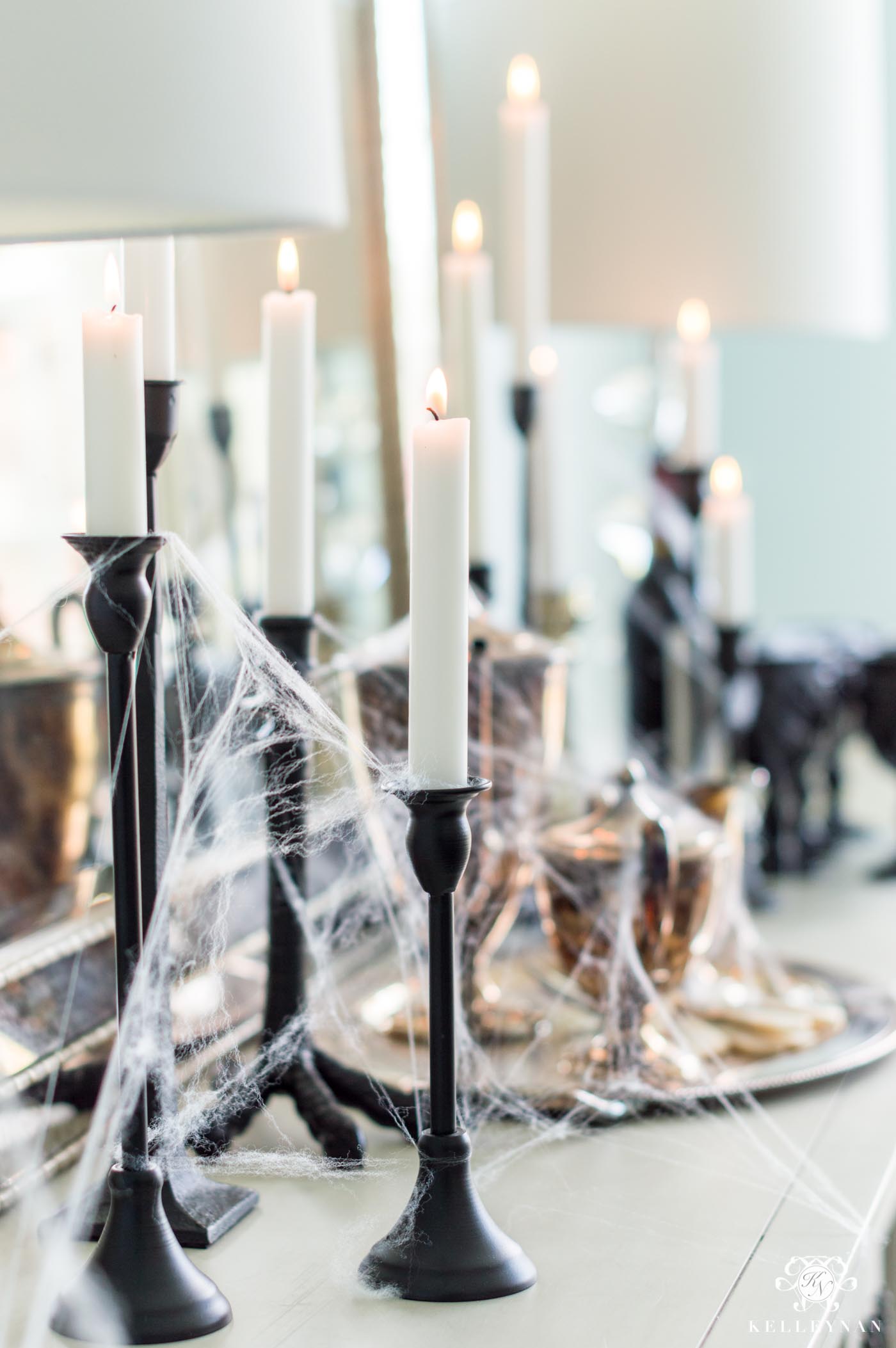 Tip for Decorating with Spider Webs:
Take the web out of the bag.
Pull off a tiny portion. Seriously, way less than you think you need.
Then, pull off a small portion of your already small portion.
Stretch it so you can see individual fibers; connect it to corners and around objects. Use tape on the back of an item if needed.
If you end up with a wad in your hand, cut it away.
Reminders- It goes way further than you think; don't pull every fiber too tightly; it's ok to have some that is poofed together a little heavier (like a natural spider web); and not every single thing has to be webbed.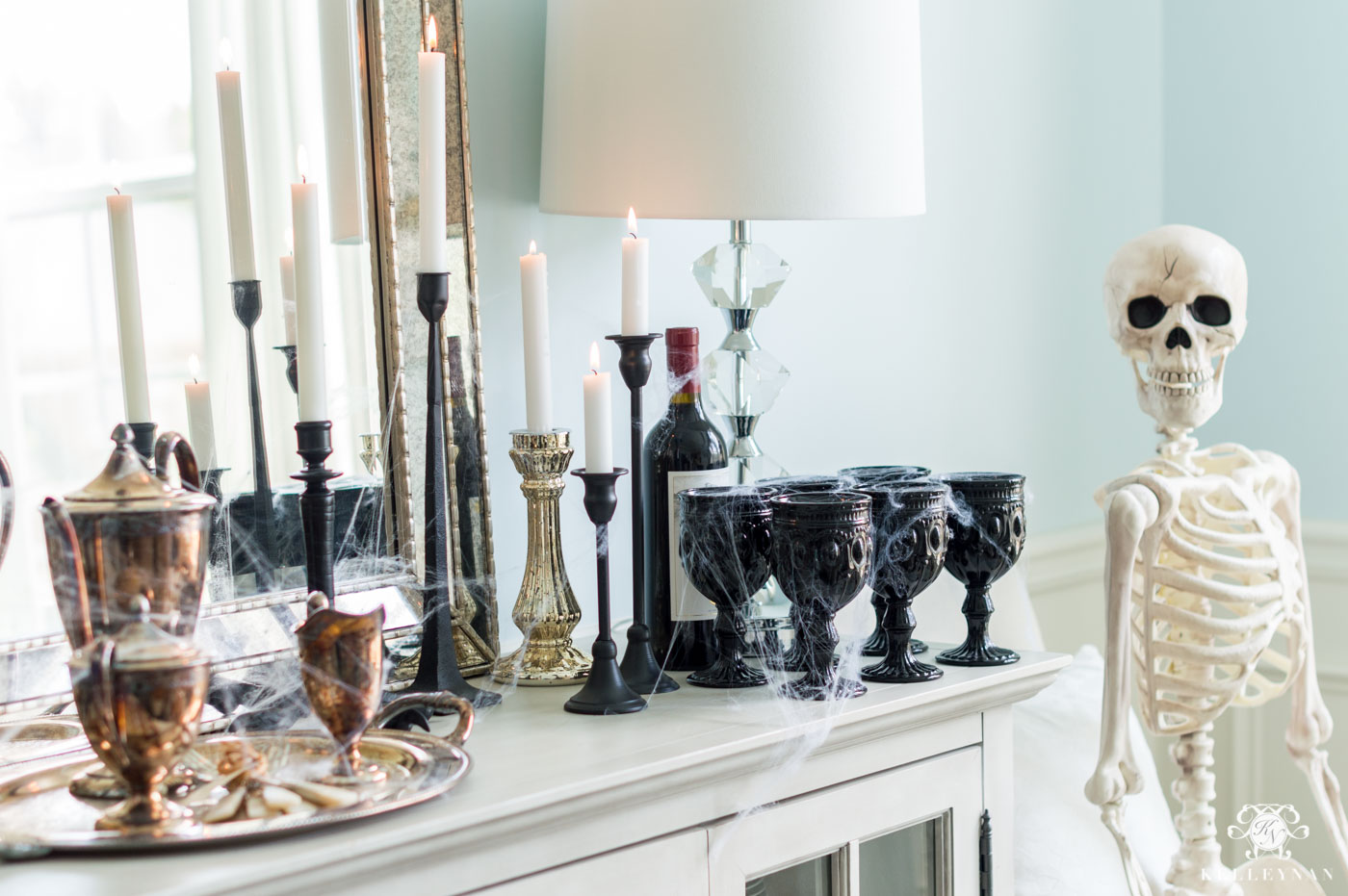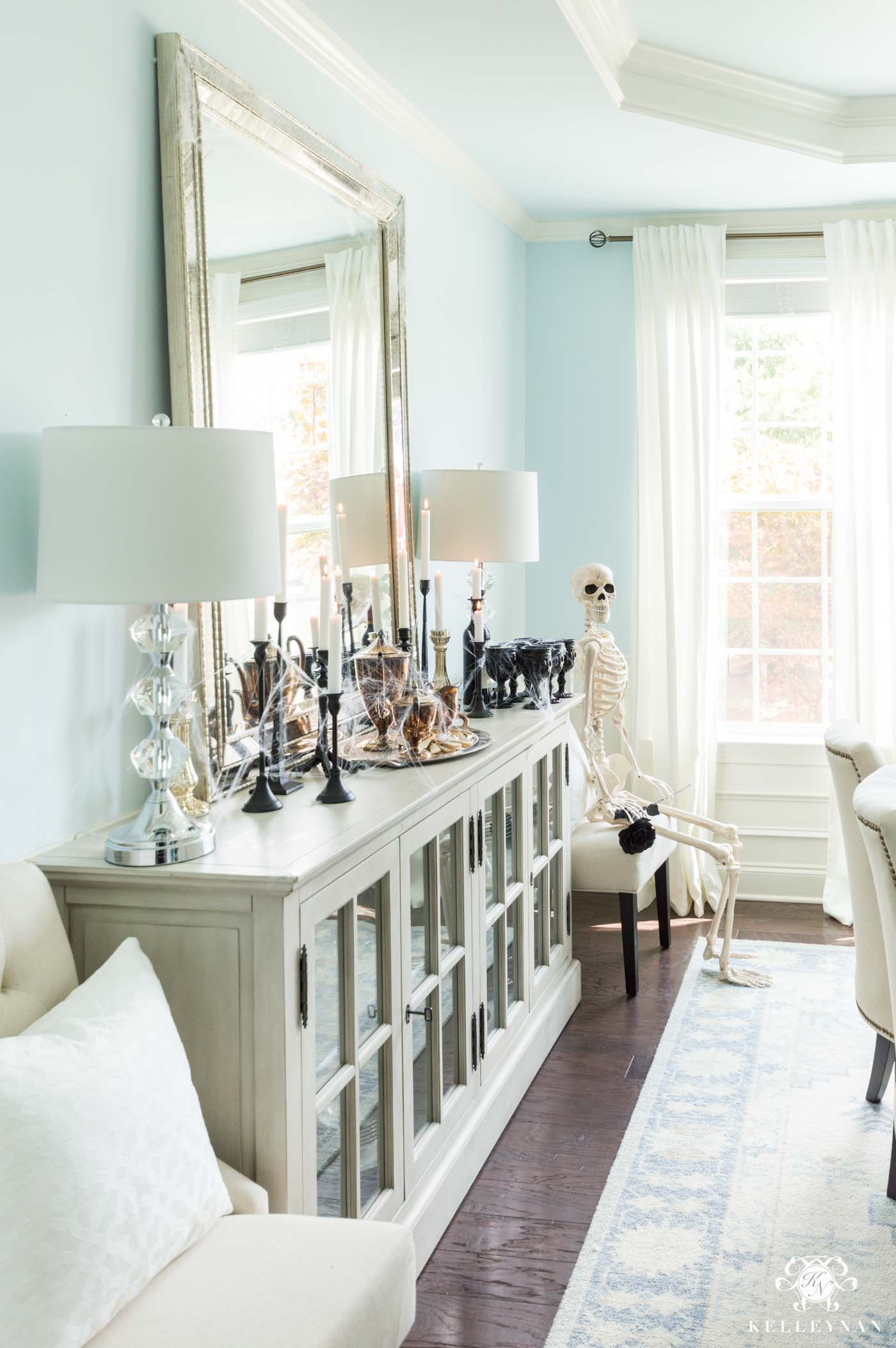 Speaking of incorporating easy "moments" without disrupting your entire house, I think sometimes, the most discreet can also be the most unexpected and surprising…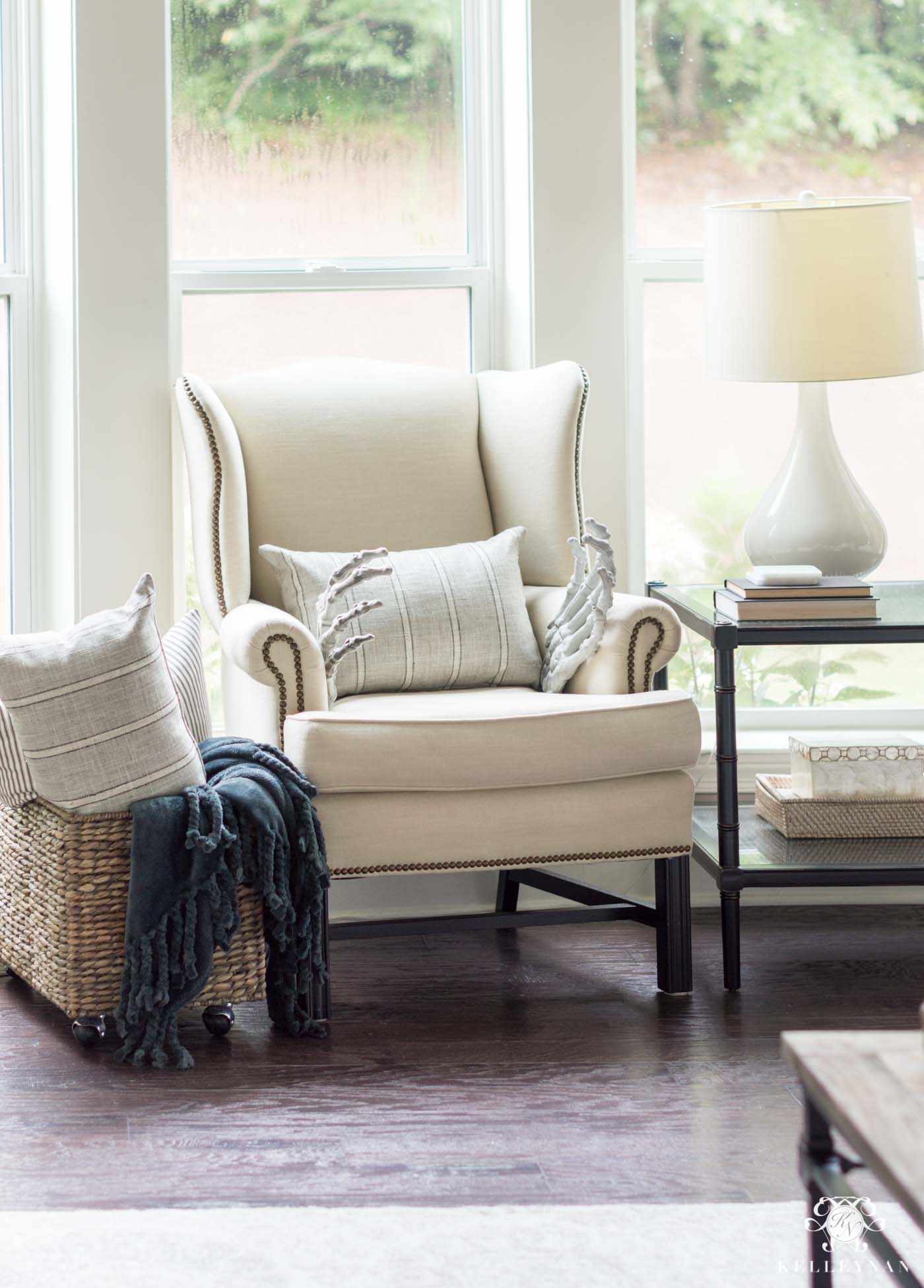 I think these hands are meant to be coming out of the ground but I had other plans in mind. Also fun– having them palm-down, coming out either side of the sofa 😉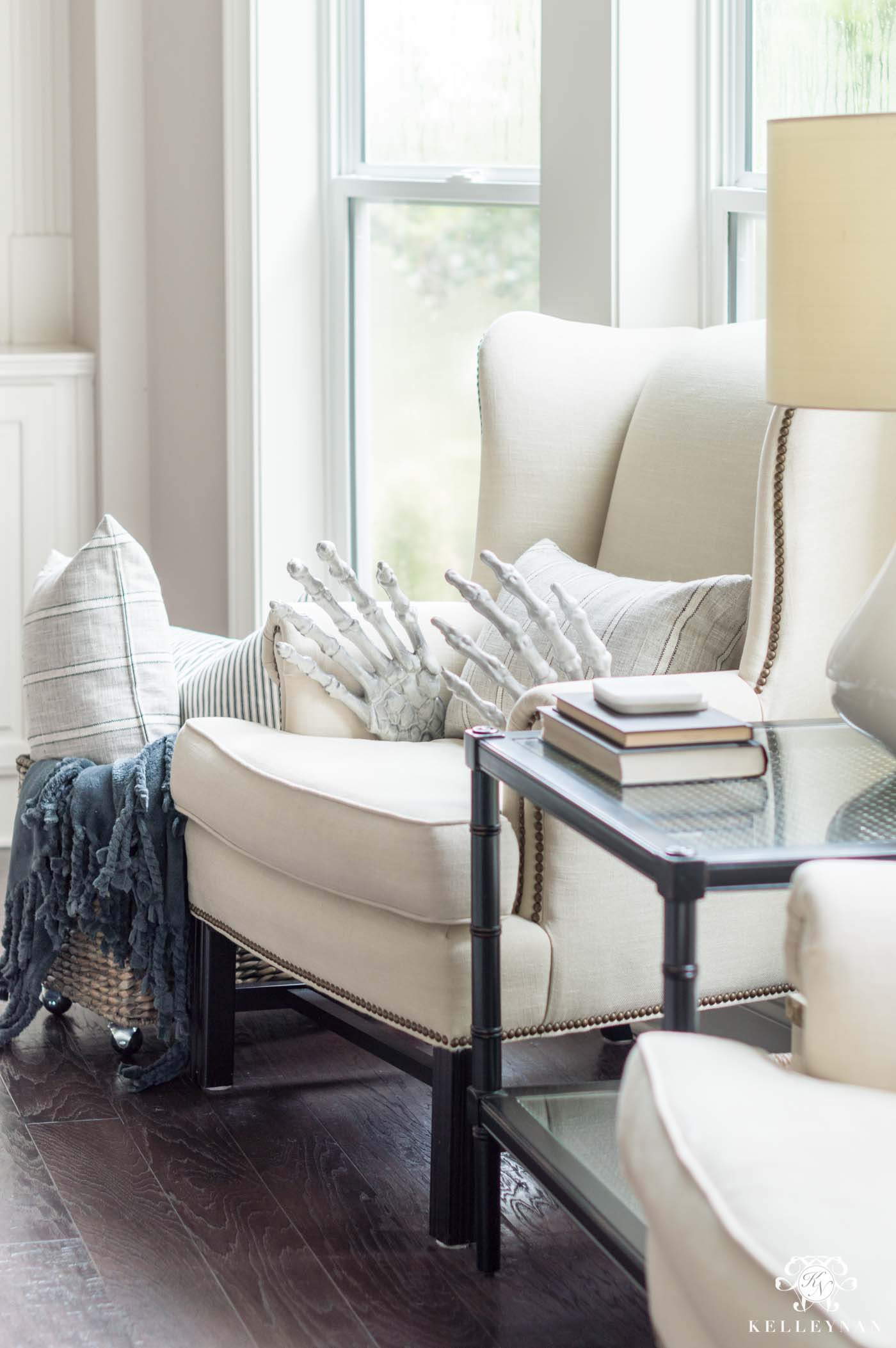 My little monkeys are having a total witch doctor moment…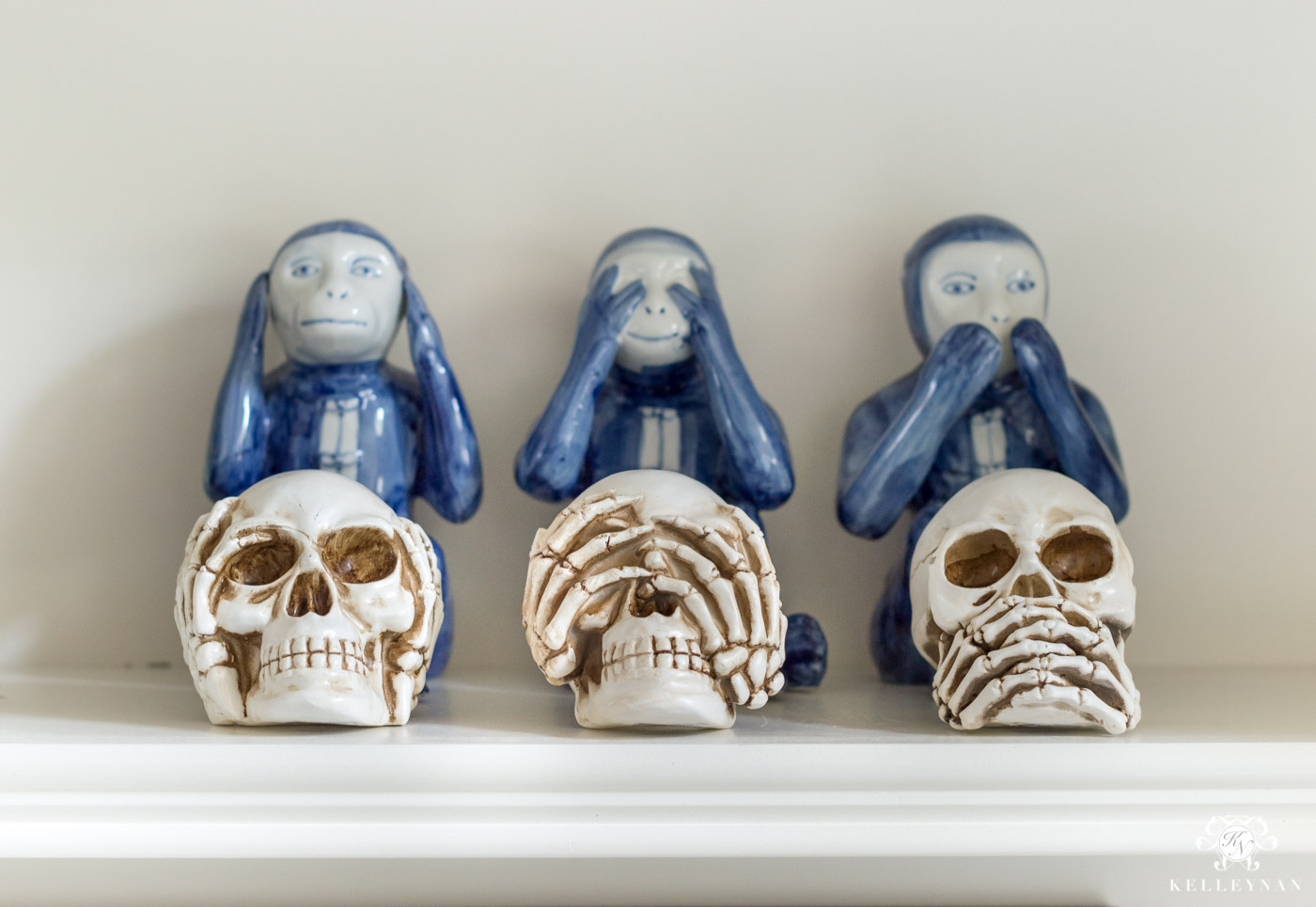 but if you really want to be discreet, some carefully placed surprises is all you need.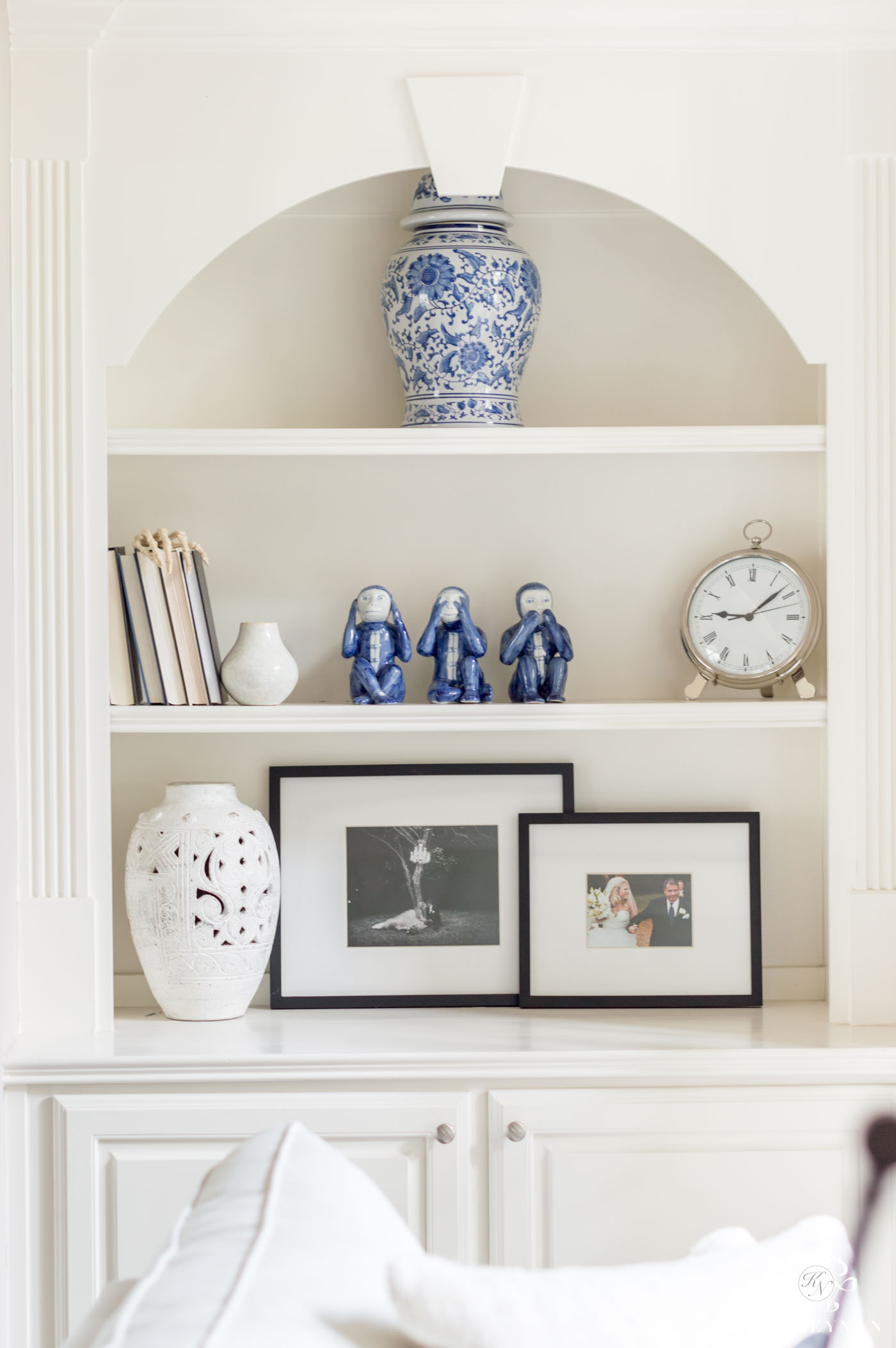 You can leave a trail of spiders/scorpions/hands on your coffee table books…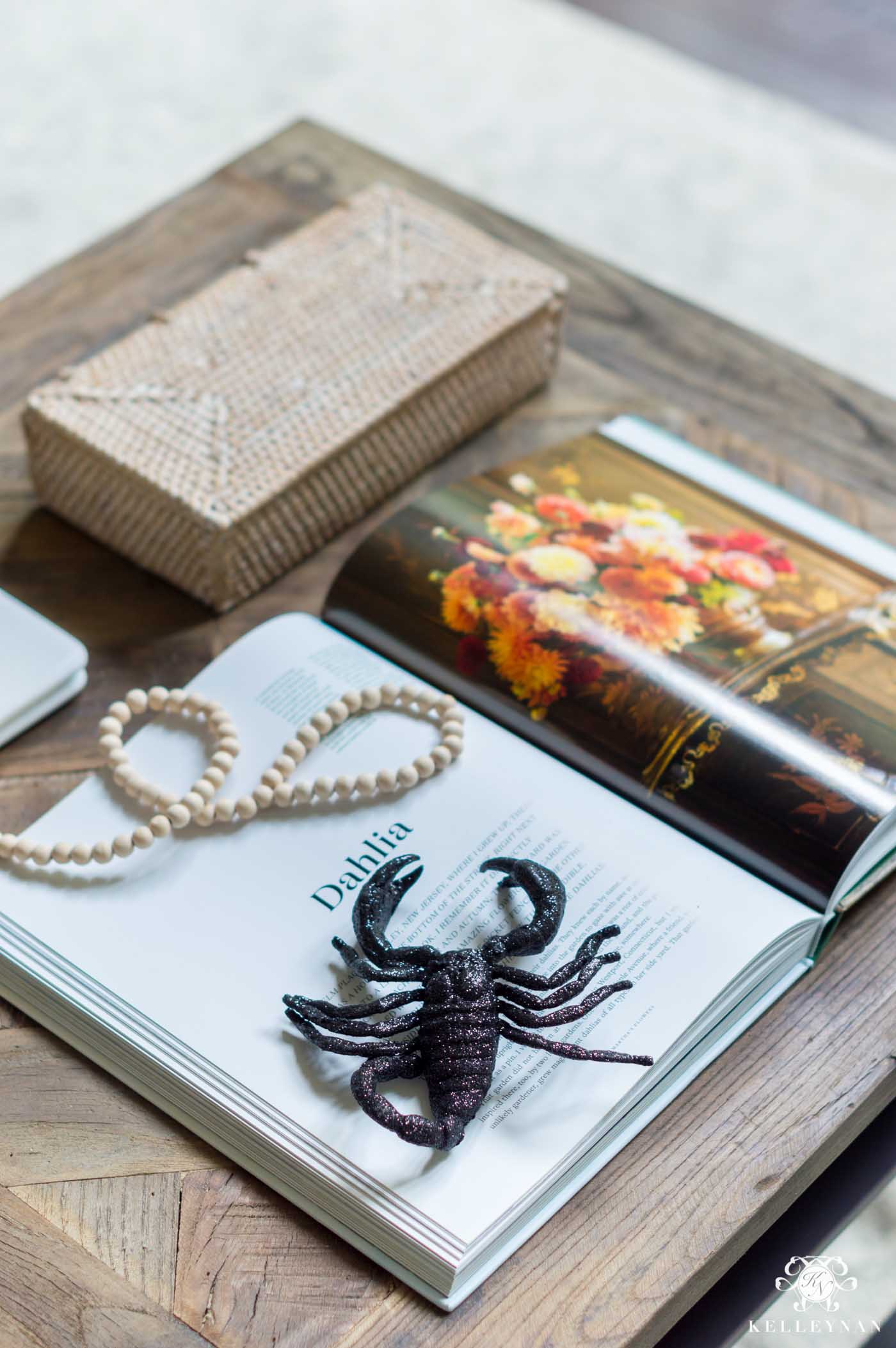 or make it look like it's been a long time since anyone went through your kitchen.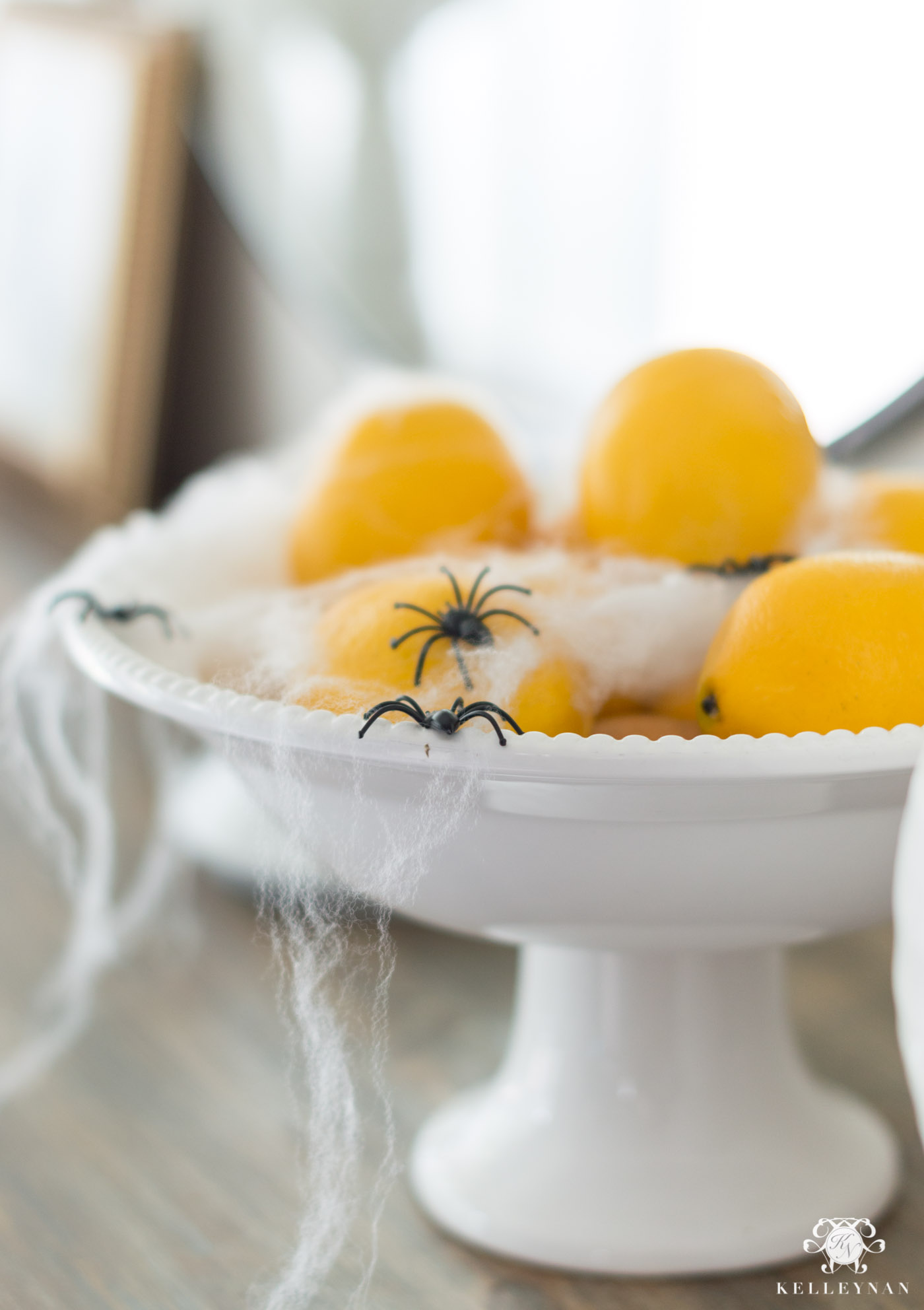 This little potion vignette stands on its own, but would also be fun in a drink area or charcuterie setup for a party.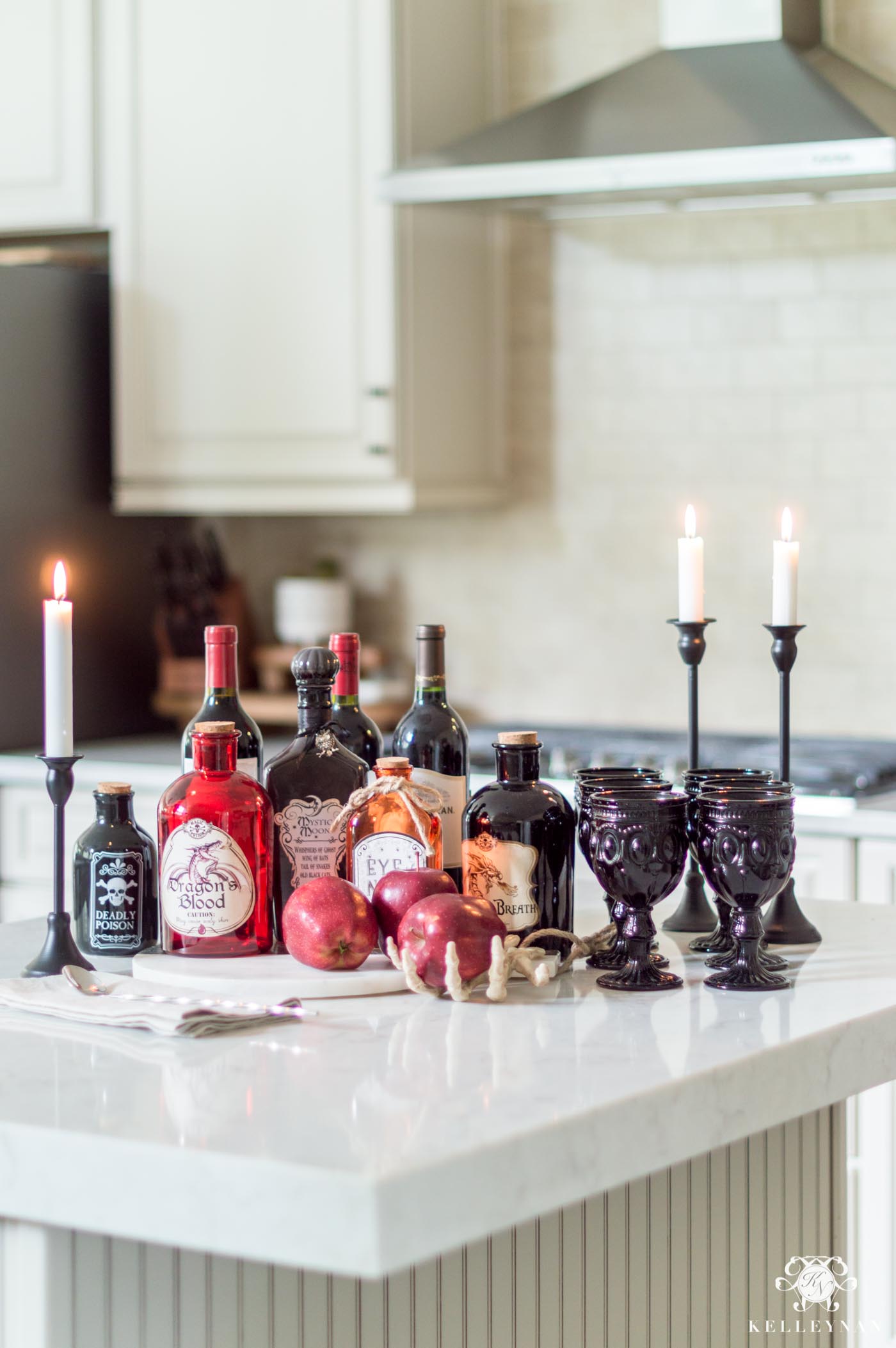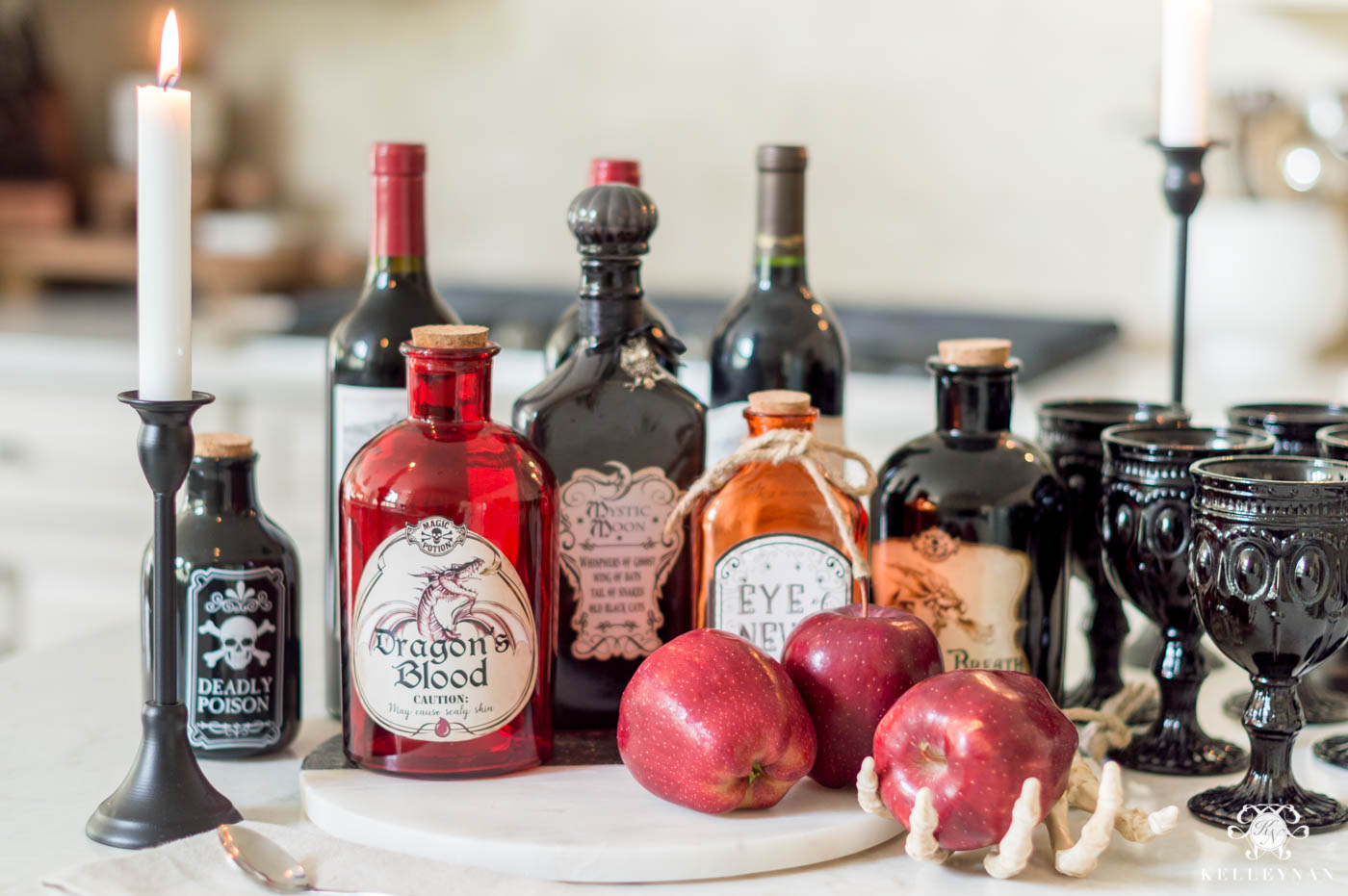 Even though I mainly stuck to our primary spaces on the first floor, this fun guest surprise had to happen.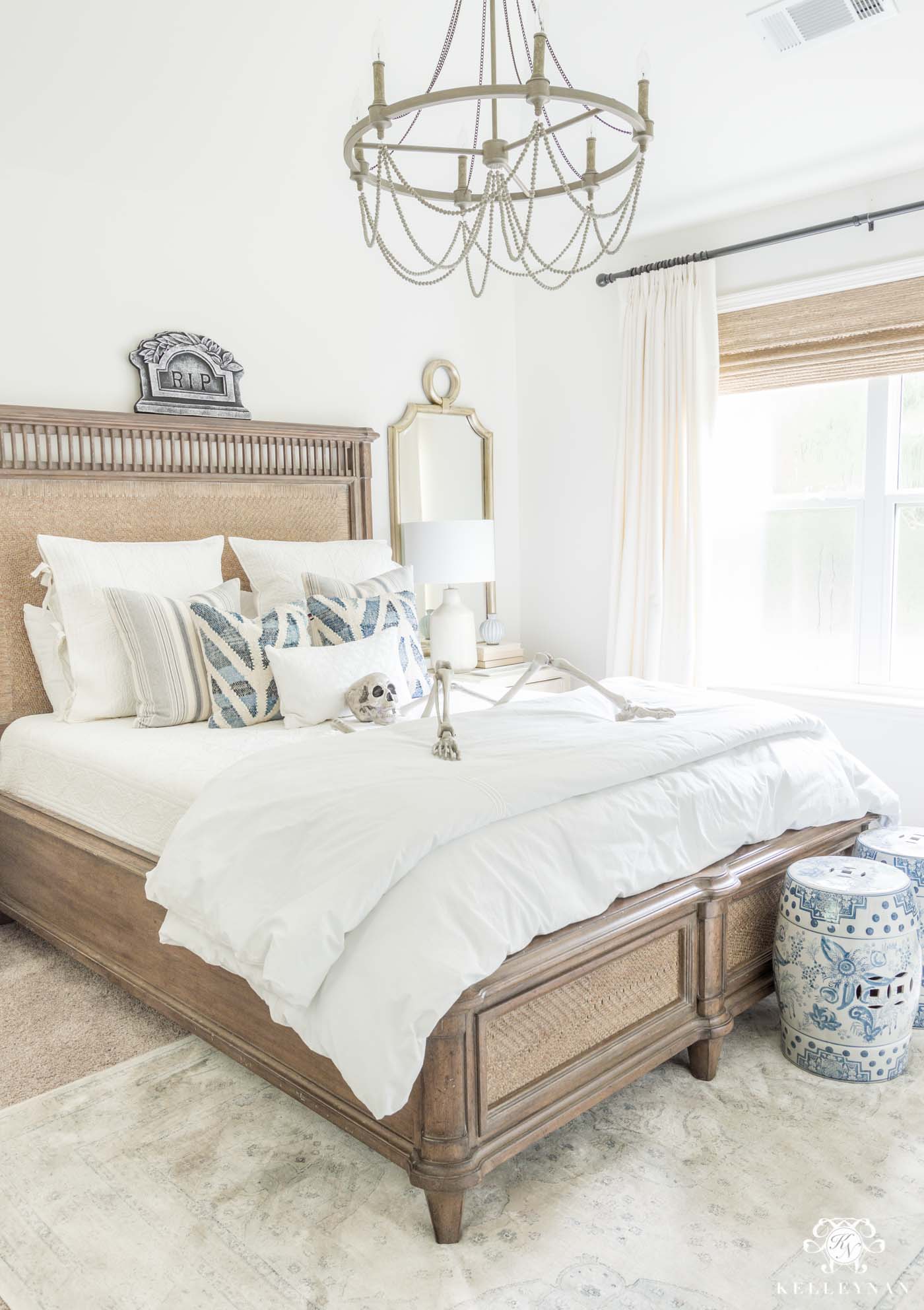 Again, I don't care that these skeletal pieces are intended for outdoor; I love that this guy rising up from out of the bed. The headstone is made of styrofoam so it's lightweight and totally safe 😉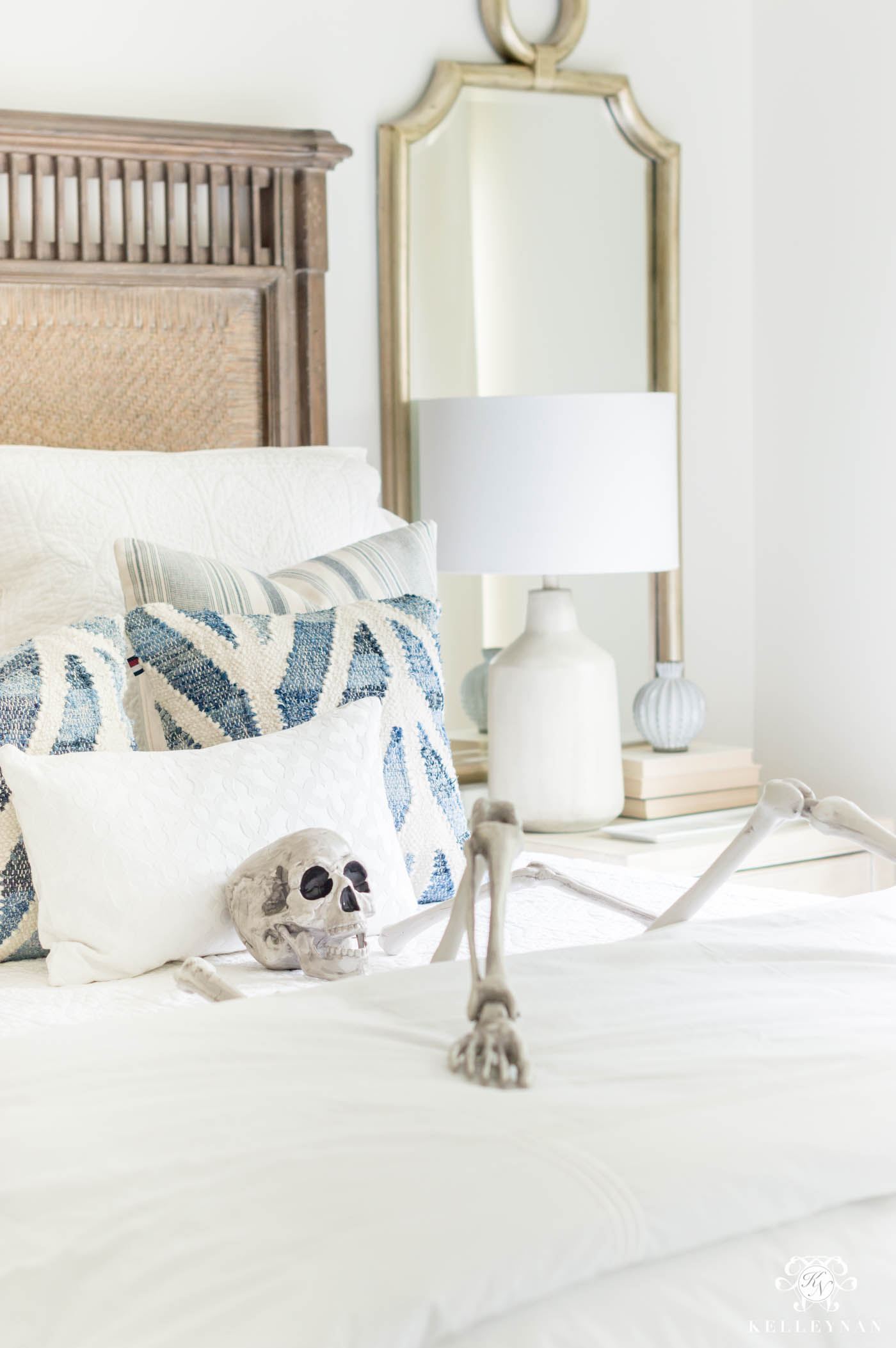 Even without pumpkins just yet (hello 100° Georgia weather), I am loving the spooky vibes we were able to easily incorporate as we start our Halloween traditions. I also love that Dave will be able to have fun with our skeleton friend (yes, definitely need a name) on the front porch without being embarrassed that his porch is lacking for the trick-or-treaters. True story- a few years ago, Dave stopped by the grocery store on the way home on Halloween Day, just to grab a few masks to put on our pumpkins. But, this is also from a guy who (circa 2012) was too embarrassed to tell our neighbor that our new pup's name was "Mister Nilla", and came up with "Leroy Brown" on the fly (like, what?! haha) — which is ultimately how Mister got his name 😉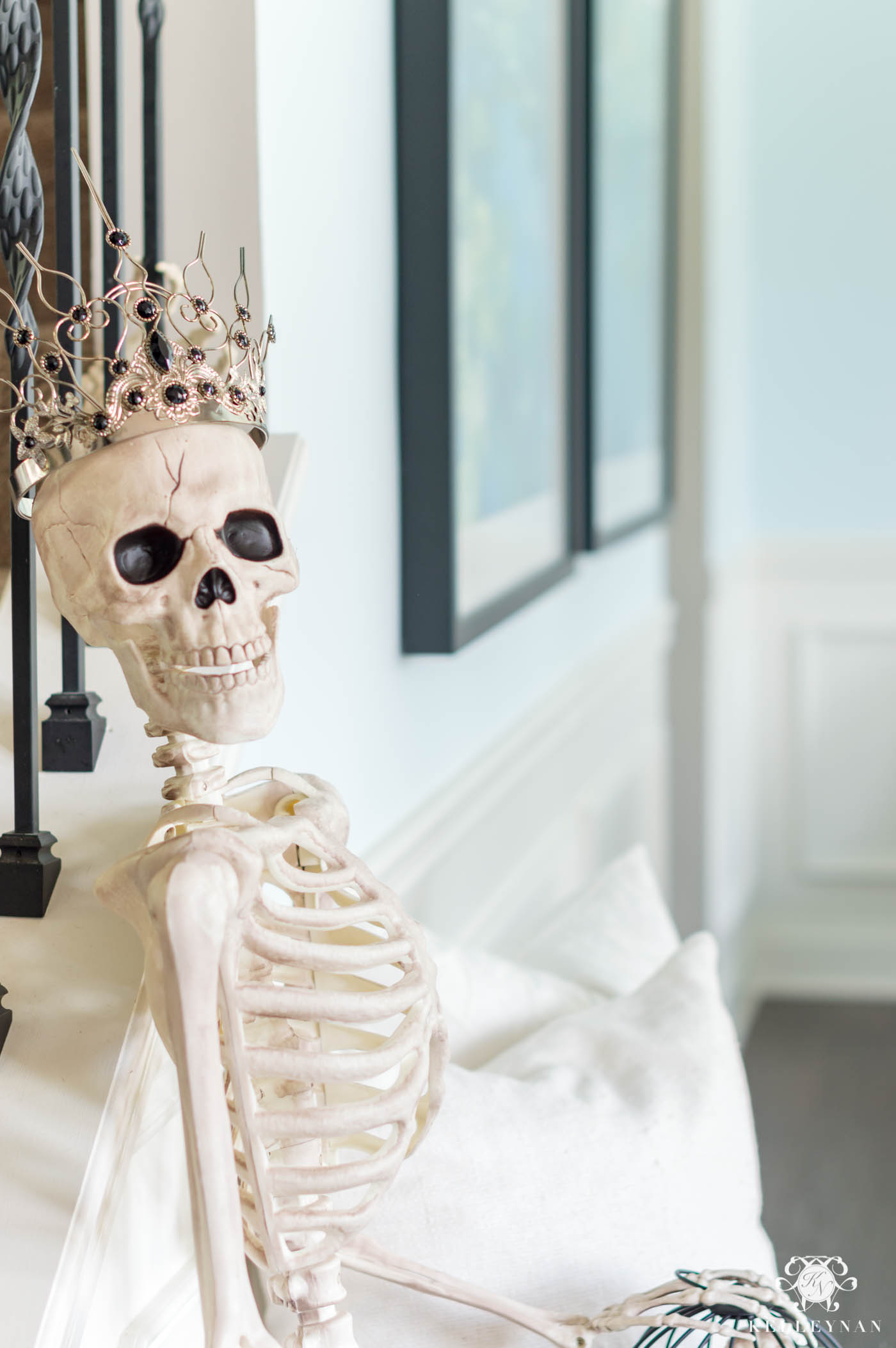 In an Instagram poll, I was shocked that almost 60% of those who weighed in said they do decorate for Halloween, outside of traditional fall decor! Do you go all out for Halloween? Stick to fall? I'll be sharing some fall-ish ideas soon so be sure to subscribe to emails at the bottom of this post so you won't miss anything coming up this season!
Other Posts You May Be Interested In