I've shared a lot of beds here on KN over the past few years and a request I don't think I've ever really addressed is how I make my bed. While today's post isn't going to be a step by step tutorial, I am going to share a few key practices that can totally alter the outcome. There are so many ways to make a bed and I don't know that there is one right way, but if you're looking for subtle, easy changes to make a bed just a little more welcoming, this is for you! I've partnered with The Company Store to pull together one of my go-to, layered bedding looks and we'll troubleshoot through seven simple changes that can make all the difference.
*While this post is written in partnership with The Company Store, as always, all opinions, concept, and content creation are my own. Posts on KelleyNan.com may contain affiliate links. Click HERE for full disclosure.
What you dress a bed in is important; but how you dress it is just as key. I've had readers email me that they have tried to replicate bedding looks but they just don't come together the same — there are tons of ways to make a bed and each can look drastically different, even with the same bedding. Here's the look we'll be breaking down today…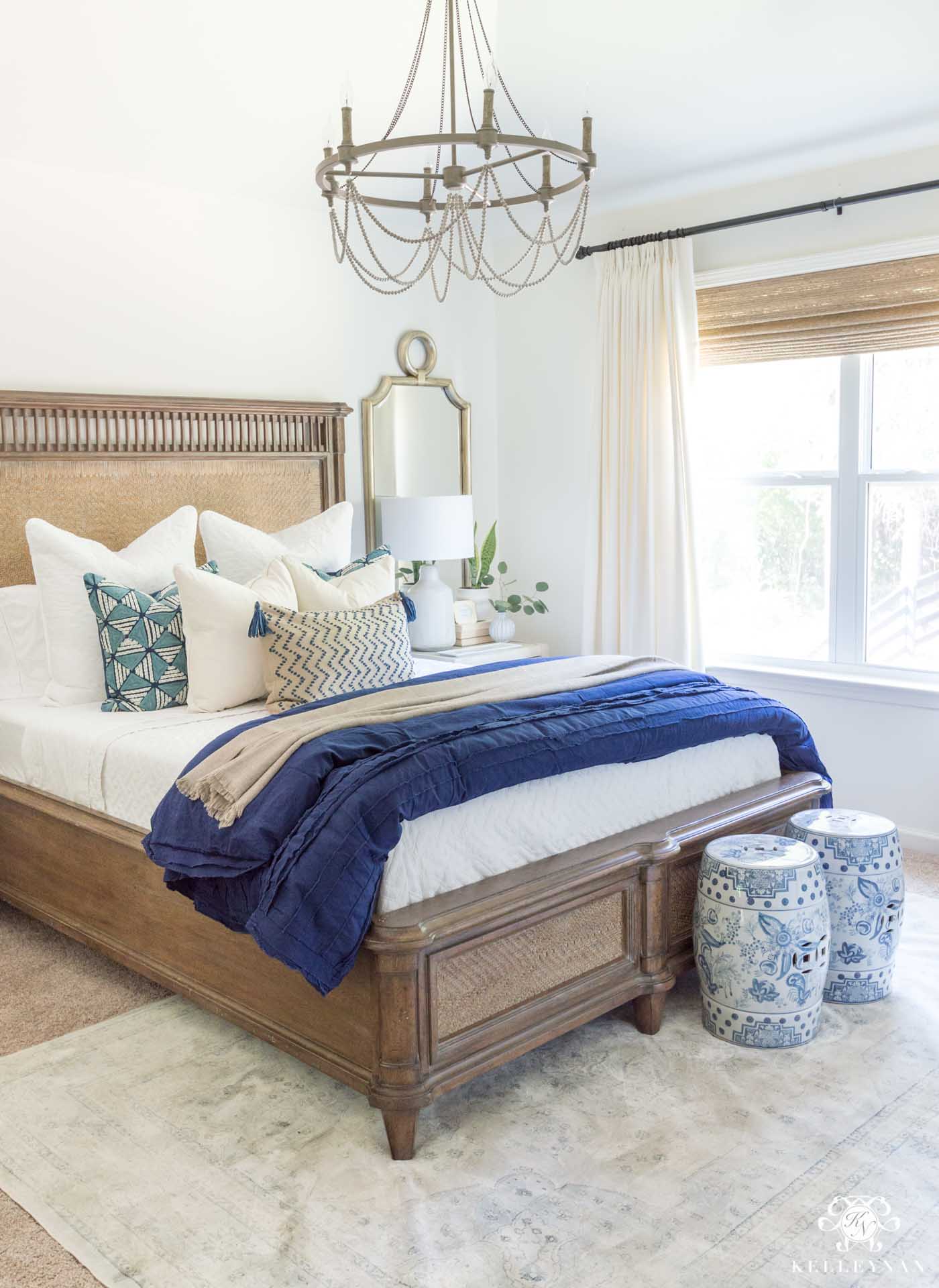 All the bedding pieces are from The Company Store and good news — their Friends & Family Sale is running from today through October 2nd, which means 25% off site-wide, plus free shipping with code J19FRIENDS. You can shop this bedding look by scrolling and tapping the icons below and shop the entire sale HERE.

When I make my bed, the goal is for it to look pulled together, neat and a little tailored, but still casual. Plush and comfy, but not frumpy. Something that looks inviting and not intimidating, but also not totally effortless. Make sense? Let's dive in and I'll run through seven things you can do to get the look of that bed.
1. USE SHEETS FROM THE SAME SET
Using sheets from the same set sounds easy enough, right? But, as soon as you rotate sheets between washes and then go to pull a set out from the linen closet next time, things can get a little dicey. I'm totally guilty of "close enough". Or, what if you have a sheet set that has lost pieces over the last few years? Try to keep your nice sheets together. They'll wear more evenly (anyone have a bed with dingy pillowcases but a stark white fitted sheet?), and, the uniformity of your bedding "base" will set the tone for the entire bed. This organic cotton sateen sheet set with pretty hemstitch detailing is so good. They're so soft and wash beautifully (very little wrinkle action) but still crisp and luxurious. There are a lot of things I will skimp on but quality bedding — especially sheets — is one thing I believe is worth every bit of investment. These are sold both as a set and as individual pieces.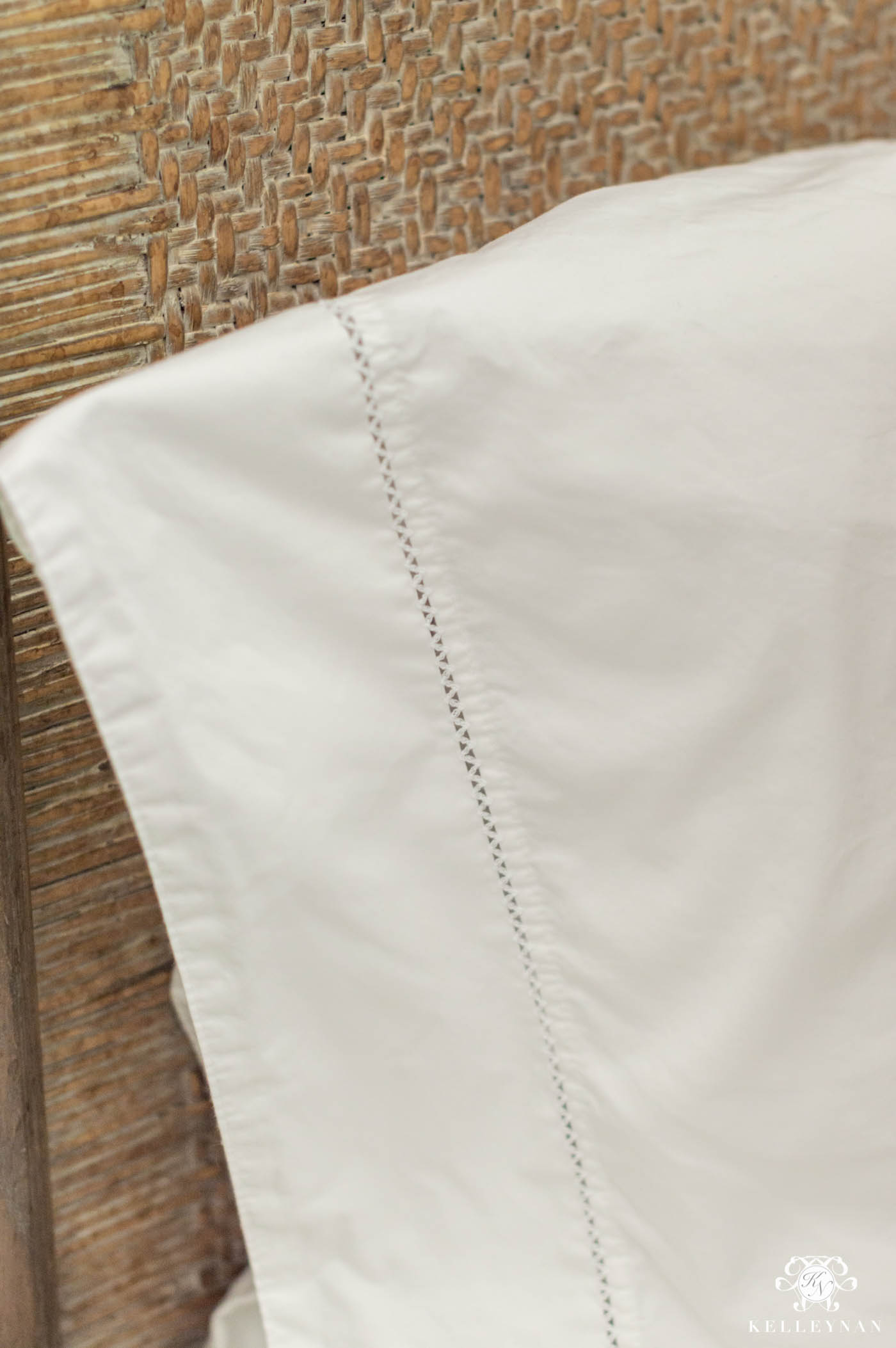 2. MIX BEDDING COLLECTIONS
While keeping that sheet set uniform, I go the opposite direction with the rest of the bedding. I 100% support beds that look curated and collected and coordinated over perfectly matched. I can totally appreciate whoever came up with the "bed in a bag" concept but it's probably going to look like just that.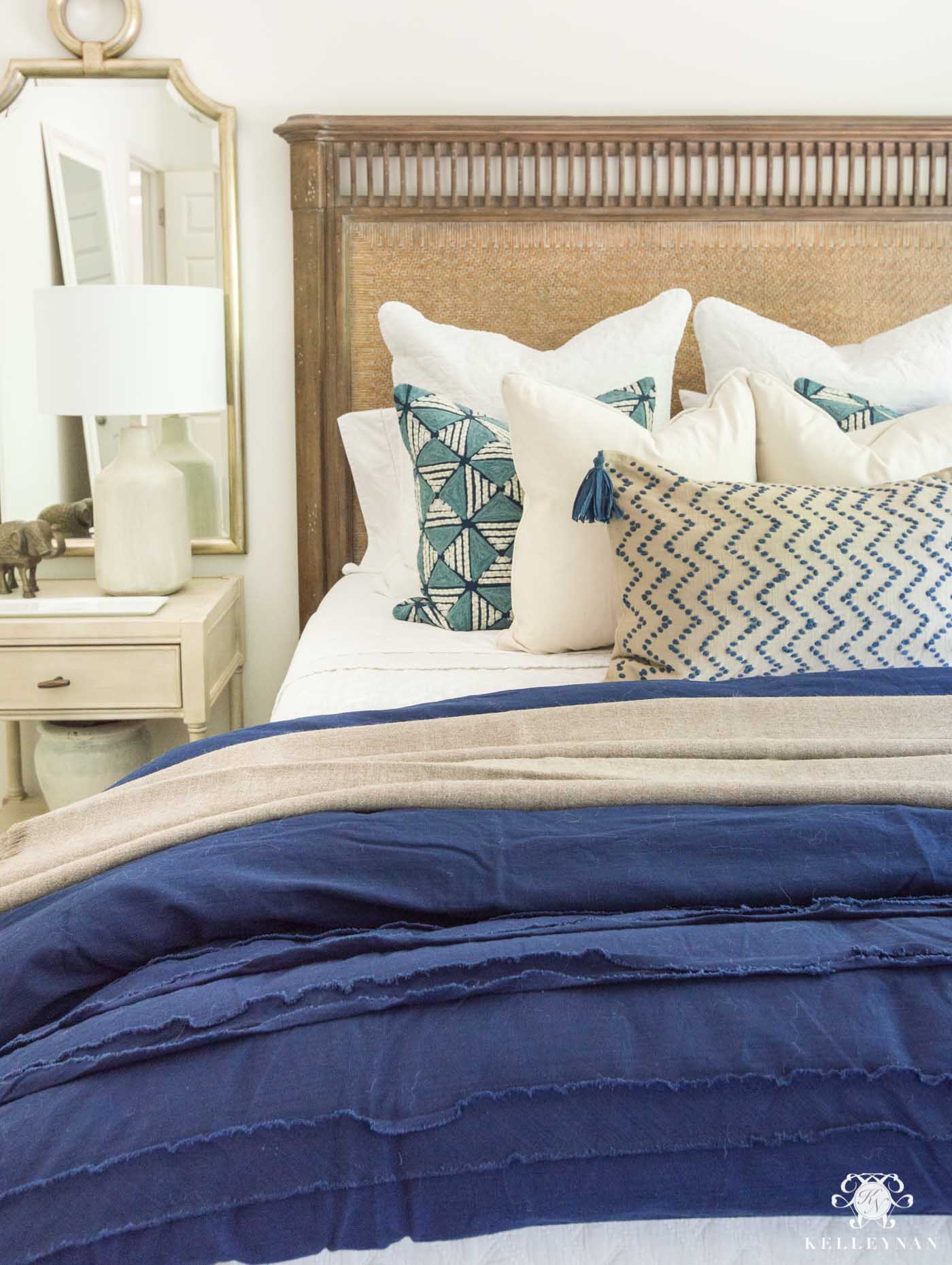 If you get an arsenal of favorite separates, you can mix and match to your heart's content. You can change color schemes, patterns, and make switches throughout the year. I use the same pillows in my living room as I do my bedroom. I pair pinks and red with the same quilts that I use for blues and greens. You don't have to get crazy but a few staples — like this coverlet with basket-weave stitching or this duvet cover with raw edge pleats (also comes in white) — will take you through any season.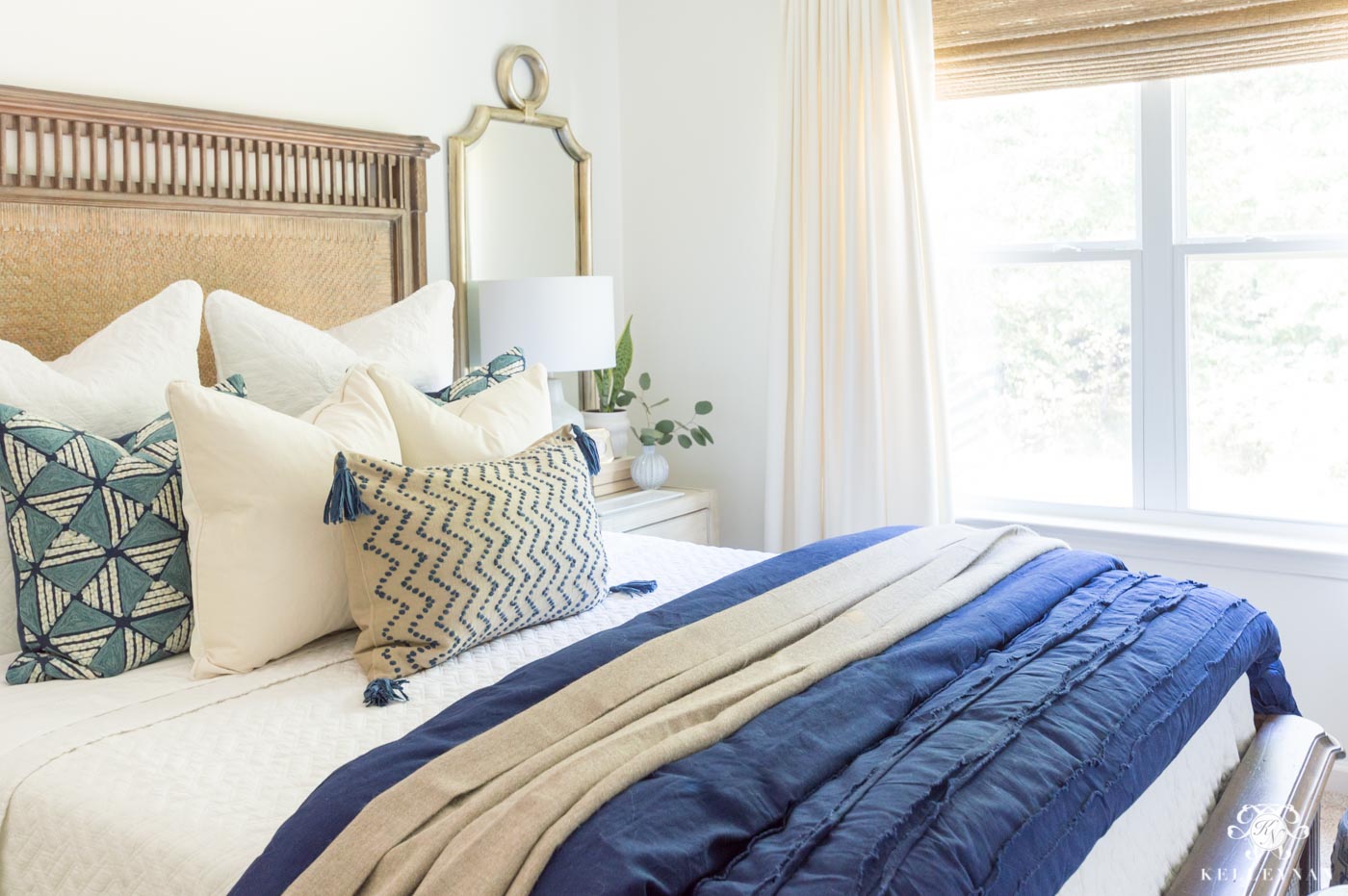 3. PAY ATTENTION TO YOUR PILLOW INSERTS
The stuff you can't see can make or break your bed. Sometimes you can get away with inserts that match the dimensions of your covers; but, to be on the safe side, I typically size up. Being able to fluff and morph the insert is crucial, too — sticking with down and feather will be way more friendly to work with than polyfill. Wanna see just how big of a difference it makes?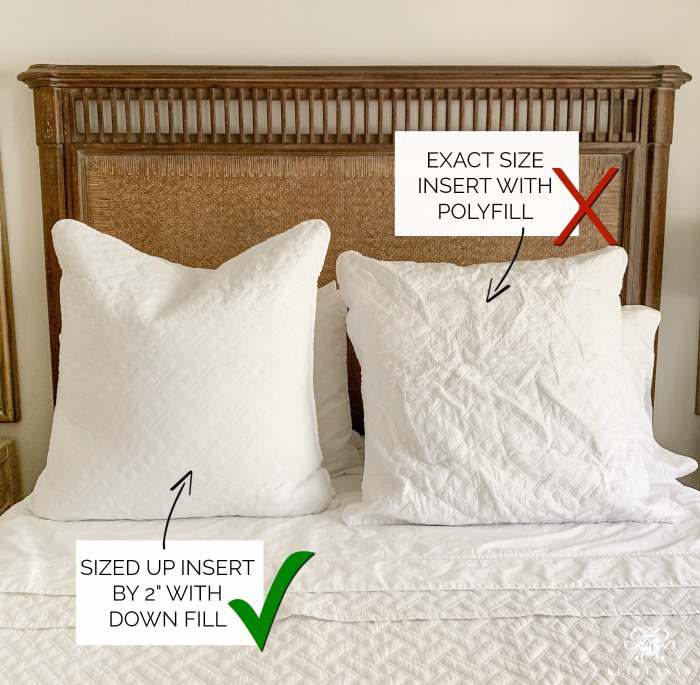 Crazy, right? I used 28″ feather inserts on the left which filled out the entire 26″ euro sham. It also smoothed the quilting since it was stretched taut, while the flat, structured, too-small insert on the right did nothing. Throw pillows with inserts that don't fill them out will often leave gaps in the corners, make the overall pillow look limp, and will pool extra fabric at the bottom. Down alternative pillows can also give a nice, plump look with more malleable structure; you can find down/feather inserts for most throw pillows, along with down alternative HERE.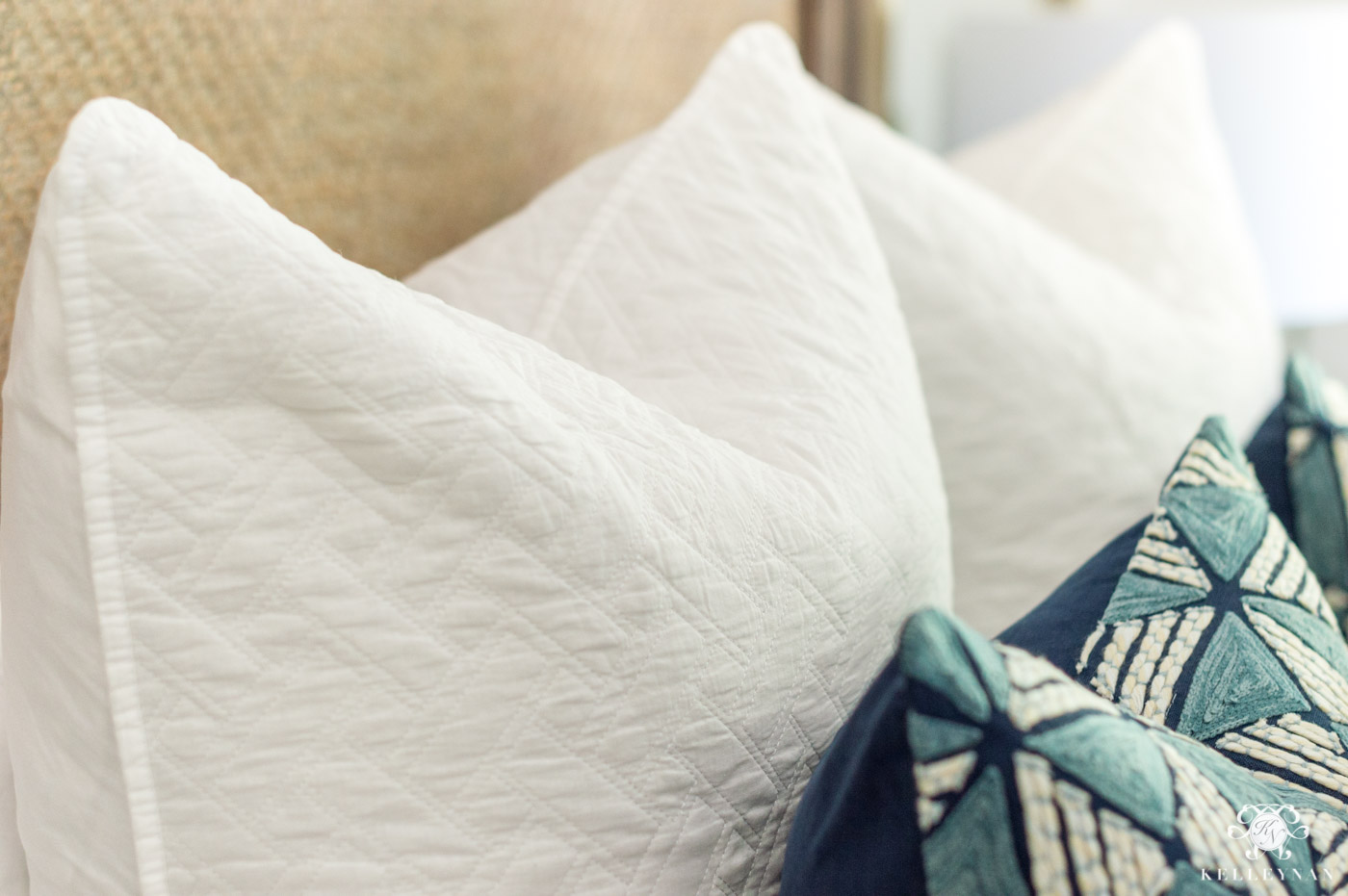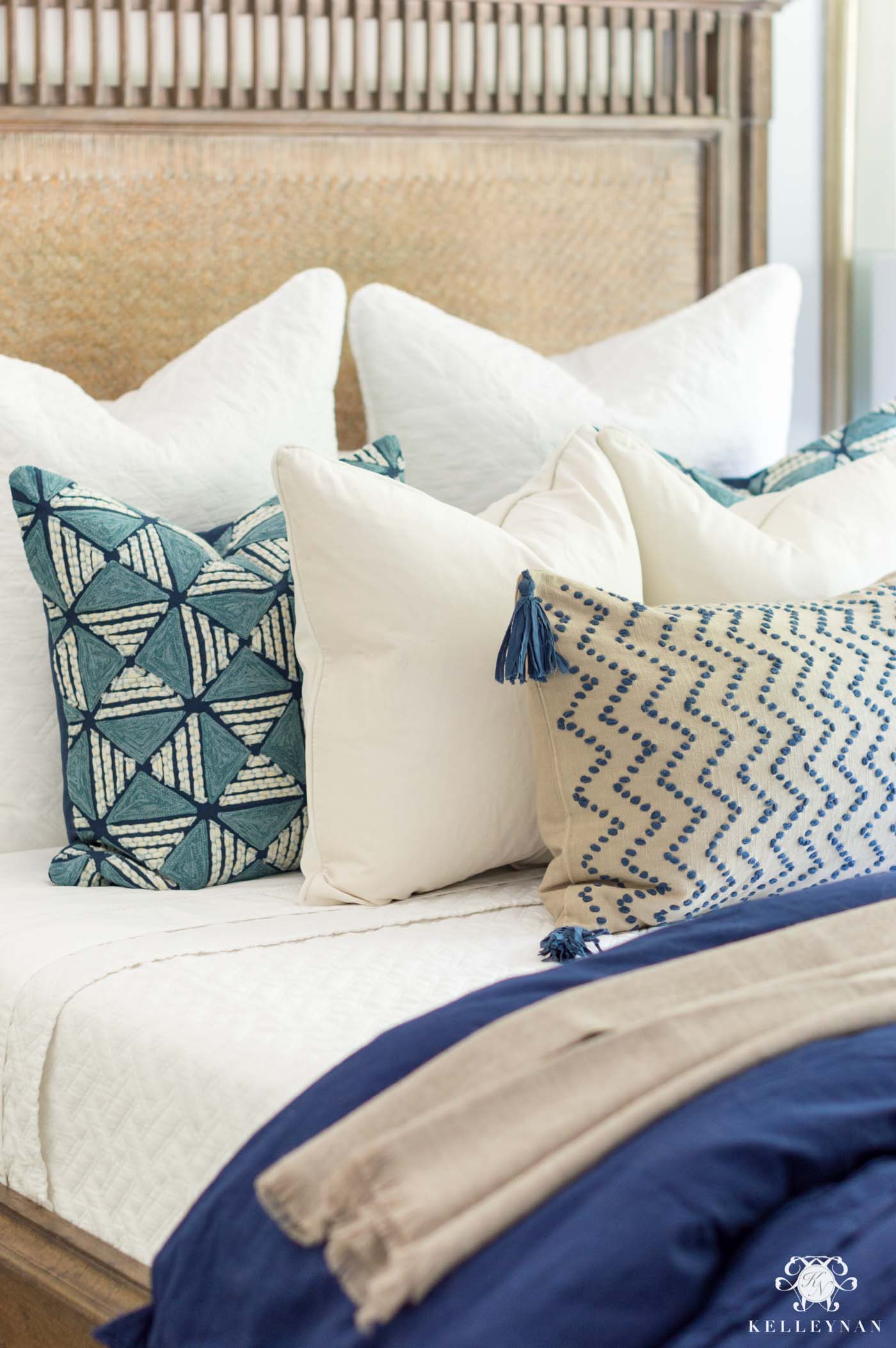 4. FOLD DOWN FROM THE TOP
When it comes to the bed,  a lot of the plush, coziness is achieved through the layers — not just the actual layers but the visible layers you can see. I try to break up as many "solid planes" as possible to maximize that layered look. Ok, I know folding down the top of the bed is nothing new and it makes it nice at the end of the day before you crawl in, but a lot of people just pull the covers all the way to the top. I'll be sharing a few images throughout the post to demonstrate the difference,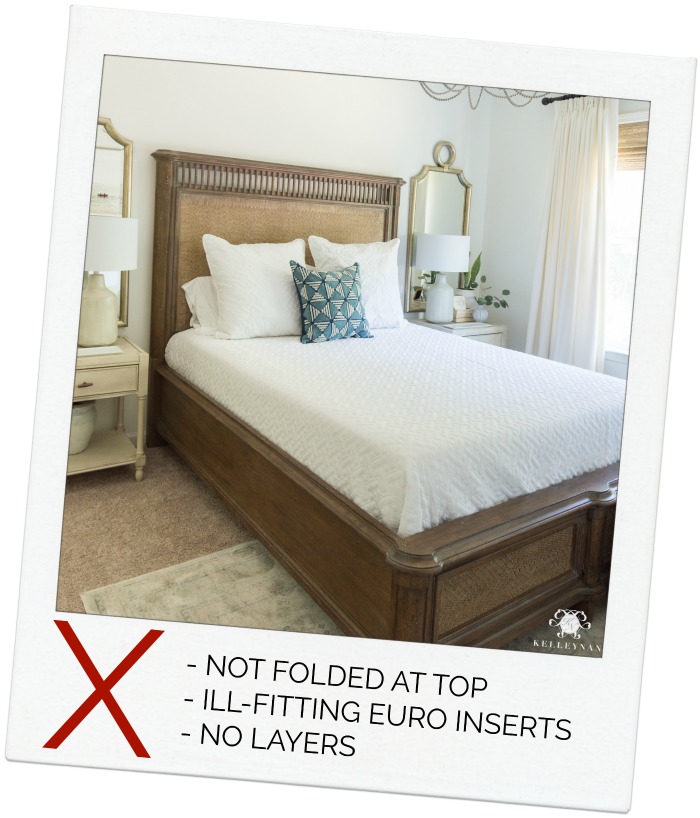 I fold both the quilt/coverlet down with the top sheet but like the quilt/coverlet to come down just a little further…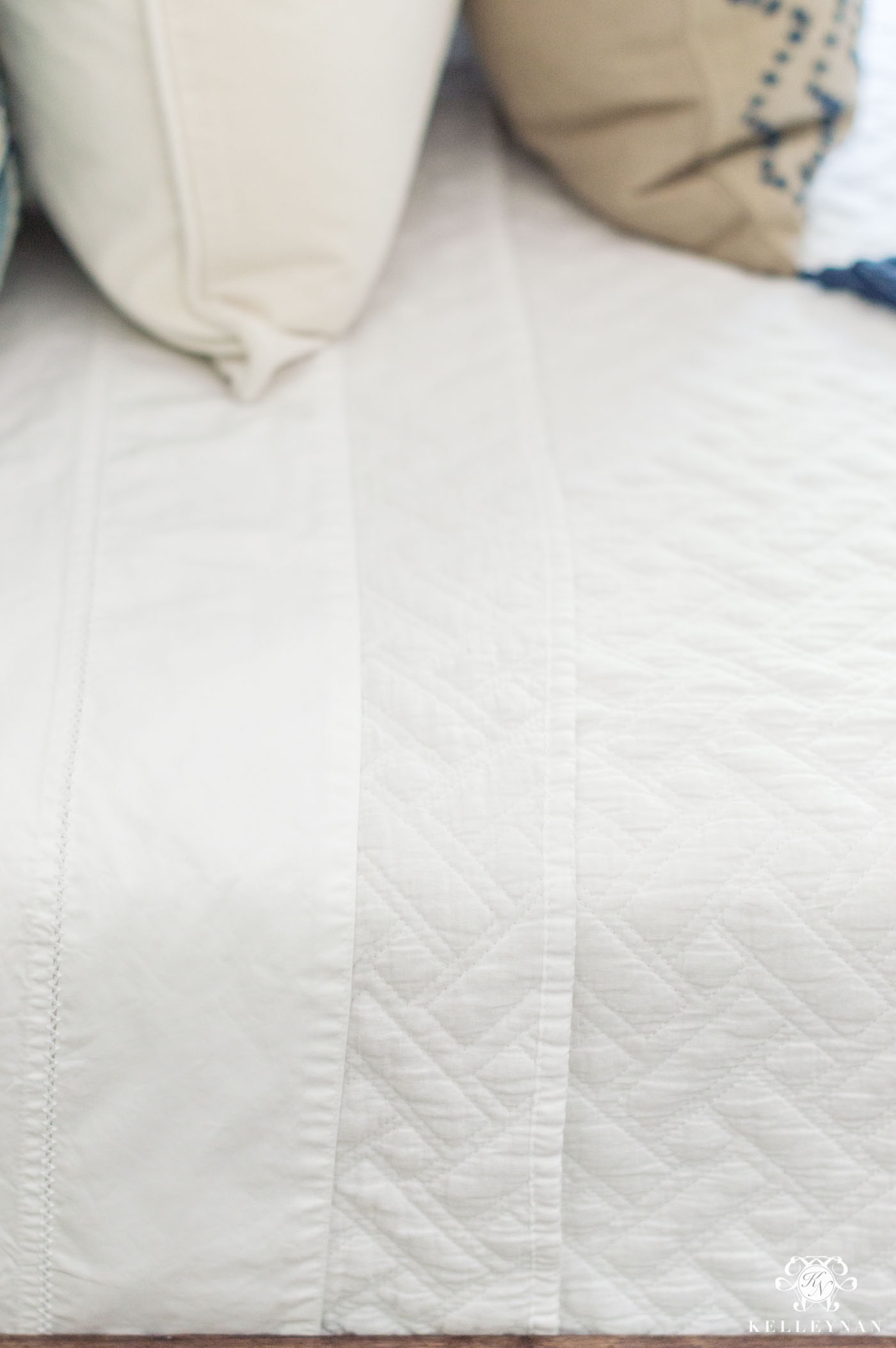 See? Way more inviting! And as a bonus- instant "layers".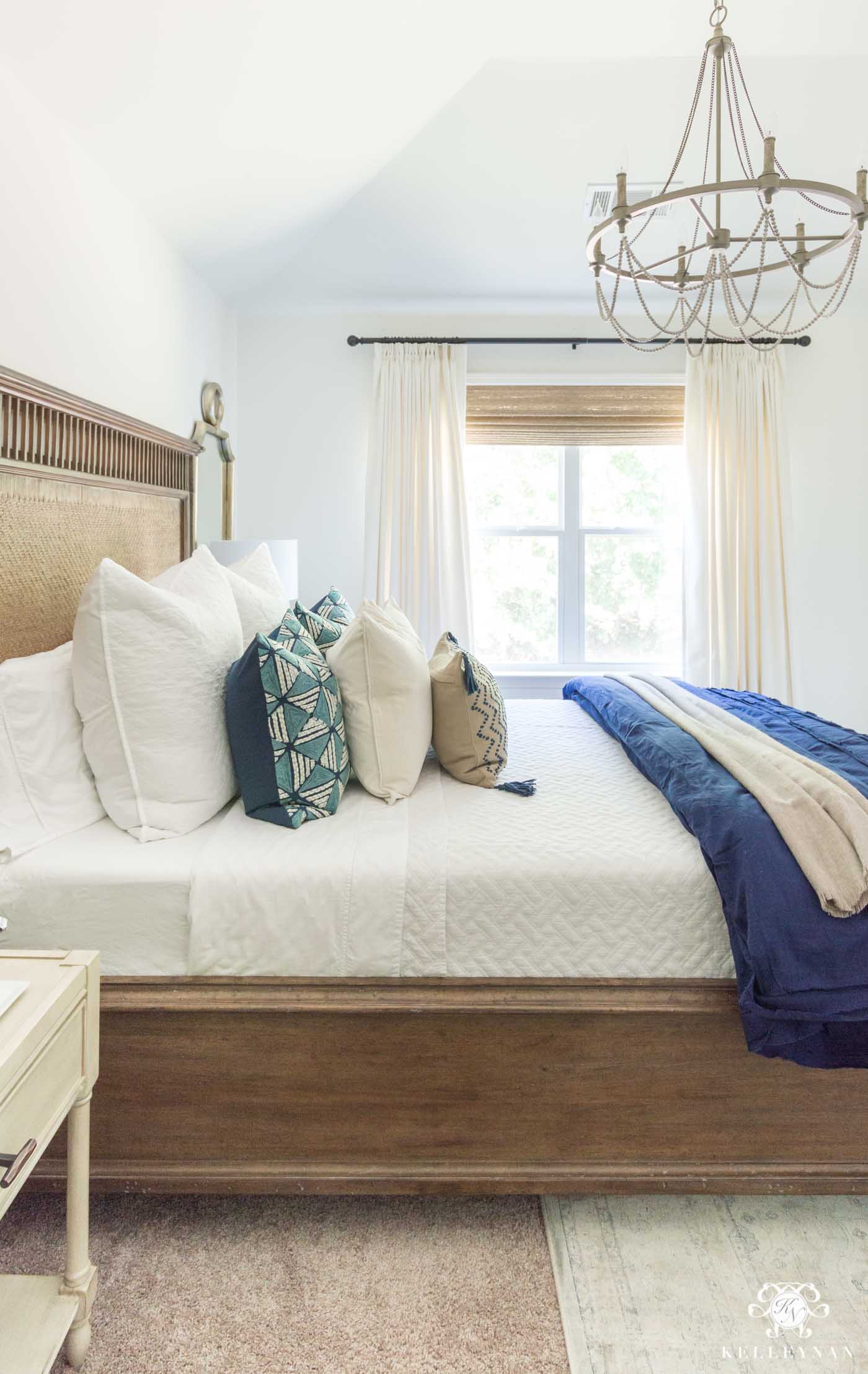 5. MIX PATTERNS & LAYER THEM IN
The next time your significant other asks you why you "need so many throw pillows", show him/her this photo haha. 100%, you can achieve a more structured, gorgeous, streamlined, minimalistic/modern looking bed with less (while still following the other tips) but for the plush-factor, layer those pillows on for depth, texture, and interest. I typically (not always) coordinate my euro shams to my quilt/coverlet/duvet cover so that they kind of work like bookends to all the pillow patterns that happen in between. I also like to break two busy patterns/prints with a textured solid. I also try to not go too similar on the print; if you have something large-scale on the bigger throws (medallions, wide stripes, etc.), use something small-print on the front throw(s) (thin stripes, dots, etc.). You can also go patterned on throw blankets, sheets, or even choose items with a trim that becomes more present when it's folded a few times.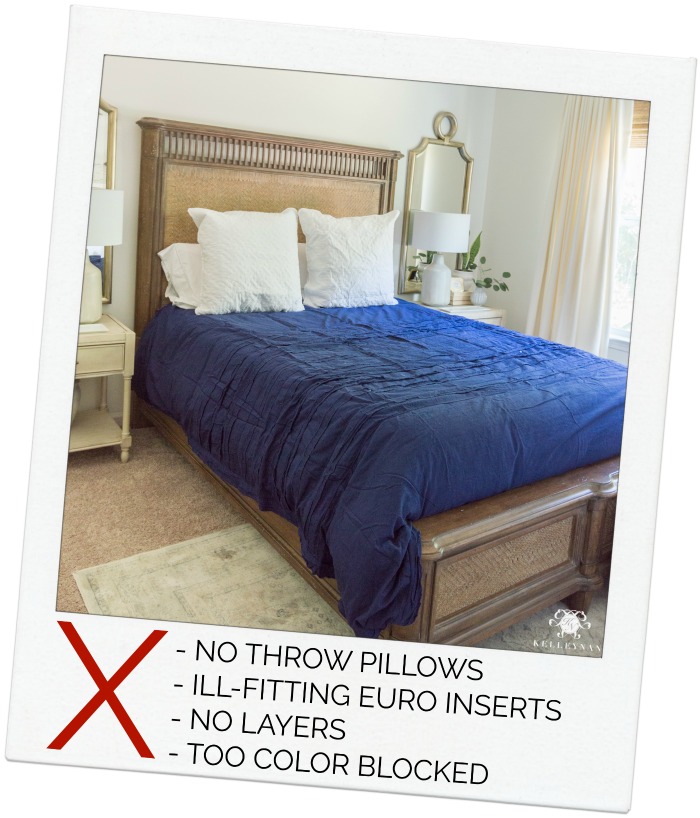 Going with pillows where a lot of pattern and color is present is an easy way to either 1. give a fun pop to an otherwise subdued bet, or 2. have a piece that anchors any other color you want to throw in. I mixed a geometric print with several blue tones, with an ivory velvet, with a tasseled zig-zag. Both patterned pillows are embroidered and beautiful and as a major perk- most throw pillows at The Company Store come in several different sizes, making it easy to mix and match, depending on the order you want them. You can browse them all HERE. If you are looking for some fall staples, for your bedroom, living room or elsewhere, their velvet pillows (HERE) are especially a great deal.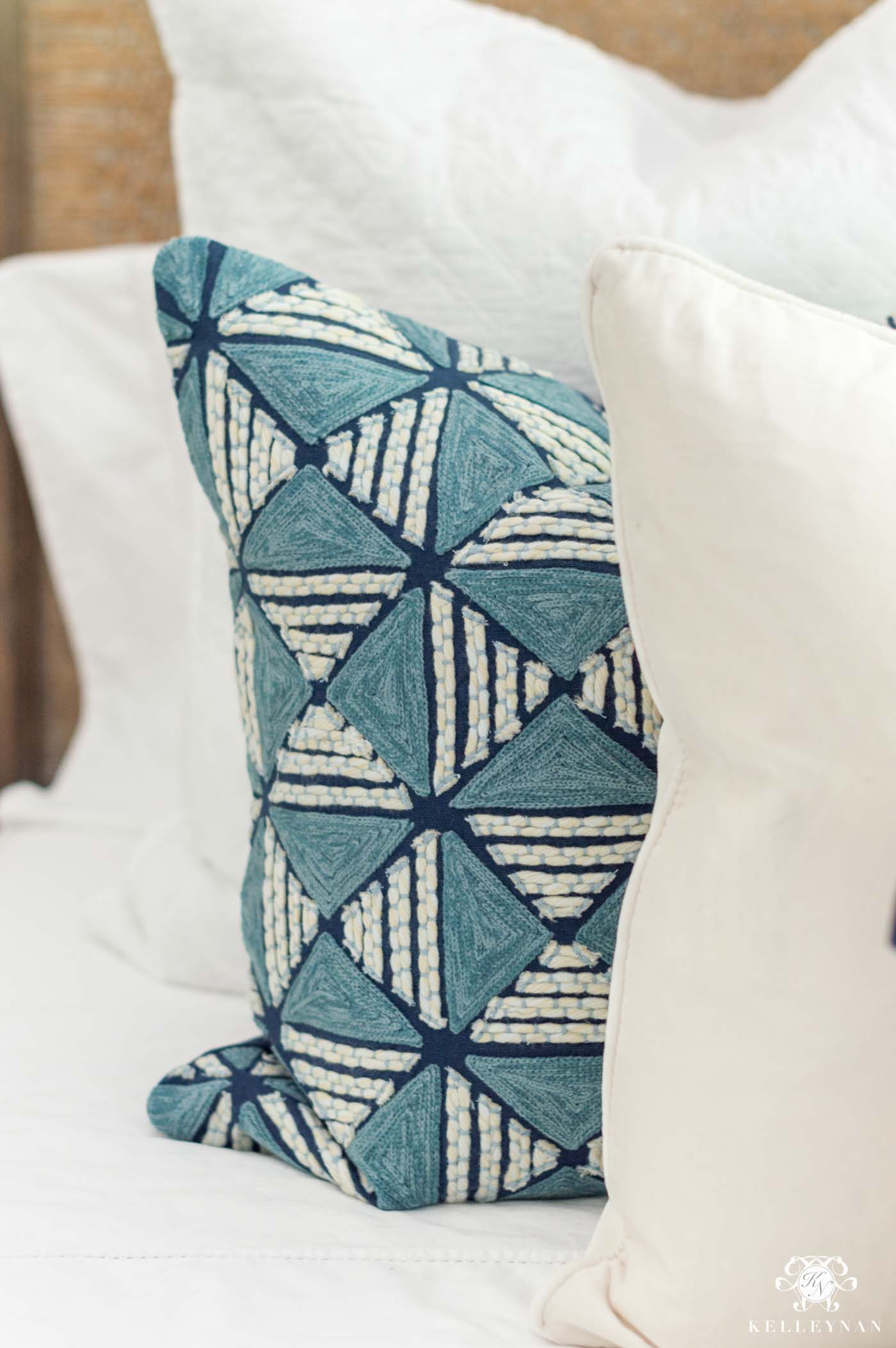 6. ADD LAYERS AT THE BOTTOM
The following picture has the exact same bedding pieces as the "finished look" — just without any visible layers.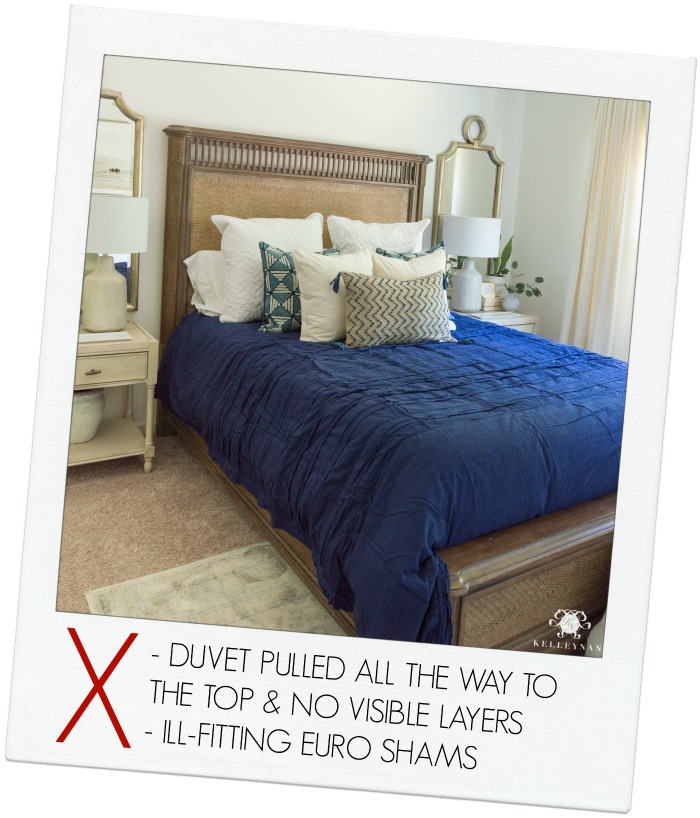 Pretty big difference, right? A question I've often been asked is "you use a quilt and a duvet?" Yes, yes I do. A quilt will keep us toasty enough most of the year but in the cooler months — or if we get cold — we have a duvet at the bottom of the bed that can be pulled right up. (FYI- A coverlet is going to be a little thinner than a quilt). So, while it's folded at the bottom for function, it also amps up the aesthetic and gives us a chance to see more of those layers. Depending on your bed situation, you can fold it in half but I usually fold ours into thirds, like an accordian. Have the bottom end facing the bottom, folded over, then back up. You can roll/plump the edges over/under to make it look more filled out and disguise any ends.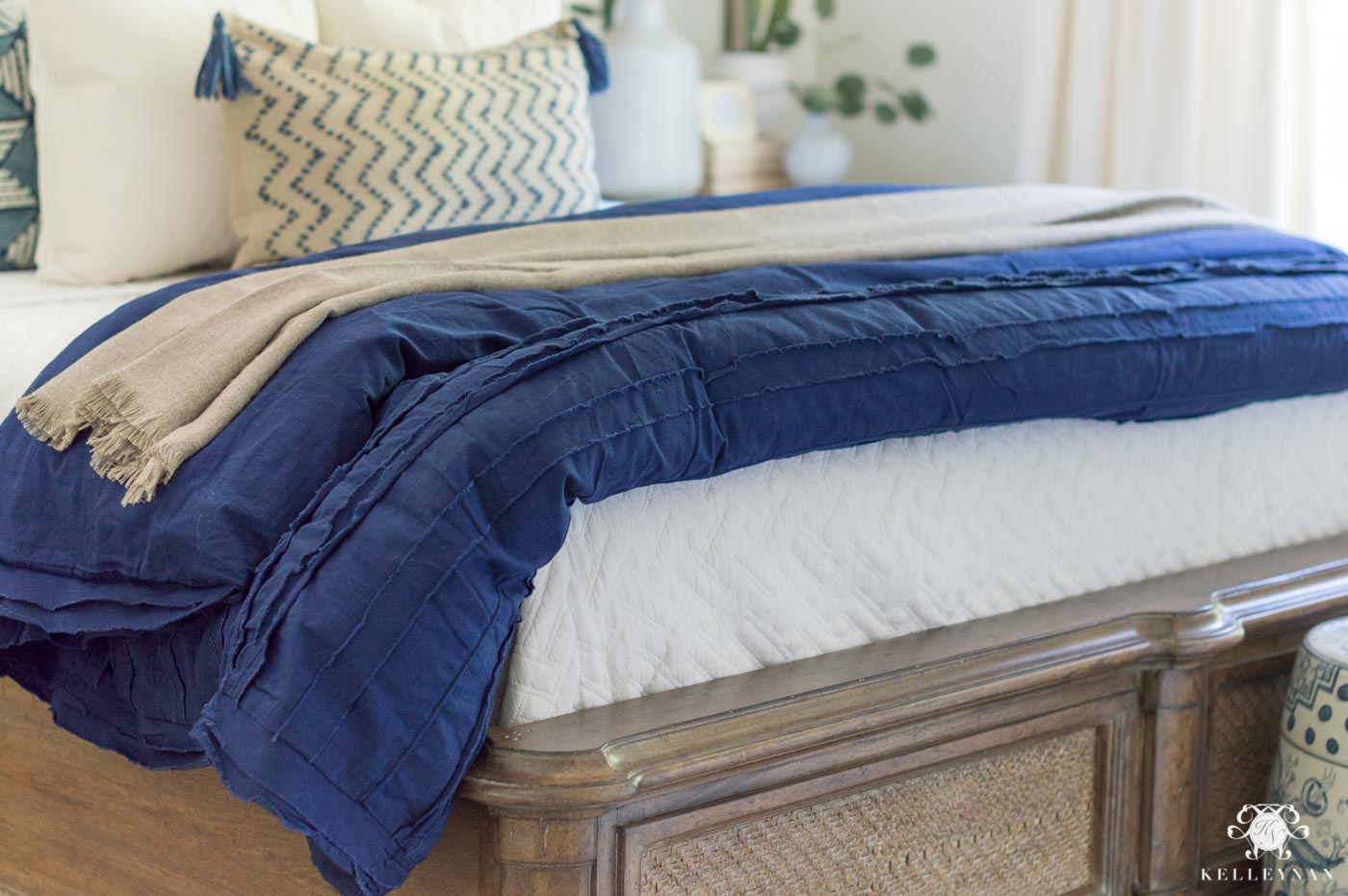 A major gift to any duvet insert is having a cover with ties that will anchor all four corners inside the cover. A cover with texture also makes it easier to hide wrinkles and imperfections, making it less of a chore to create a neat looking bed. This raw-edge duvet cover, which also comes in white, has both.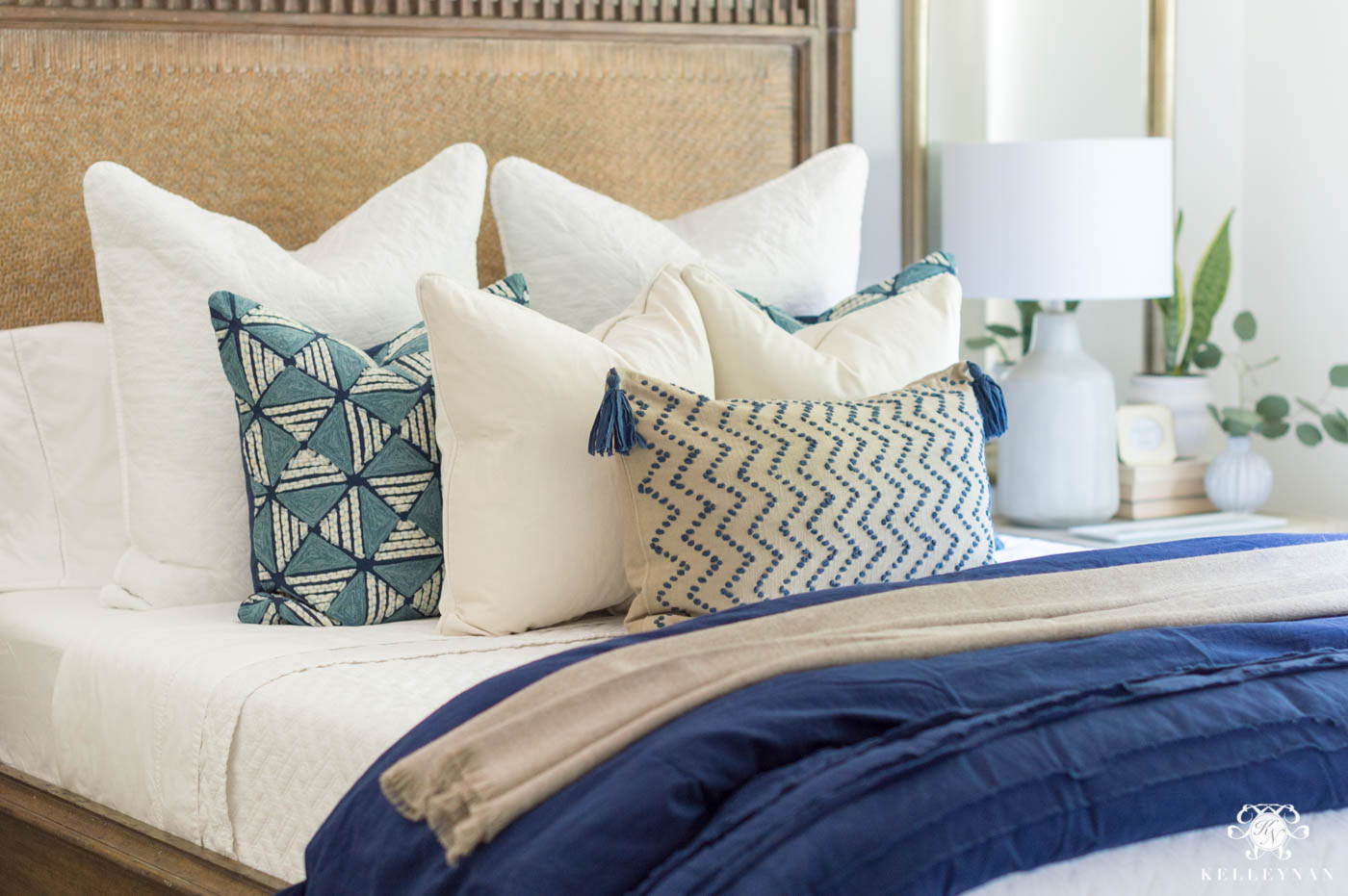 7. BREAK UP BIG BLOCKS OF COLOR
The more chopped up the bed looks, the more layered it looks. And the more layered it looks, the more plush it looks. If there's too much of a single span of bed happening, you can add a throw/blanket, duvet, or bring your pillows down further. It also gives one more opportunity to tie in any colors present in your throw pillow configuration.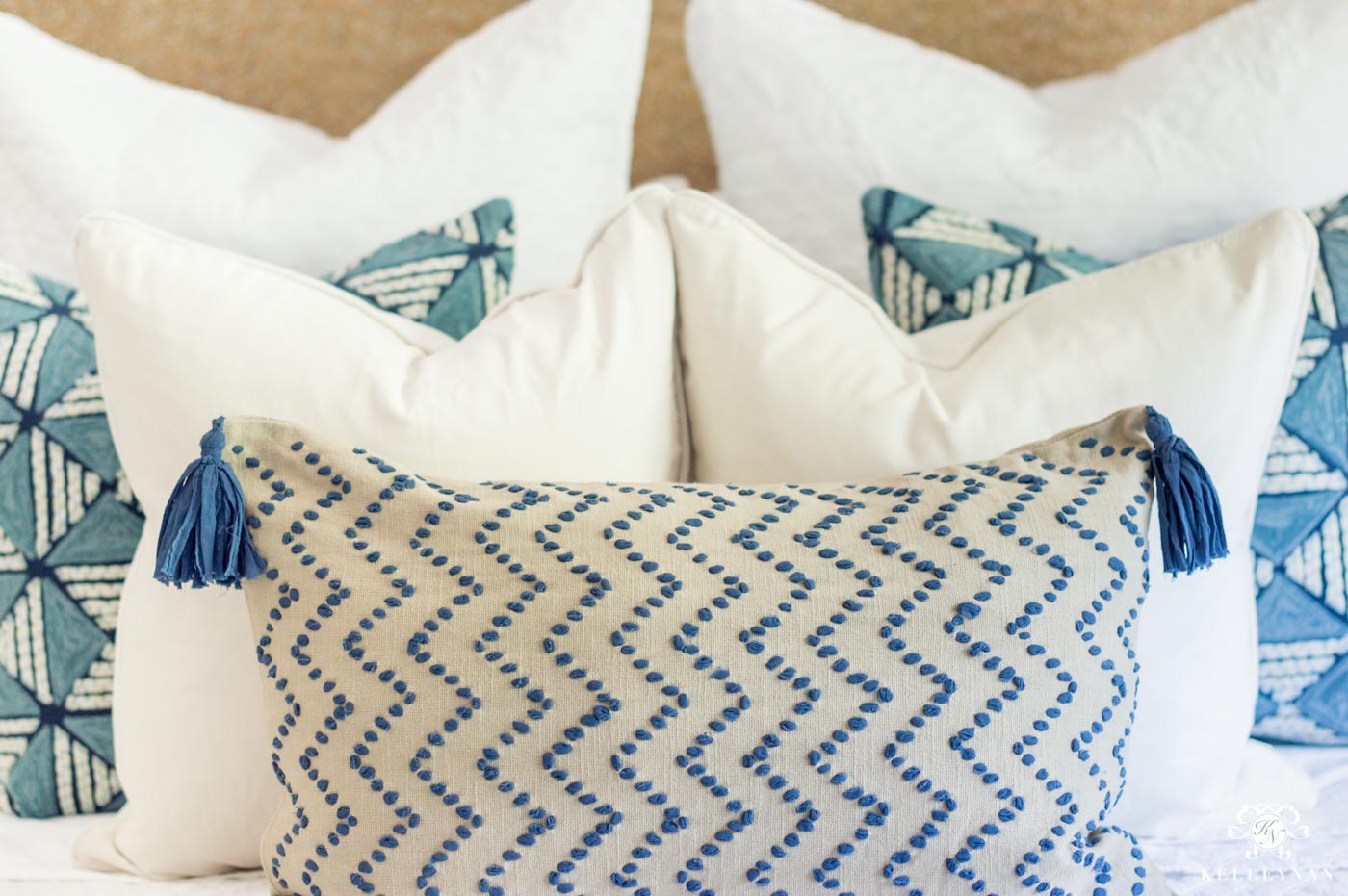 This pretty alpaca throw comes in a few colors, perfect for fall; you can find it HERE.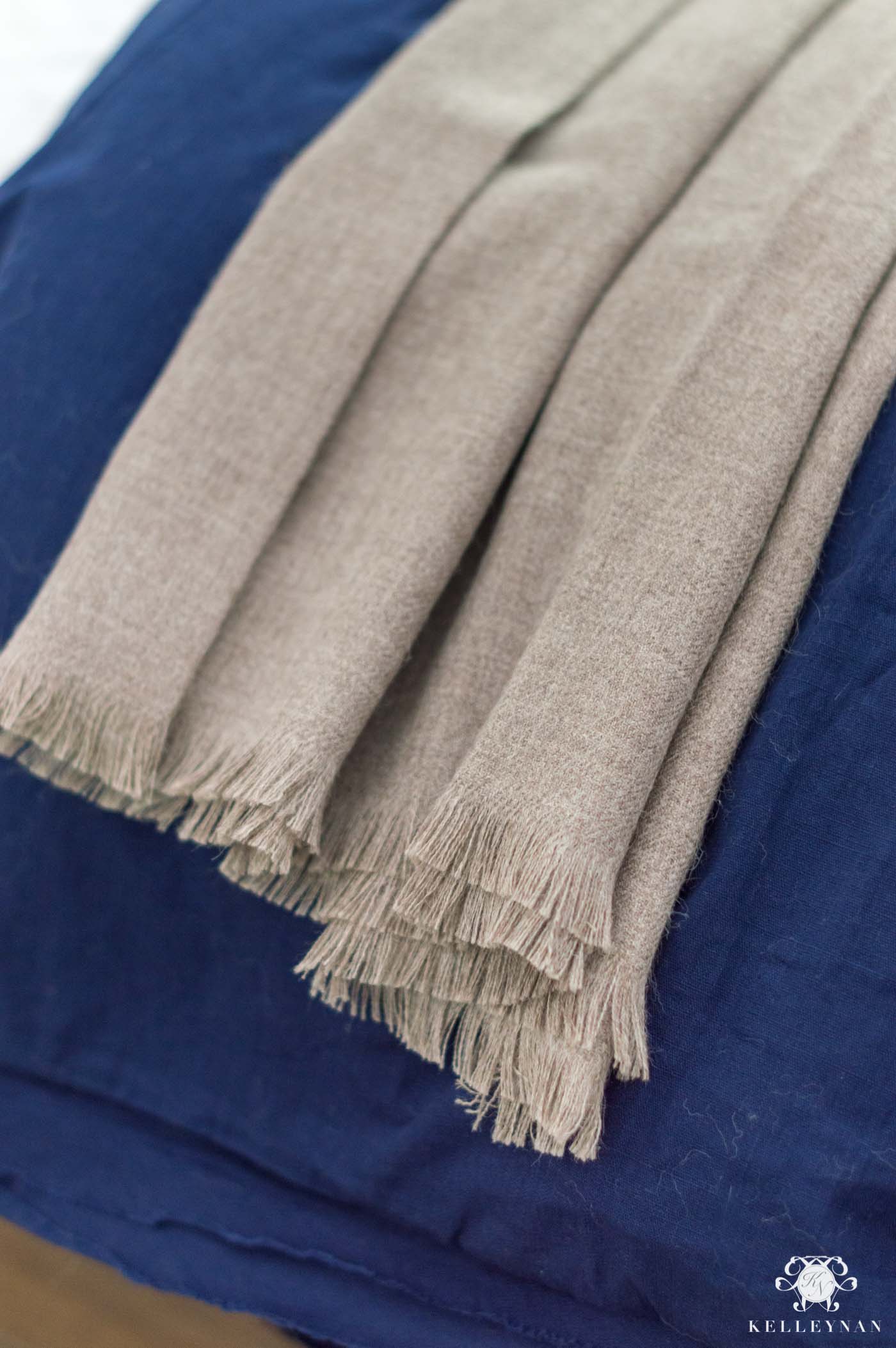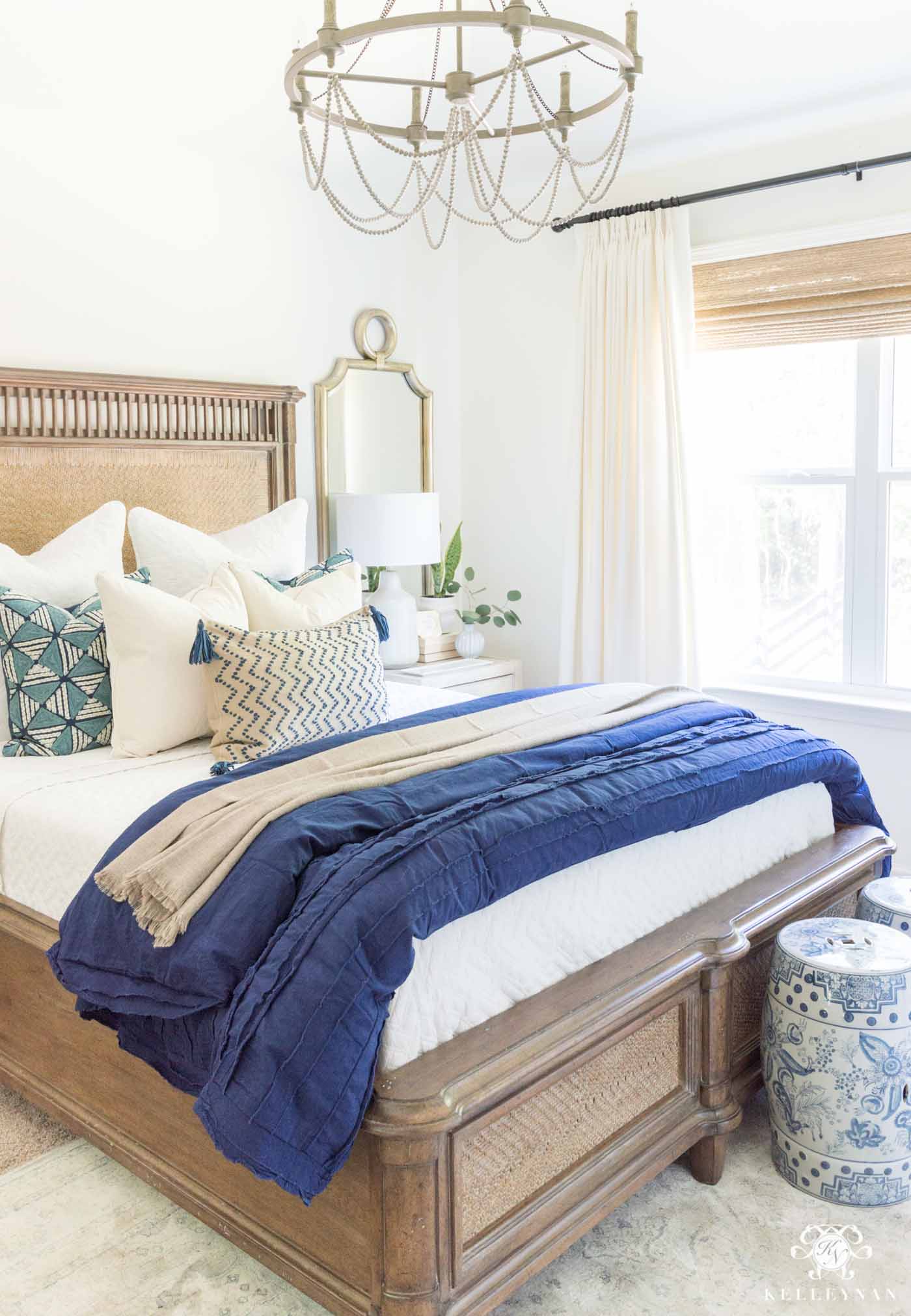 While each of these steps can have exceptions and be altered, this is my typical "formula" and bedding makeup. Have any special methods to your bed-making? Do something totally different? Be sure to share them in the comment section below! As a reminder, you can score your entire bedding ensemble for 25% off, plus free shipping with code J19FRIENDS HERE.
BEDDING SOURCES
Beachcomber Cotton Duvet Cover | Hunter Coverlet | Hunter Euro Shams | Organic 300 Thread Count Cotton Sateen Sheets | Alpaca Solid Throw | Blue Multi Embroidered Pillow Cover — Geo | Cotton Velvet Pillow Covers | Blue Muti Embroidered Pillow Cover — Chevron
Scroll & Tap to Shop the Post

OTHER POSTS YOU MAY BE INTERESTED IN