When we were planning for Eliza, I was overwhelmed with all the baby things — what she actually needed, what she would use, what would be a waste, how much to have of each, etc. Storing it and organizing it all was a whole other unknown. As I've shared before, I truly believe that organization isn't just arranging things neatly but coming up with a system that aids in your day-to-day use. Because of that, it sometimes takes some trial and error to land on an organization system that actually works for you. I usually like to "live" with a space before determining what makes the most sense when it comes to storage — but organizing for a baby nursery was a whole new game. Our nursery dresser organization actually looks very different today compared to how it did when Eliza was brand new. But oh man, with as often as this space is visited each day since the dresser also serves as her changing station, it's one of the most important spaces to organize and maintain. A changing area that lacks functionality and order is not fun to deal with — I've been there. After getting a little experience under my belt and figuring out what we do/don't use and how we use it, I'm sharing what Eliza's nursery dresser organization looks like today (and how it works for us).
*Posts on KelleyNan.com may contain affiliate links. Click HERE for full disclosure.*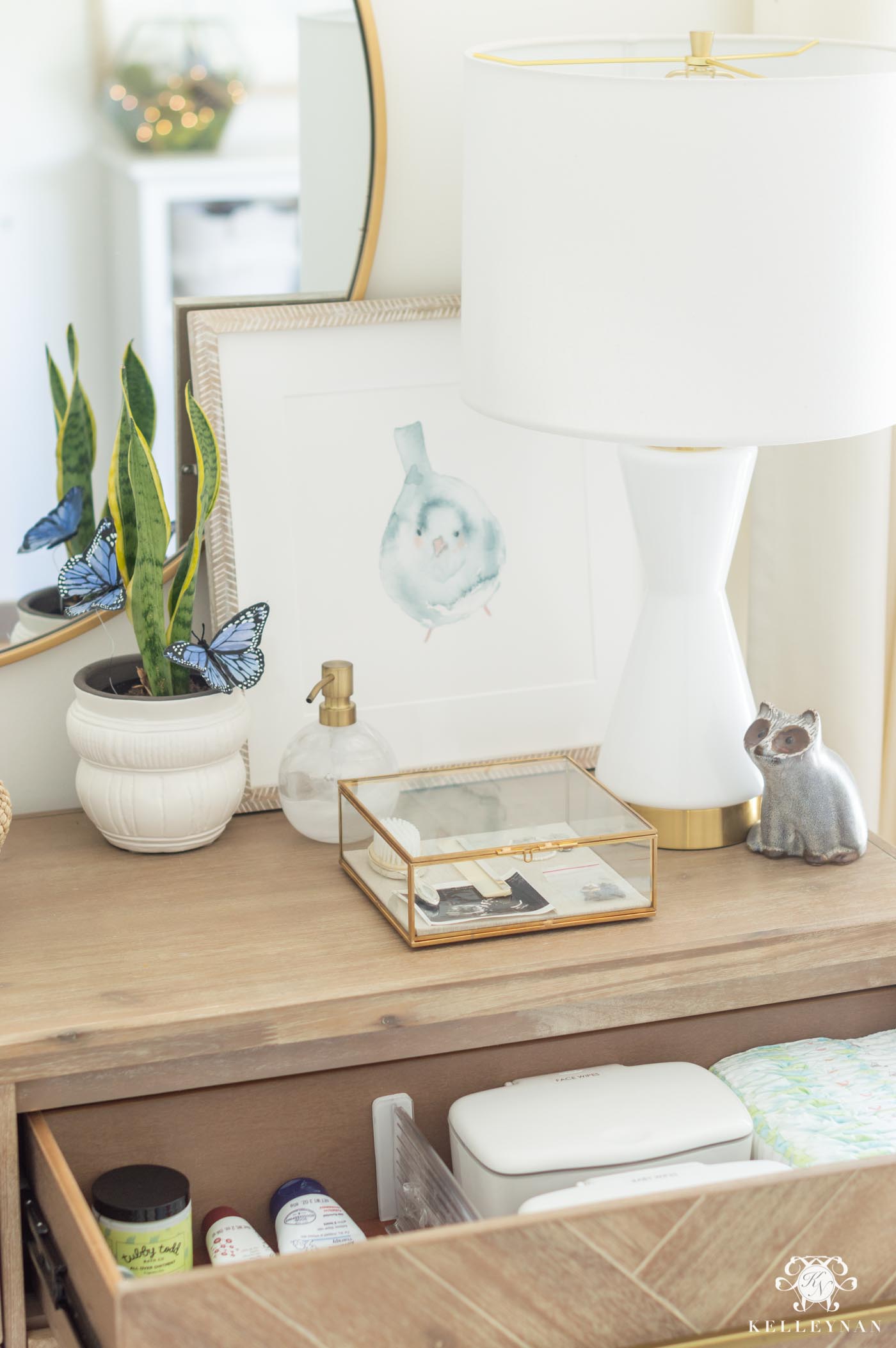 Sources: Dresser | Mirror | Lamp | Blushing Bird Art | Changing Basket | Glass Shadow Box
Nursery Dresser Changing Table — What We Needed & What We Didn't
Like I mentioned, when you're planning for a baby for the first time, you want to have all the essentials but you also don't want to waste money on things you don't really need or won't use. There's plenty we decided to forego from the get-go, and I'm glad we did as we haven't missed them at all (I'm lookin' at you, wipe warmer!) And, no matter how many people try to tell you to curb your quantities, I know also from experience that if you're like me, you probably won't. Hey, it's all part of that nesting thing! 😉
Something I swear by — if you have the space — is to hang everything you can in the closet. I know a lot of people only hang more formal clothes — or at least going out "outfits — but I hang just about everything, from pajamas and gowns to bodysuits and casual separates. It helps me see what she has, in what sizes, and categorize her clothes better. In the beginning, I kept all her pants and shorts in the drawers inside the closet but after landing on an organization system that worked for us, I decided they were best in her main dresser. You can see what her closet looked like, before she was born HERE. Overstock like spare lotions and washes are stored in the system behind her closet door, along with pacis, bows and teethers. I used to house all kinds of bibs — both food and drool bibs — in the dresser but recently donated them because 1. we never did the drool bib thing and 2. once we found THIS silicone bib, it's the only one we need or use and we keep it in the kitchen. If your baby has a slender neck, this one works way better than similar varieties at Target as the adjustable band can fit way closer to the neck. We keep our boxes of diapers and wipes (back stock) in the basement and then always keep a couple packs in a container underneath the crib for easy replacement. We keep her meds in the same spot as ours and I'm embarrassed to admit that I once had TWO FULL DRAWERS devoted to swaddle blankets. The 48″ stretchy ones from Lou Lou & Co. are my favorite and I built quite a collection to coordinate with outfits, haha. At one point, I forced myself to cull the swaddles down to one drawer. Here's an overview of everything we're storing inside the nursery dresser these days.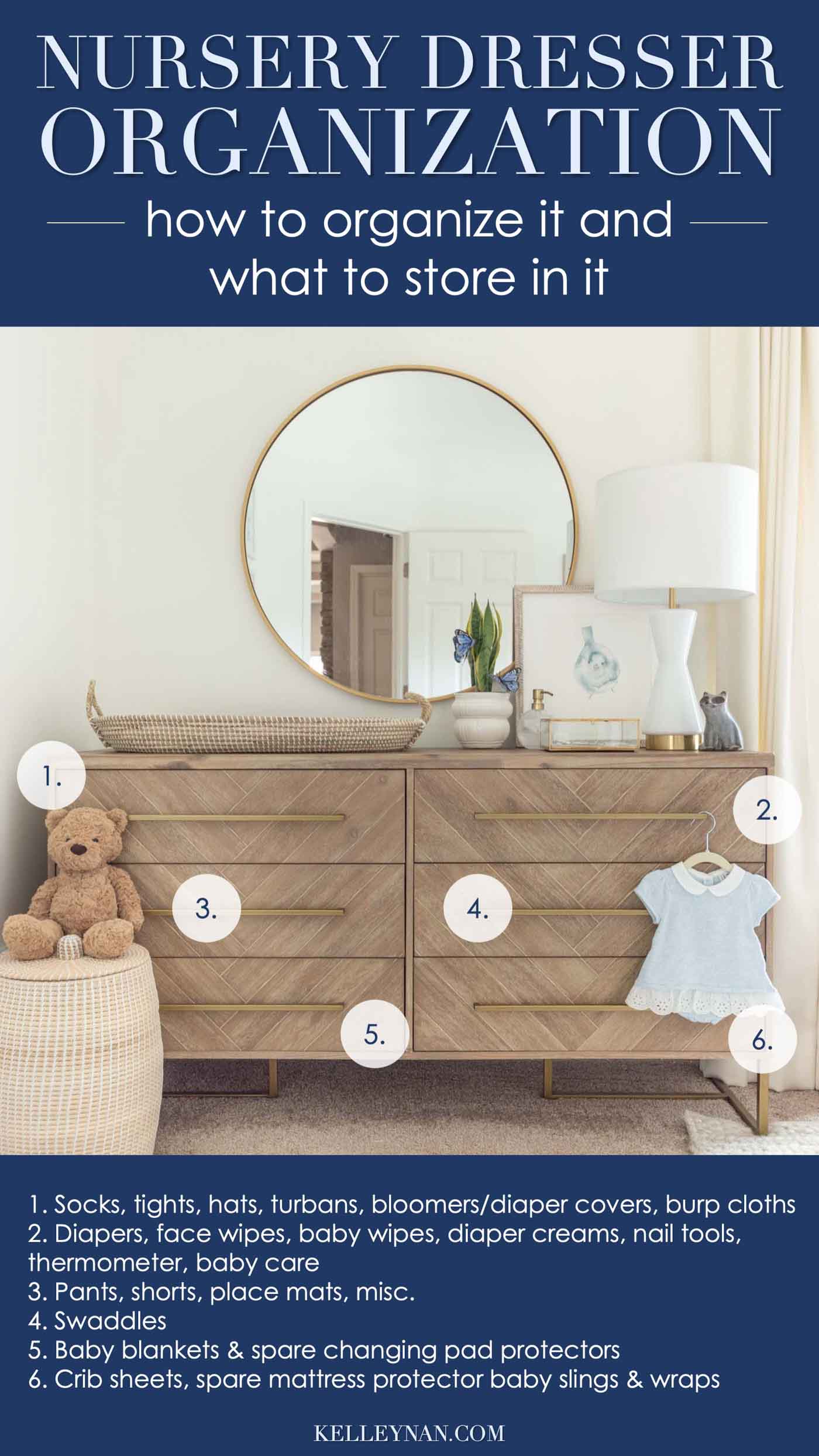 IF you have the space, I 100% recommend considering a full size (this is a double), substantial dresser for your nursery. I went with a piece that could be with her for years to come and wasn't specific to a baby's room. It's super sturdy for all the opening and closing of drawers we do throughout the day and it has a great amount of surface area to set up a changing station. Her dresser goes in and out of stock (HERE), but this color combo is currently available — it's a lighter wash with silver hardware. It stores a ton!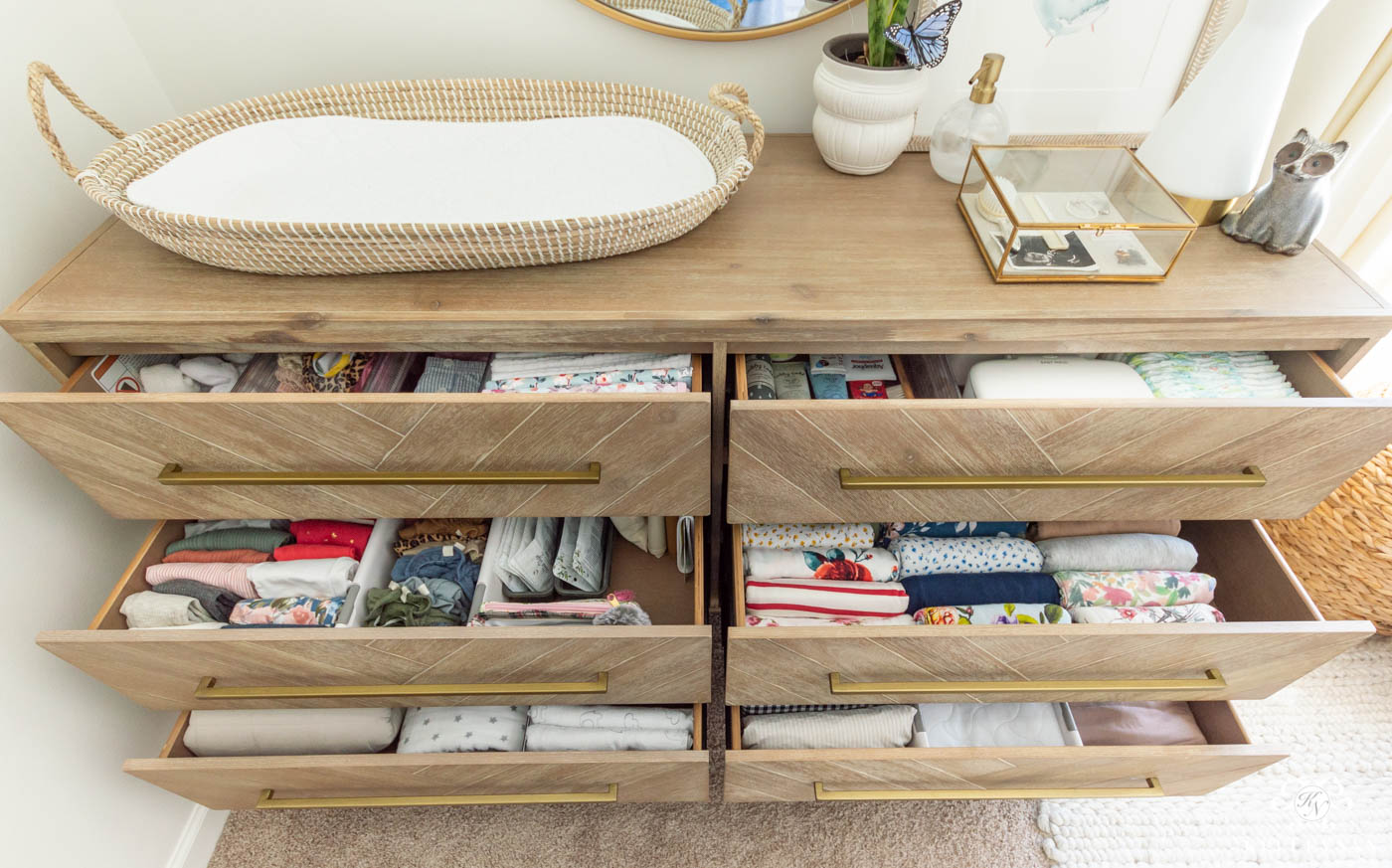 Nursery Dresser Organization
Because baby things are so small (and there's so much stuff!), it would be easy for items to get lost in the big dresser drawers. Expandable drawer dividers (THESE are my favorite!) are KEY in maintaining organized structure and grouping all like items together. With *all the things*, it's likely you'll have multiple categories so it's important to still give them their own space. Before you start trying to tidy things, take everything out of the drawers and set the contents into like piles. Then, determine what makes sense to be paired with other piles. Daily use/quick access items that are used frequently? Designate the top drawers for those. Let's go through and break it down, drawer by drawer.
Drawer 1:
socks & tights
hats and turbans
bloomers & diaper covers
burp cloths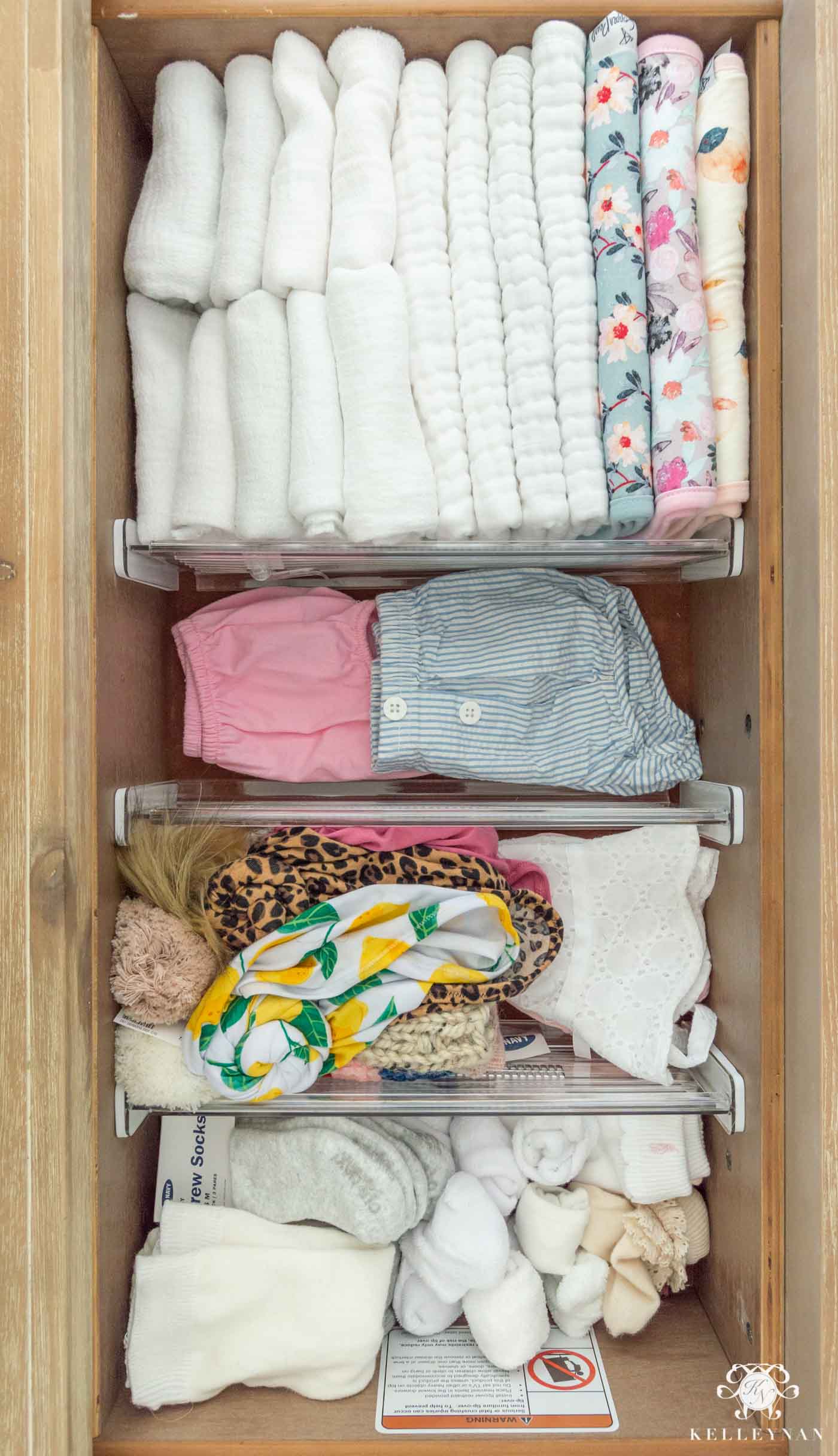 And if you're a fan of turbans, THESE are ADORABLE! After she saw Eliza sporting a leopard one, the shop owner sent a few additional turbans to Eliza and they are darling.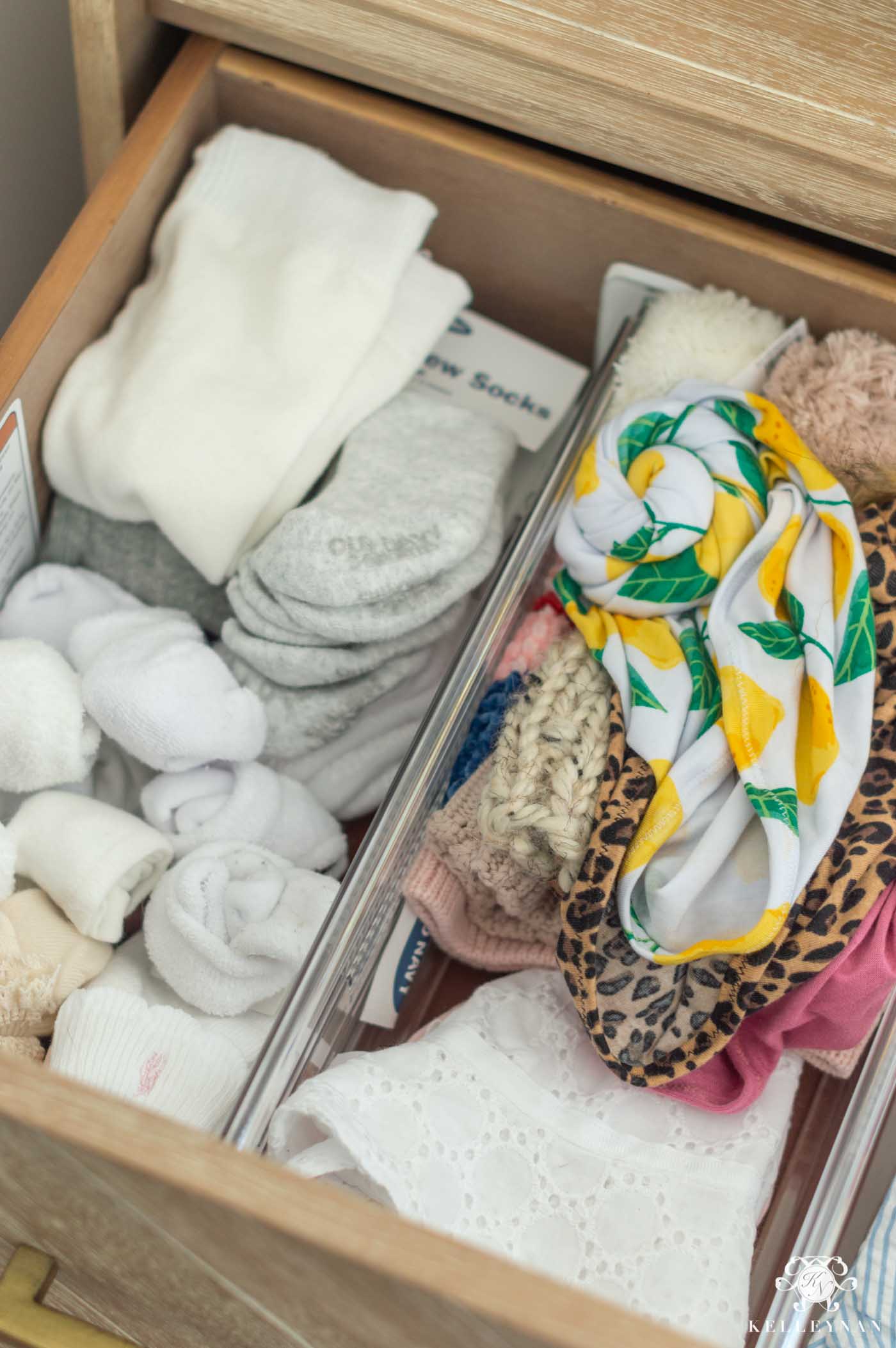 By the way, I started down the path of "pretty" burp cloths but quickly discovered that my favorite and most effective are THESE muslin basic white cotton ones. If you haven't already, get a few packs of these and you're set 😉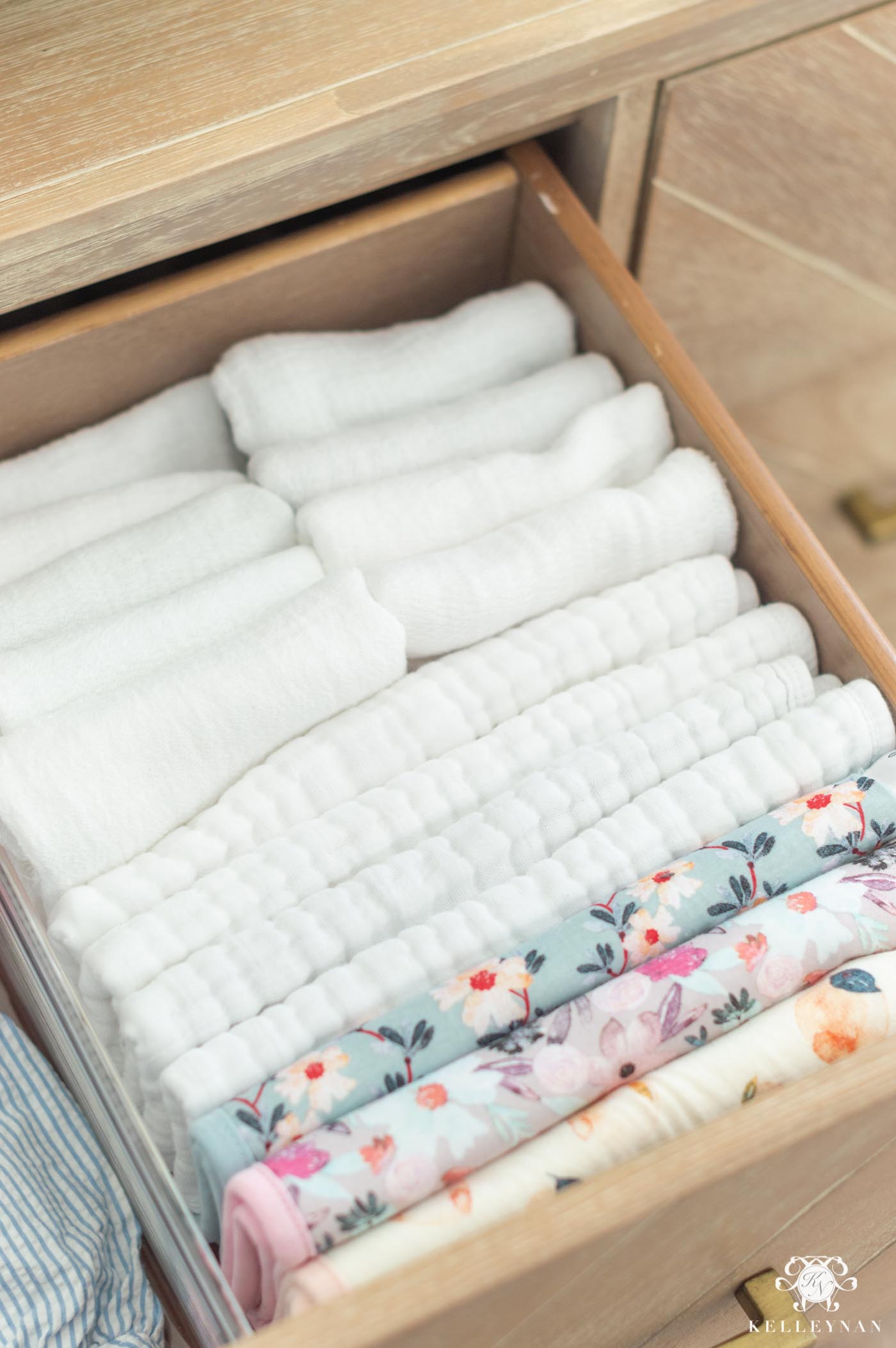 Drawer 2: 
diapers
baby wipes & face/body wipes
creams, ointments, lotion
brush
nail & nasal care
thermometer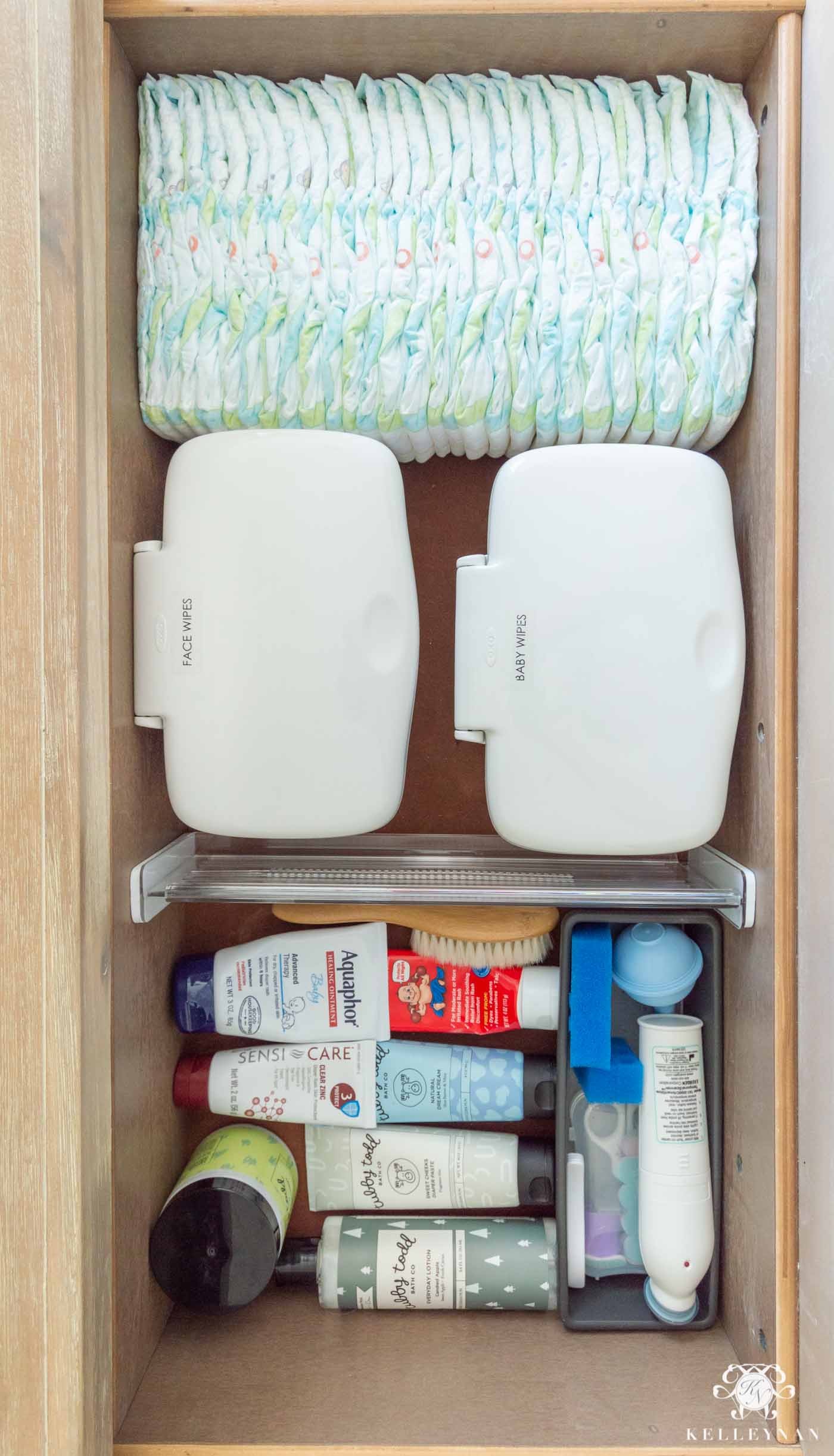 Sources: Expandable Drawer Dividers | Wipes Dispenser | Interlocking Bins | Clear Drawer Dividers | Clear Plastic Drawer Organizers
The Tubby Todd products we swear by most are 1. the All Over Ointment (HERE) and 2. the Diaper Paste (HERE). The ointment is actually one of my "holy grail necessities" and I talked about it more in my Newborn Essentials post HERE.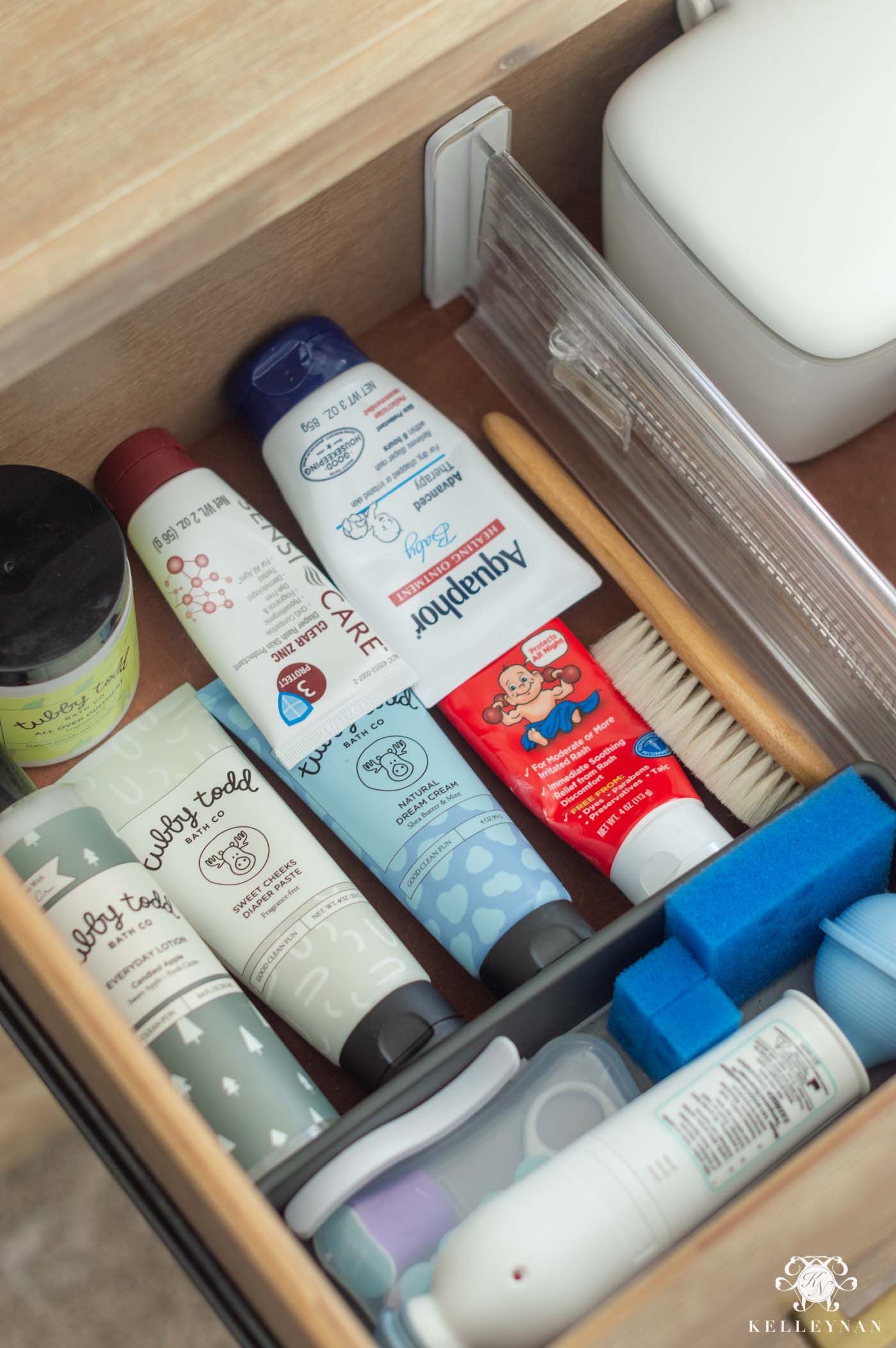 Sources: Burp Cloths | NoseFrida Nasal Aspirator | Nail Care Kit | Wooden Baby Hair Brush | Aquaphor Ointment | Forehead Thermometer
If there is one tip that you take and run with for your nursery dresser changing station, I cannot suggest enough that you invest in THIS OXO Tot "perfect pull" wipe dispenser. This was a late addition but the plastic wipe packs — even thought that are supposed to resealable are awful. They rip, don't close, and getting a single wipe at a time is next to impossible. We started with one to see how it did, fell in love, and ordered a couple more. (I wanted a second one for body/face wipes but I also allocated one for *something else* non-baby related that I'll share soon!) These have made diaper changes SO MUCH EASIER and, the drawer stays more organized since there aren't crunchy packs floating around. I added the labels using THESE clear address labels, printed directly from my computer.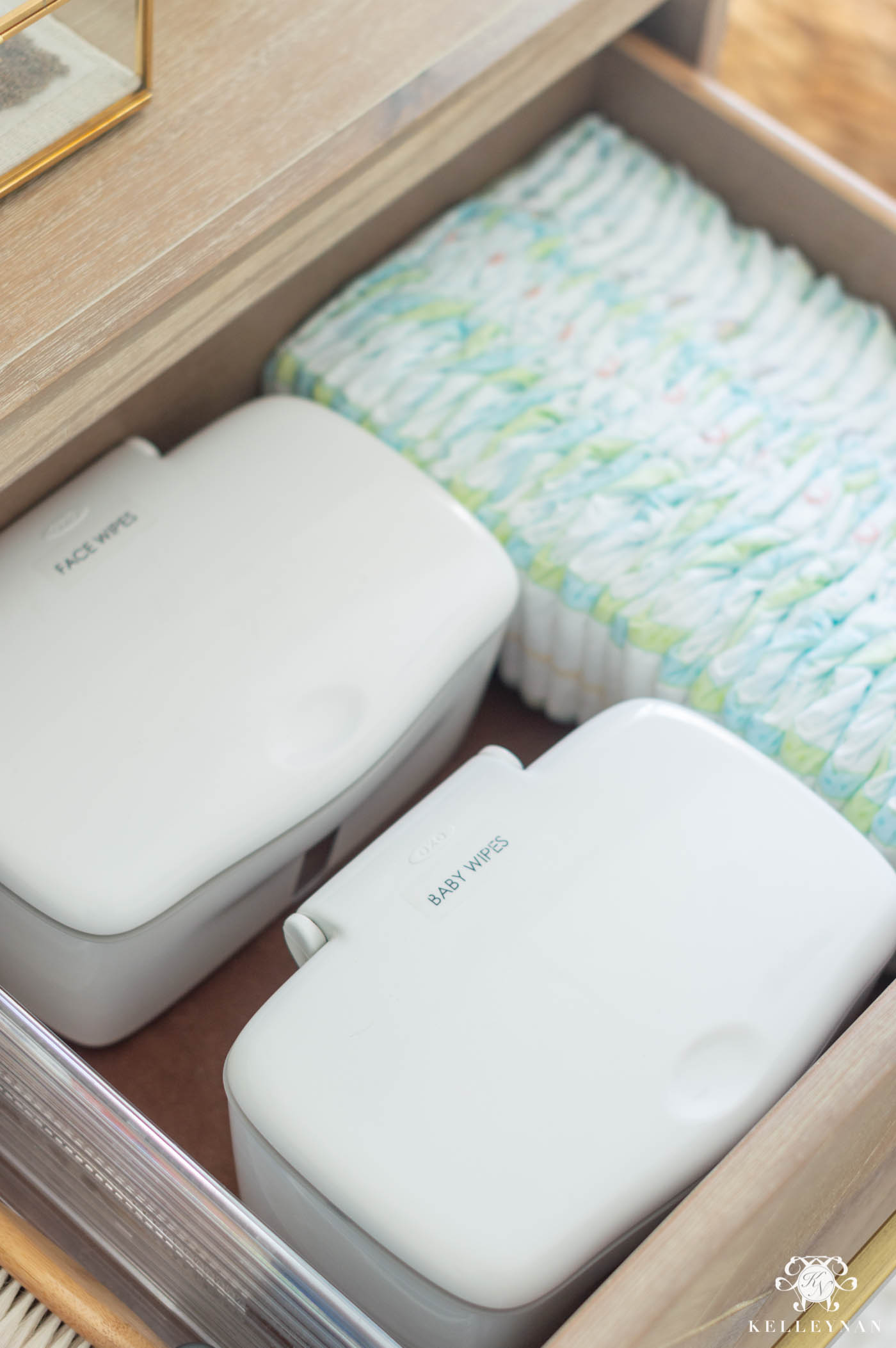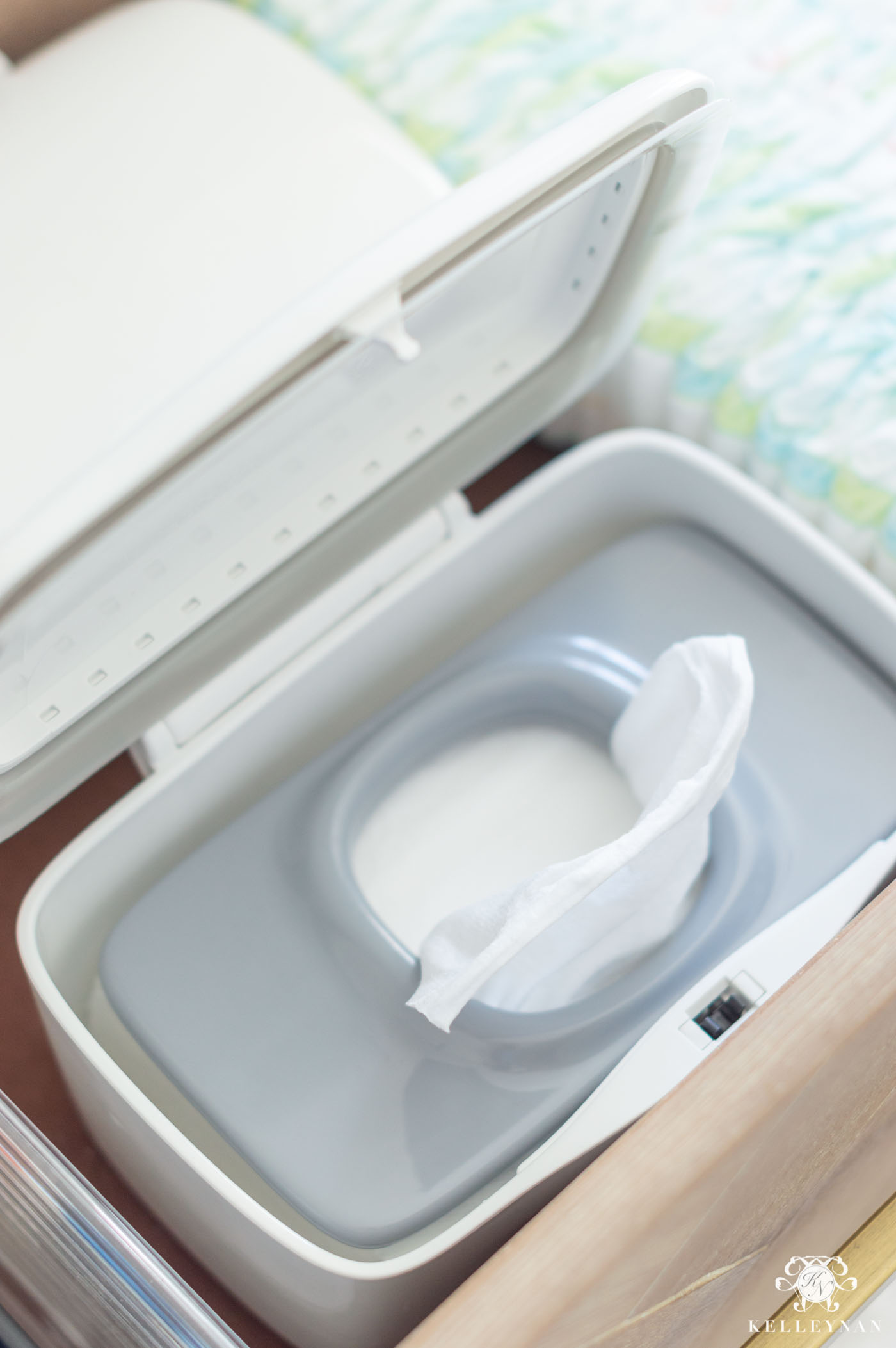 Drawer 3:
pants & shorts
"go" pouches
a few random items: tags, monthly milestone numbers, eating/changing mats
The second row of drawers holds more clothing and daily/semi-regularly used items…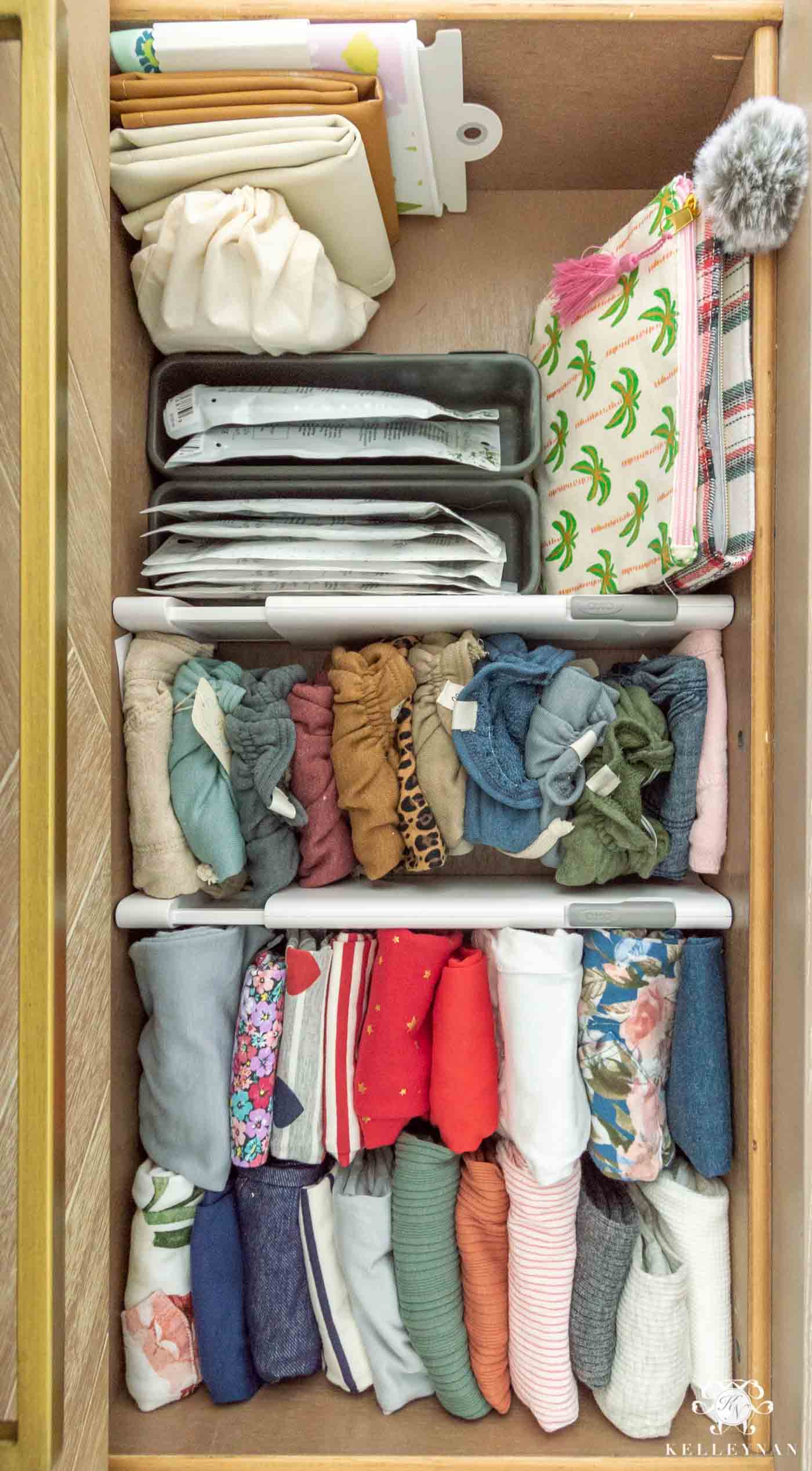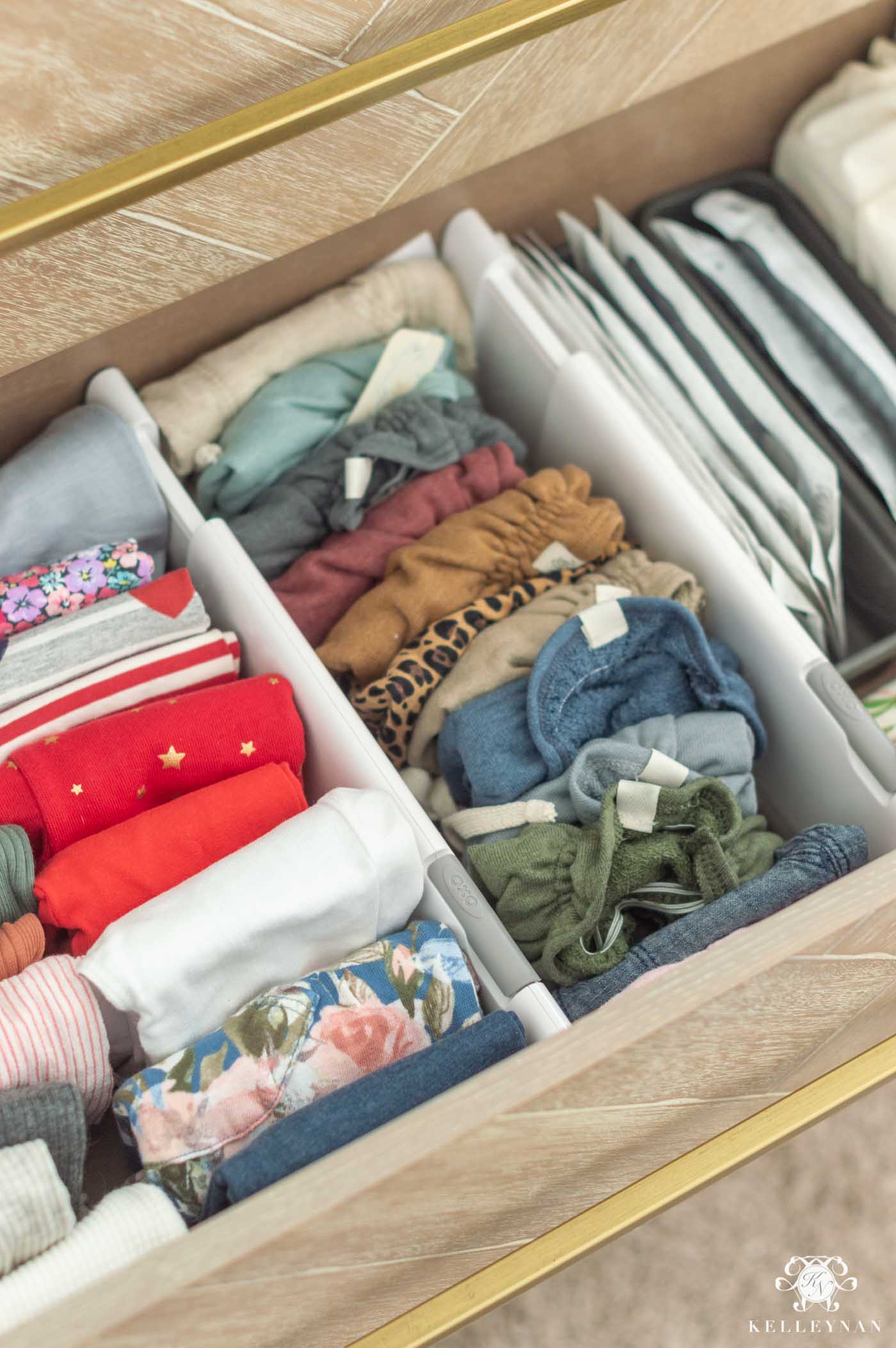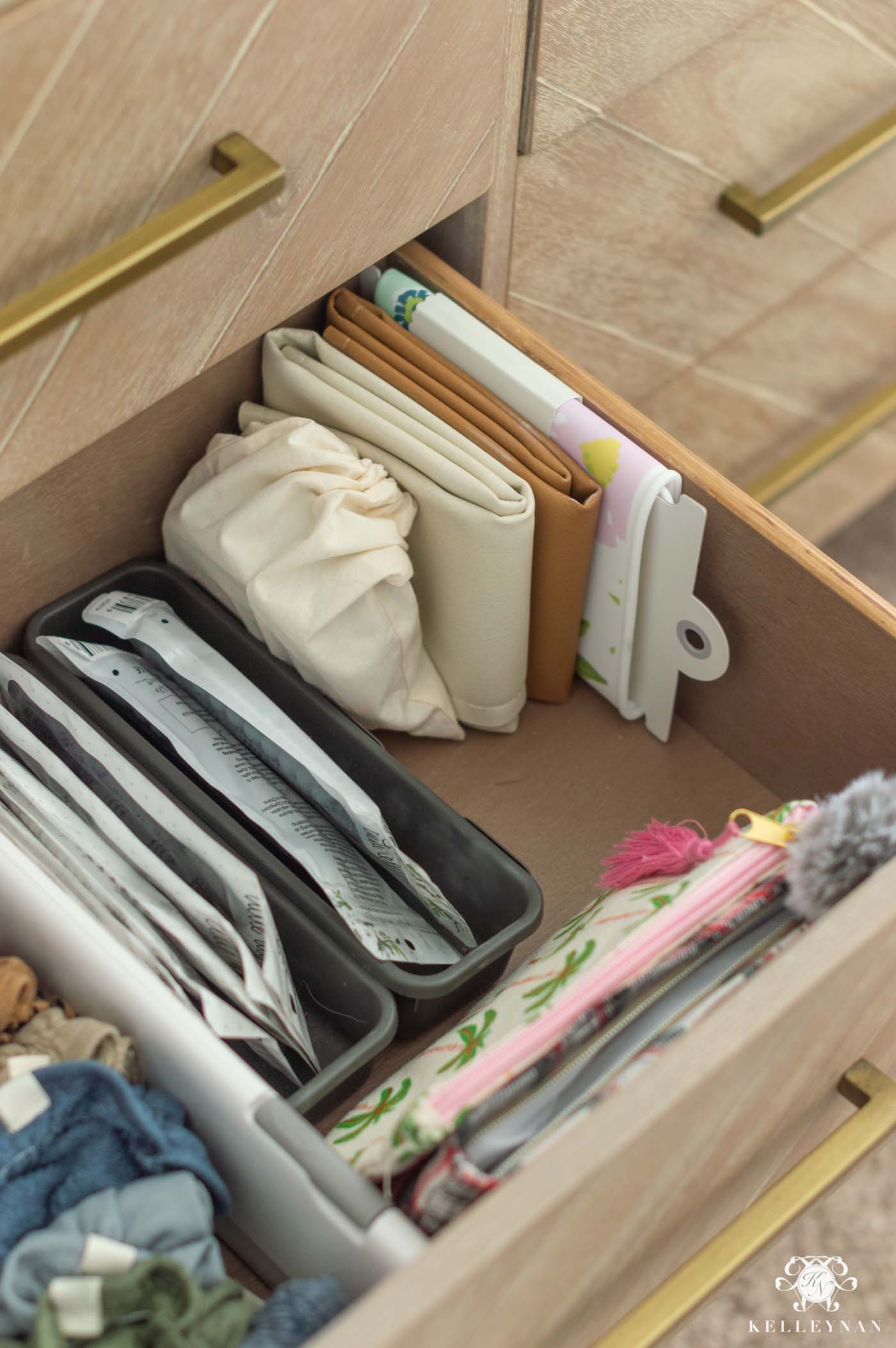 Drawer 4:
As I mentioned earlier in the post, at one point, I had two drawers, filled to capacity of Lou Lou & Co. swaddles. Yikes. While we still have more than enough (we use them beyond swaddles as everywhere blankets for her carseat, stroller, play, etc.), I like to have options so we can color coordinate 😉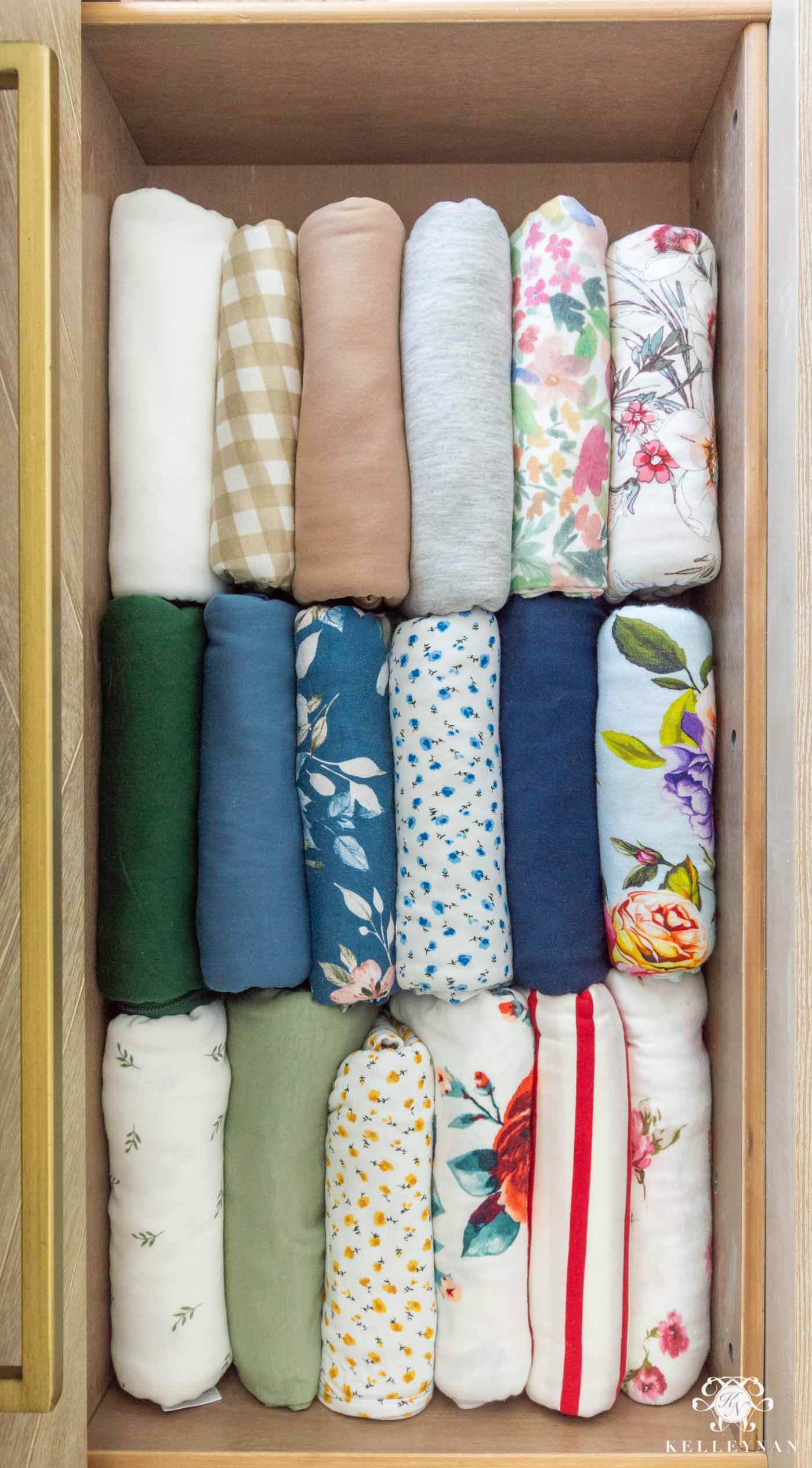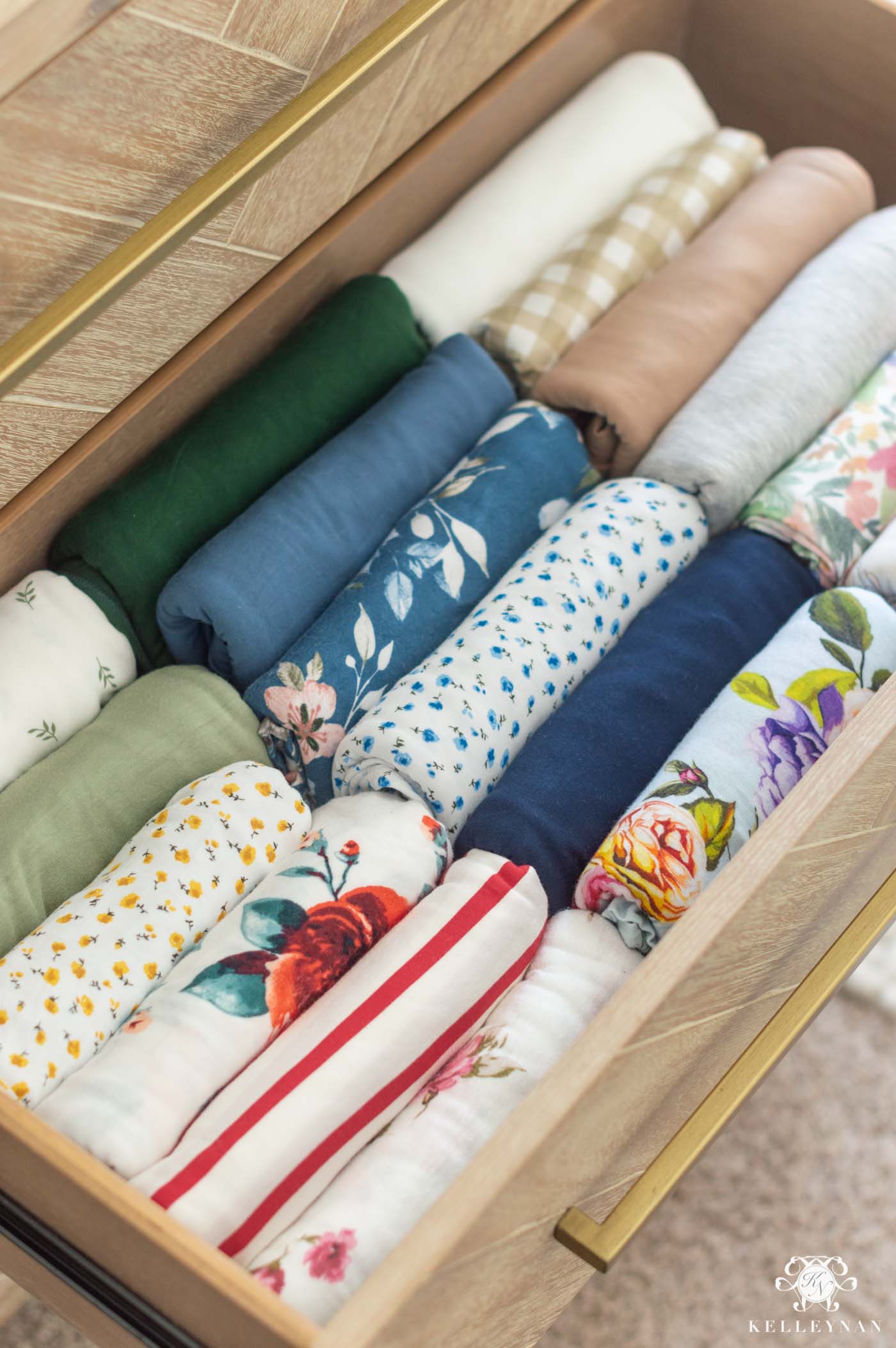 Drawer 5:
blankets
covers/small blankets for the changing basket
I have "room to grow" in each dresser drawer but it is most evident here. As with any organization project, if you try to cram too much in, or fill your space to the brim, it likely won't stay tidy for long. It just isn't practical. The great thing about expandable drawer dividers is that they aren't permanent and they can shift/be repurposed as your needs change or evolve.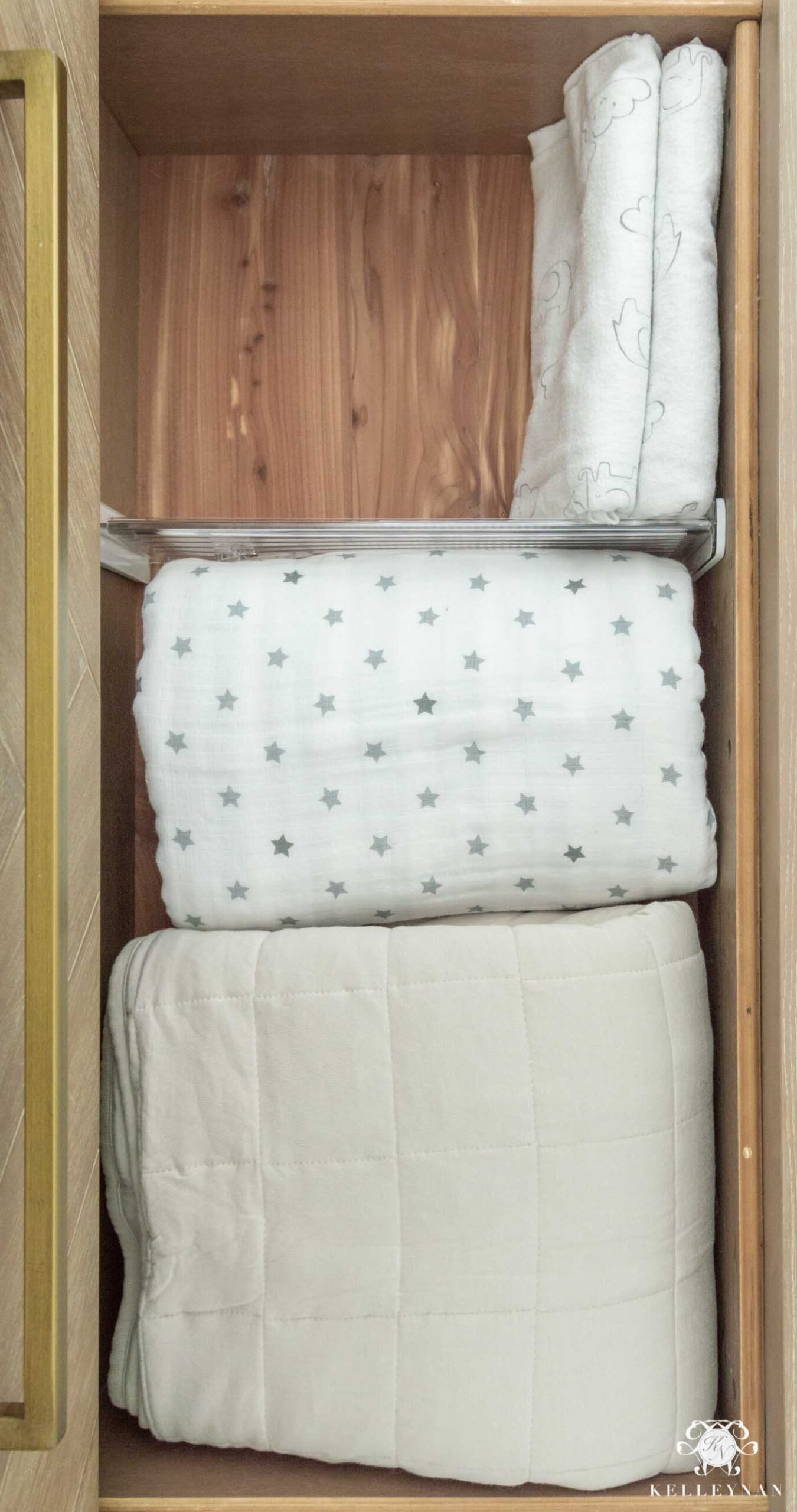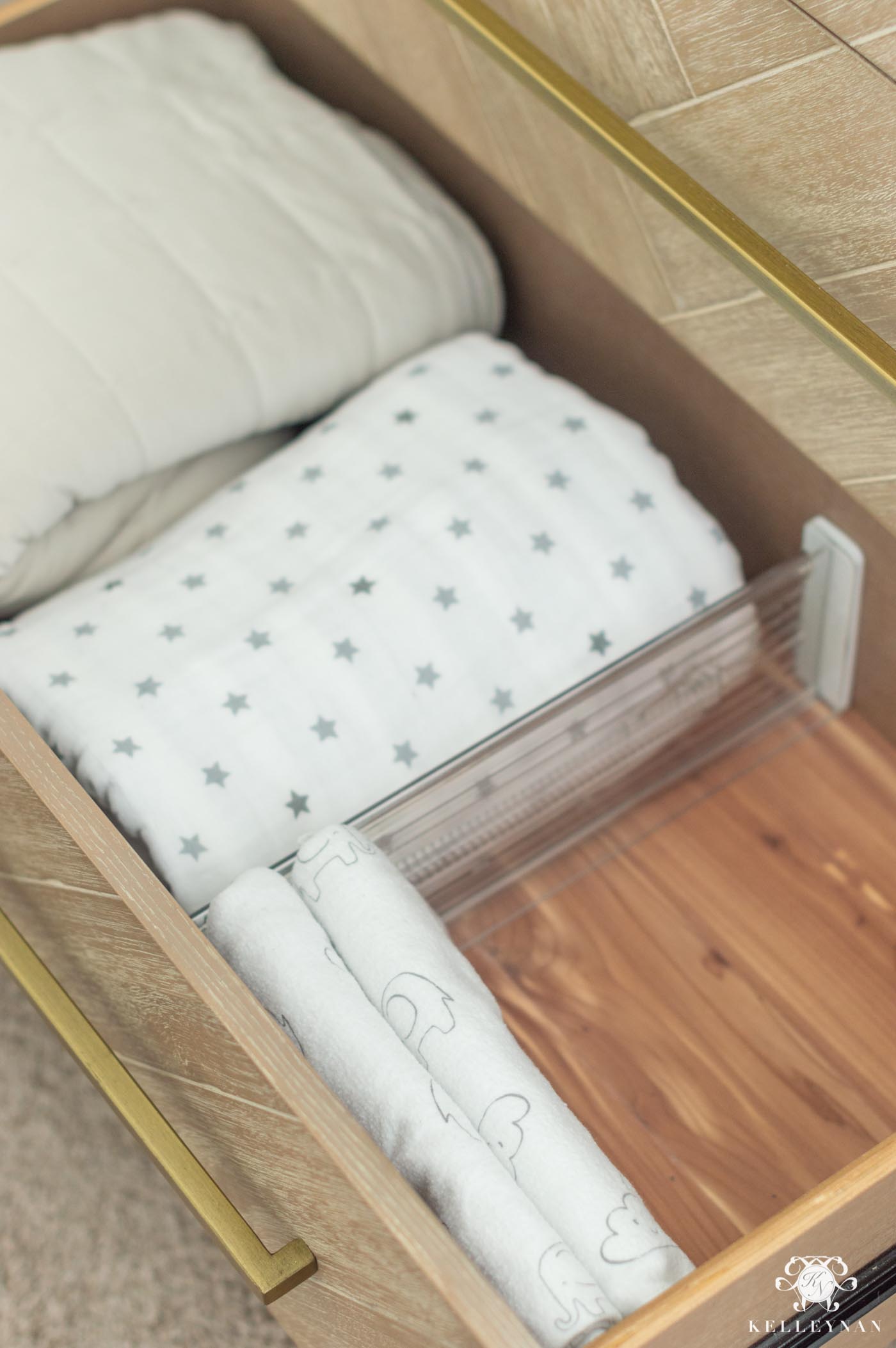 Drawer 6:
crib sheets
bassinet sheets
spare mattress protector
ring slings/wraps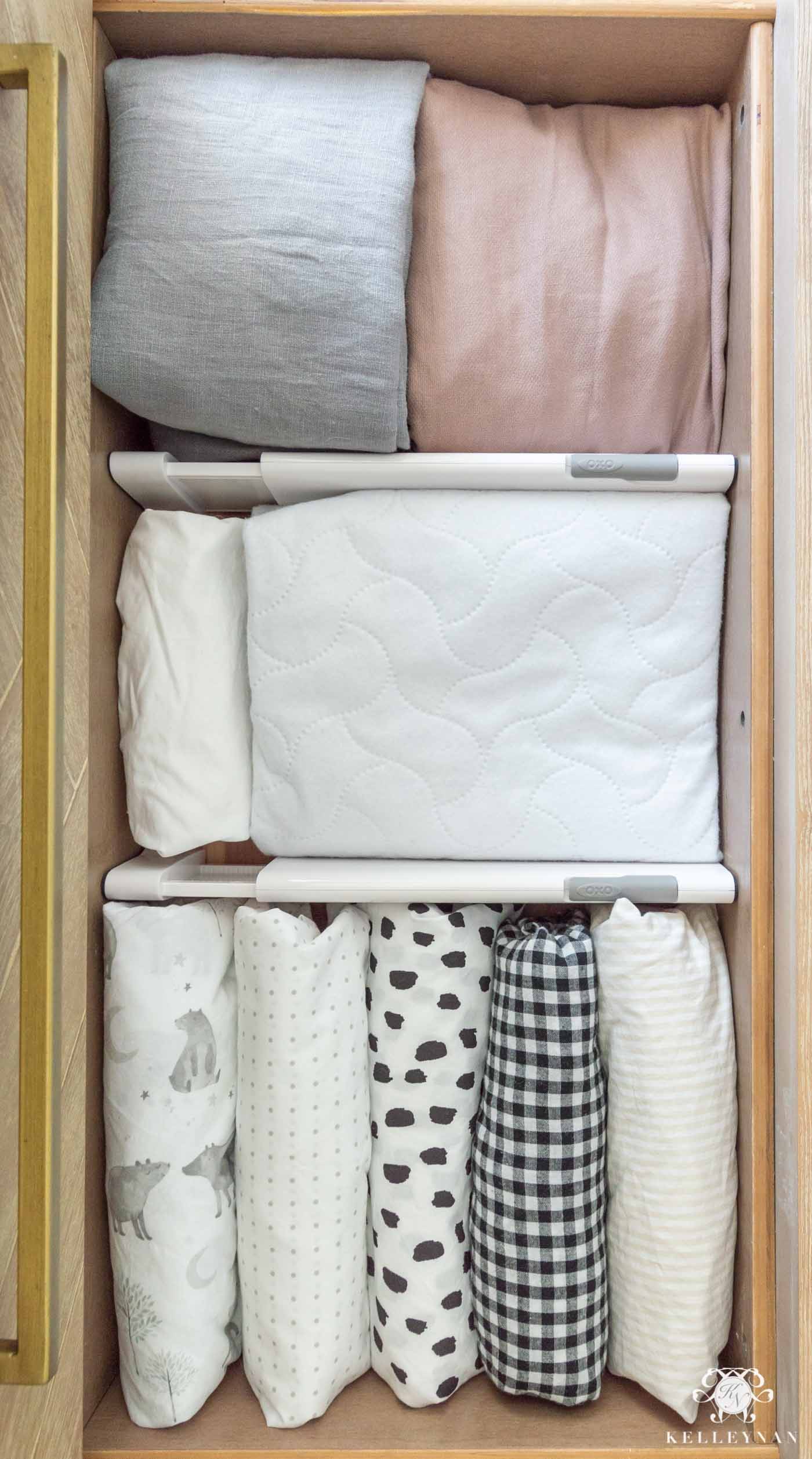 Sources for Crib Sheets: Blue & White Gingham | Oxford Stripe | Black & White Gingham | Brushstroke Dot | Sweet Dot | Bear  
Spare sheets is one of those things I felt like people really talked about needing a ton of. I don't know if it's that I do Eliza's laundry more often than some or if she's just really tidy right now but I would literally be fine with two crib sheets — I would recommend three, to be on the safe side, for anyone. While we have a few spares, I actually returned a couple that were never taken out of their packaging about a month after Eliza started sleeping in her crib and I saw what that all looked like 😉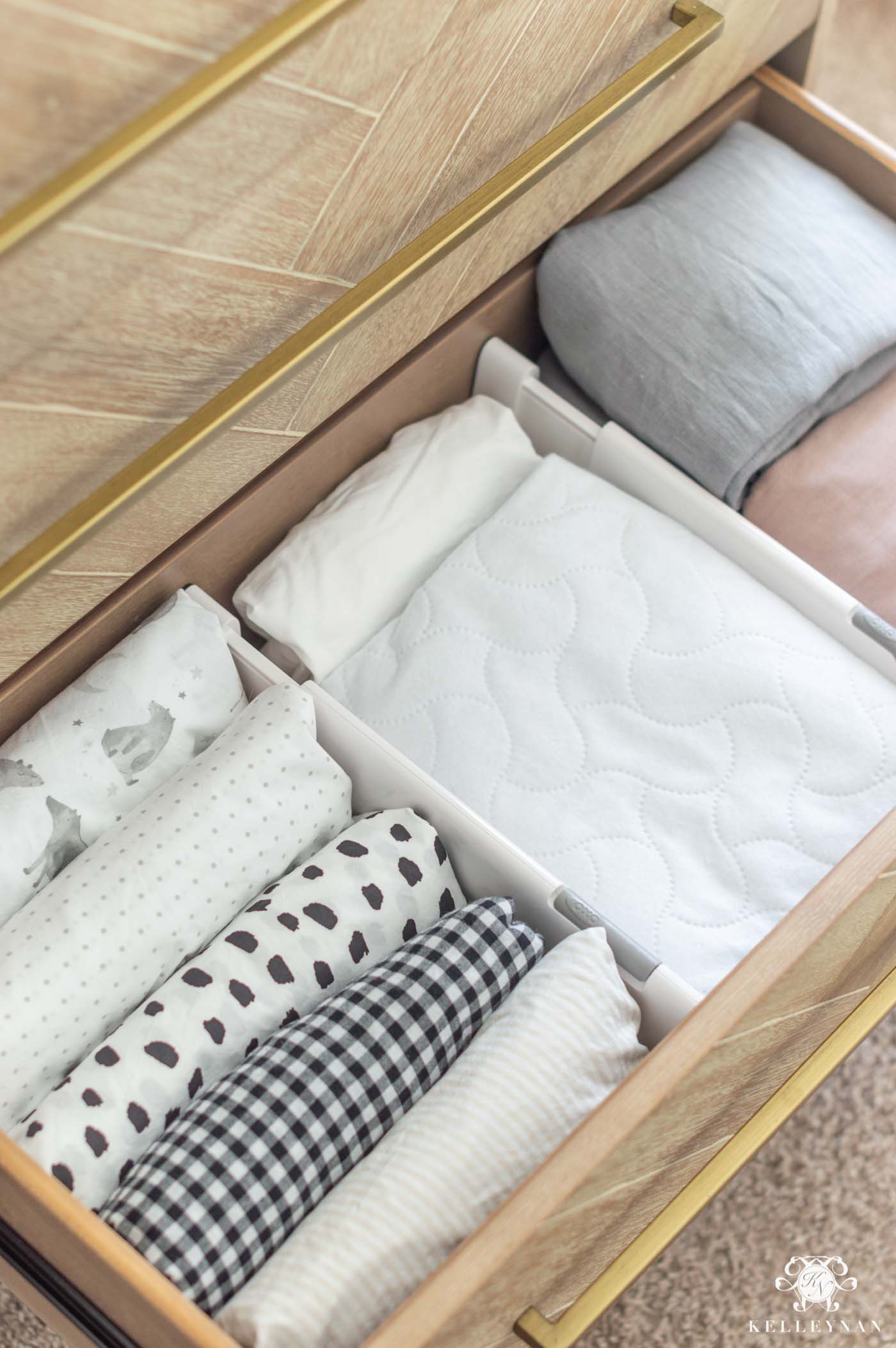 Regardless of where you are in the process, you will have things you don't use and there will be things you have to get more of. You may feel overwhelmed on the *whats* and *hows* until you're living it as it's so hard to predict ahead of time, but if you're stuck or need some sort of semblance, this is a good place to start. My biggest tips to ensure preparedness when you are ready to tackle the nursery dresser organization is to:
Stock up on the expandable drawer dividers. Any you don't use can be repurposed around the house.
Get the wipe dispenser and save yourself the frustration (and wasted wipes).
Don't save everything if you don't need/want it! There is no shame in setting aside some thoughtful gifts for donation that would better serve another family.
Categorize and sub-categorize.
Create other storage solutions in the closet, in the bathroom, in cubbies, in a linen closet, under the crib, etc. so your baby's dresser isn't having to support the entire stock (and back-stock) of their whole arsenal of essentials.
Lastly, don't fold fold or stack things in weird ways. I know that sounds weird but this has to work for you. For you to keep up with your organized dresser, you've got to consistently repeat the same techniques when it comes to folding, rolling, etc. Make sure you're creating folding systems around what's typical and comfortable for you.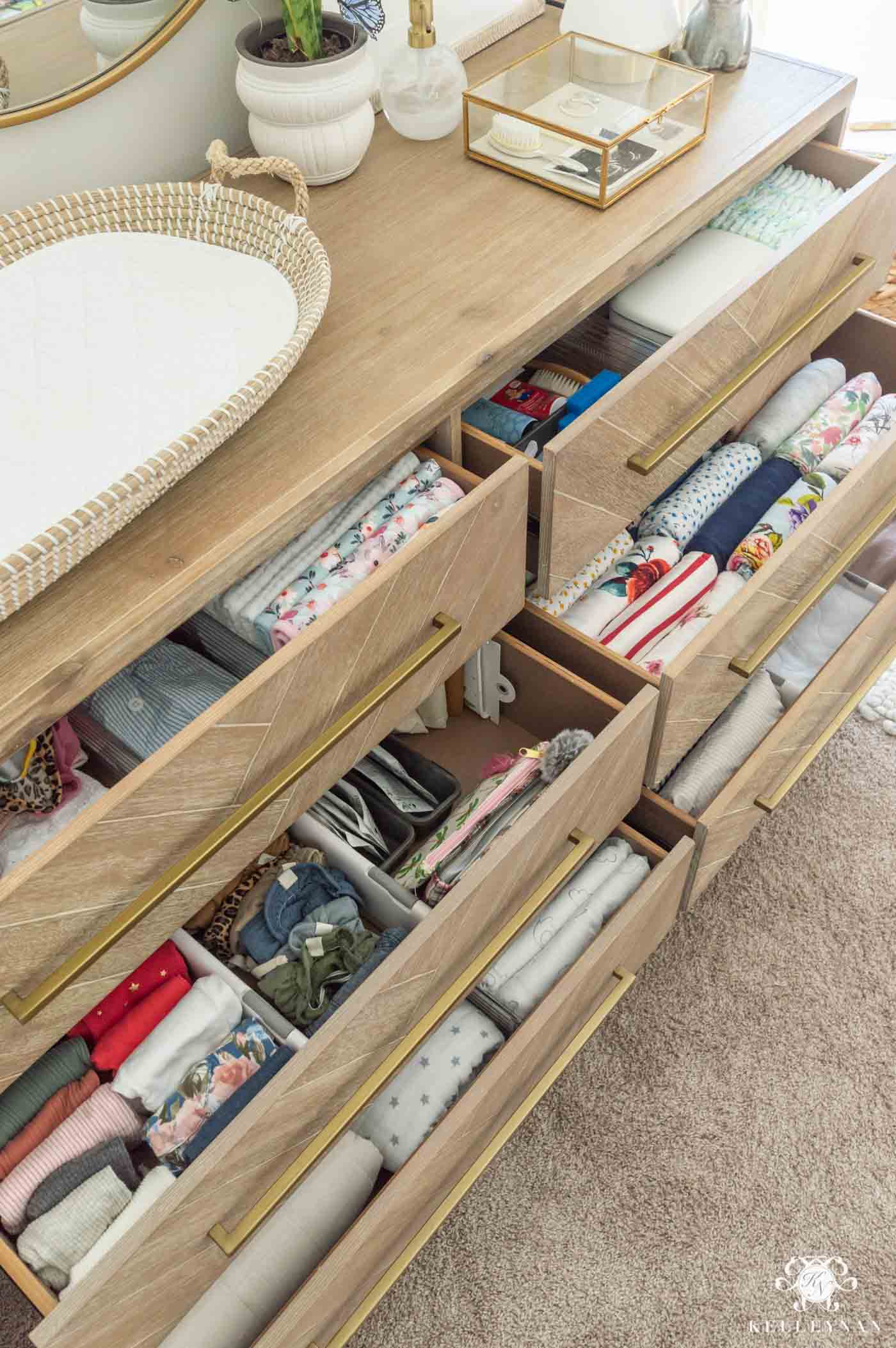 Any nursery organization tips you swear by? Hacks that other parents should know when it comes to staying tidy and "together"? Let us know in the comment box at the bottom of the post! For more organization, baby, family and home project updates, be sure to subscribe to emails HERE.
OTHER POSTS YOU MAY BE INTERESTED IN
*Check out other home organization projects in the "Organization" gallery HERE.*