I get requests for roundups often, but every once in a while, I get a very specific request. Today, I've pulled together the result of hours of online scouring over the course of multiple weeks to share one — flush mount lighting under $100. To me, flush mount lights are some of the most difficult to decide on because lights on chains with long arms are easier to make an instant statement, based  solely off their size and ability to have more elaborate details. Depending on your goal, it can be tougher to make an impact with a smaller light — then again, streamlined and clean may be your goal, depending on the space. From more discreet fixtures to the more intricate and unique, I've found 12 cheap flush mount lighting options that don't feel cheap and still offer interesting design elements that make each light choice appear intentional, personal, and well thought out.
*Posts on KelleyNan.com may contain affiliate links. Click HERE for full disclosure*
*All lighting prices reflect prices under $100 at the time of publishing. Like all rising costs, increased prices are inevitable and subject to change.
When to Use Flush Mount Lighting
Flush mount or semi-flush mount lighting is pretty much a necessity for homes/rooms with low ceilings. Sometimes, you can get away with a pendant or smaller chandelier over beds or tables in rooms that don't have high ceilings, but even then, if the room is small scale, something hanging down could create too much visual clutter. In our home, we have flush mount ceiling light fixtures over our catwalk, in closets, and in our laundry room. In our more prominent areas — like the catwalk hallway that overlooks the great room — I extended our budget a bit while I was more conservative in some of the secondary spaces. Whether your budget is $600 or $100, there are still pretty flush light fixtures that aren't as costly.
Flush Mount Lighting Under $100
Several lighting options pictured below come in multiple finishes with different color fabric shades and some even come in a couple sizes — if you are planning a flush mount light in a larger space like a bedroom or living space, try to go as large as you can while still being mindful of the fixture height. Ideally, in these types of areas, try to keep at least 7′ between the bottom of the light and the floor.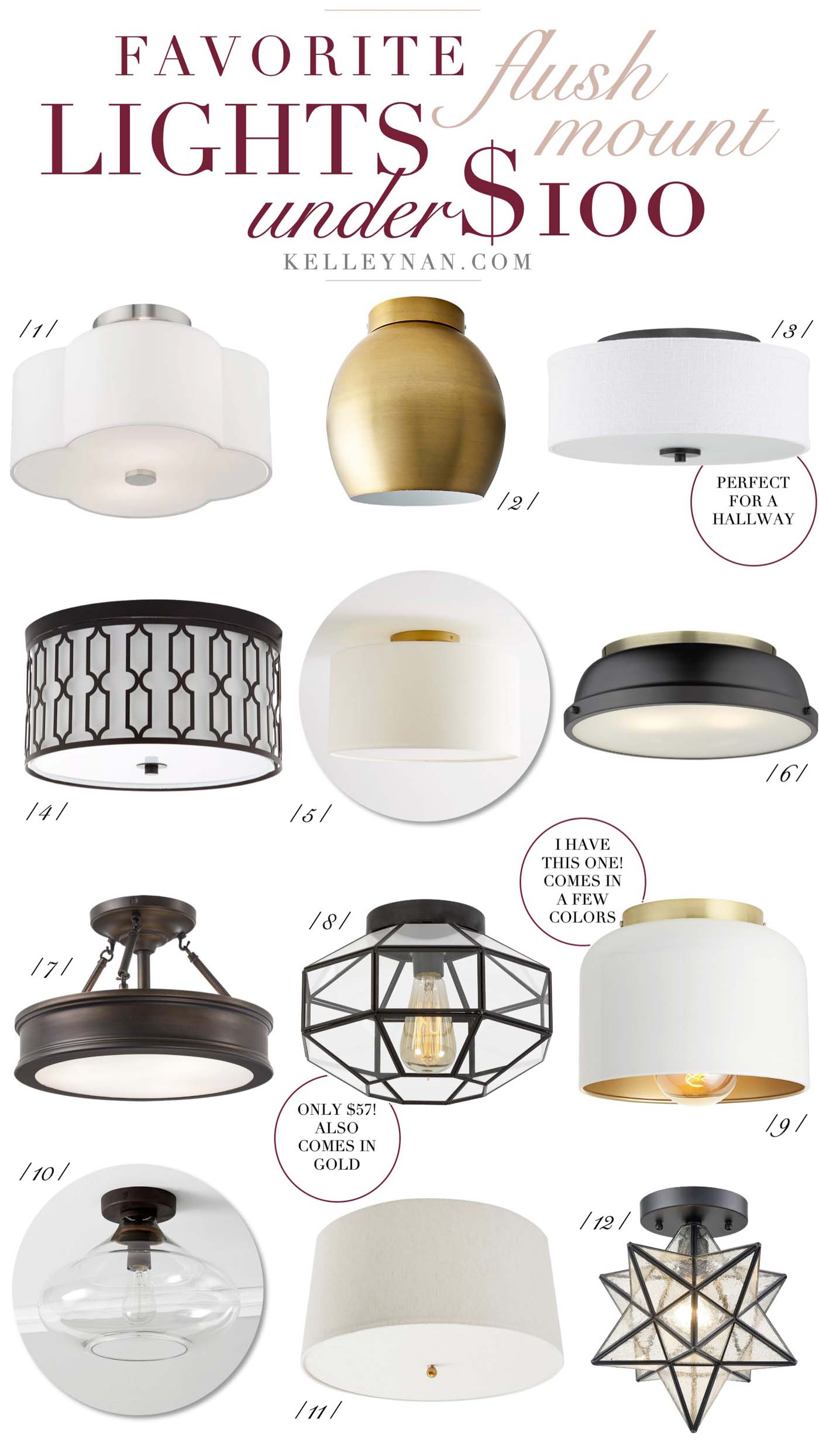 1 // 2 // 3 // 4 // 5 // 6 // 7 // 8 // 9 // 10 // 11 // 12 
Scroll & Tap to Shop

I especially love Number 11 for a series of multiple lights in a hallway; it also comes with a silver finish in addition to the brass/gold that's shown. Number 2 would be a cool option in a small space and I like the idea of Number 10 and Number 12 in a mudroom. I actually have Number 9 (which comes in several colors and finishes) in my large office closet with all the wrapping paper and pillow organization (you can see that project HERE).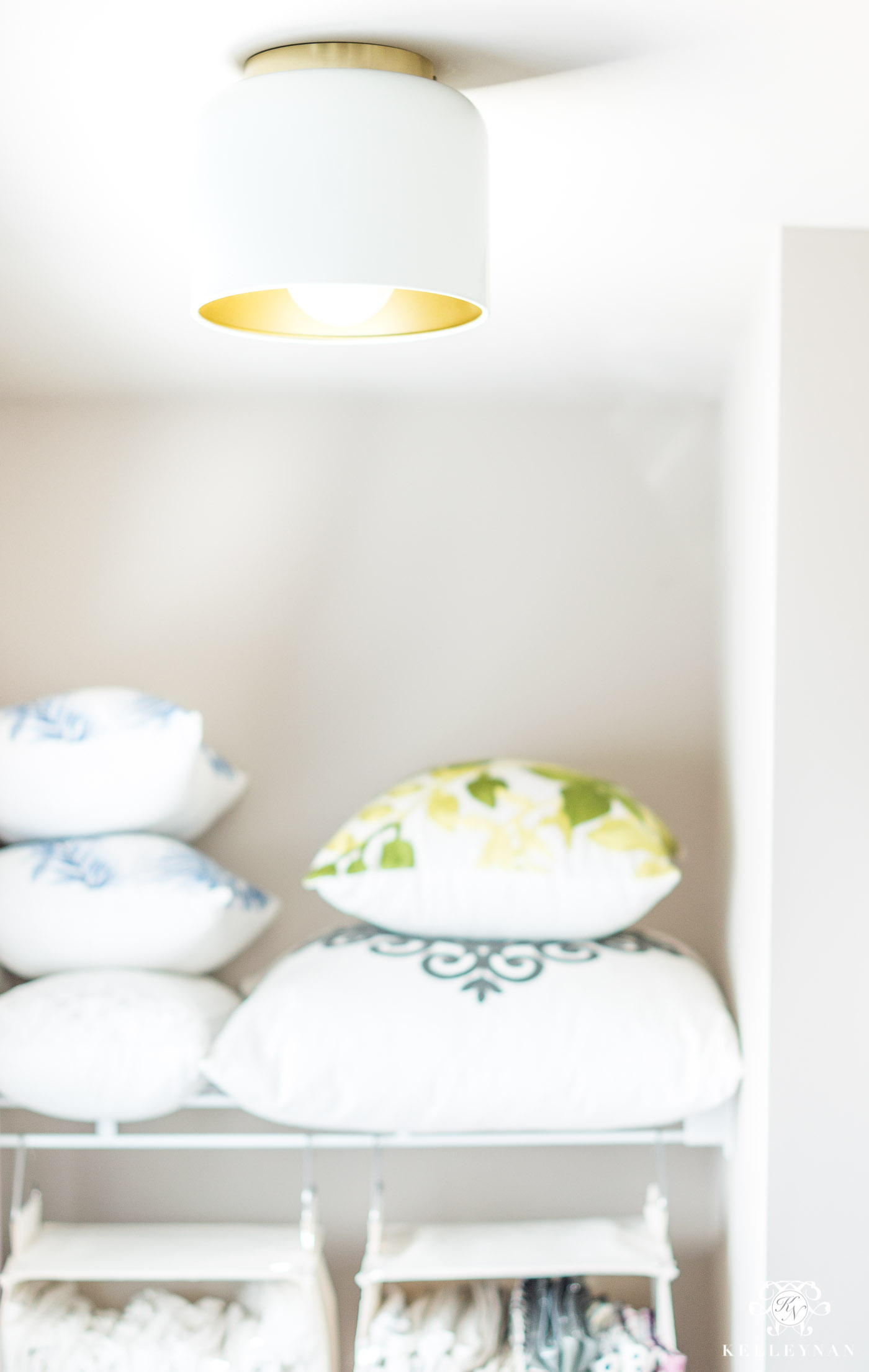 For any fixtures that are open on the bottom, like the light above, consider a fun lightbulb with warm lighting or a clear filament bulb to round out the entire look. Here are a few…

My next lighting quest — that's been a long time coming and I still have no idea when we will make the time or effort to get to it — switching out our huge fan in the great room… If you're thinking of other lighting updates, be sure to check out these posts.
Other Lighting Posts You May Be Interested In