We're past due for a new Snack Around the Plate so with the primary theme of comforts at home, today I'm talking about everything from my favorite pillow and our front porch rocking chairs to the electronic accessory I don't want to live without and a roundup of acts of kindness (as polled on Instagram). Let's go ahead and jump in!
*Posts on KelleyNan.com may contain affiliate links. Click HERE for full disclosure*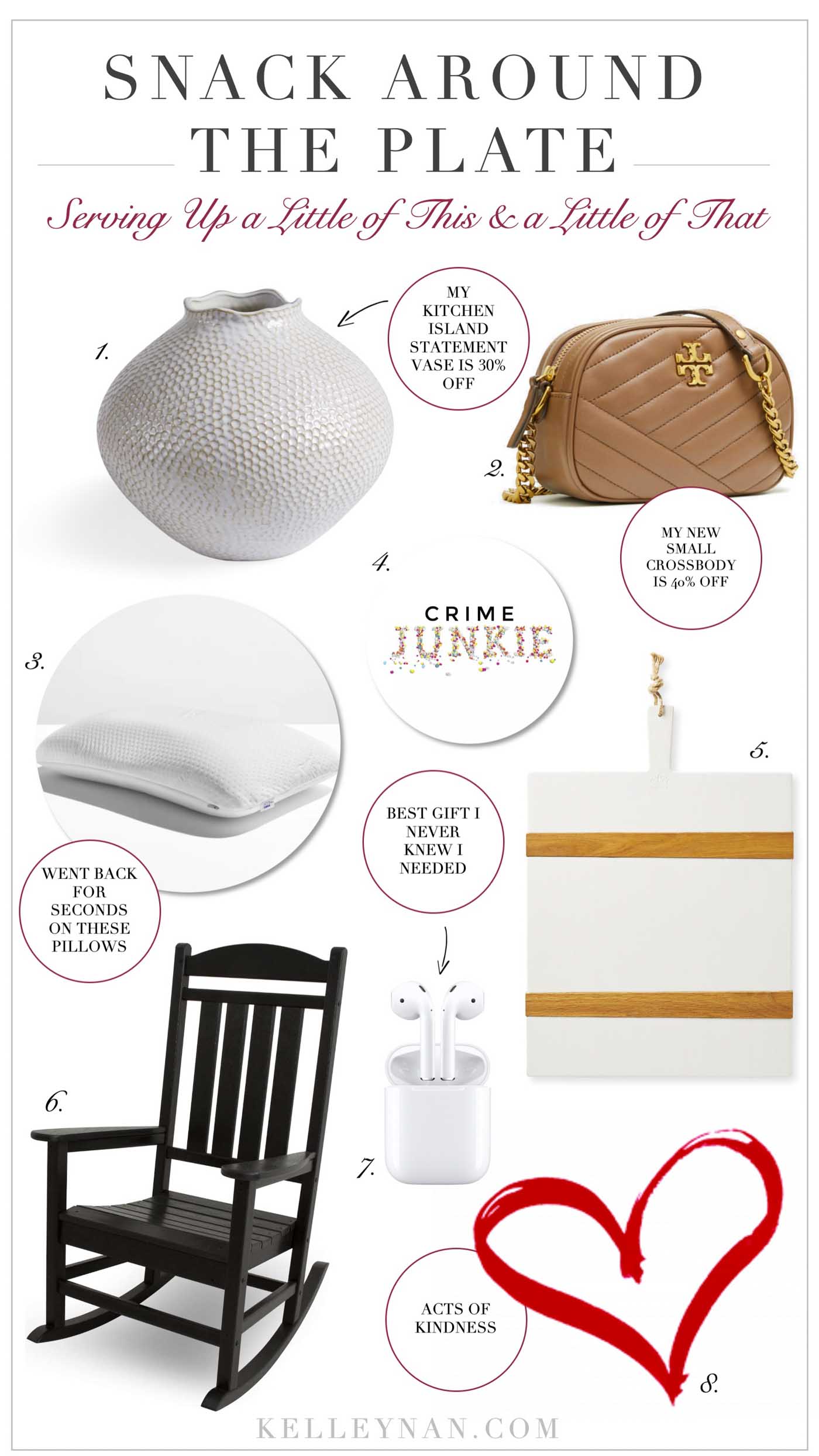 1. Statement Vase // I've used this huge vase (maybe exclusively?) the entire past year for stems on my kitchen island. It's carried real, faux, cut-from-the-yard, thin stems, thick branches, and everything in between. It's one of my favorite pieces and this weekend, it's on sale for 30% off! You can shop it HERE and see some of its looks throughout the past year below.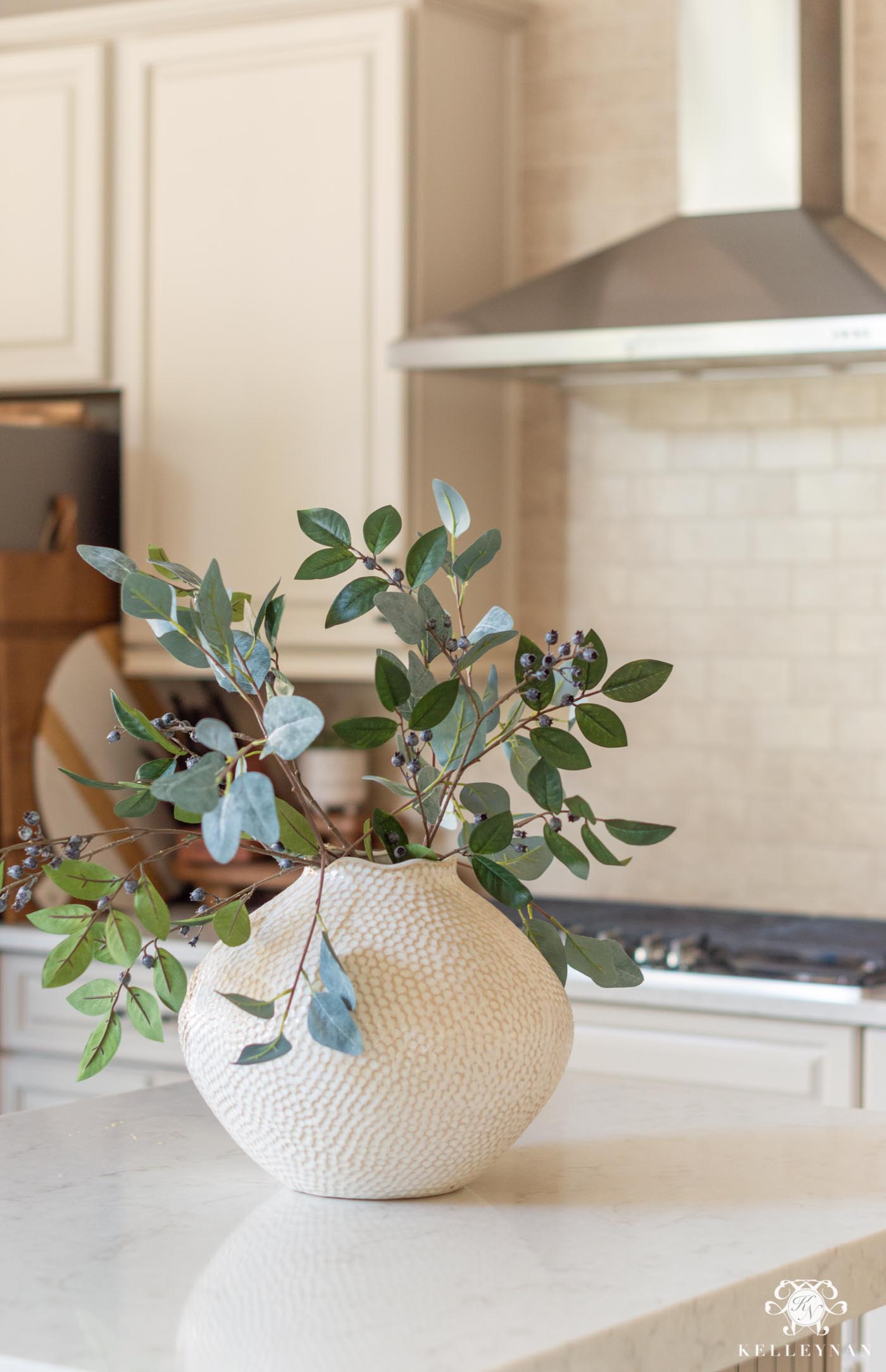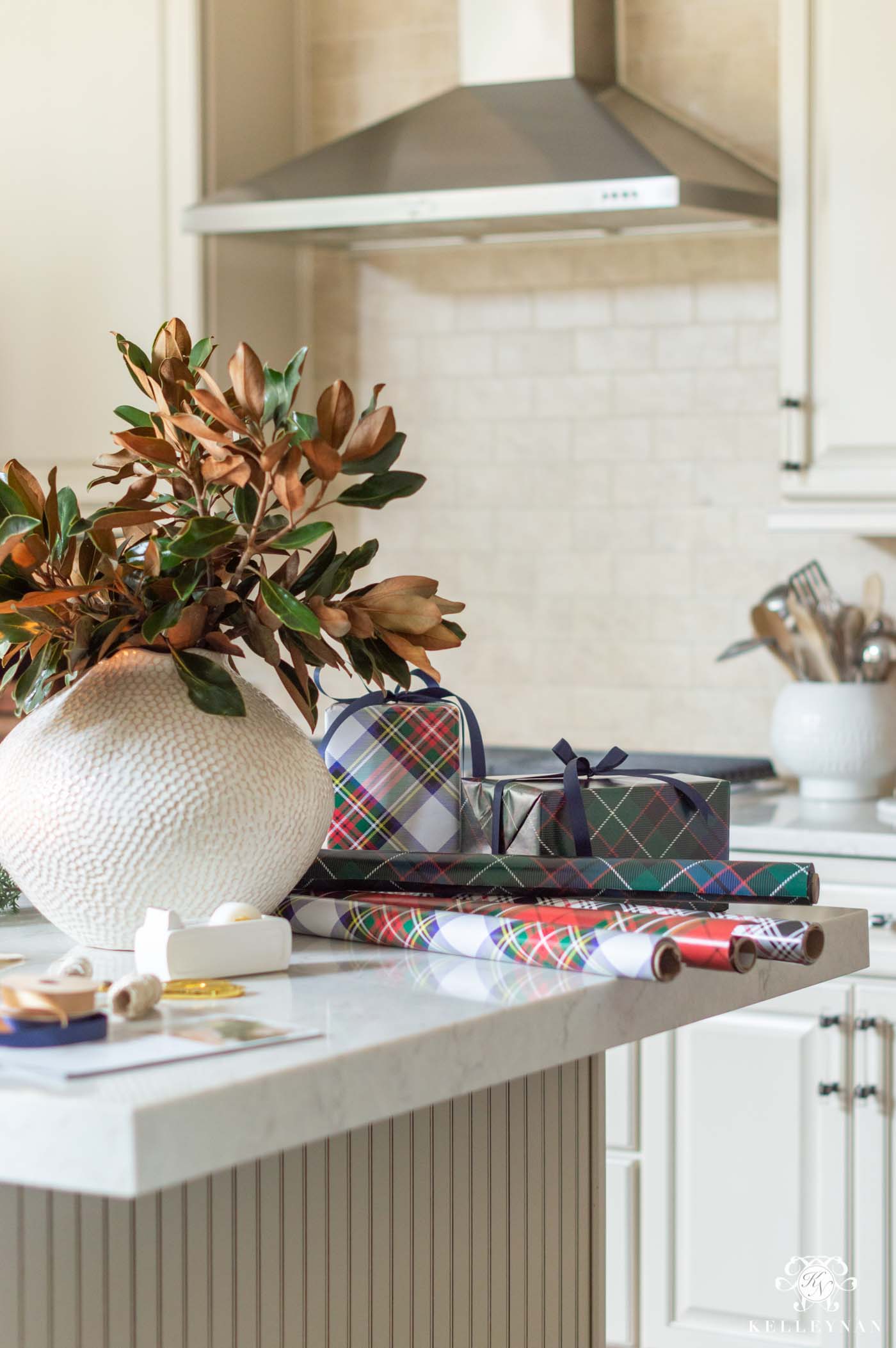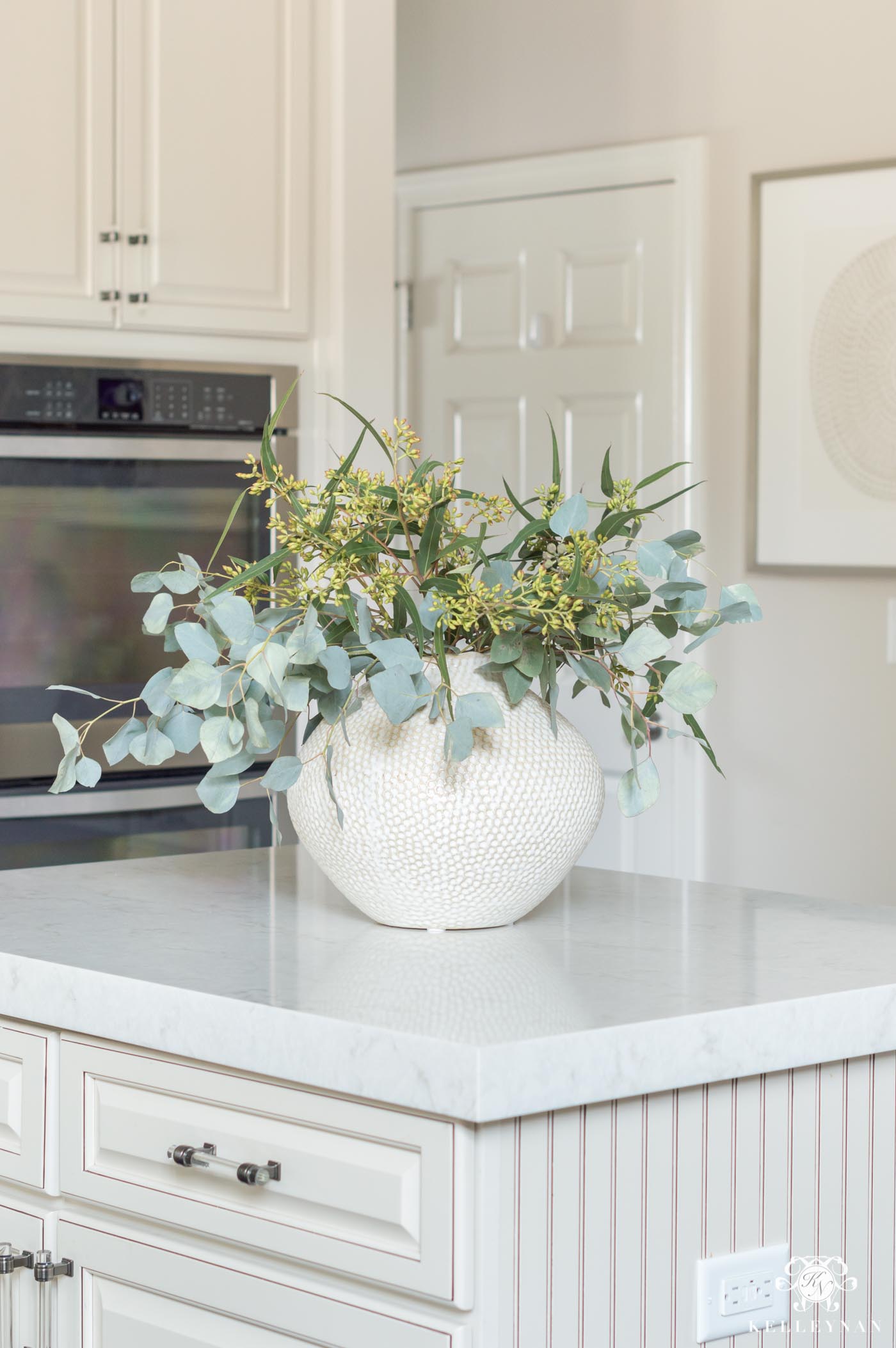 2. Tory Burch Small Camera Bag Crossbody // This past year, I had two failed TB handbag purchases (actually, gifts for both my birthday and Christmas); I wanted a crossbody that was on the larger side and didn't like how either of the two bags "fell" once I got them. So, when I saw the same line of Kira bags (a soft lambskin with chevron-like stitching and gold hardware) was on sale for 40% off in a few colors, I decided to give it a try. It was totally different than I originally planned — way smaller, just for essentials — but I realized I was actually in more need of something small I could throw on for errands/outings anyway. Well, it arrived and I LOVE IT! It is so soft and incredibly lightweight. I got the taupe color (marked down from $358 to $209) but the candy apple red version is also discounted right now.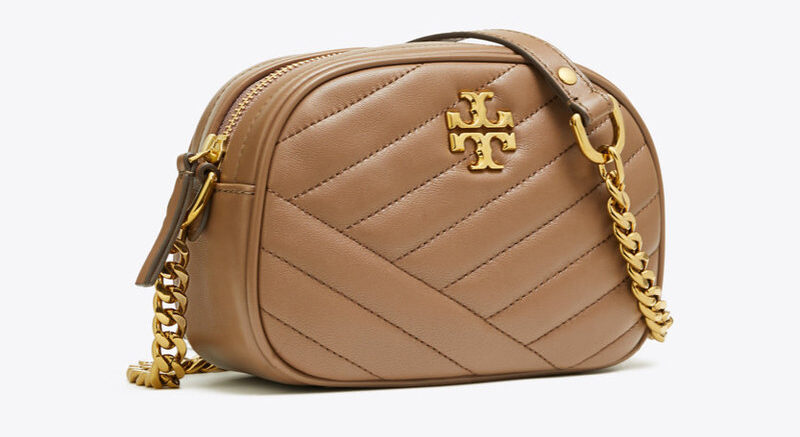 I also got this mini wallet to go along with it — it comes in several colors but I sprung for the blue; it fits perfectly inside.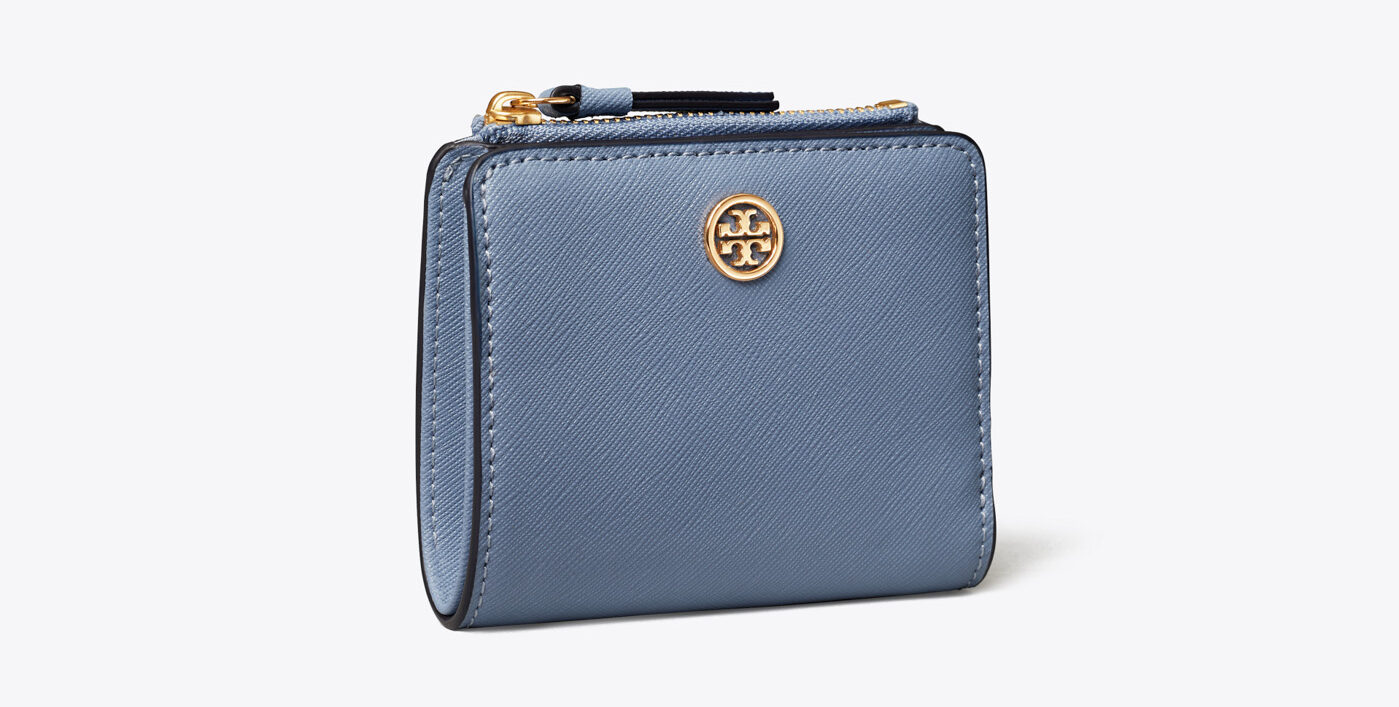 3. Tempurpedic Pillow // I've had this pillow for about seven years and it was finally time to consider retiring it. Ok, maybe it was past time haha. I set out to see if I could find my favorite pillow and lucked out; I ordered us a new pair and officially tossed our former two! It's a dense memory foam but isn't too hard like some can be. If you prefer something foam (or maybe you've never tried a memory foam pillow??) give this one a try.
4. Crime Junkie Podcast // My friend, Kris — of DrivenbyDecor.com , turned me on to this podcast when I called her asking for a quick recommendation after a failed audiobook during a road trip. If you like true crime, you'll love this one! I have listened to others where I didn't connect with the hosts but the Crim Junkie ladies are so engaging to listen to and each case totally grips my attention! Turn this one on while you're making dinner or doing chores to switch things up a bit.
5. Large Two-Toned Board // I have a large round white/wood toned board that I receive ongoing questions about but unfortunately, it went in and out of stock and has been back out of stock for a while. I just found this large white and wood toned board, made by my favorite brand of boards (they make THIS one that I have, also!). Use code ATHOME for 20% off this weekend HERE.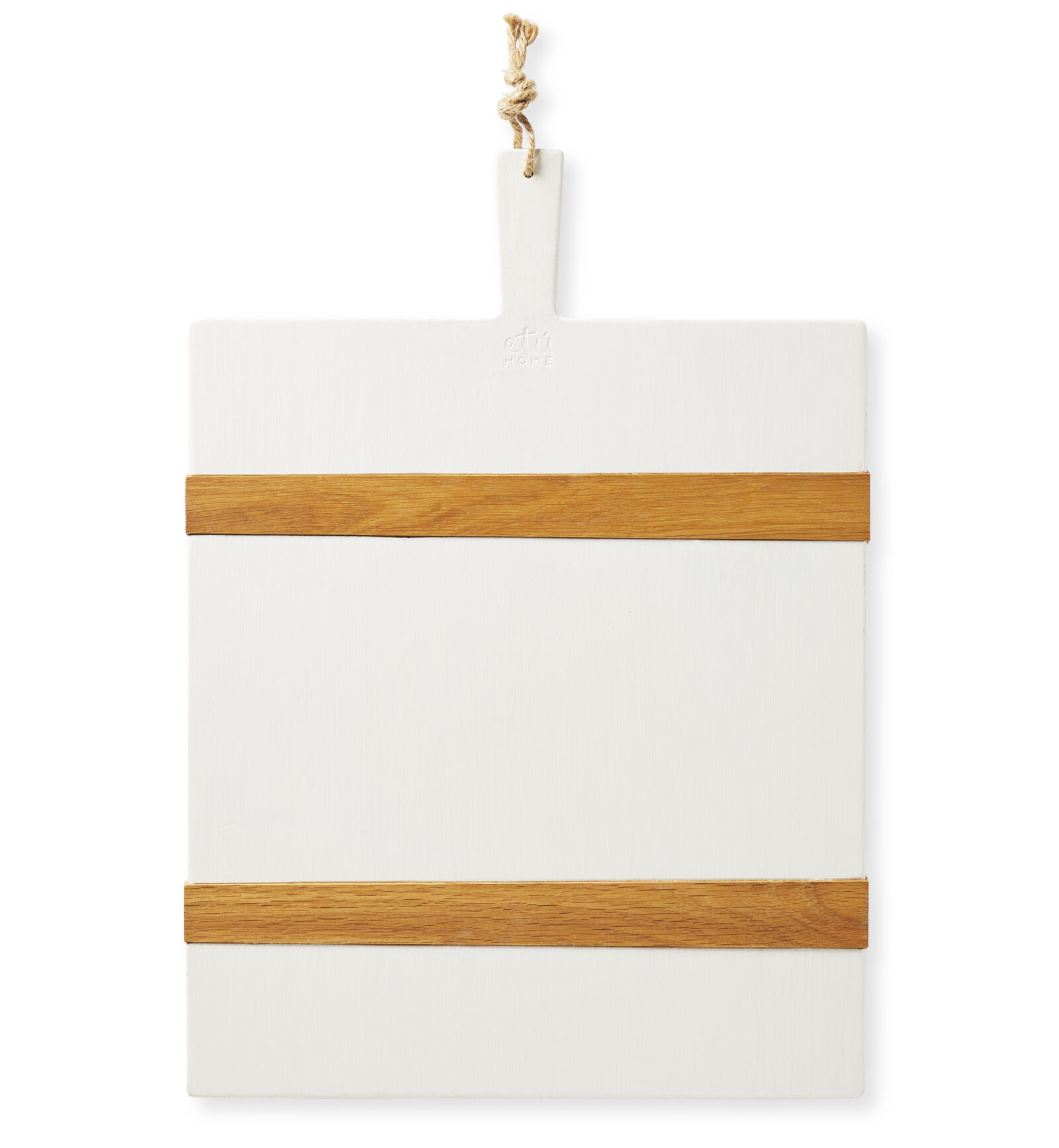 6. Polywood Rocking Chairs // Five years ago, I invested in a pair of polywood rockers for our covered front porch. With our harsher weather elements and Georgia heat, I decided it was worth it to spend the money on something that would LAST and wouldn't fall apart, splinter, need re-painting, etc. Today, 6 springs later, they still look as good as they did when we first got them. At the time, they were a little more than $600 for the set. Well, they are now down to $199/chair (a deal so good, I went ahead and ordered a set for my mom for when she moves here late this year). They come in several colors (I have black for both), are smooth, and have been worth their weight in gold! You can check them out, get the details, or shop them HERE.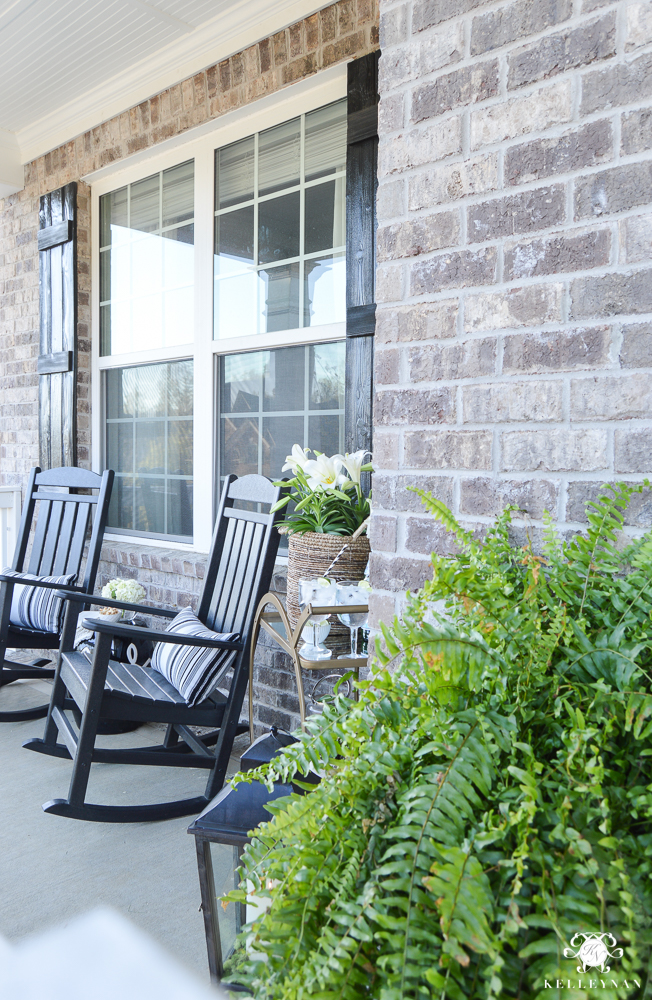 7. Airpods // Airpods are one of those things I always had on my "like to have" list but honestly, didn't think I would have a serious use for them. Dave surprised me with a pair and I'm shocked at how much I use them. Every. Single. Day. I pop them in and can talk on the phone while I do chore hands-free, fold laundry, hop on the treadmill, type on the computer… And they are small and effective. My favorite use for them probably, though is that at the end of the day, if I'm on dinner duty, I can pop them in, tune out for a little break and watch a show on my iPad while I cook — but still see Eliza and Dave playing from the kitchen. Like a little escape while still being present. I just ordered Dave a pair that should be here soon 😉
8. Acts of Kindness // I am all about hearing the positive stories these days and think that anything that can touch our hearts, give hope, and remind us that we are all in this together is a good thing. I reached out to my Instagram story audience to share acts of kindness they had either given or received in recent weeks and was floored by the response. While I couldn't include them all, I wanted to provide a sampling and variety of what was shared — whether you need to be uplifted or are looking for ideas, check out the goodness below.
We donated our stimulus check to our local food bank. So thankful for their work!
Paid for someone's groceries. Person in front of me had their credit card declined :/
I cook and grocery shop for my aunt every week and drop off at her door without contact.
Homemade soup and bread left on the doorstep of our elderly neighbor
Supported my local food bank.
Phone calls to check in on elderly neighbors.
Prepaid for next appointment with my hair stylist
My daughter sourced and sent me a case of toilet paper.
My dad had my favorite food from Chicago shipped to my door.
Dropped off wine and a skin care set to a friend!
I filled plastic eggs with candy and printed coloring pages for a family with little kids.
Cut out paper hearts and put them on neighbors front door with reasons we love them.
Made homemade hand soaps for the delivery people.
Making baked goods for older friends to enjoy.
I put together a "thank  you" basket for the nurses at my dad's assisted living facility.
Received homemade cookies from my daughter.
We bought toilet paper for our elderly neighbor who told us she was almost out.
A coworker brought over candy and wine yesterday and left it on our doorstep!
Made a meal for others.
Received fresh bread and cookies.
I made masks for friends.
So many dessert deliveries!
The neighborhood moms have a support group so we can vent to each other about homeschooling!
A neighbor left a container of Clorox wipes on my doorstep. It was not expected
A neighbor left five masks at my front door and I cried.
Gave paper towels to my brother-in-law who couldn't find any.
A neighbor left out Easter treats for all the kids on her mailbox for two weeks.
Yesterday was my birthday. My brother and his two kids knocked on my door, stood outside, and sang happy birthday to me from the sidewalk.
I organized food trucks for our neighborhood!
I am a nurse and neighbors put a sign in my yard that said a Healthcare Hero lives here.
I've been sharing eggs with my friends and neighbors as fast as the ladies can lay!
A neighbor just had a baby. Struggling with feeds, I dropped off our baby bottles for her.
Sent a stranger a $30 Target gift card that needed essentials for kids.
I dropped off tulips and a mask to a friend.
Picking up groceries for my elderly aunt and adding fresh flowers in to brighter her day.
I gave friends going through a rough patch a gift card to their favorite grocery store!
I'm an RN caring for Covid — SO much love, masks, flowers, meals, cakes, posters, and prayers.
My girls love when we pay for the person behind us in the drive-thru so we've been doing that <3
Left card/tip for mailman. Stocked up and dropped supplies for Mom. Received a book.
Snacks and water on the front porch for delivery drivers!
Gave a pack of toilet paper t my neighbors
Every Sunday night, I make and take dinner/dessert to our elderly neighbors on either side.
Our neighborhood collected $1,500 to buy meals for the Covid unit at a nearby hospital.
We received homemade heat and serve pretzels from our sweet neighbors!
Organized a pantry purge with friends (in our own homes) then donated to the local food pantry!
We left a thank you note in the mailbox for our mail carrier.
My neighbor left a basket of fresh picked strawberries on my porch.
Making and delivering face masks.
I bring my 92 year old mom meals daily and get her mail, etc. She still lives in her home.
Neighbor's daughter dropping off bananas with a bow! Also texting to check on us <3
We dropped off cookies to our elderly neighbors in our old neighborhood.
I set gift cars to the four nurses on my Facebook page
My friend brought me 24 white lilies.
My mom and I made Easter treat bags for elderly neighbors and also grocery store staff.
Grocery shopping for elderly neighbors and sending lots of cards (happy mail!)
The hospital I work for has a buddy system where you call/text with your buddy daily to check in.
We are sponsoring seniors from the local high school to support and encourage.
I have donated laundry soap, Clorox wipes, and N95 masks my hubby had.
Delivered meals from our church to members in need.
Giving and receiving treats on the front porch! Planning to give gift cards in a few days.
Give family members items like paper towels and a sofa since it started.
My daughters and I have made over 300 masks for our community.
Made dinner for my adult son who is still working hard building homes.
I gave a pack of toilet paper and Lysol wipes to a friend who couldn't find any in our stores.
We dropped off hams for Easter!
Delivered Starbucks treats with a note to my sister who's a vet technician!
I droven an hour each way to drop toilet paper off to my sister's porch.
Easter treats to my youth group!
We donated food to Meals by Grace here locally.
Someone paid for our coffee. We then bought a gift card for a local restaurant and had them apply it to the person behind us (curbside pickup these days 😉 ).
Donated $ to prevent hunger.
Surprised friends with a cookie delivery.
I've dropped some hand sanitizer and chocolates on Easter for my friends.
After baking some treats, have given them to family. Sent a cheesecake to my daughter too.
I have been writing gratitude cards to all my dearest friends!
Gift cards to cashiers or delivery people, food bags for the homeless.
Received food and goodies at the hospital. Helped a neighbor (and my mom, of course).
Gave a neighbor a hospital mask. He didn't have one.
Set restaurant gift cards to friends who had special events cancelled.
I'm an RN and both my bestie and church dropped off dinner to my family while I was at work.
Bought gift cards from a local coffee shop to give out to people working at the grocery store.
My friends sent lunch to the hospital two times and flowers to my home.
I dropped off medecine to a Covid positive workers.
My neighbor dropped off chocolate martinis yesterday evening.
Provided refreshments for our UPS drive who was flustered and having a tough day.
Cooked Easter dinner for my neighbor who is a widow and lives alone.
We go food shopping for a neighbor who can't leave his home.
My mom's a nurse. We made her a video of all her friends and family encouraging her.
Taking my best friend sis-in-law her favorite lunch and flowers — she's having a bad day.
My friend had a mask made and sent to me.
I'm a nurse and our community has donated meals almost every night for us at work!
Our UPS driver brings our newspaper up to our front door in the morning. So sweet of him.
Helped a neighbor with food. She returned the gift with bags of fruit.
My siblings have bought meals and shopped for me!
I made my parents Easter dinner and cookies and dropped it off at their doorstep.
We deliver meals to two seniors ever Wednesday and Friday since quarantine started.
Made and delivered chocolate muffins to several friends doorsteps.
My 10 year old daughter's friend dropped off a sweet goodie bag on the doorstep for her!
Two sisters from our church volunteered to sew masks and our family received them for free.
Deliver weekly groceries for my grandmother.
Supported local restaurants by having meals delivered to local hospital staff.
Cooked dinner and breakfast for new mom while watching her two year old whlie she was delivering.
Neighbors kindly asking us what we need every time they go get groceries!
Members in our church small group played the Easter Bunny, delivering treats.
One of my coworkers made masks for several of us and our families.
An Easter Lily was left at our back door on Easter morning and I have yet to discover who!
Neighbor made and delivered masks.
Flowers and delicious chocolates to an elderly friend.
I've mailed puzzles, wine glasses with cute sayings, and candles to friends so far.
Happy birthday car parade for my daughter.
Received a yard concert from my college grandkids who are musicians at Stanford.
Donated money and cards for food for local healthcare workers from local restaurants.
Neighborhood made us masks. Ordered Little Caesars and option to donate pizza to frontline medical workers.
Whether you're getting a little restless/lonely/*insert all the emotions*, I hope you're finding enjoyment out of some of the little things that we've maybe taken for granted in the past. I hope you're getting to know your family better and maybe you'll have a new hobby when this is over. Or, maybe your family is understanding you more and you'll have more help around the house. Or, maybe you'll emerge more creative than ever from putting your resourcefulness to use while spending time at home. This season too shall pass — you're doing great ;).