When we planned Eliza's nursery, we didn't know if we were planning for a baby girl or a baby boy and it was a no-brainer to decorate and furnish the space in neutrals. Remember the nursery reveal HERE? I was confident that whether we wanted to add pink or blue at a later date — or any other color/theme for that matter — we had a perfect palette. And after she was here, I loved it so much, I didn't feel the need to take it beyond the soothing scheme we had originally set for the space. She's been here 10 months now (which totally blows my mind) but we haven't tired of it one bit; I still remember every decision and how powerful and important each one seemed and I can now appreciate using the space how we dreamed we one day would. Something I didn't know until after she arrived was how much I would gravitate toward dressing our baby girl in blues, greens, neutrals and earth-tones while barely reaching for the pinks and purples I had sparingly added to her closet. Maybe it's the blonde hair, blue eyes, and fair skin… maybe it's that those colors are what I'm attracted to… maybe it's a combination (thank goodness for bows because our girl sports traditional 'boy' colors 99% of the time haha). But, beyond her tiny little wardrobe, I like decorating our home in blues, too. So, when I was itching to make a little update and infuse just a little color, I was excited to rise to the challenge, go against the typical, and transition Eliza's room into a blue baby girl nursery.
*Posts on KelleyNan.com may contain affiliate links. Click HERE for full disclosure.*
*All sources and room details can be found at the bottom of this post*
A Blue Baby Girl Nursery
While I wanted to give her room an update for spring, I didn't want to fully commit to (and invest in) a blue nursery for the next several years. I just wanted to bring in a few things to layer on top of the neutrals to freshen it up. The changes I made were small  — no rugs or curtains, much less paint or wallpaper — but it was just enough to be sweet, simple and totally fitting for a little girl.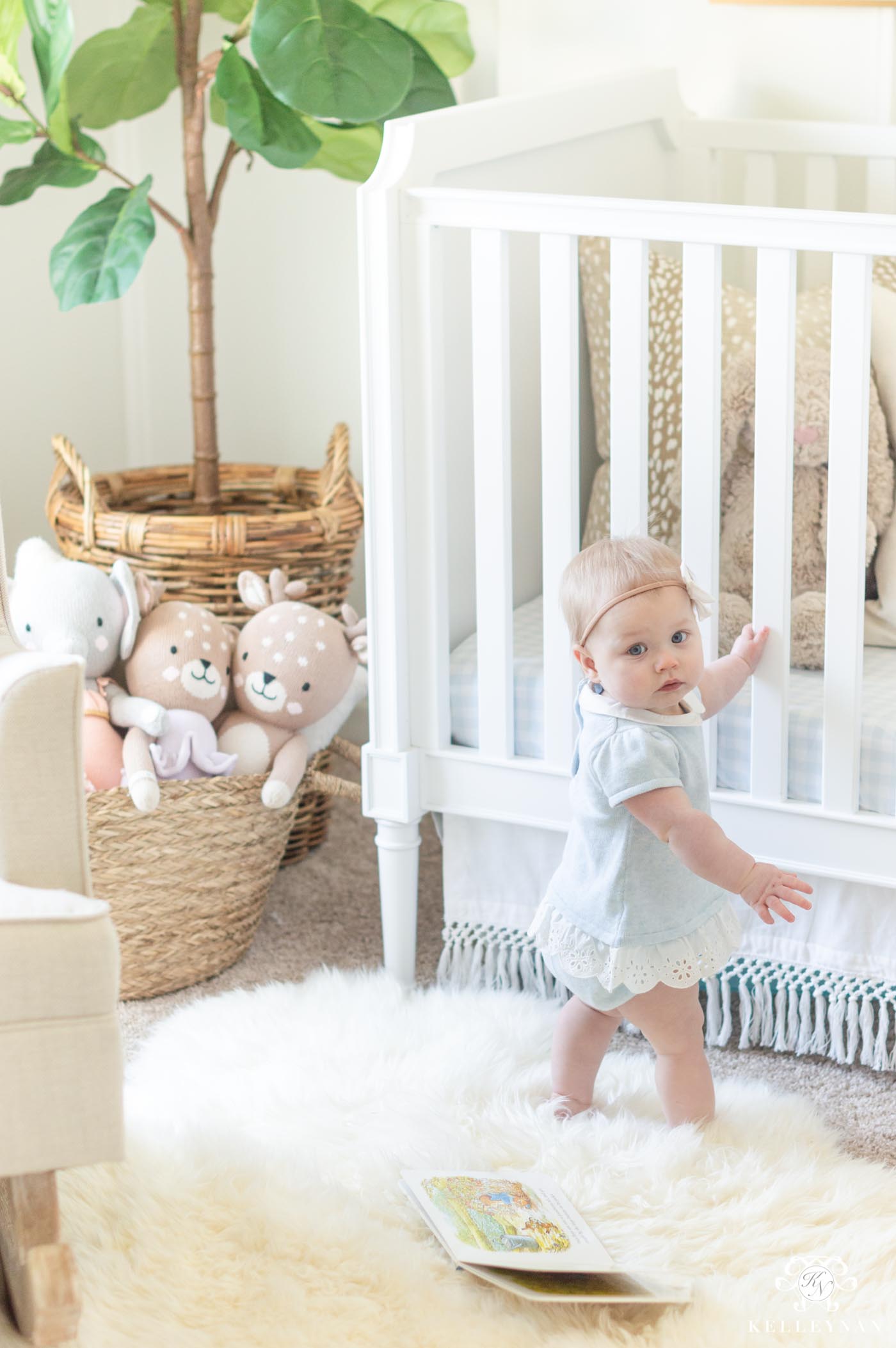 Focusing on small, interchangeable updates, this is what her nursery looks like after adding a little bit of a blue layer to her otherwise neutral room.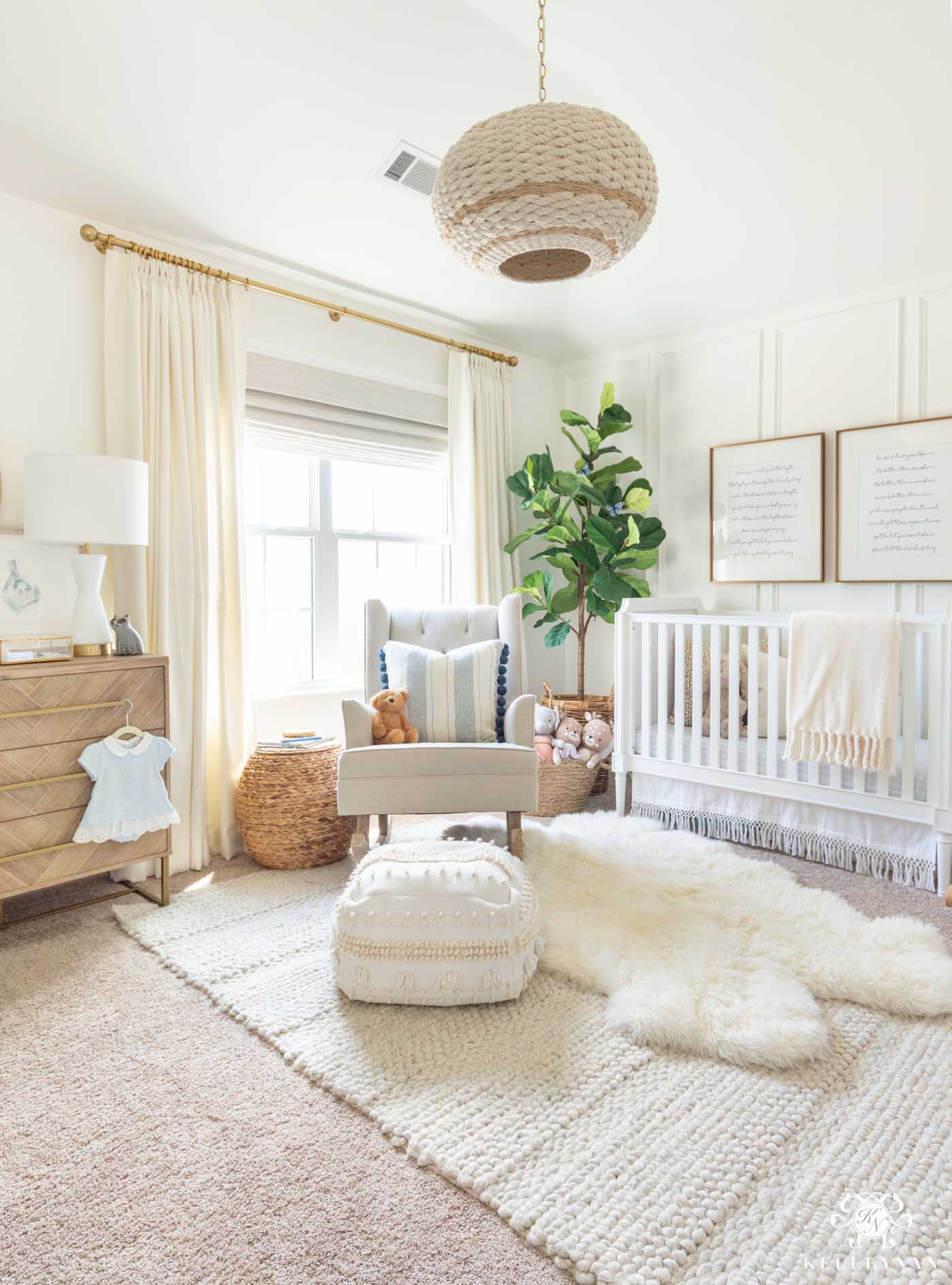 Scroll & Tap to Shop



The Blue Nursery Decor Additions
I'm a total sucker for pale blue gingham so it was pretty serendipitous that I found THIS crib sheet at the same place our other favorite crib sheet (HERE) is from. (By the way, if you aren't a blue fan, it does come in other colors, too.) Right now, the crib sheet, along with the crib skirt, crib, and striped pom pom pillow in the chair are 20% off with code ATHOME.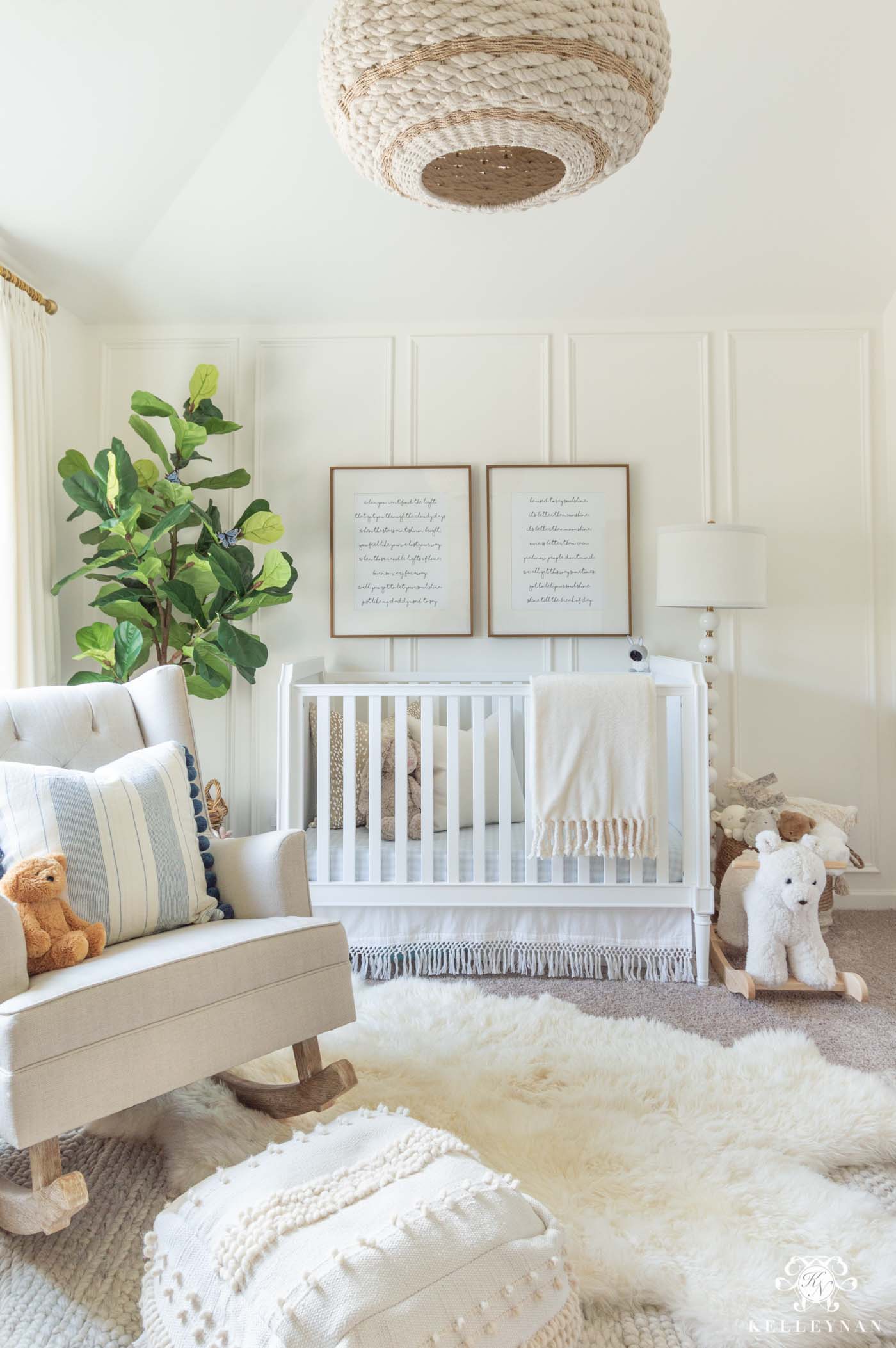 One recent challenge I didn't anticipate was that when Eliza started standing and we dropped her crib that the crib skirt would all the sudden be too long. I am borderline obsessed with that skirt, not just because of how adorable I think it is but because it allows us to stash extra diapers, wipes, and overstock underneath the crib. With limited resources and zero idea on how to properly hem something, I was able to successfully lay the skirt flat and use painter's tape to "hem" each side to the new appropriate length. I'm not gonna lie — what's going on under that mattress isn't pretty and it isn't totally secure but as long as a mattress is on top and we are extra careful changing the sheet, we're fairly solid haha.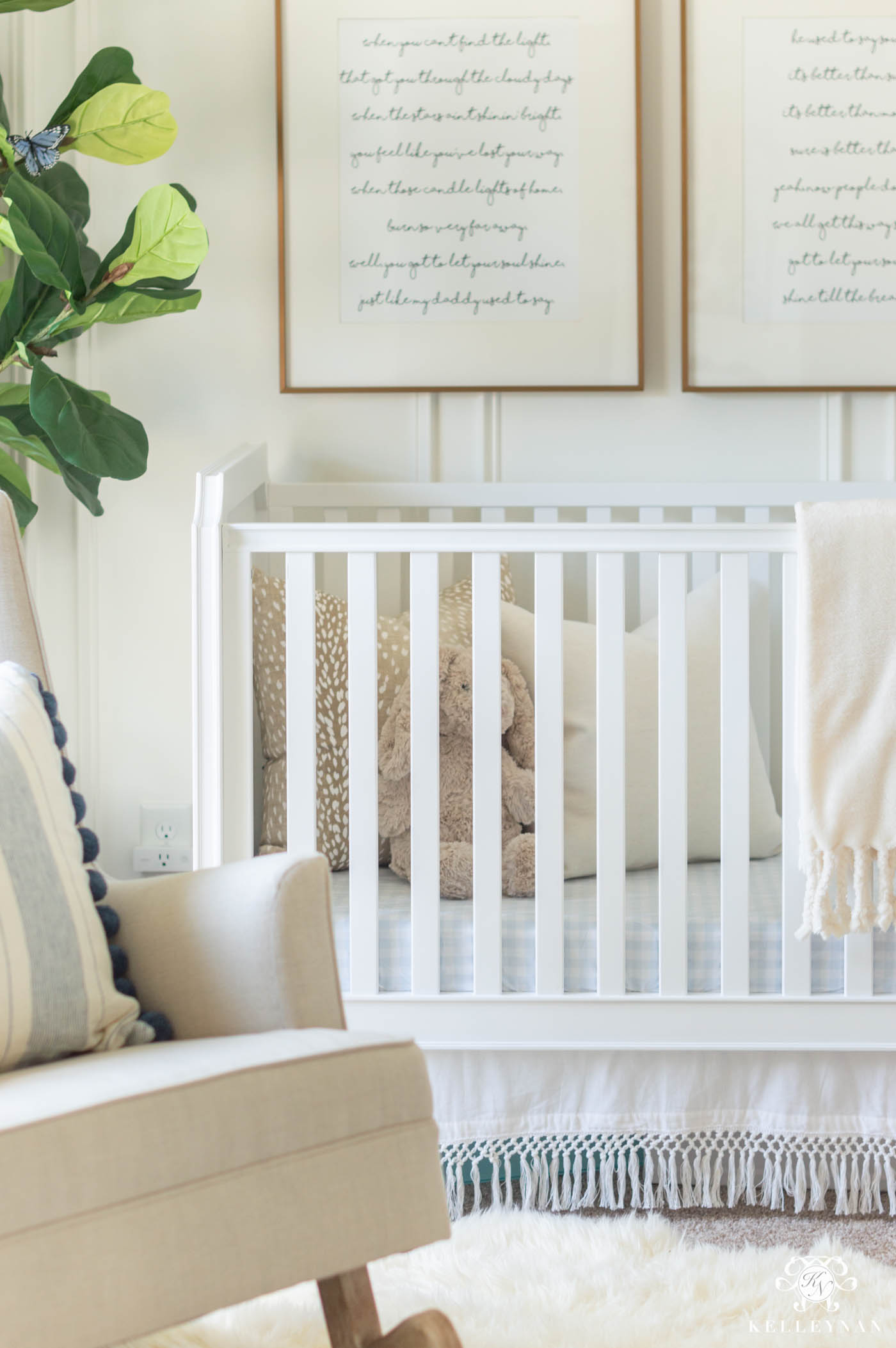 I justified this sweet pom pom pillow by 1. getting it on sale, and 2. knowing that it was versatile and would go with any my decor from the living room to the bedrooms. It's a casual linen, not fussy but fun, and became the blue focal point of the room.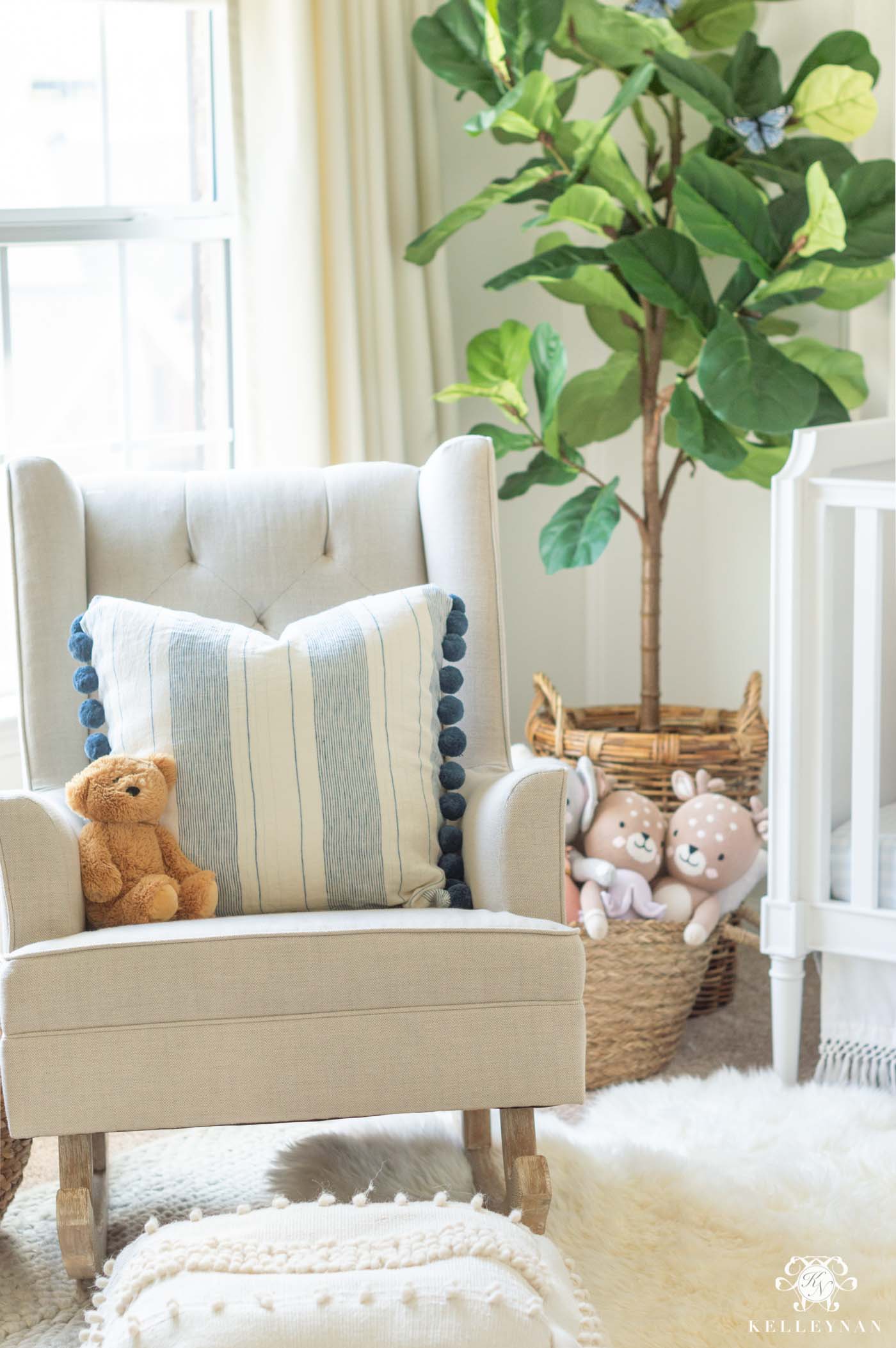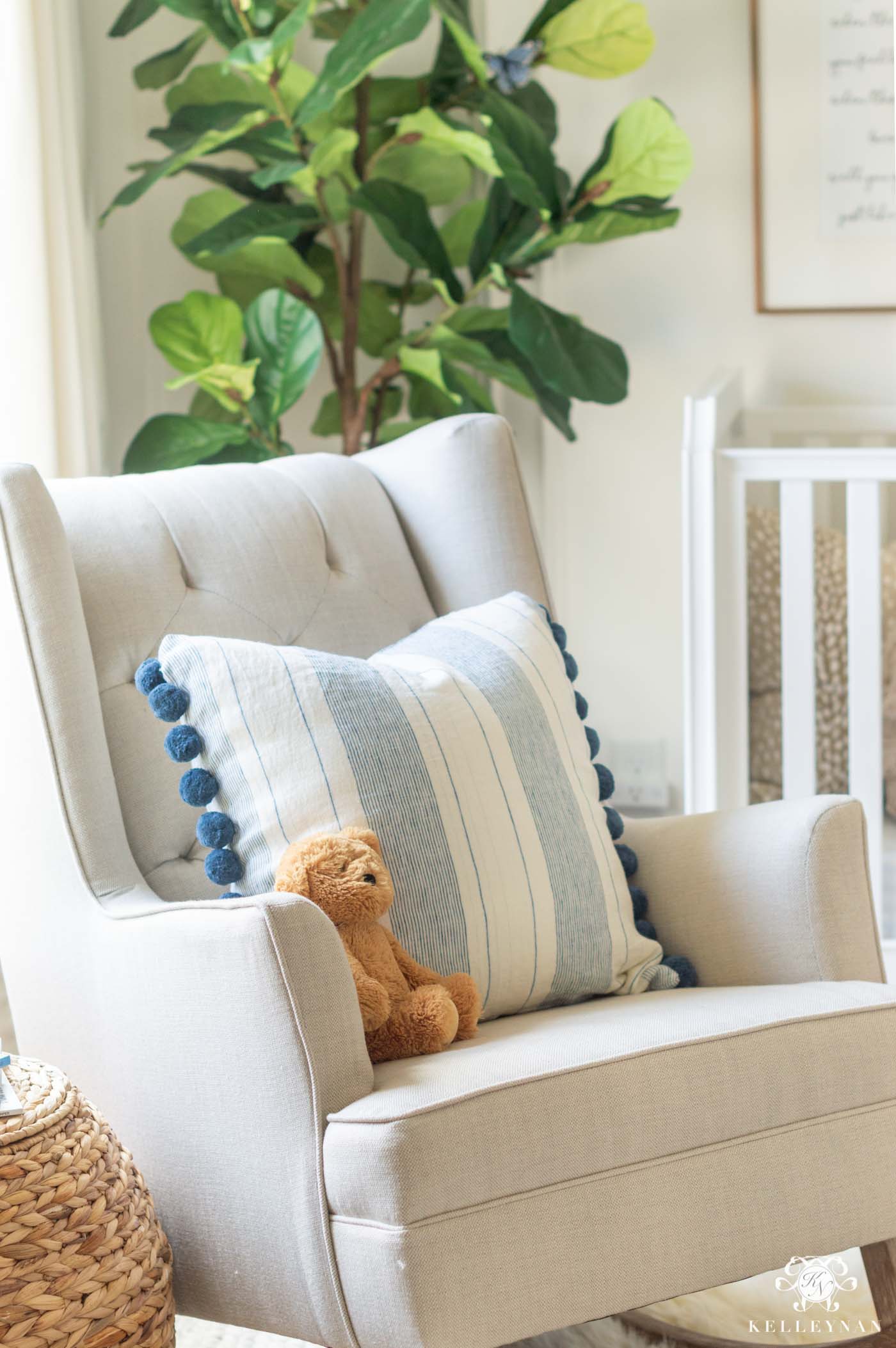 And while we're on the topic of talking about how easy it is to create a blue baby girl nursery out of a neutral nursery, we have to throw it back to this past Christmas when I went nuts and added all the pink. We may not do pink often but that time we did, oh boy, we did it. You can see her full Christmas nursery HERE.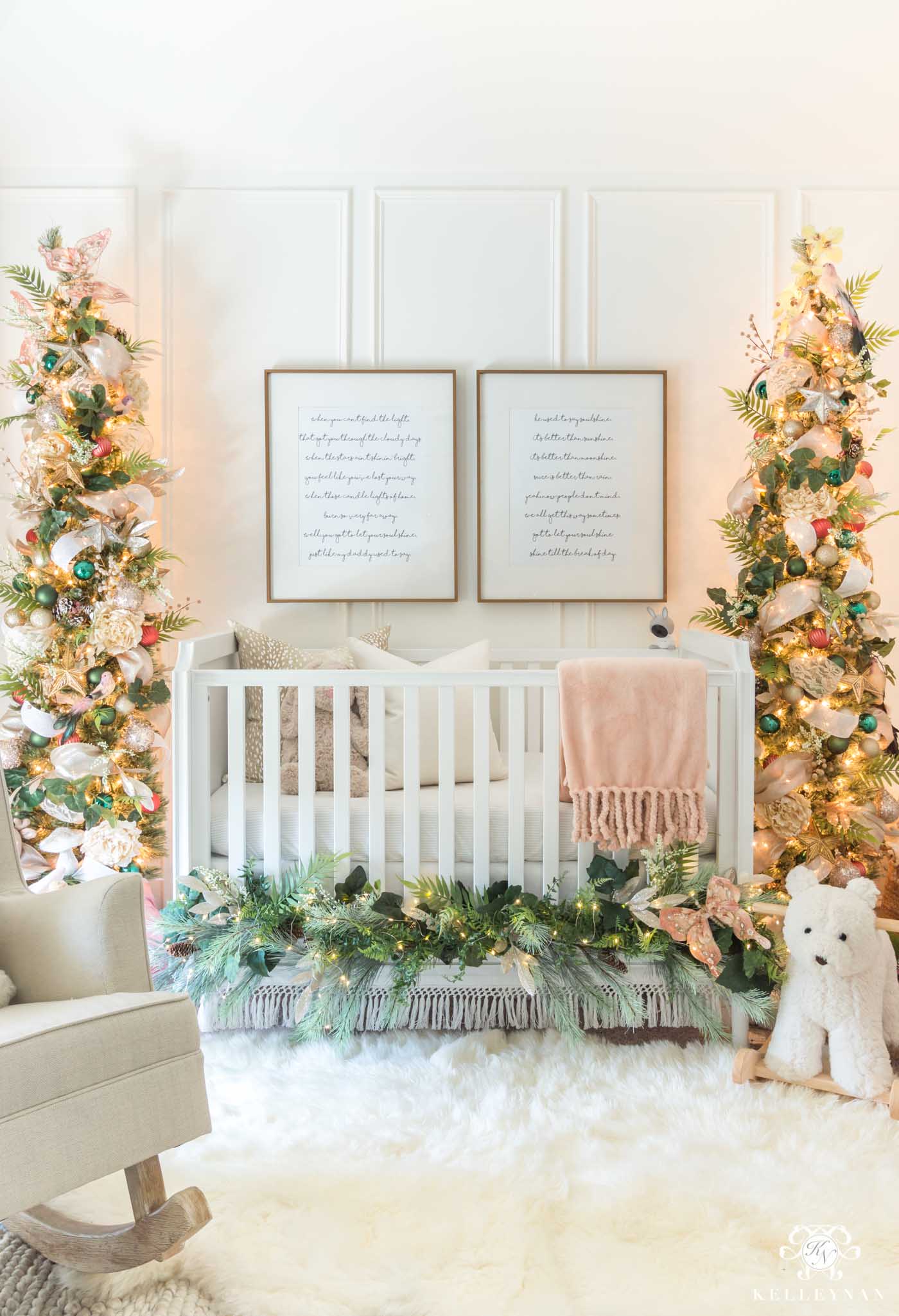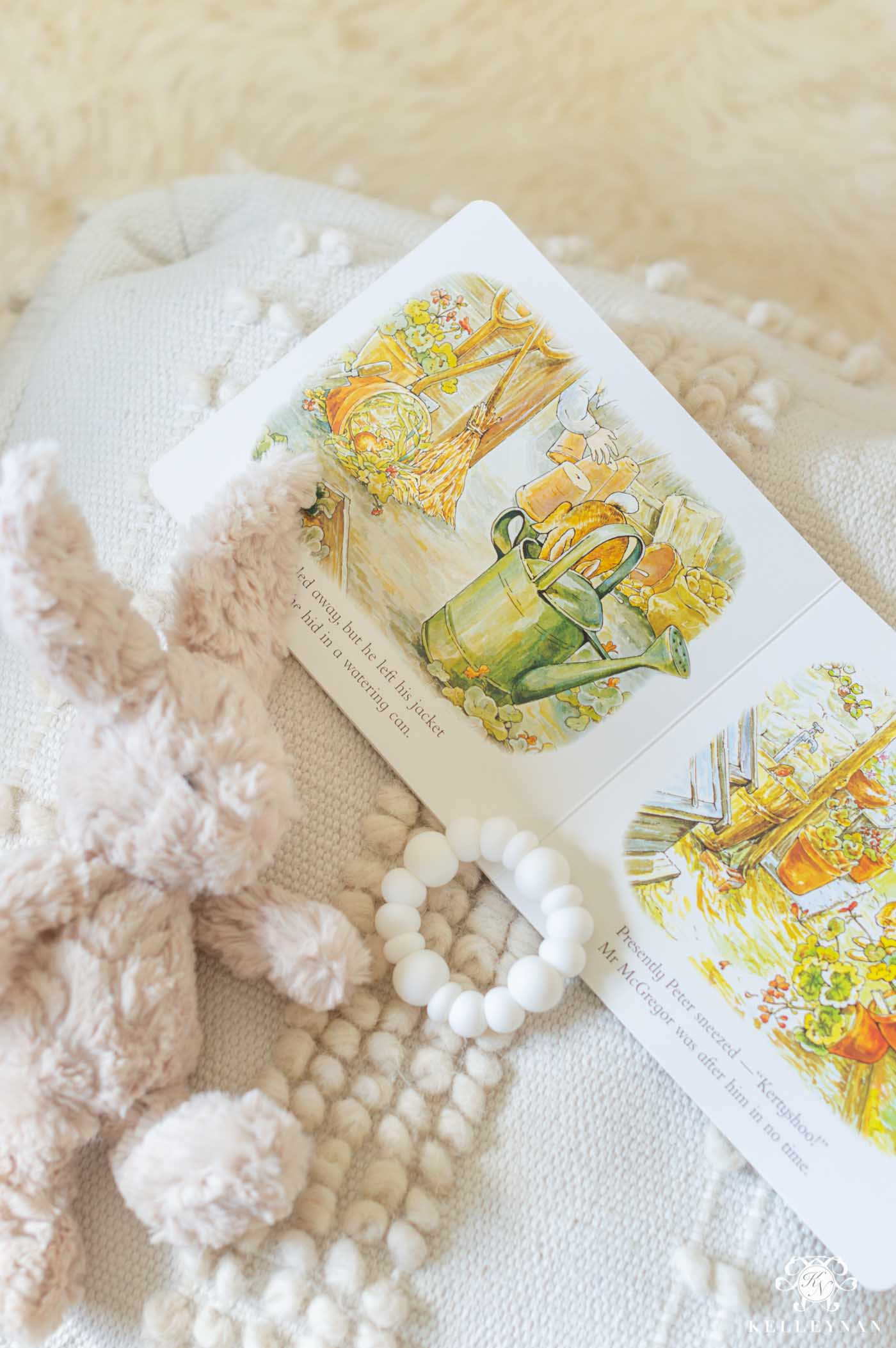 Whether it's the neutral nursery, the pink fairy Christmas nursery, or now, the blue nursery, I've loved incorporating butterflies in each. I started with some in her mini snake plant on the dresser, added one to the terrarium, and then nestled the remaining in her fiddle leaf fig tree. You can find some similar ones on wire HERE.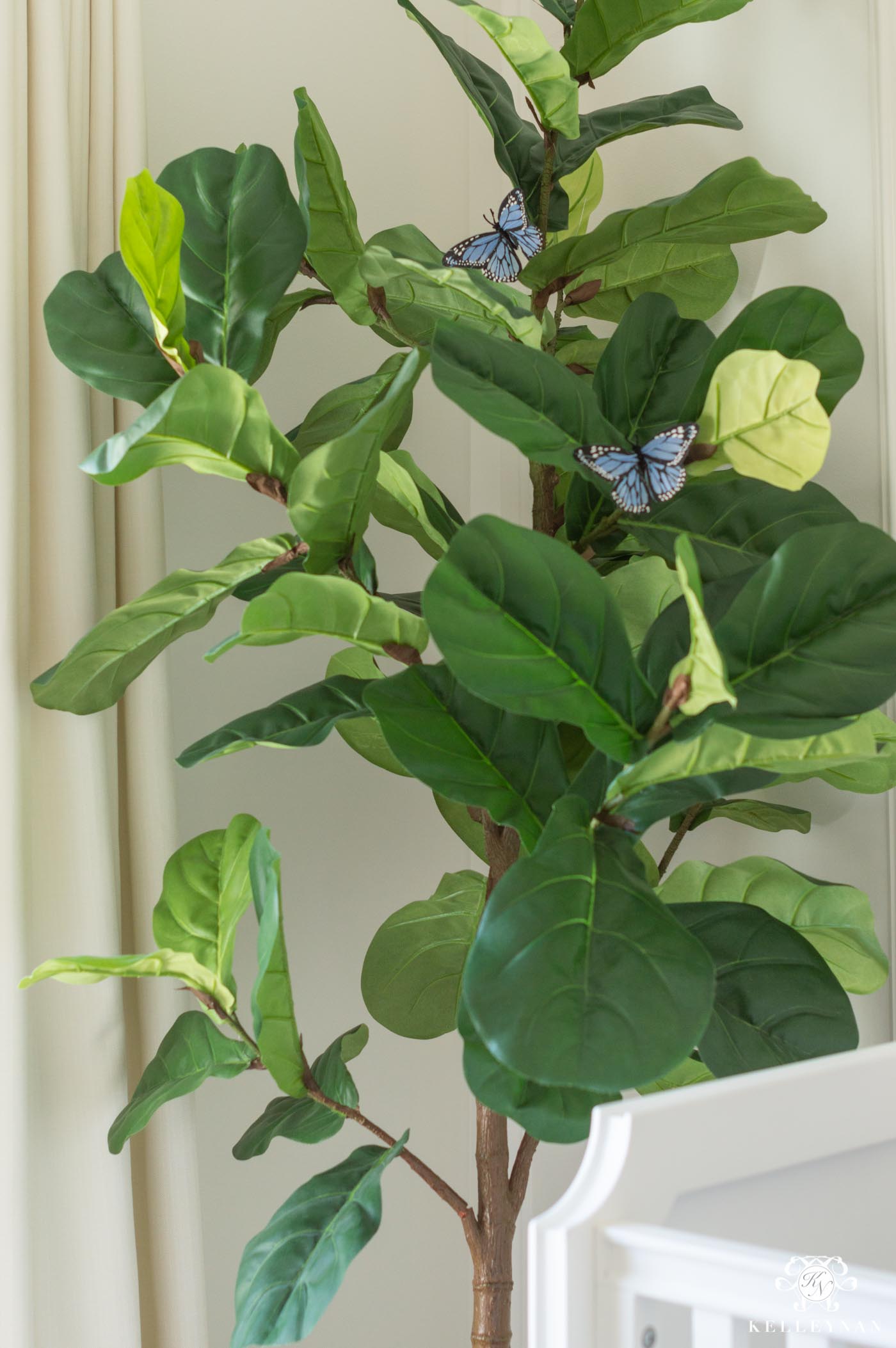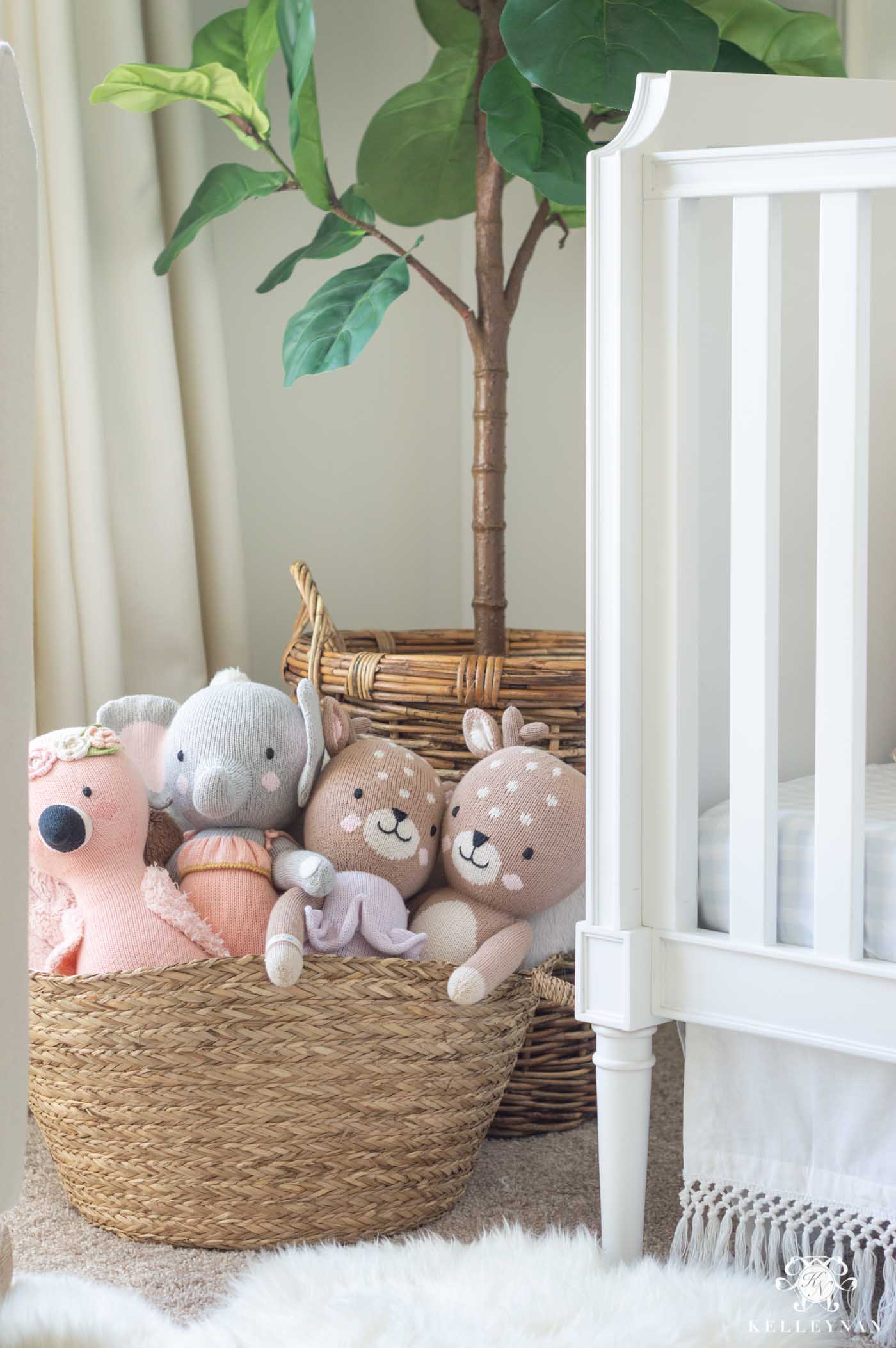 This sweet bluebird print was my first inspiration for the direction of her blue nursery additions. I went for the 16″x16″ size (it comes in all sizes and tons of frame options) and it even comes as part of a series; there's a second bluebird print HERE that could be paired with this cute little guy, vertical next to a door or horizontal side by side over a crib.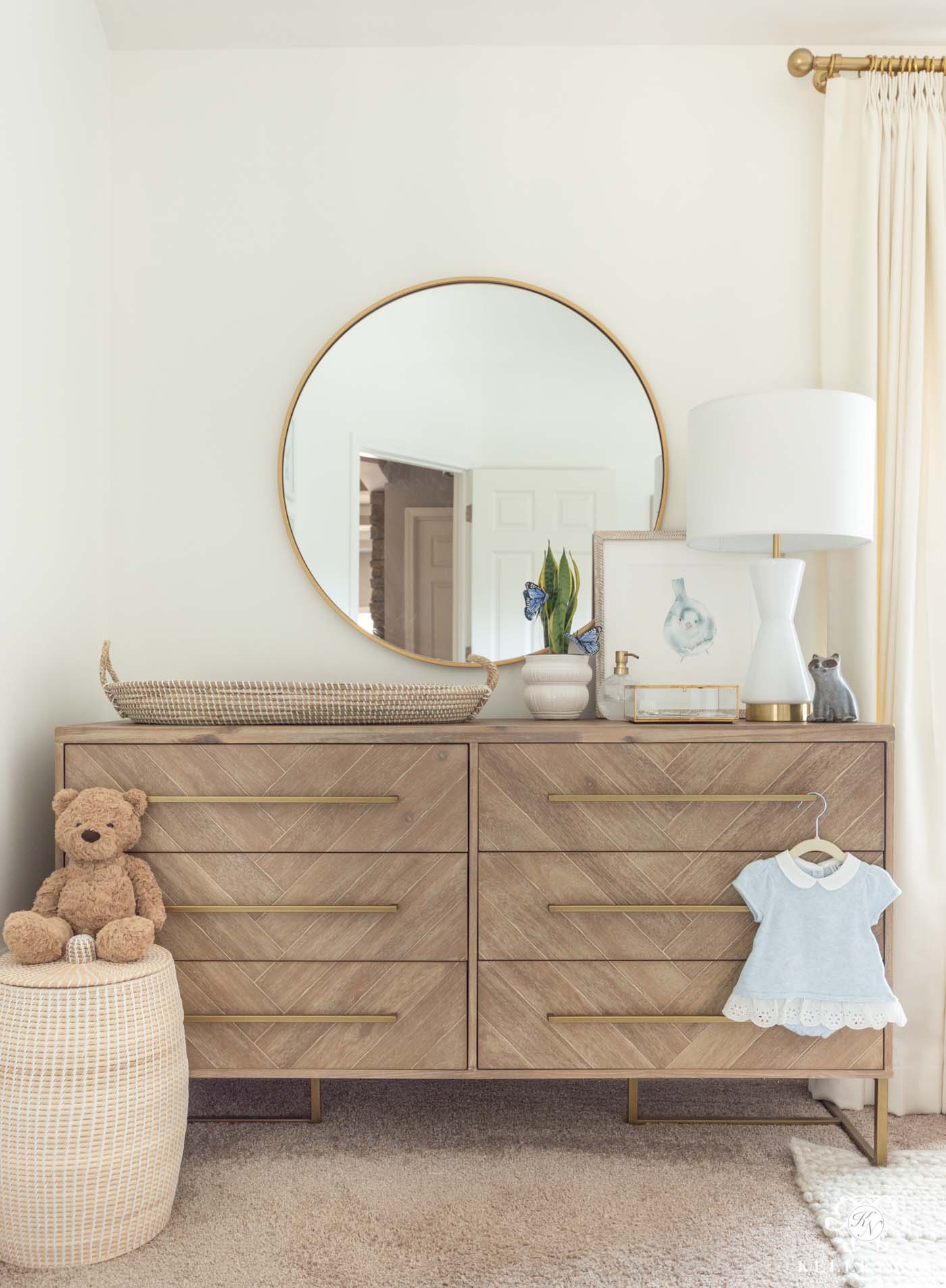 Scroll & Tap to Shop

I'll be sharing how I have Eliza's dresser organized soon — which is way different than how I had it originally organized with all the stuff and extras I never needed. Sometimes that's how it happens — you have to live with a space (even a set of drawers) to see how you actually use it. Once you live it, you can organize it in a way that is most helpful to you. One of my favorite special things in her room is the shadow box that holds her sonogram photo along with a monogrammed silver brush set and a few pieces of special gifted jewelry. That cute little raccoon is pretty dang special too — he was originally my great grandfather's. As much as I have loved shopping for Eliza's nursery, I have plenty of sentimental and keepsake items, mixed in, just as I do in the rest of our home.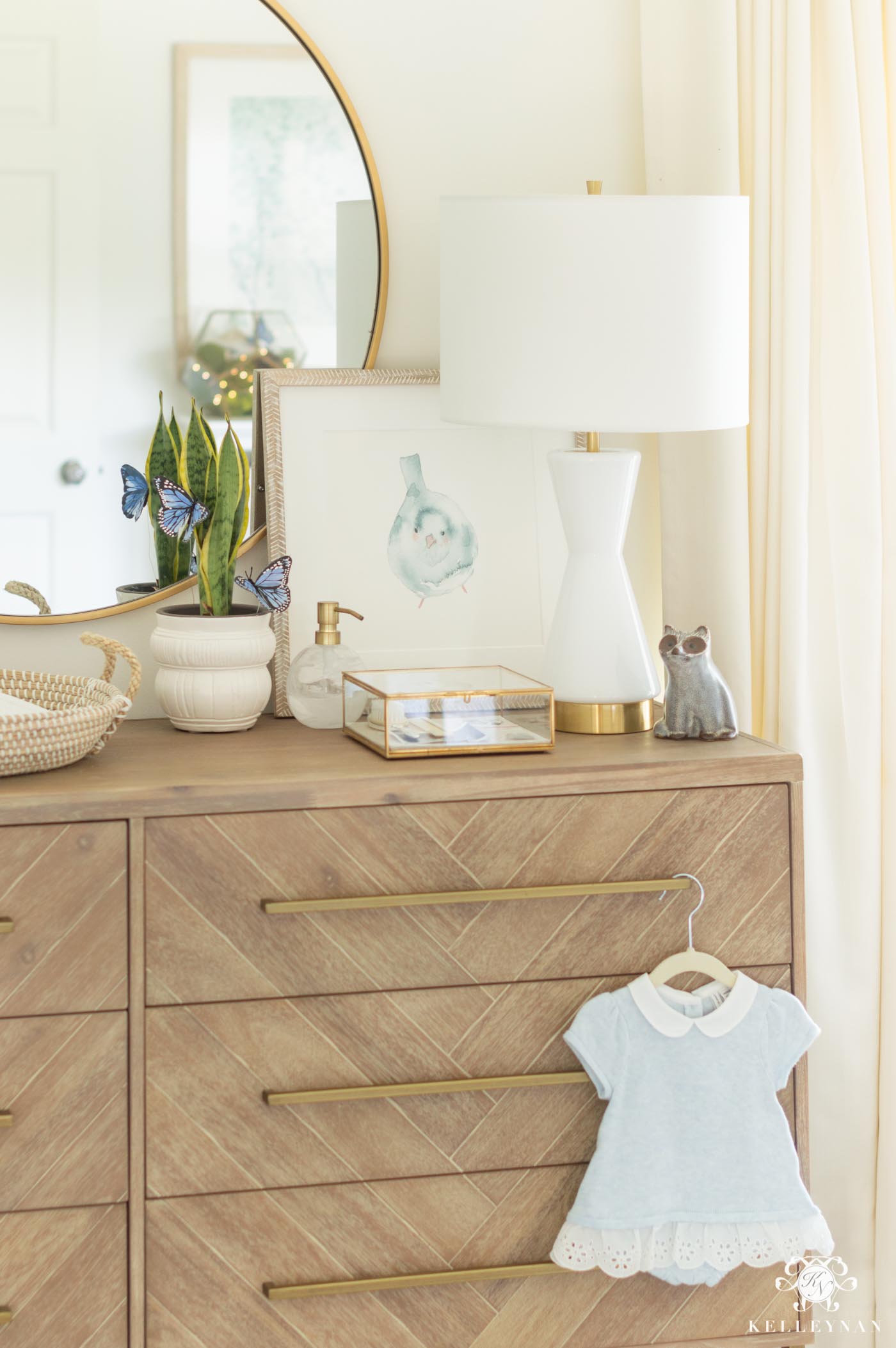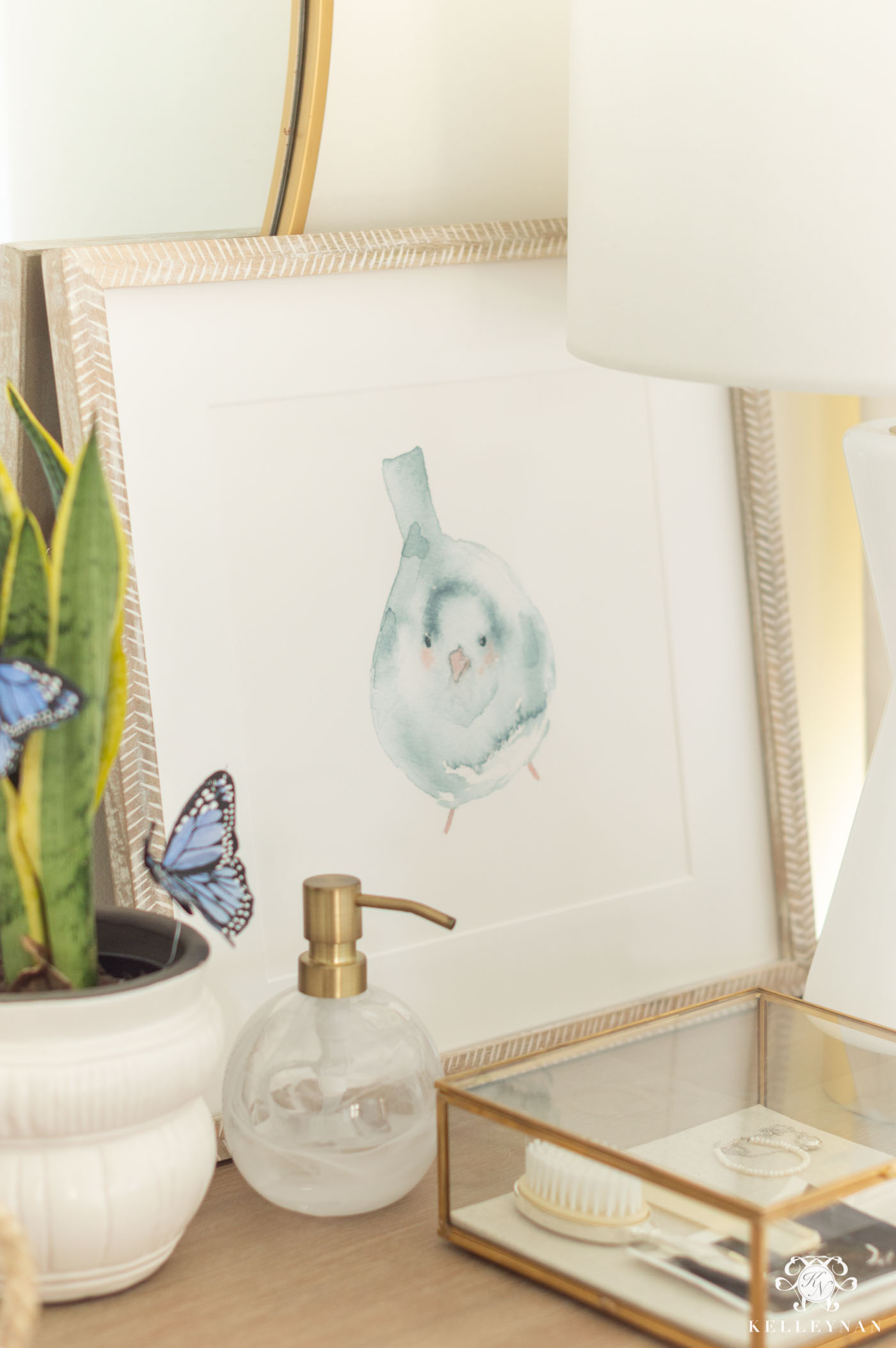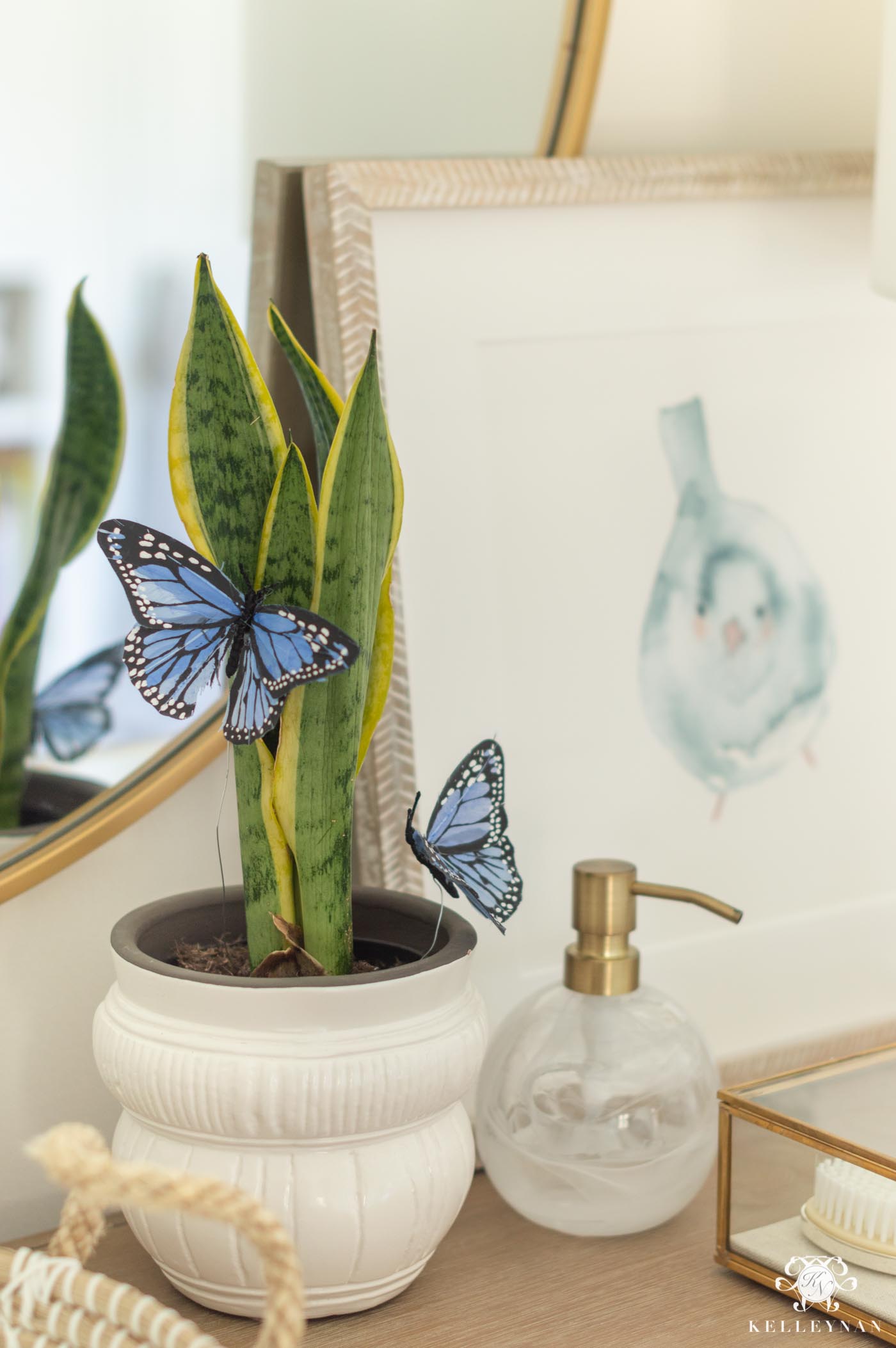 I made a little "fairy garden" terrarium for Eliza's room for Christmas and loved it so much, I decided to keep it. When I was growing up, my mom taught me how to make a "fairy house" out of the base of a tree stump. We'd collect moss, acorns, and any other tiny nature things that would be fitting for a fairy home — this is one of those things I can't wait to introduce to Eliza one day.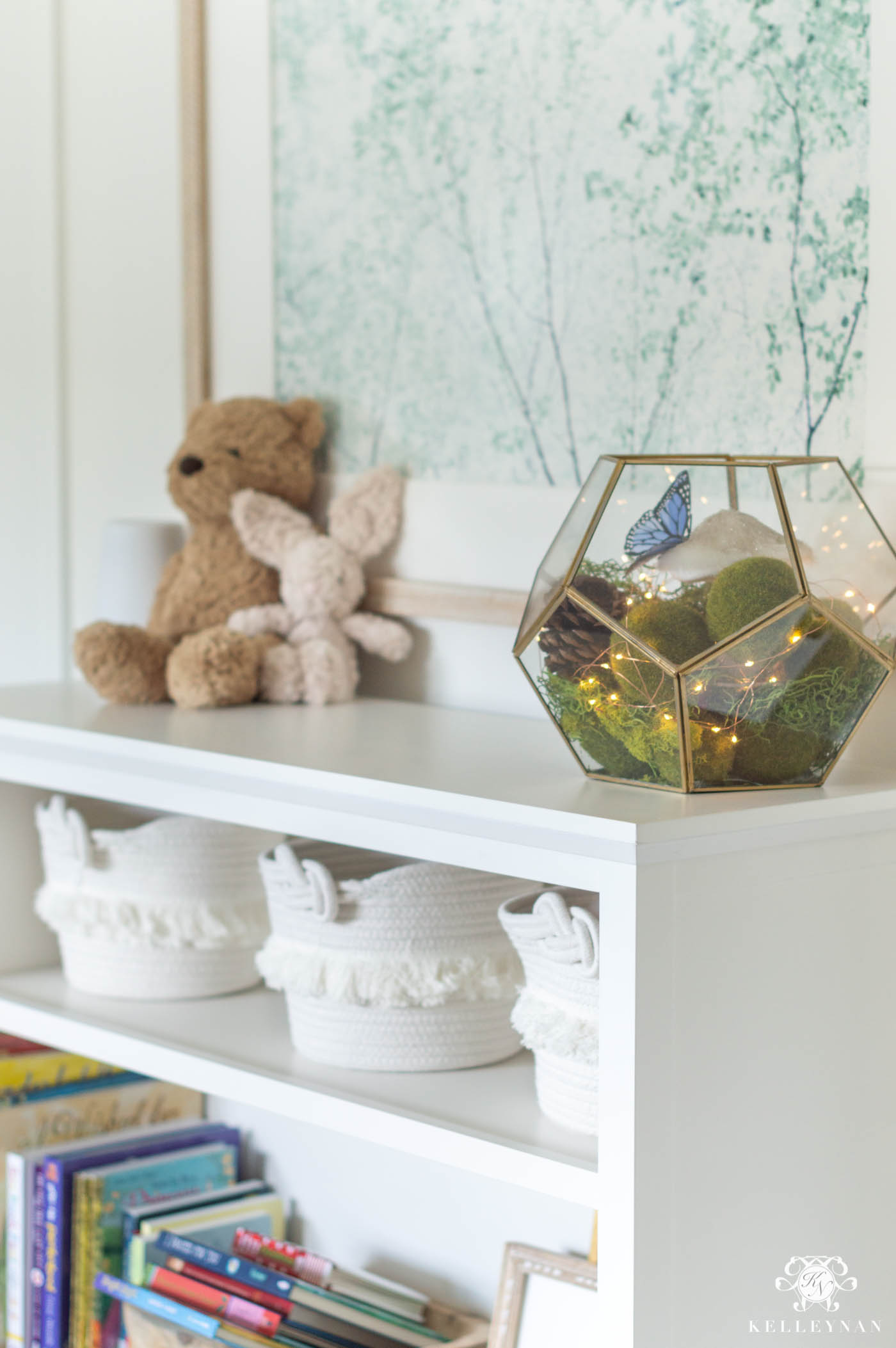 Scroll & Tap to Shop

While no major changes were made, just a few small additions/switches transitioned Eliza's neutral room into a sweet little blue baby girl nursery. Whether you're in the beginning planning stages for your baby's room or want to freshen things up with a totally different color, here's a recap of the tweaks:
An on-color-scheme crib sheet. Most of us keep extra sheets on hand anyway so this could almost fall in the "essential" category 😉
A statement pillow to set the tone.
Some color continuity through art — if you find a piece of art you love, it may just inspire the tone for the entire room.
A

few

accents (butterflies, 'E' initial…) As a caveat, this is where we could easily get carried away, making too many purchases for things we don't really care about or that may not be permanent room fixtures. I try to be conscious of not adding items that are one-time-use only that we'll tire of or that aren't versatile. If there's a pretty vase, planter, small ceramic that you love, go for it! But, if you have a tendency to get carried away (raising my own hand), try to reign it in a tad.
And let's be honest — these are basically the simplified ideas to make a slight change to any room 😉 As an FYI, I don't have a link to Eliza's sweet little spring sweater set with eyelet detail as it was from last year and no longer available, but they still have some of the most darling baby and kids clothes for spring at Janie and Jack.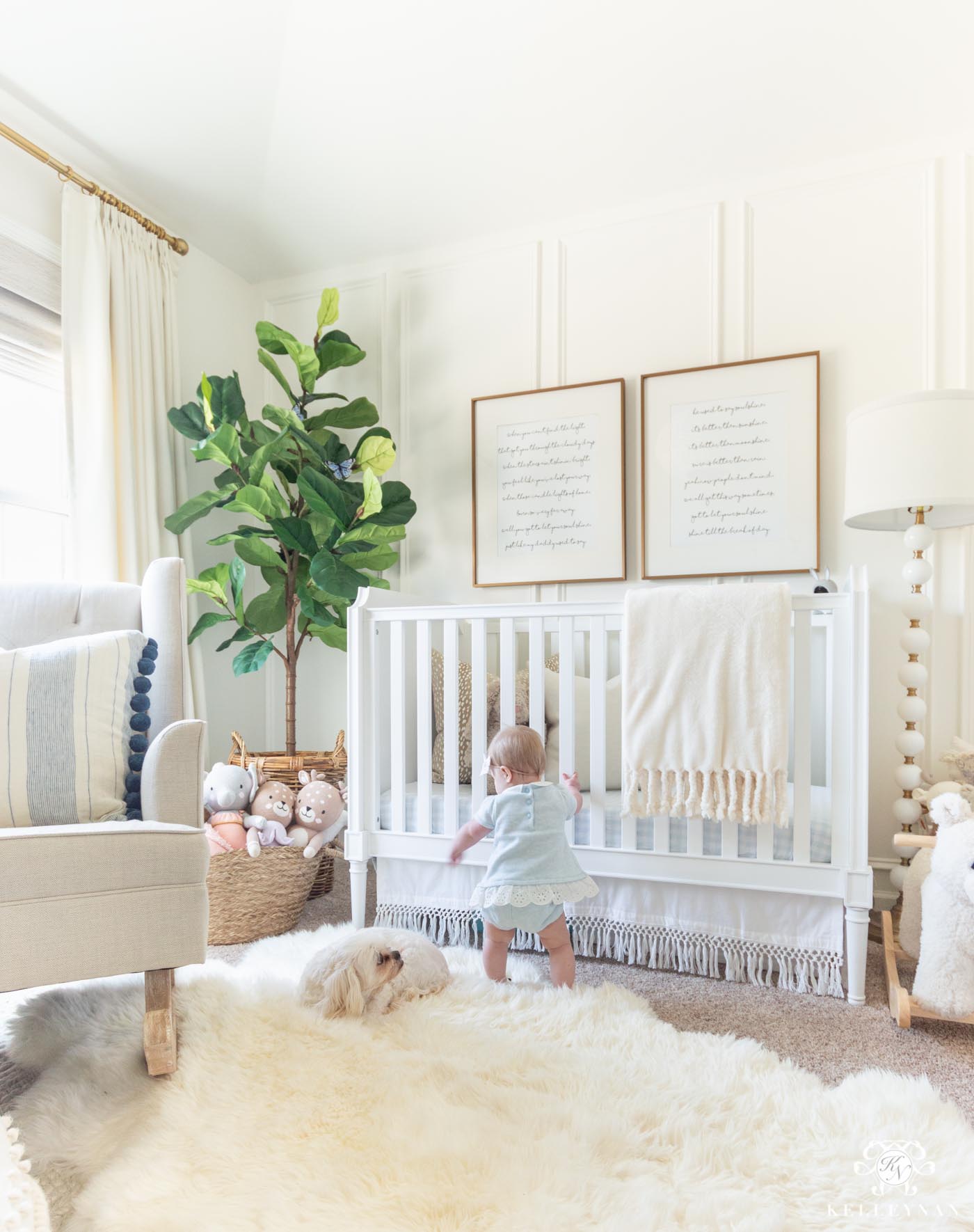 Are you team blue or team pink (or neither) for baby girls? It may not be the most conventional choice but I am loving the touches of casual blue throughout Eliza's room. I have no idea what colors she will gravitate to when she's older but I'm excited for the day when she can voice what she prefers. Who knows — her toddler room may be purple… or orange! haha We have some time before that happens, though 😉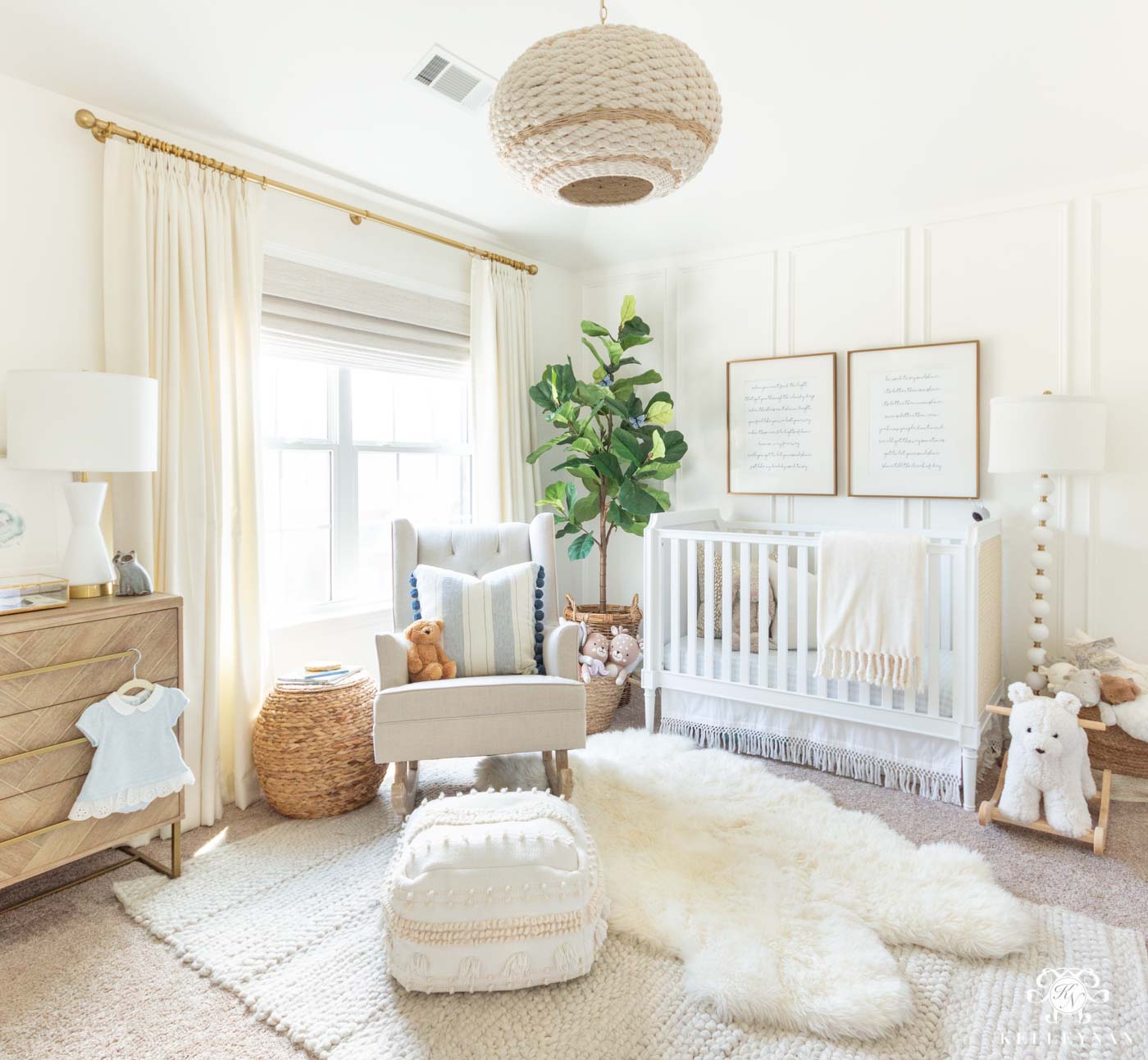 Scroll & Tap to Shop



To catch all our home projects, room updates, organization efforts, recipes and more, you can subscribe to my emails HERE. Follow me on Instagram doing *all the daily things* HERE and you can catch all the room sources and details at the bottom of the post.
Other Posts You May Be Interested In
Room Sources & Details
Wall Paint: Simply White by Benjamin Moore (Regal Select Eggshell Finish; Flat Ceiling Paint on Ceiling)
Furniture: Crib // Dresser (currently out of stock but the gray wash color with silver hardware can be found HERE) // Bookshelf // Rocking Chair (in Sunbrella Performance Slub Tweed, Pebble, Driftwood)
Lighting: Rope Pendant Light // Floor Lamp // USB Table Lamp
Art/Walls: Bluebird Print (leaning on dresser in 16″x16″) // Round Brass Mirror (36×36) // Personalized Song Lyrics — no longer available (SIMILAR) (16″x20″, style 2, above crib) // Brass Frames w/ Mats (for song lyrics) // Forest Art (above bookshelf — 40×30) // Baby Hedgehog Art (5×7) // Little Bunny Art (11×11) // Rabbit Art (Gallery) // Raccoon Art (Gallery) // Mouse Art (Gallery)
Textiles: Macrame Crib Skirt // Blue & White Pom Pom Pillow (in Rocking Chair) // Pale Blue Gingham Crib Sheet //  Fawn Print Pillow // Ivory Velvet Crib Pillow // Faux Fur Pillow //  Ivory Tassel Throw // Sheepskin (SIMILAR) // Chunky Knit Rug 
Windows: Curtains (Linen Weave Vanilla Bean – Privacy Lining)// Shades (Bali White, Cordless, Blackout Liner) // Curtain Rod // Curtain Rings
Accents/Decor/Toys: Woven Changing Basket // Ottoman Pouf // Fiddle Leaf Fig Tree // Fiddle Leaf Fig Tree Basket (no longer available) // Water Hyacinth Lidded Storage Ottoman Stool (next to rocking chair) // Laundry Hamper // Rocking Sherpa Bear // White Rope Baskets (on bookshelf) // Woven Basket Toy Dump // Stuffed Owl // Stuffed Raccoon // Stuffed Crib Bunny // Bunny Hooded Wrap SIMILAR (no longer available) // Bunny Rattles // Wood Baby Beads // Terrarium (SIMILAR)