It can be a tricky thing, investing in lighting, especially when you're in an open concept home or are looking for a way to blend several finishes within one room together. Or, at the very least, not have your fixture clash with its surroundings. Enter- the beaded chandelier. They've become my go-to lighting option because they're so easy- most of them can compliment anything from brass to nickel to bronze, plus, they lend themselves well to just about any style. Farmhouse? Yep! Modern? You bet! If you're looking for traditional? Absolutely. They're almost fool-proof and you don't have to make much effort to let them be a statement in your room. I've rounded up several options of beaded chandeliers, across all price points – from budget-friendly light fixtures to (what I consider) splurges.
*Posts on KelleyNan.com may contain affiliate links. Click HERE for full disclosure*
BEADED CHANDELIERS IN OUR HOME
The beaded chandeliers in my home are wooden bead fixtures. Again- they're so easy! With my recent breakfast nook facelift (see the before HERE), it made a huge difference switching my old, traditional, small bronze light. I didn't realize how dark and "heavy" it made the room before. It also helps blend the finishes together in here – I have everything from black to brass and even if I switched other pieces and colors, I can't think of many situations where this beaded chandelier wouldn't work.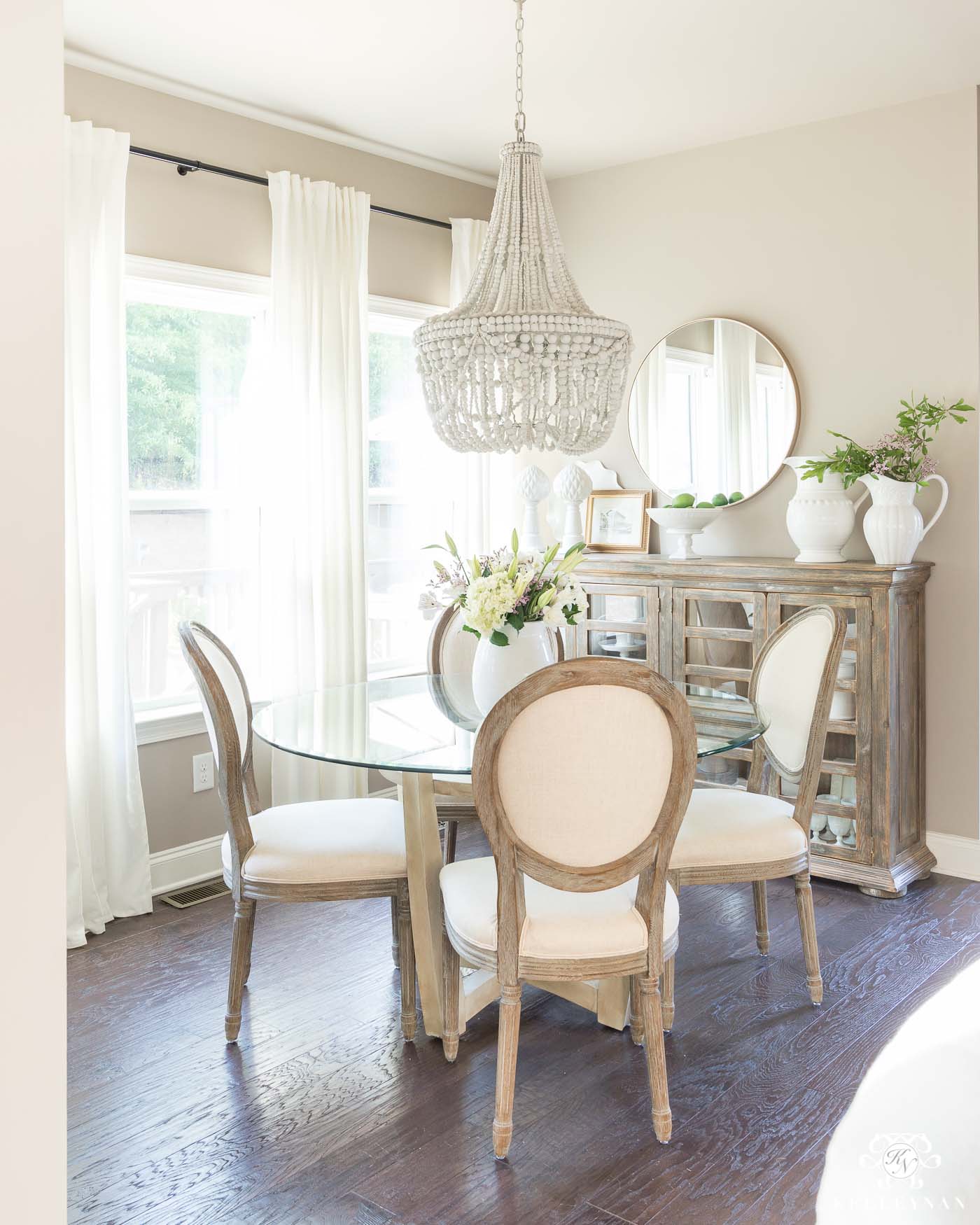 ---

---
The guest bedroom was the first place I added a beaded chandelier. Honestly, I love the fixture but it was mainly out of indecision on the rest of the room. I didn't know what my mirrors would be, my curtain rod, etc. I  played it safe and am so glad I went for this light; just like the breakfast nook, I can't think of many situations where this light won't work.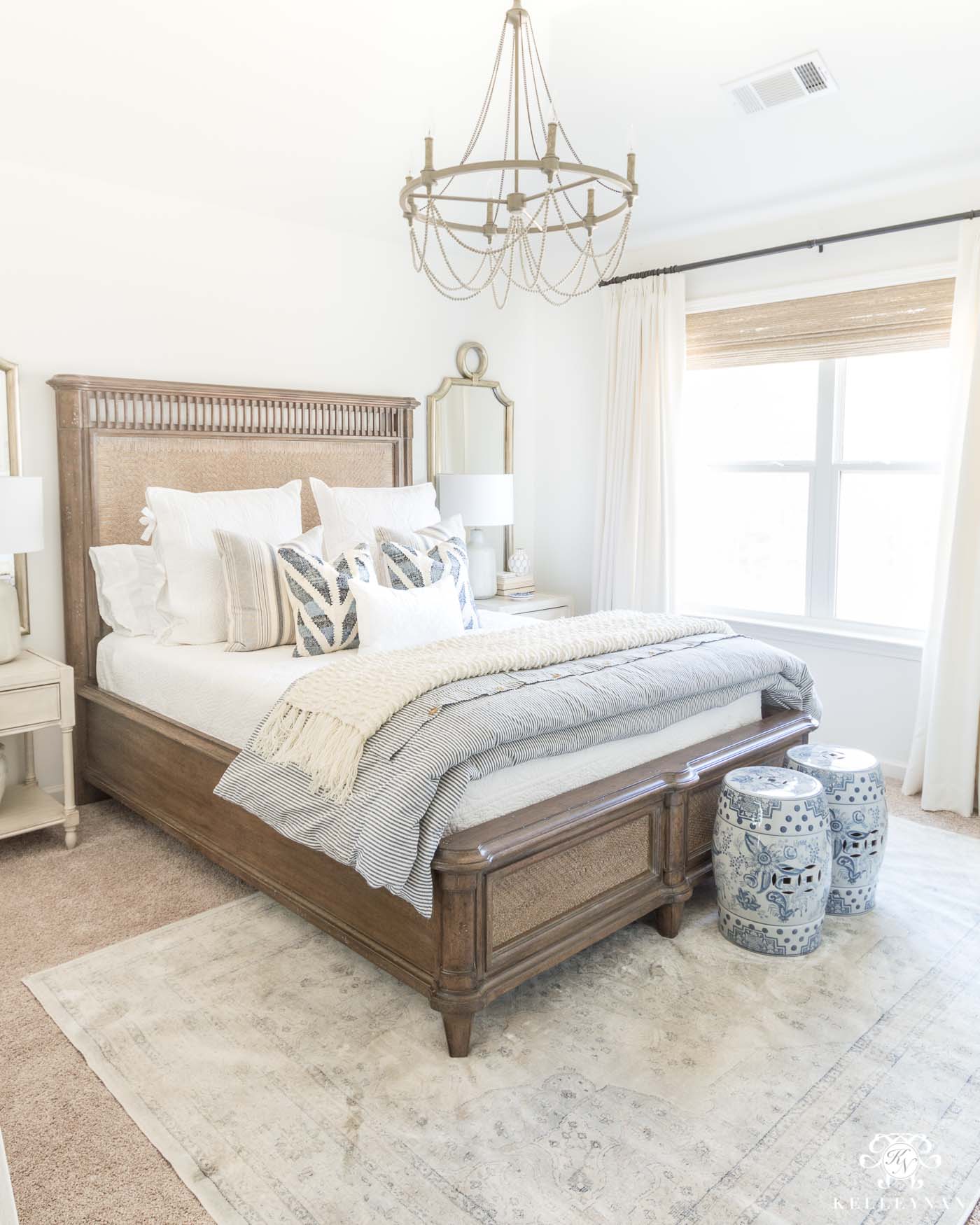 ---

---
LOW TO HIGH – FAVORITE BEADED CHANDELIERS
I couldn't resist throwing in a couple of colorful options and some with a more "pronounced" finish. But, if you are like me and looking for safer options that will transition as you do, I would stick to the more neutral, natural, options 😉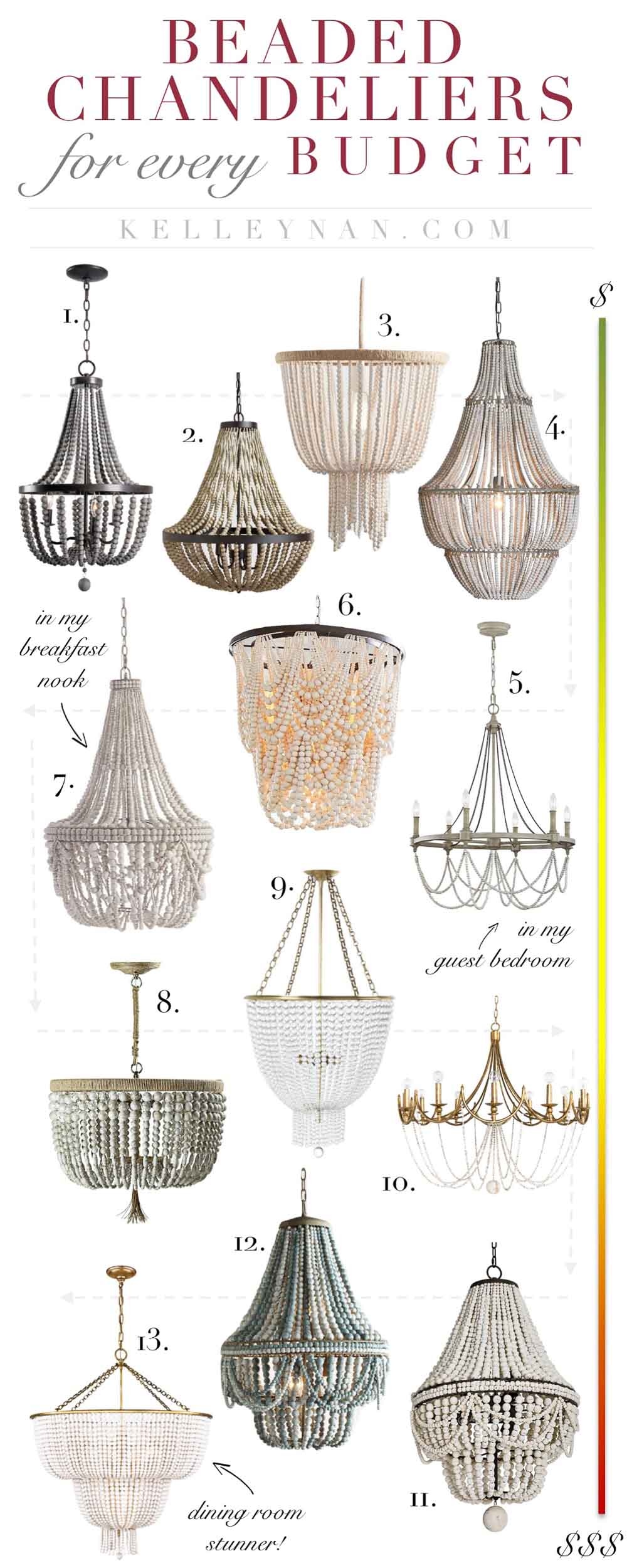 ---
1. | 2. | 3. | 4. | 5. | 6. | 7. | 8. | 9. | 10. | 11. | 12. | 13.
---
HONORABLE MENTIONS
Whether they were so far beyond what I could afford or they aren't "truly" beaded, I almost didn't post these but decided that I loved them too much to keep to myself. The first one is actually super reasonably priced and, it's identical (literally) to a Restoration Hardware version that is a few hundred dollars more.

I have another lighting update coming soon; subscribe to my emails below so you won't miss it!