The power of lighting — and the ability for a single fixture to make all the difference in a room — can easily be overlooked. It can be an expensive task, starting from scratch or replacing fixtures that match your style, and that's why here I am, almost six years into our home, and I'm still working on a few fixtures here and there 😉 But, changing lighting to something you love and something that compliments your decor and furnishings is an easy way to add personality and to bring a room together. It can be tricky though — especially when you're in an open concept home or are looking for a way to blend several finishes within one room together. Or, at the very least, not have your fixture clash with its surroundings. Enter… beaded chandeliers. From casual to formal and traditional to slightly more modern, they're my go-to lighting in rooms where I want to coordinate with other light fixtures, but I don't want them to "match", per se. Have you ever been in a home where all in one sight line, you can see a dining fixture, kitchen fixtures, living room fixtures, and maybe even more? If one single finish or material (like all wrought iron or all brass) is used, it can look a bit "heavy". So, I try to. mix it up a bit while still coordinating. If I have metal lanterns, I try to soften nearby lighting by using something with a shade. But the easiest fixture to coordinate with just about anything, in my opinion, are beaded chandeliers — especially wood bead chandeliers. Most of them can compliment anything from brass to nickel to bronze, plus, they lend themselves well to just about any style. Farmhouse? Yep! Modern? You bet! If you're looking for traditional? Absolutely. They're almost fool-proof and you don't have to make much effort to let them be a statement in your room. Today, I'm sharing 15 favorites — some glass bead and some wood bead chandeliers — across multiple price points.
*Posts on KelleyNan.com may contain affiliate links. Click HERE for full disclosure*
Beaded Chandeliers
When I'm looking for lighting, here are a few things I try to keep in mind:
Scale — how big can it be and how low can the fixture hang? Most beaded chandeliers have a bit of height so taller ceilings are needed to accomodate them in many spaces. But, if you're positioning a beaded chandelier over a bed or dining table, you can get away with hanging it a little lower. In terms of size, typically as long as the light fixture isn't wider than whatever it's hovering above, I'm good. I like big lights and I like that chandeliers of greater scale can take up more visual space that small pendants.
Other lights — I already touched base on this in the intro but I definitely take other lights within the same sightline into account to make sure they won't clash or be too similar.
Color — Depending on the bead work and trim finish, your beaded chandelier can totally set the tone of the entire room. White wood bead chandeliers are kind of like chameleons — they can be both formal and casual; a lot of beaded chandeliers with natural wood tones can punctuate a more casual space, but dress them up a bit, nonetheless. Glass beads are going to be more glitzy and are awesome for entryways, more formal bedrooms, dining rooms, and master bathrooms.
Furnishings in the room — Does your room feel too much of something? Like, does it feel too white, bland, unfinished, too casual, not casual enough, etc.? Here's your chance to change it all — or at least a big portion of it — with one swoop. Also, if you are working on lighting within an open concept floor plan and are having a tough time tying the spaces together, you can bring in commonalities from one room to the next in your lighting. For example — say your living room is connected to your kitchen but they don't feel like they "go together" and flow at all. You can take cues from one room — say your rattan kitchen bar stools — and use a coordinating natural wood bead chandelier in the living room. Repeating similar materials/colors in a statement piece makes a huge difference!
Regardless of what vibe you're going for, below are some of my favorite beaded chandeliers in several sizes, finishes, price points.
*Note: All beaded chandelier sources can be found linked below the graphic.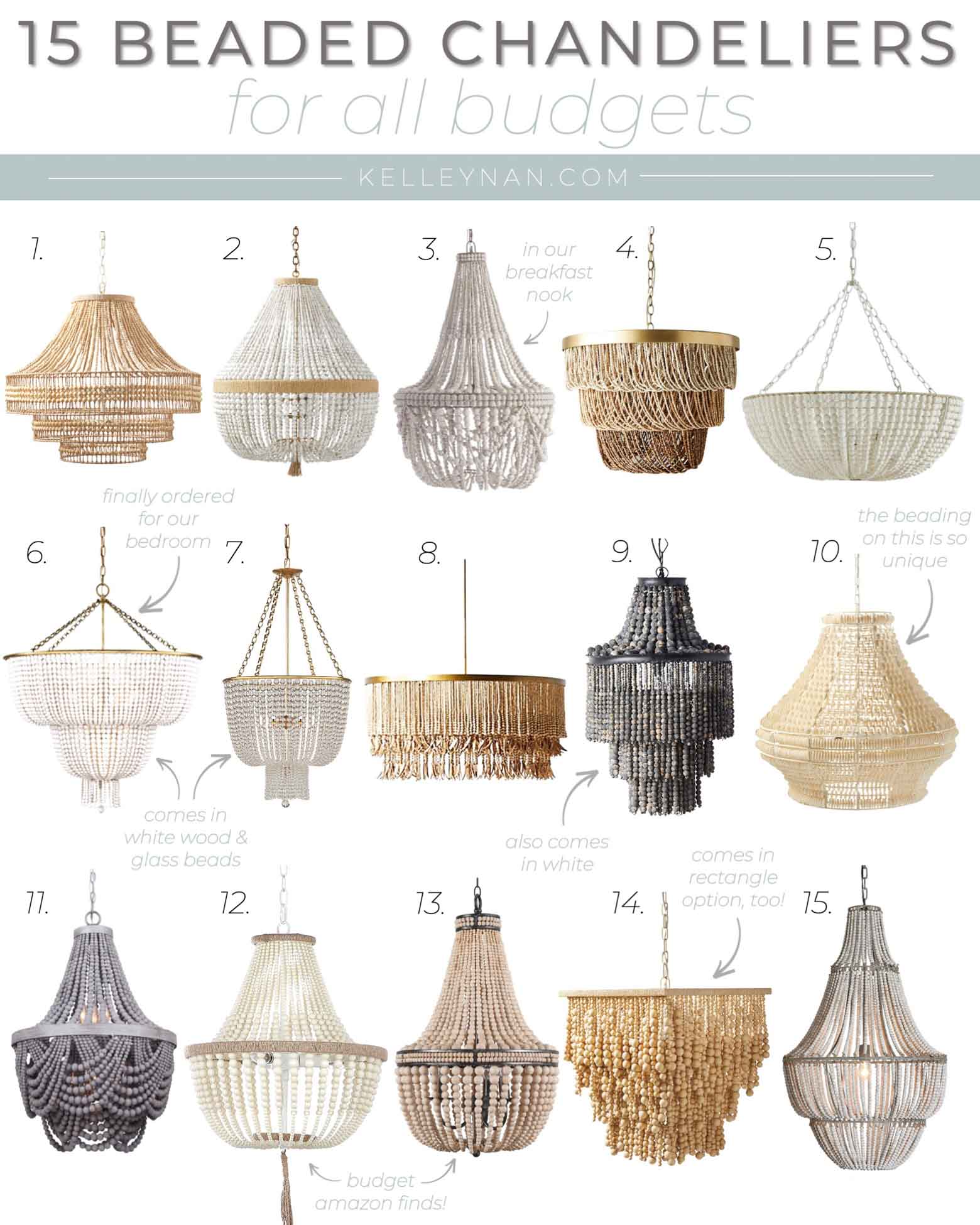 1 | 2 | 3 | 4 | 5 | 6 | 7 | 8 | 9 | 10 | 11 | 12 | 13 | 14 | 15
BEADED CHANDELIERS IN OUR HOME
Most of the beaded chandeliers in my home are wood bead fixtures and while I've had a few for several years now, I'm still not over them. I finally pulled the trigger on THIS white wood beaded chandelier in the brass finish (#6)for our bedroom — it's set to arrive in the next two weeks! It's definitely on the more pricey but I've had it on my wishlist for years. When I made over our master bedroom (see the reveal HERE), I went with a more contemporary fixture. While I think it went well with the update, I've realized over time it doesn't "do" anything extra for me. It "goes" but I don't love it here. We have tall ceilings in here which will be able to easily accommodate the fixture; see below how the beaded chandelier will look in comparison to the bedroom's current light fixture.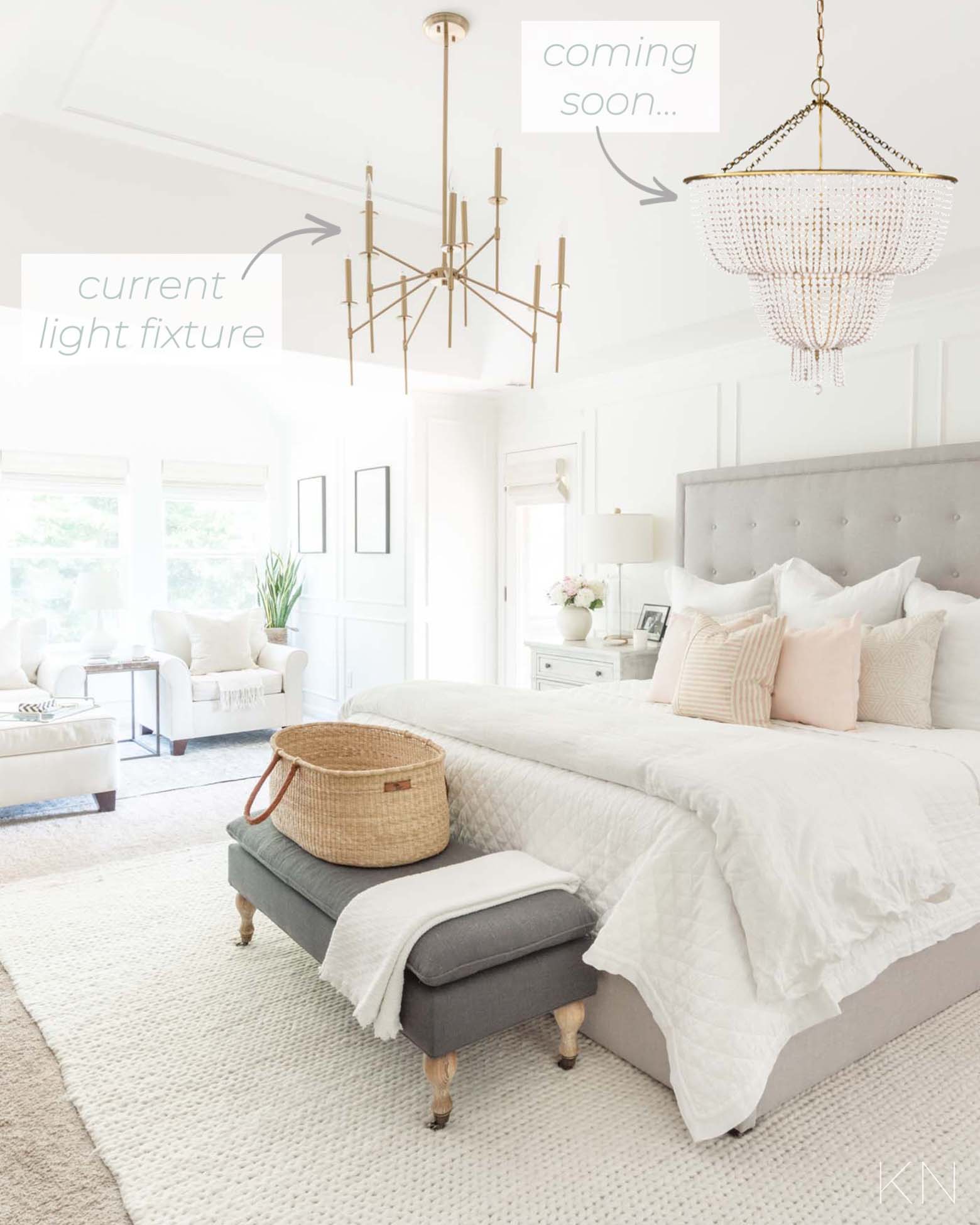 Sources: Coming Soon Chandelier | Current Chandelier | Rug | Bed | Nightstands | Glass Lamps | Bench | Moses Basket | White Linen Duvet Cover | White Linen Diamond Quilt & Shams
You can find the same light fixture with clear beads HERE, a smaller version HERE, and even a flush mount option HERE if you have lower ceilings.
The most notable wood bead chandelier I incorporated into our home was THIS ONE (#3) in our breakfast nook. It previously had a small metal chandelier in a dark bronze finish with a few crystals hanging — the switch made such a transformation to the space and I didn't realize how "heavy" the former small light fixture appeared. It also helps blend the finishes together in here – I have everything from black to brass and even if I switched other pieces and colors, I can't think of many situations where this beaded chandelier wouldn't work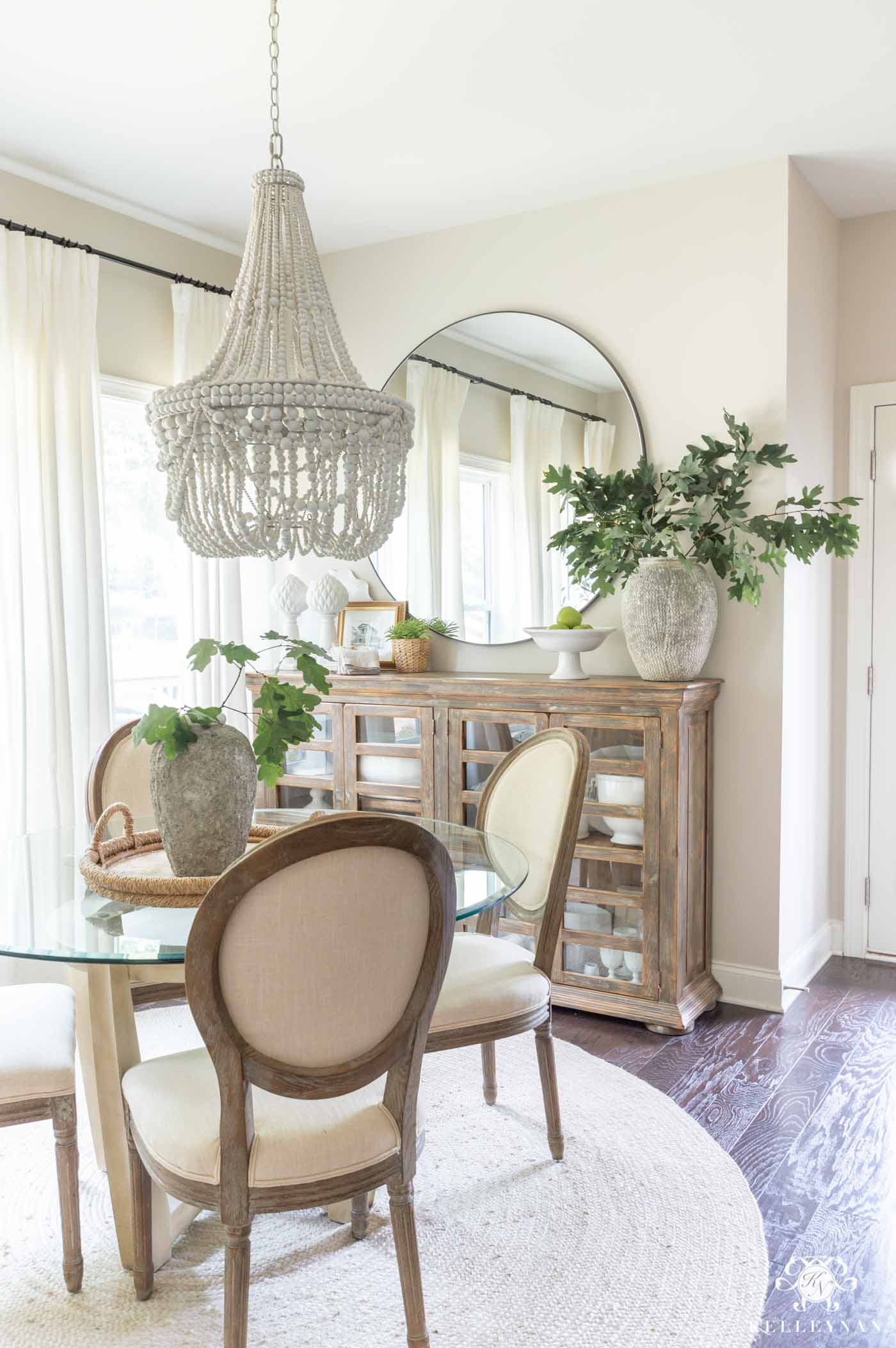 Sources: Chandelier | Table | Chairs | Rug | Mirror | Curtains | Curtain Rod |  Large Cement Urn | Medium Cement Urn | Sideboard (similar)
This is an older shot and there have since been a few changes in the breakfast nook/kitchen area, but you can kind of see how it complements the paper shade kitchen bar pendants.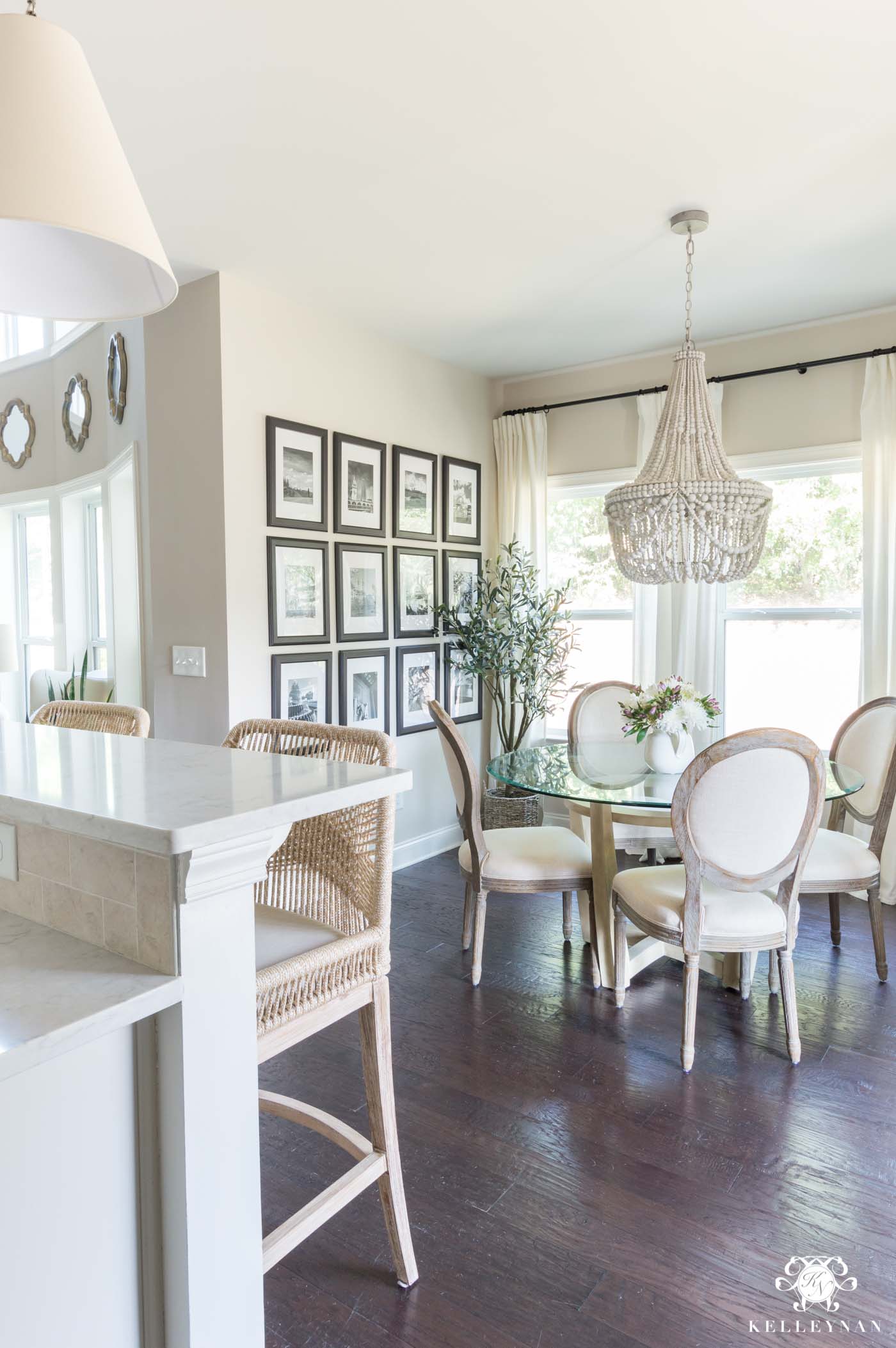 Sources: Chandelier | Table | Chairs | Curtains | Curtain Rod |  Olive Tree | Gallery Wall Frames (similar) | Bar Stools | Pendant Lights
THIS white beaded chandelier is incredibly similar to the fixture I have in my breakfast nook, but it's a fraction of the price. It ships free via Amazon HERE.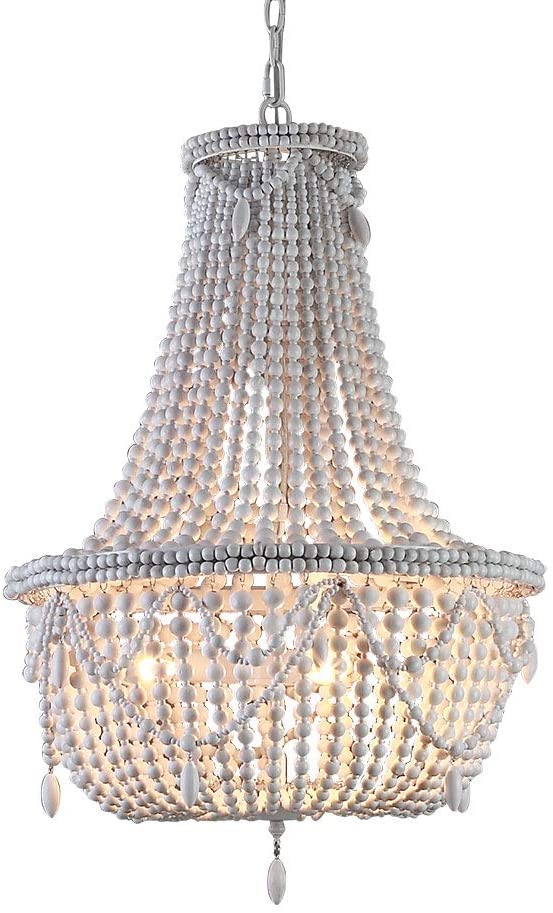 White Beaded Chandelier
Speaking of affordable Amazon lighting, THIS beaded chandelier (#12) is awesome for a smaller space and has an even more awesome price tag. It comes in four colors, ships free via Amazon and even has free returns. It's currently listed at $149 HERE.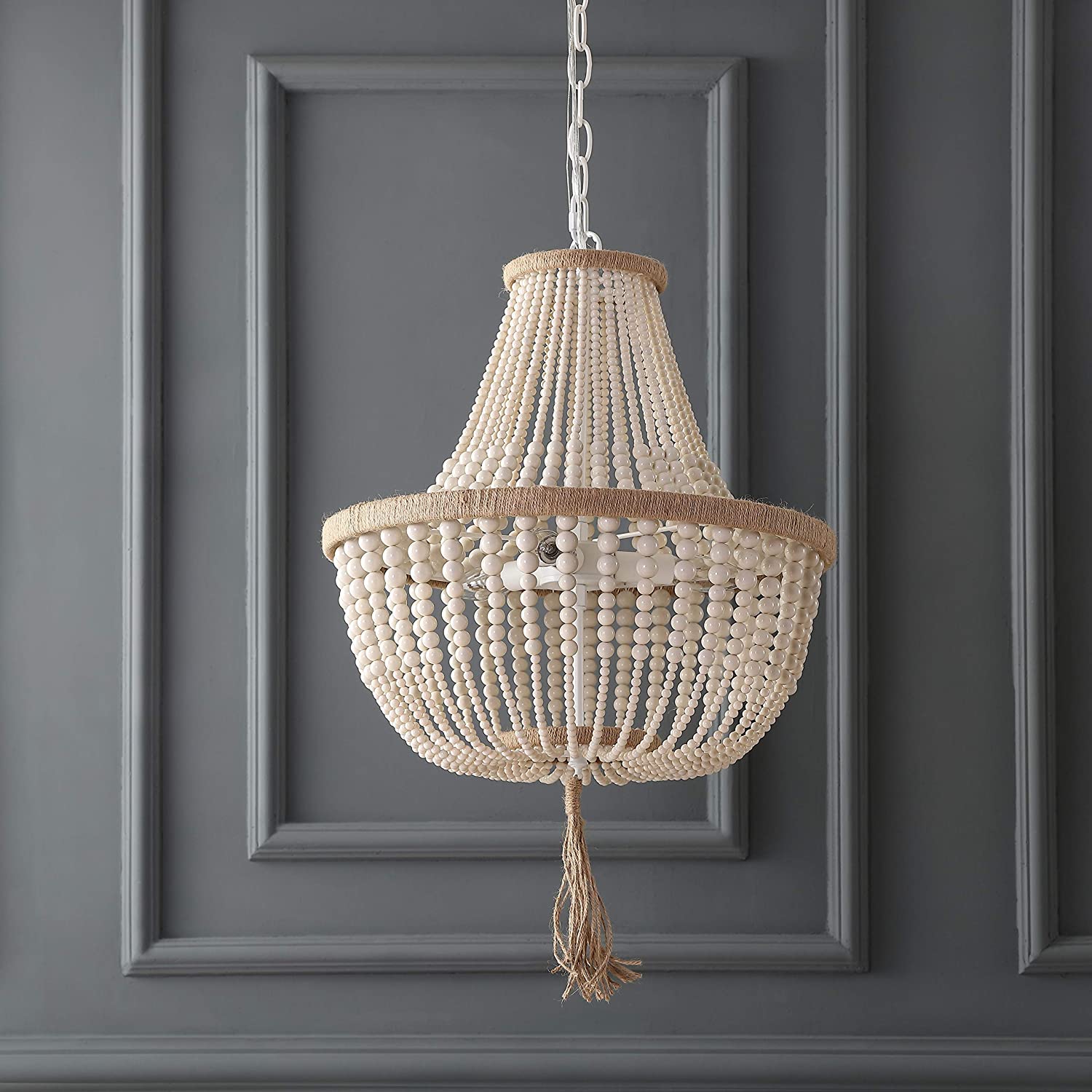 Another affordable Amazon beaded chandelier worth noting is THIS ONE (#13) with natural beads and a metal frame. It's currently listed for $179 and also ships free HERE.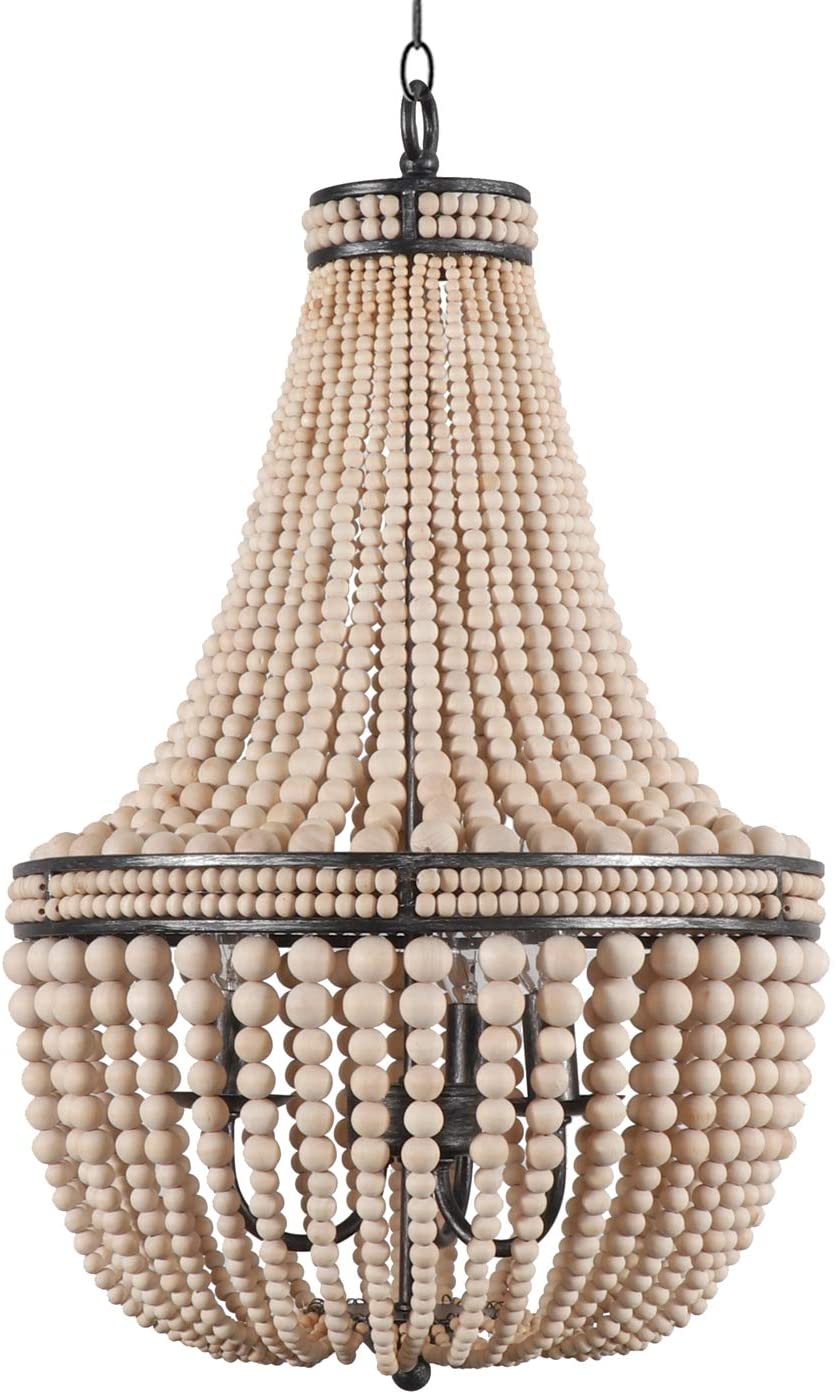 This guest bedroom is actually no longer set up as it is transitioning to become Eliza's playroom (currently, our "closet" for holding all the contents of our bathroom and closet from the flood). But, it was the first place I added a beaded chandelier. Honestly, I love the fixture (HERE) but it was mainly out of indecision on the rest of the room. I didn't know what my mirrors would be, my curtain rod, etc. I  played it safe and am so glad I went for this light; just like the breakfast nook, I can't think of many situations where this light won't work. And, if you're not sure if you're fully committed to a full beaded light, THIS is a nice in-between light. It's a big light and especially with its size, is on the more affordable end of the spectrum (it also ships free).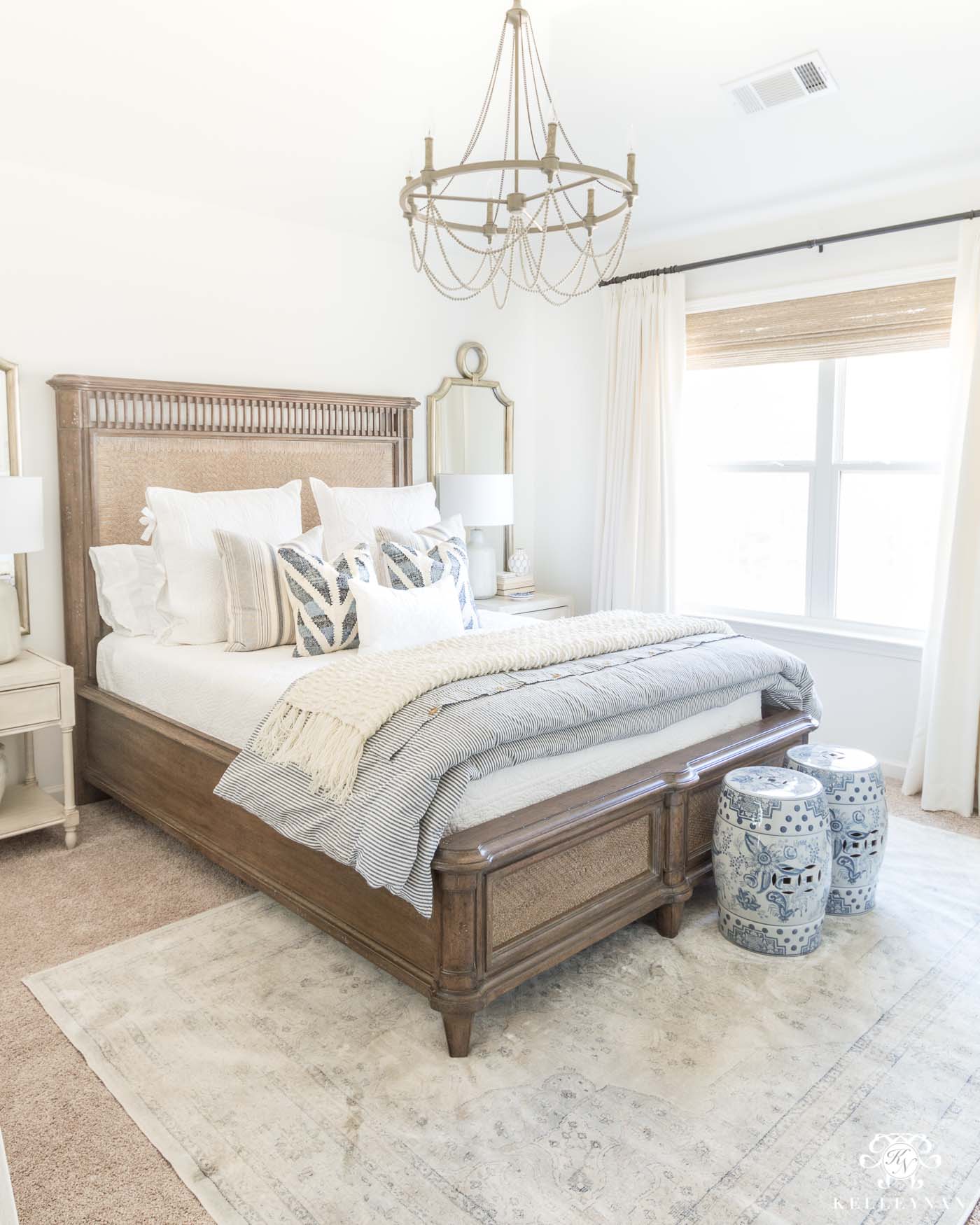 Sources: Chandelier | Mirrors | Lamps | Rug | Garden Stools (similar) | Striped Duvet Cover | Hannah Quilt & Euro Shams
A Few Gorgeous Notable Beaded Chandeliers
While they make an appearance in the graphic above, these three beaded chandeliers deserve a spotlight all on their own.
The natural beading on THIS wood bead chandelier (#10) is so unique and stunning! While it could lean more casual, it definitely helps dress the space up, as evidenced in this pretty living room with shiplap ceiling. The marriage of relaxed meets refined is executed to perfection!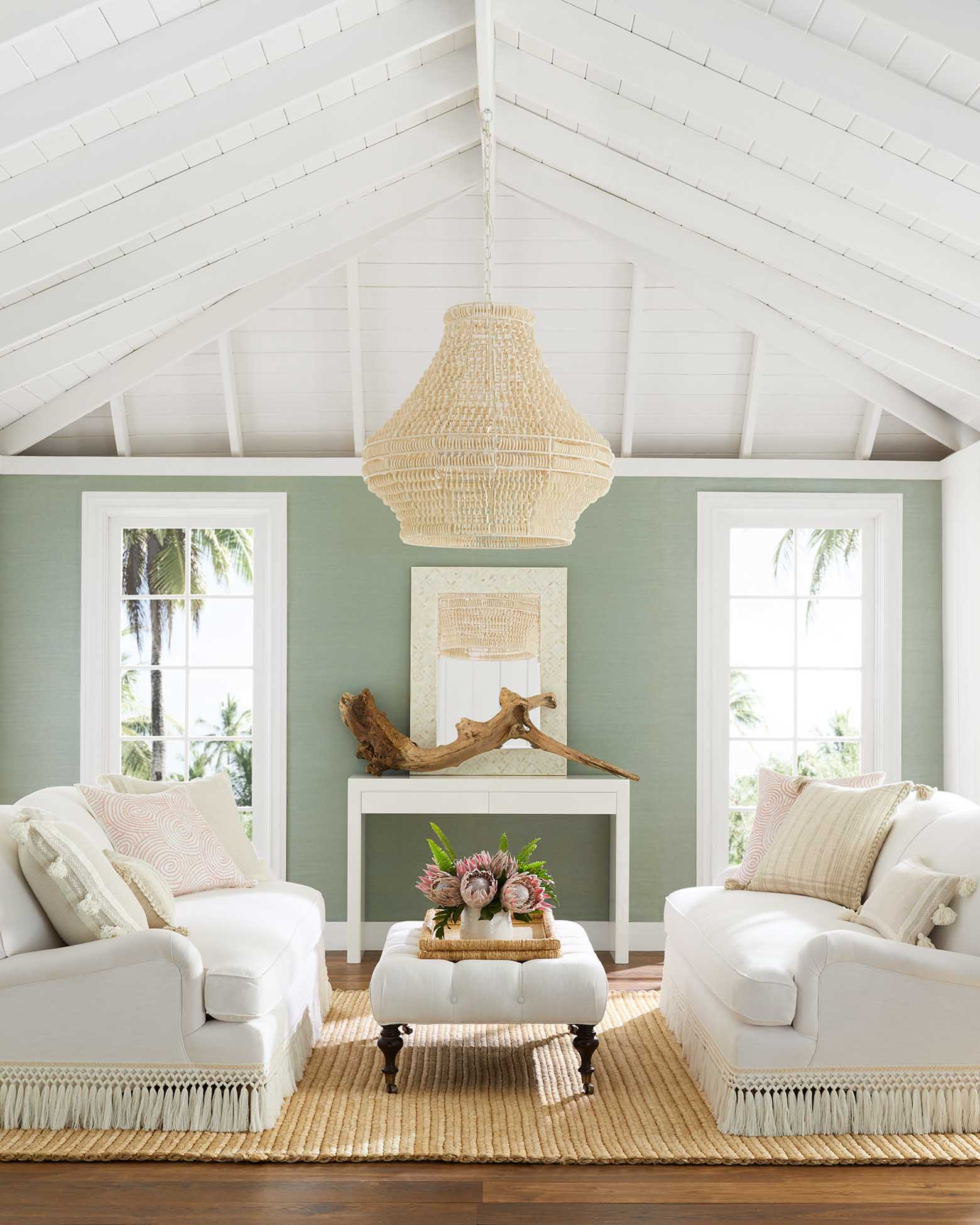 I love the updated bowl shape of THIS white wood bead chandelier (#5); and, at 30″ wide, it would be stunning in both a living rom or a bedroom, too.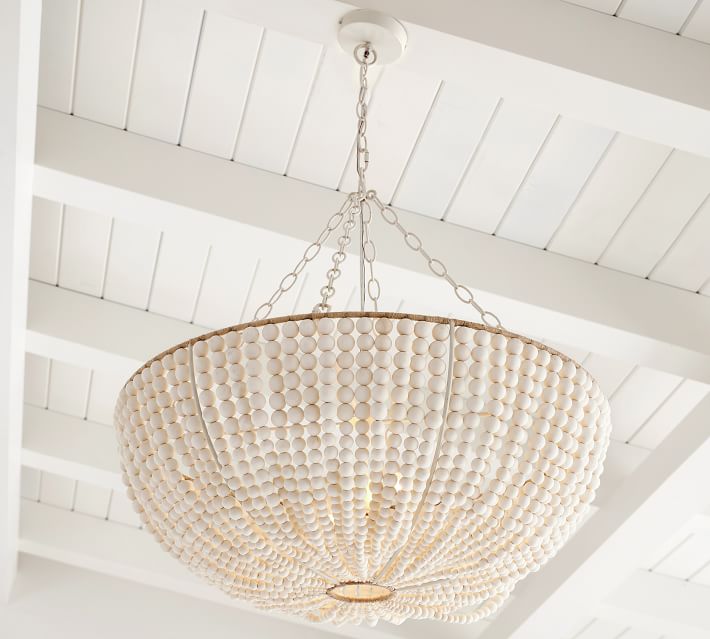 White Beaded Chandelier (Image via Pottery Barn Product Listing)
I love the shape of THIS beaded chandelier (#2) and the woven accent detail is interesting and fresh. This is another light that could go anywhere but I love the idea of it serving as the focal point for an eating area (as pictured below) or in a living space. You can find it HERE.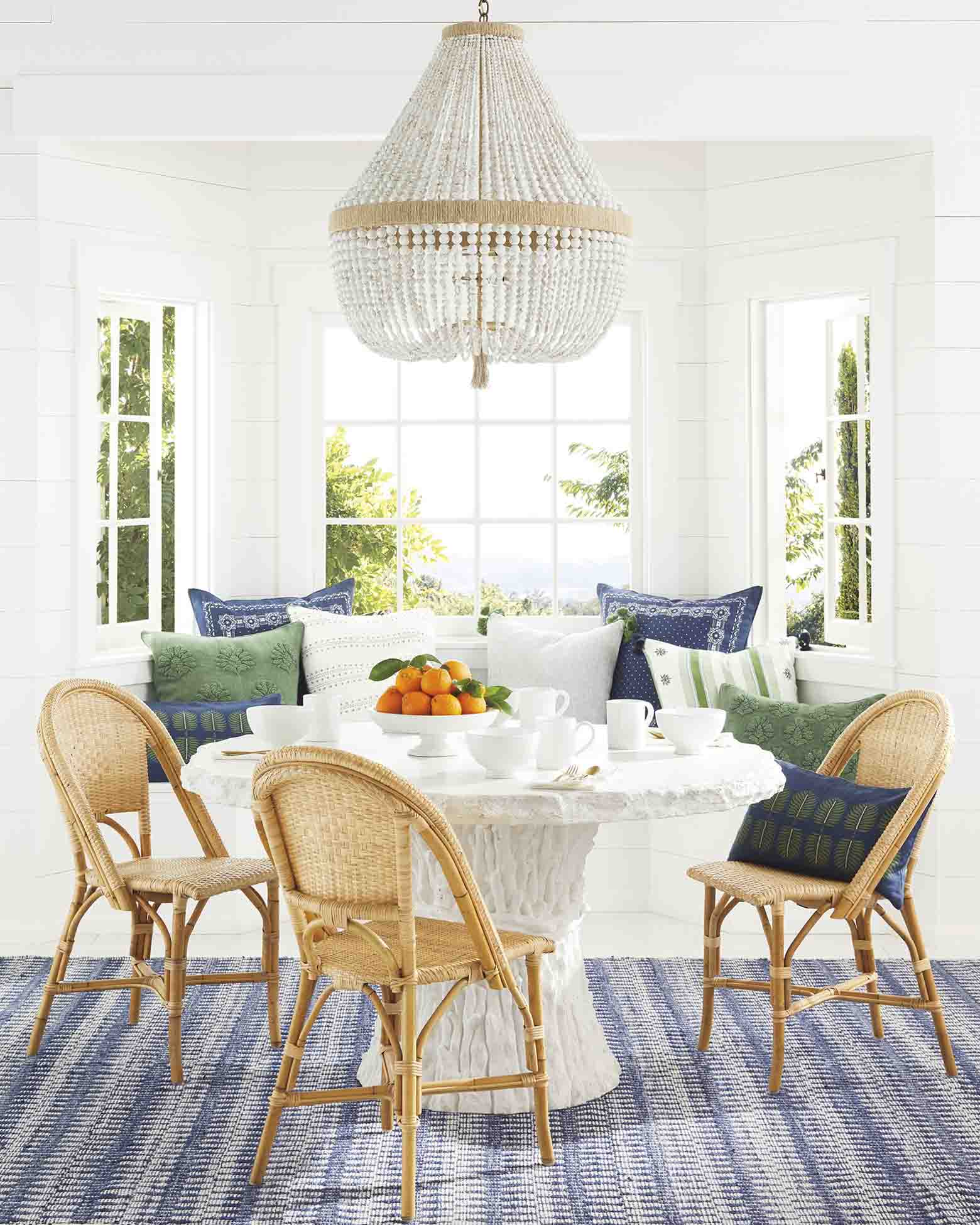 Beaded Chandelier (Image via Serena & Lily Product Listing)
I was hoping to incorporate a beaded chandelier in my new master bathroom remodel (see the plan HERE), but the weird vaulted ceiling layout isn't going to allow for it. To follow progress on that project and more, be sure to subscribe to my emails at the bottom of the post!
Tap to Shop Beaded Chandeliers