One of the top things I look forward to in late spring and early summer is the fresh, home grown produce that begins to appear at farmer's markets, roadside stands and if you are industrious enough, from your own garden! Peppers is about as adventurous as we get on that front but one day — mark my words — I'm going to have an impressive (to me) little varietal garden, full of our favs. Today, I'm sharing a family favorite side dish — an easy, delicious sautéed corn recipe. It's best fresh and local but grocery store varieties are perfectly acceptable. And if you're a fan of all the veggies during the summer, this is a simple recipe you'll want to pin, revisit, and add to your meal plan!
*Posts on KelleyNan.com may contain affiliate links. Click HERE for full disclosure.
Fresh Summer Corn
We got spoiled when my mom lived in south Alabama — she was only one mile away from the BEST farmer's market. Most of the produce was locally grown, cheap and plentiful. One of our top picks we would stock up on was the locally grown Baldwin County Silver Queen and Silver King corn. My mom would always bring us some when she came to visit and of course, when we visited her, a trip to the farmer's market was mandatory. These varieties don't last that long when it gets too hot, so the first corn of the season has always been a great treat for us.
We have corn on the cob throughout the entire year — Dave and Eliza could eat it every…single…day. But there's another way to use that delicious, first-of-the-season-corn — off the cob and coupled with some other great summer produce, like bell peppers and sweet onions. My favorite way to eat it… stripped and sautéed.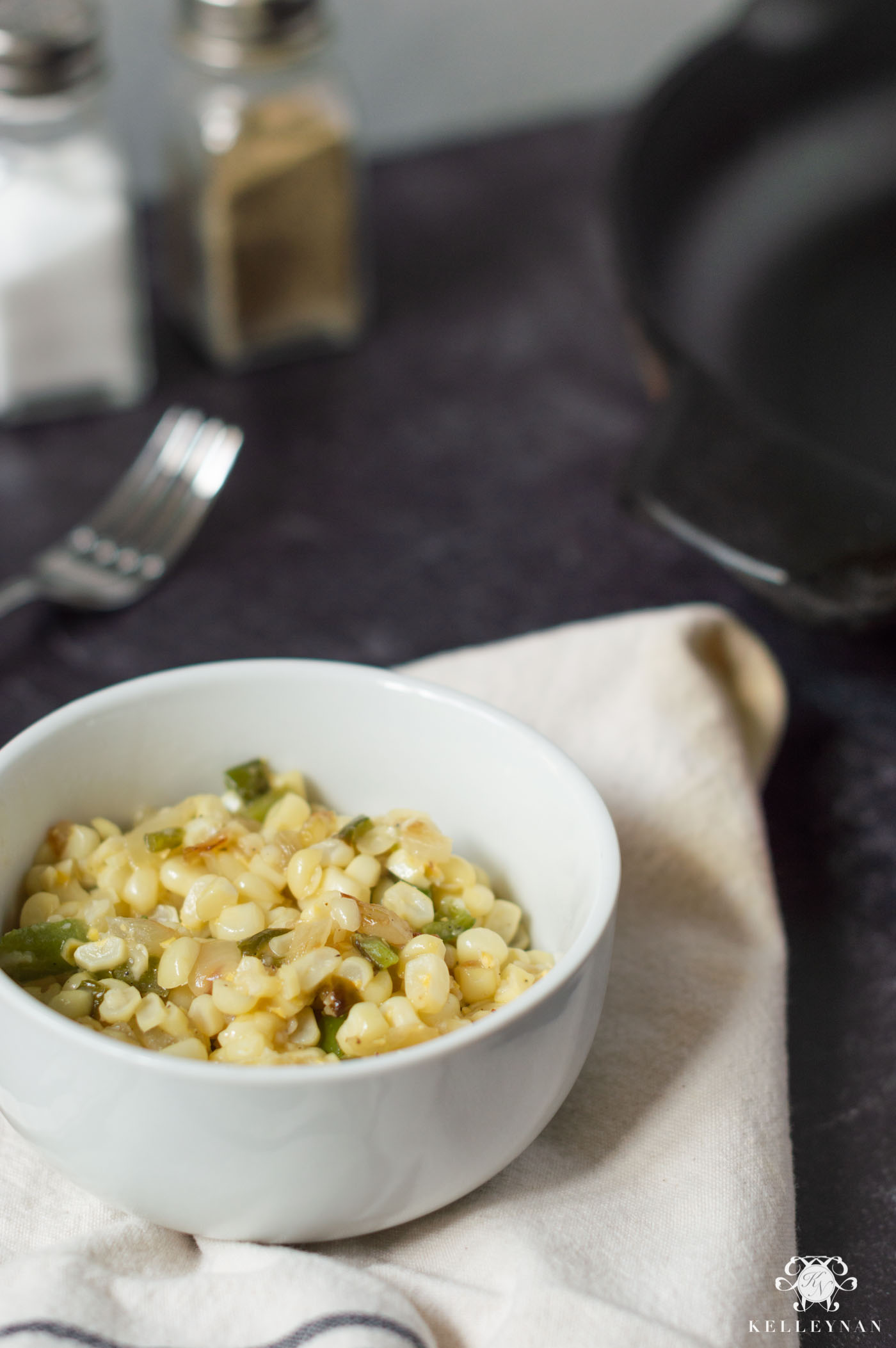 The Silver King and Silver Queen corn varieties are prized for their sweetness and the kernels are so tender. The corn barely has to be cooked and is also a fantastic addition to summer salads. The biggest "pain" in preparation of this recipe is shucking the corn and cutting the corn from the cob. I'm sure many of you have some awesome methods to simplify these steps and I'd love to hear them! I actually just ordered THIS highly rated corn peeler from one of my favorite brands off Amazon (ships free) so I'll have to keep you posted on that 😉
How to Prep Fresh Corn to Sauté
I've found that it's great to work from your kitchen sink to alleviate flying corn silks and kernels. I've honed my shucking skills over the years and can usually shuck a cob with three pulls. The trick is grabbing several shucks, along with the silks, at once. I then rinse the cob under water and remove any remaining silks. My method for cutting the kernels from the cob is detailed in the recipe below. I typically use a sharp kitchen knife for this step (I've shared THIS 7″ knife before, but it is crazy sharp and my favorite multi-use kitchen knife), but am hoping THIS tool will simplify the process. It's important that you "milk" the cob with the blunt side of a knife after you have removed the kernels as the "milk" acts as a natural thickener for the dish.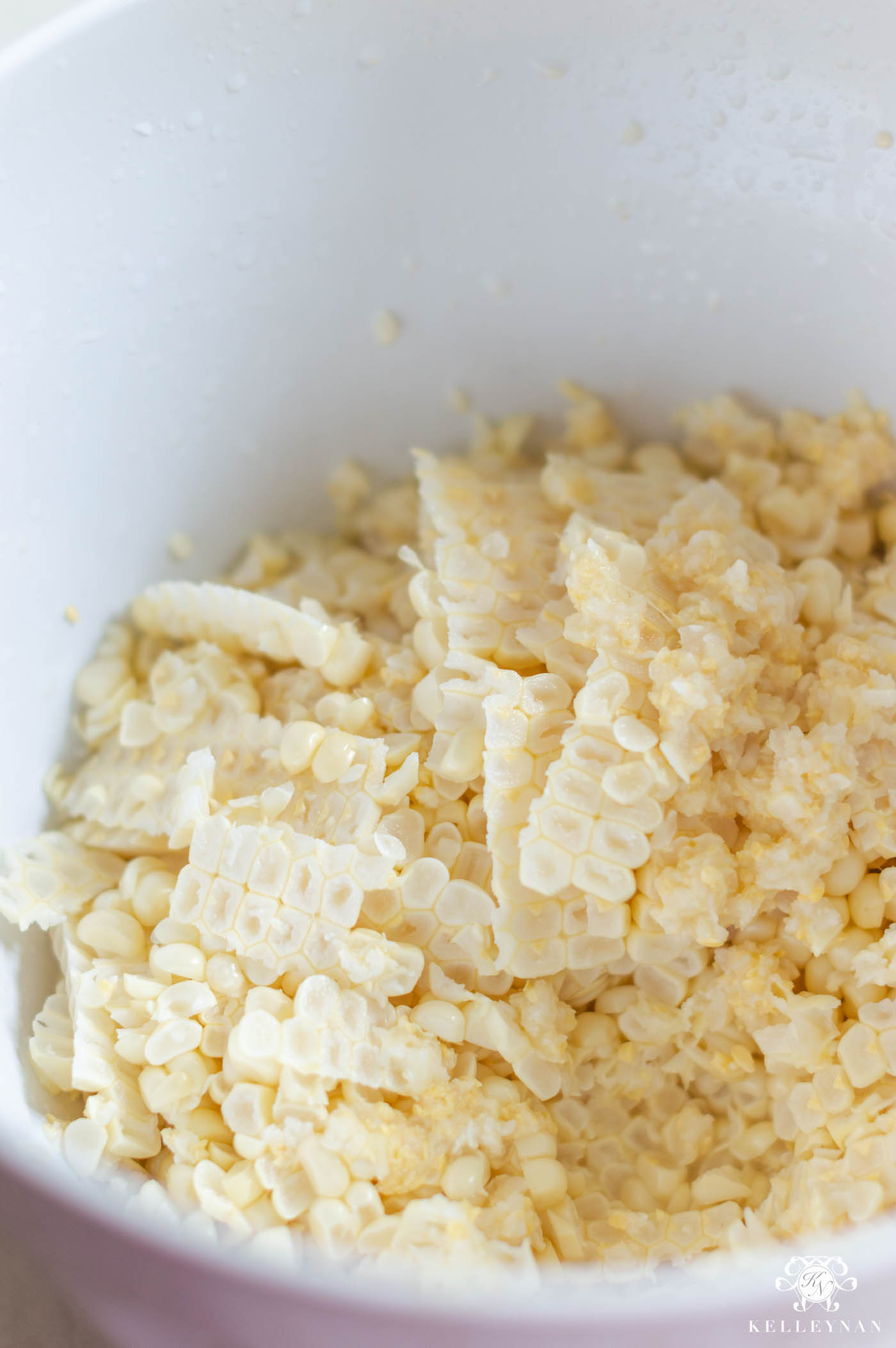 A good pan will make all the difference, too. I love THIS 12″ frying pan — it's pricey but an awesome addition to your arsenal of quality kitchen tools.
Sautéed Corn Add-Ins
This great summer side dish goes great with any meat or casserole and could even be featured as the "star" in an all-vegetable dinner, which is one of most favorite meals in the summer! You can also personalize your own sautéed corn dish with some of your own add in's; a few ideas are…
Chopped bacon
Finely diced jalapeno pepper
Chives
Chopped green onion
Finely chopped tomato
Fresh lima beans
Trader Joe's "Everything But the Elote" seasoning
Seasoned salt
Cajun seasoning
Fresh Sautéed Corn Recipe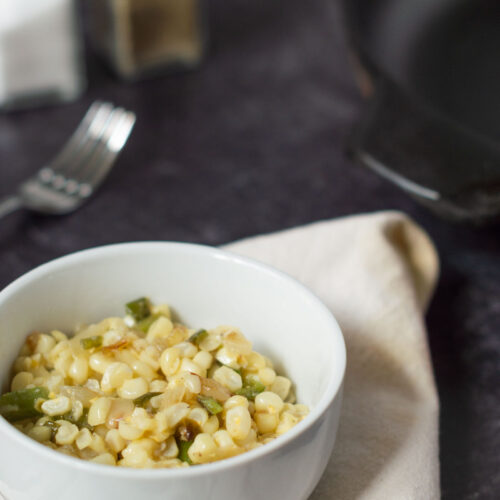 Fresh Sauteed Corn
Easy summer vegetable side dish, using early summer corn is best!
Ingredients
4

ears

fresh corn

Silver Queen and Silver King are excellent for this recipe

1

bell pepper

1

onion

1

Tbsp

butter

1

Tbsp

olive oil

salt and pepper
Instructions
Shuck and de-silk corn. Using a sharp knife, cut the tips of the kernels off into a bowl. Then, cut the kernels off deeper, taking care to not go down to the cob. With blunt side of the knife, "milk" the length of the cob and scrape the corn liquid into the corn bowl.

Chop bell pepper and onion.

Over medium heat, melt butter. When melted, add olive oil.

Add bell pepper and onion to pan, and saute until onion is translucent and pepper is cooked.

Add corn to pan and cook for approximately 3 to 5 minutes. Fresh corn is very tender and does not take long to cook!

Add salt and pepper to taste.
Recipe Notes
Additional spice, such as Cajun seasoning, may be added to spice things up!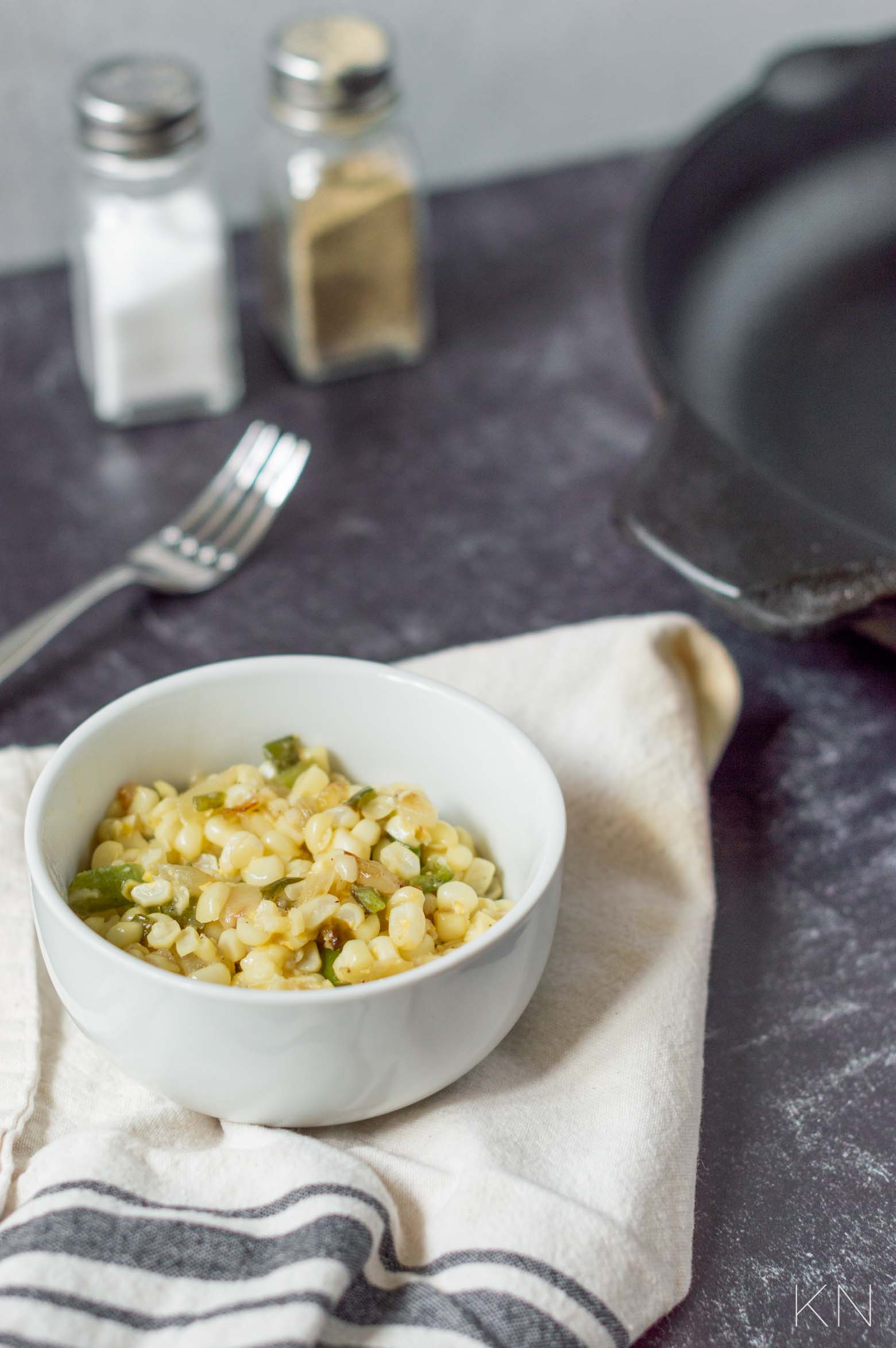 In our house — and in the way I grew up — we are all about using as many veggies in simple ways for yummy summer sides. If you have a favorite, easy go-to, I'd love to know!
Along with more easy summer recipes — for sides, main courses and desserts — I'll be sharing more home project progress soon! Be sure to subscribe to emails at the bottom of the post to catch all the latest updates.
Scroll & Tap to Shop Sautéed Corn Prep & Cook Tools

PIN FOR LATER