Demo finally starts tomorrow! And, it was the deadline I needed to finally get myself in gear, decide the direction for the master bathroom vision, and get the design plan together. We've been sitting with boxed vanities in our garage for over a month and then put a "pause" on any more moves until timelines were worked out. This is all new for me — I've never flooded a bathroom, much less taken on renovations like this — so there will be lots of lessons learned along the way. If you missed the original "why" and "what", you can visit my announcement (oops) post HERE. The footprint of our bathroom isn't changing, just the "stuff" inside it is being wiped out for the most part. After the initial shock and "I can't believe I did that" wore off, we decided to take a semi-conservative approach to making the bathroom what we want. With so much already having to be ripped out, we're using this as an opportunity to not just replace, but do some upgrades along the way. I have a few splurges worked in and am trying to opt for more modest decisions in other areas to make up for them (even just a little bit). But, as we go along and I'll be trying to incorporate a few smart solutions, we also aren't turning this into a bathroom filled with all the bells and whistles (i.e. no heated floors that so many of you recommended, haha). Nonetheless, we totally weren't planning or prepared to take on projects of this caliber this summer — and I'm less than thrilled about the time and monetary investment involved — but I'm stoked to create an updated master bathroom we love. Today, I'm sharing the transitional master bathroom design plan — where tradition meets modern and our dull brown tile will be but a mere memory from the days of flooded sinks.
*Posts on KelleyNan.com may contain affiliate links. Click HERE for full disclosure.
See the final Bathroom Reveal HERE.
Transitional Master Bathroom Design Plan
I have never "done" a bathroom before so prior to even starting the concepting of our master bathroom design, I was drawn to so many different types of colors, features, lines, and overall aesthetics. I love bathrooms with contrast and clean lines and I also love bathrooms that are glitzy and feminine. I love bathrooms with patterned tile and bold colors, and I also love bathrooms with an uber simple, minimalistic aesthetic. Ultimately, the design of our vanities (HERE) steered the direction for what I'm going for — clean and bright with modern lines, and a bit of frilly tradition added in 😉
Before we break it all down, here's the mood board that pulls the design plan together.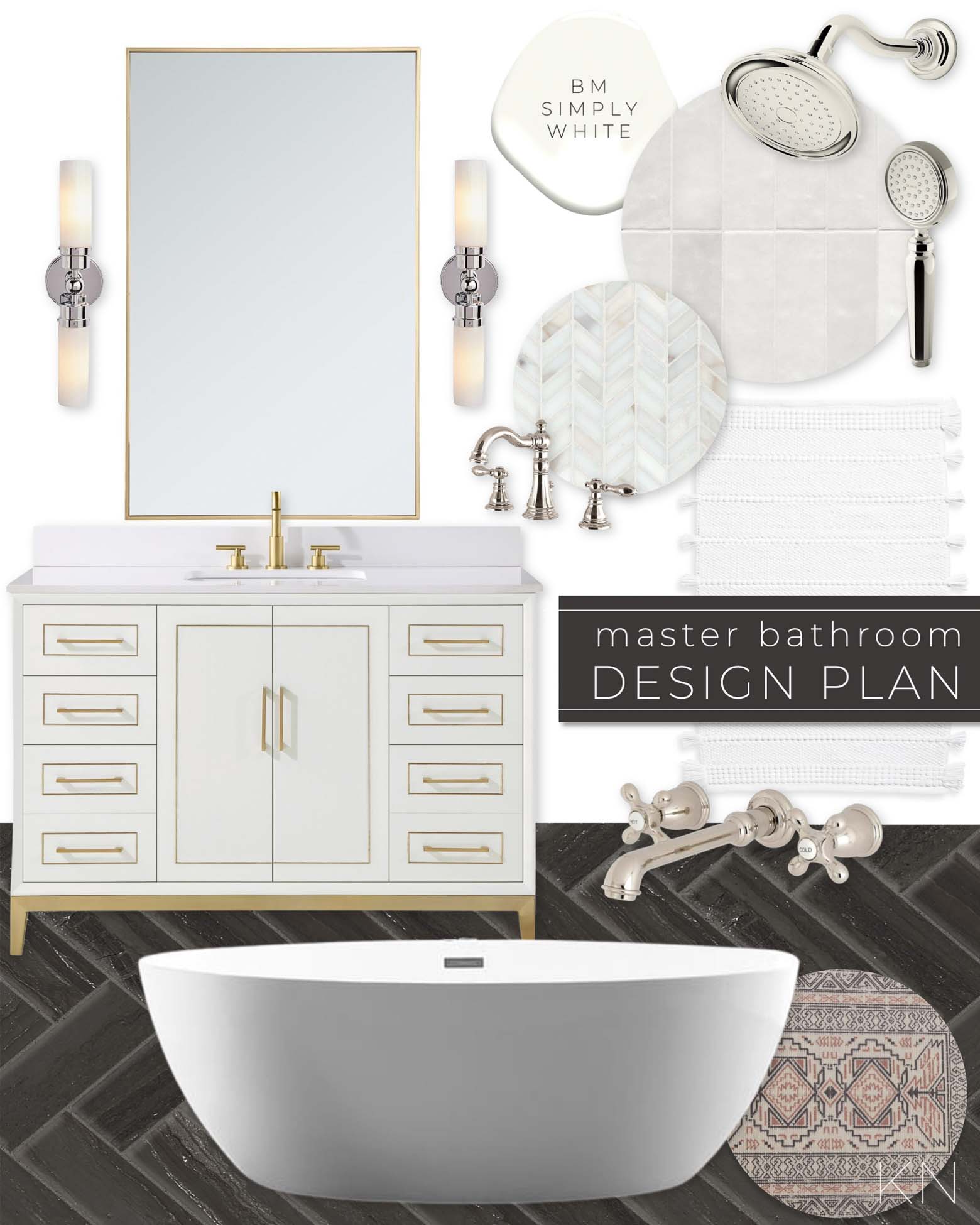 Vanities | Sconces (polished nickel) | Mirror (brass; 31″x48″ ) | Freestanding Tub (55″) | Tub Filler (polished nickel) | Sink Faucets (polished nickel) | Shower Head (polished nickel — 2.5 GPM) (see post for all individual pieces) | Handheld Shower Sprayer (polished nickel — 2.0 GPM) (see post for all individual pieces) | White Bath Mat | Turkish Runner Rugs | Highland Black Floor Tile (12″x24″) | Cloe Shower Wall Tile (white — 2.5″x8″) | Calacatta Oro Marble Chevron Inlay Tile
Like I mentioned, we are not changing the footprint of the bathroom and the layout is such that Dave and I will continue to have separate vanities. I opted for the white with gold details and white granite top, but there are other configurations in black, blue and Carrara marble tops HERE. I give an overview of the vanity details in THIS post, along with some of the features — the vanity was my first in a short list of splurges but it's so unique and beautiful, I think it firmly sets the tone for the potential for the rest of the bathroom.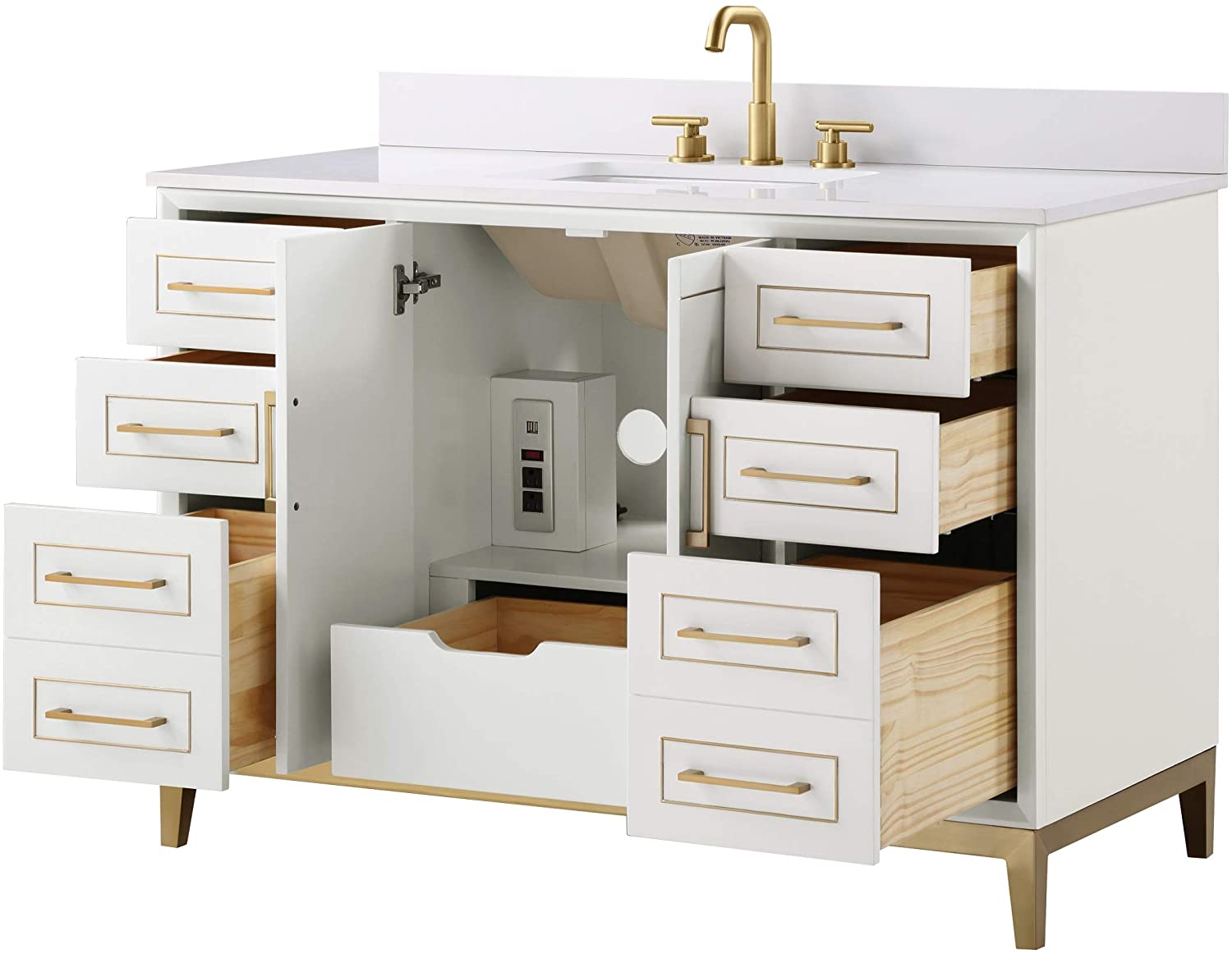 With the clean lines and gold accents on the hardware, drawer fronts and base, I immediately decided to opt for a simple (but oversized) gold/brass thin framed mirror to go above each vanity to mimic the streamlined look. But, to add in some of the more feminine detail I love, I wanted to go for something a little more traditional for the plumbing fixtures. To compliment but contrast the brushed gold that's so prominent in the vanities, I ordered THESE sink faucets in polished nickel. Polished nickel is incredibly similar to a chrome finish — just a bit warmer, a little harder to find, and most often a little more pricey.
I actually was first drawn to the Kohler faucet from the Artifacts line. But, when I saw the price, I knew I could find something pretty and save a significant chunk of change here. I love my feminine powder room faucet (see the powder room HERE) — I was moments away from just ordering the same faucets in a polished nickel finish but at the last minute, decided to go for one by the same brand, just a little shorter (HERE).
Below is a visualization of both the Kohler faucet and the Kingston Brass faucet I ultimately ordered. Also note- the Kohler faucet has to be ordered separately from the handles while the Kingston Brass faucet comes all together. The below cost reflects one sink faucet; I had to order two — one for each vanity.
*below graphic reflects current available prices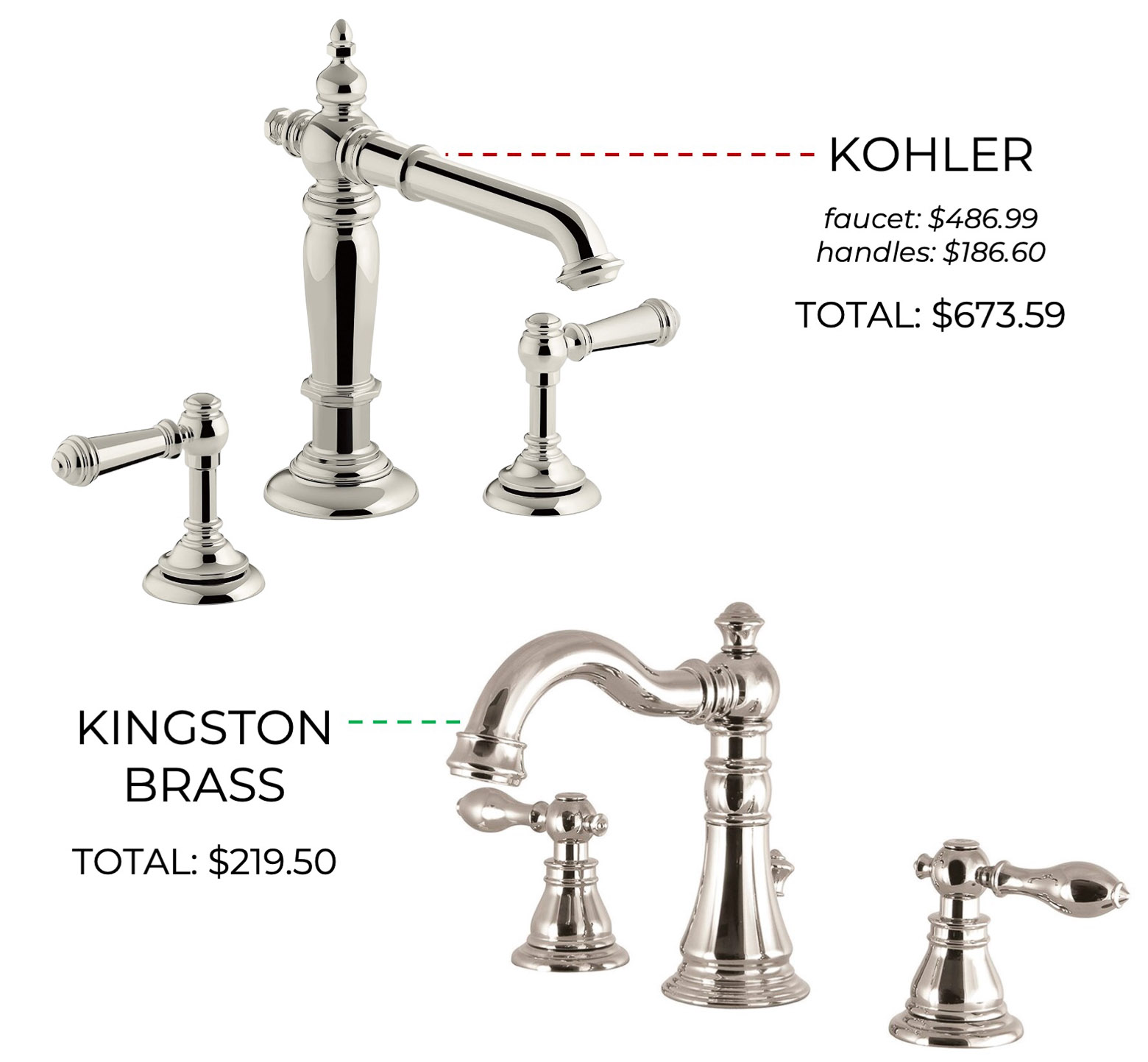 Kohler Artifacts Faucet | Kohler Artifacts Lever Handles | Kingston Brass Faucet (w/ handles)
I almost went with the coordinating tub filler from the same Kingston Brass line, but really wanted more of a linear faucet that still had some of those vintage qualities. I went for THIS one — still by Kingston Brass; while it also comes in a lever handle option (HERE), I loved the look of these handles for the tub.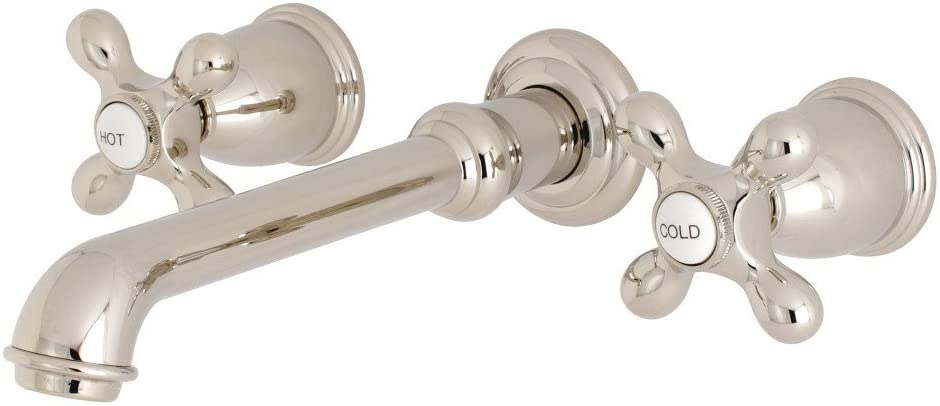 Tub Filler (polished nickel)
The whole reason I went down the Kohler Artifacts hole with the faucets was that selecting our shower system ended up being a more difficult task than I realized. I had a clear vision of what I wanted initially — between the shower head, handheld, no bar, etc. — that I couldn't find anywhere. I spent a marathon of hours trying to source components and knew nothing about what I needed, along with needed plumbing pieces (like valve stuff) and the trim kit. I finally went in person to a local showroom, pieced together what I wanted in minutes (from the Kohler Artifacts line), and the associate ordered every component that I needed. This is where I should have started since I was clueless, but lesson learned. There's literally like 10 different components to the shower system and I had no idea. I've listed each piece below in hopes that it may be helpful (I wish I had had a last before starting haha). The good news is that she was able to go ahead and give me the plumbing pieces that go behind the wall, and while most bathroom stuff (and construction materials in general) are so far delayed, the longest current lead time of any component I ordered was 35 days.
Because the corner tub would have to be untiled, removed and reset, we are going ahead and removing it and replacing it with a freestanding tub. The spot the tub will be positioned isn't large and the contractors said it would need to measure no more than 60″ — ideally less. We aren't a house of tall folks and water depth to me is more important than length so I ordered THIS 55″ tub. The reviews are good, it's on the more modest side of costs in terms of tubs, and the water depth is deeper than most I found.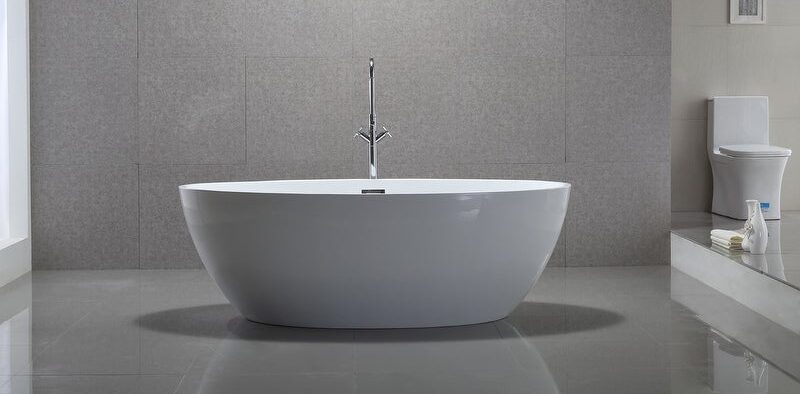 We have yet to order the tile but I was fairly quick in deciding what I wanted. The Cloe 2×8″ tiles in white — each tile a varied shade of light neutral from ivory to white to pale gray — was a quick "yes" for the shower. I think the vertical stack (imagine the below image but the tiles turned vertically) instead of a traditional tile will help make what could be an otherwise traditional looking bathroom just a little more fresh. The pretty veining in the calcatta oro marble has both gray and gold thought and I think not only complements the cloe tile seamlessly without too much contrast, but also brings the brushed brass and polished nickel plumbing fixtures together in a nice way. I originally thought I wanted a faux wood tile — large rectangular planks in a lighter, white oak type finish. But, after I assembled what I thought I wanted the shower to look like, I really liked the idea of pairing it with a dark floor. Because there's not a lot of pattern in the shower and the chevron tile is in a small scale and not so overt, I'm planning a herringbone pattern with the black tiles. In person, it's beautiful with different shades of black and gray running through the tile. For the shower grout, I will stick to more of a light grout and the bathroom floor, likely a medium gray.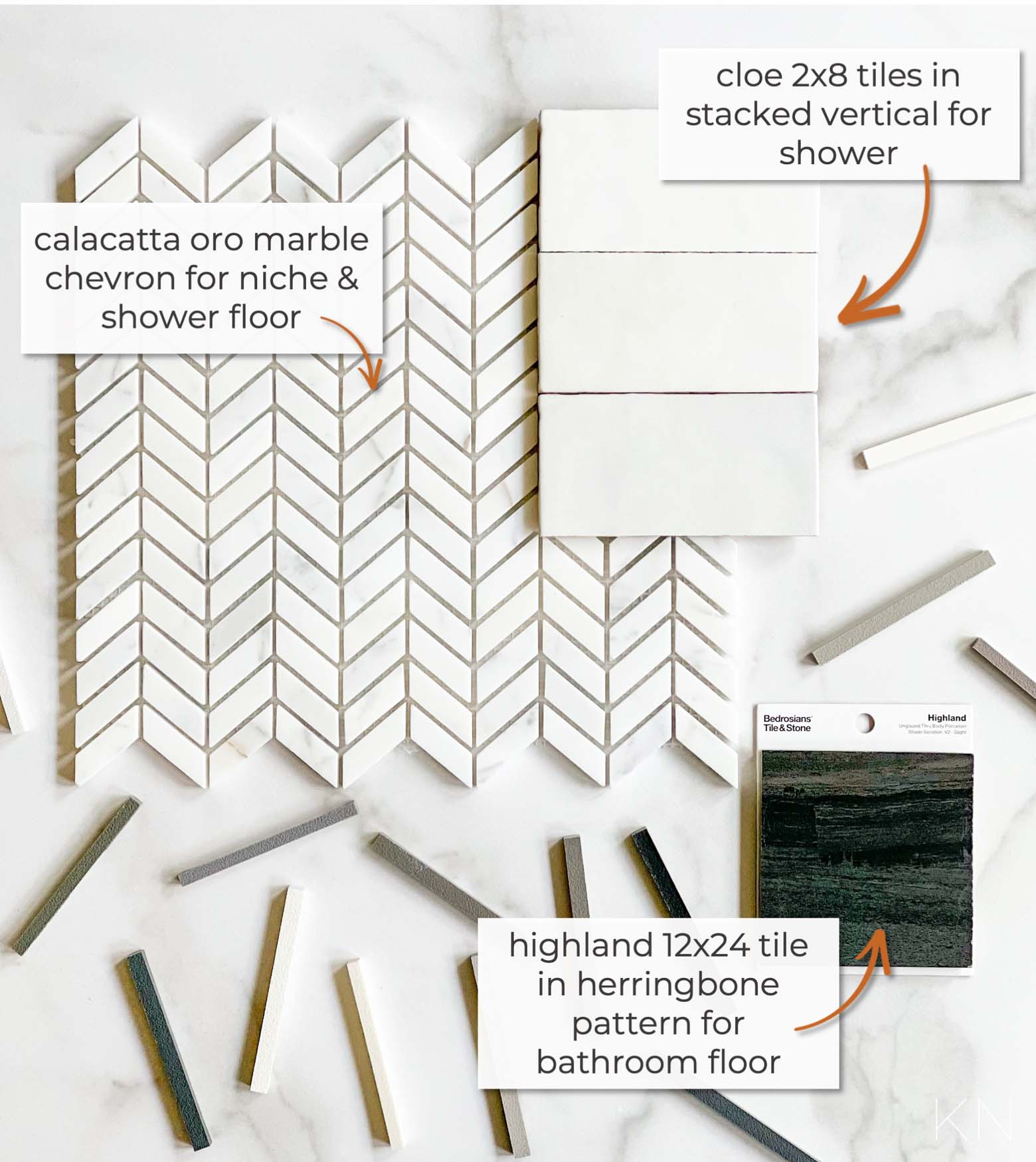 Highland Black Floor Tile (12″x24″) | Cloe Shower Wall Tile (white — 2.5″x8″) | Calacatta Oro Marble Chevron Inlay Tile
Per the find of my friend Kris (Driven by Decor), I did order THIS linear shower drain. It takes the same tile inlay as your shower floor to make for a camouflaged, clean drain solution. I'm anxious to see how that turns out! It's fairly inexpensive and I ordered the 28″ option.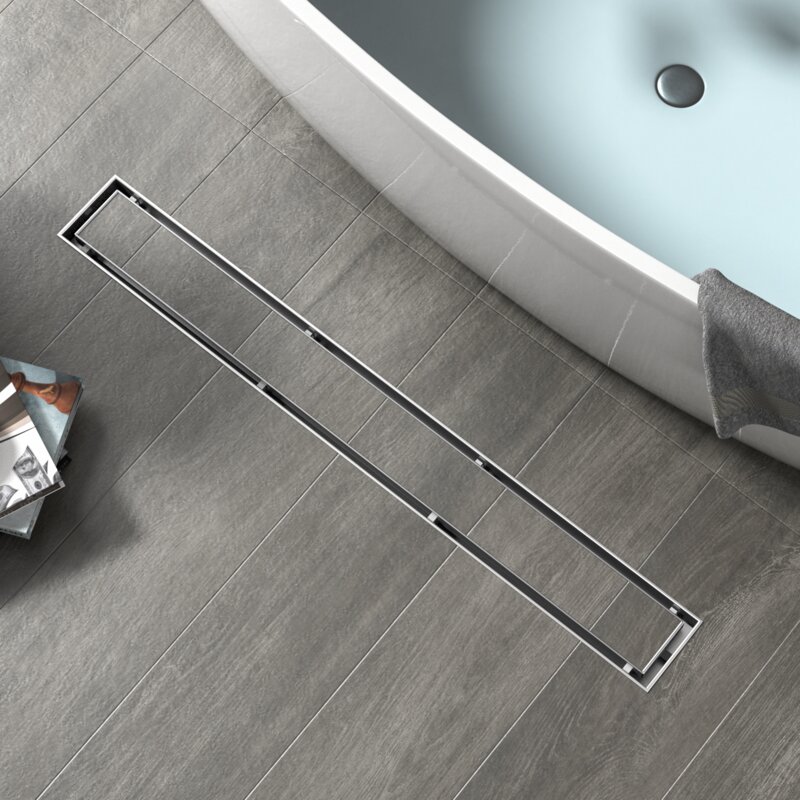 These double sconces were among my first decisions — we'll have four total- two flanking each side of our respective mirrors. You can see the polished nickel finish in the below image — second from the right. This is also a better visualization between chrome (the first fixture in the line-up) and polished nickel that we chatted about earlier in the post.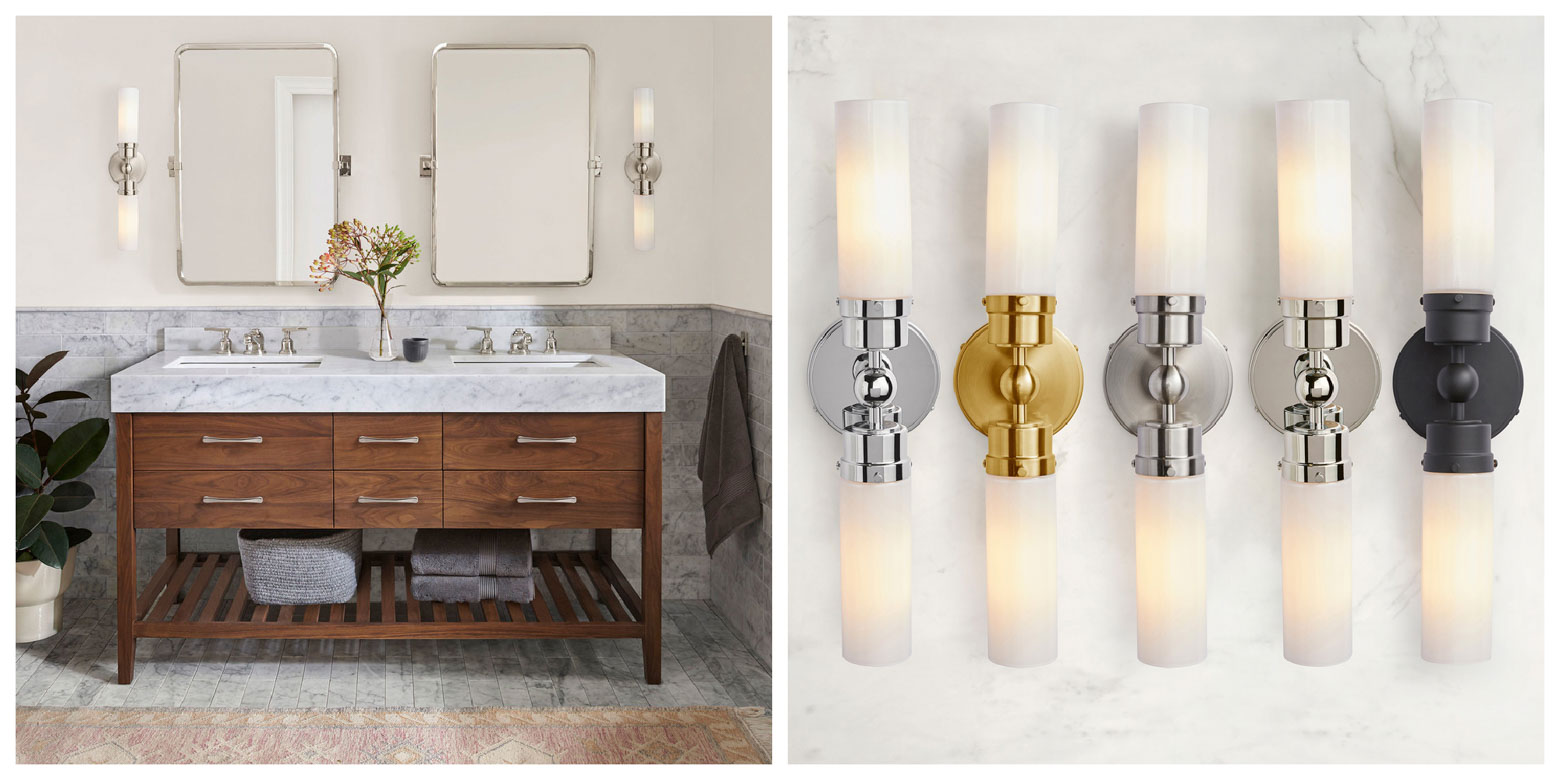 Sconces (images via Rejuvenation product listing)
I'm going to hold for a bit on accessories but I've already spied a few solutions I like. THIS inexpensive Turkish style runner on Amazon is currently only $25.99 (and ships free via Prime) and I kind of like the idea of using two — one in front of each vanity, OR, using one in front of the tub. but, I also love the crispness of THIS white tasseled bath mat, which would pair well with THIS runner (also under $26 on Amazon and with a current 5% off coupon)…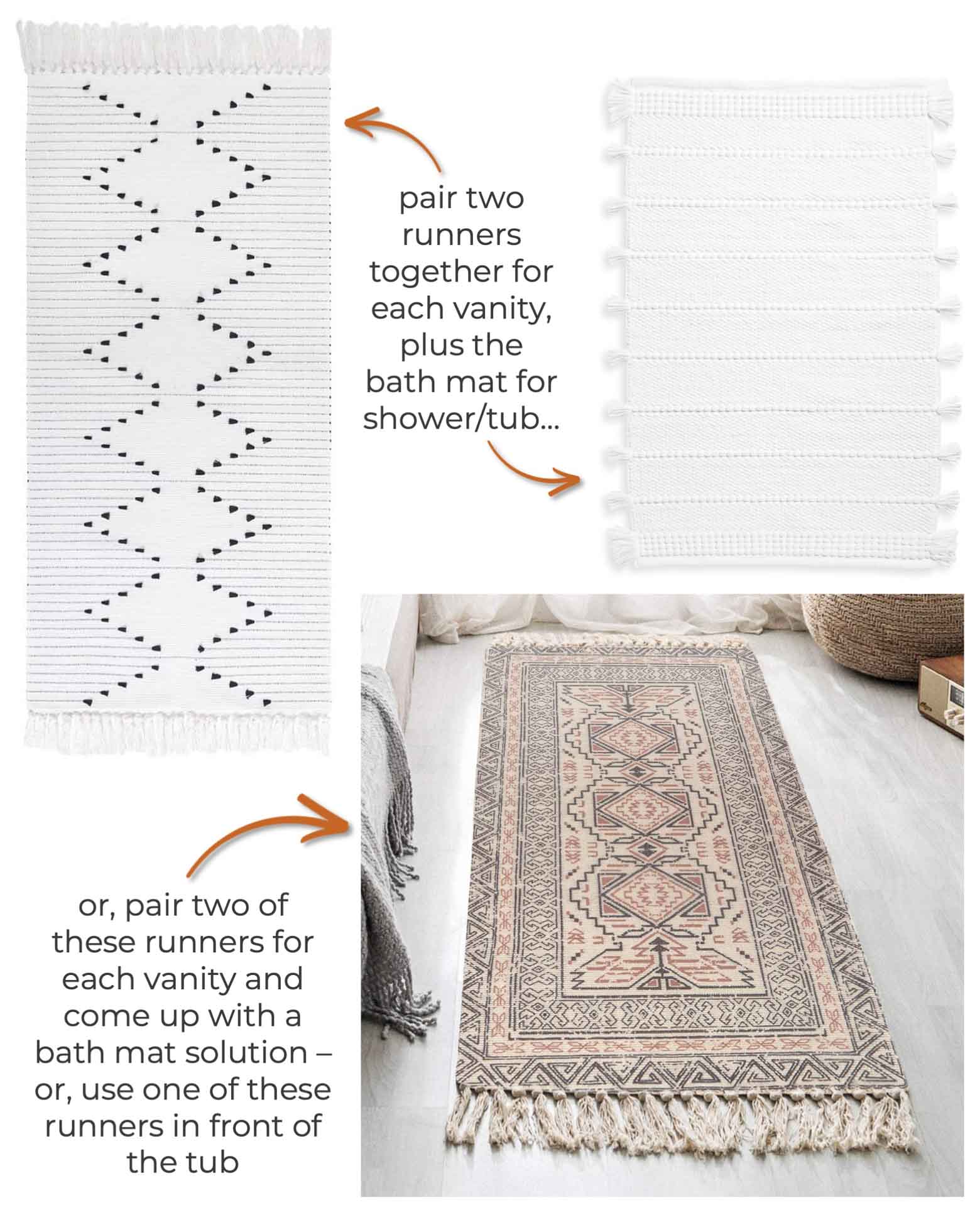 Turkish Runner | White & Black Runner | White Bath Mat
I'll be sharing more as the space comes together and I'm sure I'll have lots of errors to divulge along the way. But, I hope to also have some wins and am looking forward to creating a space we love! To watch the project unfold and to catch all upcoming projects, be sure to subscribe to emails at the bottom of this post.
See the final Bathroom Reveal HERE.
Check out my gallery of prior room reveals and makeovers HERE.