The master bathroom is still untouched with half-ripped up tile and sub-flooring as the current primary situation. We haven't started the remodel just yet as we're waiting on insurance approvals and such, and I still am not 100% committed to exactly what I want to do. However… even without having clear direction, I've already ordered replacement vanities and they should arrive before the end of the week! While we are going ahead and using this whole flood thing as an opportunity to make upgrades to the master bathroom since so much construction will already be taking place, we won't be changing the actual footprint of the space. Instead of one long, double-sink vanity, we will continue to have two separate his and hers vanities, in their current respective locations. With wall space limitations, the longest the spaces would maybe accomodate is around 50-52″. A 48 inch bathroom vanity is a common size and by far easier to find something that's more than 50″ but less than 60″. After searching for hours and days, I landed on a pair of vanities that again — while I have no idea my specific design plan — I loved. Today, I'm sharing 16 favorite 48 inch bathroom vanities (plus a few that have a few extra inches!) that I came across during my searches that fit the bill in terms of design, function and storage.
*Posts on KelleyNan.com may contain affiliate links. Click HERE for full disclosure.
See the final Bathroom Reveal HERE.
Why am I looking to order a vanity instead of having one built?
My initial thought here was I'm going to have a lot of logistics to manage in terms of all the bathroom *things* that have to be ordered and there's a lot of components to vanities — from the sink and countertops to faucets, backsplash, cabinets, etc. I wanted fewer decisions to make and I also didn't want to go through the process of picking paint, slabs of hard materials for countertops, sinks, etc. All those items add up, too, and while my 48 inch bathroom vanities ended up costing a little more than I expected, there are so many gorgeous bathroom vanities that are affordable and come with just about everything except the faucet.
What am I looking for in a 48 inch bathroom vanity?
My biggest requirement for new vanities was to find something that had drawer storage. My current vanity has a single slim drawer, seemingly no deeper than the width of a quarter, and one cabinet. It has a cutout for a seat currently, but I never use it. So, it's basically like I just have a chunk of vanity missing. Any "special" features would be a perk and I also love the look of vanities with feet, for a more furniture feel. I also want a centered sink. I went through a similar search process when we made over our small powder room — you can see the reveal of that space HERE and a post dedicated to selecting a small (16 – 24″) vanity HERE. There's several considerations I list out in that post from backsplash and faucets to how the vanity will actually be used.
Favorite 48 inch bathroom vanities
Like I mentioned, when I started my search, I had zero clue in terms of direction. I wasn't sure if I wanted a bathroom vanity finish in white, black, wood, or maybe even a color. Then, I started gravitating towards black after seeing THIS black 52″ vanity… unfortunately, with a long lead time, it ruled itself out. Ultimately, I found the vanity that checked all the boxes. I sat with the price a bit before submitting my order and now I can't wait to get it in! Read on to see which 48 inch bathroom vanity I went with, more vanities I loved along the way, and some of the cool features of some of the cabinets I've included in the post.
*All vanity links can be found below the graphic*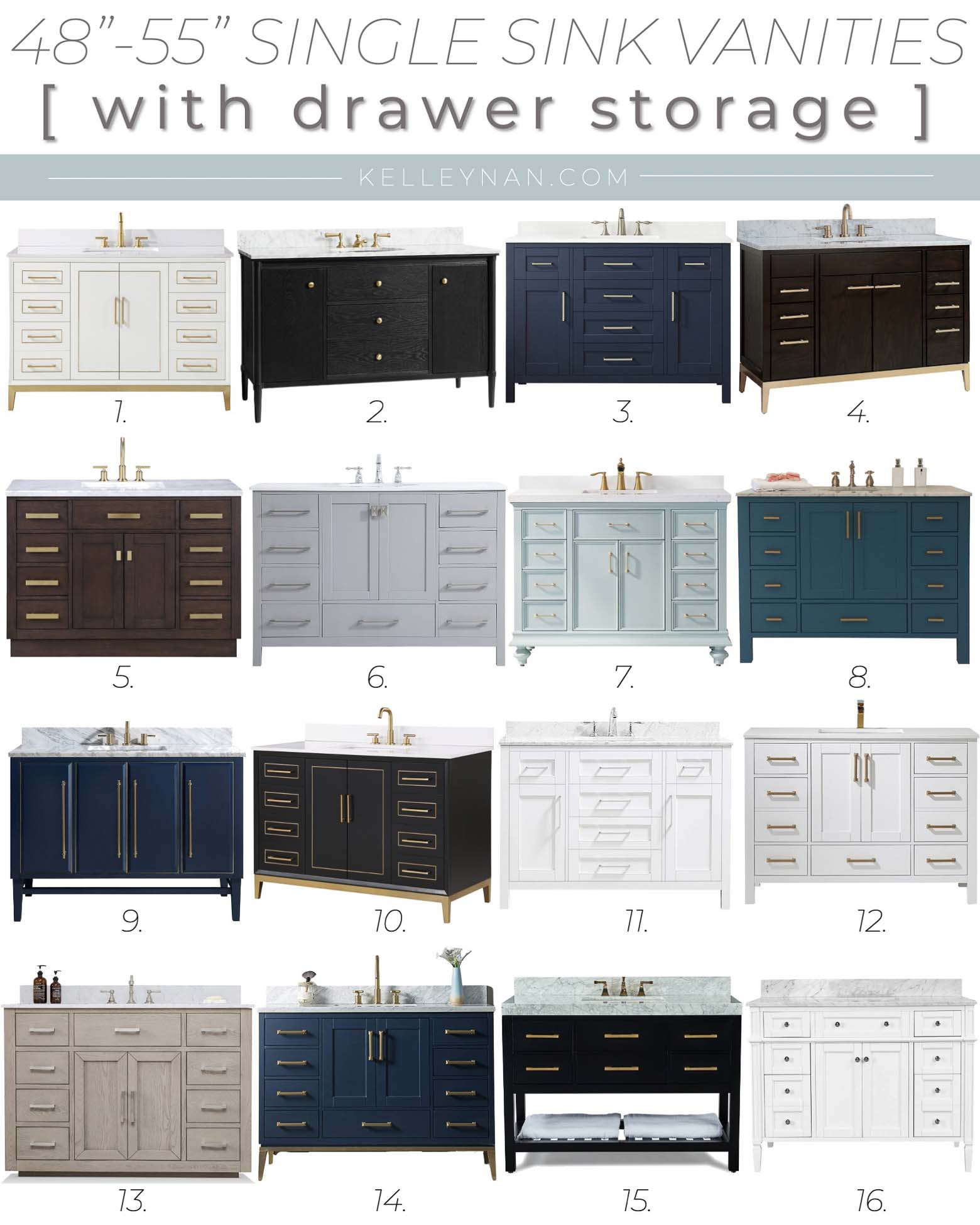 1 | 2 | 3 | 4 | 5 | 6 | 7 | 8 | 9 | 10 | 11 | 12 | 13 | 14 | 15 | 16
The vanity I went with? Or better yet, the pair of vanities I went with? Number 1! It's actually listed for the same price on Amazon (HERE) and Wayfair (HERE) and both ship free. Both have always been great in terms of customer service so I would feel comfortable ordering from either. The price had me a little bit because it was a fair amount more than others I had looked at. Plus, as I mentioned before, this isn't a remodel we were planning to take on. But, it was one of those things that when I saw it, I wanted it… so I did it. It's a 48 inch bathroom vanity that actually comes in three colors — white, black and midnight blue — I ordered the white. (Number 10 is a peek of the black finish — also stunning!) It also has good reviews across the internet and comes with a few options on countertops. It has a Carrara marble option but I selected the white granite. It has lots of drawer space and I love the gold feet and and gold details. It also has a power source inside the cabinet with USB and outlet functionality. I plan to store my hair dryer and curling irons inside the pullout, inside the cabinet and I love I have extended outlet space that will hopefully maintain some order. I also really like that the bottom drawers are deep double drawers with faux single fronts, to store more tall toiletries and hair products.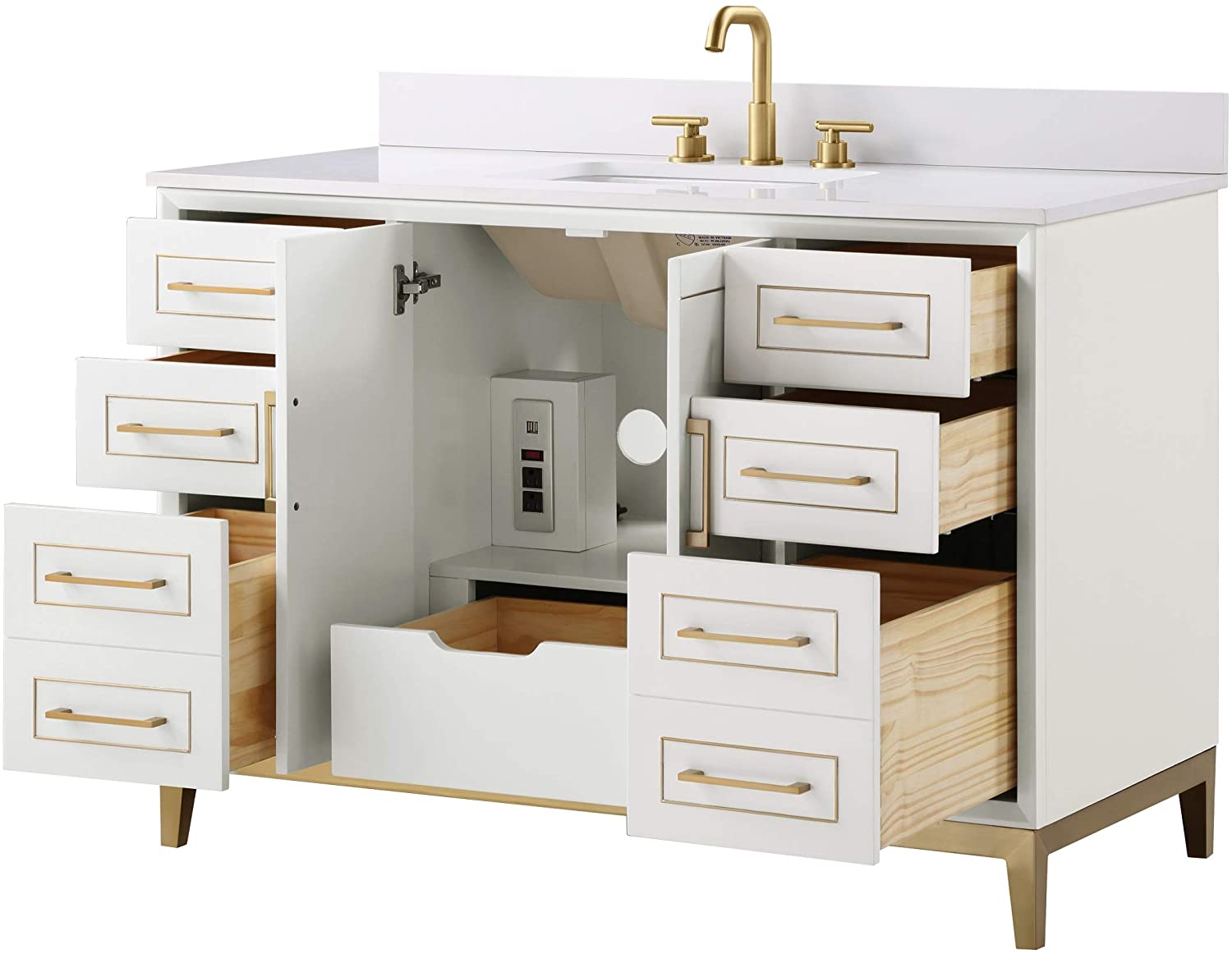 Number 3 is less than half the price of the vanities I ordered, is clean and sleek, and has smart storage for days! I love that he top "drawer" that is typically a faux wasn't wasted and they incorporated a pull-down cubby. Also, I'm digging the deep double-drawer-front bottom drawer and that the cabinets have shelves.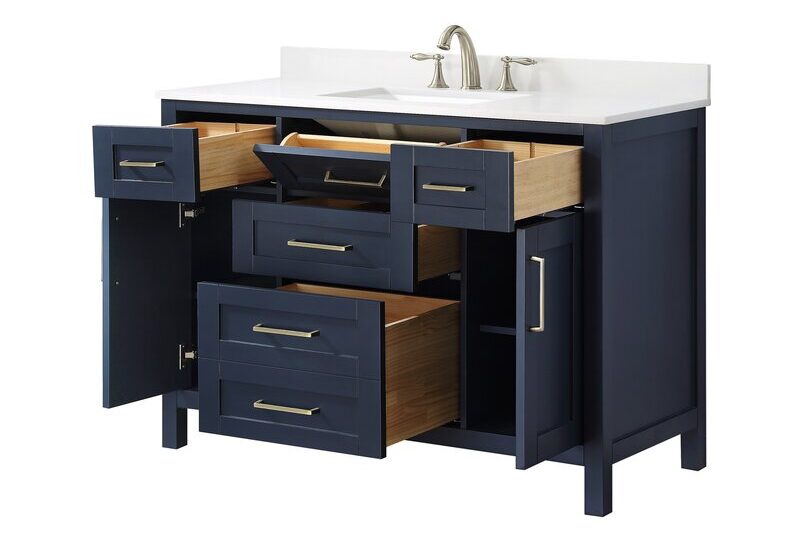 But the coolest feature is that it has built in organizers. It comes in this blue color but also a black and a gray HERE.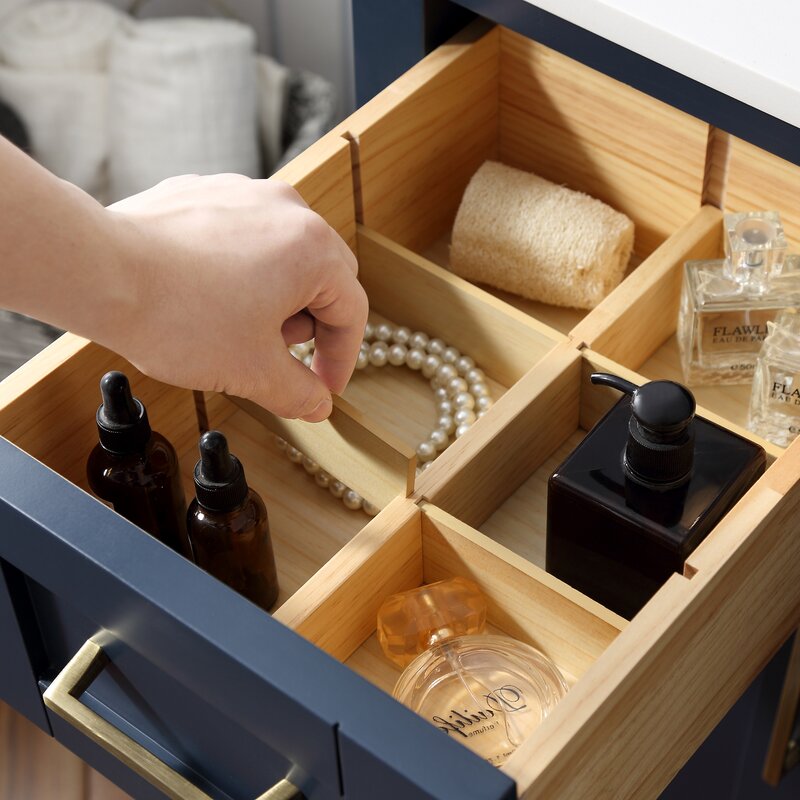 Number 6 focused on drawers in a major way, too! Along with the cabinet, there are nine functional drawers in this 48 inch bathroom vanity. It comes in four colors, including white, gray, black and blue.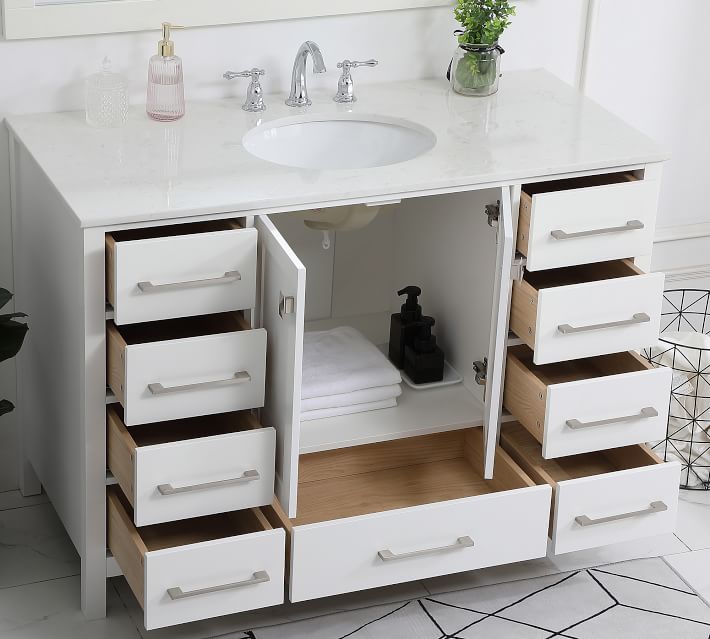 Number 7 almost had me. That Tiffany/robin's egg blue is gorgeous and so pretty for a bathroom. And, that gold hardware that accents it is just delicious. It has a perfect 5* rating of consumer reviews and, it's just… stunning. It also comes with middle drawers that are extra deep but ultimately, I still just wasn't totally sure with the direction I wanted to go in the bathroom and I knew this would make me commit to an aesthetic 100%. Like most of the vanities in this post, it does ship free 😉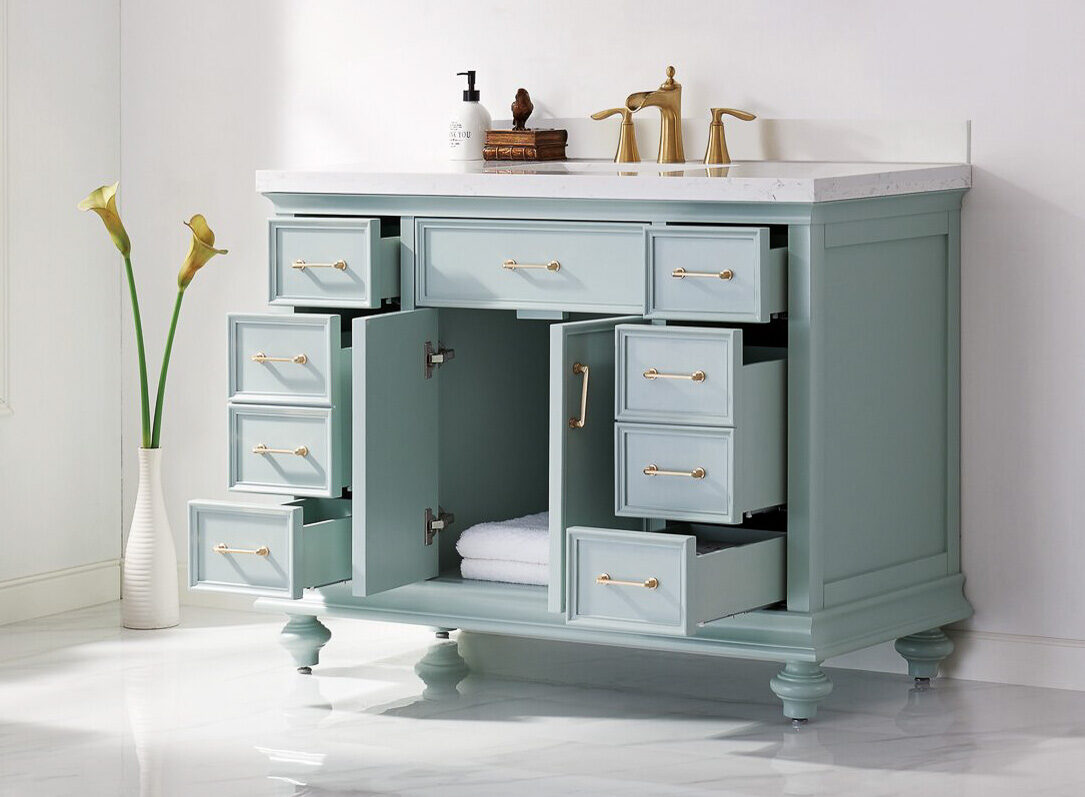 I love the color of Number 8 and I also love that it has nine functioning drawers! It comes in three colors, has 5* reviews, and also ships free.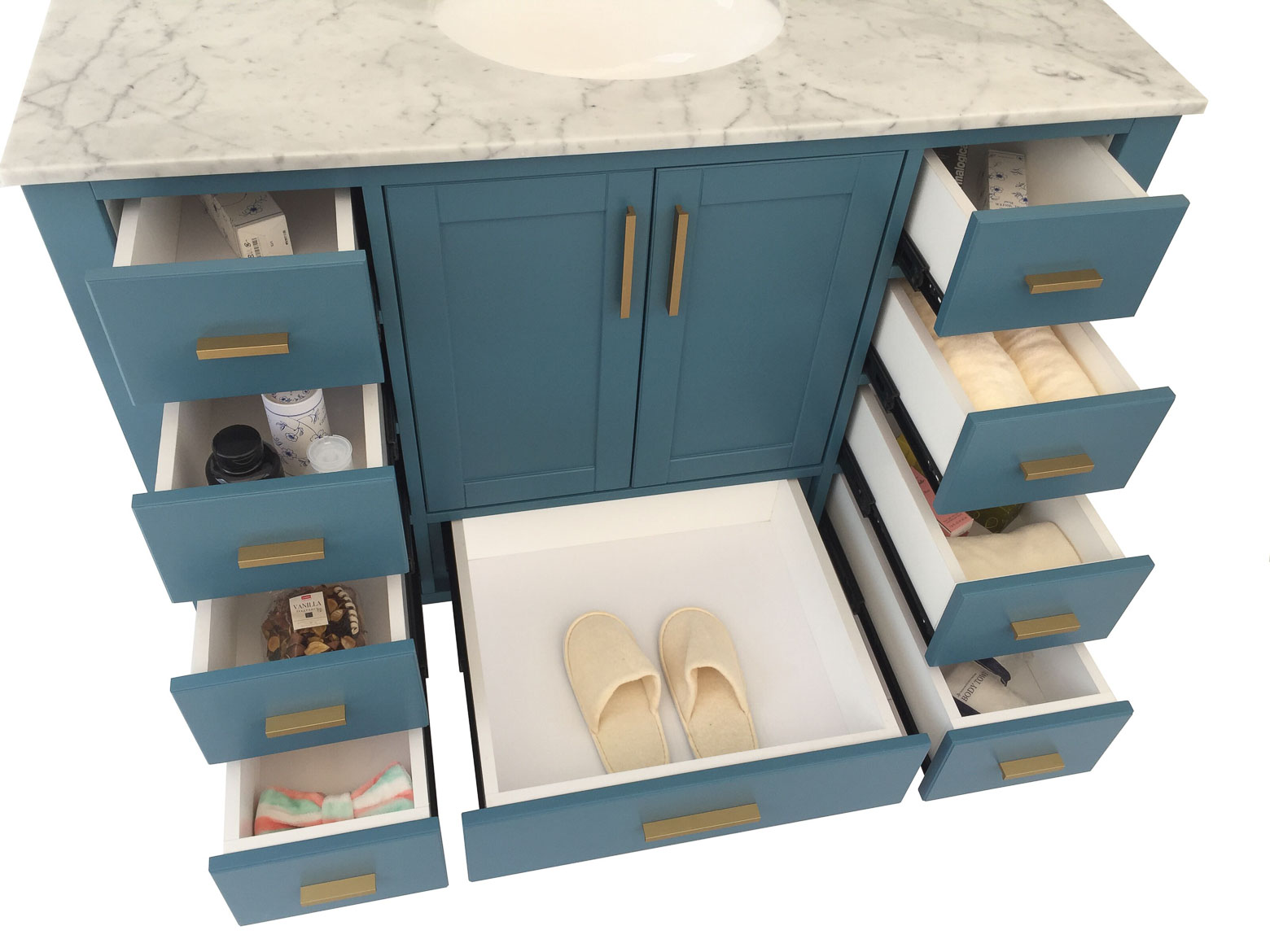 Number 9 is actually 49″ — it's stunning and unique and comes in three cabinet finishes, two countertop finishes, and both silver and gold hardware. While it looks like it's only cabinets, it actually does have a slide out drawer inside the center. It even has a built-in organizer and a spot for hair tools! But, with me wanting to go big on drawer space, it didn't have quite the drawer space I was looking for…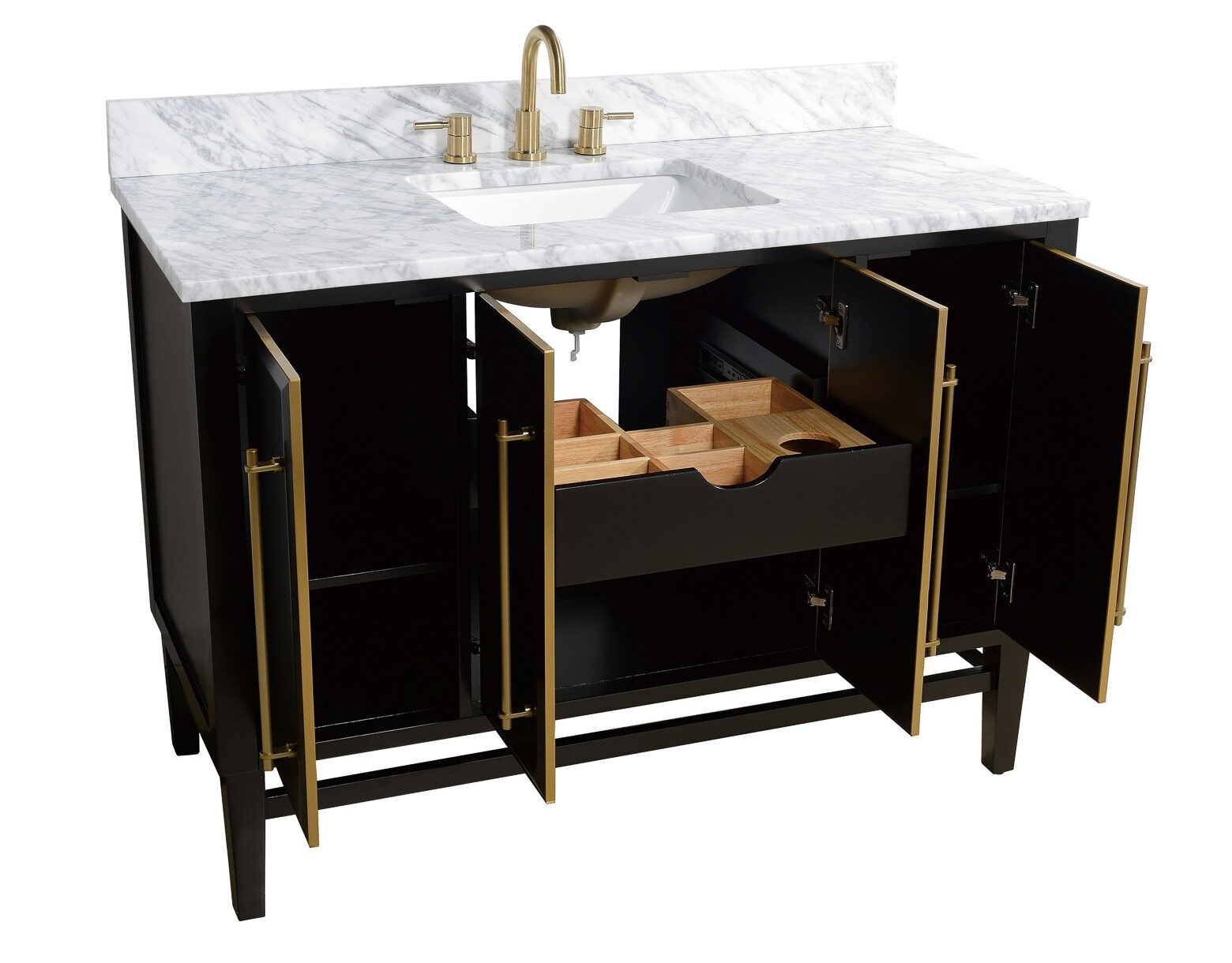 Number 11 is a favorite! It actually comes in four colors and three sizes, up to 72″, is one of the most affordable vanities in this post, and ships free. But, what I'm really crushing on are those organizers! Some of these bathroom vanities with organizers are a rare find that aren't typical unless you have something custom built. The storage in this 48 inch vanity is awesome.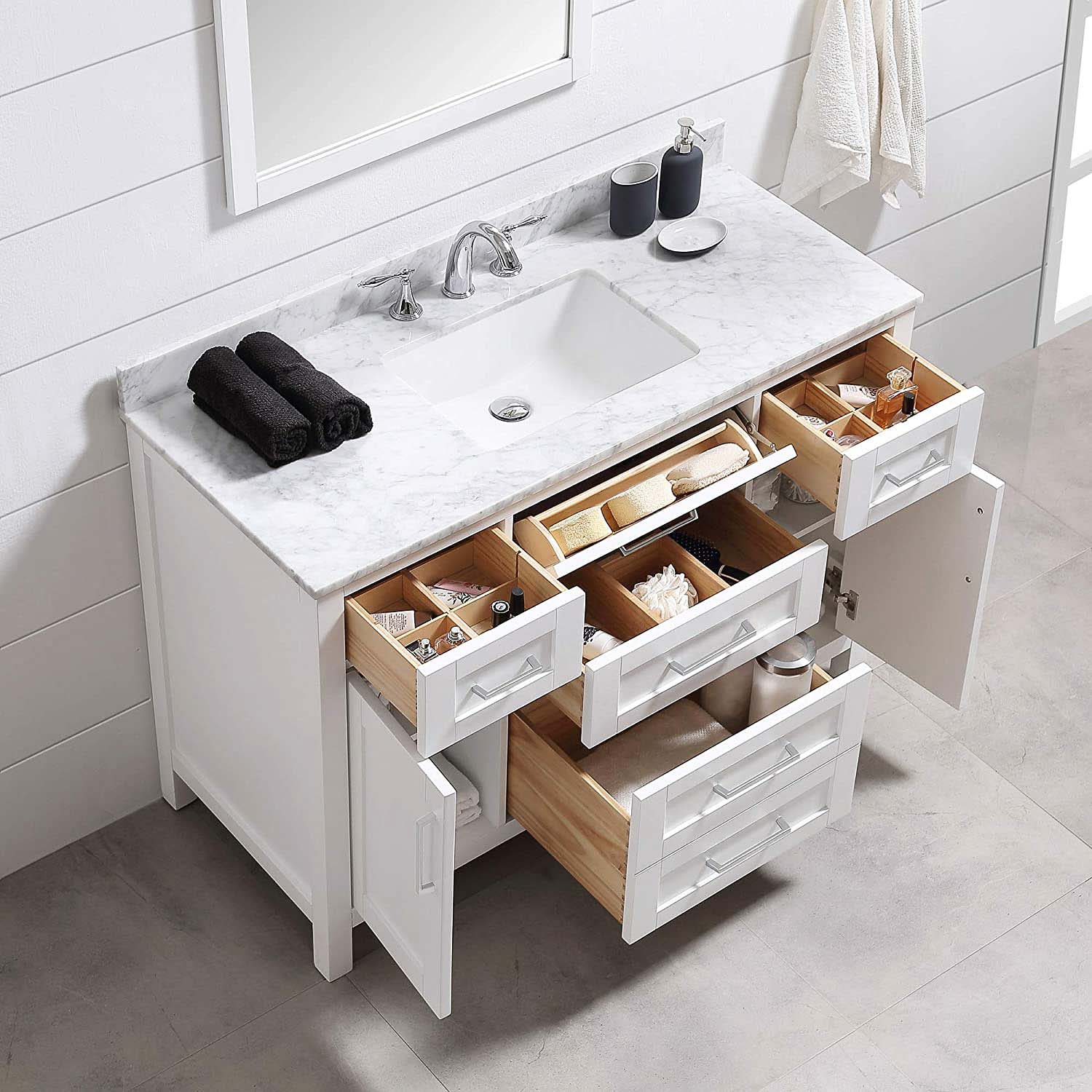 I really like the gray wood finish on Number 16 — this 48″ bathroom vanity and it actually comes in 42″ and 36″, as well. There's lots of storage opportunity and while the hardware on this one is sturdy, there's a lot of possibilities in switching to something a little funkier.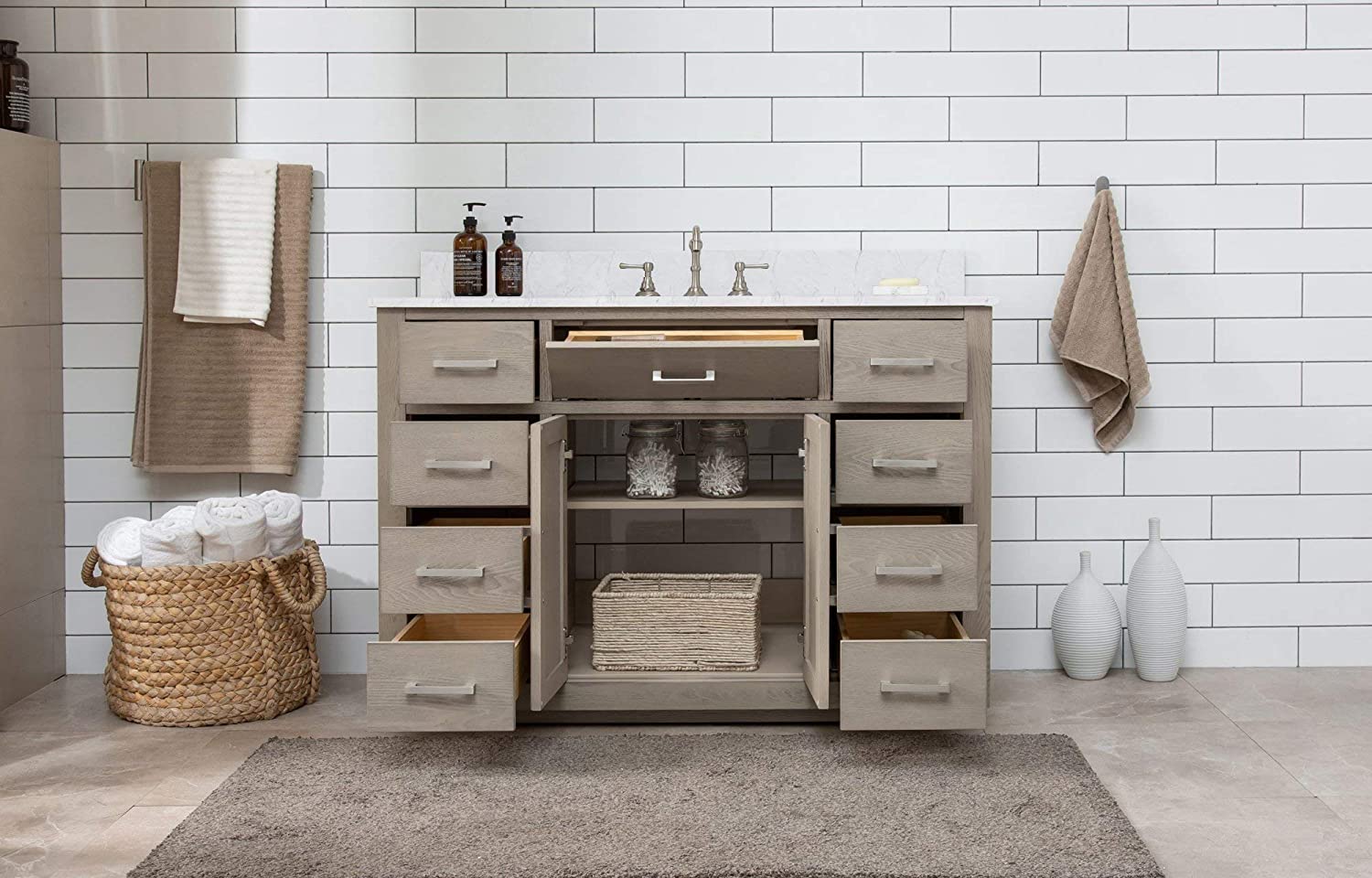 I'll be sharing a full design plan for the master bathroom soon — to make sure you catch all the updates and ultimately, the reveal, be sure to subscribe to emails at the bottom of the post!
Other Posts You May Enjoy
Browse & Tap to Get the Details