In celebration of Mother's Day — make note, it's less than a month away! — today, I'm sharing five important lessons I learned from my own mom. Sometimes, those lessons are verbalized and constantly drilled into us as we grow up; other times, those lessons are delivered through observation. So much of what my mom taught me wasn't structured as a formal lesson. They were the habits, rituals, and repetitive practices I witnessed — many I wouldn't come to appreciate or "learn" until much later in life… many that left a far greater impact than I realized while I was living them. I've modeled things in my own life after my mom (as I'm sure many of us have) and when I think about it like that, it's a great reminder that eyes are always on us and sometimes, it isn't the words that leave the most lasting impression. Whether it's something she said, something she did, or just something she believed, I'm grateful for the ways those lessons molded and influenced me. Get ready for a family chicken and biscuits recipe, why bloody marys are sacred in our family, and more!
*This post is published in partnership with Zwilling; as always, all opinions, concept, and creation are my own.Posts on KelleyNan.com may contain affiliate links. Click HERE for full disclosure.
5 Important Lessons I Learned from My Mom
1. Keep Family Favorites Alive
In an age of immediate gratification and sourcing recipes being as simple as a Google search or Pinterest inquiry, let us not forget the special gift of meals passed down by our family and the unmatched nostalgia that comes along with them. I've shared this before but one of my greatest gifts ever — that brought me to literal tears — was when my mom gave me a handwritten book of recipes of my childhood favorites, penned just for me. If you don't have a collection of recipes you grew up on, start now — one day, you'll be so glad you did.
My late grandmother — BeBe (to me) — had a ton of winners I'm so glad my mom collected. Among the favorites… her stovetop chicken and biscuits.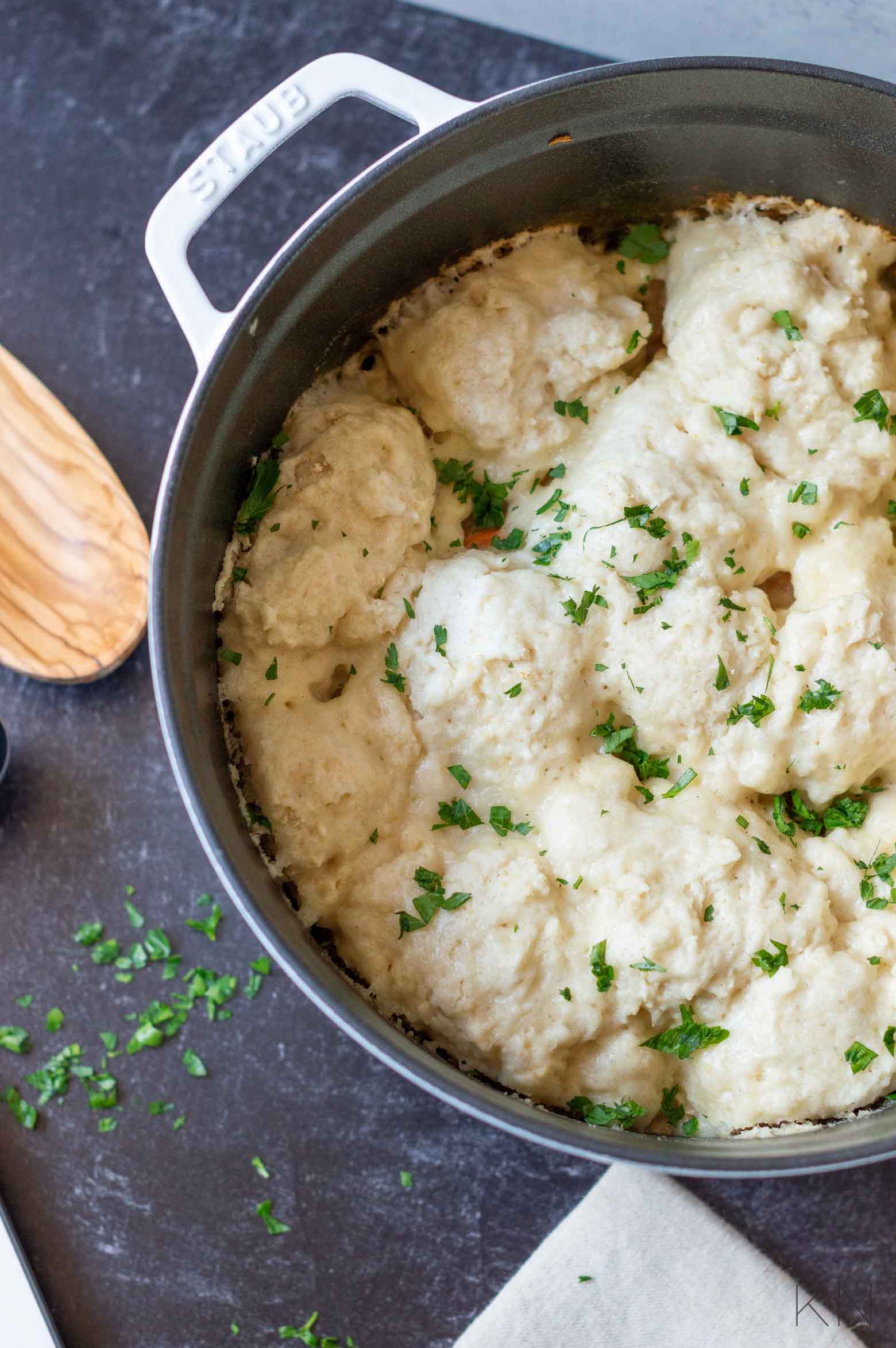 The recipe has evolved slightly over time but the essence is all still there. The ultimate comfort food, BeBe's stovetop chicken and biscuits isn't difficult to make, but, there's several steps involved and having the proper tools is key. We cook a lot in this house and I'm a big believer in investing in quality kitchen tools. Upgrading your kitchenwares doesn't have to happen overnight and you don't have to do it all at once. Collecting a piece here and piece there will help build a modest arsenal of cookware that will make all the difference.
Gifting upgraded kitchen tools and accessories is also one of my go-tos (I also love receiving them!) — they're perfect for so many stages of life:
Bebe's Stovetop Chicken and Biscuits Recipe
Ok, so let's get to the chicken and biscuits recipe! It's a hearty dish, casserole-like, and the ultimate comfort food. All the tools I used were c/o Zwilling — fun fact: one of the oldest companies in the world — and include:
As I mentioned, THIS chef's knife is incredibly sharp and unlike most, it glides through celery strings in a single, easy, slice, without a sawing motion. I gravitate toward smaller, non-wooden cutting boards and THIS is a good one. It's non-porous, sticks to your work surface with silicone feet and is a great size. I have the 10″x12″ but it comes in a few other sizes, too.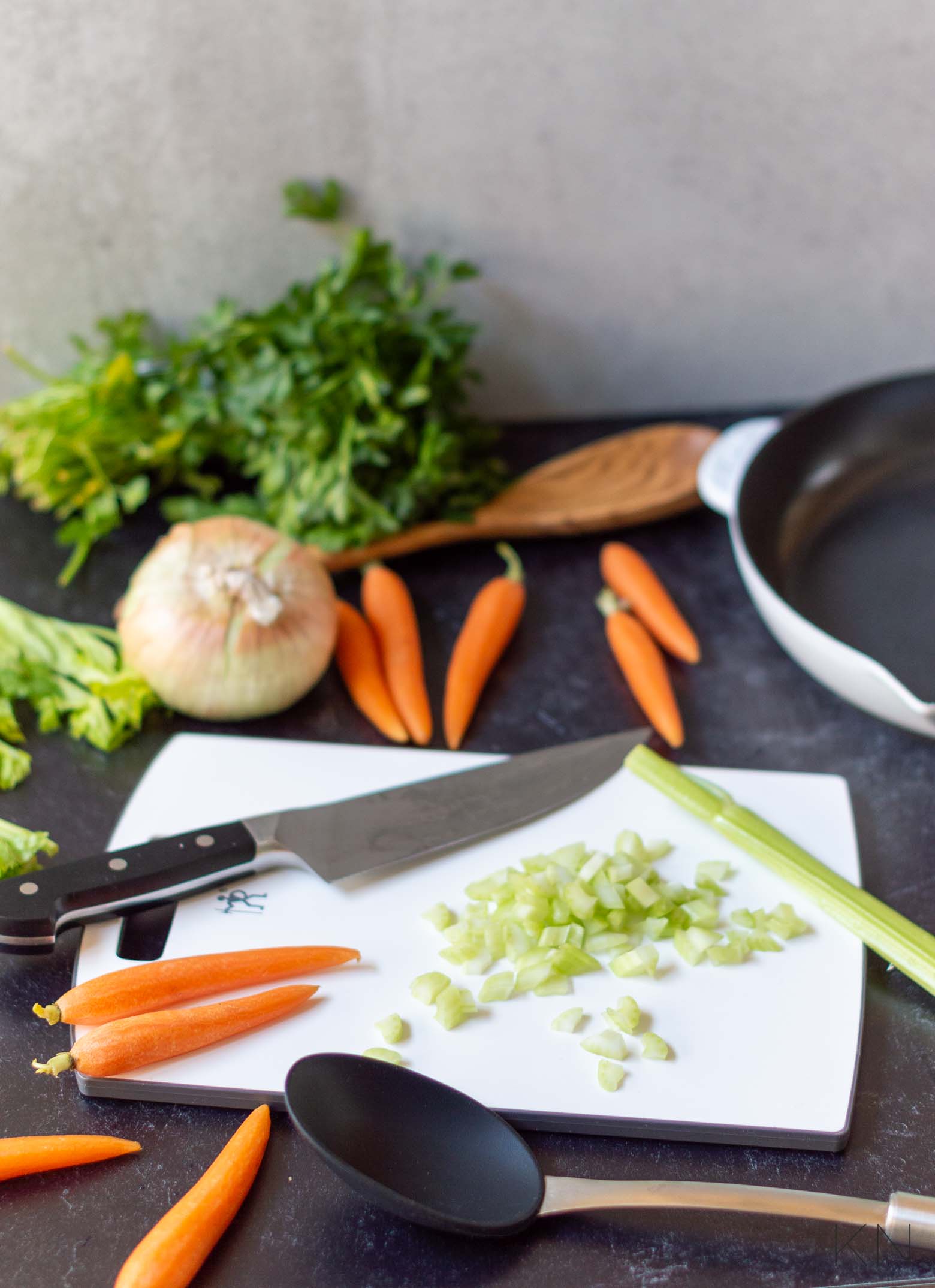 Staub 10″ cast iron frying pan | Zwilling Pro 7″ chef's knife | Henckels cutting board (I have the 10″x12″) | Staub olivewood cooking spoon | Henckels serving spoon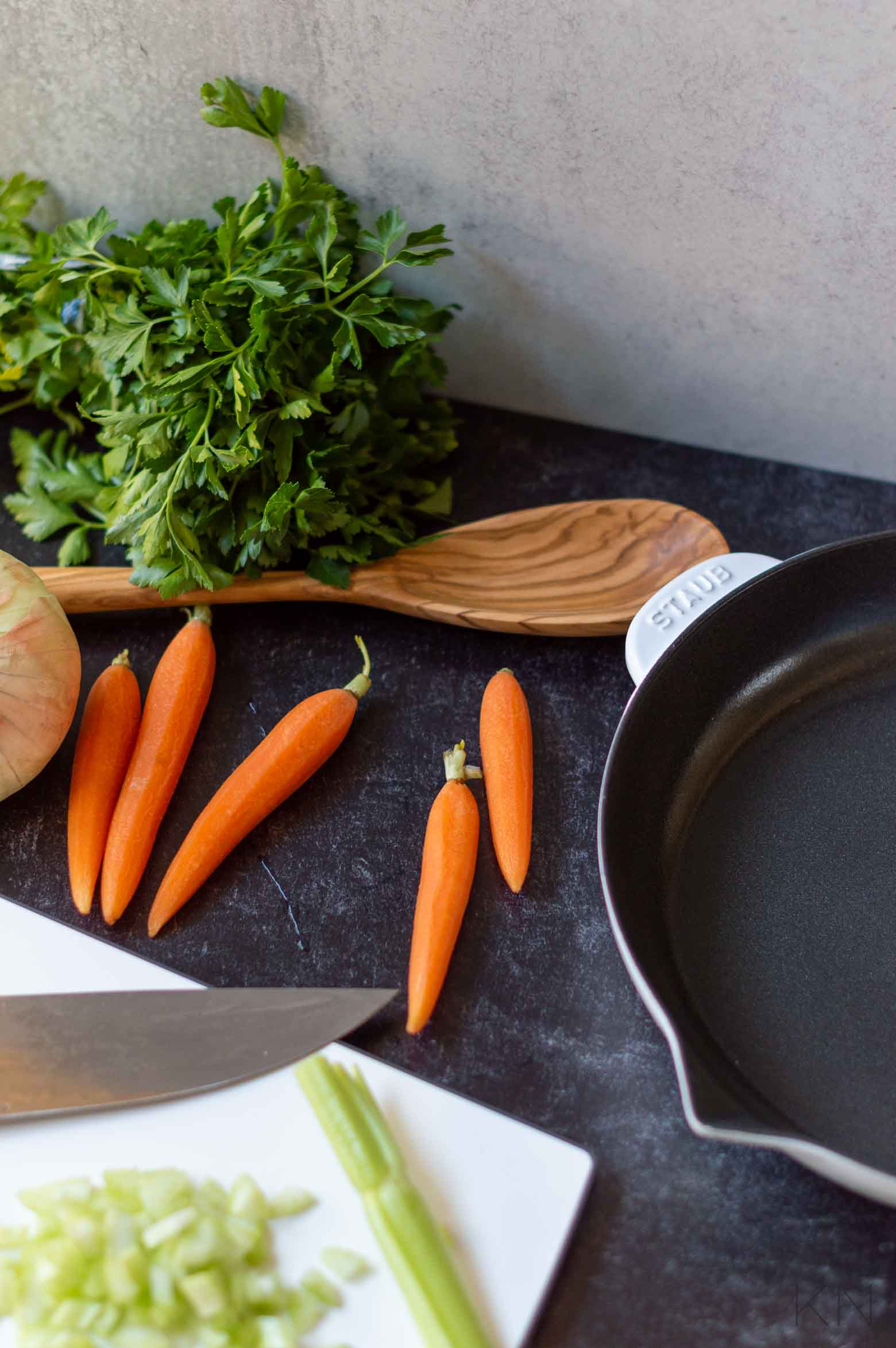 The cast iron pan browns everything so nicely and cooks everything so evenly. I love the pour spouts too, should you need to drain grease when cooking red meat.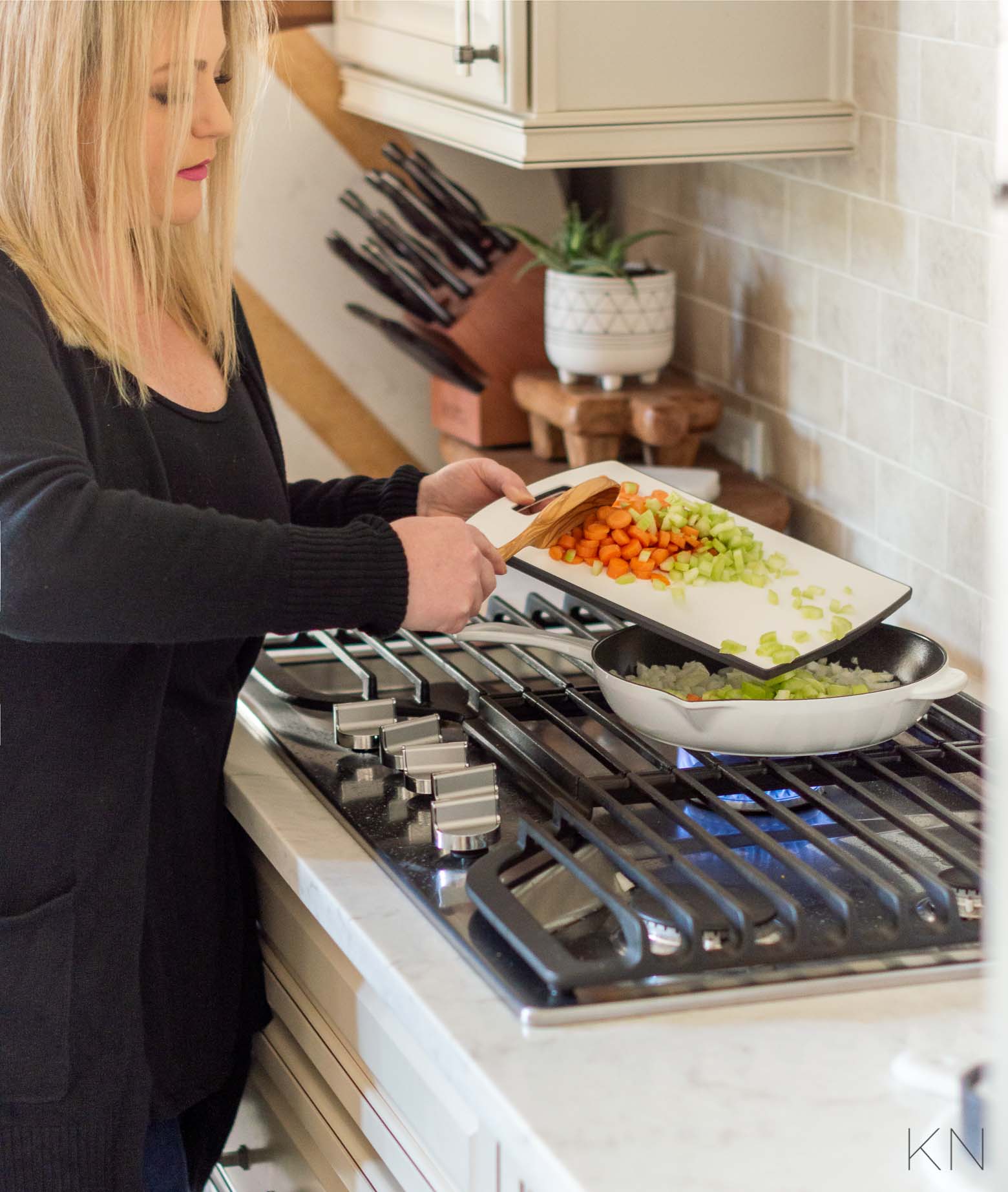 Staub 10″ cast iron frying pan | Henckels cutting board (I have the 10″x12″) | Staub olivewood cooking spoon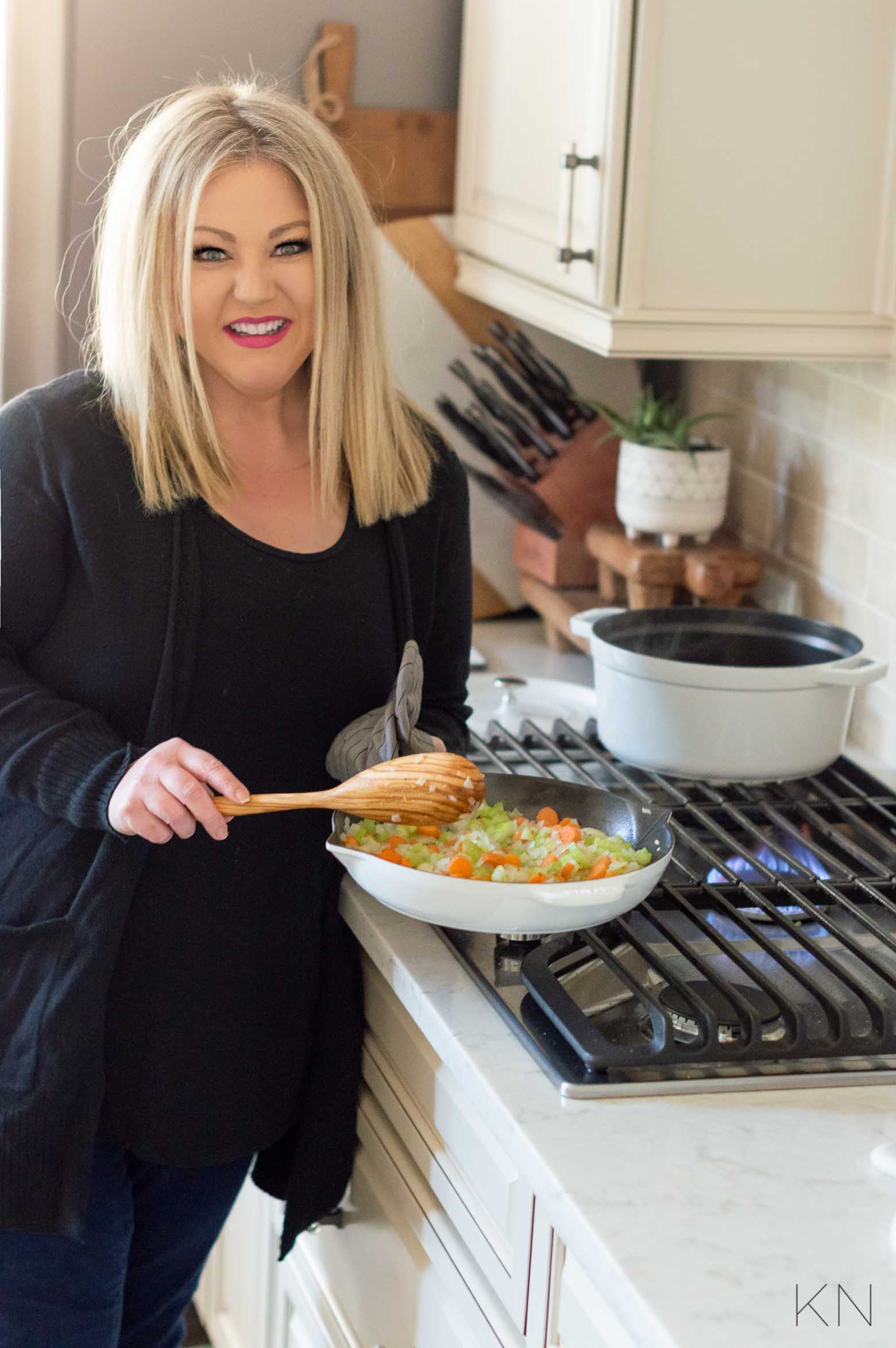 Lipstick (Schiap color) | Initial Necklace | Long Cardigan
While most of the cookware on Zwilling's site indicates it can be washed in the dishwasher, most descriptions also advice that hand-washing is best. Taking care of your nice cookware is also something my mom still ingrains in me so my cast iron and wooden tools all head to the sink for washing 😉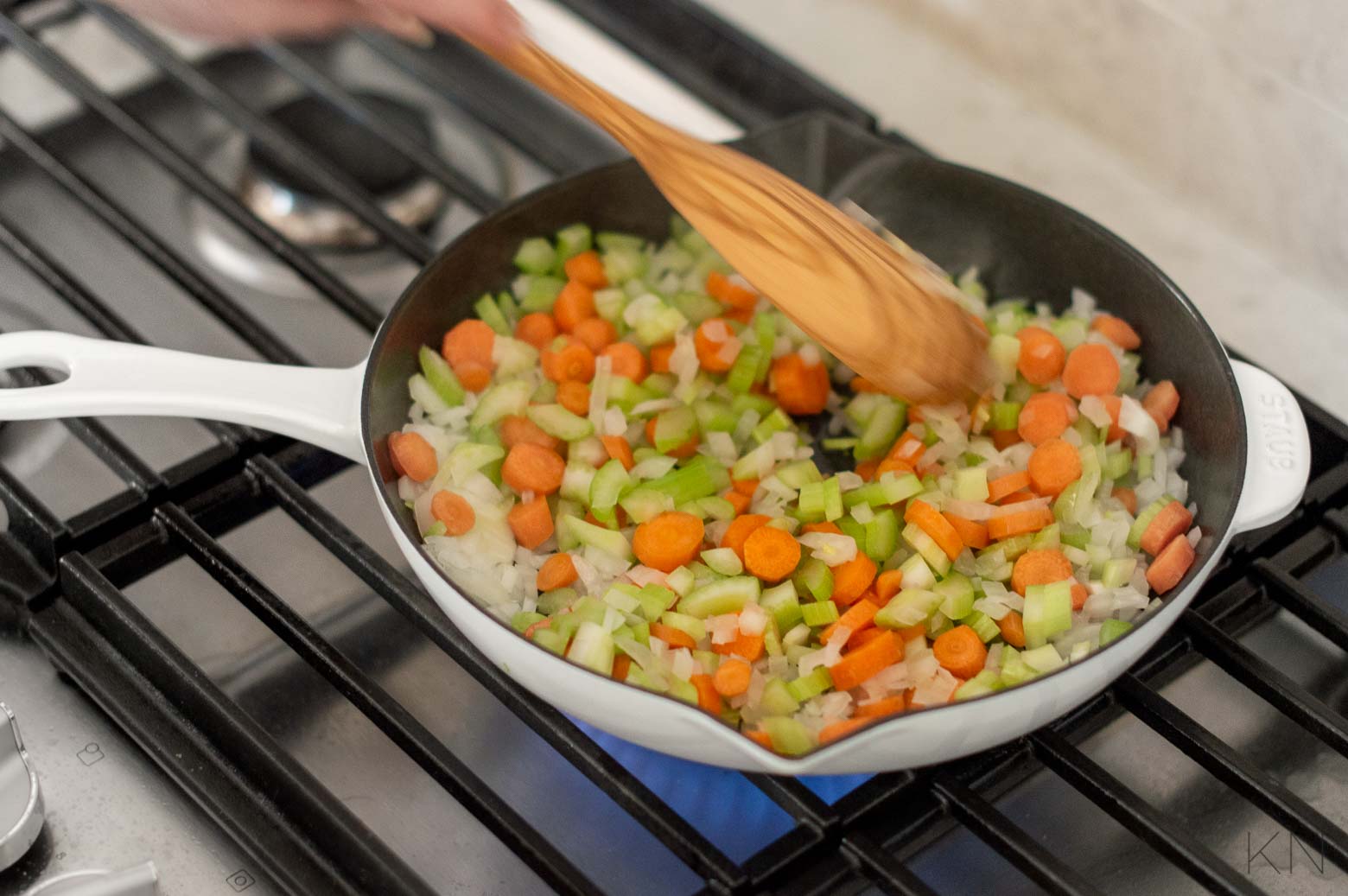 The Staub cocotte can withstand heat, up to 900 degrees F, so it's perfectly fine to take it from the stovetop to the oven.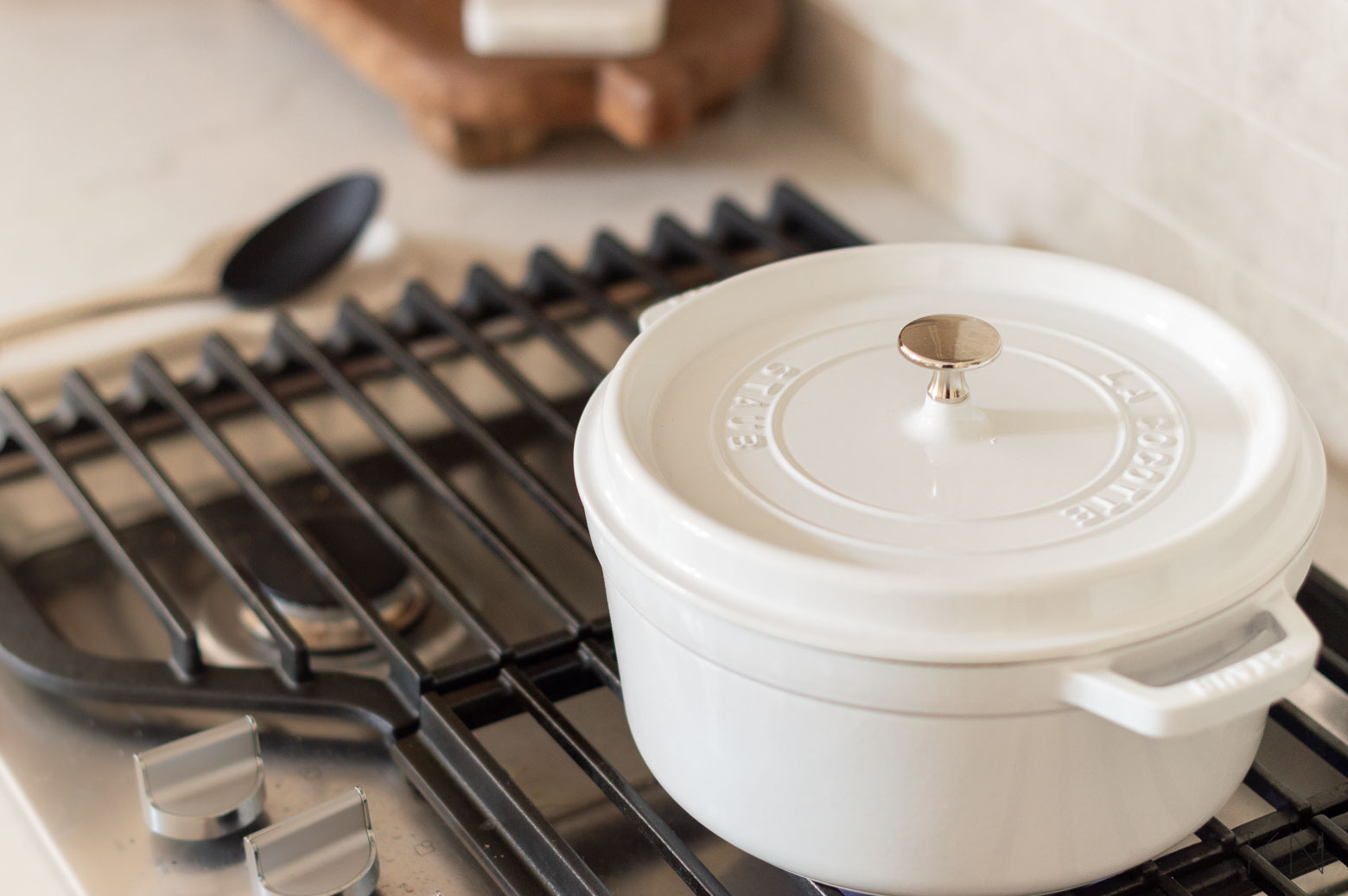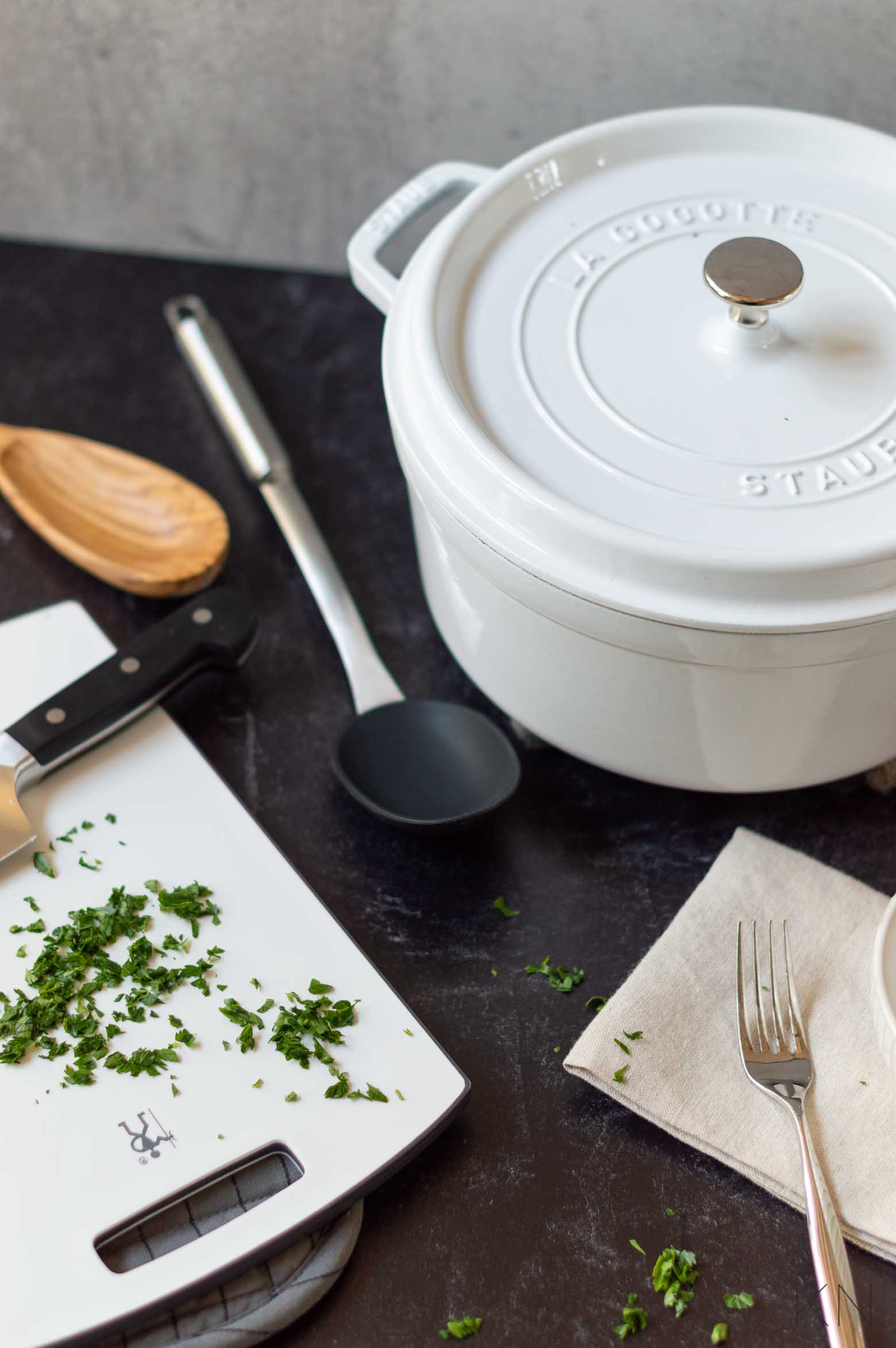 Staub 10″ cast iron frying pan | Staub 5.5 qt. cocotte | Zwilling Pro 7″ chef's knife | Henckels cutting board (I have the 10″x12″) | Staub olivewood cooking spoon | Henckels serving spoon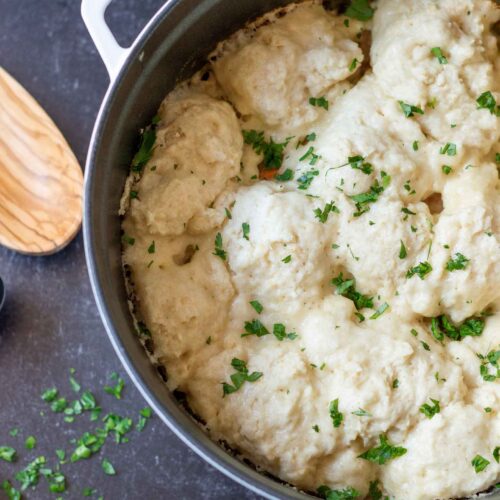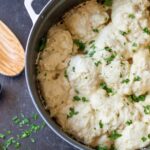 BeBe's Stovetop Chicken and Biscuits
My grandmother, Bebe, was the ultimate hostess and an amazing cook! She was always so gracious and had the ability to take simple ingredients to create meals that were delicious. One of the dishes that she loved to make and serve her family and guests was Chicken and Biscuits. In honor of Bebe this Mother's Day, I am sharing her recipe with a few updates, made by me. The Staub cocotte was the perfect vessel for this dish, along with the pan for prep.
Ingredients
2

Boneless skinless chicken breasts

Bebe used a whole chicken that had to be cooked, deboned and de-skinned

3

C

Chicken broth

1

Onion -- chopped

3

stalks

Celery -- chopped

1

C

Carrots -- chopped

2

Tbsp

Butter

2

Tbsp

Flour

2

C

Milk
Biscuit Topping
2

C

Bisquick baking mix

2/3

C

Milk

10

leaves

Flat leaf parsley -- finely chopped
Instructions
Boil chicken until cooked through, in approximately one cup of chicken broth. You can add more broth or supplement with water until chicken is covered -- I like to add lemon pepper seasoning to the pot.

Meanwhile, chop the onion, celery and carrots. Saute the veggies in a small amount of olive oil until they are tender. Add salt and pepper to taste.

Shred the chicken when it is fully cooked. I shred mine in my electric mixer as a great shortcut, on level 2.

In the cocotte, melt butter, stir in flour and add milk slowly. Continue to stir until thickened. Add two cups of broth, the chicken and the vegetables.
Biscuit Topping
In small mixing bowl, mix Bisquick baking mix and milk until soft dough is formed. Drop in small balls on top of chicken mixture. Cook on stove on medium for 10 minutes without the cocotte lid. Then, put on lid and cook for 10 minutes on low heat. If you would like, you may then place the cocotte in the oven and broil for 2 minutes to brown the biscuits. (This step is not necessary.) Sprinkle chopped parsley on biscuits and serve while warm.
Recipe Notes
The leftovers from the dish are great if you have any!
Dave didn't grow up with a lot of casseroles and typical southern food but this dish — he loves! Be sure to pin one of the images to bookmark it for later; you can also print the recipe, direct from the recipe card.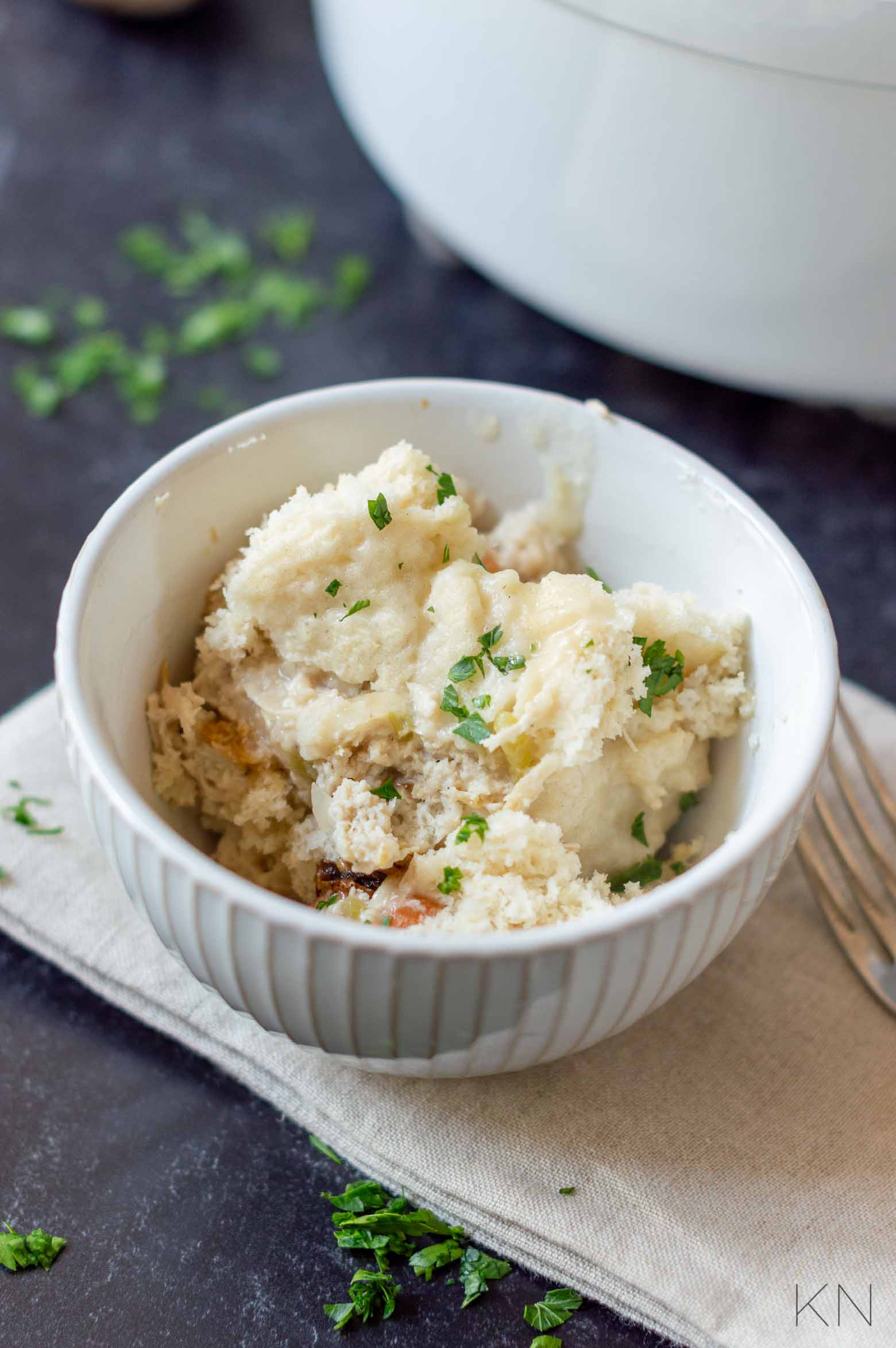 2. Wake Up & Mark the Day
The age old question — "are you an early bird or a night owl?" is a heated debate — even in our home. Dave and I are total opposites and he swears he's most productive on the weekends, in the late night hours. He doesn't even like to "get started" until at least mid-afternoon — even thinking about this is almost painful for me, haha. I'm the total opposite — I rise early and feel my best work is done in the early morning hours, over a cup of coffee, before the sun rises and while the rest of the world is asleep. Whether it's tackling a few chores; doing the regular, daily stuff; or getting a workout in, I want to have that time to devote all my attention, without distraction. If I have to run an errand, I want to get there when they open. On the weekends, I like to put in my hardest efforts before noon so I can enjoy the second half of the day with a feeling of accomplishment. When I was growing up, I wasn't allowed to sleep in. If it got close to 9:00 a.m., my mom would come through the door with the dreaded wakeup question "Are you going to sleep all day? Come on, time to get up and mark the day!" I don't think getting up early is a law but it sure felt like one, and that's something I've carried with me. Don't misunderstand — I still don't wake up, feeling "awake" and "ready", but your body gets used to it. I don't think a day passes where I say "wow, I accomplished everything I wanted to and marked off every to-do on my list", but waking up early is how I get more done than I think is possible, some days. Not everyday has to be a marathon race, but doing something each day — whether it be a chore, something to serve your family (or yourself)… just something that makes the day notable — is something I'm so happy I inherited from my mom.
3. Bloody Marys Make Any Day Feel Like a Celebration
We are big on traditions in this family and one tradition that dates back to as long as I can remember is serving up loaded bloody marys for get-togethers. While I most remember this annual tradition every Thanksgiving — before I even knew what a bloody mary was — I was always interested by all the special additions my mom would add to her bloody mary bars. And just like I've shared before in my boards and bars, choices, accompaniments, and ways to personalize your drink/dish makes the moment more special.
THESE mouth-blown, double-walled glass mugs are meant to keep hot drinks hot and cold drinks cold but the most shocking thing to me was how light they are. With a handle and no condensation and a mouth large enough to accomodate all the fixins', they make the perfect bloody mary glasses.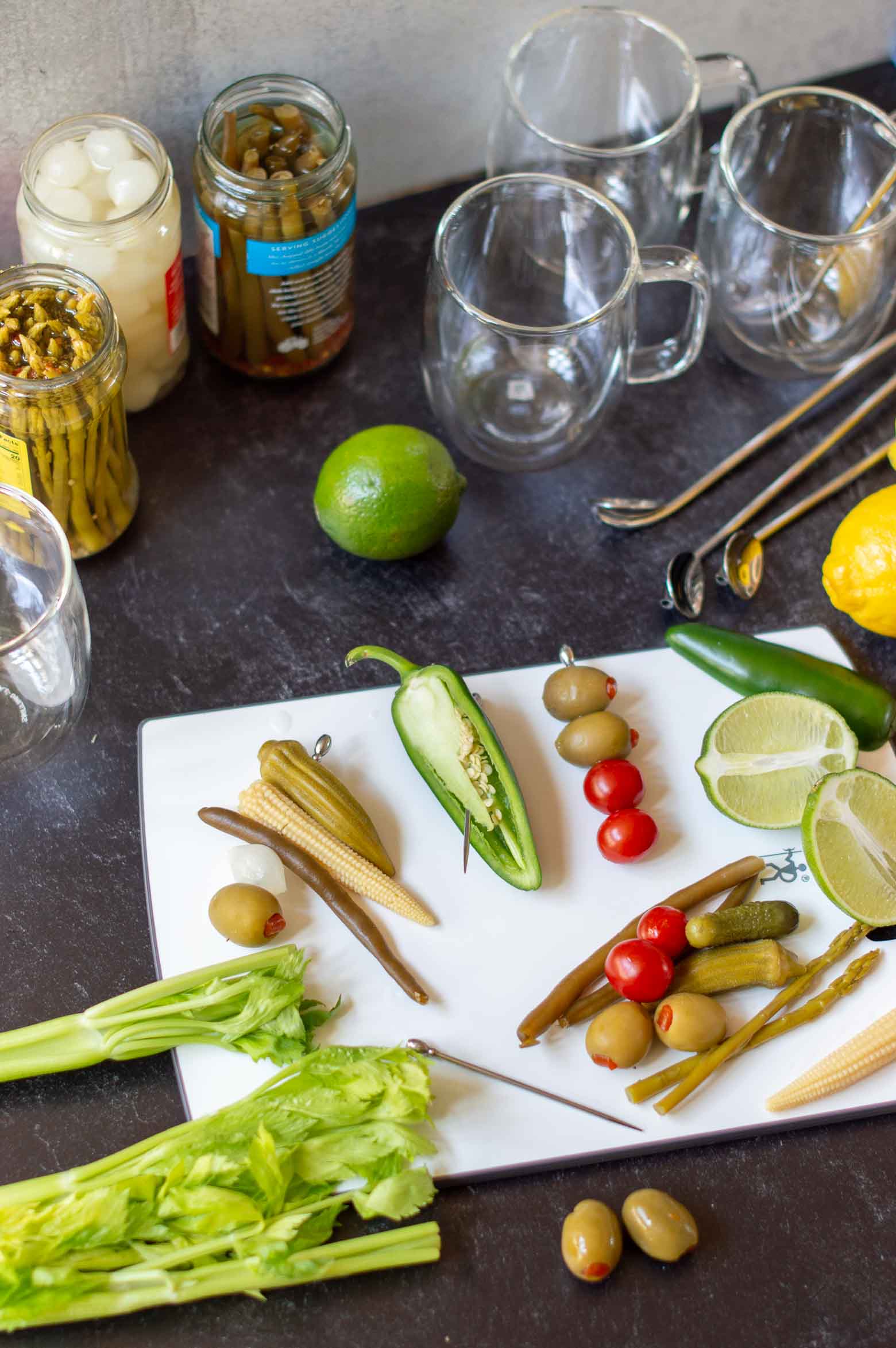 Zwilling Sorrento Plus Glass Mugs (set of 4) | Zwilling Longdrink Spoon Straws (set of 4) | Henckels cutting board (I have the 10″x12″)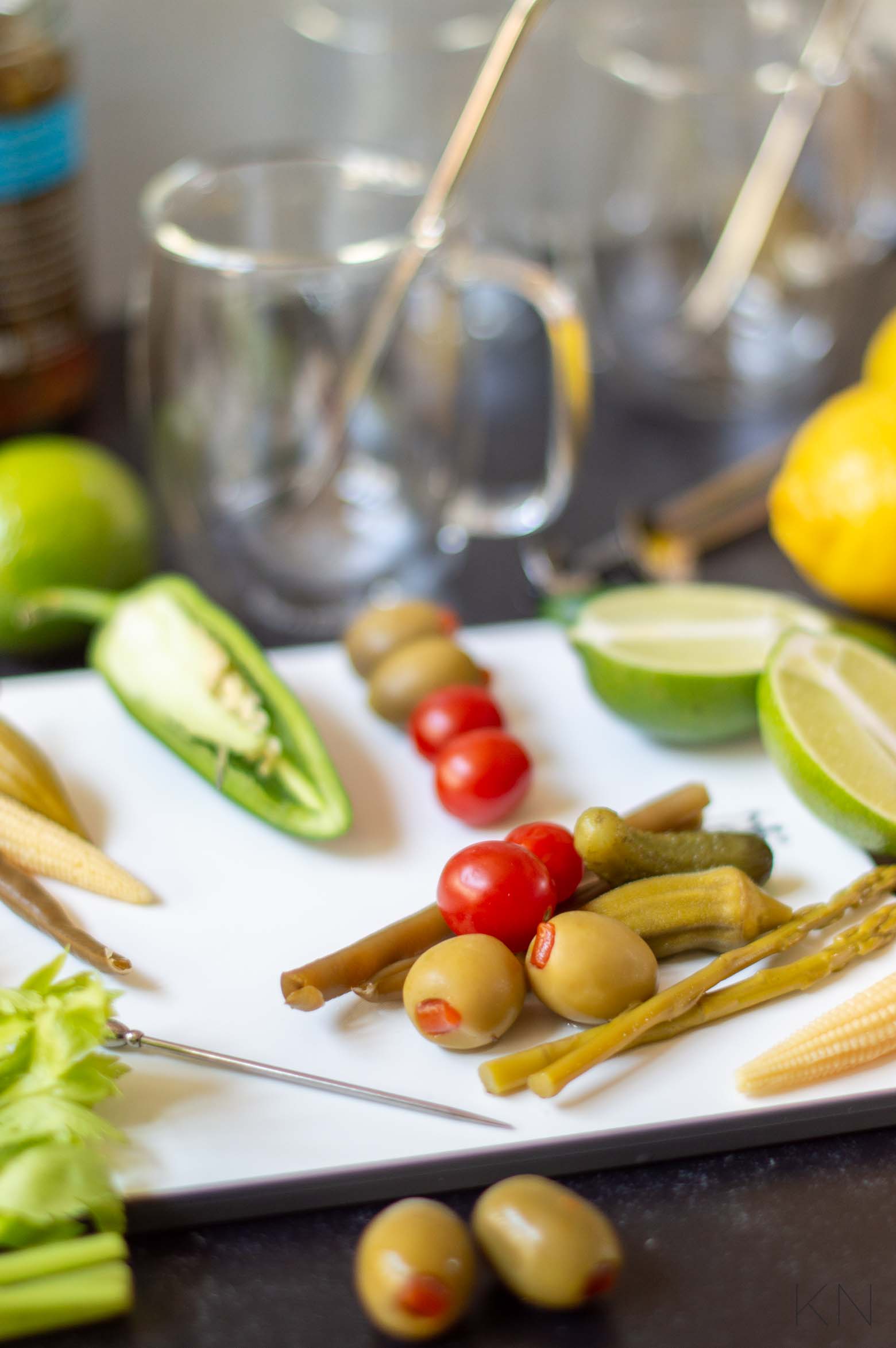 Another cool addition for cocktails — and especially bloody marys — are THESE stainless spoon straws. Not only are they perfect for sipping and mixing, but they're the perfect built-in tool to fish out any accompaniments that make their way to the bottom of the glass. These are also perfect for any drinks that call for fruit. And, how amazing would they be in a root beer/coke float? These will be one of our summertime essentials.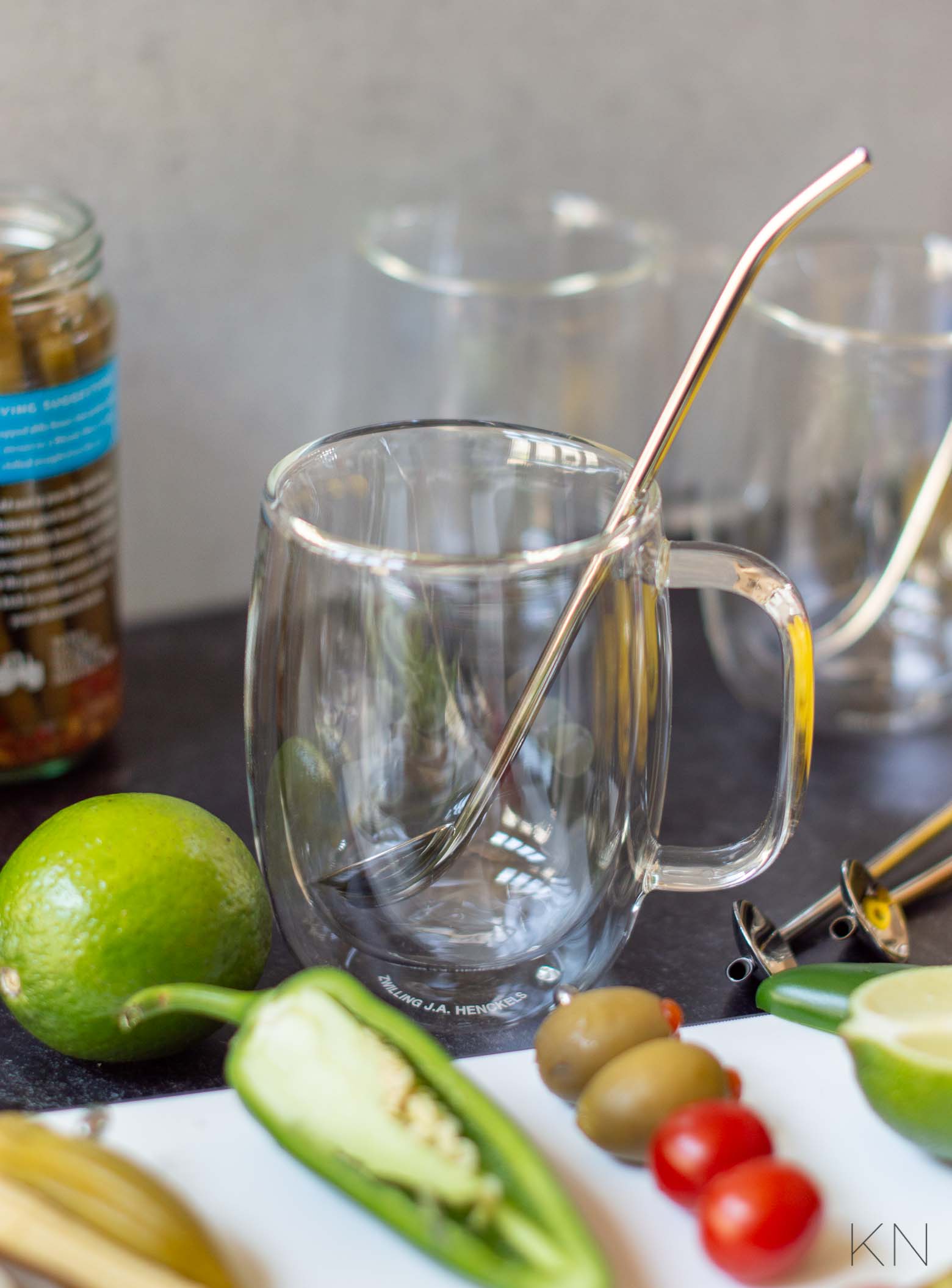 How to Make the Perfect Bloody Mary
Fill your glass with ice
Pour vodka (I usually fill to 1/3 to 1/2 of the glass)
Add Bloody Mary mix — I prefer Zing Zang(leave at least two fingers from the top of the glass)
Add a dash of Worcestershire sauce
Add approx. 1/8 tsp. horseradish
Add a few shakes of hot sauce
Squeeze a lime wedge and then toss the wedge in the glass
Add a dash of salt and pepper
Shake and stir until well mixed
Add garnishes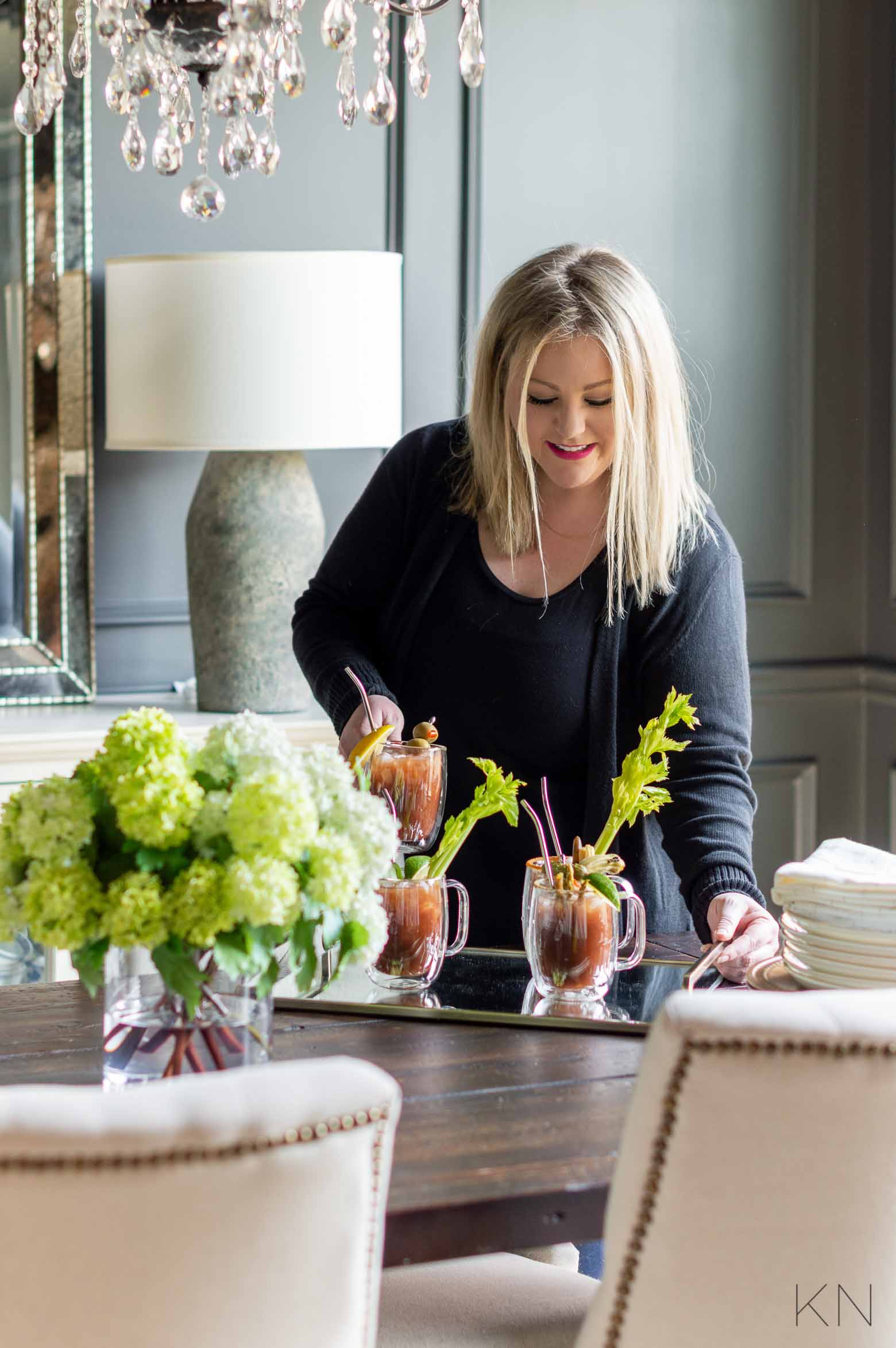 Dining Room Sources: Snowball Floral Arrangement Centerpiece | Lamps | Chairs (Linen color)
Bloody Mary Garnish Ideas
Stuffed green olives
Stuffed black olives
Pickled okra
Pickled beans
Pickled asparagus
Pickled green tomatoes
Pickled carrots
Cocktail onions
Pepperocini peppers
Dill pickle spears
Whole kosher pickles
Baby corn
Pickled quail eggs
Artichoke hearts
Hearts of palm
Cocktail shrimp
Bacon strips
Cherry or grape tomatoes
Celery stalks
Cauliflower florets
Radishes
Cucumber slices or spears
Bell pepper spears
Mini sweet peppers
Jalapeno peppers — fresh or pickled
Parsley
Lemon wedges
Lime wedges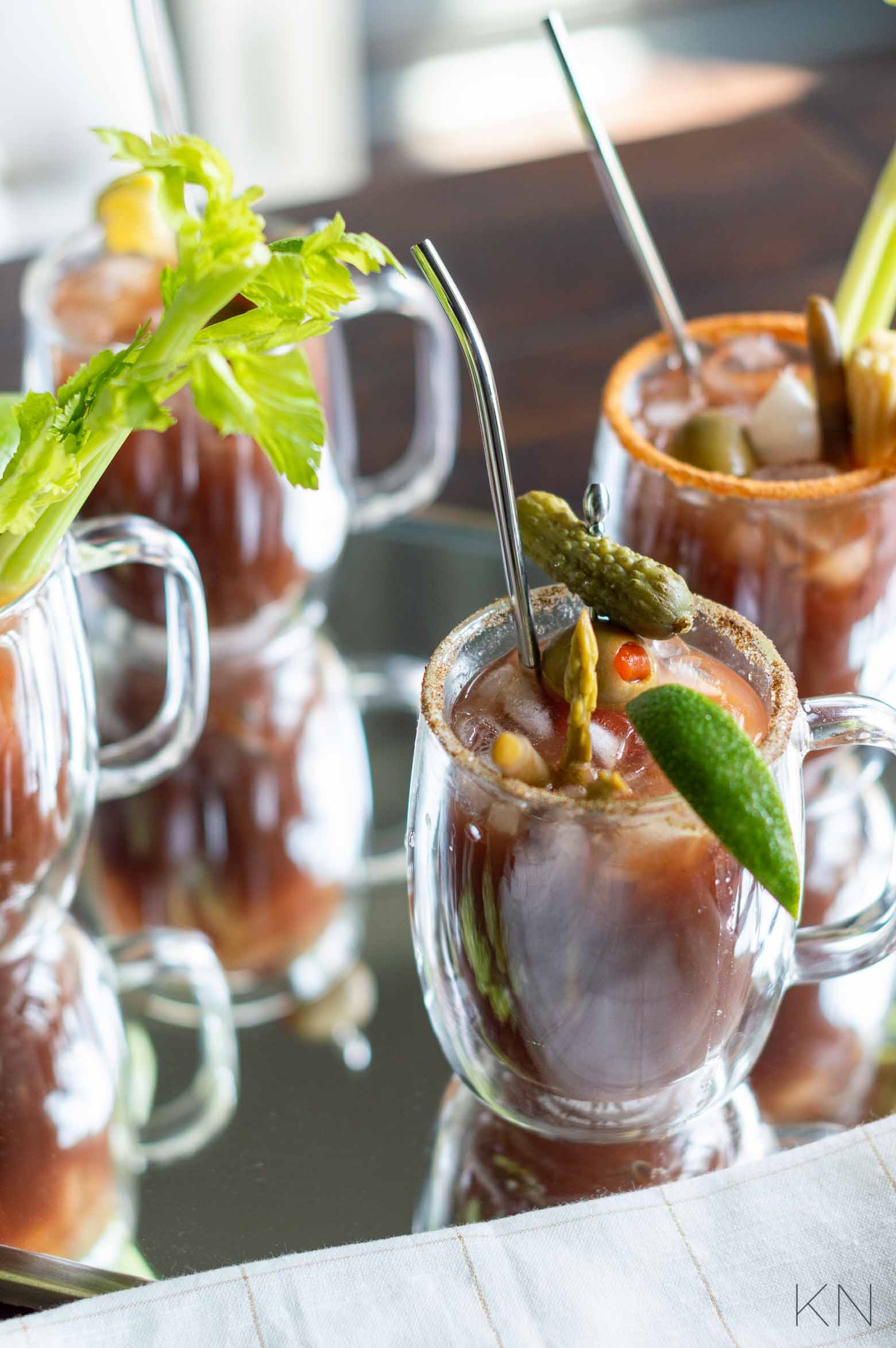 Bloody Mary Add In Ideas
Horseradish
Hot sauce (I prefer Frank's)
Worcestershire sauce
Lemon juice
Lime juice
Salt
Pepper
Garlic salt
Celery salt
Old Bay seasoning
Lemon pepper
Onion salt
Cajun seasoning
Cayenne pepper
Pepper sauce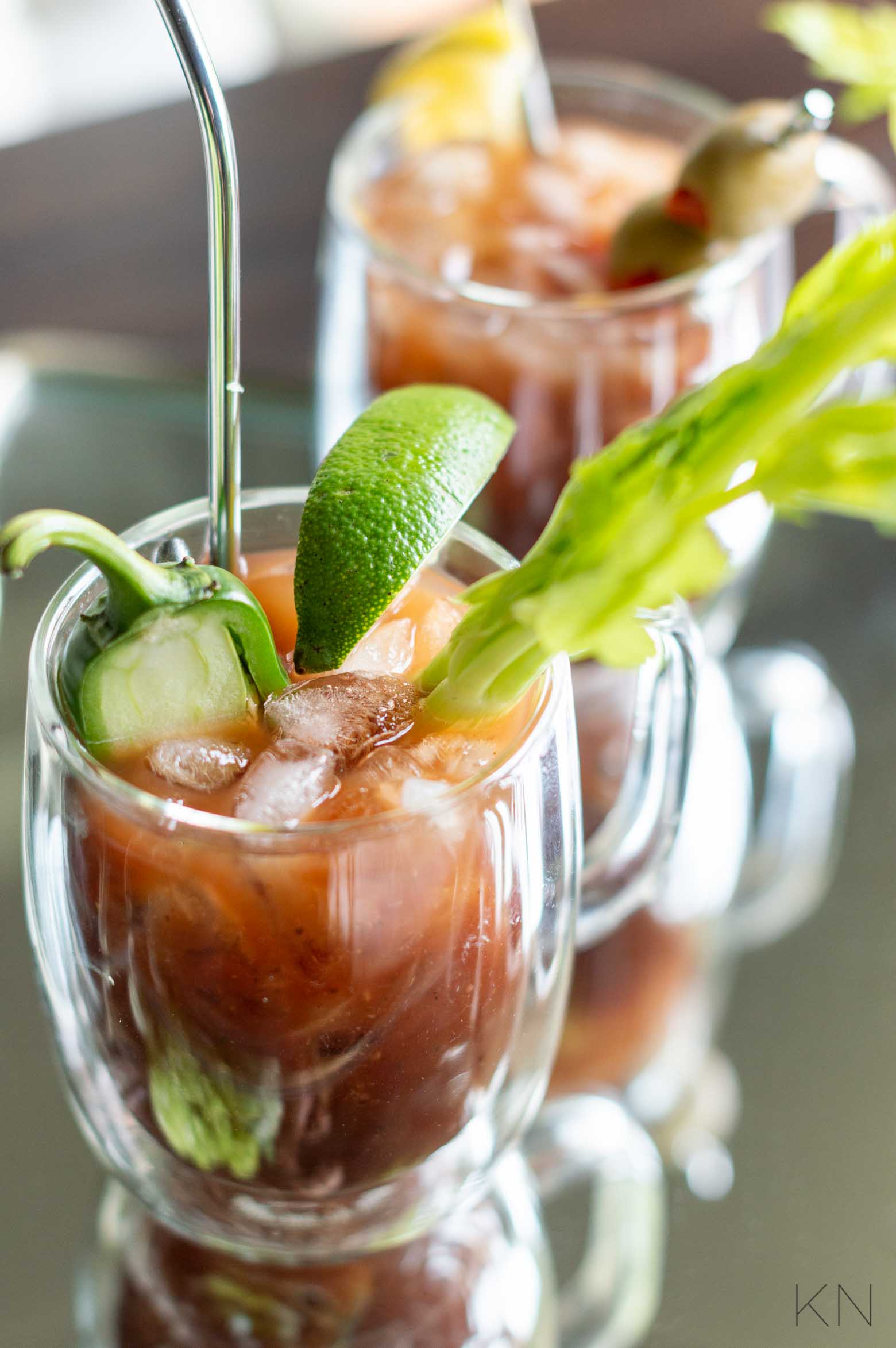 Bloody Mary Glass Rimming Ideas
Kosher salt
Celery salt
Cajun seasoning
Onion salt
Everything But the Elote seasoning
Old Bay seasoning
Taco seasoning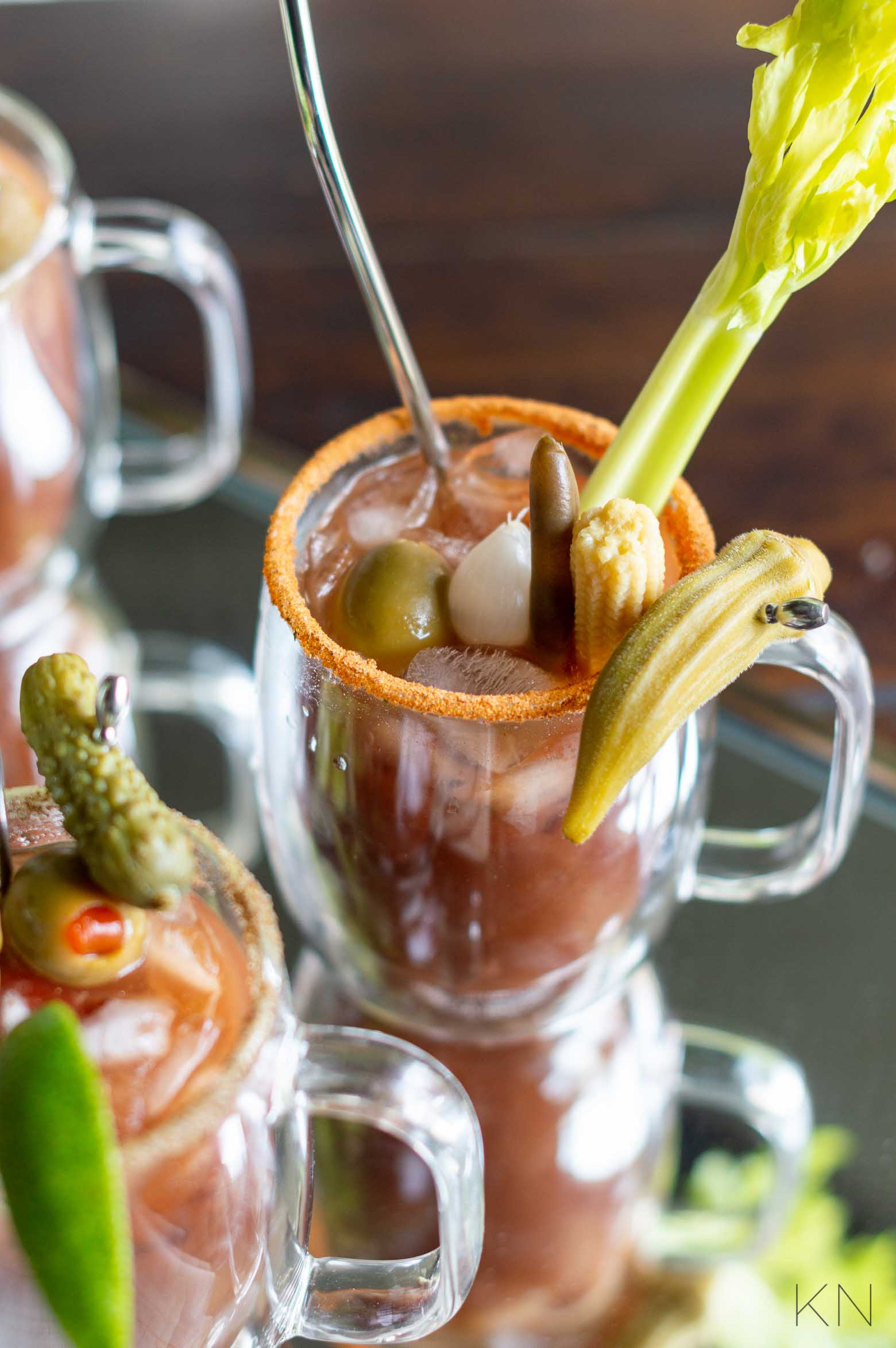 4. Handwritten "Thank You" Notes Still Matter
This is something that was drilled into me while I was growing up; I had to write all my own thank-you notes. And, I know that has gone by the wayside for many in lieu of a text acknowledgement but it's something that stuck with me that I still practice today. And, Eliza will practice, also. While the idea may be old fashioned, showing appreciation is never "old fashioned". With so many tools to streamline efforts, I think more than ever, the extra effort of a handwritten note of gratitude means even more today.
5. Always Plan for More
Right in the first paragraph of my "About" page, I say "if you're cooking for two, you should prepare enough for four." And, I mean it. Whenever I am planning a meal, I never want anyone to not have enough or to feel like they have to hold back/skip portions. For parties, while I don't like waste, I'm a-ok in trying to get creative with leftovers and/or sending portions home with guests. My mom always prepared a full, serious, spread when she hosted and having more than plenty is what made it feel like a party.
Planning for more isn't just for food though. Over the years, I've watched my mom prepare extra gifts at Christmas (just in case an occasion arises or there's an unexpected guest) and bring more than was required for school functions. I've already gotten to tiptoe into this, prepping a couple more Valentines than was required for Eliza's class — just in case new students started. It's inclusive and is a kind, easy gesture to implement.
Impactful Lessons from KN Readers
This past week, I took to Instagram stories and compiled a small sampling of some of the responses I received, regarding some of the favorite lessons you all learned from your mothers/mother figures. Here are a few…
Show the respect to others that you expect to receive.
Always send a thank you note.
Like her mother taught her, to be a strong and independent woman.
Always give 100% plus to a job, regardless of what the job was.
Nothing good happens after midnight.
The Golden Rule.
Hurt people hurt people.
Happiness is a choice and you should make a point to choose it every day.
Always show appreciation!
My Mom taught me the quiet way. I will be forever grateful.
Always have an open door and no expectations, only happiness.
ALWAYS find the good in a person.
There for the Grace of God go I.
To love without expectations.
How to bake.
Never judge someone else's mothering. You never know what kind of mom you'll be until you are one.
Say "I love you" to your kids constantly.
That I am loved unconditionally by her.
Proper etiquette and proper grammar.
How to maintain my home and to be kind.
To love God and to know how much he loves us.
Be kind.
To walk away from unhealthy/dangerous situations.
Why buy the cow when you can get the milk for free?
If you don't have something nice to say, don't say anything at all.
To have a relationship with God.
She's always in my pocket.
It's ok to say 'no'.
Unconditional love.
Rich people don't have to tell you they're rich.
Not to be a sore loser, but not to be a sore winner, either.
You're in charge of your own happiness.
Listen twice as much as you speak.
What kind of mom I want to be.
Invest in yourself.
Your word is the most important thing you have.
God first, then family.
A little sunshine is the best medicine.
Sharing gossip doesn't earn trust with your friends. It does the opposite.
Tomorrow is always a new day and a new beginning.
You can do whatever you set your mind to.
Forgiveness is more for you than the other person.
Not to lie. People might get upset or not like what you did, but no one will ever call you a liar!
Always tell the truth even if it might be very scary to tell.
Quitters never win and winners never quit.
Nothing's more important than family dinners.
Always return things you borrow!
The generosity of Jesus.
Look for the good in everyone.
Make your bed every morning, no matter what!
Keep your sense of humor and enjoy life!
Strength! She was a single mother and now I've become a single mother. We're still pushin'.
It's a good day if I read the obituaries and my name is not there!
Respect!
I'd love to hear from you if you have important lessons or lessons that made an impact on you! You can drop a note in the comment section to continue the conversation.
Scroll & Tap to Shop the Post