I'm back today with a bunch of randomness — from a new discount code for Eliza's bows and a summer bucket list to Mother's Day gift ideas and random Amazon favorites, we're all over the place (my favorite kind of Snack Around the Plate 😉 ). First, let's start with a hodgepodge of housekeeping/updates.
The dining room reveal will be this week! I finally took care of the final touches and photographed it this past week. See the last dining room update HERE.
The conversation room reveal will follow the dining room reveal! I finished the space (are we going on a year since inception??) and photographed it this past week. See the last conversation room update HERE.
The master bath (along with master closet, office bathroom, garage, etc.) still have yet to begin. Our contractor estimates are sitting with insurance so I'm hoping we'll hear back soon so we can get on the schedule and I can start making selections beyond the vanities. See what happened HERE and what vanities I went with HERE.
On a whim this past week, I decided to go ahead and get another project in the works I've been wanting to take on for a while — painting the main part of the house… and whitewashing our fireplace. We are scheduled to head out for our first family vaca in a couple weeks and I think the painters will be able to get most of the work done while we're away.
Even though the should-be-a-playroom-by-now room is only temporarily littered with our closet and bathroom contents, the image of disarray is pretty painful. I was going to wait until we were ready to "move back in" before purging and organizing, but since we haven't even started, I think I'm going to go ahead and start taking on some organization projects to aid in my personal sanity. I will have several accompanying organization posts following the bathroom and closet revamp.
*Posts on KelleyNan.com may contain affiliate links. Click HERE for full disclosure.
While our schedules are a little more involved (as is everyone's, I suppose) right now, there's a lot of this and that I'm excited to share today! So, let's get into it — full descriptions can be found below the graphic.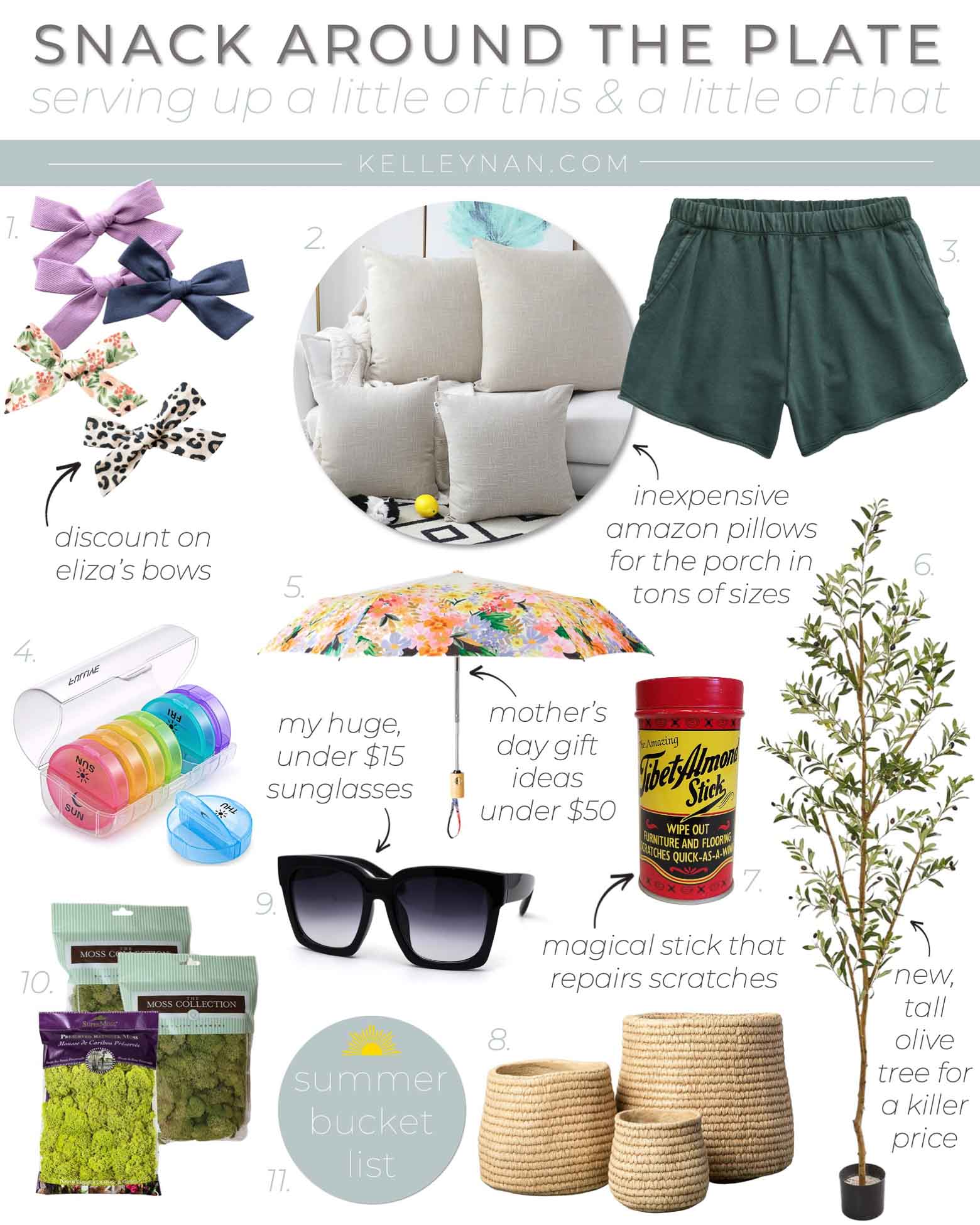 1. Hand Tied Bows w/ Discount Code | 2. Inexpensive Amazon Pillow Cover Pairs | 3. Comfy Lounge Shorts | 4. Vitamin/Pill Organizer | 5. Mother's Day Gift Ideas Under $50 (see below) | 6. 82″ Faux Olive Tree | 7. Tibet Almond Stick | 8. Basket Planters | 9. Inexpensive Oversized Amazon Sunglasses | 10. Moss | 11. Summer Bucket List (see below)
1. Hand Tied Bows w/ Discount Code: Whenever I share Eliza in Instagram stories, I always get questions on her sweet little bows. I prefer the fabric, hand-tied style over grosgrain and while they're a little more expensive, I started collecting them when she was a baby and will continue to use them as long as Eliza's wears bows. Modern Piggy is my favorite bow shop — both for their quality and selection (they add new styles and collections constantly!) and they just sent a discount code for 10% off orders with code KELLEYNAN. I only order clips now and typically try to go with pigtail sets (two bows) but they make it so simple to grow with the bows. I clipped all of her nylon headbands this past year and slid all the bows on THESE inexpensive alligator clips they sell in three sizes. Shipping is free and they also have coordinating bowties, scrunchies, etc. I also have a sweet pair of rain boots and knee high socks for Eliza to grow into 😉 Here's a look at her this past week, rockin' one of the hand tied pigtail sets…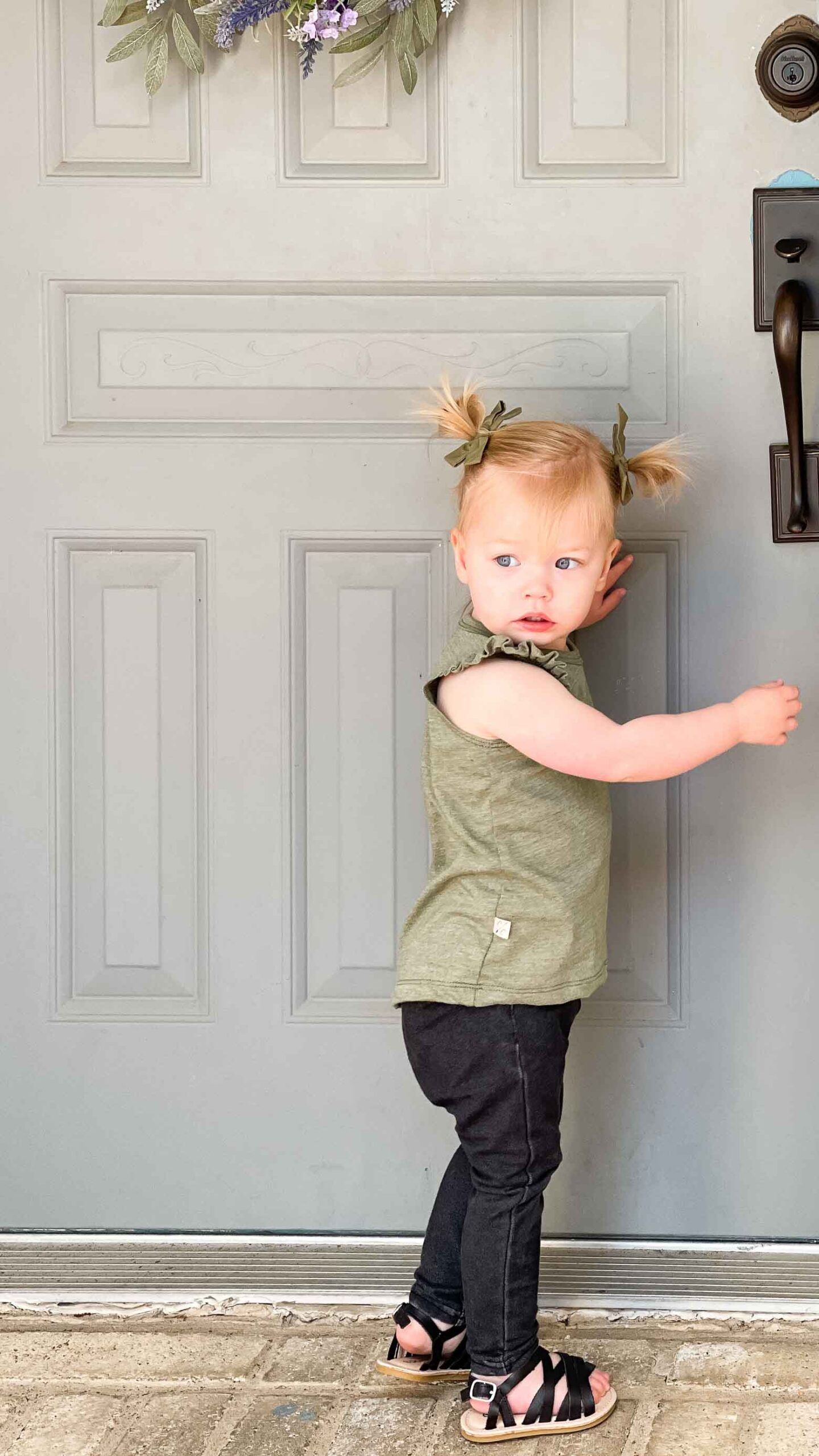 Bows | Gladiator Sandals | Black Jeggings | Ruffle Sleeve T-Shirt- Childhoods Clothing
And, if you need bow organization ideas, I have the large version of this brilliant, durable, roomy organizer hung in her closet. It holds TONS of bows!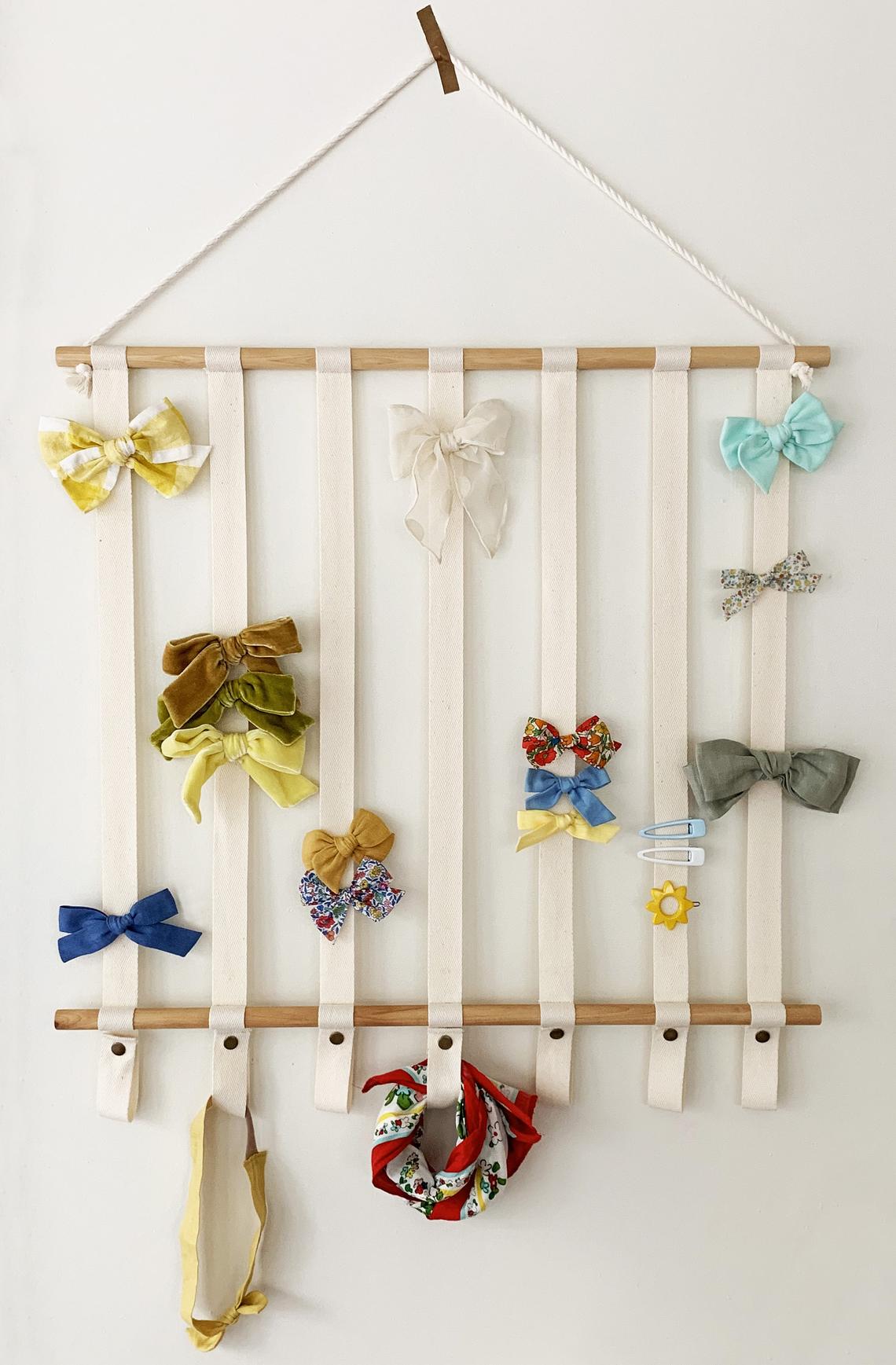 Bow Organizer (photo via FieldDayCo Shop)
2. Inexpensive Amazon Pillow Cover Pairs:  These inexpensive pillow covers are one of my best finds of the year! For my front porch, I wanted some simple, plain pillows for my rocking chairs. I didn't want to spend much and after finding THESE on Amazon — that come in 20 colors and seven sizes, up to 24″ — I took a chance and ordered a pair of the 20″ Light Beige. In that color and size, the pair is currently… $15.99 for the set! Plus, they ship free via Prime. Now, these aren't meant for outdoor but seeing as how inexpensive and durable they are, I have no problem taking my chances for the season. I often use regular pillow covers (that aren't expensive) on our covered porches and have never had them ruined.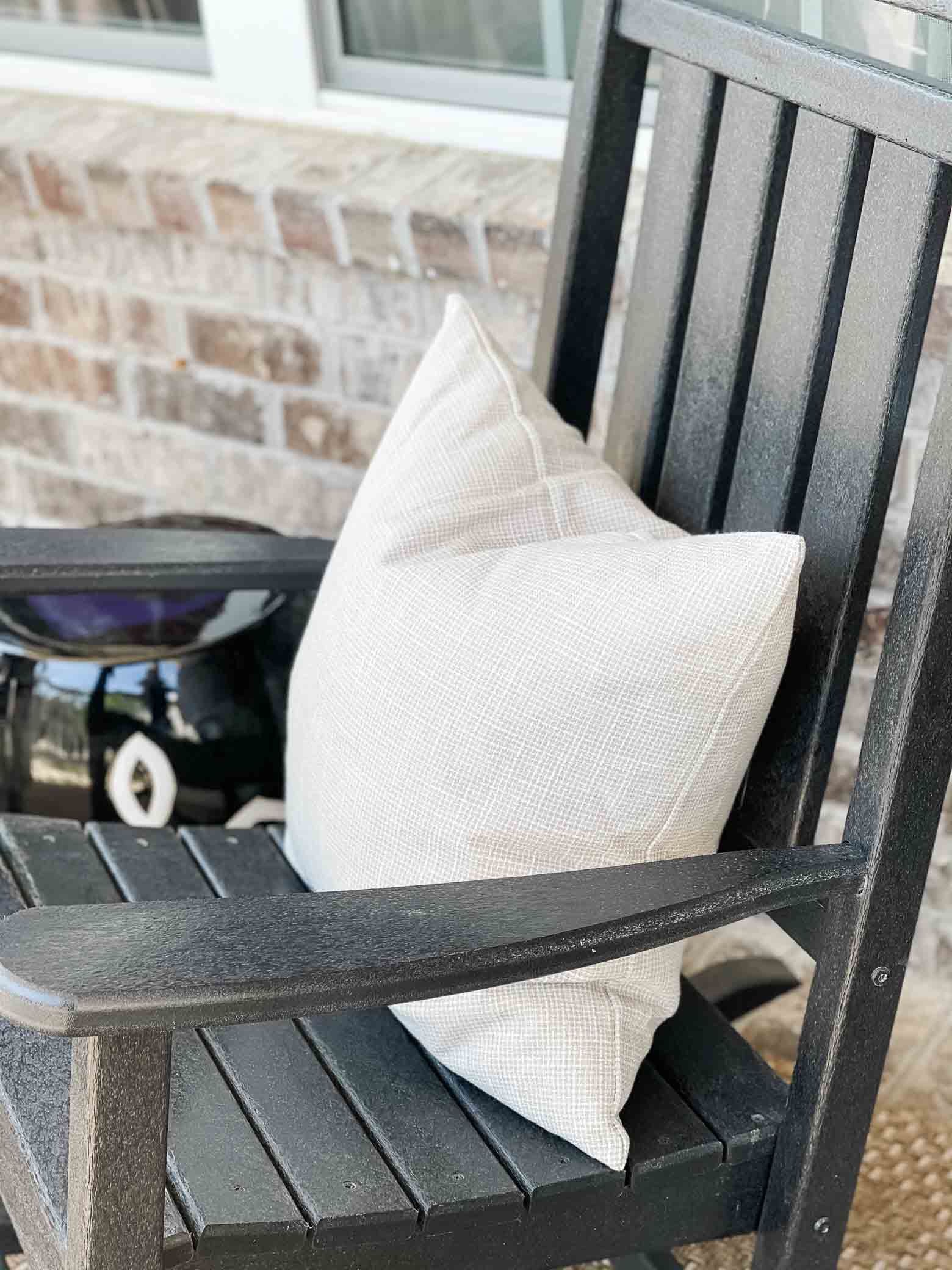 Pillow Pair (20″)
I was honestly kind of shocked when they arrived as I didn't have extremely high expectations for $7 pillows but they are perfect! You can find them in all the colors and sizes HERE.
3. Comfy Lounge Shorts: I am not a big shorts wearer. I'm not comfortable with my legs at all, but, I'm committed to wearing shorts this summer. While I still may not leave home in them (haha), I was desperate to find something comfortable, lounge-y, and non-restrictive to wear around the house/neighborhood for the next several months. After reading all the positive reviews for THESE high waisted terry fleece shorts, I pulled the trigger and ordered two pairs. Their joggers and loungewear in general are my favorite so I felt like these could be pretty promising. The verdict is in… and… yes! Here's the deal — they are exactly what I was looking for, but, here's how they run. I ordered my normal size and the legs are wide, the waist is high (with tons of room) and they fit me on the shorter side. I can roll them and I love the pockets. They are so comfortable and easy to both move and lounge in. They are roomy though so if you prefer something more fitted, I would size down. I ordered both the green and gray and I know they're going to be part of my summer uniform! If you're skeptical, definitely give them a try! Orders over $50 ship free HERE.

4. Vitamin/Pill Organizer: | Such a random thing (isn't that what the SAP is all about, though??) but after upping my vitamin intake in a major way this past year, I ordered THIS daily vitamin organizer off Amazon several months back. Each daily case, within the main storage case, is perfect for a grab-and-go, if you have work, plans, a trip, if you prefer to take them at your desk, etc. Each case has an AM and PM compartment and is organized in ROYGBIV order. It's under $10 HERE and ships free via Prime. I restock the cases once each week and this easy organizer is largely responsible for me actually sticking to taking my supplements!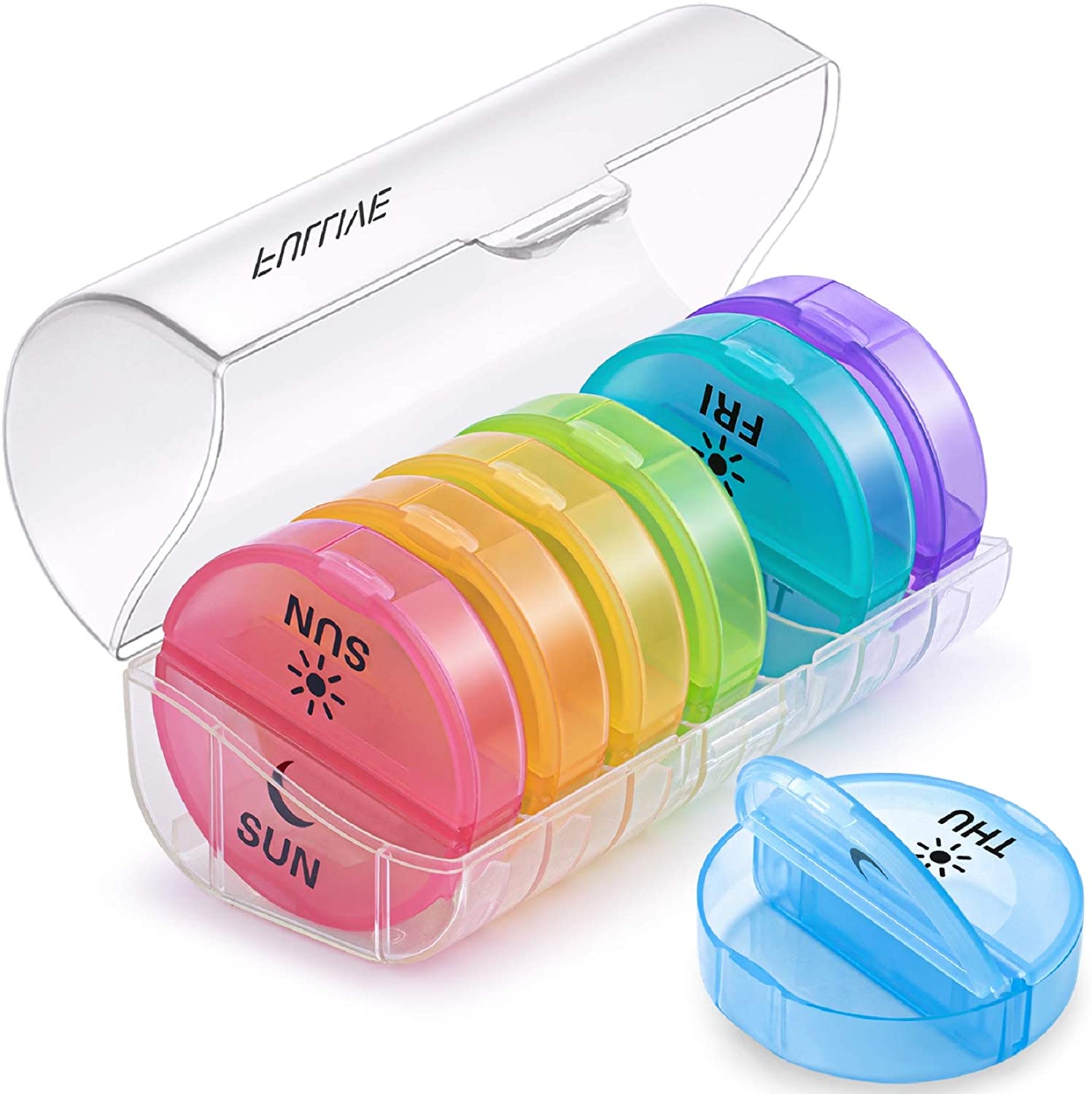 5. Mother's Day Gift Ideas Under $50  : We are taking care of Mother's Day gifts this weekend, after I had an "oh no!" moment yesterday and realized Mother's Day is just two weeks away! If you haven't already made your plans, get things taken care of quickly because as we know with extended lead times over the past year, shipping has been a little crazy. Here are a few gift ideas under $50…
Scroll & Tap to Shop Mother's Day Gifts Under $50



A couple of noteworthy favorites are on sale. While these make fabulous, special gifts, they're also perfect for your own personal treat — especially if you're planning a trip this year. I use the leather technology roll whenever I go anywhere (it wraps up tightly and is perfect for a carry-on) and the jewelry zip-up is perfect for minimalist jewelry/a weekend trip and as a bonus — while it's compact, it actually holds bulky bangles. The technology roll is on sale for $29.99 HERE and the small travel jewelry case is on sale for $39.99 in several colors HERE. You can choose the color and monogram style for either.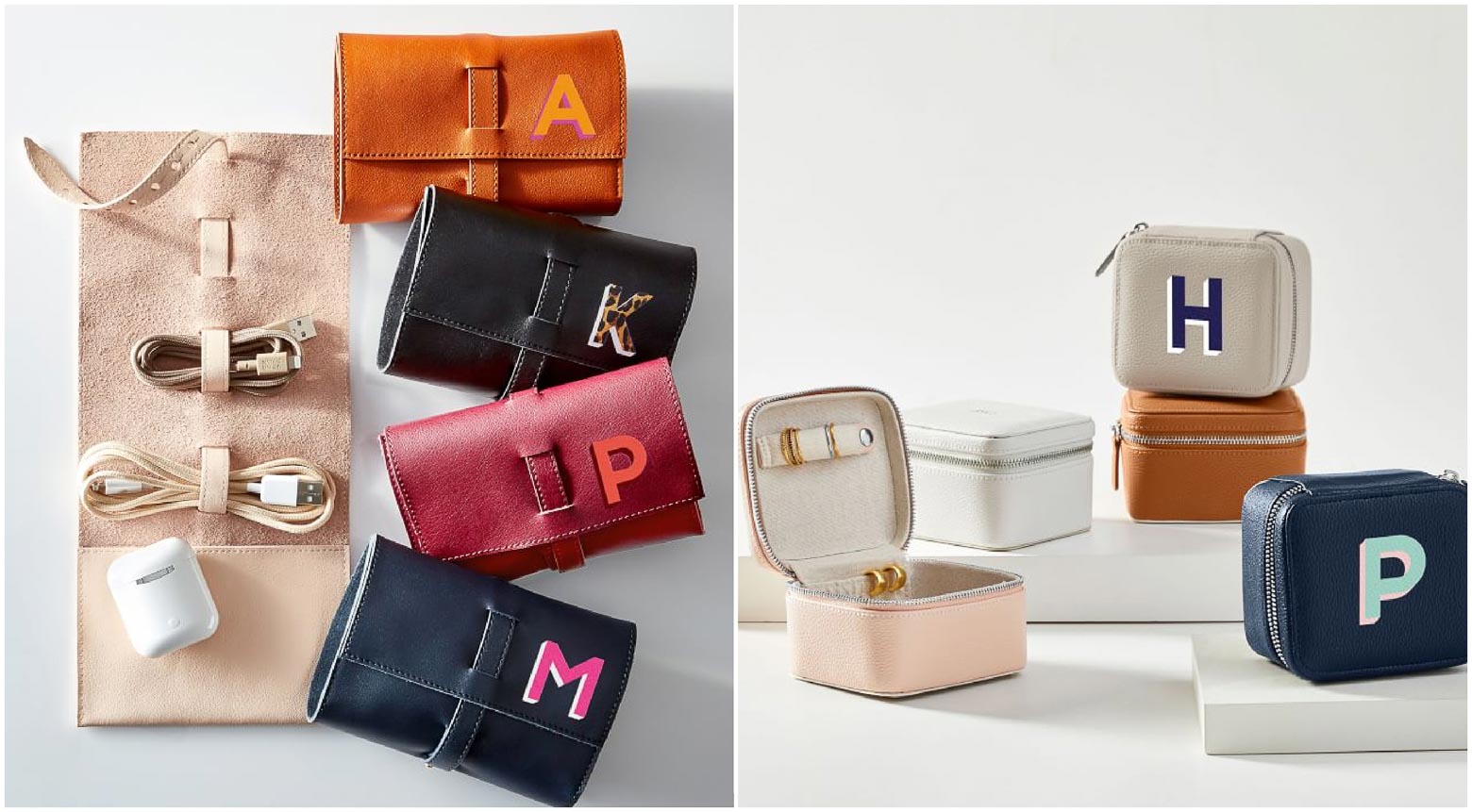 6. 82″ Faux Olive Tree: I can't remember who I should thank for first sharing this tall, slim olive tree on Instagram at the moment, but when I saw it, how good it looked in her space, and the amazing price, I ordered it immediately. At only $129, it's a fraction of the price of my other olive tree, and, it's a good bit taller. It found a quick home in my conversation room, nestled in a tighter spot next to a cabinet, so I'll be sharing what it looks like in my house soon! It's great for height and corners that may not allow for wider faux trees and it requires minimal fluffing. It has almost 90 5* reviews and I totally agree with them! This faux olive tree is an awesome one in every way.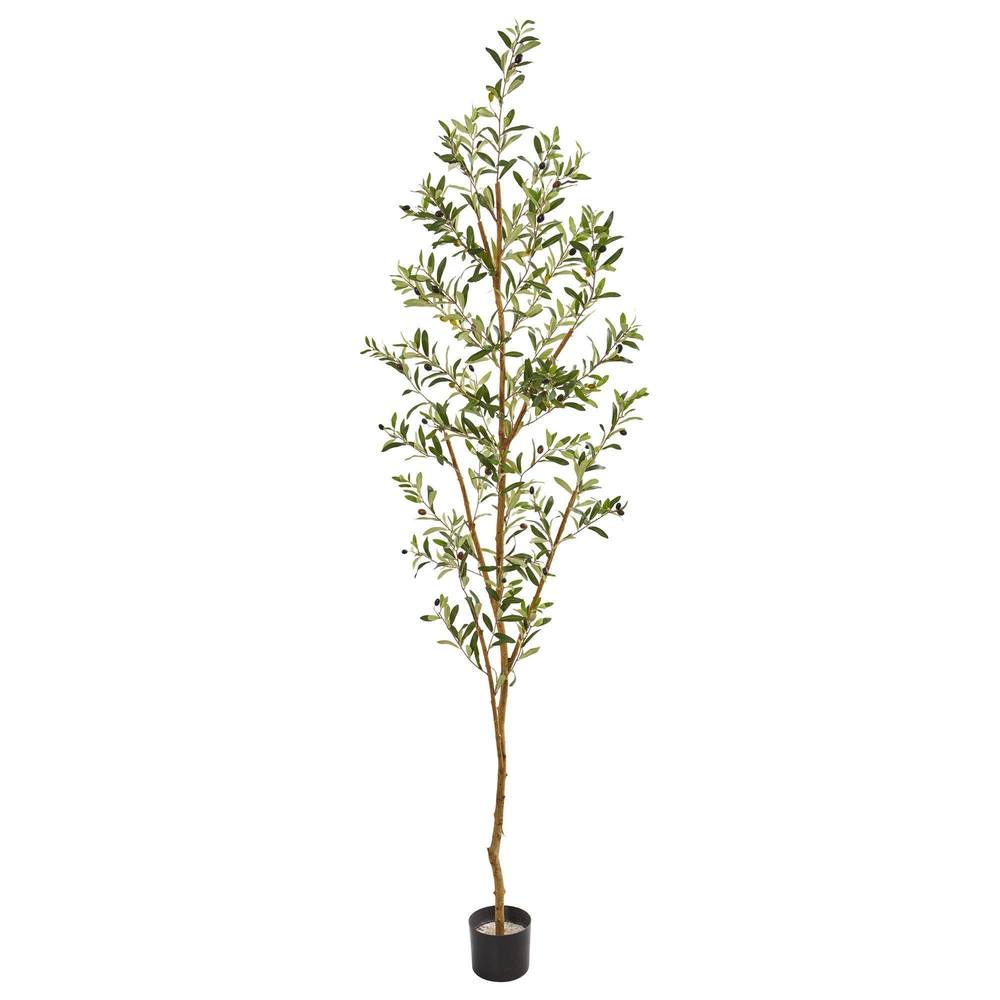 7. Tibet Almond Stick: I shared this almost magical furniture scratch conceal stick on Instagram stories a month or so ago and everybody went crazy over the results! Amazon sold out but it's now back in stock HERE. When my mom moved into her new home, some of her furniture had scratches from the transition. One of her movers went to his truck, pulled out the stick, and rubbed it across the imperfections. It totally camouflaged them and we were amazed! While it doesn't fill the scratches or paint them, it's a wax that disguises the scratches amazingly on every surface we've tried. Unlike paint pens, you don't have to get the color right. I used it on the antique secretary desk I scored on Facebook marketplace and the results were incredible. It comes in a two-pack and ships free on Amazon HERE. To use it, take the stick out of the canister and squeeze it a bit. You don't need to remove the stick from the paper. Then, rub the end of the stick over the scratches and wipe off with a clean towel.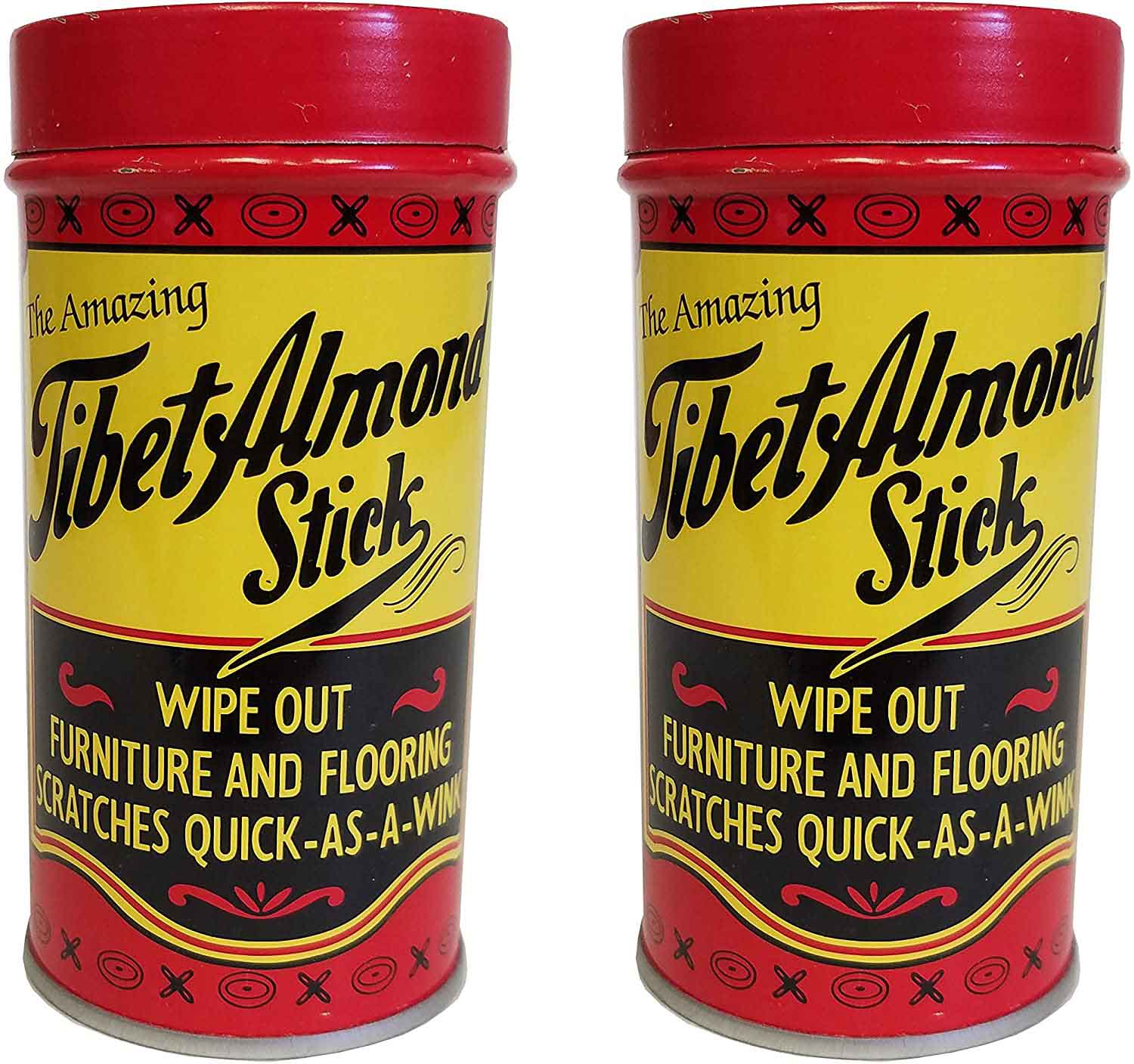 8. Basket Planters: My mom first grabbed two of THESE indoor/outdoor planters (they look like baskets but are actually hard planters) during a Target run and after she got them home and I saw how they looked with her plants, I determined I needed one, too. I ended up getting all three sizes (I seem to do that often, haha). They're pretty and durable and are awesome for any space — from the floor or hearth to a shelf or table. While the one pictured below — holding my new faux olive tree — is the large, the smallest size starts at just $12.99 HERE.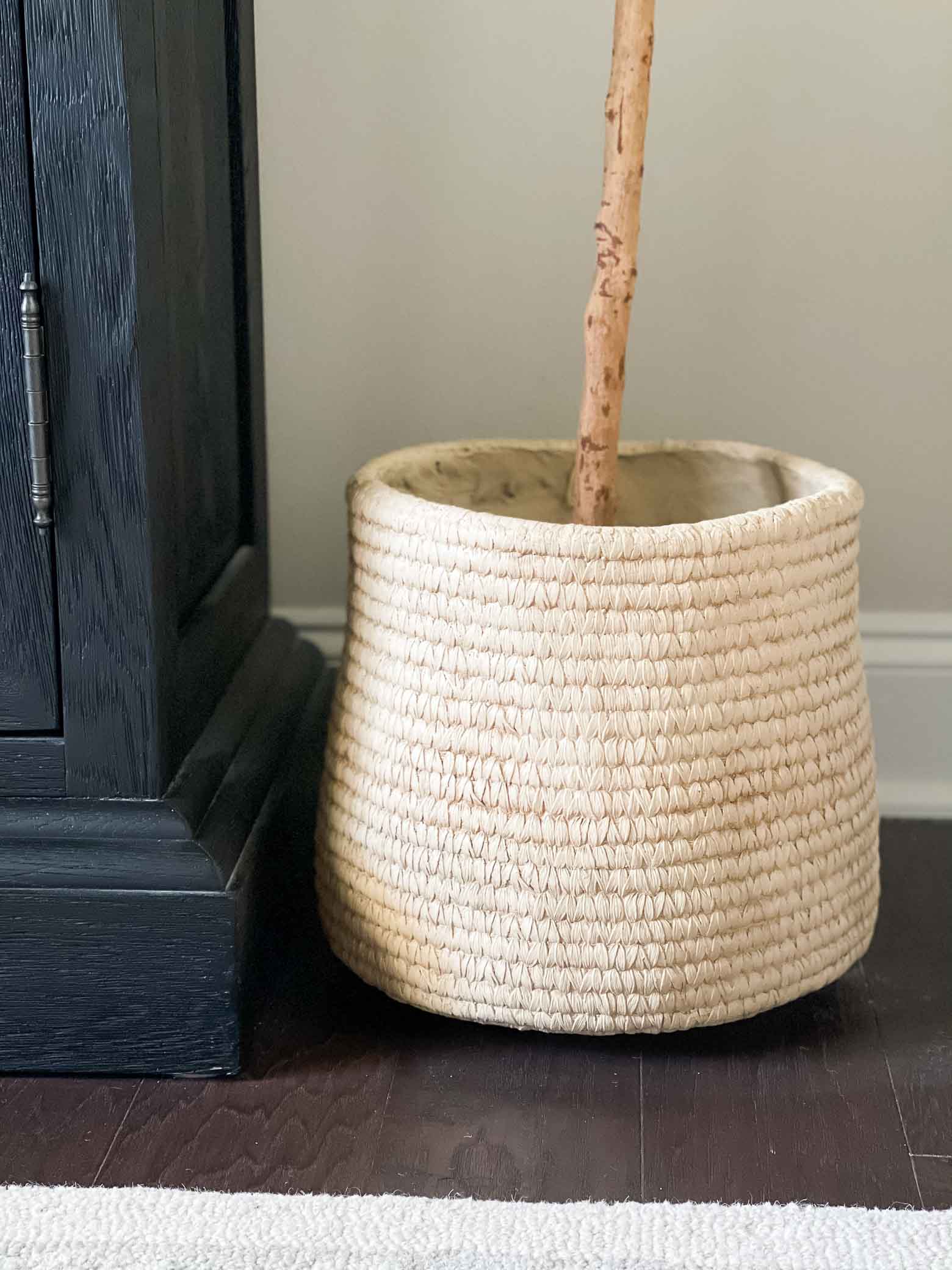 9. Inexpensive Oversized Amazon Sunglasses: Last year, I was on the hunt for a cheap pair of oversized sunglasses. I ordered THIS pair off Amazon for $14.99 and liked them so much, I ordered two more (just in case). I have the black and two of the tortoise shell — they're all I wear and I always get compliments whenever I'm out. As a warning — these are BIG (66mm) (which along with being comfortable is why I love them). I have a heart-shaped face and like the way they look but if you aren't used to wearing big sunglasses, it may be a bit of a shock.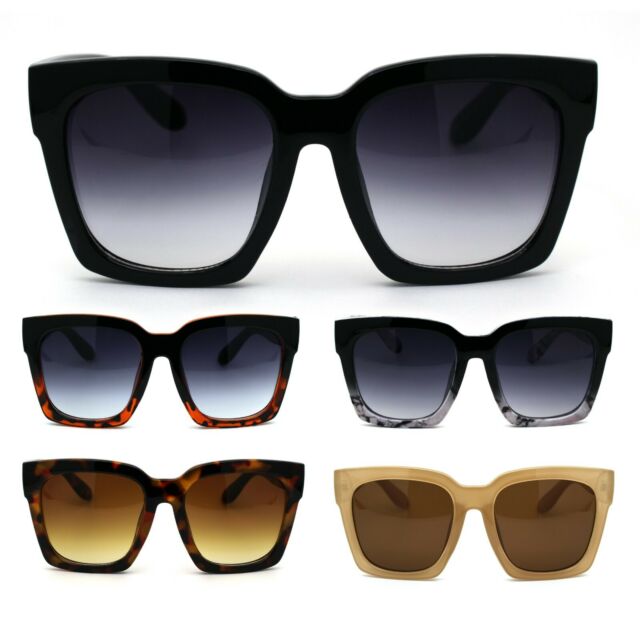 Inexpensive Oversized Amazon Sunglasses
Here's a photo I found from this past fall, wearing one of the tortoise shell pairs. Like most things, they ship free via Prime — in my area, they show free one-day delivery 😉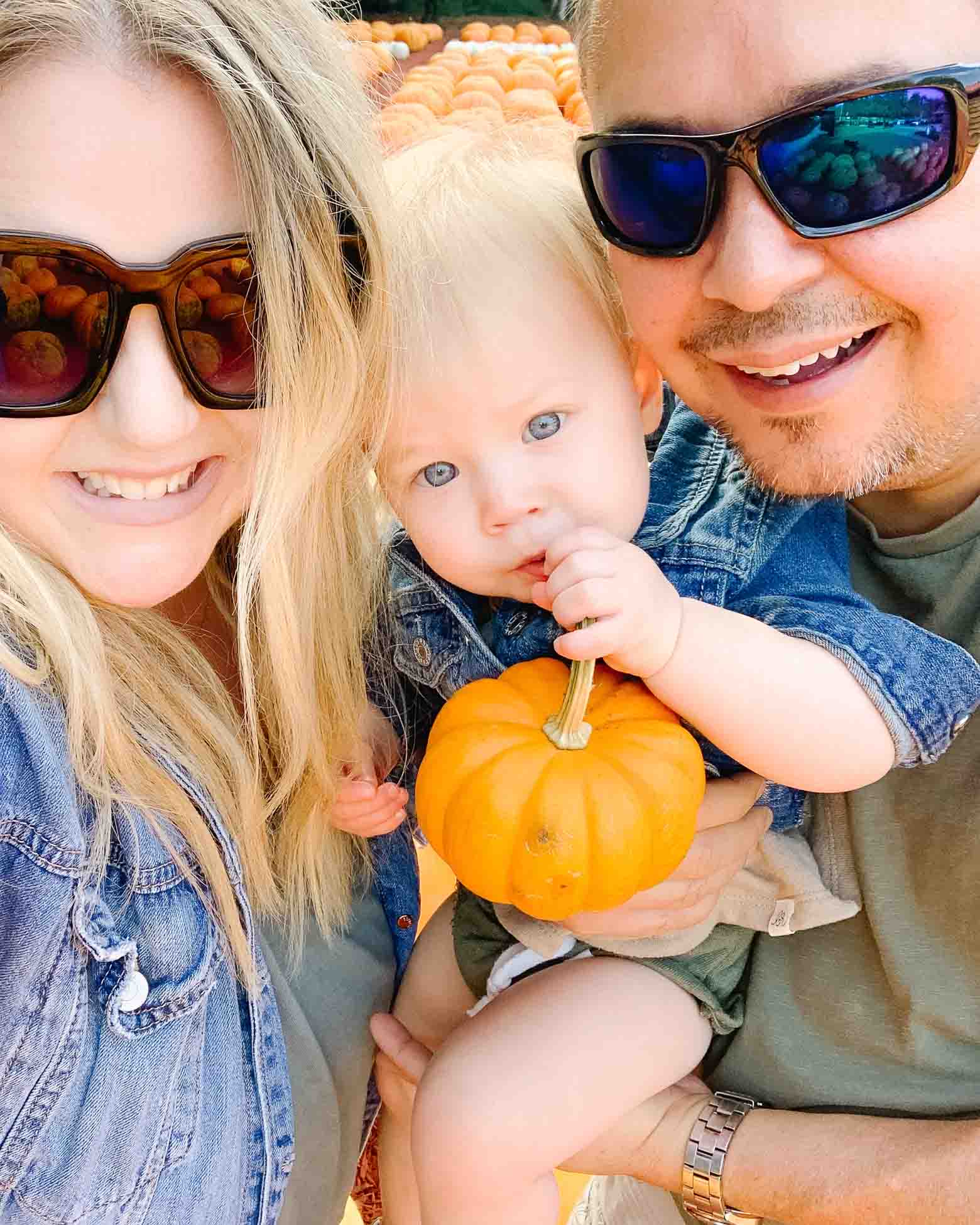 10. Moss: Something else random, but since I haven't shared any seasonal updates, I thought I'd throw this in as an easy way to spring/summer-fy the house. When I was looking for easy ways to transition some of my decor in the main living spaces, I hit up my big stash of moss in storage to nestle around. In this planter with this faux green tree (you'll see the full thing in the dining room reveal next week!), I put towels inside the basket to elevate the height of the tree a bit, and then covered it all with moss. I've done the same with gravel and rocks but the moss is way easier because 1. it stretches and 2. it's lightweight and doesn't shift as much as rocks. You don't have to have as much to get full coverage.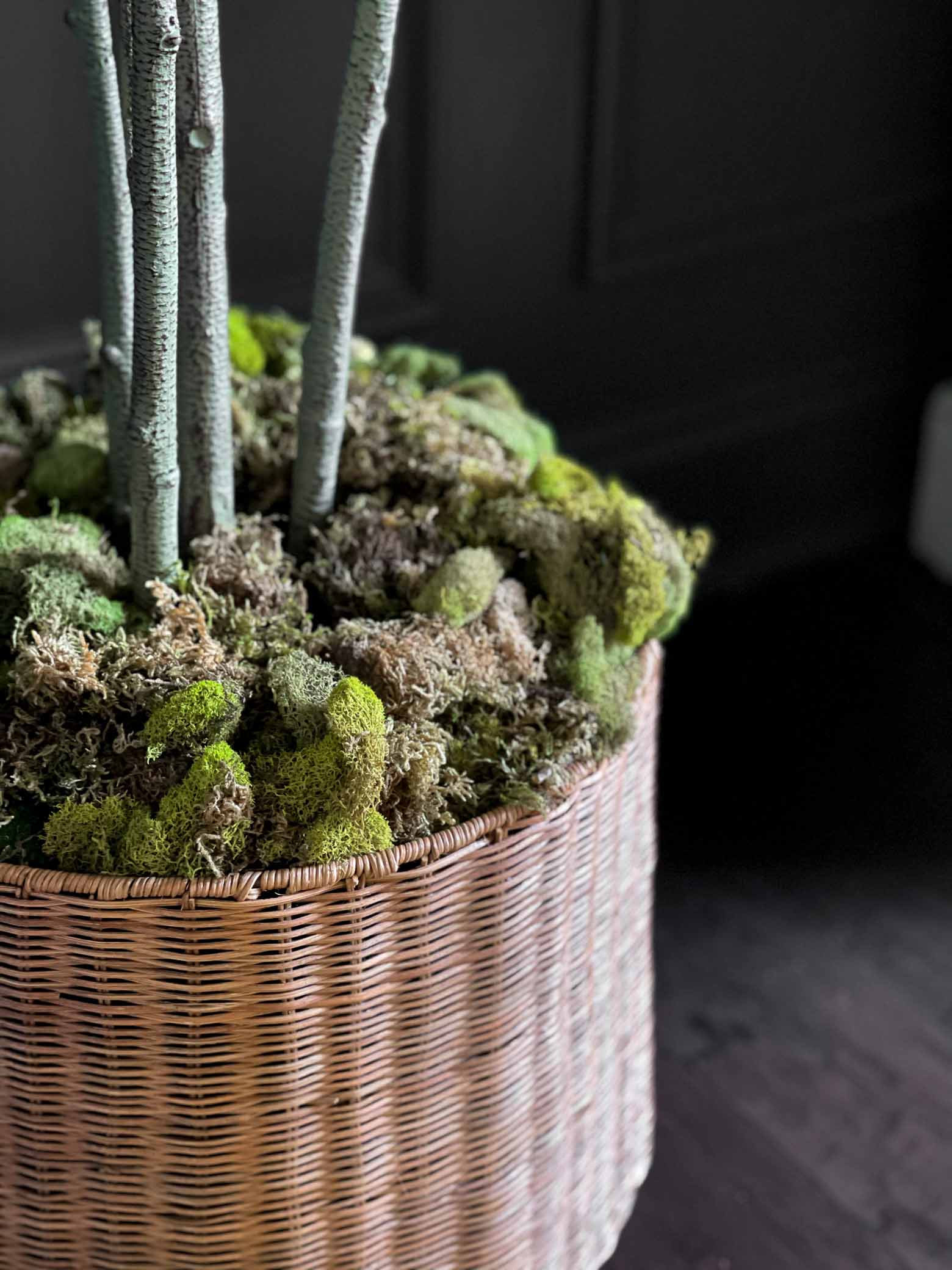 Moss 1 | Moss 2 | Basket (large)
I also used some in this wooden bowl on our living room built-ins. Again, I put some wadded hand towels in the bowl first so I didn't have to use as much moss 😉 You can find tons of different colors of the preserved reindeer moss HERE, and a pretty, more muted green HERE.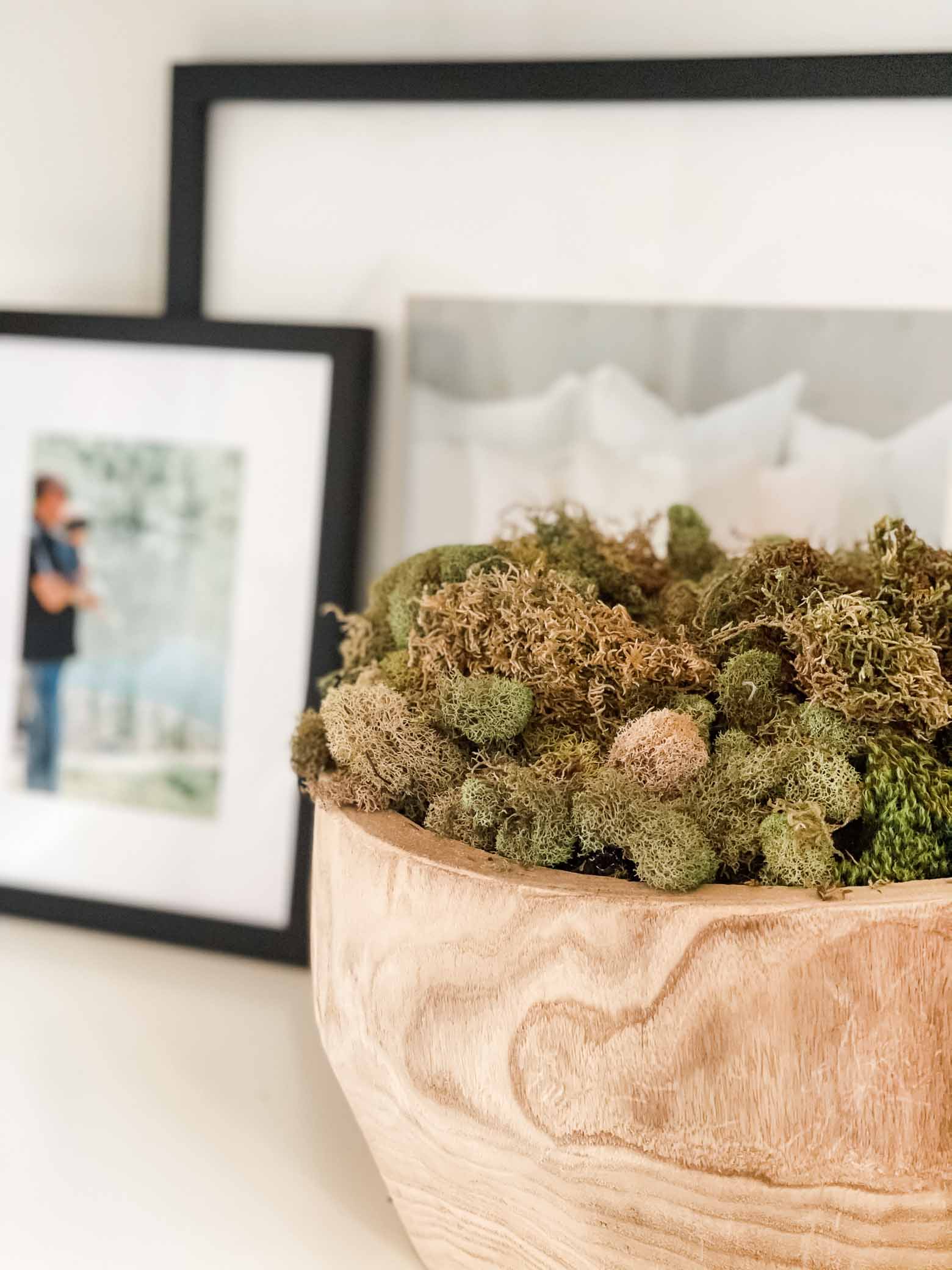 11. Summer Bucket List: We are at such a fun age with Eliza and seeing her explore and experience things for the first time is such a gift. While we're making plans for a few more elaborate to-dos, we have plenty of "simple pleasures" on our mind for the upcoming months. Here's our warm weather/summer bucket list! Some of these may not apply to you/your family, but maybe a few can spark some ideas to incorporate this summer.
Visit the Zoo
Picnics in the park
Shaved ice/ice cream from the neighborhood truck
Reading hour at the library
Date nights/days with Dave
Swim days at the neighborhood pool
Play dates with friends
Sidewalk chalk the driveway
Bubbles and more bubbles!
Vacation at the beach
Music on the back deck
Sunday dinners in the dining room
Attend a little league baseball/softball game
Fishing in the neighborhood pond
Boat ride
Visit Babyland General
Plant and take care of flower pots
Pick strawberries
Visit the farmers' market for fresh summer produce
Experiment in the kitchen with said produce
Can jalapeno peppers
Enjoy summer vegetable suppers
Tomato sandwiches for lunch!
Swimming lesson refresh for Eliza
Play tennis
Create playroom
Organize basement
Start planning for "big girl" bedroom
Buy fresh peaches
Make homemade ice cream
Dine al fresco
Play at the neighborhood playground
Run through the sprinkler
Play in the sandbox
Potty training
Ride the merry go round at the mall
Go to the movies
Eat popsicles
Read more books!
Clean out clothes closets
Nature walks and scavenger hunt
Build a fairy house
If you aren't already, you can subscribe to emails at the bottom of the post to make sure you catch those upcoming room reveals, and stay in the loop for other projects on the horizon!