This past Monday, I did one of the dumbest things I've ever done… let's start at the beginning. Eliza has been in swim lessons every day for the past several weeks. After I get her from lessons to school, I run home and get the towels in the wash and her bathing suit in the sink to soak. Well, Monday my mom and I had plans to make a trek to Trader Joe's as soon as I got back. We were running out for florals and supplies — and a few essentials — and were going to try to get back in enough time to finish setting up a few spaces and shoot for some upcoming blog stories. She got to my house just as I was getting home so I ran upstairs, tossed the towels in the washing machine, put her bathing suit in our master bathroom to soak, and while the sink was filling, I ran to Eliza's bathroom to grab some of her washcloths to toss in the washing machine, also. I ran downstairs and we headed out in my mom's car. We tried to be as quick as possible but with TJ's being close to an hour each way, we were gone at least three hours total…
*Posts on KelleyNan.com may contain affiliate links. Click HERE for full disclosure.
See the final Bathroom Reveal HERE.
What Happened…
We pulled up the driveway and I pressed the garage door opener, but it wasn't working. I assumed the battery was dead. While my mom headed to the front door to enter via key, I texted Dave at work so he could open the door remotely from his phone — he said "it's showing as off-line" — my assumption was "oh, the power must be out". I started down the sidewalk and was met by my mom who was totally frantic. I don't remember what she said but she led me to the garage where the ceiling was pouring water. I mean pouring. Through lights, through drywall, through outlets… onto my car, onto the floor, onto racks, onto everything. At this point, I had no idea what was going on but thought a pipe must have burst while we were gone. "What do I do?! Who do I call?! 911?!" My mom — a little more levelheaded than my current emotional state advised we quickly call a neighbor. He's a fire chief and while he's on duty a lot, thank goodness he was home and came right over. I headed to the basement to shut off the main water source for the house while my mom headed upstairs to find the culprit. It wasn't a busted pipe. It wasn't the washing machine. I had forgotten to turn the faucet off when I went to soak the bathing suit. The tiny little bathing suit — what a stupid thing.Honestly, we didn't even know if the upstairs was sound enough to be standing on but luckily, our neighbor knew what to do in the moment. The breaker in the garage had tripped but he got the garage door open and I got my car out. We mopped up water in the upstairs as best as we could with towels and rugs and he cut holes in the garage ceiling drywall to help direct the water out. It kept coming and I kept sweeping. I called insurance, Dave came home and the disaster cleanup people came to make note of the damage.
The Damage…
Let me say — compared to what it could have been, we got off easy. For those of you who have faced natural disasters, I'm sure this pales in comparison — it just stings because it was such a stupid mistake and I'm totally responsible. Second of all, it was a true gift that the rooms and areas that were affected were what they were. They were literally all probably the only places in the house that have never been "done".
These photos were taken after a few days of industrial dehumidifiers and initial demo, just to get things dried out.
My vanity sink here is what started it all. Fortunately, it flowed away from the master bedroom, toward the master closet and toilet room. The water rose quite a bit before ultimately draining down to the garage.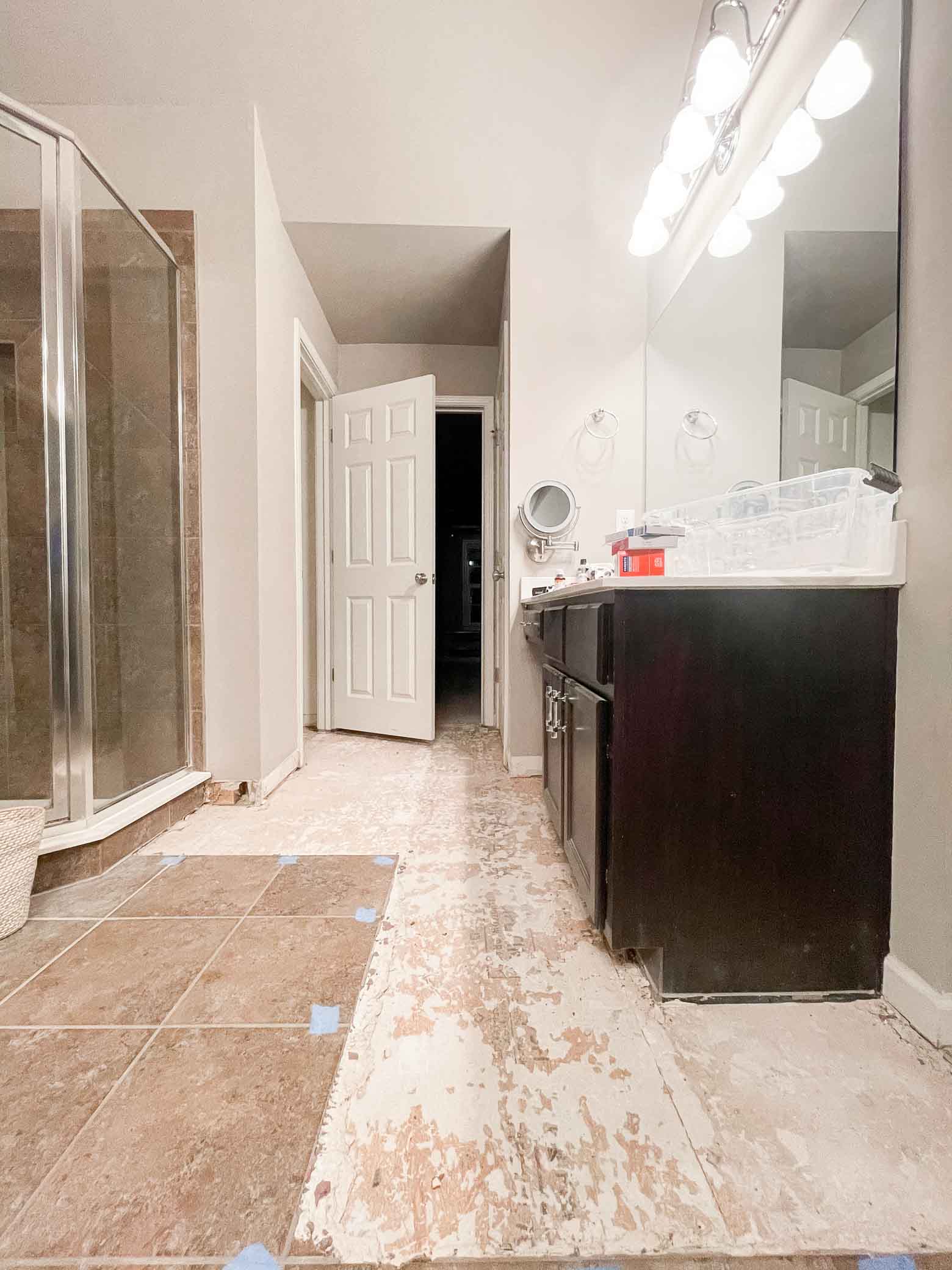 The tile, baseboards, and vanity were all flooded and will have to be removed, which of course, leads to other repairs. Everything from the vanity over — the toilet room, linen closet, and master closet — were all flooded. Another fortunate gift, aside from carpet and baseboards, everything (all of our "stuff") in the closet was totally fine!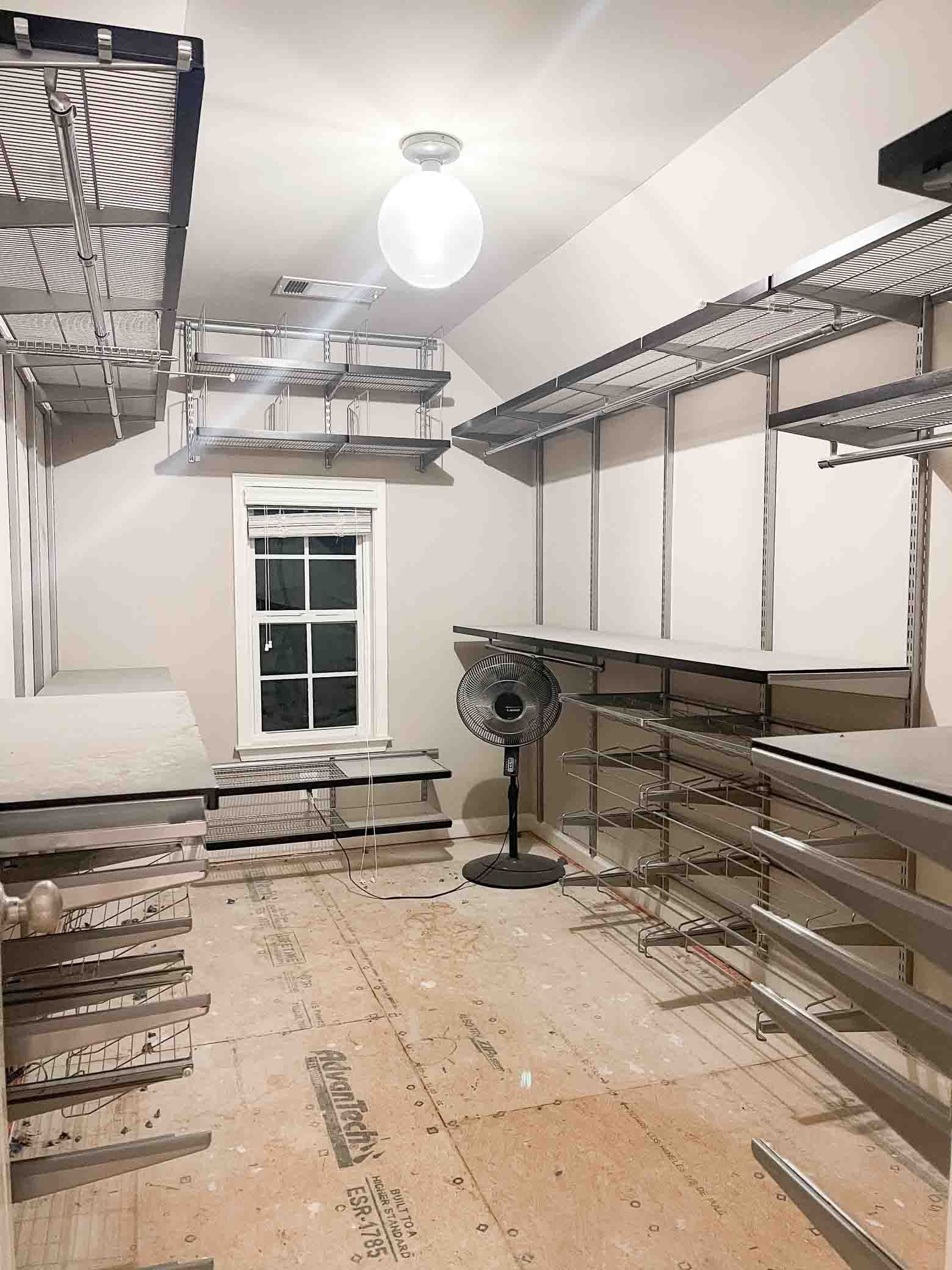 We got everything out and set in Eliza's now-delayed "playroom". It looks like a tornado but a preserved, not ruined tornado 😉 The water did go through the bathroom wall, into the office bathroom, so tile and baseboards have been ripped out in there, also. But, the vanity, tub, etc. were all salvaged. We're thankful to have a downstairs guest bathroom we can use in the meantime and between a few essentials I'm keeping in there, I set up a makeshift "vanity" in the bedroom. You can see my former makeup vanity setup HERE.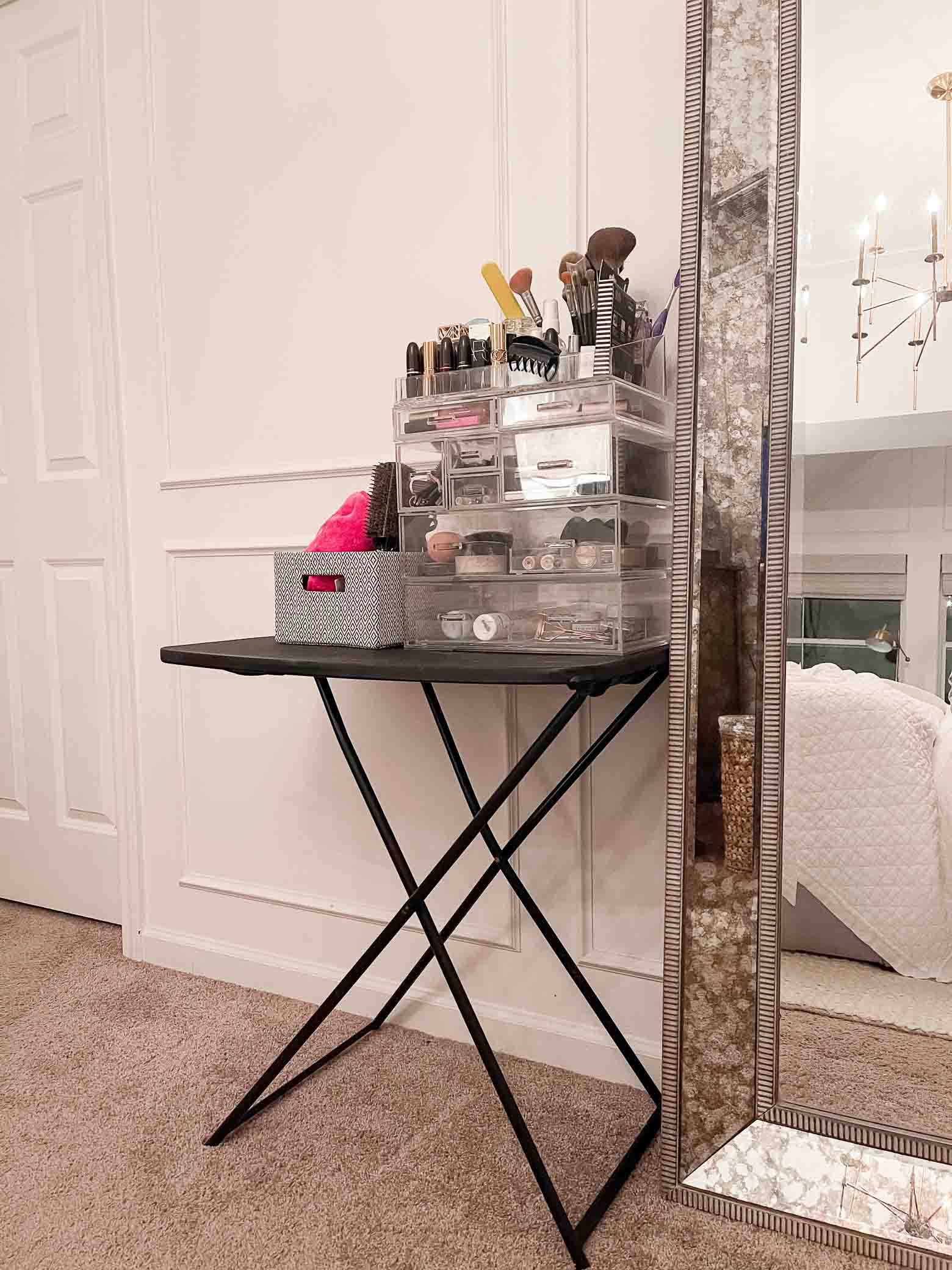 I didn't want to wrestle with clothes on the floor every day so I ordered THIS rolling hanging clothes rack off Amazon — it arrived in two days, had free shipping and was just over $30. It's two-tiered, adjustable and the top bar does extend out. Because I work from home and thrive in that *casual athleisure life* (haha) most of my daily clothes are leggings, sweats and tees that I keep in the dresser. I pulled a few sweatshirts for the rack but dedicated most of it to Dave's work clothes. We're hoping to just recycle these outfits and pieces for the next while to simplify laundry and to stay out of the disaster playroom-to-be that holds the majority of our closet.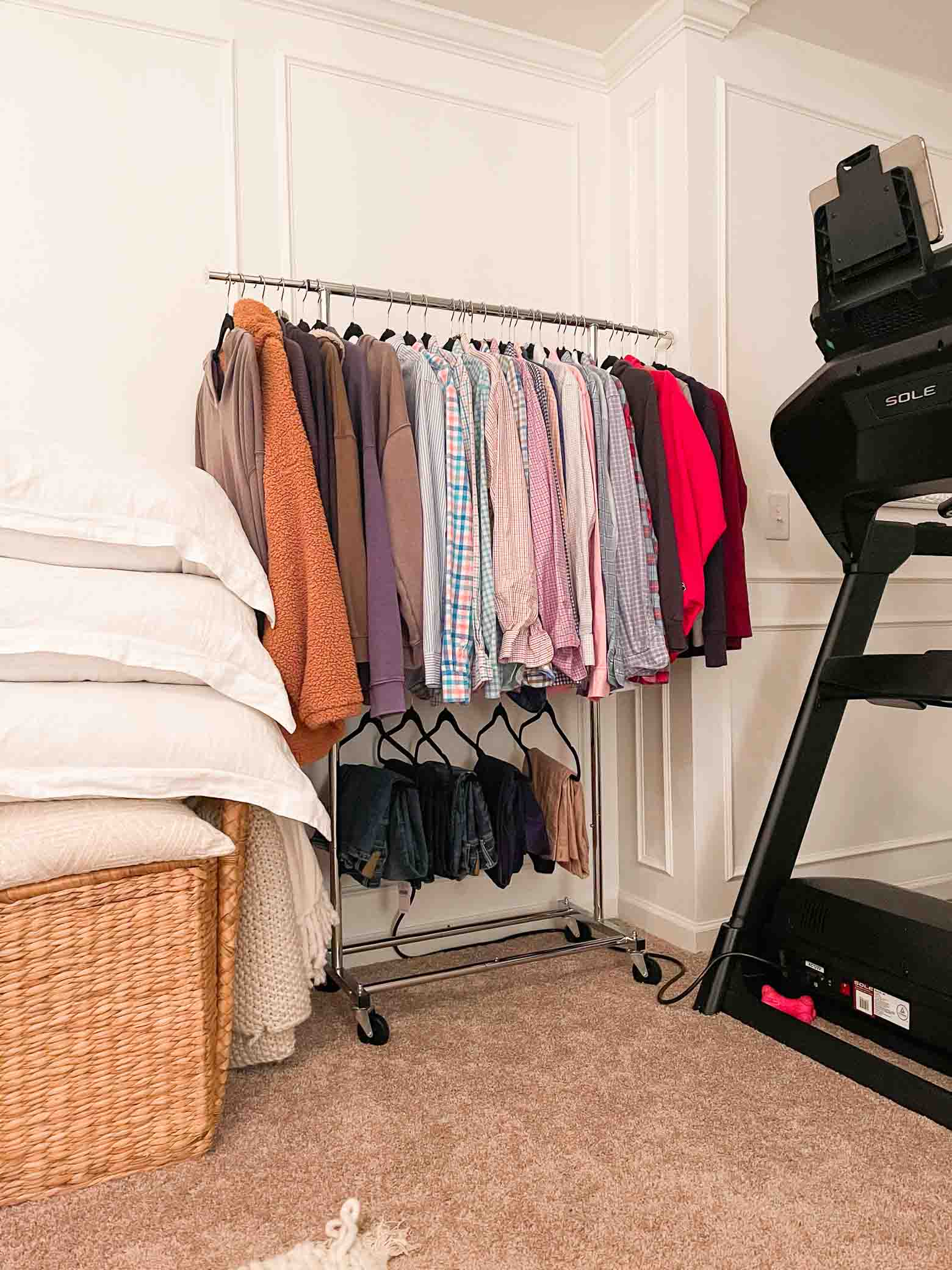 The garage looked the worst. This screenshot from a video I took — after the water had stopped pouring and after a few rounds of water sweeping — doesn't look as bad as it did and does in person. Again, it was a gift and a miracle that more damage wasn't done. While the ceiling and some of that stuff will have to be replaced, the majority of our possessions are totally fine.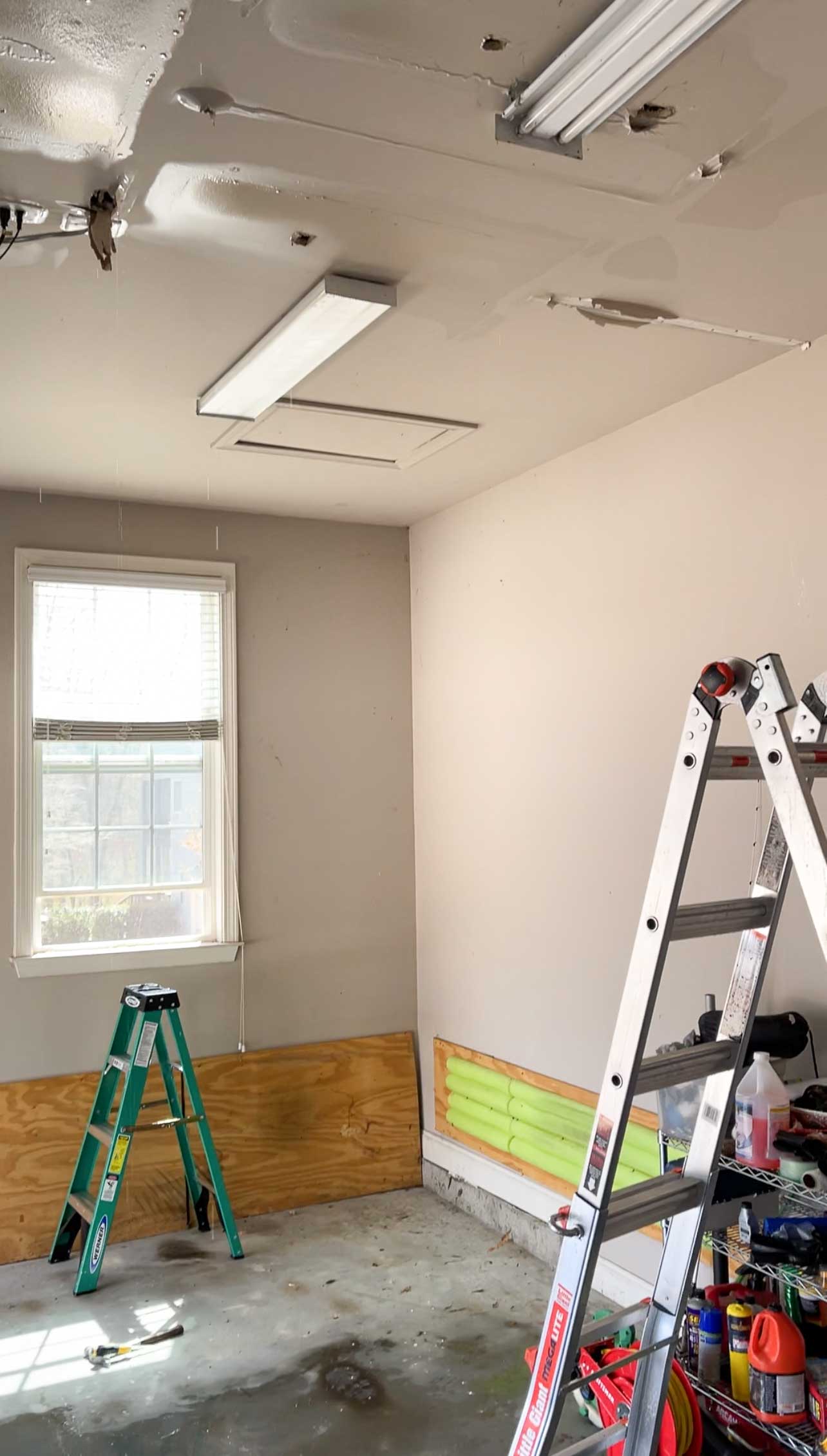 The water did go from the garage down to our basement but fortunately, it's unfinished and only minor damage was done to *some* of our belongings. Aside from a little insulation, no construction has to be done in the basement.
So, we're living with a bit of dust and debris but the soaked rooms are now dry. I'm so thankful it wasn't our kitchen… or our master bedroom… or basically any other rooms other than the ones that were affected. I'm so thankful that for the first time, my mom and I didn't grab lunch on the way home from TJ's… or stop off to check out Pottery Barn. Things could have been so much worse. So now — I'm licking my wounds, trying to slow down from all the multi-tasking and absentmindedness, and am hoping to turn lemons into lemonade.
So… What's Next?
We weren't planning on it but I guess I officially have a few new room projects in the works. Obviously, they're in the VERY beginning stages (like, nothing past actually declaring them "projects") but with the spaces that have been cleared out and will have to be reconstructed, I"m going to take advantage to bring ideas here to the blog that may have otherwise not happened. Bittersweet. Right now, mostly bitter but I'm hoping in a couple months, we'll more into more of the "sweet" (lemonade) part 😉
The Master Bathroom
I haven't been shy about declaring that I don't love our bathroom — or that I never planned to take it on because we don't plan to be in this house forever and bathrooms can get expensive. But, with so much demo having to happen to even put our bathroom back together — not just the floor tile but as a result, the shower tile, tub surround, etc. — plus, since the one vanity was damaged, the other has to be pulled, too… just things like that that compound beyond the initial damage — I decided to make some changes and upgrades along the way. So, we're doing a bathroom! Because this isn't an expense I was planning on and insurance will only cover things directly impacted by the water damage, I'm going to try to do some things I want without getting out of hand with $$$. Plus, bathrooms are a major thing when you're selling your house, right?! We won't be changing the footprint or knocking down walls, but here are a few improvements we're considering since we'll be under construction.
Remove the corner tub and install a free-standing tub
Remove the prefabricated shower pan and have a tiled shower built with frameless glass enclosure
New vanities
Install tall, framed mirrors with side sconces instead of overhead sconces
Install can light over shower
Install fixture in the corner of the bathroom
Window privacy solution
Paint, paint, paint
Upgrade tile throughout
I have no idea what direction I want to go in in terms of aesthetic but I've already found that I'm picking too many "features" in terms of tile than can actually go in the bathroom. Between the shape, color and type of tile to combos, placement, and pattern in which is laid, I'm all. over. the. place. For the vanities – I don't know if I want them built or ordered. I don't want this to drag out forever so when we get started, I probably will move quickly.
We don't have a wall long enough to accomodate a double-sink vanity so we will have to work within the wall space we already have — neither vanity can be much over 50″ but I want to maximize the storage space with whatever we go with. I also have hated not having drawers so that will be a big focus with whatever we decide on. I love THIS single sink vanity — the top drawer is even cut into a "U" shape to fit around the plumbing. But, it is showing as not being available for delivery until September/October and we can't wait that long…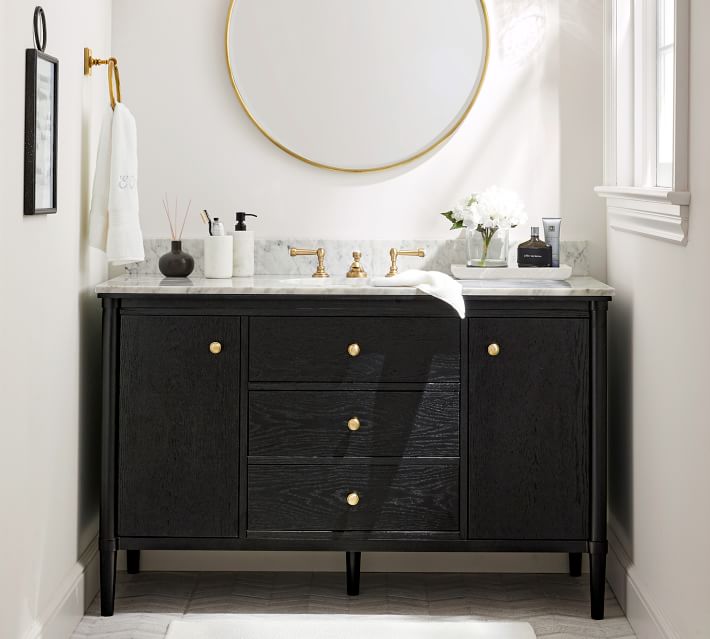 I liked this vanity — not quite as much but it was definitely a contender, until this moment when I went back and saw it's now out of stock in black until late June. It does come in four colors…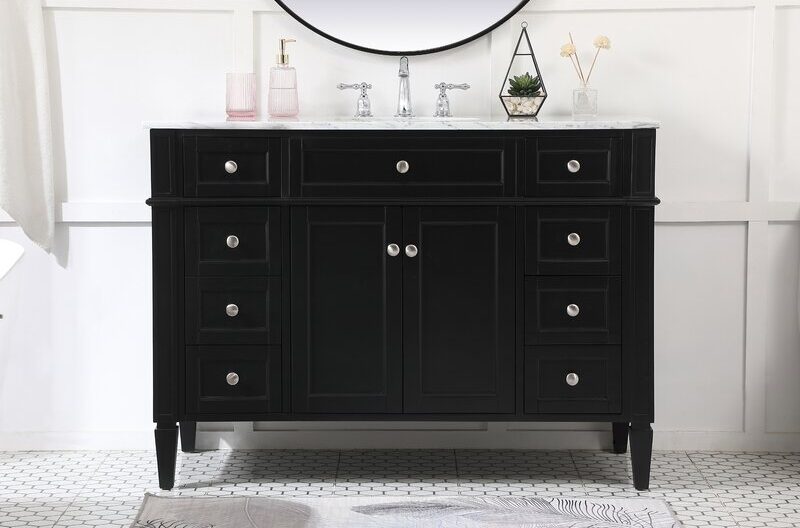 Vanity (comes in four finishes)
So… I really have no idea. And while I was thinking of black, it was really just that first PB vanity that swayed me in that direction — I may go with something totally different.
Another advantage of ordering a vanity is not having to get bogged down with decisions in terms of cabinet features and details. Plus, no picking out countertops. We'll see — I'm not totally sold one way or the other.
Again, while I want to do some things I want to do, I will have to be mindful of budget and currently, still have no idea what any of this will look like in terms of out of pocket costs. Everything we had before was pretty basic so the upgrade cost could potentially be significant.
Master Closet
Aside from maybe choosing a different carpet, we aren't doing anything in the closet except getting it back "ok" again. But, we will be using this as an opportunity to purge, organize, donate, etc. Nothing will be coming back in this closet unless it is used and has a purpose. This project is long overdue so flooding it out and having no option but to clear the space may just be the incentive we needed to tackle it all. Another perk of having it all cleared out is seeing the closet in its bare structure — it's a reminder of just how many cool features and organizers we had installed when we moved in back in 2015. Lots of potential that hadn't been capitalized on. I may configure a few components to best fit our needs today, but I'm grateful to have this closet system. You can see a post I did a long time ago HERE.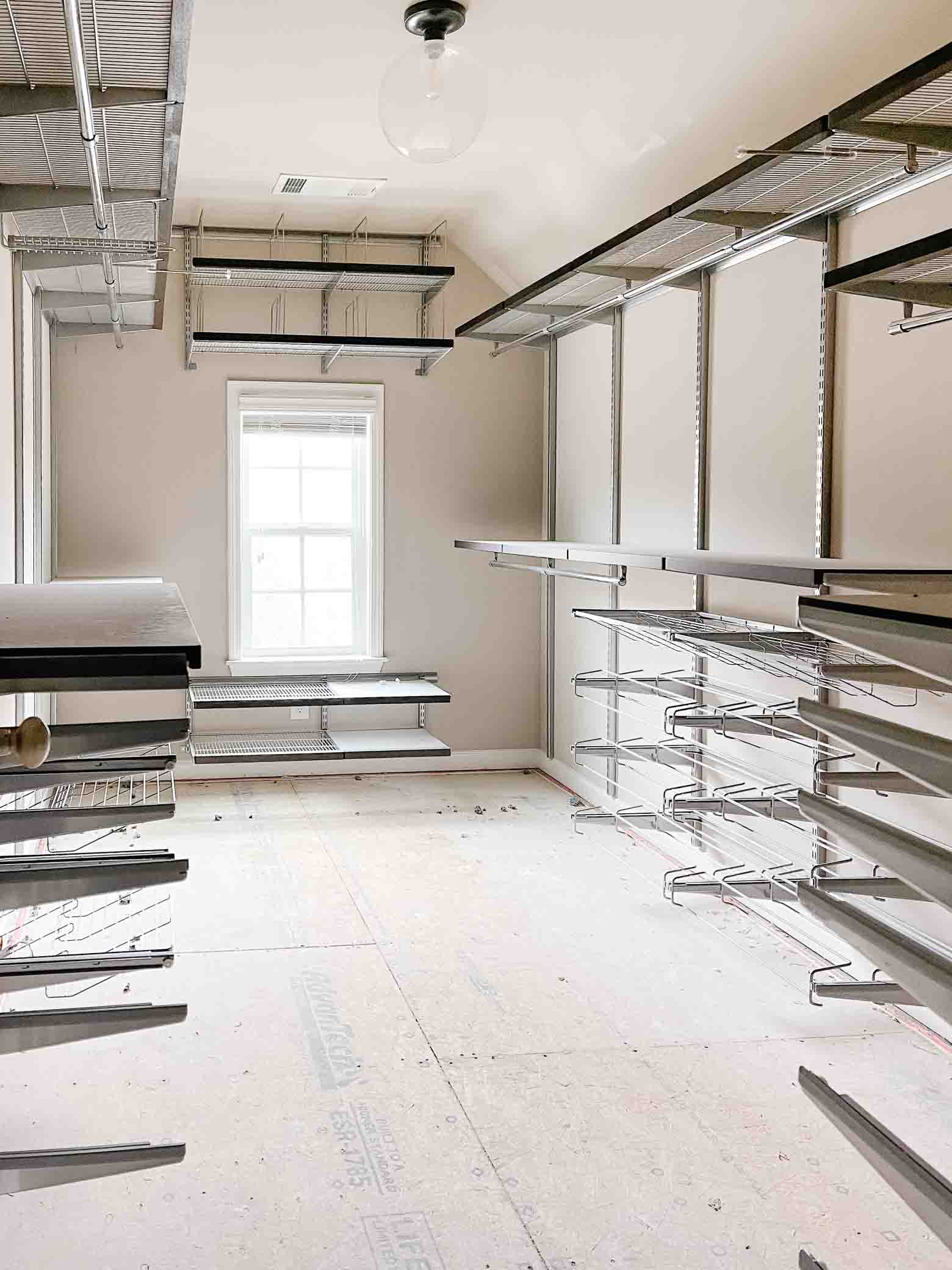 Flush Mount Light | Elfa Closet Systems
Garage
The goal is to just get the garage back like the flood didn't happen… except yet again, this is a long overdue organization and purge project. Depending on time constraints and what else is happening, we may try to implement some new organization solutions in here.
Office Bathroom
Replace the floor tiling — that's it. Nothing crazy, no makeover projects… just a new tile.
Basement
Because the structure wasn't damaged down there — it's all concrete — no repairs have to be made except for replacing some insulation. We are long overdue on a basement purge and organization but we probably won't be fitting that in in the immediate future.
So… there it all is, in a nutshell, summed up as quickly as I could while including a few details. As I mentioned earlier in the post, I was ready to move full speed ahead on Eliza's playroom and we were days away from installing the mural (you can see the full design plan HERE), but that will have to be put on pause for now. The dining room and conversation rooms are getting close — I just have to hang drapes and am waiting on a piece of art and some pillows that have been on backorder. So, in addition to the *surprise* new projects (for you and me, haha), I still have the results of those makeovers to share.
If you've done something similar to this, please let me know below. Have tips that can help me (and others)? I'd love to hear them! I'm disappointed, slightly embarrassed, and am mad at myself for putting more on my plate than I needed at the moment, but I'm grateful it wasn't what it could have been and am almost semi-excited for the opportunity to take on projects I otherwise wouldn't have taken on. I'll be back soon with a design plan for the master bathroom and updates will follow — be sure you're subscribed to receive emails (link at the bottom of this post) to see all that's ahead!
See the final Bathroom Reveal HERE.