Around this time each year, we start moving a little further away from the big bowls of comfort and more towards lighter fare, fresh produce, and cut veggies on the ready. Real talk — I'm always ready for comfort food but I do start getting more jazzed up about summer salads and in-season fruit 😉 In celebration of spring — whether you've got Easter Bunny snacks on your mind, you're starting to think about a little entertaining, or you're looking to incorporate some healthy fuel into your diet, today's crudité board is a colorful showstopper that's simple to construct and practical long after the party is over. If you've been a reader for a while, you're probably used to seeing themed boards — everything from sweets and apps to full meals and standard cheese platters. You can take a look at some former board ideas in the gallery HERE for inspiration on your next cookout, shower, brunch, themed party or even ideas for family grazing boards over the weekend, but today's board is among the most colorful and easy of them all!
*Posts on KelleyNan.com may contain affiliate links. Click HERE for full disclosure.*
How to Make a Crudité Board
Okay — reading "how to make a crudité board" out loud almost sounds silly (duh — anyone can lay some vegetables on a plate, haha) but today's post is more about tips to make that basic veggie platter a little more special and a lot more striking. Like all the boards I cover, it's less about the literal what and more about the how. More specifically, how you can take something so basic but make it feel elevated and a little more "dressed up". I don't get incredibly adventurous in my offerings — I want my boards to be relatable and crowd pleasing (not occasional, proper finger-picking). I want them to be sumptuous and plentiful, not dainty and exclusive. So, before I get into the basics, here's the result of the spring-ready, colorful and fully stocked crudités board.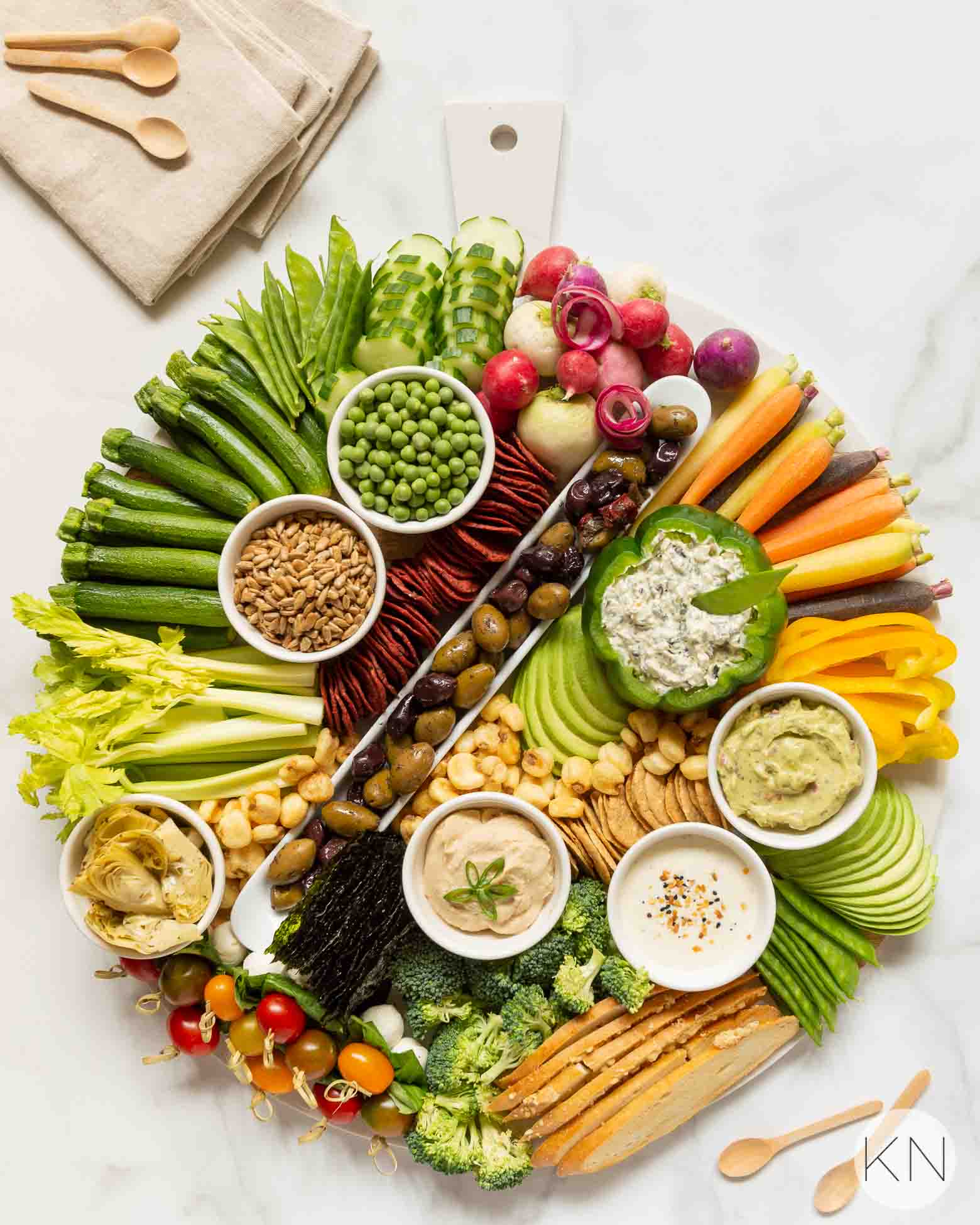 Sources: Round Board | Olive Boat | Dip Bowls | Wooden Spoons (similar) | Bamboo Skewers | Linen Napkins
Tips to Craft Your Crudités Board
No rules, right? That's what I always try to emphasize but in terms of my specific methods, here's a few tips that can make all the difference when it comes to veggie boards.
1. Shop Organic / "Fresh Format" Grocery Stores
TBH, in our I don't typically shop organic, and you can 100% build a truly beautiful, eclectic board from any grocery store. But, if you're looking for veggies in their more raw state (pretty, leafy carrots, veggies on the vine, etc.), take a look at Trader Joe's or your preferred "fresh format" store, or even in the organic section of your regular grocery store. You'll also tend to find more options in terms of "miniature" produce, rainbow varieties, etc.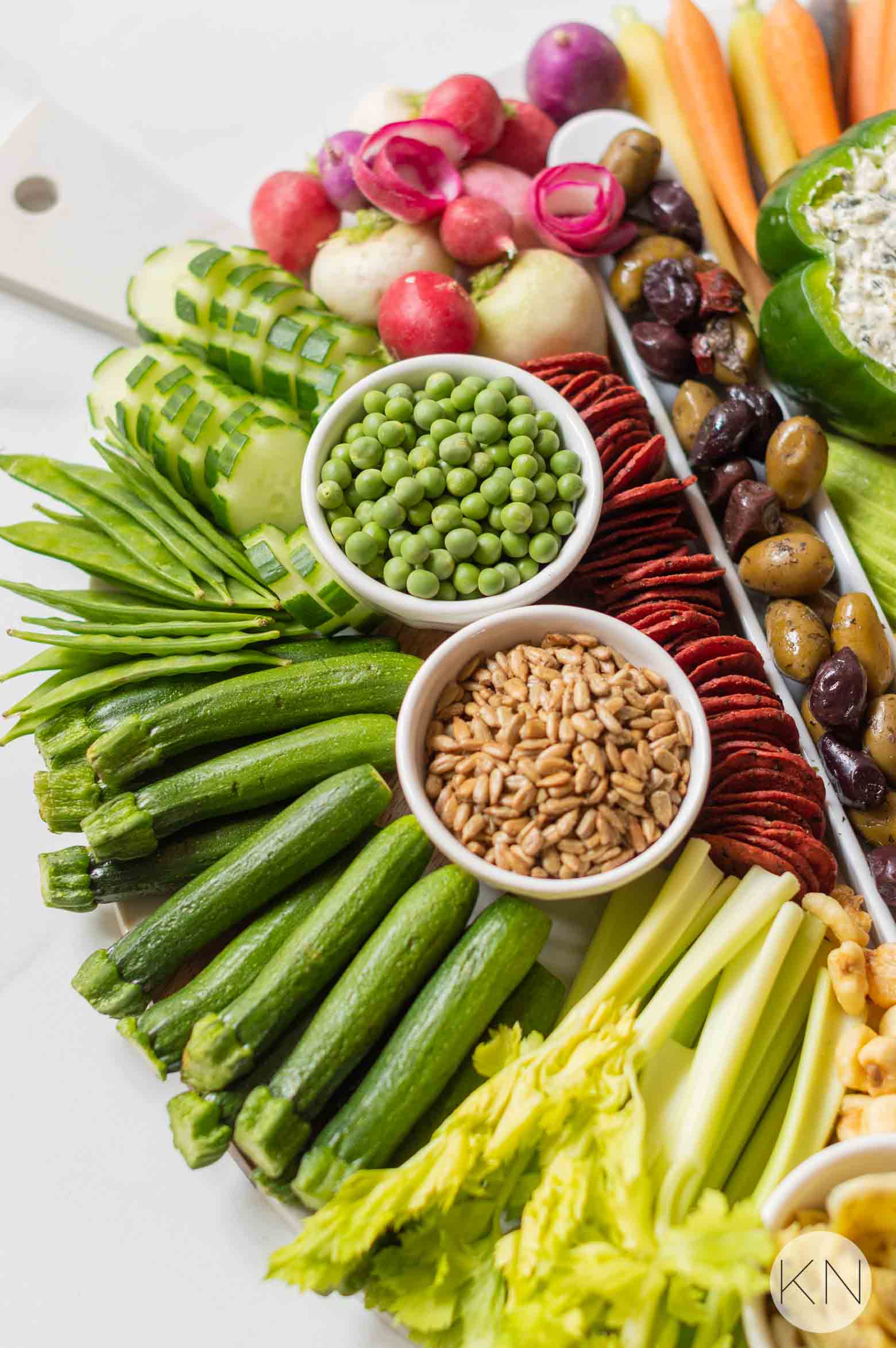 2. Shop Outside the Produce Department
Shopping in the fresh produce section is the obvious choice for actual crudités, right? But, when you're finished loading up on the raw stuff, check out the pickle area, cracker section, nuts and seeds, and snack aisle, also. What still fits in the veggie(ish) fam — but may not be a technical crudité — but can add a little more variety than something you would find in a pre-constructed tray? In this crudité board, in addition to the usual suspects, I used:
cauliflower crisps
beet crackers
giant Peruvian Inca corn
sunflower seeds
marinated olives
roasted seaweed
parmesan crisps
And heres a few more ideas to consider…
baby corn
pickled okra
pickled beans
pickled asparagus
sweet potato chips/crackers
wasabi peas
dried okra
mini rice cakes
garbanzo beans
edamame
pea crisps
hearts of palm
stuffed olives
pistachios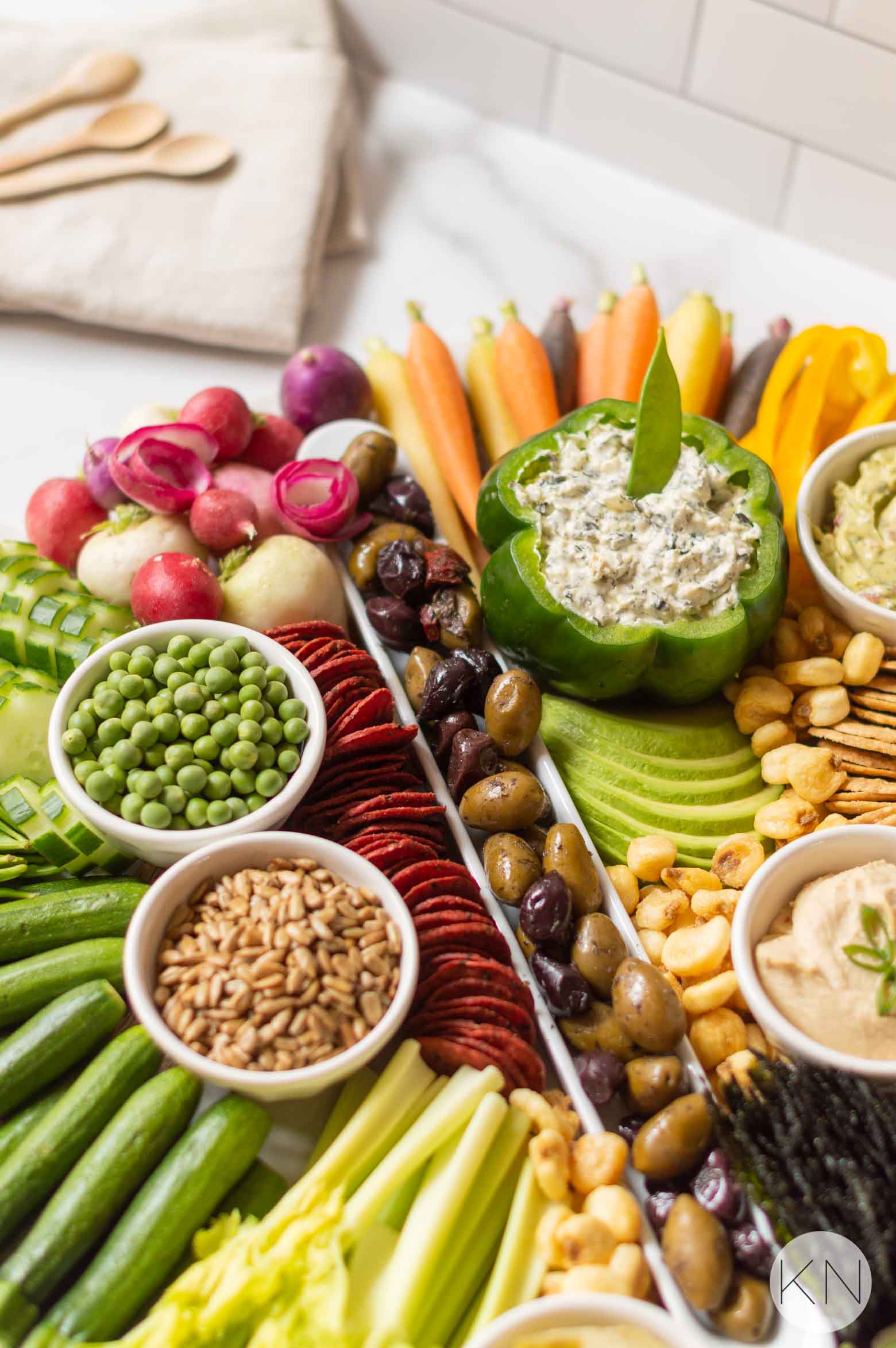 3. The Assembly Order Matters
Not only do I try to make room for the largest items first, but I try to place the most delicate items last. Also, be conscious of where you place wet items — you don't want anything getting soggy 😉 For this crudités board, I placed bowls and servers (like the olive boat) on the board first to make sure I held a spot for them. Next, I went in with the larger items and items in which I had greater quantities (things that make the biggest piles and require the most room). Don't be afraid to edit or reserve some if there isn't space — you can always replenish later. The thinly sliced avocado was added late and I save "fillers" — like the giant Peruvian Inca corn as the last step, once everything else is placed.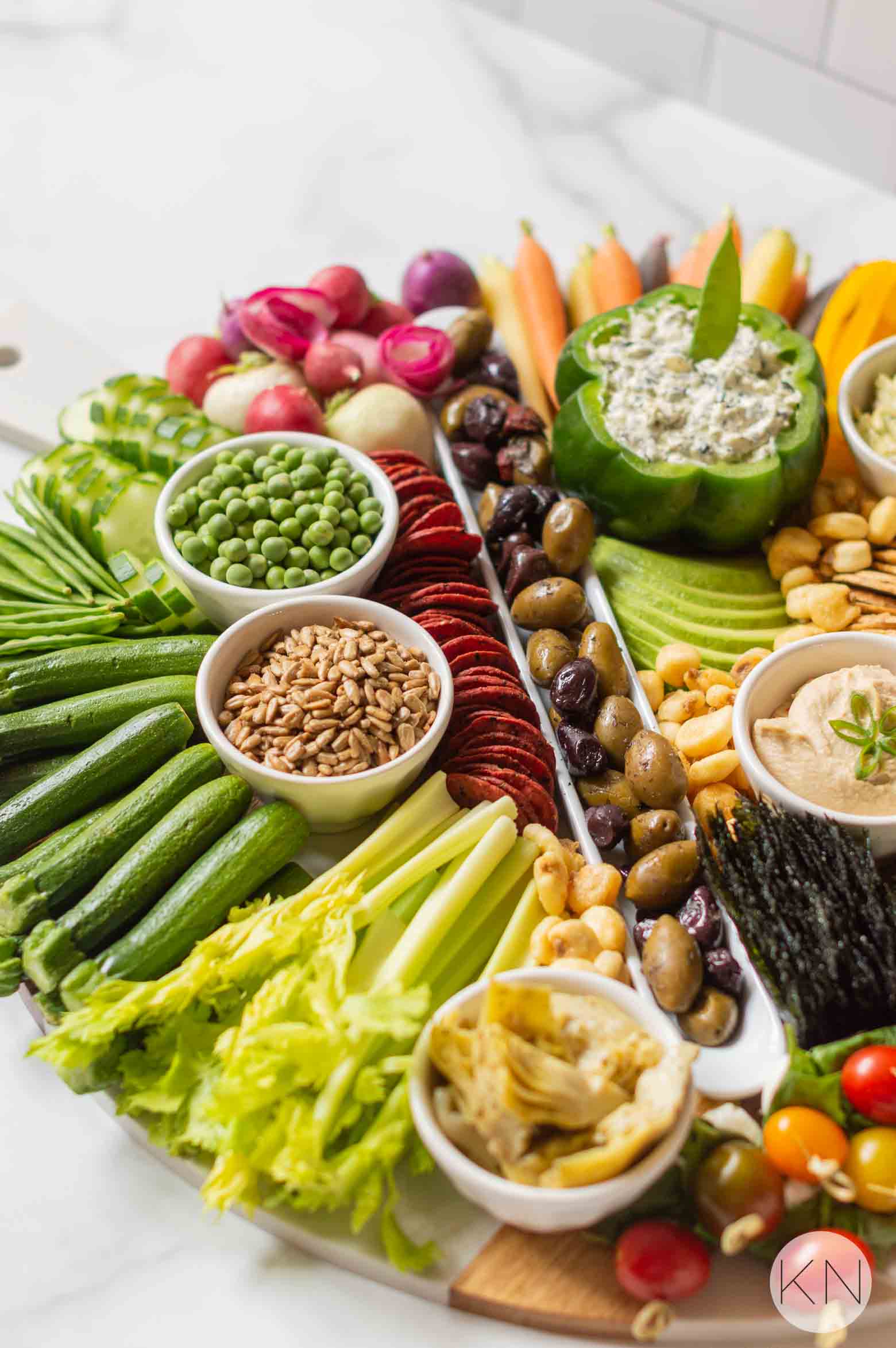 4. Don't Be Shy with the Dip
Have you ever been to a party and when you spotted the veggie tray, it looked like a single serving dip next to a party-sized vegetable helping? Go heavy on the dip options and quantities. Give variety in colors and flavors. For this crudités board, we went for spinach & artichoke spread, garlic hummus, guacamole, and the old ranch standard. You can also consider pico de gallo, blue cheese (or thousand island or any other dressing), onion dip, green goddess, etc. Variety and options are like invitations to an experience. I used small bowls (THESE are my favorite go-tos, even as ramekins for regular dinners) but also used a hollowed out bell pepper as a vessel. An avocado shell or a small raw cabbage (they have these at Trader Joe's sometimes) would also be cute! Again, you can keep reserves in the fridge and replenish as needed but nothing will keep people from digging into a veggie platter like having a single, skimpy serving of dip.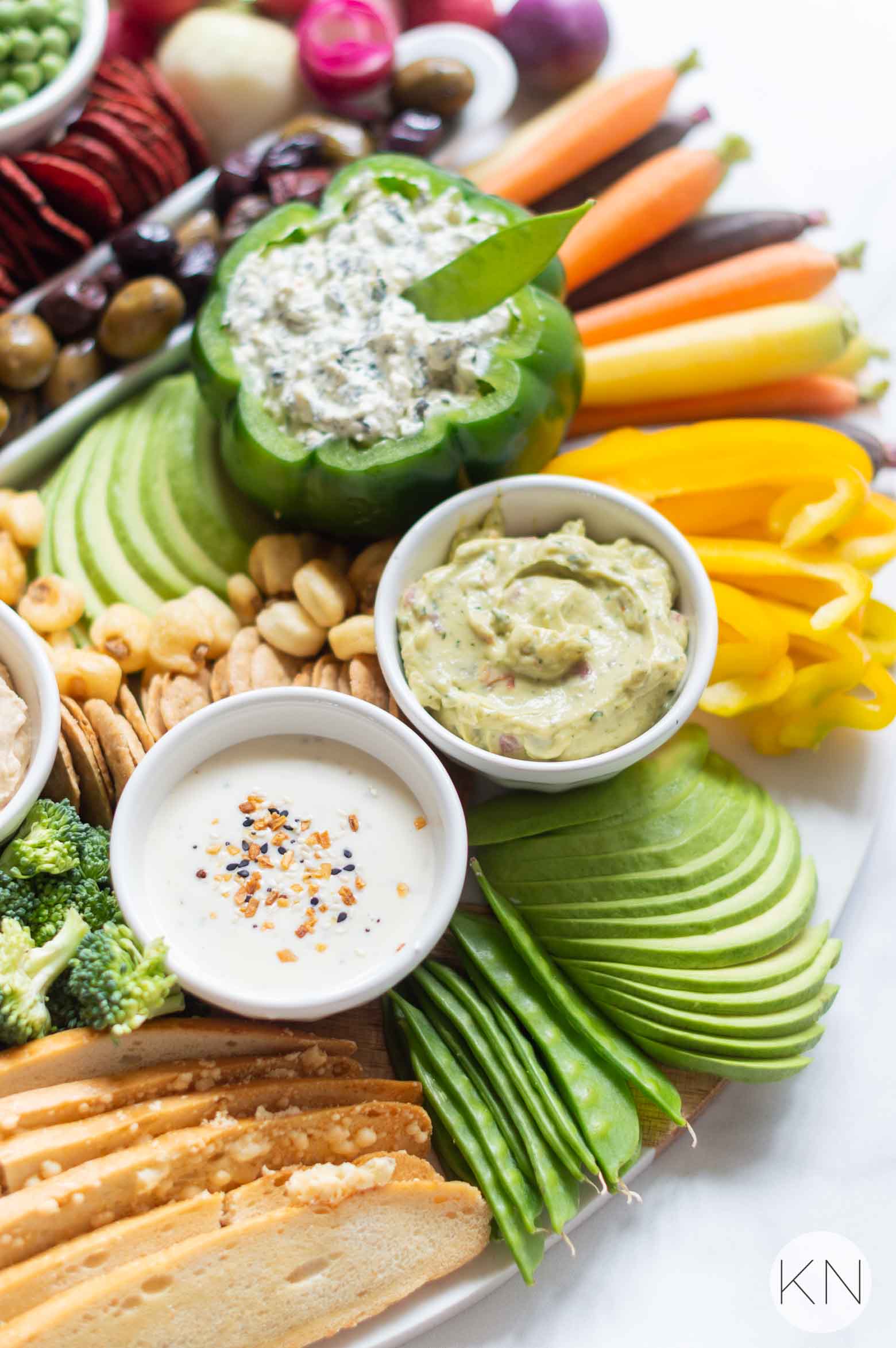 5. Go for Sumptuous, Extra, (& Just a Little Over the Top)
Don't just go big on the dips and spreads — this principle applies to the primary components, too (i.e. — the actual vegetables). Because crudités can come across as basic, not sticking to just carrots and celery is key in turning a simple veggie tray into a full blown crudités board display. The more you have, the less shy people will be in helping themselves to the platter (this can be said for most things — not just veggie boards 😉 ).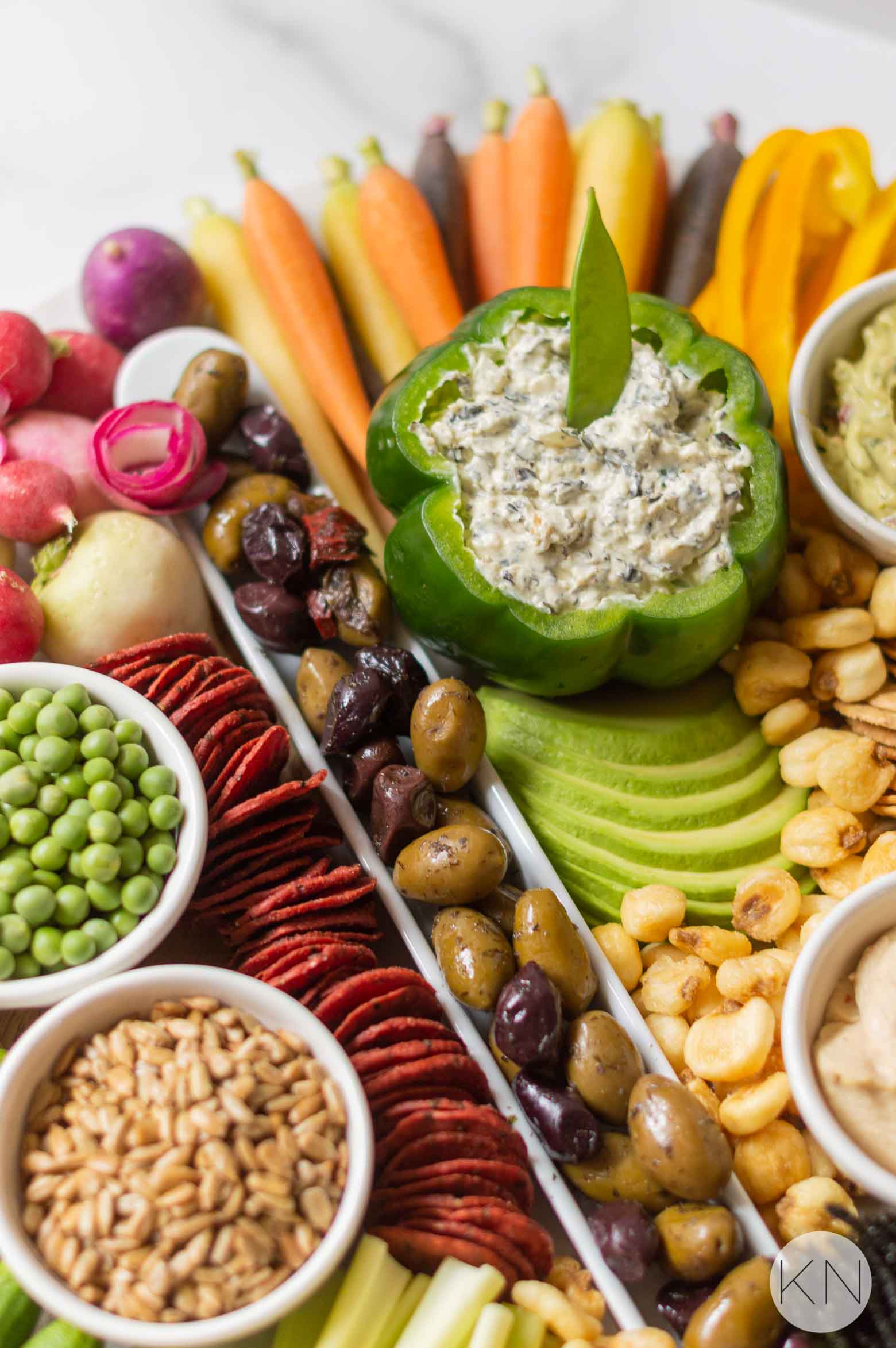 6. Plot Out Your Colors
Unless you're planning on a single color schematic (like I did in THIS green St. Patrick's Day board), look for opportunities to load as many different, vibrant colors on your crudité board as possible. I try to stick to this concept when I'm doing a pasta salad (or regular salad, for that matter), too. If I'm already using a lot of green, I'll pick a red or yellow or orange bell pepper instead. Heirloom tomatoes, multi-color carrots and varying shades of radishes are an easy way to add different colors and you can find cauliflower in purple and green hues. There's lots of options if you find you're getting too heavy in one tone.
7. Everyone Loves Something on a Stick
I created little caprese skewers from heirloom tomatoes, basil, and miniature mozzarella balls but the possibilities are vast when it comes to pick-possibilities. Plus, it makes it feel like planned hors d'oeuvres 😉 Pickled veggies (similar to a Bloody Mary garnish), cheese cubes, and ribboned slivers of carrots, cucumber, etc. are a few ideas.
8. Go for Different Shapes
To give some visual diversity, mix it up when it comes to the shapes and sizes of the crudités. If you have a lot of produce cut into sticks, try to see where you can add wedges, slices, or rounds. Again, the bell pepper is easy to cut into strips or rounds — as is the cucumber. You can even cut carrots into oblong discs with those that are wide enough.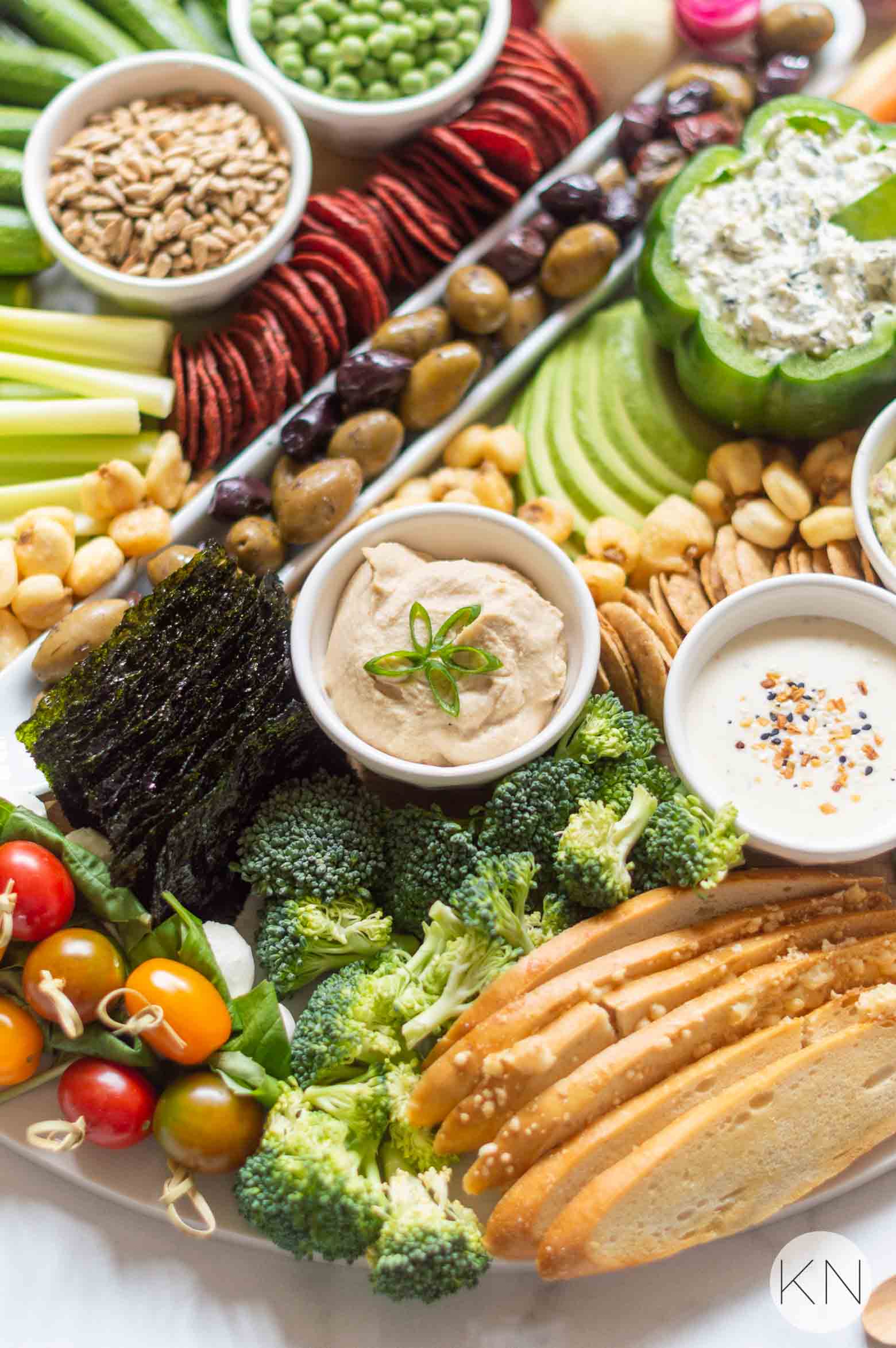 9. Get Creative with Your Veggie Remnants & Skins
We already talked about varying shapes, sizes and colors but you can also create some visual variety by using the veggies you already have to garnish the crudités board. Whether you're skilled enough to fashion a rose out of a tomato skin, or you ribbon some spirals with a knife, you don't have to go overboard. I don't have the best knife skills so I like to use a potato/vegetable peeler (THIS one is my FAVORITE!)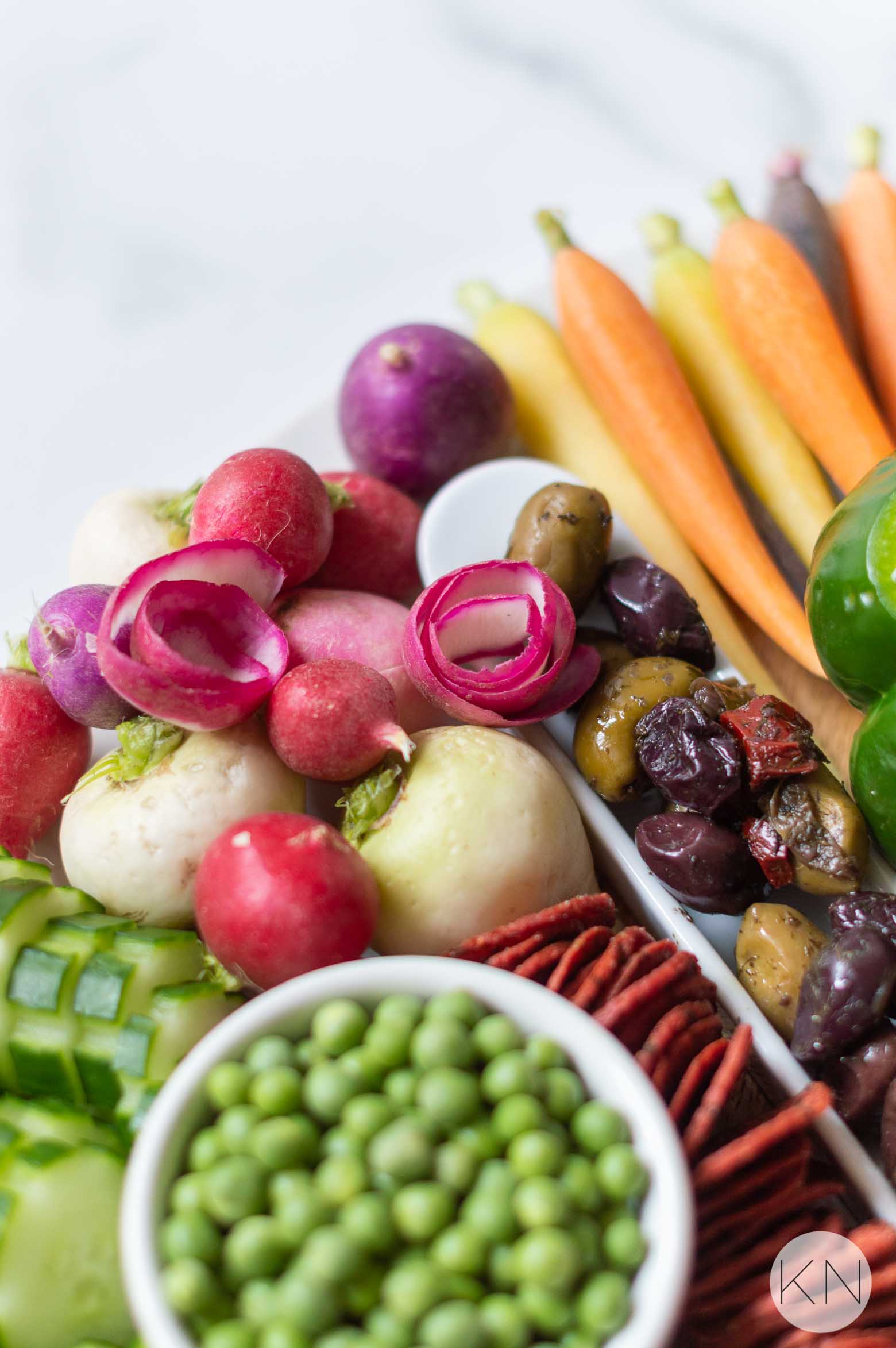 You can use a lemon zester (with channel knife) like THIS ONE to score cucumbers and THIS crinkle cutter is great for cutting veggies into wavy chips.
Adding a spring of rosemary or other herbs can be the cherry on top! While I didn't add any sprigs, I did cut a few pieces of green onion at an angle to form the perfect little flower on top of the hummus as a finishing touch.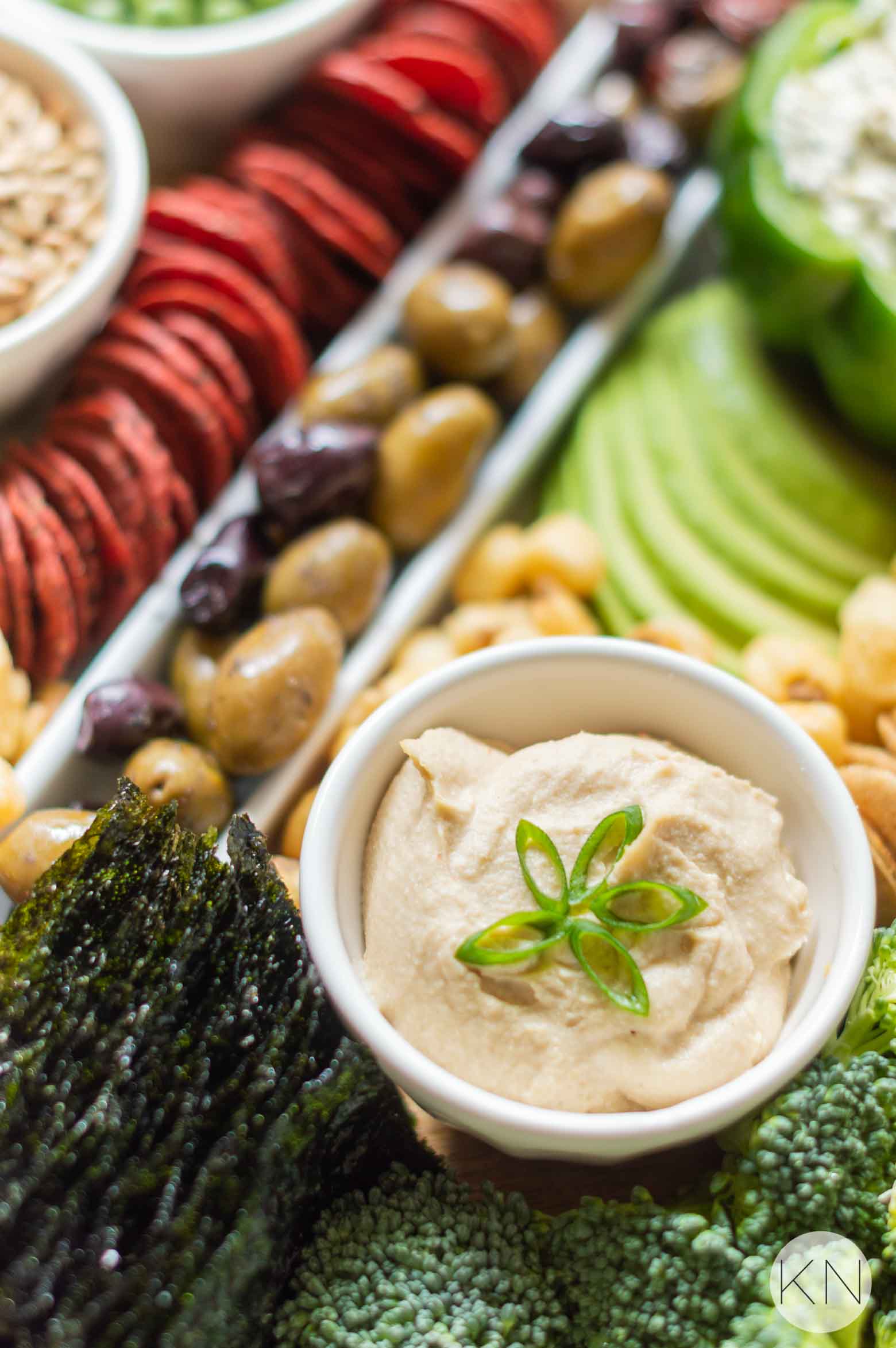 10. Plan for Leftovers
So… what do you do with all those crudités that either A. never make it to the board and stay in the fridge, or B. were on display (in a clean environment), unspoiled? Make a vegetable-heavy meal plan for the next week! Here's a few ideas to waste as little as possible and to get as much mileage out of your pretty bounty as possible.
loaded salads (for dinner, side salads, lunch salads, etc.)
roasted in the oven as a side
stir fry with chicken, beef, shrimp (or keep it vegetarian)
foil packets on the grill or toss them in a grill pan
sheet pan meal with chicken and potatoes
caprese chicken (we had this with leftover basil, tomato and mozzarella and it was amazing — I'll have to share the recipe soon!)
chop them up and throw them in casseroles
make a big pot of hearty soup
snack on them in their raw state and keep them stored for easy grabbing
sandwich toppings for some of the softer veggies
omelet/quiche makings
stuffed peppers (you can find TONS of stuffed pepper ideas HERE)
What Do You Put On a Crudités Board?
I've given additional ideas throughout but here's what made the cut on my veggie board. The only place cheese made an appearance was in the caprese skewers and the parmesan crisps as I wanted to keep this one pretty exclusive to crudités 😉
mini zucchini
sugar snap peas
cucumber
radish
carrot
bell pepper
celery
broccoli
avocado
roasted seaweed
marinated artichoke hearts
peas
beet crackers
cauliflower crisps
giant Peruvian Inca corn
sunflower seeds
marinated olives
parmesan crisps
caprese skewers w/ basil, tomato & mozzarella
guacamole
spinach & artichoke dip in a hollowed out bell pepper bowl
garlic hummus
ranch dressing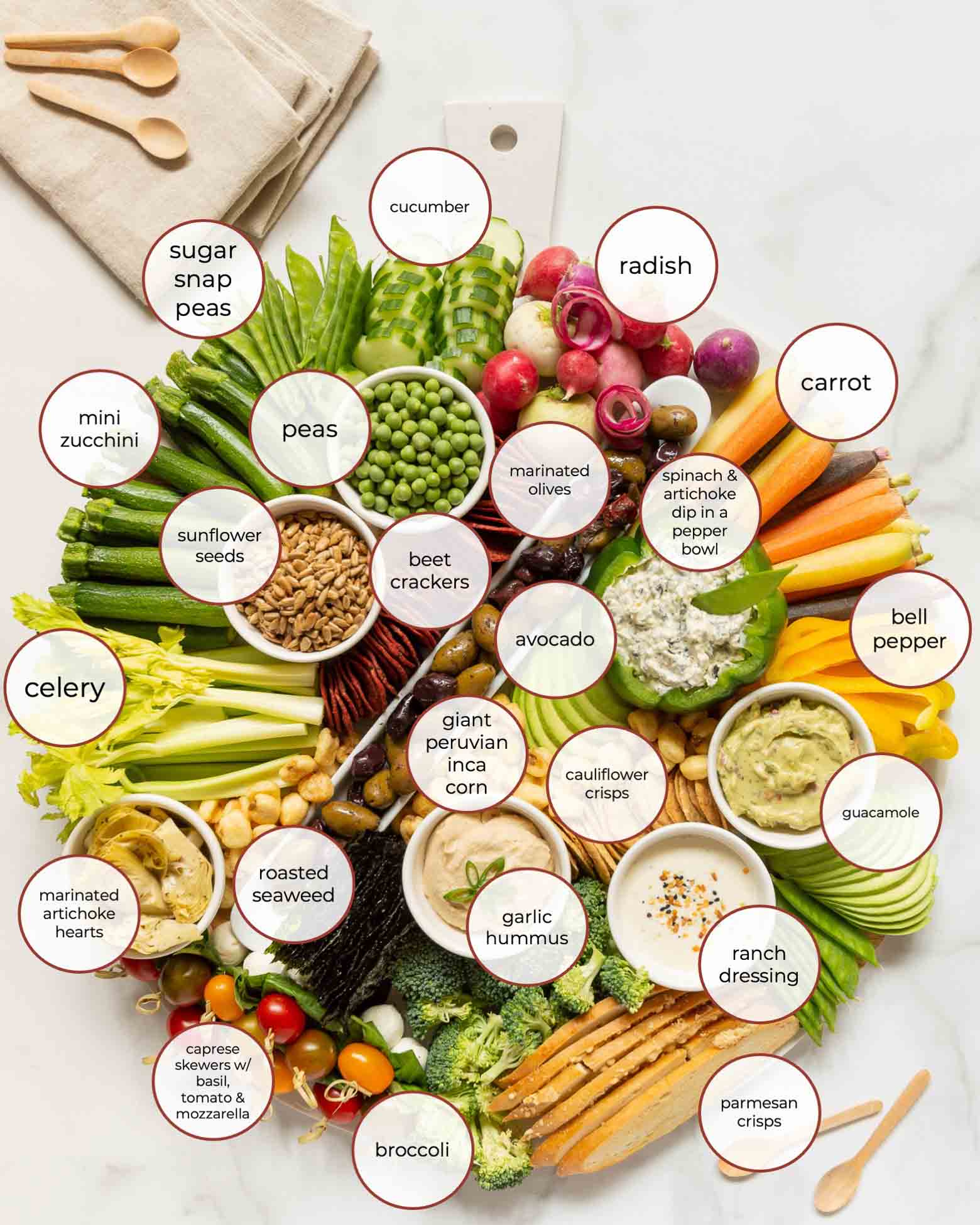 A Few Former Crudité Boards
While today's crudité board was the most complex, planned and varietal, here are a few other veggie boards you may have seen on KN before.
This board was constructed as a date night idea a few years ago before themed boards were a big "thing". While I used similar techniques, several of the veggies are prepared differently than in today's board — cucumbers cut into spears, carrots cut into discs, bell pepper rings, etc. Seriously, you don't have to have a party to build a themed board. It's perfect even if you're mixing it up with your fam or you're having a girlfriend or two over!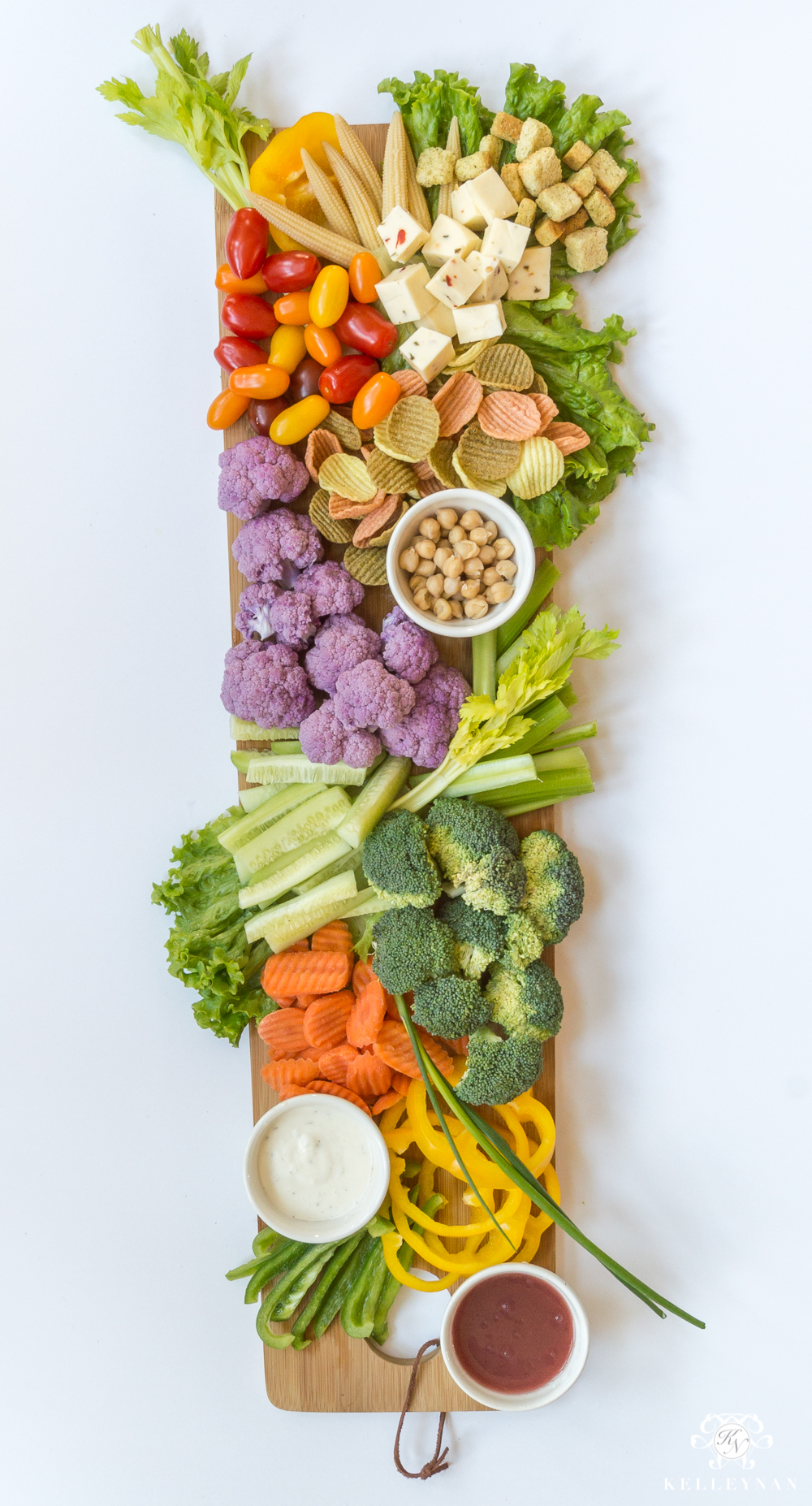 Full Post: 3 Board Date Night Ideas
This next board was created in shades of green for St. Patrick's Day…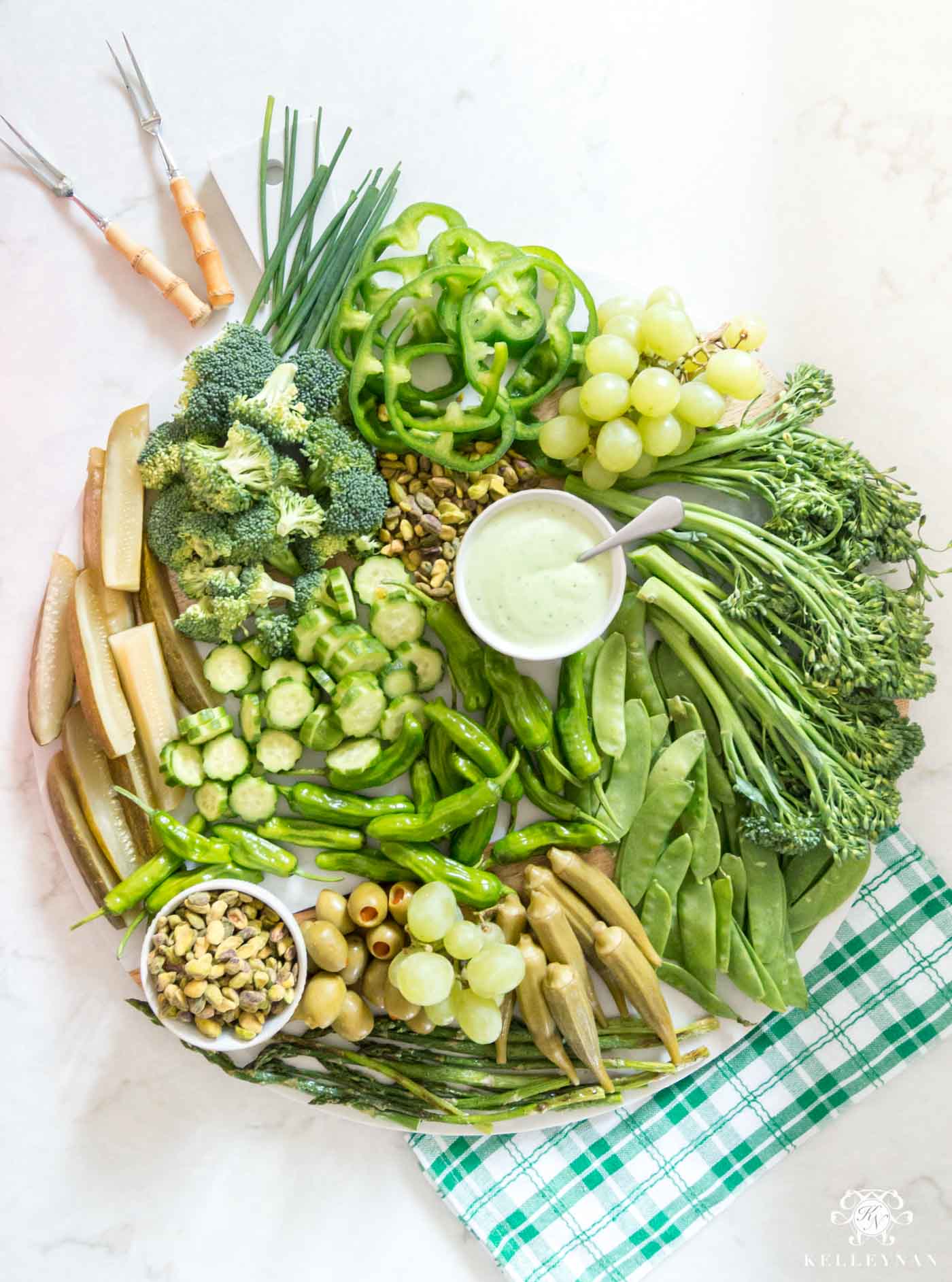 Full Post: 3 Board Ideas for St. Patrick's Day
And this is a snapshot of a crudités board that was included in a baby shower I hosted.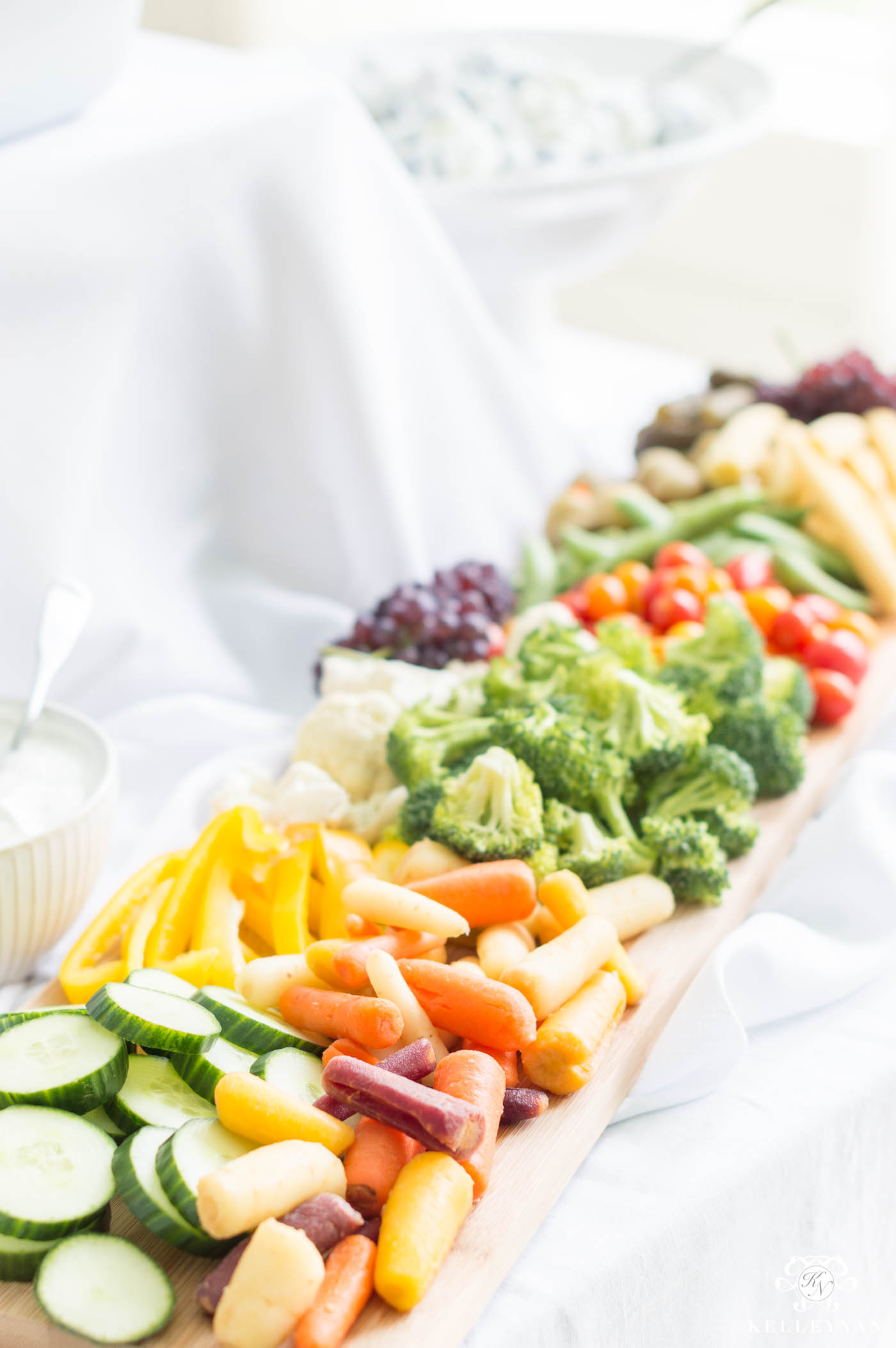 Full Post: Noah's Ark Themed Baby Shower for Twins
Have you made any sharable boards recently or are you planning to, either for a dinner, gathering or even family? We're hopeful for a fun summer ahead, enjoying some things we've missed, and reconnecting with friends and family. Boards will most definitely be a part of that 😉
By the way, thank you all for visiting the other day regarding our (my) "accident" and your emails and words of encouragement. I'll be sharing more projects and plans deriving from the incident soon (silver lining, right? hello, new master bath!). And, speaking of "projects", the dining room will be finished in the next couple of days so I'll be sharing that some time in the month of April. To catch all that's ahead, be sure you're subscribed to emails at the bottom of this post!
*You can find my full gallery of board ideas HERE.*
Scroll & Tap to Shop Favorite Charcuterie Boards