Whether you're planning a celebration for one or two (or 3+!), I've got you covered with a comprehensive rundown of some of the most important baby shower planning details! Read on for  tons of baby shower ideas for twins – with a Noah's Ark animal theme – from decorations and food to games and favors.
*Posts on KelleyNan.com may contain affiliate links. Click HERE for full disclosure.*
---
When my dear friend texted me a sonogram photo of not just one, but two babies she was carrying, one of the first things I said was, "no pressure, but… can I host a baby shower??" Of course, I wanted her family and friends to come together to celebrate her. But, I was also excited for the opportunity to plan, play, and create. It was actually Mama Nan who had the idea of an animal-centric, Noah's Ark themed event during one of our Saturday morning phone dates brainstorming sessions. Babies + animals = cute, but ark pairs + twins = perfect! As of last weekend, the shower is over and I'm ready to take you through all the details.
THE INVITATIONS
The first place I was able to subtly share the theme to guests was through the invitations. (This is the perfect time to set the tone and give the first impression!) I found a design with animals using an upside down umbrella as a boat – sold! If that doesn't say "Noah's Ark", I don't know what does. I created custom text on the back to drive it home –
THIS SHOWER WON'T LAST FOR 40 DAYS AND 40 NIGHTS, BUT THE WILLISES ARE BRINGING TWO ON BOARD! JOIN US IN FLOODING ANSLEY AND HER FAMILY WITH LOVE AS THEY WELCOME BROOKS WALTON & BRODY STILES.
I customized coordinating envelope stamps in the babies' initials and left it to Minted to address via the spreadsheet I uploaded into my account (I always use this option since it looks great, saves time, and is free). The liner I added inside each envelope even had rain droplets – they were the quickest, cutest invitations I've ever assembled.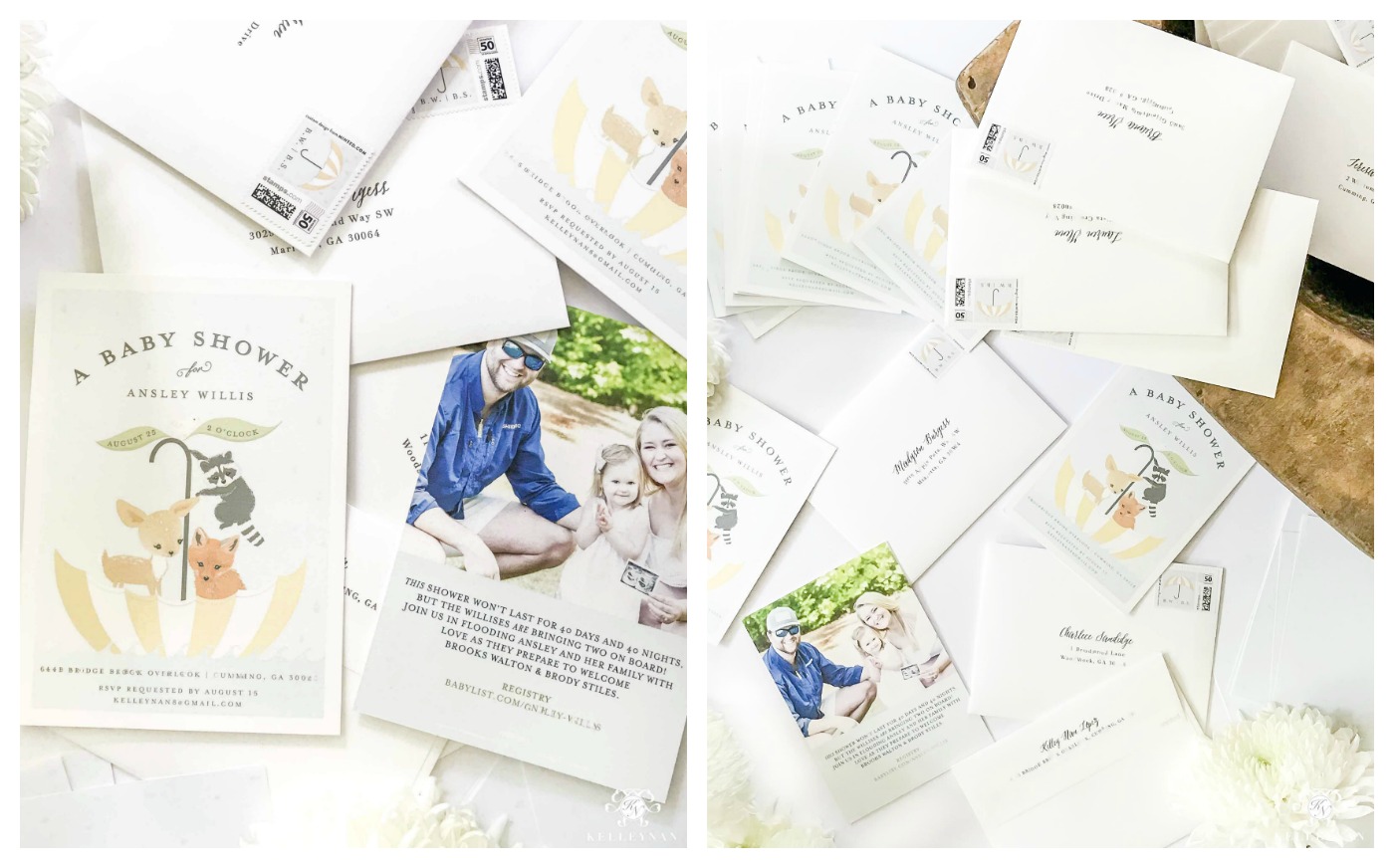 ---

---
THE SPECIAL TOUCHES
Instead of sashes or pins for Ansley and her daughter (I learned a long time ago when it comes to new babies, it's special to find ways to include the older siblings – another lesson from Mama Nan 😉 ), I asked my friend and floral designer, Jennifer to create corsages for the big sis and mama-to-be. She asked for a few basics and then showed up the afternoon of the shower with the most gorgeous orchid duo I'd ever seen.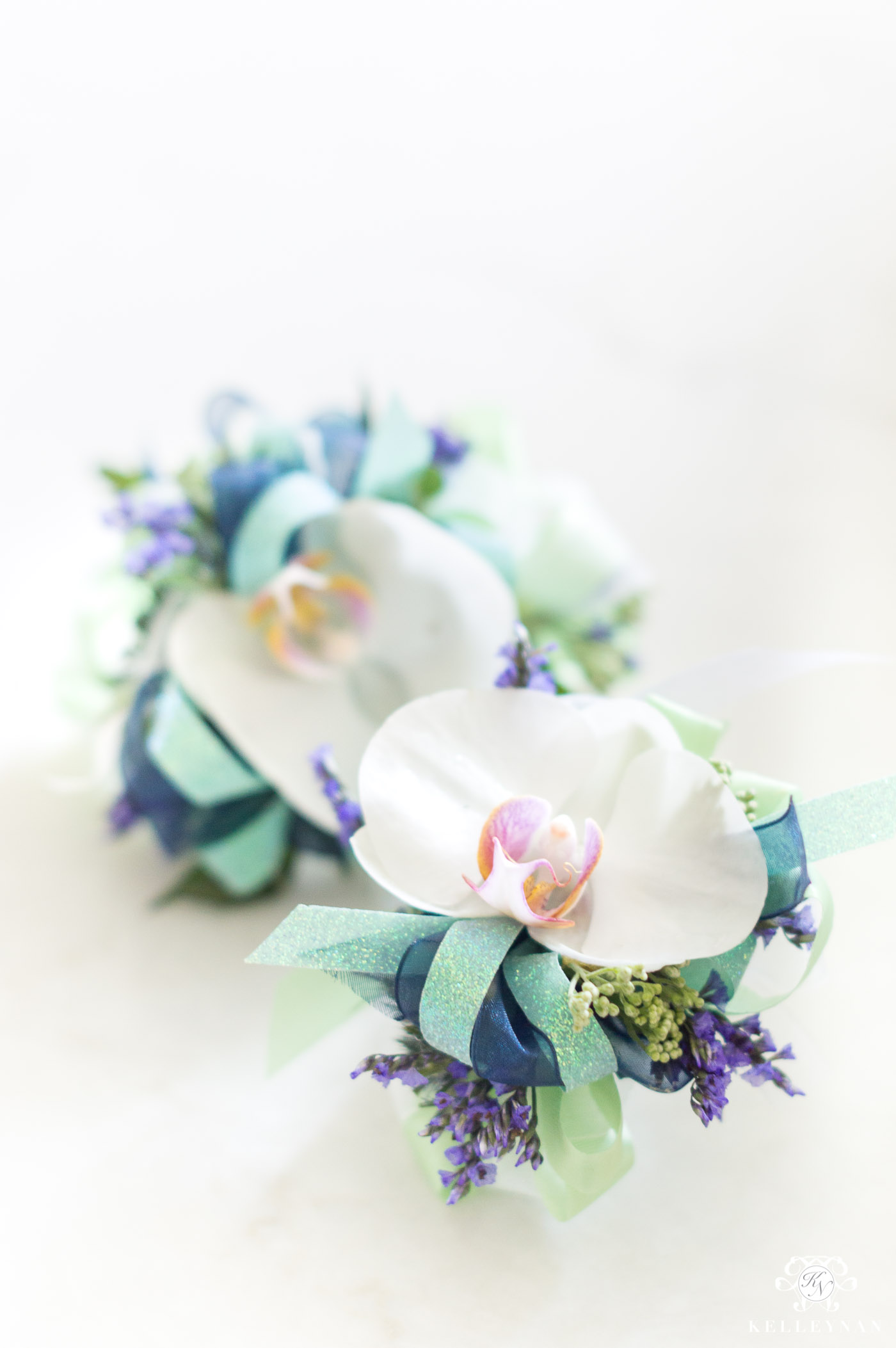 Aren't these precious?! Each had a different bracelet – the smallest resembled a slap-bracelet and the larger one was on a stretchy, beaded band.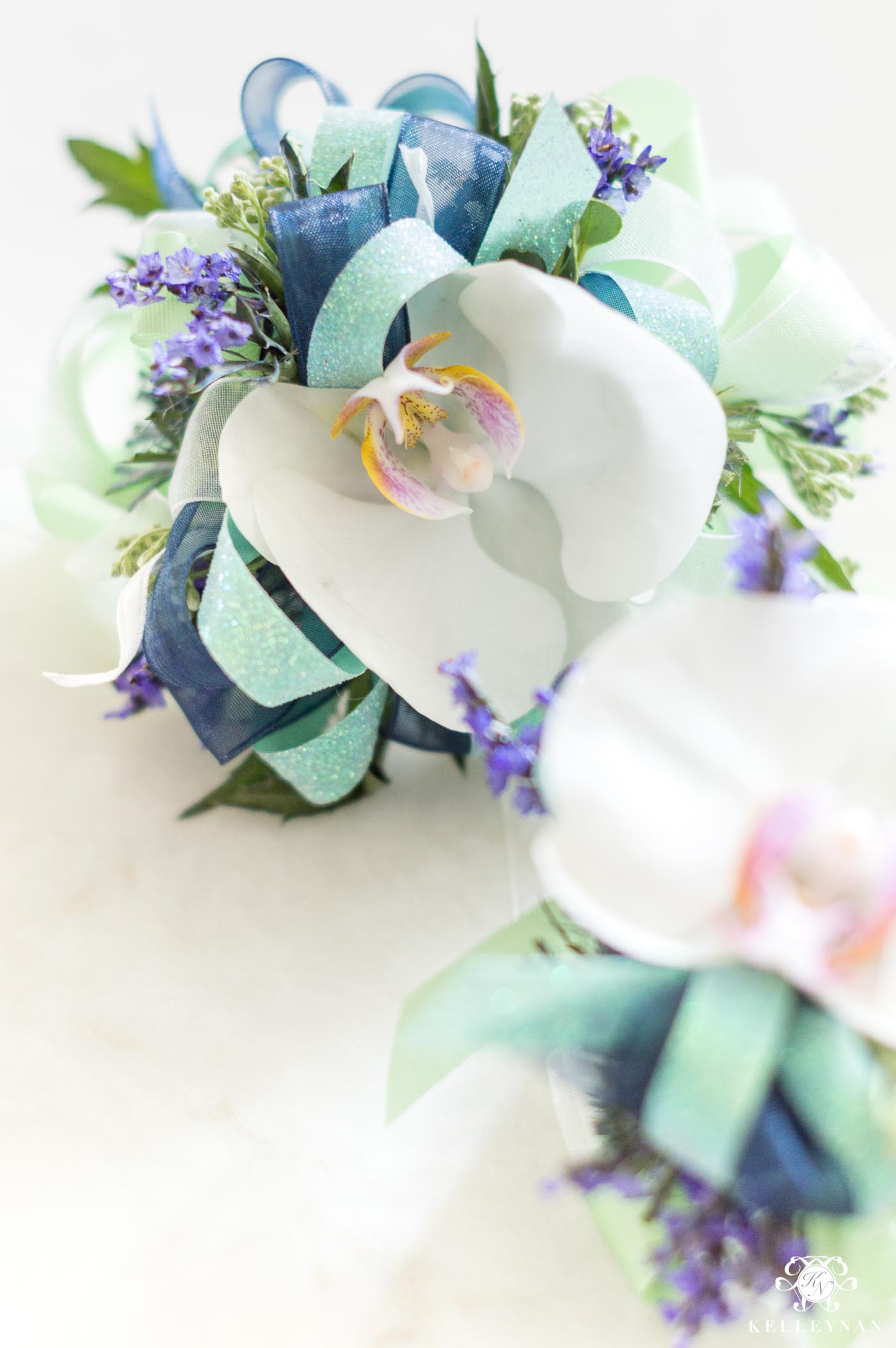 I had a tray table set up with "Wishes for Baby(ies)" cards I'd typed and printed, along with tv show recommendations for upcoming late nights.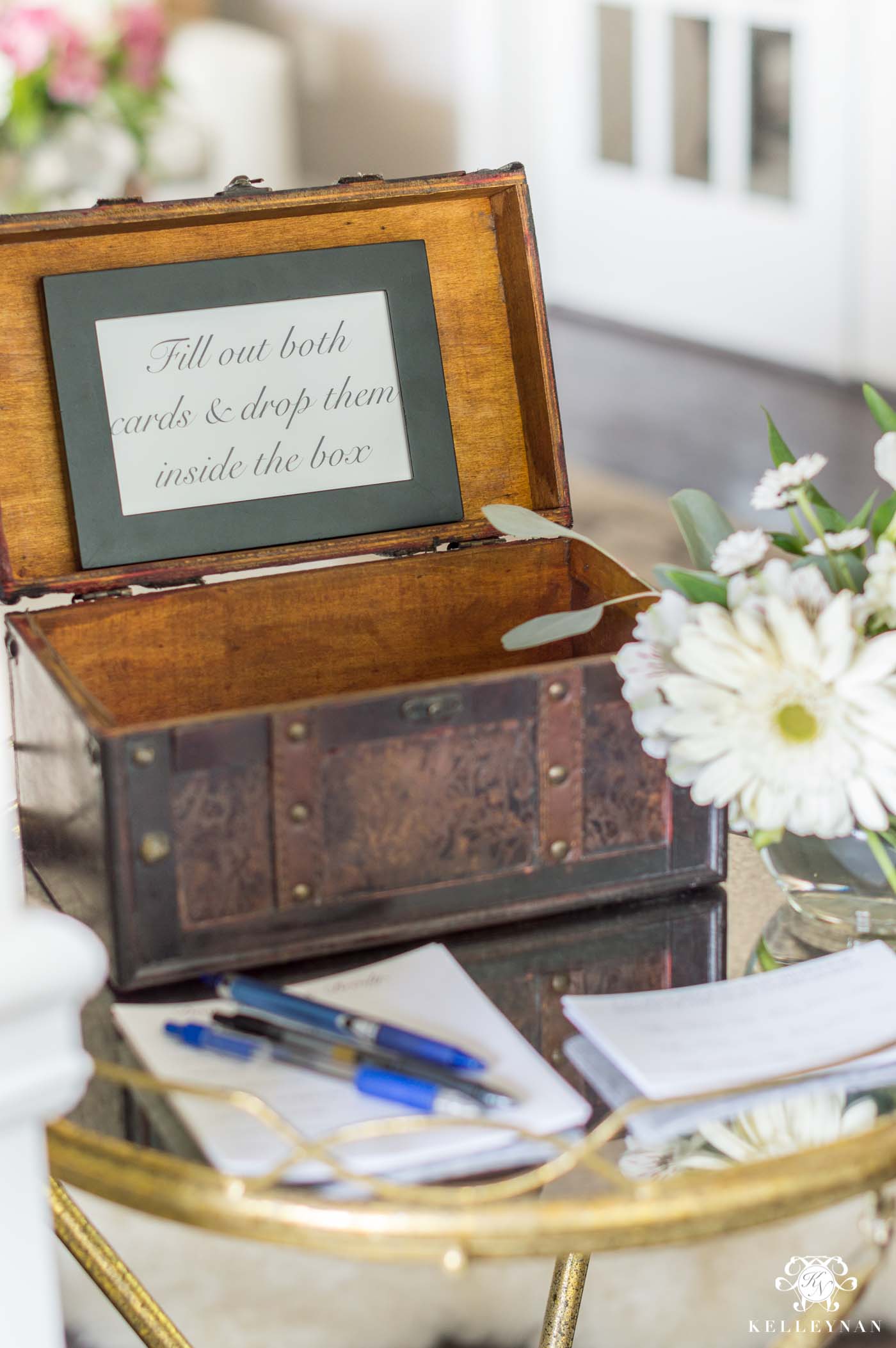 I'm not a mom but I remembered one friend telling me that when she would get up in the middle of the night with her newborn is when she started binge watching some shows I had recommended. I thought having an arsenal of recommendations on hand would equip our guest of honor well. See a few of my favorite, binge-worthy shows HERE.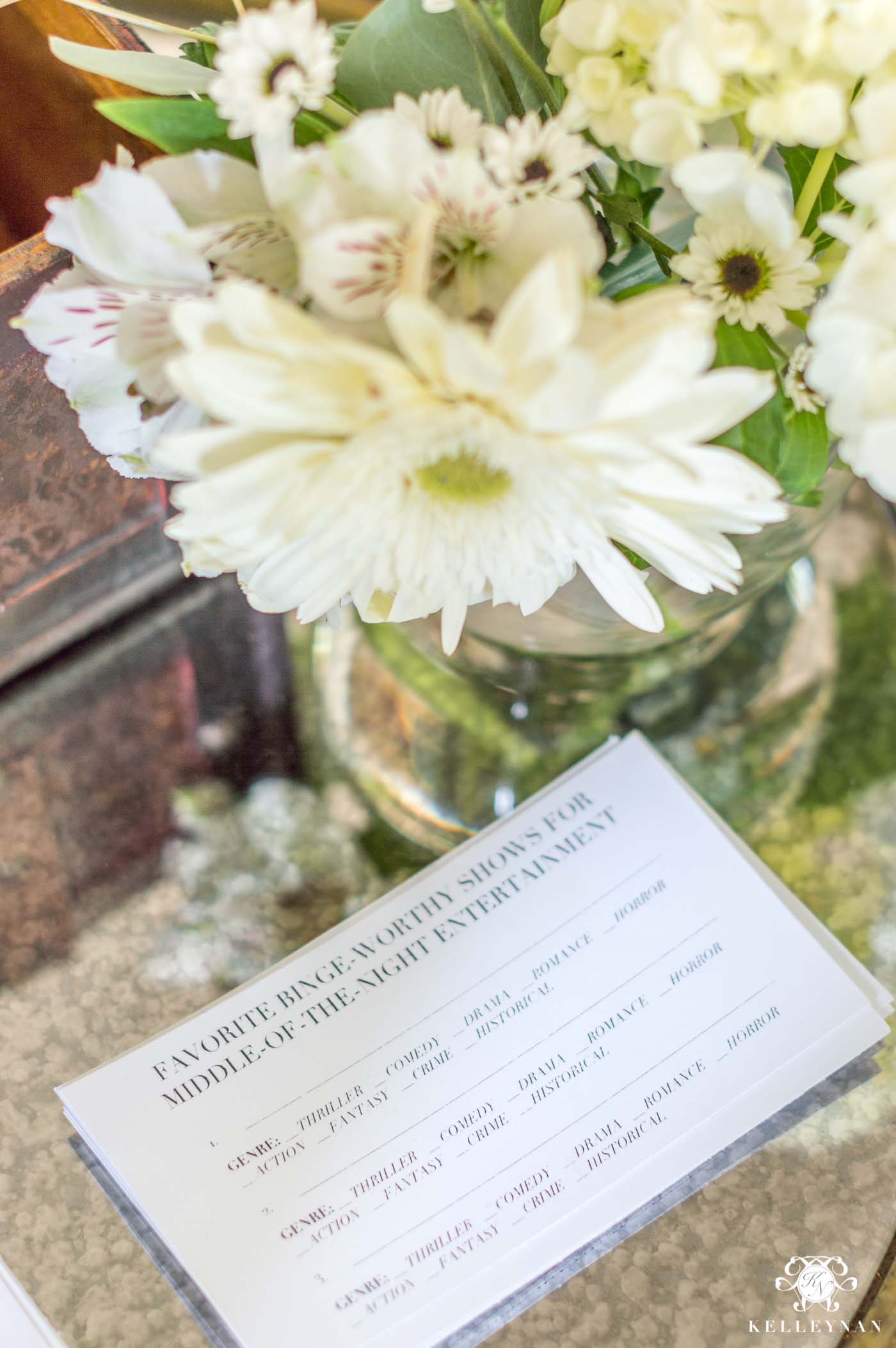 THE DECORATIONS & BALLOONS
My stance, 100%, is that it makes more of an impact to focus on decorating a few key "zones" heavily, than trying to put a little bit everywhere. I chose to come up with a plan for the dining room (for the food and beverage zone), breakfast nook (favor and treat zone), and the fireplace (gift zone). That's it. Instead of thinking you need to add more and more random decor, it will help keep you focused on definitive areas. Limited and easy.
A little story on the colors- I wanted them to be a little more vibrant than the standard soft blue and decided to build off of these navy, mint, and gold fans I assembled and layered on the fireplace stone.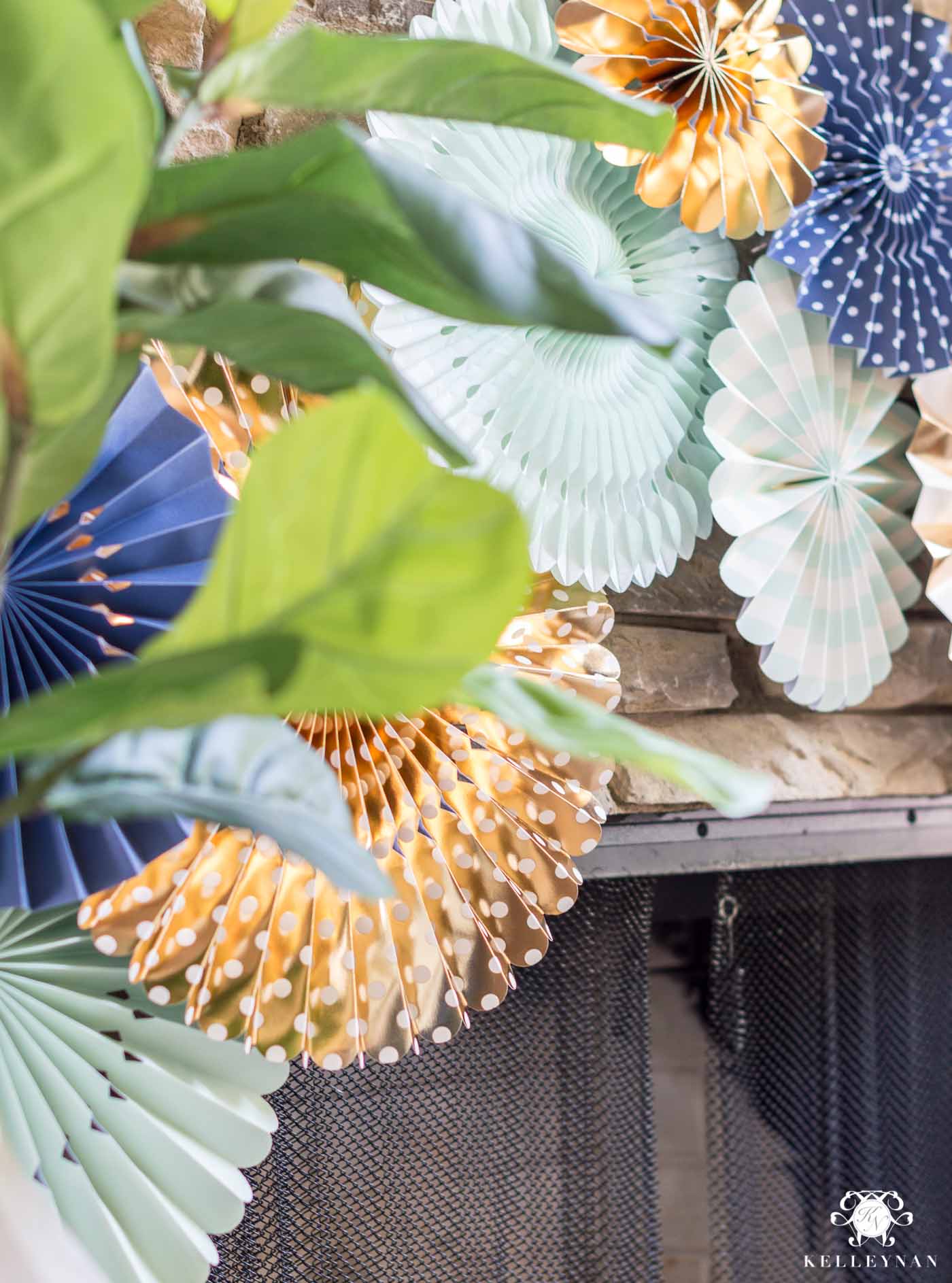 But then… I went a little nuts. For the fireplace balloons, I stuck to the easy route and headed to Party City to select and order my balloon bundles. They had a lot of options but not the exact colors I was looking for (if you have the time, I would totally order the exact color balloons you want, along with a helium pump – or, take them to have your own balloons inflated). I went for the oversized gold and white; what I thought was navy ended up being blue, and then I got sidetracked by the animal prints. Totally on-theme but in hindsight, wish I had stuck to the basics haha.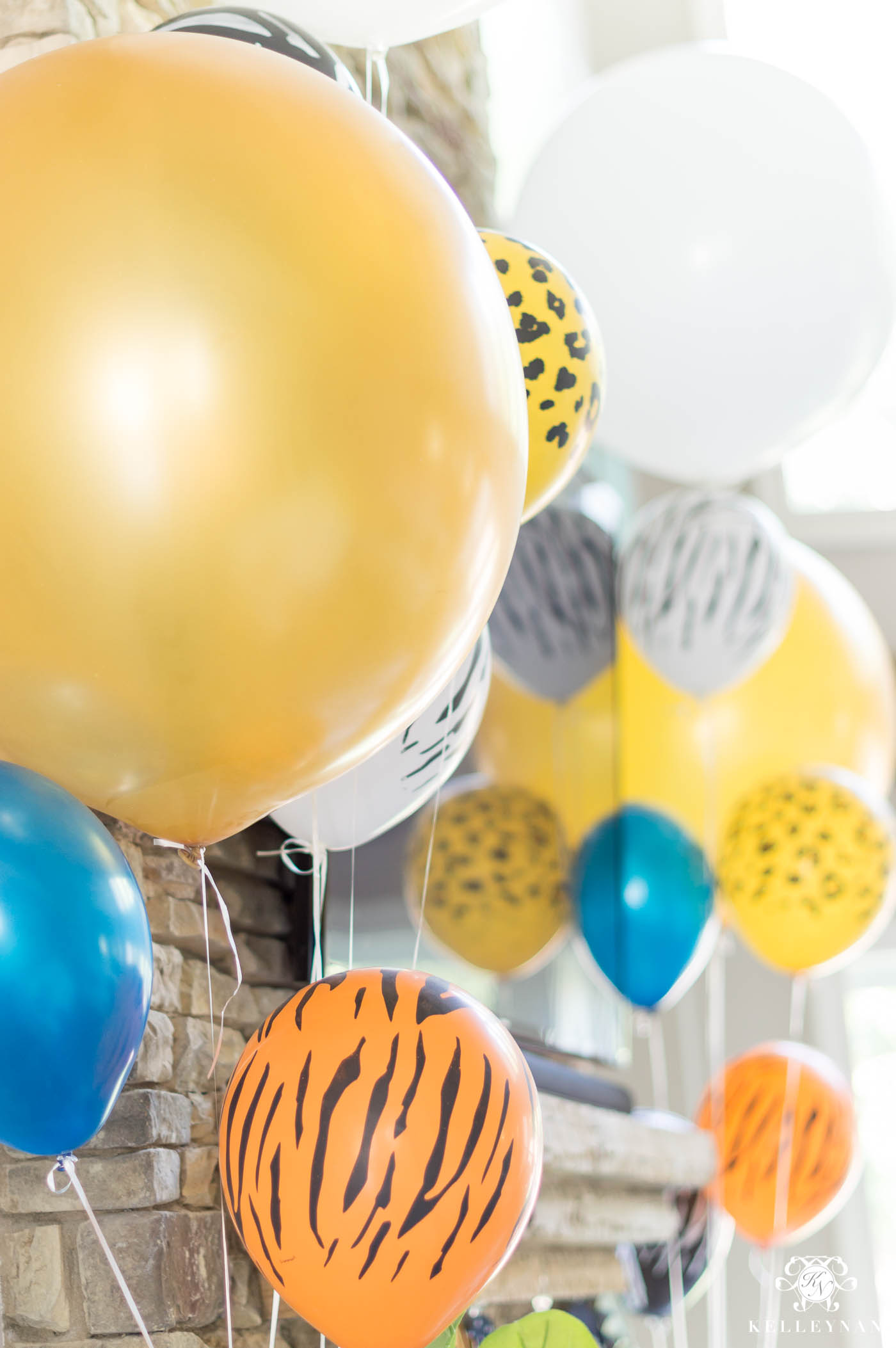 ---

---
You guys – Dave agreed to be the errand runner the morning of the shower and I had mapped his route, all his stops, and the order he was supposed to follow so party platters would stay fresh, balloons wouldn't pop, etc. I didn't tell him that I had gotten a little carried away on the helium balloon front and doubted he would be able to get them all in one trip. Somehow, he managed to fit them all, clown car style, and was my MVP of the day. The things that man does for me… 😉
I created the fan display in advance, the week of the shower, and set up the balloons a few hours before the party. See? Big impact in a small area with little effort. You can also see what I mean by the balloons- they are totally fun in a carnival-type way – just a little different than I had anticipated haha.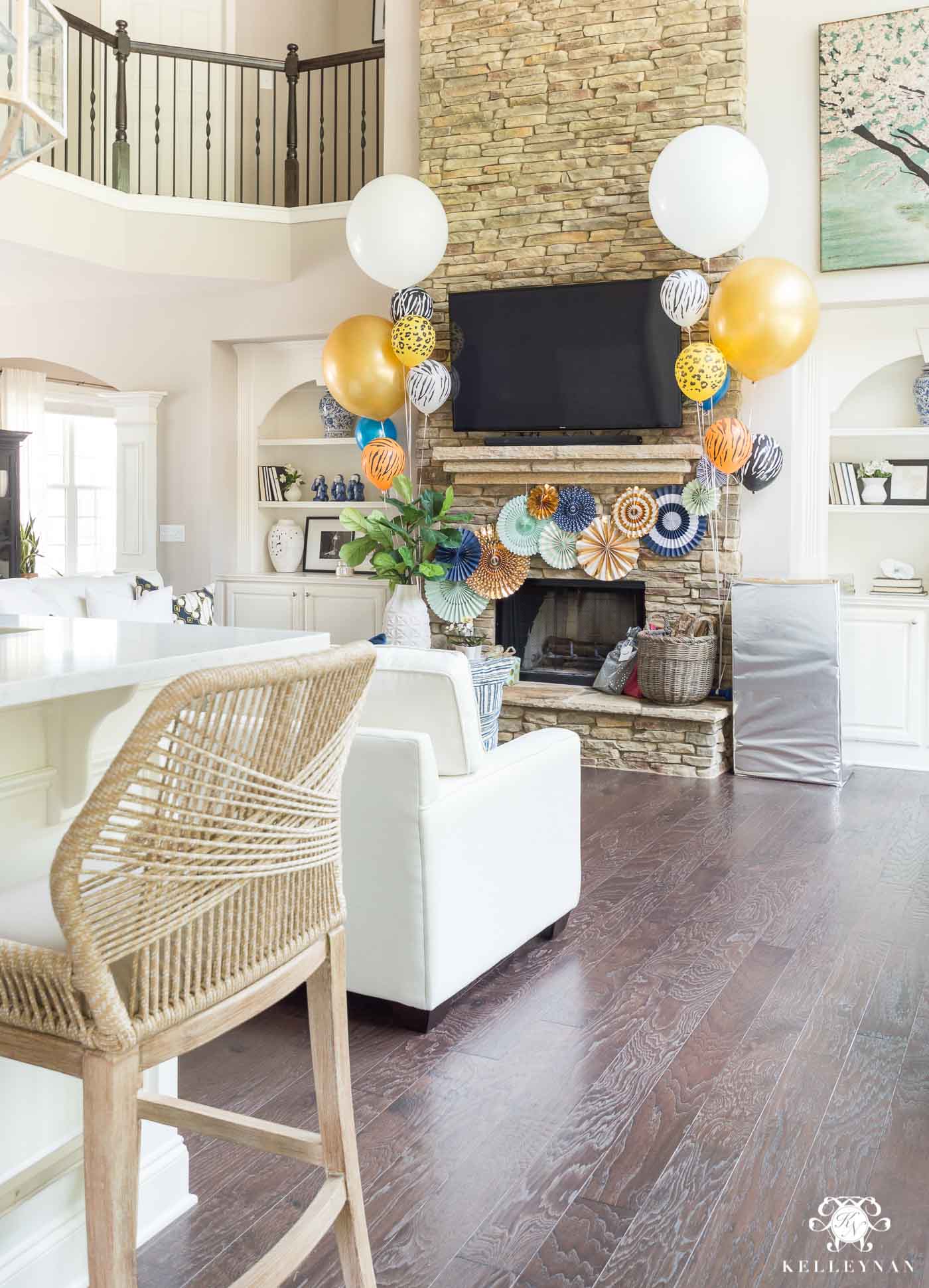 THE BEVERAGE BAR (MIMOSA/MOM-OSA BAR)
You guys know I'm a sucker for mimosa bars. Ansley threw a baby shower for one of her family members a few months ago and in seeing the details she weighed heavily and what she was attracted to – balloon garland, mom-osa bar, etc. – I wanted to include some of those things that were important to her, just in a little bit of a different way.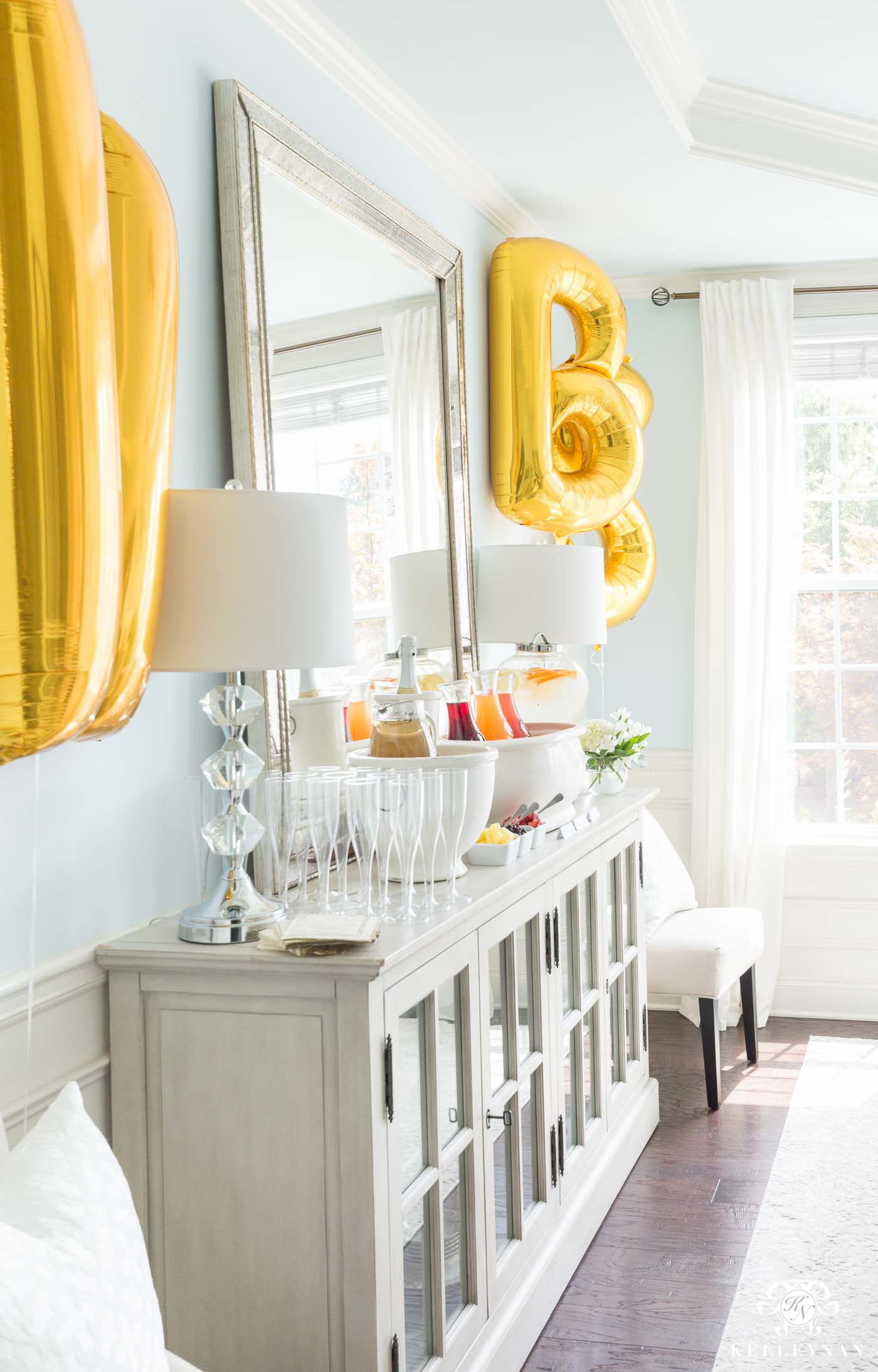 ---

---
I had champagne chilled on ice, along with ginger ale as the non-alcoholic option. I set out three fruit juice carafes, along with a trio of  fruit garnishes.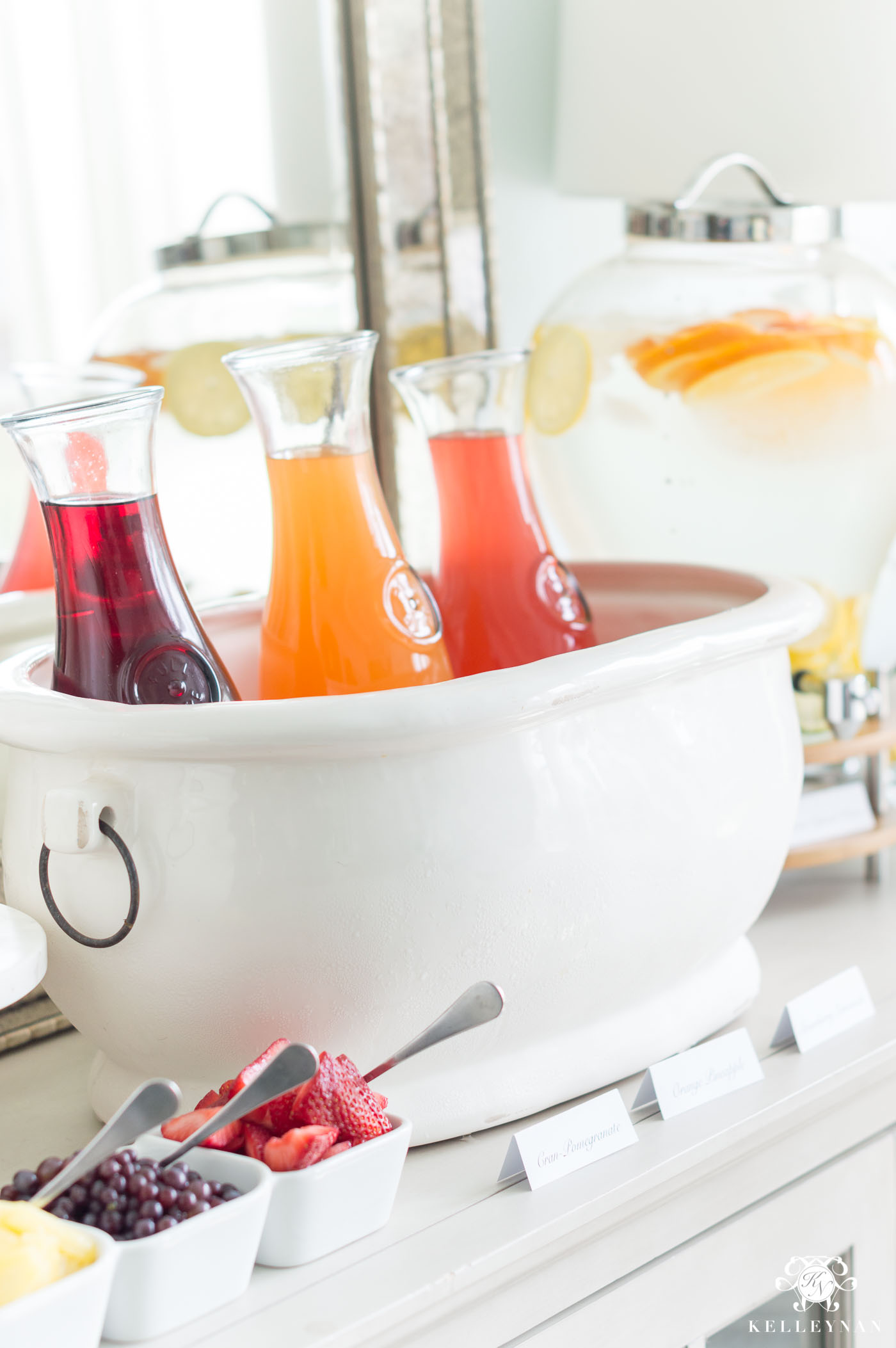 And for those who preferred neither, I made an easy dispenser of citrus-infused water with lemons, limes, and orange slices.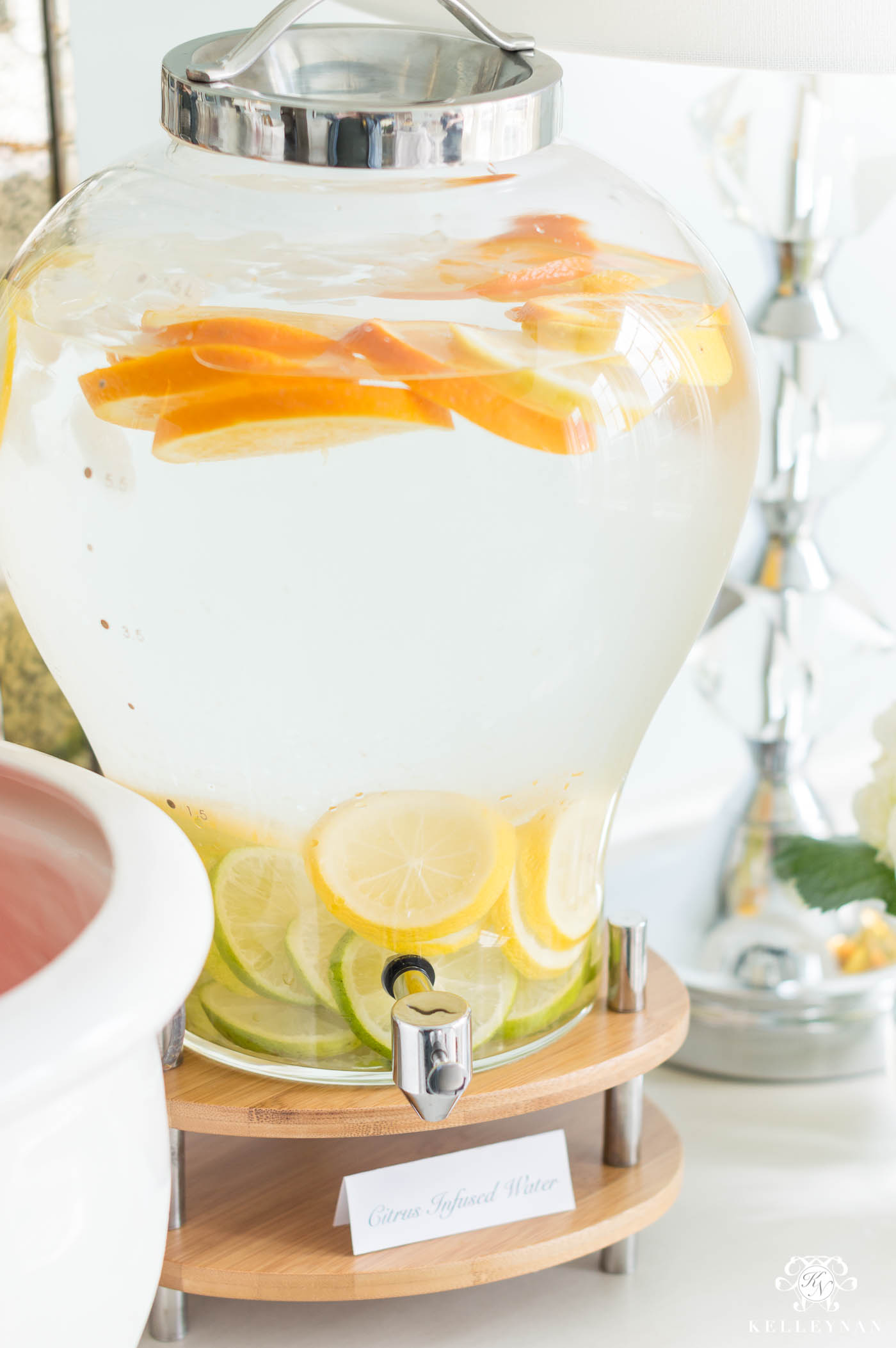 Aside from a few labels for the juices, I didn't go overboard with signage and kept it simple.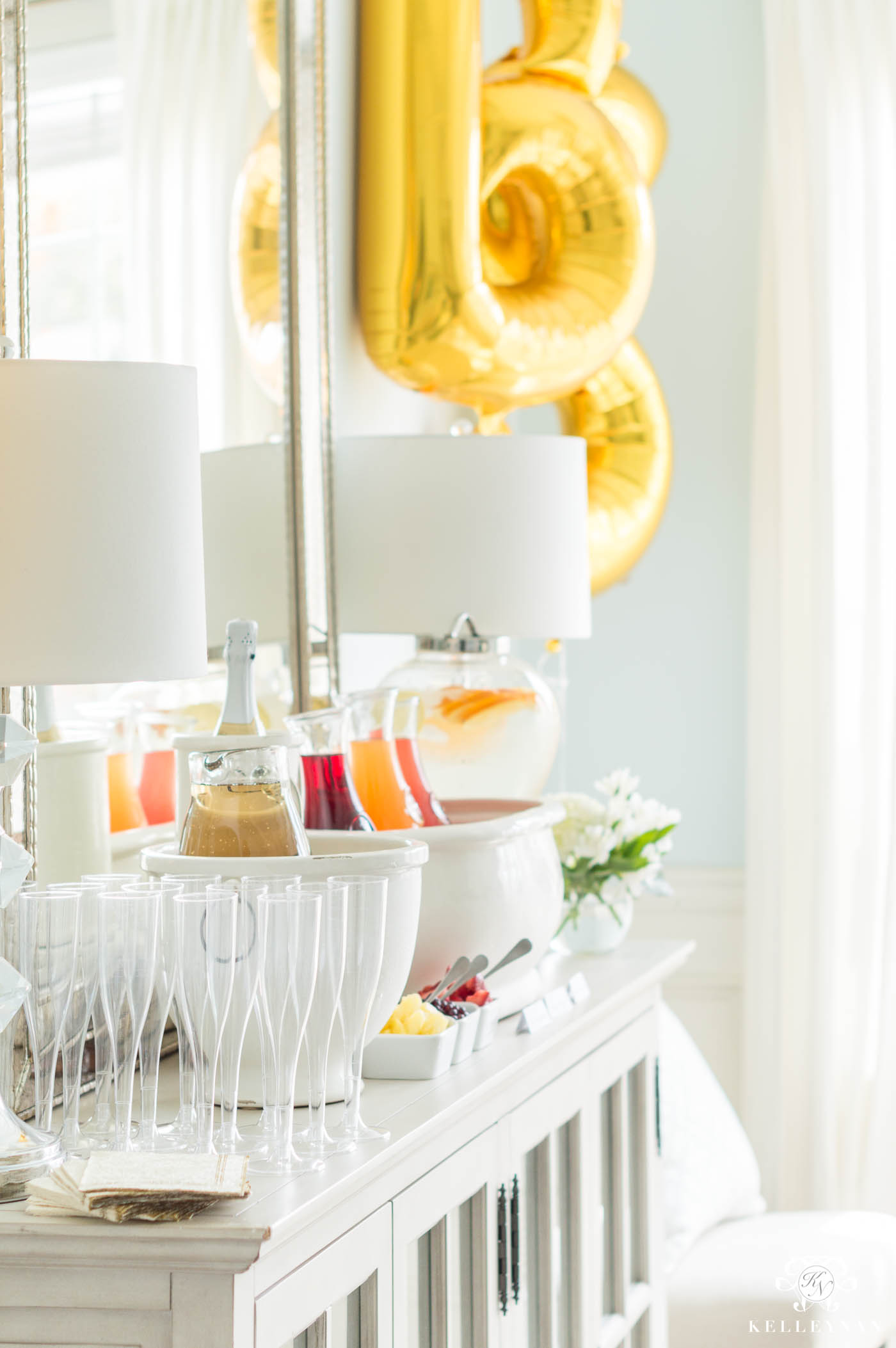 THE MENU AND FOOD SETUP
If you thought those fireplace balloons were the only balloons Dave fit in the car, now, you can be a little more impressed 😉 These ginormous letter balloons with the boys' initials took up a huge amount of space, plus, we had a small balloon bundle tied to the mailbox.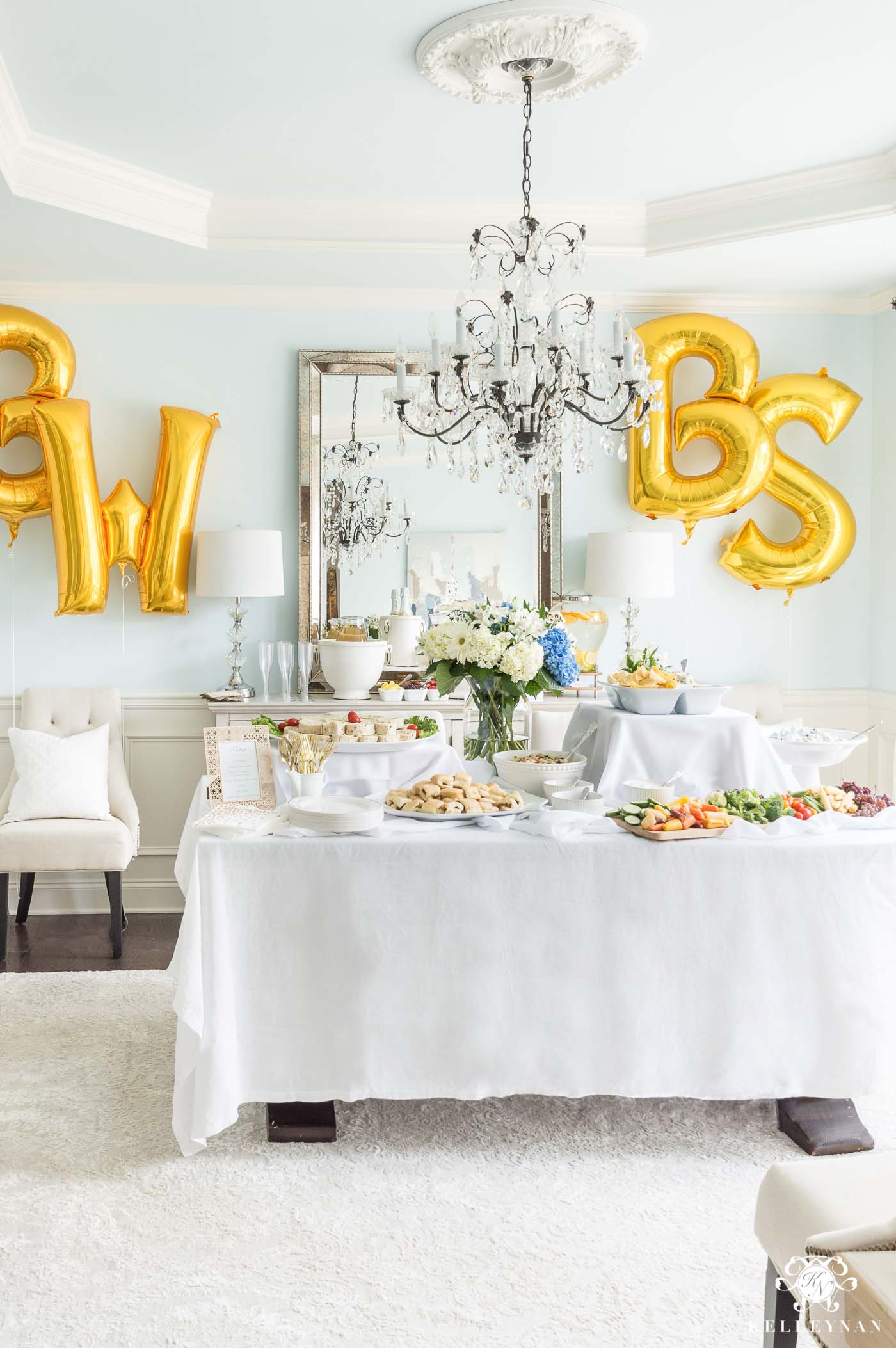 ---

---
You can see some of my food table setup and styling tips HERE and a similar table I set up for a garden party bridal shower HERE.
Instead of labeling each item, I typed, printed, and framed the menu. (You can find this Kendra Scott filigree frame HERE)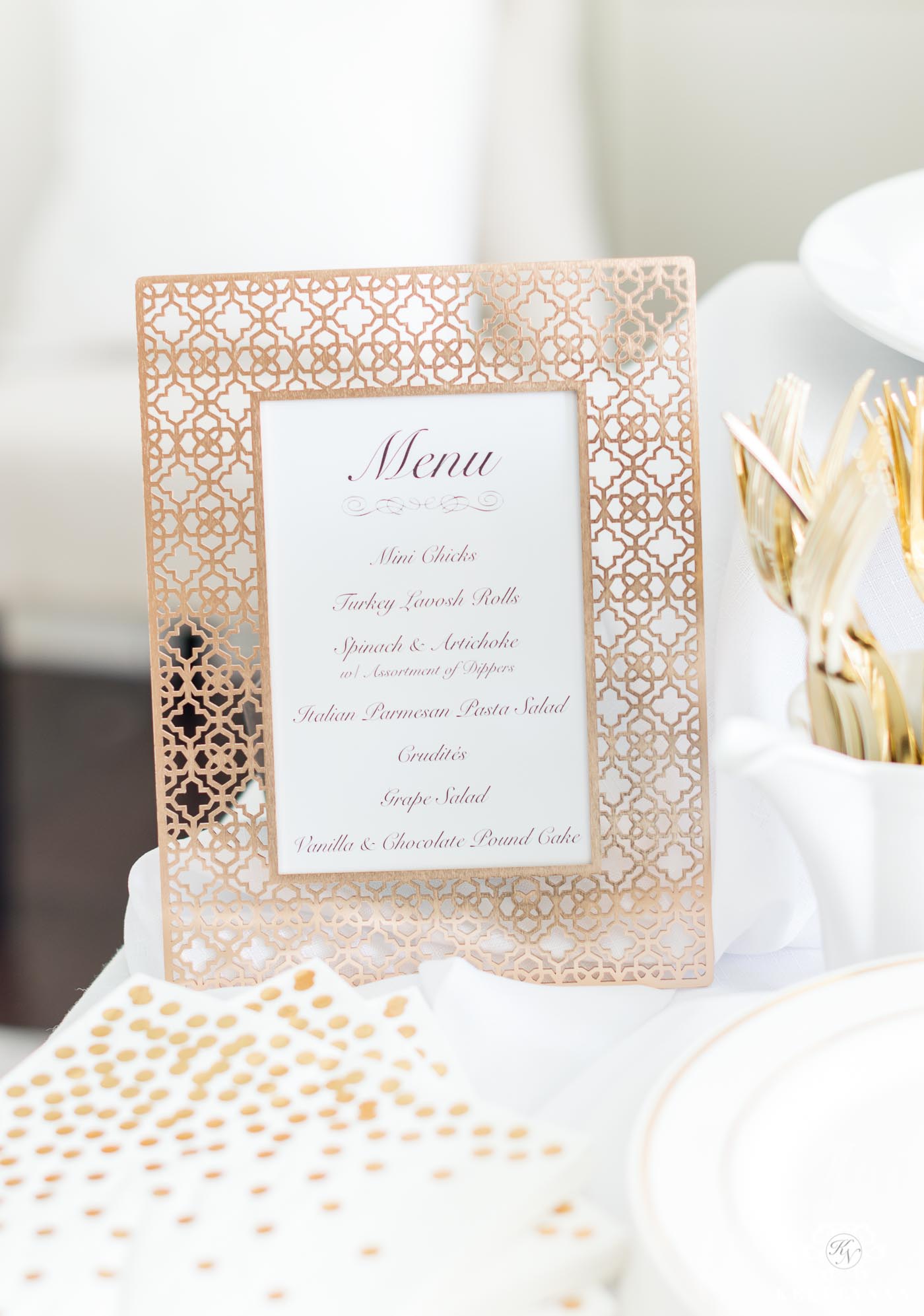 ---

---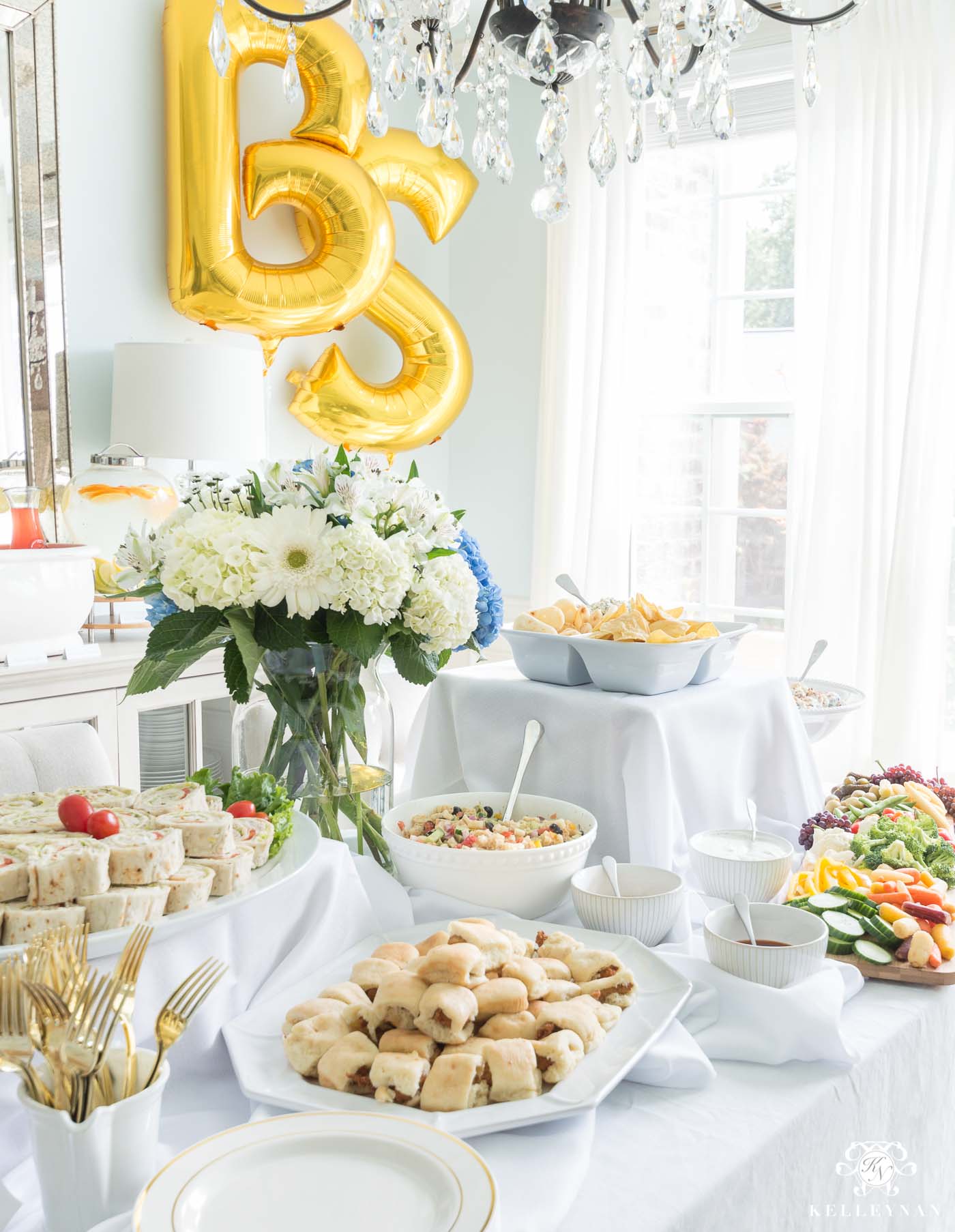 I often "outsource" some food to ease the day-of hustle, and then transfer it to my own platters. On Dave's errand run were the Chick Fil A chicken minis…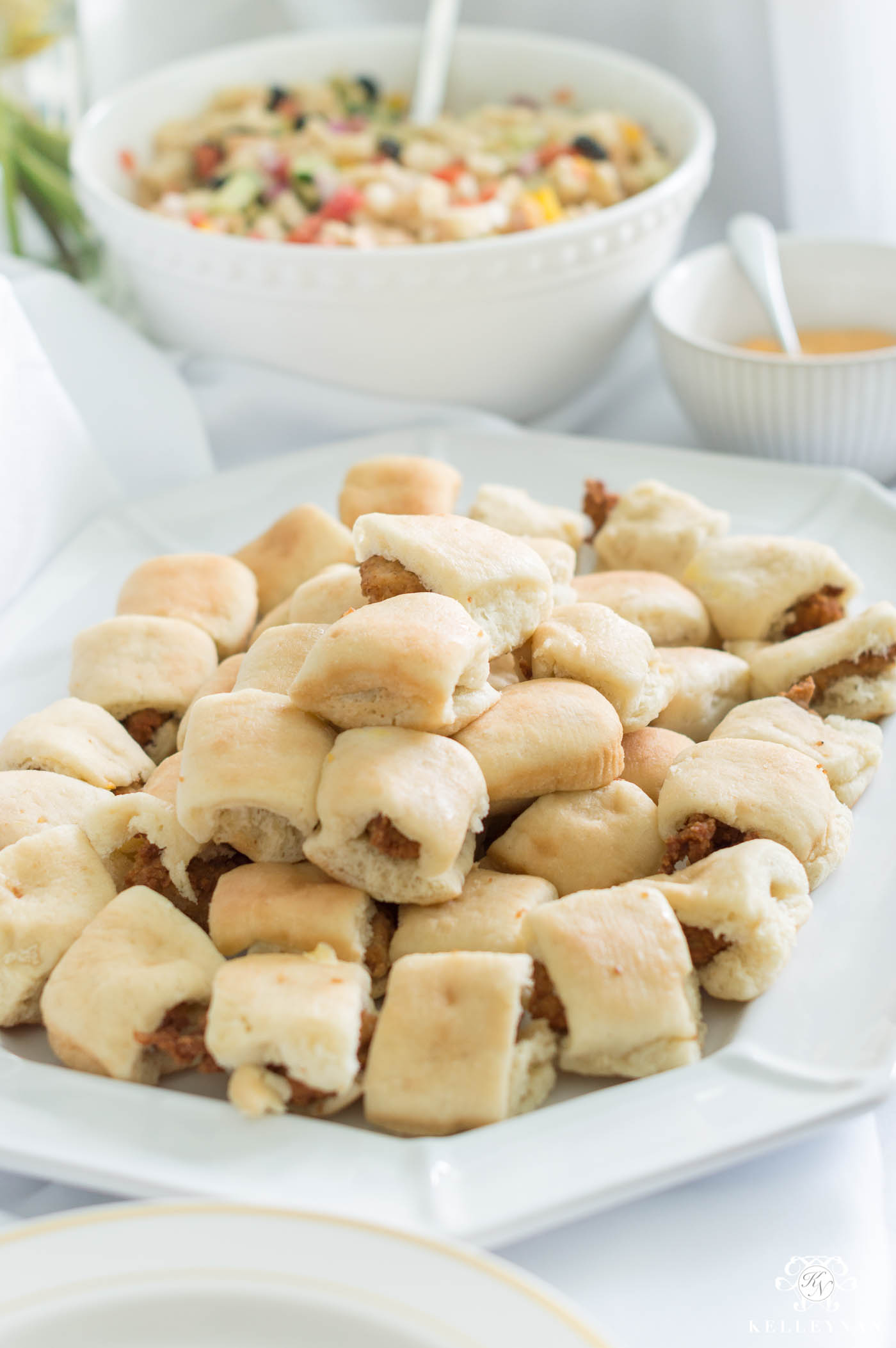 …and turkey lavosh platter from Publix. PS: If you are an avid Publix party platter orderer, you may or may not know that while their "pinwheel" options are limited, you can call and request custom (which is what I did here). My favorite combo is Boar's Head turkey and swiss with lettuce and tomato.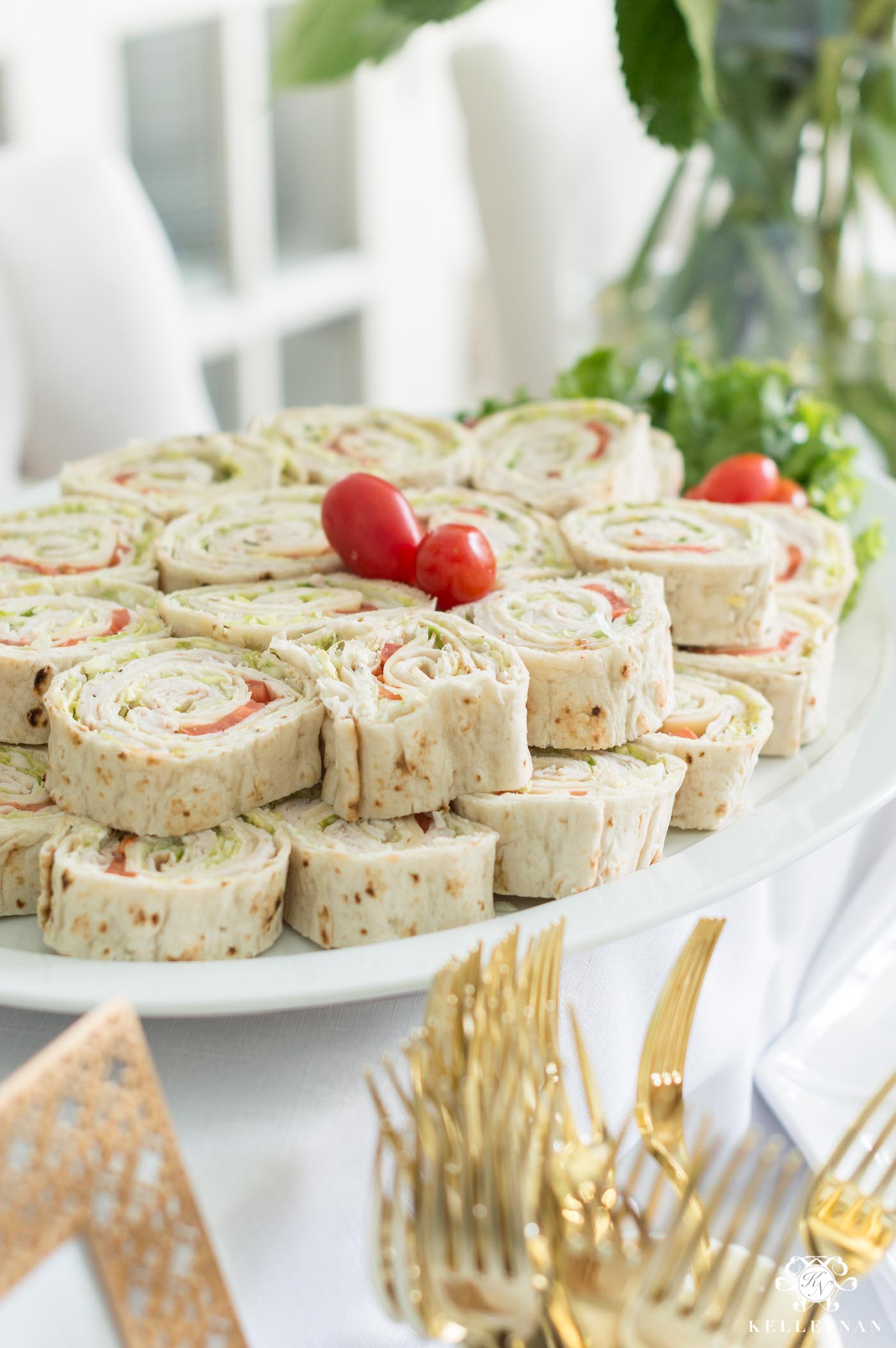 A shortcut that makes it actually look like you tried harder is bringing out those appetizer boards and loading them down. Whether it's cheeses, fruits, or veggies, you can  make a gorgeous display by piling the goodies on and running them down the length of the board. For my crudite' board, I made sure I was using all different colors and tons of variety.
Crudite' Board:
Cucumbers
Yellow bell peppers
Multi-colored carrots
Broccoli
Cauliflower
Heirloom tomatoes
Sugar snap pea pods
Baby corn
Jumbo green stuffed olives
Mini gherkins
… and then I filled in and garnished the sides with some of the bunches of champagne grapes, left over from the mimosa bar.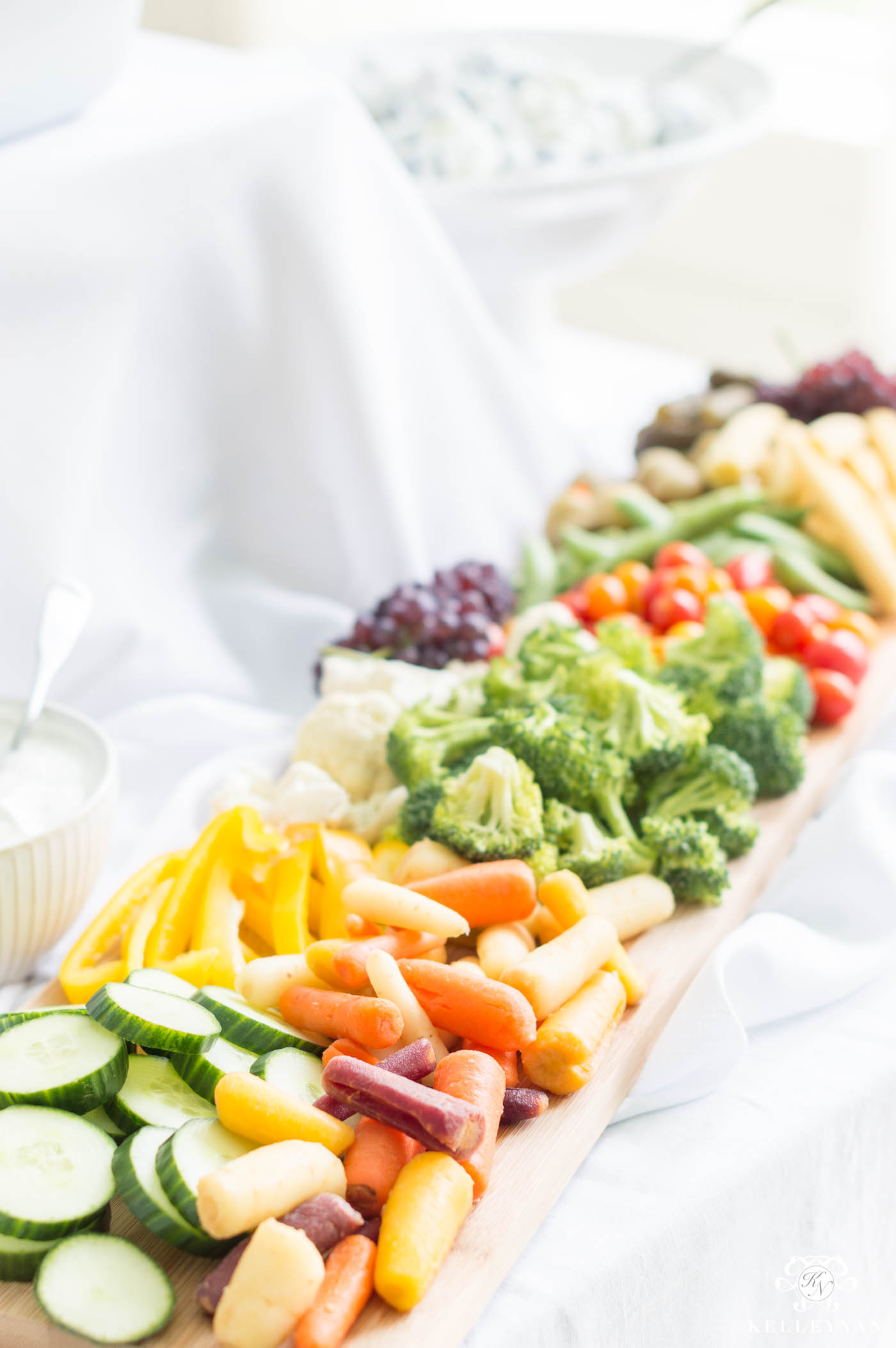 I used my favorite spinach and artichoke dip (again, from the package- shhh!) with different dipper options…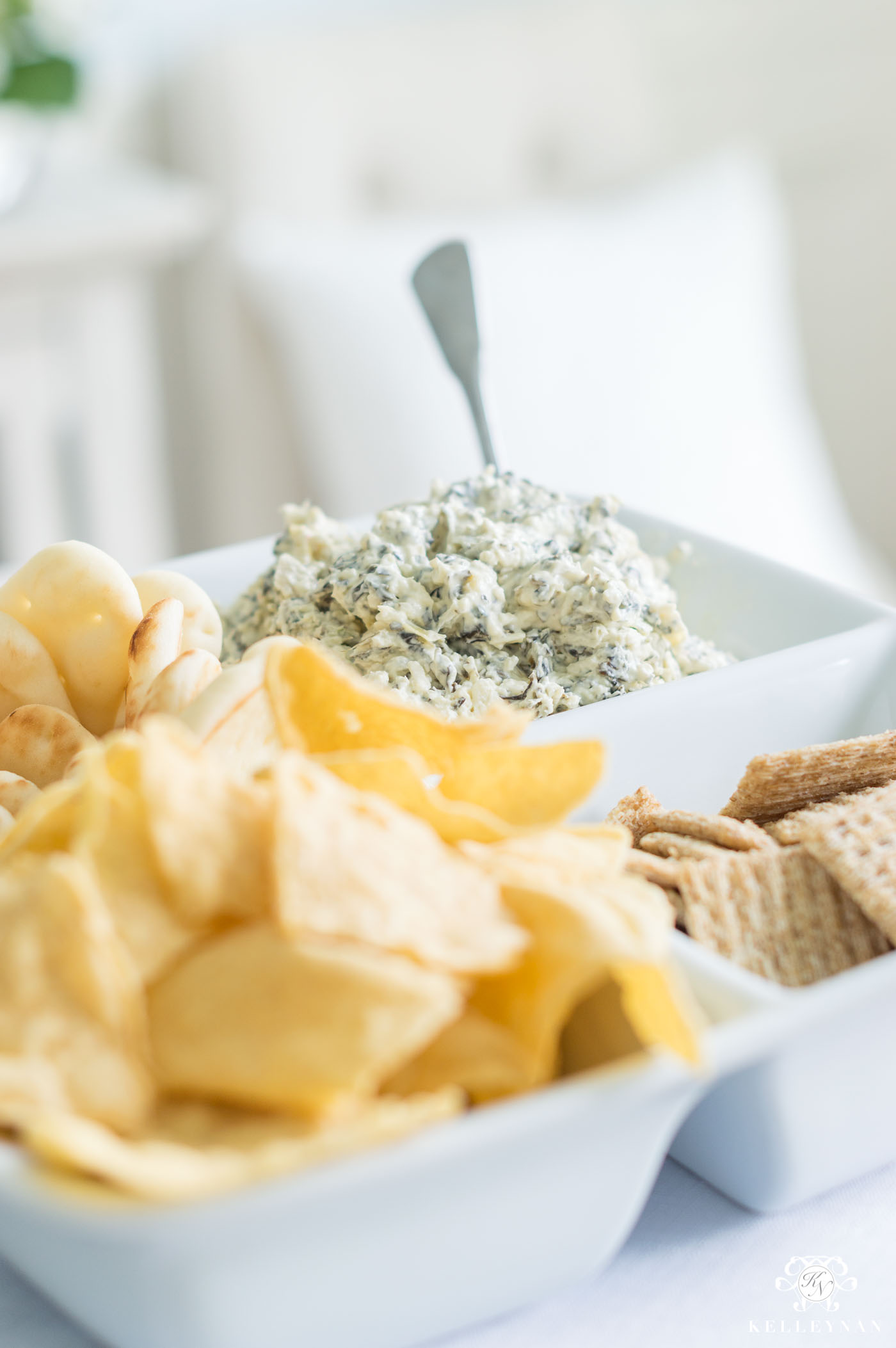 and special ordered animal-shaped pasta for the pasta salad. Unless the pasta shapes improve, I would not do that again. I spent $12 on a package of pasta that basically looked like a mess-up batch from the factory haha. You can't tell that each piece is an animal so I would totally suggest saving your $$$ here 😉 But, I knew it was there, so…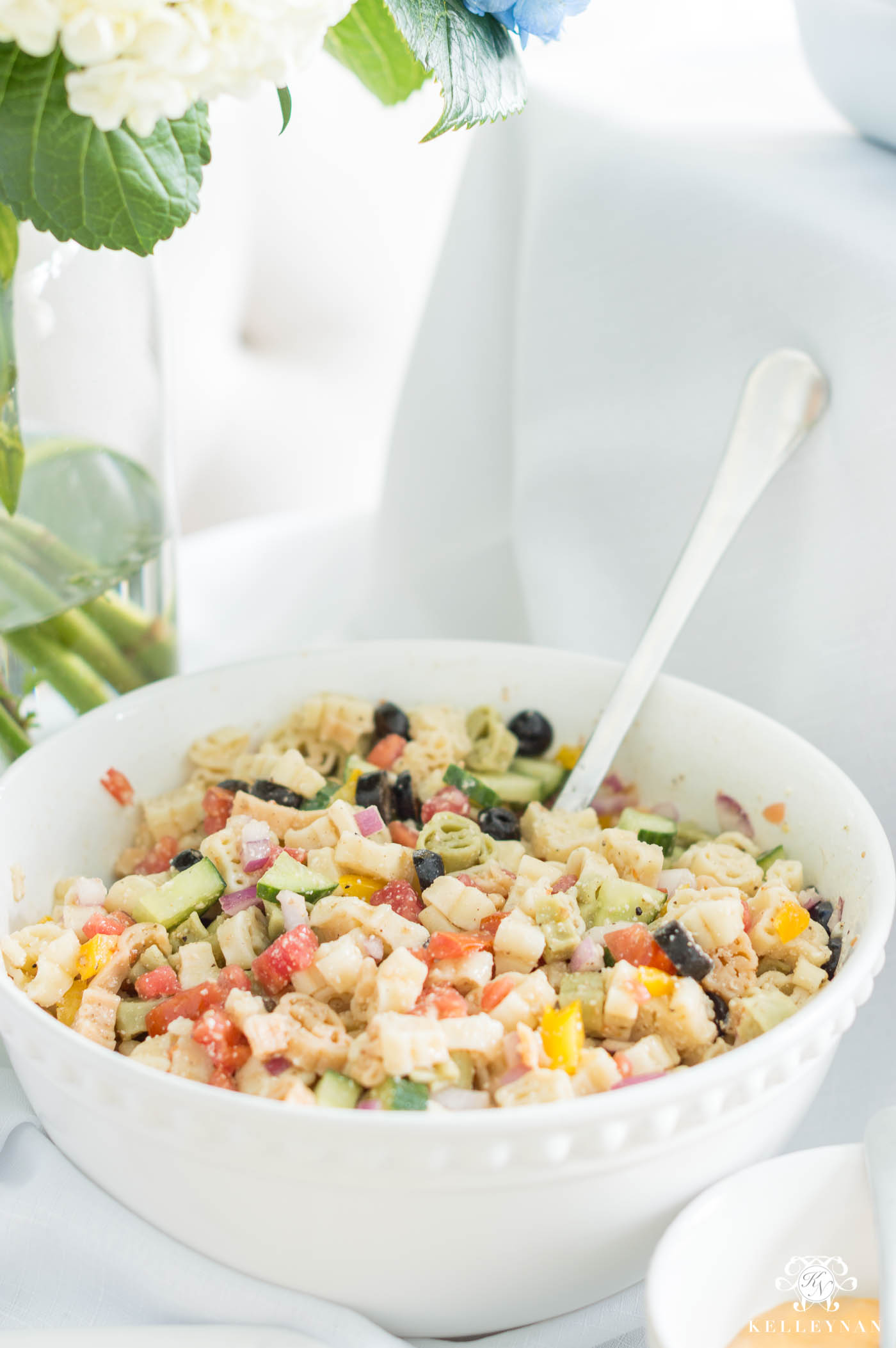 THE CLOUD-LIKE BALLOON GARLAND
I had never created a balloon garland before but I knew it was one of Ansley's favorite parts of the shower she had hosted. So, I wanted Ansley to have some balloon garland at her shower, too. My goal was to make the balloon garland actually look like clouds to tie it in to the Noah's Ark theme. And, it ended up being one of my favorite things. If I'm being honest, I had so much fun making the garland, I kind of want another reason to make one. (Don't be surprised to see some random balloons making an appearance in a future post on a random Wednesday night haha.)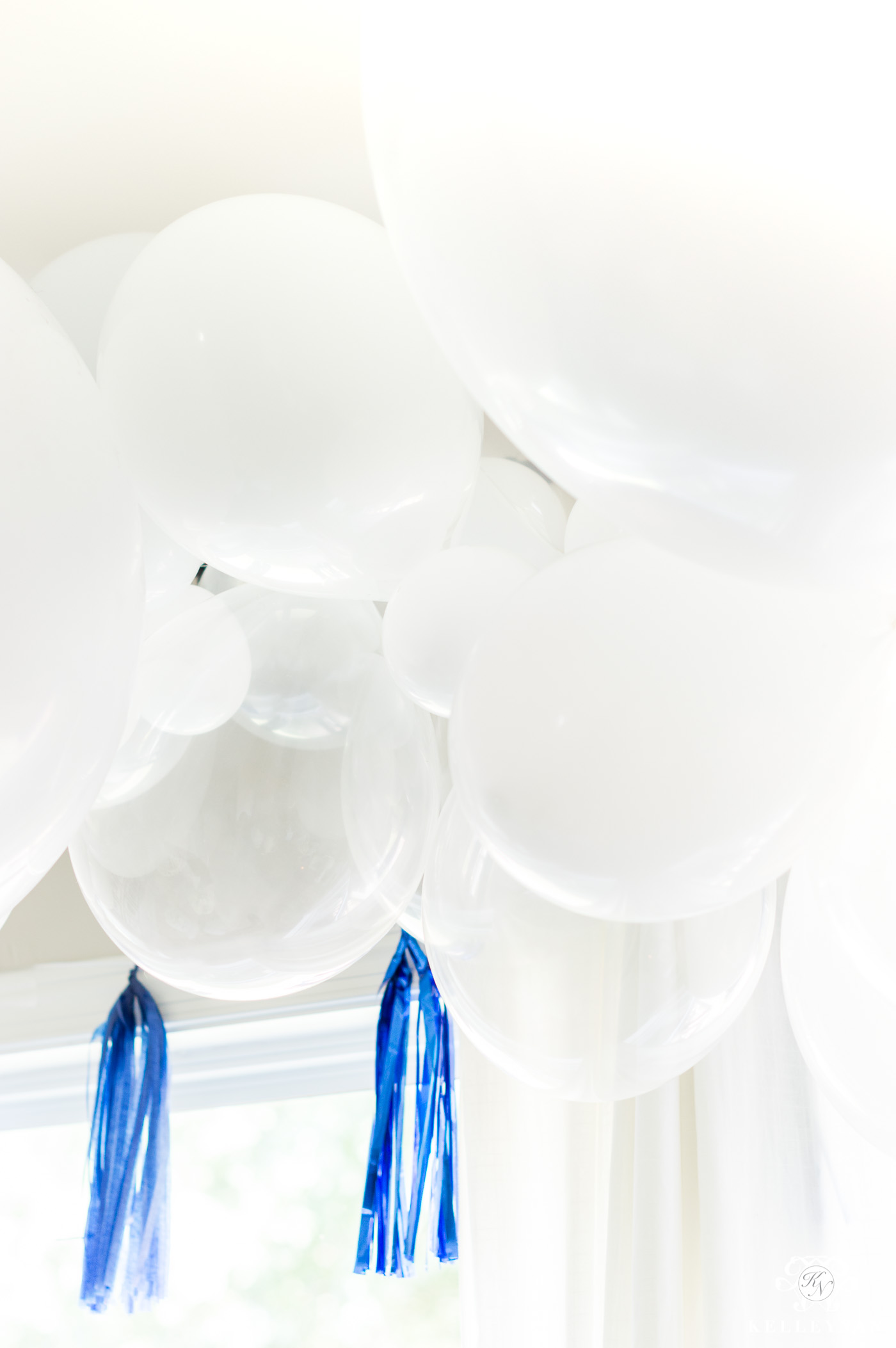 ---

---
I shared some of the process on my Instagram stories and I know my viewers thought I was nuts. After trying the air compressor and over-inflating a few, I opted for the old fashioned method and blew them all up by mouth. I survived and didn't pass out, but I can't tell you how many pump recommendations I got that day.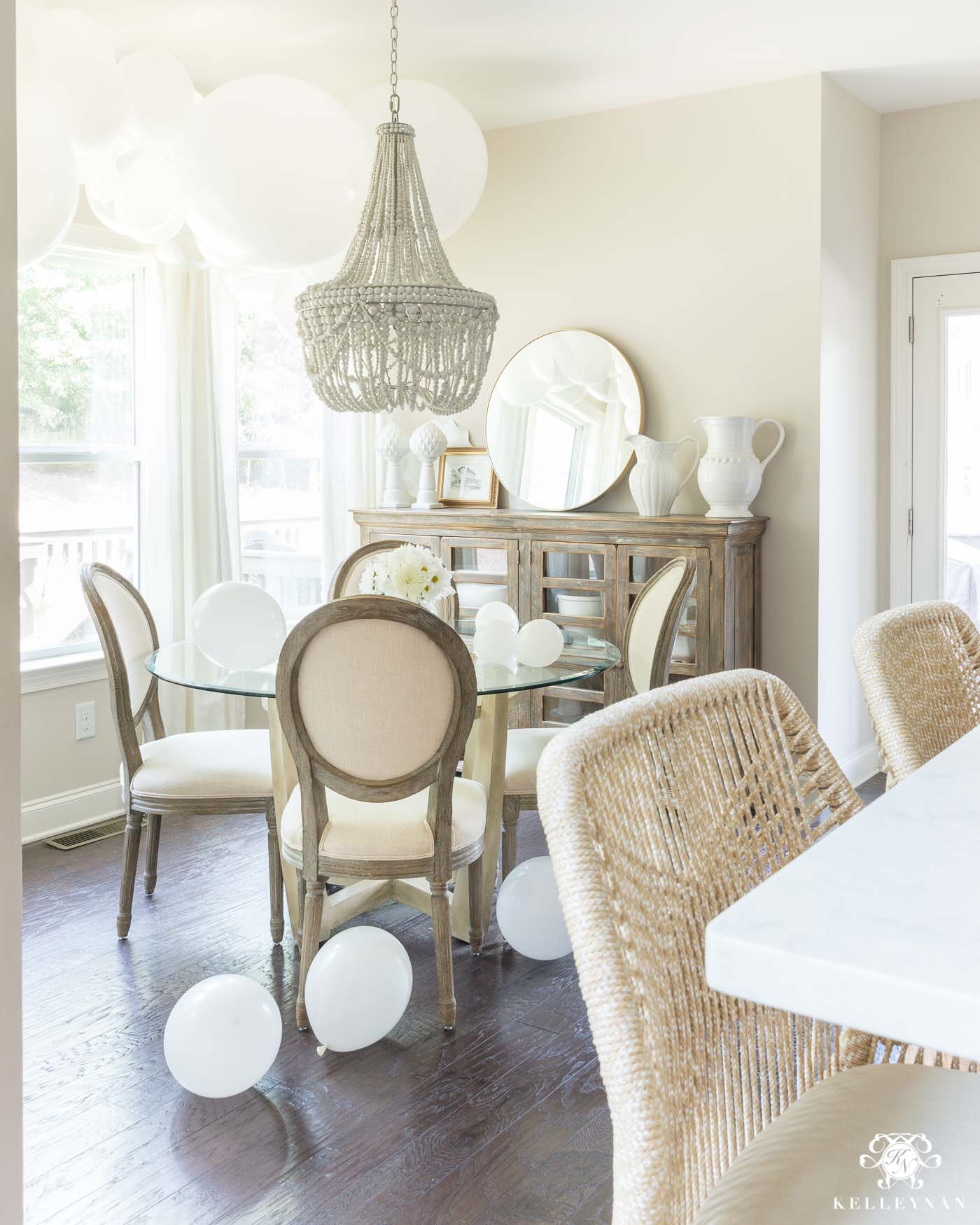 ---

---
People were also dying to know how to make the garland. You guys. It is SO easy. I used a few different sized balloons (you can even create different sizes using the standard 12″ ones) and ordered them in flat white, shiny white, pearl white, and clear – for cloud "dimension", obviously haha. You can't see the detail as well in photos but I like to think they made a difference in person. Aside from the balloons, the only other "tool" I used was fishing line. That's it. Here is the super simple tutorial from Poppies for Grace I used that worked like a charm.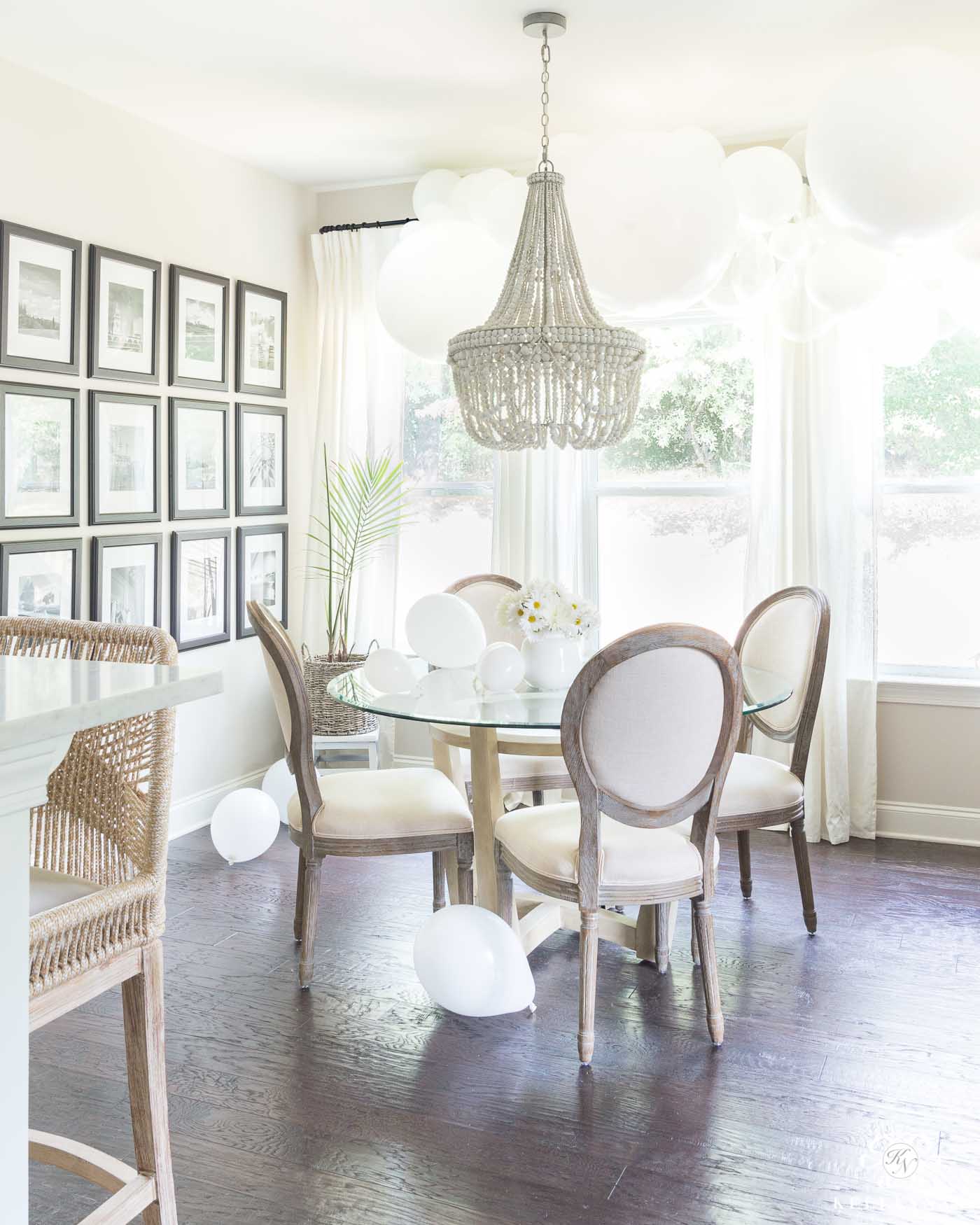 And here's the final balloon garland result. I added a strand of blue streamers I thought kind of resembled rain; you can do a full curtain of streamers but I didn't want to obstruct the natural light streaming in through the window.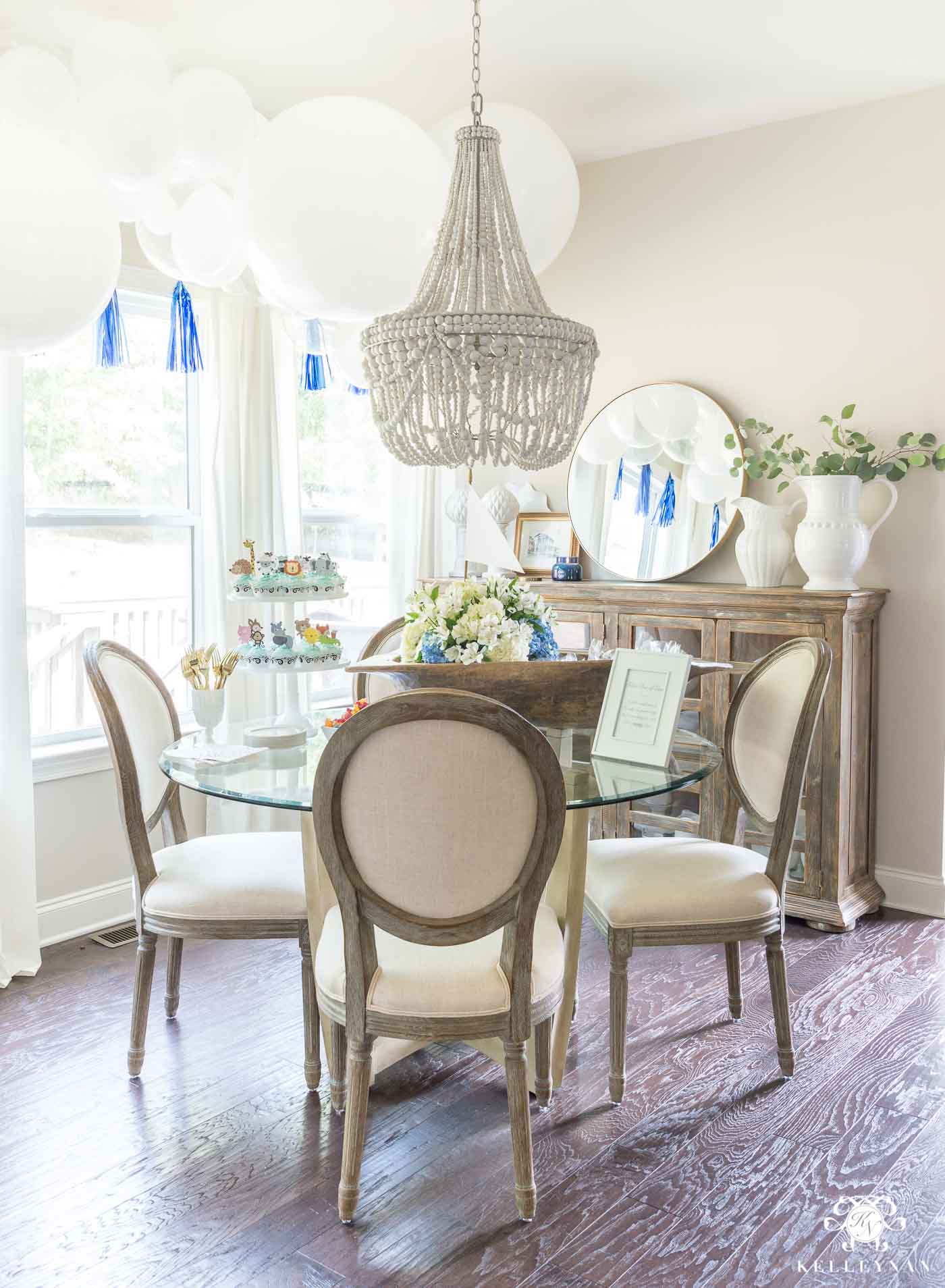 Side note, the garland lasted over a week before I popped them all and took it down. So, if you plan on creating a garland, I bet you can do it more than a couple days in advance.
THE GUEST FAVORS
One of the first ideas I concepted was creating an ark out of an oversized dough bowl. I borrowed the "boat" from my mom and then assembled a white cardstock flag to serve as a sail on the ship. Instead of trying to come up with a solution on how to anchor the flag, I set a flower arrangement inside the ark and stuck the flag down in the floral foam. Easy.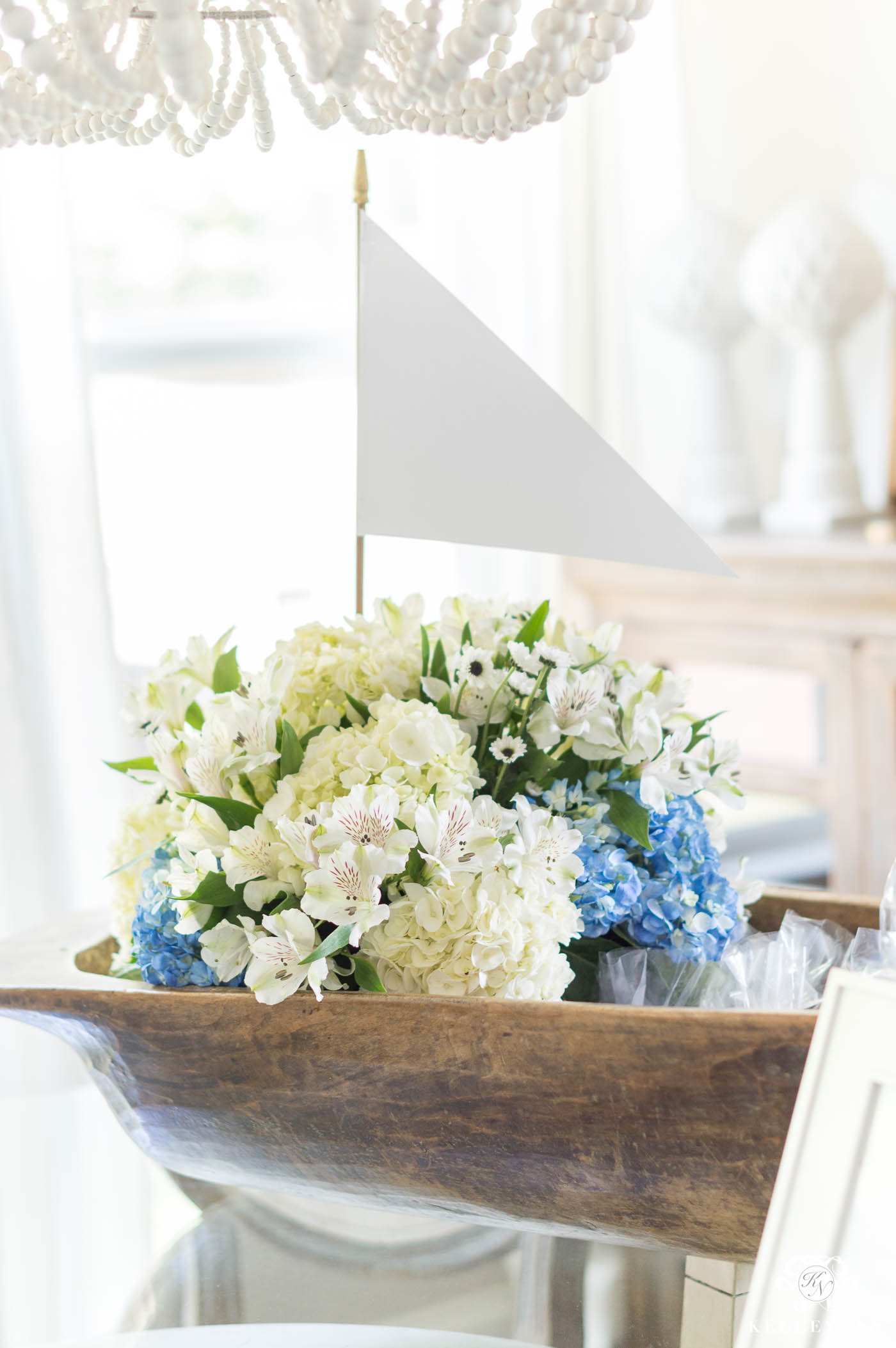 The other side of the ark housed the guest favors. I'll be honest – when I first started thinking of on-theme favors, I considered umbrellas (that were too expensive) or ponchos (that wouldn't be used). I instead settled on a "rainy day activity" (get it?) and ordered decks of inexpensive playing cards.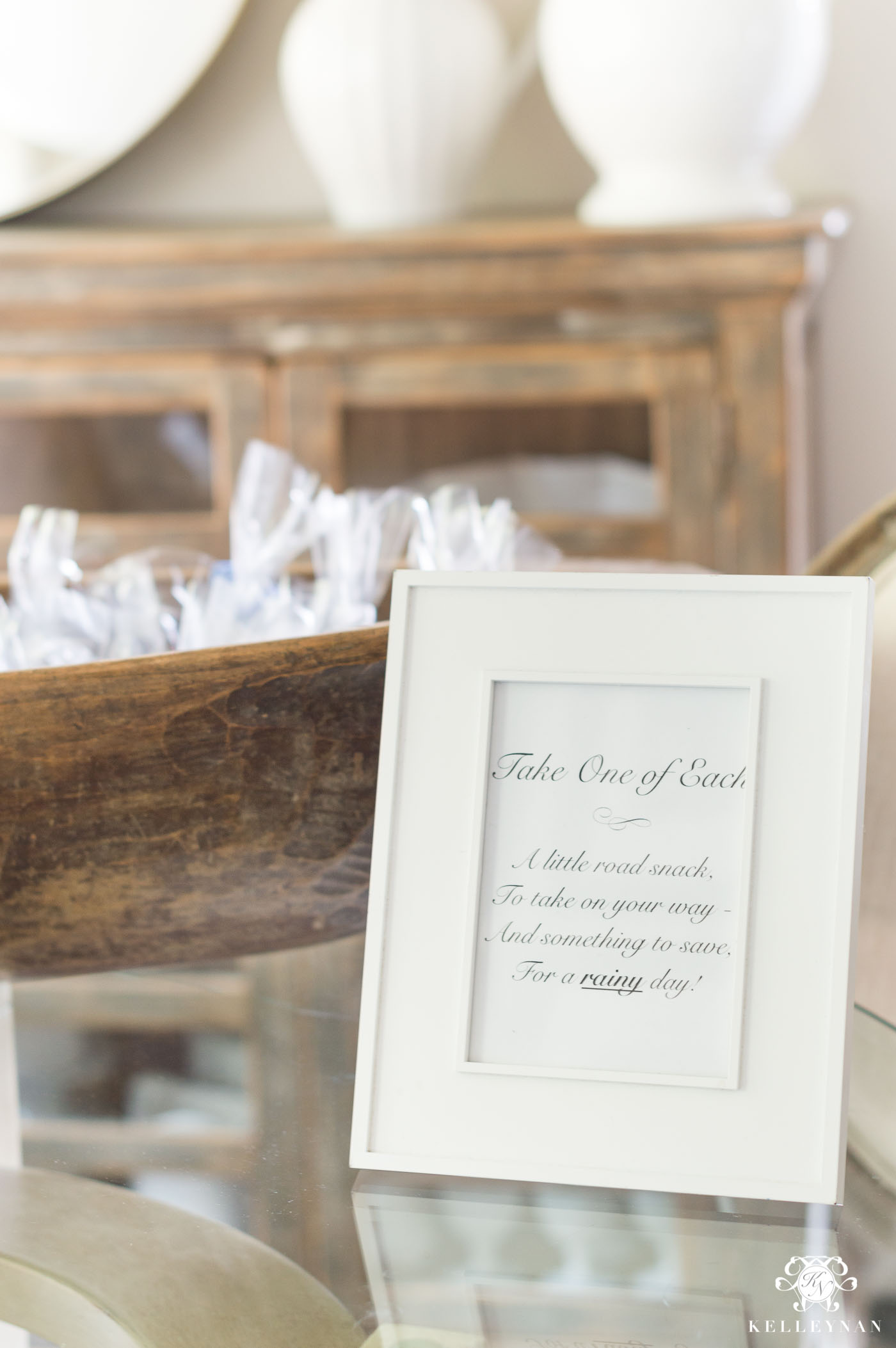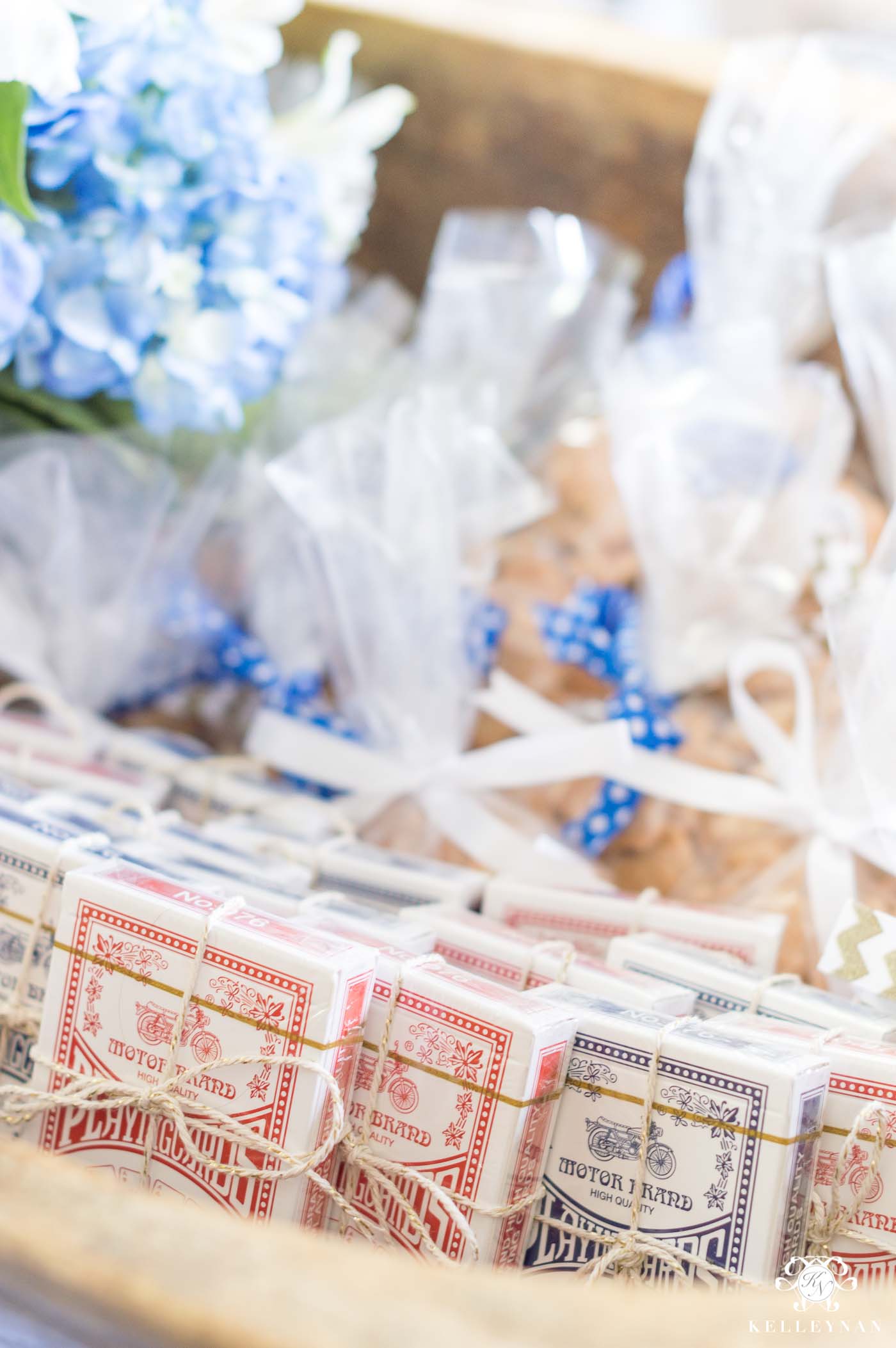 Since the favors were small, I also included little favor bags of animal crackers the guests could munch on in the car or take home to their kids.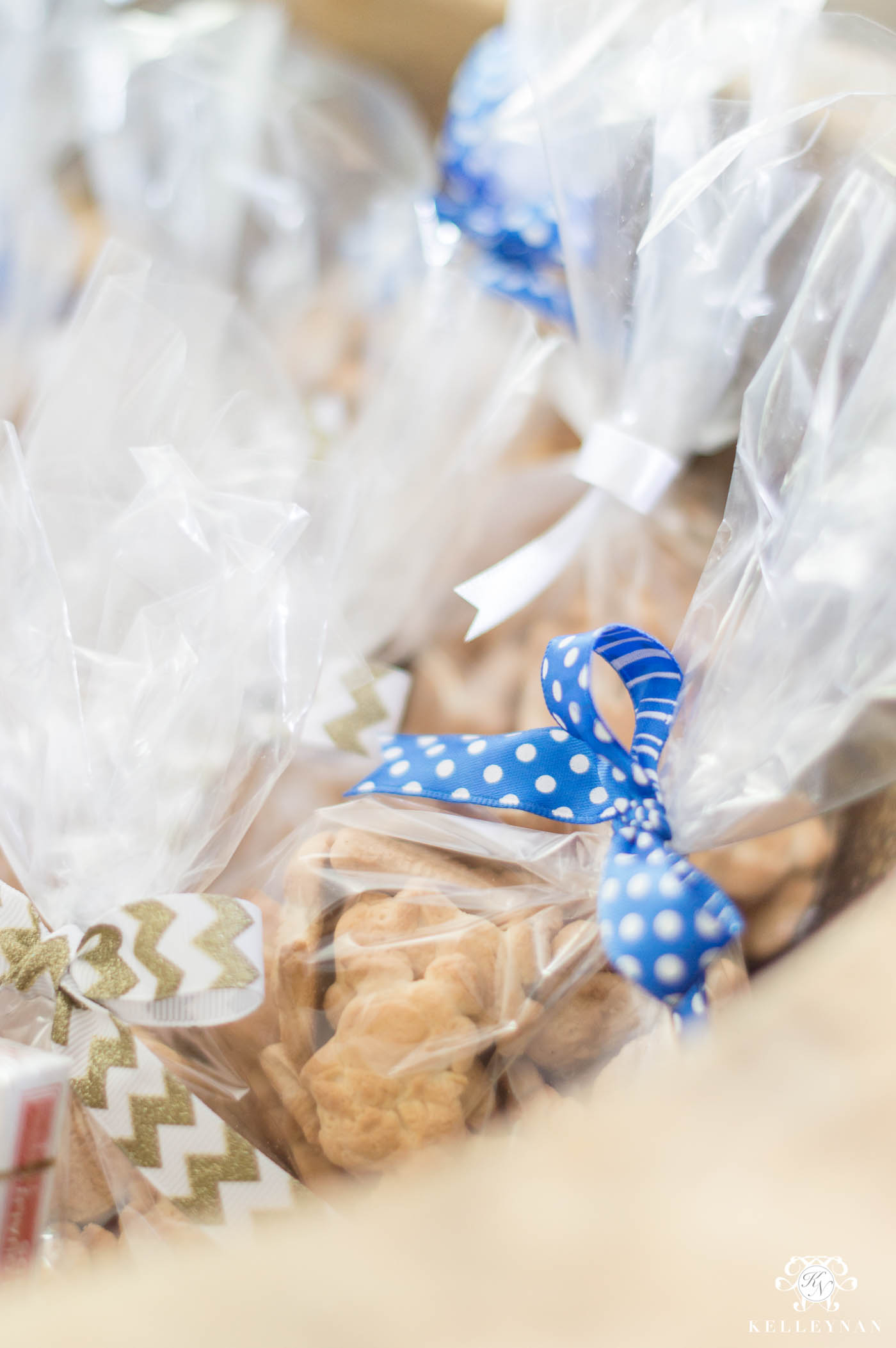 THE SWEETS
The cupcakes were another shower favorite that I put a lot of thought into. I didn't even want to think of the expense of having each cupcake made into different animals, so I knew toppers were the way to go. I found these, courtesy of Ella Bellla Designs, and mixed a few different collections together – from zoo to woodland to farm animals. I came up with an idea for pale blue frosting (water), with edible white beads (water bubbles), and ordered navy liners to peek through white cupcake wrappers (water waves). Here's how they turned out, half chocolate, half vanilla. If you're local to metro Atlanta, I've had the same person do ALL of my cakes ever since she created the most gorgeous and delicious wedding cake for me. You can reach Cynthia HERE.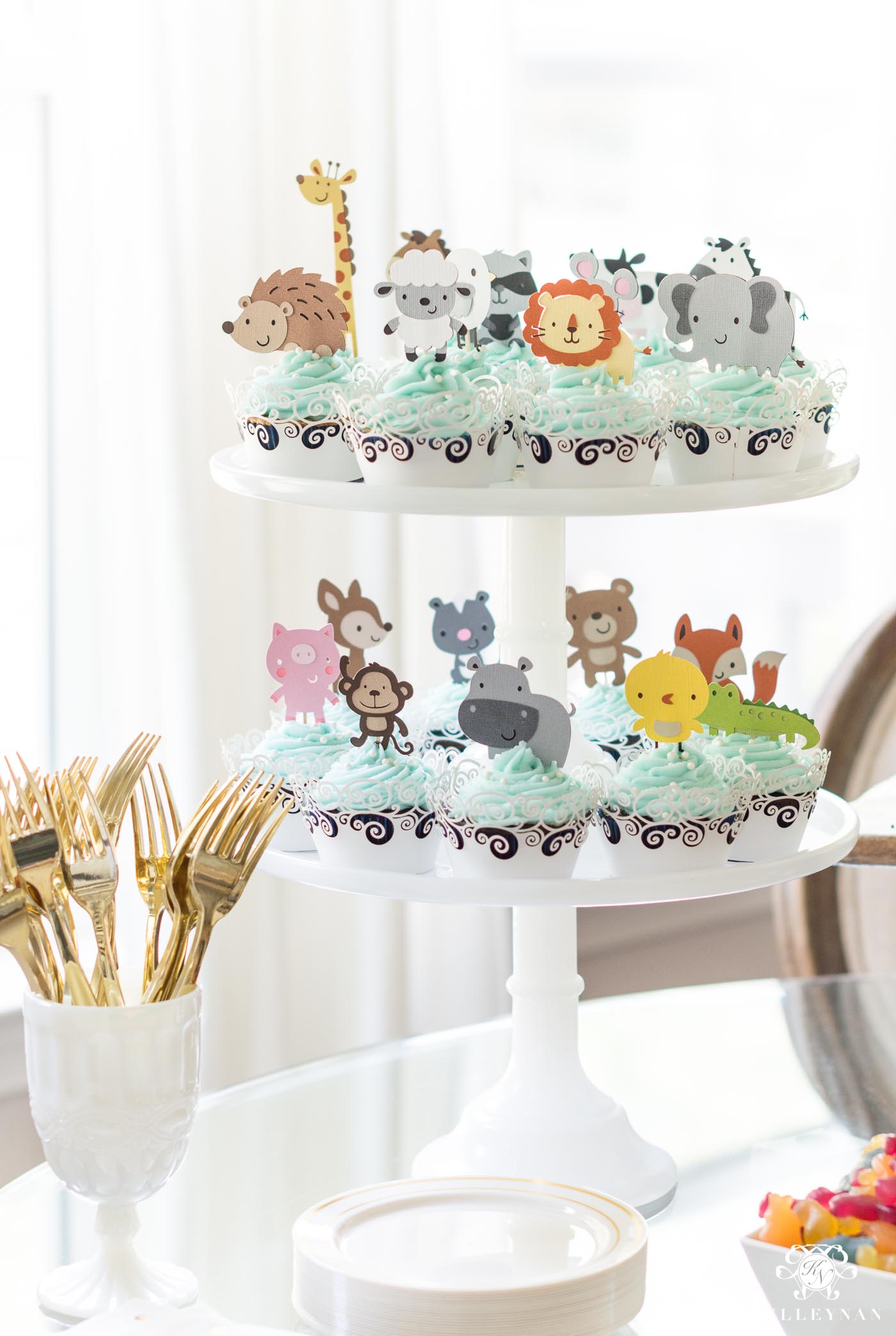 Woodland Animal Toppers | Safari Animal Toppers | Farm Animal Toppers
---

---
The little paper animals totally stole my heart-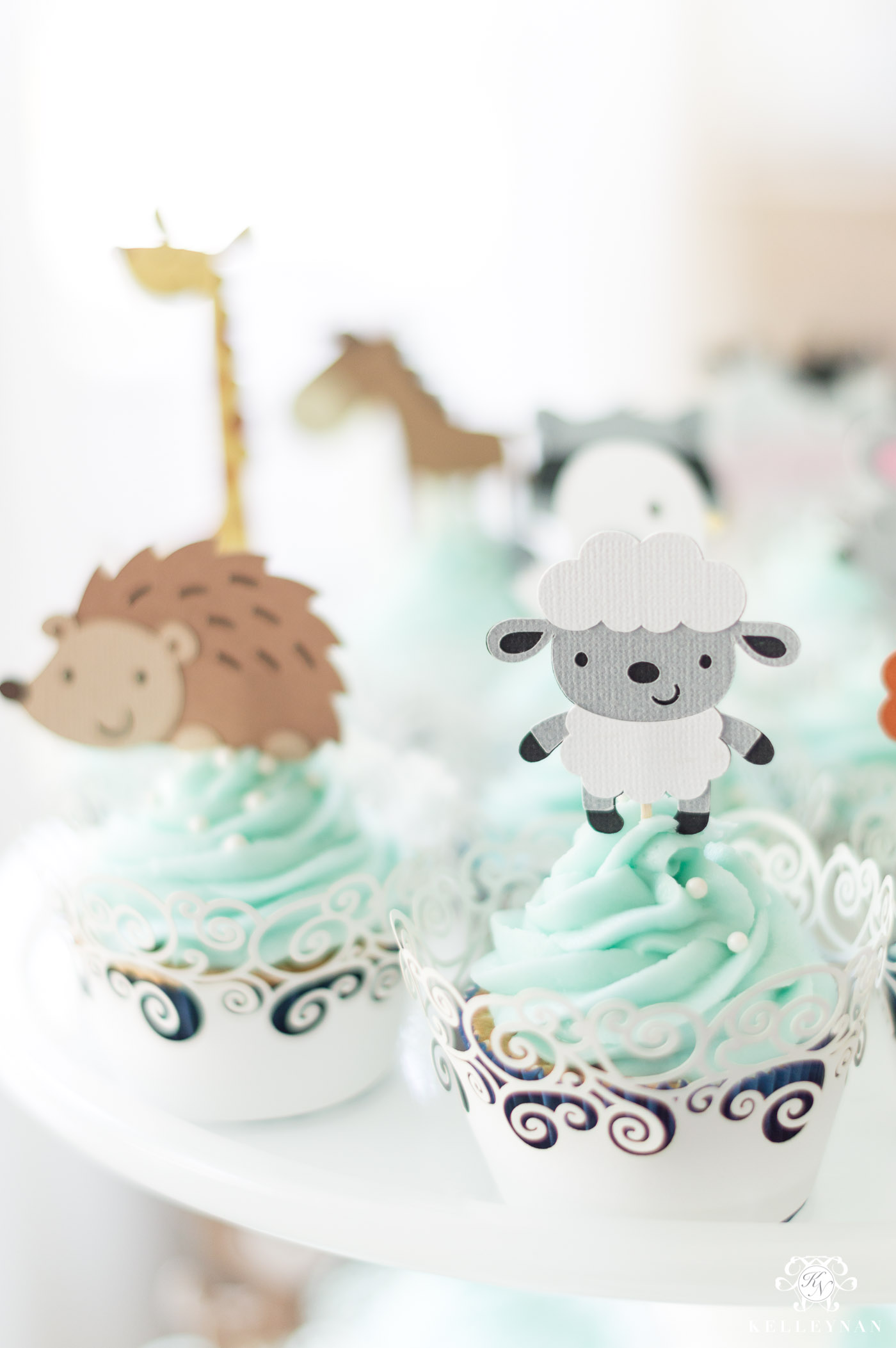 I mean… all the heart eyes.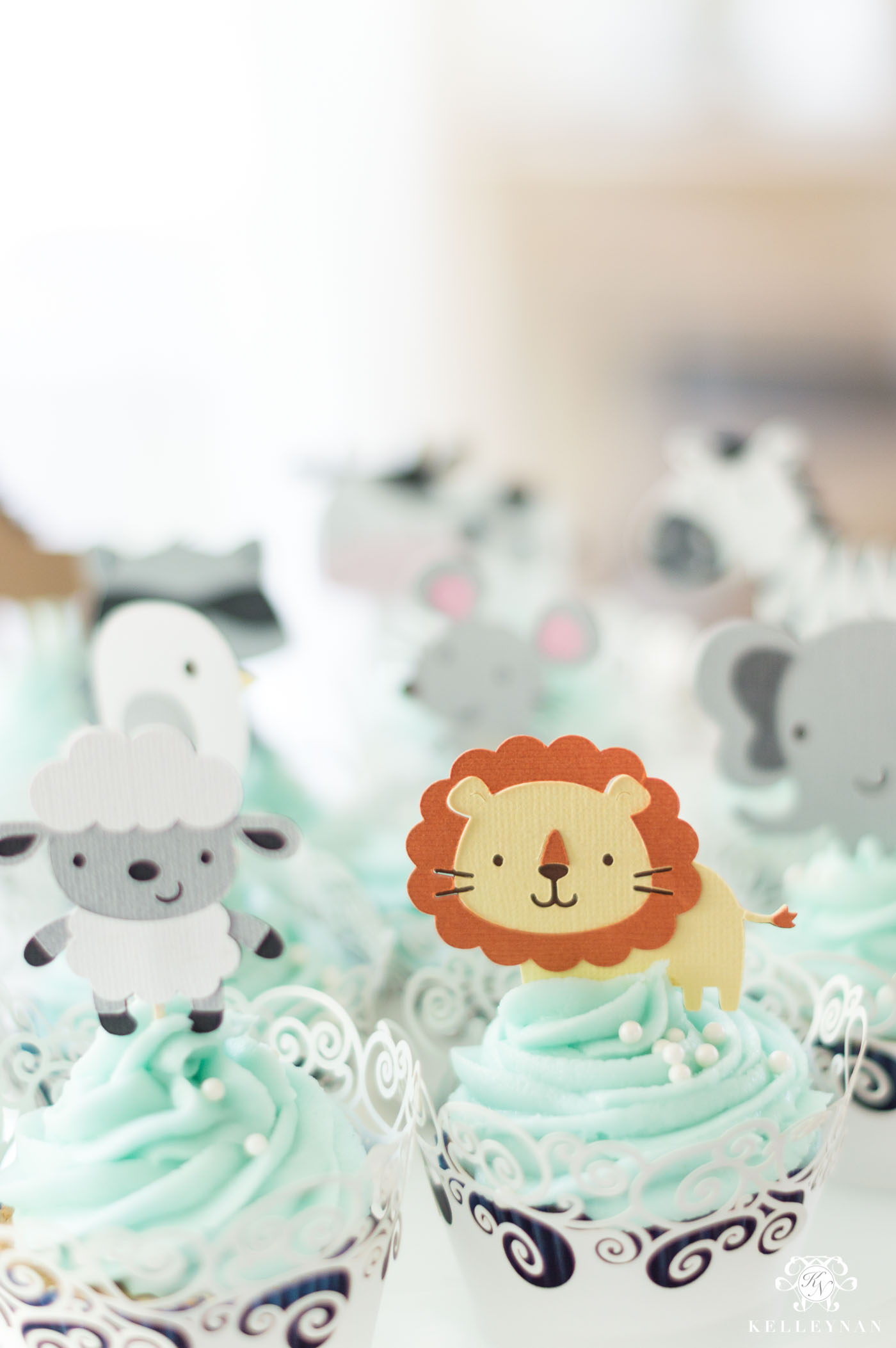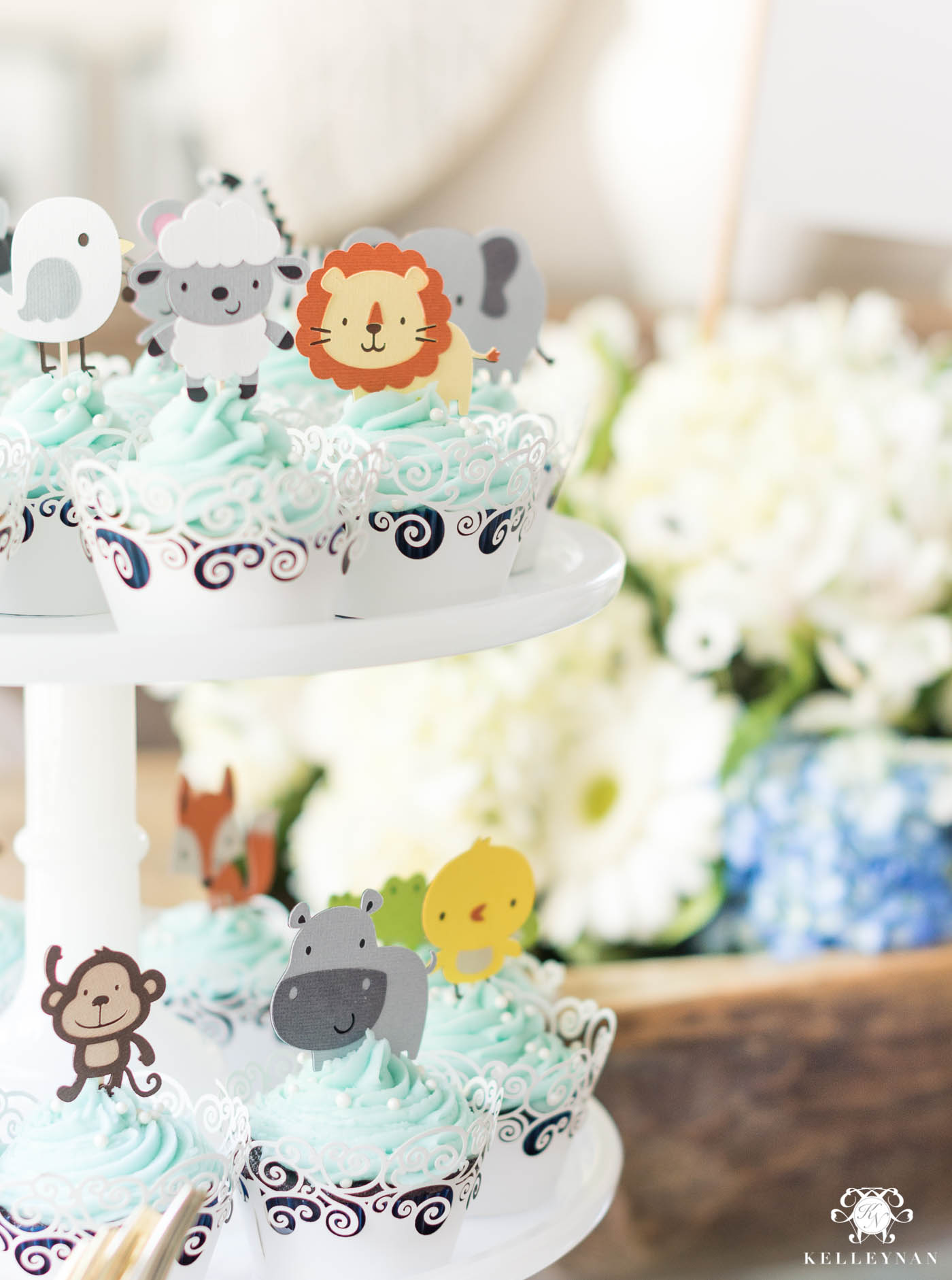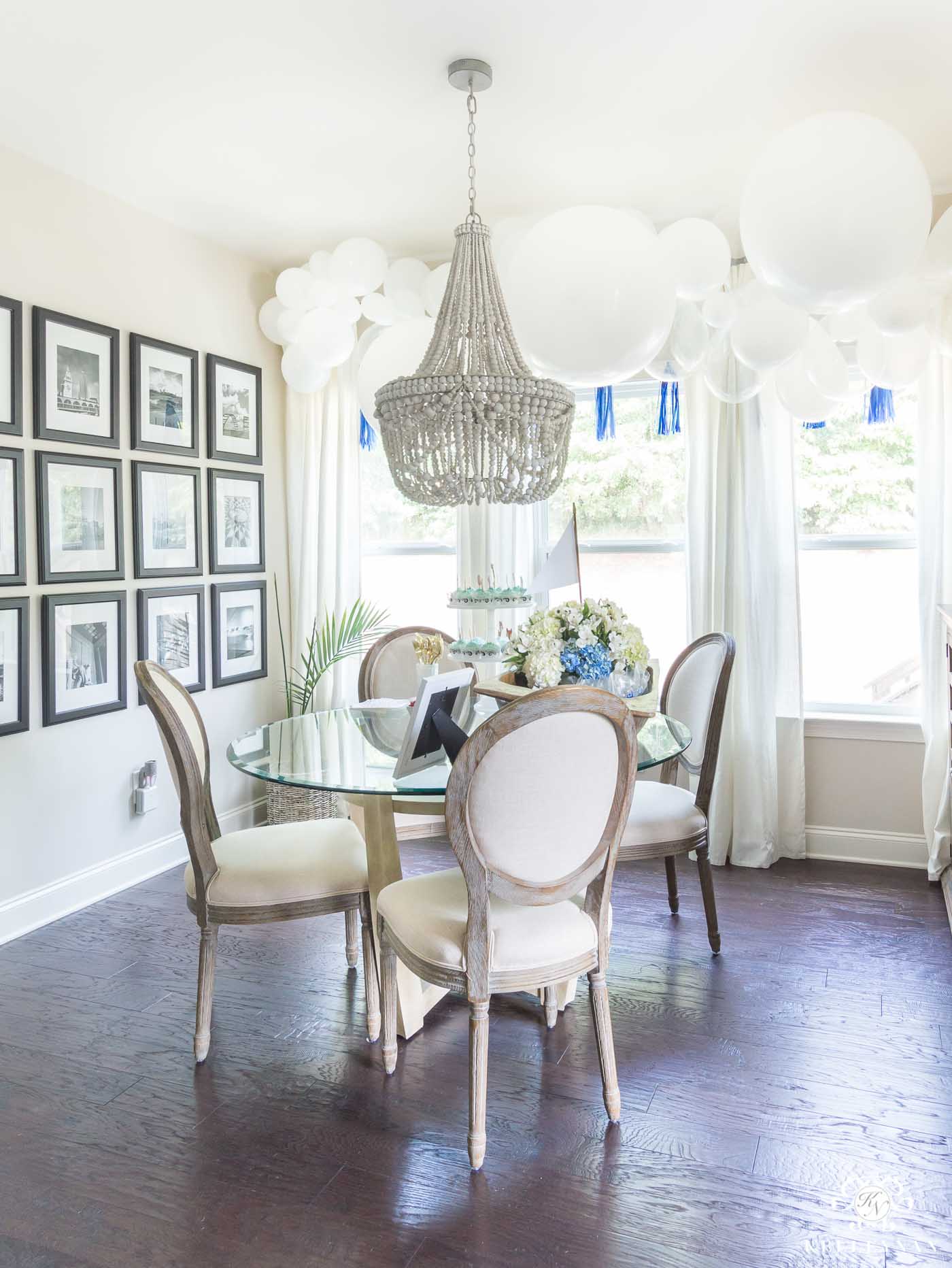 ---

---
THE GAMES
I'm not big on super involved, cutesy games but I did come up with two activities for the shower- one was more "Noah's Ark" and the other was more "twins". I picked up three baby orchids as prizes for the two winners, plus one for the guest of honor.
The first activity was a matching game where participants had to match the animal to what their babies are called. I didn't go easy, either… Each person had five minutes to complete.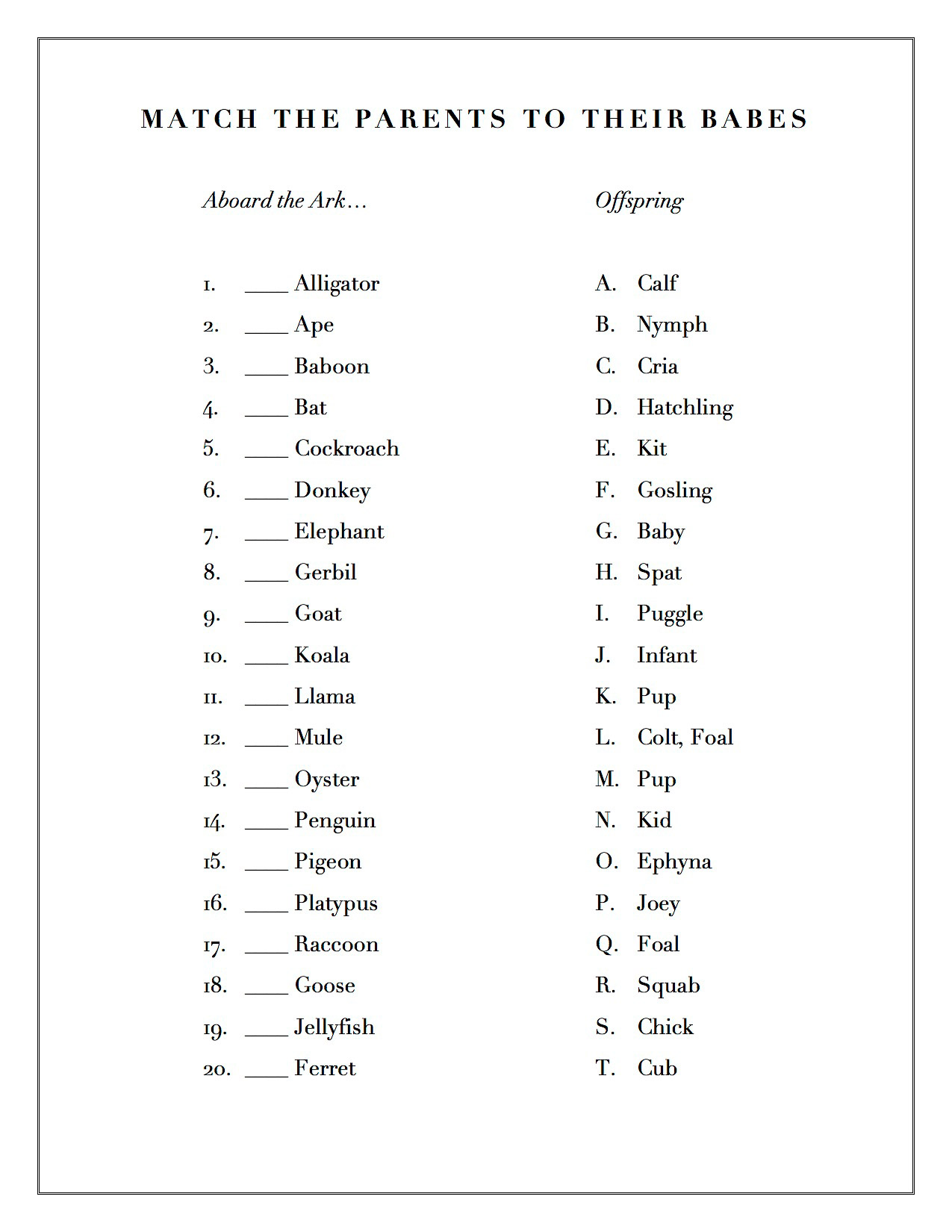 For the second game, I researched celebrities with twins and created a quick match-game. I gave guests two minutes on this activity.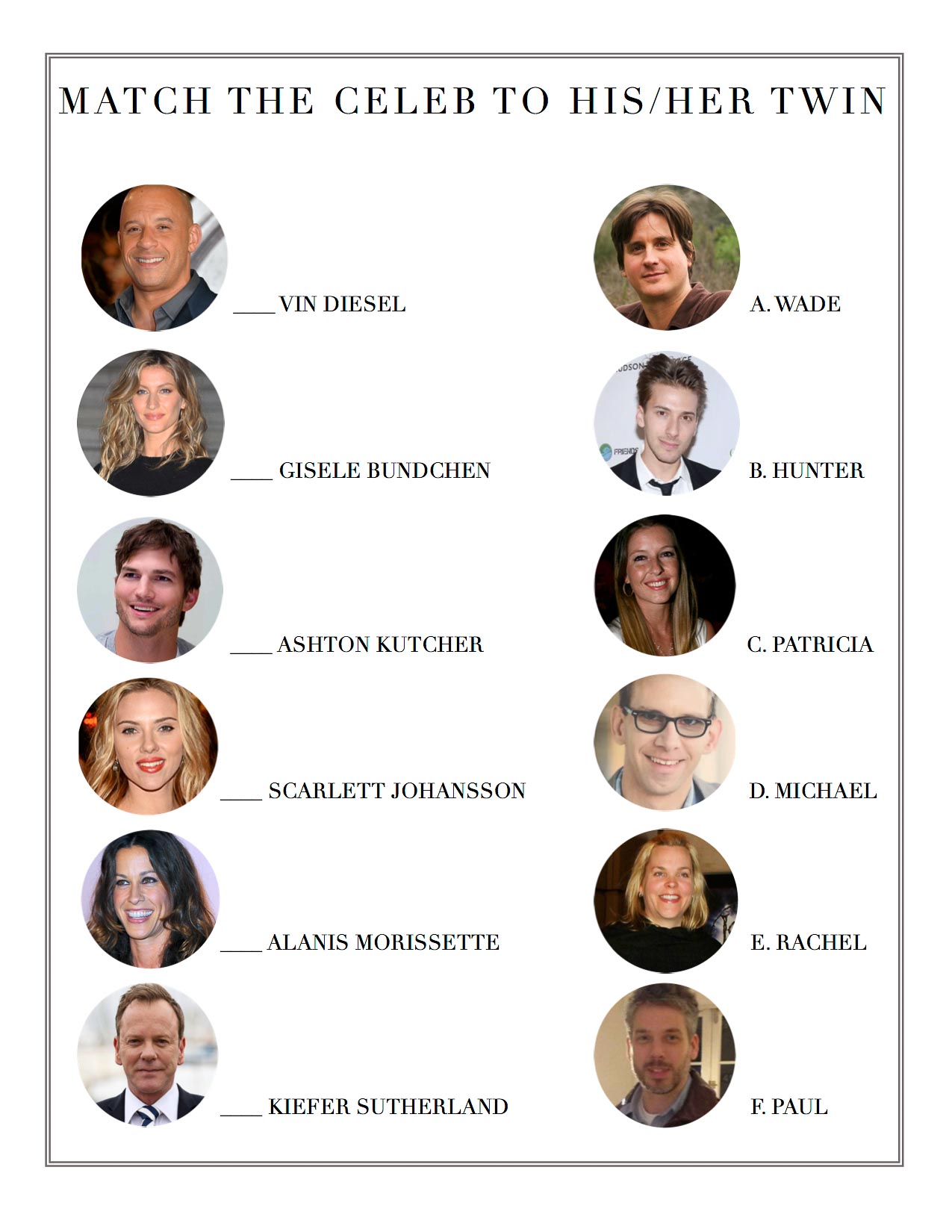 When it was time to open gifts, I assumed the responsibility of taking note of who gave what, consolidated gifts into boxes and bags, and slipped the gift list inside when the mom-to-be finished opening. I also wrapped a gift for her daughter to open, 1. to make her feel special, and 2. to keep her entertained while her mom opened the rest of the presents.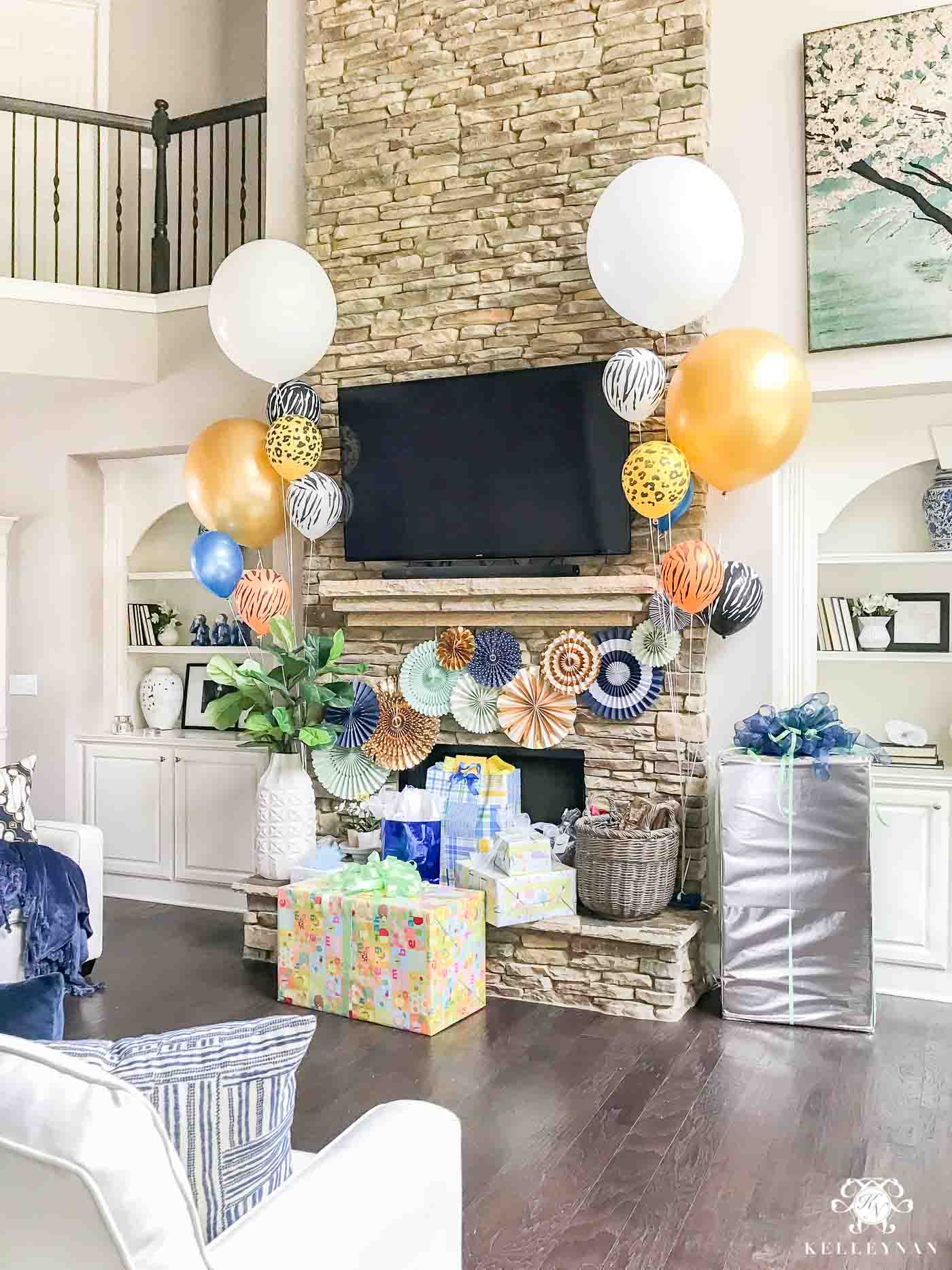 Whether you want to capitalize on the Noah's Ark theme, are hosting a baby shower for twins, or are just looking for a place to start in celebrating a mama in your life, taking each component of the shower and breaking it down will keep it more manageable and focused. Make lots of lists, notes, and start EARLY and best of luck creating and hosting a baby shower for your nearest and dearest 😉
PS: You may have caught a peek of a few rooms currently undergoing updates (ahem- living room, breakfast nook, kitchen…). To make sure you catch the reveal, sign up for email updates at the bottom of this post. Also, don't forget to pin the image below to reference back to easily.
OTHER POSTS YOU MAY ENJOY