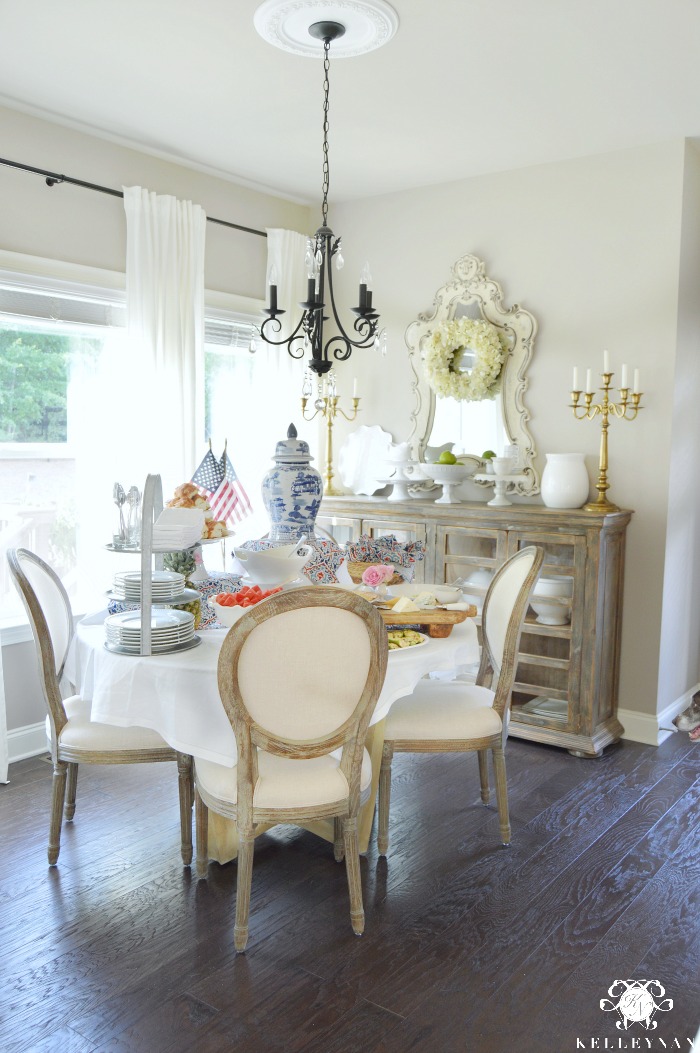 Over Fourth of July weekend, we held an impromptu get-together with two other couples. Because I knew we would be busy with fireworks and games, I decided against a sit-down meal and instead opted for festive hors d'oeuvres where our guests could graze at their leisure. I designated our breakfast room table, convenient to the patio, as the home base for food setup. Creating food tables is right up there with creating tablescapes for me. Even though this was a casual gathering with casual food, I still use some of the same tricks as I would if I were hosting a shower or setting a dessert table. Read on as I share how to break out of the practice of lining your counter with foil containers and how to style a food table with minimal effort.
*Can you spot the pup? She desperately wanted to be a part of the shoot and I just noticed she managed to make her way in – that sly little fox 😉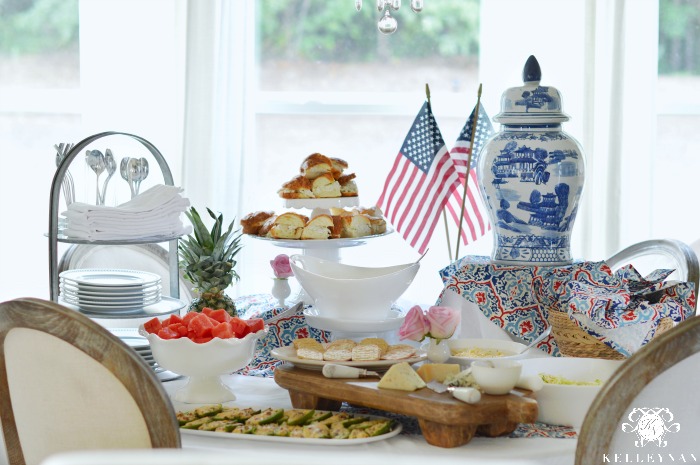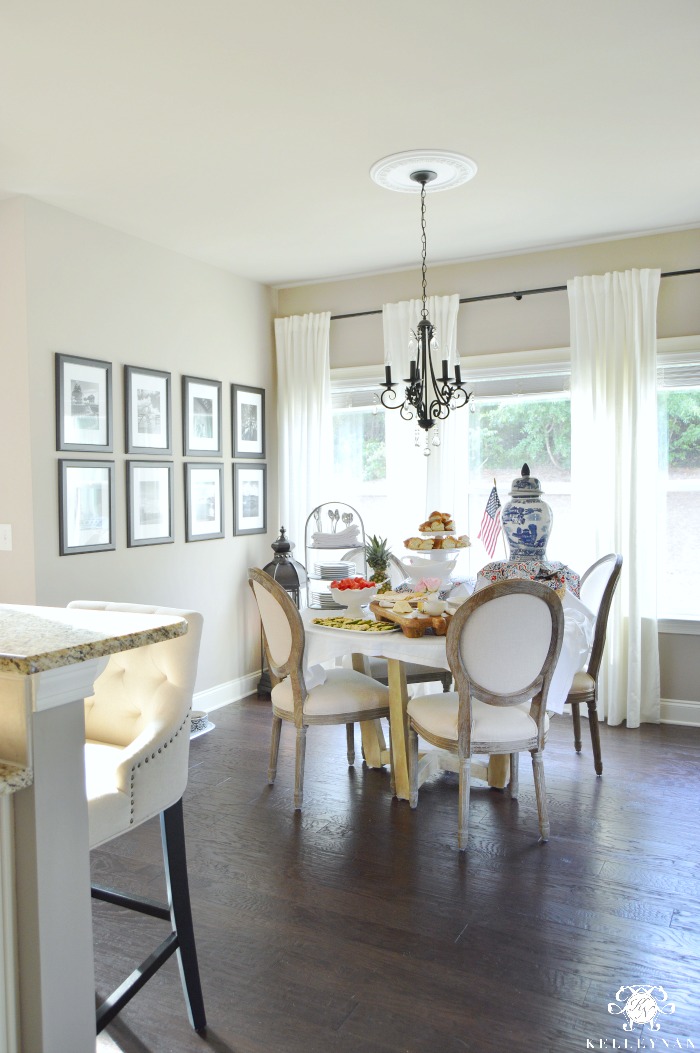 If we had had more guests or it was a more formal gathering, I would have removed the chairs. In this case, they didn't obstruct table access and it was still easy to navigate through the nook, so they stayed. As I mentioned, this was casual and not planned far in advance so I kept the menu simple.
The Menu:
Quartered chicken salad croissants
Corn dip and tortilla scoops (recipe HERE)
Stuffed jalepenos
Pineapple
Asian slaw
Watermelon
Cheese board with crackers
Cherry cobbler with vanilla ice cream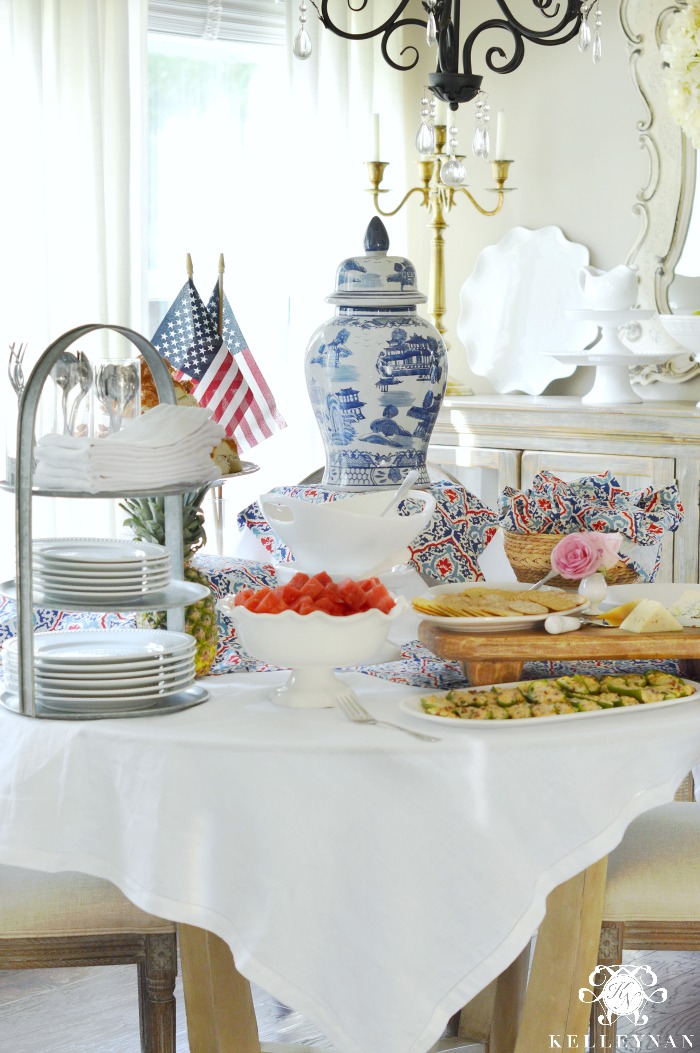 The first step I take in creating a food table presentation is to pull out boxes, books, and anything that is stable which will provide height and arrange them on the table. Desserts, towers, food displays, or flowers can sit atop in a place of prominence.

Next, take out your linens. I like to use a tablecloth as a base to cover the entire table (and the stack(s) of books/boxes), but I also like to incorporate a secondary layer of material. You can use a separate tablecloth, napkins, table runners, sheet, or scarves… it doesn't have to look pressed, and in fact, can look better when you scrunch up a bit of the fabric. Sometimes I use a lot of fabric layers, but for this table, I used a few simple patriotic napkins.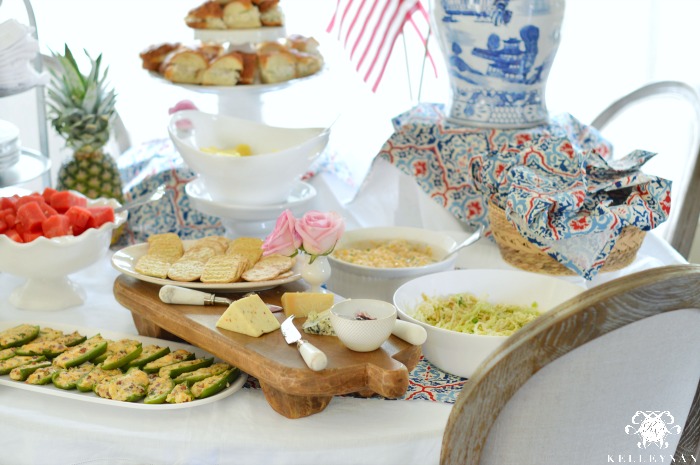 I like to use coordinating dishes and platters for a cohesive look. You can use different materials (wood, galvanized metal, etc.) but I don't mix a lot of different colored/printed serving pieces. If you have an arsenal of tiered trays, cake stands, and serving boards, this is a time when you can actually put them all to use. I don't often get to use my galvanized three tier server, but I loved being able to use it for the occasion.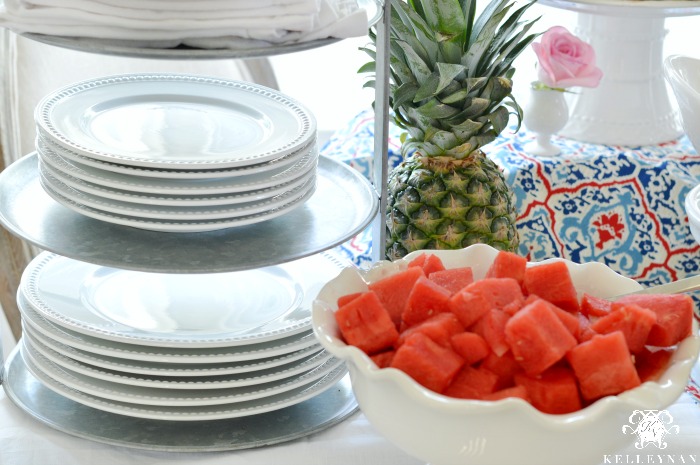 Your table doesn't have to remain exclusive to the food you are serving. I typically incorporate flower arrangements in my food table displays, but since I used a couple American flags and the blue and white ginger jar, I only snipped a few roses from the flowers my sweet friend, Rebecca, brought me to scatter in bud vases across the table. You can use photos in frames for a family event or shower; signs; whole, uncut fruit and veggies; candles… you can decorate your table as though you were decorating any other space in your home.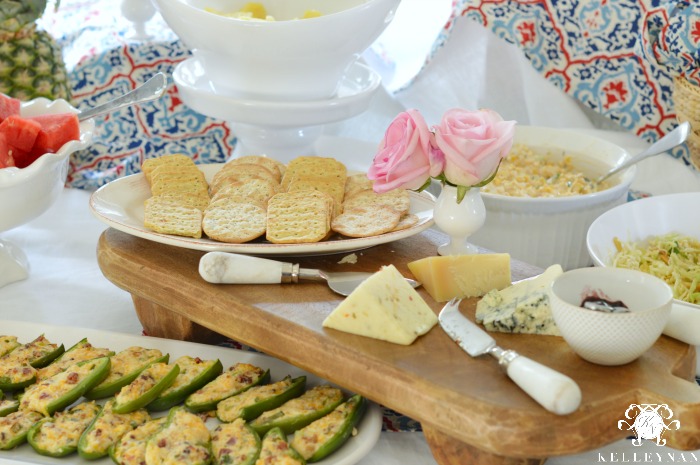 Another trick I use is to layer, layer, LAYER. Cake stands on cake stands and platters on boards – I always try to think about building the table up, not just out. Staggering the height of your dishes can not only "excite" your display with variety, but can also help make your dishes more visible.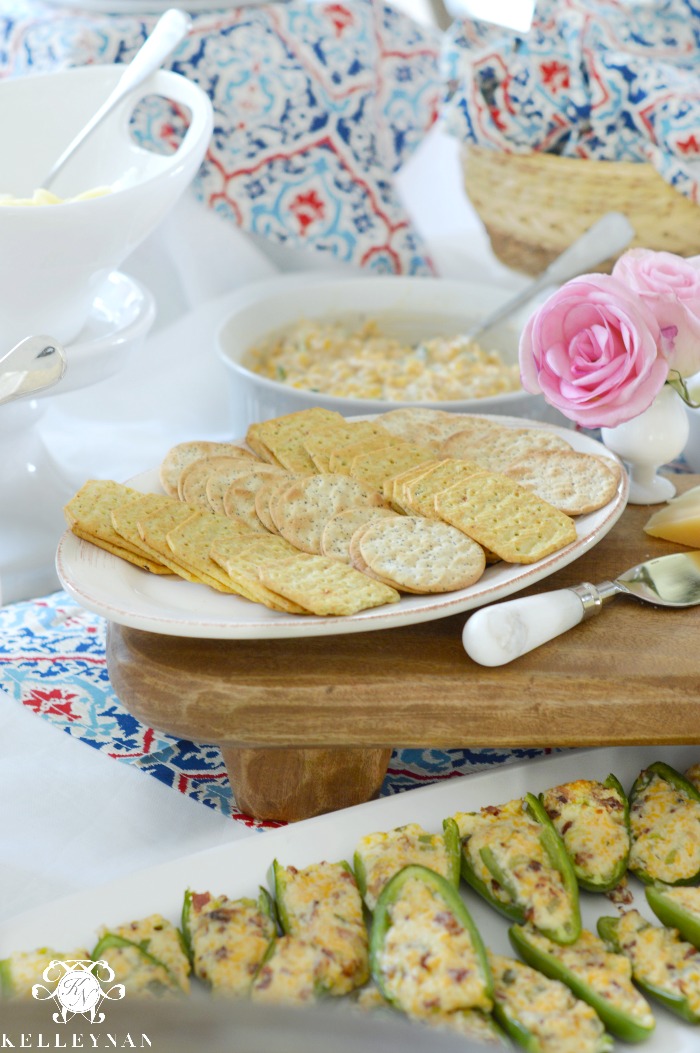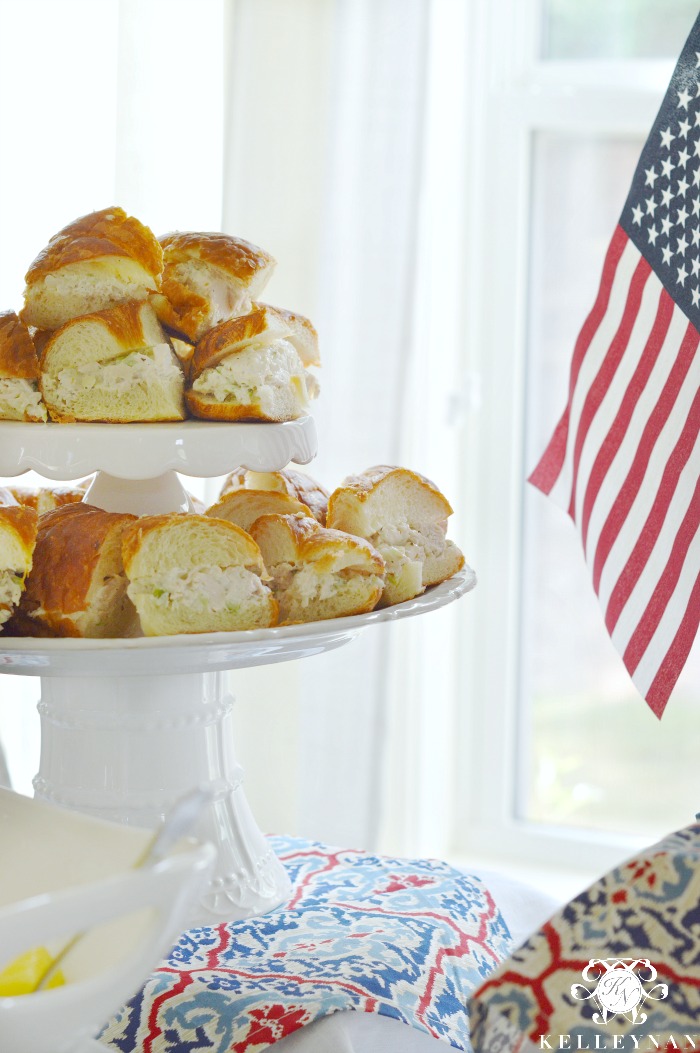 This was a simple and quick display to create but I was able to avoid the all too common look of the "fellowship hall potluck". If you typically serve appetizers in a buffet-style line, spread across your kitchen counter, try a food display for your next party to mix things up a bit.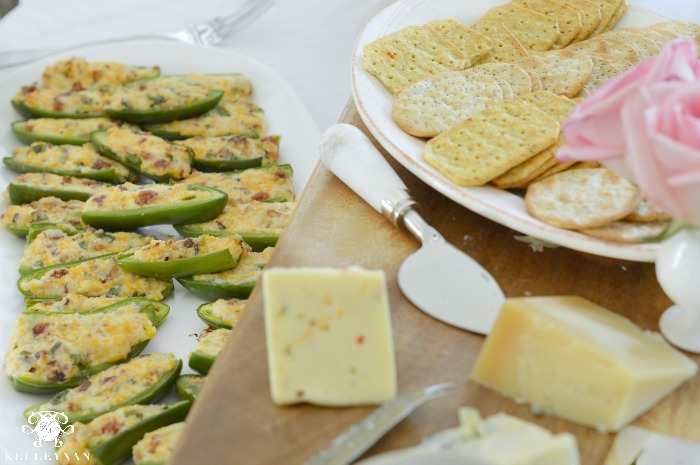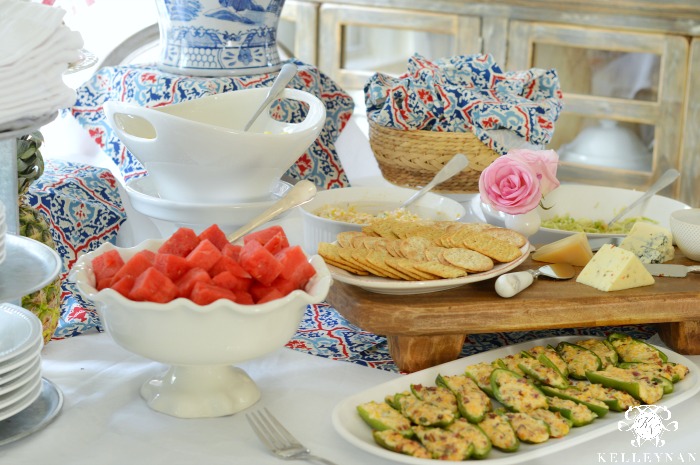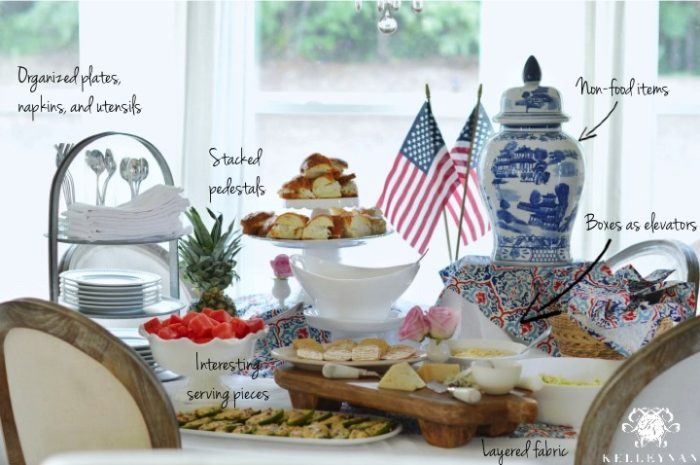 GET THE LOOK

(use the left and right arrows to scroll)
For full breakfast room details and sources, visit the breakfast nook tour HERE.
*Note: contains affiliate links and sources throughout the post. Where product is no longer available, a similar substitute has been listed.