This week's installment of The Short List, a roundup of some of my favorites from the week, is erring more on the side of the "medium-ish" list. Along with my usual must-haves, I had to share some of my key purchases from my shopping trip over the weekend. If you are looking for a few versatile, quality staples to add to your wardrobe, be sure to read on.
1. Brass Geo Terrarium | 2. Marble Cheese Knives | 3. Fashion File Folders | 4. Rhodes Ice Bucket | 5. Driven by Decor Blog – Three Years Later: Our Before and Afters | 6. Lilly Pulitzer Travel Tumbler
1. Brass Geo Terrarium: Great for plants, storage, and organization, decor in interesting shapes is everywhere right now. Most glass terrariums can be on the more expensive end, but this versatile collection (available in three different colors) is super budget friendly.
2. Marble Cheese Knives: I haven't been shy talking about how much I love these marble cheese knives. Paired with my marble cheese board or my wooden paddle board, these have become some of my favorite hosting essentials.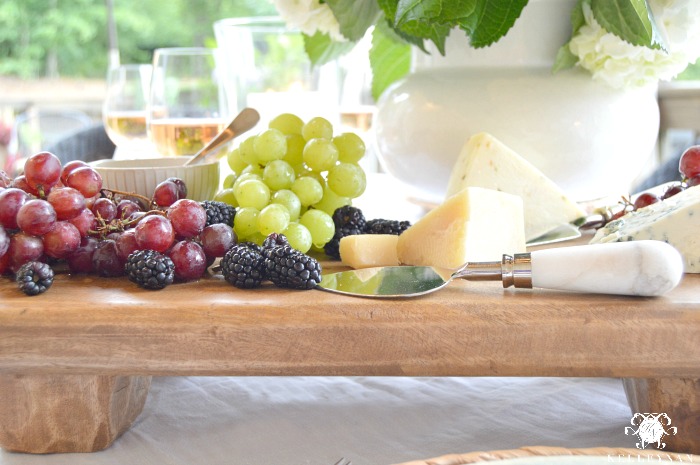 3. Fashion File Folders: Since I am planning to make over my office later in the year, I have started paying attention to even the smallest details. I have several files that I keep out on my desk for easy access and came across these cuties. Way better than my ugly beige! These are on my wish list.
4. Rhodes Ice Bucket: While the beverage trough and wine cooler that I also have from this collection are no longer available, I can't tell you how much I have loved these classic pieces. I use the ice bucket all the time- not just for ice and beverages, but I even use it for floral centerpieces like I did HERE.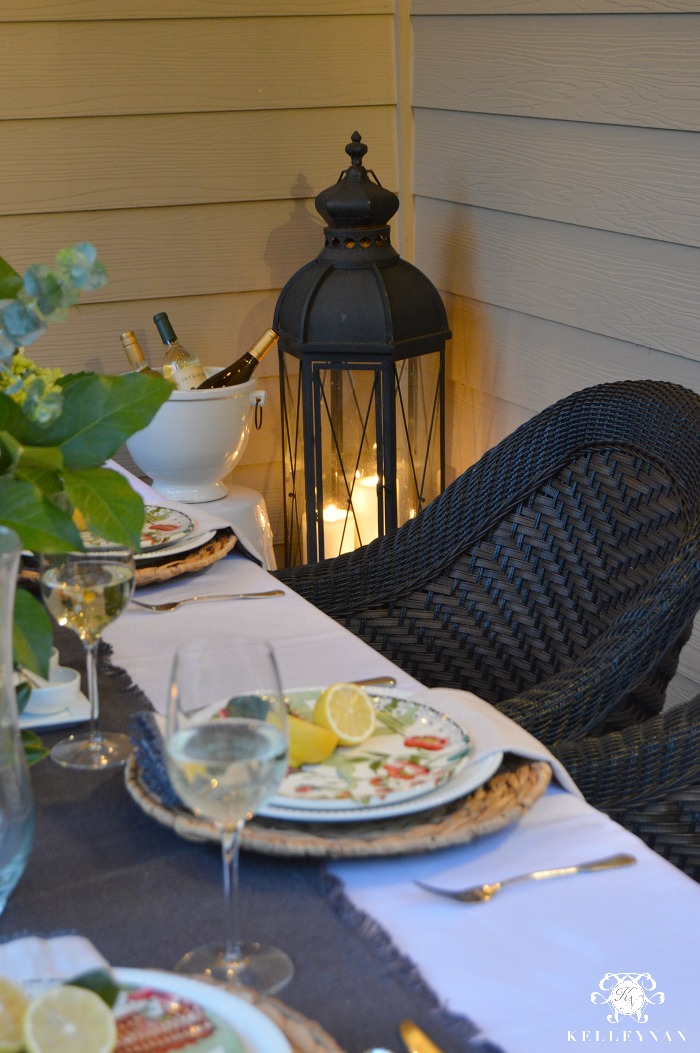 5. Driven by Decor Blog – Three Years Later: Our Before and Afters: Driven by Decor is one of my absolute favorite blogs. I always feel so inspired and motivated after visiting Kris' page and whenever I am needing a good dose of creativity, this is where I always head. A few weeks ago, she collected the before/afters of the rooms she has tackled since living in her Connecticut home and let me tell you- they are INCREDIBLE. Her home is 60 years old and is so relatable to those of us who have ever had to tackle spaces without going full-on, rip-the-walls-down Joanna Gaines. If you are looking for gorgeous, dramatic transformations, visit this post and book mark it. You can check out her post HERE.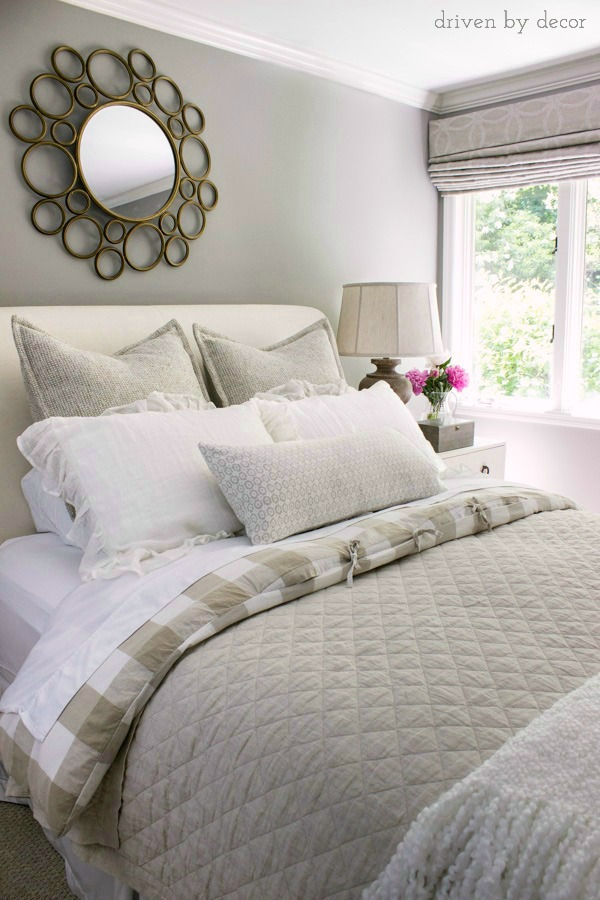 6. Lilly Pulitzer Travel Tumbler: In an effort to not only drink more water, but also to drink more water out of the fridge instead of cycling through 10 plastic bottles a day, I have actually acquired a few of these Lilly Pulitzer tumblers. They are tall so they hold more than a typical cup; this little guy pretty much stays glued to me regardless of where I am. It comes in several fun Lilly patterns to choose from 😉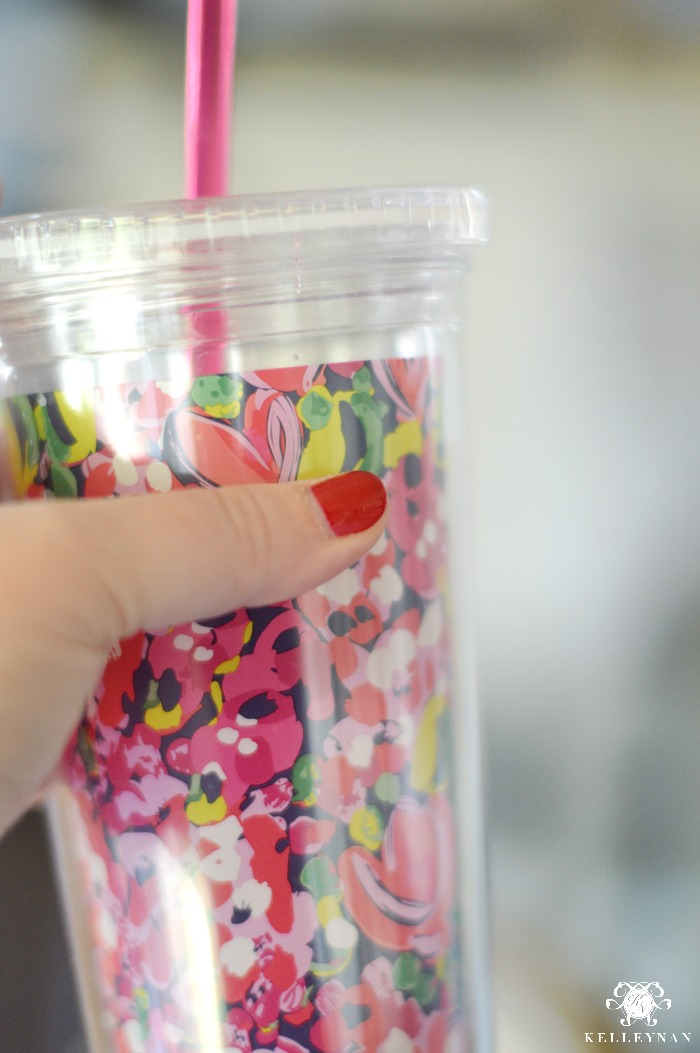 The Weekend Overview
Friday night, we gathered with neighbors for a corn hole tournament (fun, right?). Despite my competitive nature, we didn't win. Actually, we didn't even come close to winning haha. I loved meeting new neighbors though and connecting with people who live nearby. The next morning, despite having possibly enjoyed a few too many gummies ("treats" our neighbor had been soaking for the past five days), I totally slayed a little overdue, morning shopping trip. I have a few fun events coming up so this weekend, I was desperate to stock up on a few versatile pieces. I have talked about my most highly regarded closet necessity – kimonos – before (I wear them on top of pretty much every outfit) – you can dress them up or down and they have become a staple in my closet over the last few years. I was also on the lookout for a few embellished, comfortable tanks to wear under cardigans for my typical "work uniform" when I go out of town on business trips. Lastly, I was in need of a new little black dress. I'll count my day as a win because I am thrilled that I scored a little bit of everything I set out to find.

My favorite kimonos have billowy sleeves and a tapered bottom. These are some of the adorable numbers I couldn't pass up.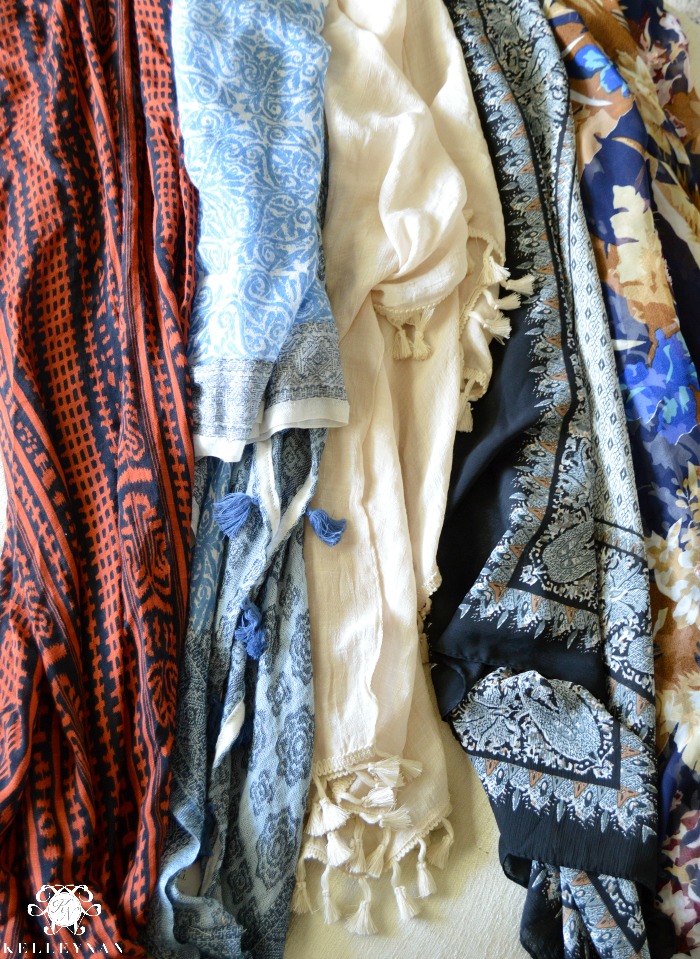 Vasilisa Silk Kimono | Meson Kimono | Genoveva Kimono | Meena Paisley Kimono
Each of these swing tops are so comfortable and have just enough embellishment to dress up the cotton.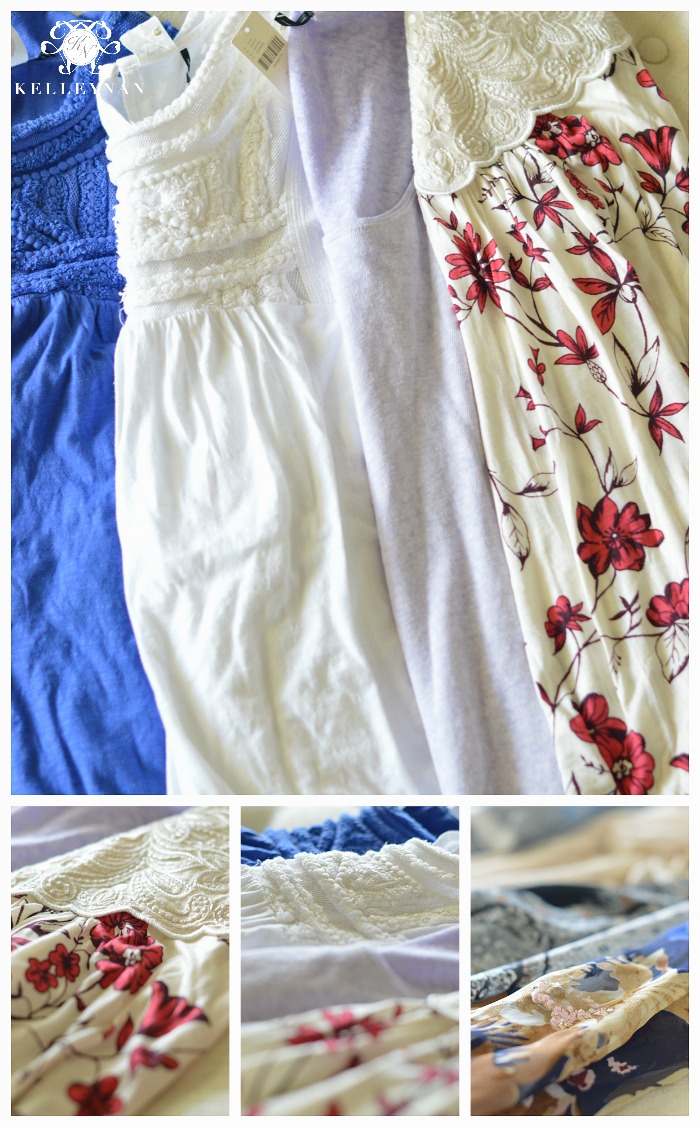 Savoy Swing Tank | Kennedia Tank | Otranto Tank (blue and white)
This black peplum top may be my new favorite top. If you have been wanting to try a peplum, this is a fantastic option- it has some spandex and give and the peplum isn't obnoxiously oversized. I LOVE this piece! The v-neck black dress at the bottom is also a new favorite. It is super flattering and you can adjust the neck to be as modest as you want. It is also made with spandex and I can't wait to pair it with one of my new kimonos.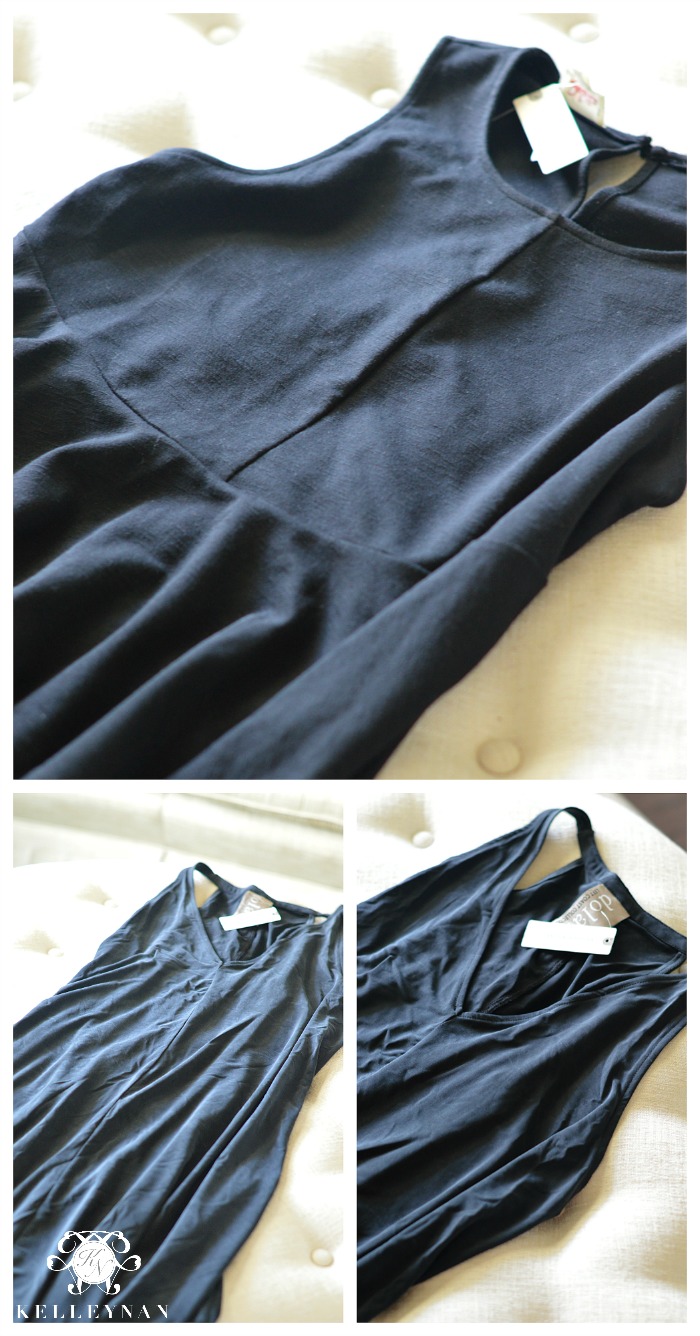 Savona Peplum Top | Willa Dress
After I stocked up on some new pretties for my own wardrobe, I set out to pick up a few new shirts for the mister. He used to be a "Polo-only" kind of guy but when we discovered Vineyard Vines, he became hooked. He has slowly stopped wearing most polos in exchange for these button downs. They are a little more expensive than Polo, but, the quality is unmatched. My favorite part about this brand is that while most collars get wrinkled and bacon-like in the laundry, these stay perfectly straight and starched. For someone who does not iron (I mean, like ever), these are a DREAM. He also loves a front pocket which has become increasingly more difficult to find- these never disappoint.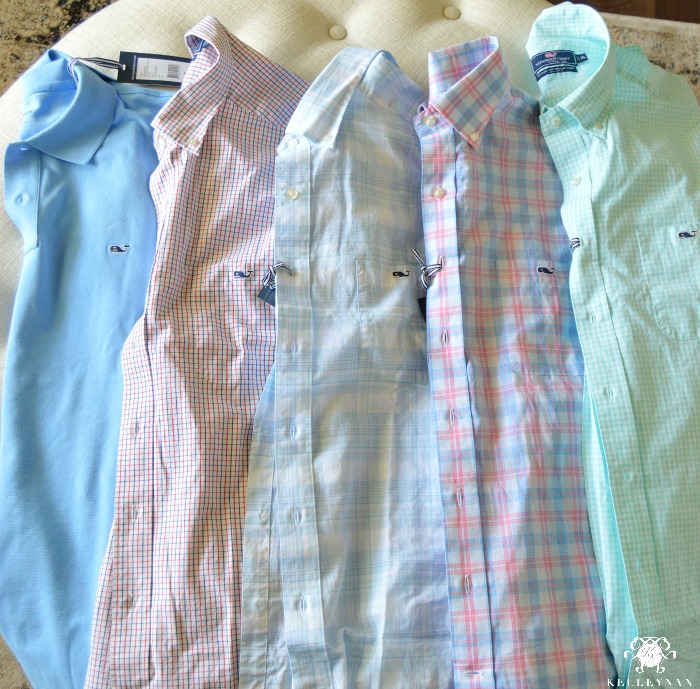 Vineyard Vines Classic Pique Polo (Ocean Breeze) | Vineyard Vines Classic Tucker Shirt Scupper Check (Baltic Blue) | Vineyard Vines Lahloo Plaid Tucker Shirt (Crystal Blue) | Vineyard Vines Tucker Shirt Grace Bay Plaid (Surf Blue) | Vineyard Vines Topsail Gingham Tucker Shirt (Ocean Breeze)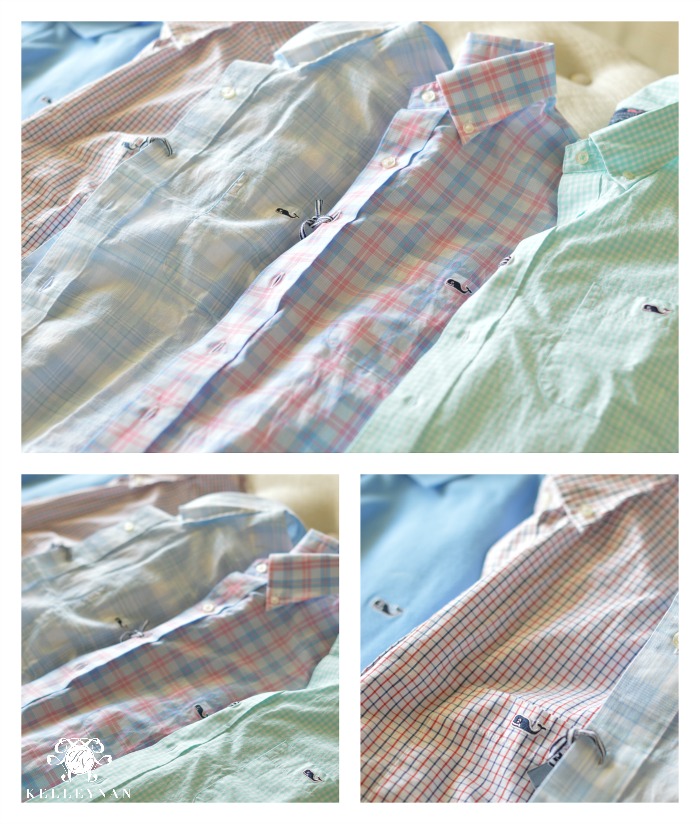 Lastly…
I'm on the hunt for a few more goodies, but I wanted to wait for the Nordstrom Anniversary Sale to find some good deals. If you don't know about the sale, it's literally their biggest sale of the year where you can find clearance-type prices all across their site. Now through July 21, you can take advantage of the sale before the rest of the public if you have/sign up for a Nordstrom credit/debit card. They are infamous for selling out quickly during this annual sale so be sure to shop early! From home to clothing, the sale ends on August 7. As I shop, I will be linking to some of my favs to stay tuned 😉 You can start shopping HERE.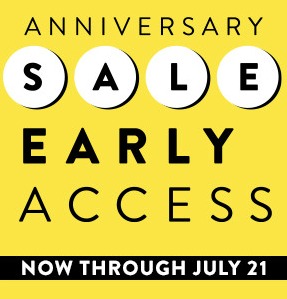 *Note: Post contains affiliate links and sources throughout the post.