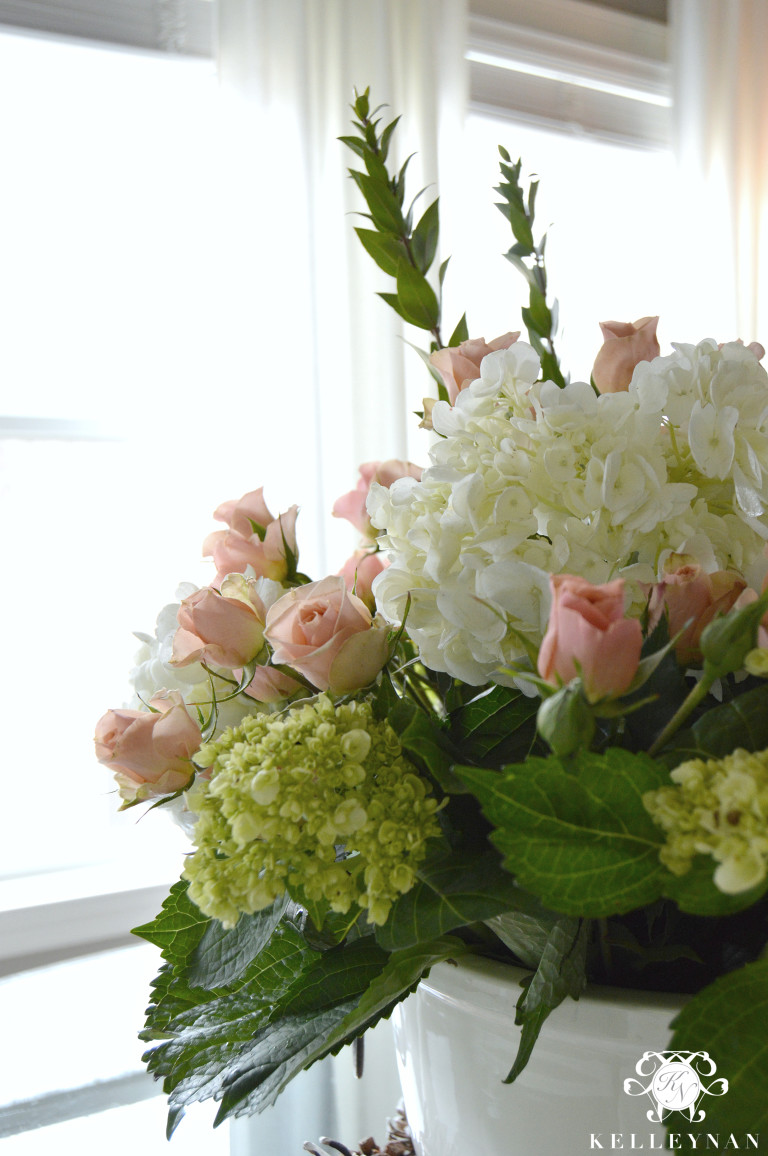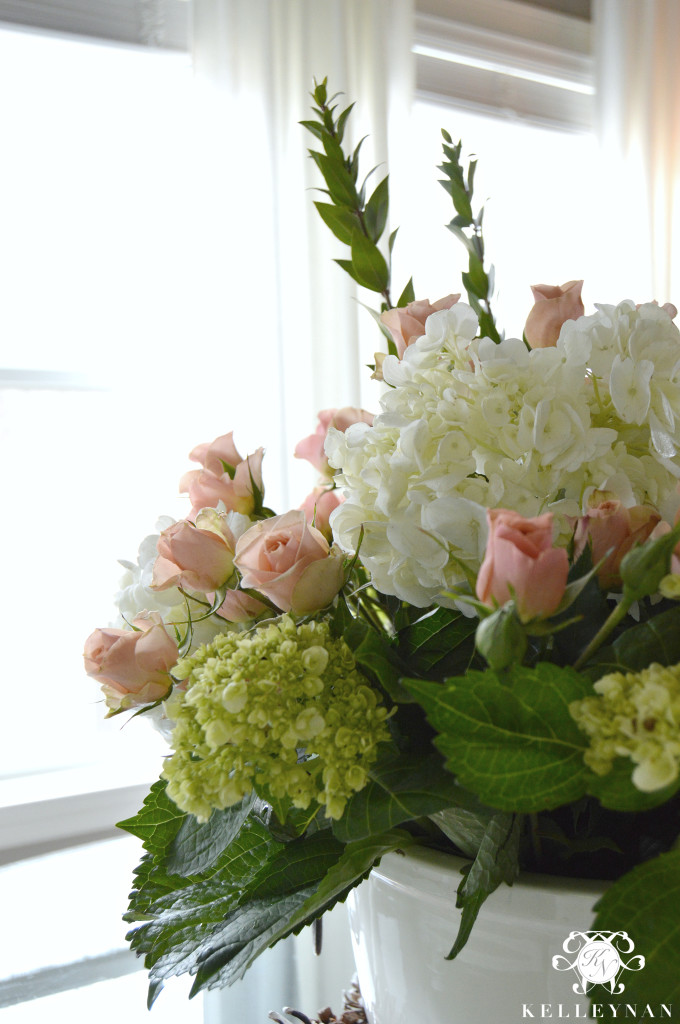 One of my favorite simple pleasures in life is keeping flowers in our home as regularly as possible. Fridays have been dubbed as "Flower Fridays" because more often than not, my husband stops and picks up a bunch or two on his way home from work; it truly is a great way to start the weekend. When I am creating floral centerpieces, especially for special occasions, I like to go BIG. As in, could possibly be confused as being brought home from a wedding type of "big". Costco is my go-to because I can get a lot for a little… and, while our local grocery store has more pre-made bouquets, Costco keeps a great selection of same-stem bouquets so I can create custom arrangements. Even if I do select a pre-made arrangement, the chances that I keep the bouquet as-is without adding, splitting it, etc. are slim to none.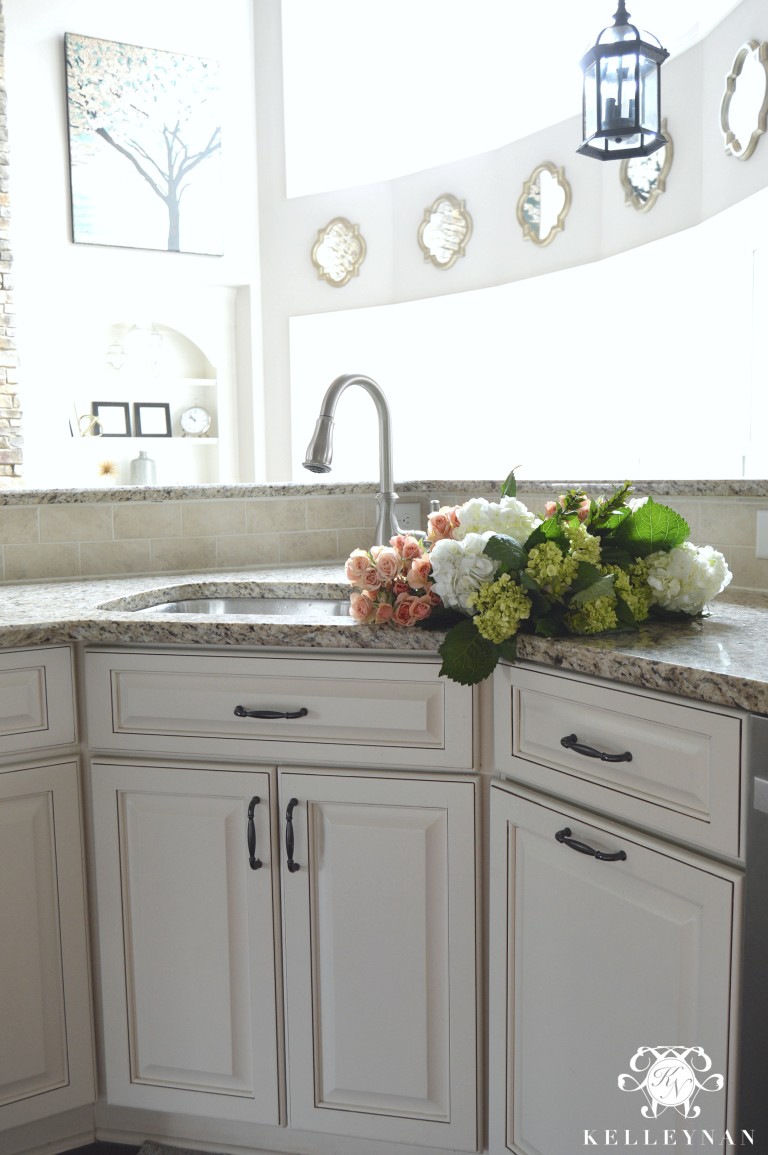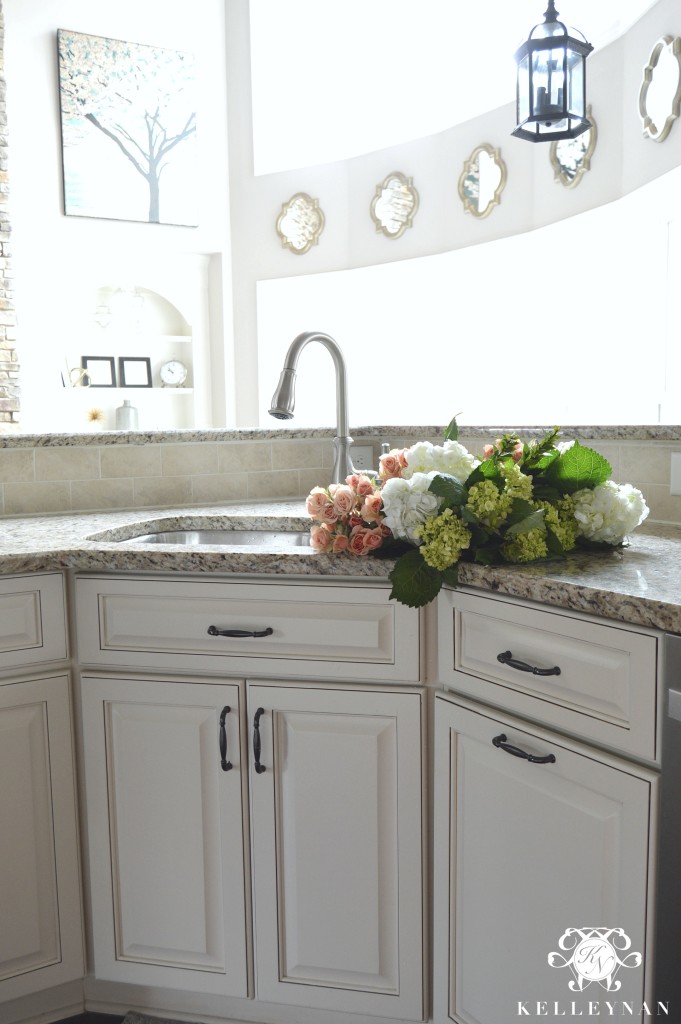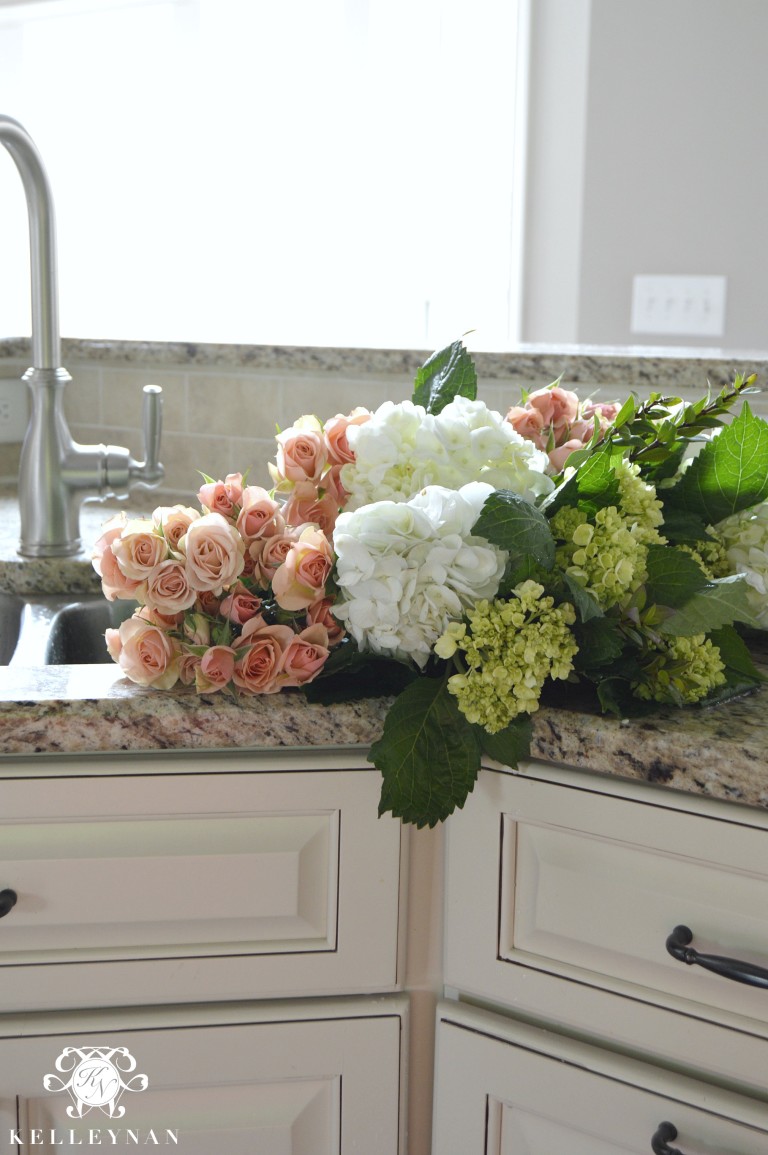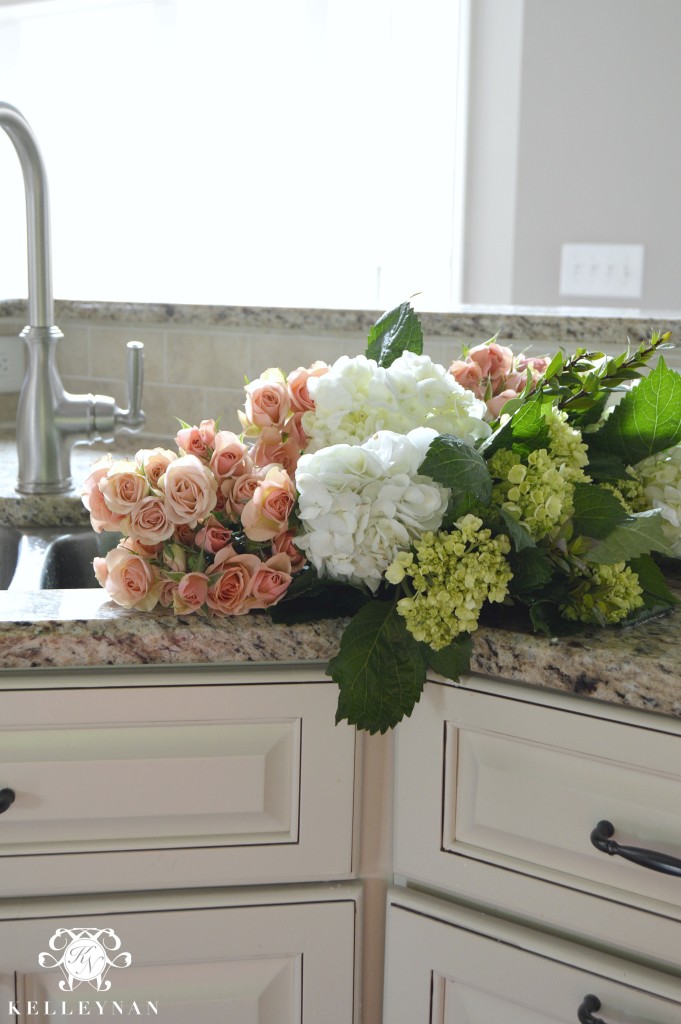 Few things hurt my heart more than seeing someone cut open the plastic wrapping a bouquet, and dropping the full bunch of flowers directly in a vase of water. Because I bring home flowers so often and I don't want displaying them to be a "chore", I most certainly am not going to devote the extra time of using floral foam, or a Martha Stewart-style grid support. I have to keep it simple and am all about finding shortcuts. While I do not claim to be a professional floral designer, I will share some tips I have learned in styling and the method I use to easily create large, sumptuous arrangements.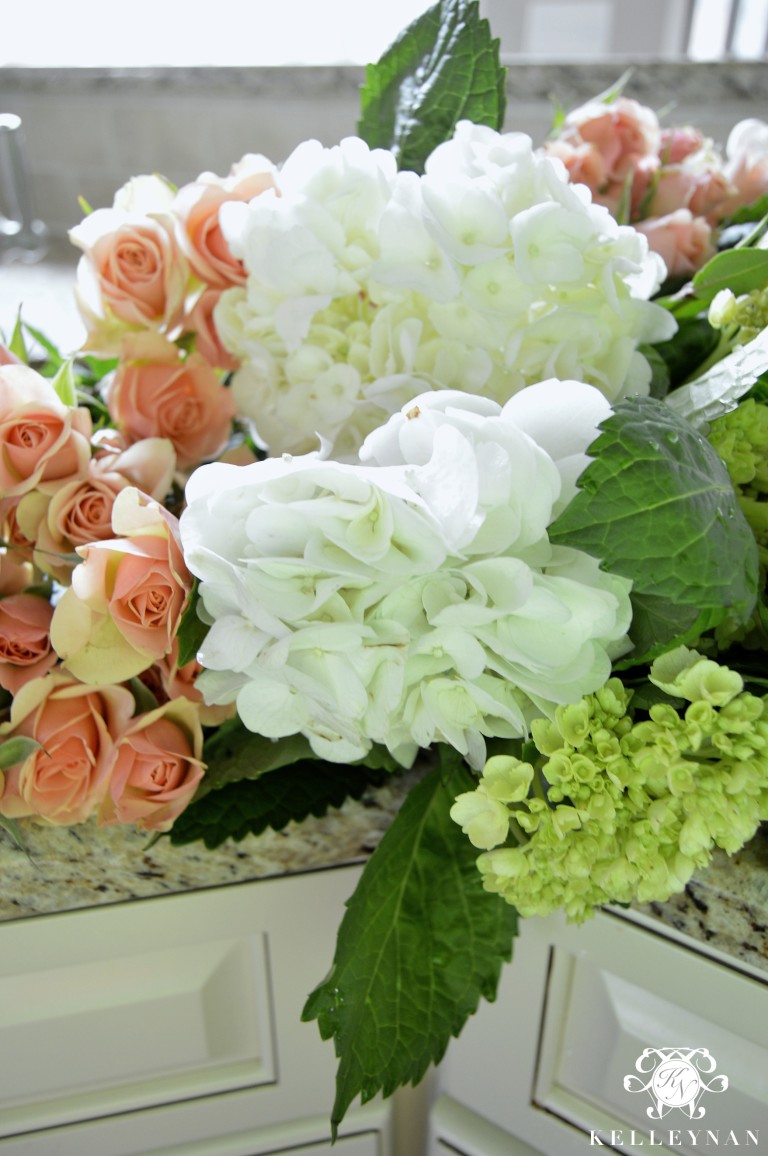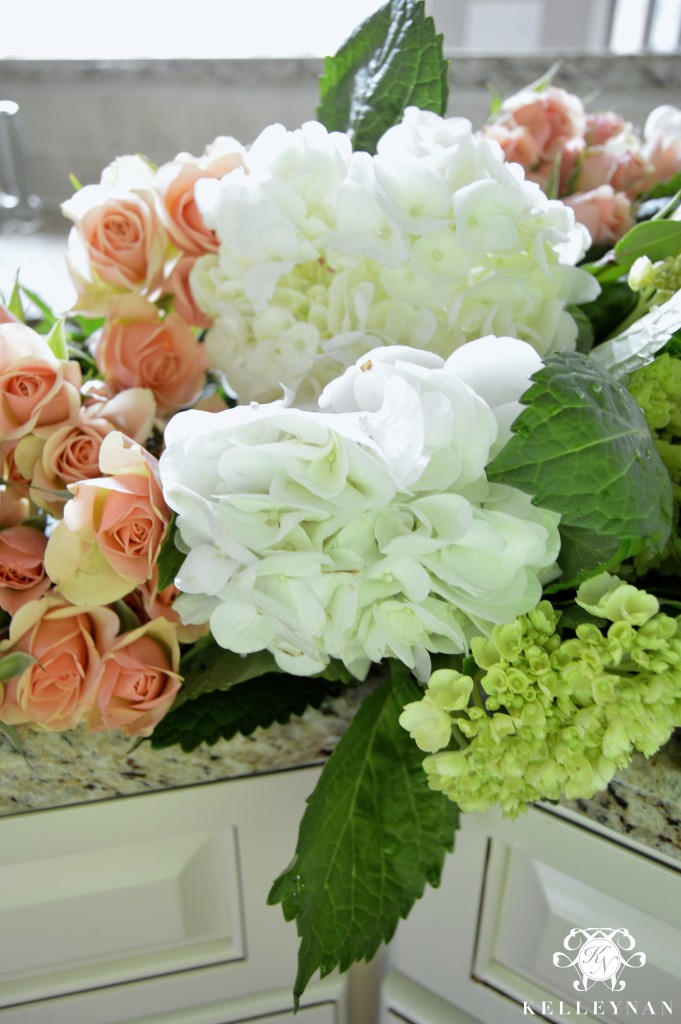 If I am going for a big arrangement, here are a few types of things I look for when selecting my flowers:
Something "beefy"/leafy has a thick, strong stalk
Something that has "girth" and covers well
Coordinating colors
For this arrangement, I went with white hydrangeas (which came with some green stalks), green viburnum, and baby coral roses. I fill my sink with cool water, cut through the bands and the plastic, and lay them in for a "drink" while I am doing some quick prep. I actually lay the hydrangeas upside down with the bloom directly in the water for a little while first.
When I look for something in which to arrange my flowers, I try to think outside the box. Basically, anything in my home that has an opening and doesn't leak is fair game. (Did you see when I used a trashcan as a centerpiece HERE?) For this arrangement, I decided to go with my Pottery Barn ice bucket. I have the wine cooler and beverage tub from the Rhodes collection also and they have been a staple in every gathering/celebration I have hosted. You can see them HERE.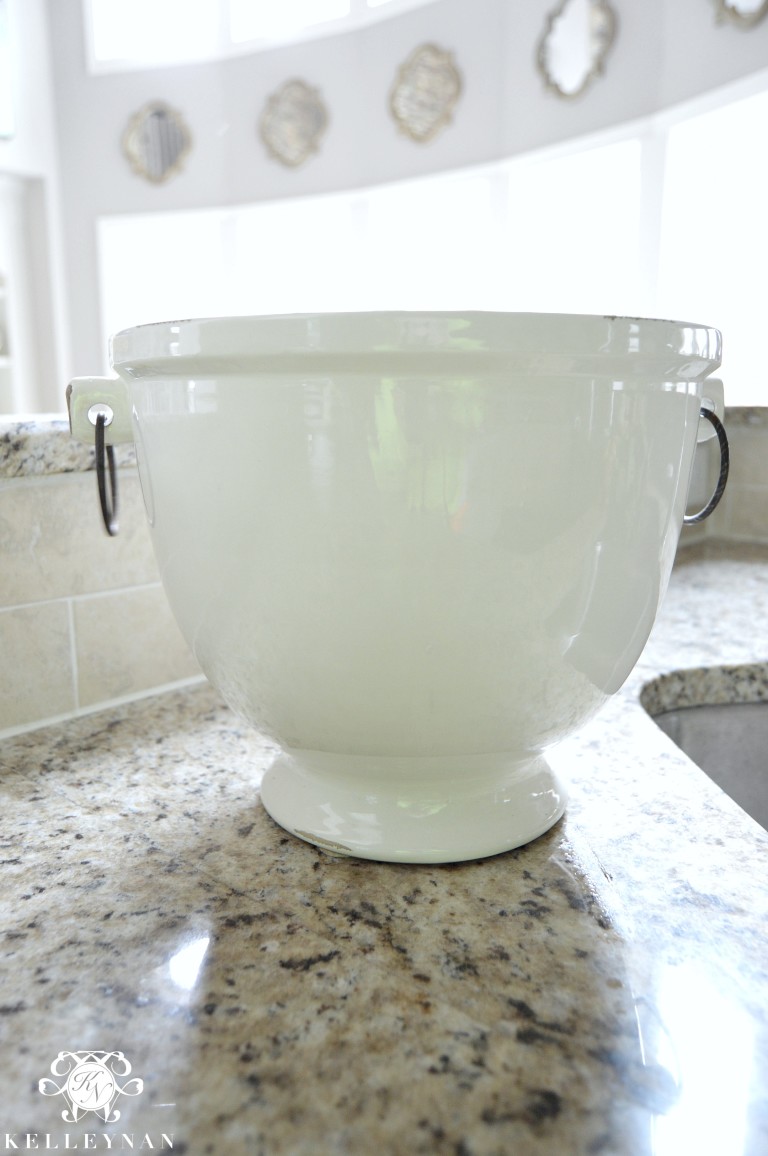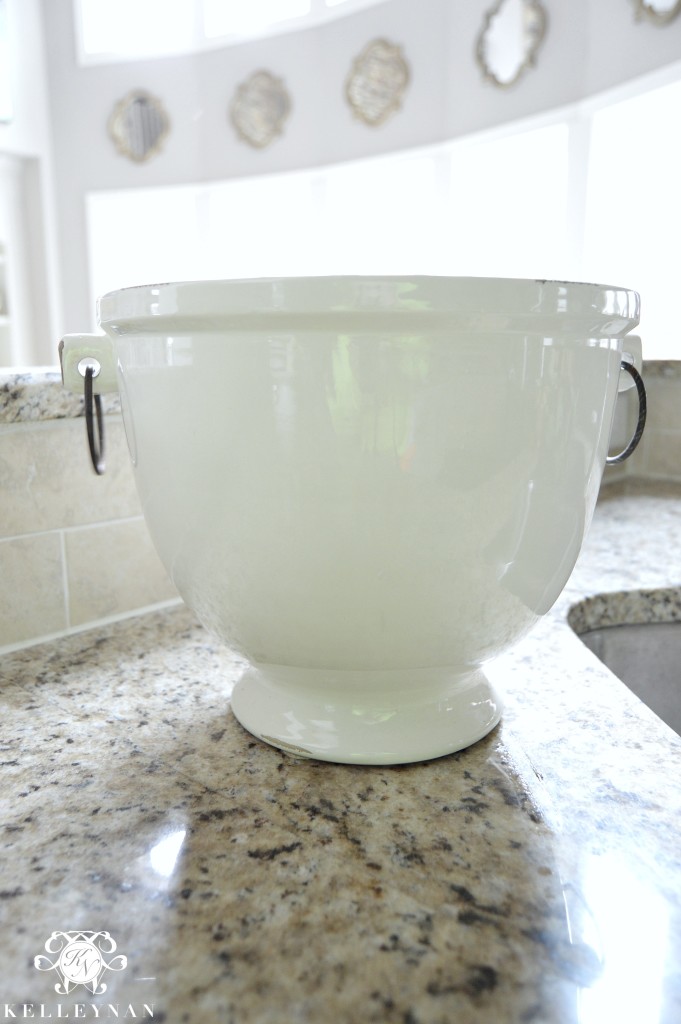 Fill the receptacle (in this case, the ice bucket), and add the flower food. Start with your flowers that have the widest/strongest stems. If you are using greenery/flowers that cascade (such as the cedar greenery I used in my Christmas tablescape), you can start with those pieces first. Trim the end at an angle. If the stems are really thick, use a knife or clippers made for pruning.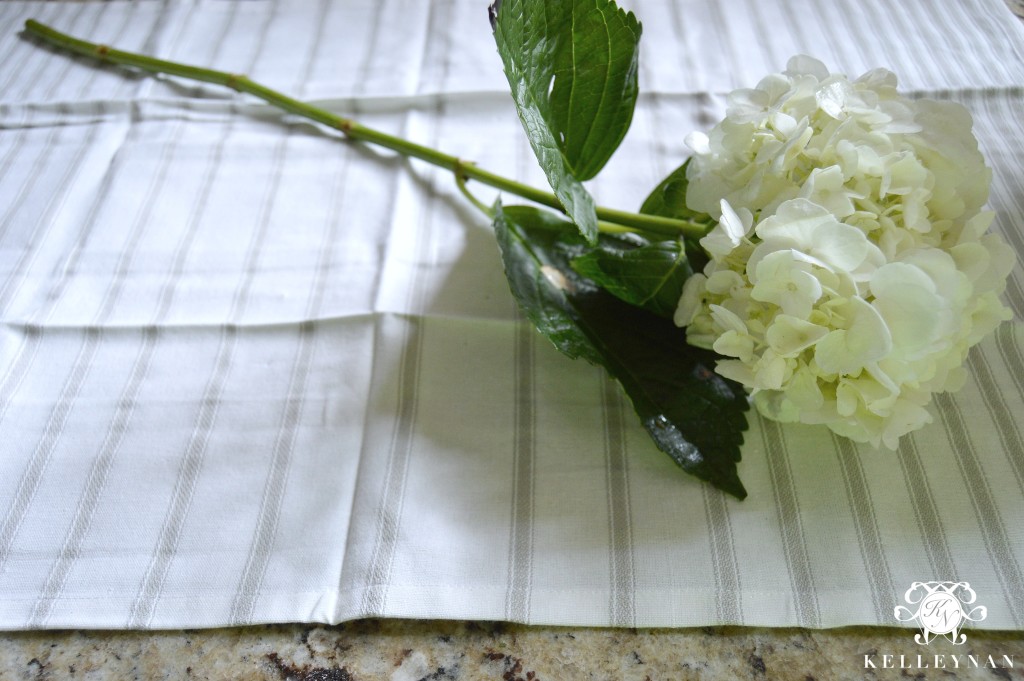 You don't want your stems to be too short or the vase/receptacle won't fill out evenly. You also don't want the arrangement to be too "tight". Since this base is wide, I trimmed my first hydrangea stems to hang over the edge as pictured below. The stem is stretched to the bottom opposite side of the bucket.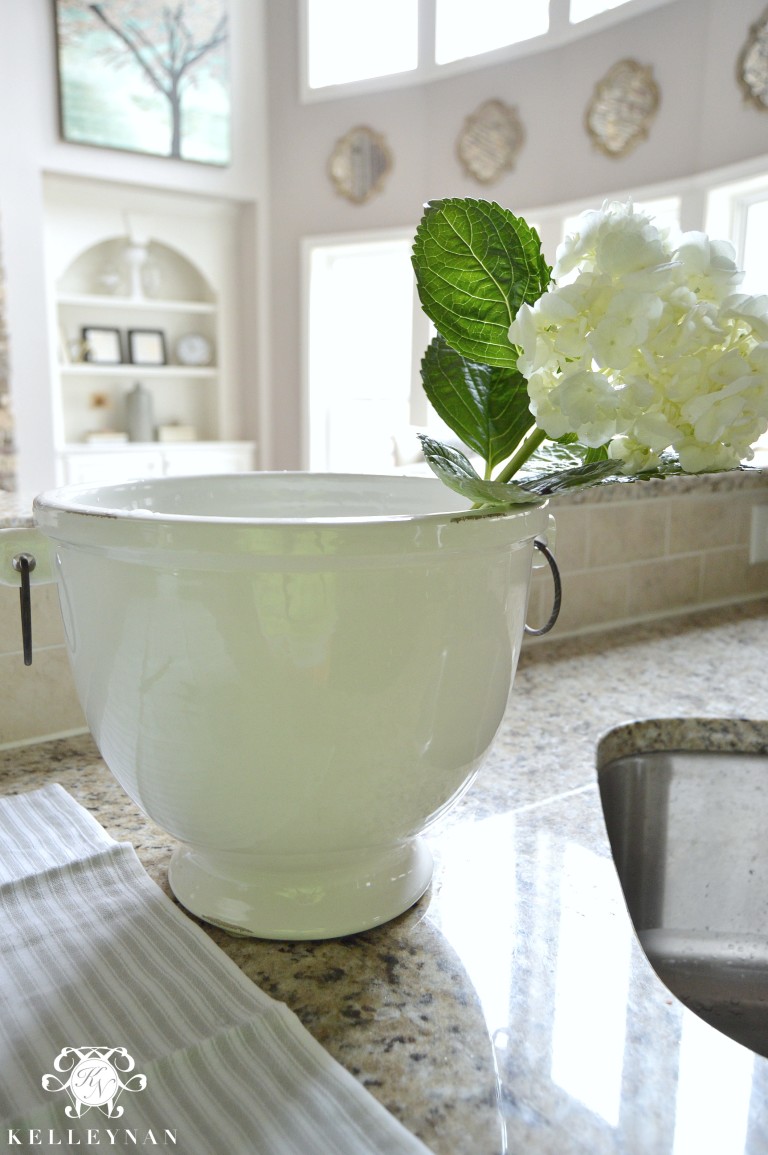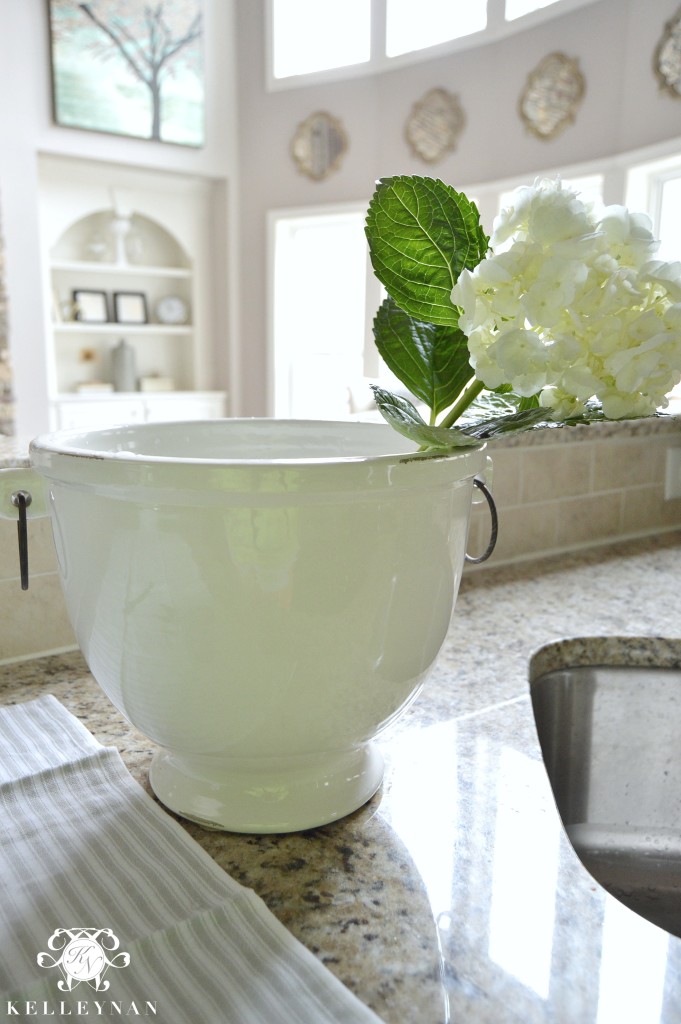 Take a second "beefy" stem and place it in the opposite direction, crossing stems with the first.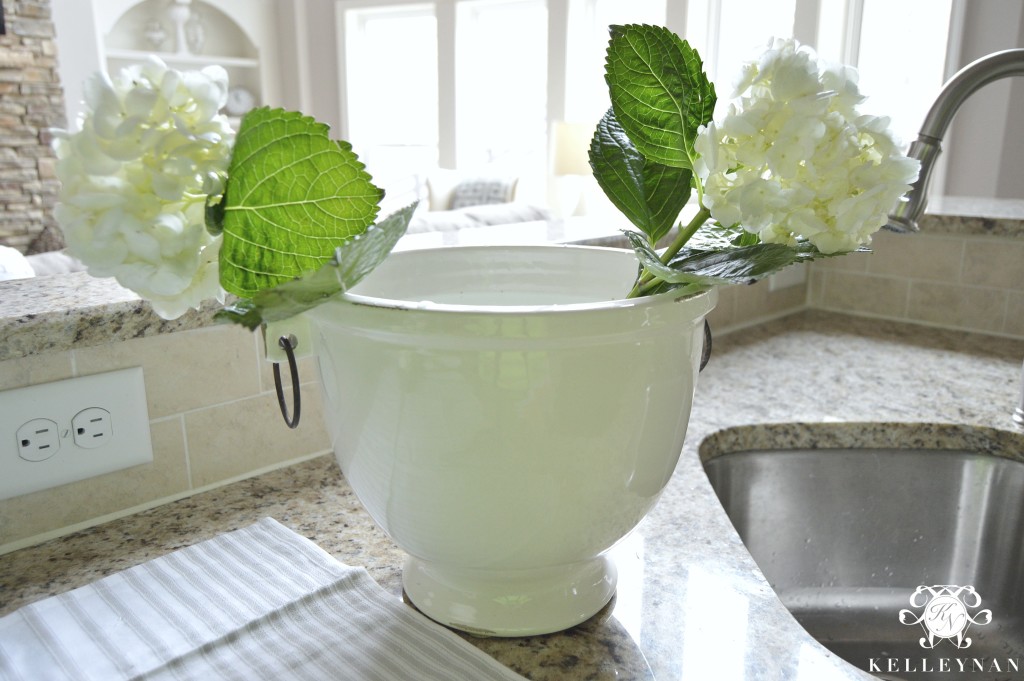 Take a third stem and place in stretching between the first two.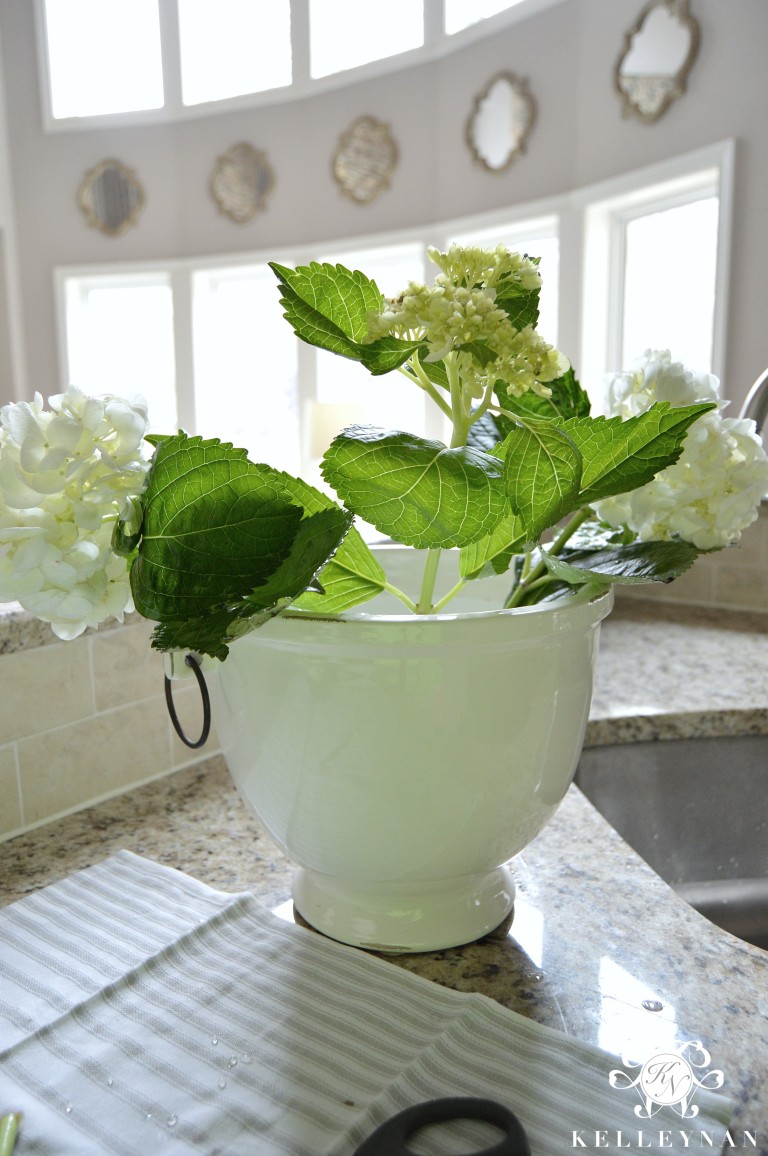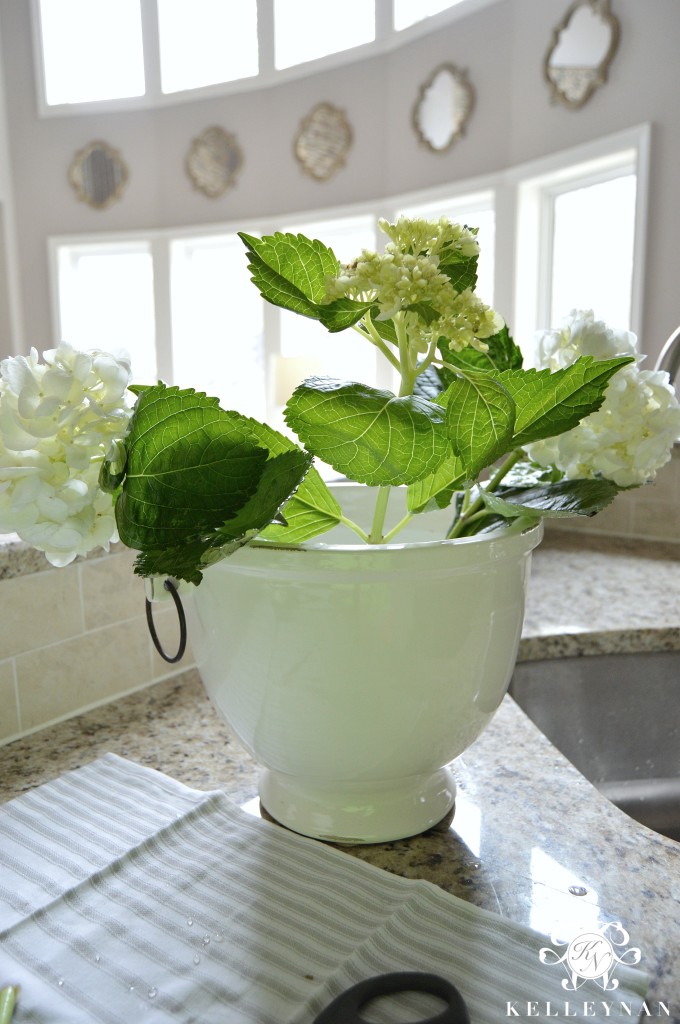 Your stems should be crossing to form a base; this will be important later.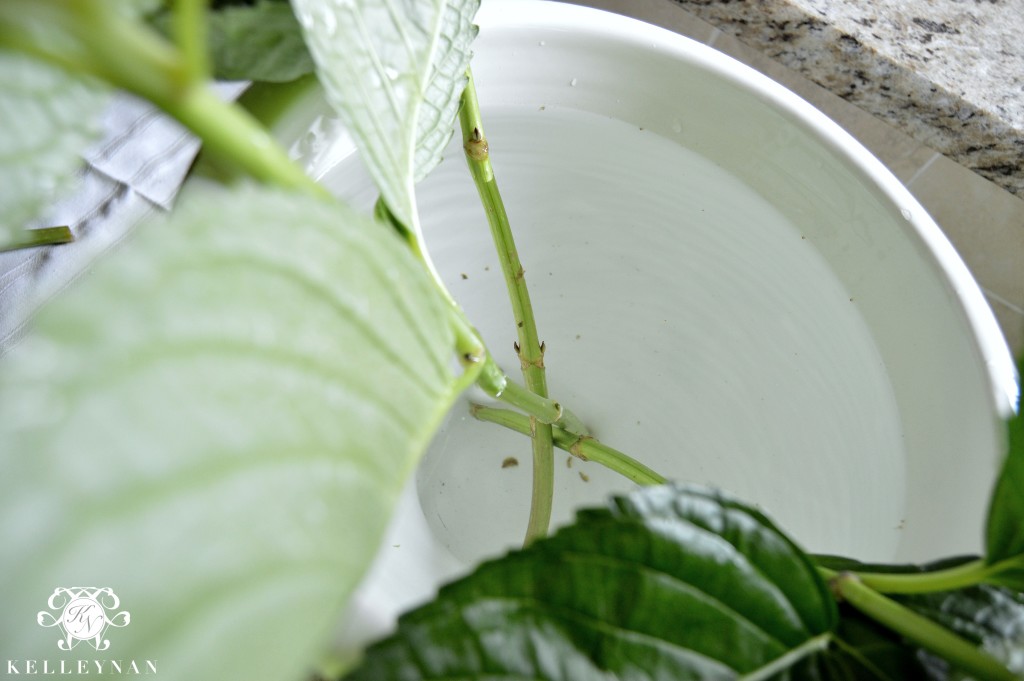 Take a fourth stem and arrange it so there are four points evenly around the receptacle.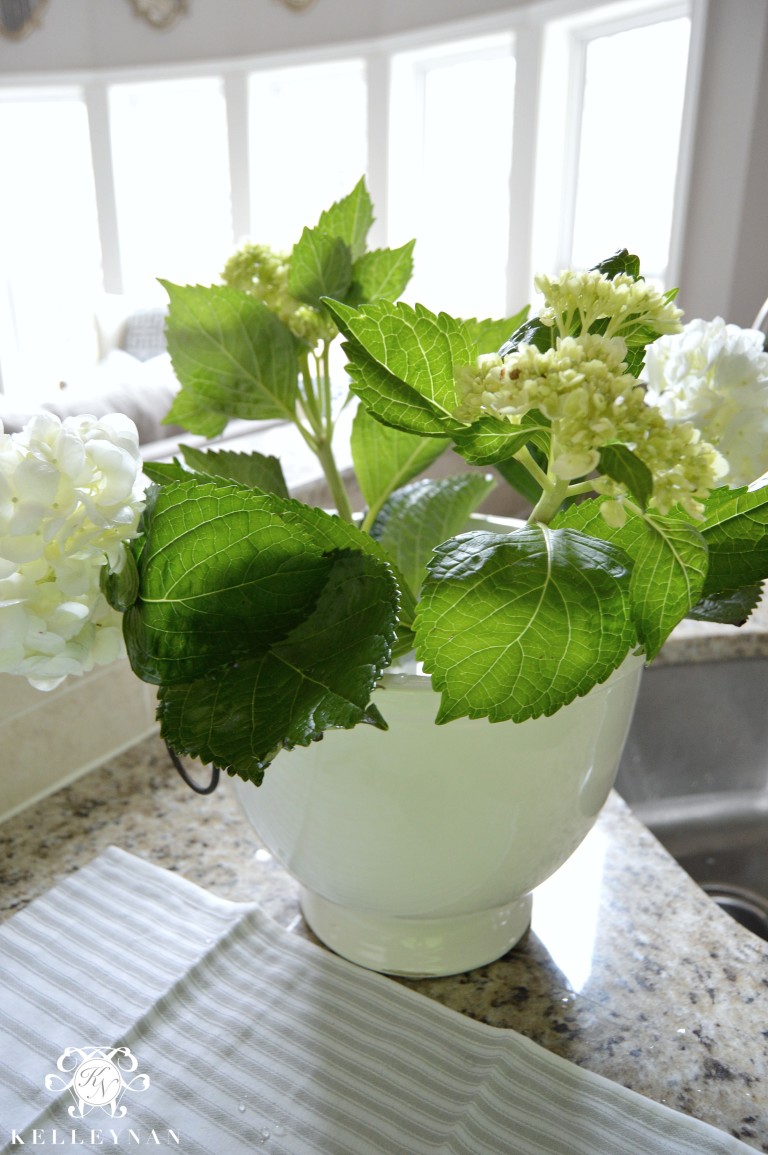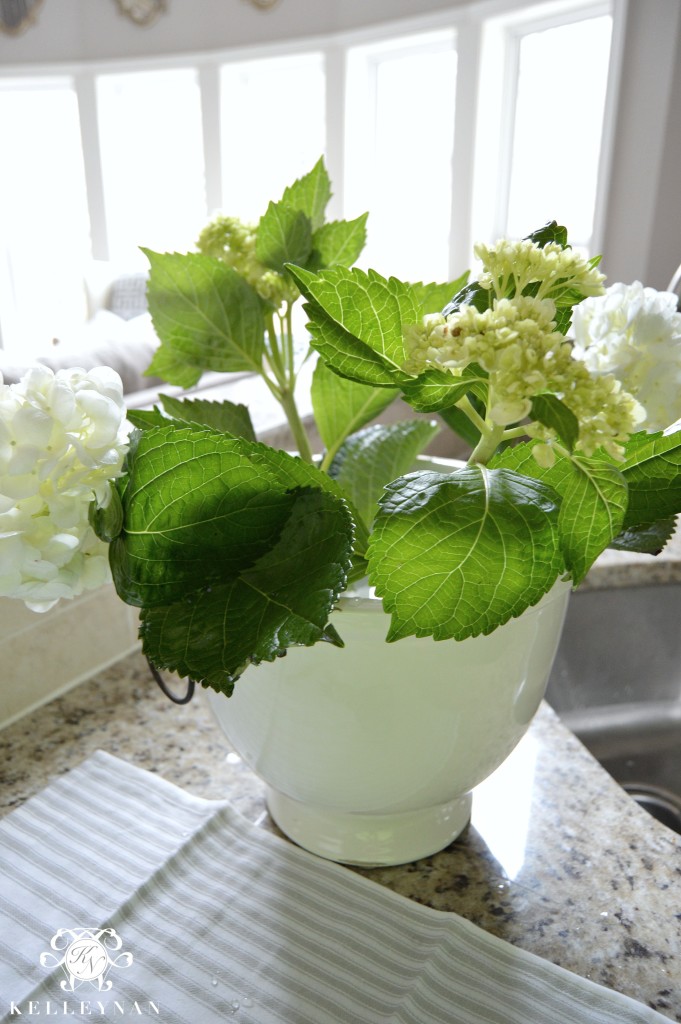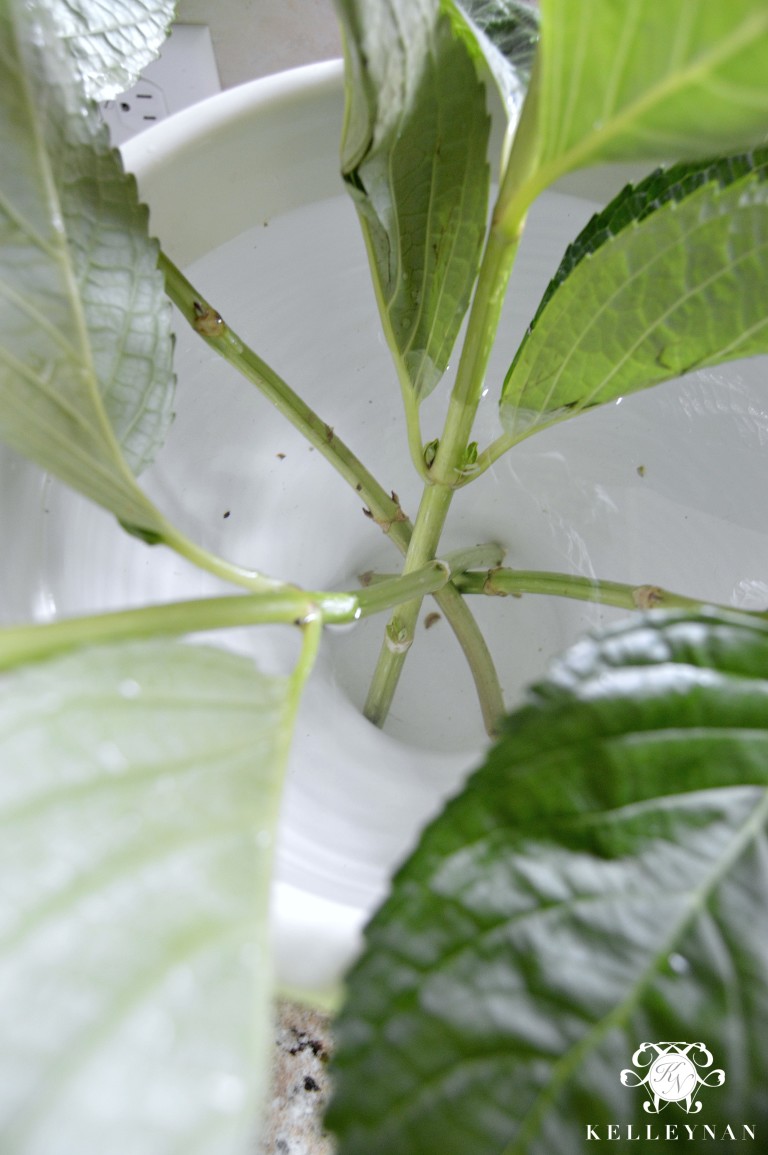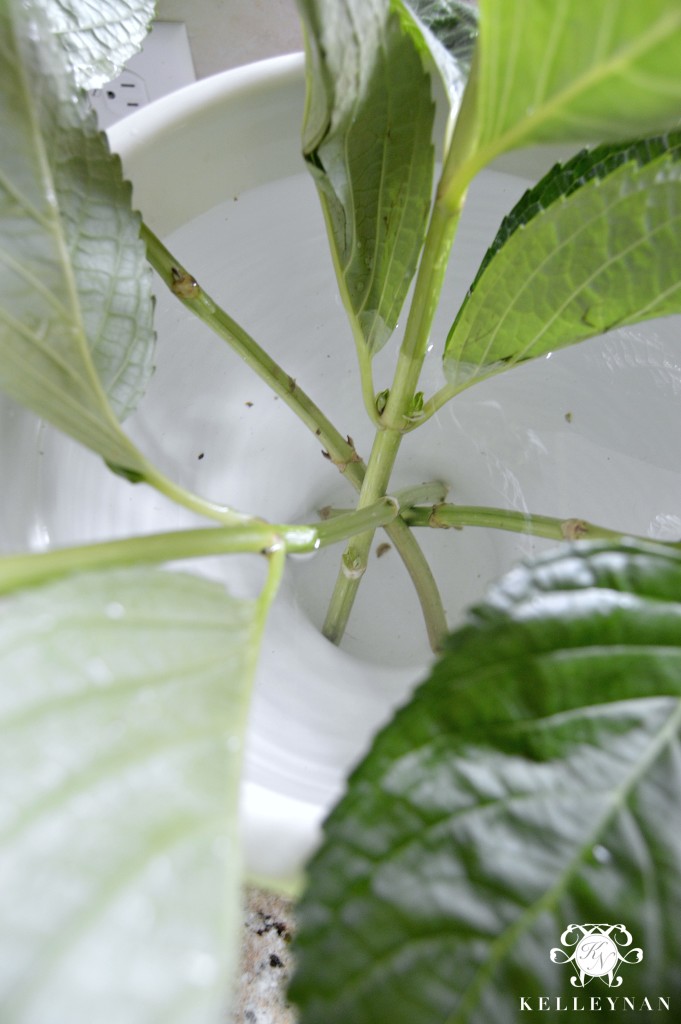 Once you have your four anchor flowers, you can start to build upwards. Take a fifth stem and cut to a similar length, and try to prop it up directly from the center, using your stemmed, weaved base as a support.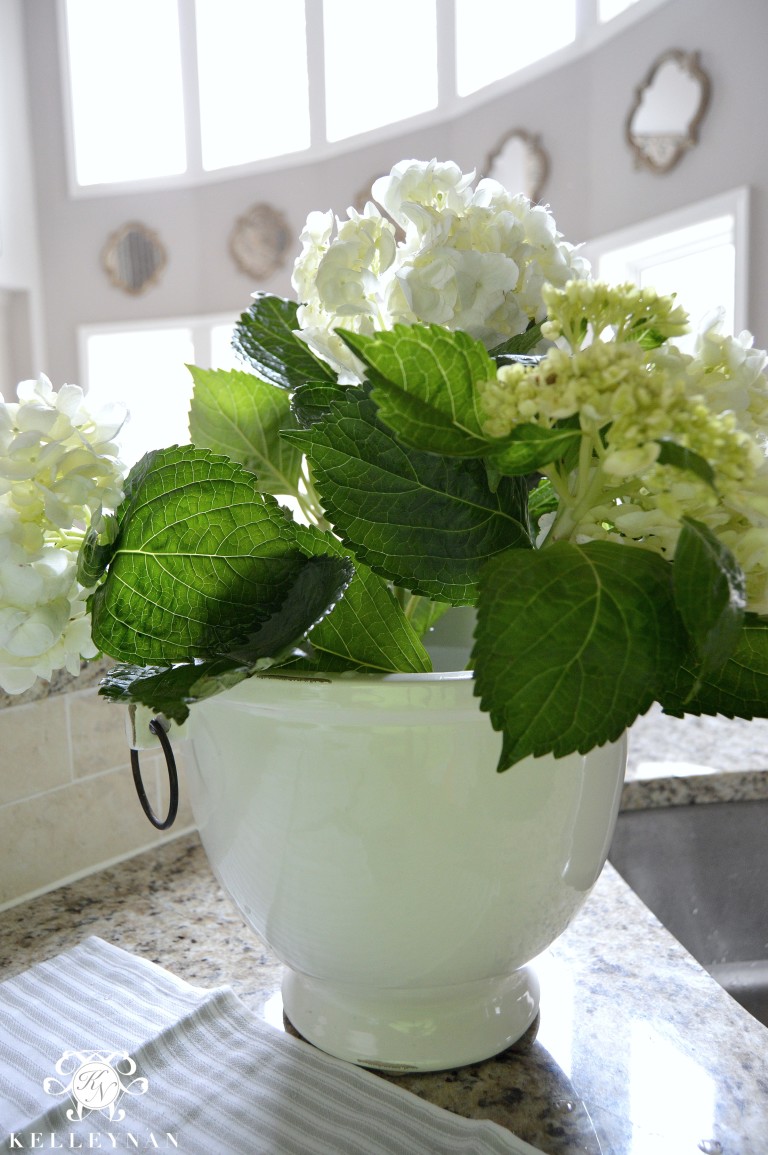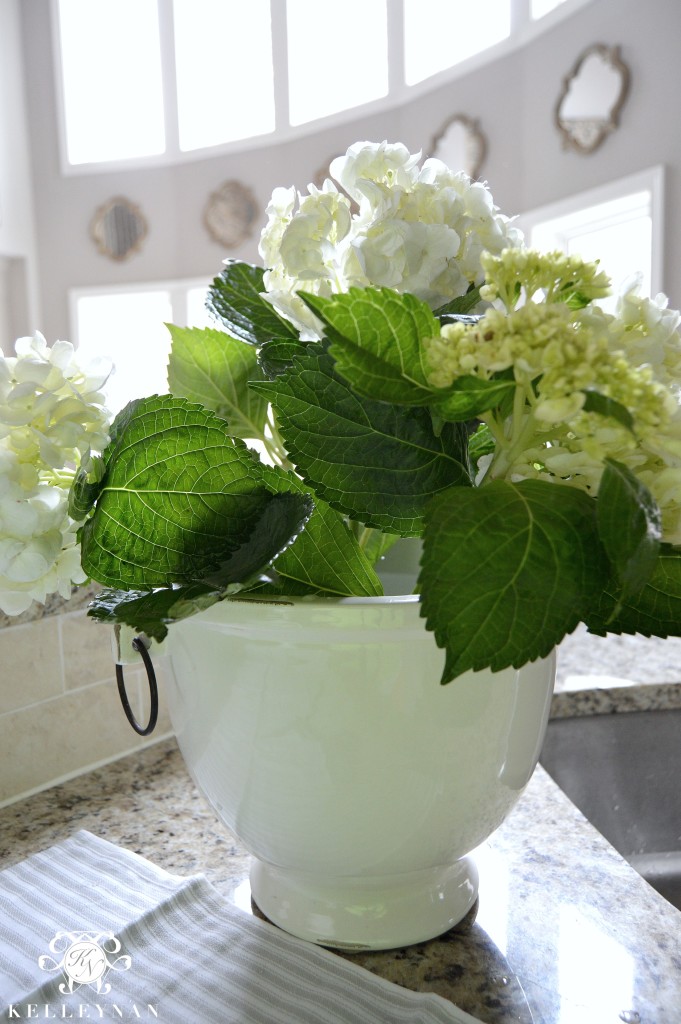 If your flowers shift a little, you will have a chance to move them a little as you add more flowers. Repeat the process of evenly distributing your thickest stems, trying to intertwine the stems in the bottom of the receptacle.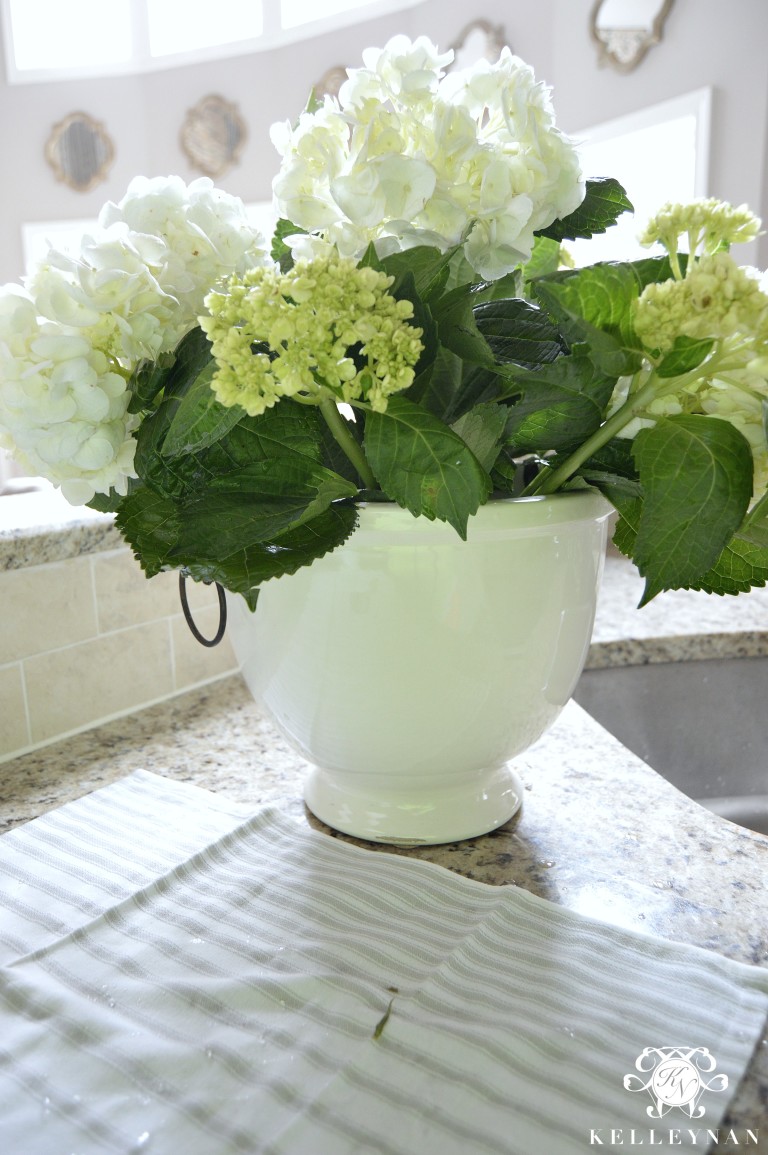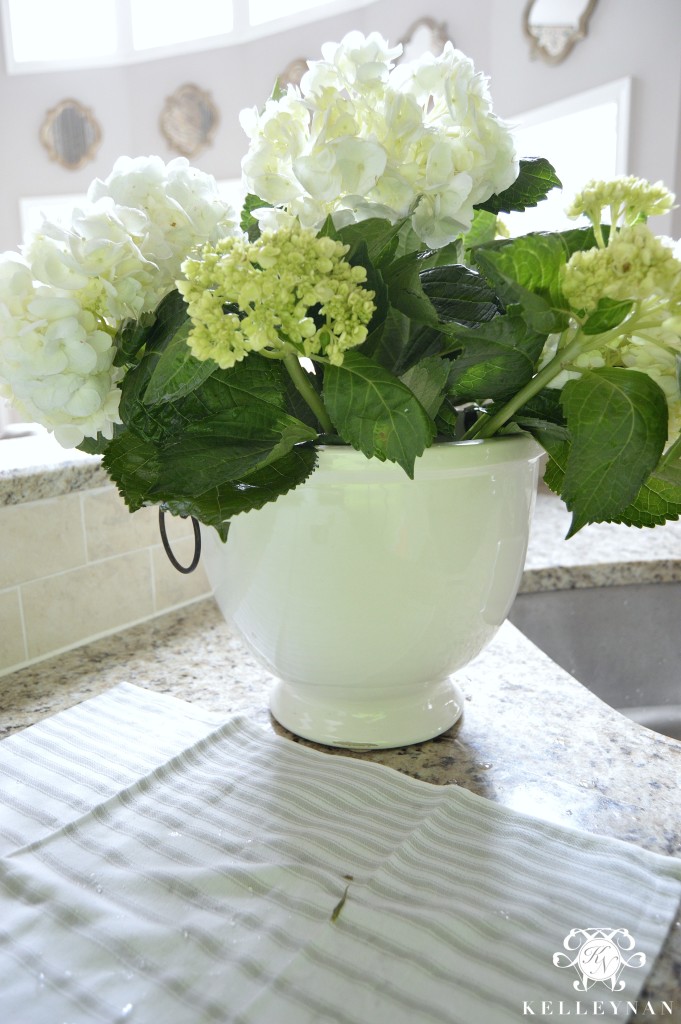 When the thickest stems are in place, start cutting the stems to your smaller flowers to a similar height.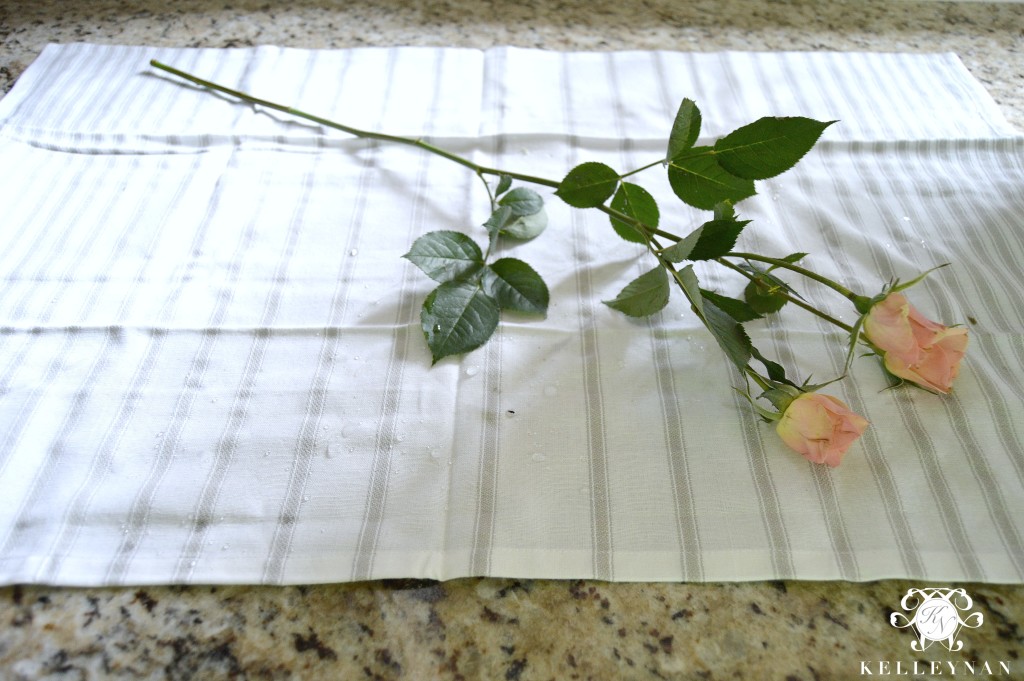 The baby roses come in bunches which makes it an easy way to fill in the spaces.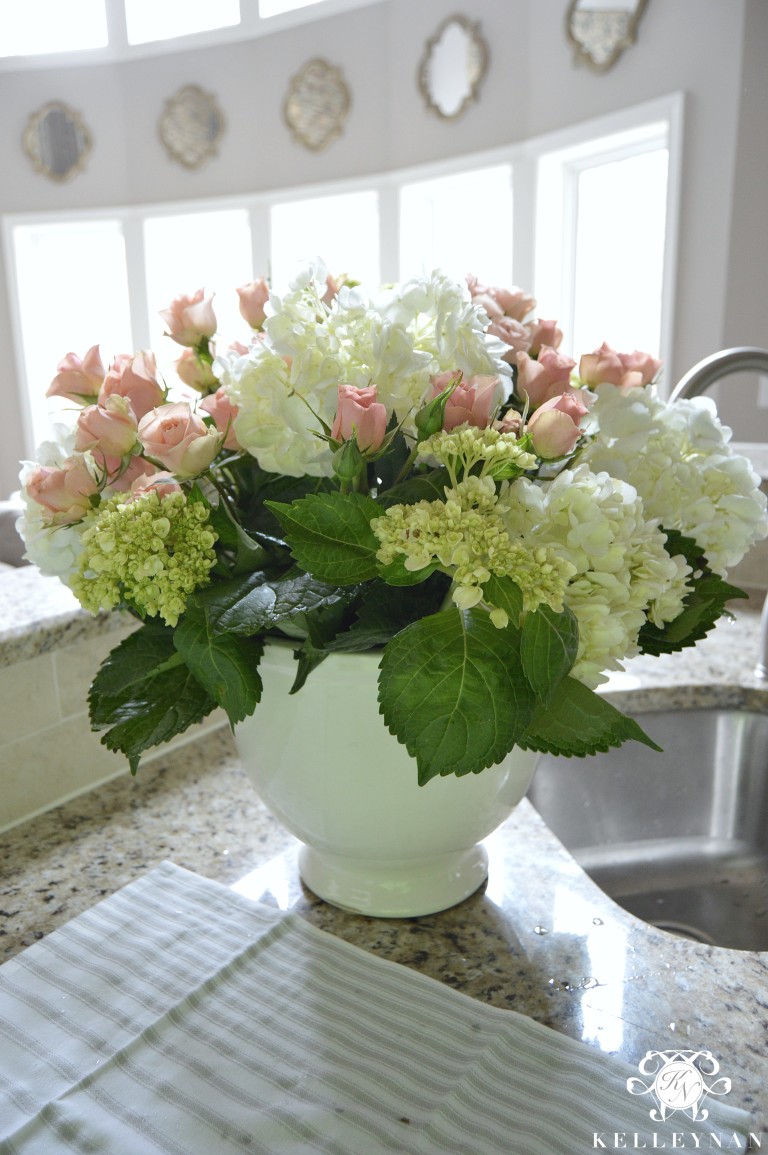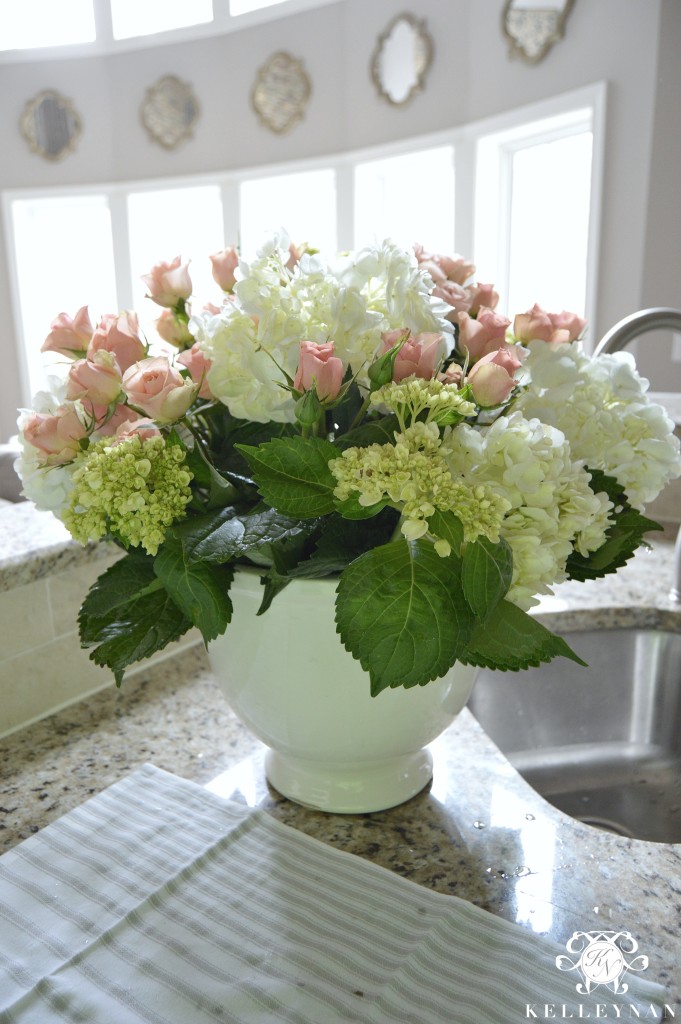 At this point, it is easy to add in any final "interest" in the form of branches, smaller flowers, ground cover, etc. Since the white hydrangeas came with a couple of leafy stalks, I placed those sporadically, facing up to complete the arrangement. You can also add in some of your own backyard nature.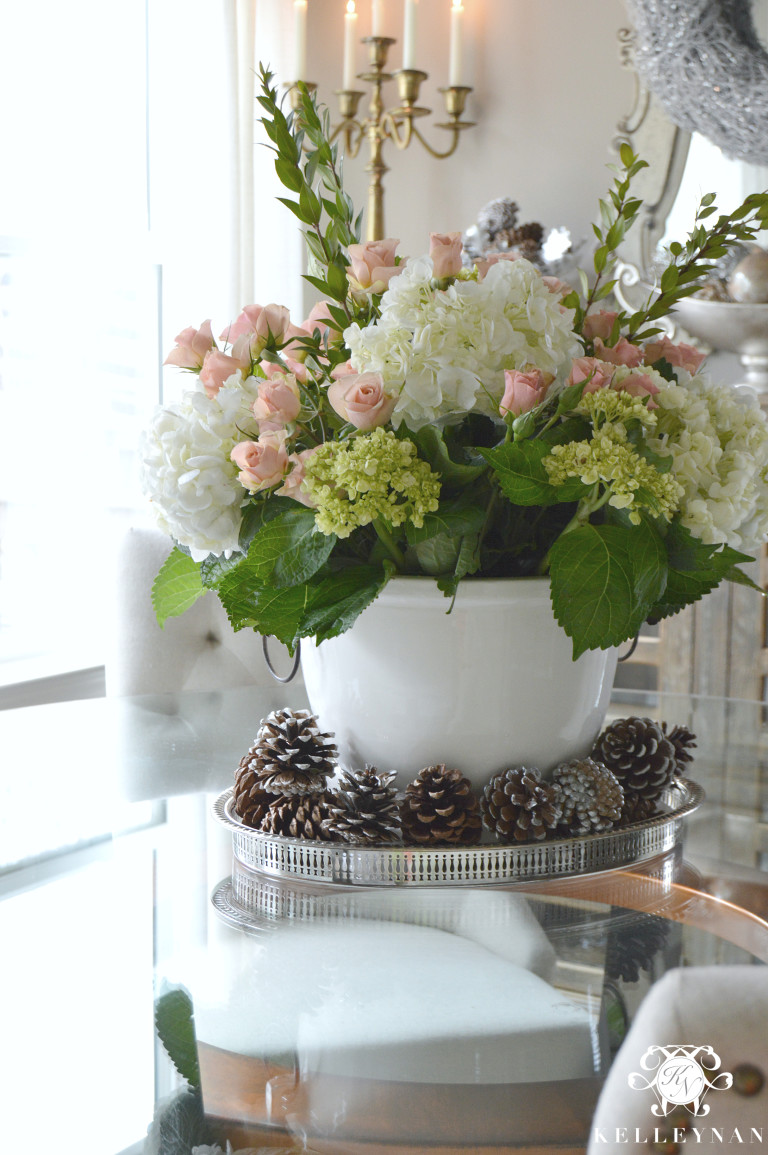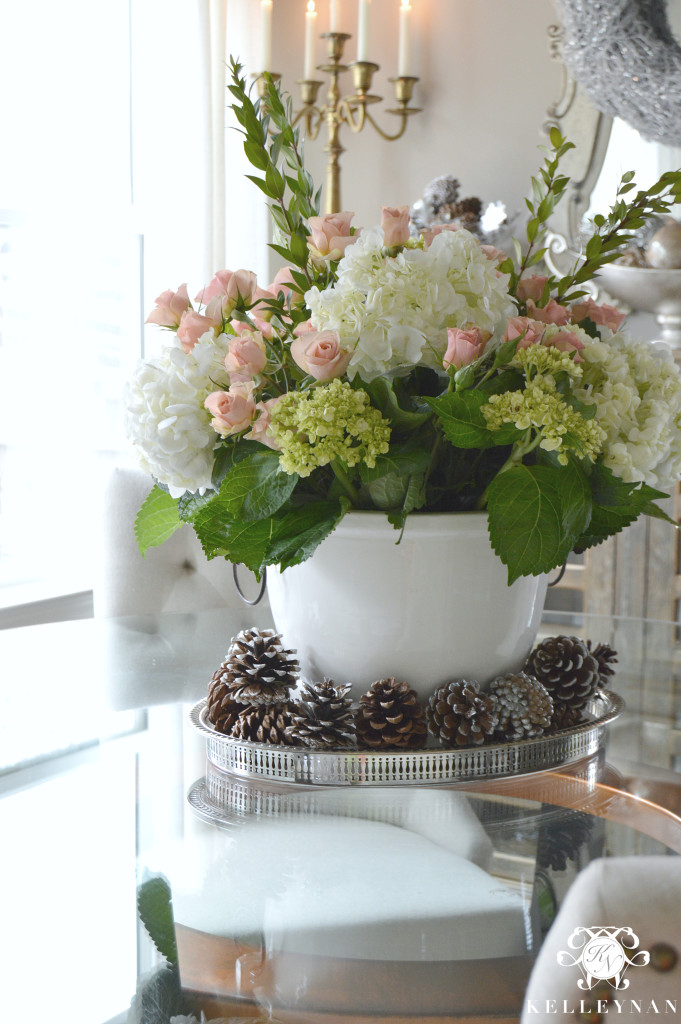 The entire arrangement took about 10 minutes to create from start to finish. It is super easy to pull together and the result makes an awesome impact. In expanding large floral arrangements, two things to keep in mind are to grow it outward by using longer stems and to use the flowers already in place to build on itself.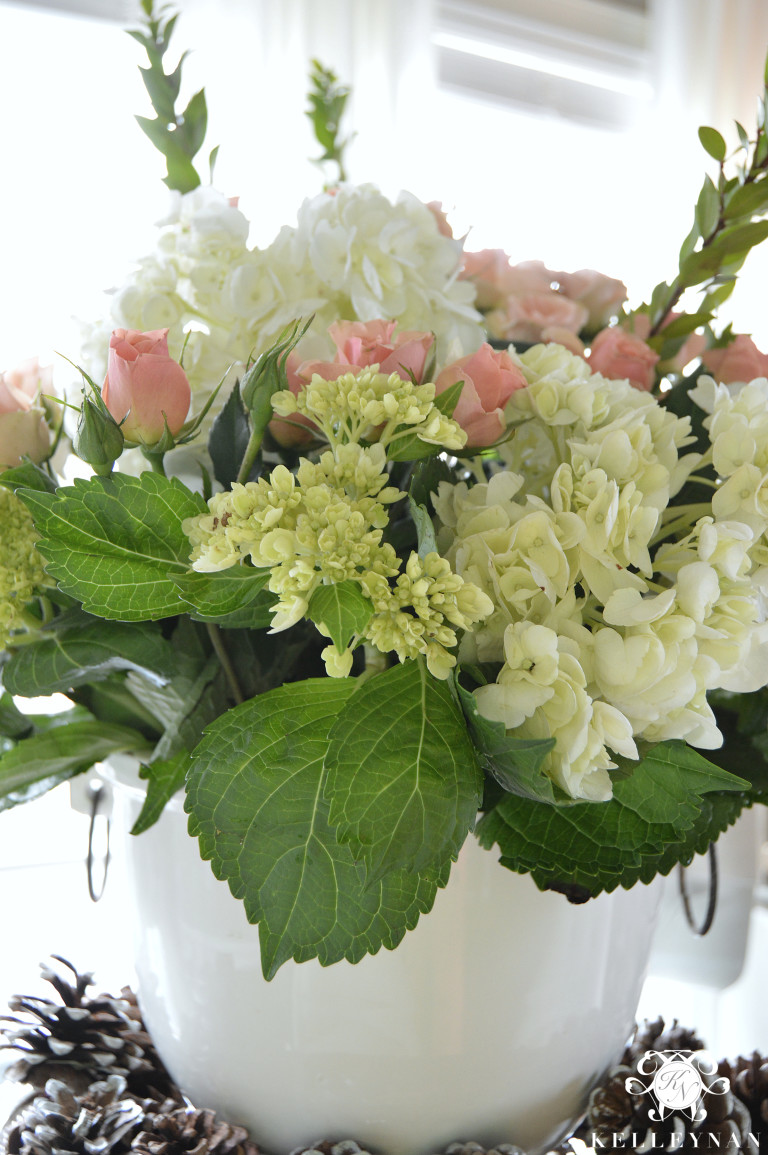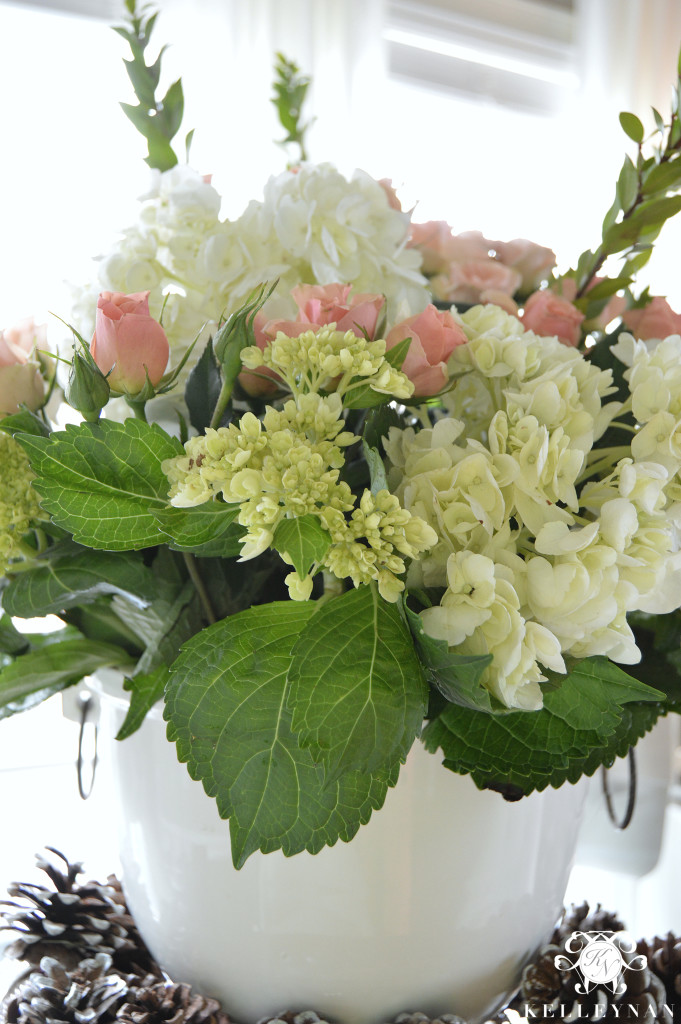 I added the completed centerpiece in a silver tray, and filled the surrounding with some wintery pinecones more fitting for the season.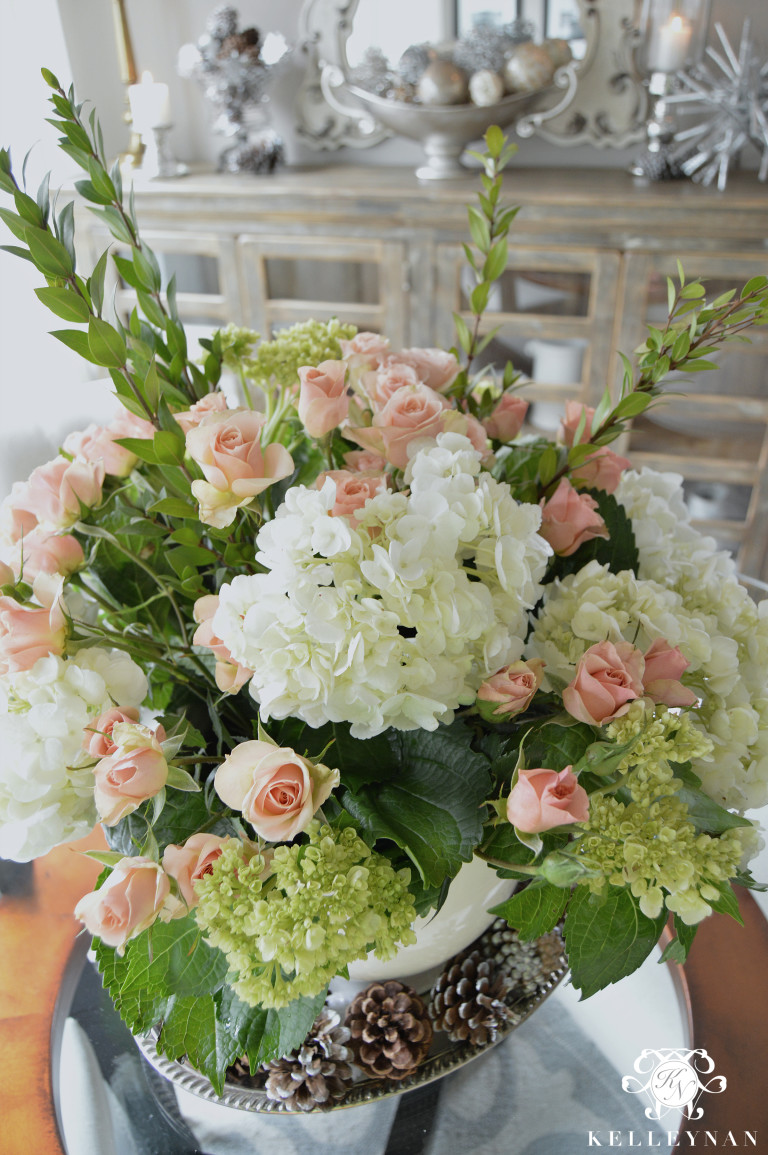 Here is a view of the impact the arrangement makes in our breakfast nook.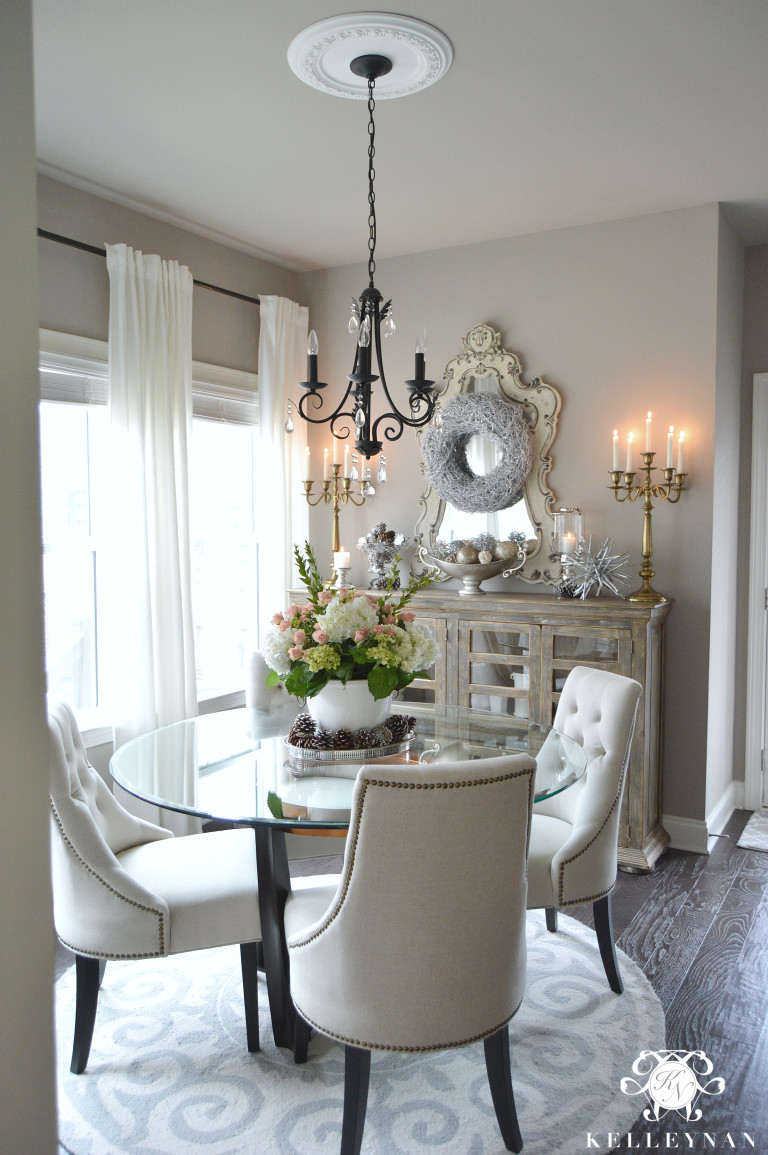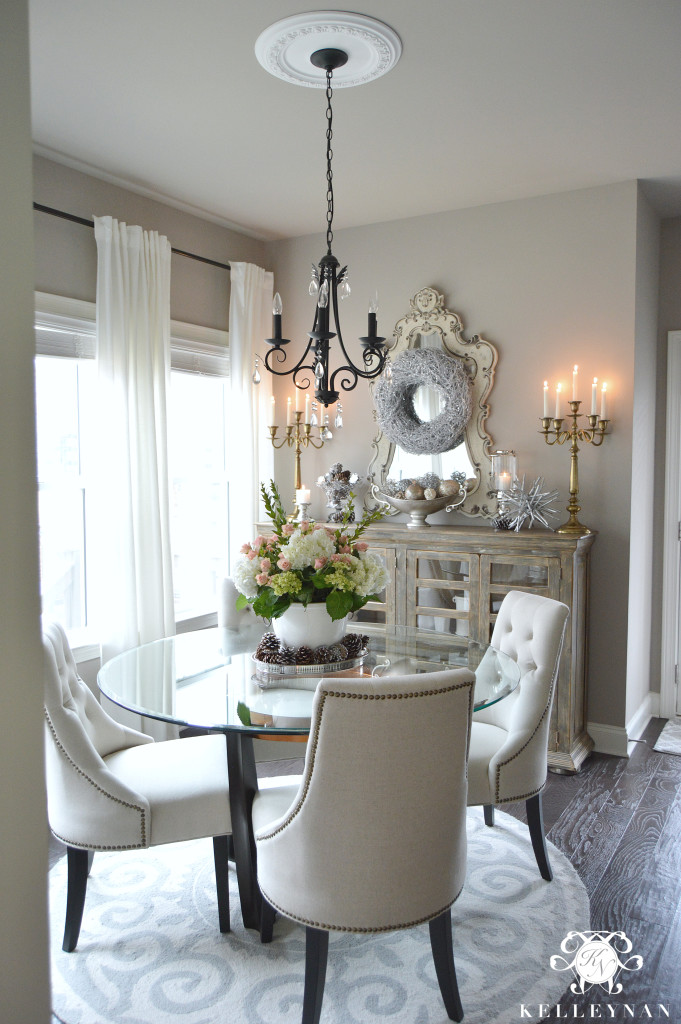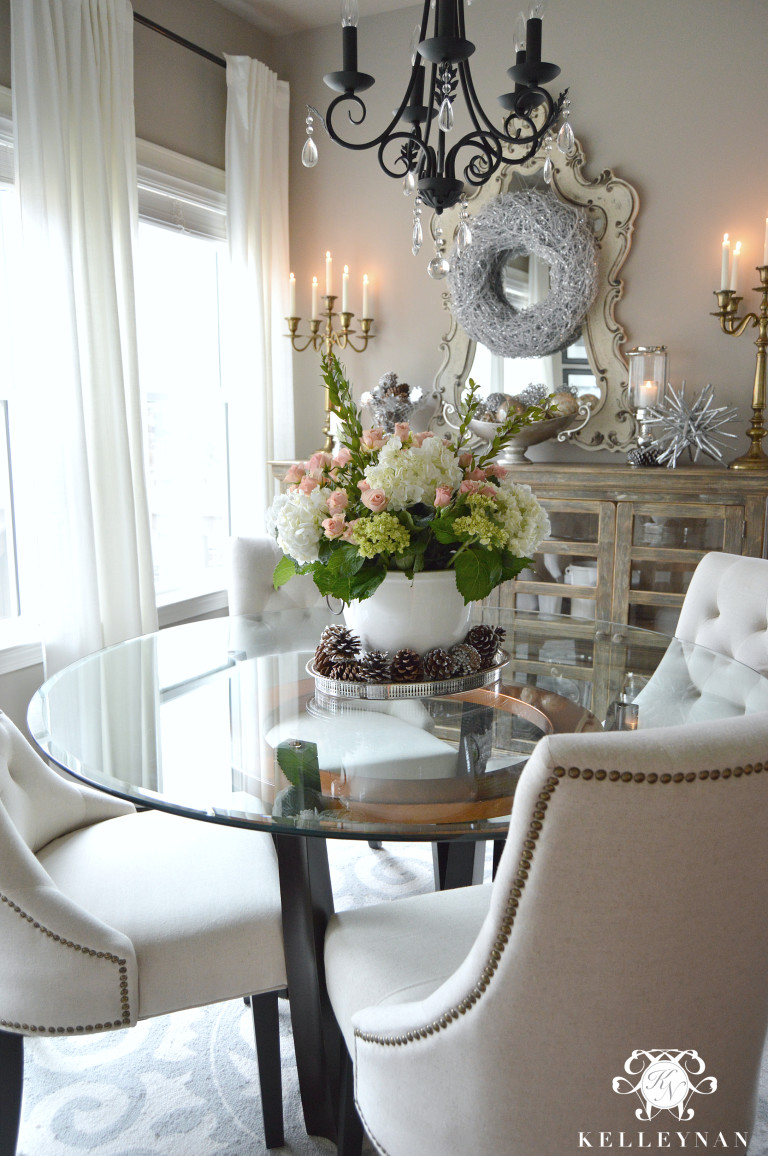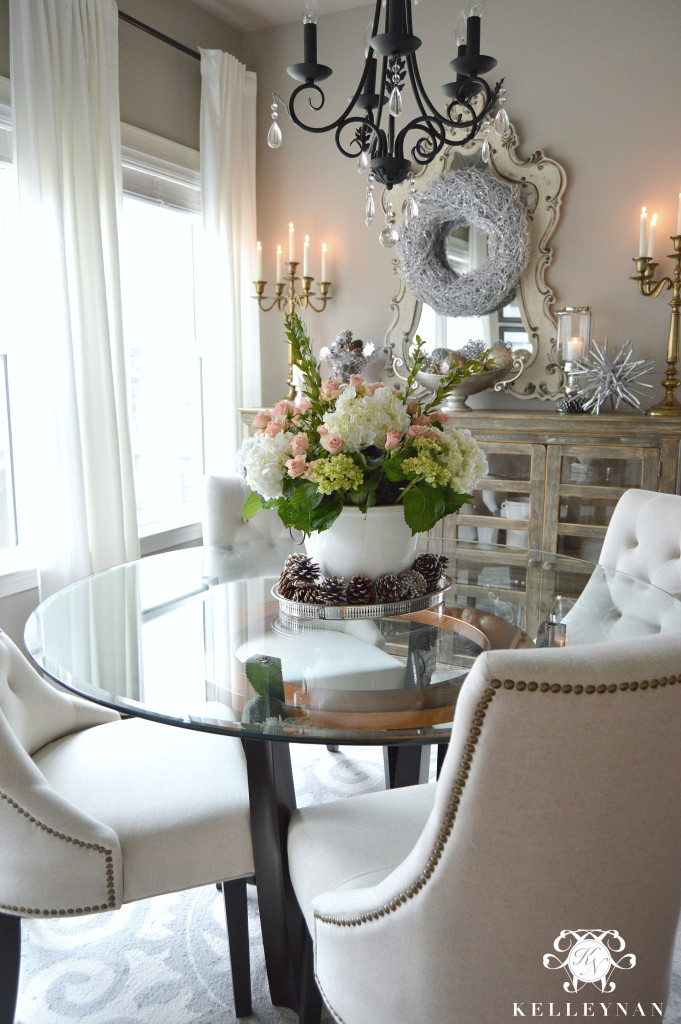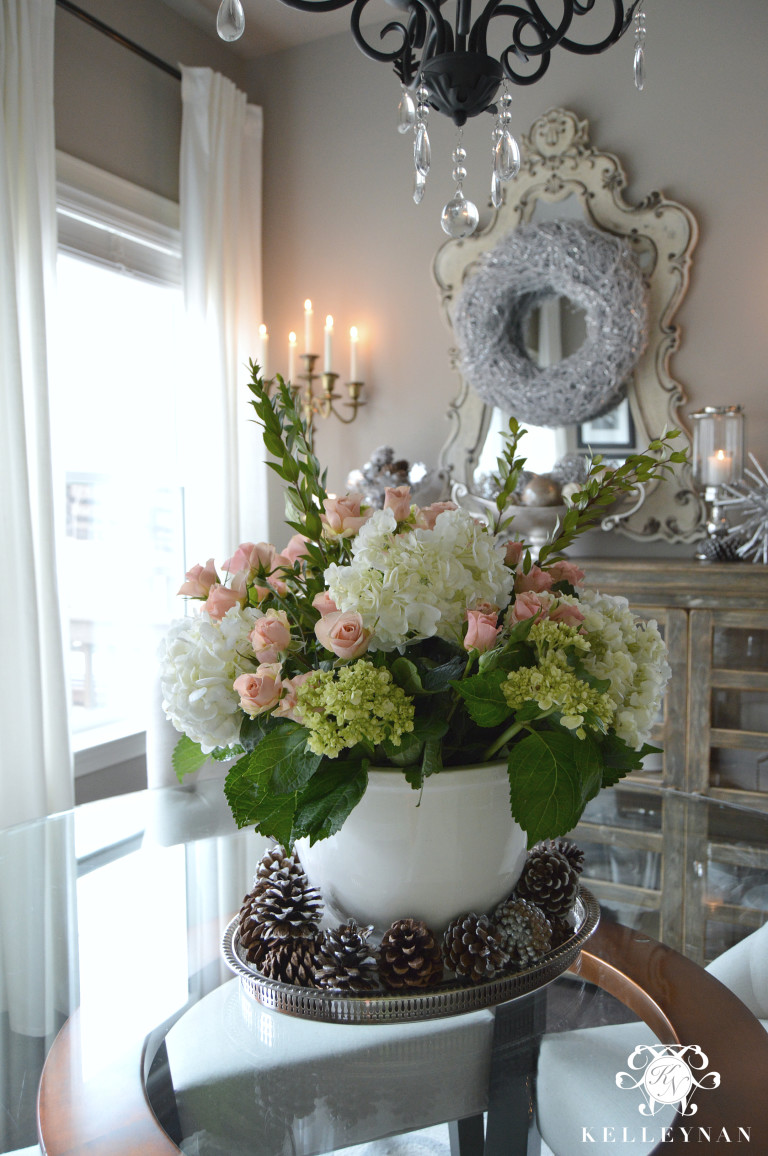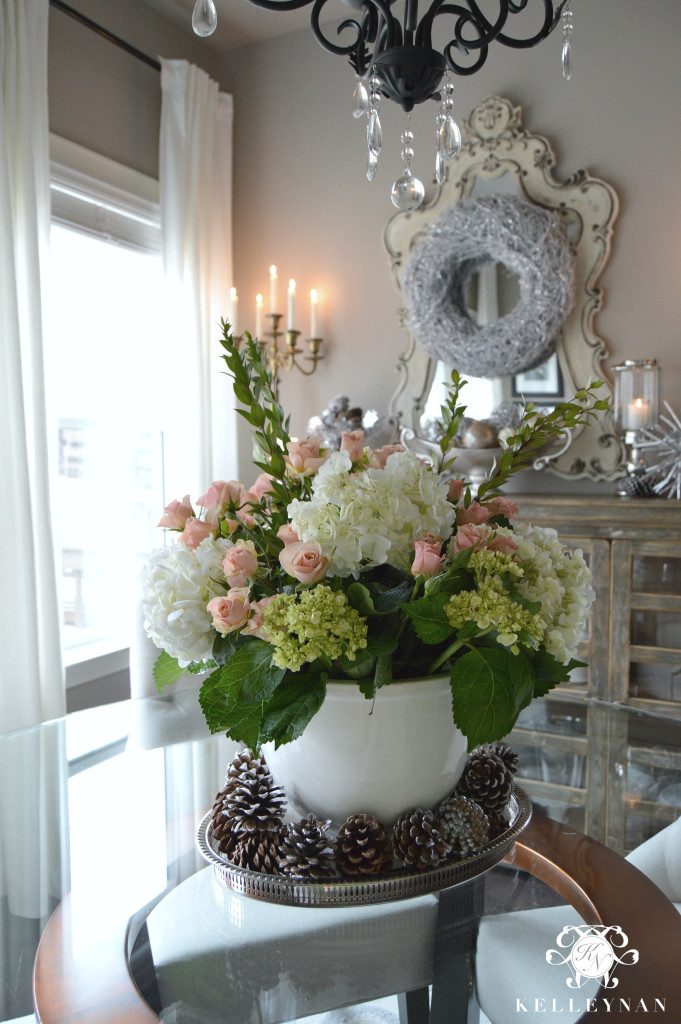 I rely on florals to bring out color in neutral spaces throughout my home. Taking center stage against the black and white travel gallery wall here is no different. These frames are perfect for galleries and collages and can be found HERE.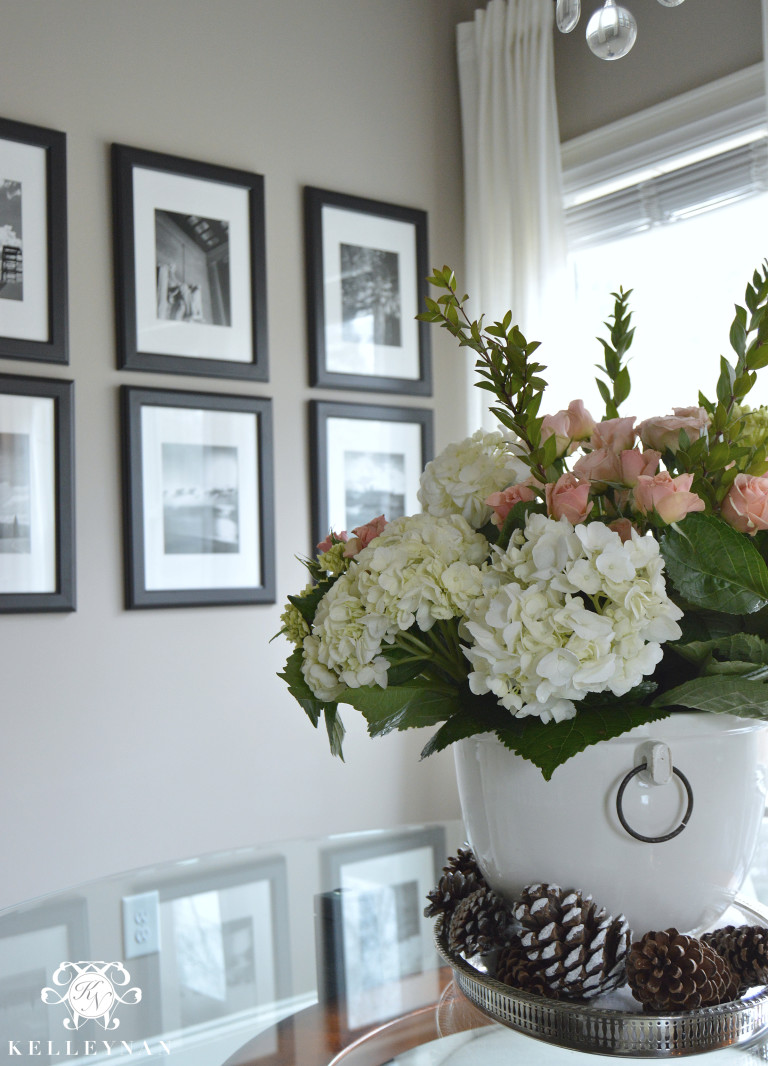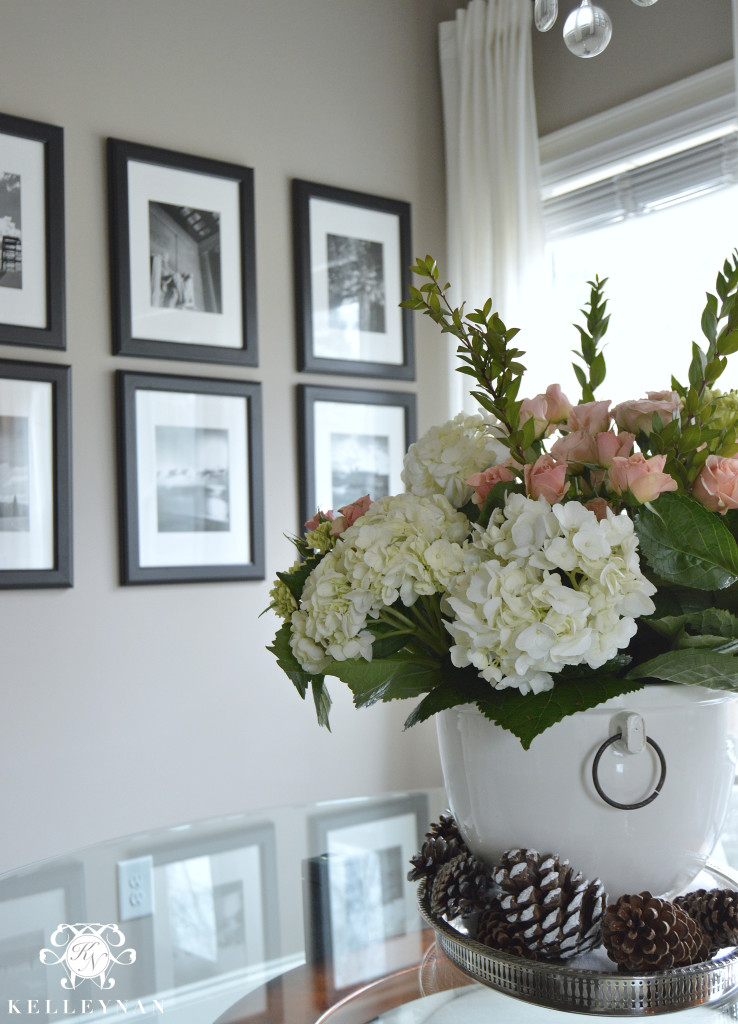 This fall, we planted camellias, hydrangeas, azaleas, and crepe myrtles; my hope is that in addition to beautifying our landscape, that I will have an ongoing source of those big blooms I love!
Additional Available Sources: