One of my favorite warm weather weekend treats is sitting on the back deck with a Bloody Mary, chocked full of goodies, with every garnish you can think of. It's become a tradition for Dave and I to keep staples on hand during the summer months so we can whip some up on any given Saturday, but as we all start to barbecue more with friends, setting up a Bloody Mary bar can be the perfect, easy addition to entertain your guests. There's a reason why "Build Your Own Bloody Mary" bars are becoming more popular at favorite brunch spots – people like to customize their beverages. Whether you are planning for a Memorial Day cookout, a Kentucky Derby party, or are hosting a simple brunch, I'm sharing all the key ideas, ingredients, and garnishes you need to build your own Bloody Mary bar in your own home. Plus, stick around for my favorite, tried and true spicy Bloody Mary recipe 😉
*Posts on KelleyNan.com may contain affiliate links. Click HERE for full disclosure.*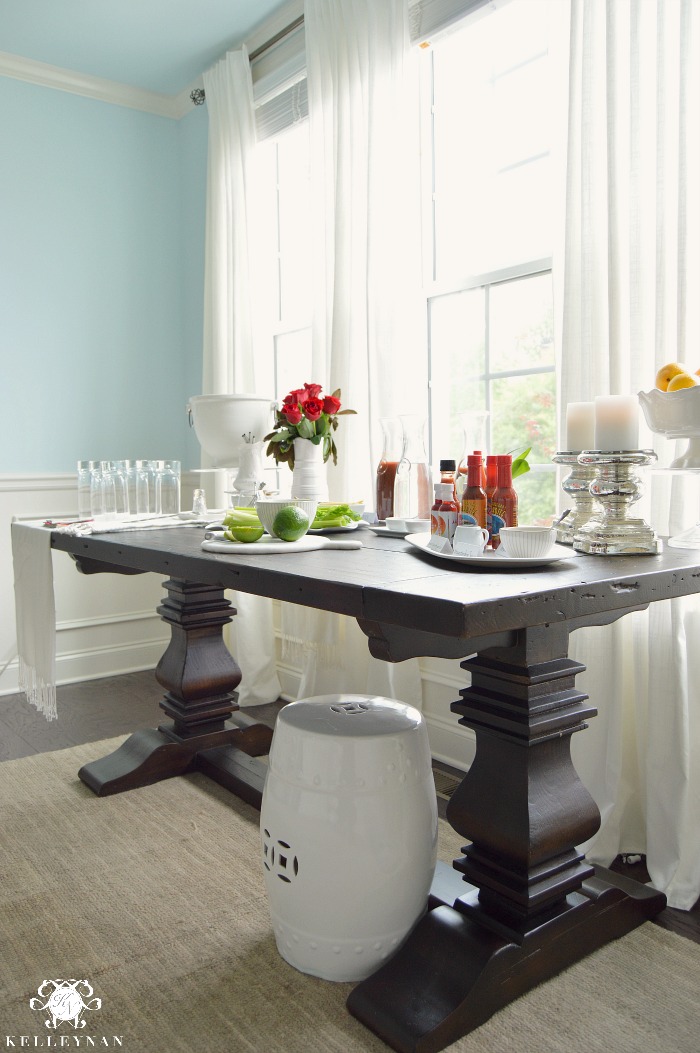 HOW TO BUILD YOUR OWN BLOODY MARY BAR
Step 1: Decide On Your Bloody Mary Bar Location
Bloody Mary bars require more than a chiller and some cute cocktail glasses. You need some space. Take inventory of areas near/in the kitchen that are convenient, but out of the way – do you have space to set a table in the living room? Dining room? You are going to have a lot of ingredients, garnishes, and condiments so you will need ample room to accommodate them all. It's also ideal to get guests out of the kitchen and mingling away from where you are prepping the food/main course.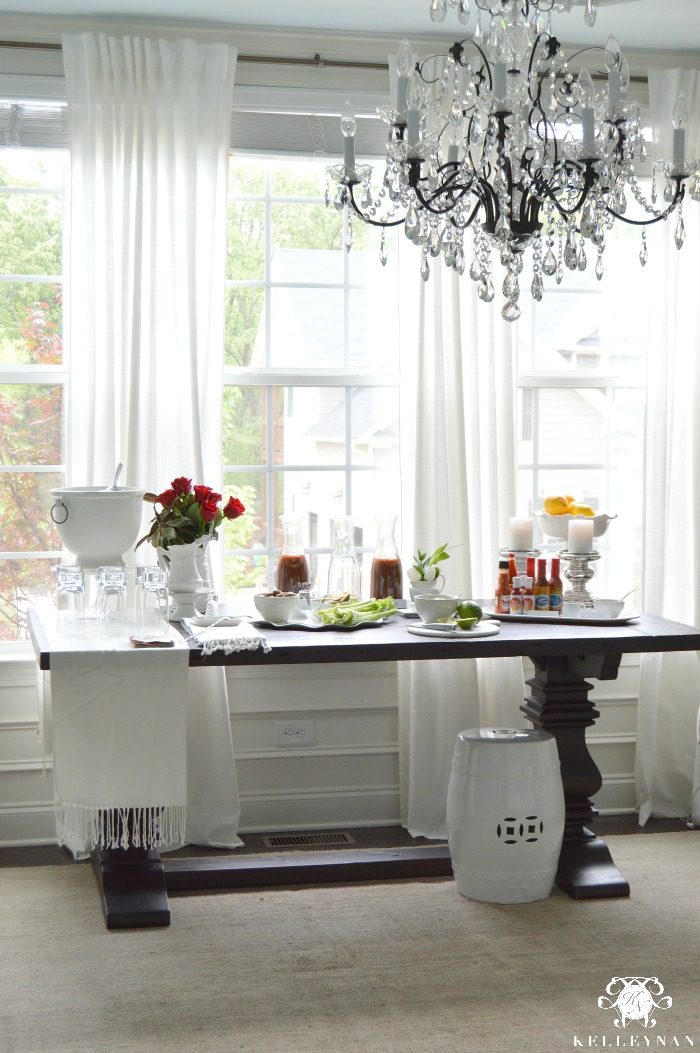 Step 2: Pick Your Bloody Mary Mix (and Vodka)
A good Bloody Mary mix is key – it's even more important than the vodka. My absolute favorite is Zing Zang; it's really hearty and already has a lot of spices so if you come up short on your ingredients, no need to panic. I always want my Bloody Marys flavorful – almost like a meal in a glass – and always get nervous when someone whips out plain tomato juice. If you have some folks (or a large enough crowd), you can get a few different mixes – some mild and some a little spicier – and label them as such. These carafes work perfectly.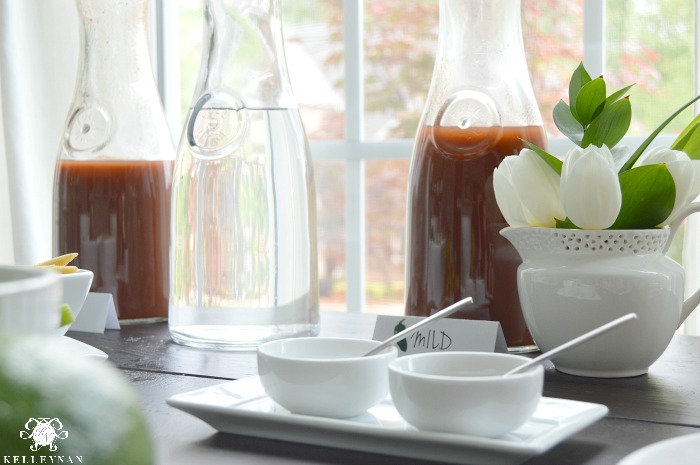 Step 3: Determine Your Bloody Mary Bar Garnishes and Condiments
When it comes to garnishes, I like all things pickled. Okra, baby gherkins, baby corn, and spicy beans are a good start. You don't have to provide a full meal on the side of a glass like we've probably all seen in those viral Facebook photos but for the most part, anything goes. Get creative.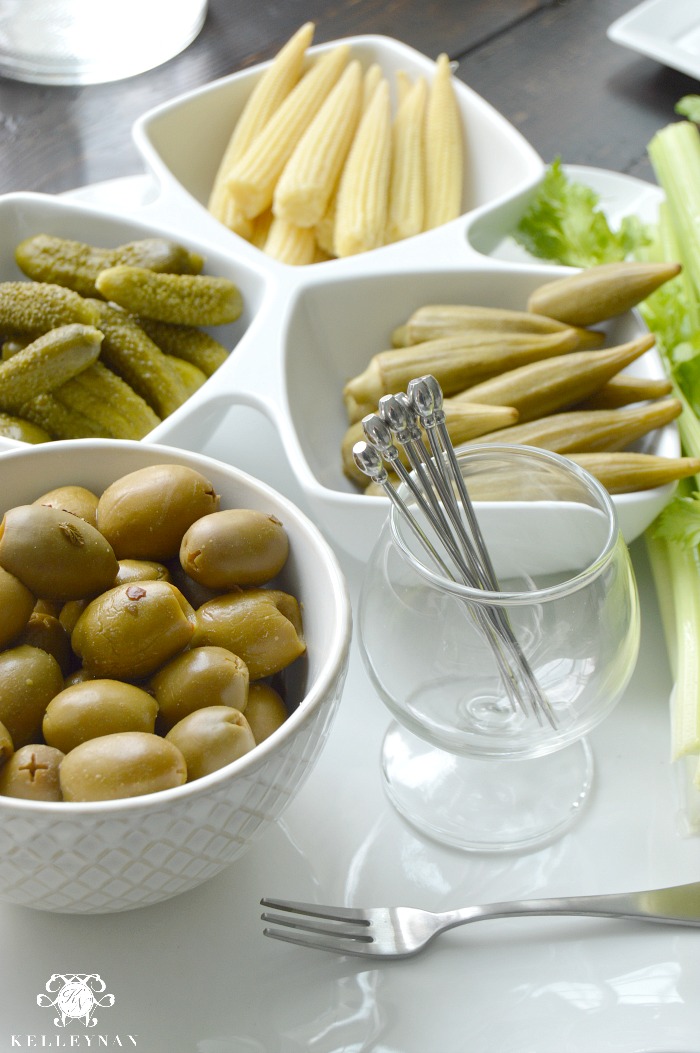 Bloody Mary Garnish Ideas
Olives (you can find several with different "stuffing")
Baby Corn
Celery
Pickled Beans
Pickled Okra
Pickled Asparagus
Lemon/Lime
Bacon
Cocktail Shrimp
Pickles (cocktail sized or slices)
Snack-sized Peppers
Pearl Onions
Variety of Hot Sauces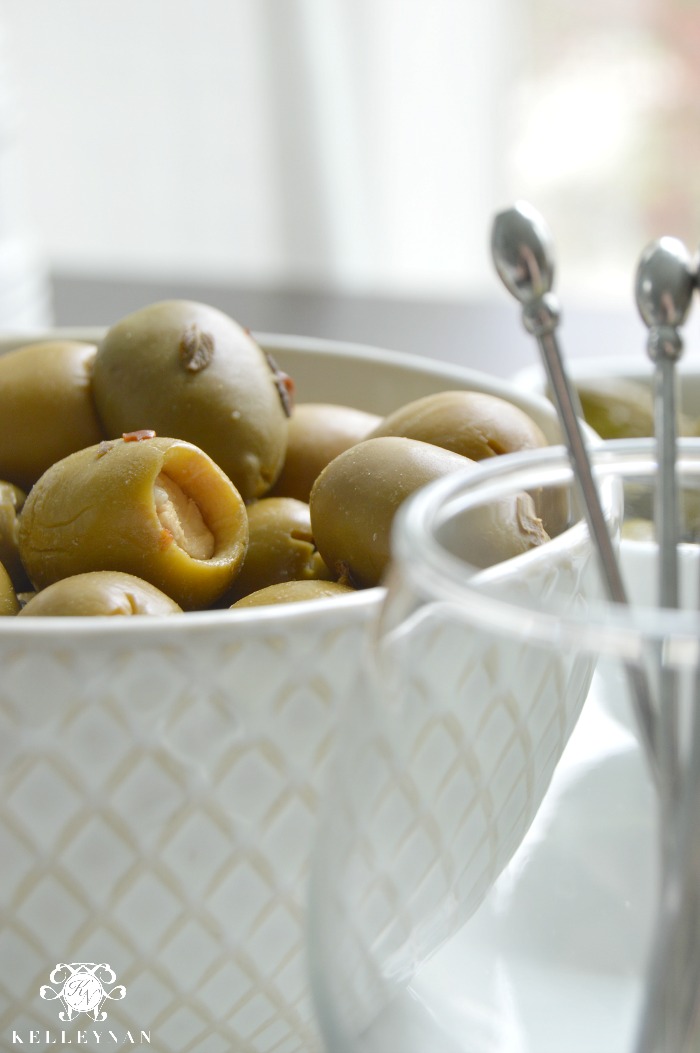 While you can get creative with the garnishes, you can also get creative with the hot sauces. My favorite go-to hot sauce for everything is Frank's, but we also keep a variety on hand (like this multi-pack of Sharkbite sauce. A little mini creamer filled with worcestershire sauce and a small bowl with horseradish round out this little spicy tray.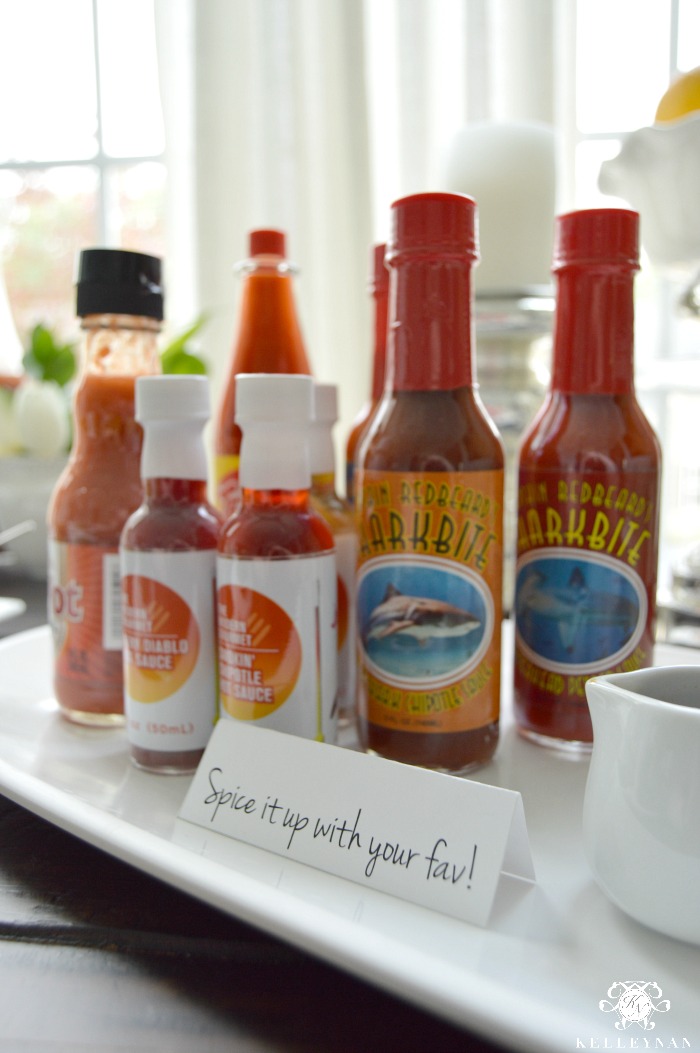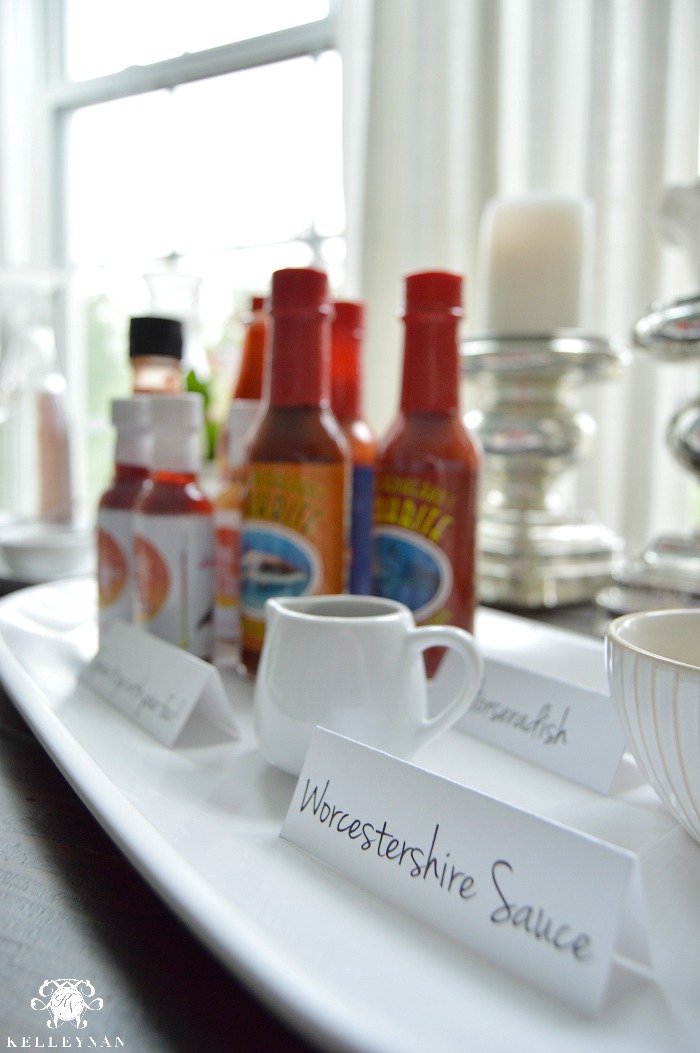 Step 4: Round Up Your Entertaining Supplies and Build Your Bloody Mary Bar
You know all those platters, bowls, trays and pitchers shoved in the back of your cabinet? Now's the time to let them shine! Bring them out and position them around your DIY Bloody Mary Bar.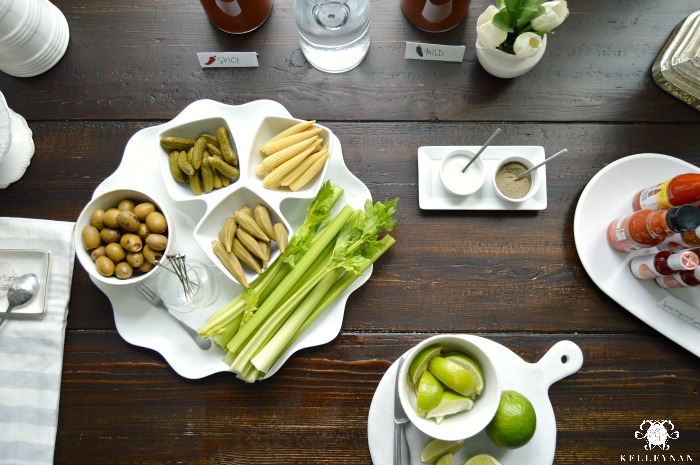 When you're creating a food/beverage display for guests, think about what you can remove from its original container to create a presentation. While I wanted to keep the hot sauce in each bottle, if you are super ambitious, you can create your own label for a cohesive look (I obviously was not this ambitious).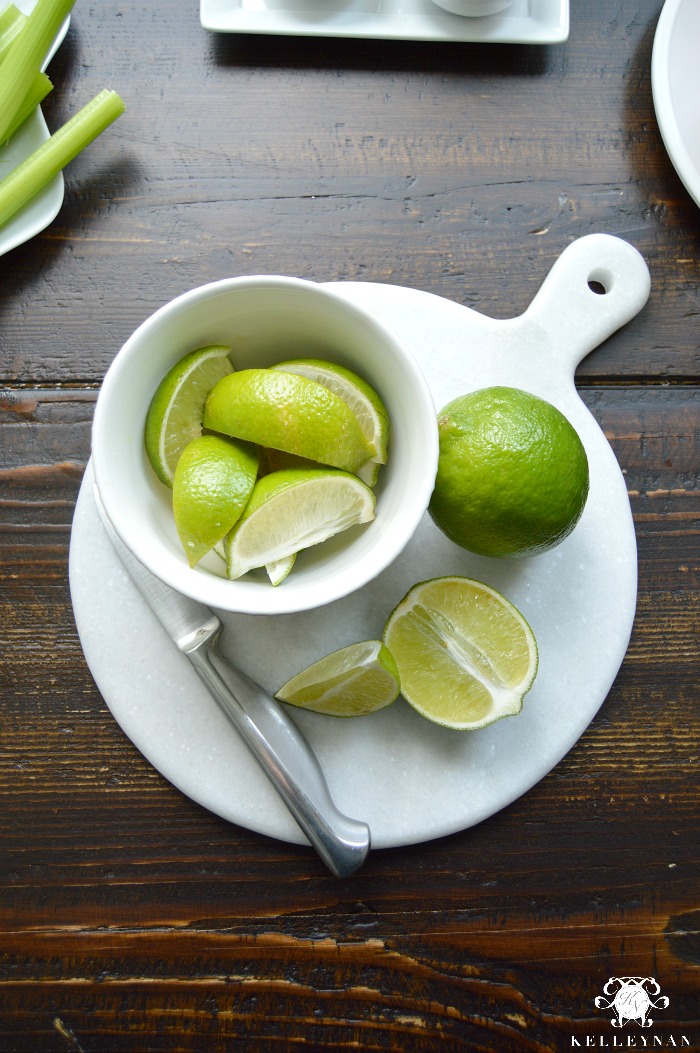 *TIP: Be sure to keep your empty jars so you can replenish with unused ingredients (unless a good bit of time has passed in which case it would be best to toss). With so many garnishes, it's a good idea to label items in your display, also.
To make sure you have everything you need for guests, do a "dry run" and make your own Bloody. Not only do you need picks, forks, spoons, and measuring implements, but you also need something to place them on to protect your surface.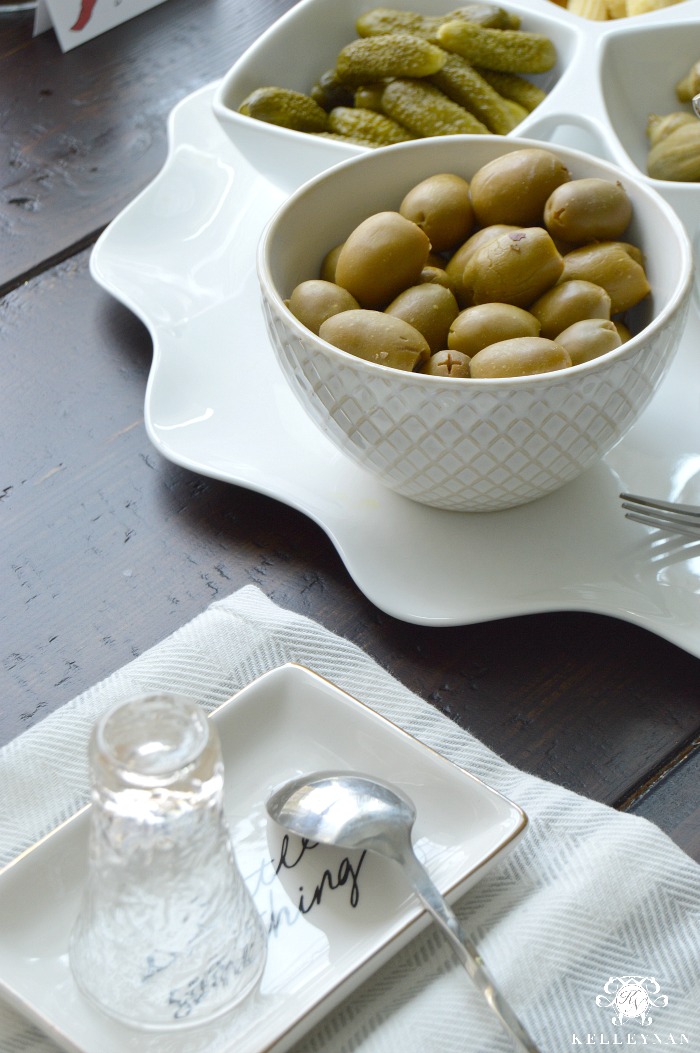 THE BEST BLOODY MARY RECIPE
Bloody Mary Ingredients
Ice
Vodka
Bloody Mary Mix (I prefer Zing Zang)
Worcestershire Sauce
Horseradish
Hot Sauce (I prefer Frank's)
Fresh Squeezed Lime Juice
Salt & Pepper
Garnish (of your choice)
Instructions
Fill your glass with ice
Pour vodka (I usually fill to 1/3 to 1/2 of the glass)
Add Bloody Mary mix (leave at least two fingers from the top of the glass)
Add a dash of worcestershire sauce
Add approx 1/8 tsp. horseradish
Add a few shakes of hot sauce
Squeeze a lime wedge and then toss the wedge in the glass
Add a dash of salt and pepper
Shake and stir until well mixed
Add garnishes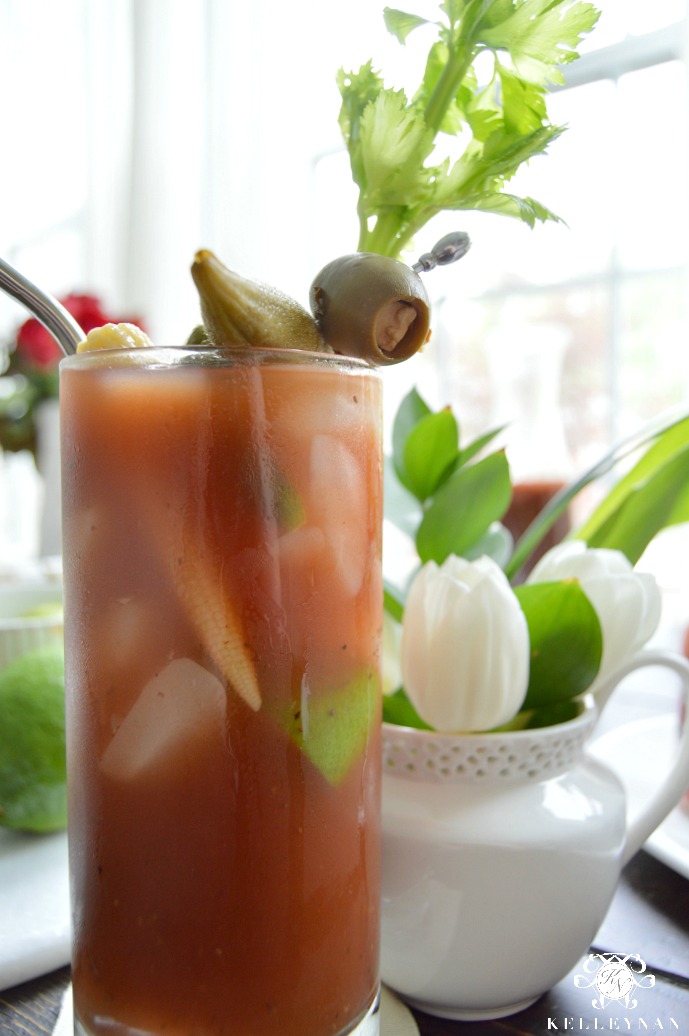 Have other garnish favorites? A Bloody Mary mix you swear by? Let me know in the comment section below!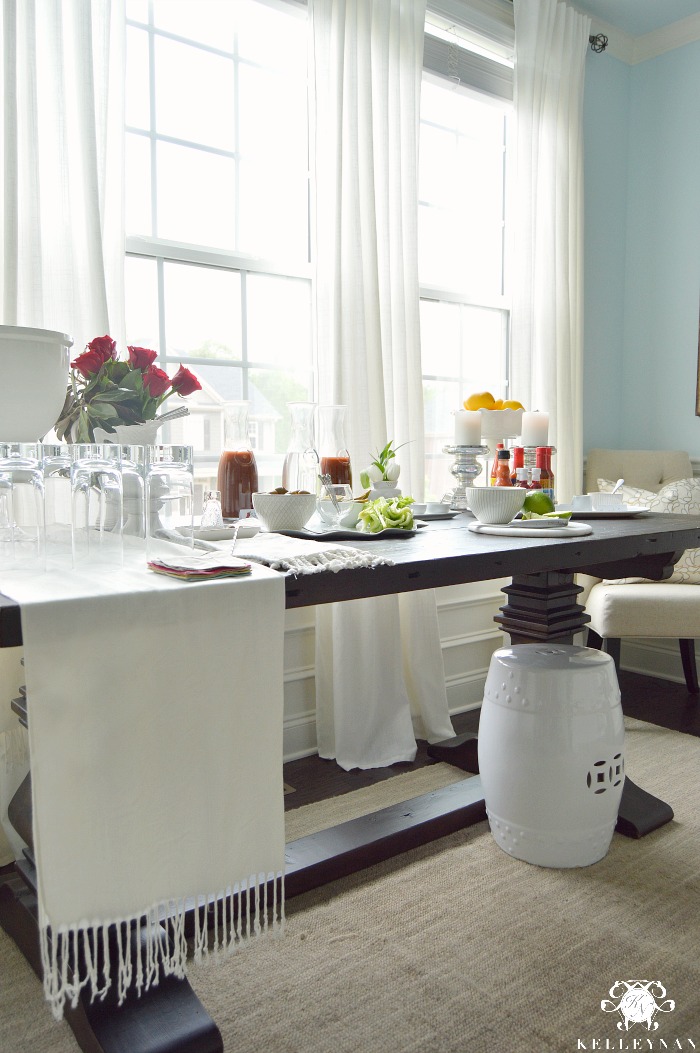 If you liked this post, here are a few more you may be interested in:




Chairs – Linen | 12-Light Chandelier
 | Tapered (Brass) Candle Sticks | Pillar (Brass) Candle Holders | Mercury Glass Candle Holders | Mirror: Homegoods – (SIMILAR) | Dining Table:  (84″ in Salvaged Brown) | Buffet: (72″ in Distressed White) | Curtain Panels
: (98″ in White) | Gold Bar Cart | Rug: HomeGoods- Calvin Klein | Lamps: HomeGoods – (SIMILAR) | Silver Tea Service: Family Heirloom – (SIMILAR) | Cream Table Runners | Paint: Lauren's Surprise by Sherwin Williams | Flooring: Nottaway Hickory in Weathered Saddle