One of my favorite warm weather weekend treats is sitting on the back deck with a Bloody Mary, chocked full of goodies. It has become a tradition for my husband and I to keep staples on hand during the summer months so we can whip some up on any given Saturday, but as we all start to barbecue more with friends, setting up a Bloody Mary bar can be the perfect, easy addition to entertain your guests. There is a reason why Bloody Mary bars are becoming more popular at brunch locations; people like to customize their beverages. Whether you are planning for a Memorial Day cookout, a Kentucky Derby party, or are simply hosting a simple brunch, I am sharing all the key ingredients you need to create the ultimate Bloody Mary bar in your own home.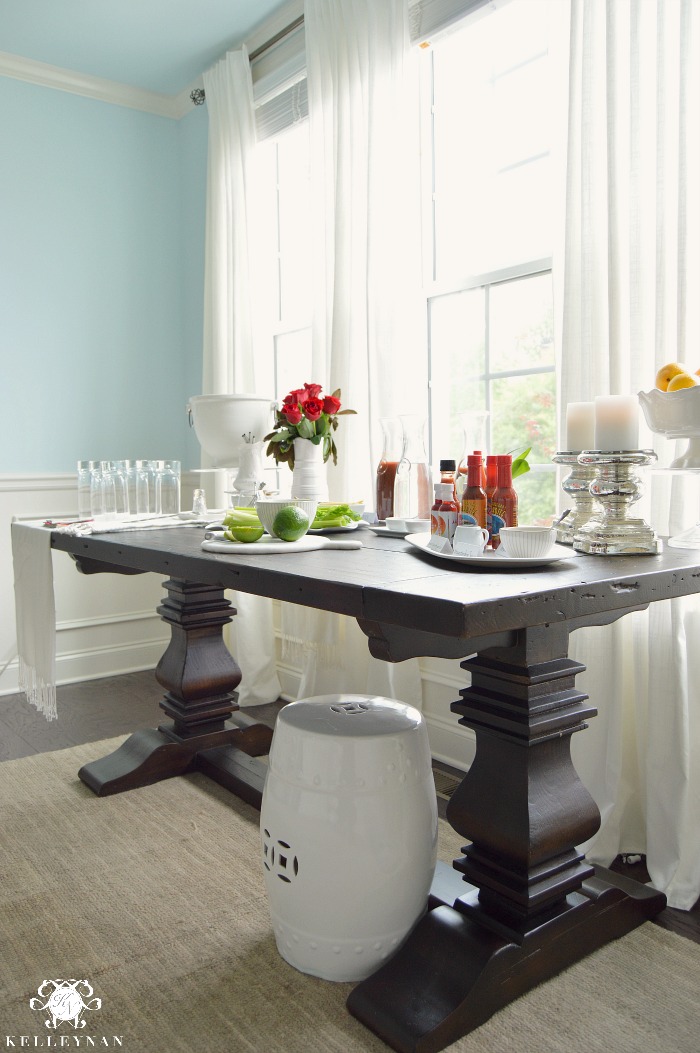 First of all, make sure you have a good mix. My absolute favorite is Zing Zang; it already has a lot of spices so if you come up short on your ingredients, no need to panic. When it comes to accompaniments, I like all things pickled. Okra, baby gherkins, baby corn, and spicy beans are a good start. Likely the most common garnishes, olives, celery, and limes are essential. Cute, disposable cocktail picks are fun, but since I found these stainless picks, I have been able to use them time and again for drinks and apps, and they have become an entertaining staple in our home. Another different and fun must-have I use repeatedly is this adorable porcelain salt and pepper set from Restoration Hardware.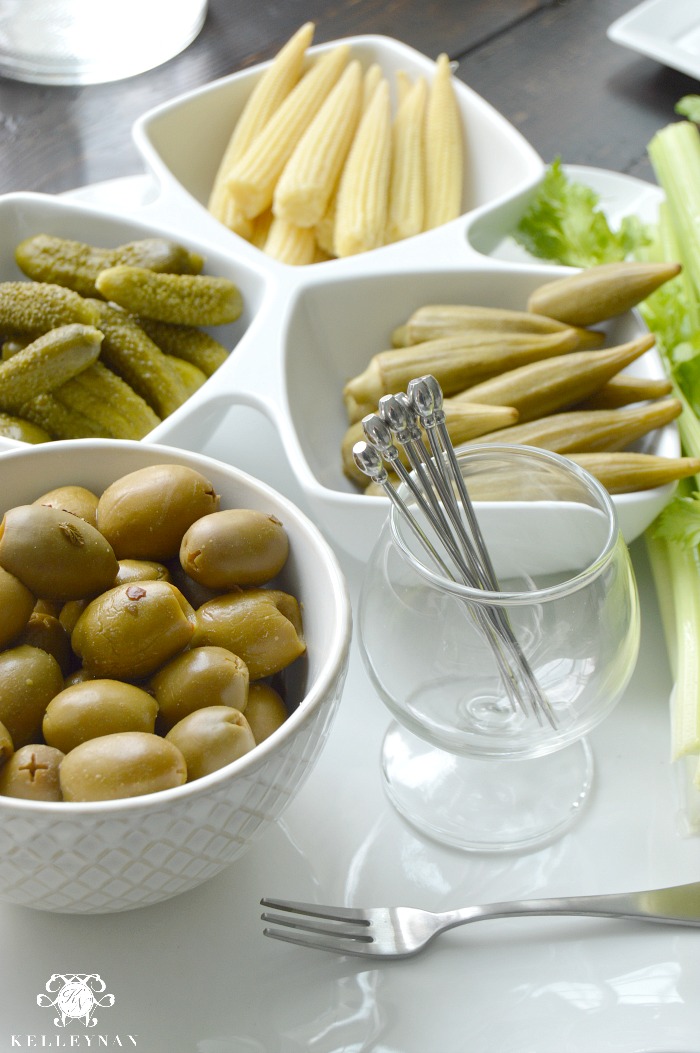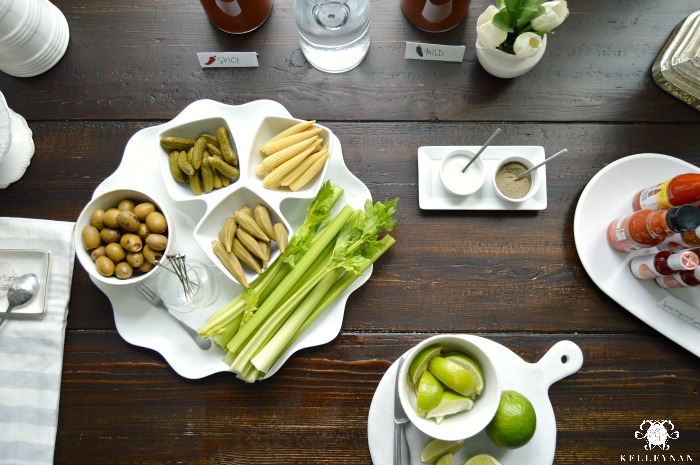 I used blue cheese stuffed olives for this bar, but you can get them plain, stuffed with garlic, or even go to the olive bar at your local grocery store and stock up on a variety.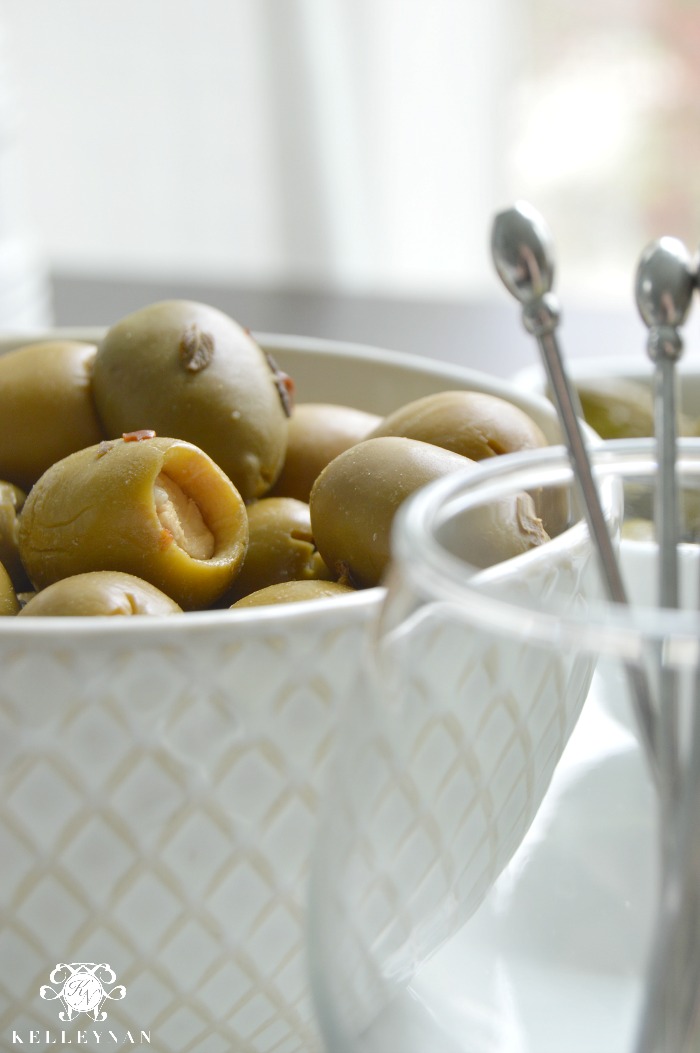 While you can get creative with the garnishes, you can also get creative with the hot sauces. My favorite go-to hot sauce for everything is Frank's, but we also keep a variety on hand such as this multi-pack of Sharkbite sauce. A little mini creamer filled with worcestershire sauce and a small bowl with horseradish round out this little spicy tray.
When creating a food/beverage display for guests, think about what you can remove from its original container to create a presentation. While I wanted to keep the hot sauce in each bottle, if you are super ambitious, you can create your own label for a cohesive look (I obviously was not this ambitious). Be sure to keep your empty jars so you can replenish with unused ingredients (unless a good bit of time has passed in which case it would be best to toss). With so many ingredients, it is a good idea to identify those which are not in their original packaging to clearly indicate what each item is.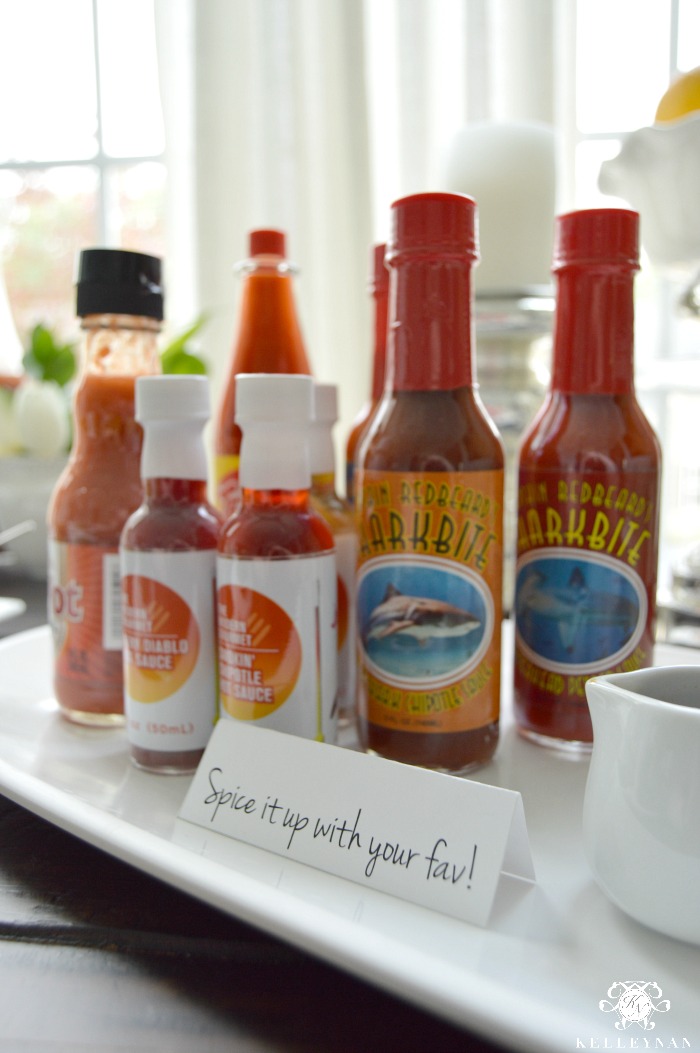 To make sure you have everything you need for guests, do a "dry run" and make your own Bloody. Not only do you need picks, forks, spoons, and measuring implements, but you also need something to place them on to protect your surface.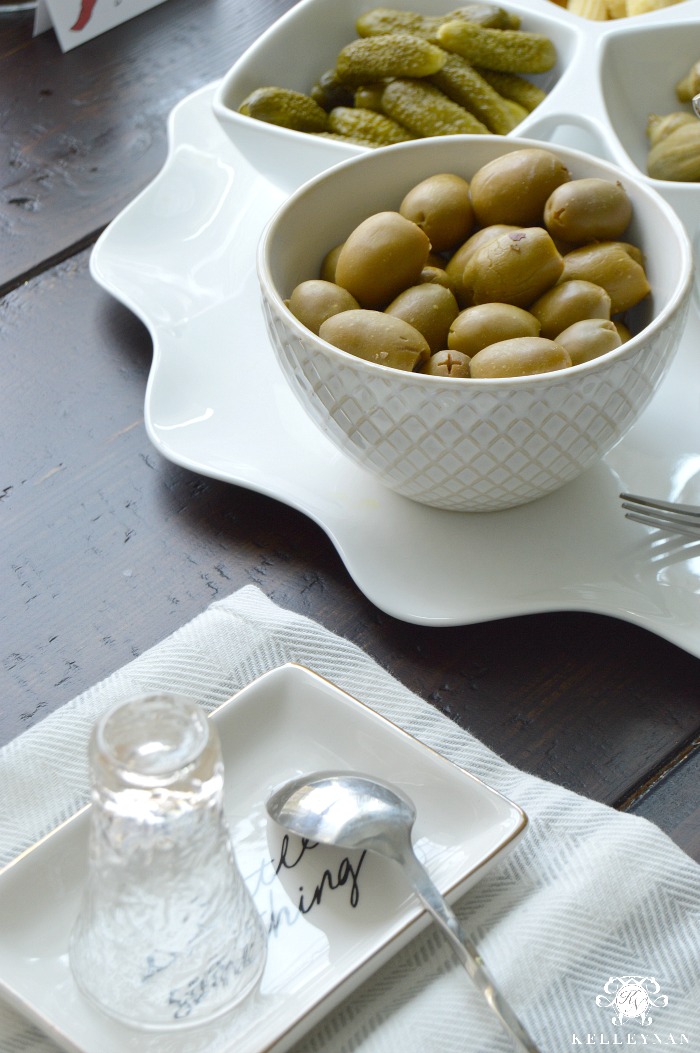 While I am not typically a red rose kind of girl, I liked the idea of bringing in some fiery flowers to spice up the table.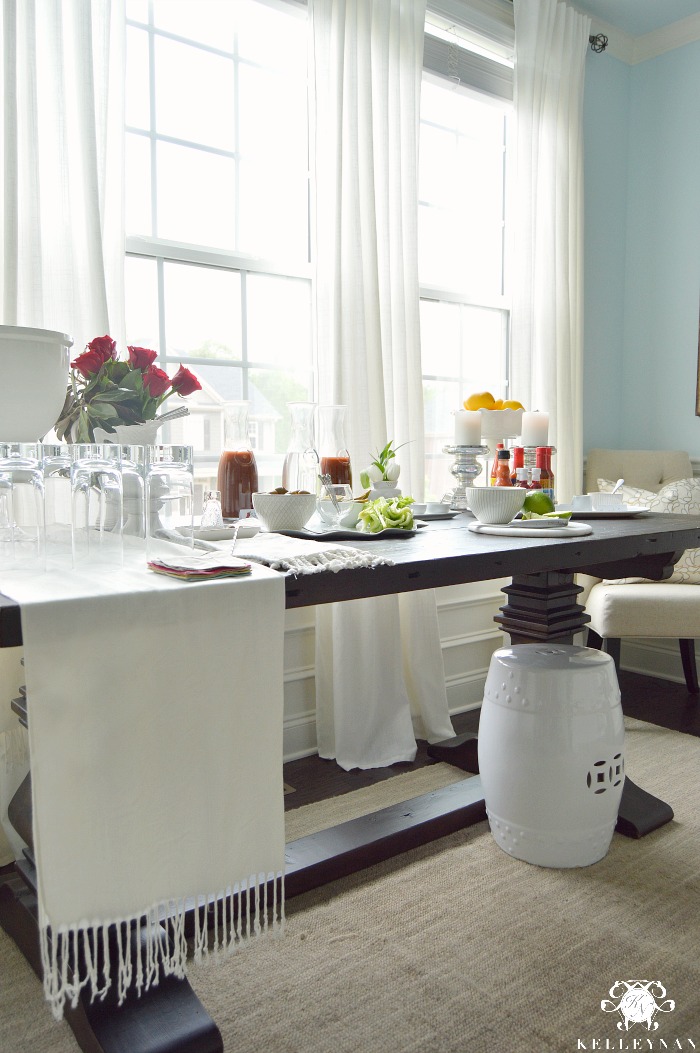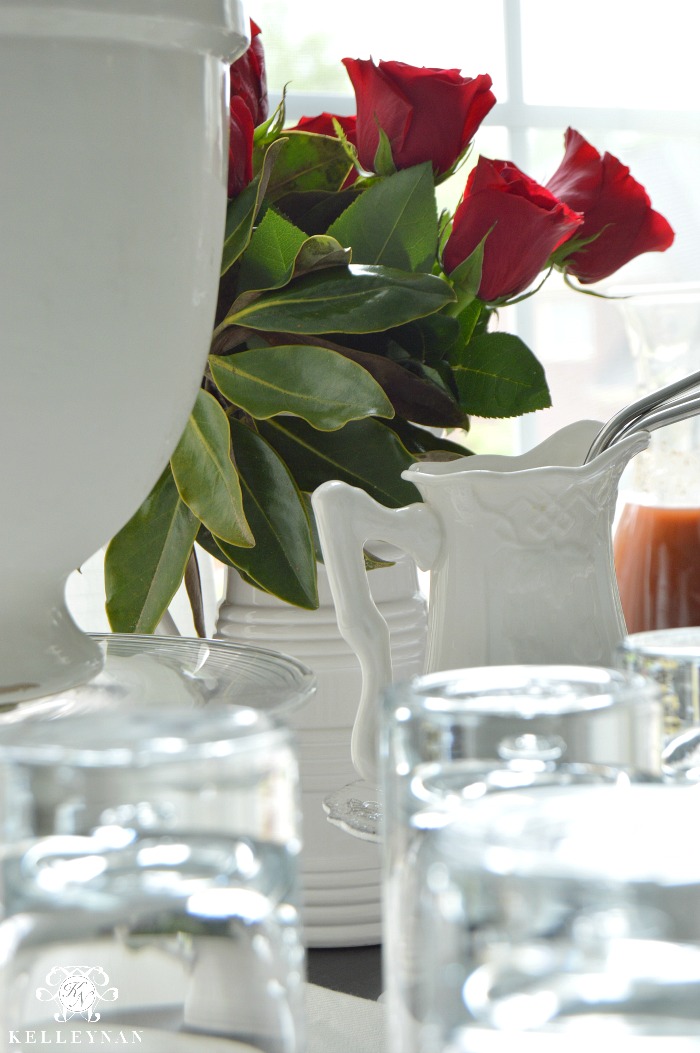 With larger groups, I tend to use fun, patterned paper straws, but if you are having a smaller gathering, I LOVE using stainless steel straws. These have been a game changer for cocktails.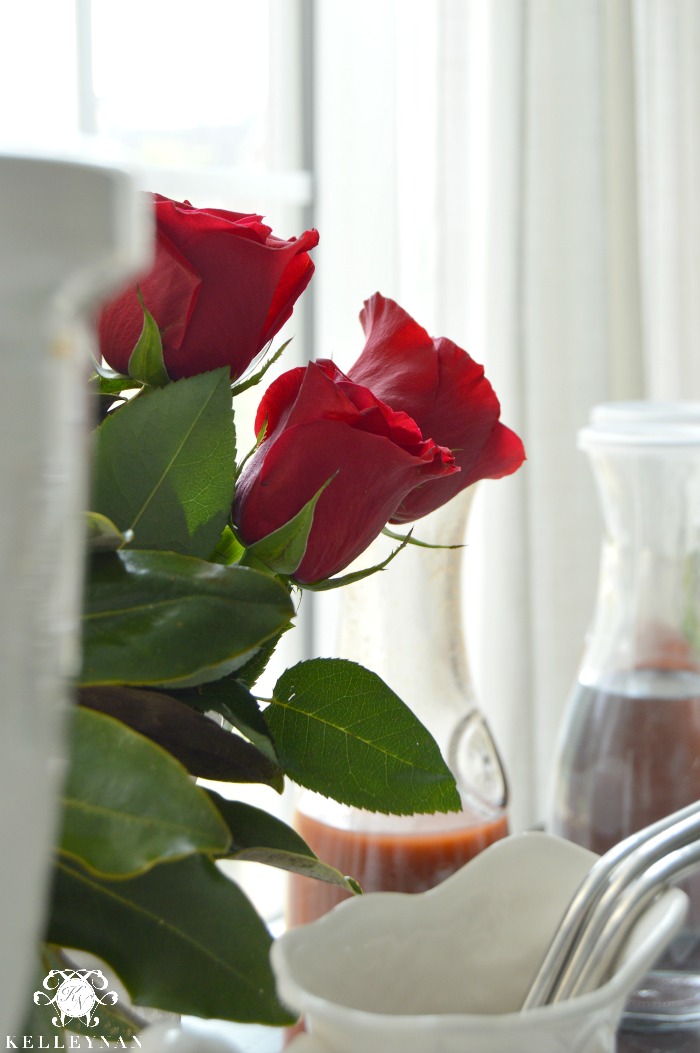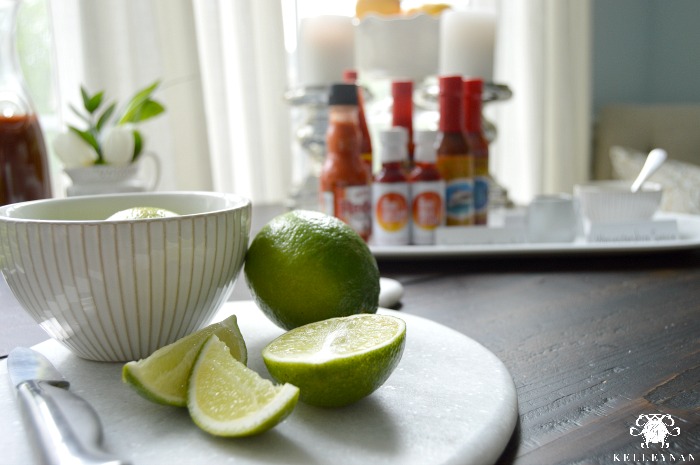 Since I found this marble cheese board, it has become a display piece in my kitchen; arranging items on cutting boards/cheese boards is both casual, and functional. Along with the board, I like to use trays and platters to layer and group items together.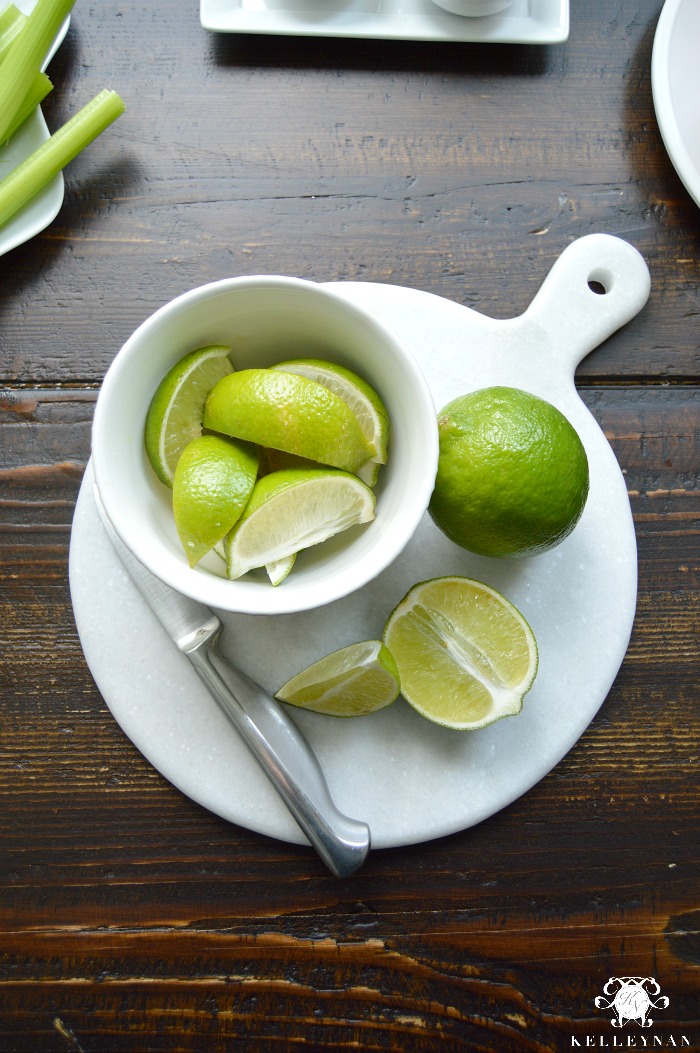 For those who prefer a more mild mix, you can fill a carafe with v8 or a non-spicy mix; again, everyone loves options! This isn't necessary but if you do provide different mixes, be sure to identify them properly.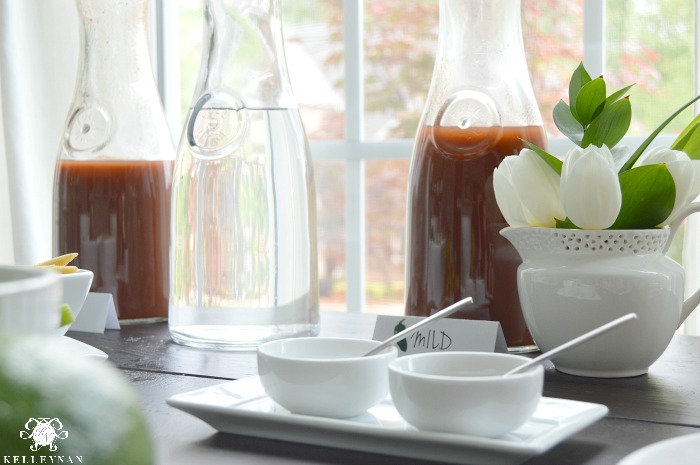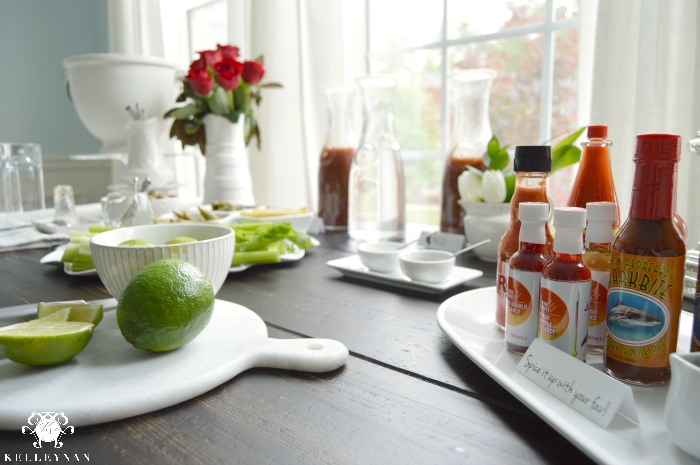 When Ashley at House of Five used a scarf on her recent Mother's Day table, I thought it was absolutely genius. I used a simple tasseled pashmina as a side runner for my beverage glasses.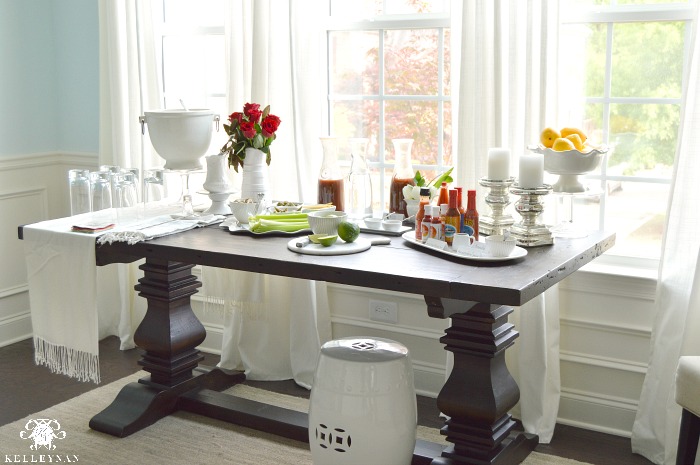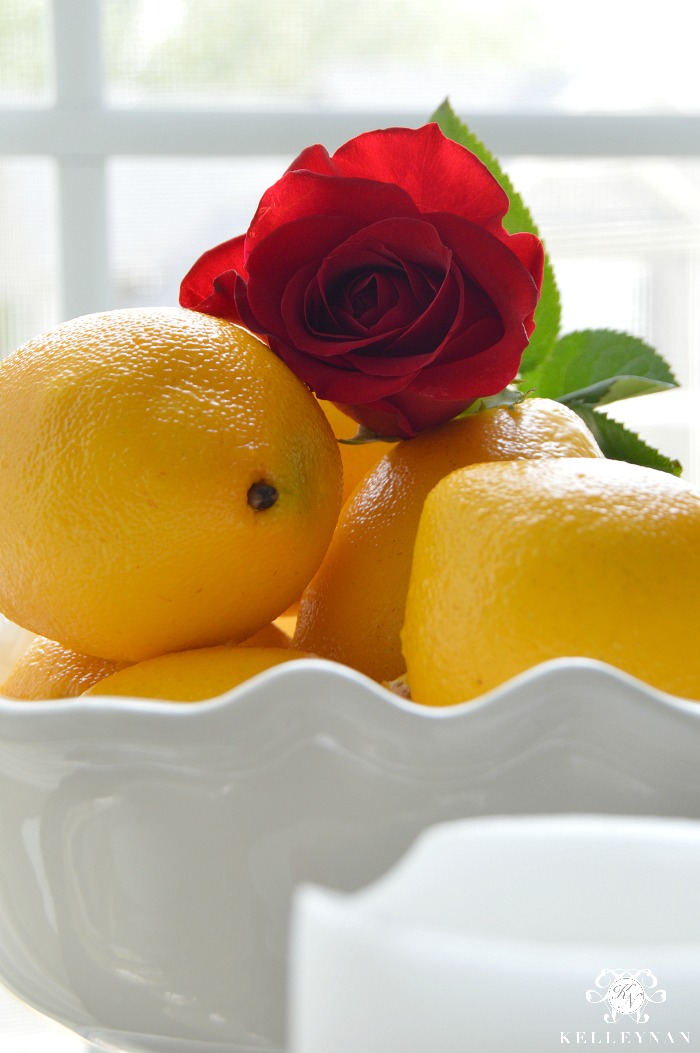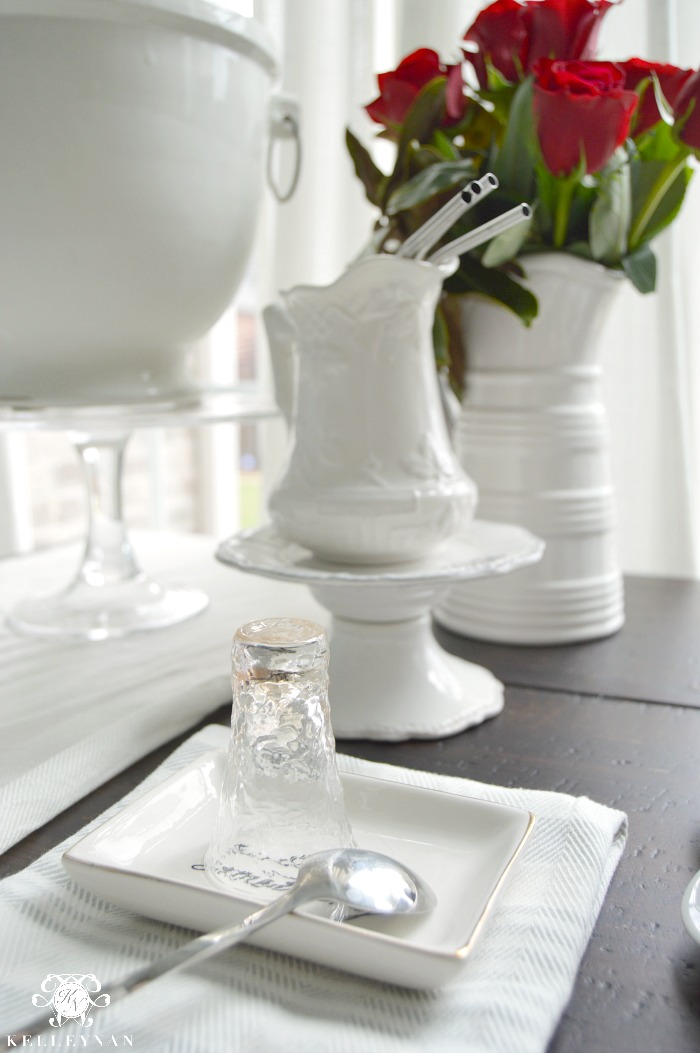 If you aren't familiar or have not yet perfected your own Bloody Mary, here is my favorite method:
Fill glass with ice
Pour vodka; while many may measure to be precise, I usually fill to 1/3 to 1/2 of the glass
Add Bloody Mary mix
Add a little worcestershire sauce
Add a little horseradish
Add a few shakes of Frank's
Squeeze a lime wedge (you can drop the lime in, also)
Add a dash of salt and pepper
Shake/stir until well mixed
Add garnish of choice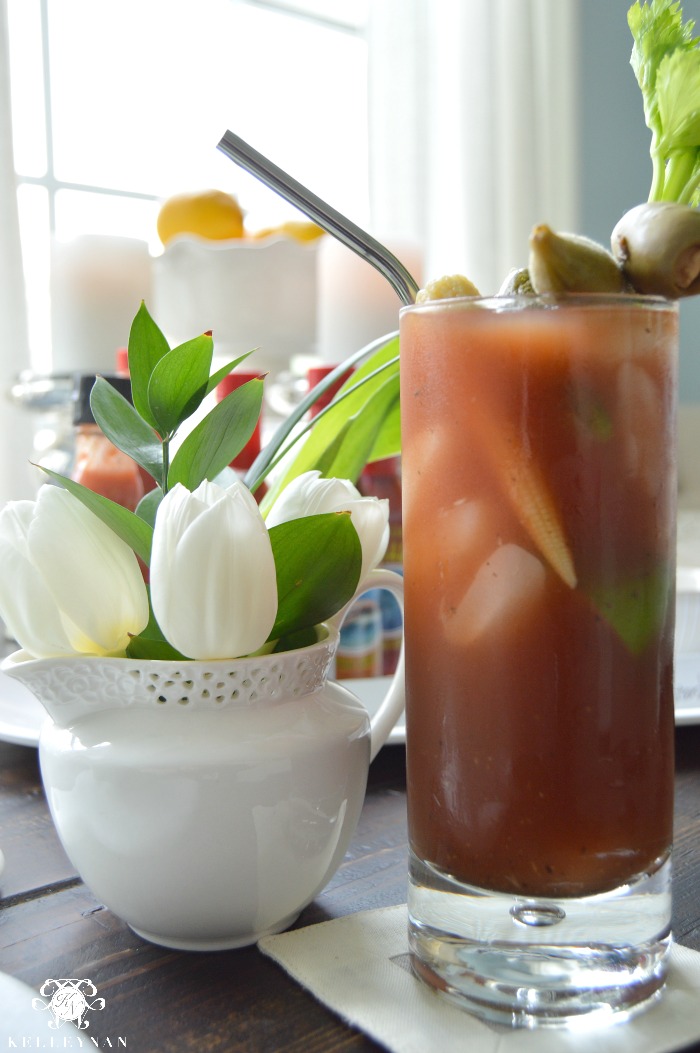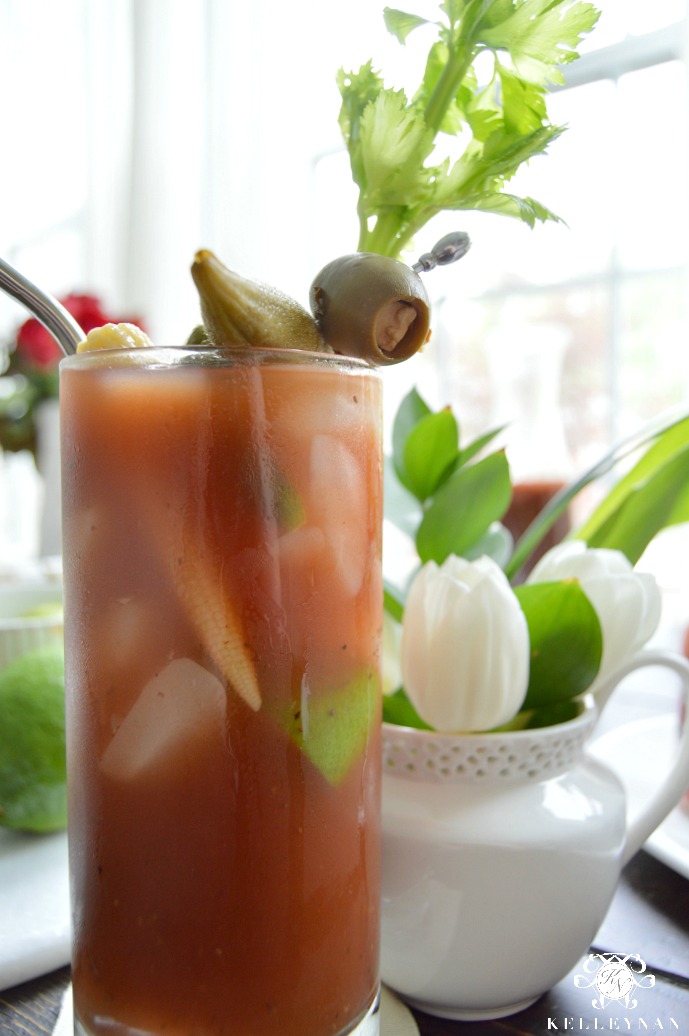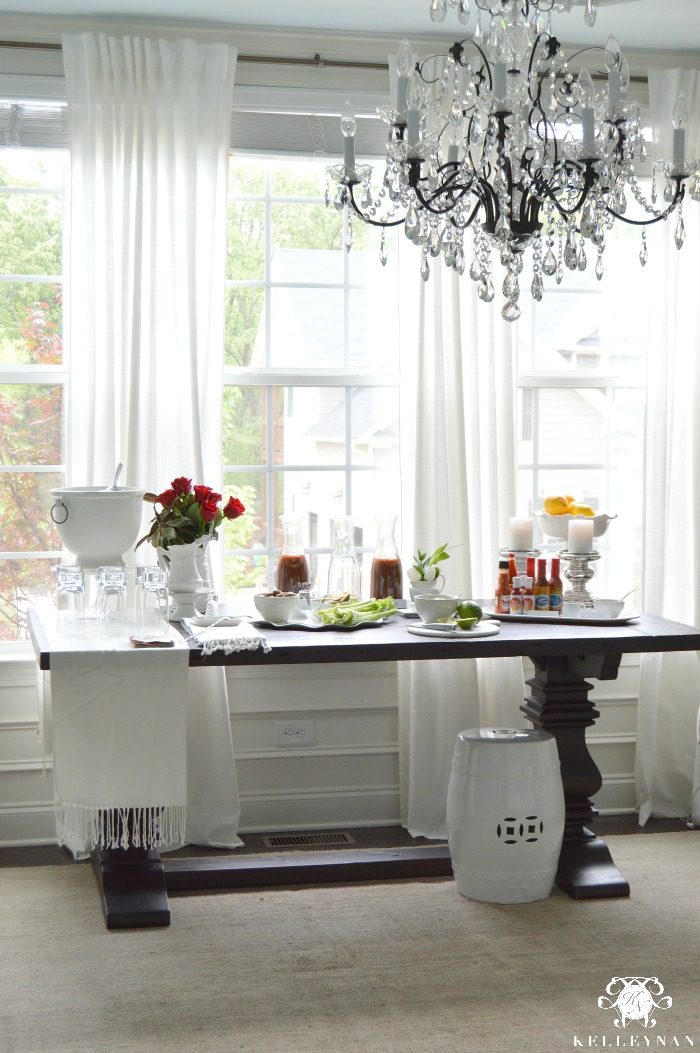 Technically, making Bloody Marys for guests out of refrigerator ingredients would taste the same, but, hosting with a "Make Your Own" style bar creates an activity and experience for your guests. Did I leave out any of your favorites? Leave me a comment and let me know some of your must-have garnishes!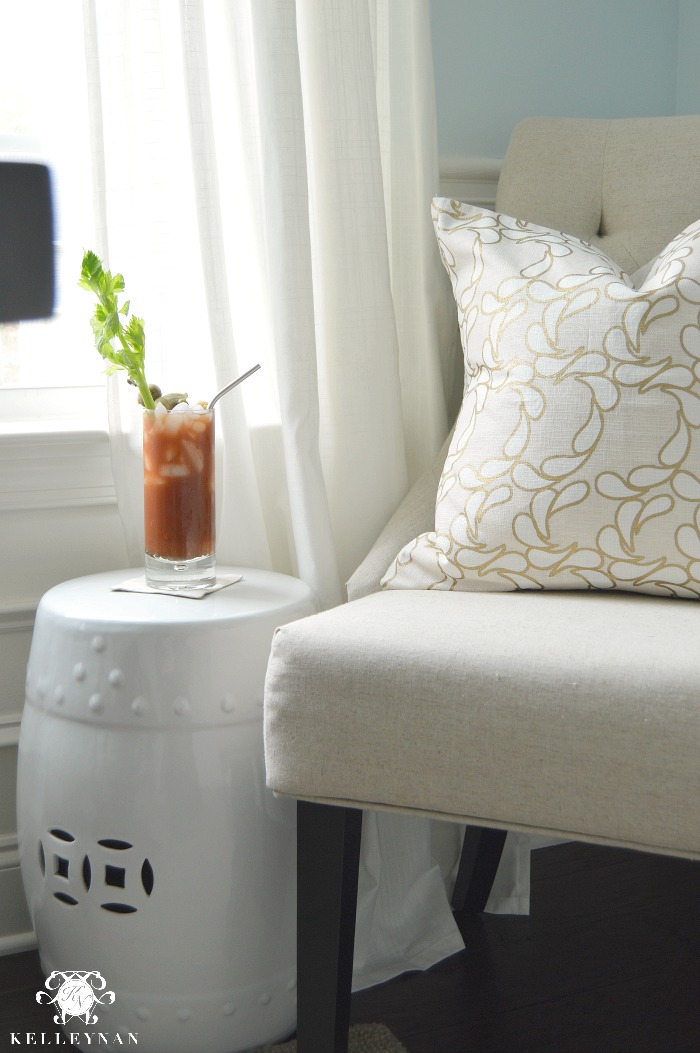 GET THE LOOK | ENTERTAINMENT PIECES

GET THE LOOK | OTHER PIECES

ADDITIONAL SOURCES
12-Light Chandelier
 | Dining Table:  (84″ in Salvaged Brown) | Buffet: (72″ in Distressed White) | Curtain Panels
: (98″ in White) | Rug: HomeGoods- Calvin Klein wool | Salt & Pepper Set | Mercury Glass Candle Holders | Pillow: Pottery Barn (no longer available) | Turkish Hand Towel: HomeGoods | Paint: Sherwin Williams- "Lauren's Surprise"
*post contains affiliate links*
*where original product is not available online, an alternative option has been sourced*