My dining room holds some of my favorite pieces in my home, but it also holds some of the most expensive pieces in my home. Or, at least pieces that are typically at the top of what I would spend. Lucky for us, we actually scored a couple things at a nearby outlet; we also made a few splurges before moving in. But, with some of our higher end pieces, we also mixed in several affordable furnishings we've been more than happy with. I recently had a reader write in and ask if I had suggestions for similar options on a piece that was out of her budget – and that's how I came up with the idea to take on my dining room: look for less. I've rounded up some of my post popular, most asked about pieces with similar alternatives at lower price points. Some share similarities while others are total ringers for the original I have.
*Posts on KelleyNan.com may contain affiliate links. Click HERE for full disclosure*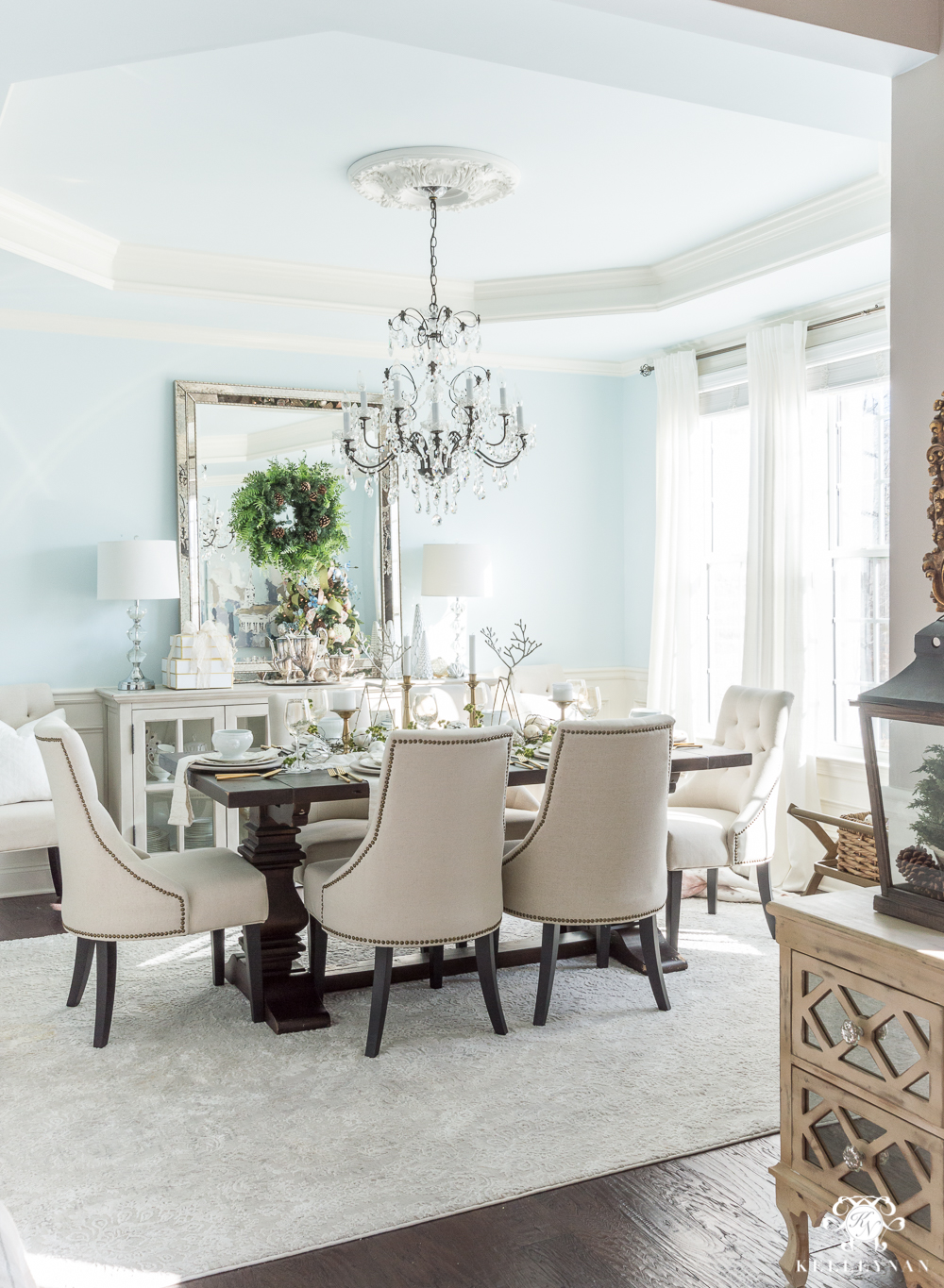 *You can tap on the corresponding numbers below each photo to be taken directly to the source.*
DINING TABLE
I love our dining room table. Like- L.O.V.E. it. I think it's timeless and can lend itself to a wide range of styles depending on how you style the room around it. It is a bit more narrow than I would prefer but it's beefy and classic and I'm so glad I didn't go with something too trendy.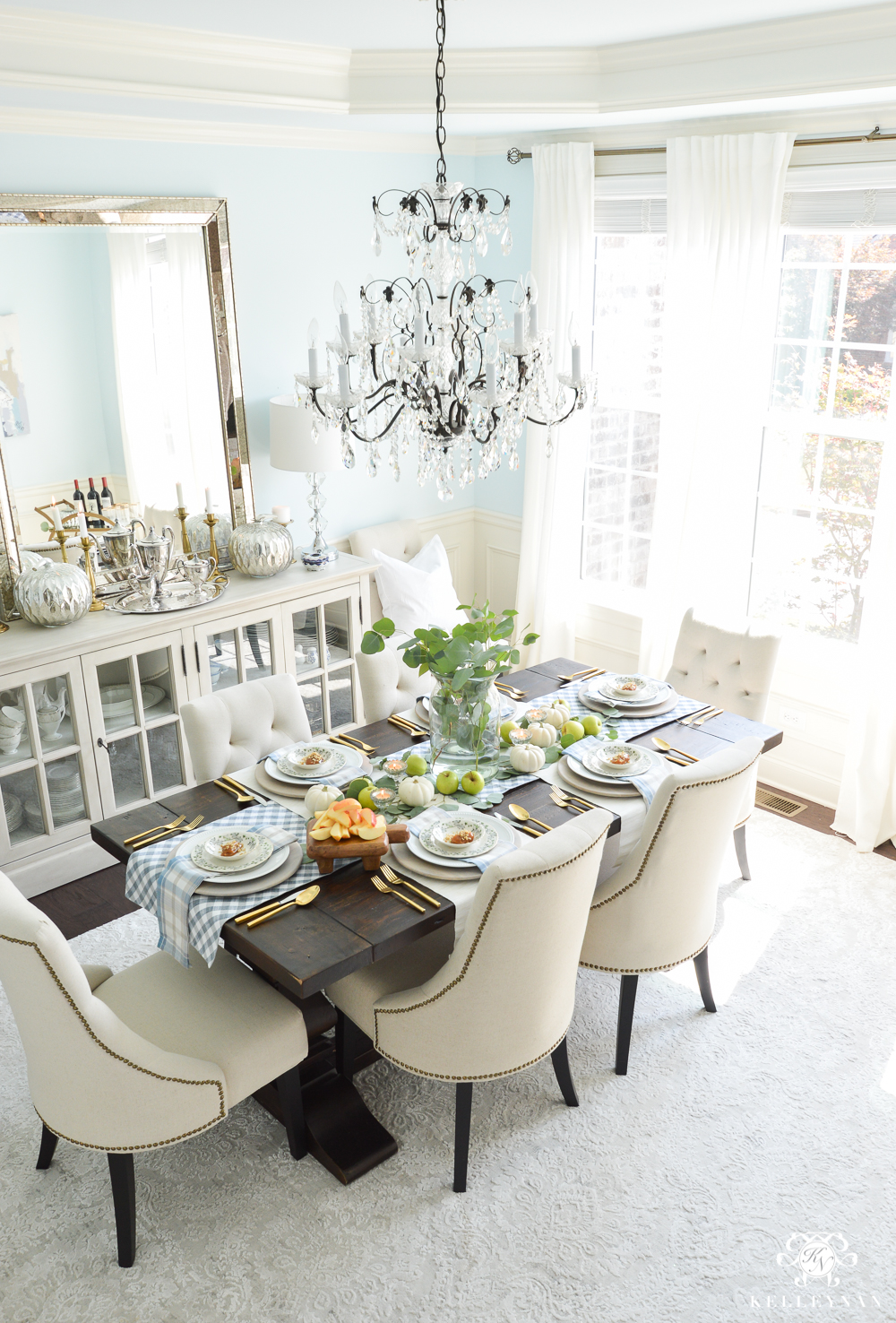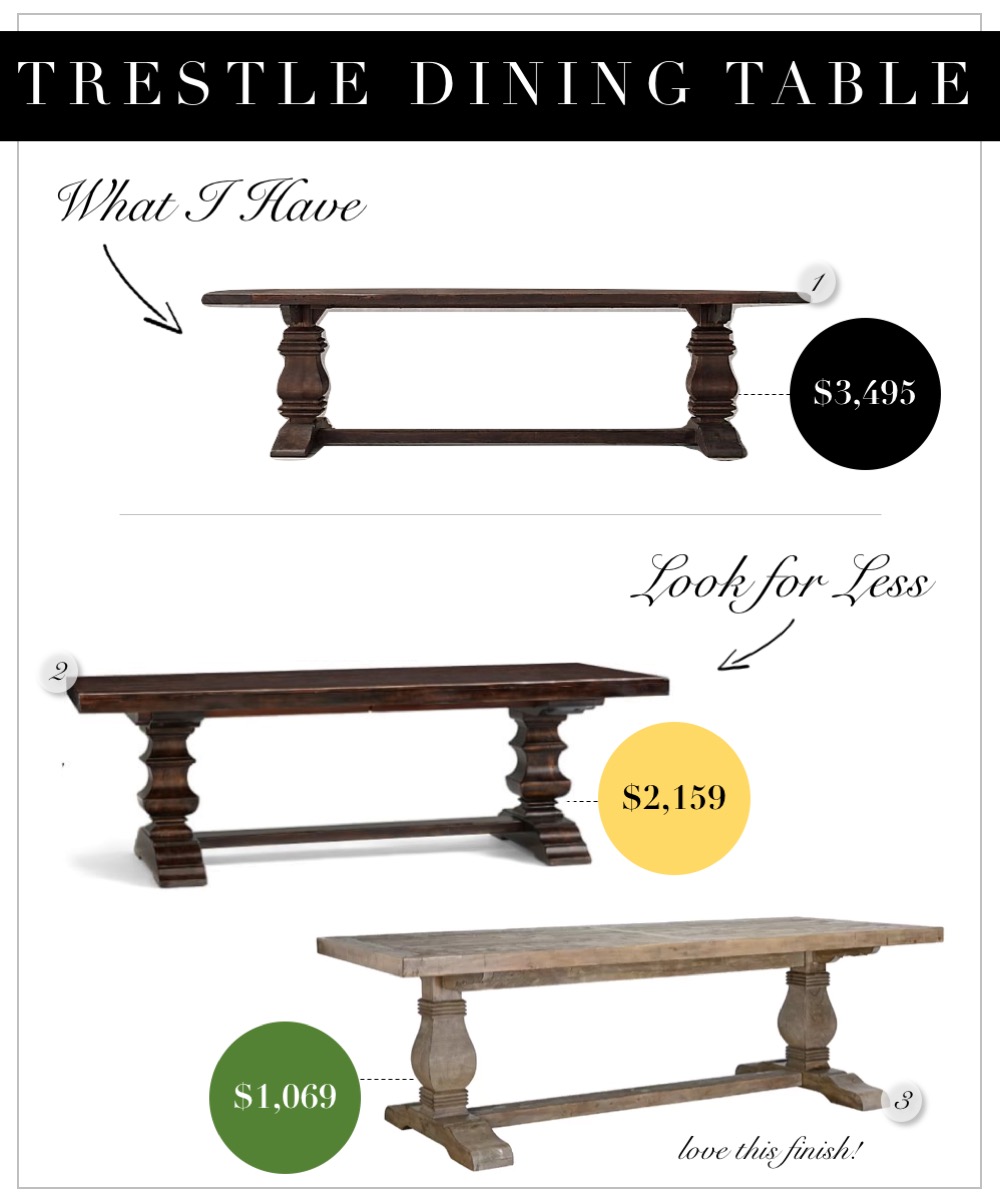 The first table alternative is really close in finish; while it is still isn't inexpensive, it is substantially less than the table we have in the dining room. The second alternative is significantly less and I actually am crazy over the finish.
CHANDELIER
This was the fixture we splurged on during the build (at least, it was a splurge for us since we were outfitting an entire home with lighting). We actually went with basic, builder-grade throughout so many areas (to update as we were able at a later date), but I was set on having my pretty, statement chandelier when you first walk in the door.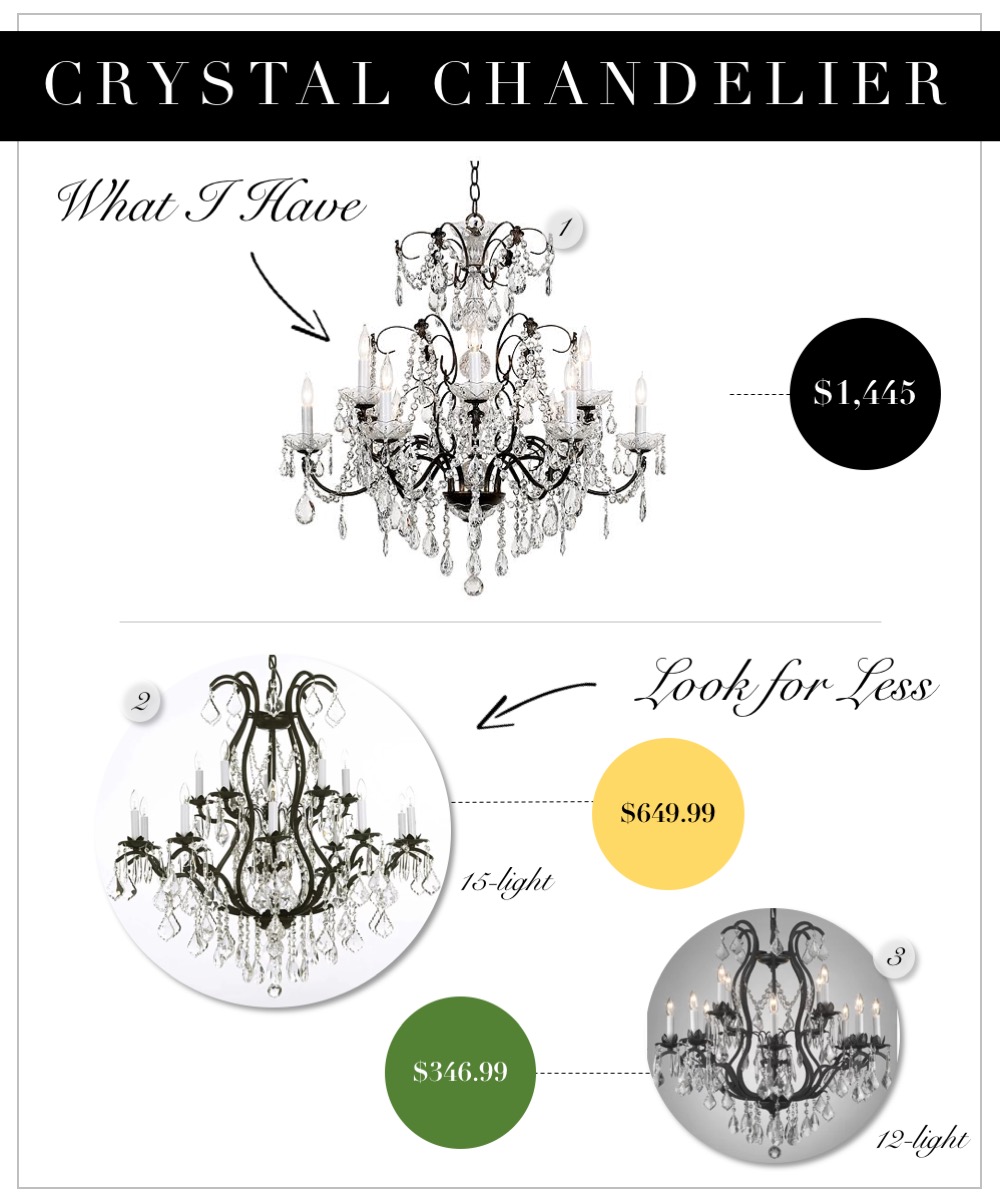 The first lighting alternative has 15 lights while the second has 12. What you can't really tell is that my fixture is a dark bronze (but looks black, even in person) and the material of the dupes is actually wrought iron.
SIDEBOARD
My sideboard was another purchase prior to moving in. It is totally a lifetime piece so if you are going to splurge, this is a good place to do it. Like the table, it is timeless and lends itself well across so many styles; even as your tastes change and evolve, this sideboard will stand the test of time.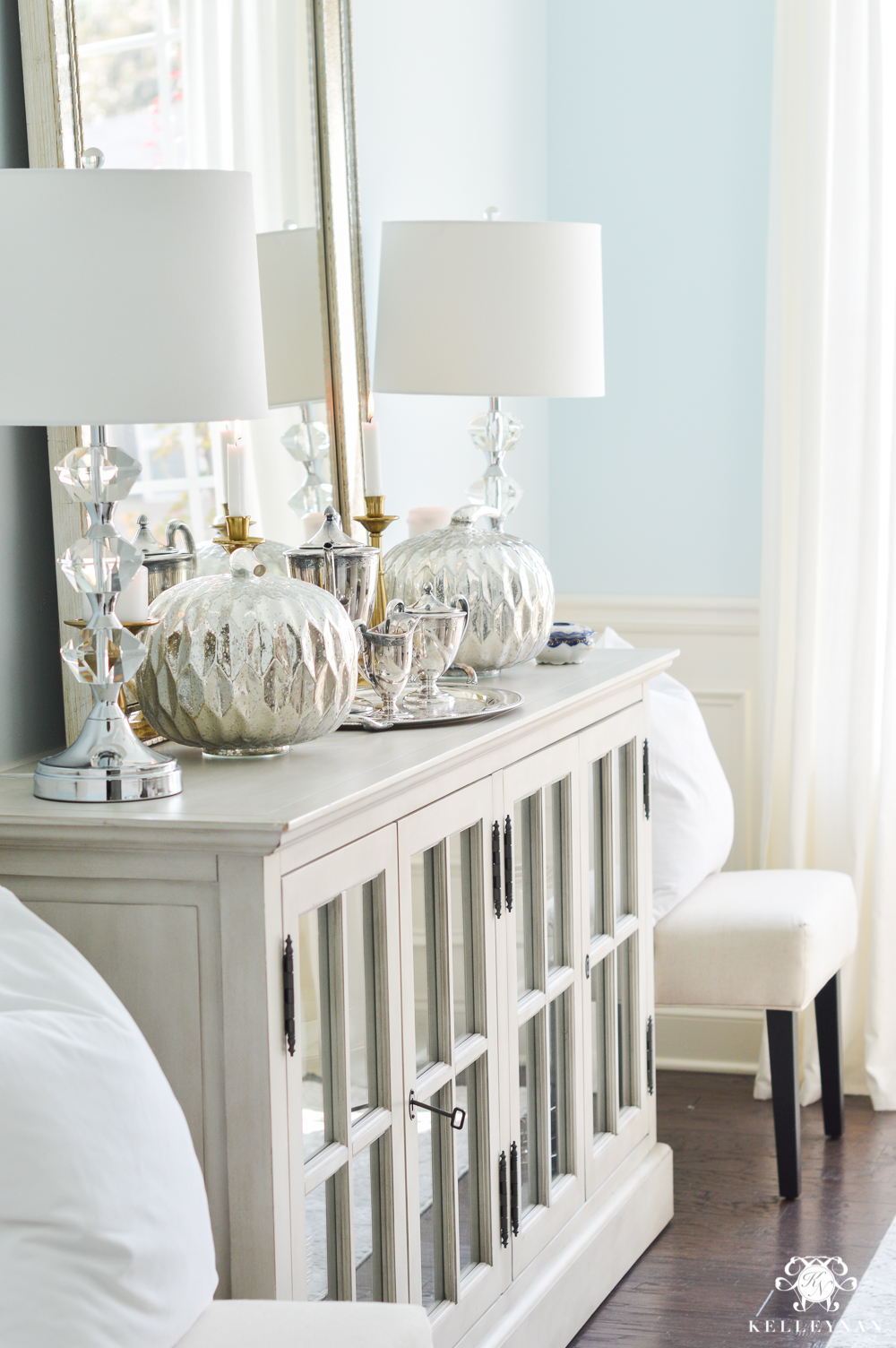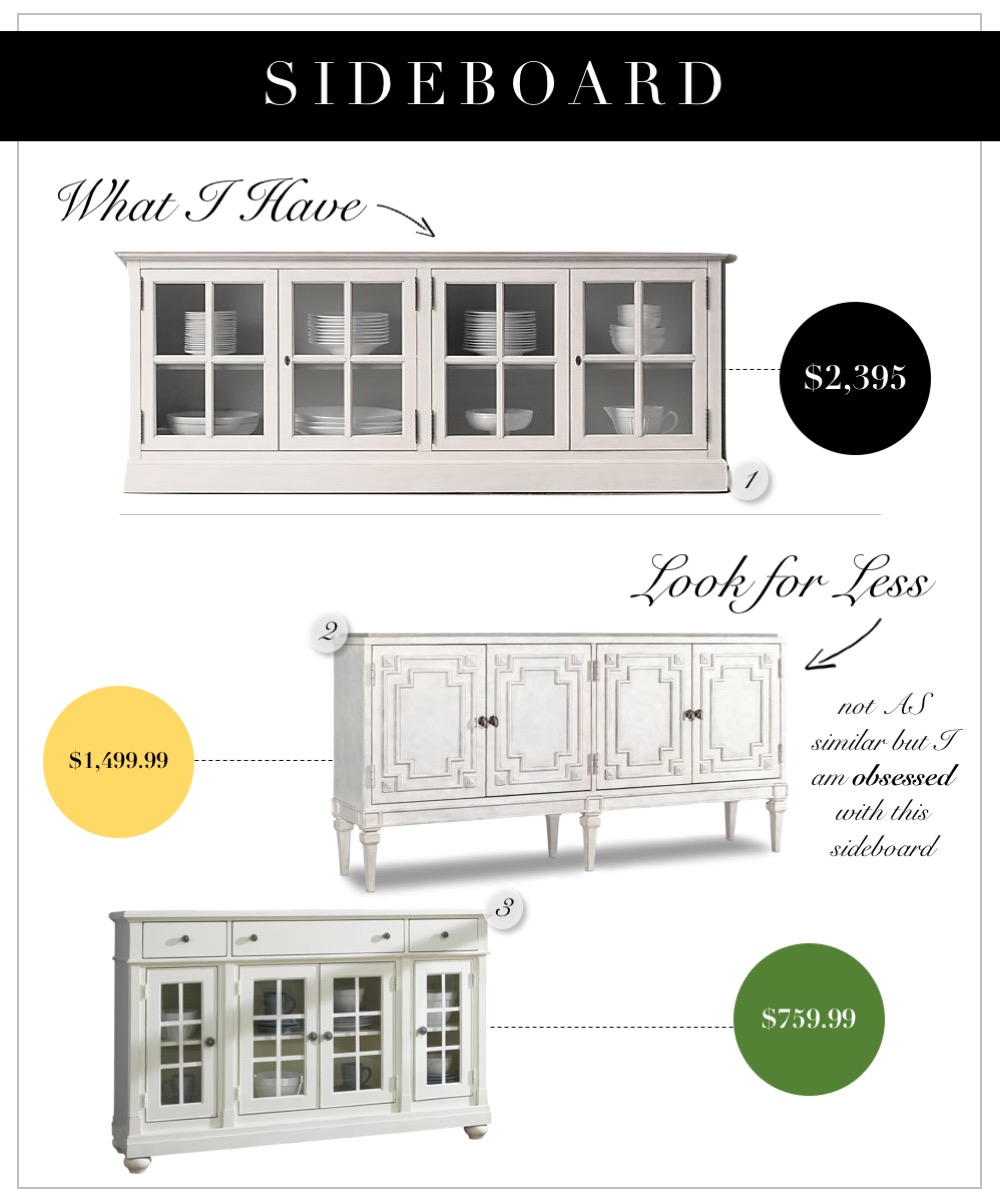 I didn't find anything incredibly similar to my French Casement sideboard but I did find some great options for a similar look. I actually have decided I have to have (some how, some way) the first sideboard alternative. I mean, I am all over it. If it will fit in my breakfast nook, I may just have to "add it to the list" and work on saving for it. It isn't cheap but it is still almost $1,000 less than the original. The second option is a little simpler but a great price. It also has a beautiful linen color (like the original) and isn't too stark or white.
DINING CHAIRS
My dining chairs are actually pretty budget friendly in the world of dining chairs. These guys can get expensive! We have the same style stools (which we sit in far more often- hours every day) and they have both held up beautifully.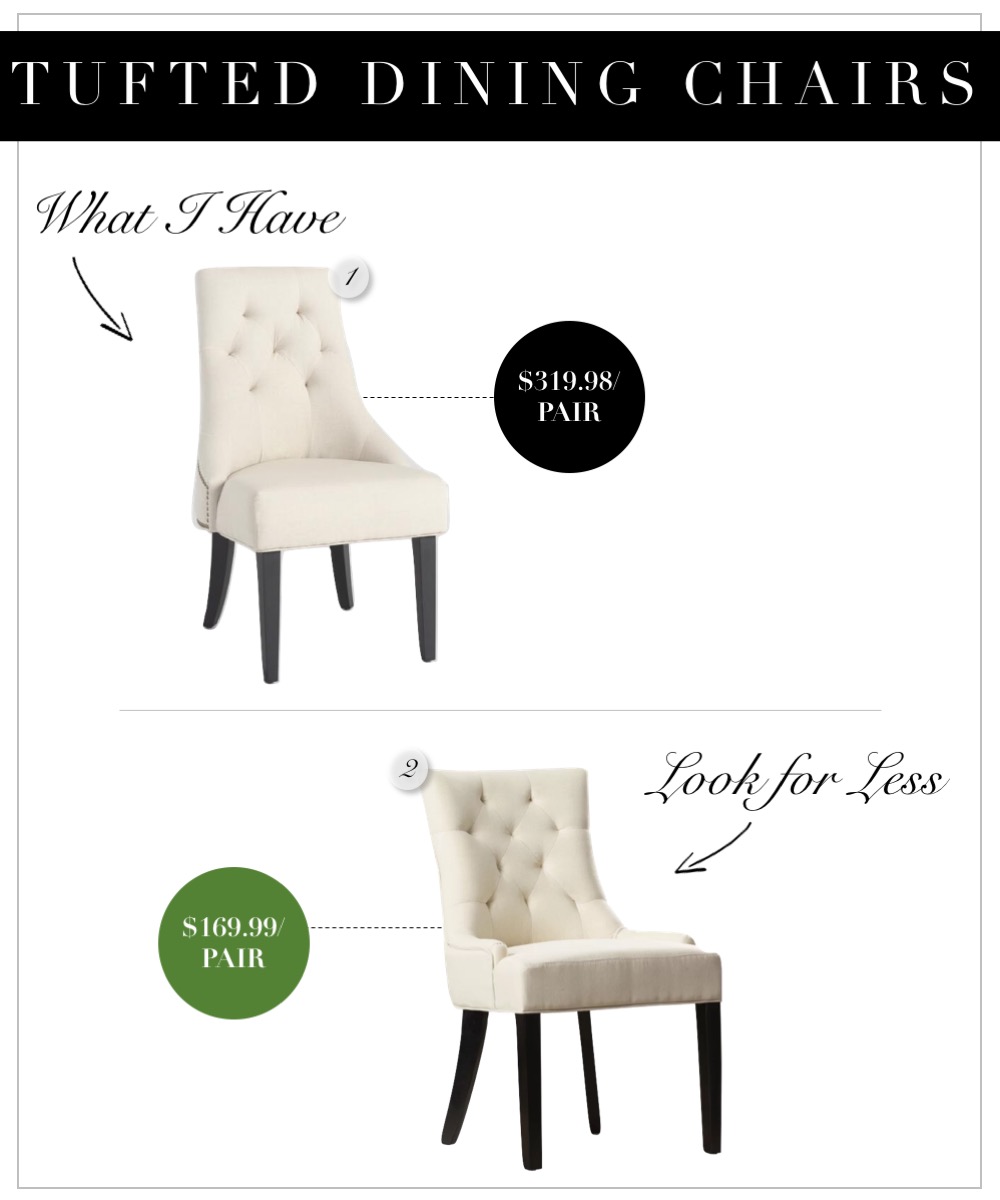 The similar option doesn't have the nailhead trim on the back, but, if you don't have to have that detail, you can score the alternative for almost half of the original. Both prices above reflect a pair of the chairs.
GOLD FLATWARE
I have two sets of 20 of our gold flatware and we use it every time we entertain. One thing I really like about it is unlike our everyday silver flatware, it really hides water spots and imperfections well.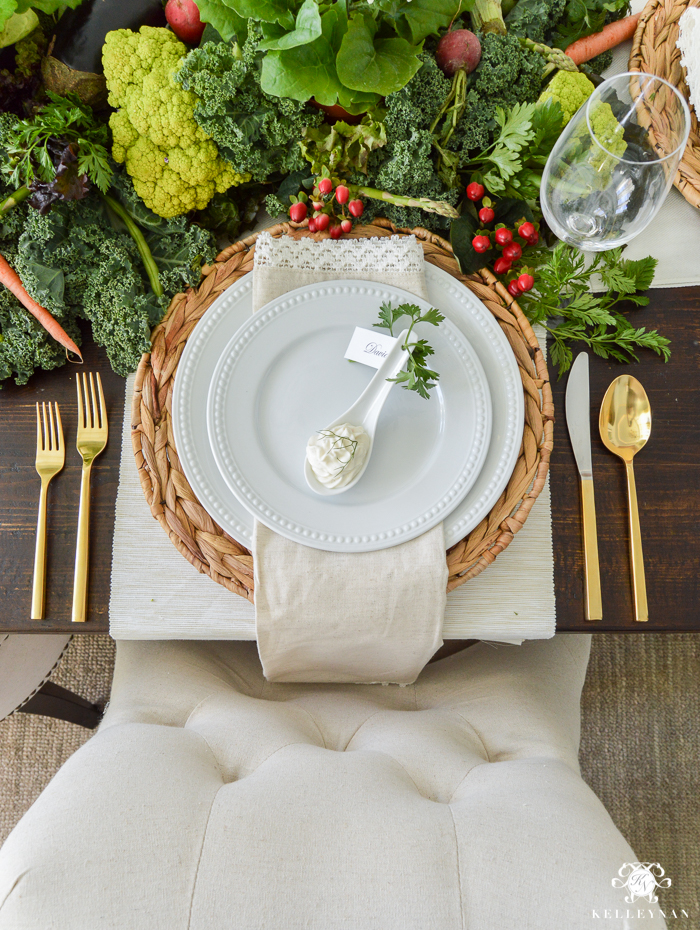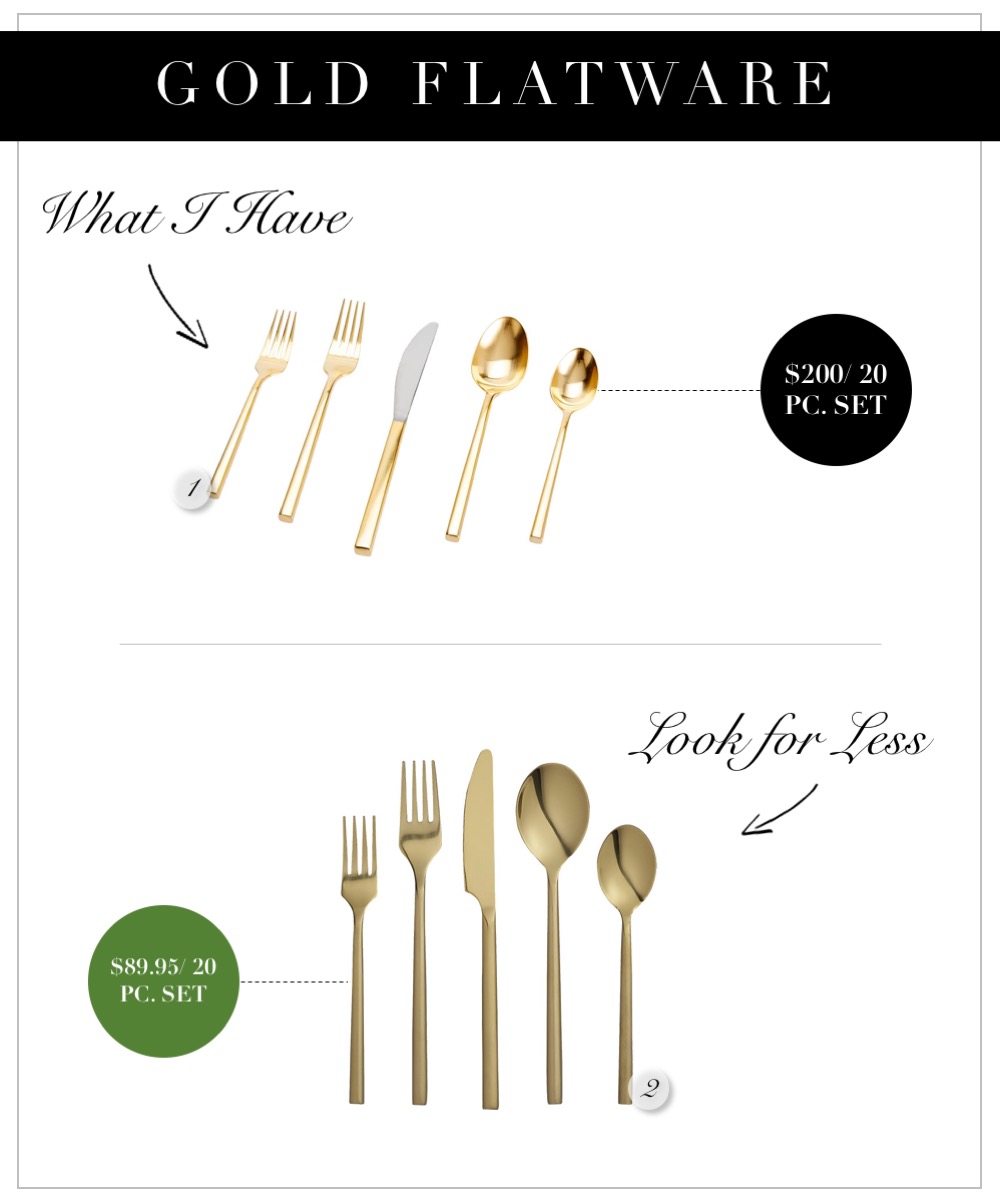 This can get expensive and can be hard to justify, especially if you don't plan to use it every day and don't entertain often. I found a warm gold dupe for 40% of the cost of the set I have. I can't speak to the quality or heft personally, but I check out the reviews and they are fantastic- 4.6/5 with over 100 reviews and raves.
BAR CART
My bar cart is another piece that is pretty affordable. The true dupes to this gold bar cart are actually way more expensive than the version I have, coming in under $200.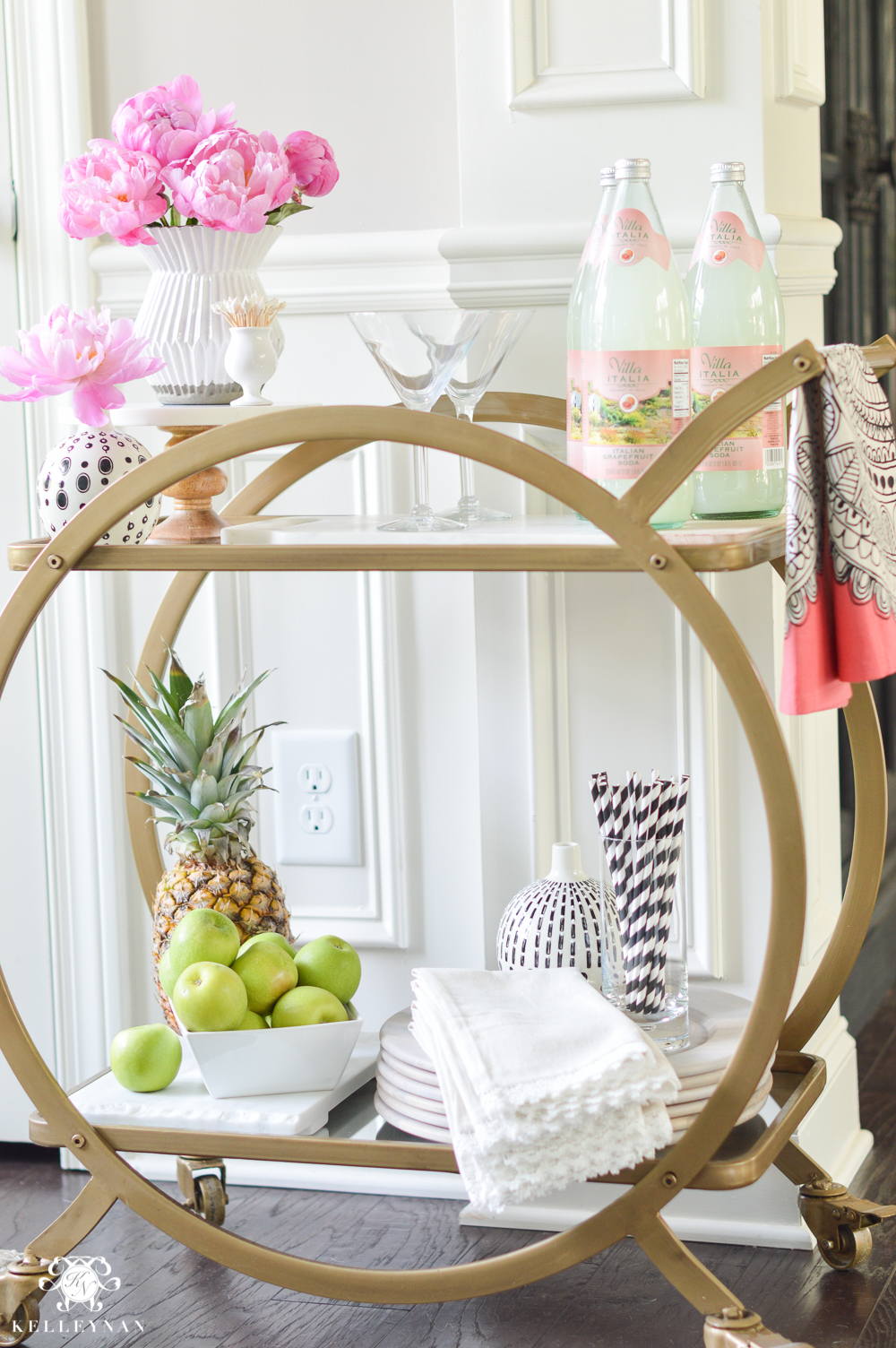 Since we are going the less expensive route, I found an alternative that still has the same finish and circle detail, but is a bit different.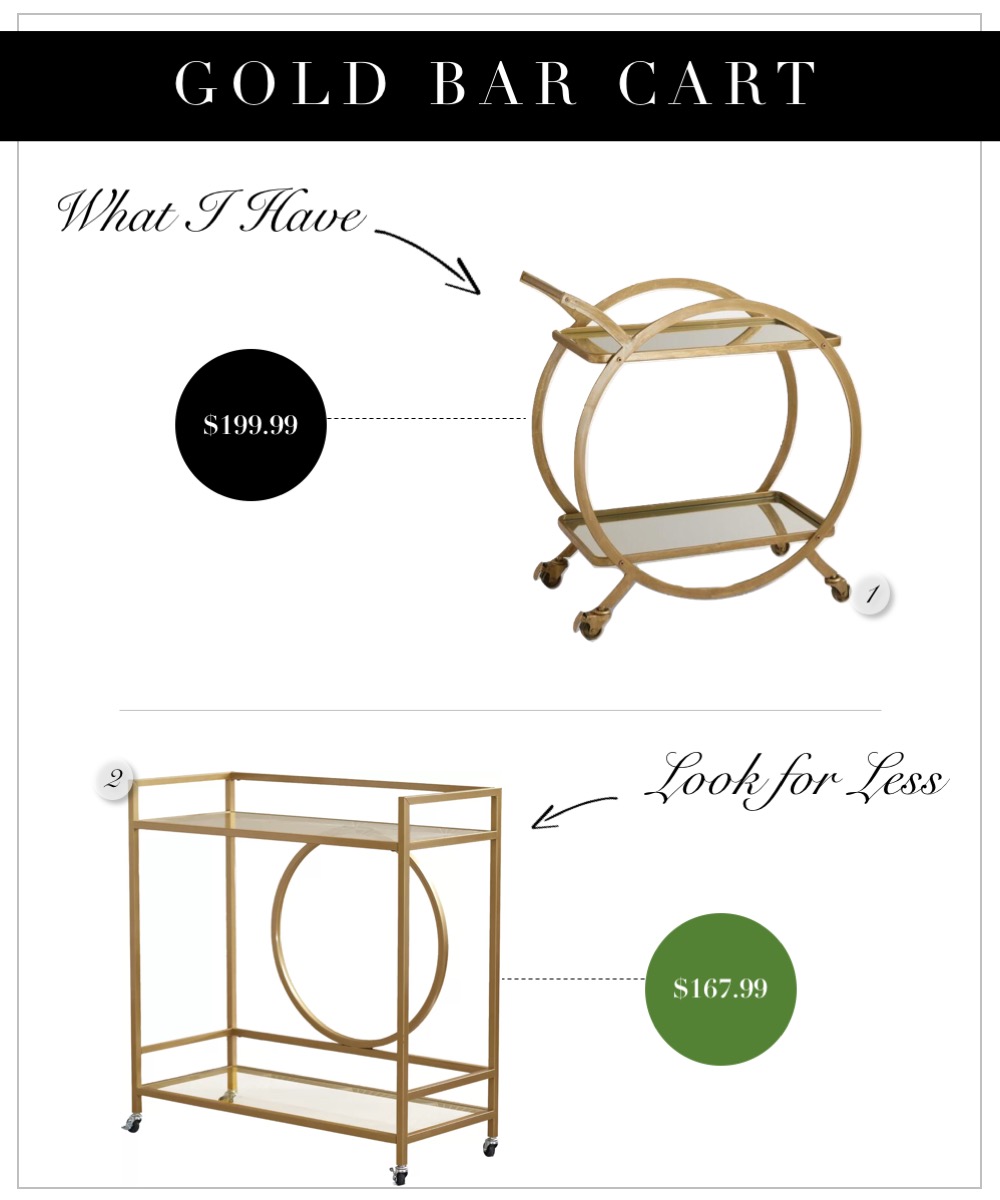 I believe the alternative actually holds more and would be easier to style (and position in the room). And, if you are limited on space in the dining room, bar carts are amazing to have for almost any room in your home- you don't even have to use them as a "bar cart".
LAMPS
I actually cruised out to HomeGoods and purchased my lamps on a whim so I don't have an online version of the originals. They seem to carry that style a good bit so if you have one close, I would start watching there first. If you don't have luck, I found two alternatives that seem to be very close cousins to the ones flanking my buffet.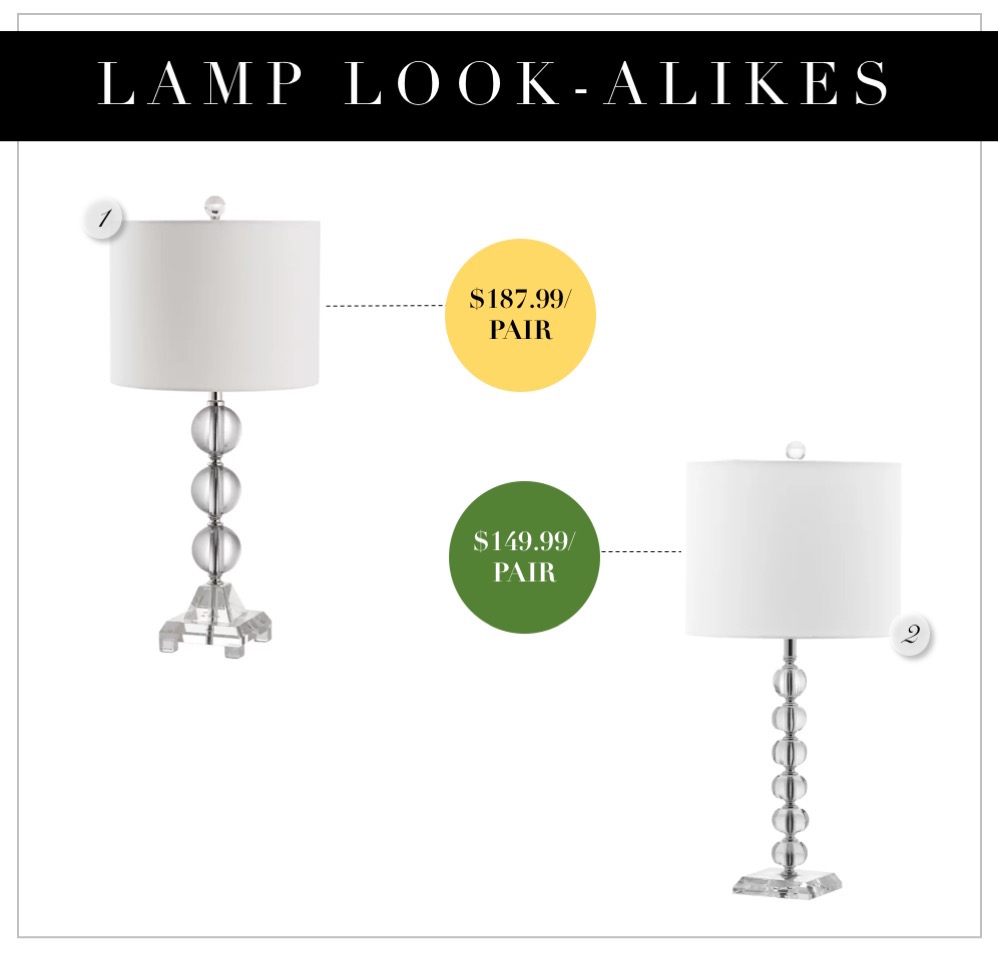 I have a few entertaining posts that will be taking place in here very soon- subscribe to my emails below to make sure you catch them when they launch! 😉

Chairs – Linen | Bar Cart | 12-Light Chandelier
 | Tapered Candle Sticks | Pillar Candle Holders | Gold Flatware | Mirror: Homegoods – (SIMILAR) | Dining Table:  (84″ in Salvaged Brown) | Buffet: (72″ in Distressed White) | Curtain Panels
: (98″ in White) | Rug: HomeGoods- Safavieh | Lamps: HomeGoods – (SIMILAR) | Silver Tea Service: Family Heirloom – (SIMILAR) | Cream Table Runners | Plaid Table Runner & Plaid Napkins: HomeGoods | Church Painting | Water Lillies Art | Paint: Lauren's Surprise by Sherwin Williams | Flooring: Nottaway Hickory in Weathered Saddle