In a perfect world, I would have a huge butler's pantry with endless space to meet the storage space required for every entertaining piece I have. But instead of focusing on what I don't have, I'll focus on what I do have – a tiny little nook of a butler's pantry, separating the kitchen from the dining room. As small as it is, up until recently, it was one of those "drop zones" that accumulates all the random stuff from around the house. The basement door is opposite the cabinet so whenever I have something that needs to be taken down, 95% of the time, I will put in on the butler's pantry counter, hoping it will magically take itself down the stairs 😉 What was inside the drawers and behind the cabinet door was even worse – I'll share why in a minute 😉 Today though, the whole thing is totally tidied up for the first time since we've lived in this house. (Woo!) If you have a similar space, hopefully I can help you out today with some organization ideas for a small butler's pantry and the simple solutions I ended up going with.
*Posts on KelleyNan.com may contain affiliate links. Click HERE for full disclosure.*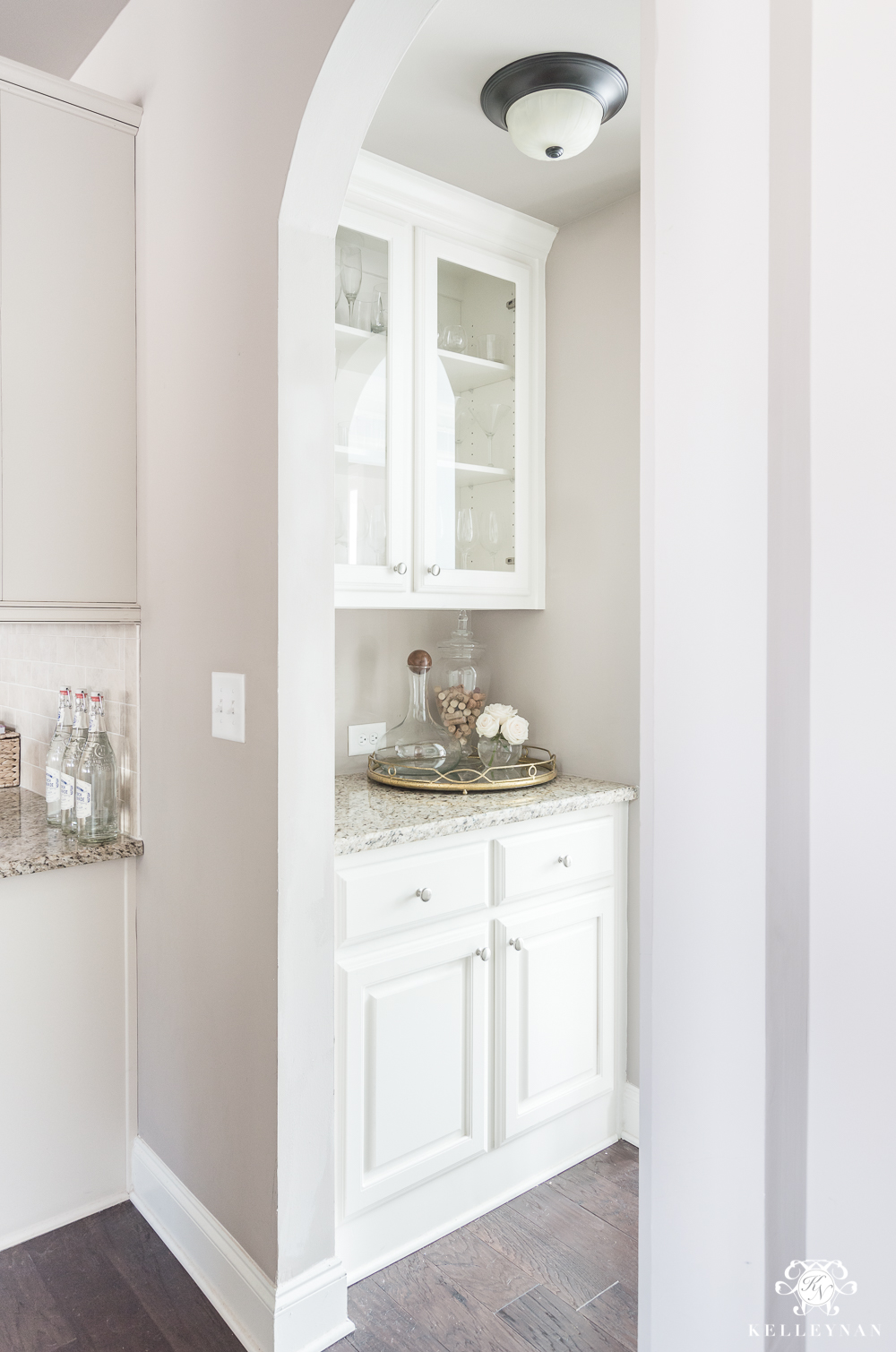 One other note before we get into the good stuff- this space is about as builder-basic as it gets. On "my list", I want to switch lighting, add cabinet lighting, add backsplash, and change the knobs. I actually changed the knobs a while back but they were gaudy (and basically terrible in every way) so I went back to the standard until I decided on others.
Before I started kitchen organization projects, I had (literally) 2o+ sets of cocktail napkins (and regular napkins) shoved in these drawers. When I organized my pantry (HERE), one of the solutions I added was a magazine file box for beverage napkins and loaded that into the pantry. It takes up so much less space and cleared out the drawers. I didn't grab a total "before" shot, but this is what the first drawer looked like after the  napkins and before the organization.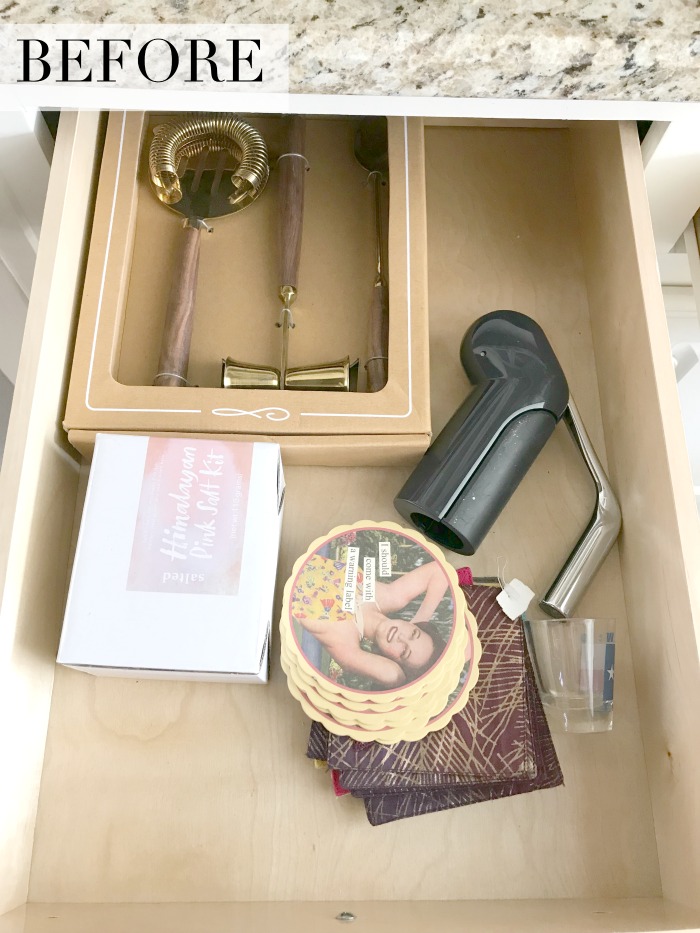 I bet you raised your eyebrows and that's totally ok haha. Here's the good part. Because I no longer had my butler's pantry drawers dedicated to party napkins, I actually had space to put in entertaining supplies and barware that actually belonged in the drawers. Last year, (because I had no space in the butler's pantry), I dedicated an entire kitchen drawer to straws and picks (see that post HERE). I even used whatever I had on hand (a flimsy, ill-fitting organizer tray and ramekins. The ramekins are great for organizing but when you are tight on space, it's better to have something that fits together and doesn't waste space with the circular shape. Since I was able to consolidate and move the contents of that drawer, that opened up another kitchen drawer (which I have since put to use).
After clearing everything, tossing some things and discarding others, I took inventory, grouped liked items and used my favorite drawer organizers to come up with the best configuration inside the drawers. Here's the result.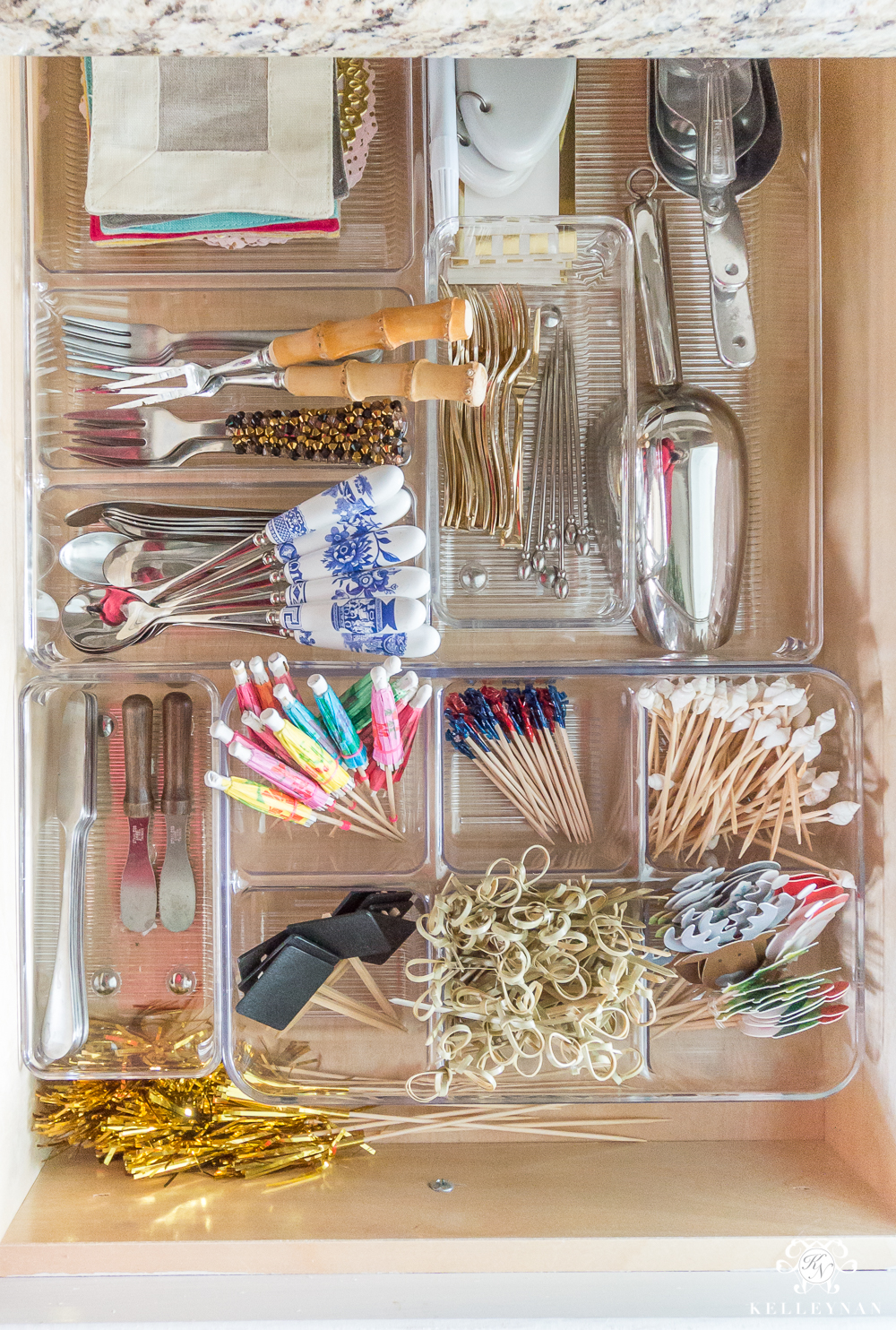 It's filled with all the picks, all the mini cocktail spoons, forks and knives (which I cleared out of the silverware drawer), and beverage scoops/labels.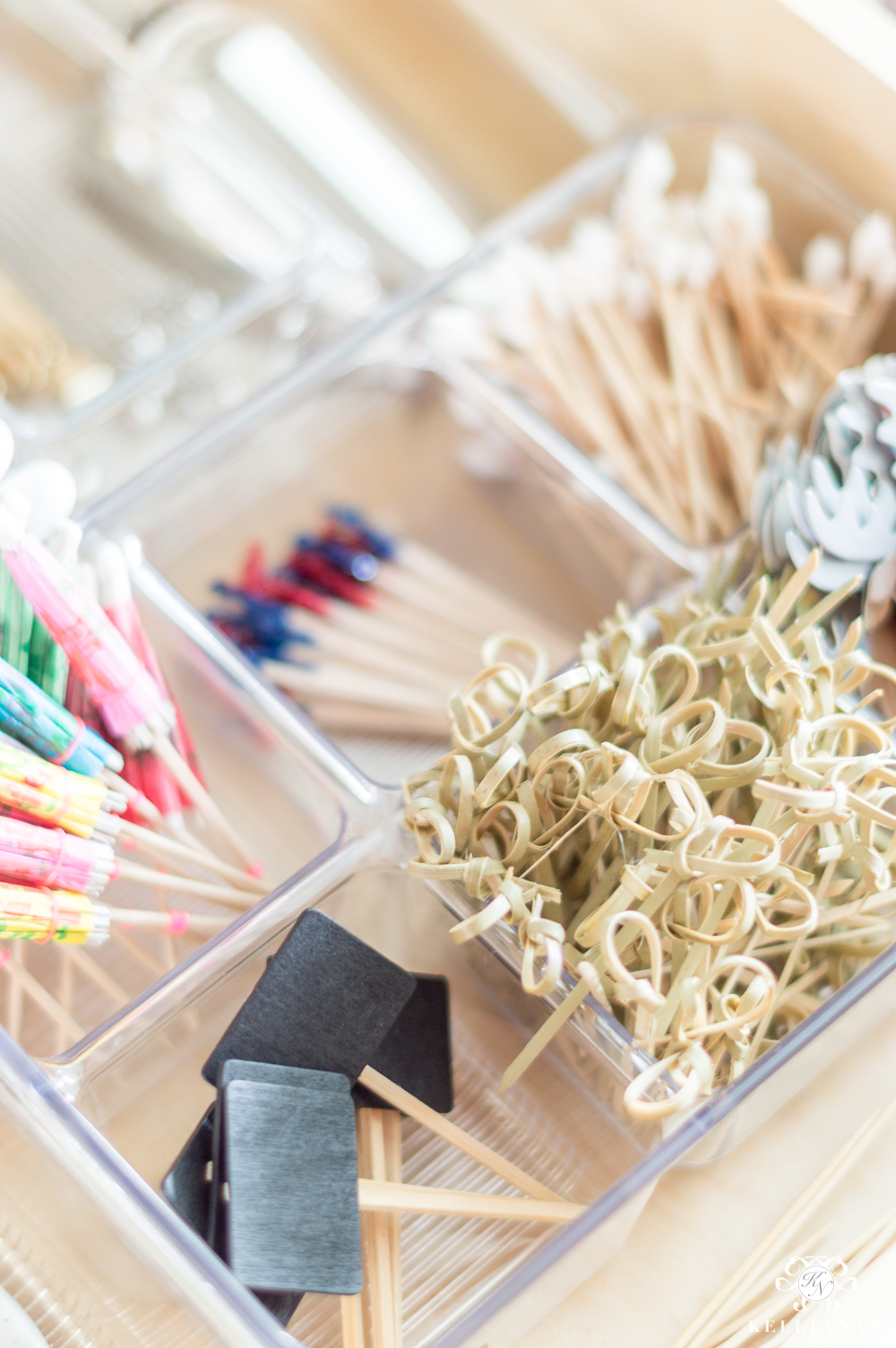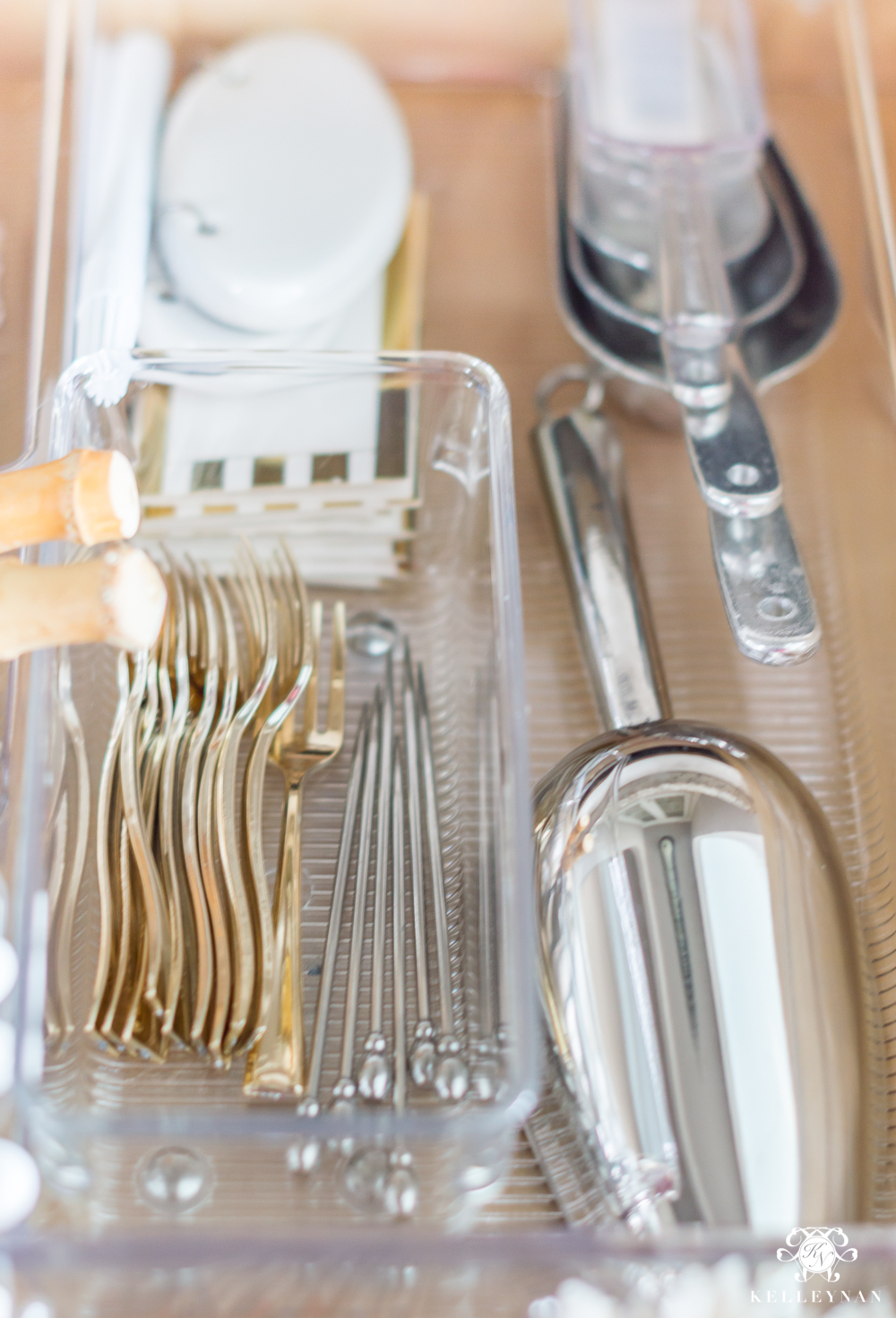 The other drawer is primarily designated for bar accessories. I actually organized both drawers, in tandem, after I got an idea of what each would hold. Here is the "after-before"…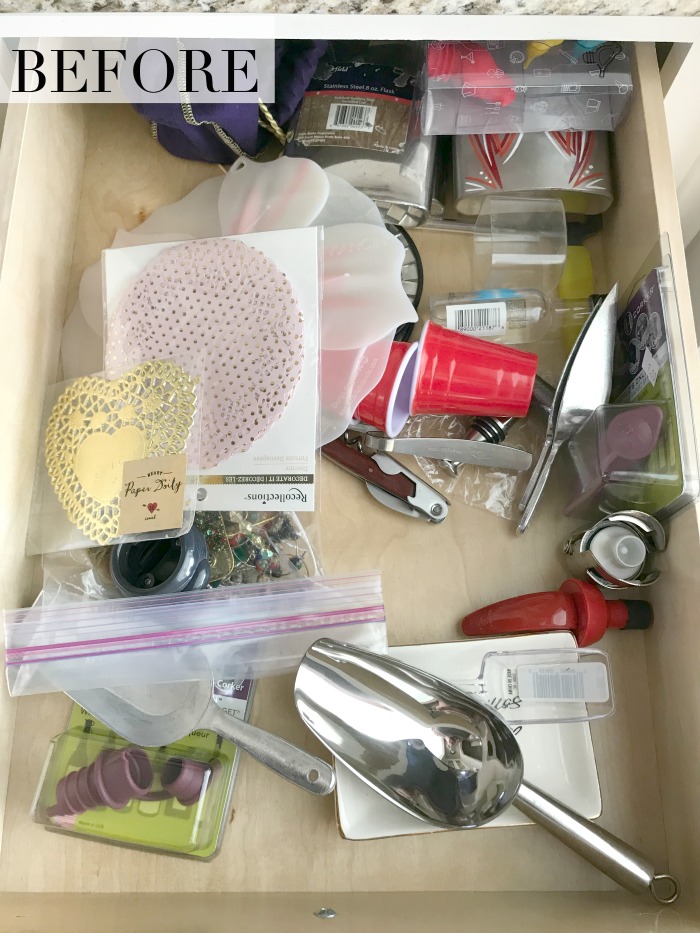 And here is the result.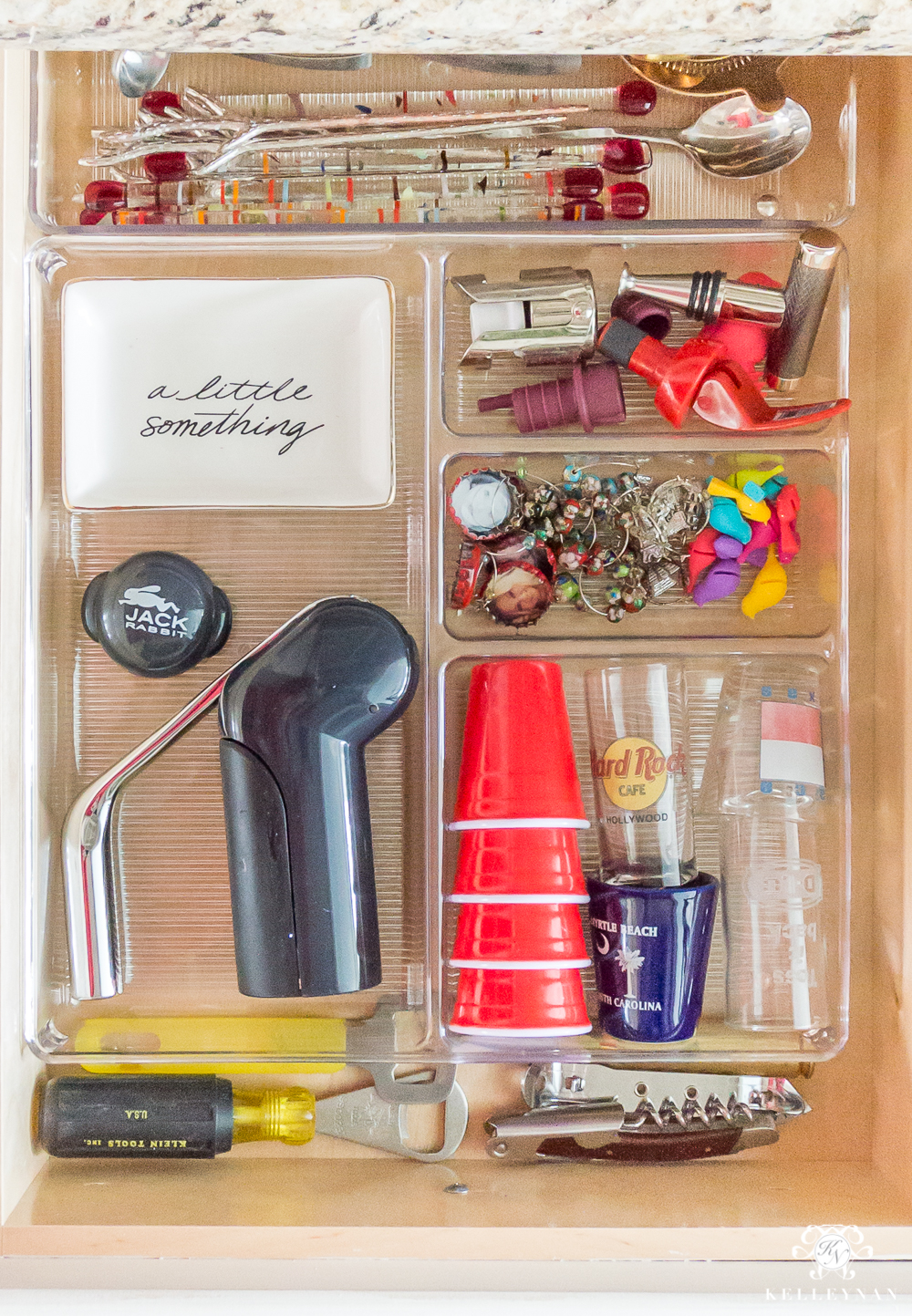 ---
SCROLL & TAP TO SHOP THE CLEAR ORGANIZERS

---
I can't tell you how many shot glasses we donated. We kept a few from trips/memories but the majority of them found a new home. We have enough wine charms to outfit an army of glasses but I love them- my friend Shannon even made me a set one year, using bottle caps as photo frames for our friends (so thoughtful, right?!).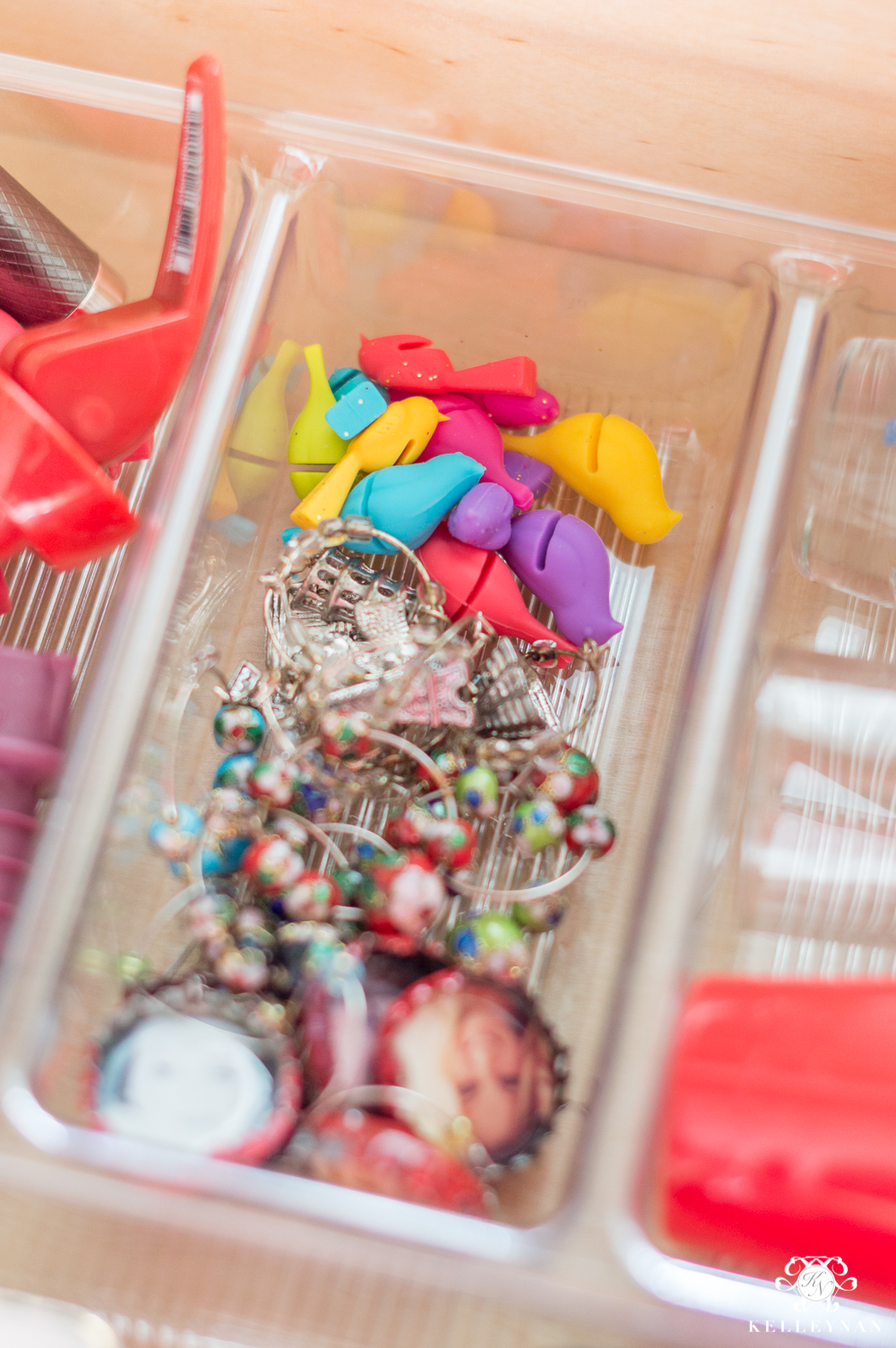 Since I was moving items between the kitchen, butler's pantry, and pantry, these drawers have been settled for over a month ;).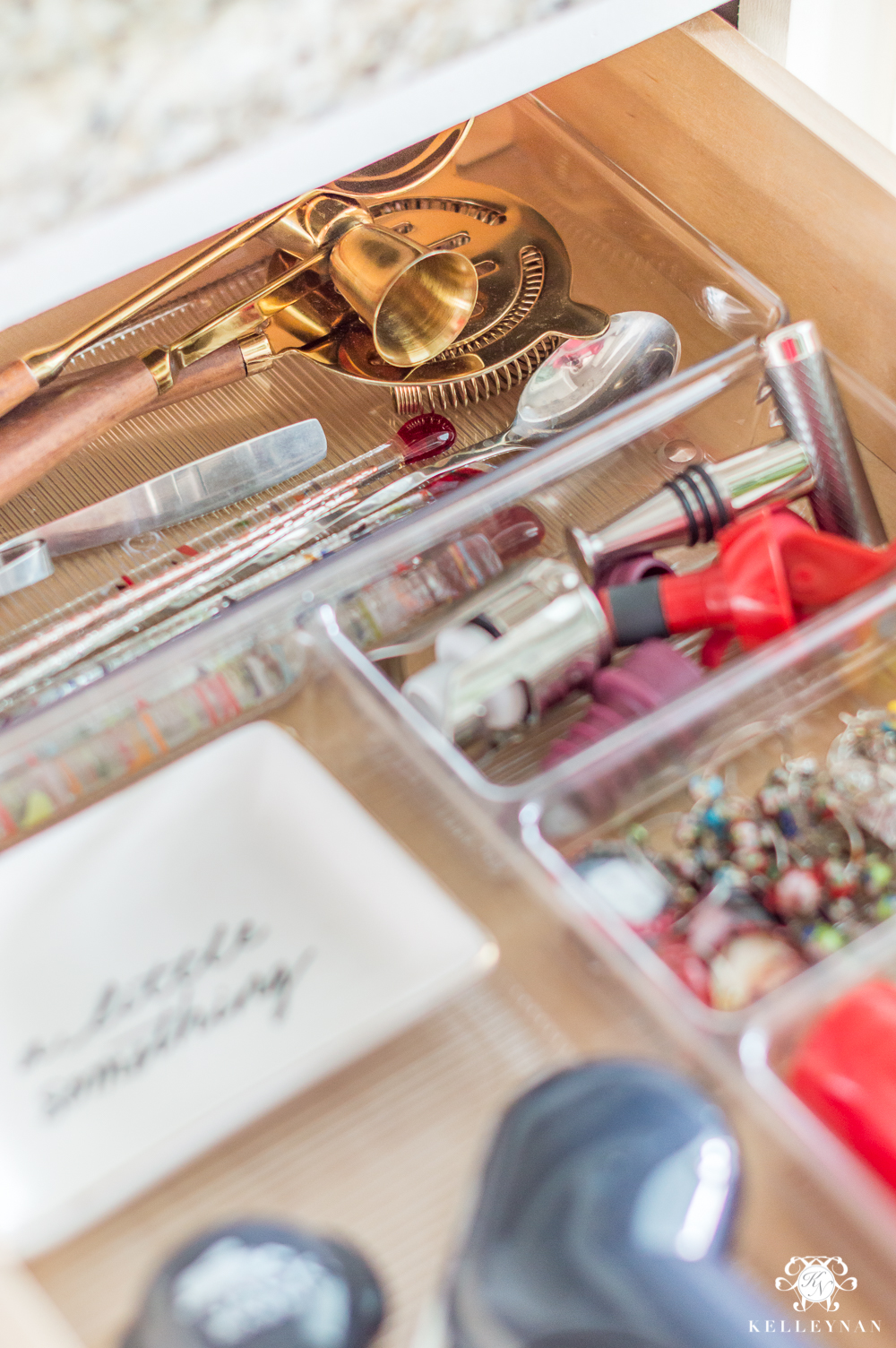 The one space that actually has been and stays presentable is our glassware. I keep all of our most basic, clear glasses in here. We have a lot of "just-in-case" sets we never use; the glasses we do use are typically limited to a few wine glasses and rocks glasses. (If you want to see what I recommend if you're just getting started, you can visit my 13 entertaining essentials post for the beginner hostess HERE).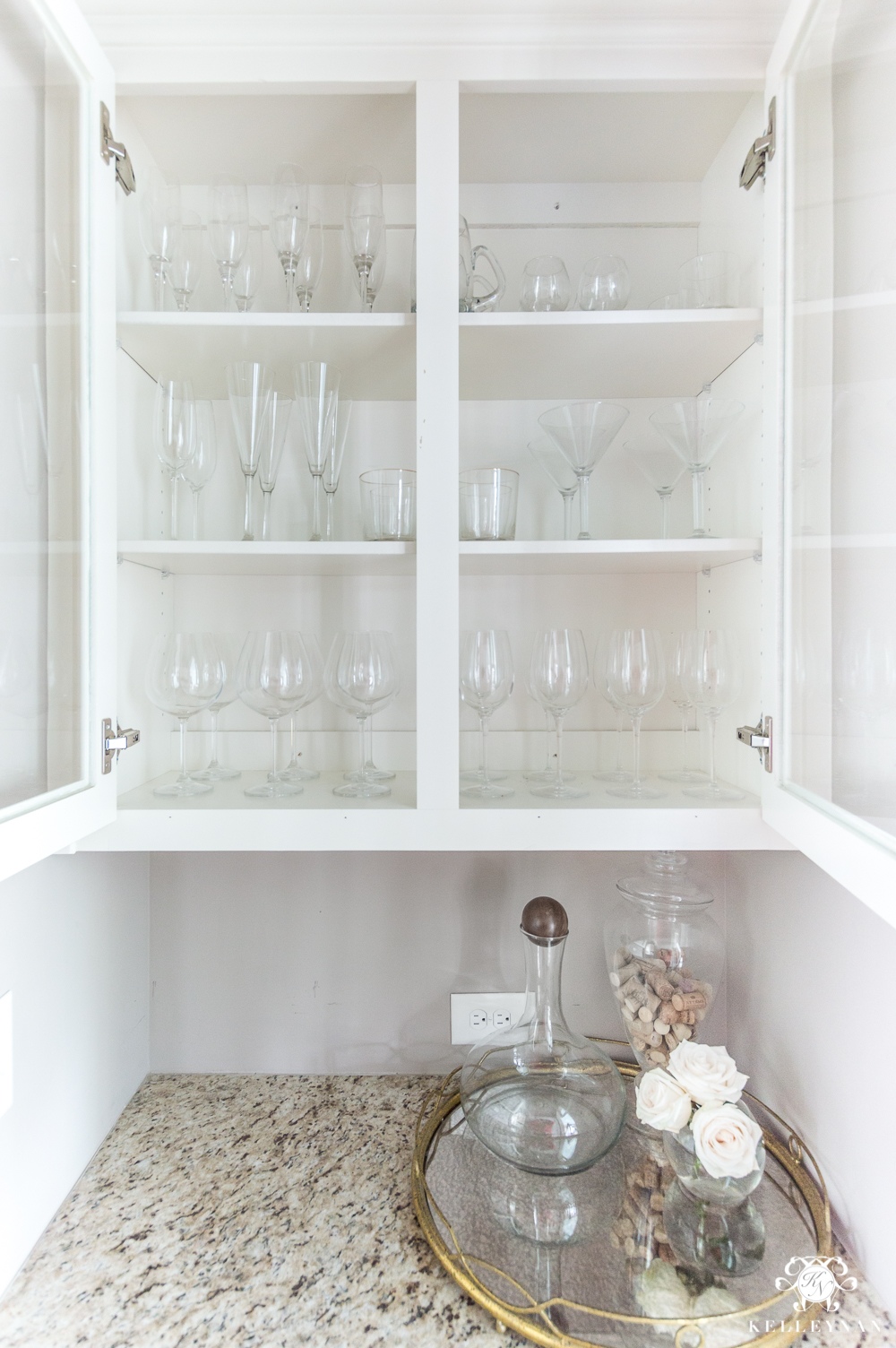 The area I put off until this past weekend was the cabinet below. And, I can't believe I forgot a "before" picture! Close your eyes and envision this – some of the things I pulled out. Three empty whisky bottles; one bottle of cheap vodka with one sip left; six pack of expired coca cola mini cans; six bottles of a dark beer that Dave bought years ago for a recipe; three full-sized expired tonic waters; four mini bottles of expired tonic water; 2 bottles of expired Fiji water; multiple Crown bags; a bag of shot glasses; a small trunk of airplane bottles that had to have been purchased over a decade ago; painted wine glasses; an espresso set; a four-pack multi-colored martini shaker set and caddy; and then finally, our actual liquor bottles.
Here's the frustrating thing (and maybe why I've never taken the time to organize). Inside the cabinet is a stationery, built-in shelf. The shelf is at the most ridiculous height and isn't tall enough for 85% of bottles to be stored underneath. The top shelf is also too short for bottles. I didn't want to leave wasted space in the back of the deep cabinet but I also didn't want to put things back there I couldn't access. The space wouldn't allow for a pull-out drawer (like my kitchen cabinets HERE), the multi-shaped bottles weren't conducive to being stored in wine racks on their sides; a lazy susan turntable didn't work… I even tried a basket to pull in and out but the slightest bottom height made it so that even the shortest of bottles wouldn't fit under the shelf. I went to Instagram stories to share my frustrations and had a lot of great recommendations. The most popular suggestion was to cut the shelf out and as great as that would be, I didn't want to turn my mini-afternoon project into a "sometime in the future mini (potentially expensive) demolition".
When I realized how much I had cleared out though, I wasn't panicked about space anymore. I did what I could and put a few short bottles underneath the shelf and spaced out the others so they wouldn't be too tightly packed and difficult to access. We keep our Waterford crystal flutes stored for special occasions, which also went under a shelf. Then, I was actually able to bring IN other glassware I had previously stored in the top of a closet, an ice bucket I had kept in the basement for lack of room, and corralled the cocktail shakers and accessories into a small basket.
So now that I've told you all about it, maybe you should actually see it 😉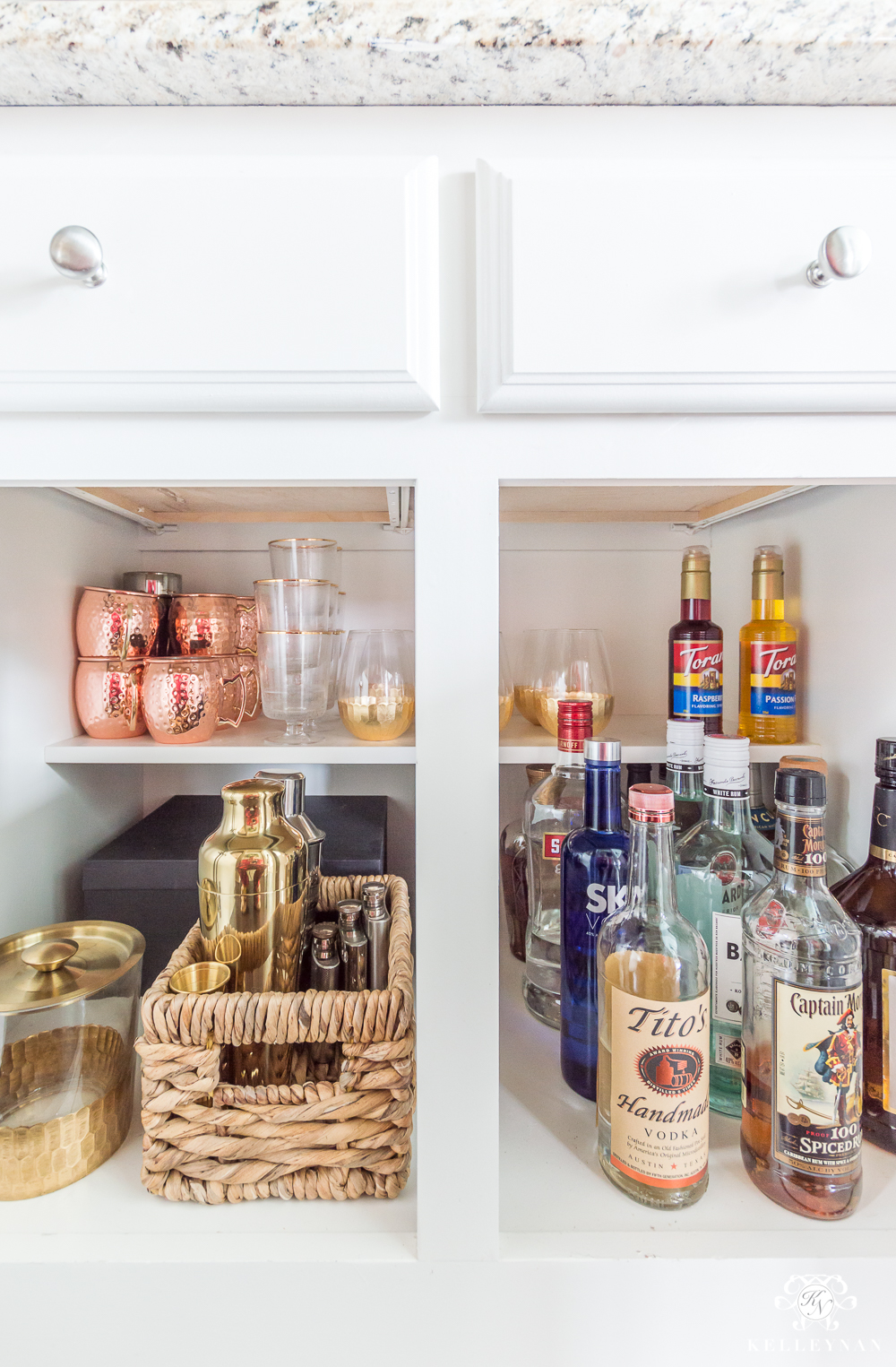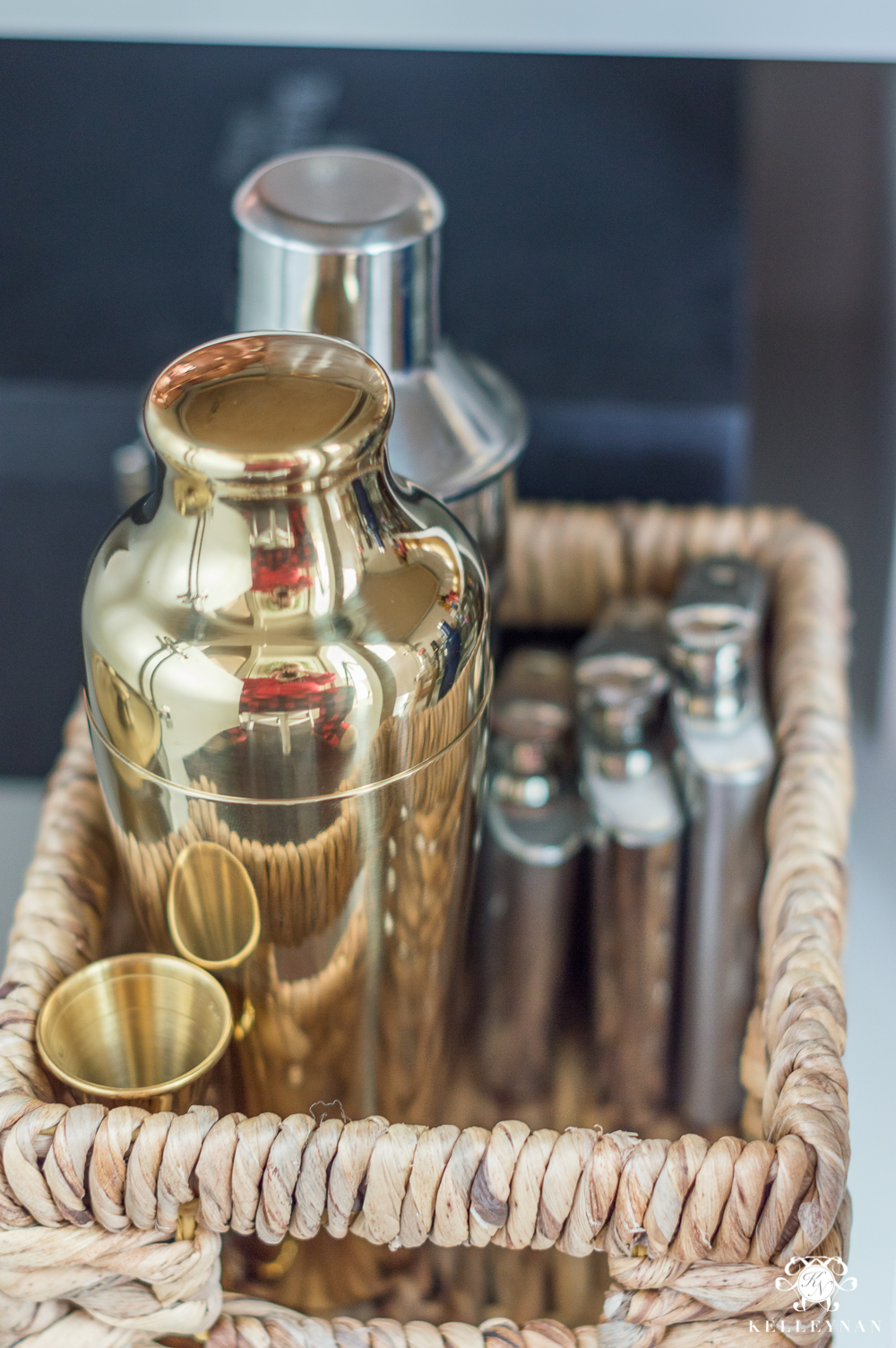 My theory is that keeping a tray on the counter space now will help keep me from loading it down with basement junk…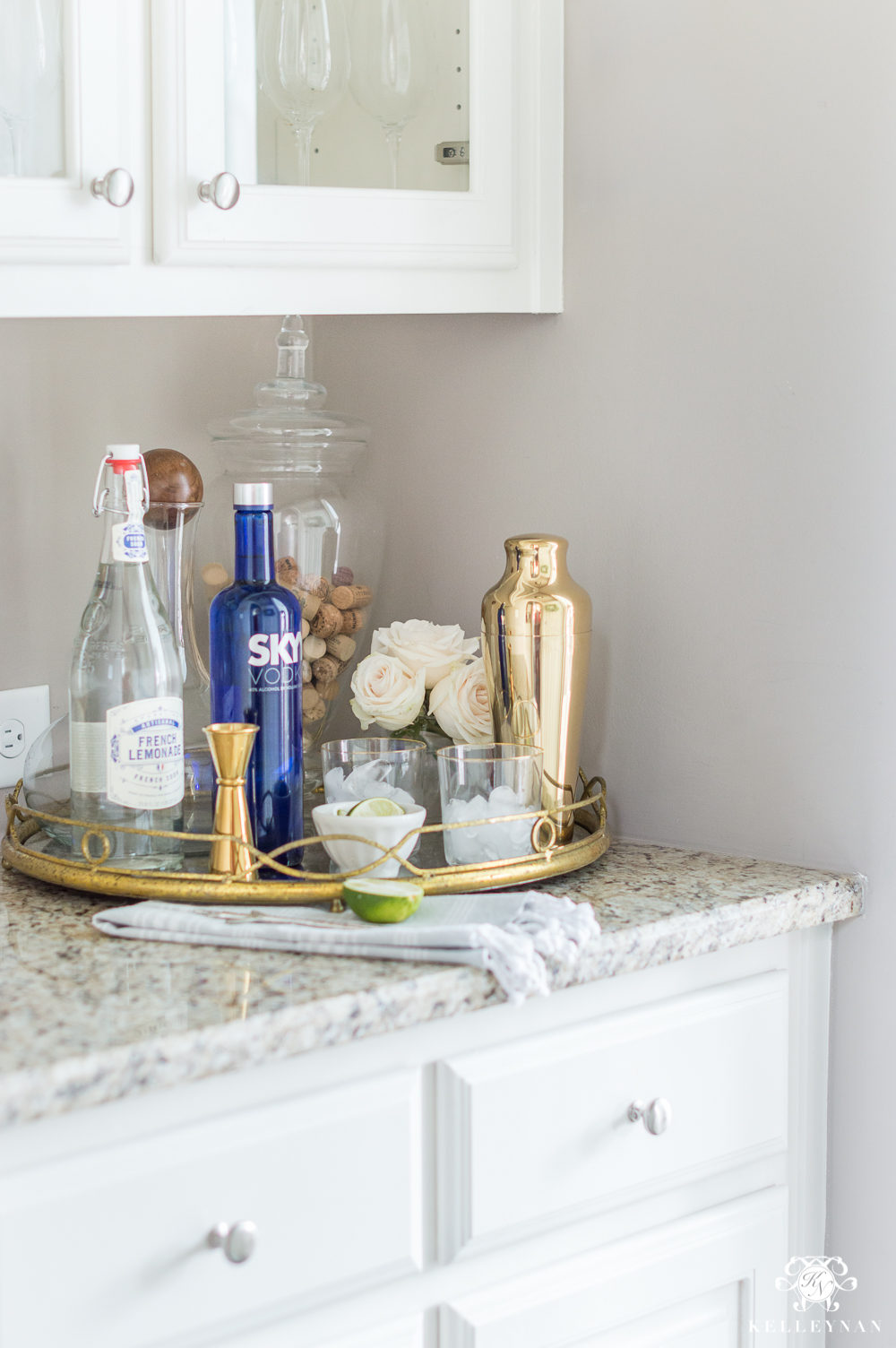 I've also committed to only keeping items on the tray so the space doesn't get too overtaken with accessories and can maintain a tidy appearance.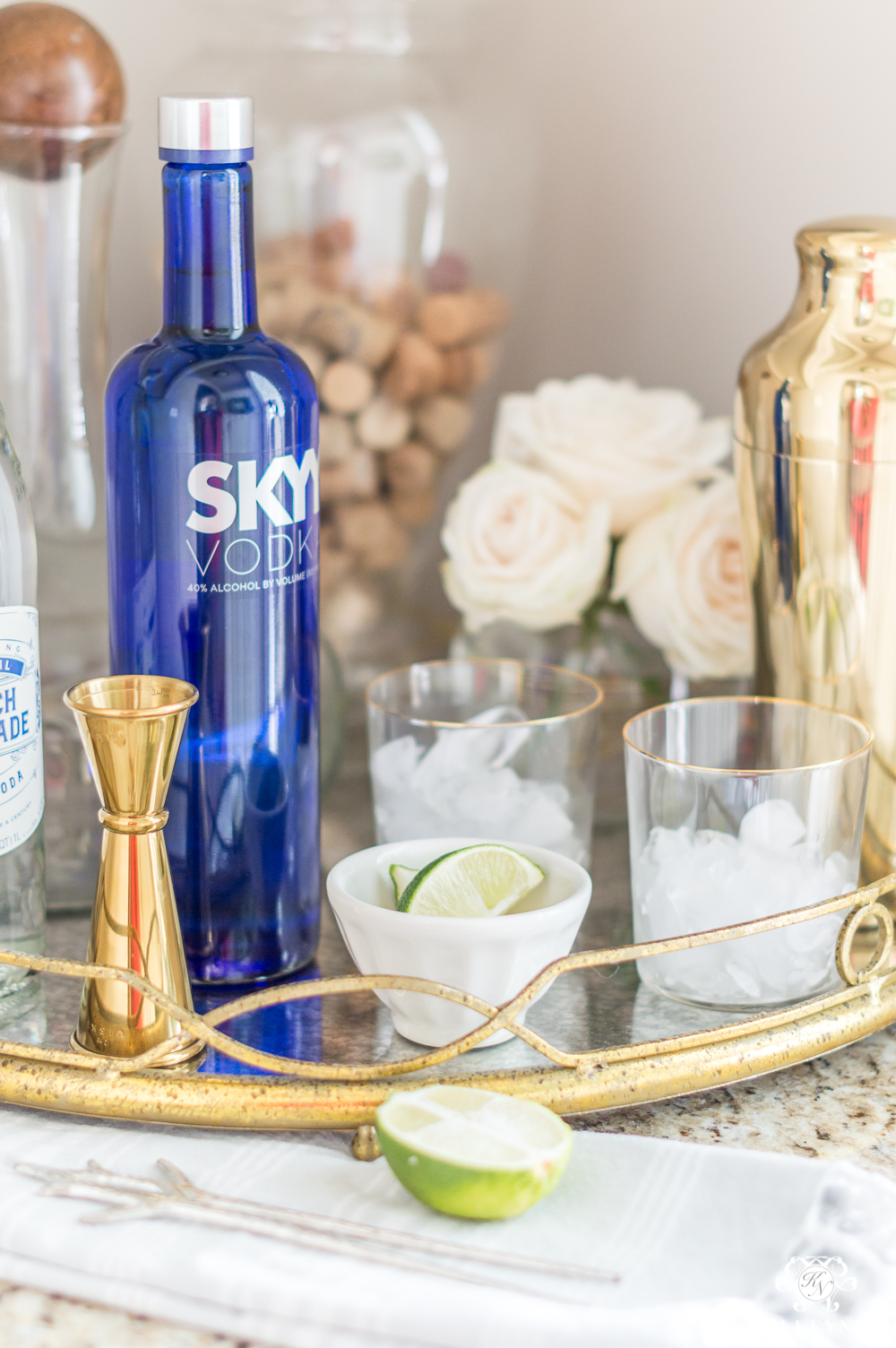 I actually scored these gold-rimmed tumblers at the Williams-Sonoma outlet recently for an incredible deal… I don't think they are available anymore :/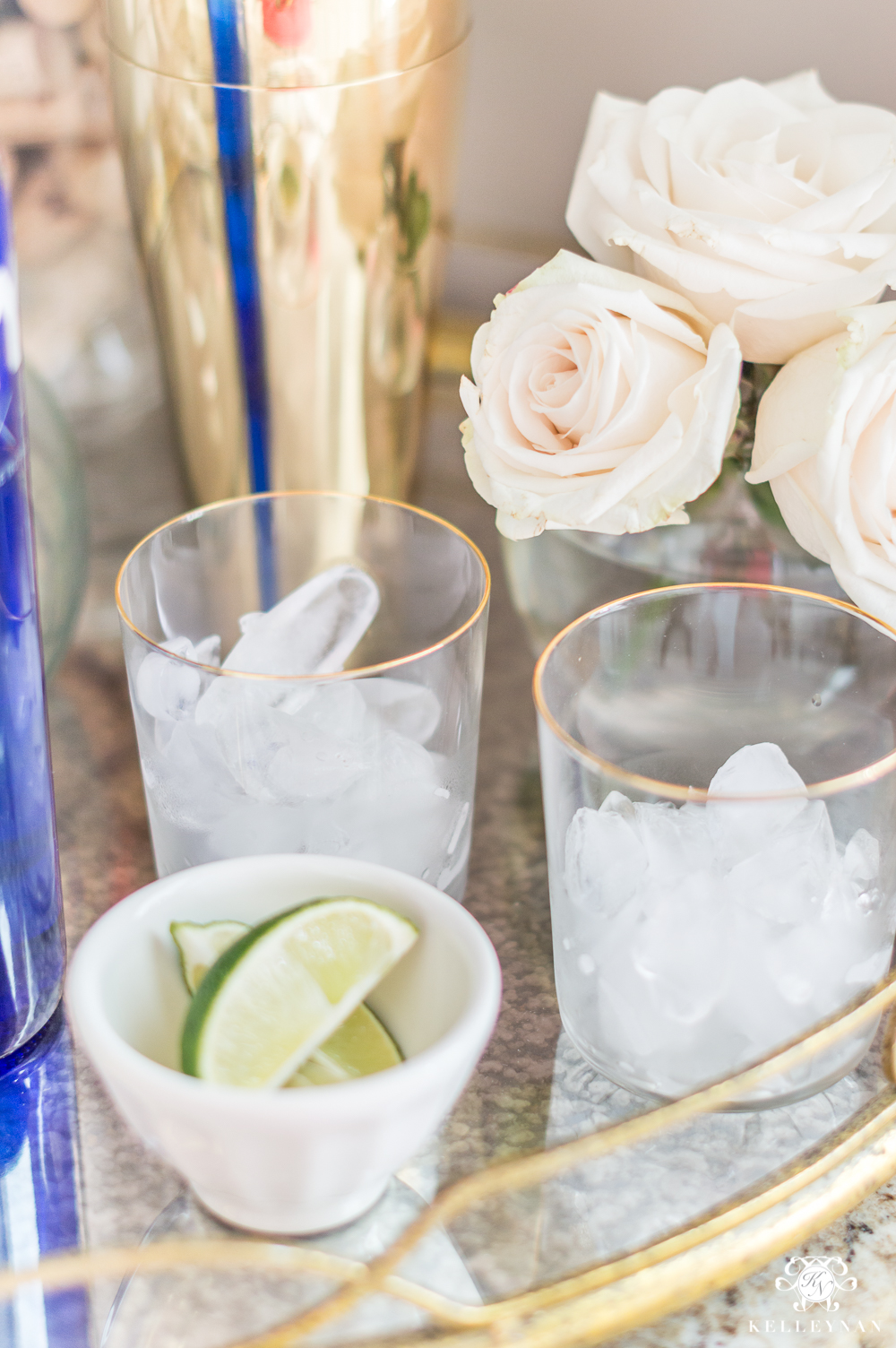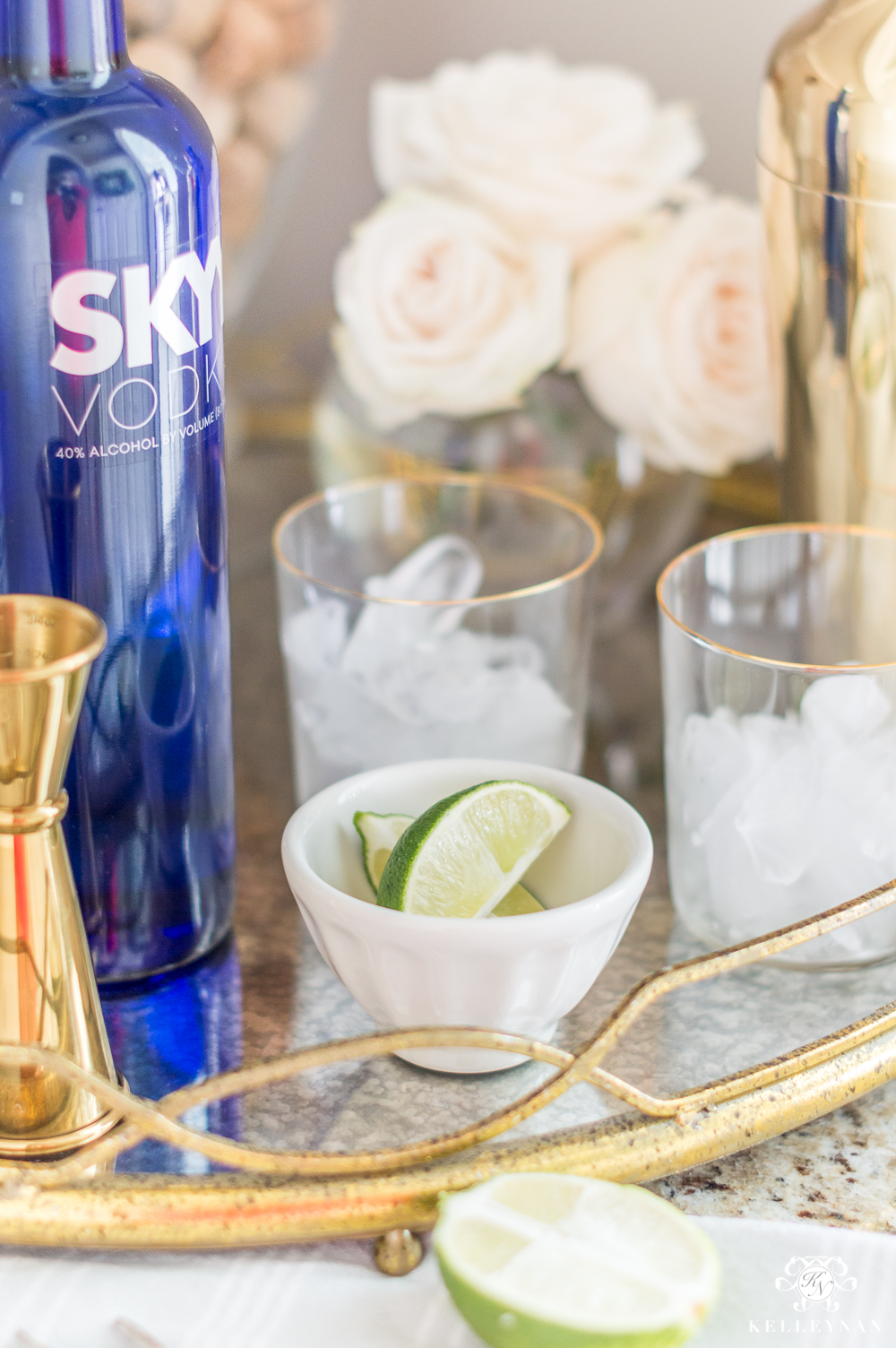 This made over space required no extra, elaborate, expensive solutions – it was more about making use of the space I had and using universal, smart organizers throughout. Don't miss my upcoming projects; if you aren't already, you can subscribe to receive my emails below.
---
SCROLL & TAP TO SHOP THE POST



---