Eliza is finally getting a playroom! When I say "finally", I don't mean she has "suffered" without one — obviously she hasn't, haha. What I mean is that after talking about it for what seems like years, I'm finally getting myself together to do it. I grew up without a playroom and did just fine — this playroom is more for me I think than anyone. I'm ready for all the things that have crept all over the house to have a new home… and, I'm ready for a fun, girly project, too 😉 We're fortunate to have the space and after designing her nursery — my favorite project ever — I'm thrilled to focus on something new with an element of whimsy. We aren't purchasing new toys to just fill the room with — there are some basics (but those definitely add up!) going in the room that I plan to be her "birthday present" this summer. My hope is that by June — which should be way more than enough time — we'll have one finished little girl playroom.
*Posts on KelleyNan.com may contain affiliate links. Click HERE for full disclosure.
The Girl Playroom Plan
Remember this guest bedroom? Well, it's no more *insert crying emoji* We still have the downstairs guest bedroom (HERE) and now that my mom lives close-by, it totally suits our needs the majority of the time. We decided to convert this bedroom into a playroom so we could actually make use of this room that rarely sees anyone.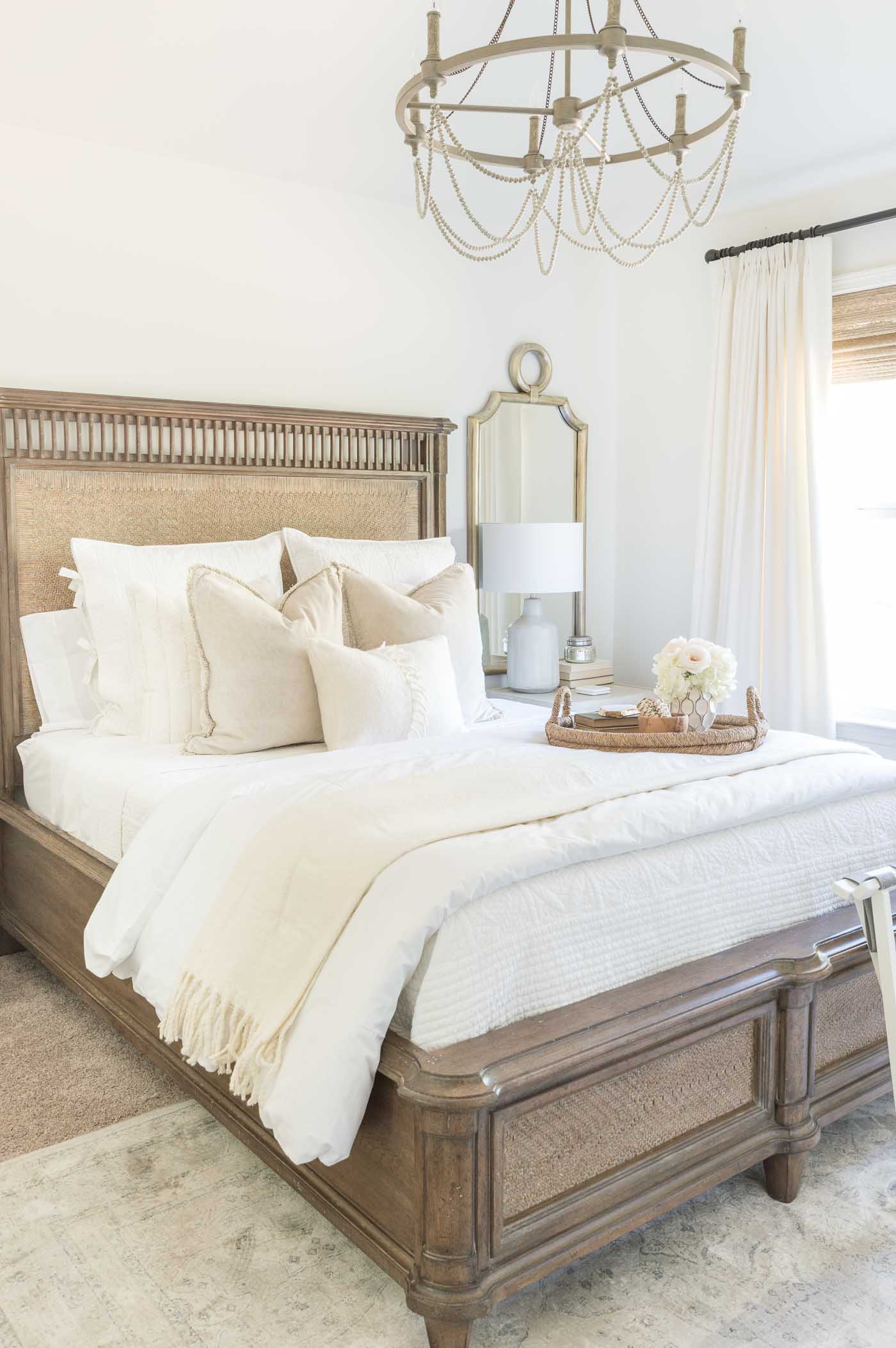 Sources: Bed – No Longer Available | Mirrors | Lamps | Rug | Quilt and Euro Shams | Duvet Cover | Chandelier
My goal for the playroom is to encompass all the "zones" for those interests that will be coming. While they may shift or change, I'm guessing those will be:
area for lounging and reading
area for art/creativity
something for dress-up
space for kitchen & cooking
lots of storage!
For now, I want to get the basics in there — I'm sure she will have opinions and want to infuse a bit of her own creativity to the space as she develops her own opinions and tastes. So… here's what I came up with.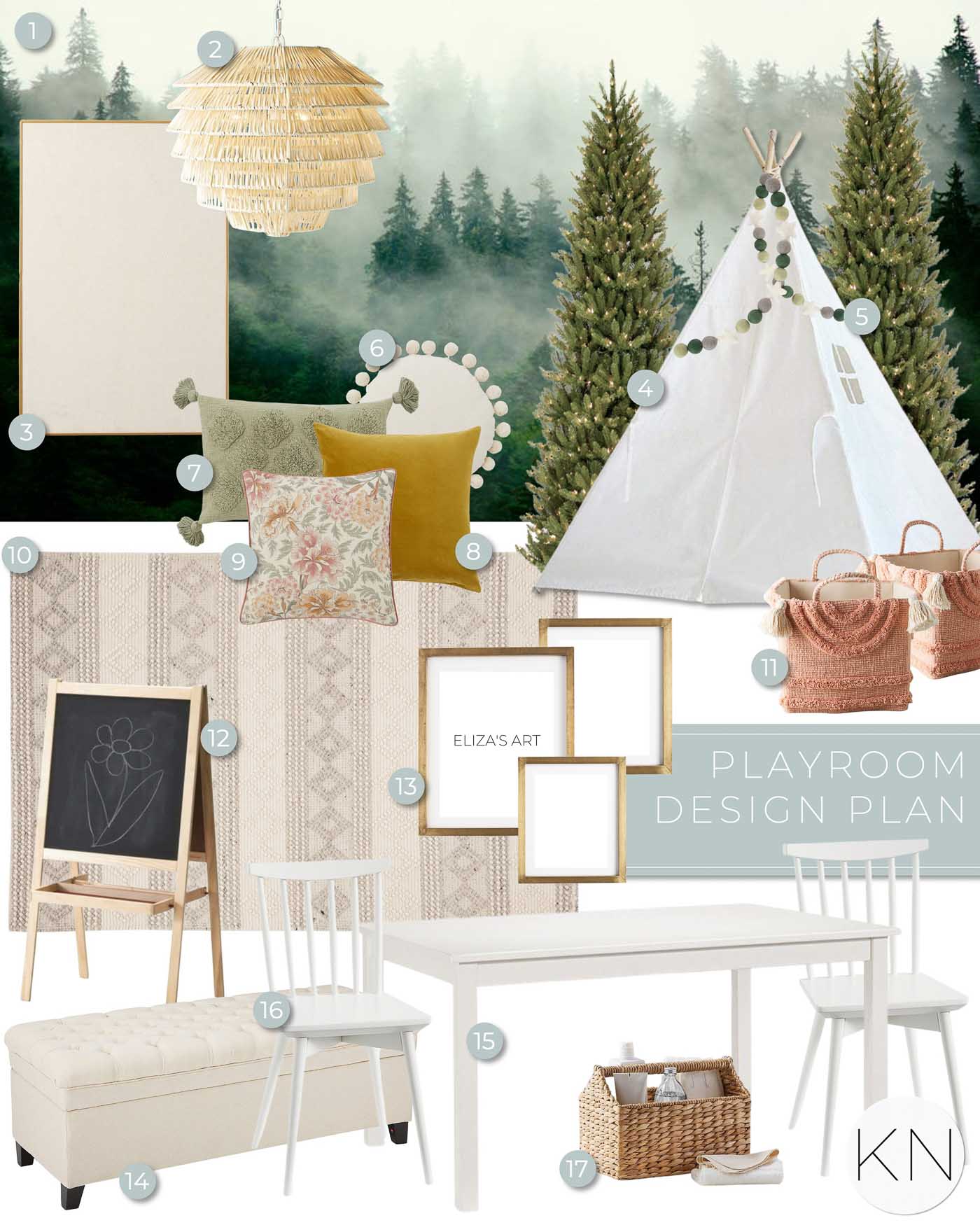 1. Peel & Stick Forest Mural | 2. Rattan Pendant Light | 3. Gold Framed Pinboard | 4. Teepee Tent | 5. Felt Ball & Star Garland | 6. Round Pom Pom Pillow | 7. Green Lumbar Pillow w/ Tassels | 8. Gold Velvet Pillow | 9. Floral Pillow | 10. Rug | 11. Baskets | 12. White Board & Chalk Board Art Easel | 13. Gold Gallery Frames | 14. Tufted Storage Ottoman | 15. Play Table | 16. Windsor Play Chairs | 17. Woven Caddy (for art supplies)
The Girl Playroom Decor, Details & Furnishings
1. Peel & Stick Forest Mural: The idea to create a forest mural was born over Christmas when I wasn't sure how I was going to remove her Christmas tree from her room. She fell in love with it this year and loves all the twinkly lights. I decided it could easily migrate to the playroom (along with a twin tree(s) we have in the basement), and set the stage for a campsite, complete with a cute white tent. But, instead of stopping there, I thought giving her a full forest backdrop would be fun. But, I'm not brave enough to commit to wallpaper that is so specific — nor would I want to — so I set out in search of a peel and stick mural. Out of all the forest murals I saw, I loved this one for the simple green tones, the types of trees, but also the glowing shop reviews. The shop owner can actually create the mural to your exact wall specifications — I emailed her and she set up a custom listing for me within minutes. I voiced my concern of "what if my walls are uneven?" so she added a 2″ buffer. A nice surprise was that if you spend a certain amount, you get an automatic 20% off and even though it ships from the UK, it ships free. She communicated magnificently, informed me after she produced it that there were 7 drops to the mural and to let her know if I needed anything or had any questions once I received it. It shipped the next day and just arrived — less than a week from start to finish on a different continent. Amazing.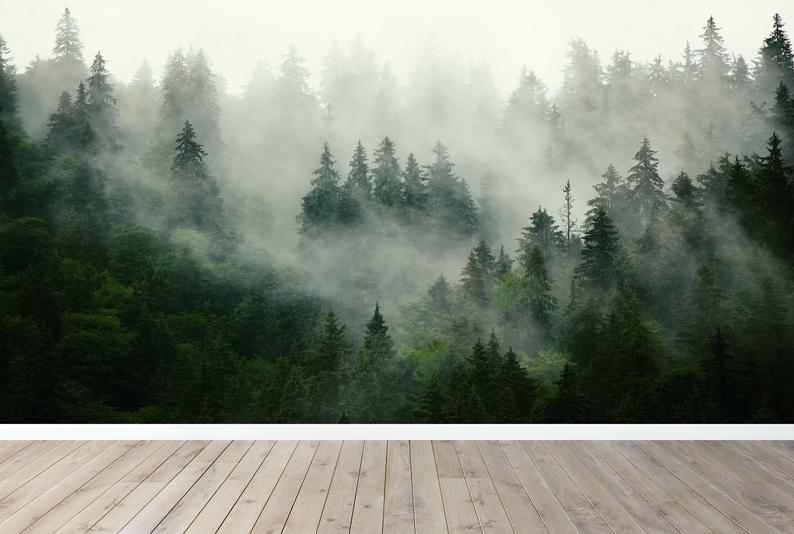 Peel & Stick Forest Mural (Photo via W0nderW4llsBoutique)
2. Rattan Pendant Light: I have loved this rattan pendant for a while and didn't have any place to put it… until now. Along with the white (which I ordered), it also comes in black. I wanted something natural and modern but still a little feminine — this totally fits the bill!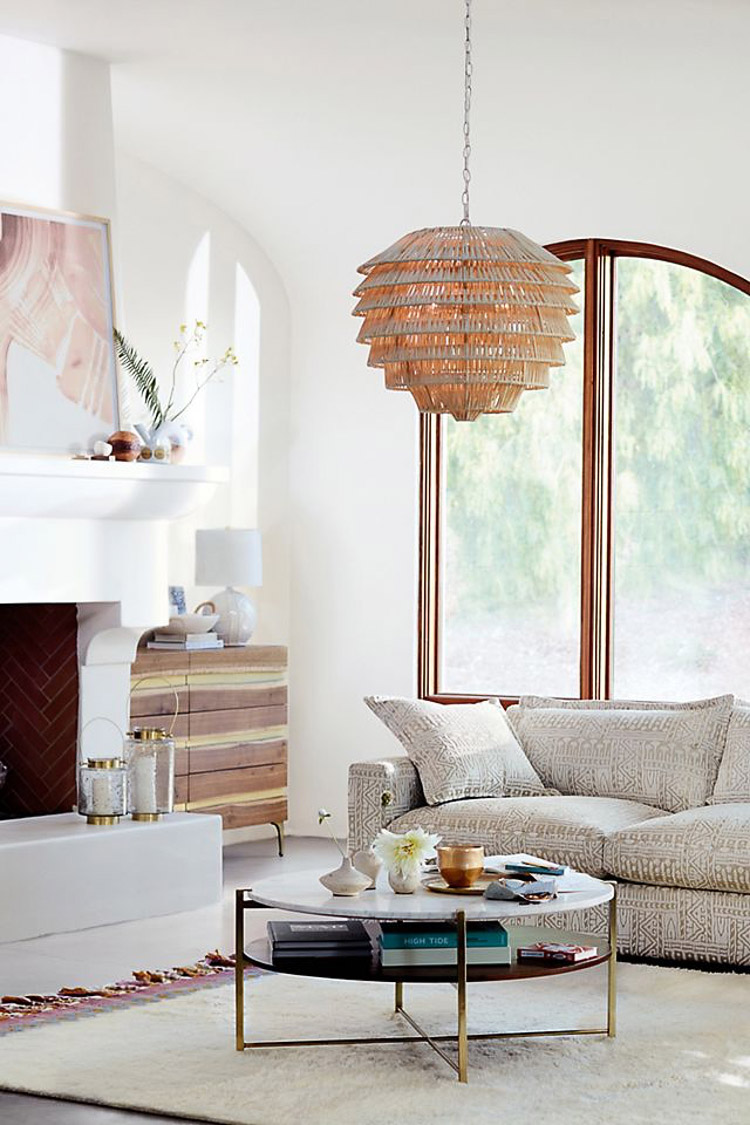 3. Gold Framed Pinboard: I wanted a pinboard for a place to showcase photos, mementos, art, etc. This gold framed pinboard (I ordered the rectangle) is 24″x36″ is a lot larger than most anything else I found. I love the idea of using THESE wooden star tacks, too!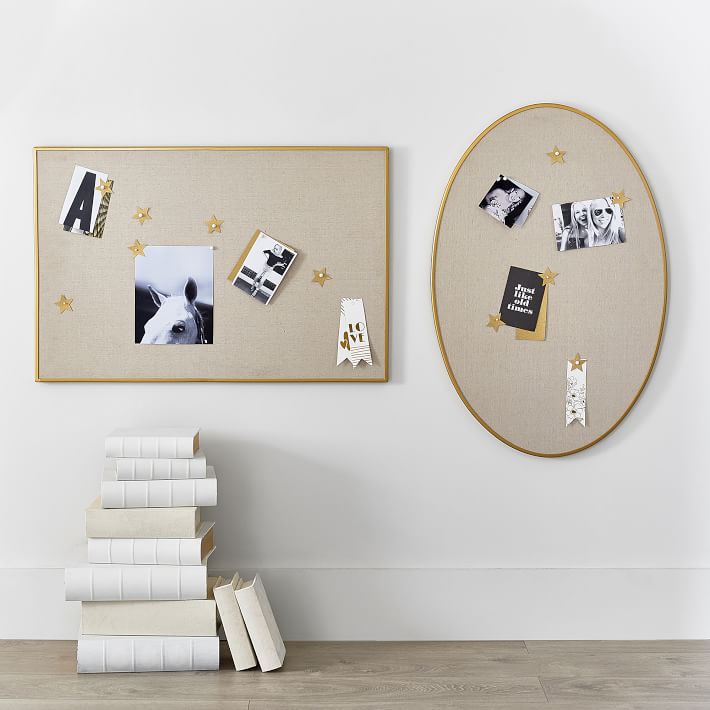 4. Teepee Tent: In all honesty, I've lusted after THIS feminine tent for the past year — all three colors are gorgeous. So weird to "lust" after a child's play thing, but… I guess that's my life now, haha. But, I couldn't justify the cost. So, I went the opposite route and went with something super basic, neutral and affordable. It ships free via PRIME and is currently on sale, with an extra 20% off coupon you can check on the product page, making it about 90% cheaper than the tent I was crushing on 😉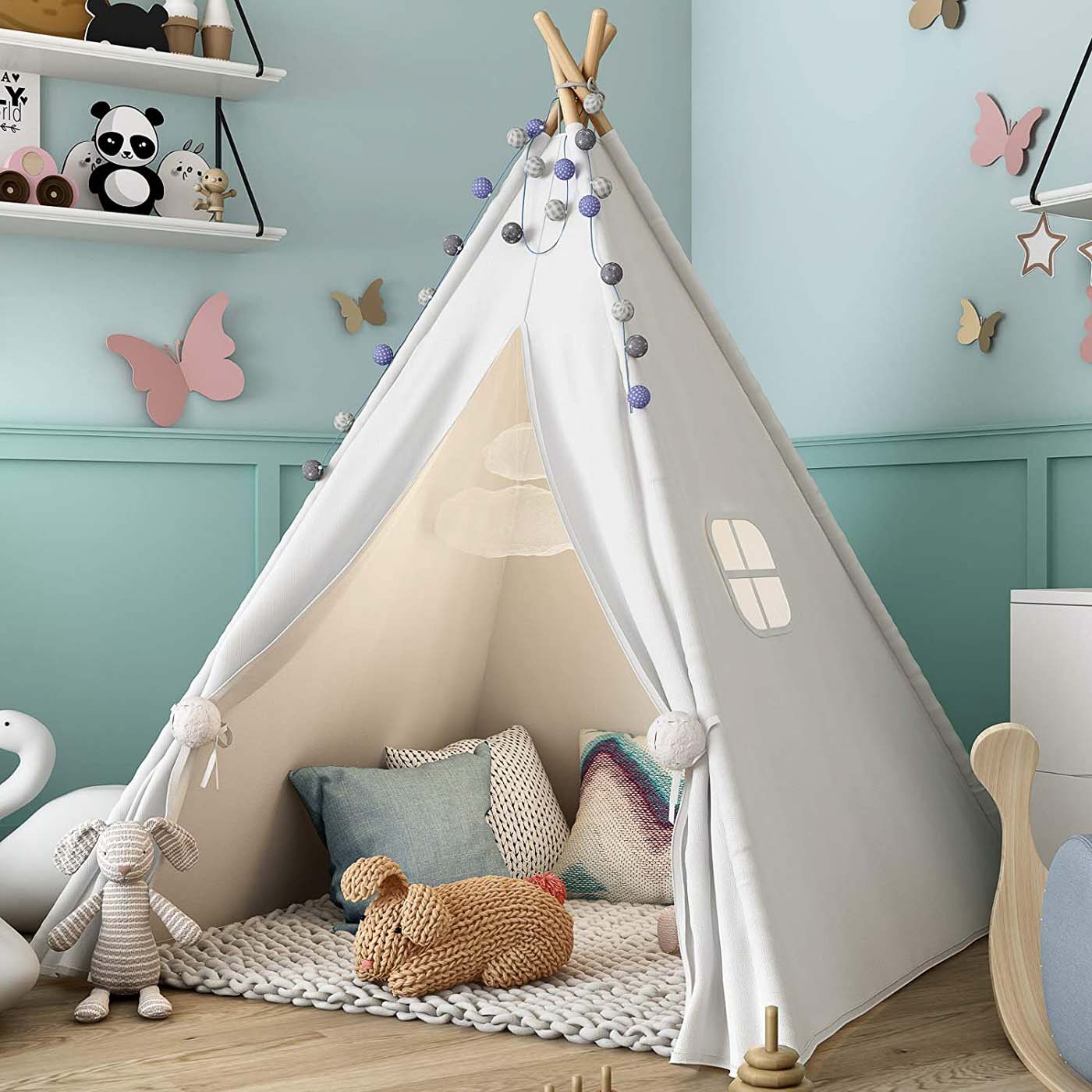 5. Felt Ball & Star Garland: I ordered this felt ball garland to dress up, accessorize, and personalize the front of the tent a little bit. While I love this one with shades of green for the forest, plus those adorable stars, the shop has tons of color listings and length is customizable.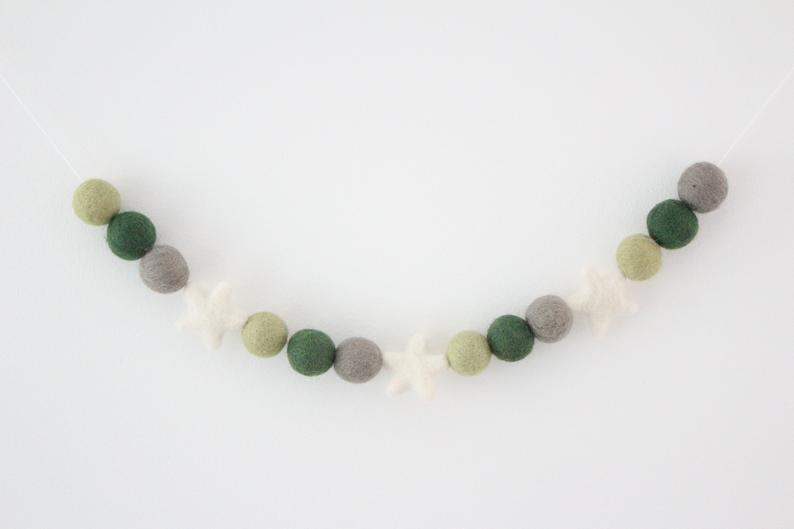 Felt Ball & Star Garland (photo via Sheep Farm Felt)
6. – 9.  Round Pom Pom Pillow |  Green Lumbar Pillow w/ Tassels |  Gold Velvet Pillow | Floral Pillow | Basket: I came up with this pillow combo to coordinate with the forest theme — but to also soften it a bit — within minutes. Then, I saw the pom pom basket that was essentially made to be part of this plush lineup! All these will go inside the tent (plus the pom pom basket for storage) and I'll use a faux sheepskin we already have for the tent bottom. These pillows are fun with different textures and incredibly affordable — the gold velvet pillow (comes in a few colors) is only $9.99 and the floral pillow is only $12.99.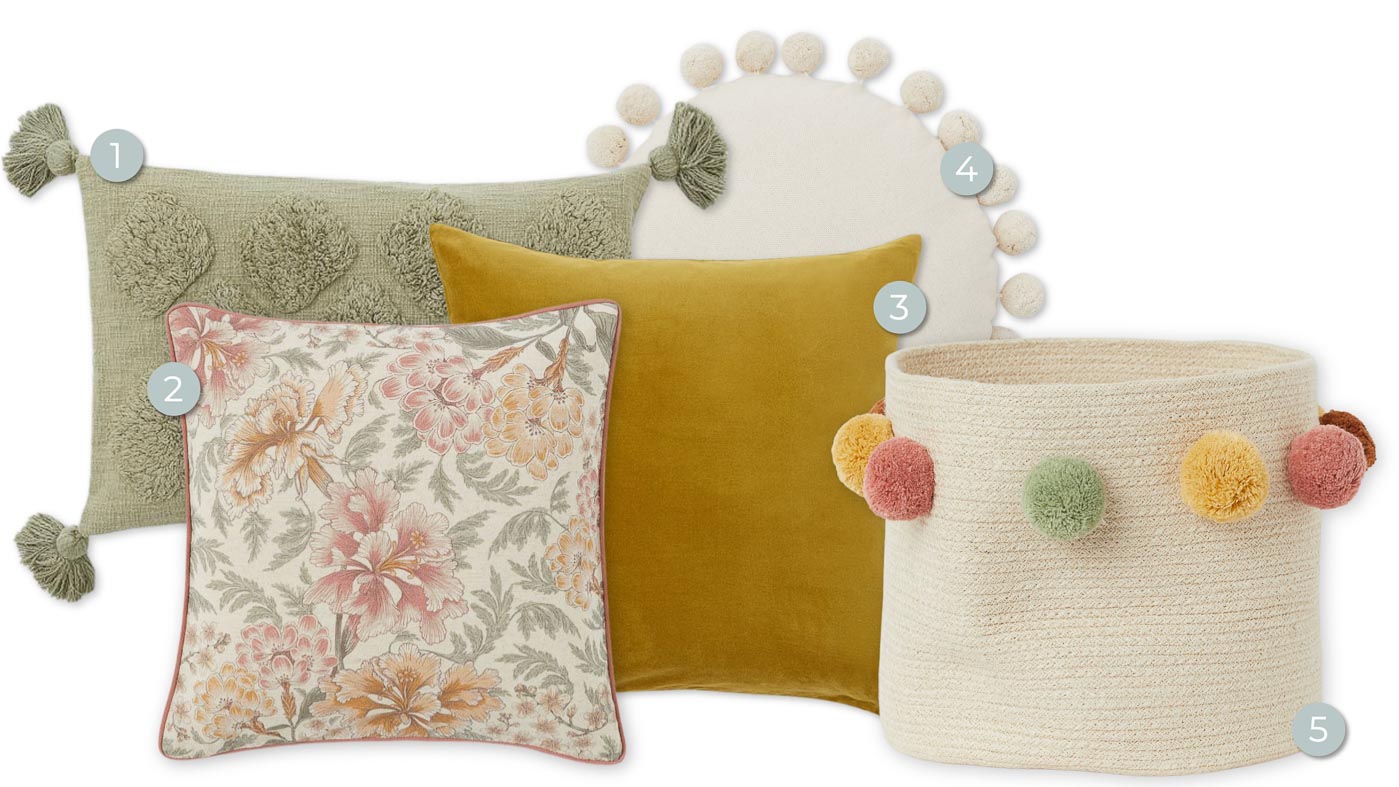 10. Rug: I love love this rug — the look, the texture and the price. I actually ordered it in a size that is supposed to be 6'x9′ HERE, but then I found it on Amazon (HERE) for a lot less (plus, it ships free) — but, it says it's 5'x8′. I'm thinking one of the listings is incorrect so I will be sure to measure once I get it — it should be here any day! There are a few color tones available, including an all ivory!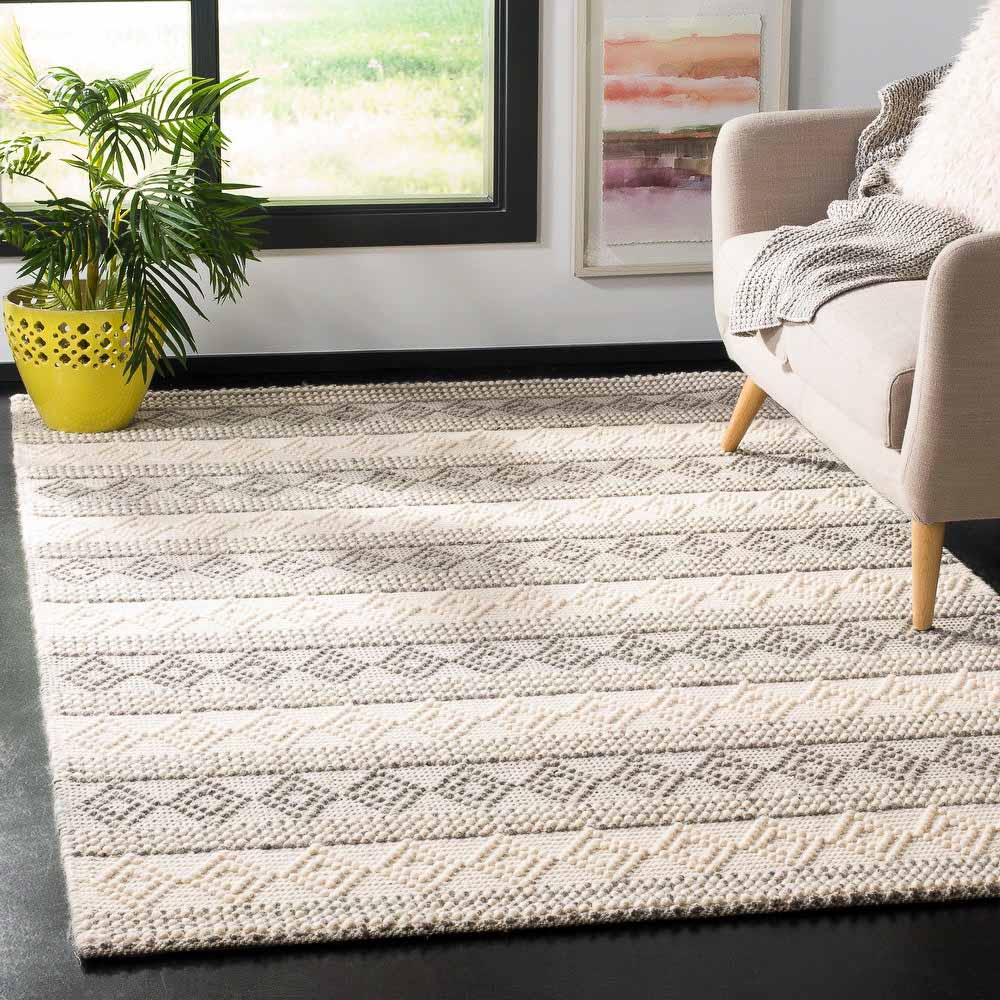 11. Baskets: I actually haven't ordered these baskets just yet as I want to wait and see how the layout of the room comes together with the larger pieces, first. But, I love the pretty peachy color of these and the fun details!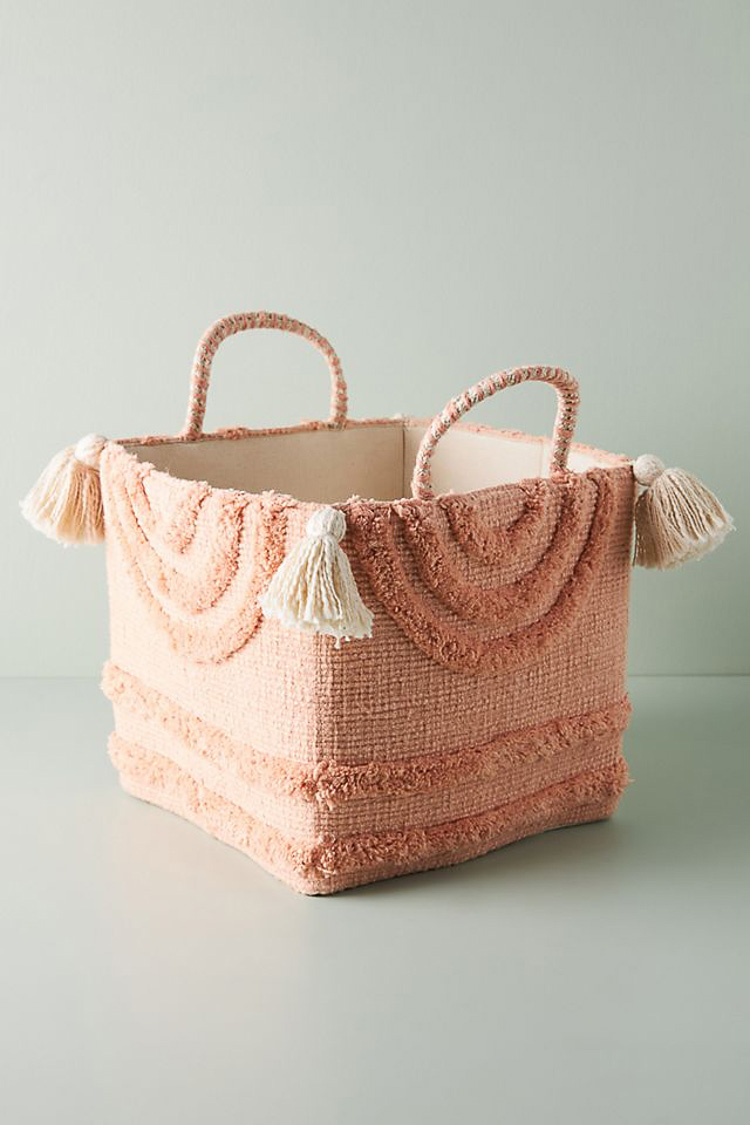 12. White Board & Chalk Board Art Easel: I picked this up at Ikea well over a year ago — just to hold onto for when Eliza was ready. It has a chalkboard on one side, and easel on the other, a tray for markers and chalk, and a dowel for a paper roll that can go over the easel, too! While it is cheaper at Ikea in person, we live far away and it isn't available to ship to our home. But, I did find it HERE and it ships free!
13. Gold Gallery Frames:
Along with the pinboard, Eliza has really been honing her skills in the art arena. Ok, that may be a little bit of an exaggeration but her scribbles are adorable to me. So, I want to start framing some of her work! I love these gilded frames with white mats and think her "art" will probably rival Picasso's framed in the right way 😉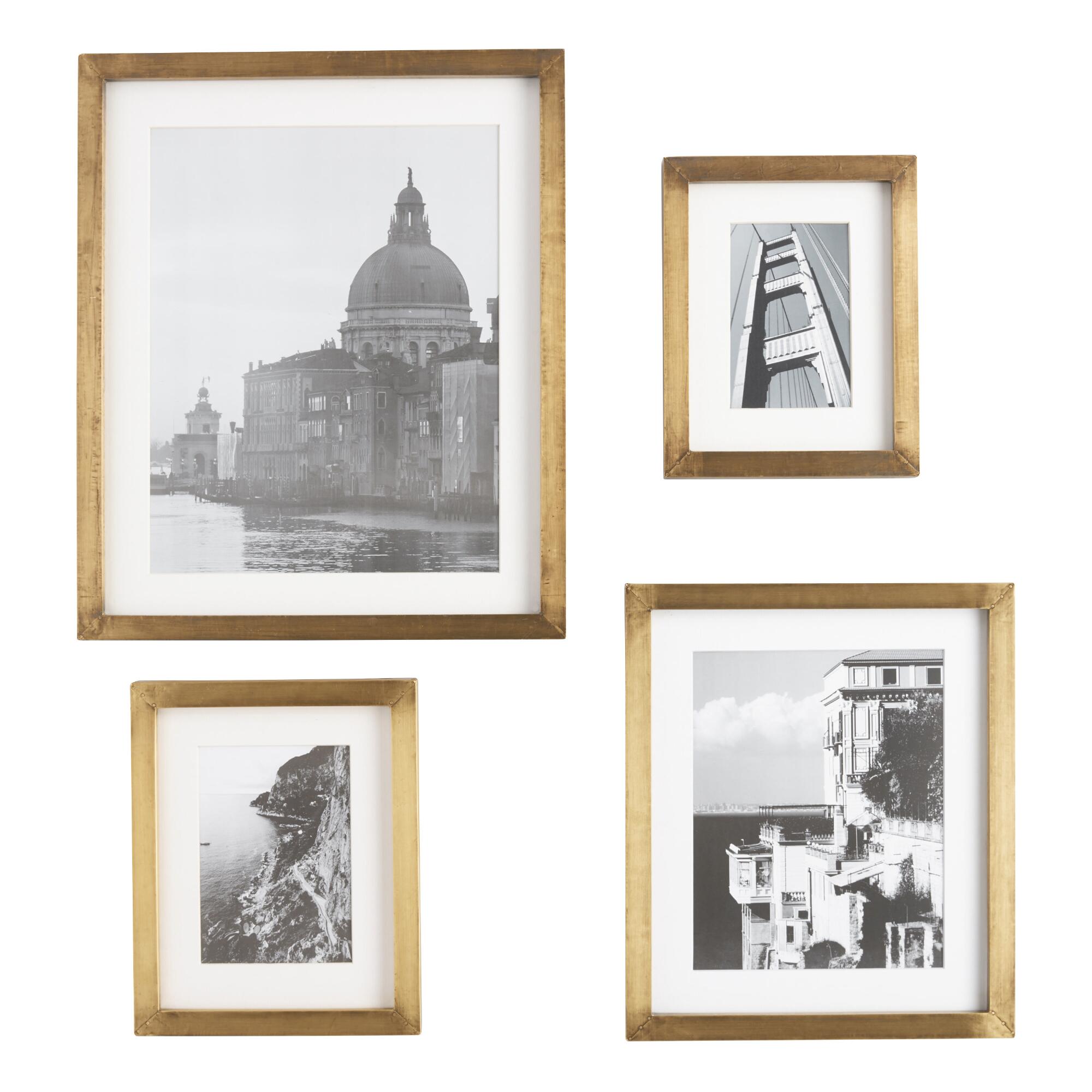 14. Tufted Storage Ottoman: This is another piece that hasn't been ordered just yet. I'm waiting to first set the tent up to make sure I have room but Eliza loves to crawl on window sills and since we aren't doing any carpentry in the new playroom to create a window-seat or storage solutions, I thought this could serve double duty as both, just below the big window. The top is padded and tufted and it opens on hinges. Plus, it ships free via PRIME and is incredibly affordable.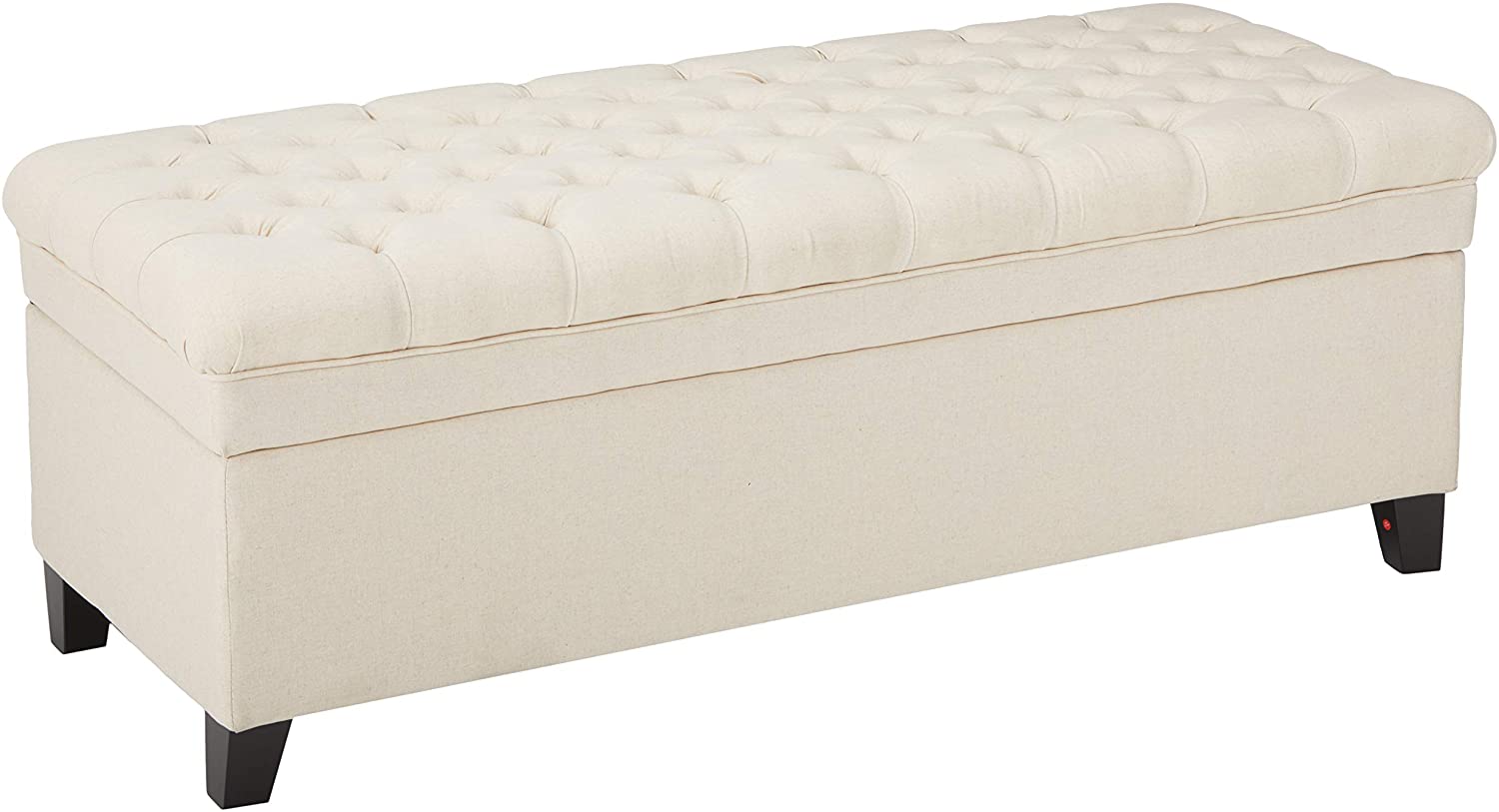 15. Play Table | 16. Windsor Play Chairs: For a play table and chairs, I opted for THIS basic table that could serve as an art table, but also for pretend, tea parties, etc. I didn't want something too specific and wanted it to be multi-use. I lucked out and found ONE of these Windsor chairs at my local Pottery Barn Outlet last year — they have since phased out the kids section of the store and I just ordered the other three to have four total. I ordered white but they both come in multiple finishes.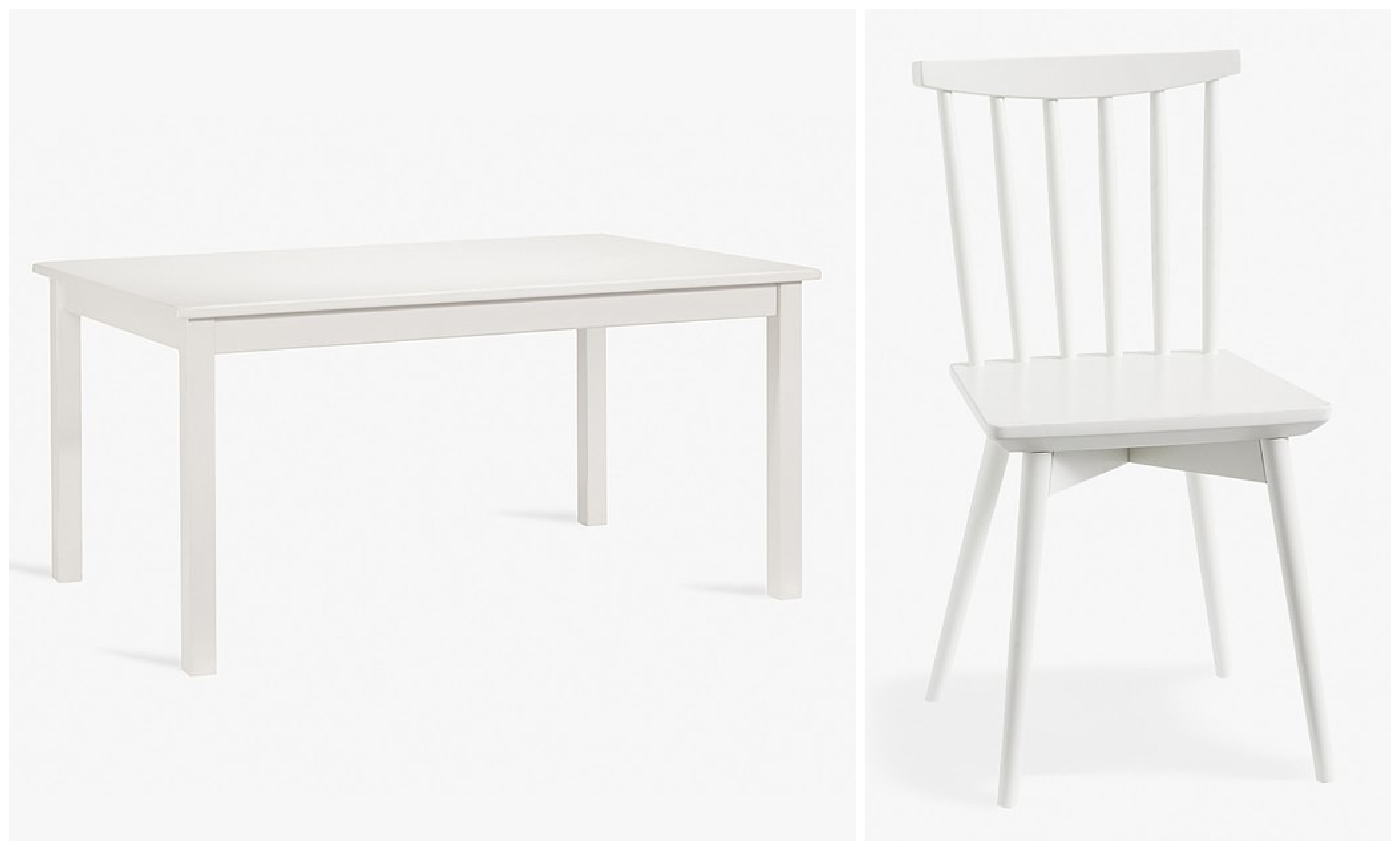 17. Woven Caddy (for art supplies): I scooped up a caddy at PB Kids last year and the actual caddy I purchased is no longer available. This one is similar but I love the idea of keeping this on her table to hold her most-used art supplies.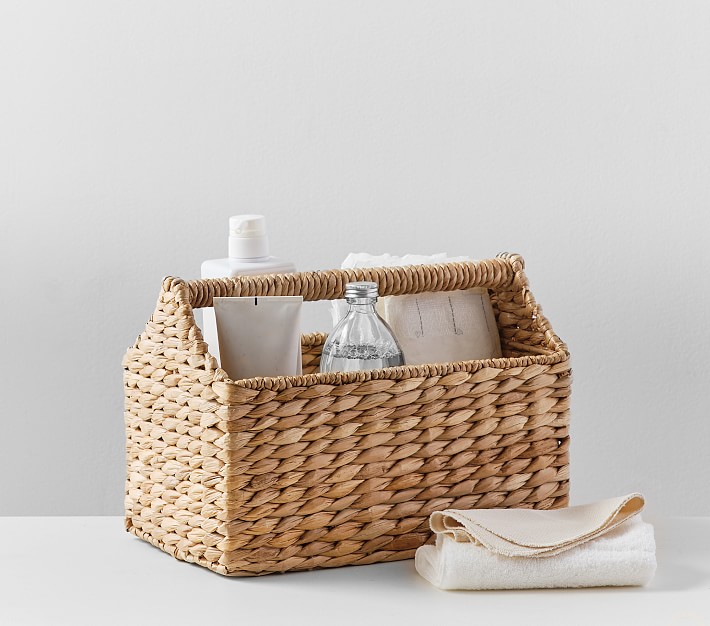 While it isn't in the design plan illustration, I chatted a bit last year about the Chelsea kitchen. It comes in several colors and Eliza got the white model for Christmas. She plays with it daily and it is well loved but omgoodness — I can't wait for that thing to leave out living room. That's right — three months later and we're totally "that" family haha.
Here's our girl on Christmas day, breaking in her new favorite…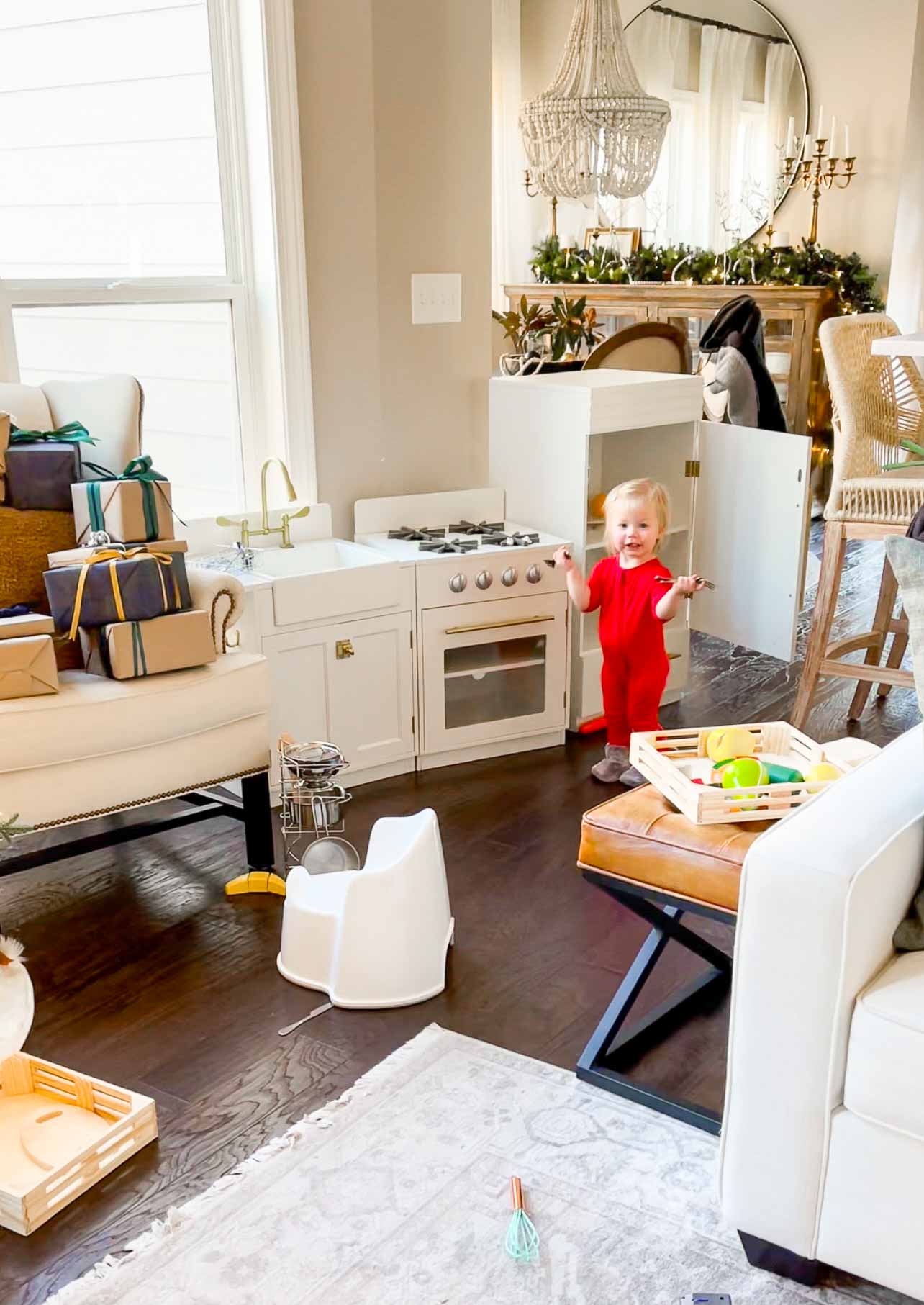 What's Next?
Honestly, I don't think this room is going to take long to come together. There aren't any paint projects or carpentry — the biggest things that need to be done will be switching the light fixture and hanging the wall mural. I want to really go all in on a closet organization system but I will probably work on that later in the year and focus my efforts on the room first. We've had some of the things for a while, collected and in the basement and others have started to arrive.
Is the plan what you expected or totally different? I'm going to be sharing some other murals that almost swayed my mind in regards to the direction I wanted to go but ultimately, I just really wanted to play off of those thin Christmas trees in a literal way. You can be sure to catch the next updates on this space (plus that dining room and conversation room that are nearing completion) by subscribing to emails at the bottom of the post!
Other Posts You May Enjoy
Shop the Girl Playroom Plan