Last month, Eliza took her first trip on a plane. We headed to Texas to visit Dave's mom and full disclosure — I had a lot of anxiety about the visit. Even without COVID, I would have had nerves about traveling with a toddler, but with safety concerns, those feelings were multiplied. In addition to the standard thoughts of "I hope she doesn't get upset during the flight", "what will getting through security be like with all. the. things?!", and "what if there's a diaper emergency?", this trip also brought worries regarding sanitation and prayers she wouldn't find a way to touch everything. When it comes to air traveling with small kids, we are far from experts. But, I think the nerves I have — while wanting Eliza to have as many practical comforts as possible — is more common and typical than seasoned pros with regular jet-setting toddlers. I planned, packed, and we successfully made it through our trip! We learned some things along the way that I thought could be beneficial for those of you who may be interested in hearing the opinions and experiences of the occasional travelers (newly with child in-tow 😉 ). Today, I'm sharing 12 toddler travel essentials from our flight that made our trip so much easier, along with a details on our general logistics when it came to our travel days.
*Posts on KelleyNan.com may contain affiliate links. Click HERE for full disclosure.
12 Toddler Travel Essentials (for Air Travel)
Before we get into the biggest helpers from our trip, let me first chat about the kind of traveler I am. While I don't fly all the time, I would say I travel slightly more than the average person, making flights a few times per year for trips, family visits, and work. I know my way around an airport pretty well and can navigate Hartsfield-Jackson in Atlanta like a (semi) pro. That being said, I am anxious by nature and a lot of my stress starts long before the actual trip. I worry about securing the best price for tickets, the amount of seat options, and travelers that may sit next to me. (Because I'm such a nervous traveler, I like to be an especially comfortable traveler). I worry about what time we'll need to leave home in north Georgia to make the minimum 1.5 hr. trek through the city — what if there's construction? Or a wreck? What if there are multiple wrecks? The majority of any day is actually "rush hour" in Atlanta. And then when I get to the airport, will there be lots of space in lots? Will Delta have curbside check-in open? I wonder what the security line will look like and if my bags — that inevitably push the weight limit every. single. time — will make the cut. Will there be a good place to grab a snack on the concourse I'm assigned? Is everything on time? Did I pack everything I needed and what if I forgot something in my carry-on that isn't supposed to be there and security thinks I'm a criminal? These thoughts go on and on and honestly, unless it would be more than eight or nine hours away — coupled with Atlanta being our home airport — it's why I avoid flying, when possible. THIS is the kind of traveler I am, haha. You may think I sound uptight but maybe some of you can relate. When I share the essentials for toddler air travel, I want to make it very clear that with each decision, these are the kinds of things I'm obsessing over. I'm not an easy-going flyer and the small things matter. For us, it's about finding the perfect balance between practicality and comfort, preparing but not being weighed down so much that it ends up being an additional hardship. So, let's chat 😉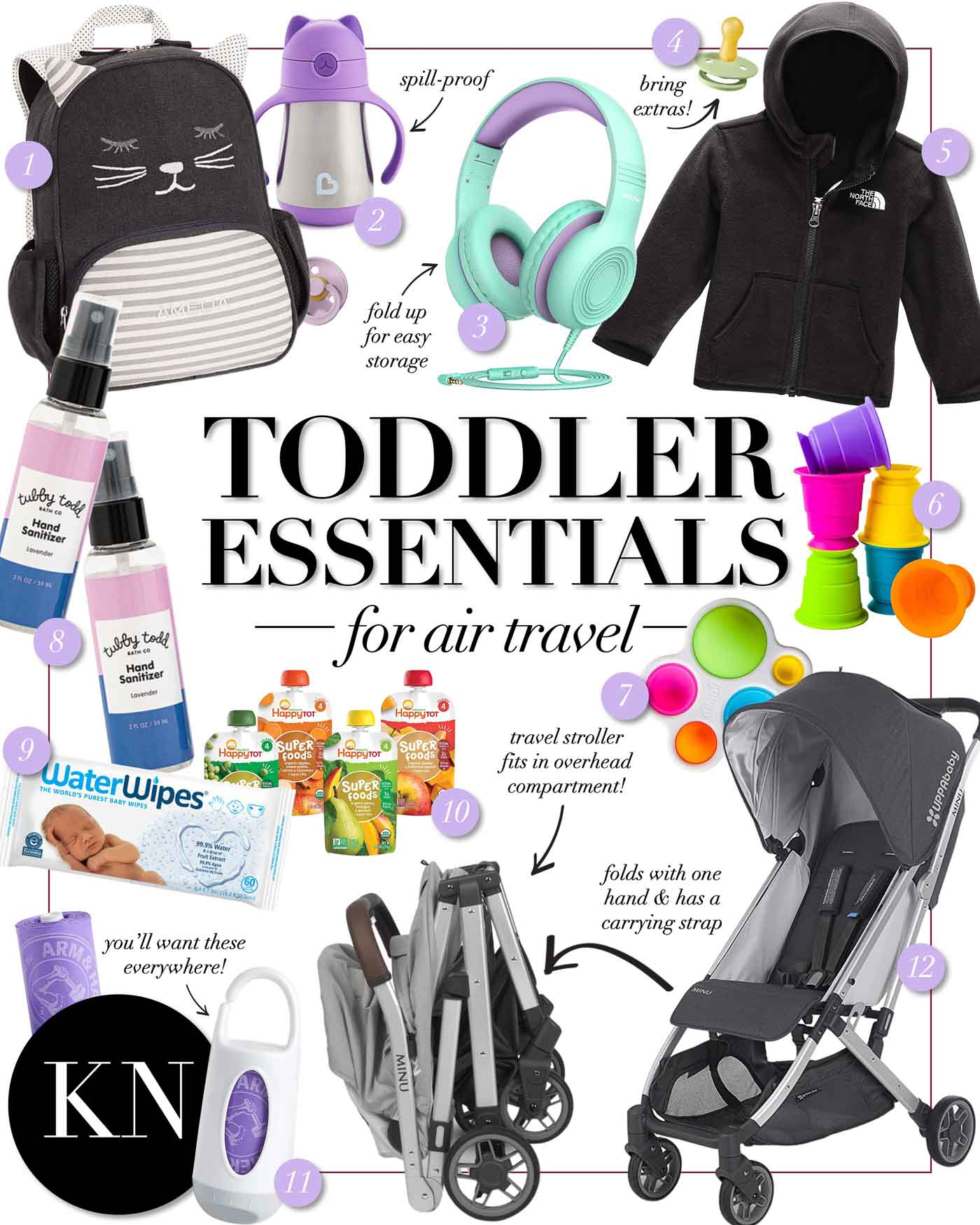 1. Kitty Backpack | 2. Spill-Proof Thermos | 3. Headphones | 4. Bibs Pacifiers | 5. North Face Fleece | 6. Fat Brain Toys Suction Kupz | 7. Fat Brain Toys Dimpl | 8. Tubby Todd Hand Sanitizer | 9. Water Wipes | 10. Happy Tot Pouches | 11. Diaper Bag Dispenser & Refills | 12. UPPAbaby Minu Travel Stroller
Because we were traveling after the holidays, I used Christmas as an opportunity to gift Eliza a few things for our trip. Eliza was 18 months at the time of travel, is very petite and while I wasn't planning for her to walk much in the airport, I wanted her to have a little backpack she could manage, should she need to wear one (especially while boarding the plane). All airlines have different policies when it comes to carry-on items. I mentioned before that because I'm nervous, I like to be extra comfortable. While 2 and under can fly free as lap flyers, had Delta not had their current blocked middle seat practice in place, we would have went ahead and purchased Eliza her own seat. But, because Delta is currently blocking middle seats, I listed Eliza as a lap-flier, knowing we would have room in the middle seat for our family, also. But, without her being a commissioned flyer, I didn't want to run into any snags in terms of carry-ons and personal items. (I think my anxiety is showing even in the explanation of my thought process, haha). Bottom line — I wanted a small bag she could carry on her back, onto the plane, while I was holding her, that could hold a few of her flight snacks and activities.
Because of her age and size, I didn't know if this sweet little pack would overpower her but I was pleasantly surprised when it arrived to see how much space it had, despite its petite structure. The straps are adjustable, it's easy to unzip and grab from, and the outside pockets are actually usable. It comes in both a mini and small (we have the mini) and coincidentally, it's on clearance this weekend. Plus, there's an additional 30% off clearance promo right now, using code COZY HERE. My mom has a black kitty that Eliza loves so I leapt at the chance to snag this backpack but there's also a bunny version (on sale but not on clearance) HERE. Even if you aren't much of a flier, these backpacks are sweet for everyday use, car trips, and days out. We opted to get ours personalized but without personalization, the mini (originally $45) is currently $18 with code COZY.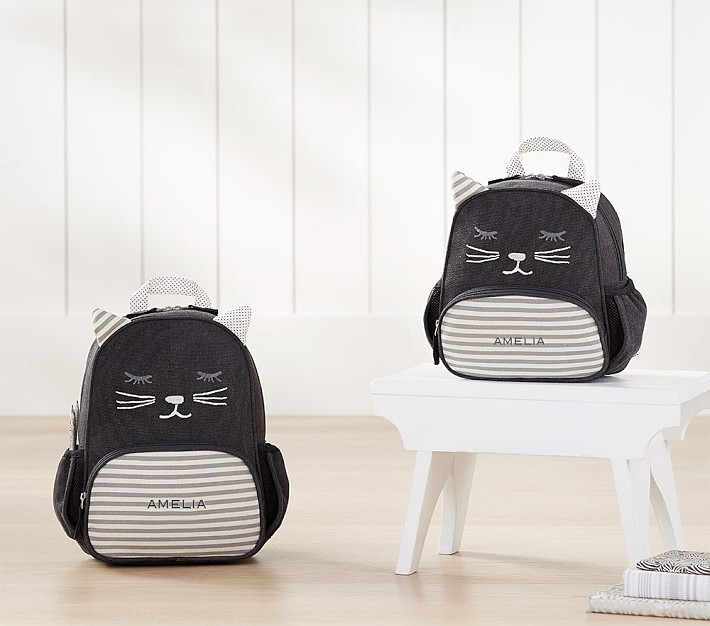 At home, Eliza has her milk cups and her water cups with straws. Neither were appropriate for tossing in a bag and flying. I wanted something that was easy, wouldn't spill, had a protected straw, and had a safe straw that was soft. THIS little thermos — which comes in a few colors — worked perfectly. The fact that it had little kitty ears and nestled inside Eliza's little backpack side pocket perfectly was a happy coincidence 😉 One caveat not to miss — we brought it with us totally empty and then filled it with water from a shop on the other side of security. When we took it out after we were in flight and popped the top open, the pressure that had built up made water squirt all over. Shocking, funny, but totally embarrassing. If you use this as a travel cup and fly with it –which I would 100% recommend! — make sure to twist the lid to relieve pressure before popping the cap open once you're in-flight ;).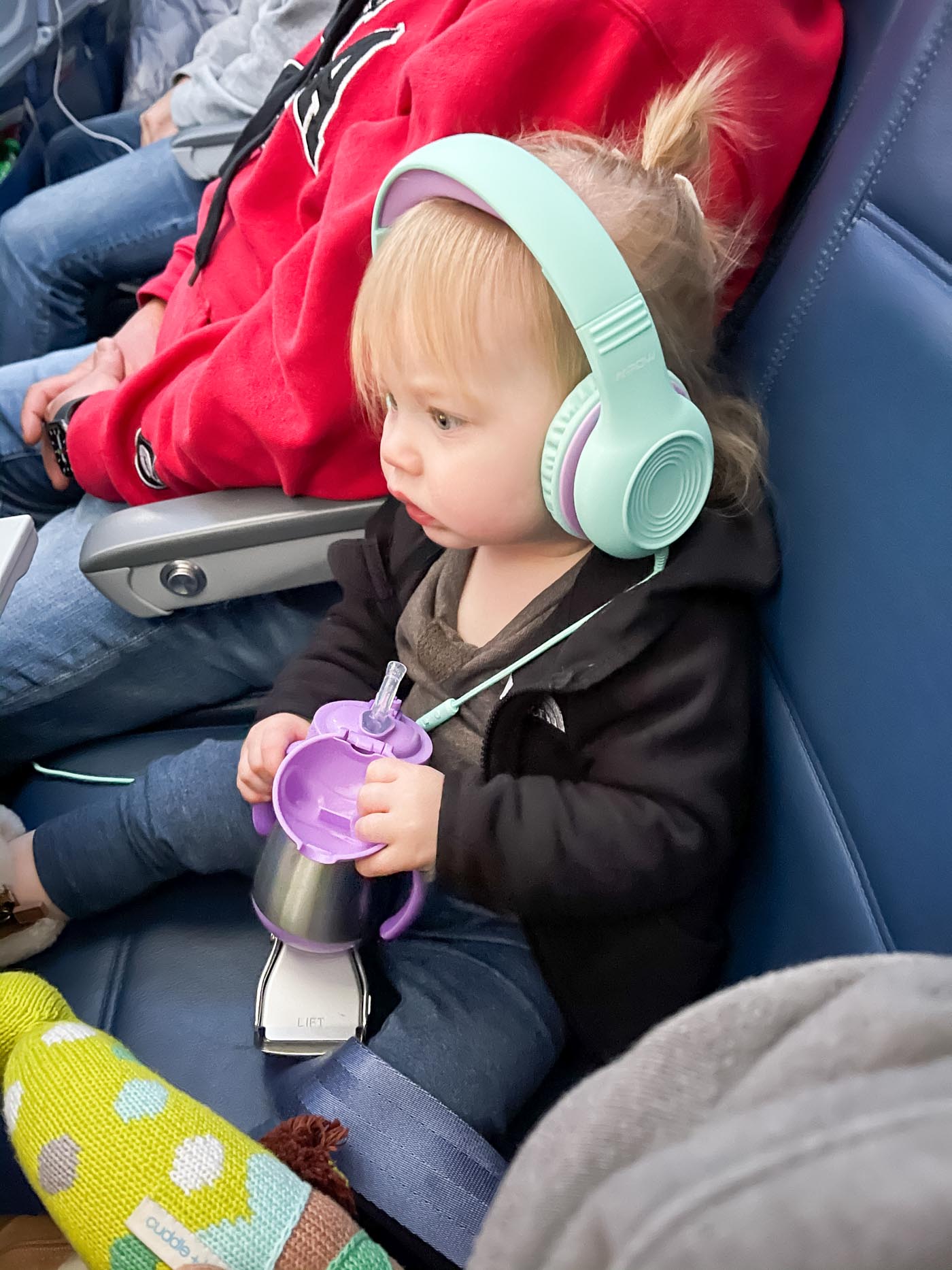 Flying is not the time I wanted to test my parenting skills to see if I could keep Eliza entertained without a screen, haha. These padded headphones for kids fold nicely for compact carrying, come in several colors, and worked perfectly! The cord is tipped with a standard headphone jack — which is compatible with the airplane TVs for direct input — but if you plan to plug into an iPad/iPhone, make sure to grab on of these adapters (HERE). Most Delta flights are equipped with TVs built into the headrests these days, but if you aren't sure about your plane, THESE adapters are tiny and great to keep on hand, just in case.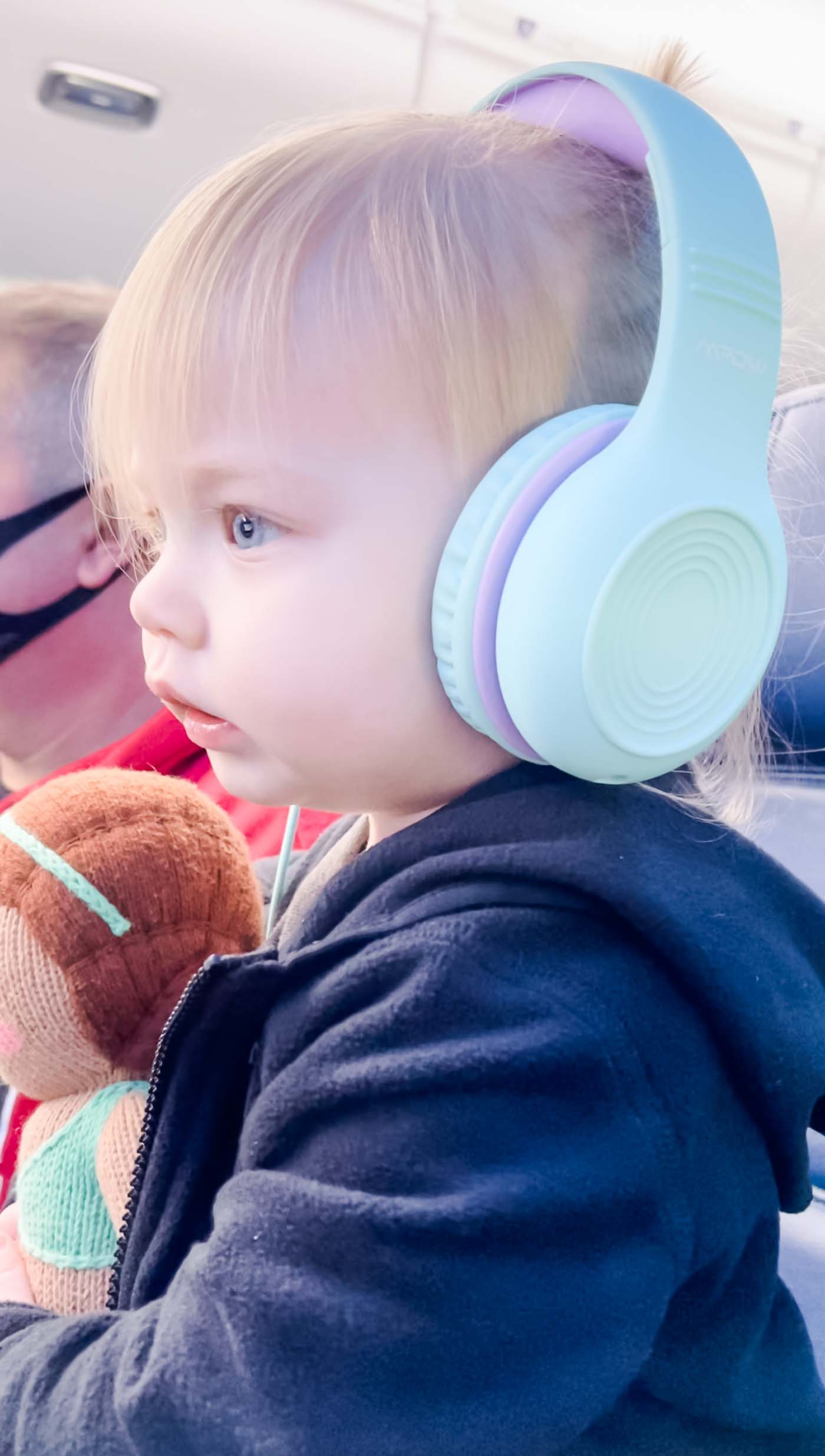 While Eliza typically only has a paci for sleep time, I brought several along for the flight for both takeoff and landing. They worked like a charm and she was totally unfazed by elevation/shifting of pressures.
When we were traveling, the weather was a bit funny. From ATL to San Antonio, the temperature shifts throughout our stay was anywhere from 30s to 70s. I didn't want to over-pack heavy coats and even though I knew Eliza wouldn't be going out at night during the coldest temps, I wanted something warm but lightweight for travel and "just in case". Santa brought her this sweet little North Face fleece jacket that we love. It was light enough to wear through the airport and on the plane (and can fold up teeny tiny!), but would have given just the right amount of warmth as an added layer in the chilly temps. We went for classic black but they come in several colors HERE, and is available as small as a size 0-3 mo.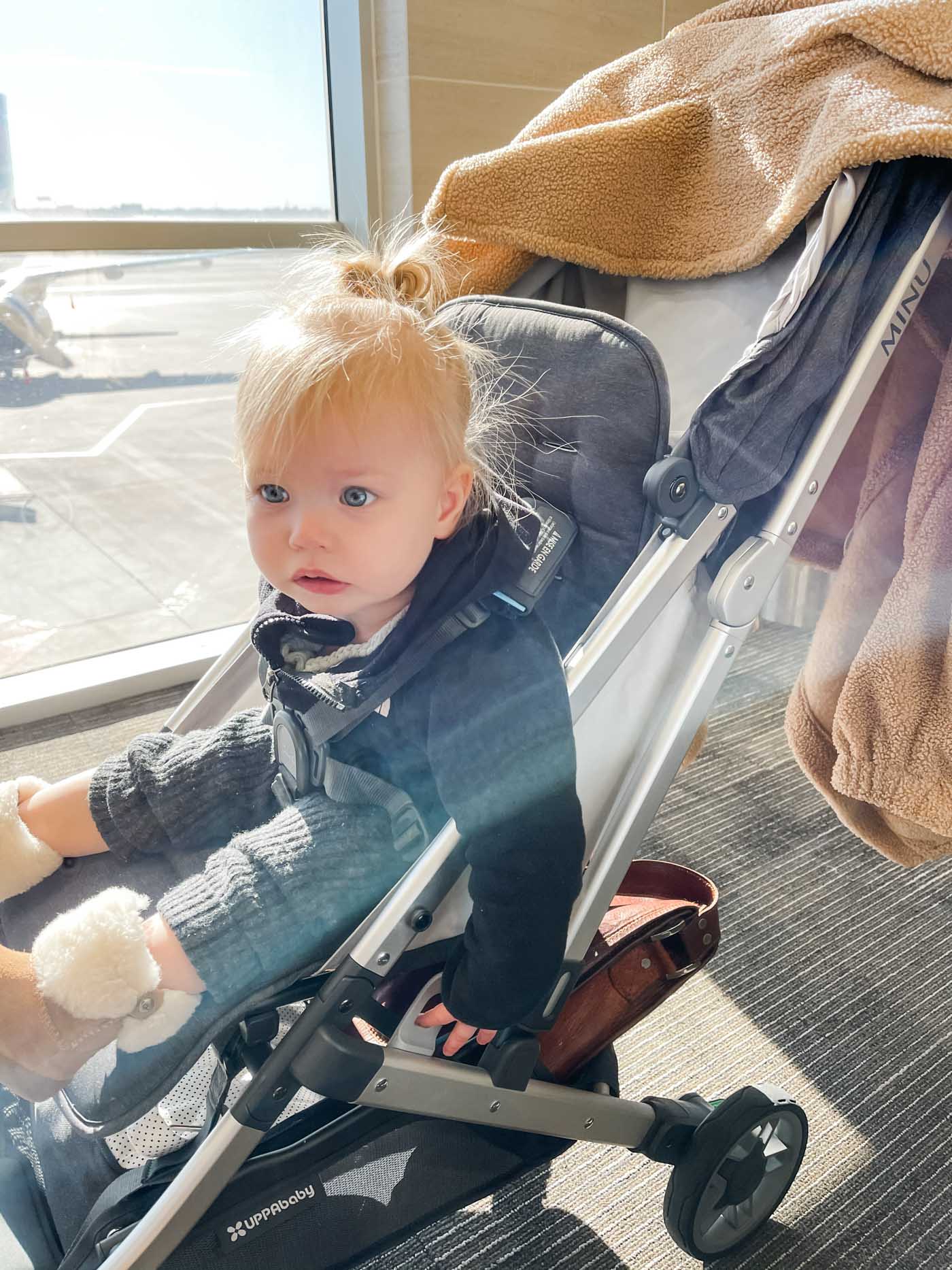 I was really nervous about keeping Eliza entertained during our travel days and I really had to work to keep the carry-ons lightweight and not over-stuffed. These flexible silicone suction cups are so versatile — they stack, bend, and add virtually no added weight. Another perk — they're easy to clean! I did bring a couple of books on the plane too, and those actually proved to be a waste. They were too bulky, heavy, and only kept her entertained for a few minutes — on the way back, I added them to our checked luggage.
Another lightweight winner, this Dimpl is easy to toss in a carry-on. Even if you aren't traveling, it makes a great carseat toy!
It smells great, the spray feature is easy and provides full coverage, and it's gentle on sensitive skin. It comes in a two-pack and I always keep one in the car and one in my purse!
Good for face, hands, and diaper changes, flying with a single pack of water wipes instead of several different kinds of wipes was the perfect solution.
Even if you aren't a typical "pouch family", these pouches are quick, easy, travel well, and are a great way to get some nutrients in when traveling. Eliza loves these and they have everything from sweet potatoes, squash, chia, and mango to carrots, spinach, green beans, and apples.
These deodorized diaper bags aren't just a top travel essential, but an essential for babies and toddlers, in general. They're small and compact and totally conceal any smell. I know this is oversharing a bit and my mom will be mortified if she sees this but on more than one occasion, I've used these on the go, knotted them and tossed them in my purse, and totally forgotten they were there. Not only am I totally fine and confident storing a dirty diaper in these — even in my purse, should I not have access to a trash can — but they're also great when you're visiting someone's house and you don't want to put a dirty diaper directly in their trashcan. Even when I visit with my parents, I just don't feel right sticking an unprotected, smelly diaper in their regular trash. You can find the dispenser with bags HERE for $3.99 (they ship free), and grab bag refills HERE.
The number one thing that was likely the source of the majority of my anxiety about traveling was the logistics and ease, making our way through the airport, through security, and onto the plane. We have always used an UPPAbaby Vista stroller (which by the way, I 100% recommend), but for air travel especially, I thought it would be too heavy, too bulky, and too cumbersome. I started researching travel strollers and from reviews, videos, and rankings, it seemed the UPPAbaby Minu was by far the best combination of easy and lightweight while still having premium features. We have been such fans of our other UPPAbaby gear, so the numerous comparisons I read weren't surprising. Also, while we love our Vista, I thought it was probably time to consider going with something a little more easy and portable that could potentially transition into our new primary stroller. We got it c/o UPPAbaby just before our trip and, wow. Not only is it lightweight (while the Vista weighs in at over 26 lbs, the MINU weighs just under 15 lbs), but it folds down to its most compact size with one hand and has a carrying strap. While it doesn't have the huge wheels the Vista has, it does maneuver effortlessly and easily — if you have experience with other UPPAbaby strollers, you know how well they glide. The best part — it fits in the overhead bin on the plane.
This alone was a huge determining factor for me when I was researching. I don't trust checked baby gear and if it could be avoided, I didn't even want to chance checking a stroller at the gate. When we went to board the plane, the gate agent gave us a slip to check it and I declined, telling her it was *supposed* to fit in the overhead bin. She was doubtful. When we boarded, the flight attendant said "um, that can be checked" and again, I told her it would fit in the overhead, hoping the claims of what I read were true. Dave easily lifted the stroller, slid it in the overhead compartment, and shut the hatch. The flight attendant was shocked and asked where we got it. Now again, this was the first time we flew with it but I was surprised she was so surprised. A stroller fitting in the overhead so easily is that rare?? Apparently, to her, it was.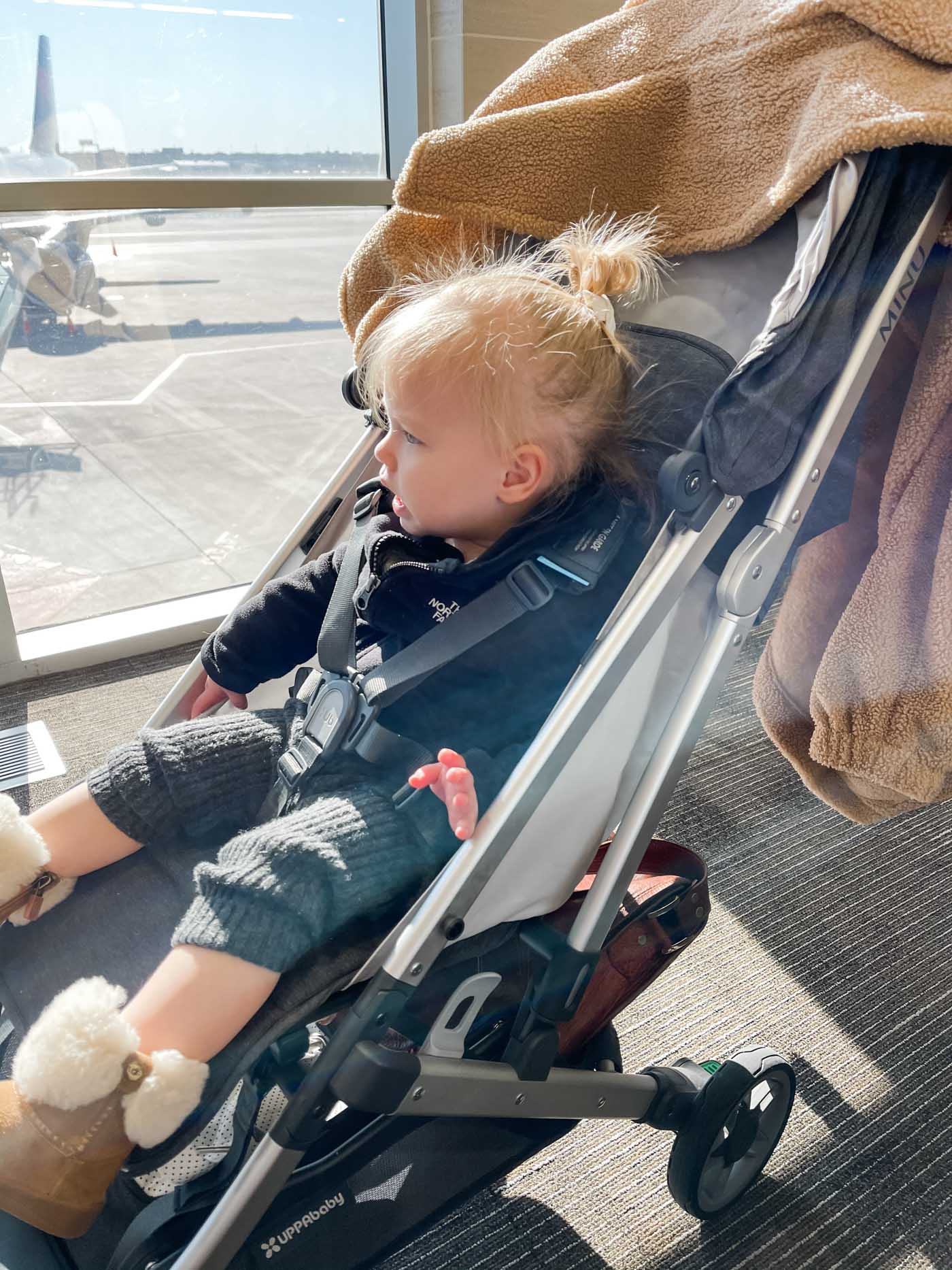 In terms of the features, it has a hood, a sunshade, and the recline is adjustable. It has a basket underneath which still accompanied both Dave and Eliza's bags as we cruise through the airport and just as the stroller fit perfectly in the overhead compartment on the plane, it has a single-handed fold-up that makes it easy and quick to put on the security conveyor. It's upright and wheels in small spaces and isn't too cumbersome to jump on and off the plane train at the airport. It was such a game changer during our trip that it now resides in the cargo space of my crossover and has become our primary stroller.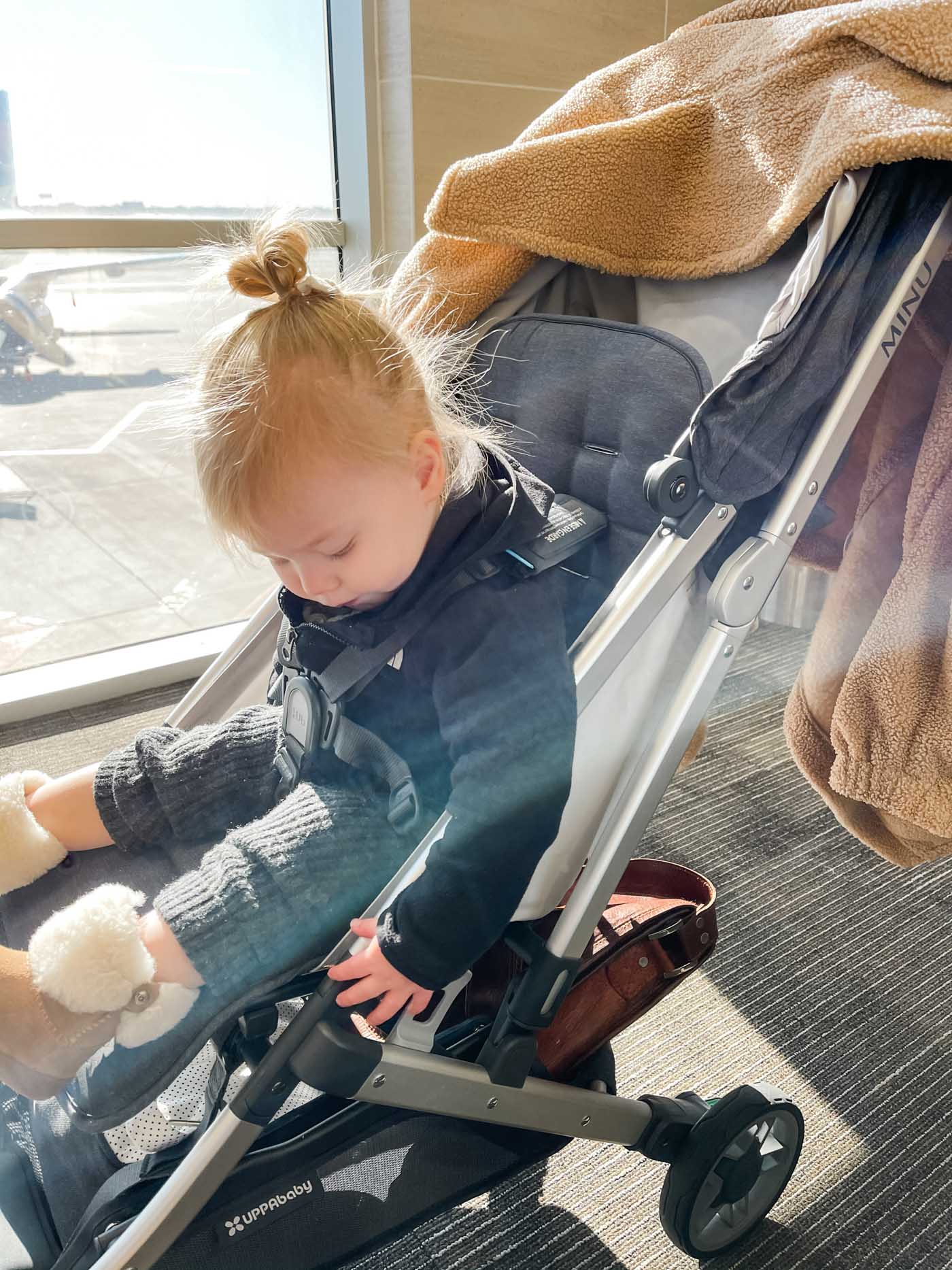 And, while we waited until now to test out the MINU, if you prefer something smaller and more lightweight in general, even at an earlier age, it does comes with the ability to attach an infant seat! You can find the adapter (it would have worked with our UPPAbaby Mesa, among others) HERE. There's a big pocket on the back, it holds up to 50 lbs, and it has fee same-day delivery where we live HERE.
These things are lifesavers — they fold up into a tiny square, are easily wiped clean, and are not only good for diaper changes, but mats to eat on, also (I brought two with us). You can lay them on any surface and I prefer to put these on top of changing stations instead of trying to Clorox the entire thing.
Other Travel Favorites (Non-Flight Related)
While not flight-related, I wanted to share a few of our favorites we've used for trips by car, also.
Eliza is incredibly regimented so the first time we took an overnight trip, I was nervous about how she would sleep in a hotel room — especially while we stayed awake for hours longer. We ordered this Slumberpod which is essentially a blackout tent, designed to fit over a pack and play. It worked perfectly. It stays pitch black, is breathable and even has an interior pocket if you want to set a monitor inside.
While it works for most pack and plays, we use it with our 4Moms Playard. We got one for our main level and loved it so much, I also got one for my office, upstairs. After being spoiled by such an easy setup (you literally press down in the center and that's it — no playing with the sides), I hated not having it when we recently traveled to TX. It travels well via car but I thought it would be too much to try to fly with.
We also set Eliza's white noise machine — the Hatch — inside the Slumberpod so not only is it pitch black, but it also drowns out the noise outside of the pod. We use it nightly in her nursery so we just pack it in our luggage.
In terms of packing, THESE packing cubes are game changers — not just for kids, but for the whole family. For small kids specifically, though, with Eliza splitting suitcases with me, it so helped having all of her things grouped together, organized and separated. I swear these make it easier to fit so much more inside the suitcase, too. I used one cube for her outfits, one for diapers, wipes, and toiletries, and one for everything else. They come in several color options and are one of my most favorite discoveries of the last five years.
As we become more seasoned (one day), traveling as a family of three, I'm sure we'll continue to learn and simplify but as for our first flight travel experience — especially during a more concerning time — the prep leading up to our trip totally paid off. Packing and traveling with small kids is no joke but I literally took inventory of our full typical day and tried to duplicate that in a travel-version. Are there any toddler essentials you swear by that make traveling with kids easier? If so, you can share those in the comment section at the bottom of the post!
OTHER POSTS YOU MAY BE INTERESTED IN
Tried & True Newborn Necessities
Baby Gift Ideas — What We Have & Love
First Year Lessons — The Best Things We Did (& What We Would Do Differently)