I think the month of January in our home deserves some sort of name… something that describes the decor that no longer seems to fit without the glow of the twinkle lights (inevitably still scattered around). While things are picked up, there's still bare spots that seem to make every room feel incomplete. The absence of green trees make the rooms feel a bit colder, more stark, and even a little lifeless. I was motivated enough to clear out the holiday decor by December 26, but not quite motivated enough to "re-establish" a totally cohesive winter palette. My best "trick" is to throw big bunches of magnolia leaves everywhere I can, and while that helps a lot, I'm finally ready to start thinking about bringing some florals back in to infuse some color and vibrance into our admittedly still-dull spaces. The first haul of Trader Joe's flowers in the new year is a treat and I always go a little overboard, having missed them for the past few months. While you can grab great florals from so many sources, flowers at Trader Joe's never disappoints — both in price and selection. And for my TJ's haul this past week, I wanted to show just how beautiful an arrangement can be created — from under $5 to over $50. There aren't may places you can score the kind of one-stop-shop variety and quantity and you'll likely spend more at other retailers. Regardless, it will still be a fraction compared to paying for a pre-made bouquet.
*Posts on KelleyNan.com may contain affiliate links. Click HERE for full disclosure.
Tips for Shopping Trader Joe's Flowers
From a totally untrained floral arranger, these are some things I've learned over the years from trial and error. Some of these can be said for other retailers too, not just Trader Joe's, specifically 😉
Shop for individual stems instead of the garden bouquets. Pre-selected bunches can be beautiful but they're limiting and you'll likely still pay a little bit of a premium. Also, most pre-arranged bouquets seem to always been a full spectrum of colors, and they always tend to throw in less popular flowers as filler.
Know the staples and the specials. A few key Trader Joe's flowers to be on the lookout for: 1. they always have great silver dollar and seeded eucalyptus for a few bucks. This looks great on it's own or as an inexpensive arrangement base. "Special" tulip bundles can be purchased in all shades, in quantities of 20, throughout the year, but especially in the spring. Peonies can create a wait list — yep, that's right — and their availability is determined based on where you live. In Georgia, we usually don't see them until May/even June, but places like Texas typically see them in earlier spring. Trader Joe's also has unique stems you won't find at your typical grocery store. Step outside your comfort zone and try something totally different you may not be familiar with.
Grab a bucket. If you end up with several bunches, they'll load the stems in a bucket for you, if you ask, for easier transport. They can even put water in the bottom of it, if you prefer.
Look for different textures and petals. Some flowers take up a lot of space, others need something a bit larger to stand in front of, so they don't disappear. Look for different leaf shades, sizes and shapes, and stems with fluttery petals to mix with sharper blooms.
They have adorable house plants — from teeny tiny, to full sized. These are a great deal and they always have a variety.
Check seasonally for special florals. Swags, wreaths, garlands… you name it!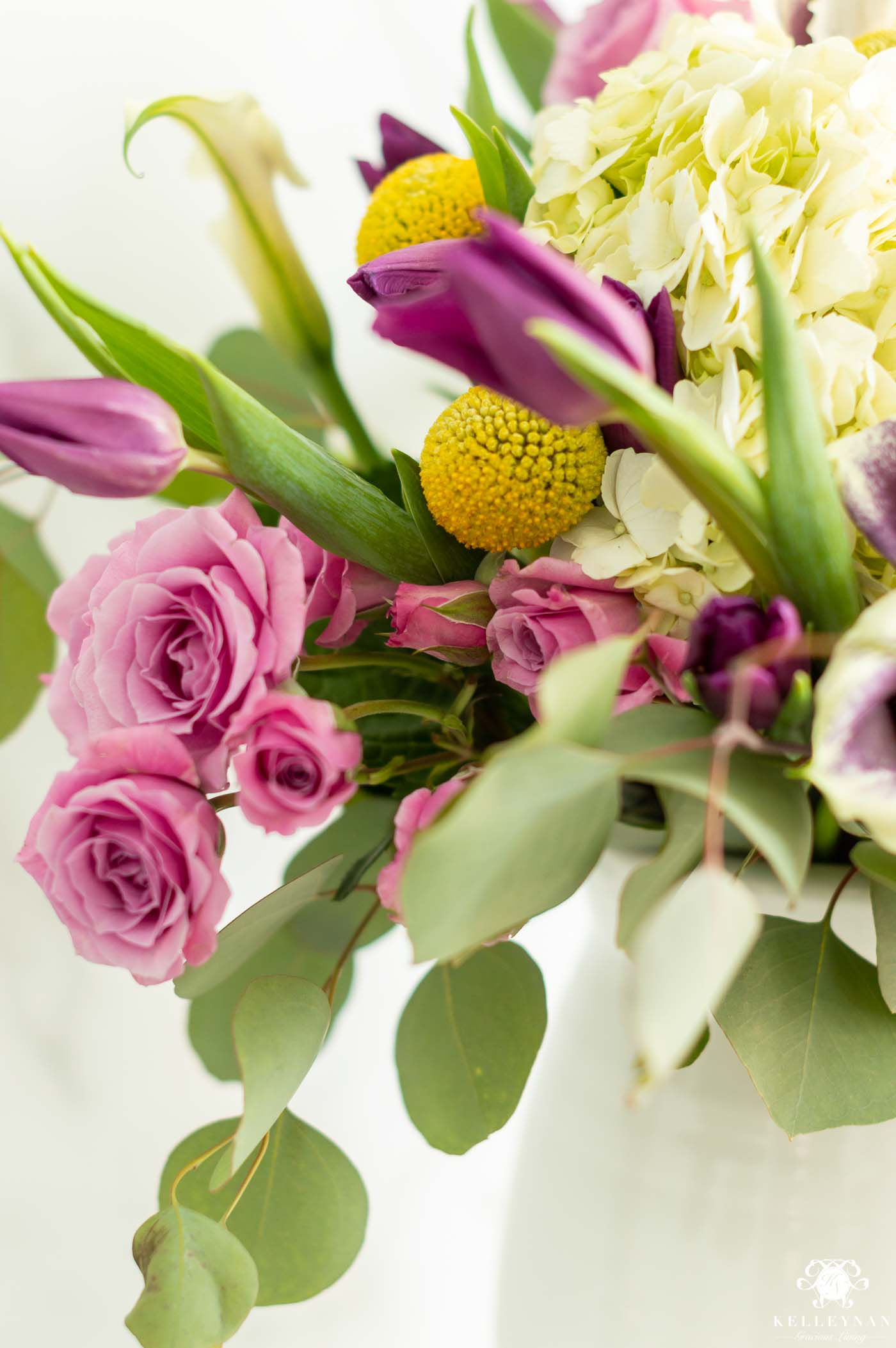 Trader Joe's Flowers — Arrangements from Under $5 to $50+
So, now for the fun part. I'm a firm believer that tiny arrangements can be beautiful but for the purpose of this post — to illustrate the impact of different price points and to demonstrate how much impact you can make, even on a smaller budget — I gathered flowers from Trader Joe's specifically to work independently, be mixed and matched, and ultimately be put all together, in one large statement arrangement. Even a little can make a big difference and $5 may be able to get you further than you realized 😉 Also to note before we jump into the creations — because I was mixing and matching, I kept the full length of these stems to form basic arrangements, so they could be incorporated into other examples. When you're creating your own arrangements, you can totally take more liberties with trimming, splitting stems, etc. And, while I had the goal of forming one arrangement, hopefully this gives an idea too as to how many separate arrangements can be split between vessels and scattered around the house for $50 (or less.)
Total Arrangement Cost: $4.99
What's in it? 1 Bunch Spray Roses ($4.99)
This little bunch of sweetheart roses is adorable split between bud vases, but even bundled together with minimal effort, they can be gathered into a single vase for under $5. These are also a great, easy pairing to incorporate with other flowers.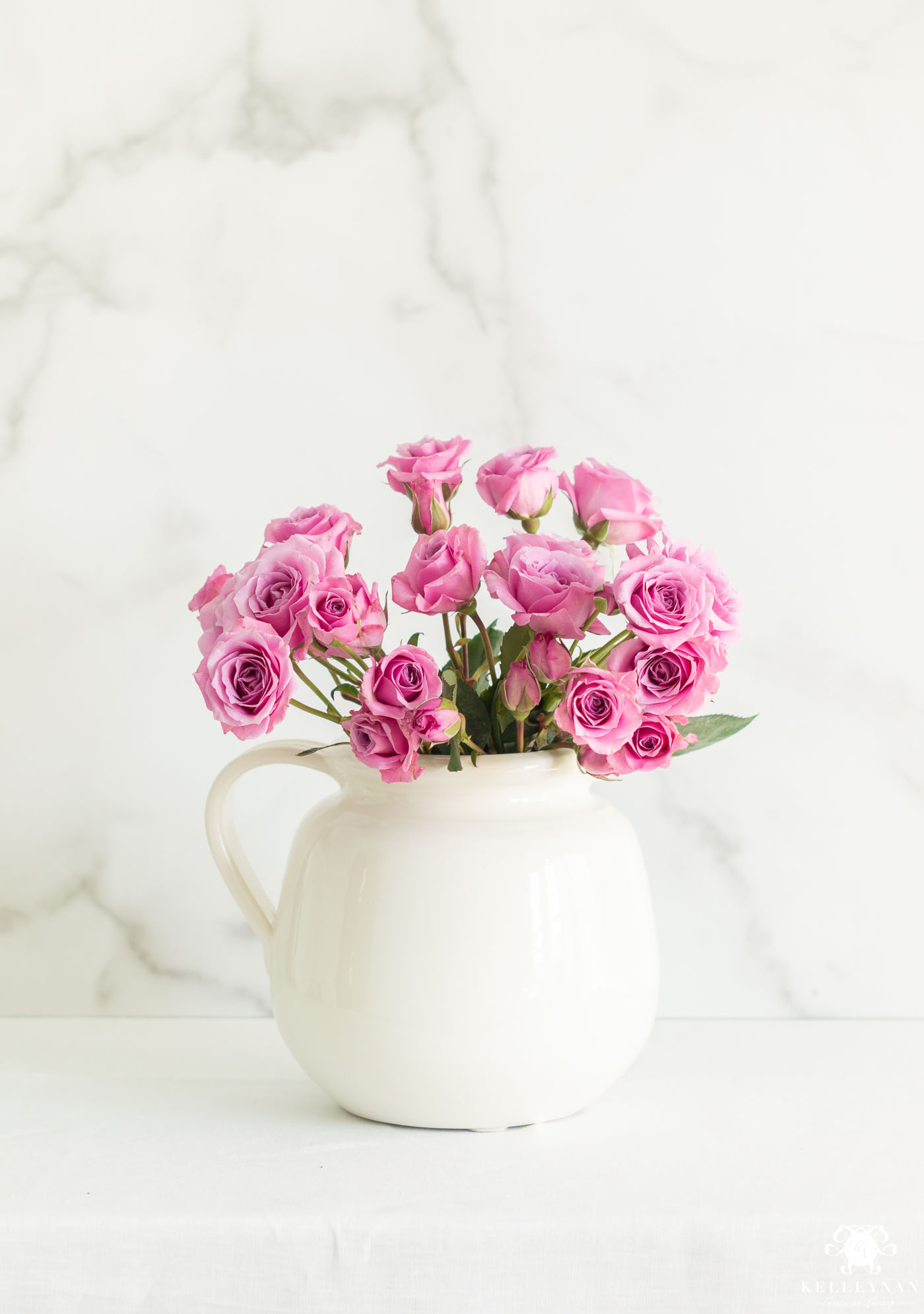 Total Arrangement Cost: $7.98
What's in it? 1 bunch Silver Dollar Eucalyptus ($3.99); 1 bunch Craspedia ($3.99)
This natural, clean arrangement is perfect if you aren't into frilly florals. The Craspedia seeds aren't incredibly common and make a really fun addition to simple greenery. This arrangement is larger than it looks and was pulled together for under $8.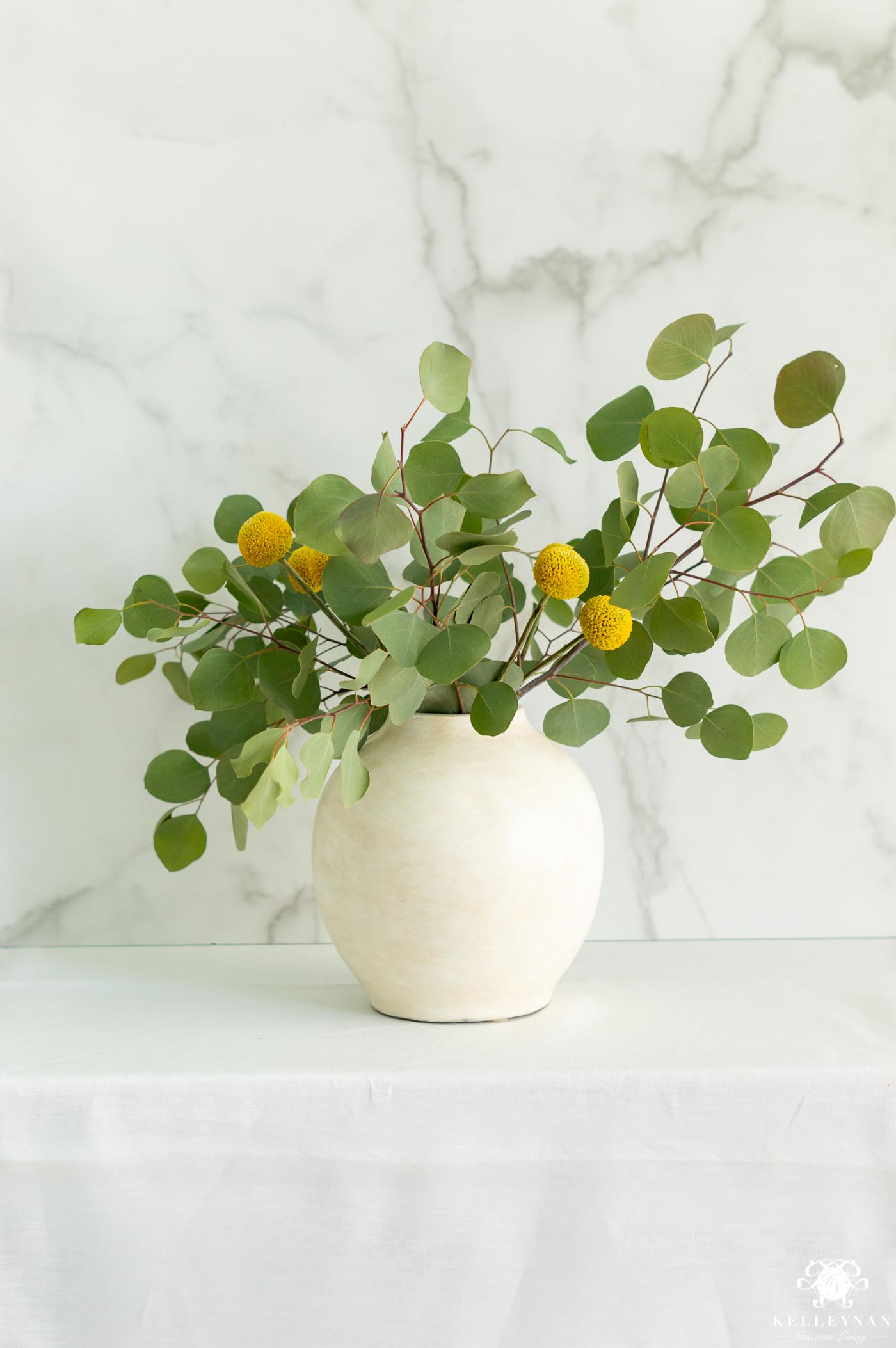 Ceramic Vase (medium)
Total Arrangement Cost: $9.99
What's in it? 1 bunch — 20 ct. — Tulips ($9.99)
Trader Joe's tulips are my favorite. They're such a great value and the amount of stems that come in a single bunch makes this bundle an easy-to-stretch option. They were actually separated into two groups of 10 within the wrapping and are easy to create a few arrangements from this under $10 bunch.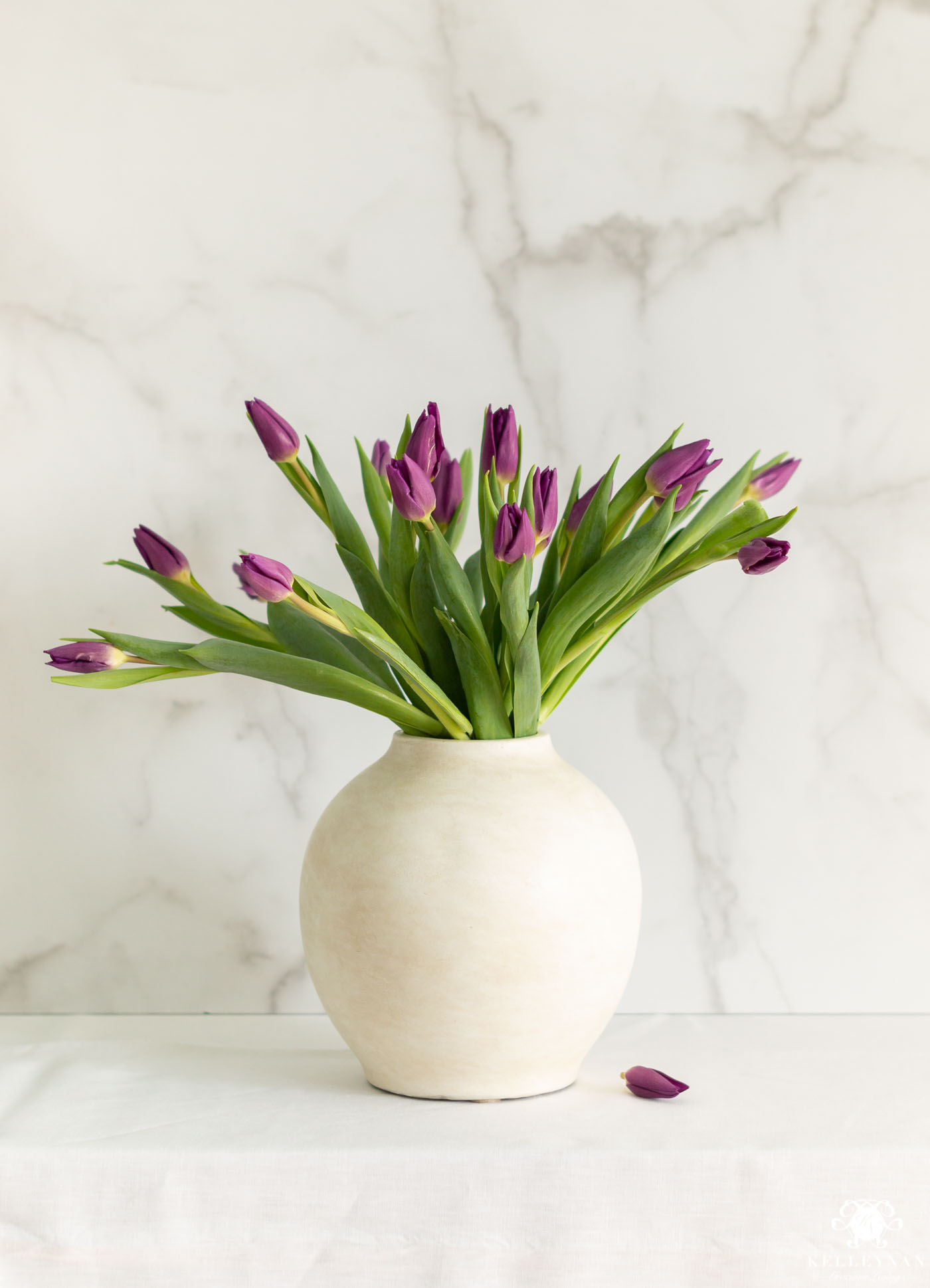 Ceramic Vase (medium)
Total Arrangement Cost: $12.98
What's in it? 1 bunch Green Hydrangeas ($6.99); 1 bunch White Hydrangeas ($5.99)
Hydrangeas make any arrangement more full and cover a lot of gaps easily. Trader Joe's hydrangeas are typically always in stock in white, blue and purple but these vibrant, pretty green ones were a treat to happen upon.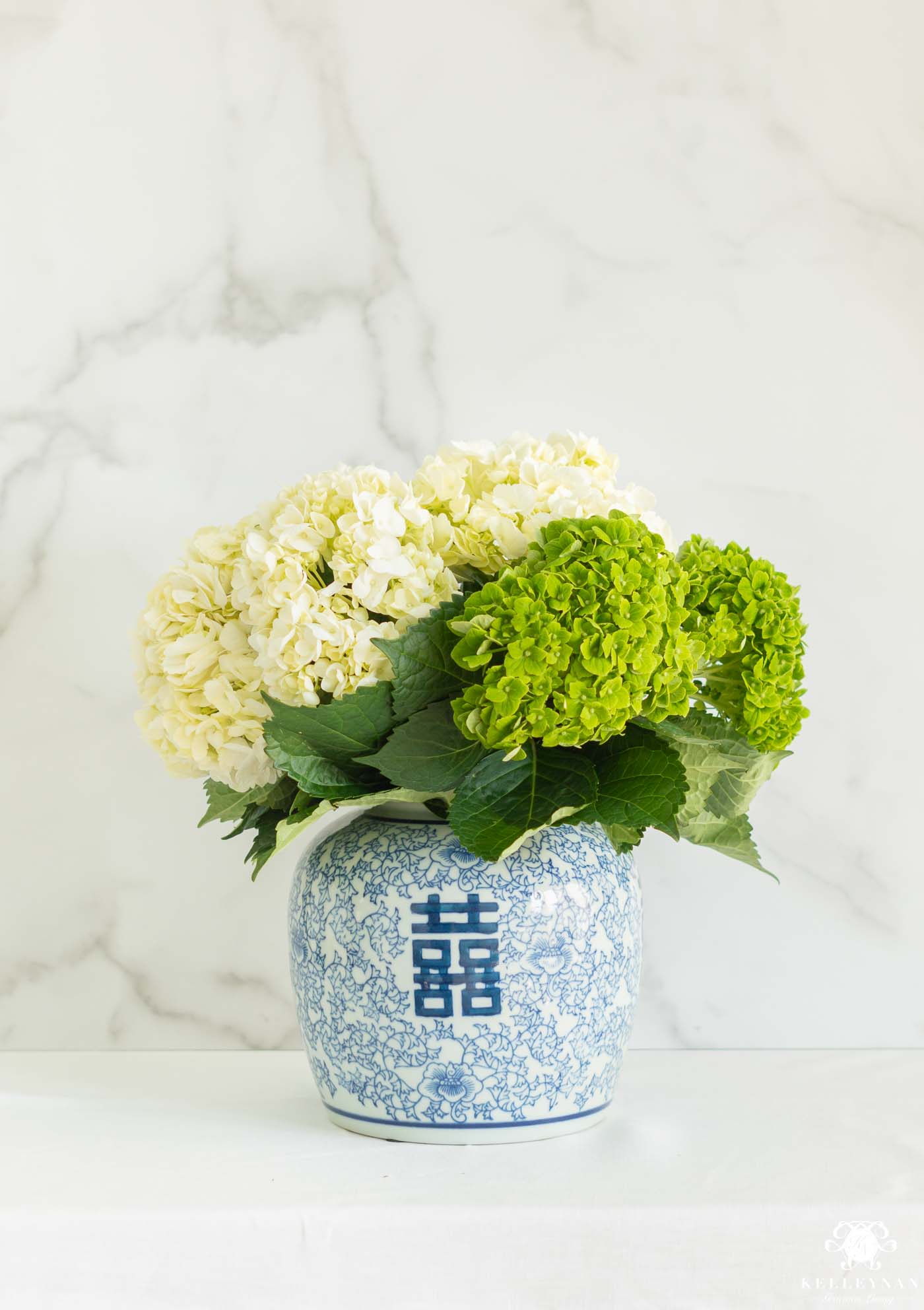 If your hydrangeas start to wilt, do this.
Cut at least an inch of stem at an angle.
Run the head under cool water (it's ok if it's really wet).
Place back in vessel with water.
If it doesn't perk within a few hours, repeat.
This method can be done multiple times before they're done!
Total Arrangement Cost: $19.97
What's in it? 1 bunch — 20 ct. — Tulips ($9.99); 1 Bunch Spray Roses ($4.99); 1 bunch mini Calla Lillies ($4.99)
While I used all of each bunch I purchased to fully account for the cost attributed to each arrangement, this pretty purple-y pink combo is a great example of a fabulous arrangement that can be divvied into a few matching vases.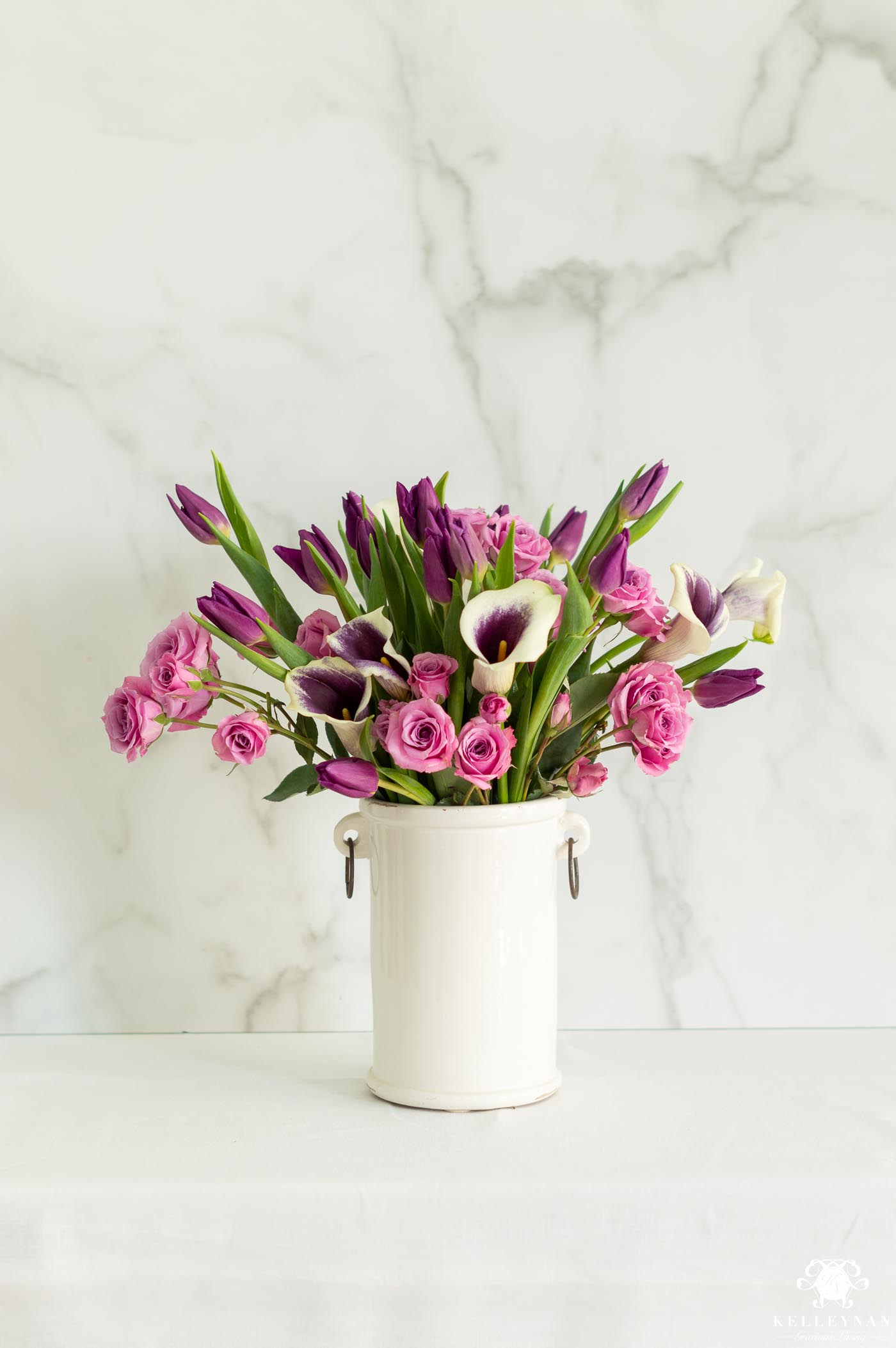 Total Arrangement Cost: $27.95
What's in it? 2 bunches Green Hydrangeas ($6.99/bunch); 1 bunch White Hydrangeas ($5.99); 1 bunch Craspedia ($3.99); 1 bunch Lepidium ($3.99)
This arrangement is simple, wild, free, and big. Had this been my finishing arrangement, I probably would have split the Lepidium a bit more but I wanted to keep the stems intact as the arrangements evolved 😉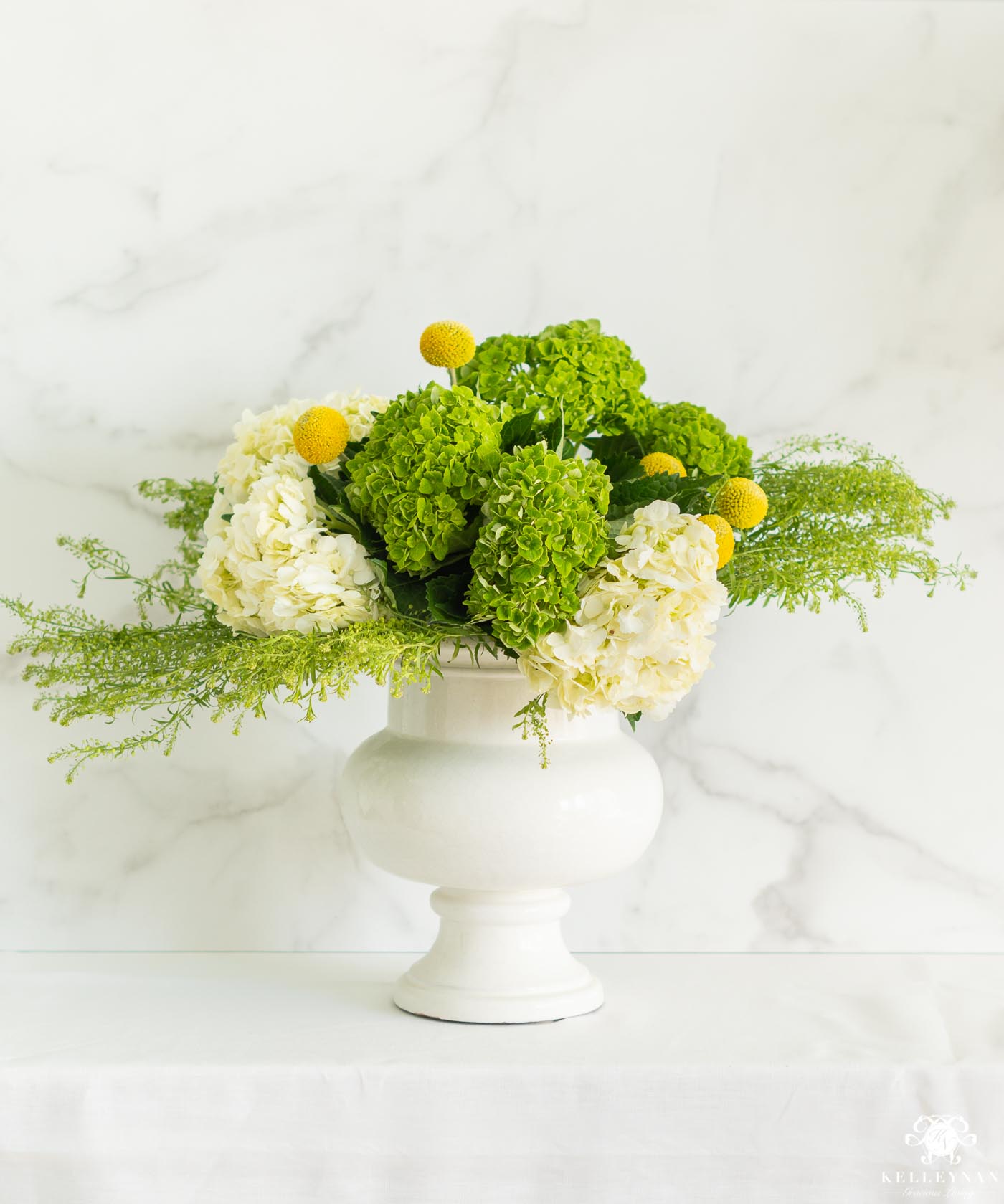 Total Arrangement Cost: $33.94
What's in it? 1 bunch — 20 ct. — Tulips ($9.99); 1 Bunch Spray Roses ($4.99); 1 bunch mini Calla Lillies ($4.99); 1 bunch White Hydrangeas ($5.99); 1 bunch Silver Dollar Eucalyptus ($3.99); 1 bunch Craspedia ($3.99)
Ok, this arrangement would cost way more than $34 if you paid for it pre-arranged! When it comes to the larger arrangements, I typically start with my greenery as a base and insert that first, adding the bigger blooms next, and then filling in with smaller flowers, fillers, and single stems.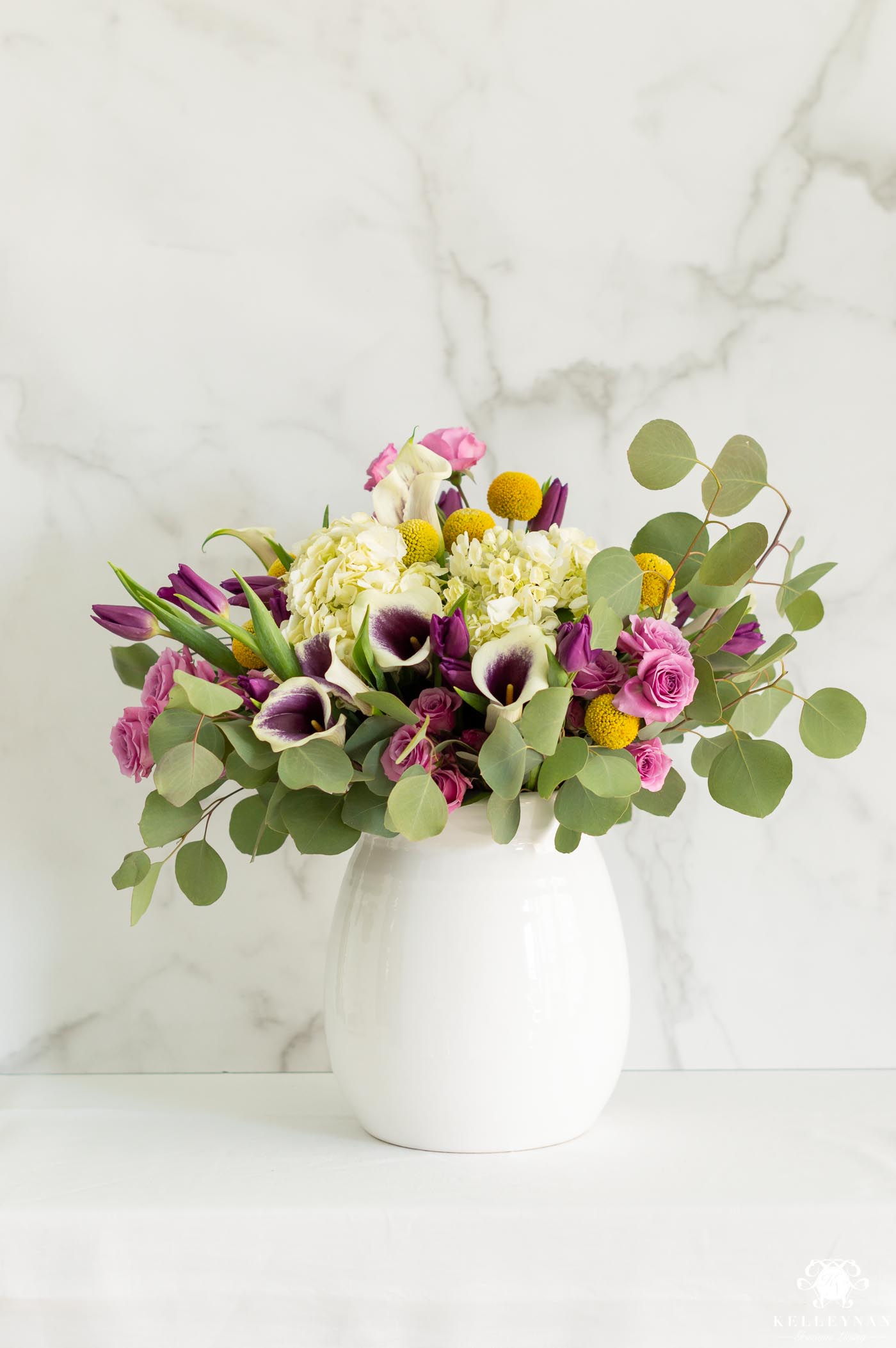 Total Arrangement Cost: $54.90
What's in it? 1 bunch — 20 ct. — Tulips ($9.99); 1 Bunch Spray Roses ($4.99); 1 bunch mini Calla Lillies ($4.99); 1 bunch White Hydrangeas ($5.99); 2 bunches Green Hydrangeas ($6.99/bunch); 1 bunch Silver Dollar Eucalyptus ($3.99); 1 bunch Craspedia ($3.99); 1 bunch Lepidium ($3.99); 1 bunch Ornamental St. John's Wort ($2.99)
And finally, the result of the full haul, bundled together into one statement arrangement…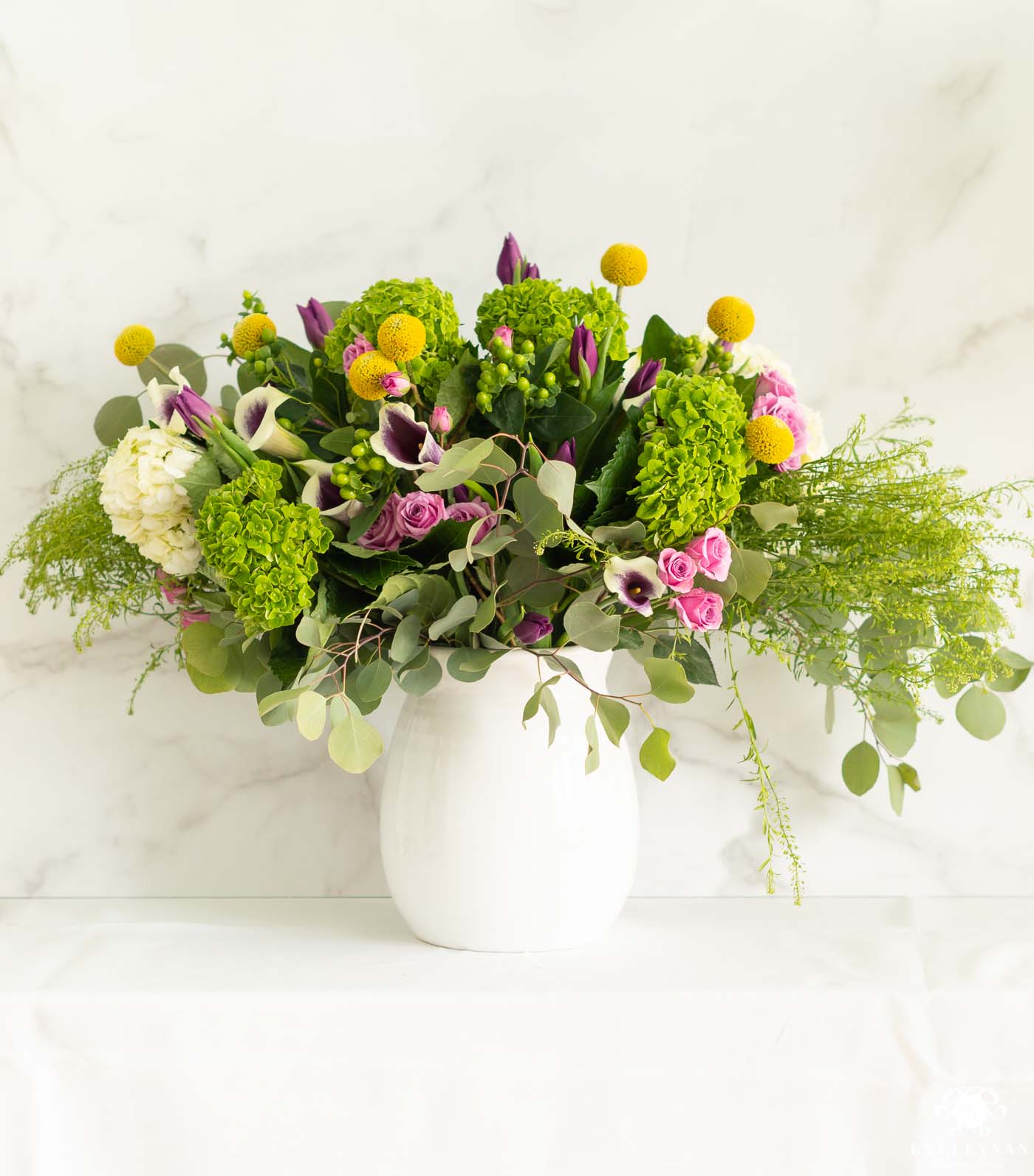 While I love the impact of this massive bouquet, these could easily be split and enjoyed in just about every room in our house. From one single trip. For just more than $50.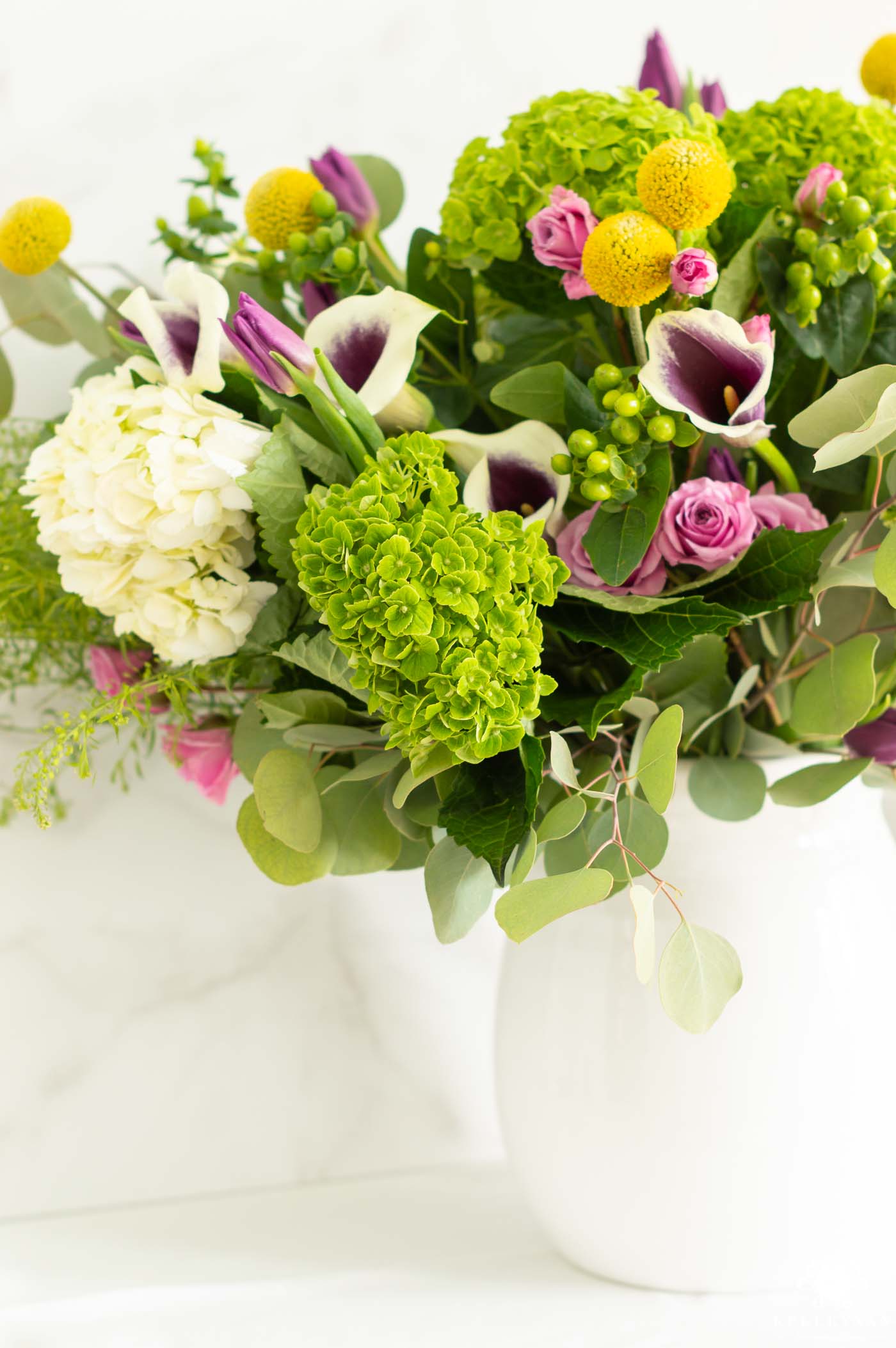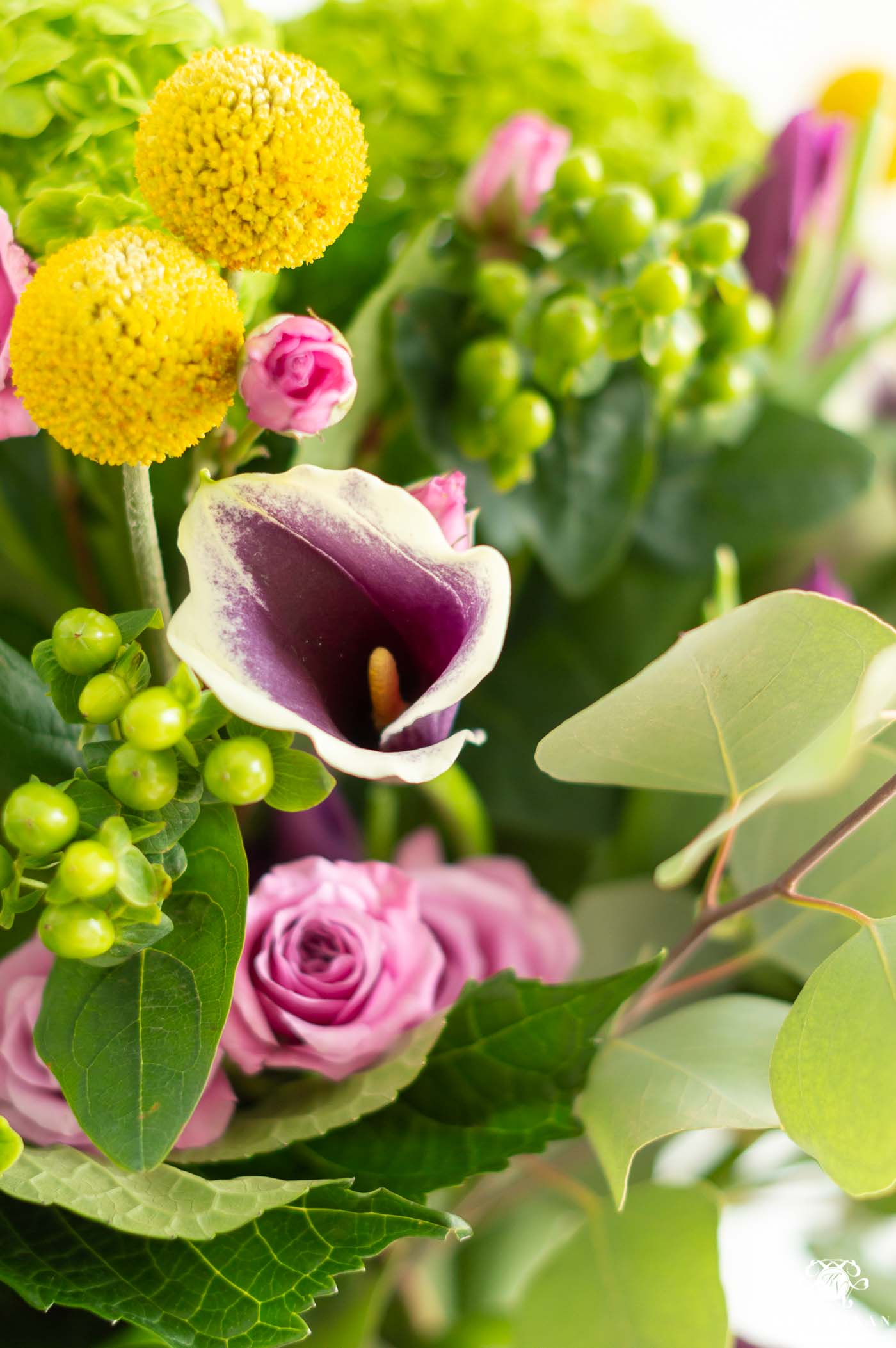 Whether you are a frequent Trader Joe's flower purchaser or tend to stick to somewhere more convenient, I hope this full array of arrangements — in order of cost — gives a realistic (and optimistic) visual for how far your funds can be stretched, regardless of how generous or conservative you may be when it comes to fresh blooms.
Natural and Organic Vases & Vessels I'm Loving
I am all about the earthy textures these days — even more-so as I inch towards the completion of our conversation room and some of the larger, versatile, more textured vases I've invested in over the past couple of years have proven to be a positive investment. I tend to reach for them most often, I try to keep them all in use (with or without flowers), and I love the juxtaposition of dainty flowers against a more masculine/rugged vessel. Here are a few current pretties worth checking out! Each can be found linked at the bottom of the graphic.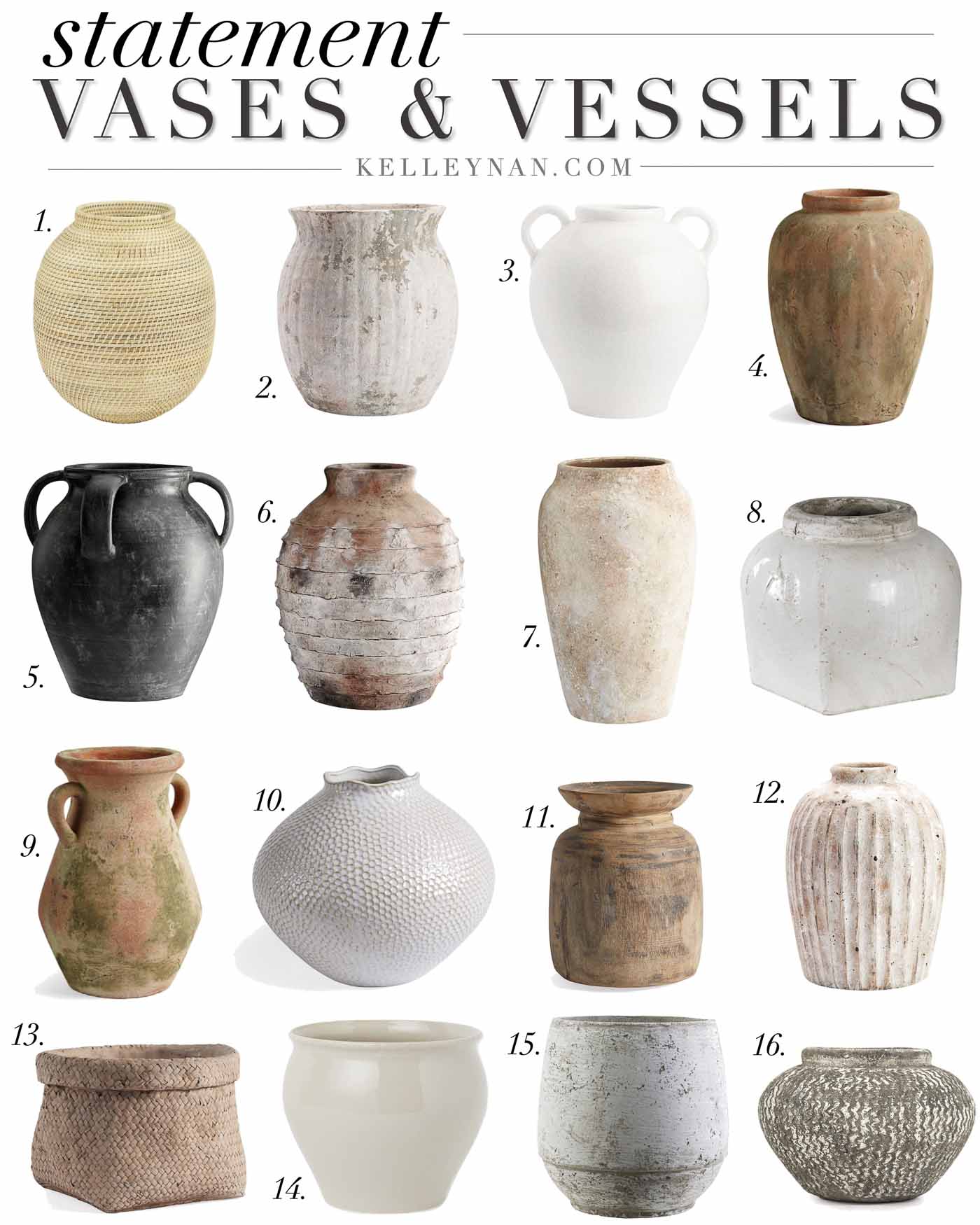 1. | 2. | 3. | 4. | 5. | 6. | 7. | 8. | 9. | 10. | 11. | 12. | 13. (no longer available) | 14. | 15. | 16. 
I actually have a pair of Number 3 — sometimes I used them individually and other times, I have them positioned on the top shelves of my built-ins. If you aren't totally down with the gritty look of some of these vessels, this one has a beautiful crackle throughout that makes it unique, but still polished. Number 14 isn't as large as some of the others, but it is a steal at $17.99. I actually have this stoneware piece in an urn version and it's beautiful in person. It also isn't too stark as it's a nice, neutral, warm shade. Number 10 has been a favorite of mine, in my own house, for a few years now. My favorite flowers for this unique vase are leggy stems, magnolia branches, and eucalyptus. If you're more into branches, this is a great option. I have Number 5 in the two-handled version and it is such a beautiful contrast in the room I'm using it in — plus, if you've been looking for ways to incorporate a little dark contrast, this is an easy addition. I have Number 8 in its largest version on my fireplace and it is by far, one of my most favorite pieces ever. Number 4 and Number 11 are still on my wishlist!
For upcoming 2021 projects, be sure to subscribe to my emails at the bottom of the post; you can follow me for daily sharing on Instagram HERE.