I would typically start the new year with a "tis the season to let the organizing commence!", but I think for a lot of you, 2020 was a big organization year in general. But, if you're continuing those efforts into 2021, are looking to refine a few spaces, or are always in on the lookout for smart solutions that are efficient, today, I'm starting the new year with the top 10 reader (that's you!) favorite organizers from 2020.
*Posts on KelleyNan.com may contain affiliate links. Click HERE for full disclosure.
Top 10 Favorite Organizers from 2020
An elfa solution (or two) did land on the Top 10 list so while you're taking a peek, know that my favorite system and all its components are on sale for 30% off right now. You can check out all the elfa solutions HERE. And if you're looking for ideas, you can see my full organization gallery and projects HERE. Now… the favorites! (links for each can be found at the bottom of the graphic)


1. Expandable Can Risers | 2. Door Organizer | 3. Water Hyacinth Bins | 4. Acrylic Organizer | 5. Water Hyacinth Storage Ottoman | 6. POP Canister Set | 7. Expandable Drawer Dividers | 8. Door Organizer Board | 9. Slant POP Canister | 10. Wipe Dispenser
Anything that can expand to fit in the space you need — rather than having to measure and hoping to find something that will sort of fit — is a winner in my book! These expandable can risers were the most favorited organizational item of 2020 by readers. While there's no shortage of can solutions, can returns aren't for me. I have to be able to see what I have in the pantry at a glance. These do that and make smart use of space. If you plan to use them on wire shelves, just make sure you have some shelf liner (like THIS plastic liner) to be able to accommodate the items on a flat surface.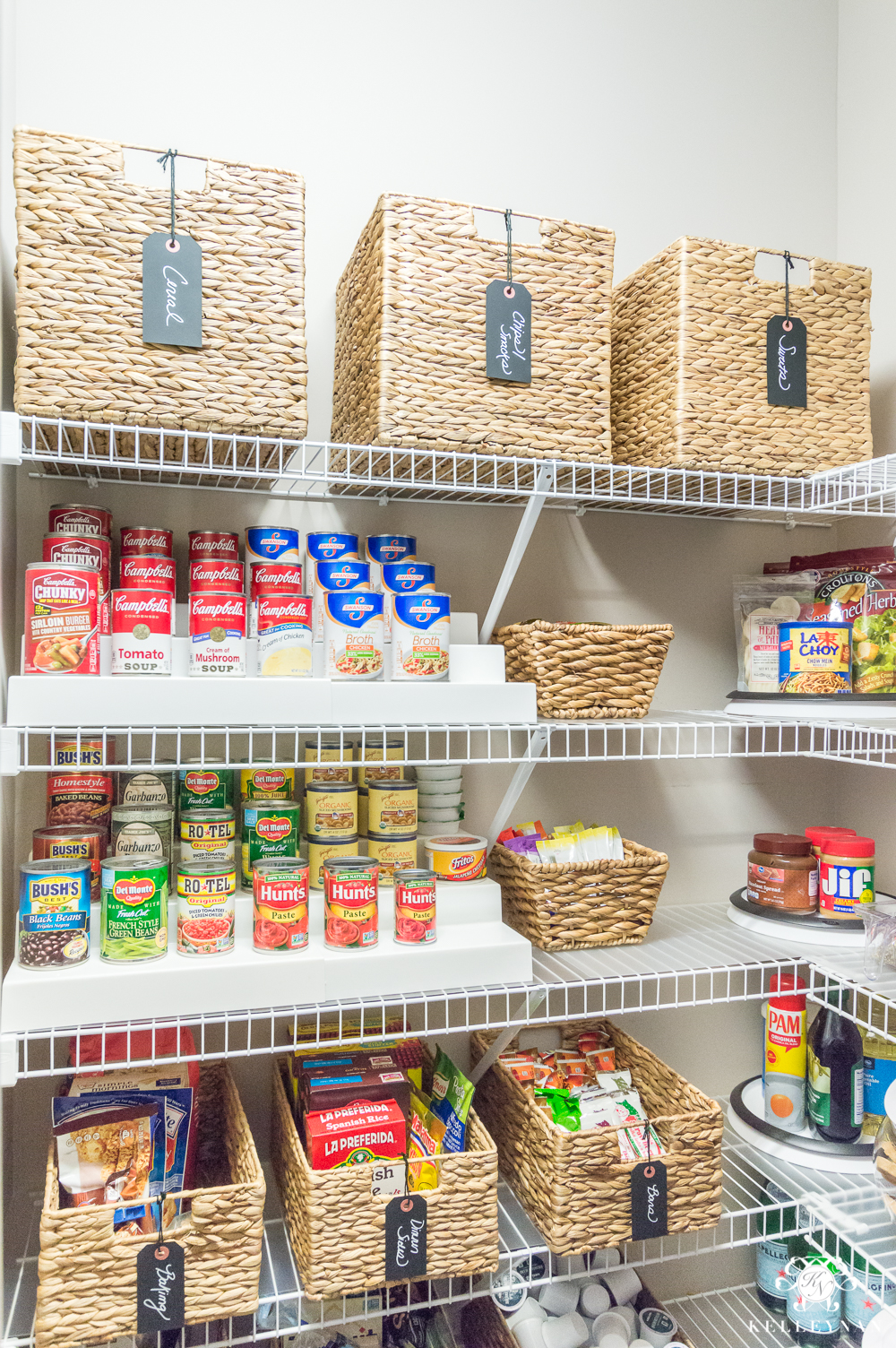 Can Risers | Hyacinth Baskets | Turntables | Chalkboard Labels | Chalk Marker
Along with the can risers, the expandable risers also come in a more narrow format, perfect for spices, HERE.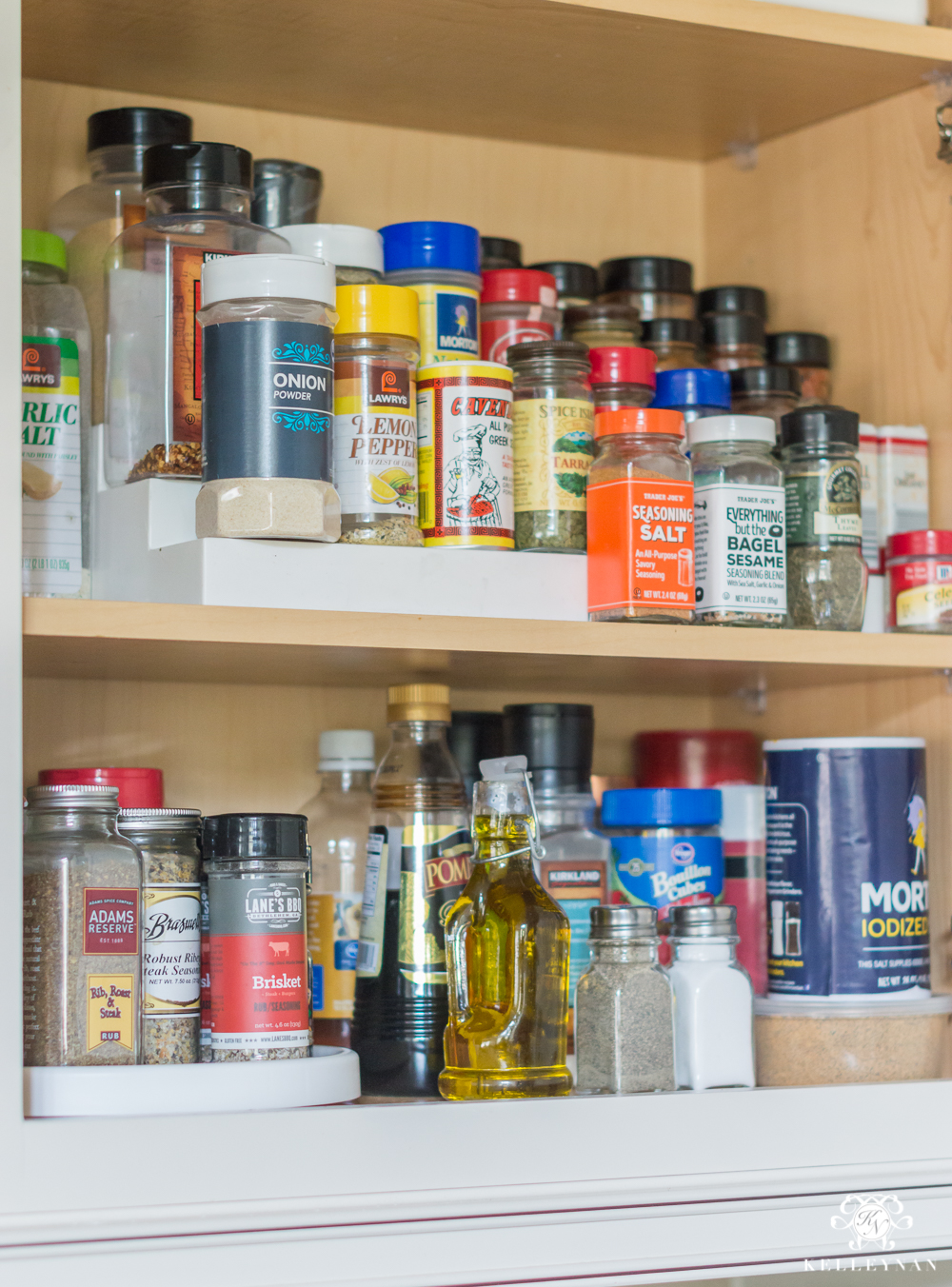 Expandable Spice Jar Risers | Lazy Susan Turntables
Find the full pantry organization post HERE
Find spice cabinet organization HERE
While it was readers' second favorite solution of 2020, the door organizer may come in at the very top for me. I have these all over my house — from the pantry to closets — and I'm planning a full post on this component alone. They are totally customizable and right now, they are 30% off HERE! Note: these do not require screws — they have a hole-free, easy clamp system!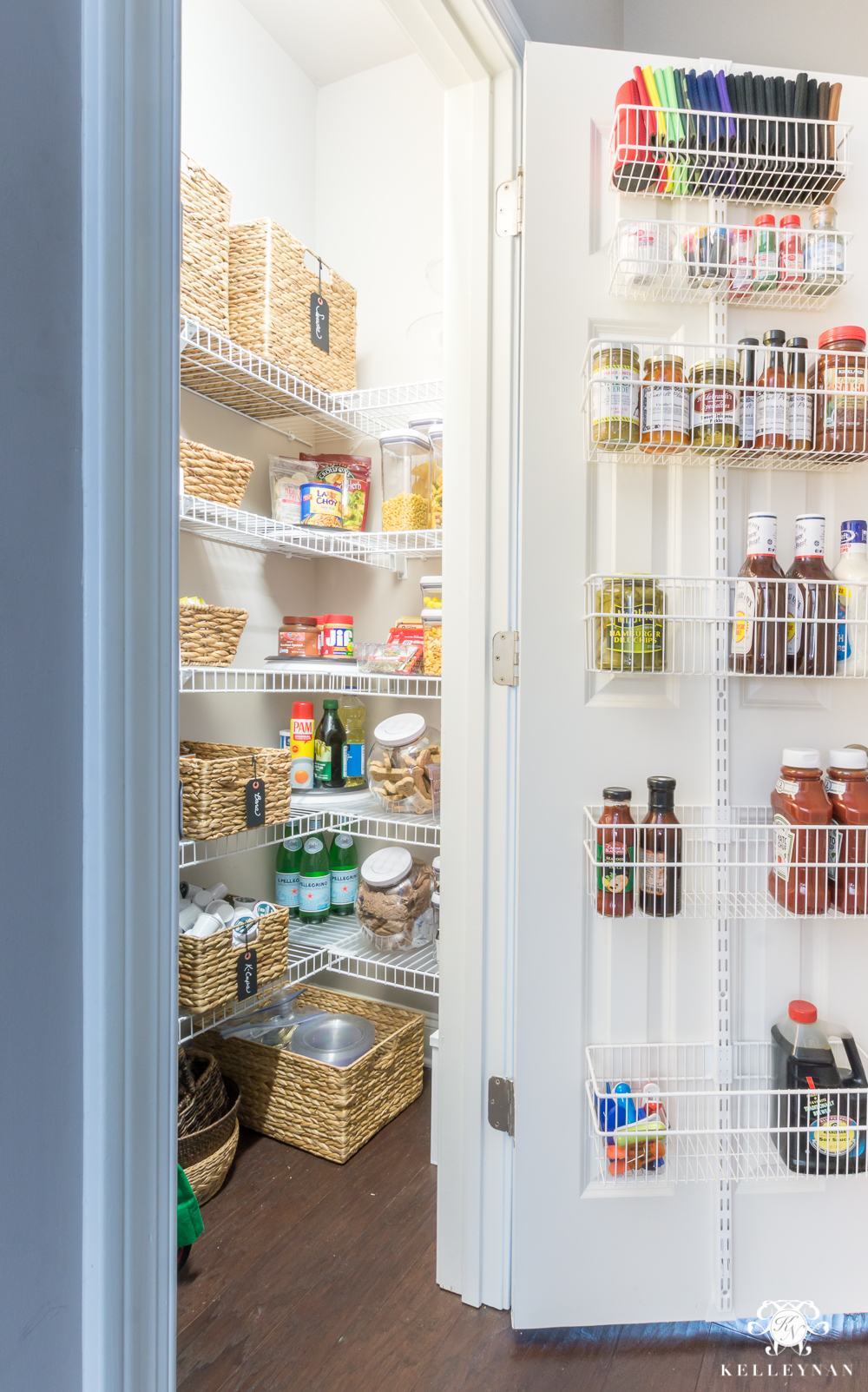 Door Organizer | OXO POP Canisters | Slant POP Canister | Can Risers | Hyacinth Baskets | Turntables | Chalkboard Labels | Chalk Marker
You can find several different configurations and get some inspo HERE.
Scroll & Tap to Shop Door Organizers (all 30% off!)

Find the full pantry organization post HERE
Coming in at number three are these hyacinth bins, in all sizes and shapes. My best tip for bins — especially bins that need to fit together closely — is to spring for a collection with straight sides instead of baskets that taper in at the bottom. Cohesive bins are also way easier to organize with because they are typically made to work together.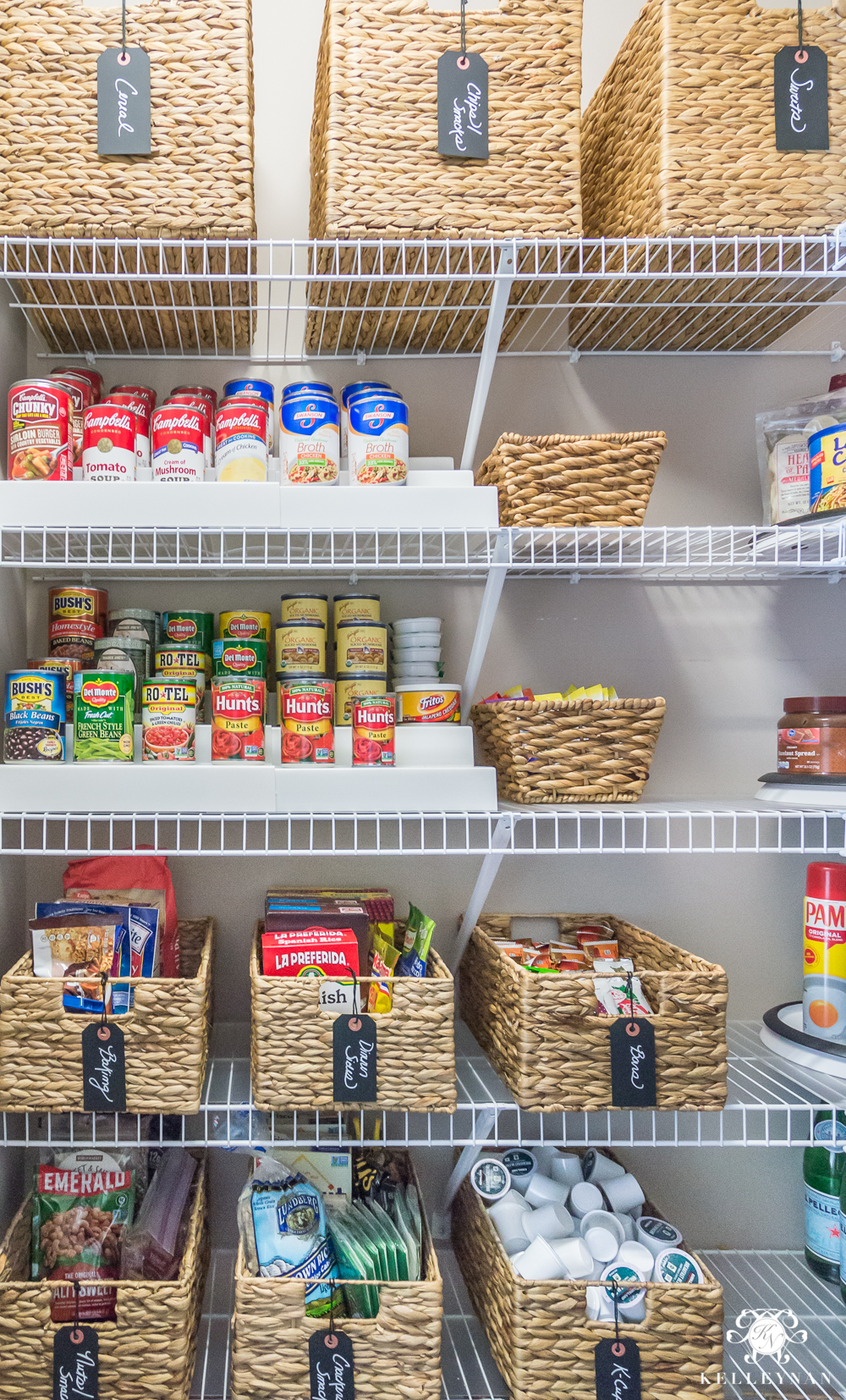 Can Risers | Hyacinth Baskets | Turntables | Chalkboard Labels | Chalk Marker
Find the full pantry organization post HERE
My acrylic desk organizer was discovered out of a need — between my folders, pads, agendas, lists, etc., I needed a solution that was functional to not just hold the items I grab daily, but also something sturdy enough to house my laptop with open sides making it easy for plugs without moving. The rubber feet keep it firmly in place and as a PSA: thin plastic and strong acrylic are not the same 😉 While the desk organizer comes in at number four overall, it was the top favorite for those tuning in on Instagram stories.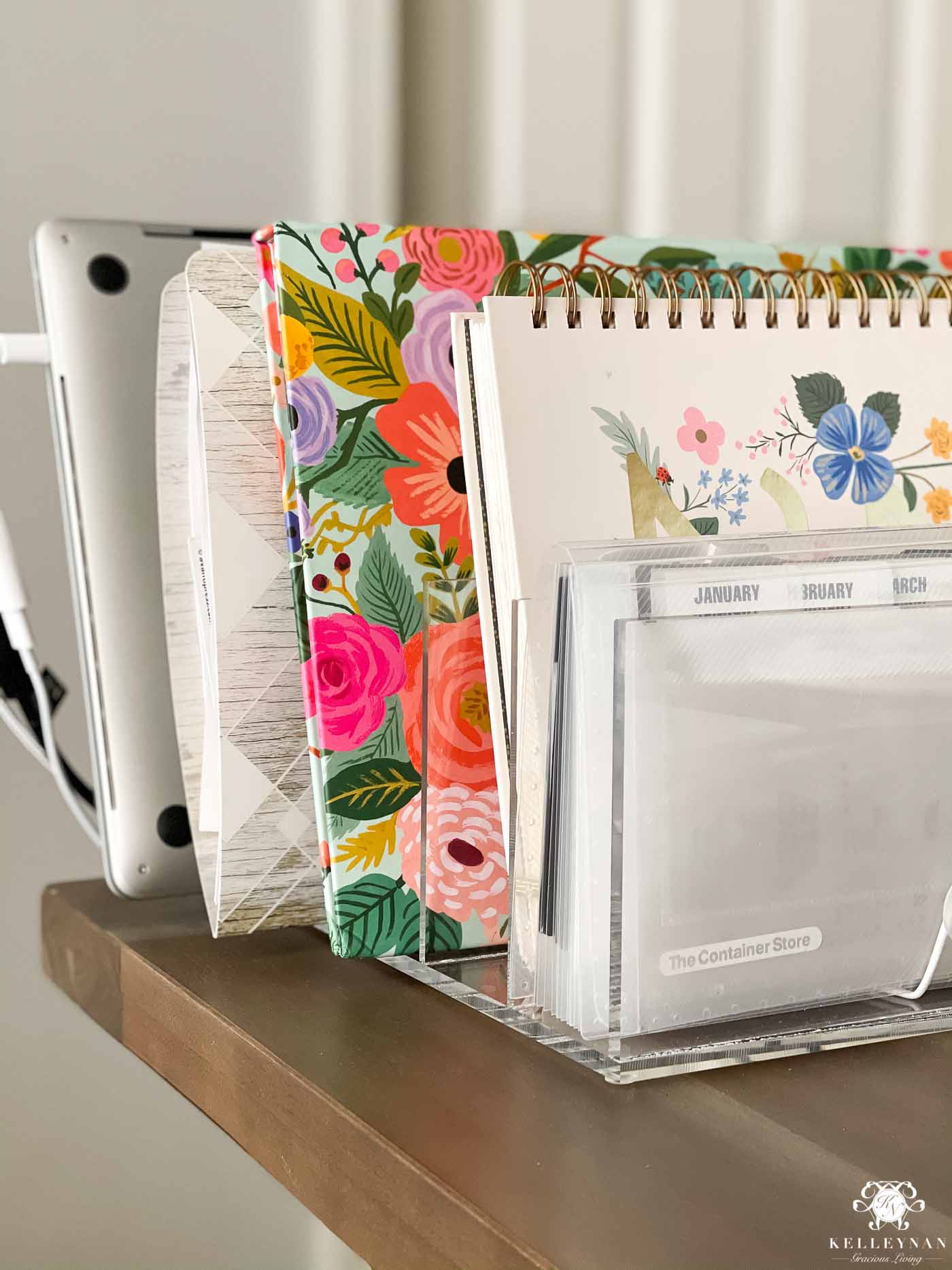 Acrylic Organizer | Receipt Organizer | Floral Clipfolio | 2021 Planner
Since welcoming Eliza, smart storage has become even more important — not just in the nursery, but all over the house. This storage ottoman is a reader favorite and while we have this hidden toy bin doubling as a side table in the nursery, it's also perfect for any living space/sitting area, anywhere in the house. It can even be tucked in the corner and used as a plant stand 😉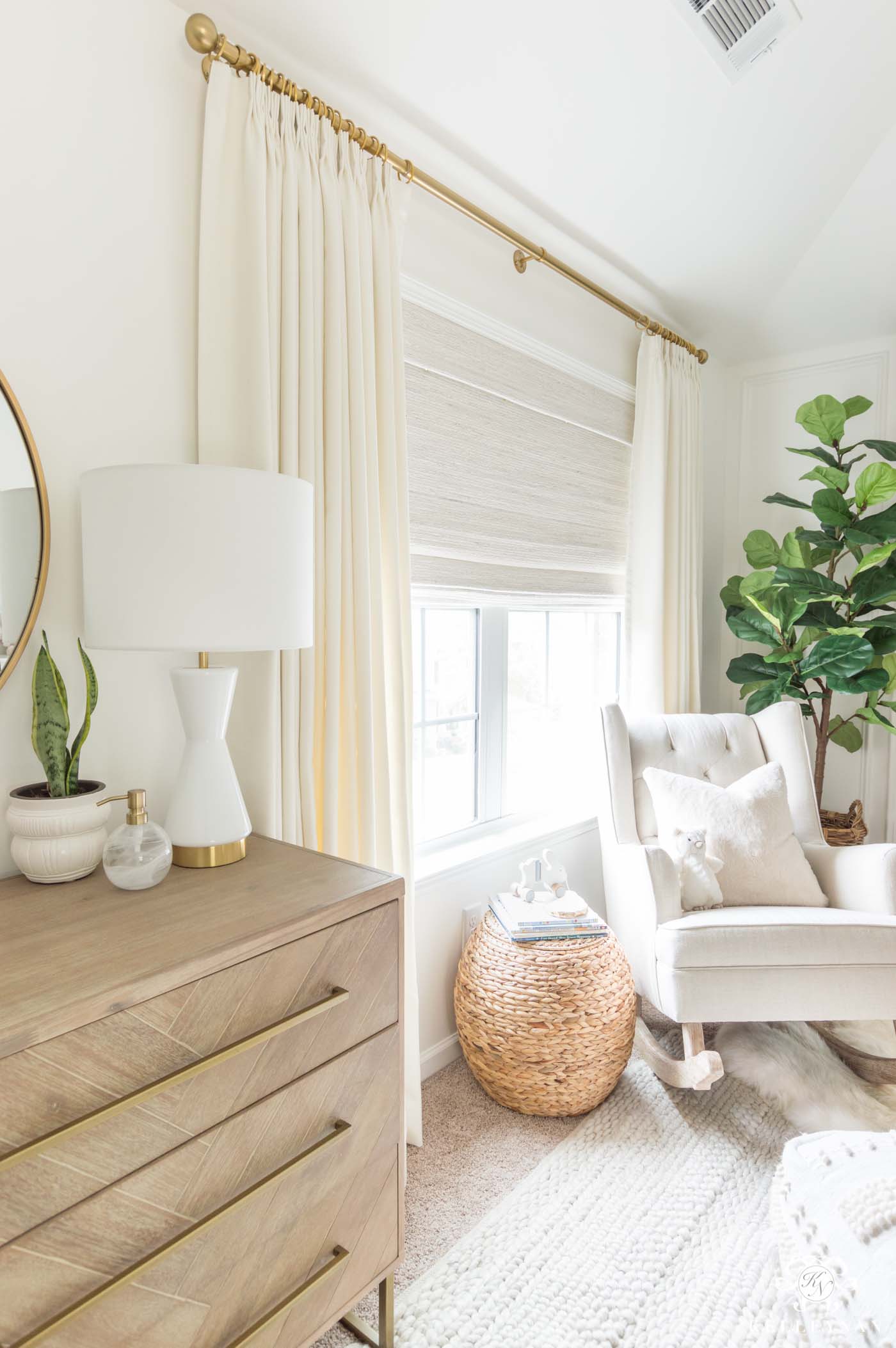 Water Hyacinth Storage Ottoman | Rocker | Rug | Dresser | Lamp | Faux Fiddle Leaf Fig | Pillow | Soap Pump (similar) | Curtain Rod | Curtain Rings
Find the full nursery reveal HERE
I fully believe you can create organizational solutions out of leftover bins, lids, and boxes but when it comes to my canisters, these air-tight POP containers are the only ones I'll use. They fit together perfectly and the sealing system is so quick and easy. If you're just dipping your toe in to see what the fuss is all about, you can grab a set with several different sizes to start you off HERE. As a note, too, I don't put everything in canisters. I only put food items that have a long shelf-life/items that are staples and are always in our pantry in these containers.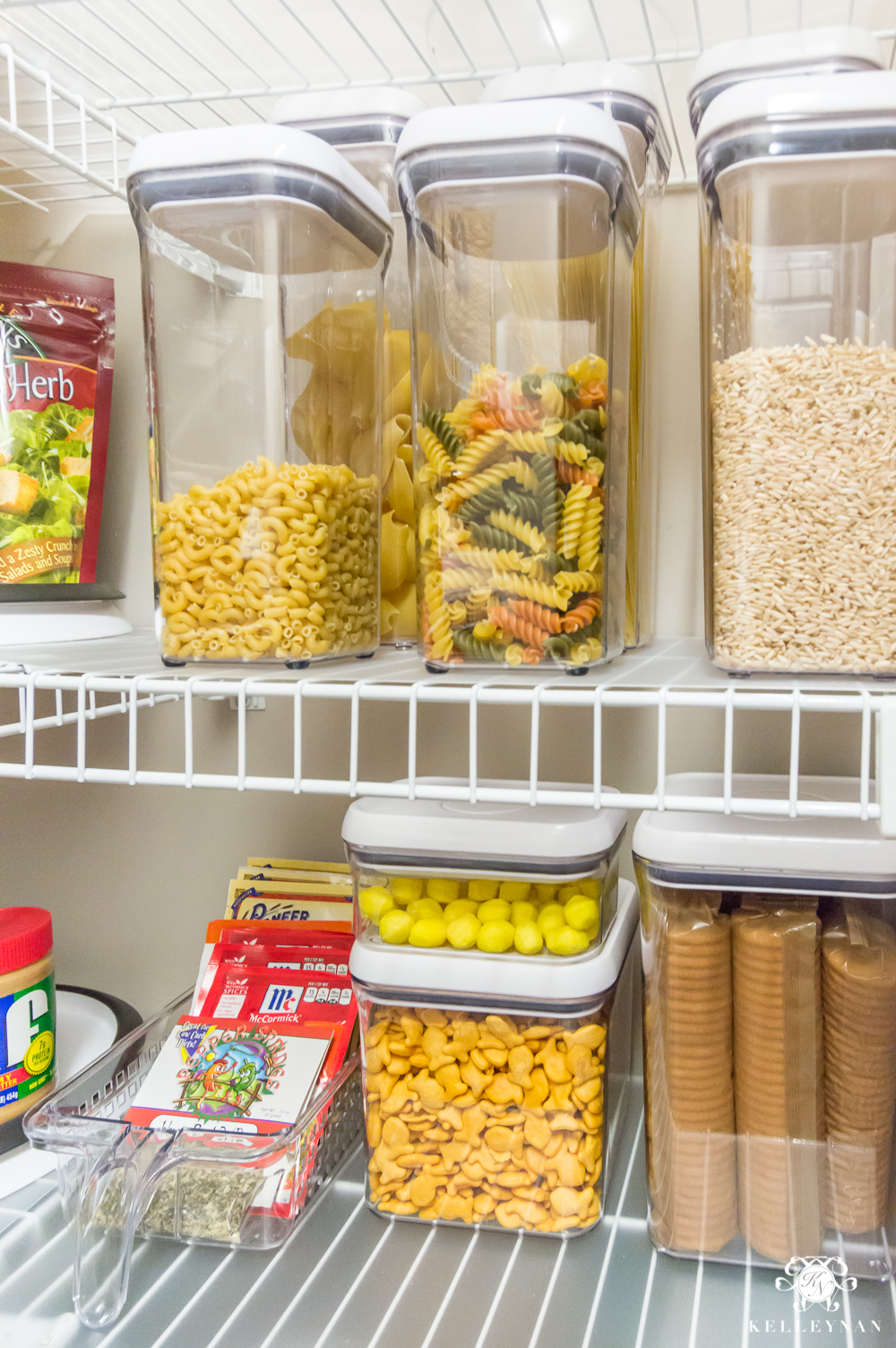 POP Canister Set | Clear Handle Basket
Find the full pantry organization post HERE
These drawer dividers are another organizational item I'm so passionate about, I have them separating drawers, forming compartments, all over the house. It helps in making sure you're using each drawer to its full capacity — which maintaining structure — a cinch! Here's how I used them in Eliza's nursery drawers…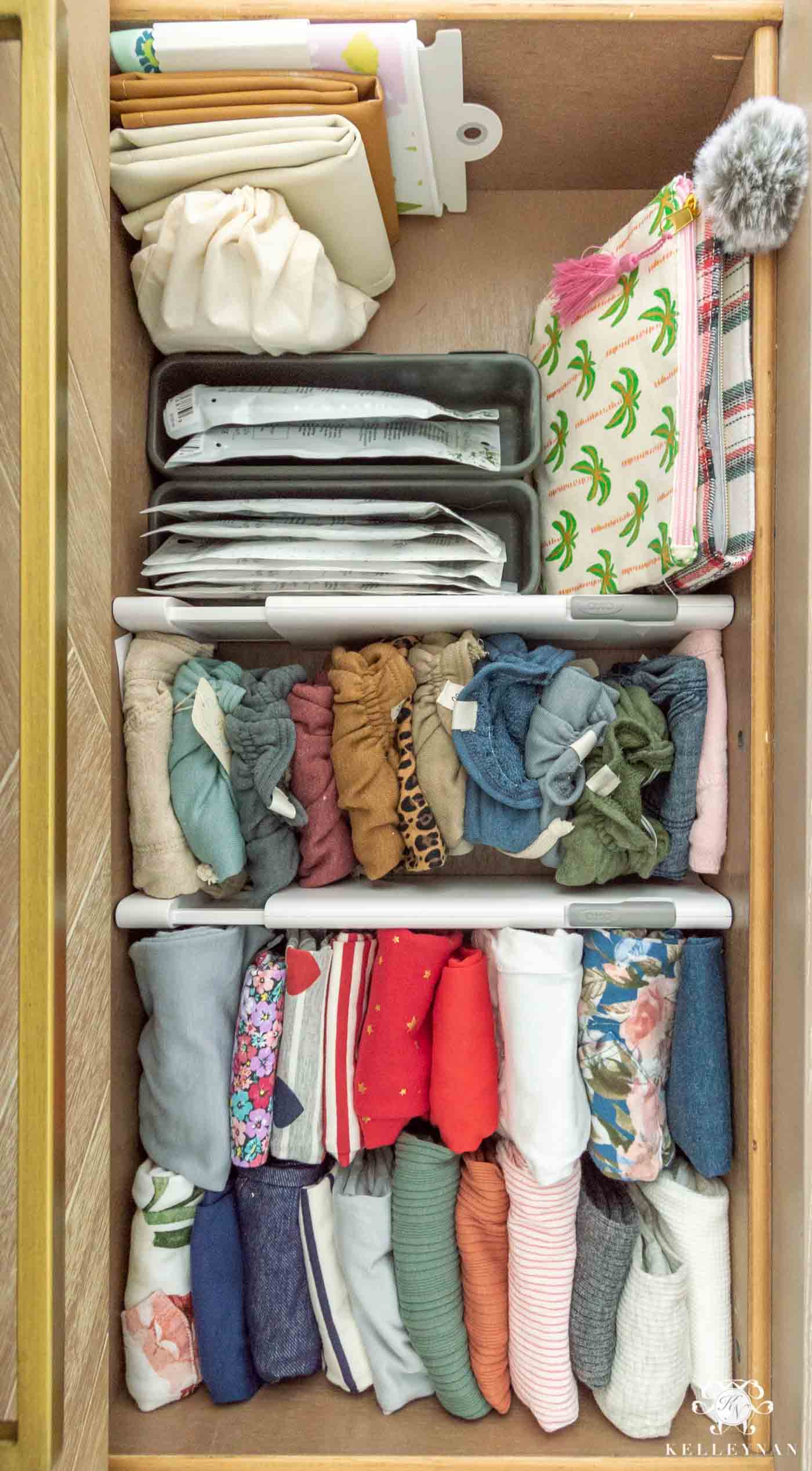 Find the full nursery dresser organization HERE
This kind of goes hand in hand with the other Elfa systems — both with the door organizer as I mentioned earlier in the post, as well as the laundry room — With binds, ledges, compartments and hooks, there are so many possibilities for putting this board to work — again, this piece is 30% off as part of the annual Elfa sale HERE.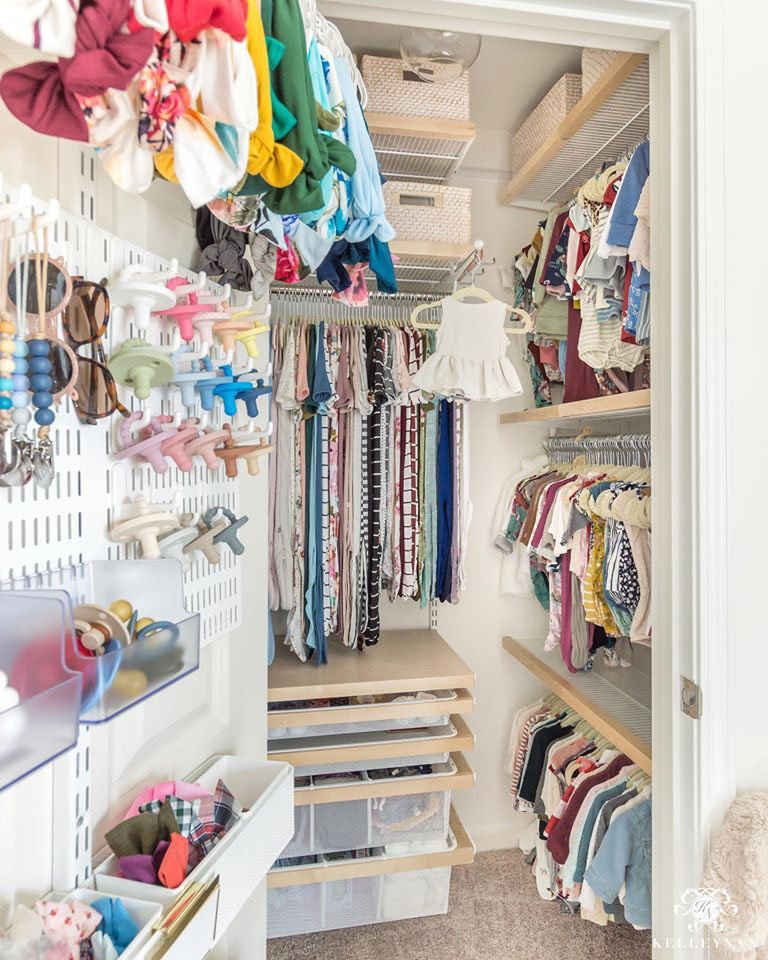 Door Organizer Board | Whitewashed Baskets
Find the full nursery closet organization HERE
While it's still a POP canister, the large slant canisters get a dedicated number, all on their own. These were actually out of stock for a long time this year — when I made over our laundry room (full reveal HERE), I had to wait a while as I wanted one for tabs. The cookie-jar-style slanted top make these perfect for items you grab often and whether they're on a shelf, under a sink, or in a spot that's a little more difficult to access, they can be opened easily with one hand, without ever taking the container out of the cabinet/shelf.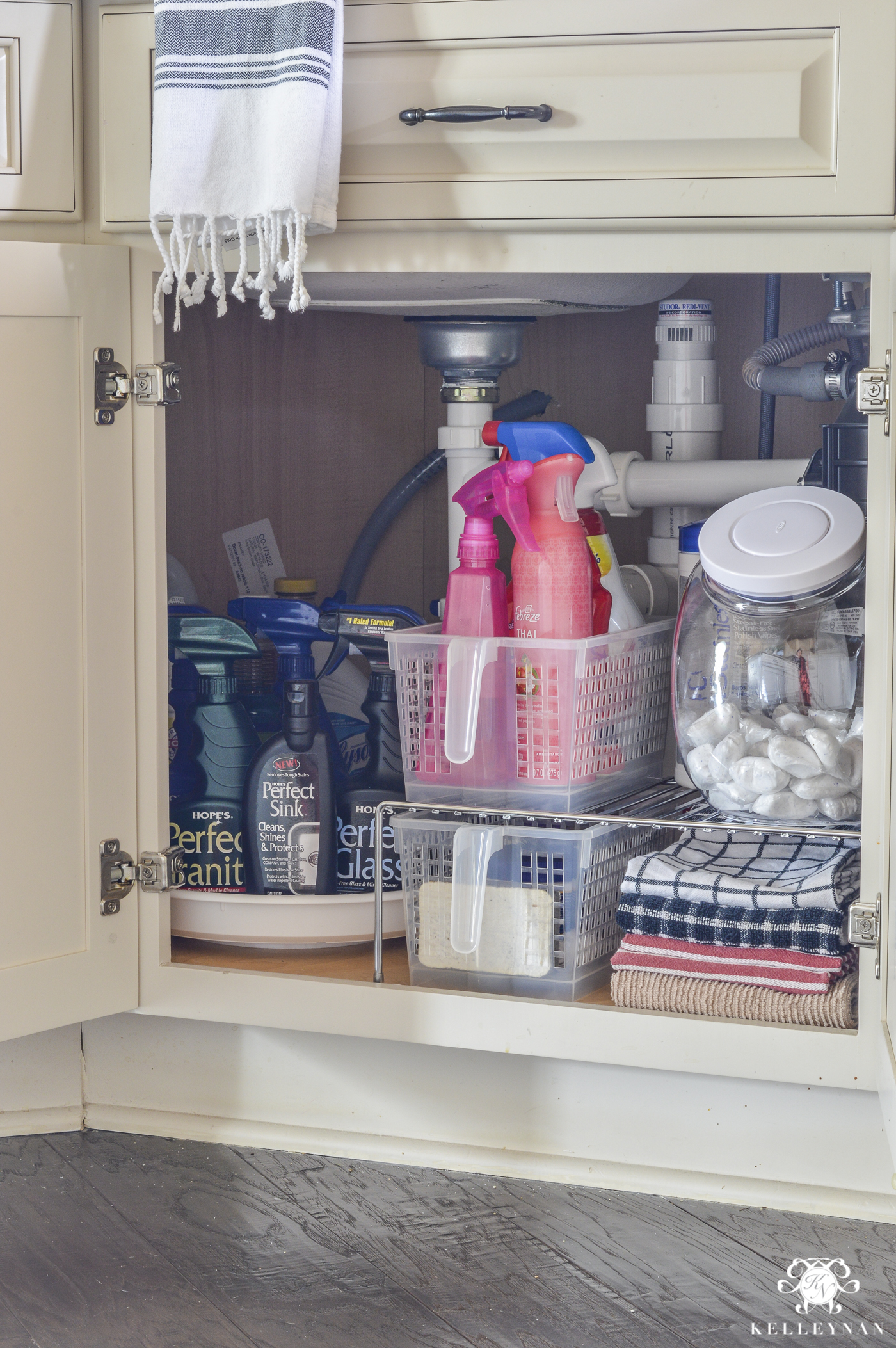 Slant POP Canister | Handle Baskets(set of 4) | Metal Riser | Lazy Susan Turntable 
Find under the kitchen sink organization HERE
While I initially ordered one for baby wipes, it worked so well in dispensing in single sheets that I ended up ordering more — my favorite spot for this wipe dispenser? To serve as dryer sheet storage in the laundry room! They are perfectly sized, eliminate those flimsy boxes, and dispense one sheet perfectly, every time.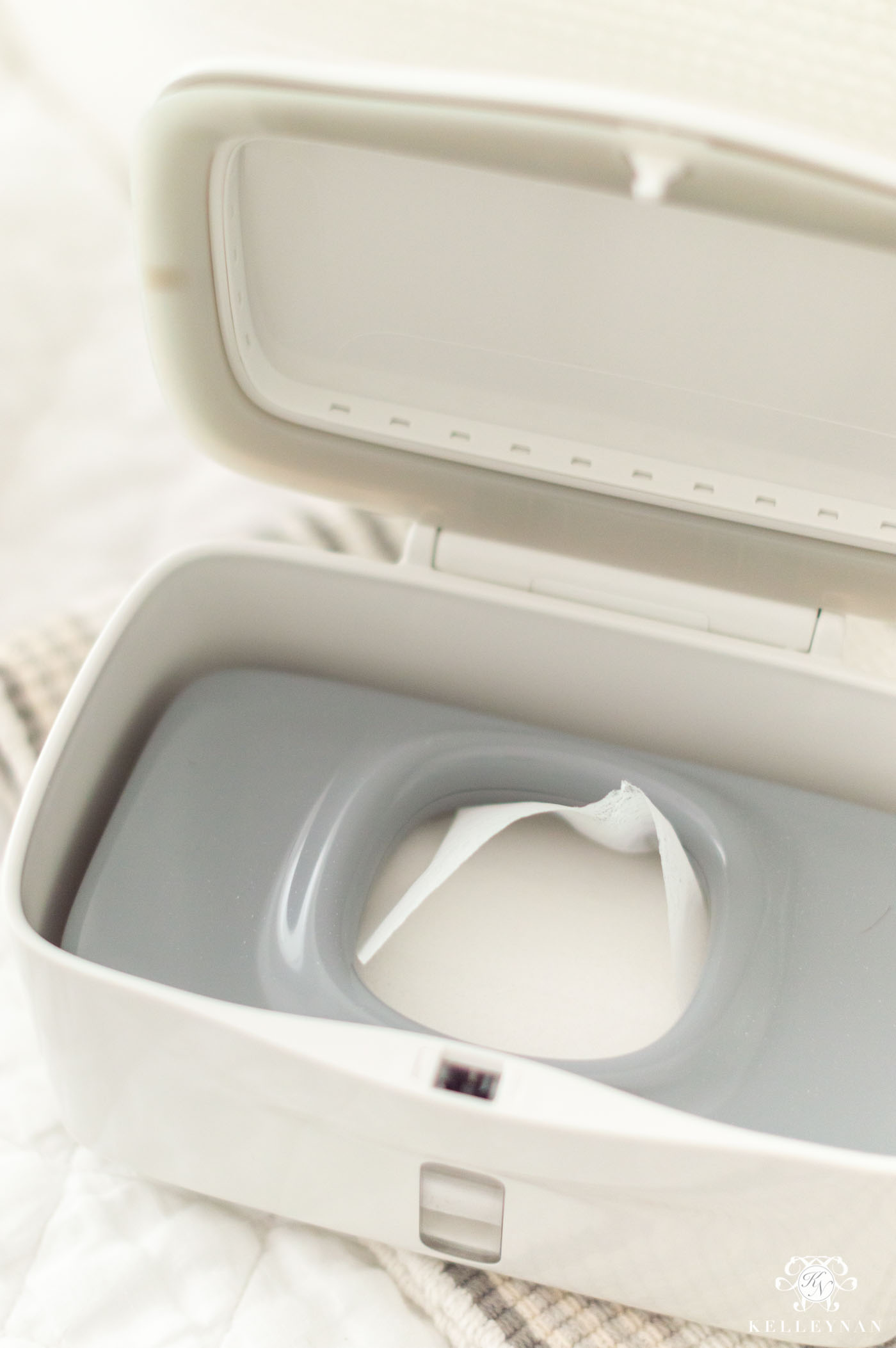 Find the full laundry room organization and storage solutions HERE
For upcoming organization projects, solutions, and room makeover projects (there's a few on the horizon!), you can subscribe to emails HERE to be alerted with all the latest.