We're starting to wind down for the holidays and as we prepare to create comfort in our kitchens, today, I'm sharing five simple Christmas treats, with five ingredients or less! Growing up, we always made a good variety of Christmas cookies each year, but the "cookies" we made — in most part — weren't necessarily even cookies. I looked forward to holiday baking — not just to reap the benefit of the yummy result, but because each treat was fun to be involved with and required different steps I could participate in. Many actually aren't even technically baked, but they're all fun, simple, and bring back all the nostalgia. These no-more-than five ingredient Christmas treats are classics you may be familiar with, too. Maybe they're on your list each year, maybe you've forgotten them, or maybe you need something simple that's a little different to go with your more typical Christmas cookies. Eliza already loves to help (you should see her "set the table" *inserts bawling emoji*) and loves to "cook" — we had our first gingerbread house experience and she loved placing all the candies (ok, and putting them in her mouth, too 😉 ). While they may not be considered aesthetically perfect by the time she "helps" with each of these, these easy Christmas treats are perfect to get the little ones involved.
*Posts on KelleyNan.com may contain affiliate links. Click HERE for full disclosure.
By the way, before we get into the goodies, I've been talking about THESE measuring spoons, to anyone who will listen. They are magnetic but in addition to a regular round end, also have an oblong end — perfect for getting into spice jars that are normally difficult to access! The double-sided spoons are also so beneficial when you're baking/cooking and need two measuring spoons of the same size. You can use both ends of the same spoon without involving another set. You can find them HERE in the classic stainless, and HERE in copper and gold.
1. White Chocolate Christmas Bark
My mom used to make this easy, festive treat annually, during the holidays, for peers at her former company. The white chocolate, red Craisins® and green pistachios make this a perfect addition to your baking routine for Christmas!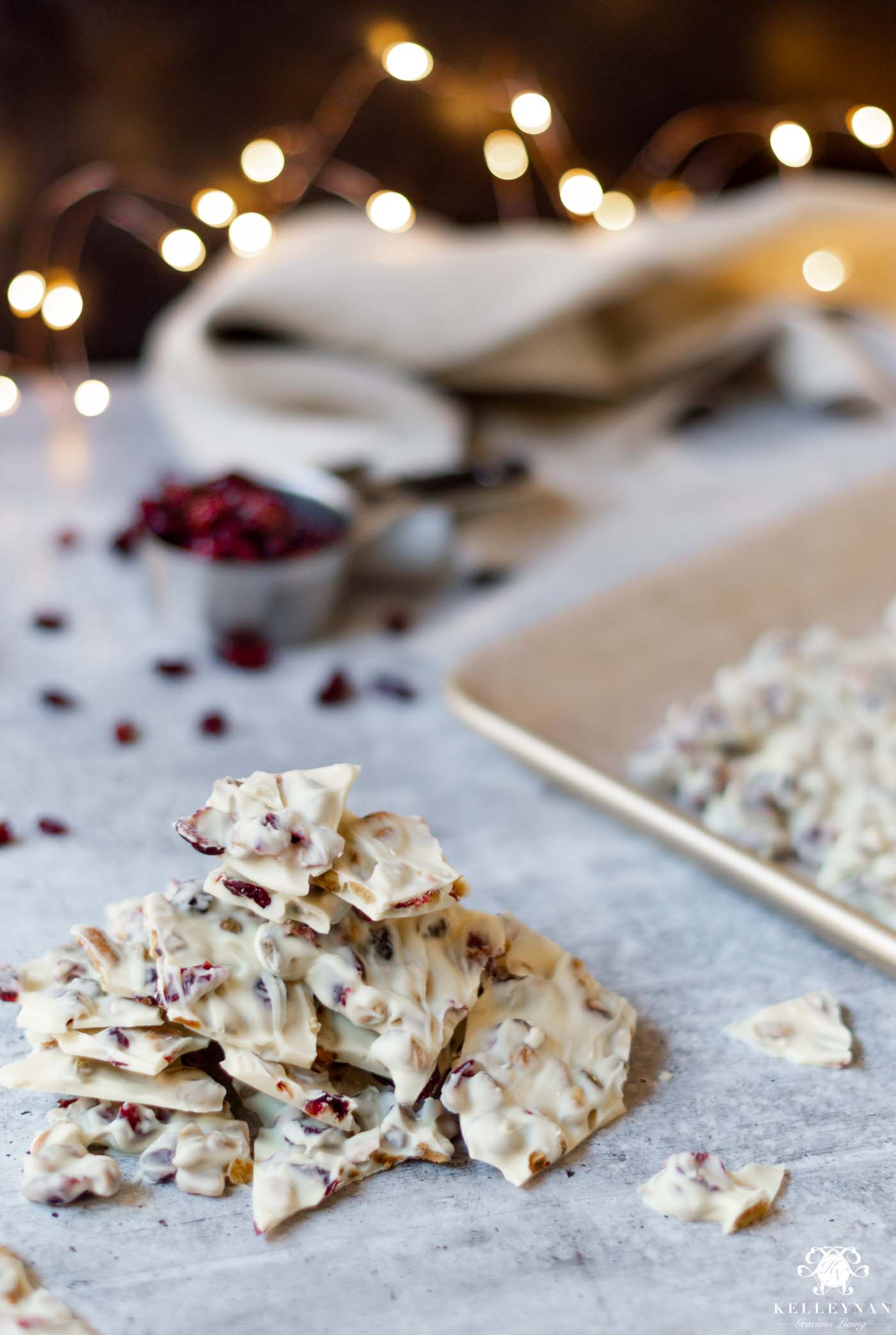 How to Make White Chocolate Christmas Bark
Ingredients:
1 bar of White Chocolate
1 bag of White Chocolate Chips
½ cup of Craisins® (or other dried cranberries)
½ cup of salted/shelled pistachios
Soften white chocolate bar in microwave. Add white chocolate chips and continue to soften. Stir chocolate mixture. Add Craisins® and pistachios and stir to incorporate.
Spread mixture onto wax paper atop of a cookie sheet. Place in refrigerator to chill. Once hardened, break bark into bite size pieces and store in the refrigerator.
NOTE: Use a good quality of chocolate. I like Ghiradelli®. We start with ½ cup of Craisins® and pistachios, but usually add more. 
2. Iced Graham Reindeer Cookies
Before there were Nutter Butter reindeers, there were iced graham reindeer cookies! This recipe was included in a Southern Living magazine — approximately 30 years ago — by creator, Flo Burtnett of Gage, Oklahama. My mom used to make these every Christmas!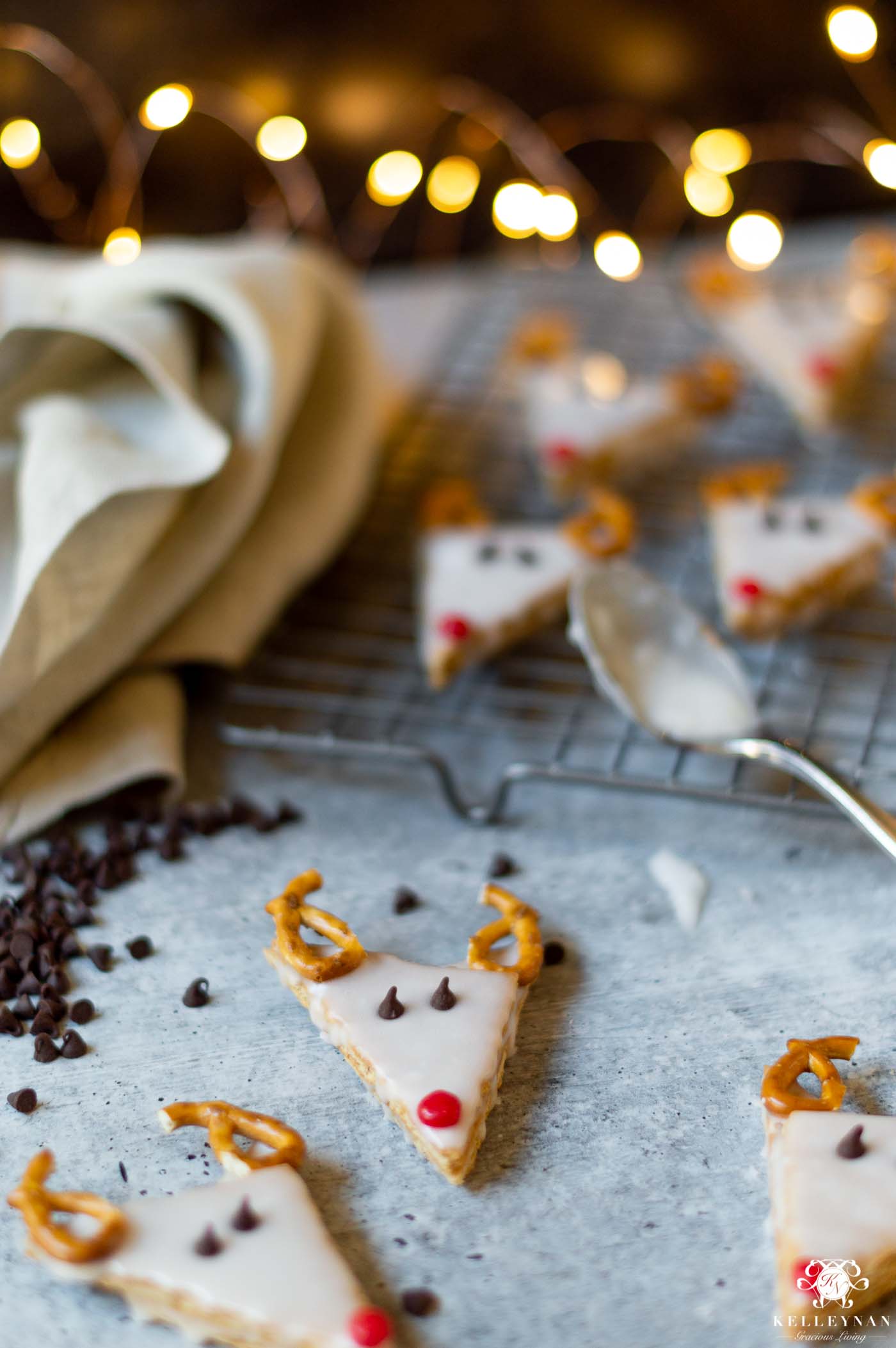 How to Make Iced Graham Reindeer Cookies
Ingredients:
Icing ( 1 cup of powdered sugar + 2 Tbsp milk + 1 tsp vanilla extract)
10 (2 1/2 inch square) graham crackers
20 chocolate mini morsels
10 red cinnamon candies
10 mini pretzel twists, broken in half
Make icing and set aside (refer to quick icing recipe in the ingredients list)
Cut each graham cracker diagonally in half using a gentle sawing motion with a serrated knife.
To form the reindeer head, spread a small amount of frosting over top side of cracker half. Top with remaining cracker half, placing cut sides opposite each other so two narrow ends meet to form reindeer nose. Spread a small amount of frosting to cover top cracker.
Gently press chocolate morsels on reindeer for eyes and cinnamon candy for nose. Add pretzel halves for antlers. Repeat procedure to use remaining ingredients. Let dry and harden on a wire rack.
NOTE: Using a serrated knife to cut graham crackers and pretzels in halves is very important!
3. Raspberry Oatmeal Bars
I've been making these for years — with all different fruit jams — and they've always been a hit with others!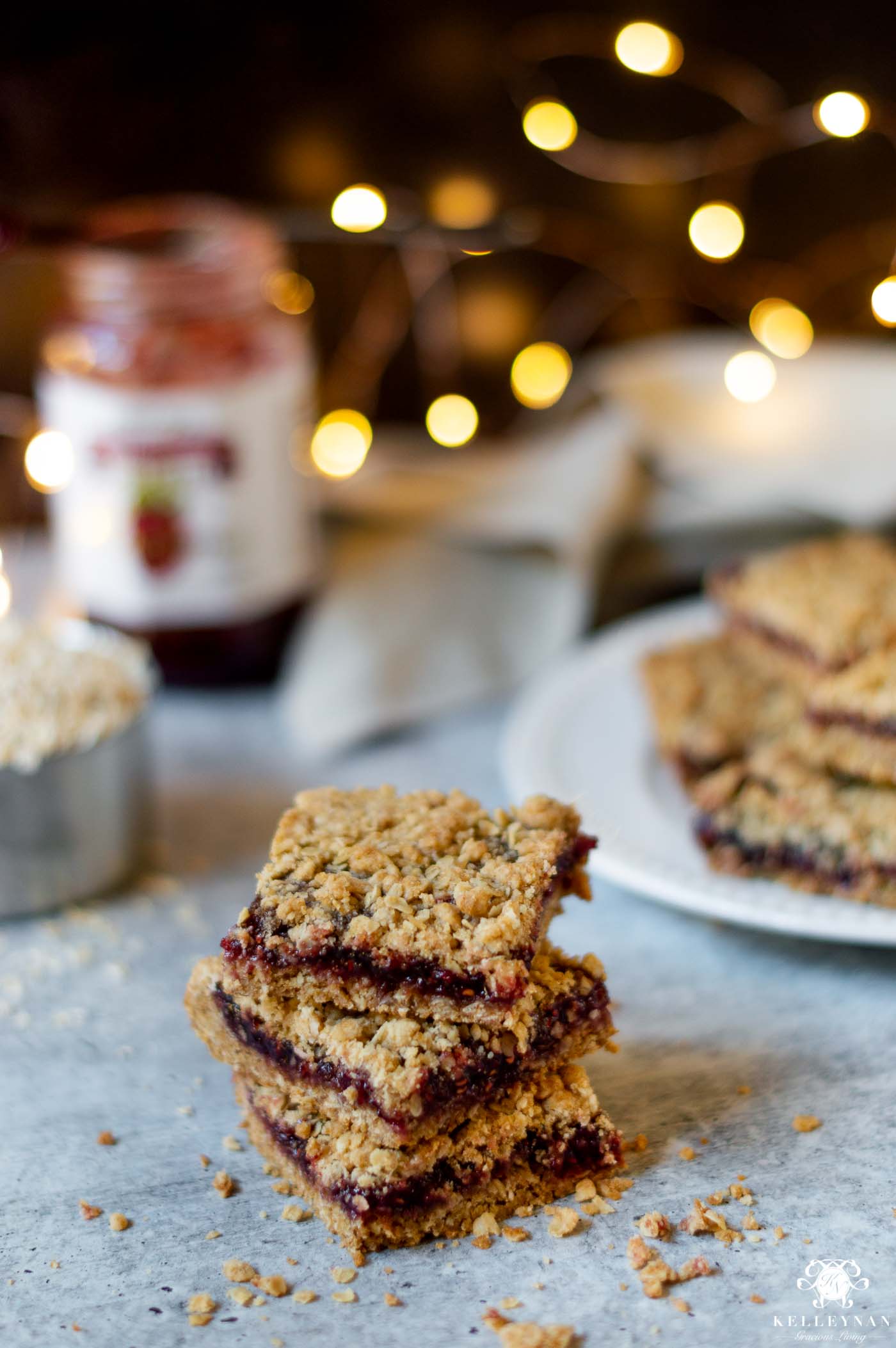 How to Make Raspberry Oatmeal Bars
Ingredients:
½ cup packed light brown sugar
1 cup all-purpose flour + ¼ tsp baking soda + 1/8 tsp salt
1 cup rolled oats
½ cup butter softened
¾ cup raspberry jam
Preheat oven to 350°.
Grease an 8-inch square pan and line with greased foil.
Combine brown sugar, flour, baking soda, salt and rolled oats in a mixing bowl.
Rub in the butter using your hands or a pastry blender to form a crumbly mixture. Press two cups of the mixture into the bottom of the prepared pan.
Spoon the jam into a measuring cup and heat in the microwave for 20 seconds. Drizzle the jam over the oatmeal mixture and spread the jam to within ¼ inch of the edge.
Sprinkle the remaining crumb mixture over the top and lightly press it into the jam.
Bake for 30 – 35 minutes or until lightly browned. Allow to cool before cutting into bars.
NOTE: I use the quick-cook oats. Another jam, such as apricot, may be substituted for the raspberry.
4. Pecan Turtles
If you don't have the patience for holiday baking, this easy assembly is for you! This was one of the first Christmas treats I made on my own; even those with the most limited time can make the time to pull these together 😉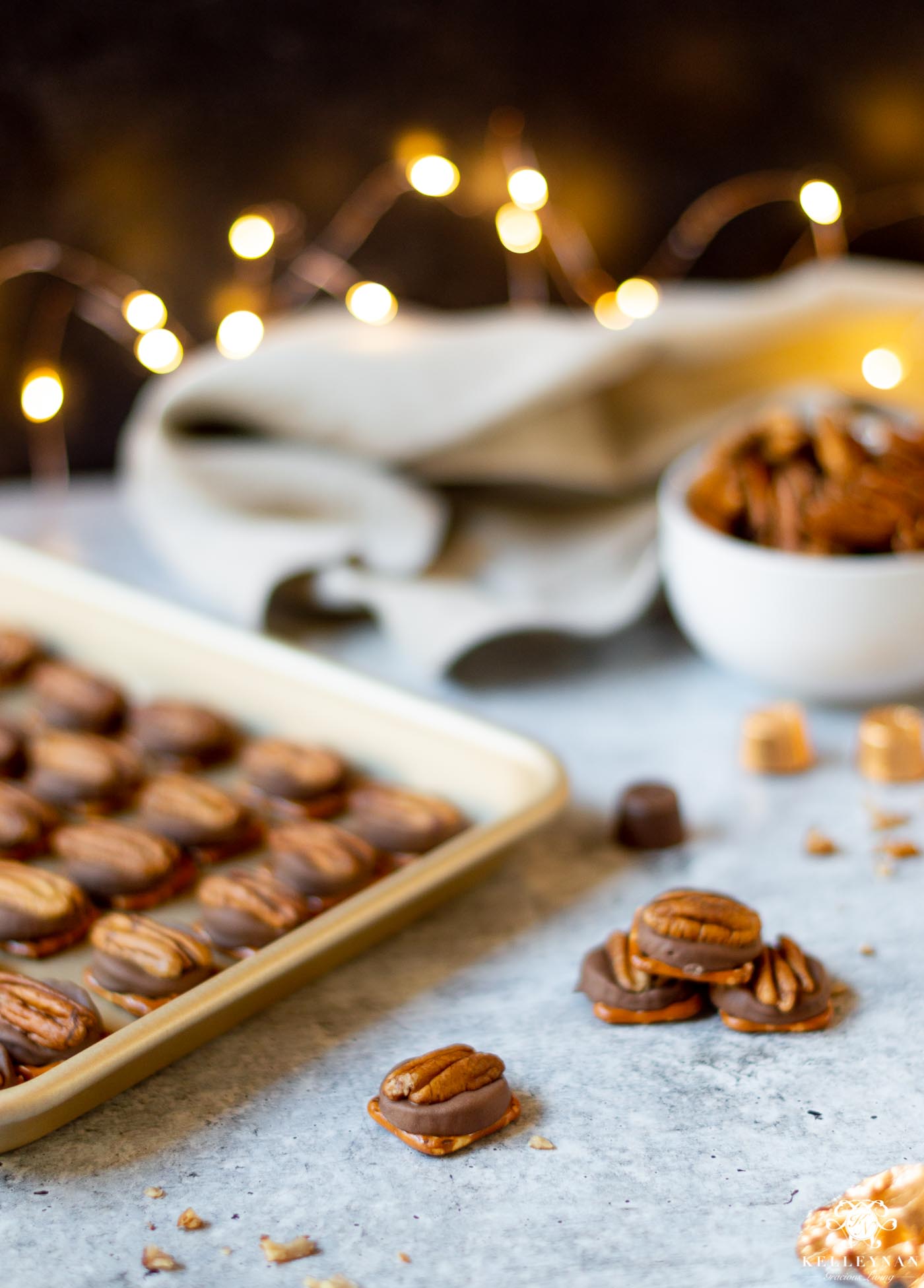 How to Make Pecan Turtles
Ingredients:
Rolos®
Pecan Halves
Square pretzels
Place square pretzels approximately 1 inch apart on a small cookie sheet. Remove Rolos® from their wrappers and place one on each pretzel square.
Bake in preheated 300° oven for approximately three minutes. The Rolos® should not be melted; they should be in tact but soft. Depending on your oven, you may need to keep in for a minute longer or remove a minute sooner.
Remove from oven and immediately press one pecan half on top of each Rolo® and press down to flatten. The sides should bulge but the chocolate should not run off the side of the pretzel. Refrigerate to cool and harden.
NOTE: These transport well and make a great gift!
5. Cornflake Hollies
Maybe my most favorite nostalgic Christmas treat from childhood, I grew up with these and always looked forward to making them every Christmas! Eliza's already a fan and loves comparing green tongues in the mirror 😉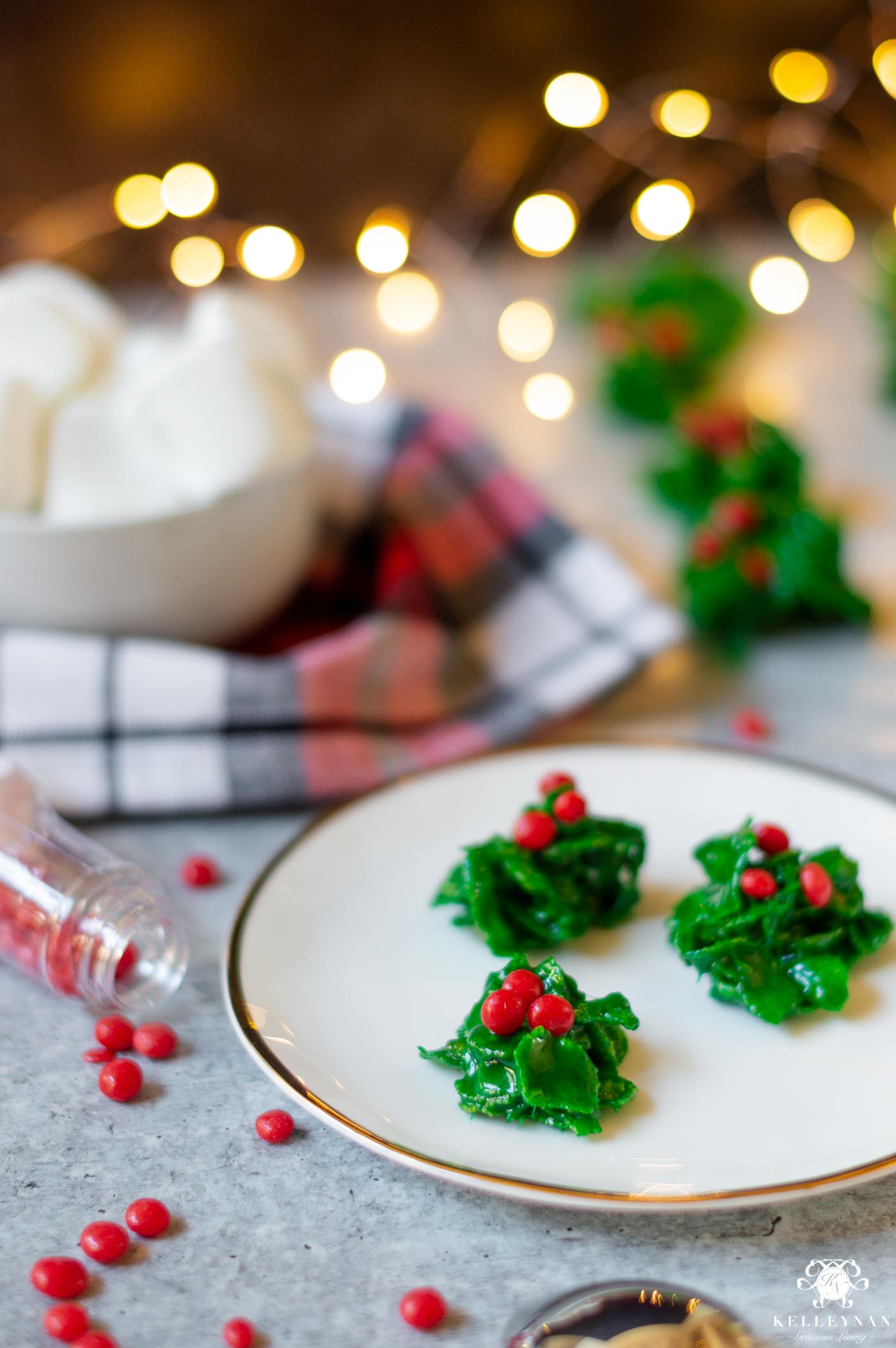 How to Make Corn Flake Hollies
Ingredients:
½ cup of butter
40 large marshmallows (1 large marshmallow equals 10 mini marshmallows so you can substitute 400 mini marshmallows)
1 tsp green food coloring
4 cups of corn flakes cereal
Red cinnamon candies 
In large saucepan, melt butter over low heat. Add marshmallows and stir completely until melted. Remove from heat. Stir in food coloring.
Add corn flakes cereal. Stir until well coated.
Drop tsp sized mounds onto wax paper on a cookie sheet in batches of five. Arrange three cinnamon candies as "berries" together. Continue forming mounds and affixing the berries.
Place finished cookie sheet in refrigerator so that hollies will cool and harden. When cooled, remove hollies from wax paper/cookie sheet and store in a cookie tin.
NOTE: Other shapes, such as wreaths, can also be fashioned. I like to store the cookie tin in the refrigerator so that the hollies will keep their shape and substance.
Are any of these in your regular rotation? Which holiday cookies do you never skip? I hope you're all having a wonderful holiday season, making memories, and are living our your favorite traditions and establishing new ones!
Scroll & Tap to Shop the Post & Baking Favorites

Pin This for Later…