When it comes to organization, are you maximizing the storage possibilities in your home? If you're only looking at cabinets, closets, bins and shelves, you may be missing a key space that can multiply your ability to stash *all the things* out of sight and off the floor. Door storage and a smart over the door organizer may just be the space extension you think you need and already have, from your pantry, kitchen cabinets, linen closet, and more. Today, I'm sharing some of our over the door organizers (and major space savers) throughout our house. While some over the door organizers are full systems, others involve a simple one to two hooks. The thing they all have in common — they're all easy to implement.
*Posts on KelleyNan.com may contain affiliate links. Click HERE for full disclosure.
Over the Door Organizer — for the Laundry Room
When your laundry room is short on space like mine — or maybe even smaller — incorporating door storage is a must. You can use simple, heavy duty hooks (THESE are the exact ones I use, made of metal but coated with rubber for protection, and with flat instead of rounded hooks) intended for fitting over the door like I did, to store anything from cleaning supplies to step stools…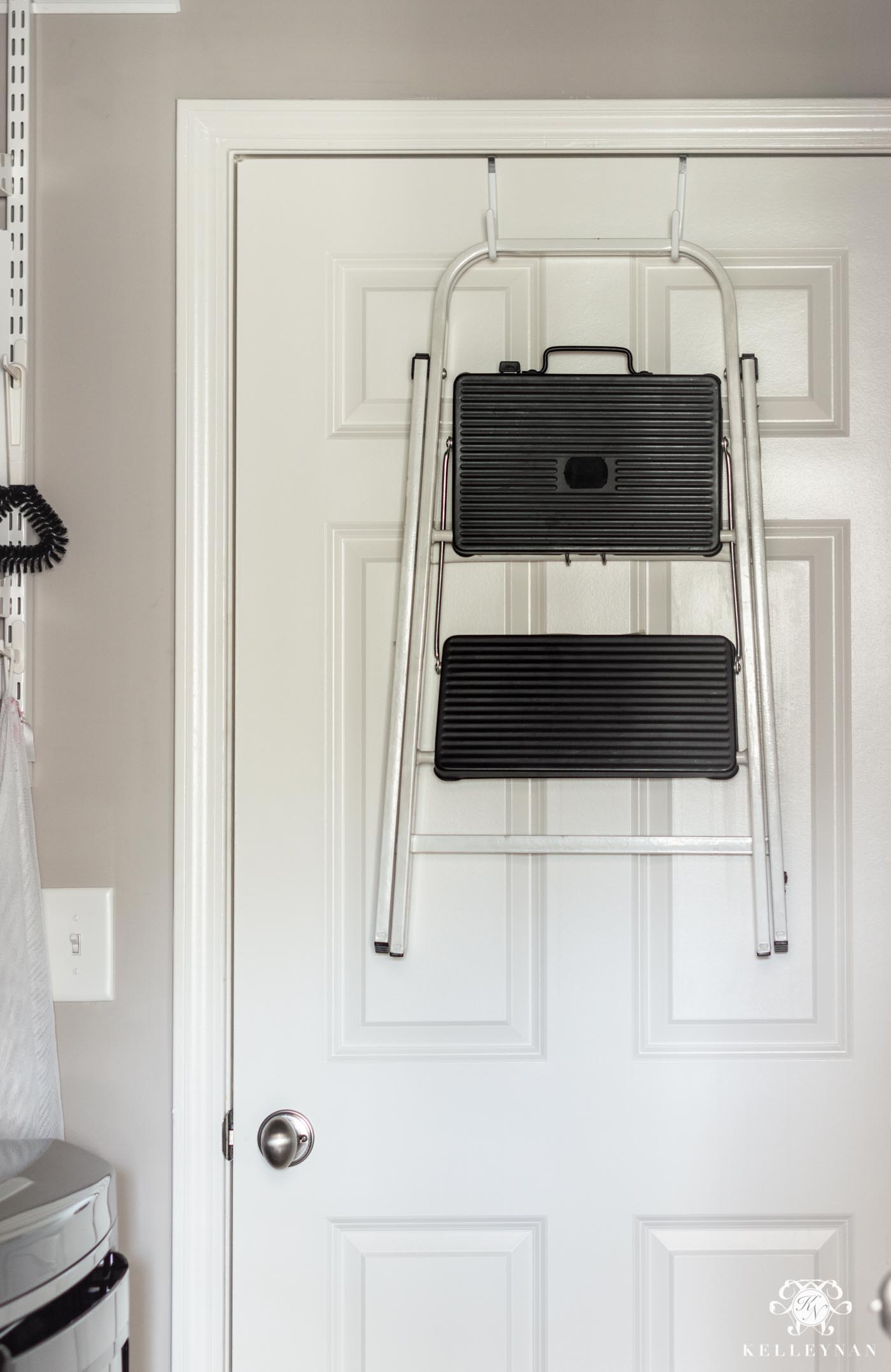 or use a multi-tool holder like THIS ONE for mops, brooms, etc. to free up floor and corner space. This one can be drilled but also comes with self-adhesive — it can go on the back of the door, or, go on a wall in the garage, storage closet, or pantry.
The back of the door in the laundry room is also a prime spot to incorporate some functional laundry-specific helpers, like this valet hook. This one is collapsible when it isn't in use…
and THIS one folds flush to the wall, too.
THIS one is intended to increase up to 3′ of hanging space — it's also adjustable to your door!
THIS one would also work well as an extension of your closet, to assemble outfits or set out outfits before the next morning.
Over the Door Organizer — for the Closet
I really need to get in our closet and do some major work. We had our entire closet configured into an elfa system but we are long past purging and getting it to function well for us again. But, a closet we made full use of — also an elfa closet — is the nursery closet. We use elfa over the door organizers wherever we can and it's been one of our biggest gifts in terms of added space — plus all the versatility, customization and changeability. You can see the full nursery closet with all the details in this post HERE. While this is what the closet organizer looked like early on…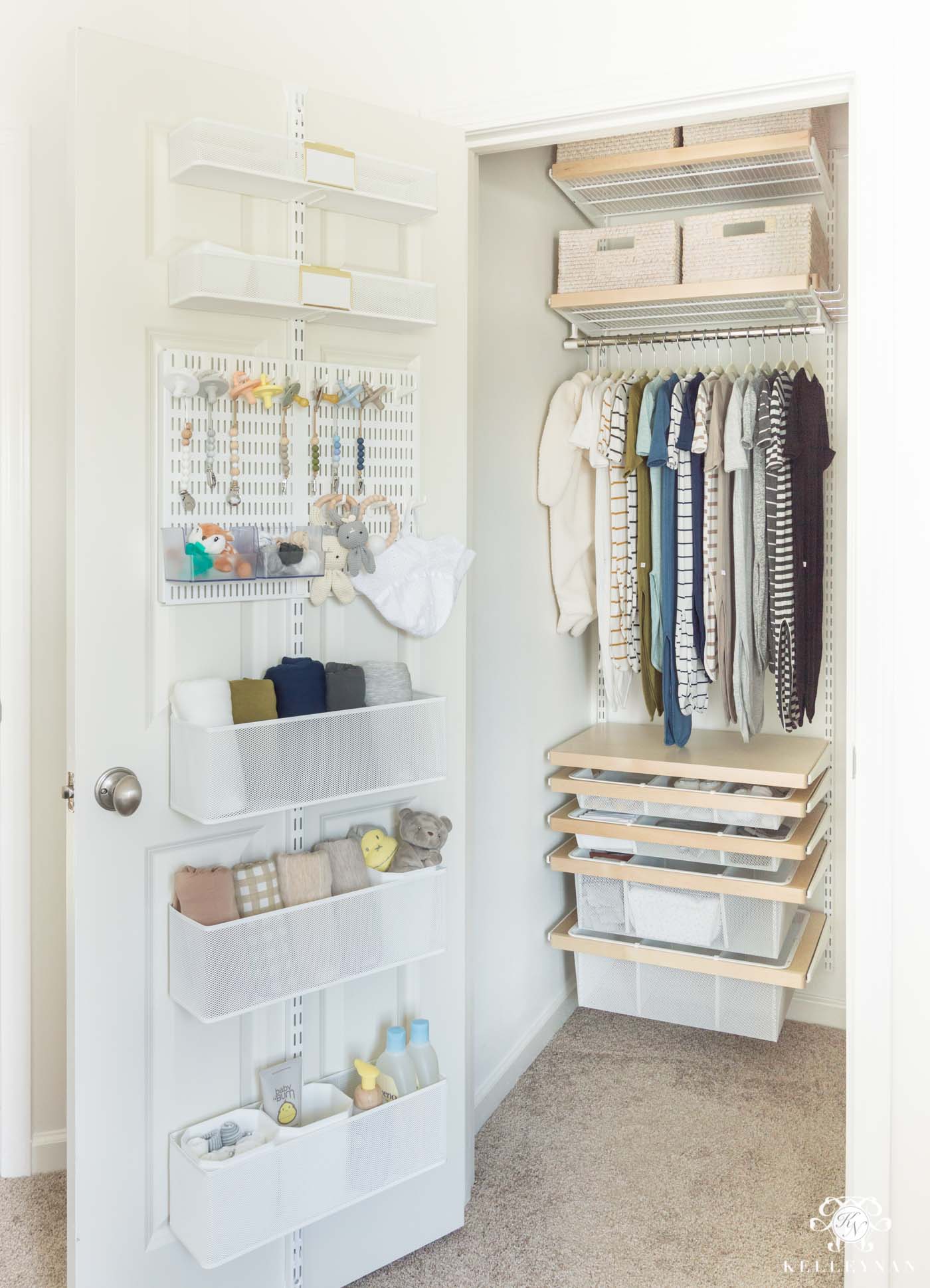 this is what it looked like by the time Eliza was here and we customized it with all the girl things, like bows and headbands.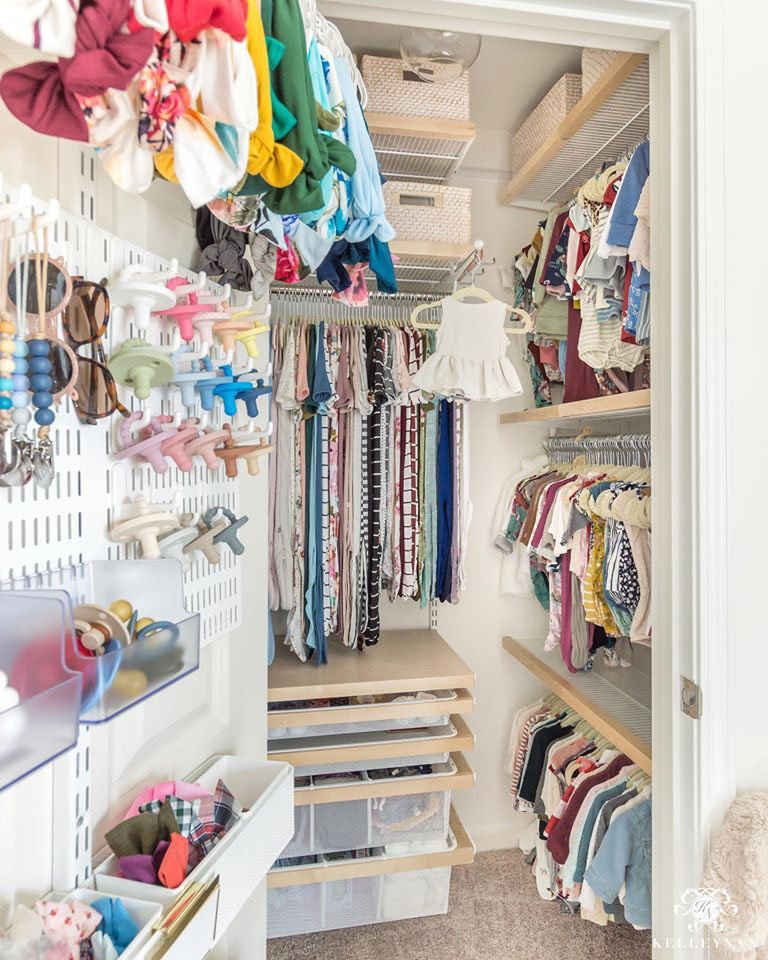 You can fully customize your door organizer, or, purchase a pre-configured over the door organizer and add/delete as you like, over time, depending on your space. One of the best parts of these organizers is that there is no screwing involved. There's a clamp that goes over the door and under the door that's tightened with an allen wrench, and all the components connect to the center pole, distributing weight. They're also all on sale for 30% off right now HERE.
Scroll & Tap to Check Out elfa Door Systems

Instead of purchasing an organizer and the deciding what can go on it, I would evaluate what your needs are and what would be helpful to be able to store on the back of the door, and then come up with a system to achieve that.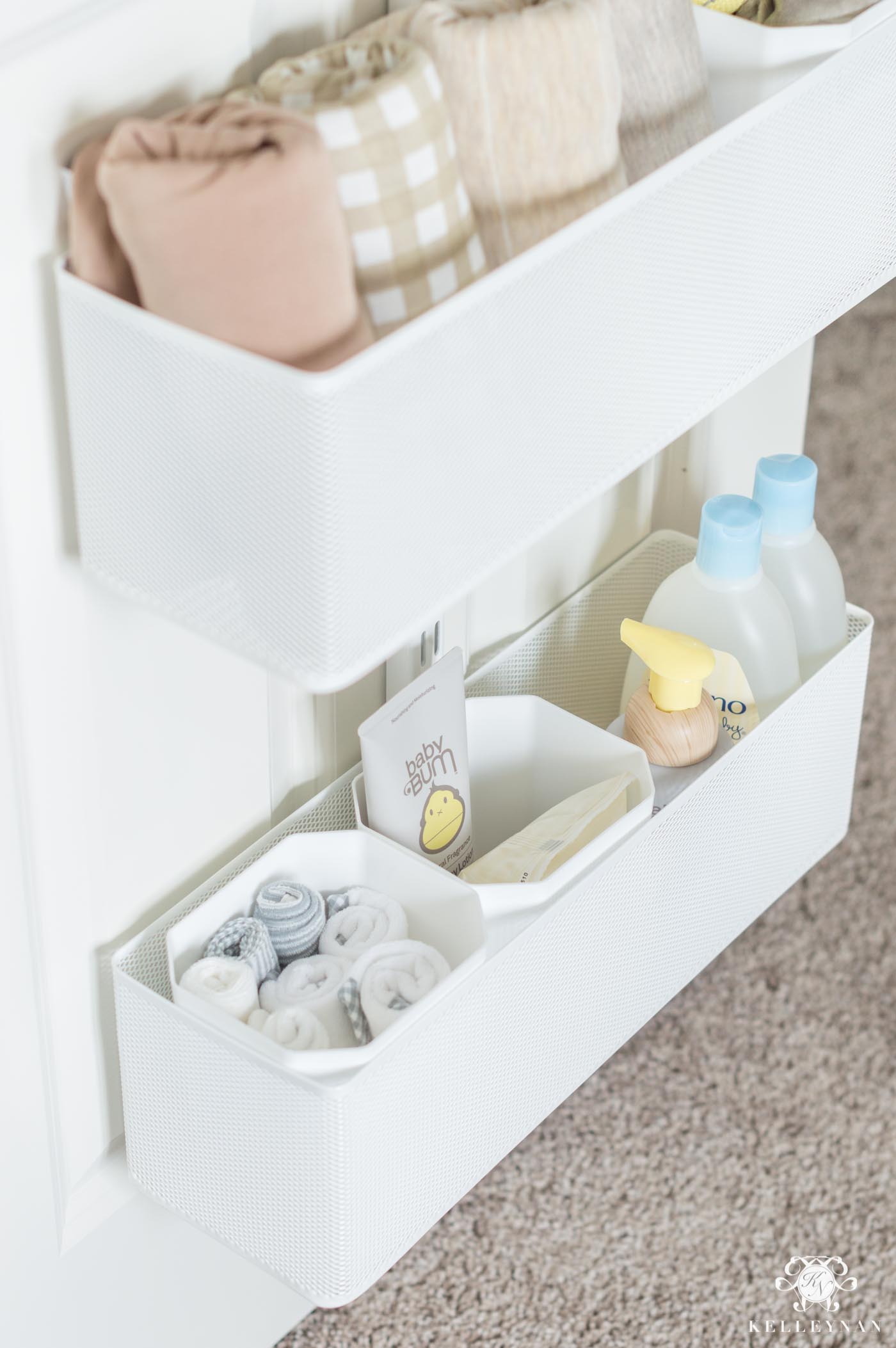 If you aren't all in on a full elfa door organizer, here are some simple, inexpensive closet over the door organizers, catering to different closet needs.
One of my latest solutions was for Eliza's bows. While we hung it on a simple command hook, just inside the closet, it's a perfect candidate to be hung on the back of the door. I ordered the large size (HERE) and it's perfect (we have a LOT of bows) and so well made. The bottom of the canvas straps even have snap loops for headbands.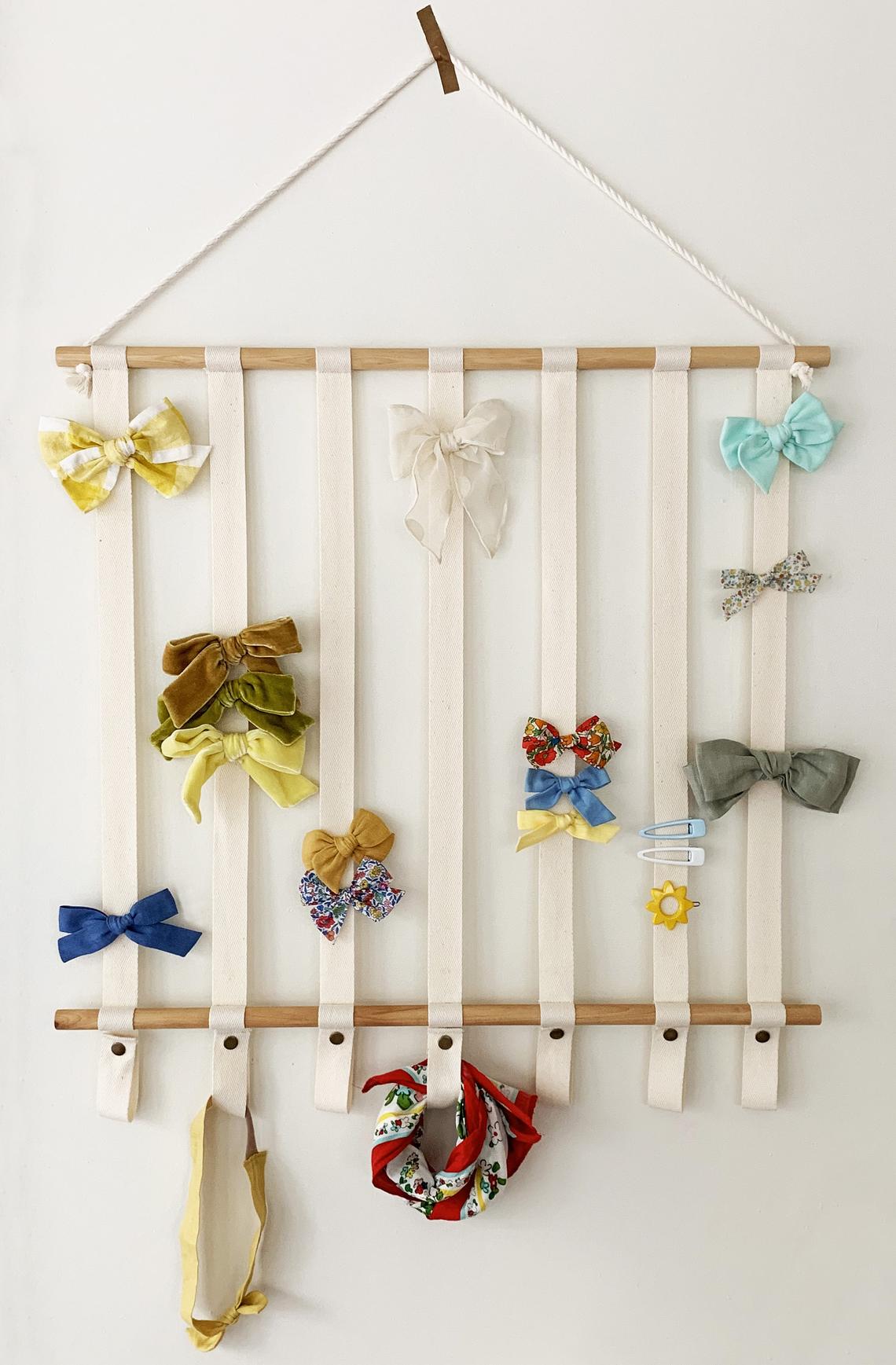 THIS organizer has clear structured pockets and comes in several colors…
and we actually keep one of THESE inexpensive, clear pocket over the door organizers on the back of our closet door for flip flops and sandals. It's also a great organizer for scarves.
THIS hat organizer can hold up to 24 caps…
and I think THIS jewelry armoire that can mount to the wall or door is brilliant!
If you like the idea of using the back of the door for jewelry organization but not in such a big way, THIS simple necklace organizer with hooks is thin and won't get in the way.
THIS over the door organizer for bags and purses is a great way to store them vertically, without using valuable flat surface or shelf space.
Closet and bedroom doors are a fantastic spot for an over the door hamper, too. THIS ONE is waterproof and can unzip from the bottom.
And what about non-bedroom closet doors? Or, when you don't have to rely on bedroom closet doors for traditional bedroom closet items? Using the back of the closet door in my office as a gift wrap station is one of my favorite over the door organizer solutions in our entire house. You can see the full post on this closet, with all the details, HERE.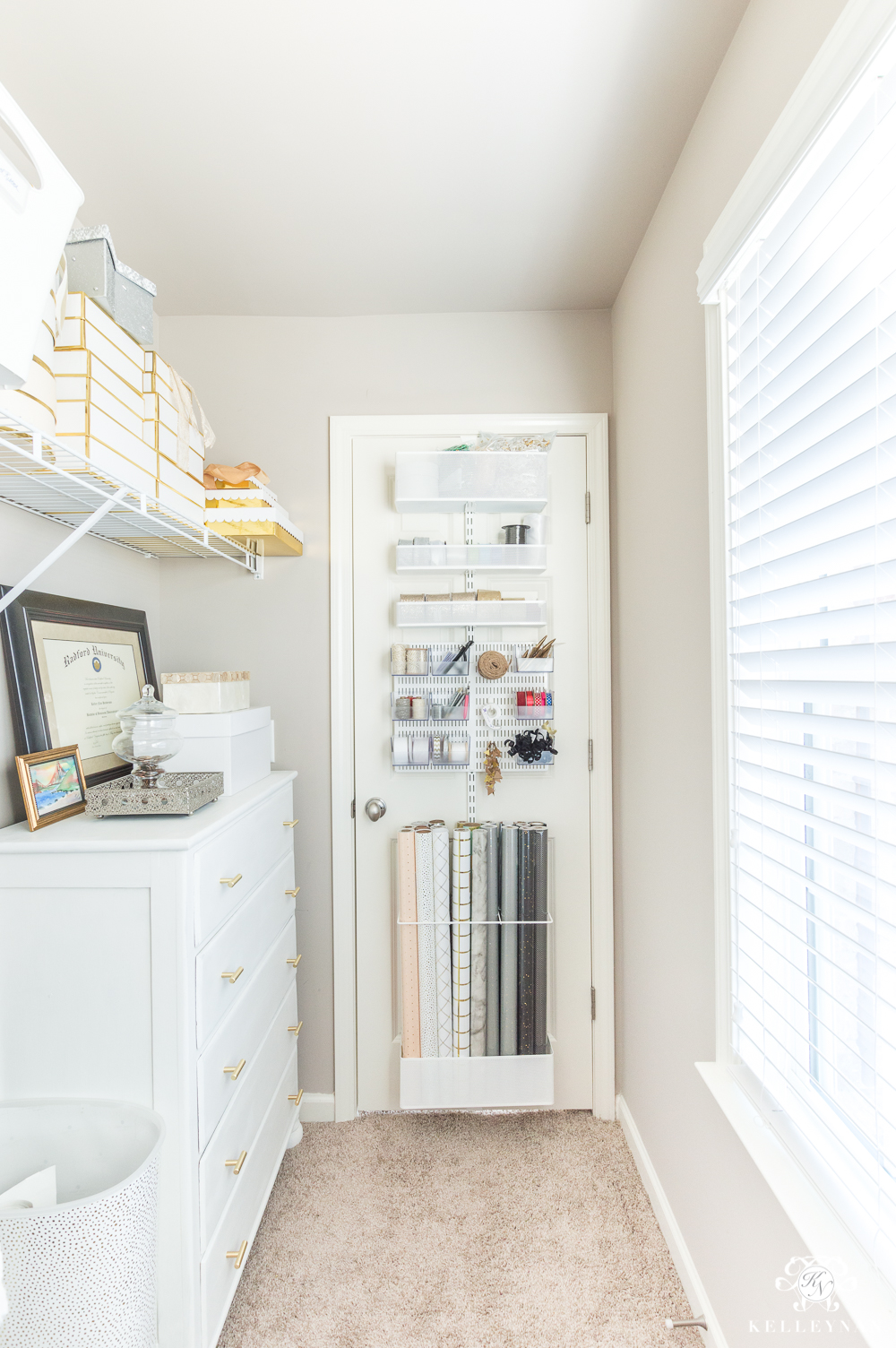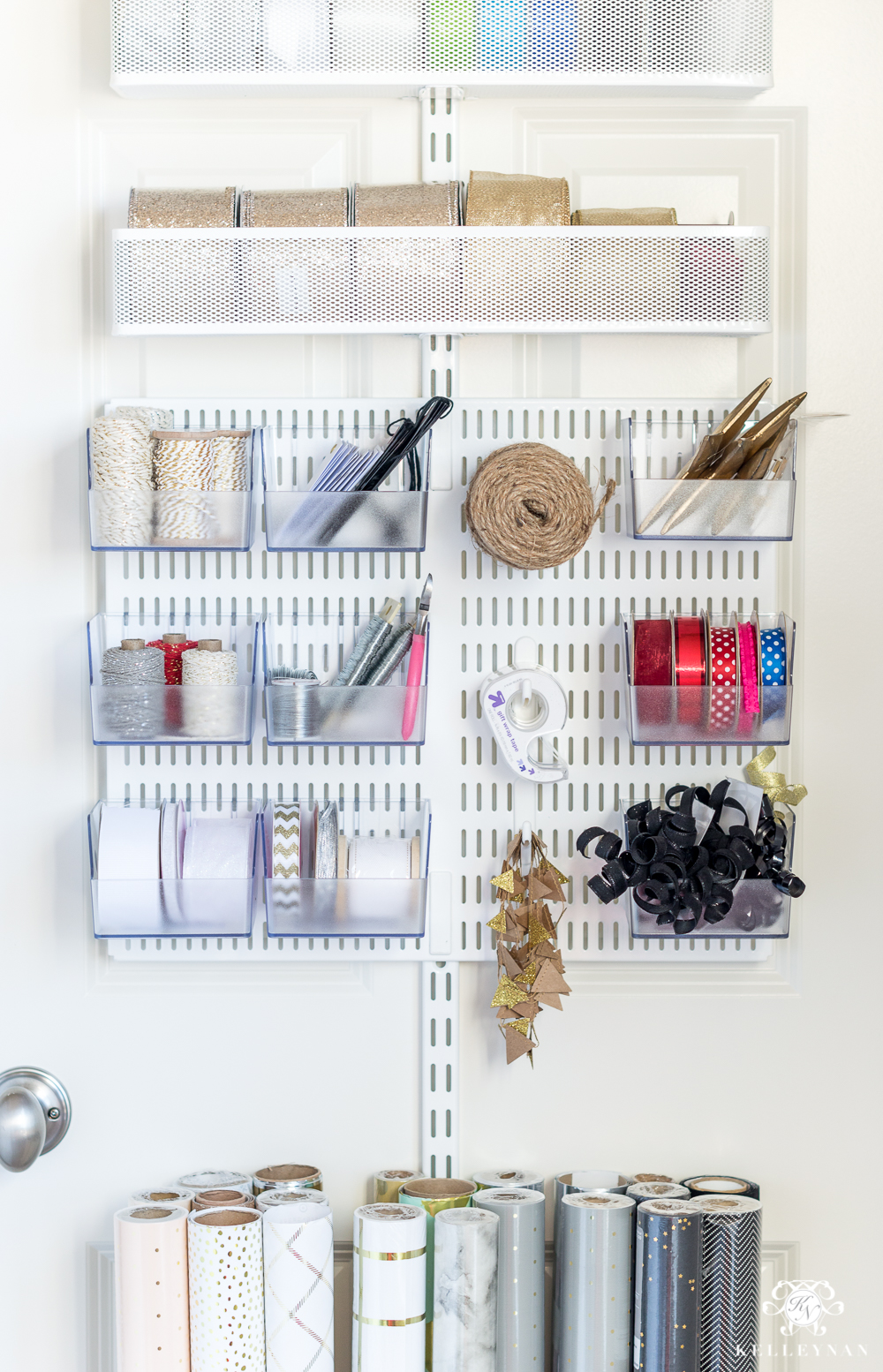 Scroll & Tap to Check Out elfa Door Systems

Scroll & Tap to Shop elfa Accessories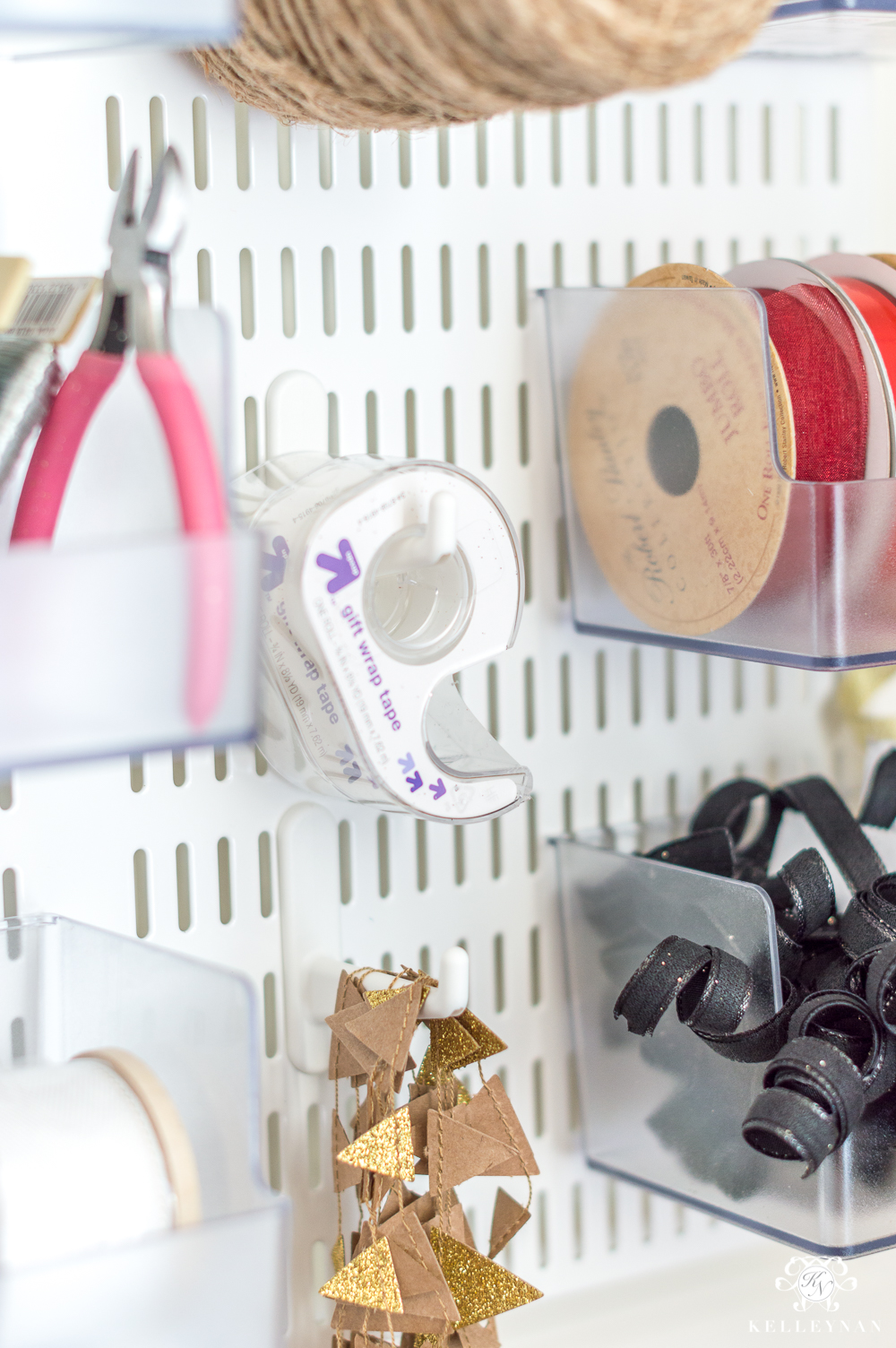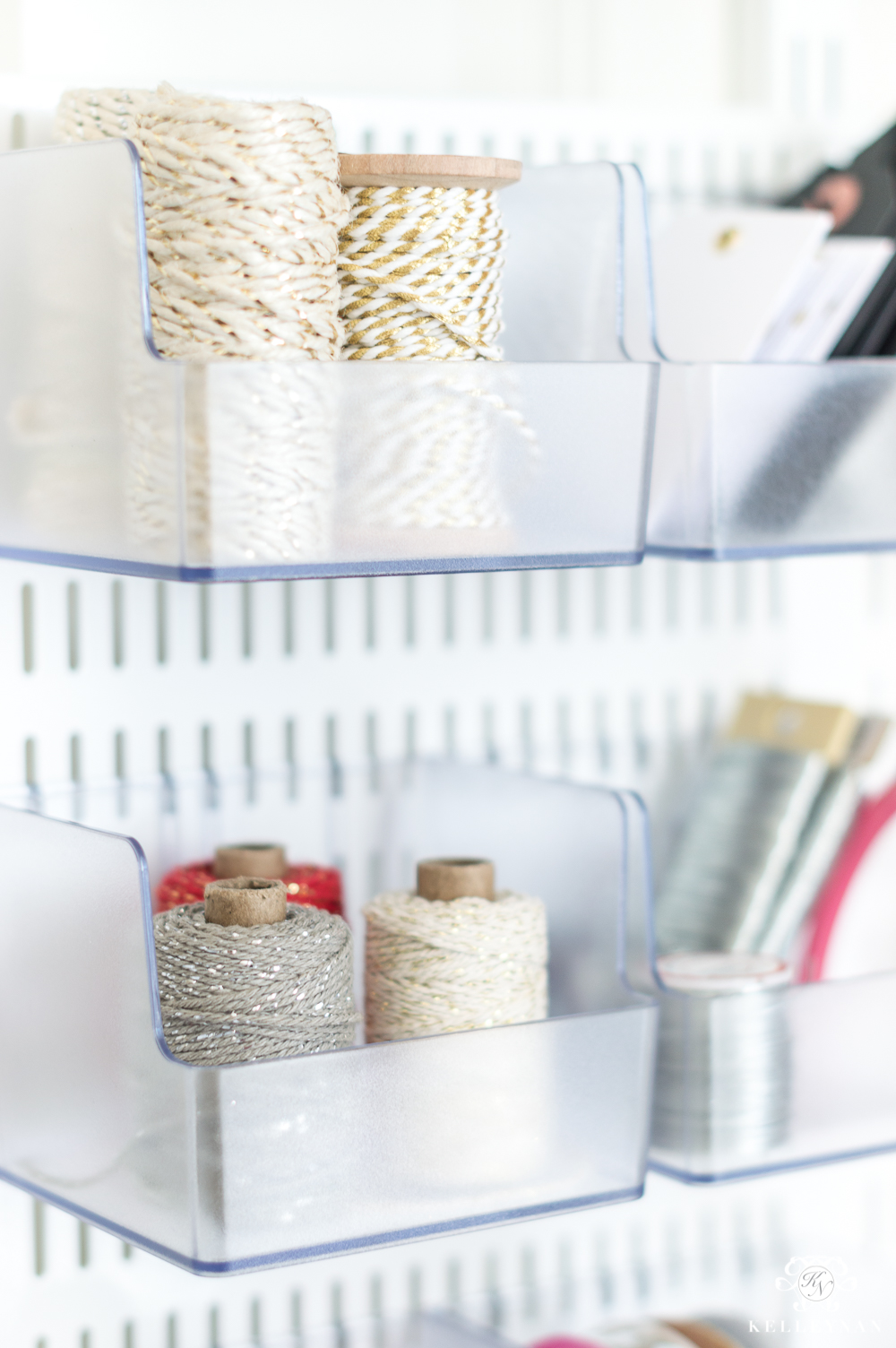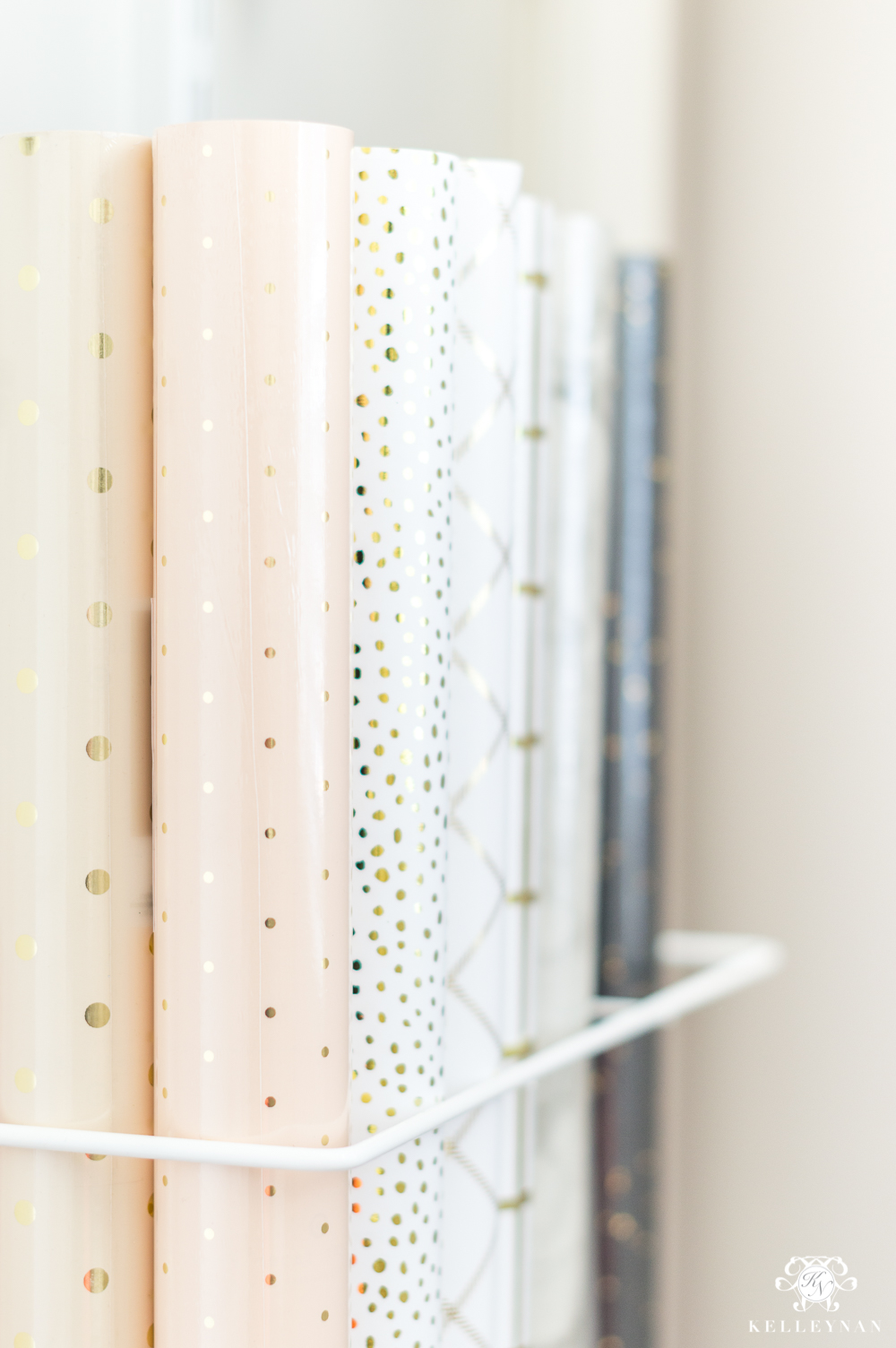 Another helpful, more traditional over the door storage for an office is THIS pocket file.
THIS ONE is a little more simple and perfect for at-a-glance, quick views and access to everyday folders.
Over the Door Organizer — for the Pantry
Every pantry should have extended door storage. Some people have such limited pantry space, adding a door organizer with pins can literally double the capacity the pantry will hold. You can see the full post on how I organized our pantry HERE.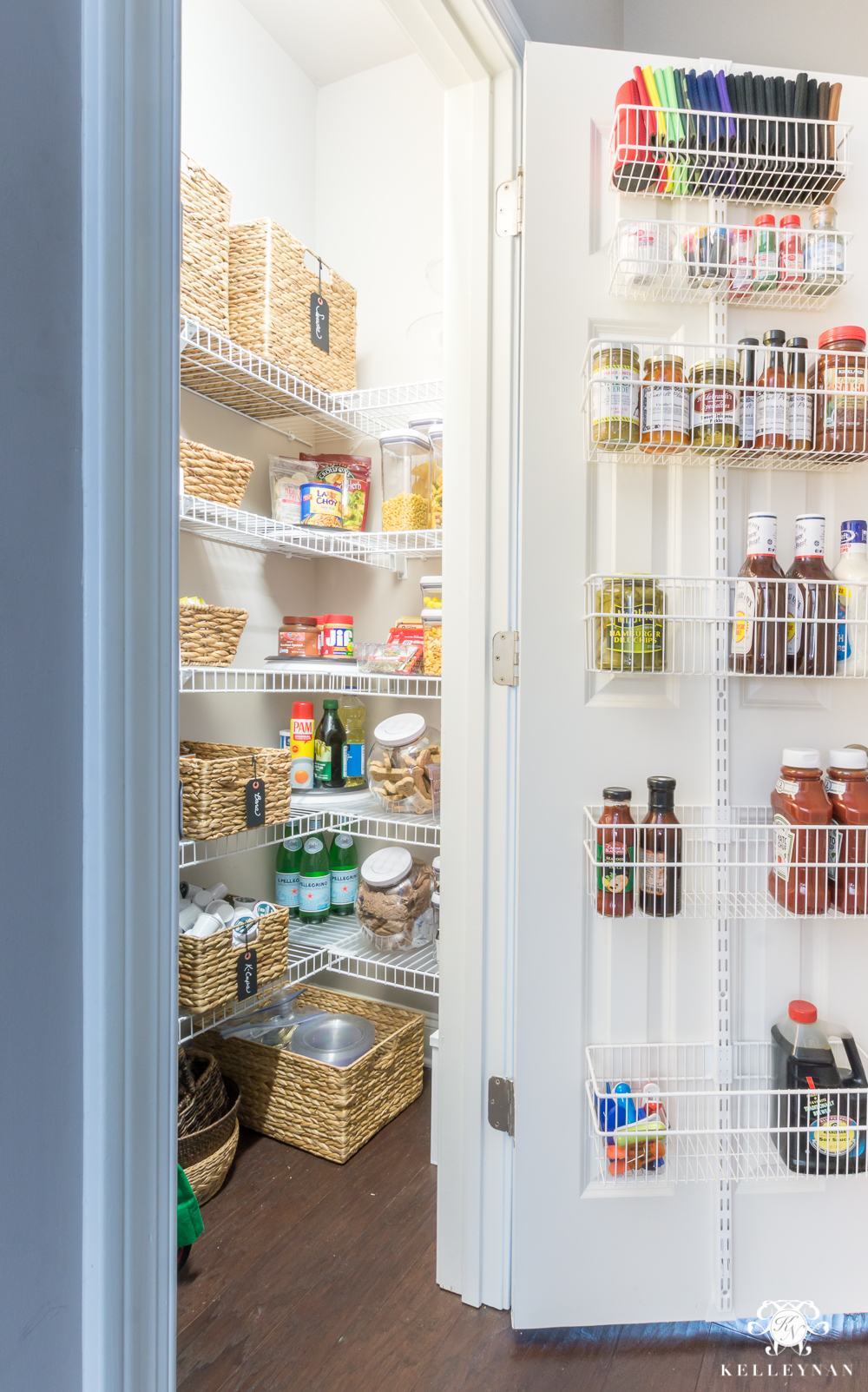 Like the other elfa door systems that clamp to the bottom and the top of the door, you can customize your own solution, or start with a pre-selected configuration. Again, the systems and all their components are currently 30% off HERE!
Scroll & Tap to Check Out elfa Door Systems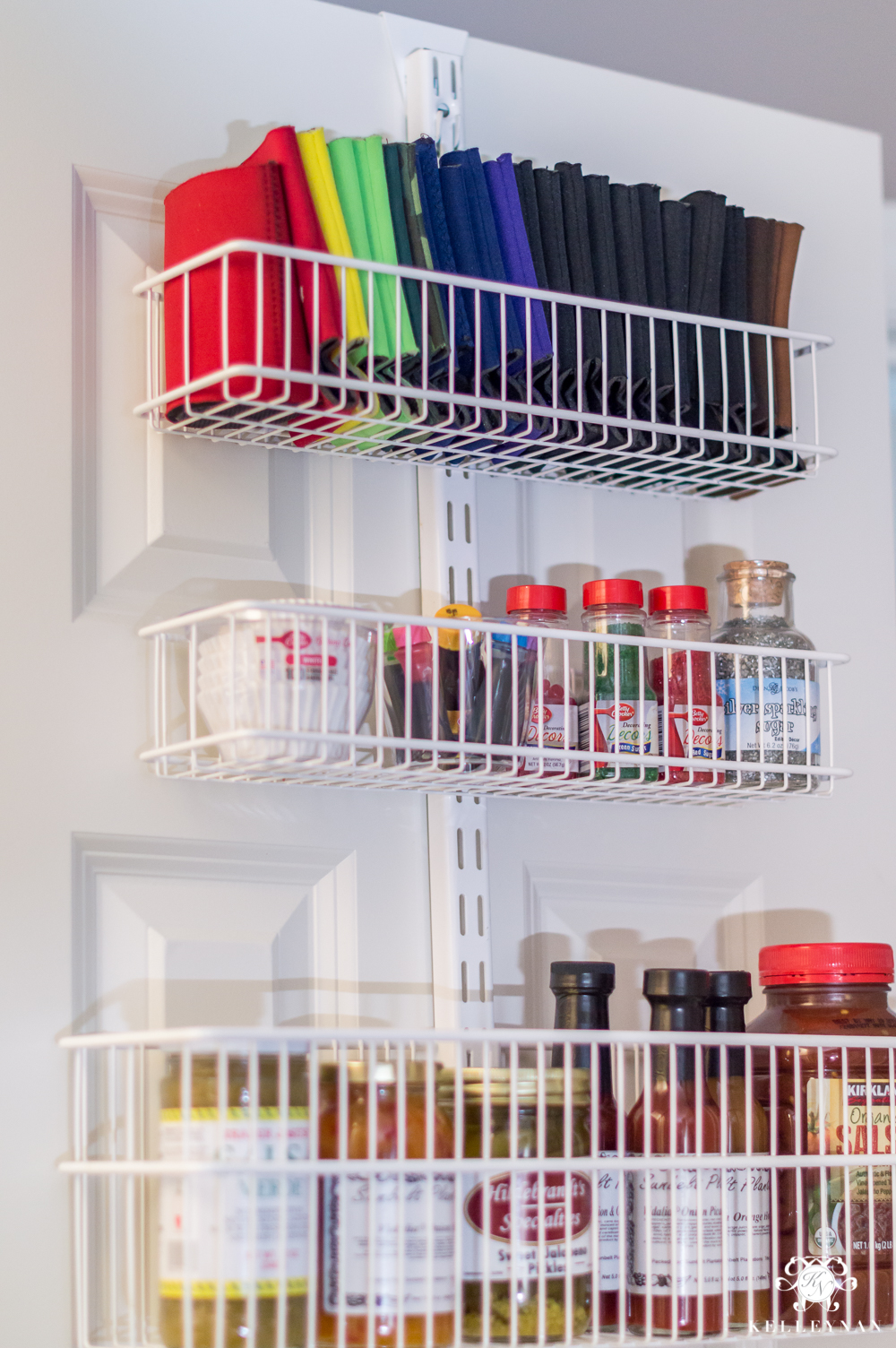 Over the Door Organizer — for the Linen Closet & Bathroom
Between sheets, towels, hair tools, meds, toiletries, back-stock and all the other bed and bath essentials, linen closets and bathroom storage space is premium real estate. Using door storage — not only for first aid and medicine, but also extra toiletries keeps the hard-to-access back part of my cabinets clear. I like being able to see and easily grab what I need; the more you see it, the less you buy it and the more you use it. We use a standard elfa system with baskets on our bathroom linen closet and as our needs adjust, the setup is so easy to modify.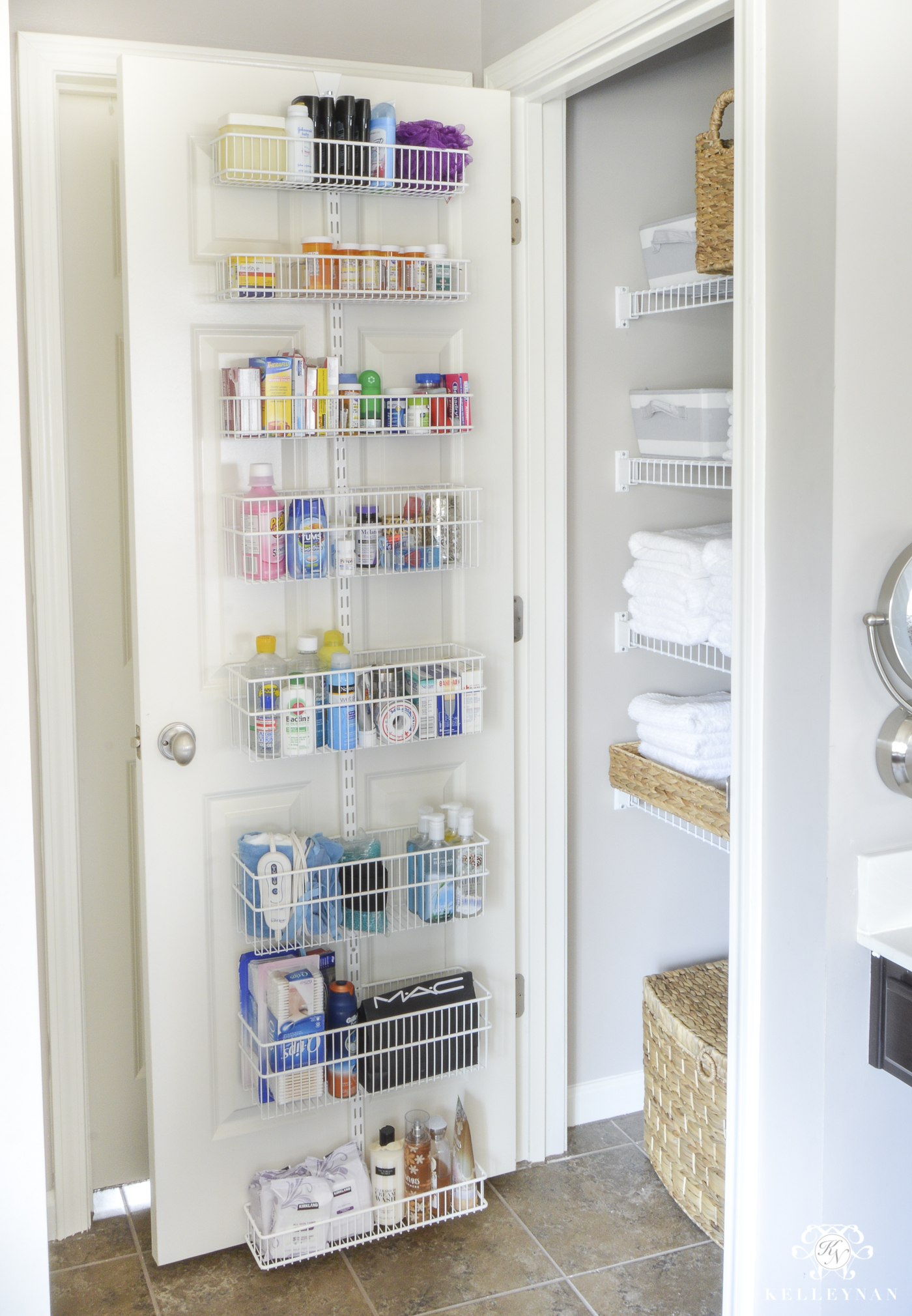 Scroll & Tap to Check Out elfa Door Systems

You can see the full bathroom linen closet post I wrote a few years ago, with all the details HERE.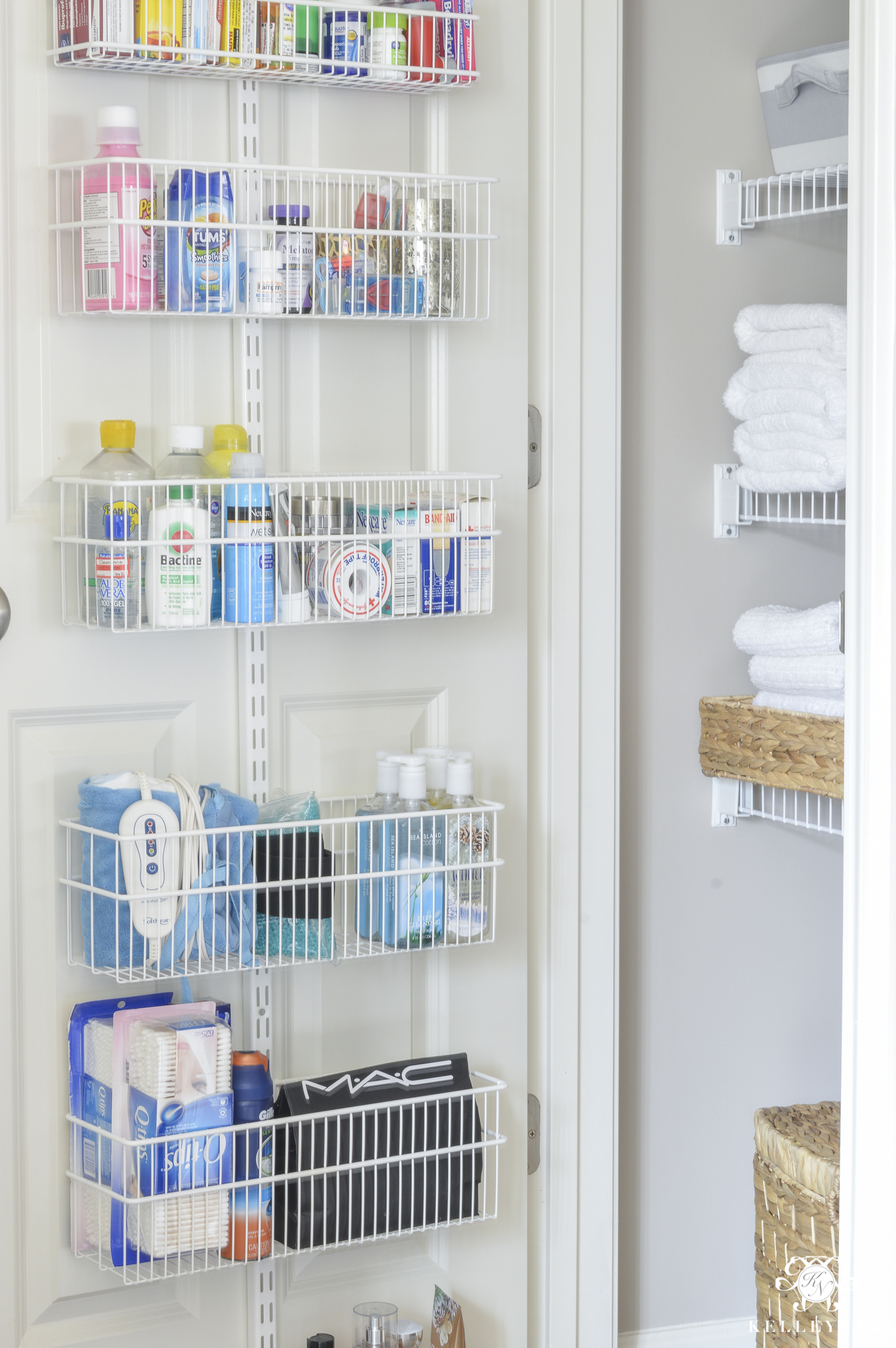 Inside the bathroom vanity is where I need to focus my efforts — on maximizing storage on the backs of the cabinet doors. This hair tool organizer that slides over the door is so smart…
and while this two-back of cabinet door organizers is intended for the kitchen, I think the would function well inside the bathroom cabinets, too.
And, speaking of kitchen cabinet doors, this two-pack of lid holders (you can either line them vertically or use each on different doors) solves one of our longest ongoing frustrations.
Do you have a favorite over the door organizer you swear by? While I've found myself lusting after custom cabinets and cubbies, door storage is a totally level playing field — they're something we all have and can make the most of. Using elfa door systems for the past decade and continuing to add to our collection, this simple solution was the catalyst that initiated our love for implementing more in depth elfa systems — again, they (and all their components and accessories) are 30% off right now for their annual elfa sale HERE.
View the Full Organization Gallery of Ideas HERE.
Pin to Save for Later