There's no better time than Super Bowl Sunday to talk festive food! Today, in addition to a brand new themed board, we're taking a walk down memory lane and taking a look back at all the charcuterie board ideas and themes we created over the past year. Since March 2020, we've approached each charcuterie board as inspiration to be re-created or scaled down for your family and innermost circles. Today is no different. In a former life, it would probably just be called a "shrimp platter" but it today's world of rampantly growing interest of turning everything into a charcuterie board, this shrimp cocktail display isn't just a "platter" — it's a "shrimp charcuterie board" 😉
*Posts on KelleyNan.com may contain affiliate links. Click HERE for full disclosure.
Shrimp Charcuterie Board
This board is so simple and consists only of a few items. But, I think it also emphasizes the power of a pretty display and how presentation can change everything. We're all familiar with the pre-arranged shrimp rings at the grocery store, right? But, what if you nix the plastic and pull together a custom platter?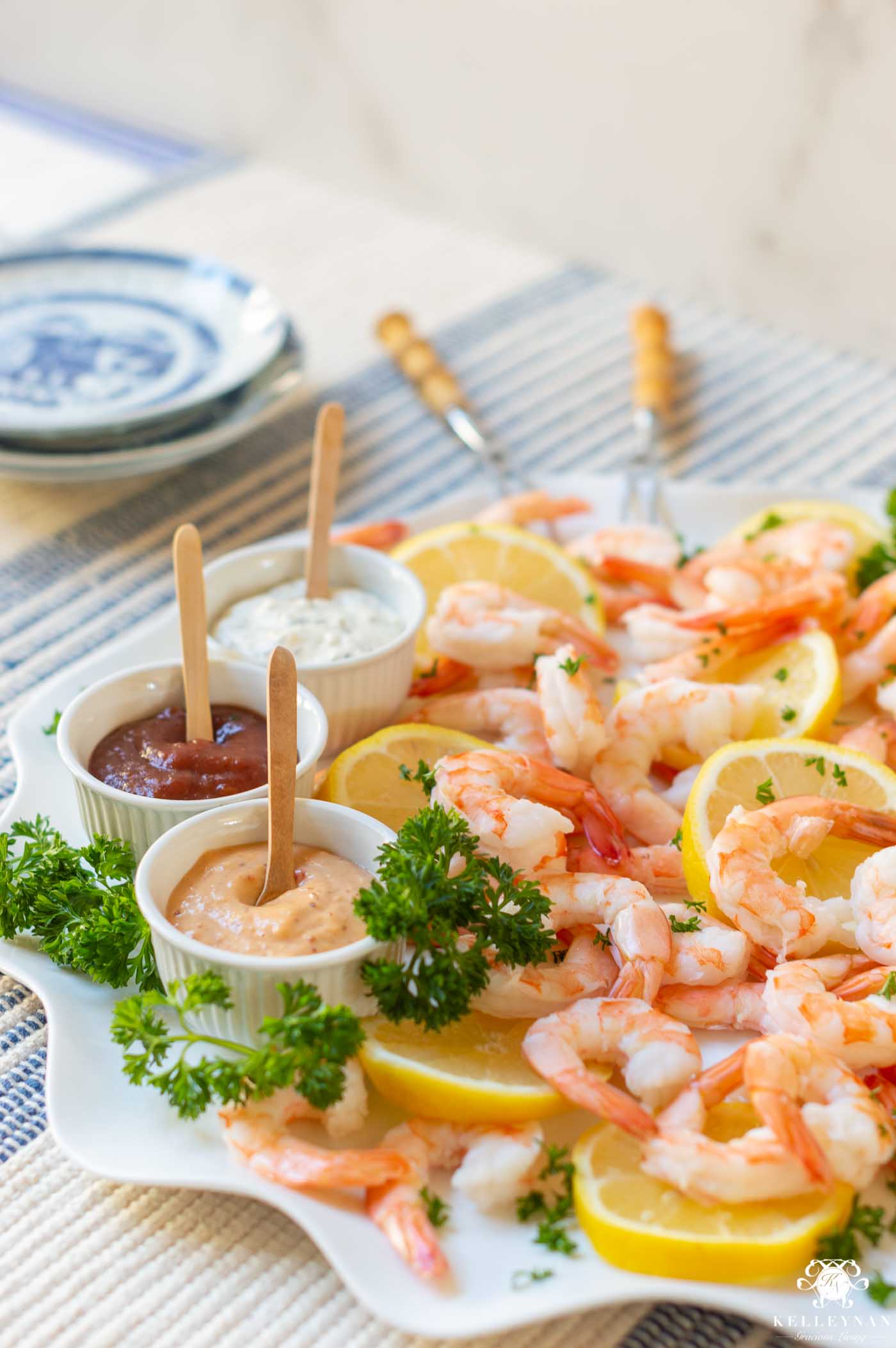 Enter — the shrimp charcuterie board.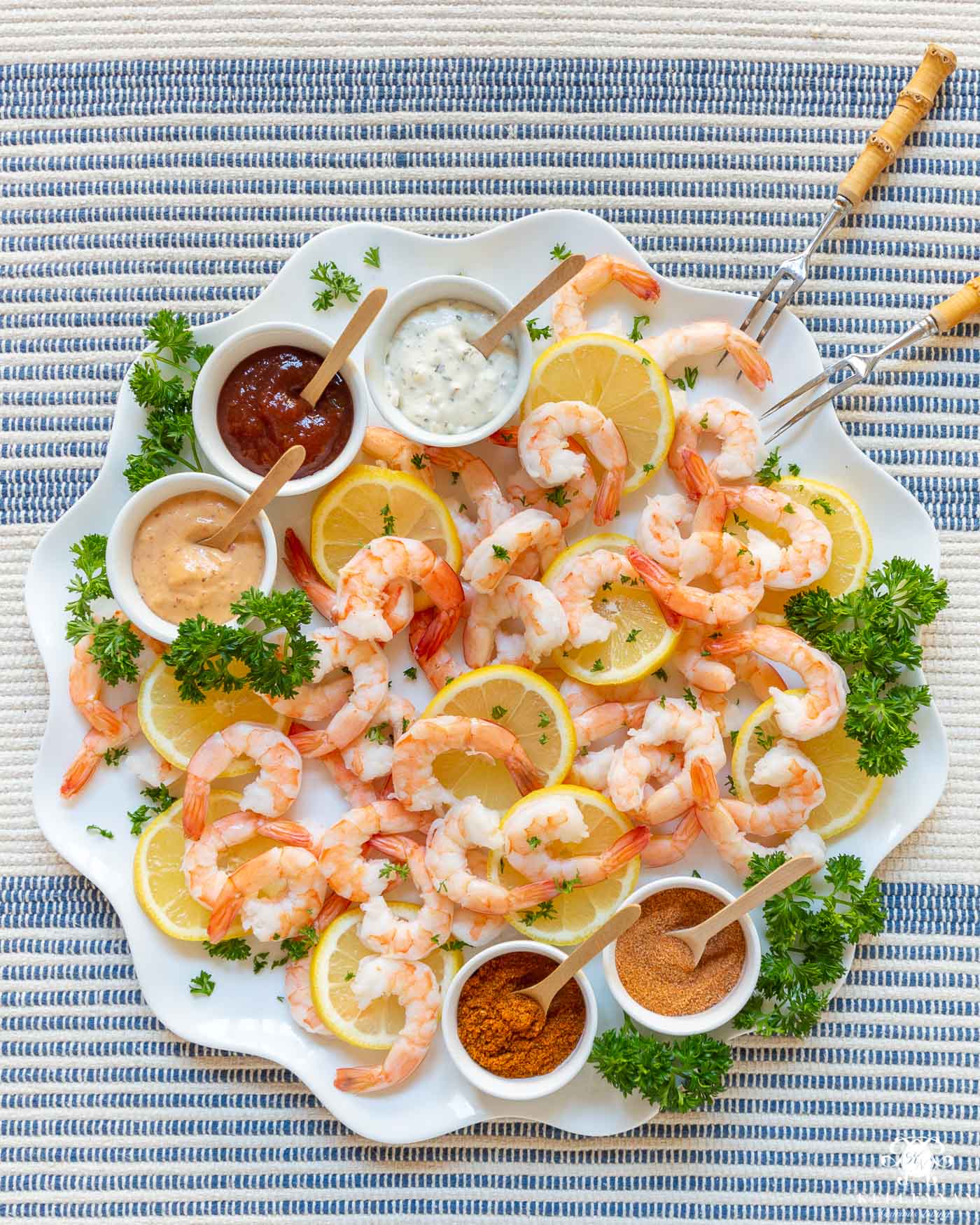 Mini Wooden Spoons (SIMILAR) | Platter – no longer available (SIMILAR 1) (SIMILAR 2) | Ramekins (SIMILAR) | Bamboo Handle Seafood Forks – vintage (SIMILAR VINTAGE SET)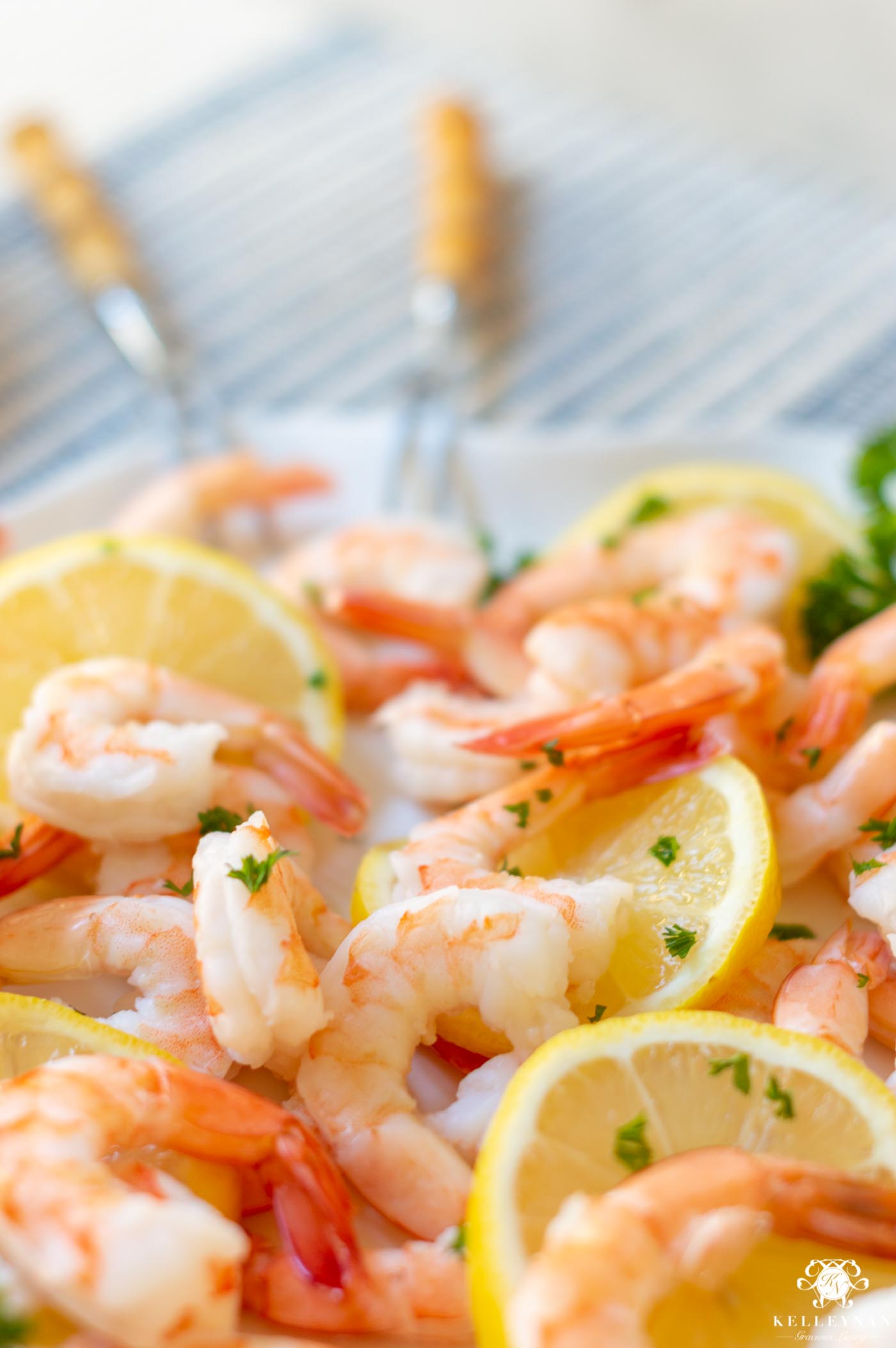 We live nowhere near the gulf but we love Costco shrimp. They come in a plastic container, already de-veined, and are a bit larger than some of the typical shrimp rings you'll find at the grocery store.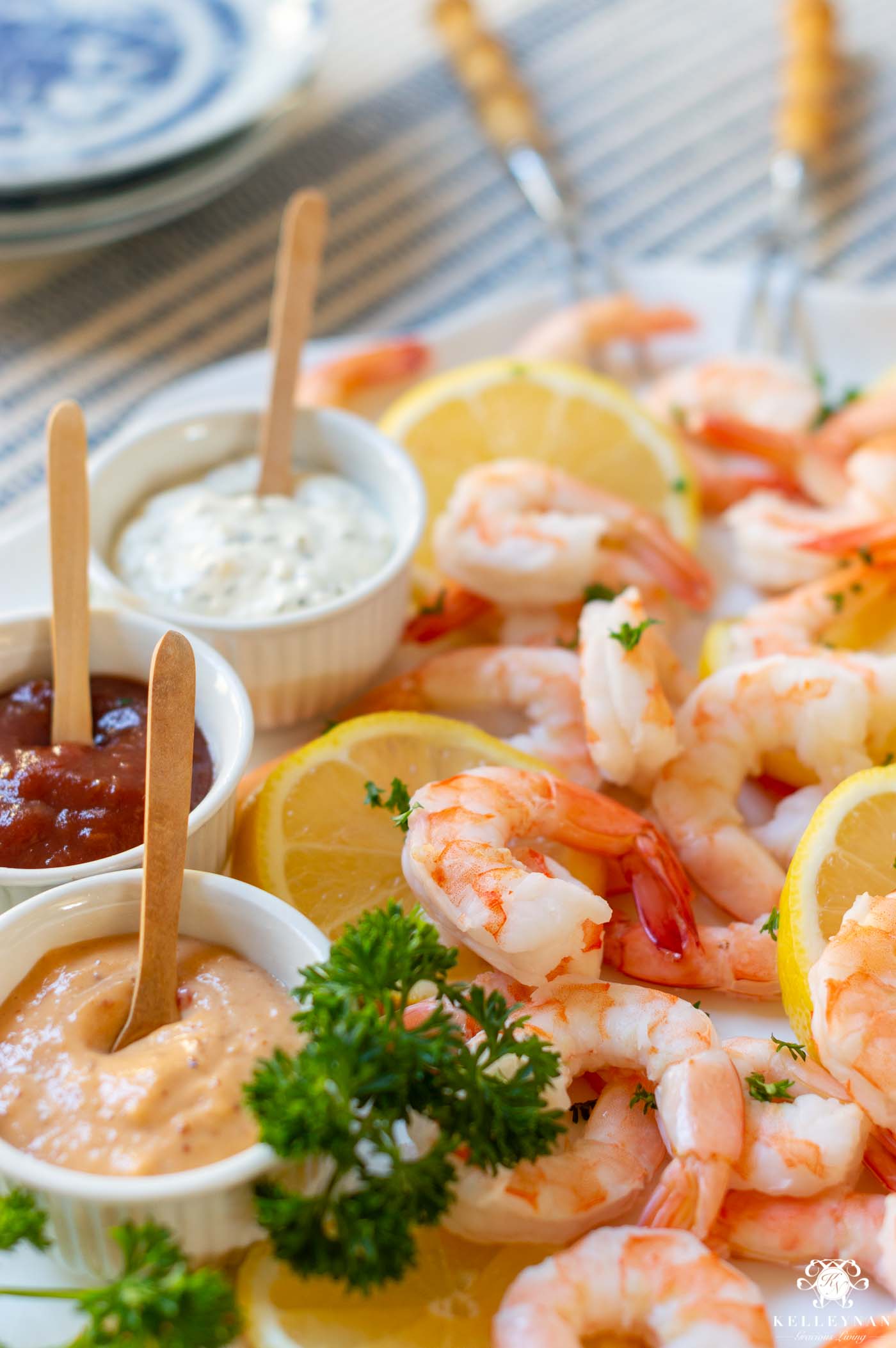 What Goes On a Shrimp Charcuterie Board?
I started with a favorite thin white platter. If you aren't eating immediately or want to keep the shrimp chilled, you can also put down a layer of ice and cover it in plastic wrap. For sauces, you could totally stick to the standard cocktail sauce on its own, but when we're putting together a charcuterie board, we typically like to give several options for different flavor profiles. We loaded ramekins of cocktail, tarter, and remoulade, as well as Old Bay and cajun seasonings. Thinly sliced lemon rounds are interspersed with the shrimp, and lastly, we topped and garnished with a little bit of fresh parsley.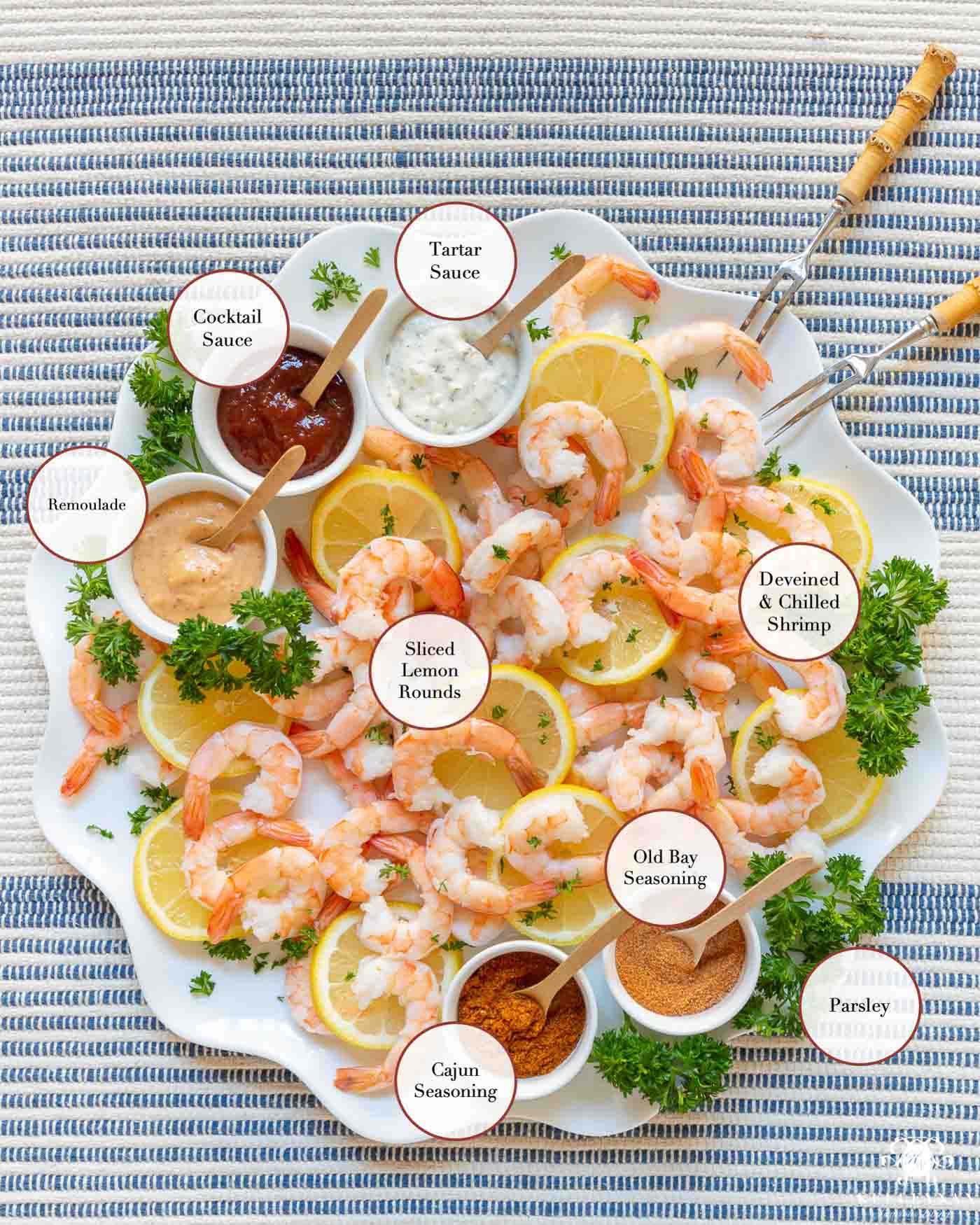 As a note, even if you start with a pre-arranged ring, purchase/make more cocktail sauce than what the ring comes with. That little cup won't last long. Also, buy more fresh lemons than you think you may need. In a sea of meatballs, dips, burgers and wings, these shrimp are the perfect lighter fare to round out your spread, or serve as the headliner/main event.
And, if you're planning a night in with your fam but want a festive menu, a shrimp charcuterie board is a fun (silly-simple) entree that you probably don't have that often!
Now, let's take a look back at some of the other charcuterie boards we've served up over the past 12 months. While some are a bit more holiday-specific, several are totally worthy of being the hero of your Super Bowl supper. You can click on the title of any board to go to the full, original post that details each board.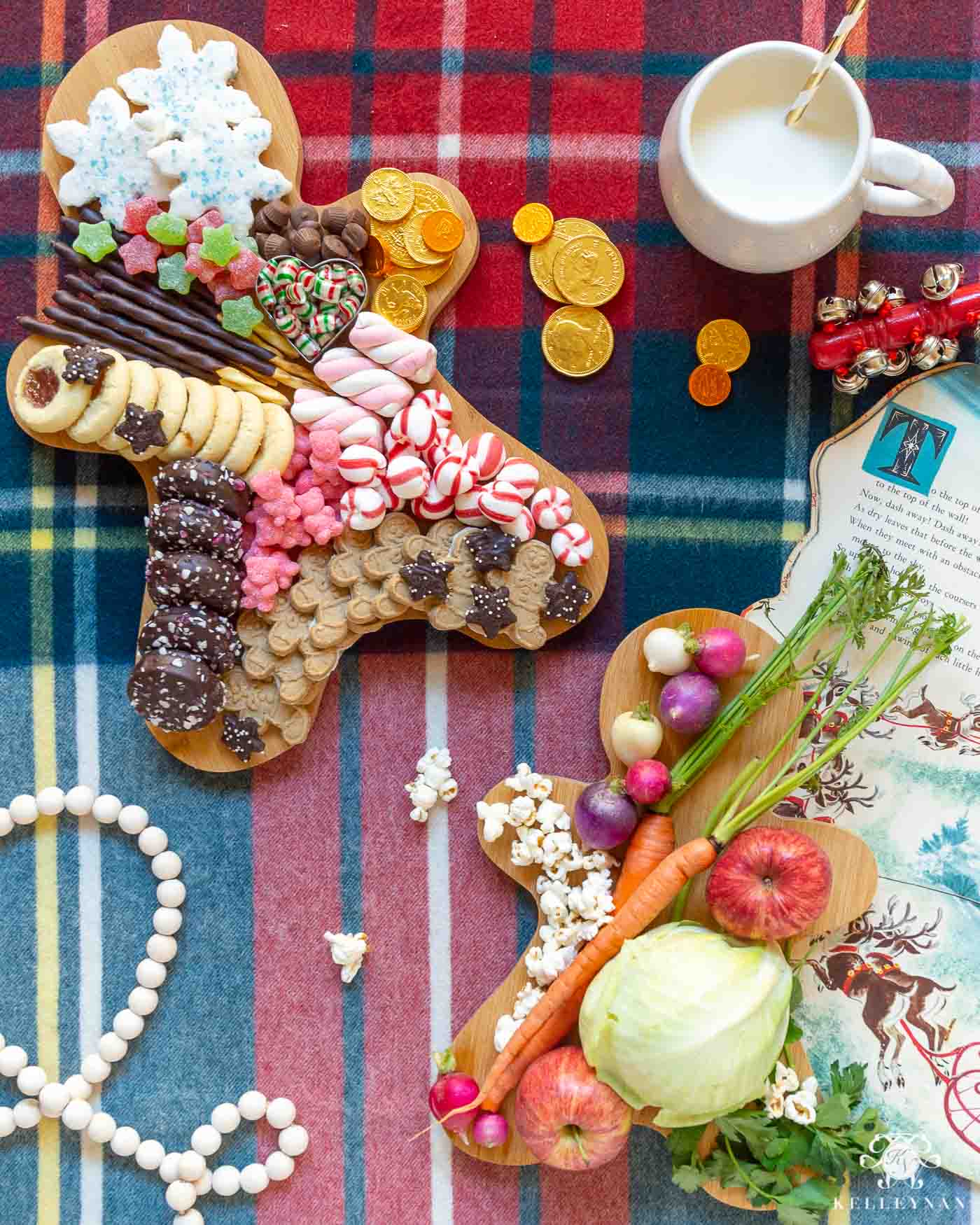 Bookmark for now or pin and save for later — if you've had a themed charcuterie board go over well, share what you came up with in the comment section below!
Scroll & Tap to Shop Favorite Charcuterie Boards