Even though I'm a mom now, I'll be totally honest. With all the decisions so many of you have had to make regarding school this year, I am thankful not to have had to make some of those difficult calls just yet. I know everyone is doing things differently — from family unit to city to state… from homeschooling, to virtual schooling, to group schooling, to in-person schooling. Hats off to YOU ALL! Despite these crazy times and everyone trying their best for safety, normalcy, etc., I have been so inspired by some of the creativity I've seen for at-home work stations, routines, and more. I admire how so many parents have adapted and sacrificed to become teachers, supporters, and total rockstars. And, all the teachers who have emerged as leaders, working to create new environments… bravo! While some of you have been back in school for a while, others are just now starting and it seemed only fitting for this month's board theme to be… Back to School, of course 😉
*Posts on KelleyNan.com may contain affiliate links. Click HERE for full disclosure.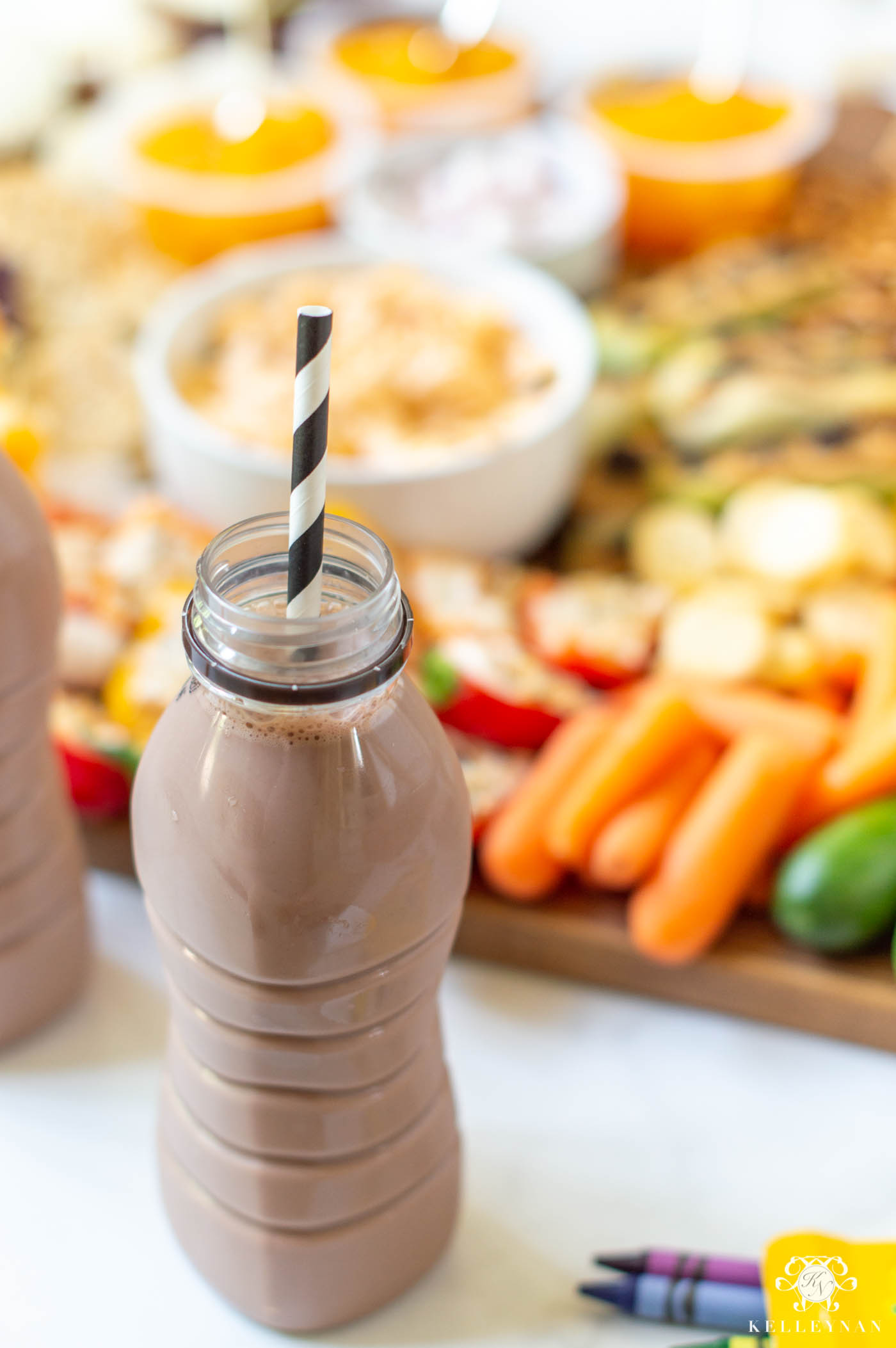 Kids Snack Charcuterie Board
With more people than ever holding some sort of schooling component at home, I can totally appreciate those of you making efforts to break up the monotony of the day. We are all about snack foods, made into meals here and there are so many ideas for kids to join in on the fun with a grazing board, filled with favorites alongside healthy options. For September's Back to School "Board of the Month", here's what we came up with…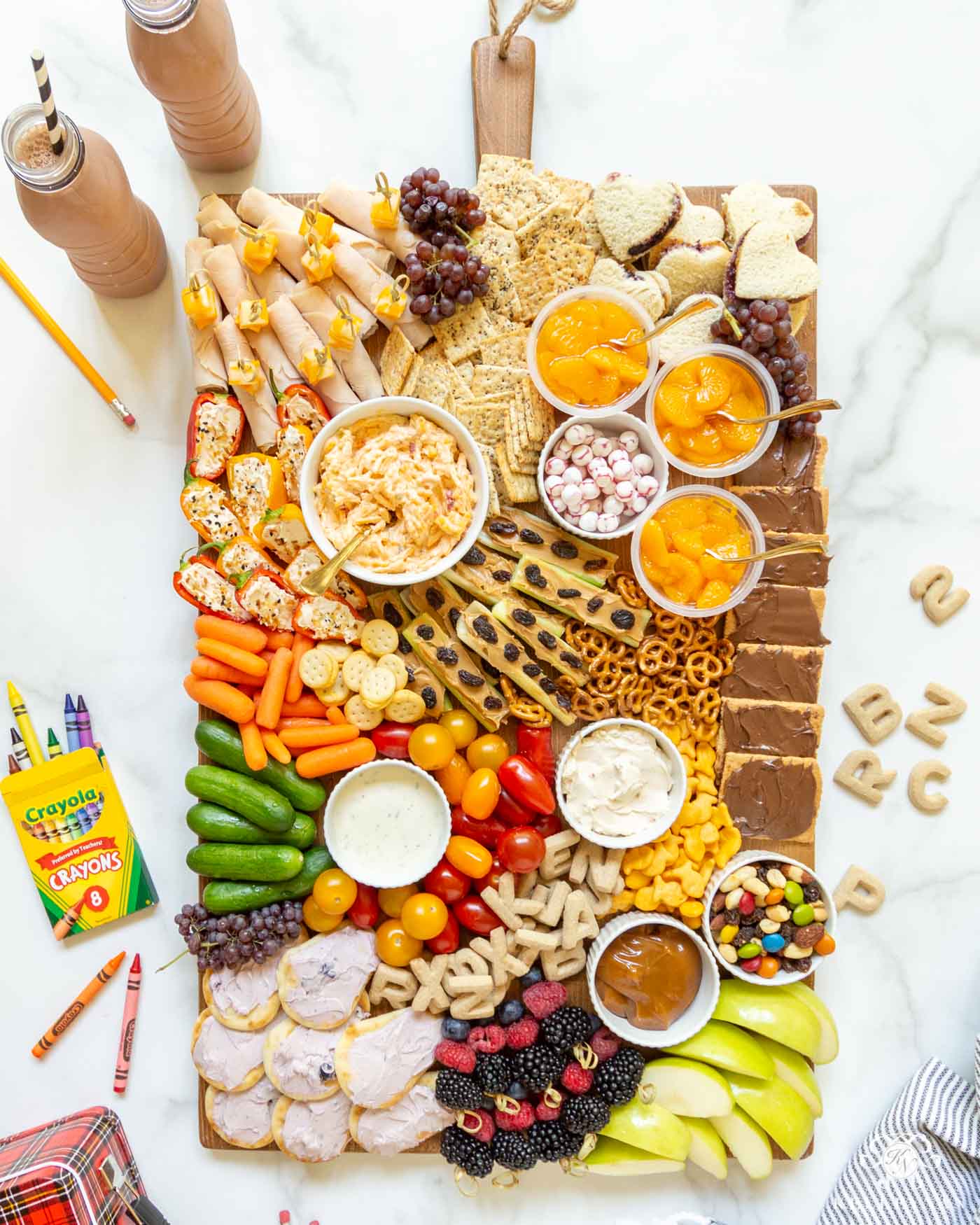 Along with most of the boards and ideas I share, this one is a beast. As always, it can be abbreviated and pared down, depending on who's partaking. Along with some regular favorites, creating a special smorgasbord of options is a good way to sneak in a few things the kids maybe haven't tried before. You know your kids best and the limits that can be pushed 😉
Aside from little mandarin orange cups with spoons, I kept the nibbles to finger-foods only.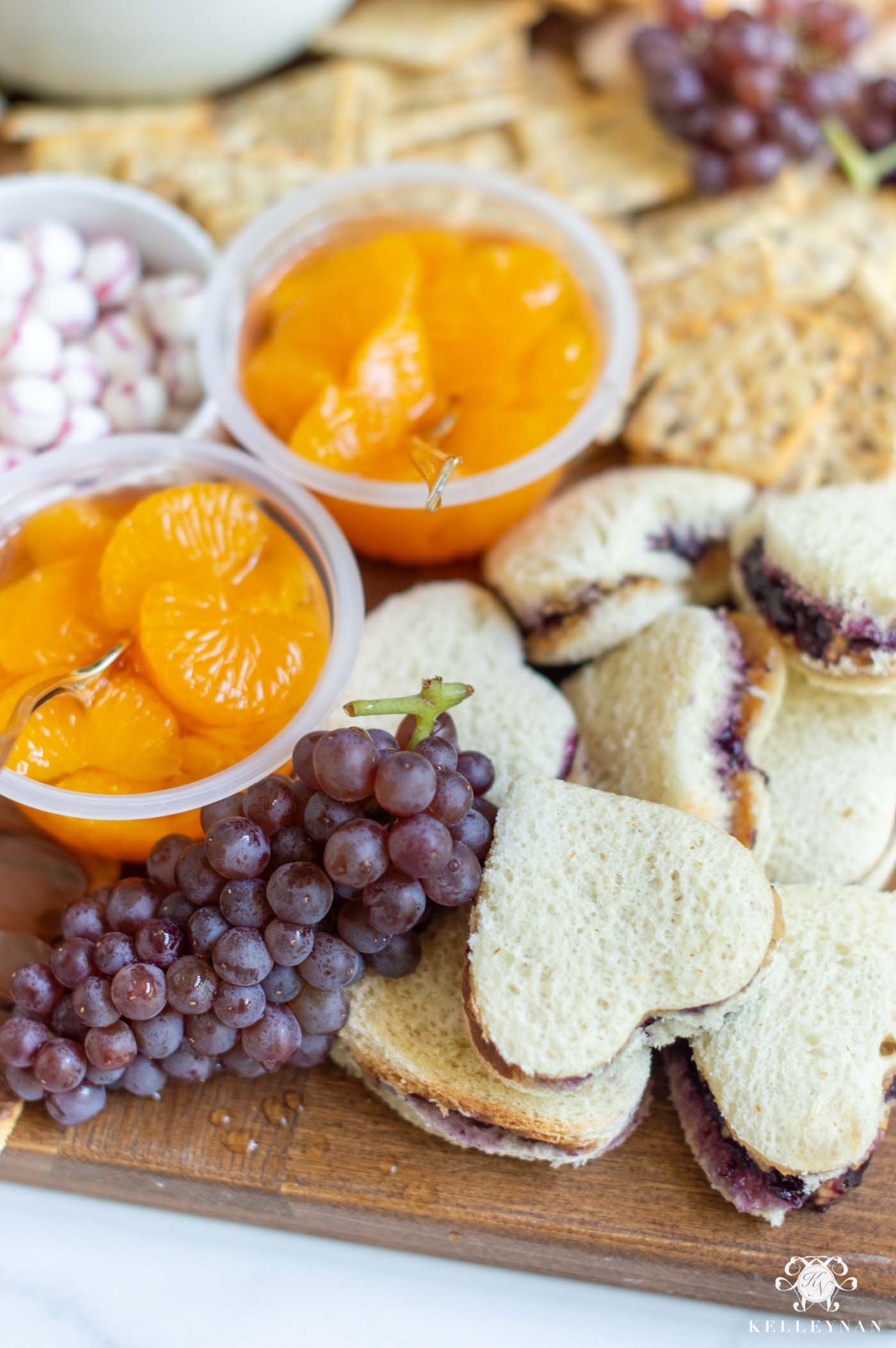 One of the great things about this kind of board — you probably already have every ingredient and snack you need on hand. This could even be a great Friday tradition treat and also a way to clear out the pantry and fridge for the coming week's groceries!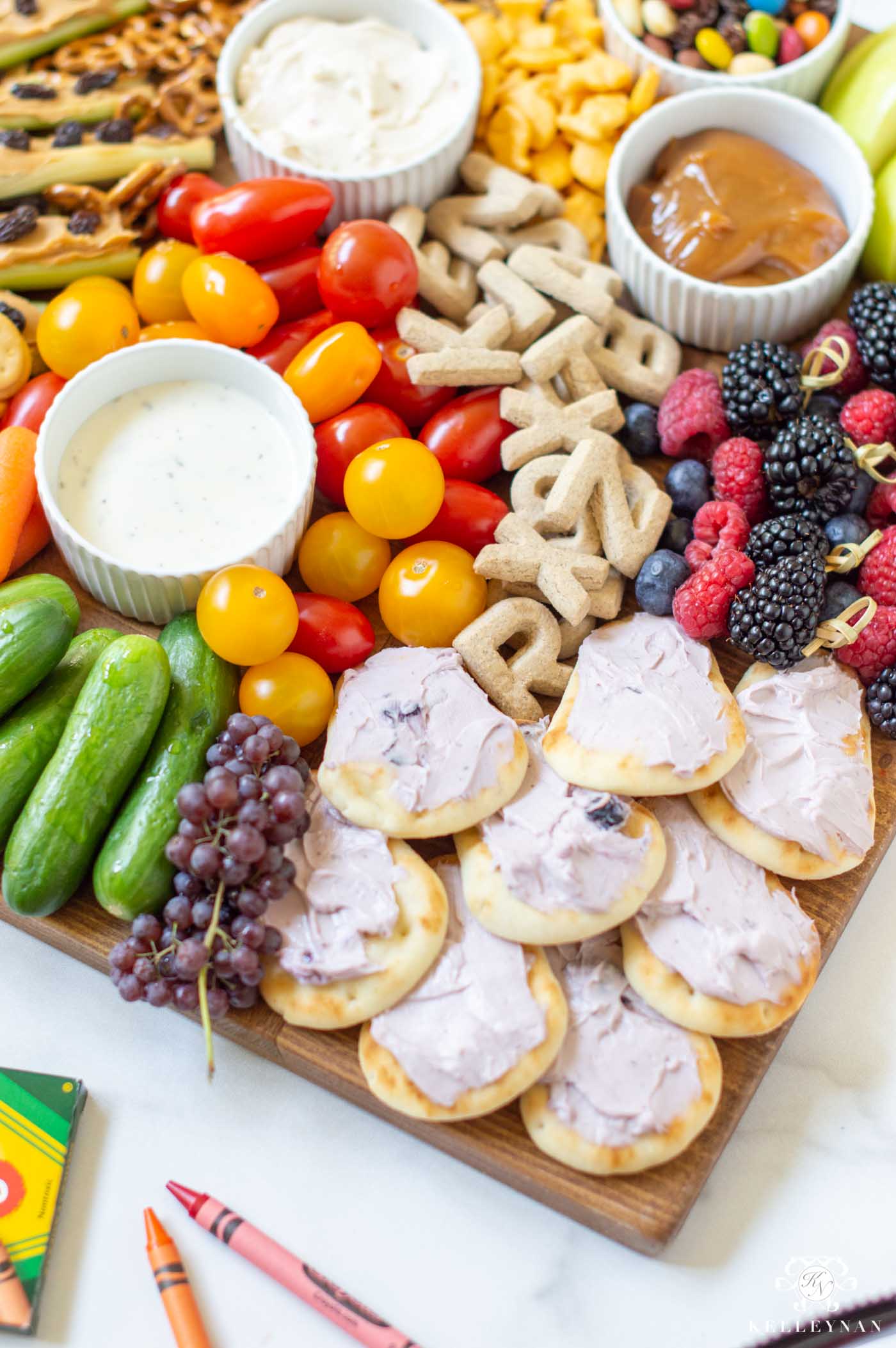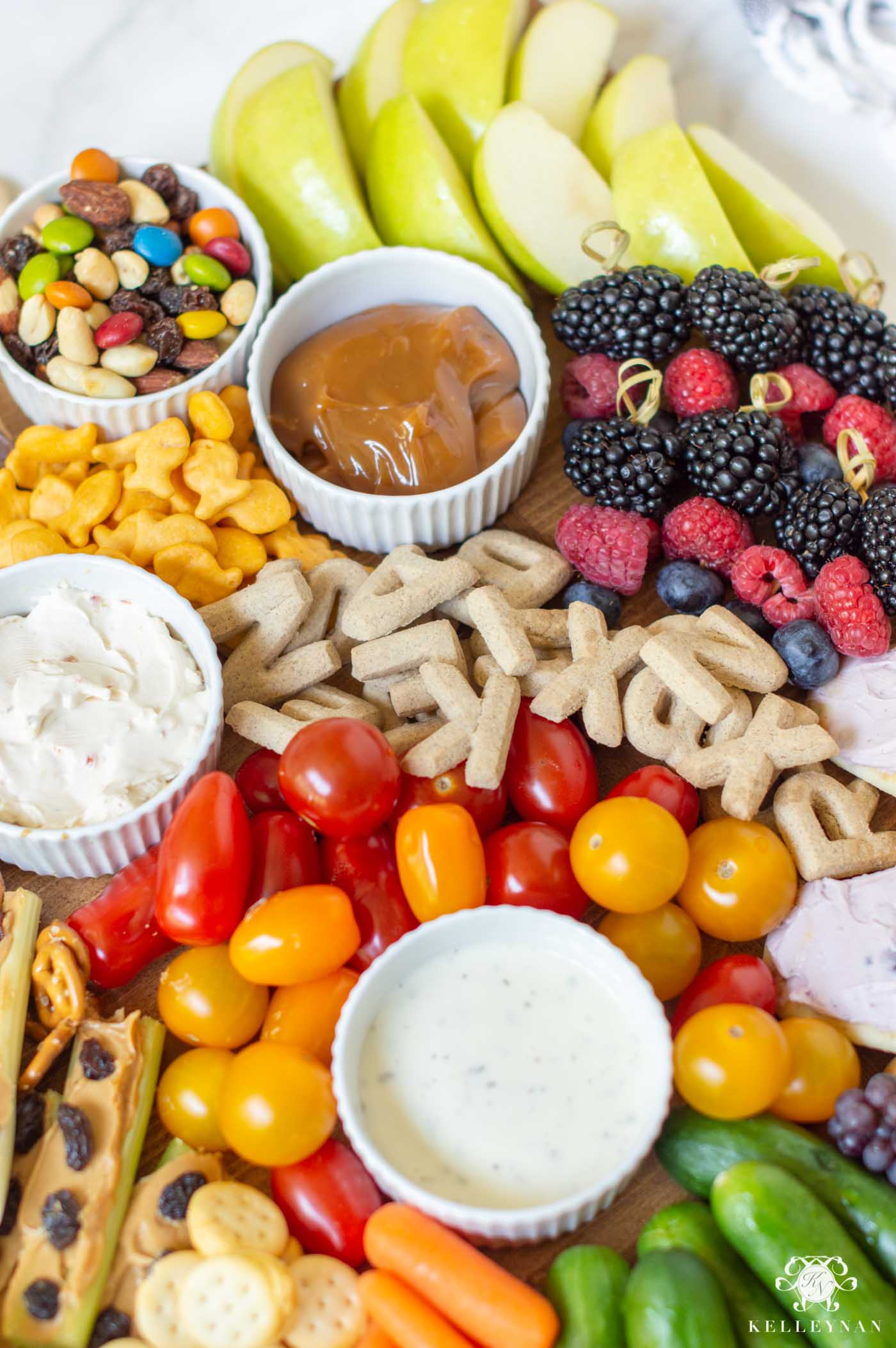 Here's a few tips to make even the most basic, standard snacks a little more exciting:
use lots of colors!
add it to a skewer
cut it in a fun shape
add a dip
go for miniature sizes
add a treat (nutella spread, cookies, brownie bites, etc.)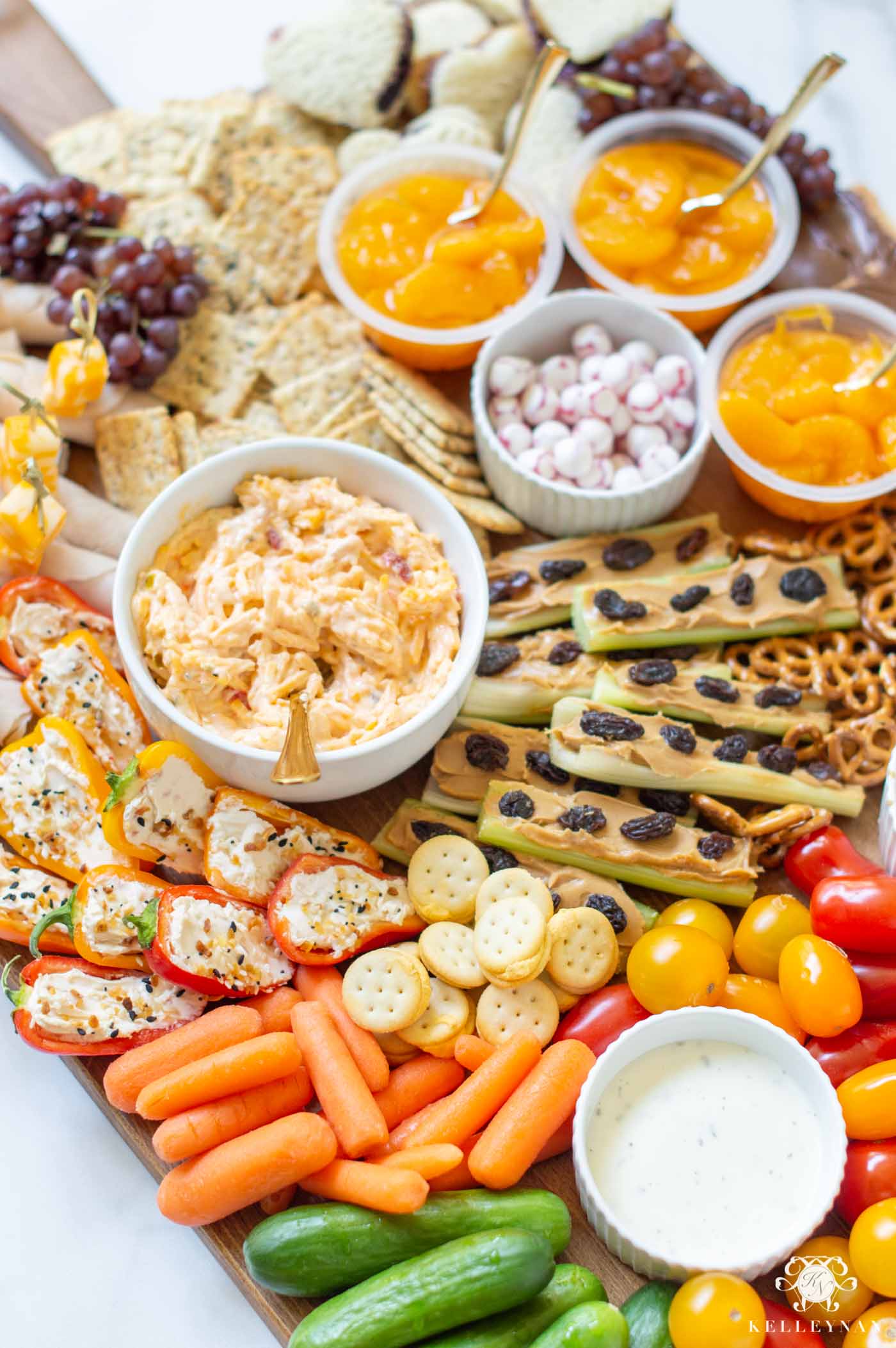 While this snack-style charcuterie board is chock full of kid-friendly options, there's no age limit and no rules. Our entire house (including my mom and Eliza) made more than a meal out of everything shown here. And while it's a fun option to promote a positive home-study culture for younger kids, it's great for homework sessions for the young adults, too. You can even involve your student(s) in the board(s) — both in choosing and assembling the ingredients — as a home ec. learning experience.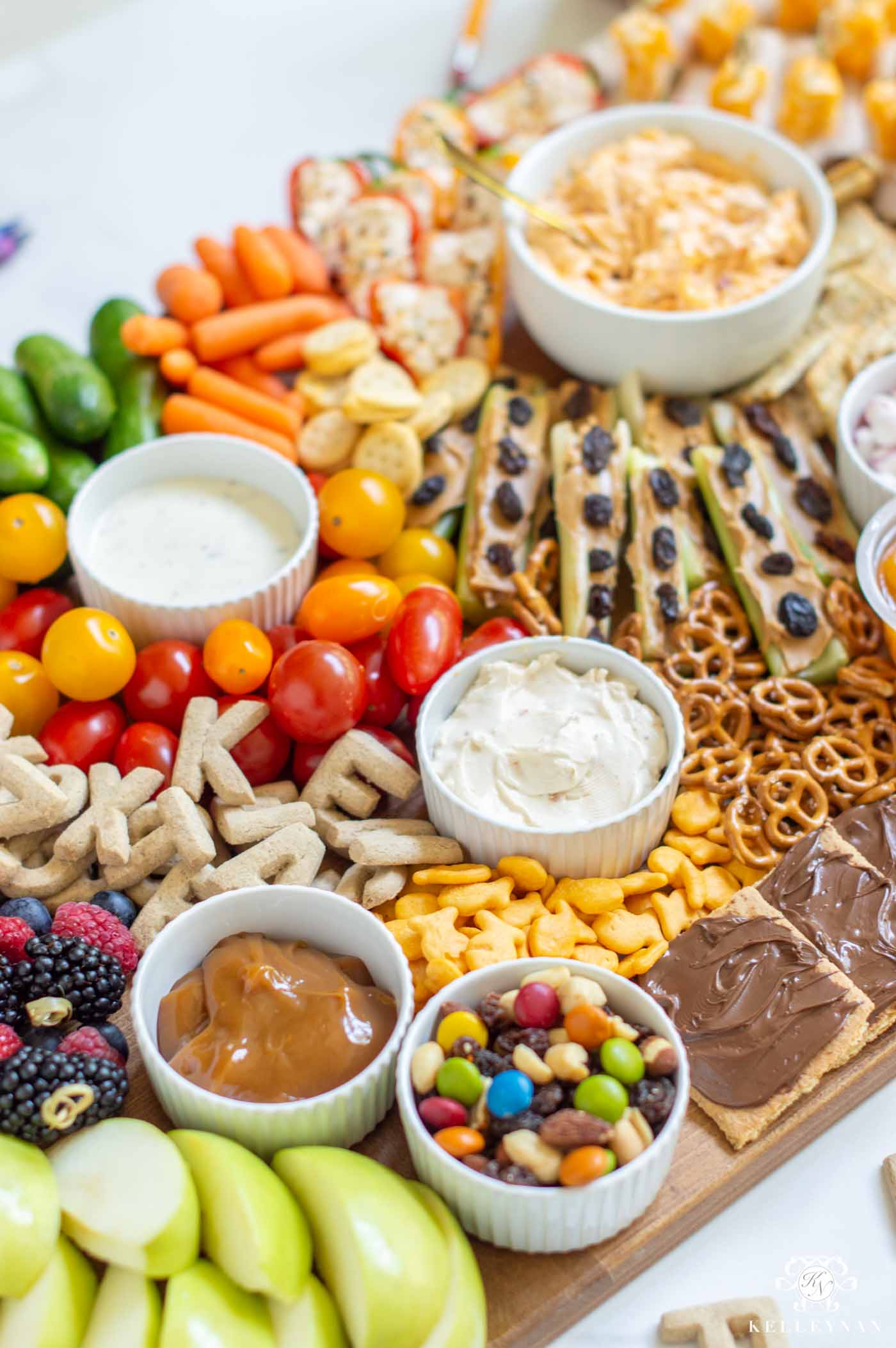 What Kid-Friendly Charcuterie Snacks Are On the Board?
While the options are endless, here are some of the classics we included on the board:
turkey roll-ups w/ cheese cubes
grapes
crackers
pimento cheese spread
PB&J sandwiches, cut into hearts
yogurt covered fruit snacks
mandarin oranges
graham crackers w/ nutella spread
mini pretzels
ants on a log (celery, peanut butter and raisins)
cheese sandwich crackers
snack peppers w/ veggie cream cheese and Everything seasoning
carrots
cucumbers
tomatoes
ranch dressing
pretzels
veggie cream cheese
goldfish
trail mix
cinnamon alphabet cookies
apple slices
caramel dip
naan bread with blueberry spread
berries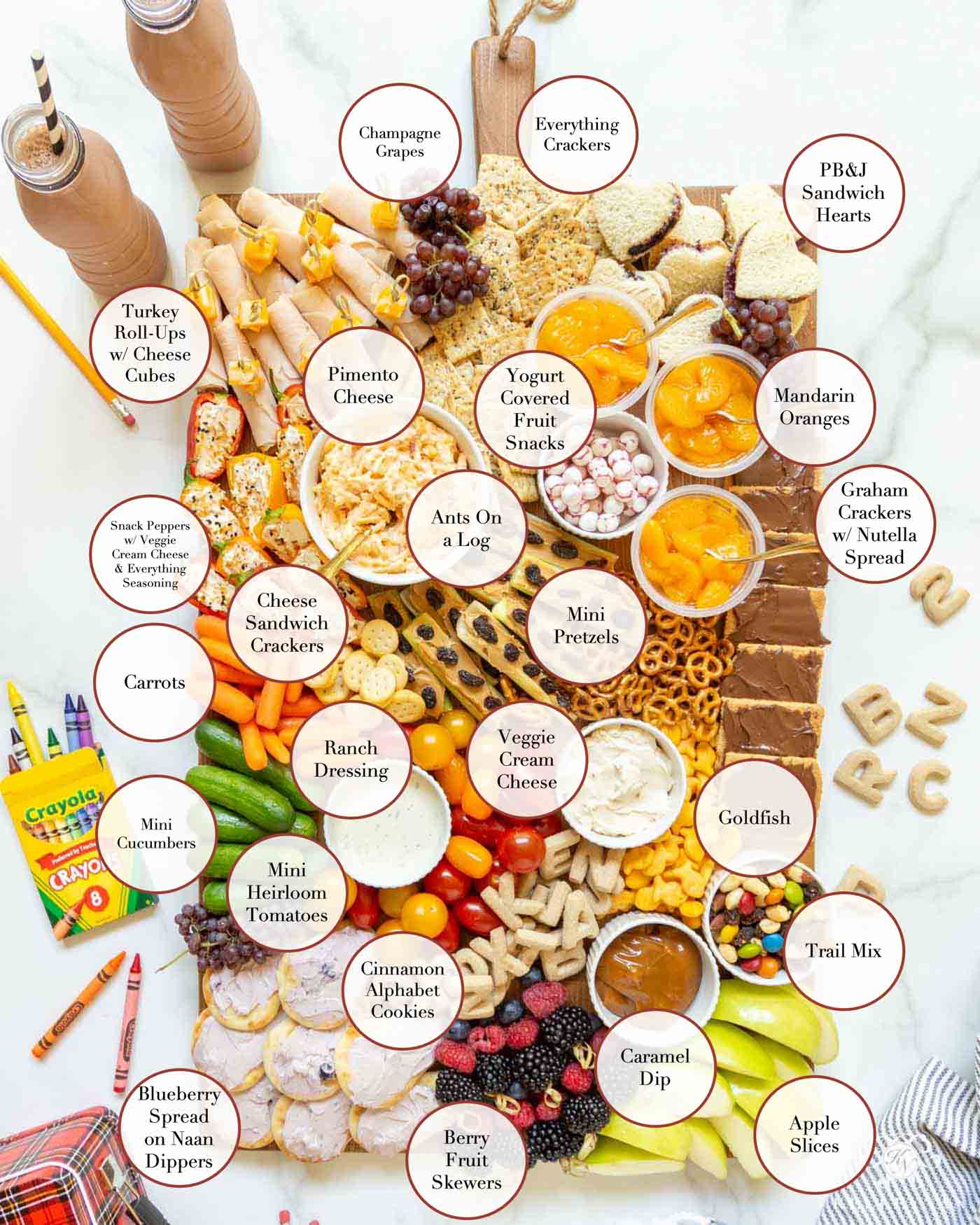 Scroll & Tap to Shop the Post

Scroll & Tap to Shop Fav Boards

If you're a parent, teacher or student and have advice, tips, or any special routines/plans you've implemented for the new school year, share them below in the comment section! As always, you can subscribe to my emails at the bottom of the post to make sure you never miss a monthly board theme 😉
A FEW OTHER BOARDS YOU MAY LIKE