Just in time to commemorate Father's Day weekend, June's "Board of the Month" is served! I've been wanting to take on a barbecue board for a while — it's the ultimate summertime spread — and as one of the manliest meals I can think of, Father's Day is the perfect occasion.
*Posts on KelleyNan.com may contain affiliate links. Click HERE for full disclosure.*
Barbecue Beef Brisket Slider Board
While I think I could be 100% happy with vegetable plates for dinner for the rest of my life, Dave is from Texas and has a hard time going a single meal without some sort of meat. His favorite — a slow smoked beef brisket. He'll make one over a weekend (it yields a lot) and freeze a chunk for later, and while his favorite way to serve it is on a tortilla with salsa, I prefer a good old bbq sandwich, smothered in sauce with all the toppings.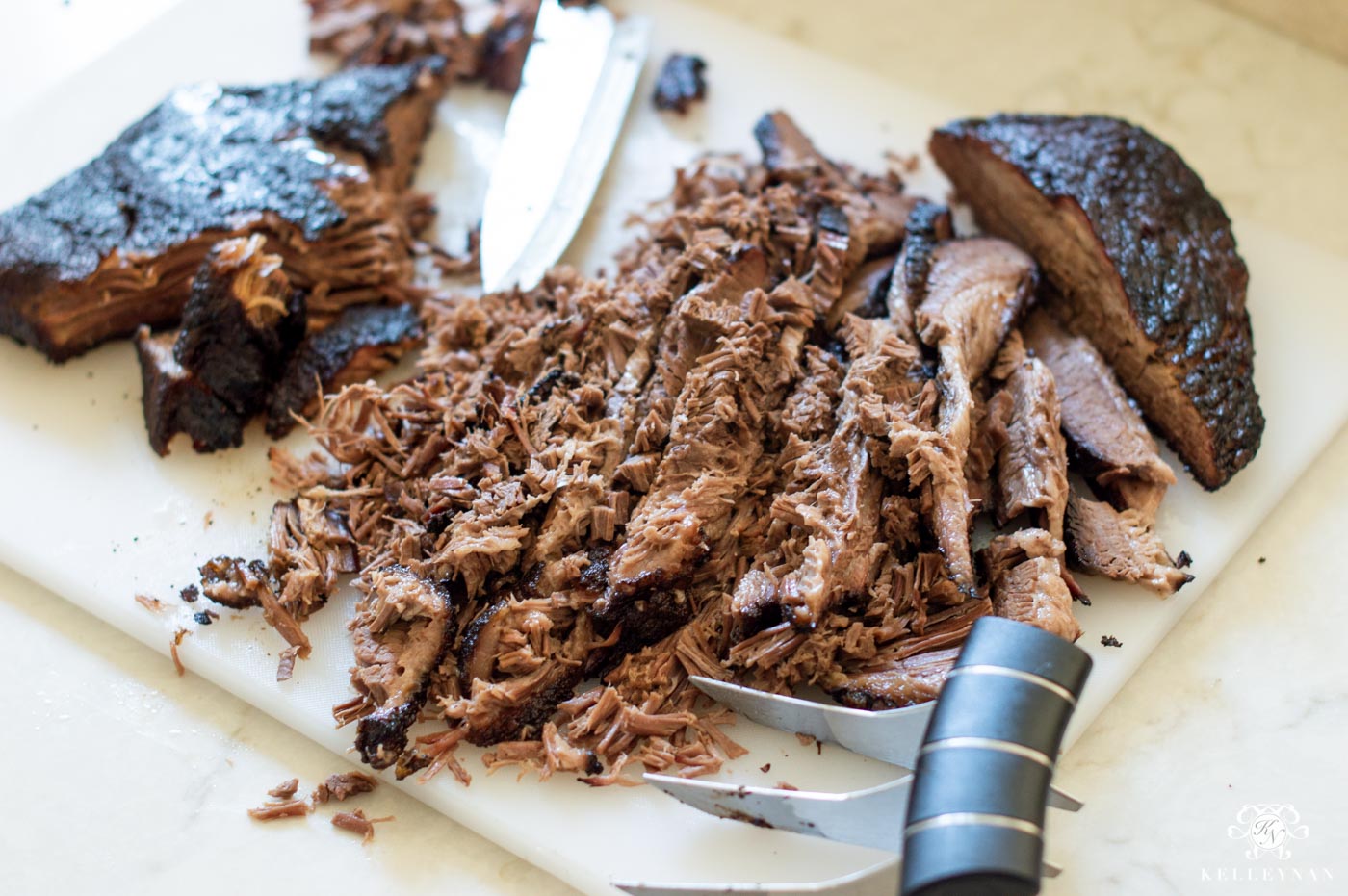 So what separates a traditional barbecue offering from an all encompassing barbecue
board
? Well, aside from the obvious
board
aspect,
allllll
the toppings and accompaniments! Here's the result of June's Board of the Month…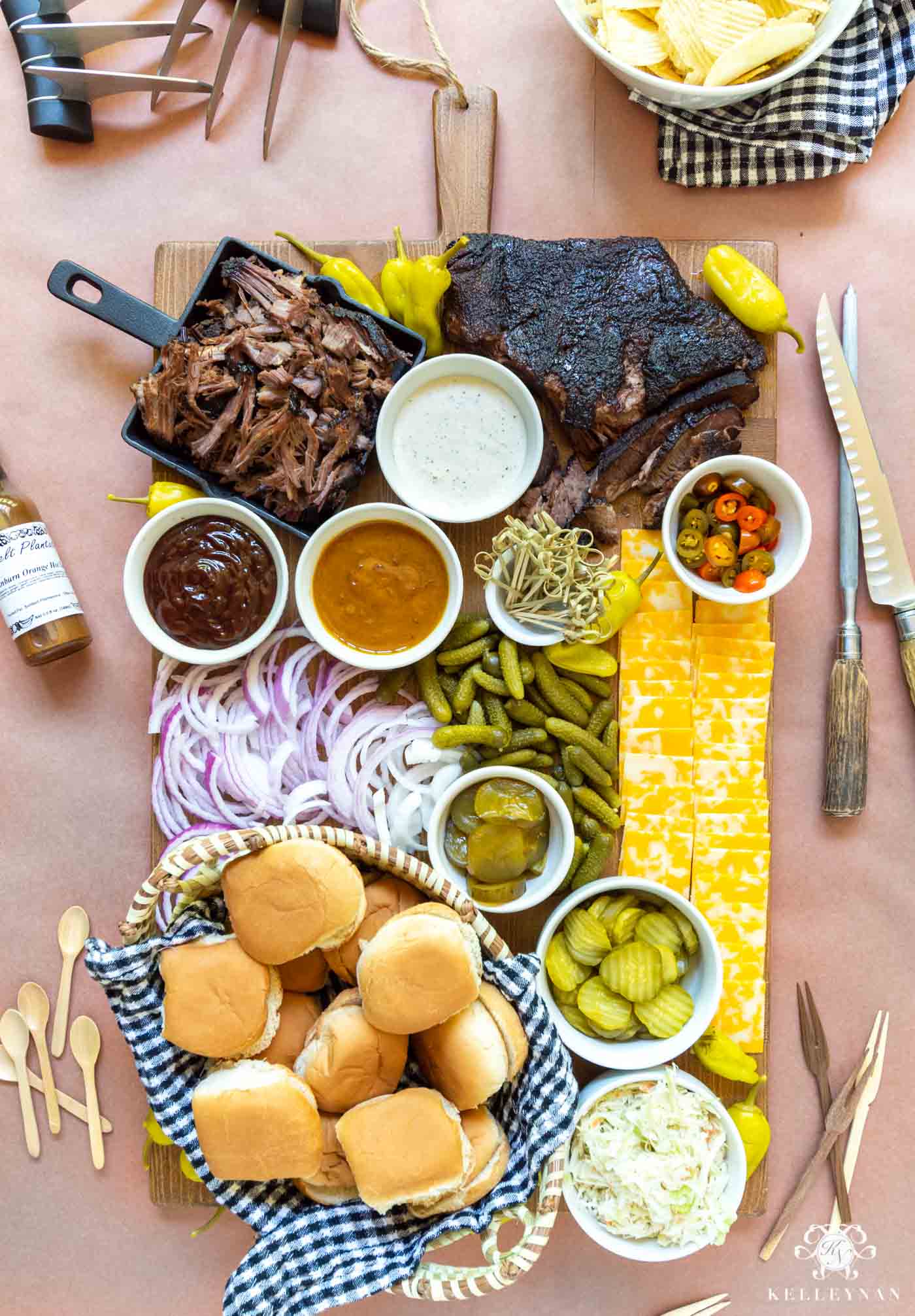 Whenever I'm serving something with a ton of topping options, I like to offer miniature "canvases" — in this case, the buns. Yes, you can go for full sized bread, but offering slider-sized creates an opportunity to get creative and try different sandwich combos.

Not a fan of beef brisket? Stick with traditional pork, smoked chicken, or if you want to stay away from the grill, you can even cook the meat in a crock pot. You can find my favorite go-to chicken bbq (sauced and shredded) recipe HERE.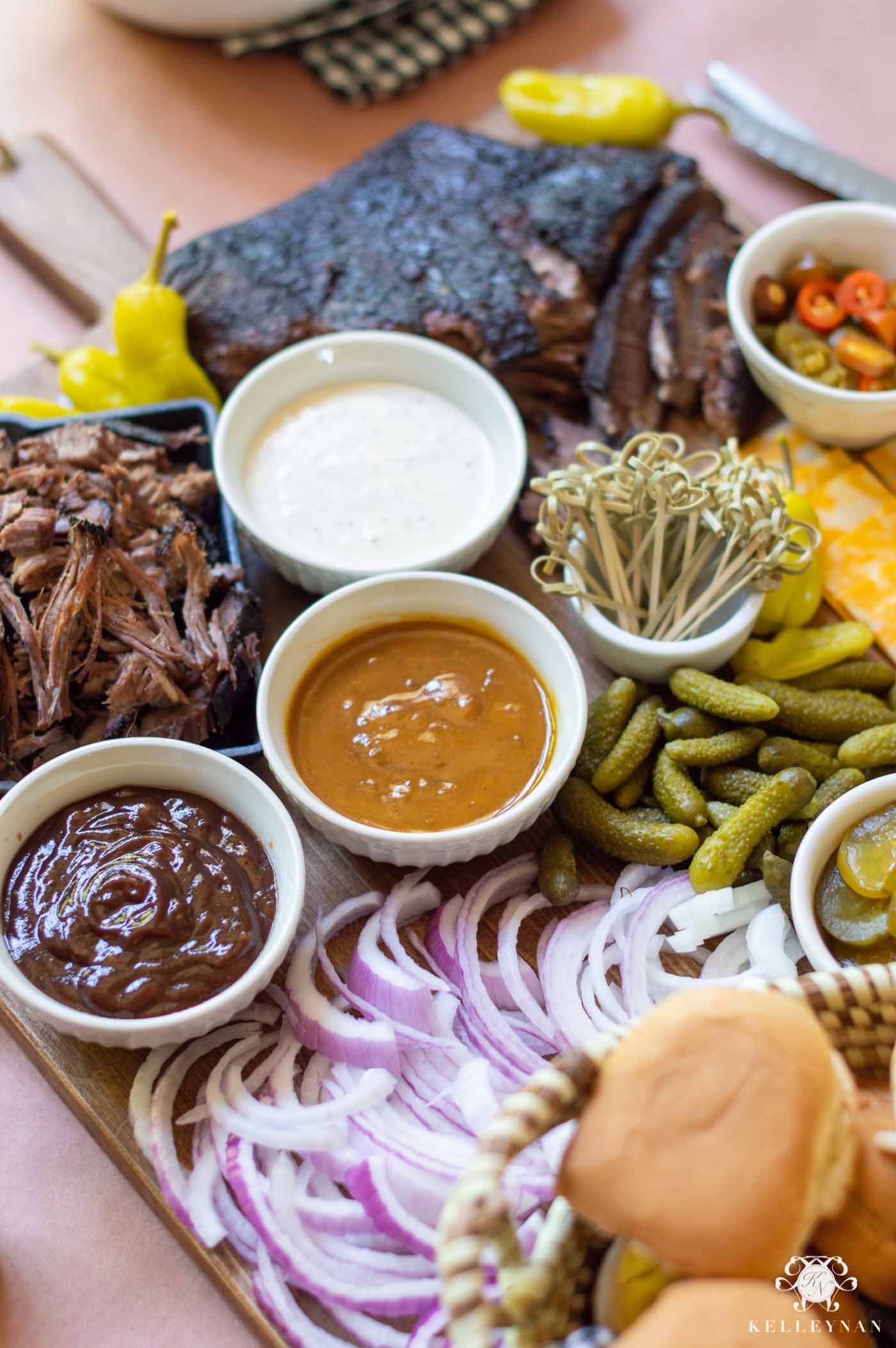 This cute little mini cast iron skillet is perfect for grilled cheese sandwiches, too — the exact one pictured is no longer available but I found a similar 5″ one HERE.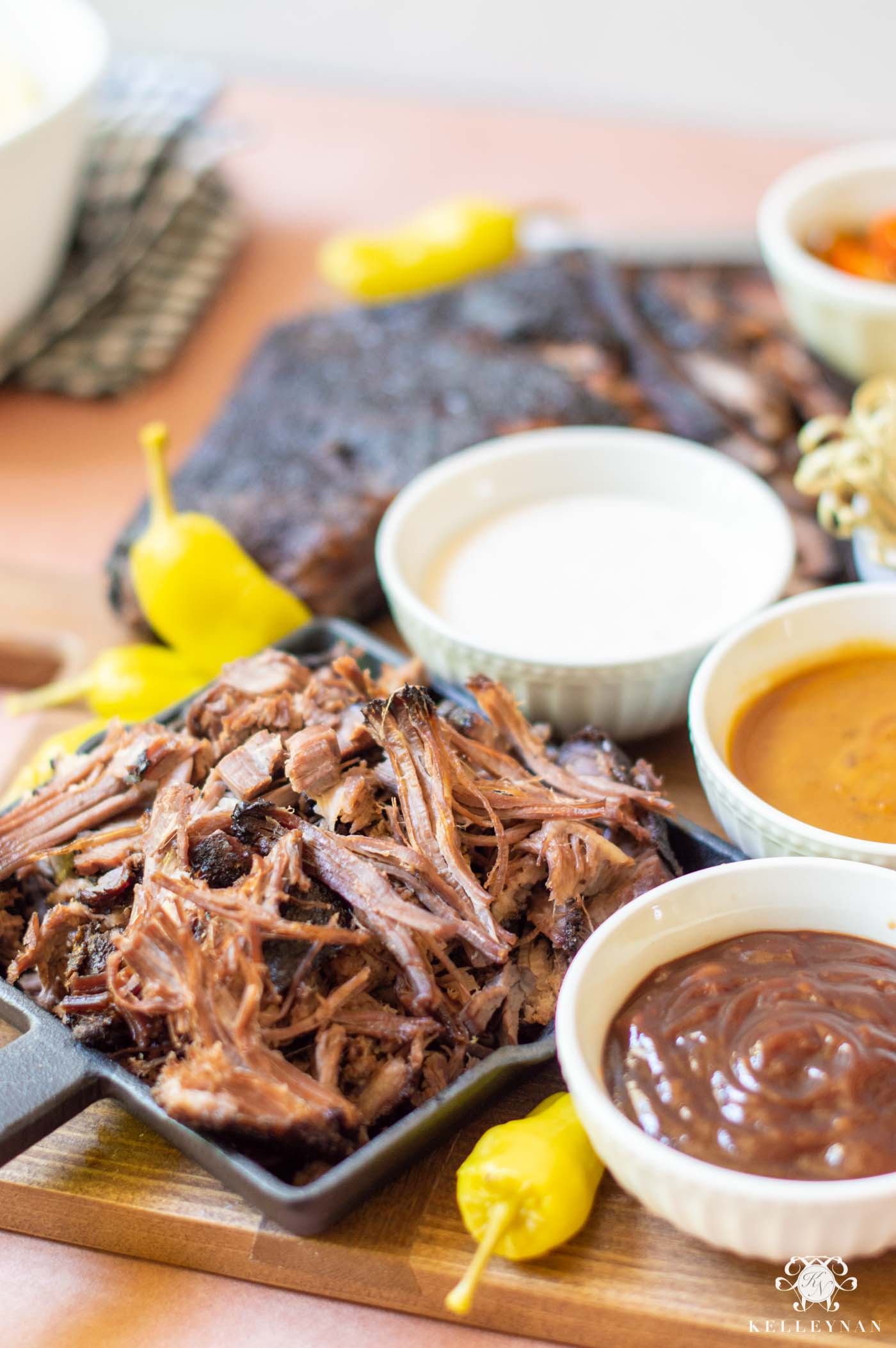 How to Smoke a Beef Brisket 
While there are TONS of ways to cook a brisket, Dave has used the same method on his Big Green Egg for years — it's delicious. Here's his method:
Using a "whole, packer-style brisket, rub all over with salt, pepper and garlic powder. (There are so many different kinds of rubs you can experiment with during this step but Dave keeps it simple.)

When you start your fire in your smoker, choose your wood chips — Dave said mesquite and hickory are both good choices.

Hold your fire at 275°-300° degrees.

Place brisket directly on the rack, fat side up. Keep temperature steady and insert a meat temperature probe into thickest part, not touching any fat.

Cook the brisket until it hits 165° internal temperature. If it has formed a nice bark, wrap in pink butcher paper, put it back on the grill, re-insert meat probe, and finishing cooking until the brisket reaches 202°.

Pull it off and wrap in a thick towel (one that you don't mind messing up). Place it in a dry ice chest and let it rest for at least an hour.

Unwrap, slice/shred, and enjoy!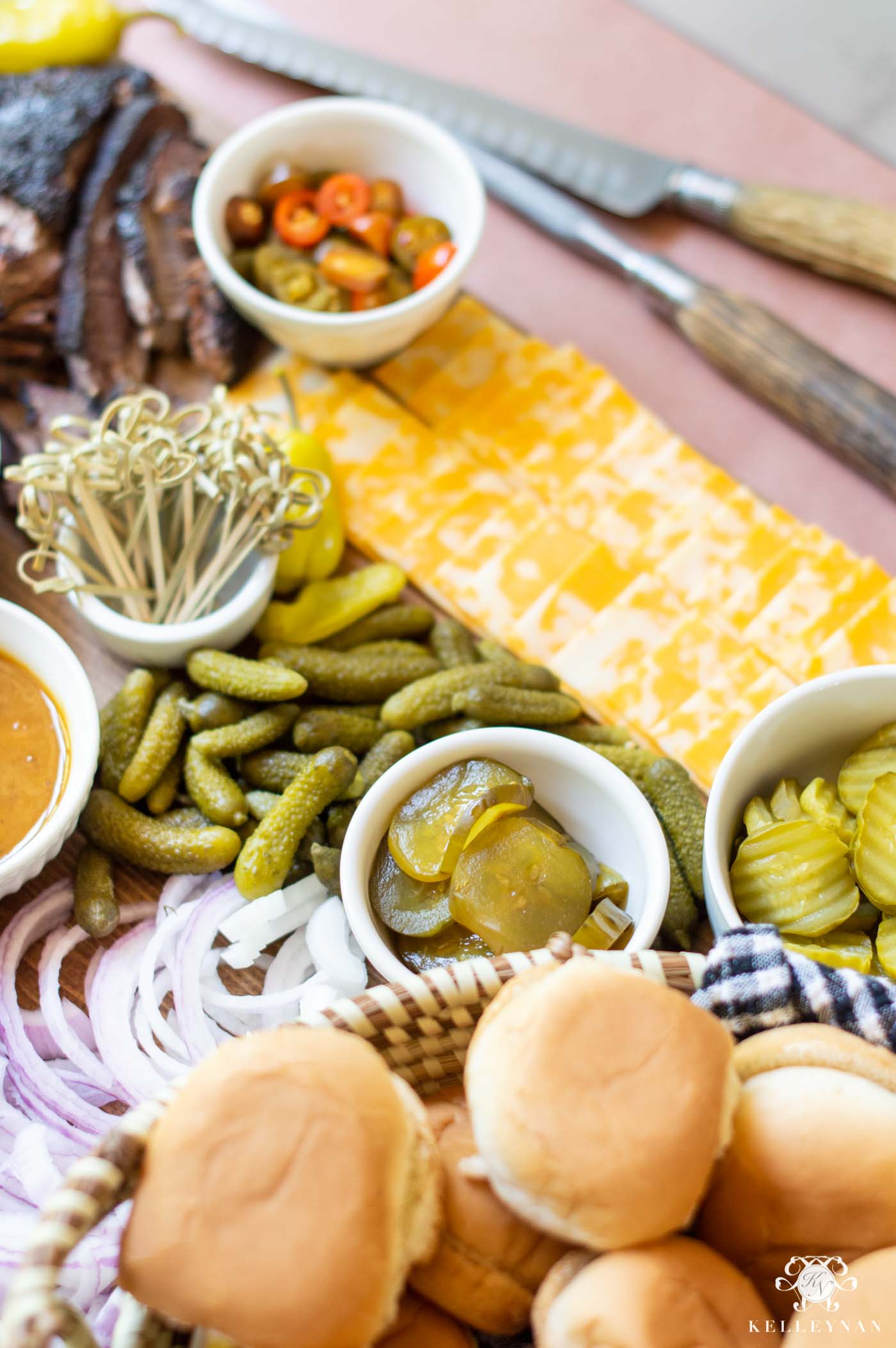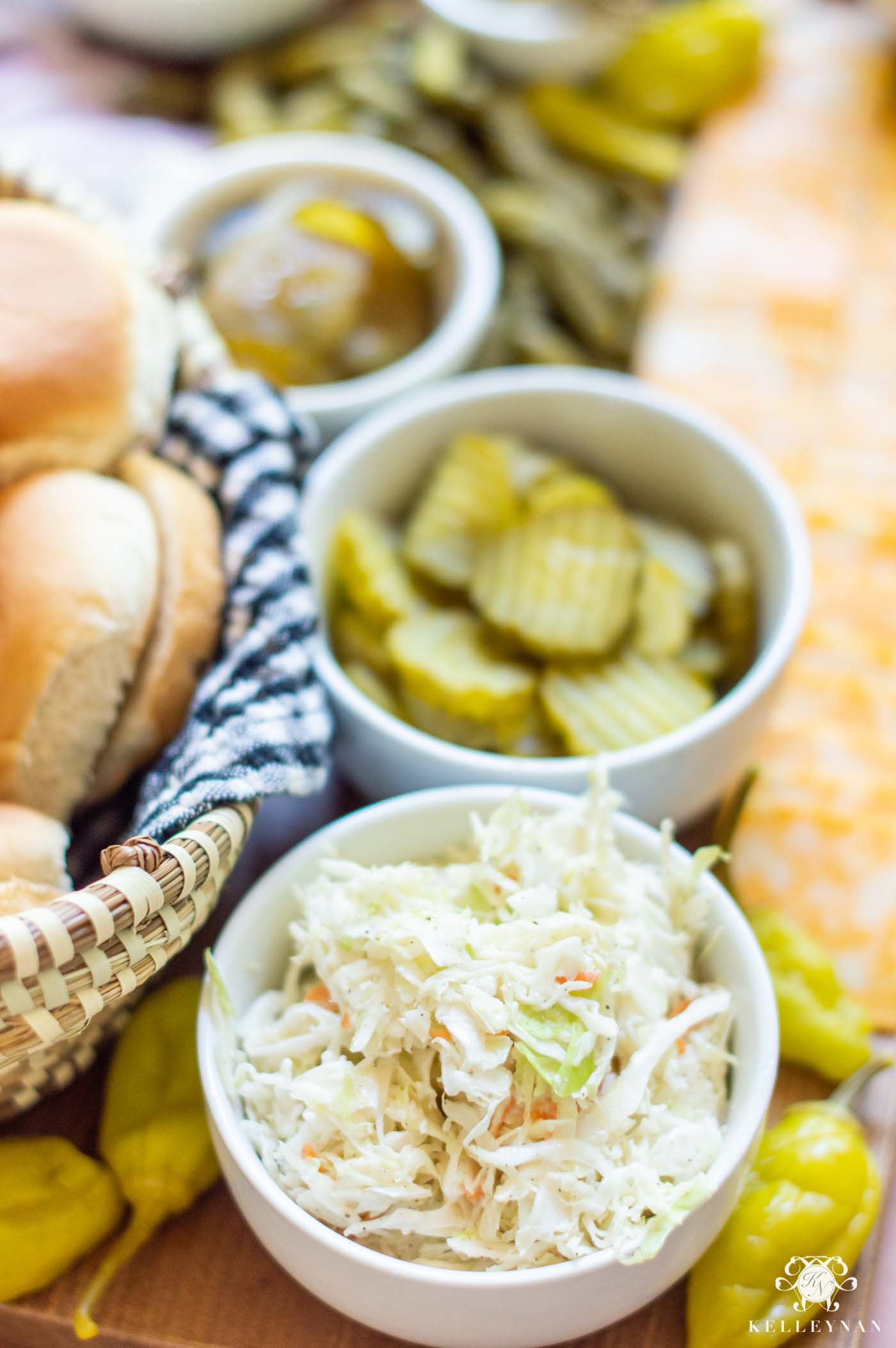 Barbecue Board Toppings
I've talked about this before but I prefer to keep my boards to finger-style foods and toppings — a grazing board. For example, I consider baked beans a must for a barbecue but I think they're best left off the board and offered as a side. Here are the bbq toppings and accompaniments that made the cut.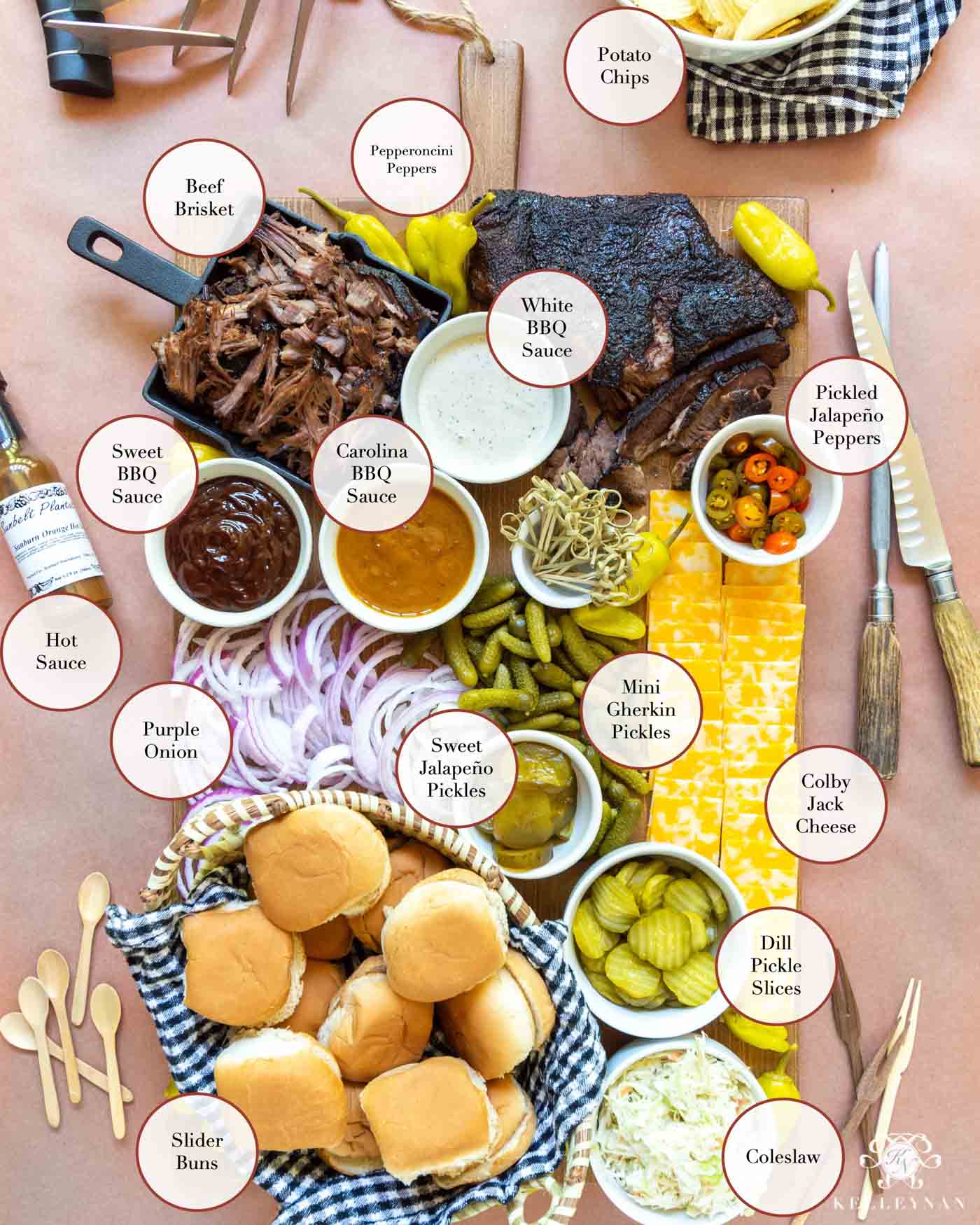 Whether you plan to have a low key dinner with your immediate family or are planning to host other dads and families, I hope you all have a wonderful Father's Day weekend! By the way, if you are a fan of this reclaimed, oversized wooden board I've featured several times (comes in size small to extra large — mine is the "large") — stay tuned to my Instagram stories this week; I'm going to be giving a few of them away at the end of the month 😉
Scroll & Tap to Shop the Post

A FEW OTHER BOARDS YOU MAY LIKE