We've done cheese boards, dessert boards, veggie boards and fruit boards. We've done rainbow boards, color schemed boards, and even Mexican boards. But today, I have a brand new appetizer board that's perfect for fall — sliced caramel apples with all the toppings! Yes, caramel apples are a season staple (no news there!) but when you "do" caramel apples, you really have to commit. Commit to the stove, the dunking, select toppings… and then you have to commit to eating the whole thing. It's not hard, but it's a process. Coming up with something more bite-friendly makes it way more fun — I mean, you get to customize each slice! Plus, it's an easier out whether you're at home watching movies with the fam or hosting guests. This deconstructed caramel apple bar can serve as a part of a greater spread at a party or all on its own (think pre/post trick-or-treating!).
*Posts on KelleyNan.com may contain affiliate links. Click HERE for full disclosure.*
Caramel Apple Slices: Your Next Fall Appetizer Board
I'll never get tired of the sumptuous cheese trays we're used to, but put there's just something special about pulling together something a little different and piling it high with on-theme seasonal treats. Here's the easy-to-assemble treat I came up with.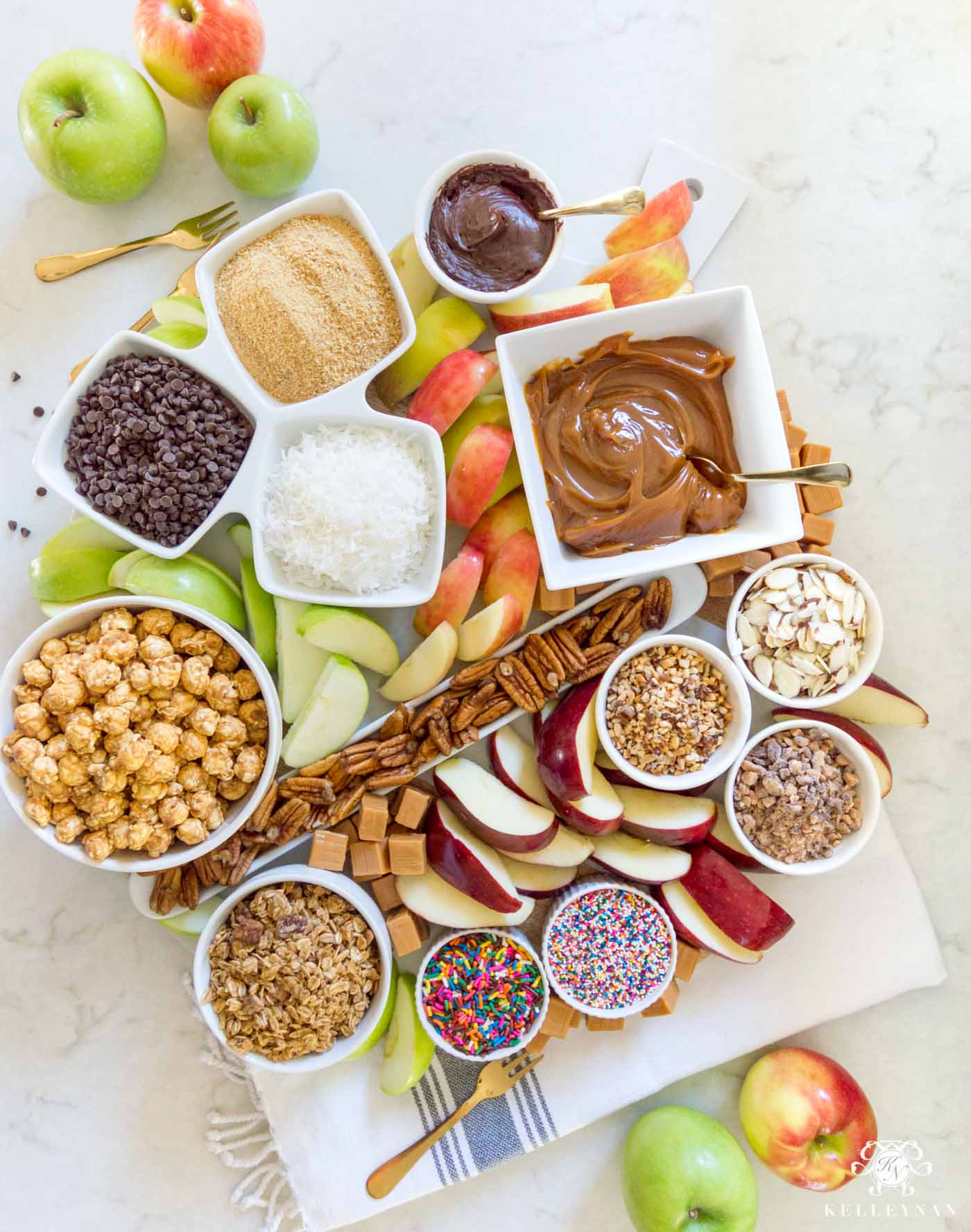 There's zero cooking involved and aside from slicing the apples (THIS is the corer and slice I use) it's pretty much just a bunch of dumping from the packages and arranging. The board I used (HERE) is a big one at 20″ circumference. If you don't have a large board, I recently saw someone use a large baking sheet, which I thought was brilliant. I used a mix of Granny Smith, Red, and Gala apples and added lemon juice to the slices to keep them from browning.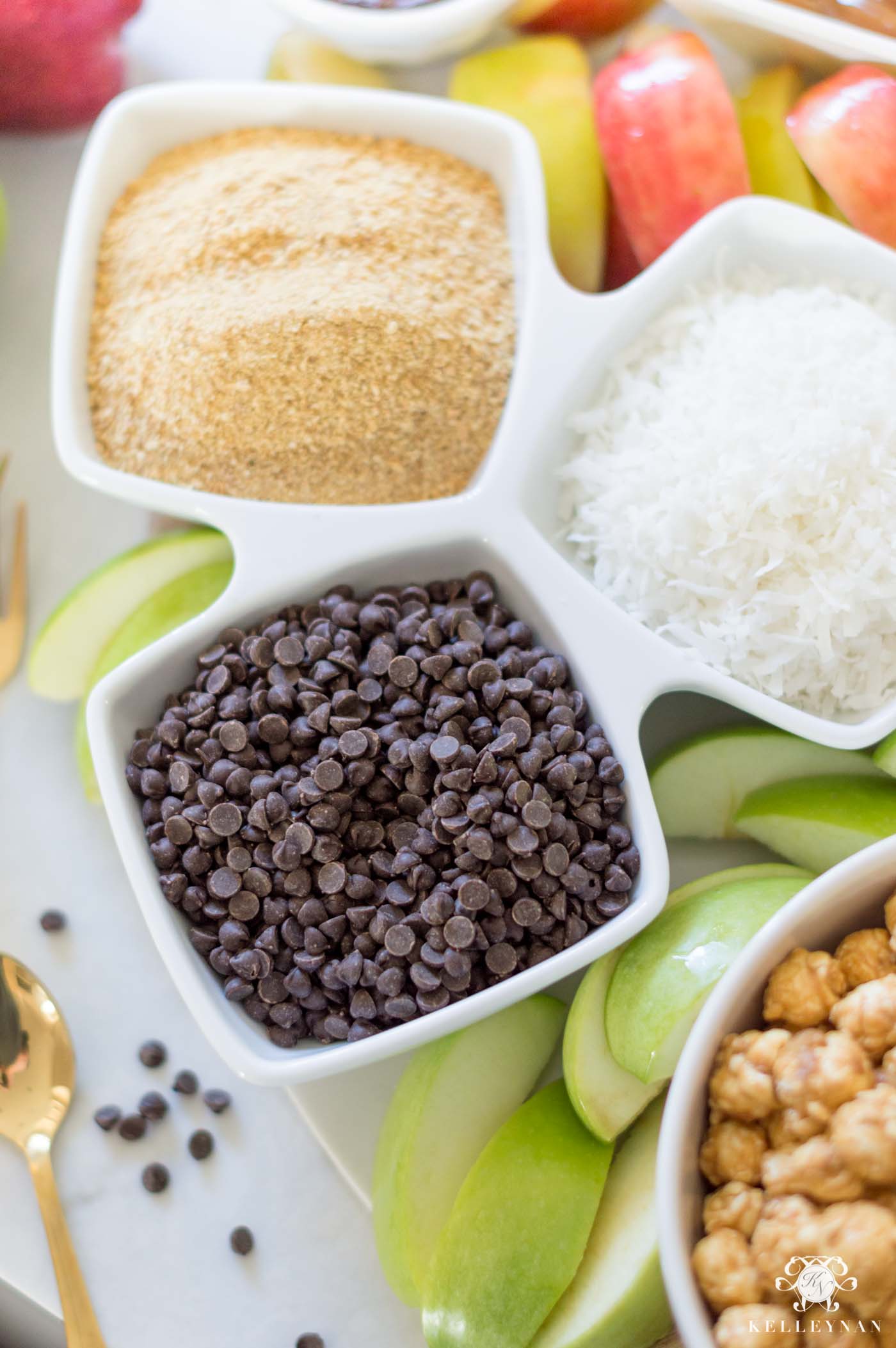 As always, I raid my cabinets to see what smaller bowls/servers I have that make sense to separate items. I've included some favorites at the bottom of the post.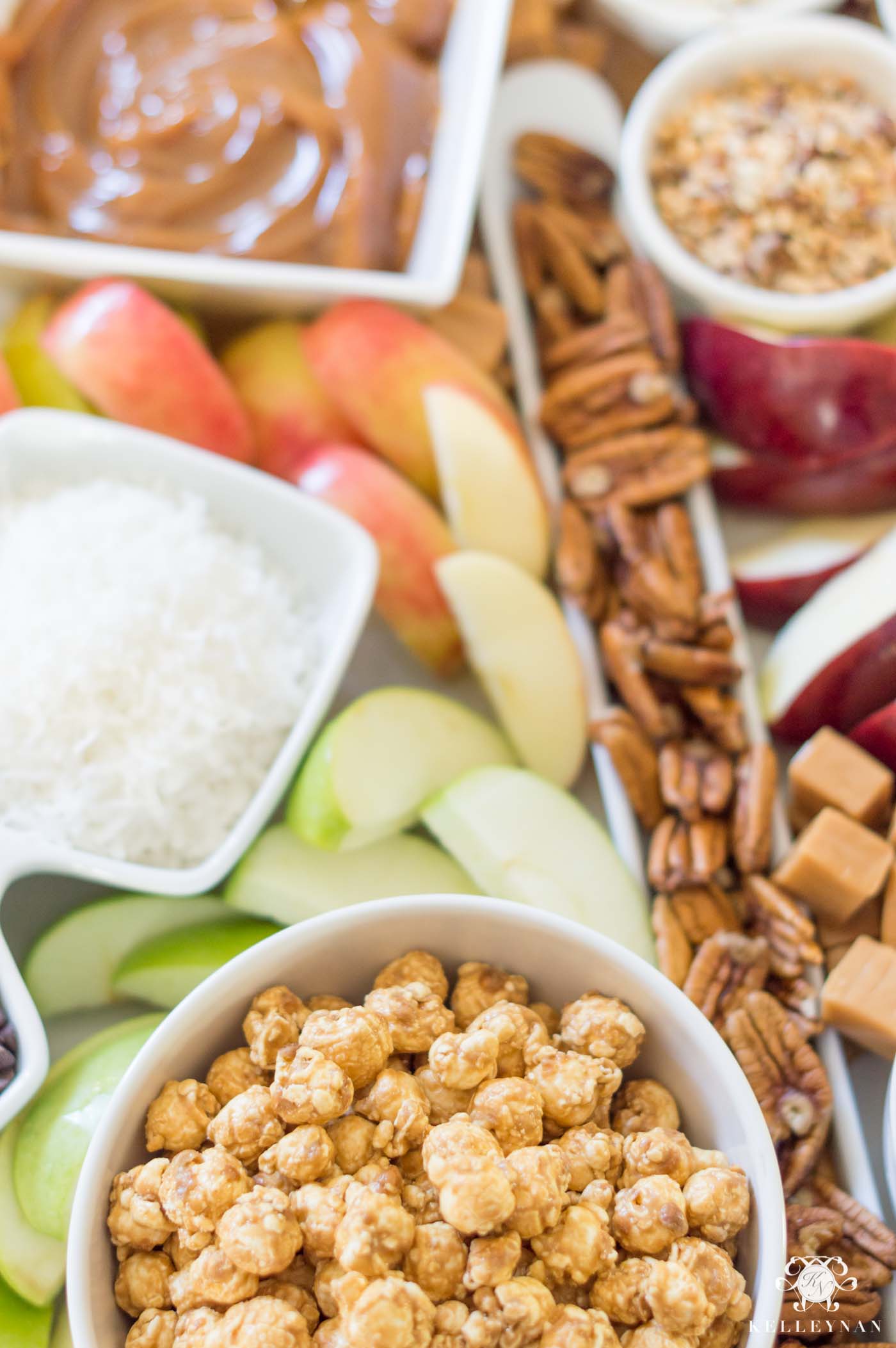 The only exception to dips and caramel apple toppings that made the board were 1. caramel coated popcorn and individual caramels.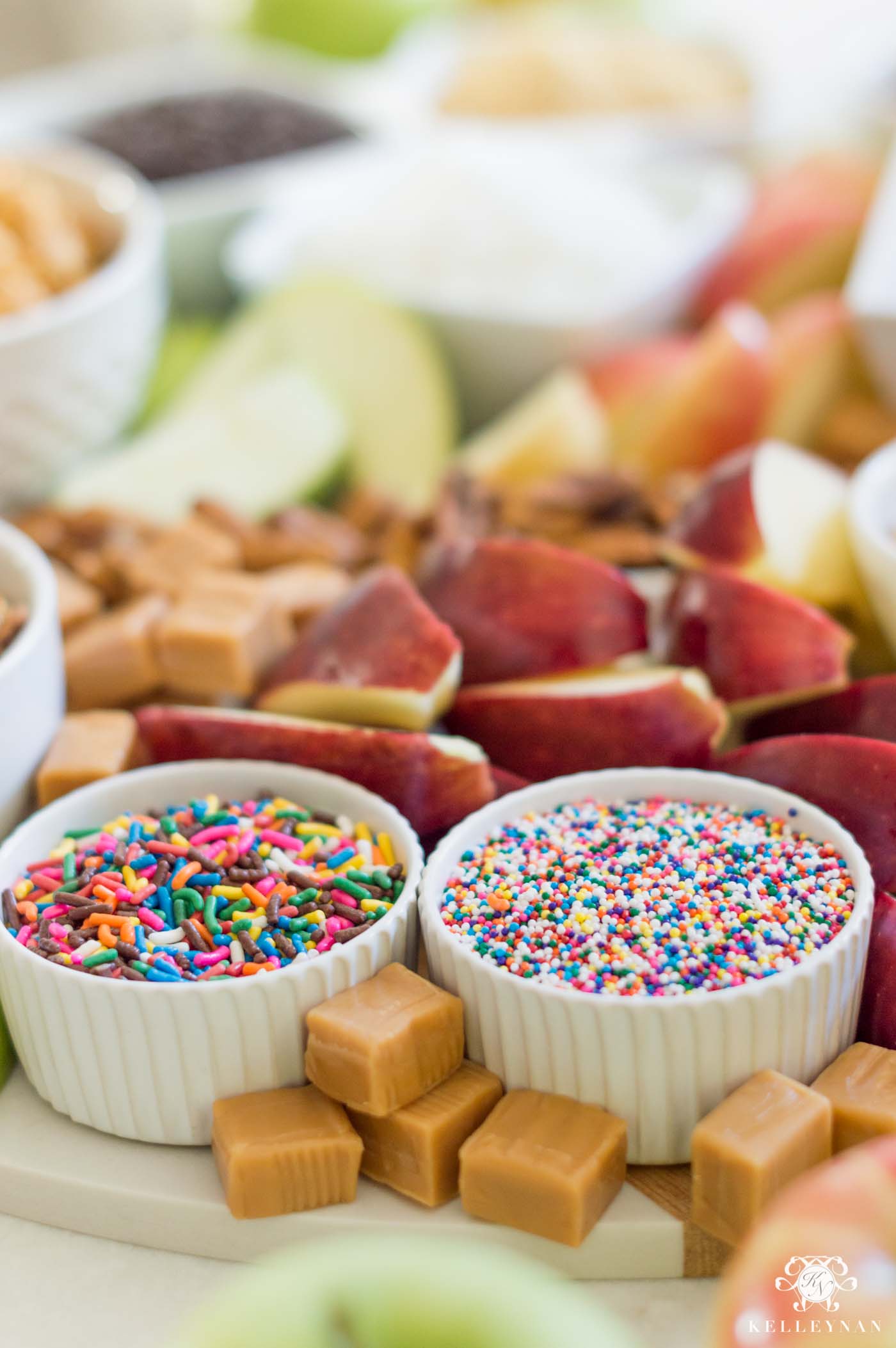 Caramel Apple Toppings — What Made the Board
Get into your pantry and hit the grocery aisle. Get as creative as you want and as we always say here — there are no rules. I used pre-made caramel sauce and chocolate and then thought about what toppings would not just go well on the caramel apple slices, but stick well. Here's everything I included.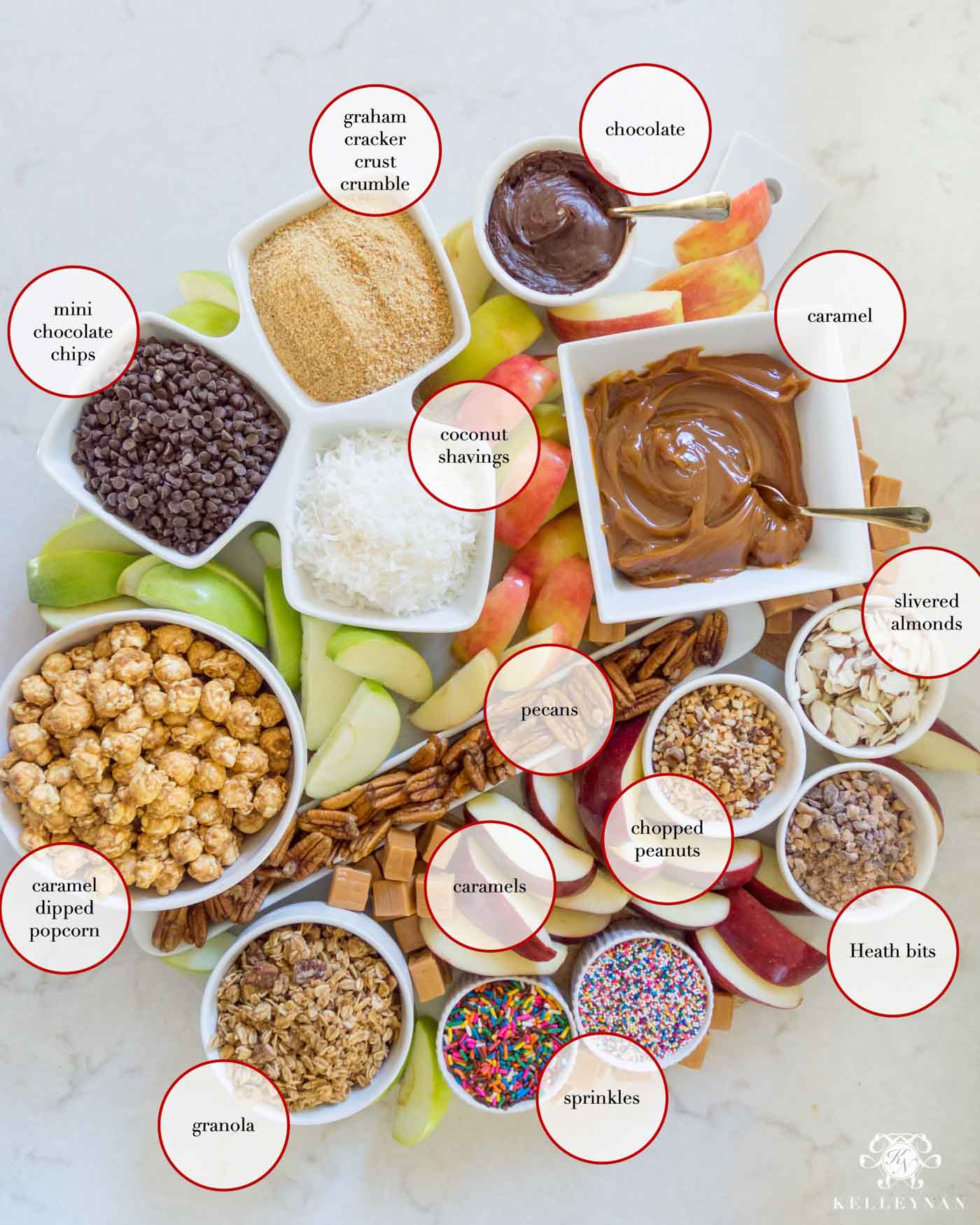 Look at the baking aisle but the breakfast/cereal aisle would also be a place to consider. I didn't realize until I was building the board that I didn't have the Fruity Pebbles I thought I did or else you would be seeing those present, also 😉
While this is a big display, full of all the options and toppings, you can totally simplify and stick to one type of apple, one dip, and a single topping or two. If I had condensed or was looking for something a little "less", my board may look like this:
Granny Smith Apples
Caramel Dip
Chopped Peanuts
Heath Bits
Use a smaller board and cover it well and it will still look like a stunner. If you need some more inspiration, here are a few other boards to take a peek at:
Next week is our first Halloween with Eliza and I know she won't remember but we are stoked. I don't know if I'll post her Halloween costume to the blog or just include it in a subscriber email; you can sign up at the bottom of the post to make sure to catch it if you're curious 😉 Holiday (like Christmas-holiday!) content is coming soon and I am beyond ready to share my first project. It's something totally new and while I spent an embarrassing amount of time on it, we've been enjoying it for a while now and it was 100% worth it. Follow me on Instagram for daily and real-life shares and if you've recently made an appetizer/themed board, shoot me an email; I'd love to see a photo!
Scroll & Tap to Get the Look