I feel like the last person on earth to finally have my front porch decorated for fall. I bet some of you can relate to the frustrating weeks to get here this year, though. We waited to buy mums because of the heat. Then, I finally pulled the trigger and bought our annual big mums for the urns from Costco (always covered in buds and never sprouted blooms), along with several smaller mums that were in full bloom for the front steps. I held our pumpkins hostage inside until the big mums could catch up to the small ones and then waited. And waited. And waited some more. And when I couldn't wait any longer, the big mums still hadn't bloomed and the smaller ones had kicked the bucket. So, this past weekend, I headed out to replace the dead and move forward. It's pretty silly that I started planning our fall porch decor months ago and here we are, well into the season, and I've just now taken our summer wreath inside. And while those same big mums STILL haven't kicked it into high gear, I officially have photographic evidence that our fall front porch is finally ready!
*Posts on KelleyNan.com may contain affiliate links. Click HERE for full disclosure.*
Fall Porch Decor
My fall porch decor has been pretty consistent for the past five years — mums and pumpkins scattered on the steps, urns flanking the front door… but this year, I pulled in a few things to make it just a little more special (you'll see it better in the photos closer to the bottom of the post ;)). I've done whites and greens, purples, and even touched on uber traditional colors but this year, I wanted a sumptuous bounty that just screamed "welcome, fall!" I mean, we worked hard enough to finally get here, right?!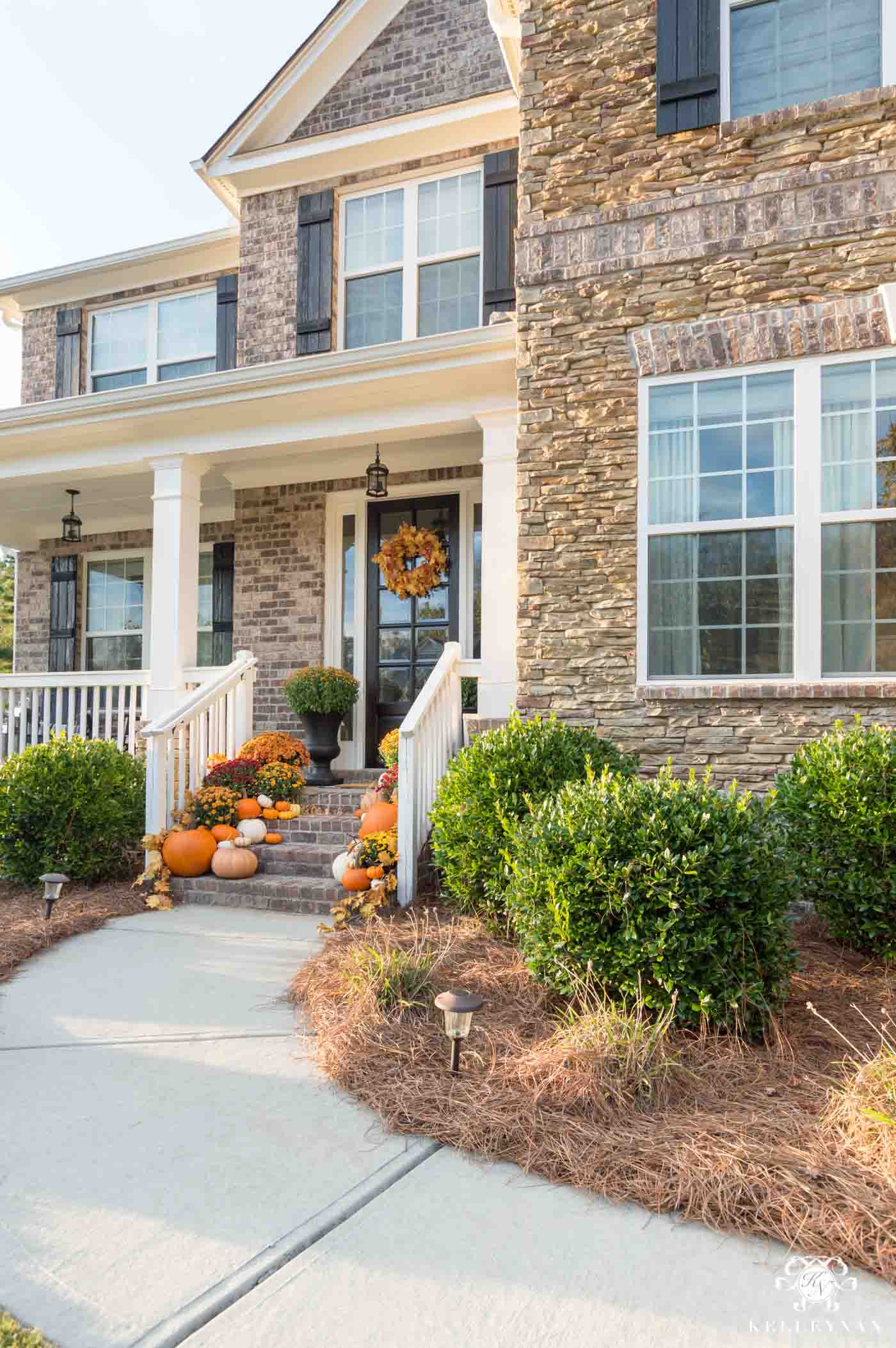 The wreath I purchased for a fantastic sale price from Crate and Barrel arrived was a bit of a disappointment. It was simple — golden oak leaves — and on their site looked sumptuous and full (I shared it on the blog when I first ordered it). In person, it was far from full but at a still amazing price, I decided to brush off my DIY skill and beef it up a little with some leafy stems I had in the basement. I snipped small pieces from three stems, arranged them around the base, wired them in, and then tucked in a few more leaves filling out any remaining bare spots. The result was much better than the wreath in its original state.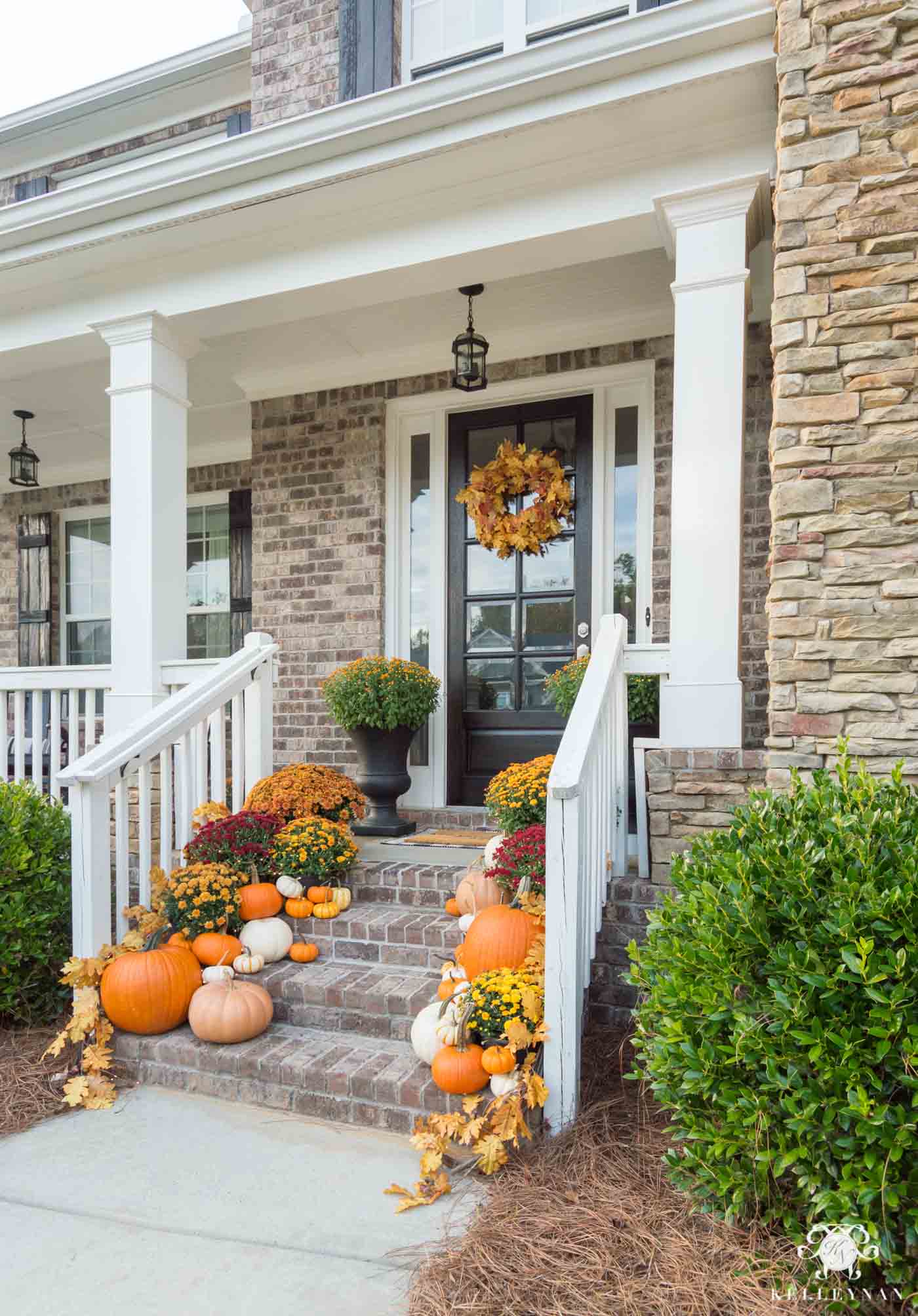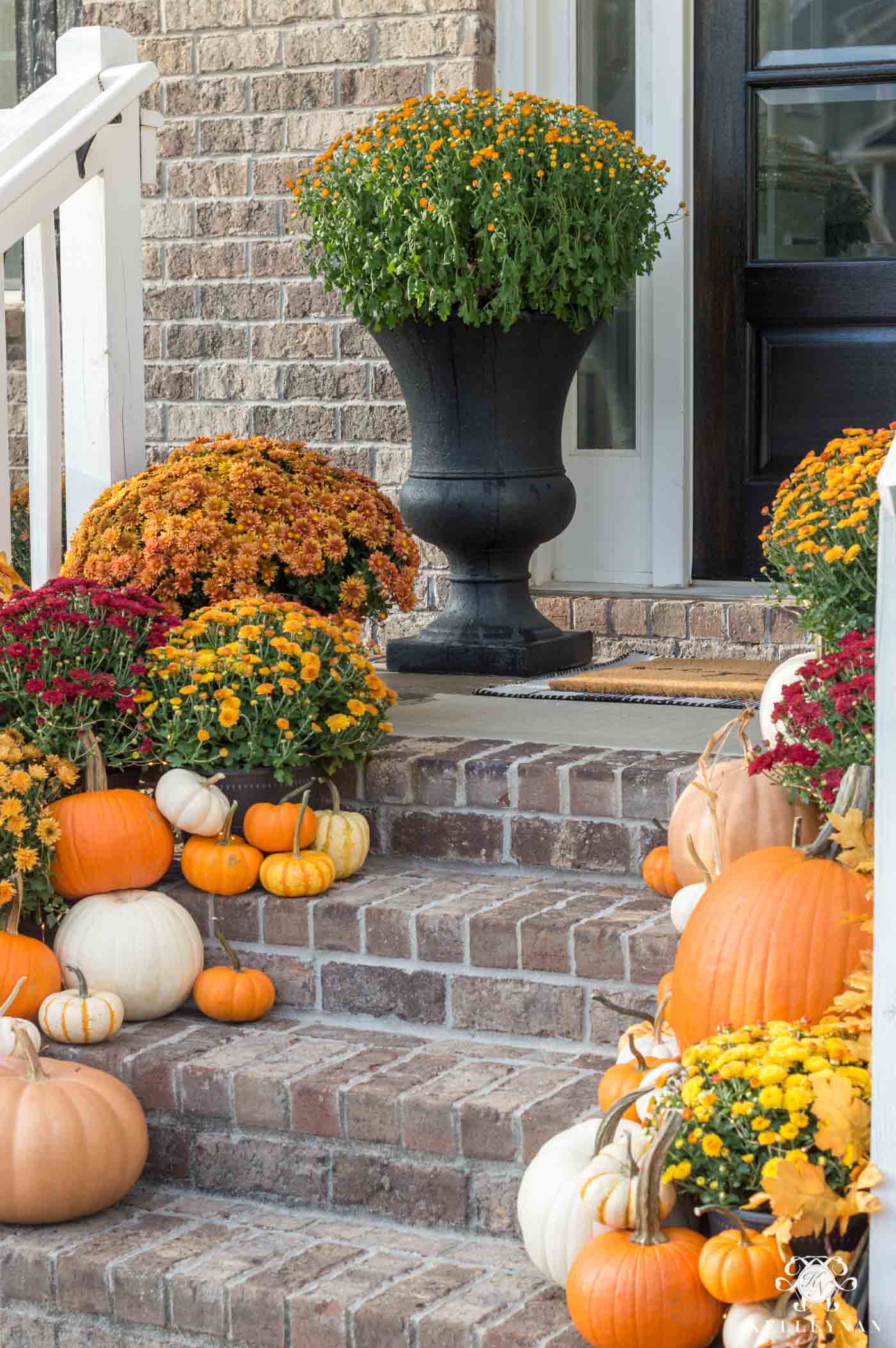 I had also purchased two matching oak leaf garland strands which required less "fullness" to work how I envisioned. I wove and wedged them along the base of the porch railing between the mums and pumpkins.
Scroll & Tap to Check Out Other Leafy Fall Garlands


By the way, after never having had it done, we finally had our door refinished a couple months ago; it makes a huge difference. I was in total denial about just how faded and splintered it had become.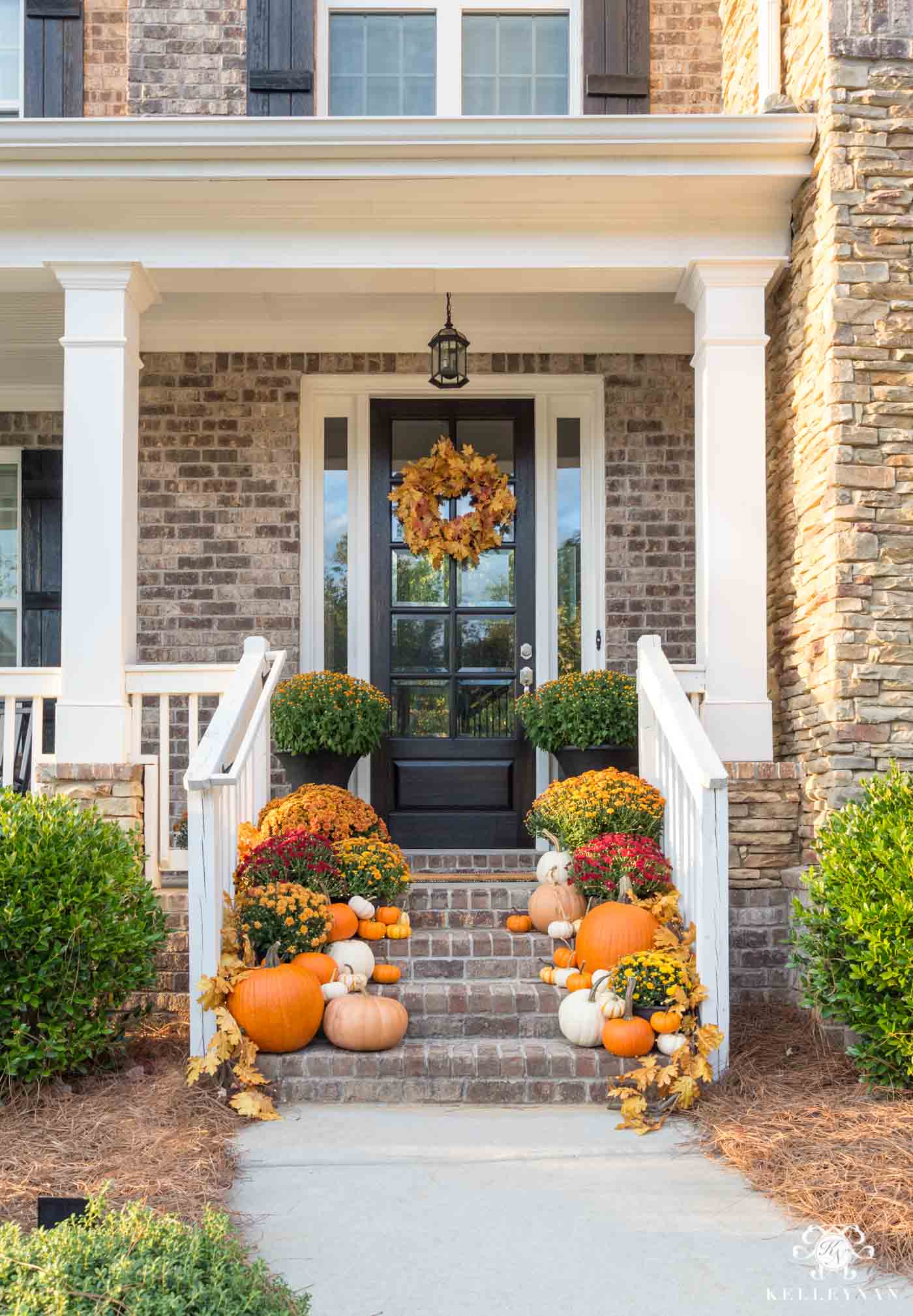 Update: Here are some of the prettiest fall wreaths I found in my search for fall front porch decor for this year! I have Number 1 and have now used it two years in a row!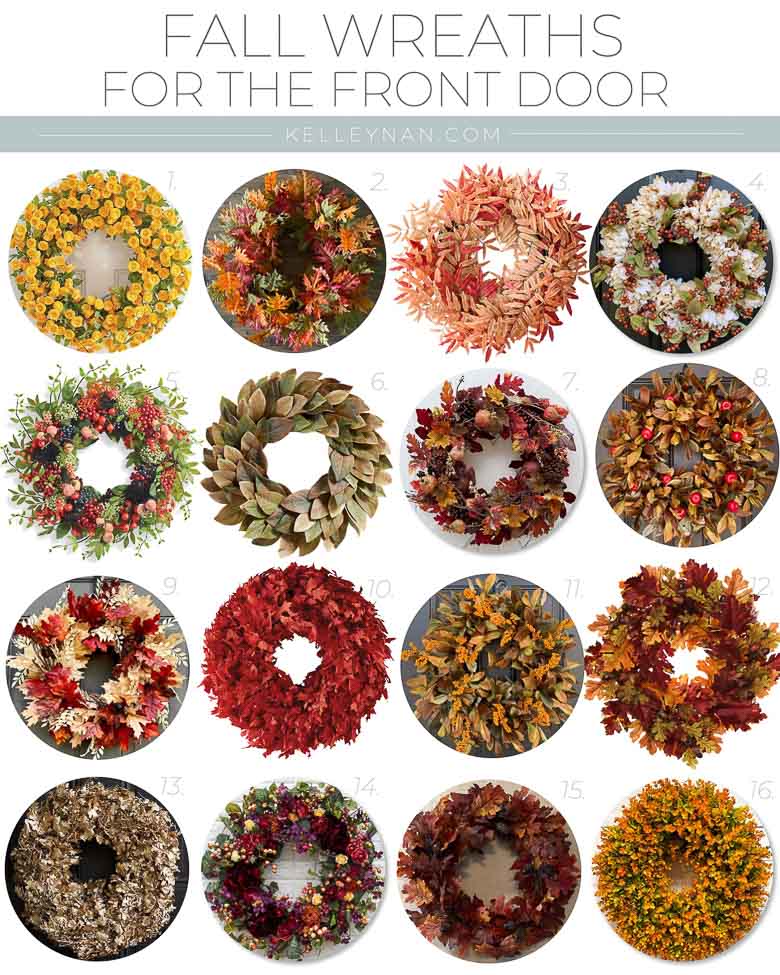 Sources: 1. Yellow Mum Wreath | 2. Oak Leaf Wreath | 3. Sumac Wreath | 4. Peony/Berry Wreath | 5. Autumn Berry Wreath  | 6. Magnolia Wreath | 7. Pomegranate/Pine Cone Wreath | 8. Apple/Foliage Wreath | 9. Fall Leaves Wreath | 10. Oak Leaves Wreath | 11. Fall Foliage/Berry Wreath | 12. Oak Leaf Wreath | 13. Gold Oak Wreath | 14. Sangria Cosmos/Yellow Roses Wreath | 15. Red Autumn Leaf Wreath | 16. Eucalyptus Wreath
I love symmetry but when it comes to the steps, I like them to be symmetrical, but not. I mirrored a few of the main components on each side and then filled in with random pumpkins and smaller mums, working to keep each side a similar width and weighted comparably. I staggered the two largest pumpkins on the bottom steps and the smallest of mums. The result is a random but still an intentionally-symmetrical feel.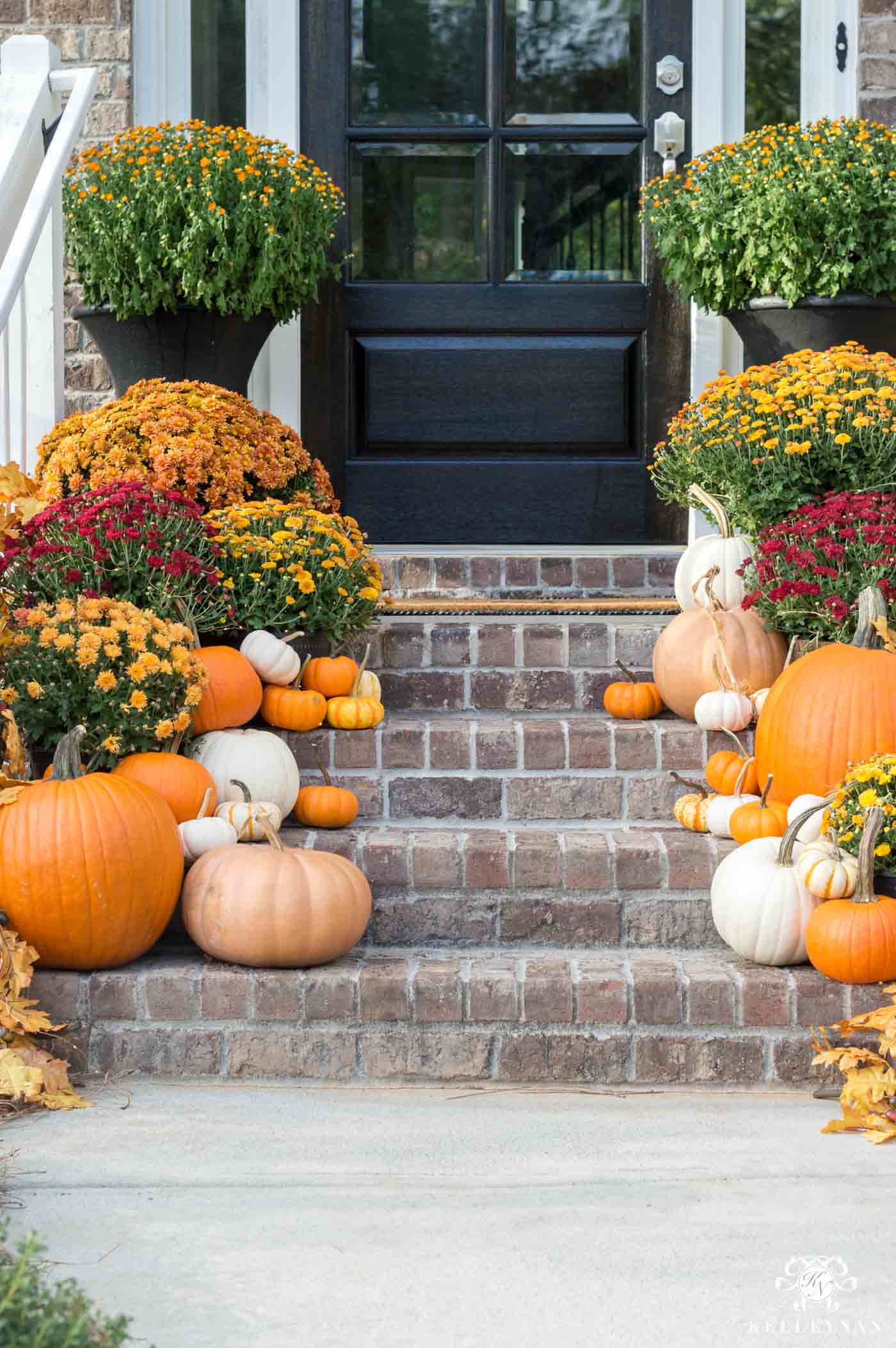 You can shop my front door welcome mat ("see you later, alligator")  HERE and the outdoor rug layered underneath HERE.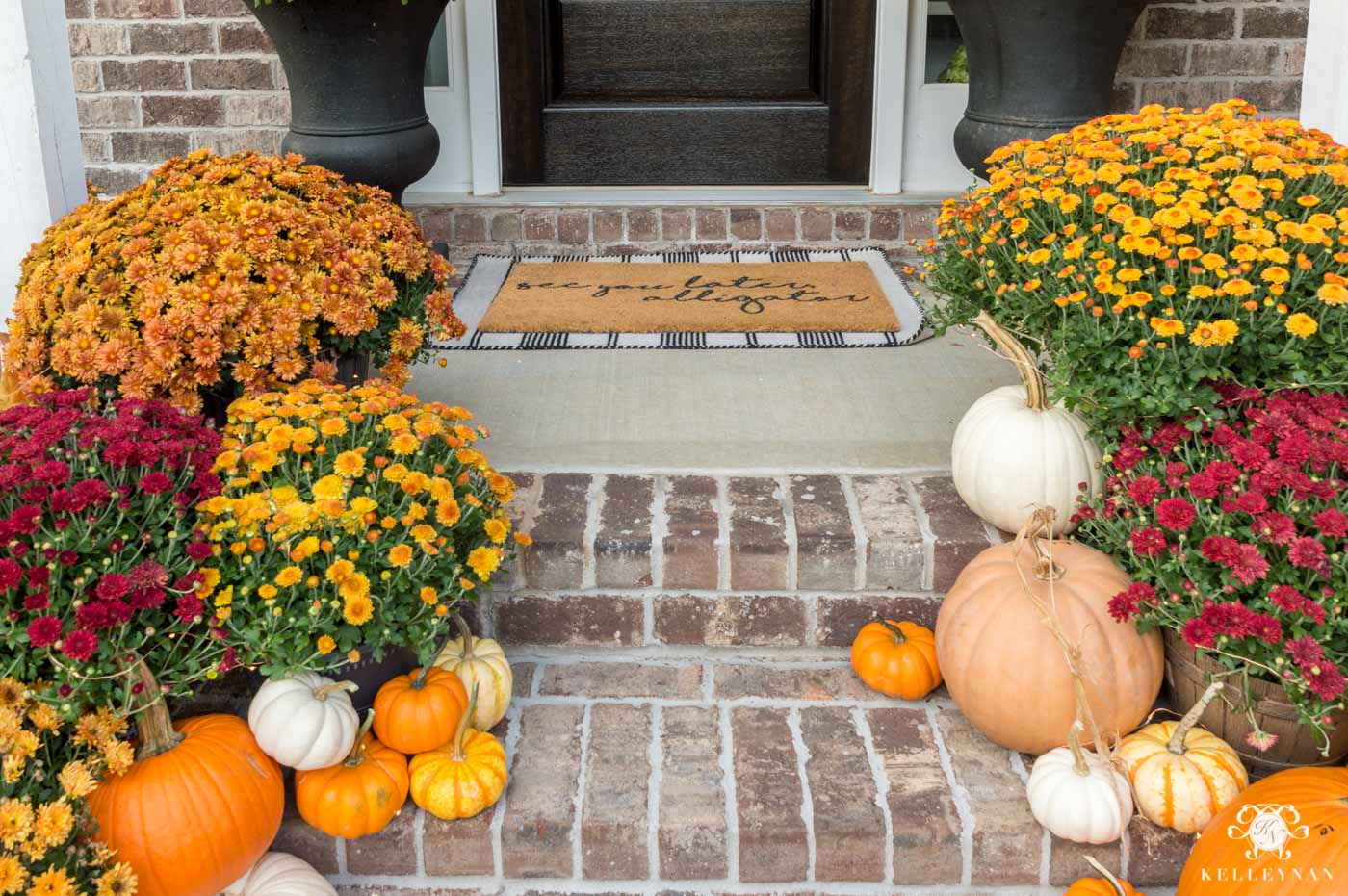 Here's a time saving tip (or maybe just a hack for lazy people like me) but once I have the mums and pumpkins, I don't want to have to spend time potting and planting. I make sure all the flowers I get are in a dark container (black/brown/etc.). Some plastic containers look nice enough to be peeking out and the ones that don't — well, I cover those up by stacking and surrounding pumpkins. I never actually plant inside the urns flanking the front door, either. I have a few bricks stacked inside and whether it's my spring ferns or fall mums, I just set the container, as is, inside on top of the bricks. It's worked perfectly ever since we moved in.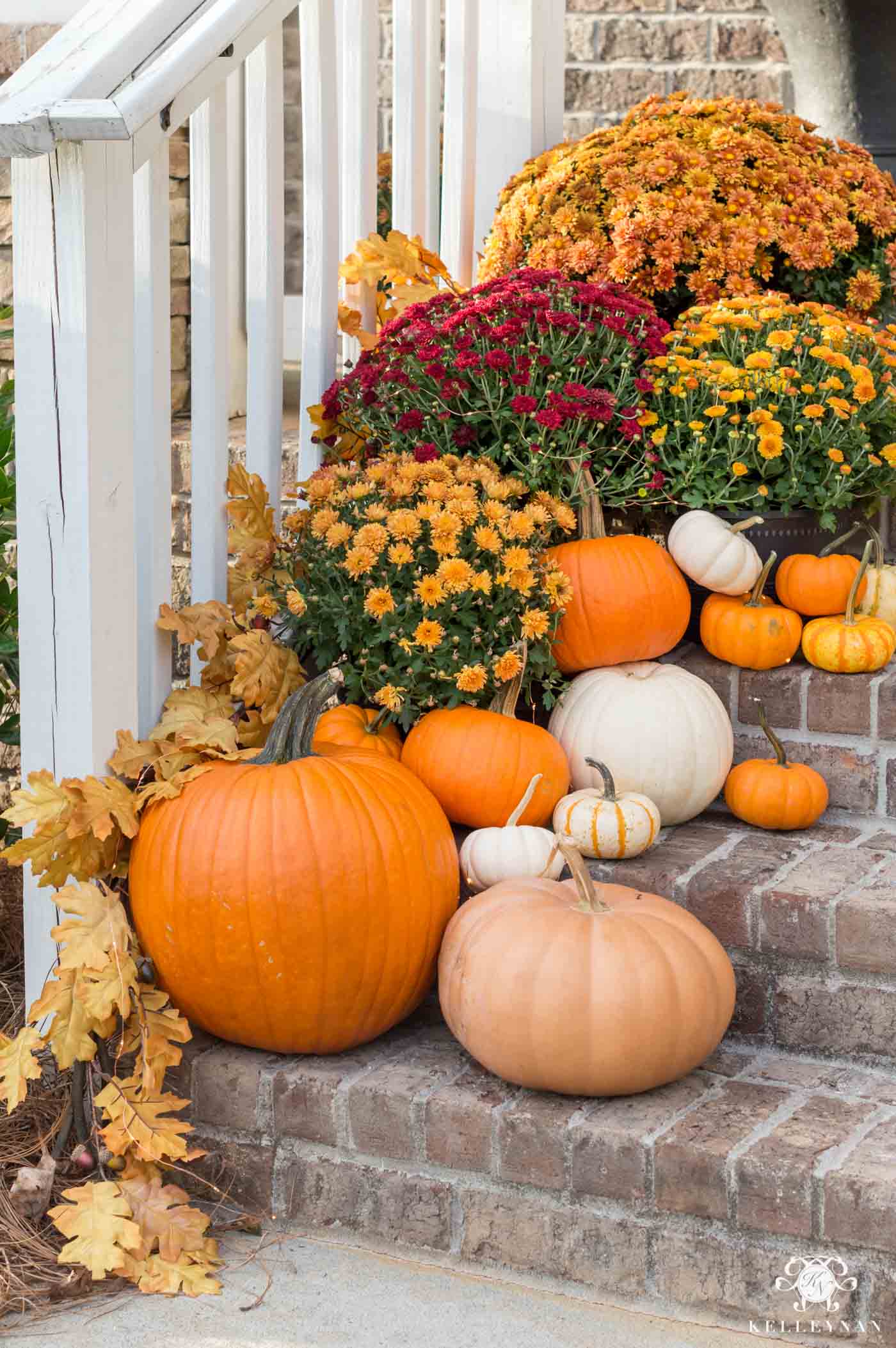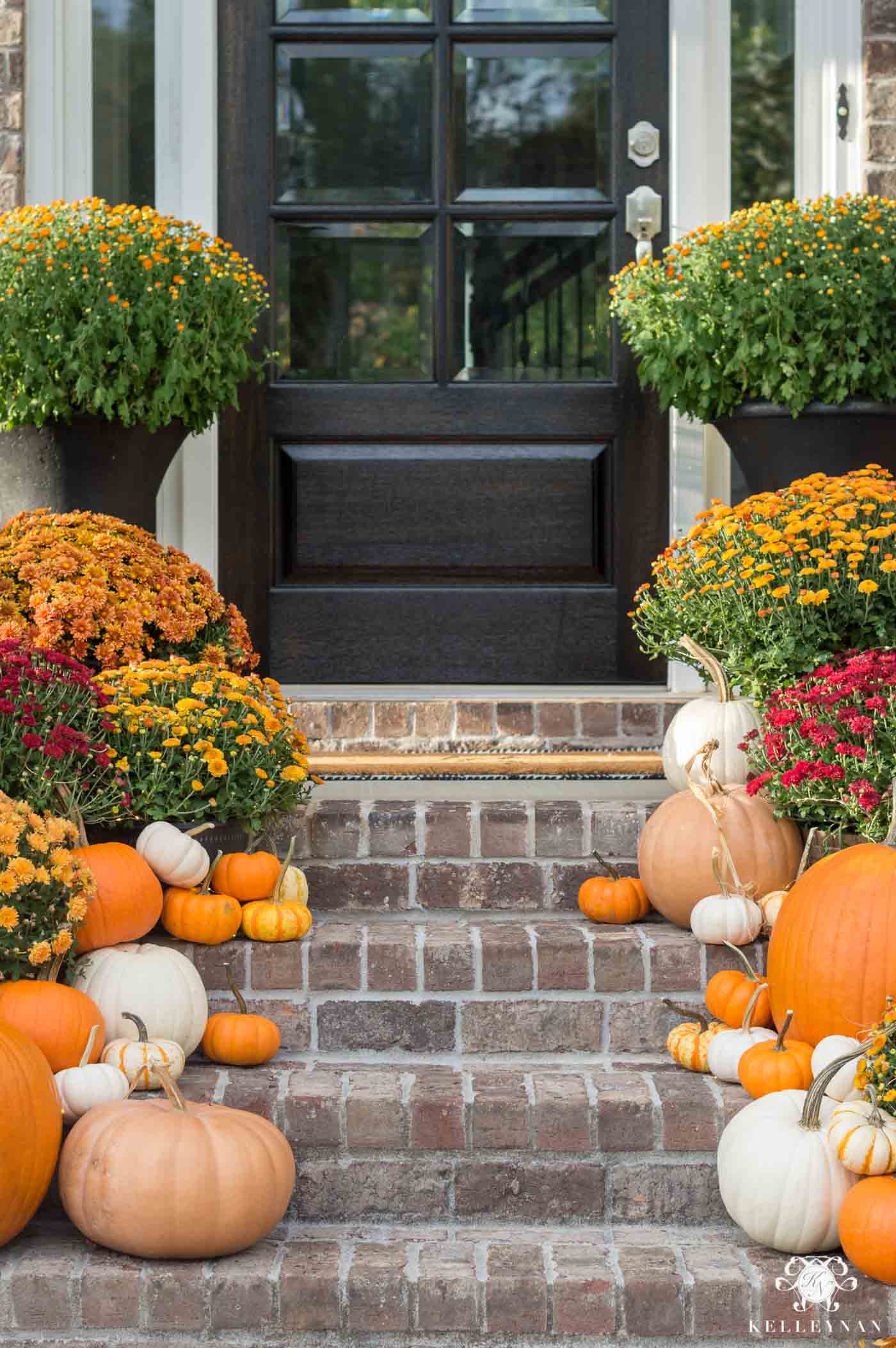 A little added *extra* this year are the strands of wire LED twinkle lights, discreetly woven down each side. They don't put off a ton of light but give just a touch of magic. I use THESE — a double pack of copper wire warm lights with 9 different light settings (they're under $12 for the pair). Each strand is 20′ with 60 lights. They are also waterproof so I don't have to worry when I water the flowers.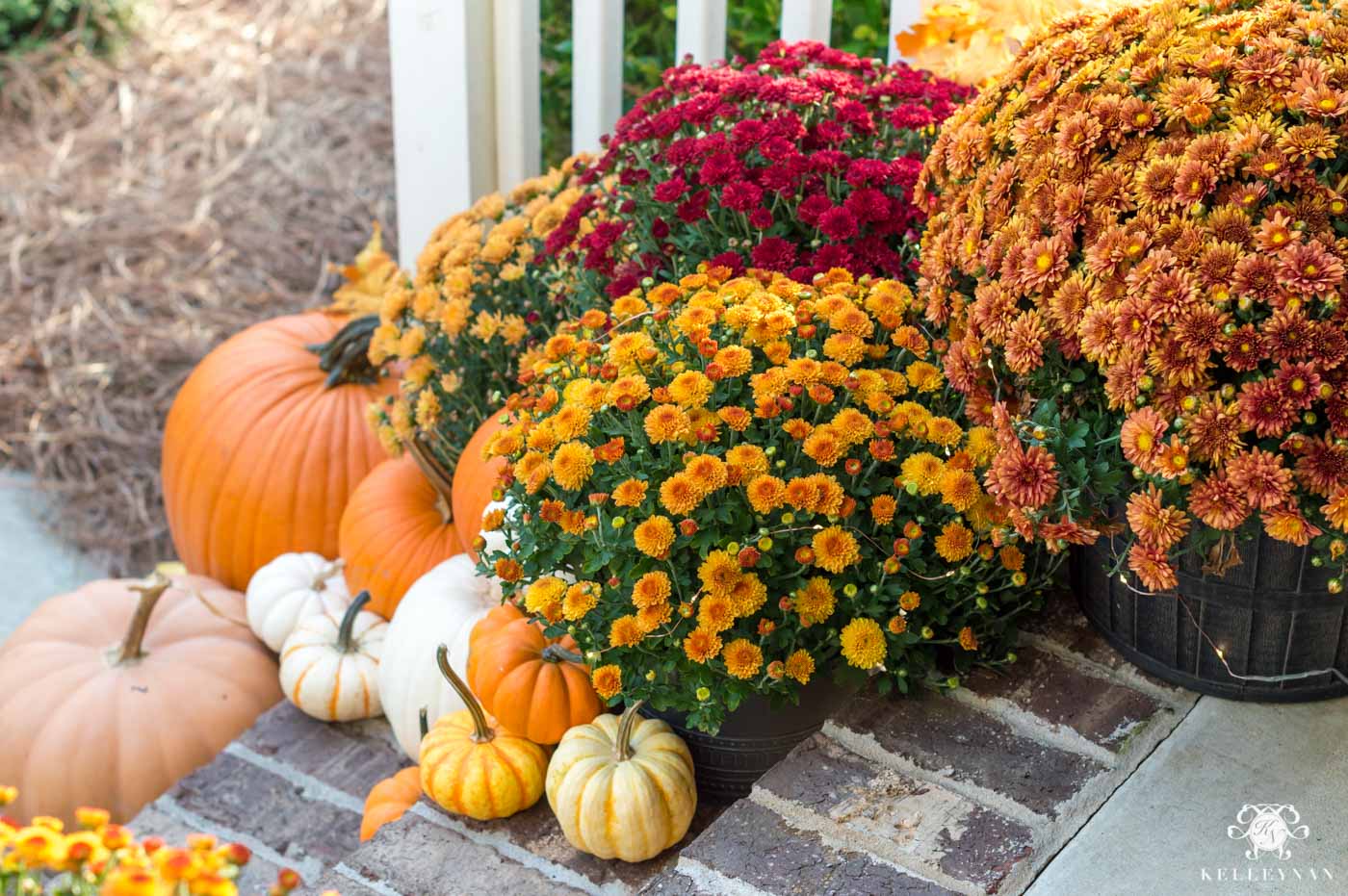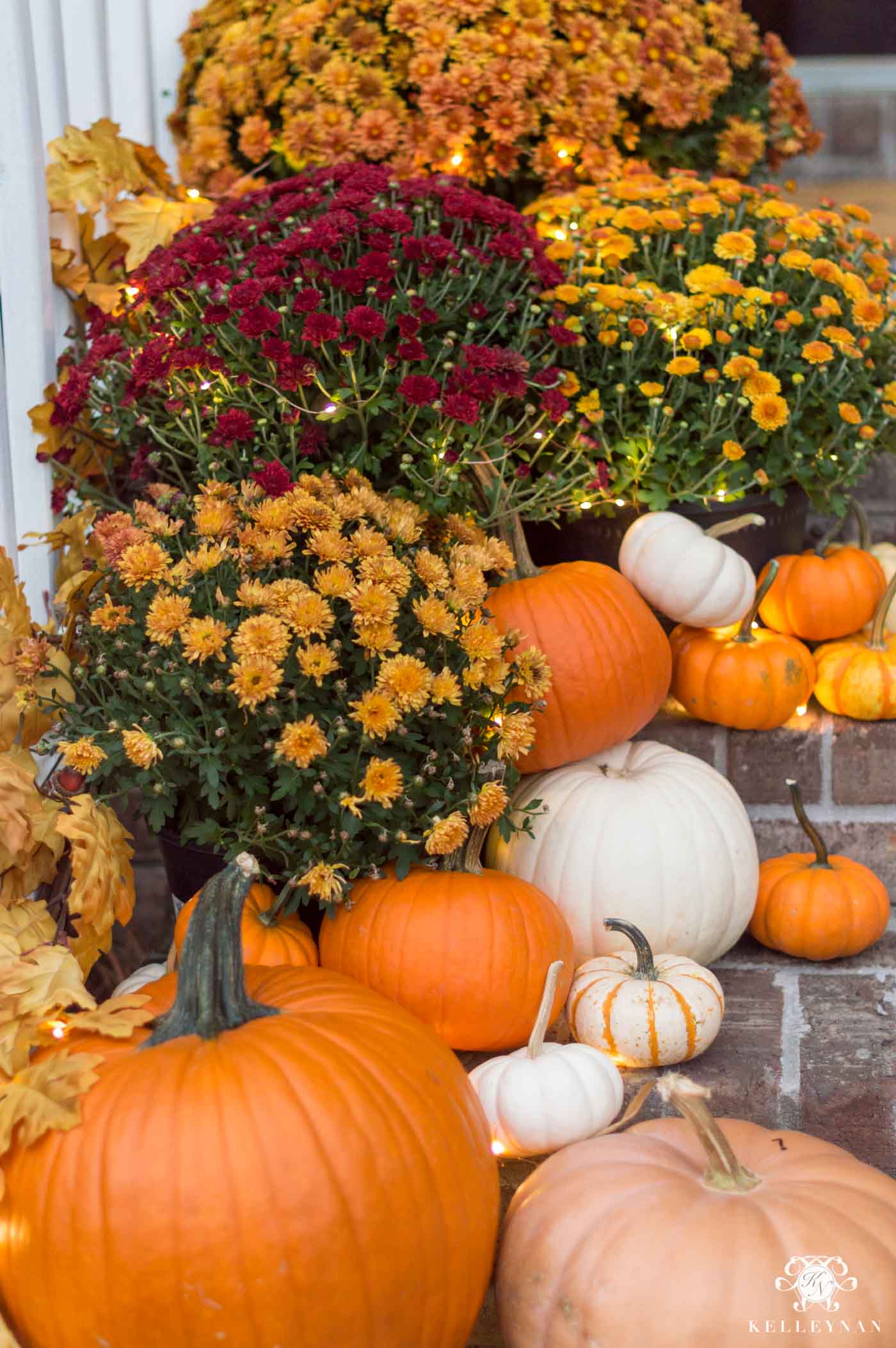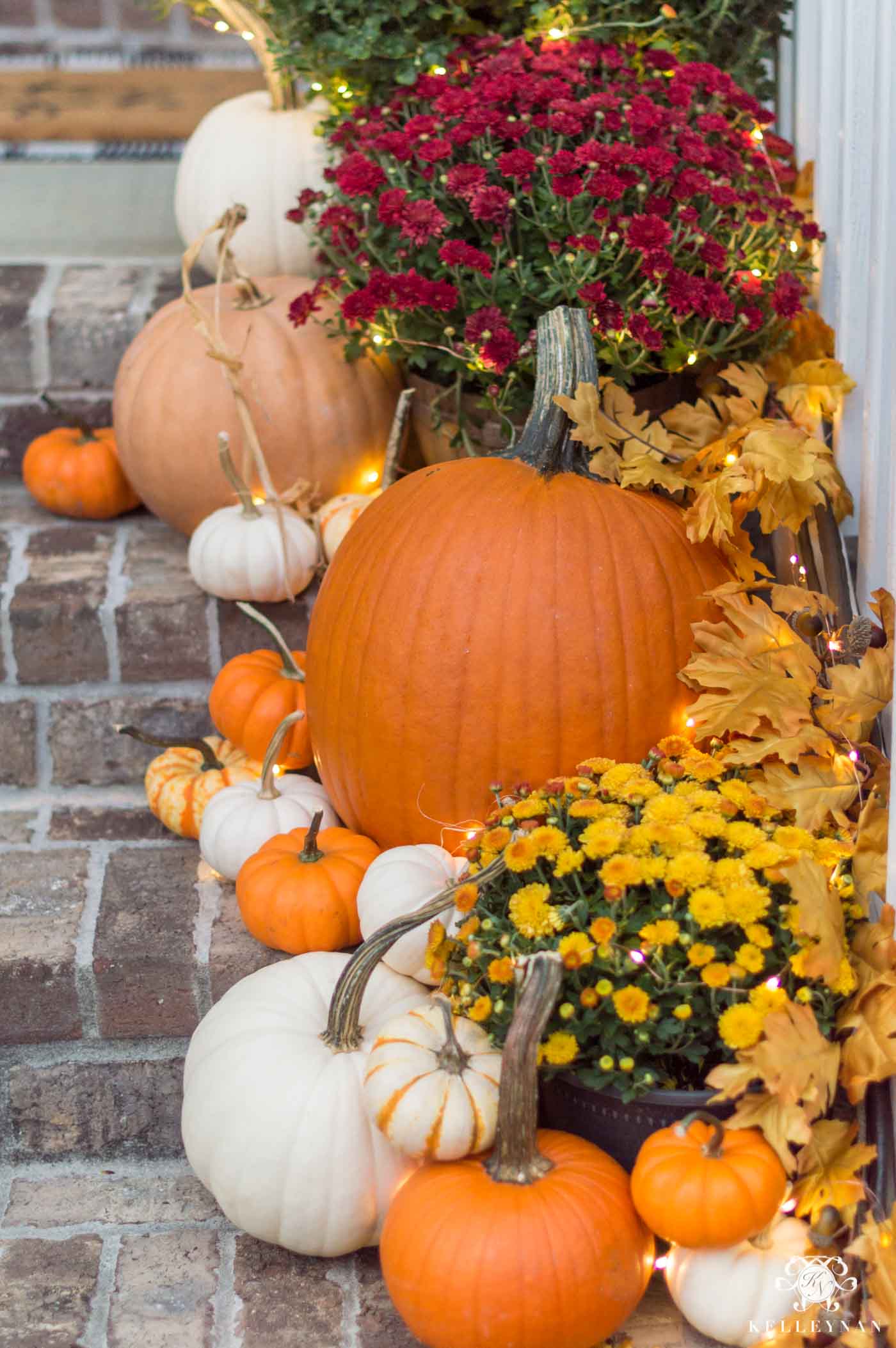 And when the sun starts to set, this is what they look like…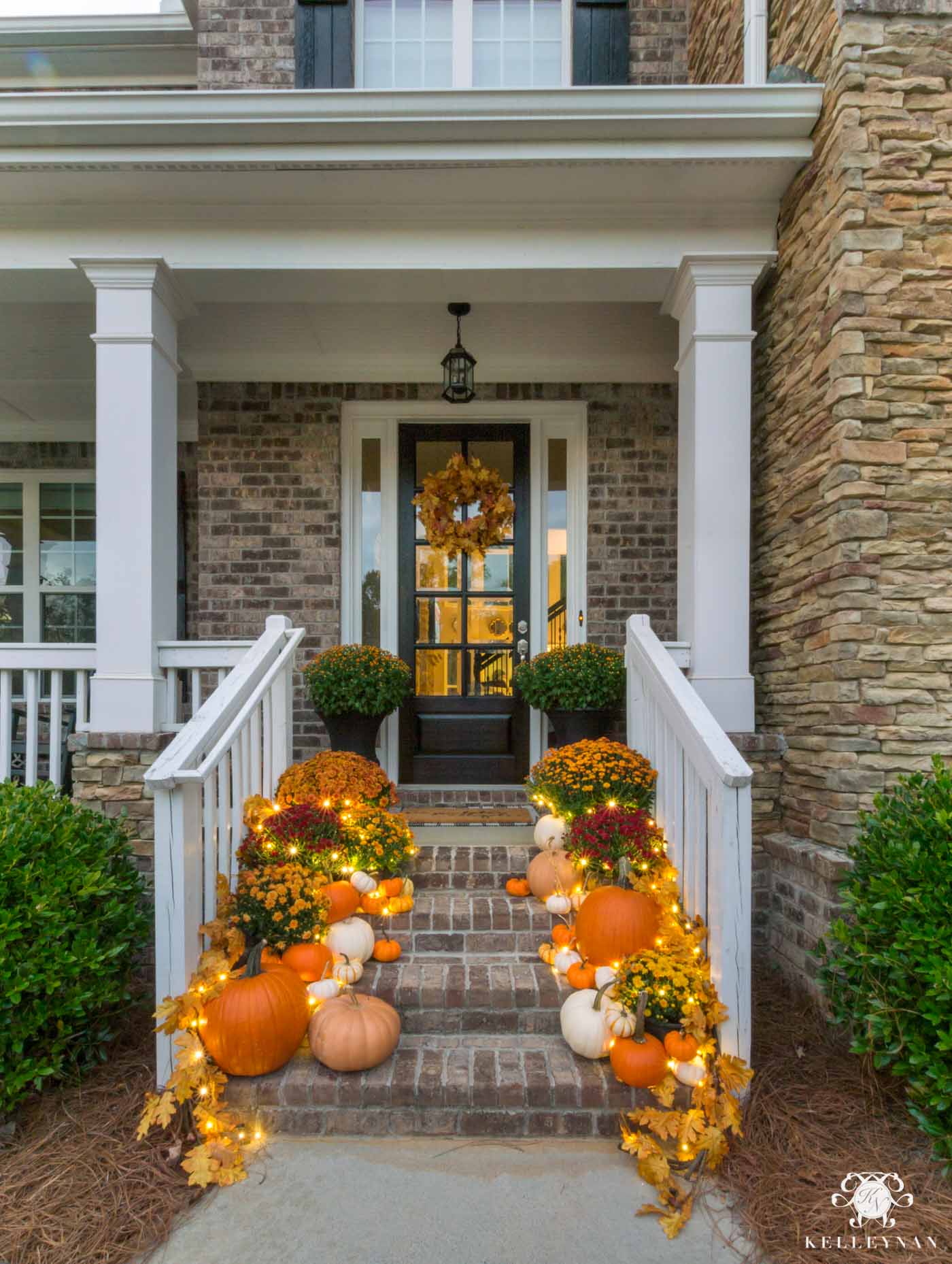 Add our still nameless skeleton friend and we're ready for Halloween!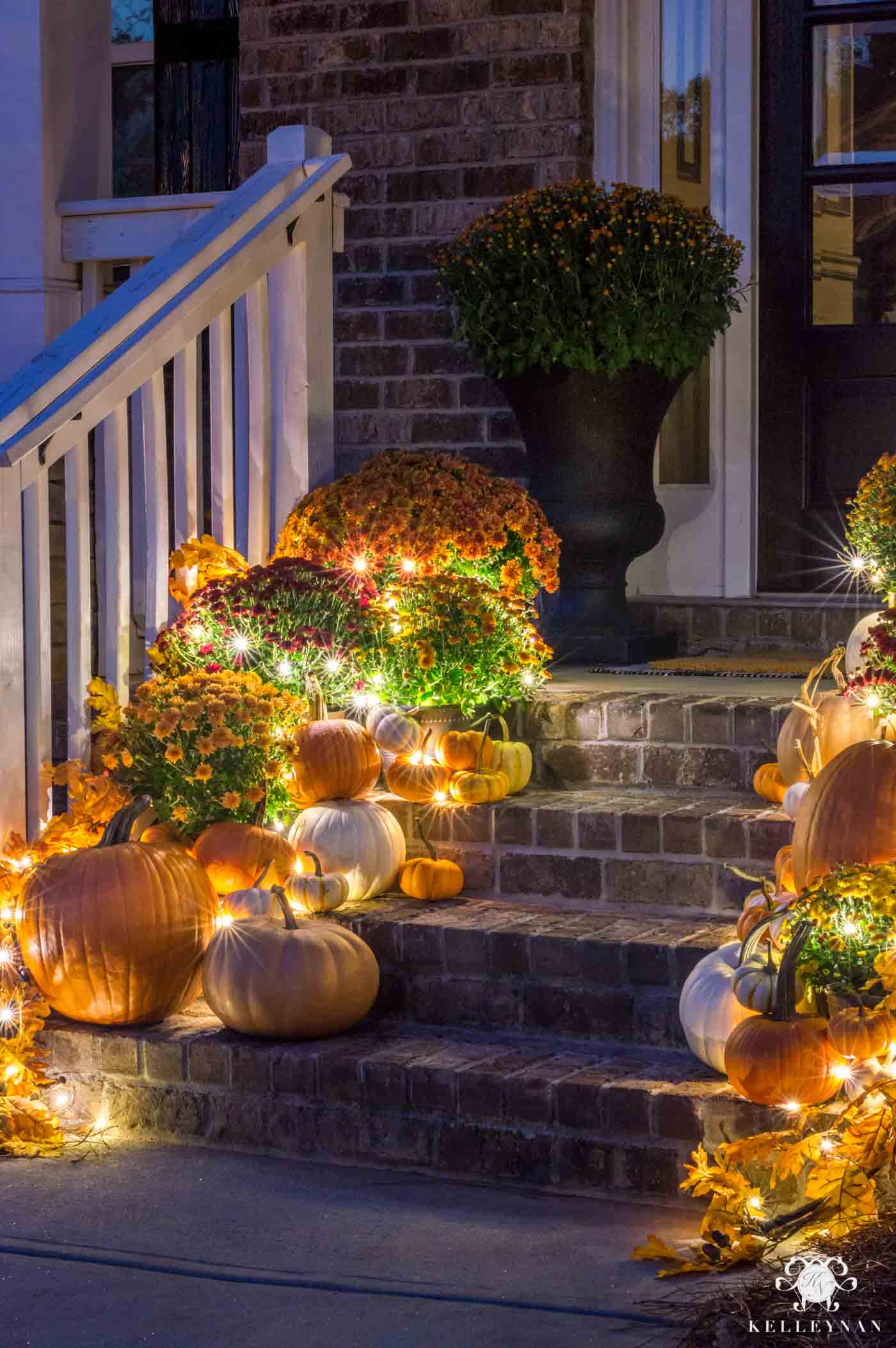 FYI- to photograph in the dark, I have to set my camera to a crazy long shutter speed which creates the starbursts and illumination. I use the same technique during Christmas; you can see my tutorial for photographing Christmas lights HERE.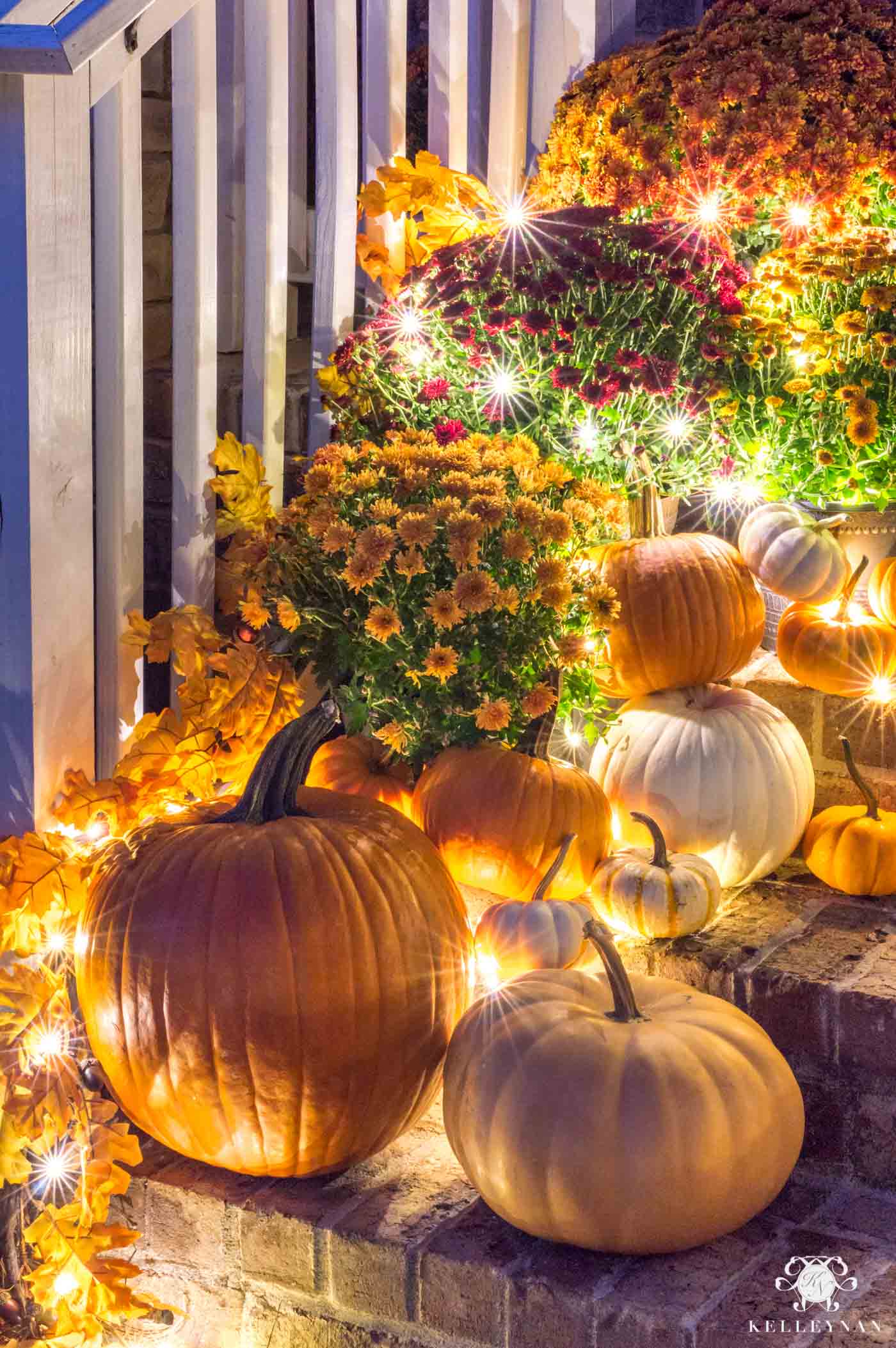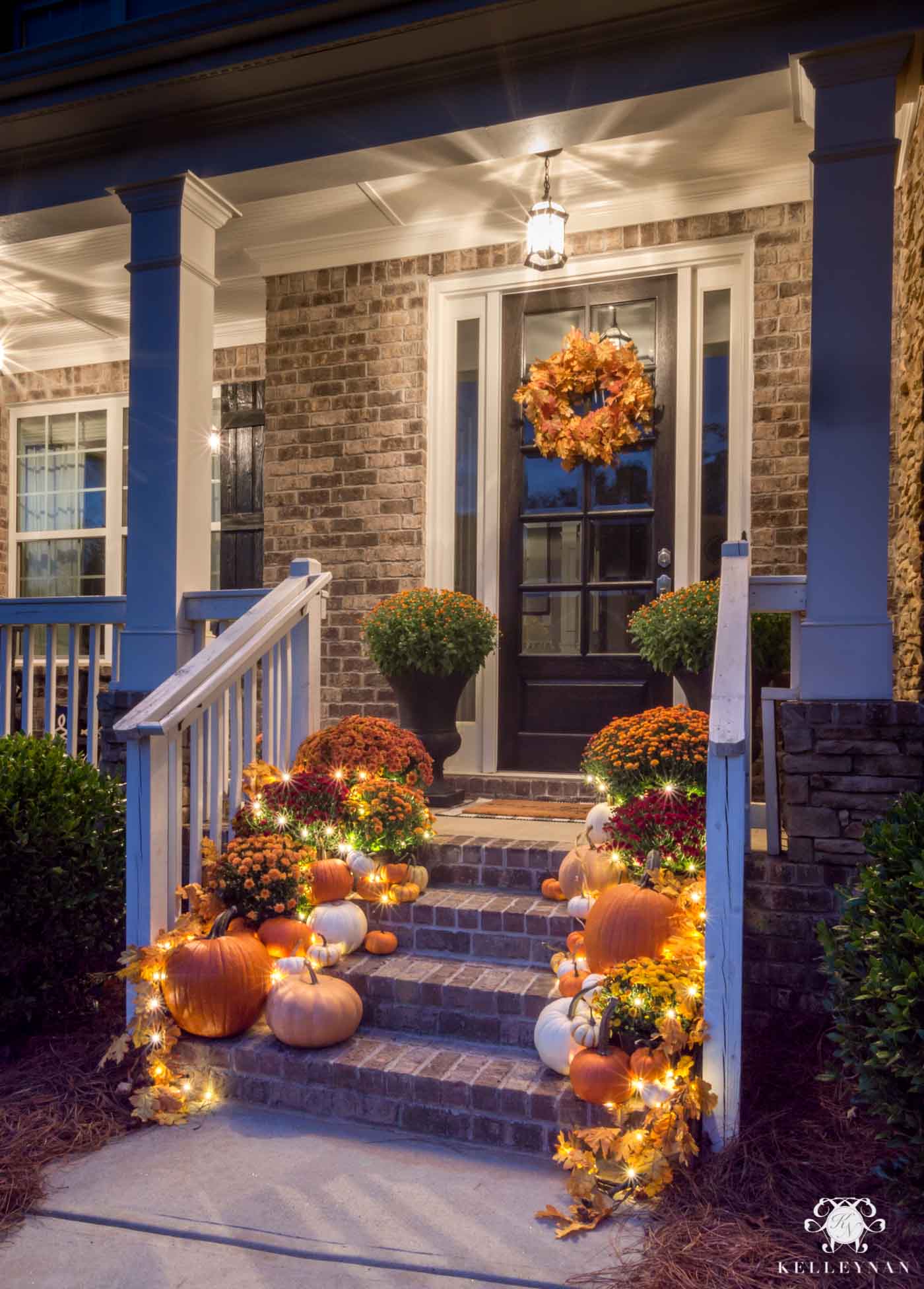 If you missed my last post on how we decorated our living room in traditional oranges, you can check that out HERE. And, stick around and subscribe to emails at the bottom of the post for fresh holiday content, coming soon!
Other Fall Posts to Check Out
Fall Front Porch Sources / Get the Look
Scroll & Tap to Get the Look & Shop the Post