Whenever I create a statement centerpiece, I always get questions about the specifics of putting it together. Admittedly, I don't know that I've ever done a really good job of sharing my process and what it takes to pull something together. But, today, I'm sharing a full step by step tutorial on how to create a statement fall harvest floral arrangement that will hopefully give a foundation for centerpiece ideas for seasons to come. There's no real science or exact formula to my method but you can read on to see how I arrange larger-scale flower displays from start to finish.
*Posts on KelleyNan.com may contain affiliate links. Click HERE for full disclosure.
Fall Harvest Floral Arrangement Tutorial
If you've been a visitor for a while, you may recall some of my former centerpieces — and the fact that they often aren't floral-exclusive. I love to use seasonal produce to give my arrangements a unique spin (not to mention, it can help costs depending on which fruits/veggies you incorporate.) The goal of today's fall harvest floral arrangement is to be somewhat reminiscent of an overflowing cornucopia — colorful and big. It could be a total winner for Thanksgiving but is also appropriate for the rest of the season. So, let's go ahead and talk about how we take this…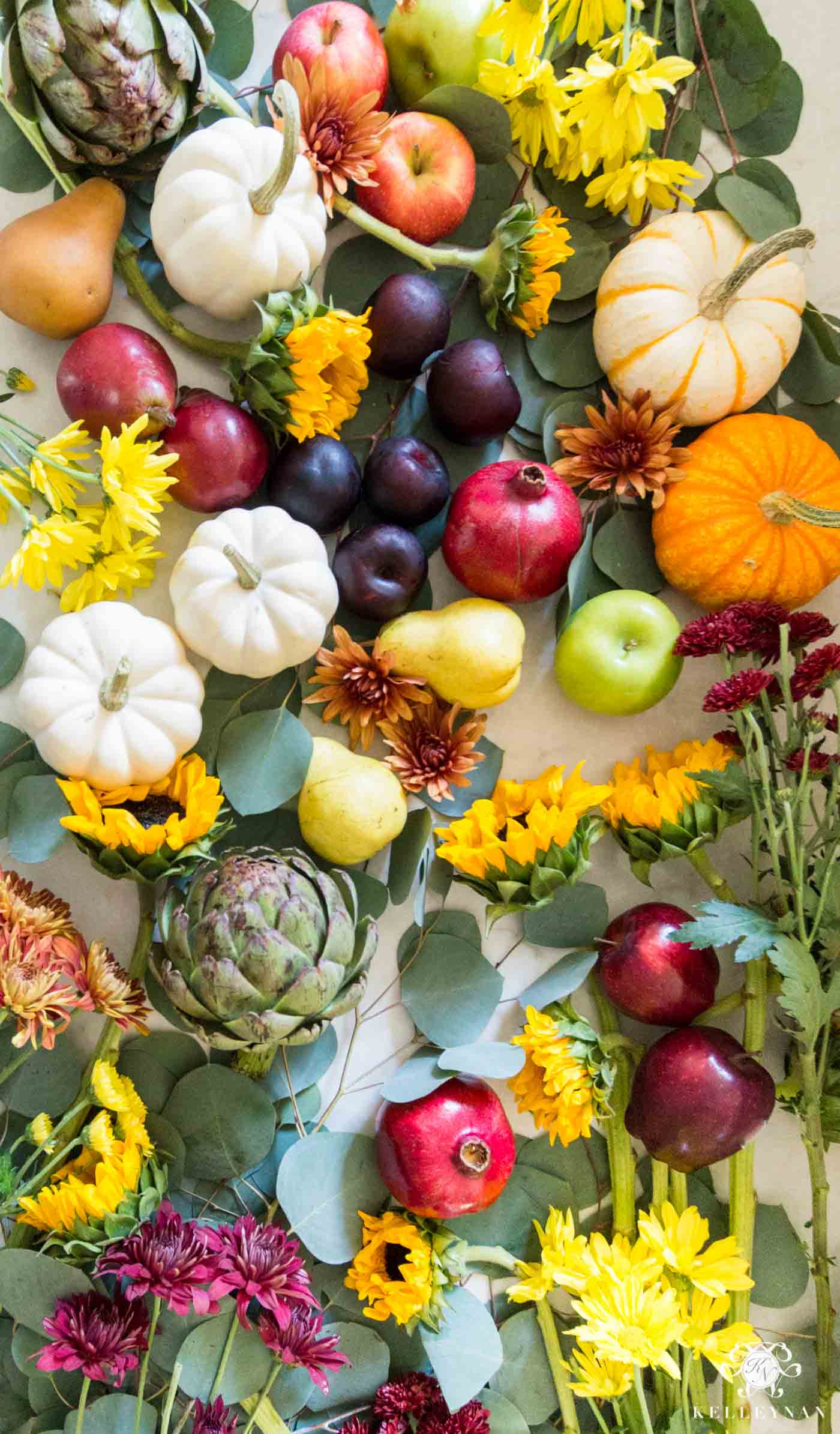 to this!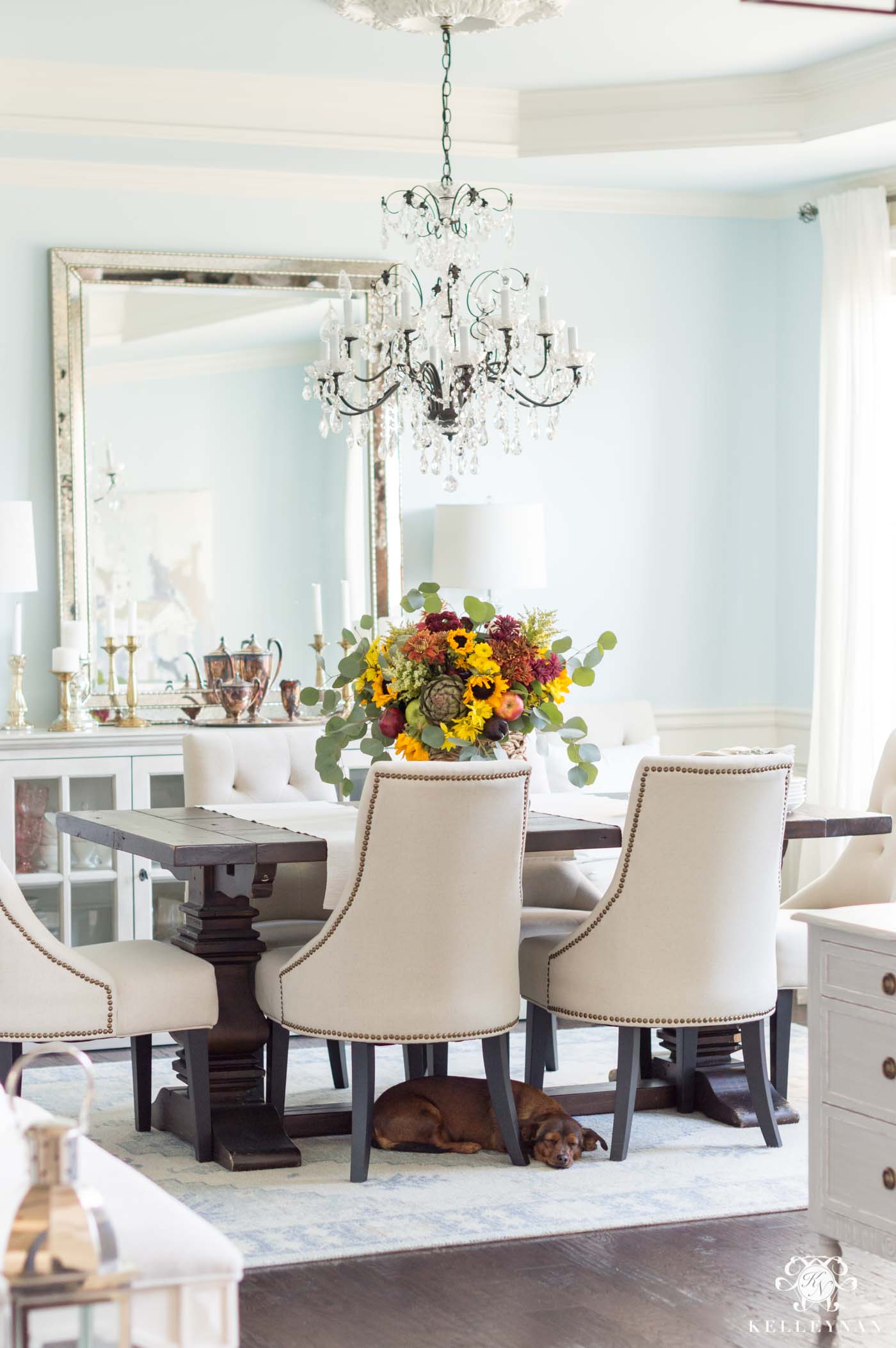 ---
Scroll & Tap to Shop

---
Full disclosure, I worked with some stems I already, incorporated some from the grocery store, but would have used a few other stems had they been available when I gathered materials (hydrangeas, gerbera daisies, etc.) But, the beauty in this type of arrangement is that you can use whatever you have access to and it can come out looking awesome. There is no wrong way — only preferences depending on the look you're going for. Let's get into the step by step process of how I pulled it all together.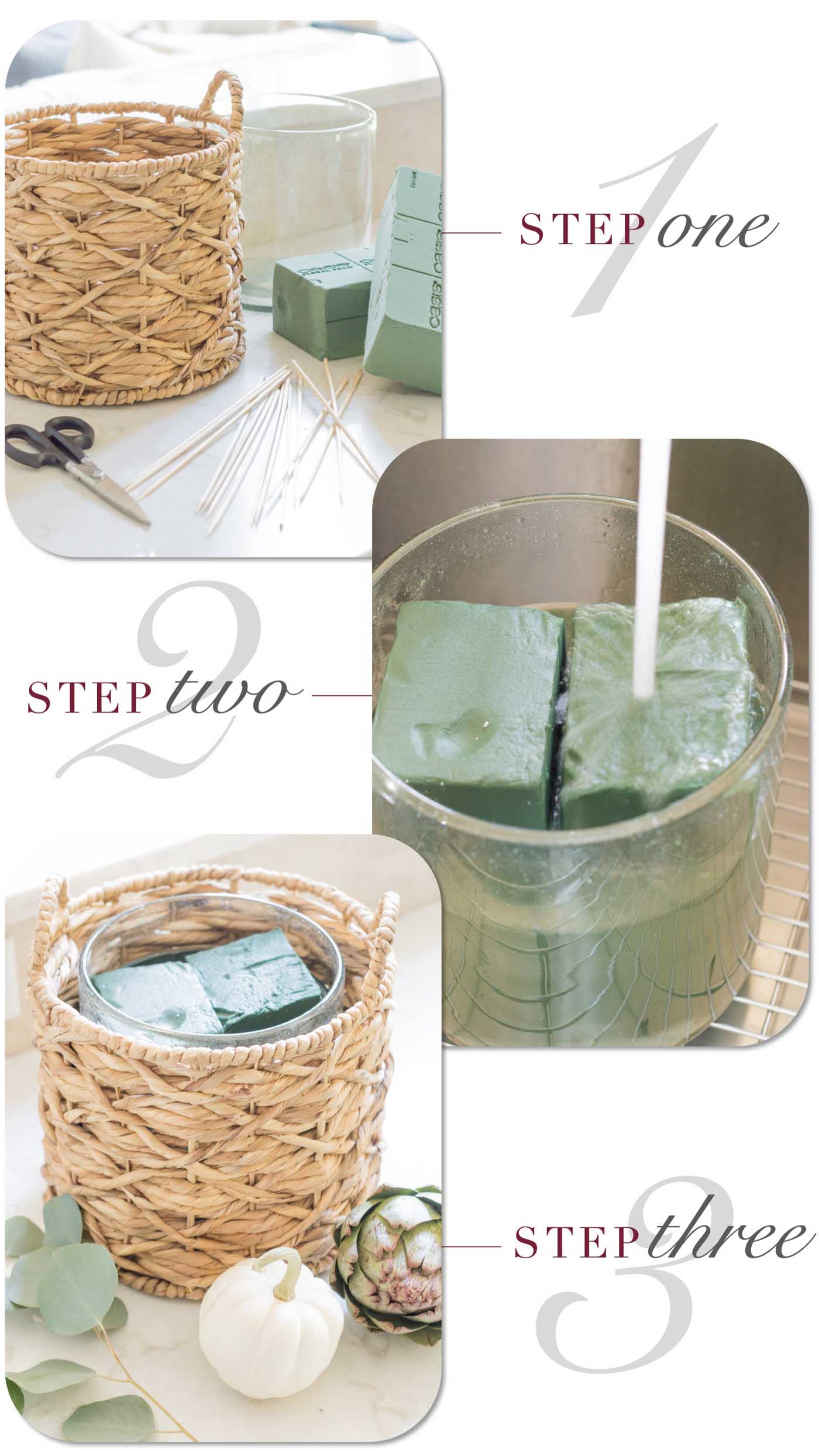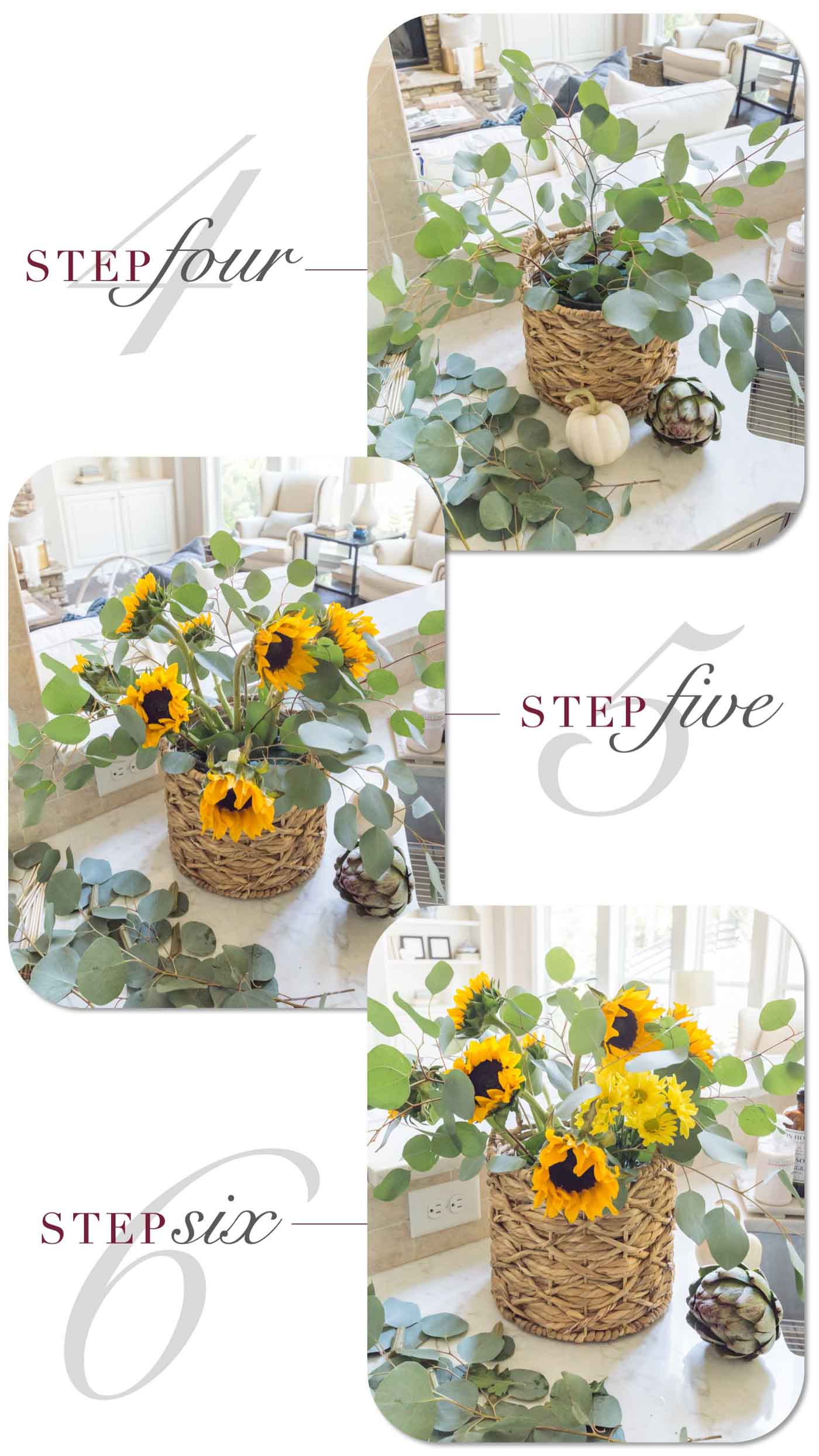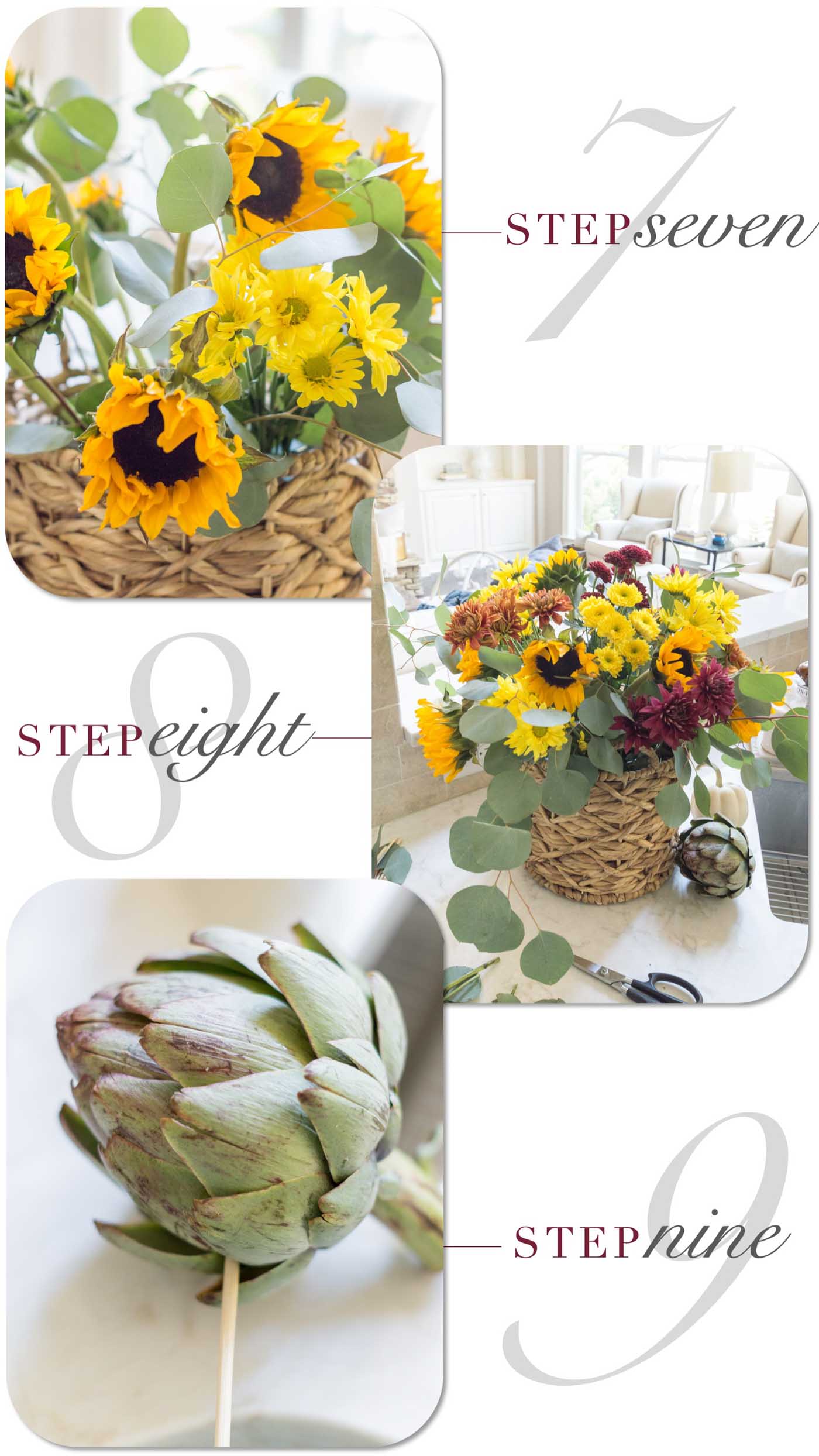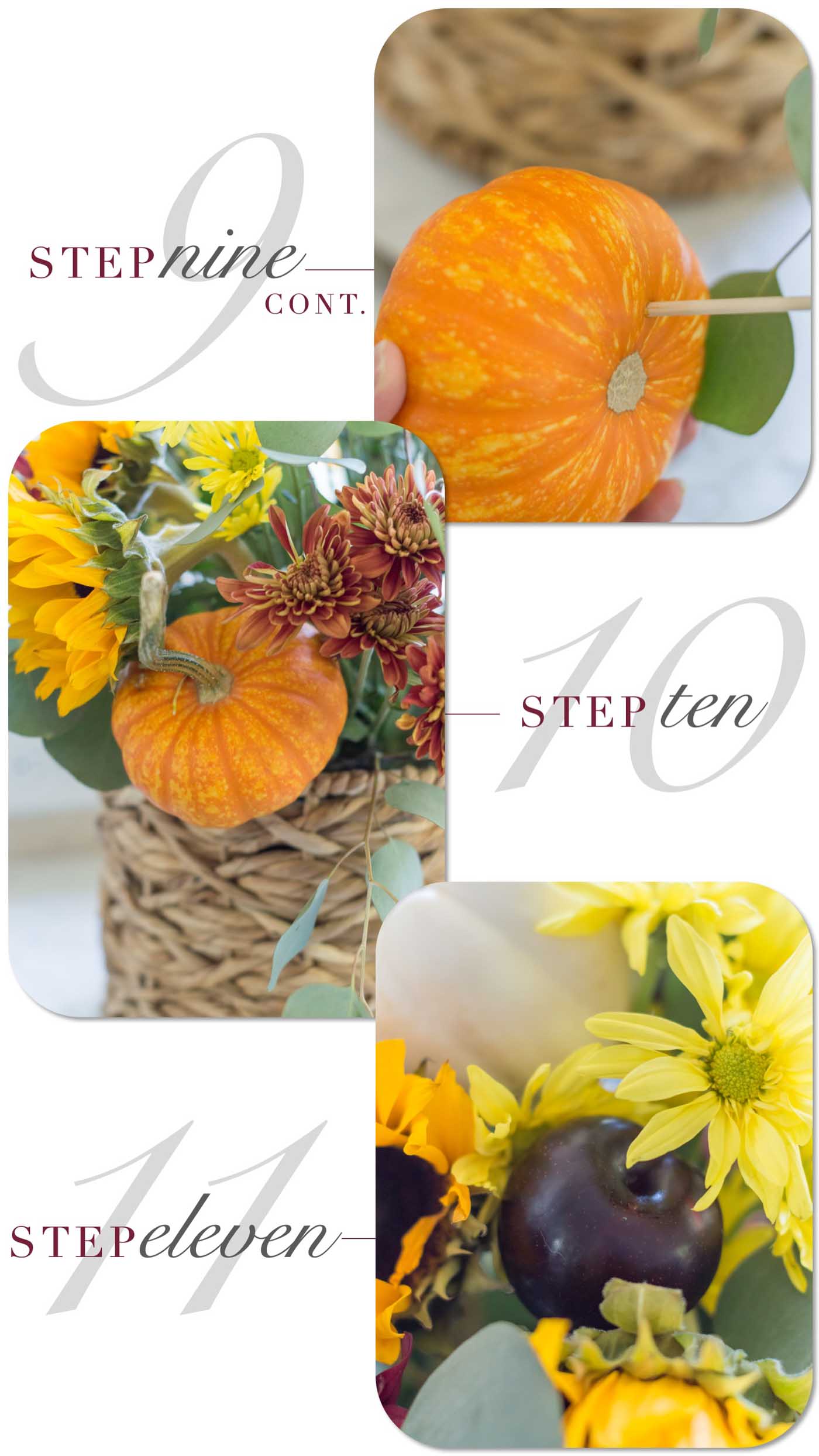 These steps can be tweaked and adjusted as needed.
1. Gather your materials. You can use any vase or vessel you prefer but something with a wide mouth is preferable. I used a large round cylinder vase to set inside a basket. Using something opaque when you are using floral foam is key!
Materials:

2. Cut floral foam to the size of the vessel; safe remaining pieces for future arrangements. Wet until fully absorbed and allow vase to fill with water. Add flower food.
3. Place vessel inside basket/opaque larger vessel (if using). If you wait to insert your vessel until after the arrangement is finished, it won't fit properly. If ordering a basket/vessel combo, make sure the basket accommodates the vase without overlap. Here are a few options.

4. Start with a nice full base of greenery. Before inserting each stem, trim at least an inch off the bottom at an angle. Stab the greenery into the foam, starting at the base. I like it to be a little wild but if it is too flimsy, cut the stems into multiple pieces by cutting the offshoot stems off. The silver dollar eucalyptus is a favorite but it can come very long and top heavy. Stick some going out to the sides and some going upwards; the extension of these stems is about how large your overall arrangement will be. the bigger the arrangement (the further out the greenery stems go), the more you will need to have to fill. Save some pieces of greenery for later and set to the side. Throughout the entire process, be sure to constantly be rotating your vessel so you are dispersing everything evenly around the arrangement.
5. Take your largest flowers (hydrangeas, sunflowers, lilies, etc.) and incorporate them around, just as  you did the greenery. You can be totally random or cluster some similar flowers together. You can use some shorter stems around the base to help hide the vessel lip.
6. Use your smaller flowers to start spreading around evenly, removing any leaves close to the end of the stem. At this stage, your floral foam block may start getting a little more filled and you may have to "stab" around a little while to find an open spot. Hold a few stems back for later and set to the side.
7. See if there are any spots/gaps that you would like to add any more of your remaining greenery.
8. Continue working your way around with smaller flowers — again, you can spread evenly, cluster together, etc. They can be varying heights but I like my sides and top diagonals to generally have the longest stems. Continue to put some around the base also, working to cover the lip.
9. Take your largest produce (pumpkins, artichokes, apples, etc.) and look for the largest gaps in your arrangement to start filling the holes. Hold it in the gap and rotate the fruit in your hand so you can visualize where you would need to skewer it to get the angle (stem out, sideways, etc.) you want.
9. cont. Visualize, skewer, and place produce one at a time (don't skewer everything all at once as things could change). The pointed end of the skewer should go in the fruit and the flat end should go in the foam. The skewer likely won't be in the exact center of the bottom of the fruit; see image for example.
10. Place produce around, including at the base. Once the area becomes well filled, you can skewer some at shorter lengths to nestle a little more closely inside the arrangement to help cover interior gaps. Note- for heavier items, the best support is either up and down in the center of the arrangement or on a short skewer at the base.
11. Take your smaller fruits and start filling the remaining gaps. With each step and each type of addition, the gaps will be getting smaller and smaller.This is also a good time to evaluate whether any of your leftover smaller flowers, greenery, etc. need to be incorporated anywhere. If you have berries, add them now. Filler springs? Do that here. Rotate the arrangement and determine if there are any remaining gaps to fill and you're finished!
Here's the end result…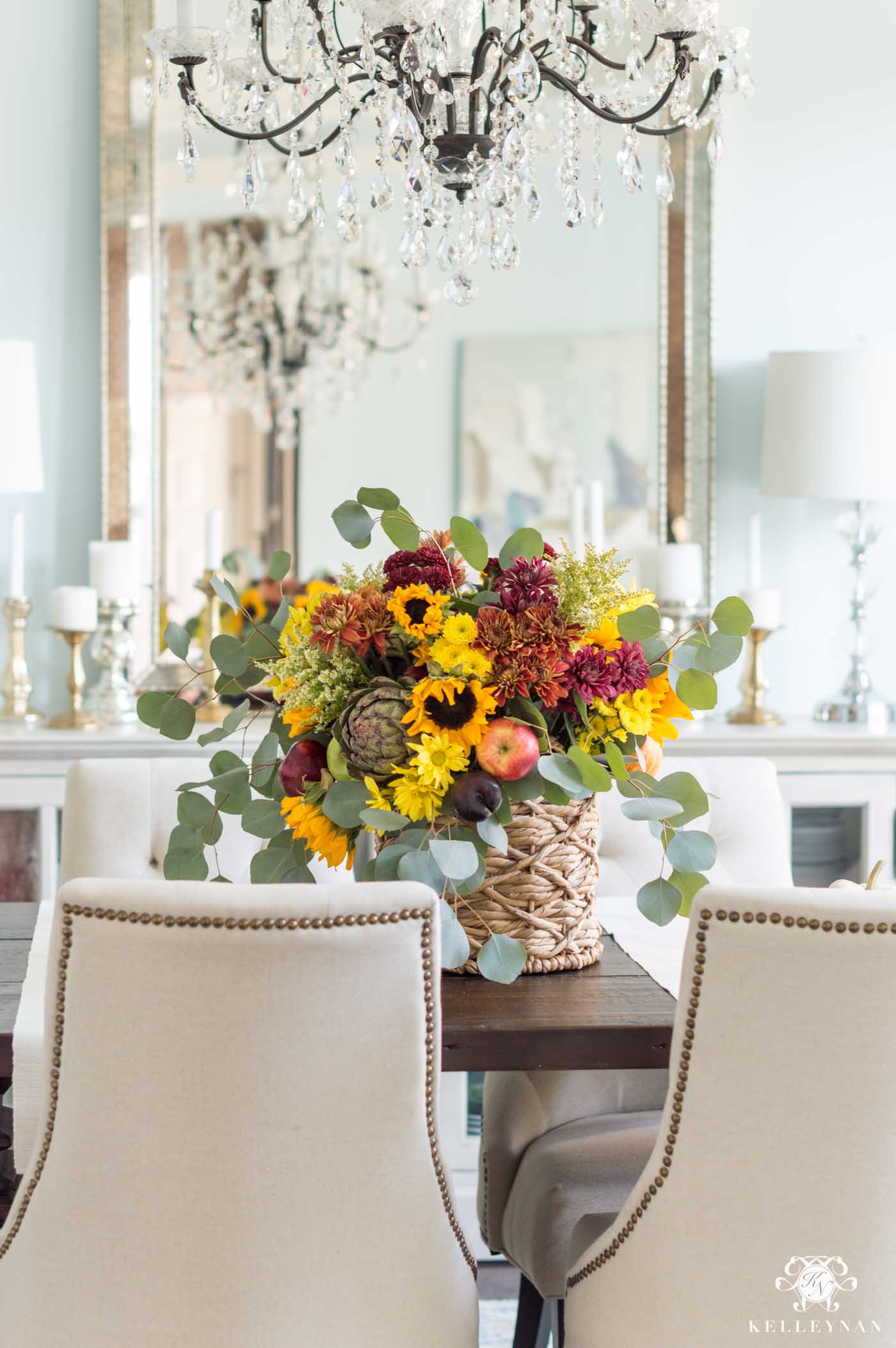 And here's a view of the other side. You can totally customize this arrangement and go heavier on some items and eliminate others, go with a more structured color scheme, etc. I wanted this one to be vibrant and a little crazy- like a bounty of all the things I think about when I think "fall harvest" 😉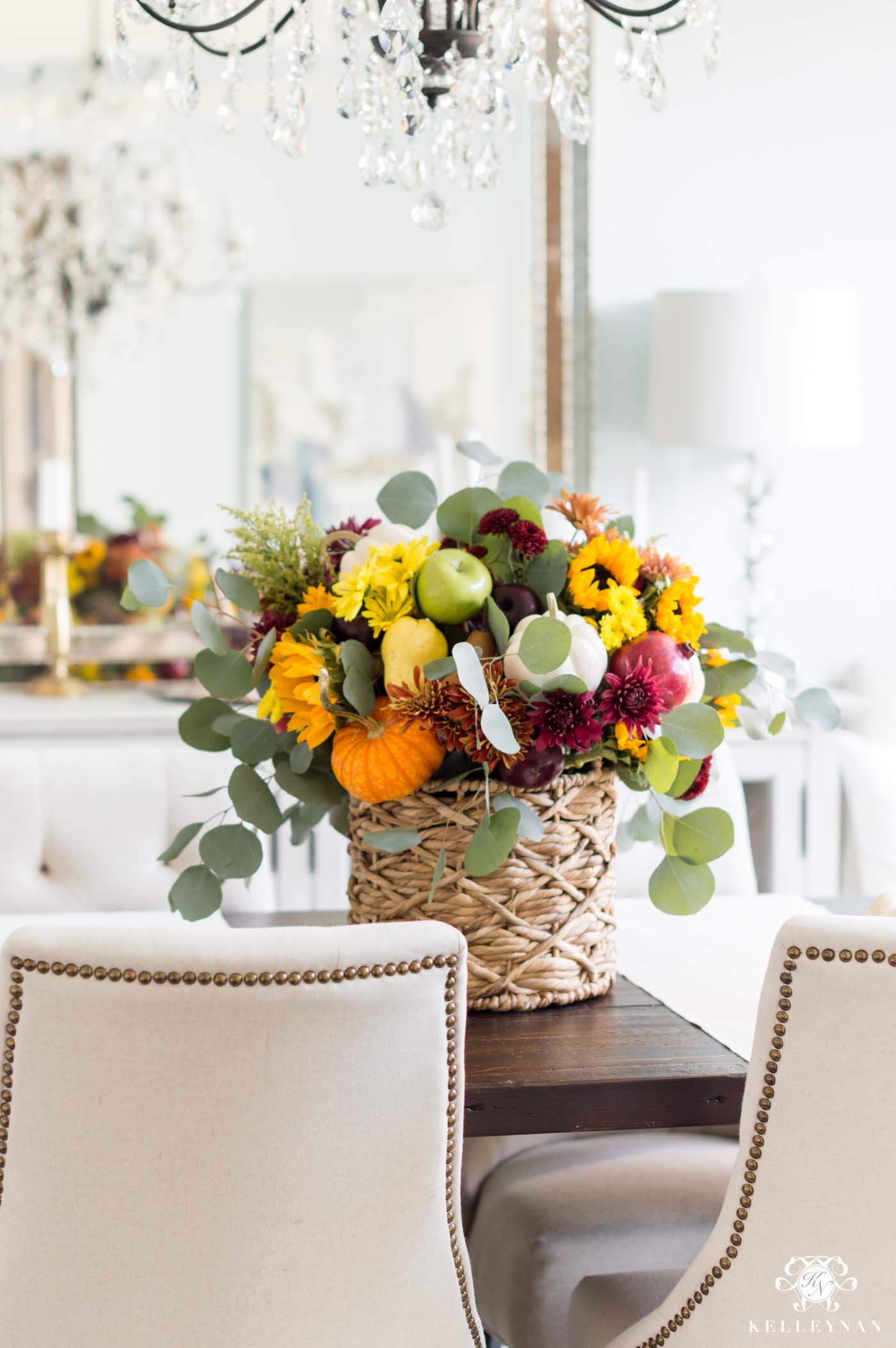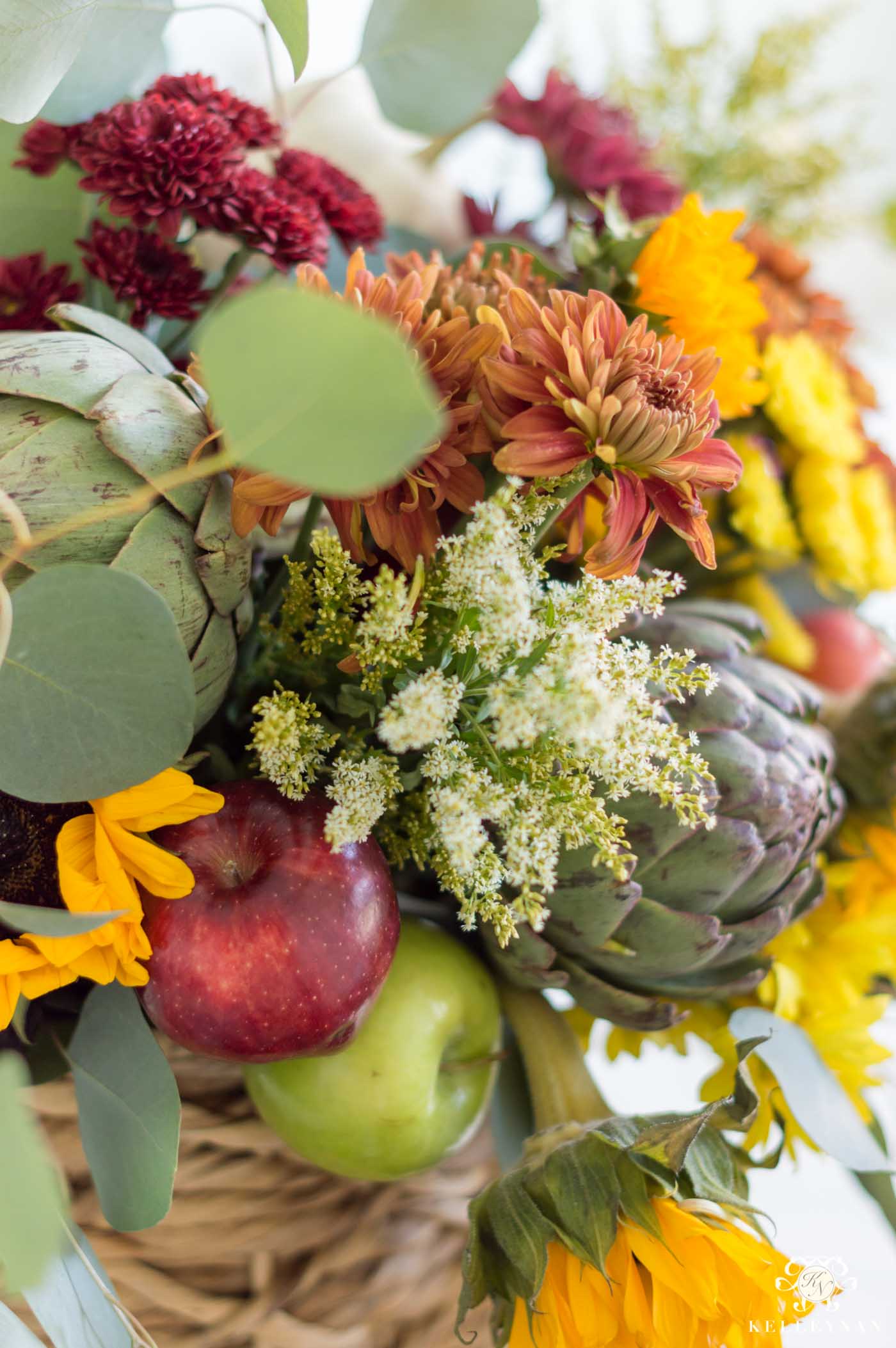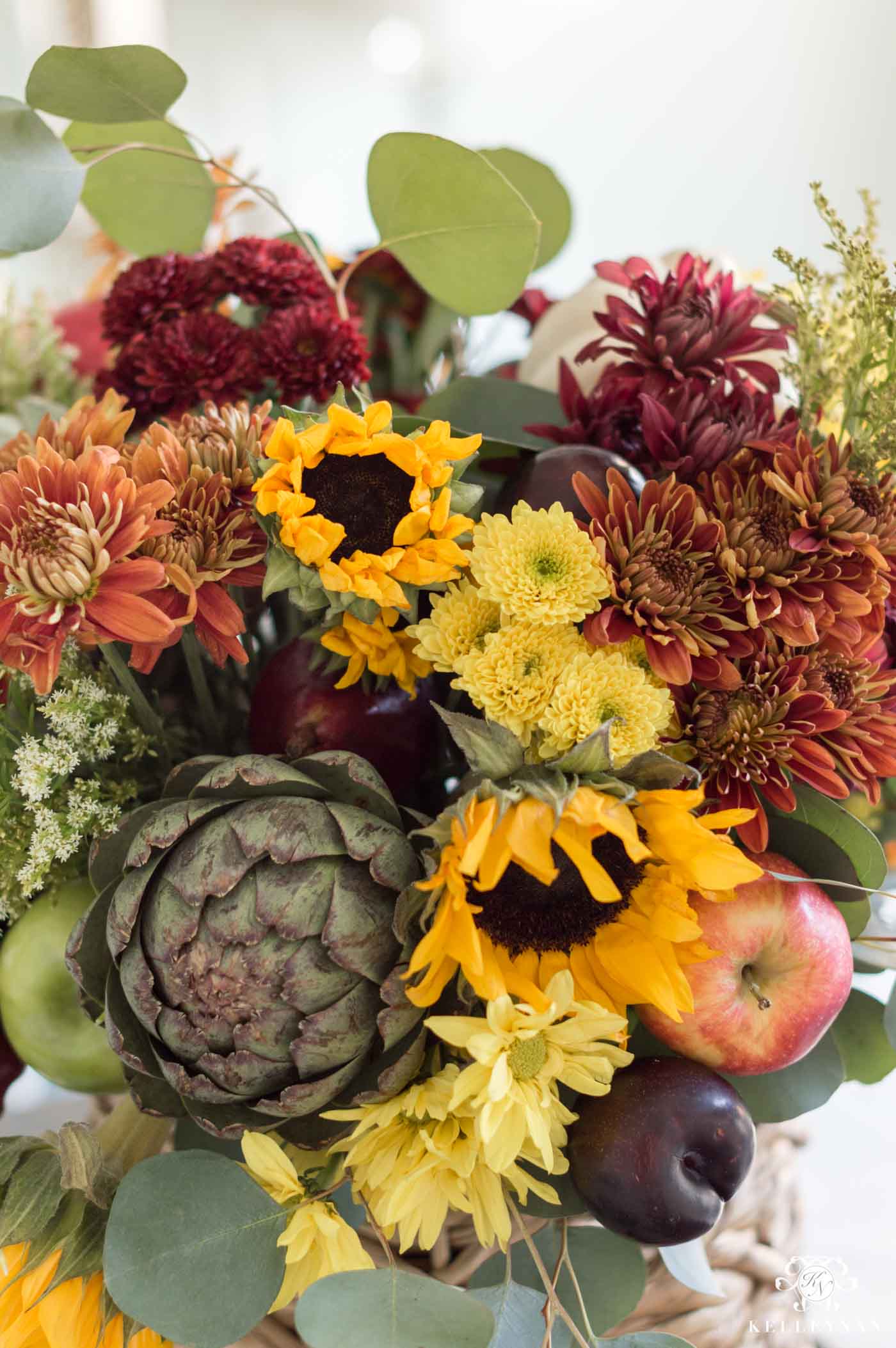 As a caveat, spearing the produce will decrease its longevity. Softer skin fruit will go bad more quickly so this isn't a centerpiece I would plan to leave out for a week. Unless you like fruit flies 😉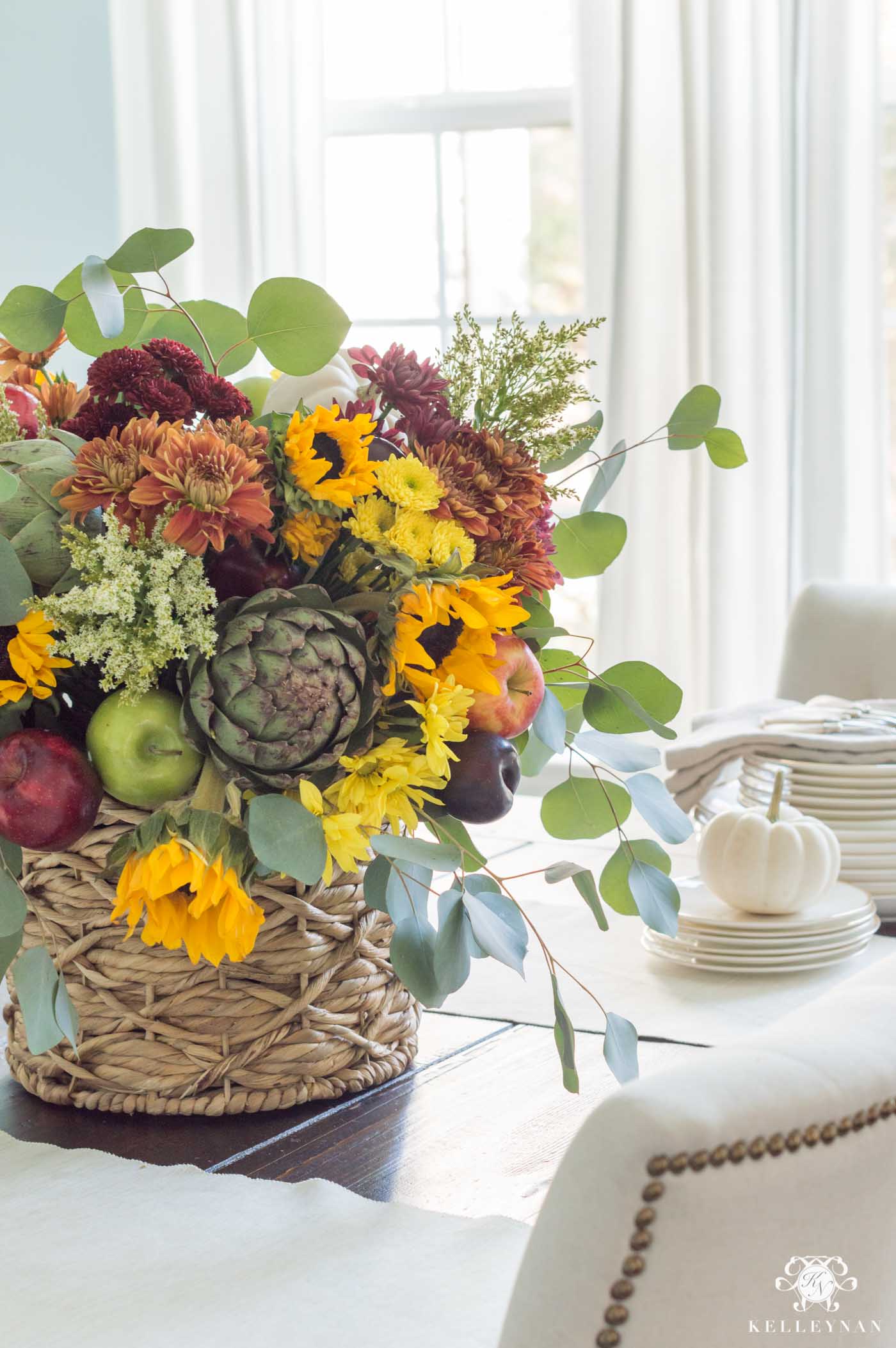 And while I love big statement arrangements, you can totally do this on a smaller scale in a smaller vessel. You could even do a few — say three running down the table — in a series of short vases. There are so many options and the steps are interchangeable and totally flexible.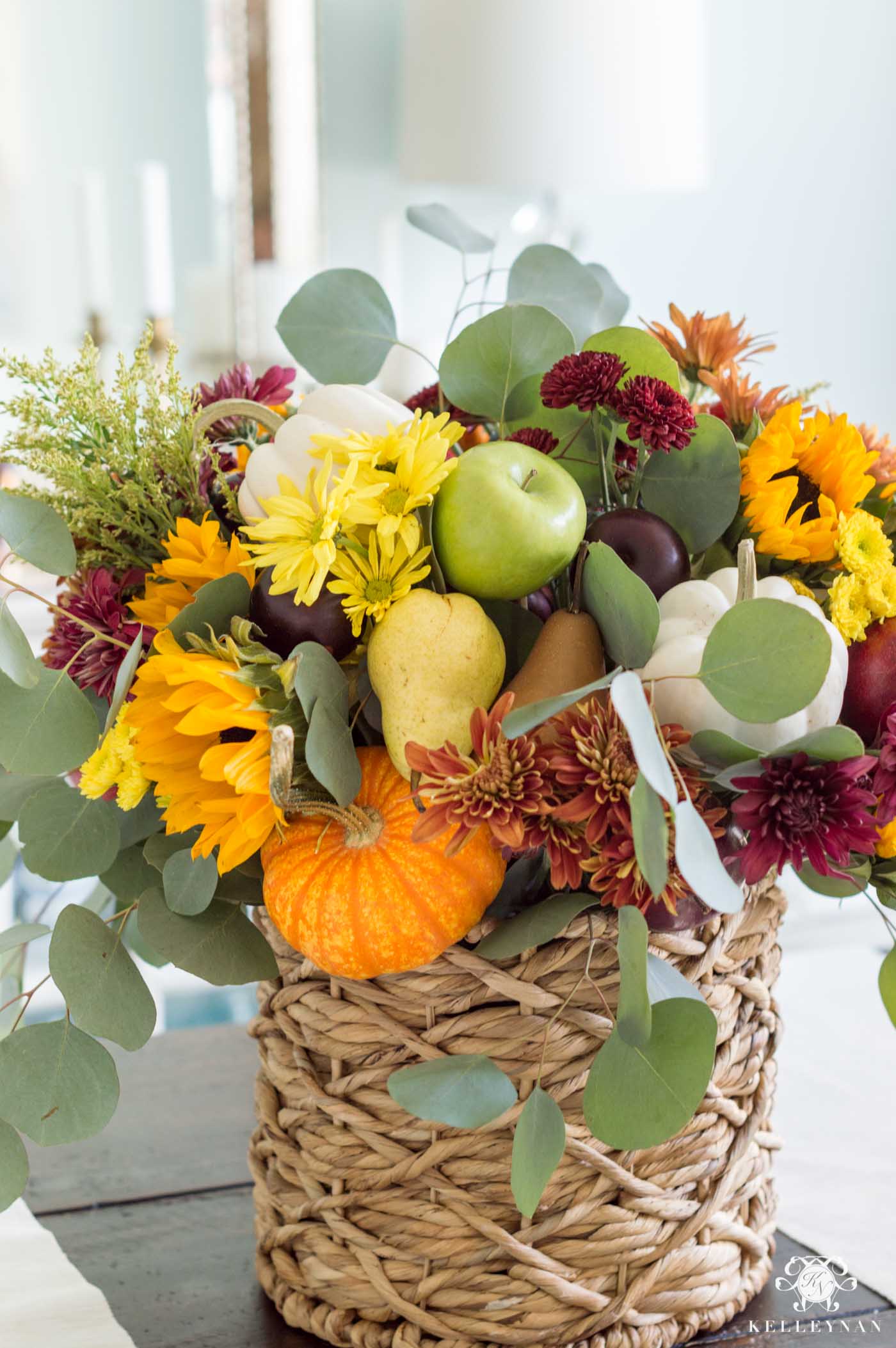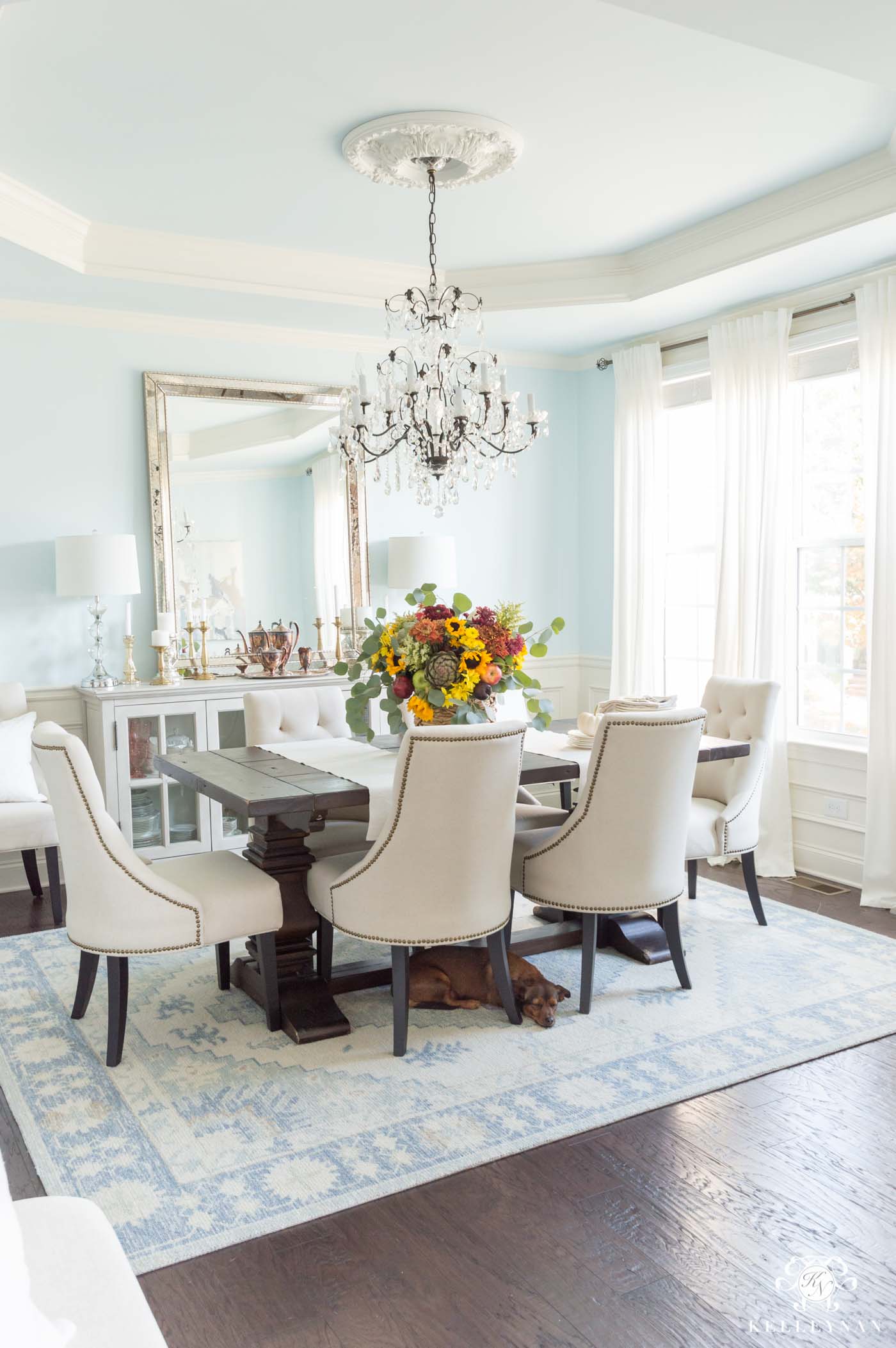 ---
Scroll & Tap to Shop

---
You can see some other produce/floral arrangements I've created like this pink apple/white pumpkin combo in last year's Thanksgiving table HERE…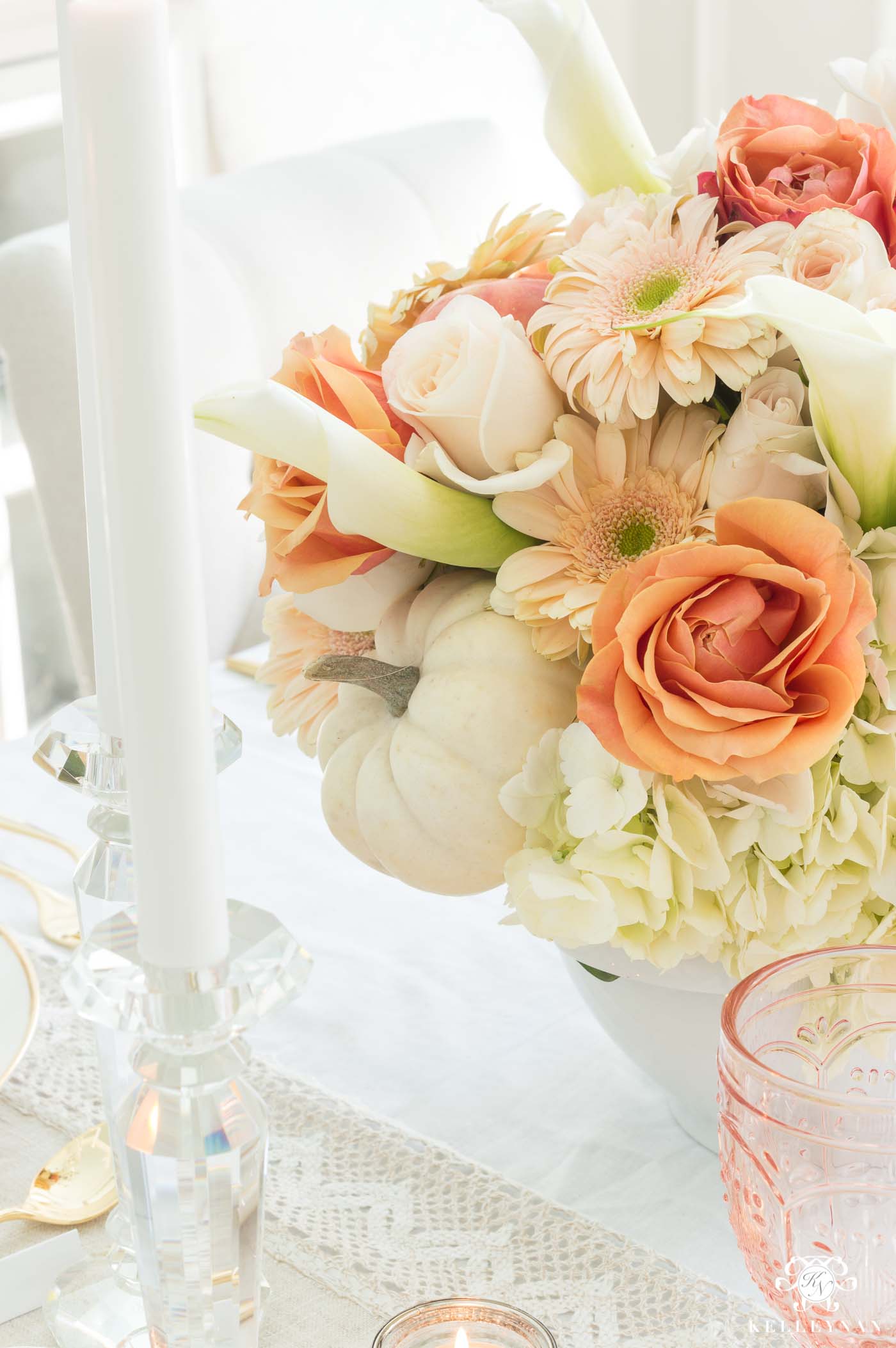 or see where I shared six ideas for fruit and floral arrangement combinations
HERE
.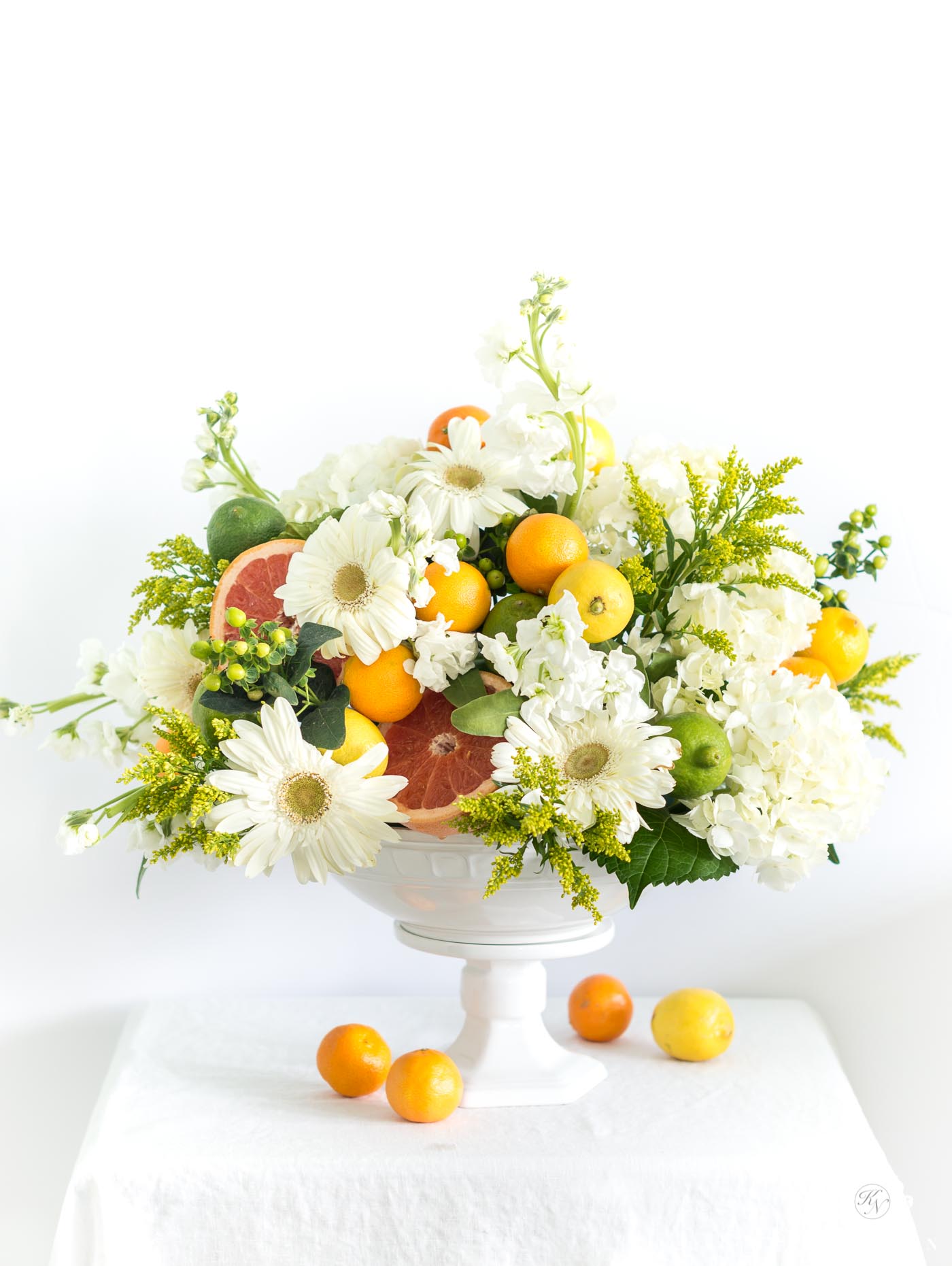 I'll be sharing more fall ideas soon as we start transitioning our decor, checking off our own bucket list, head to the pumpkin patch to stock up, and (hopefully) hit cooler temps. Subscribe to receive emails below to catch all upcoming holiday posts.