Welcome to November and let the holiday goodness officially commence! We talk a lot about being less literal when it comes to seasonal decorating and entertaining. And, over the years, some of my favorite "moments" have come from the unexpected color schemes, and table vibes that you may not find across many seasonally set dining rooms. More than pumpkins and pies, tradition is the most important part of Thanksgiving for our family. The memories I've collected from my grandparents all stem from Thanksgivings – to me, it was the fanciest day of the year. It was consistent. And even more than Christmas, it was (and still is) our main family holiday. My memories aren't of the specific decor, though. My memories are around the "formality" of that dinner. One where we all had proper place settings and knew we had to follow the table rules, looking to please my grandfather. One where soda cans weren't allowed and the menu was the same, year after year. Things have evolved a little since then; jeans are ok and we've taken a few menu shortcuts 😉 But the setting of our table is a constant and tradition we've maintained.  Today, we're taking an out-of-the- box look at Thanksgiving table decorations, place settings, and a checklist of entertaining essentials if you're hosting dinner for the first time.
*This post was created in partnership with Bed Bath & Beyond; as always, all concepting, ideas, and opinions are my own. Posts on KelleyNan.com may contain affiliate links. Click HERE for full disclosure.*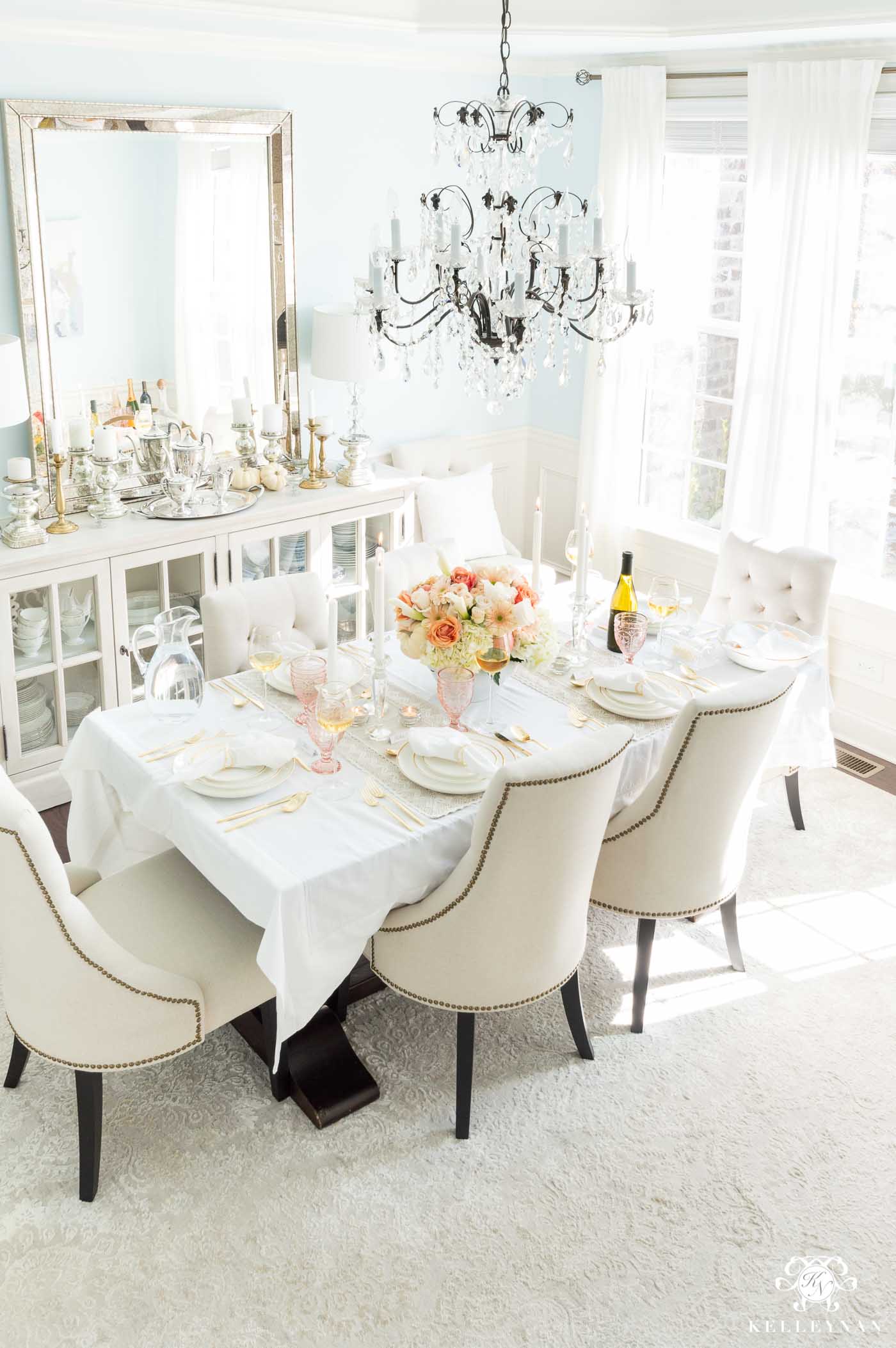 AN UNEXPECTED TAKE ON THANKSGIVING TABLE DECORATIONS
I mentioned recently that with all the projects we've taken on over the past several months, I've been craving a little more tidiness and less stuff. But, that kind of contradicts this time of year when I usually bring out all the things. Ok, so at the very least, less visual clutter. Sometimes, when you are working on formal place settings with more pieces than you would typically set, it can look overwhelming- like the inside of your kitchen cabinets/china collection exploded on your table. There are several components to this table but by sticking to tone on tone neutrals, clear glass, and crystal, it doesn't appear over-complicated.
Note: A full source list can be found at the bottom of the post.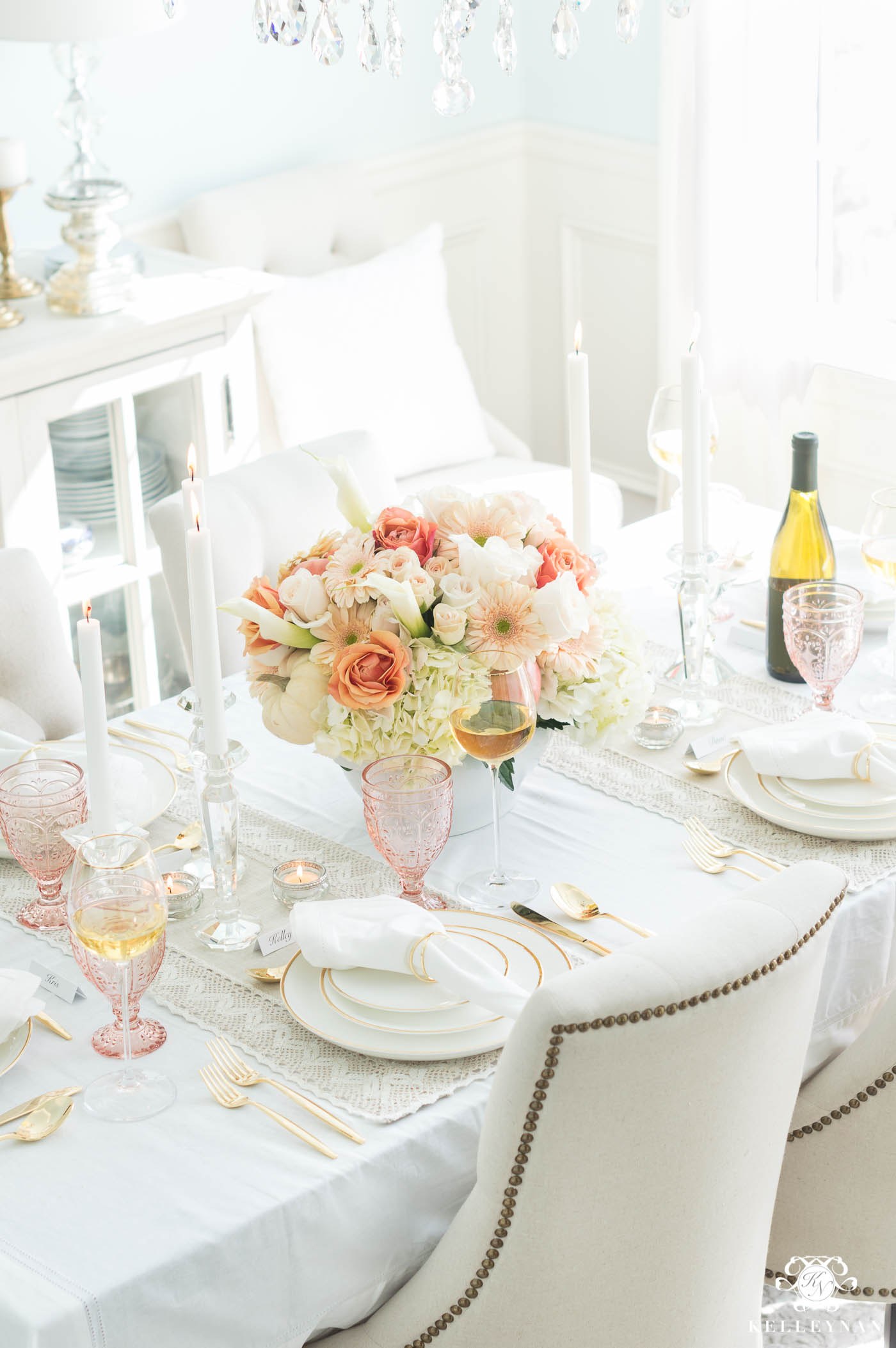 I fell hard for the dinnerware collection I used and have wanted it for a while – the Olivia & Oliver Harper Organic Shape Gold Dinnerware Collection. The pieces are reasonable enough in price to be used often and pretty enough to be used on more formal occasions. It also has some weight to it and mixes with both classic and contemporary settings, so it will stand the test of time. If you are considering something more universal vs. a more specific, fine pattern, you can't go wrong with these.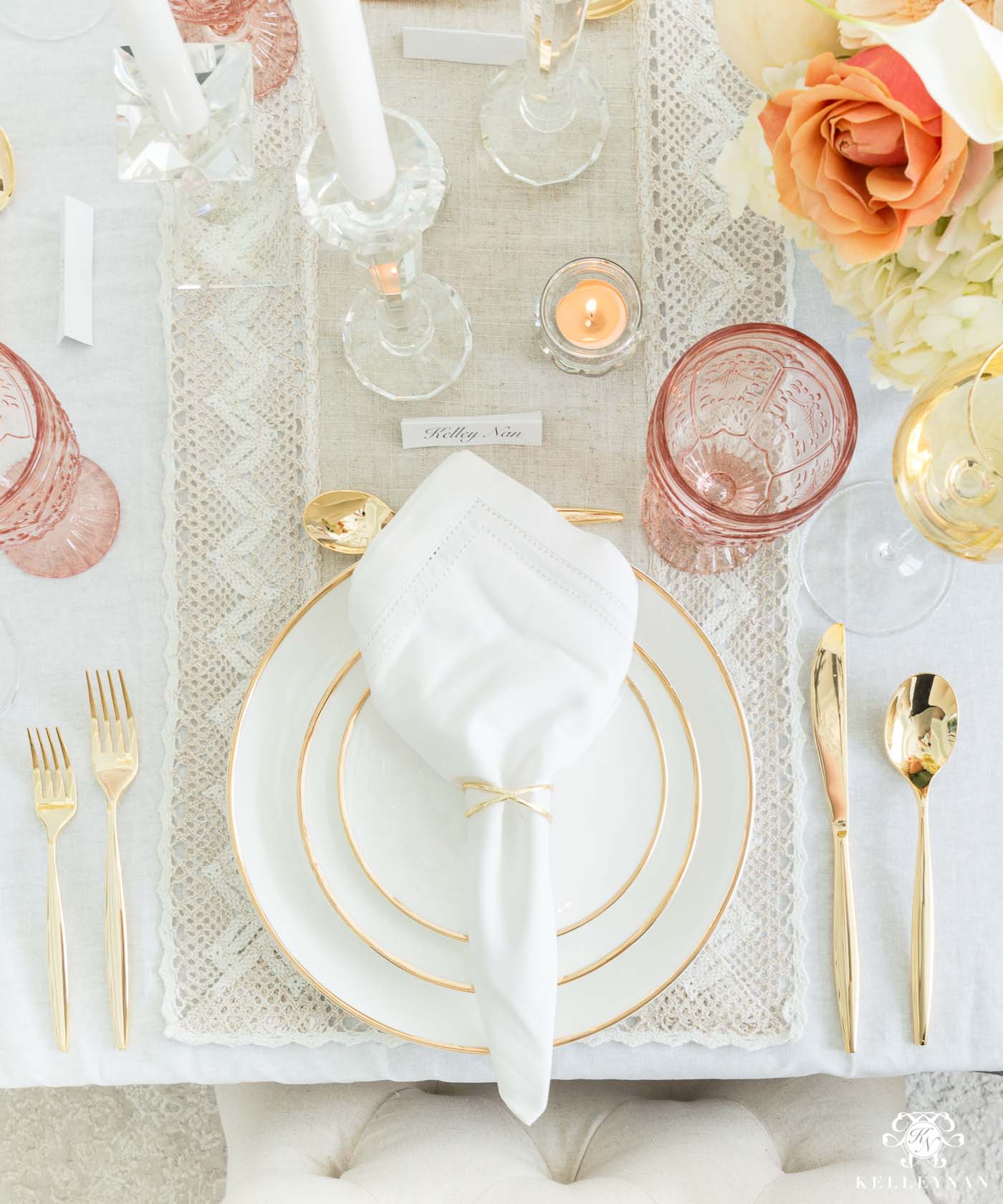 Another part of the Olivia & Oliver line I was excited to get my hands on was the gold flatware. The shiny finish is more traditional and gives a more formal feel than the matte finish I have in my arsenal. After testing the the silver version (HERE) of the Madison collection this summer, I became a believer and had to go for the gold, too. It's so substantial, it made our previous flatware feel like something you would use in a school cafeteria haha.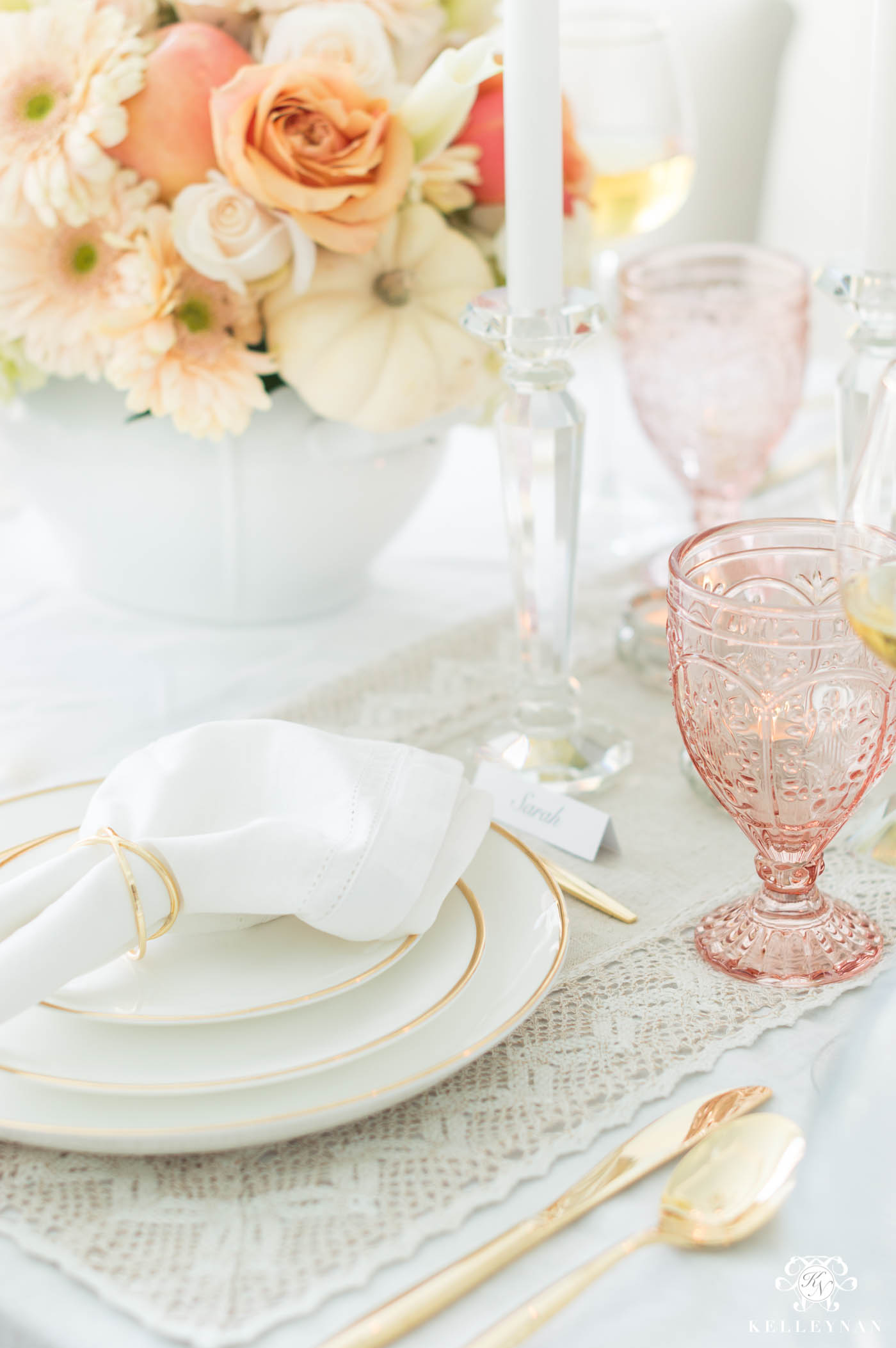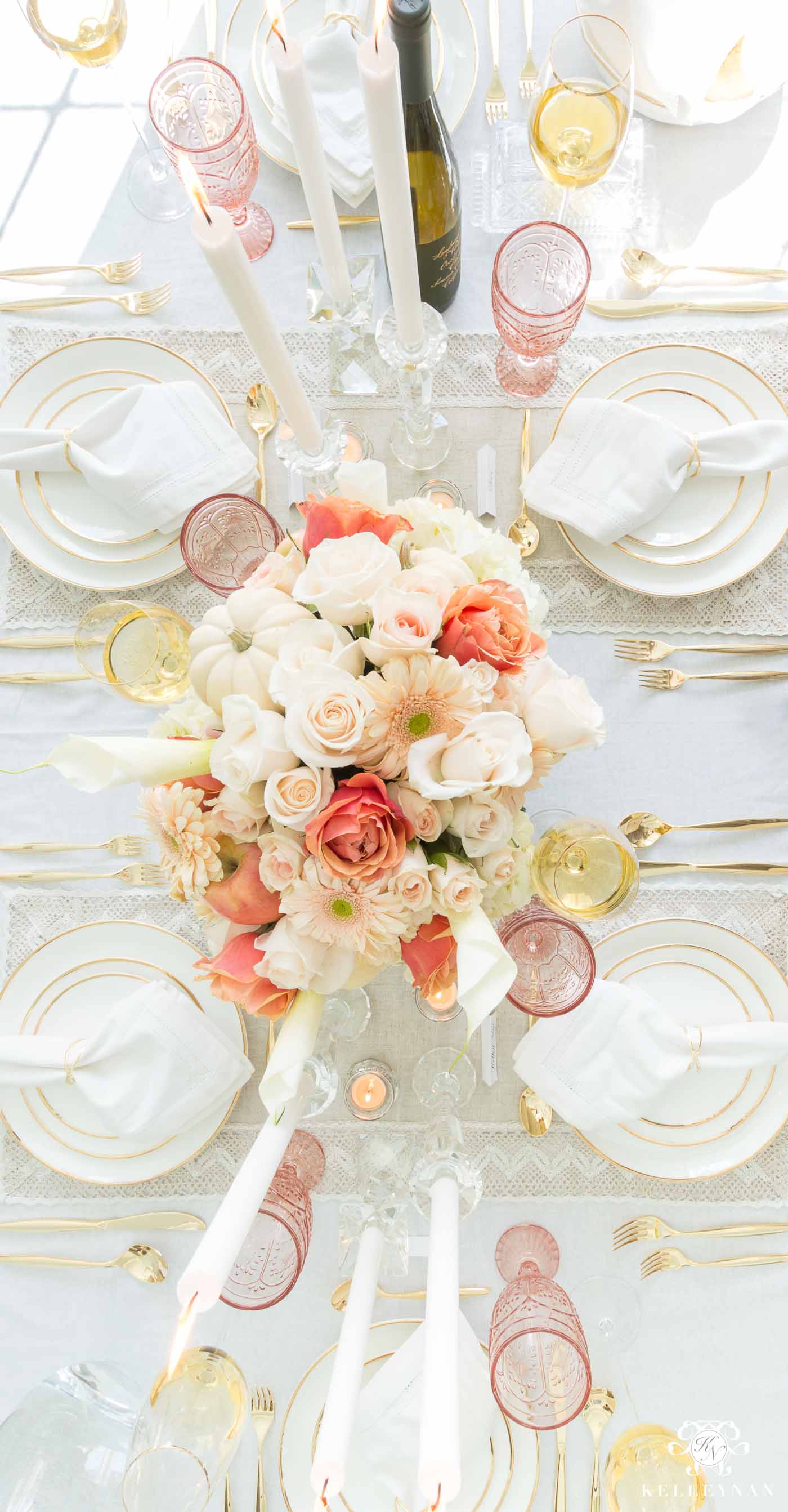 I also sprang for the gold rimmed wine glasses – they are taller than most, dainty, and will be kept on display in the dining room.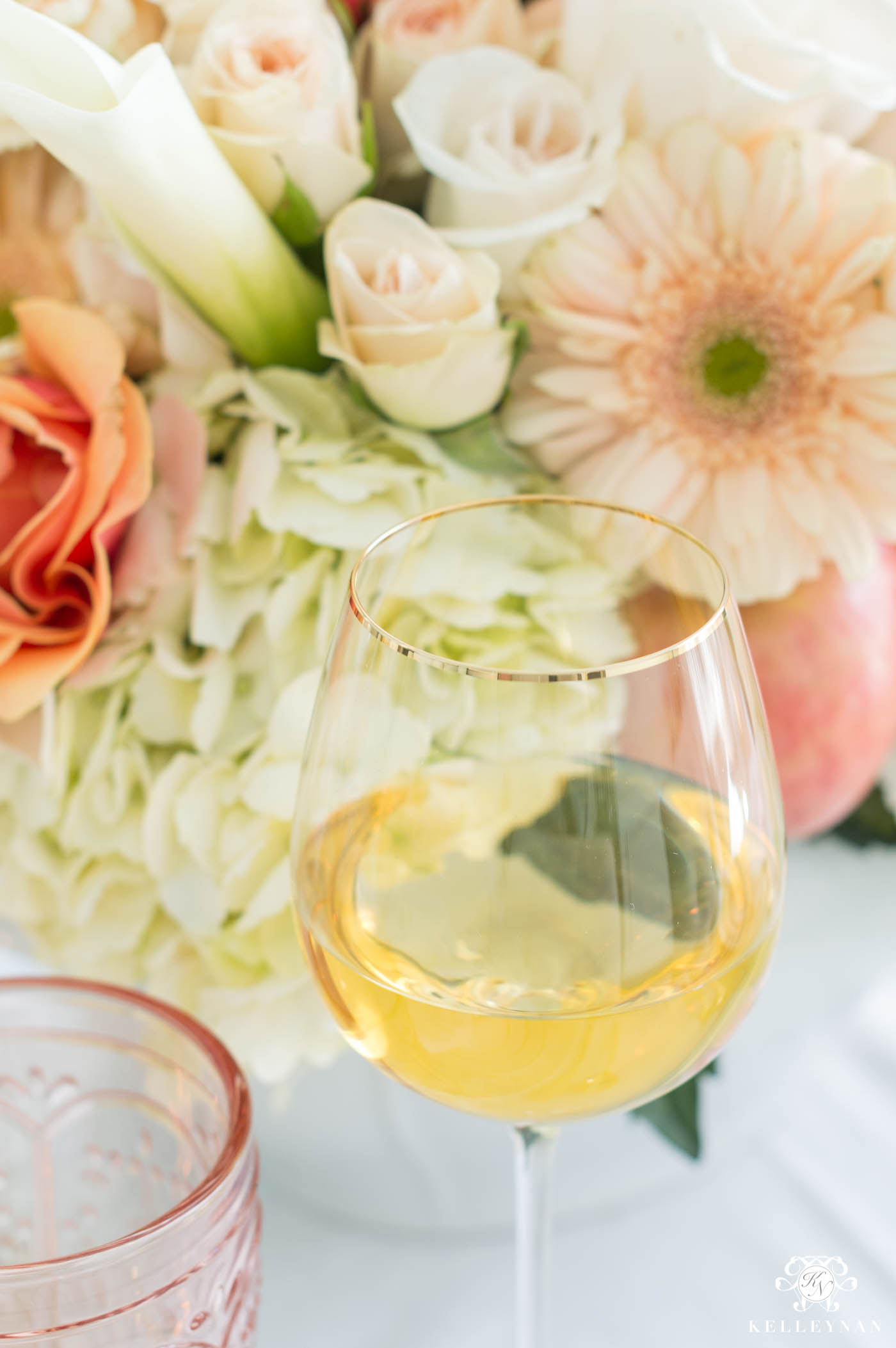 I rounded out the setting with some gold jewelry for the linen napkins (aka- the thin gold napkin rings) for less than $3 each (and even less if you use a 20% off coupon) ;), simple self-typed place cards, and blush water goblets.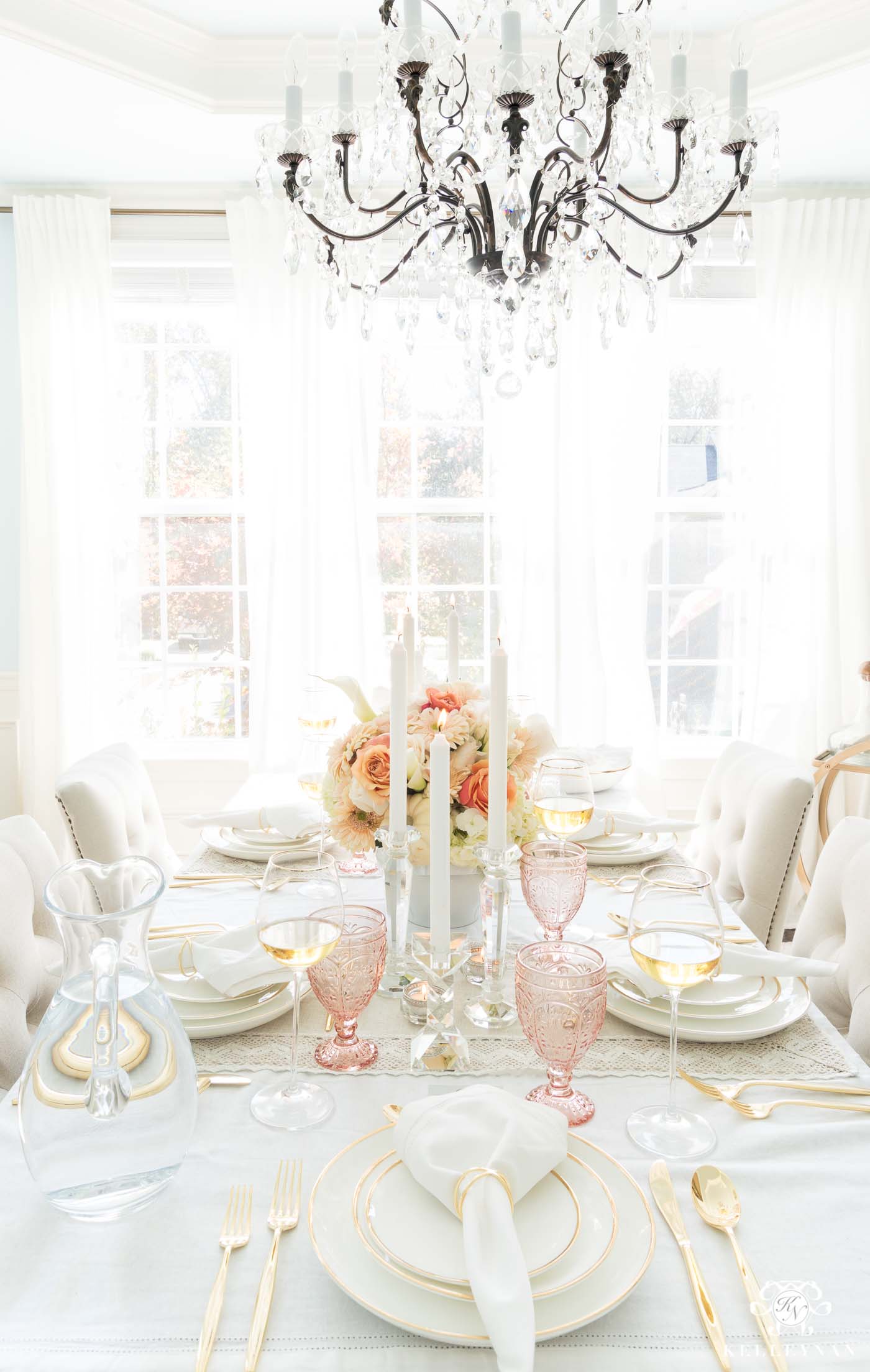 And as always, you can take this place setting and simplify it even more by eliminating pieces of flatware that aren't called for (depending on the menu), and using only a dinner plate. Because the place settings themselves were so "clean", I added short lace runners to layer on top of the white linen tablecloth. Again, totally unnecessary but the sweet crocheted lace added that extra little "somethin' " ;).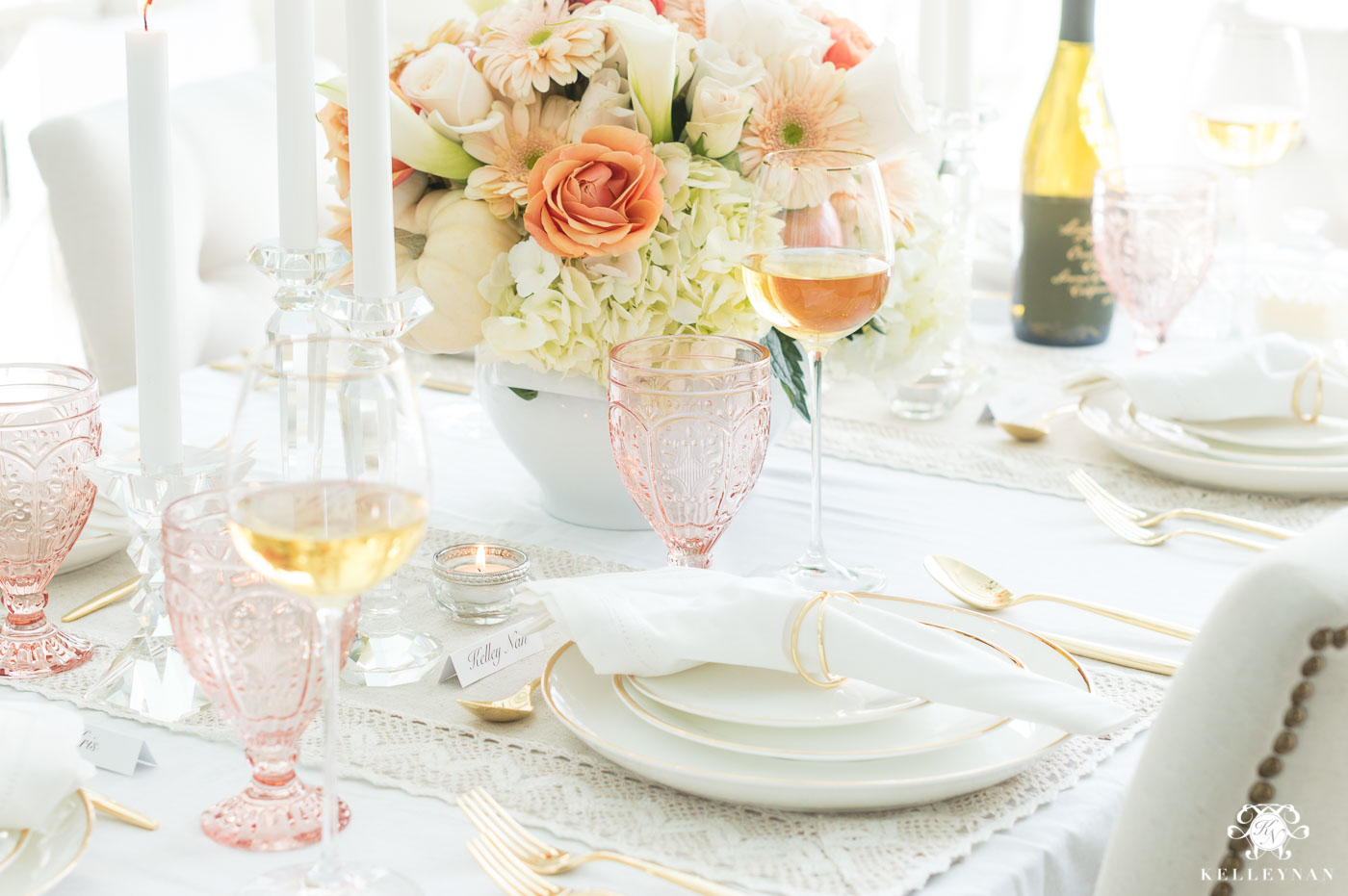 Using my pretty pink water goblets as inspiration, I went for a light and fresh fall with blushes, creams, and peaches and pulled out all my favorite tricks. I used this oblong soup tureen as my vessel, put some wet floral foam inside, and added fruit (pink apples), stems, and small pumpkins until it looked sumptuous. (You can see several fruit and floral arrangement ideas HERE).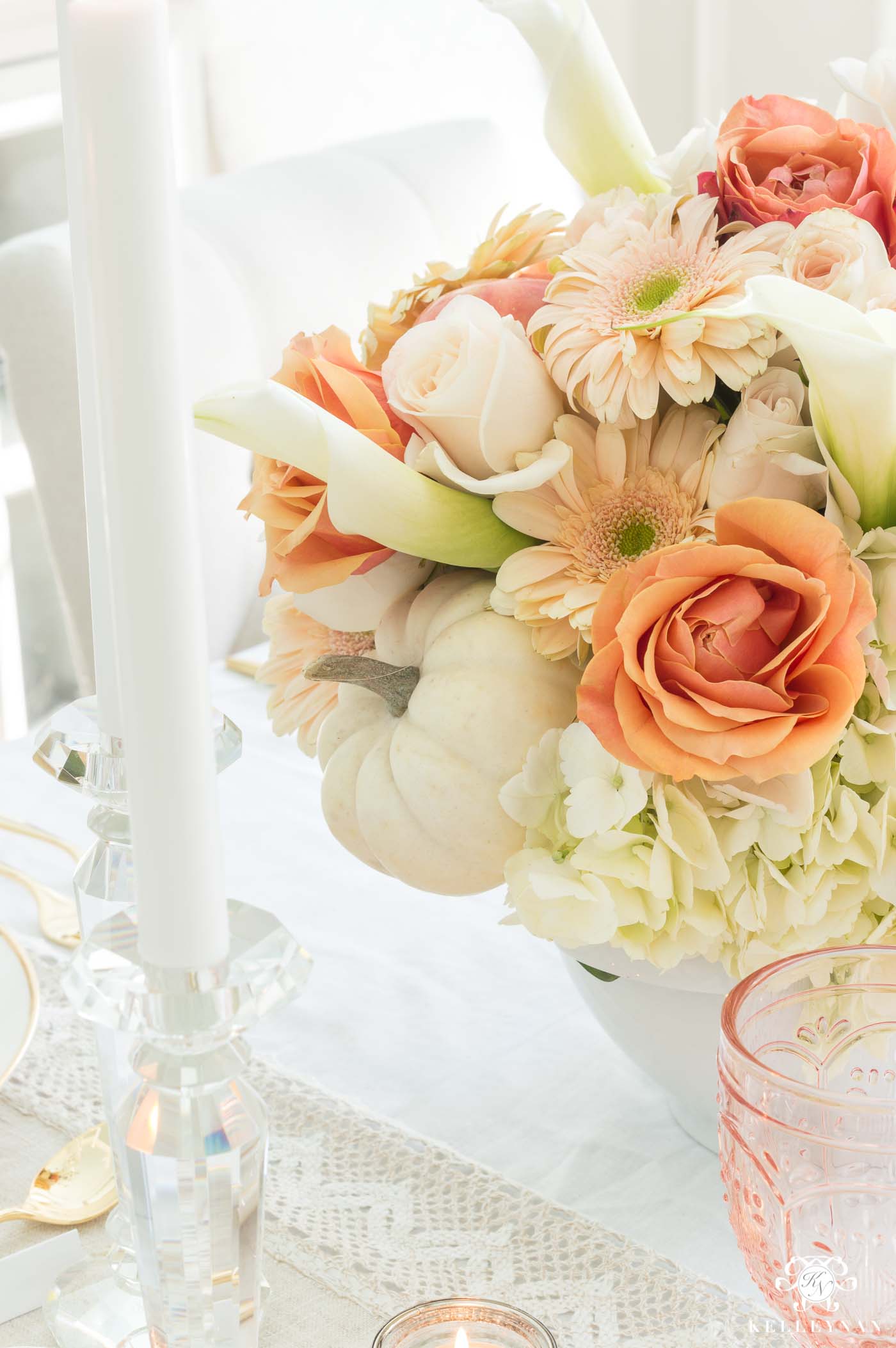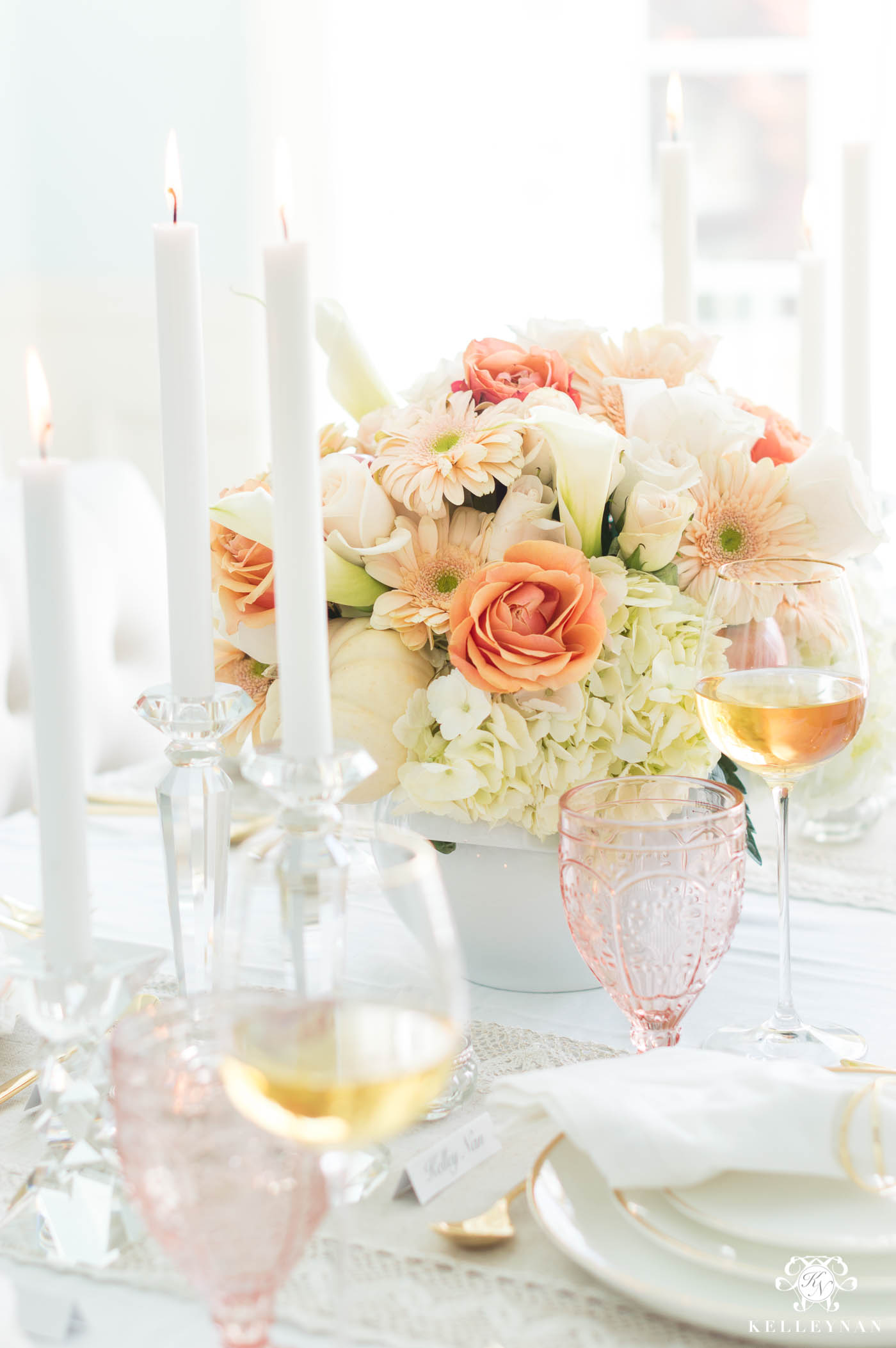 If you're a regular visitor, you know I love a good garland runner. They're easy but can appear like you put in more work than you did- but, they can also be a bit fussy and look like there's a LOT going on. To keep an elegant look that was complete but easy on the eyes, I used a combination of tapered crystal candlesticks (tall, short, tea light).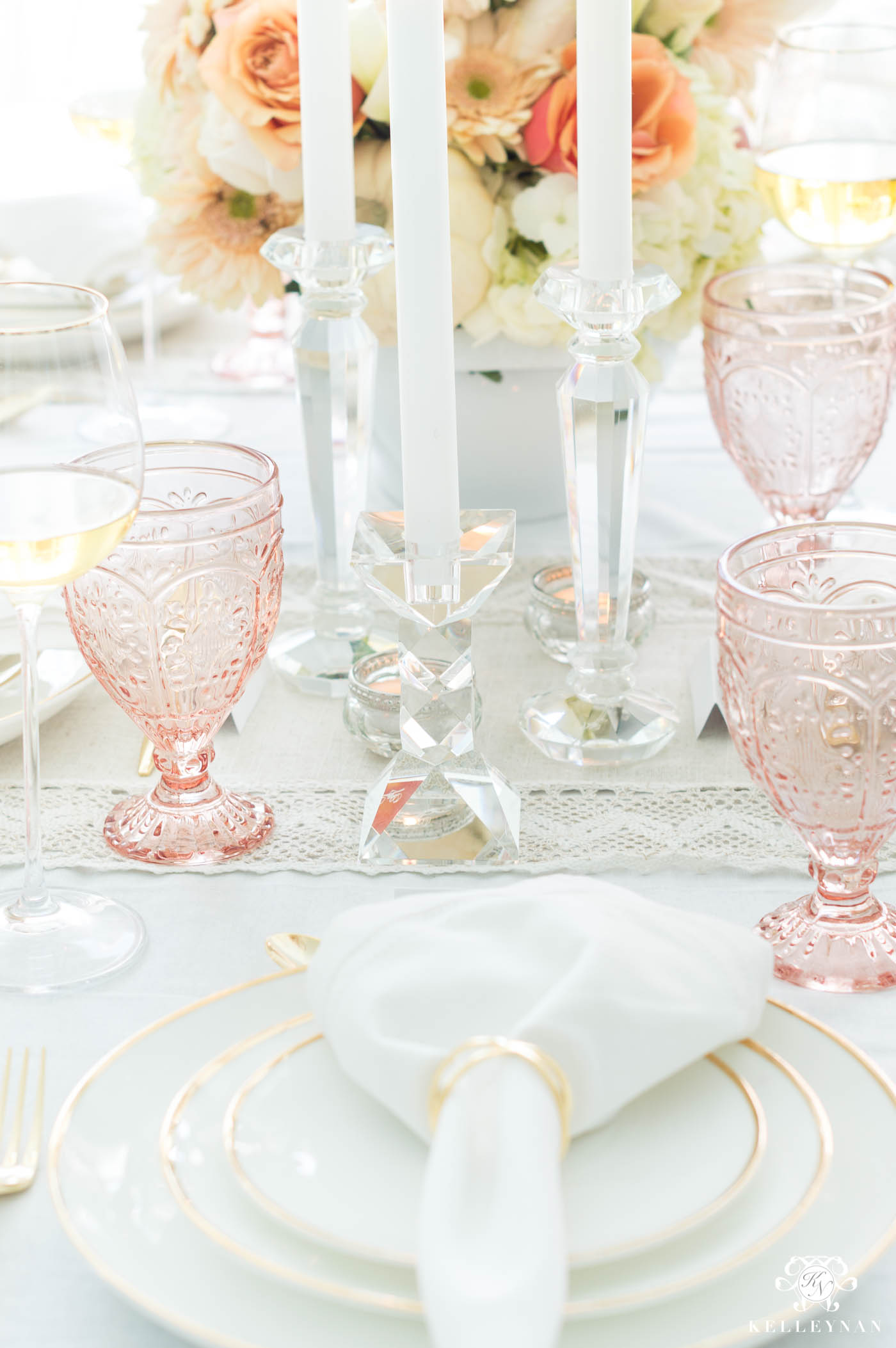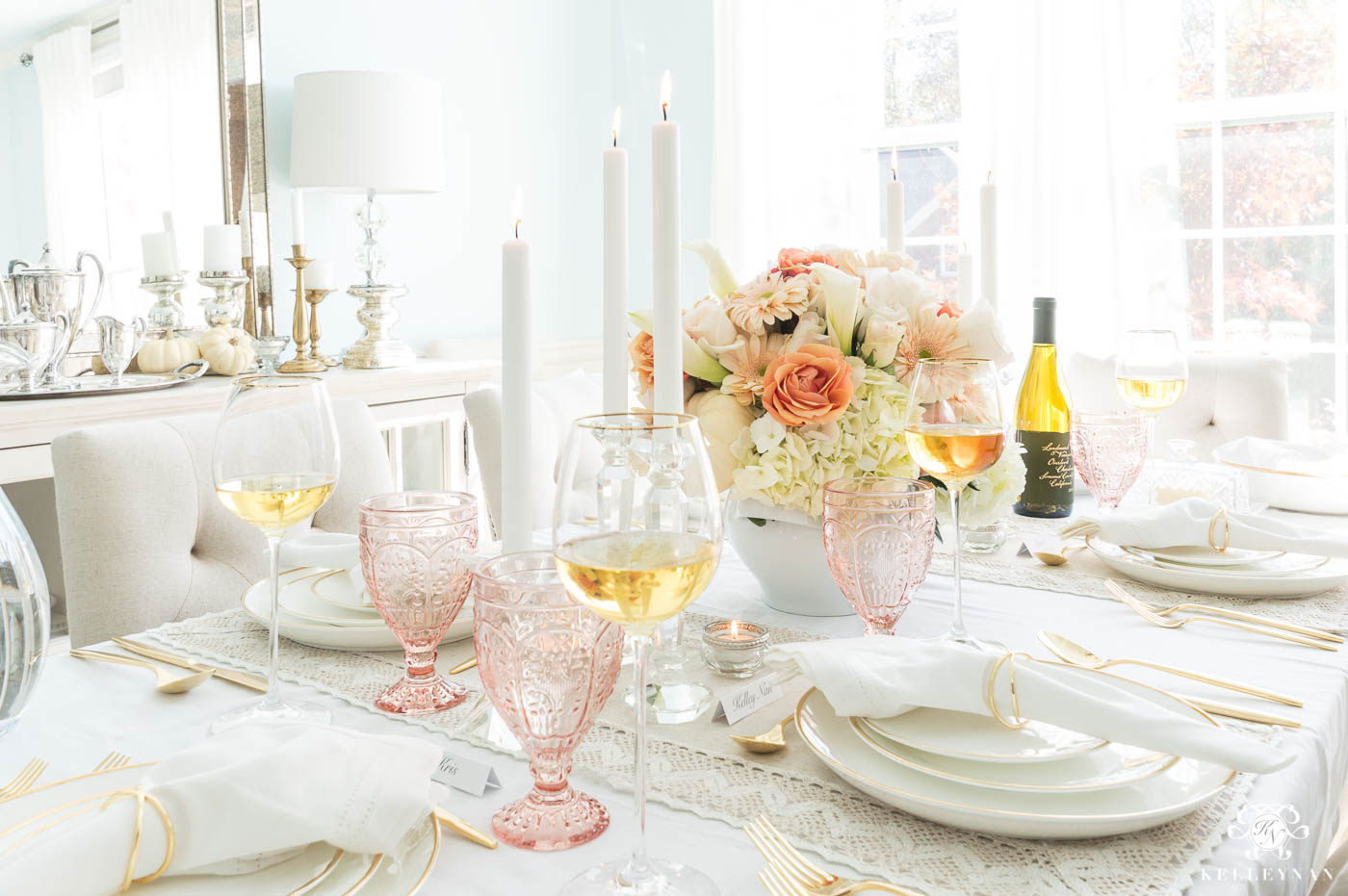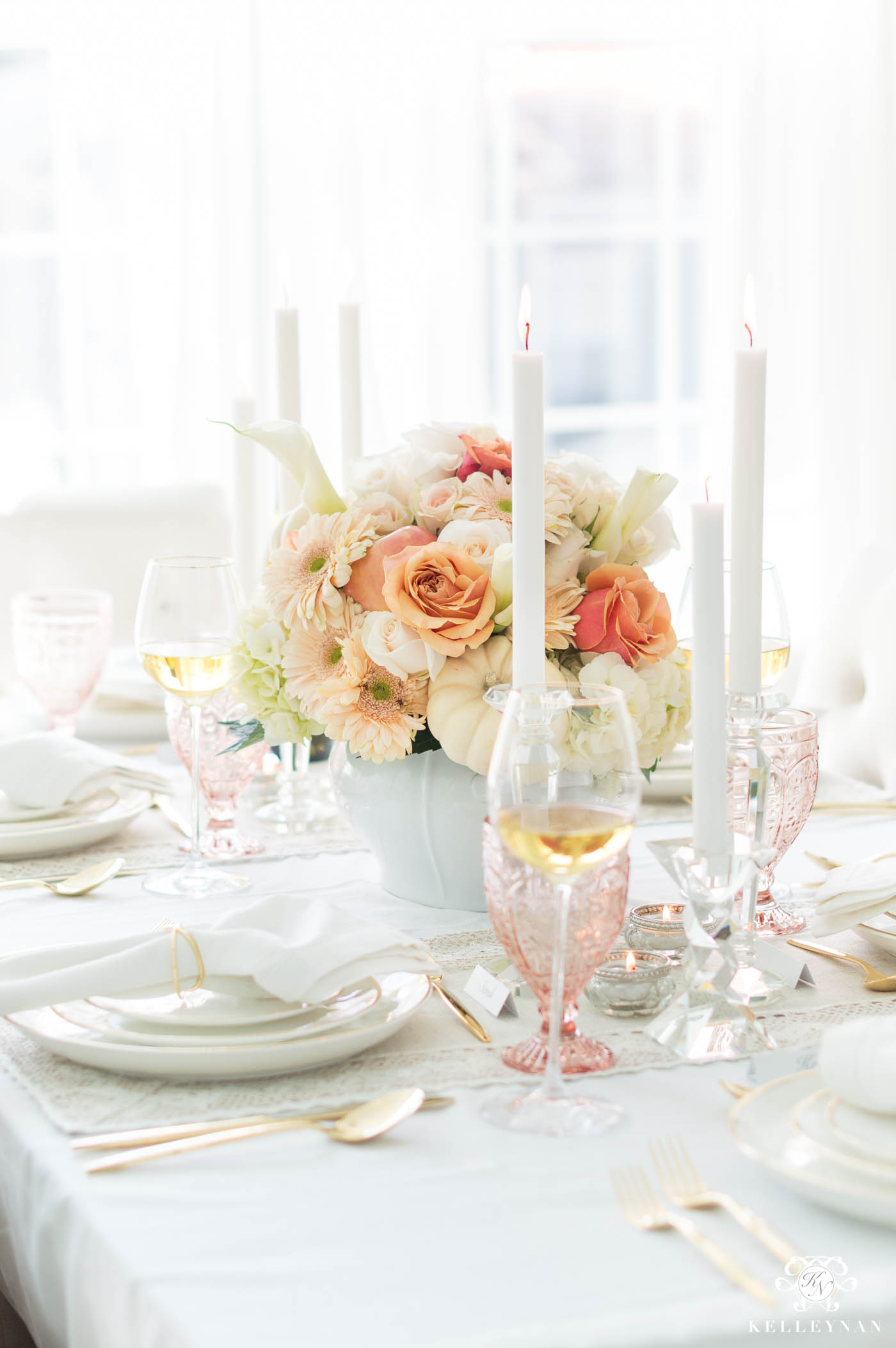 Every piece on this table was quickly sourced online – most are also available in store at Bed Bath and Beyond too, but I browse web pages quicker than I browse aisles 😉 Plus- I've been building a little gold rimmed, Olivia & Oliver wishlist so I was basically halfway "there" in concepting my entire holiday table before I even started.
THANKSGIVING DINNER ESSENTIALS CHECKLIST
Are you a seasoned pro at hosting Thanksgiving dinner? Or, is this the first year you're planning to take it on? As with any party a menu, schedule, inventory list, and to-do list will be your best friends.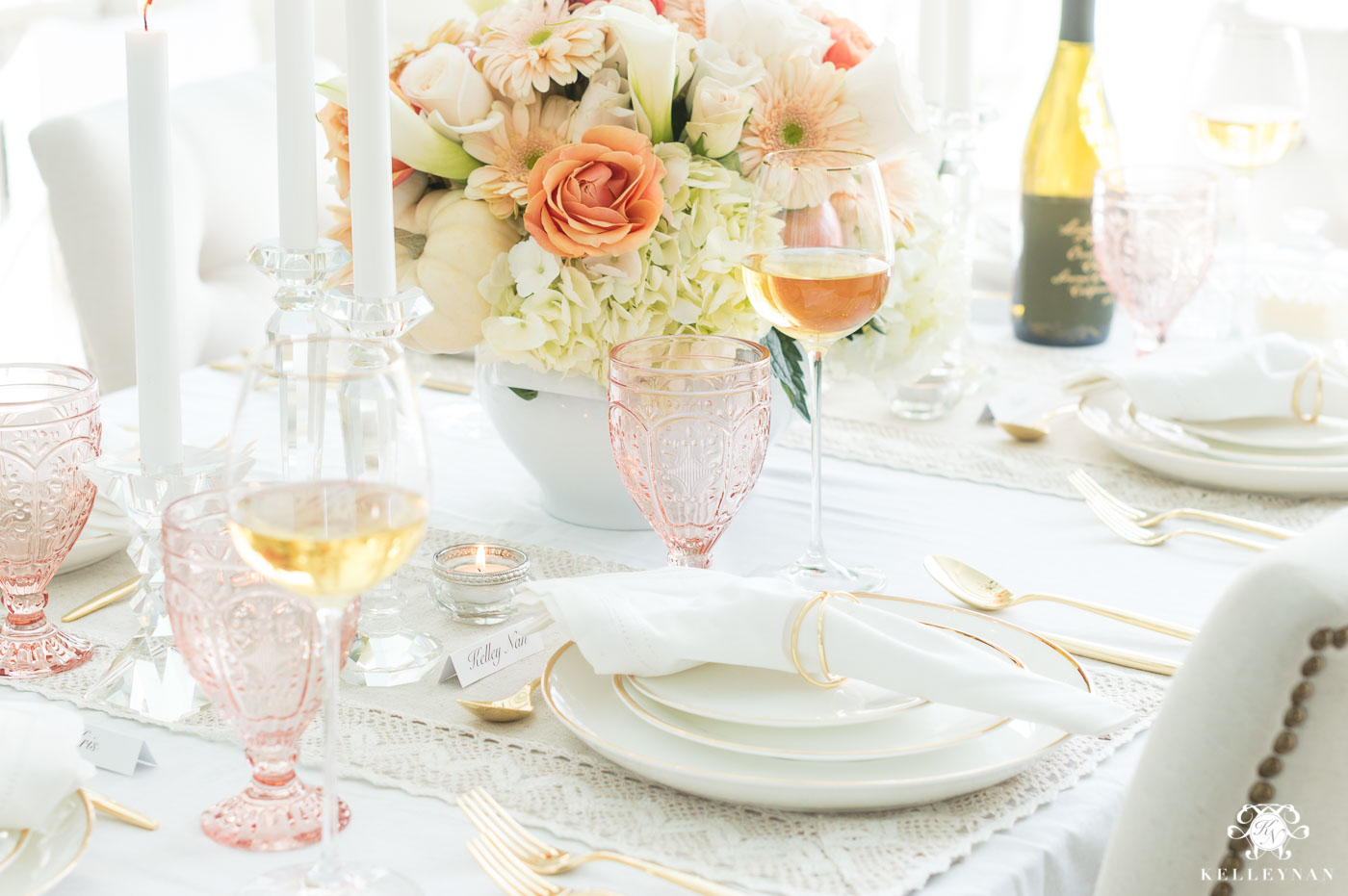 Hosting Thanksgiving dinner isn't necessarily difficult but I think it can be intimidating because it's basically considered the most "important"/notable meal of the year. No pressure, right? 😉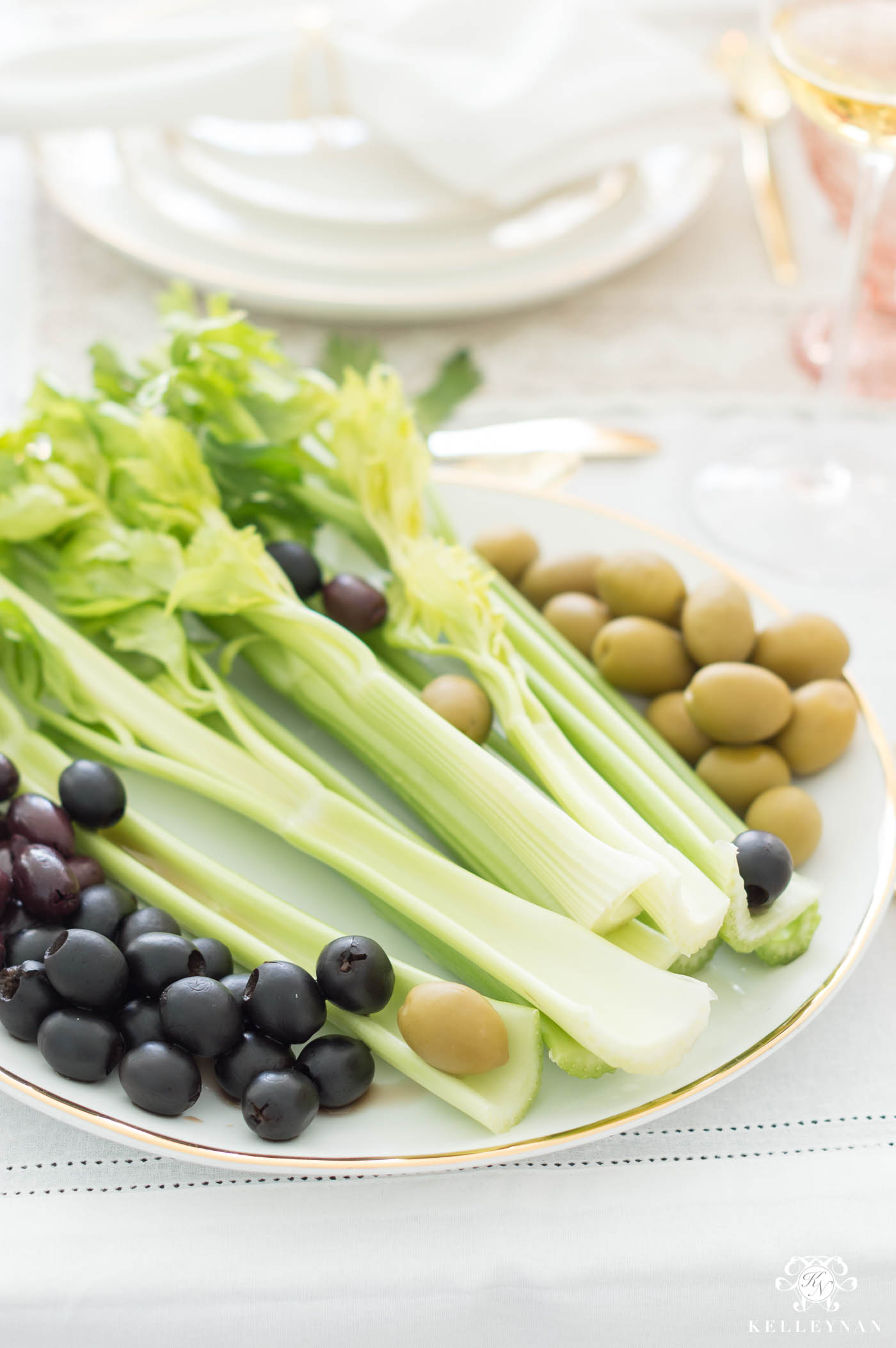 Here's how to keep it all manageable. Start with the menu and list everything out – from entree and sides to appetizers and dessert. And you guys, you make think this is silly but on the menu, we even list "butter, salt, pepper". Seriously, list is all out. Then go through each food item and consider 1. how it needs to be prepared, and 2. how it needs to be served. Make sure you have the roasting pan/cookware/slow cooker (and enough of them) on hand to be able to prepare everything in the timeframe it needs to be prepared.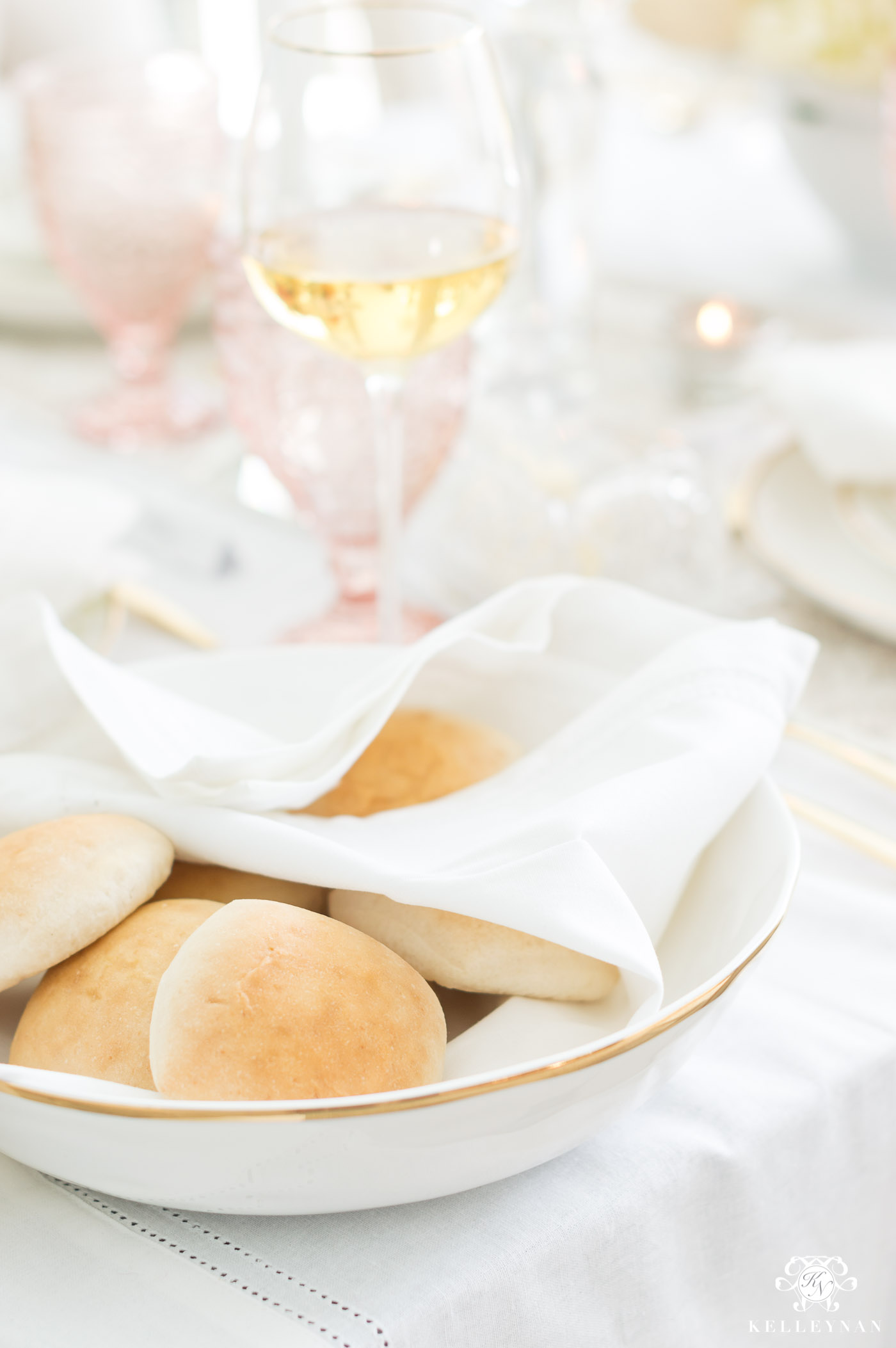 Set out the pieces as you take inventory. In your head, you may assume you have "enough" serving spoons but in reality, may be four short if they're all in use.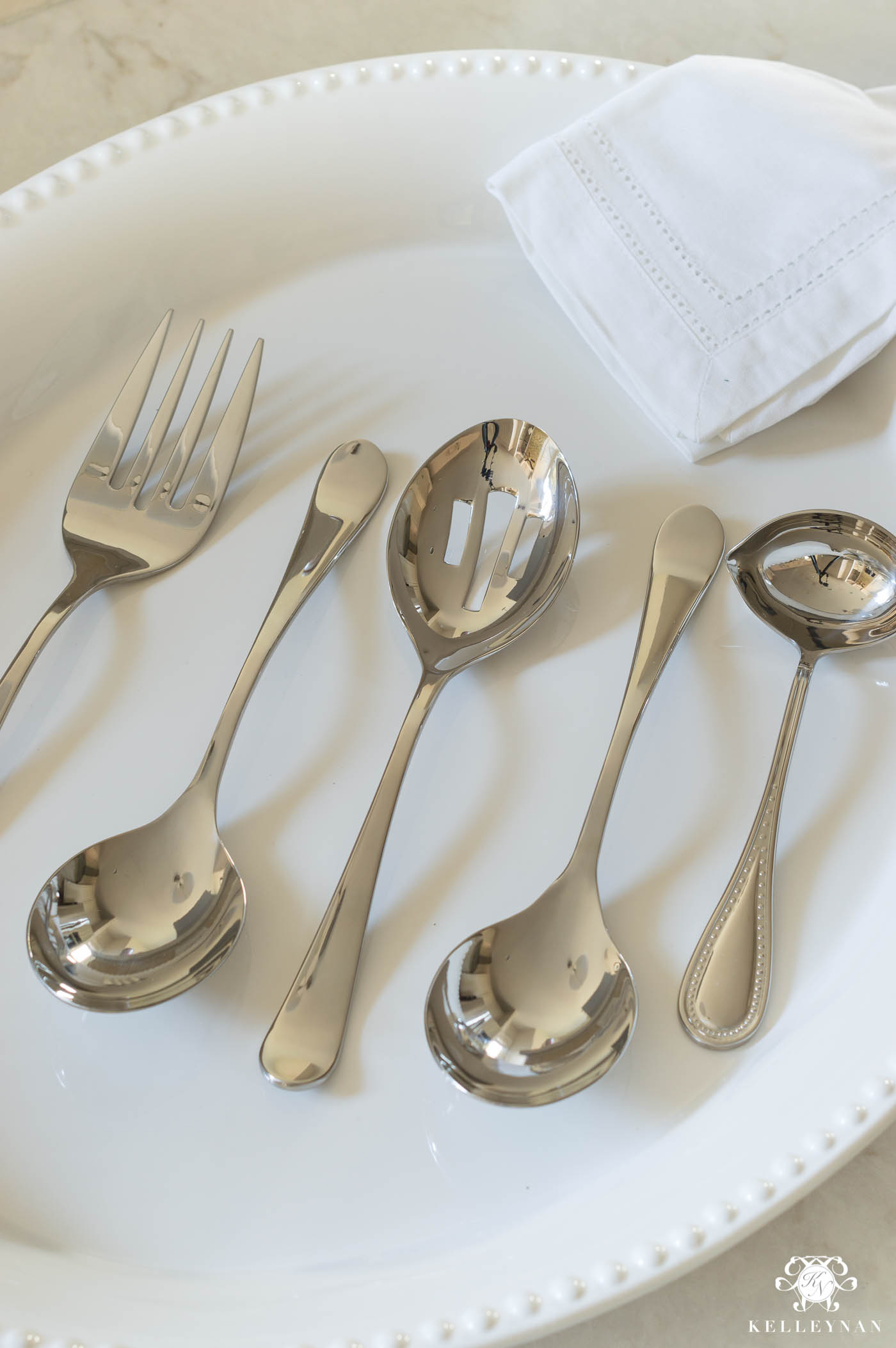 Maybe gravy boats and butter dishes don't immediately come to mind if you don't use them often – if you're hosting for the first time this year, it's a perfect reason and there's no better time to go ahead and add them to your arsenal.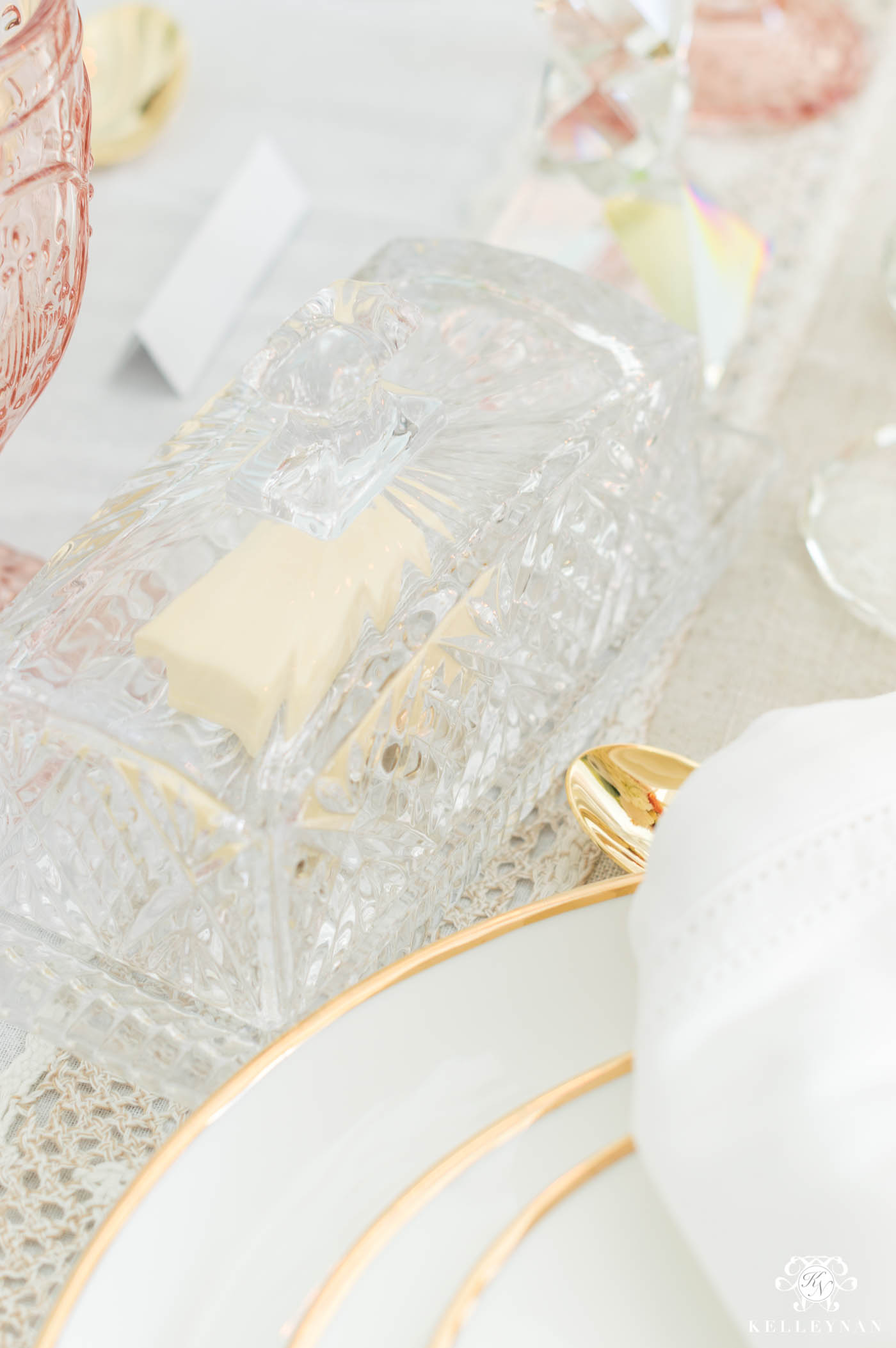 Even if you don't have the greatest knife set, don't overlook a single, quality, sharp carving knife (and carving board).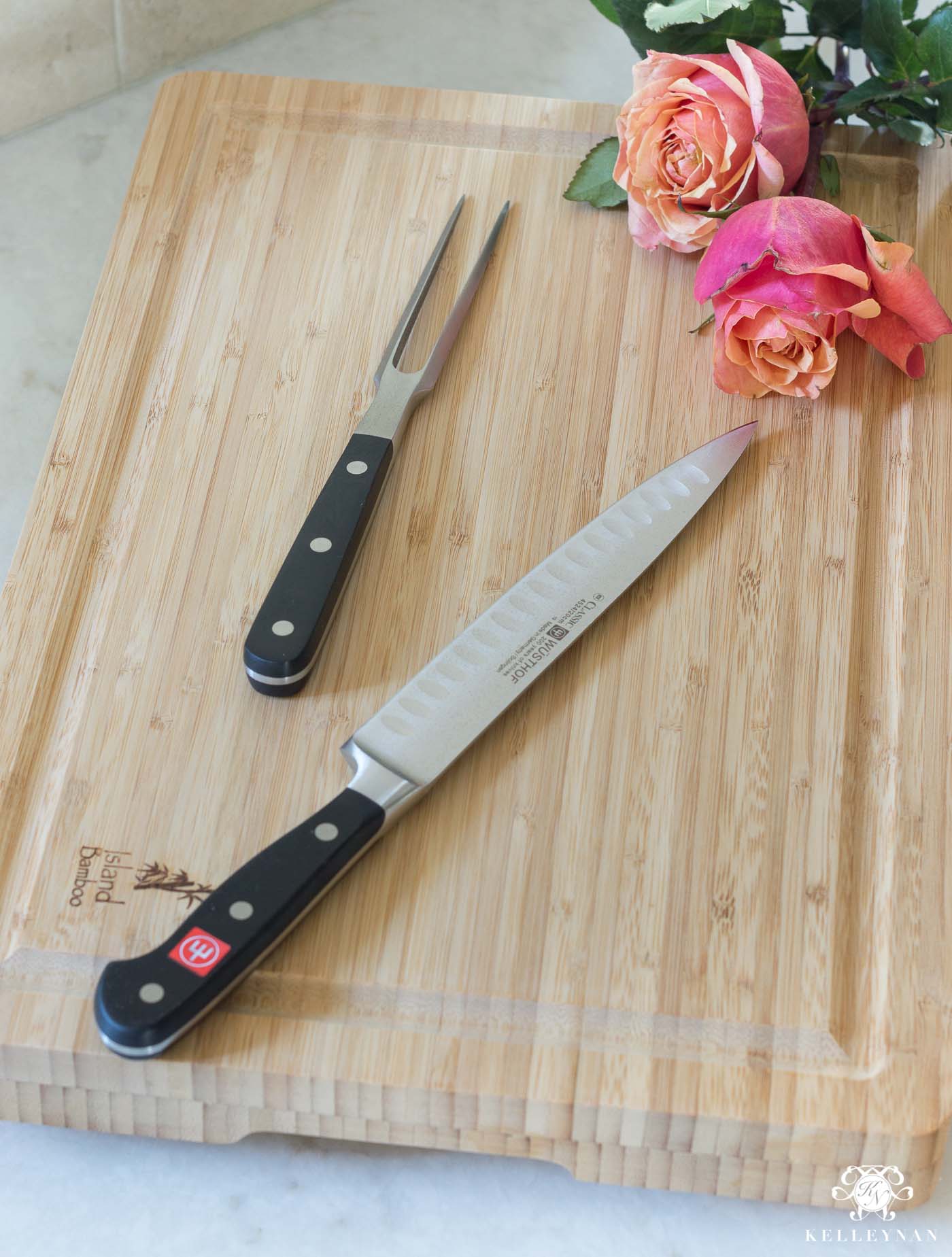 Here's a full list of hosting essentials for Thanksgiving dinner.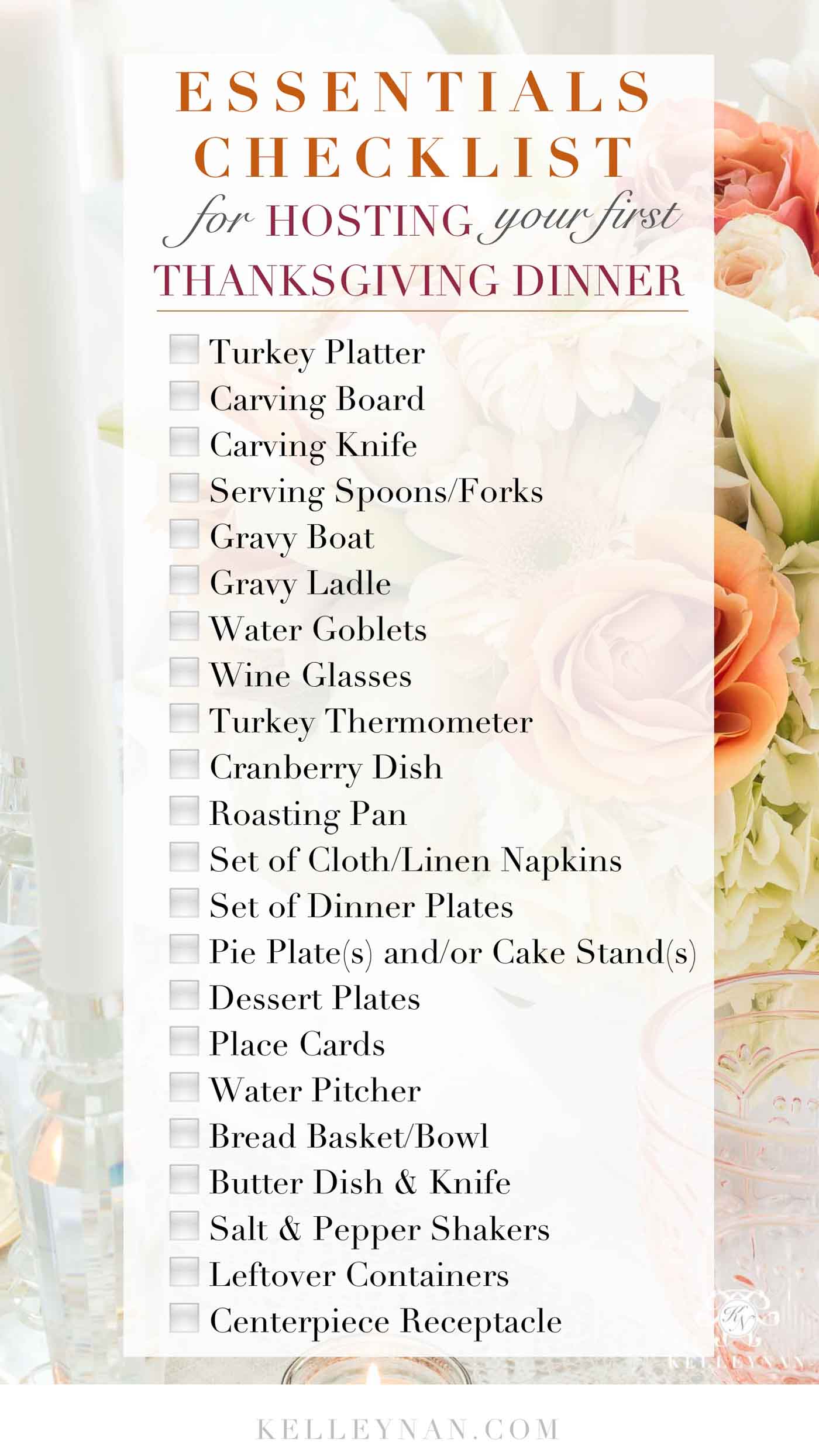 We are set to host Thanksgiving dinner again this year and in addition to preparing for all of our out-of-town guests, we'll also be preparing our home for Christmas. Our Thanksgiving guests are now used to eating turkey under twinkling lights 😉 Stay tuned because I'm going to be showing it all really soon. Make sure you're subscribed to my emails; if you aren't, you can sign up at the bottom of this post.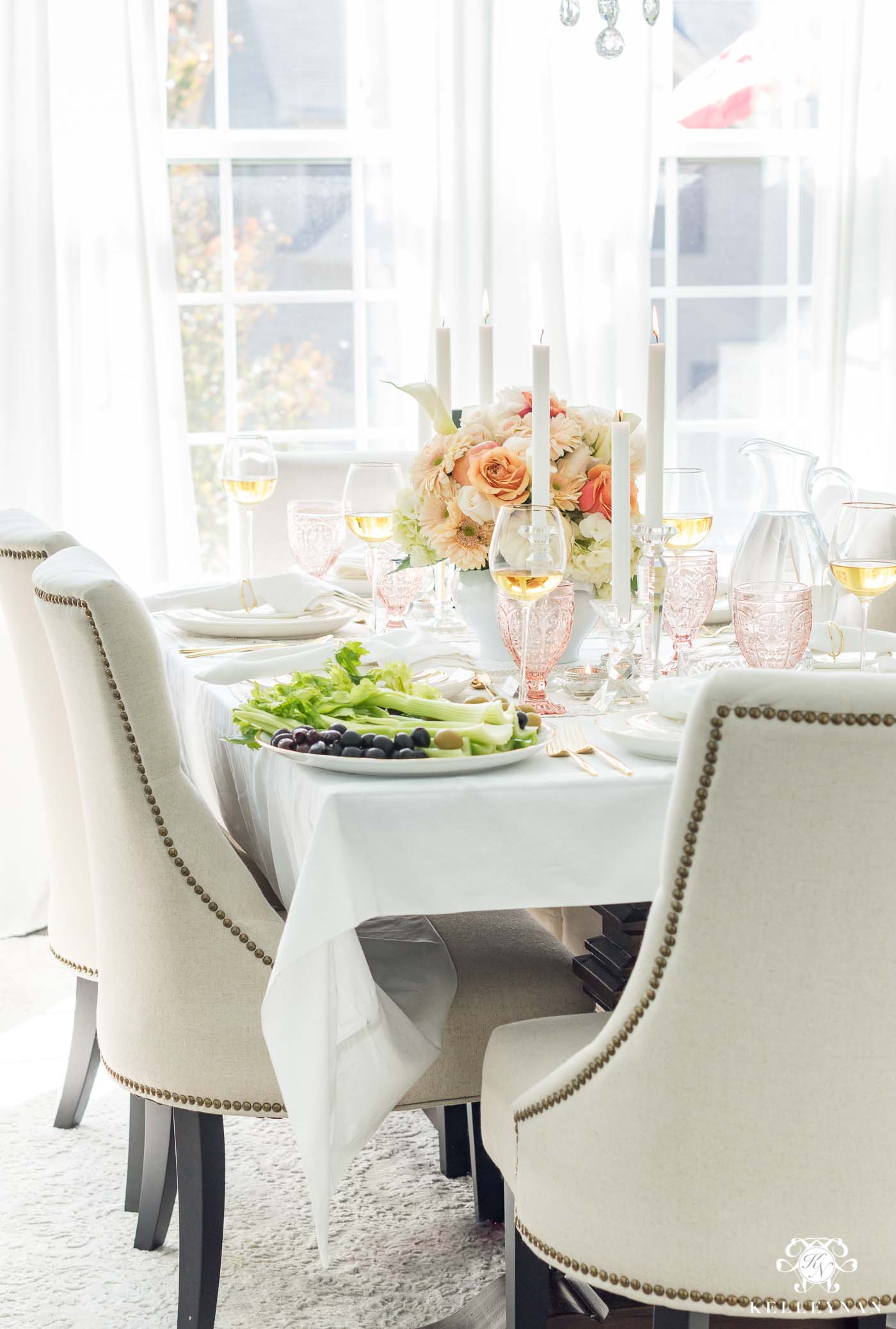 SOURCES & DETAILS



Place Settings: Dinner Plates // Salad Plates // Appetizer Plates // Linen Napkins // Pink Goblets // Gold Rimmed Wine Glasses // Napkin Rings // Gold Flatware
Centerpiece/Table: Linen Tablecloth // Table Runners // Tall Crystal Candle Holders // Short Crystal Candle Holders // Tea Light Candle Holders // Tapered Candles // Soup Tureen (Floral Receptacle) 
Serving Utensils/Dishes: Gold Rimmed Serving Bowl // Gold Rimmed Serving Platter // Water Pitcher // 21″ White Beaded Turkey Platter // Wooden Carving Board // Wusthof Carving Knife Set // Gravy Ladle // Slotted Serving Spoon // Serving Spoon // Serving Fork // Glass Butter Dish
CHECK OUT THESE THANKSGIVING POSTS