Here's a funny story- not funny like "haha" funny. And, it's not even really a story. I had a full Christmas to-do list (with due dates) prepared as an email-exclusive opt-in… but never actually launched it. So, here we are, two months later, and I've decided to take the original checklist and morph it into a comprehensive guide so we can all work on getting on track before we blink and it's Thanksgiving. Each year toward the end of Q3, I give myself a pep talk, take inventory of all my holiday to-dos, and tell myself that this is going to be the year I stay on top of it all. I've even created late summer task lists we can conquer early on to take off some of the holiday heat (HERE). Well, I guess I already failed a little bit this year, so let's take a look at what's on our Christmas to-do list and how we can start today to make sure we get/stay on track to get all the things completed this holiday season. Maybe you thrive on a last minute schedule but if I don't have a plan or at minimum, list of priorities, I'm totally lost. Here are the 21 items to consider for your holiday prep and Christmas to-do list.
*Posts on KelleyNan.com may contain affiliate links. Click HERE for full disclosure. *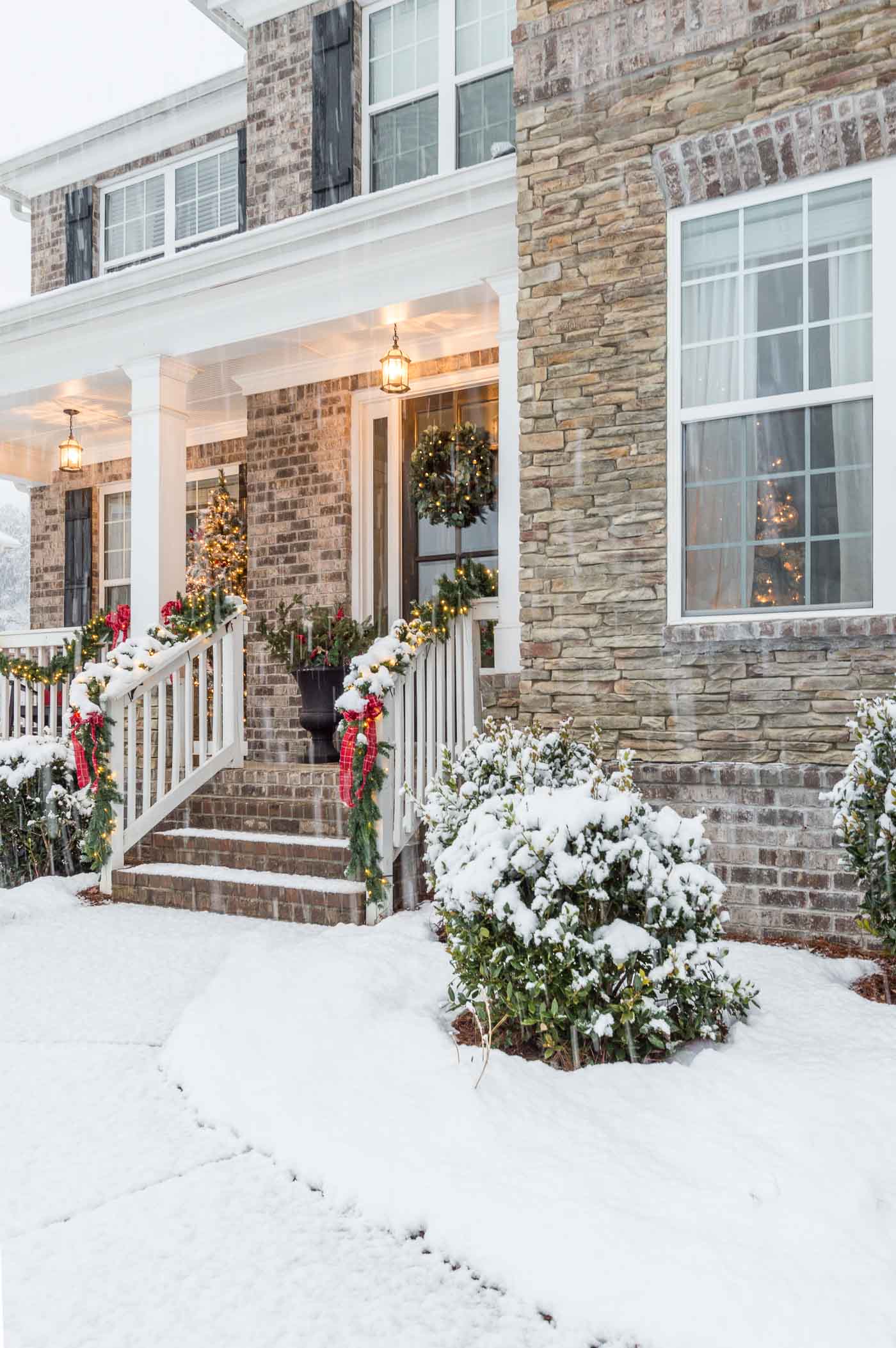 Holiday Prep & Christmas "To-Do" List 
1. Holiday cards
Plan out your Christmas card list (don't forget to edit and update)
Decide on location and date if you are planning on using a photographer- If you haven't already, BOOK NOW!
Gather inspiration of what you want your photos to look like
My absolute favorite source for Christmas cards (as well as announcements and invitations) is Minted. Their quality and thickness make a big difference 😉 Plus, they will address your cards for free which cuts the process down substantially once they arrive. Check out this year's options HERE.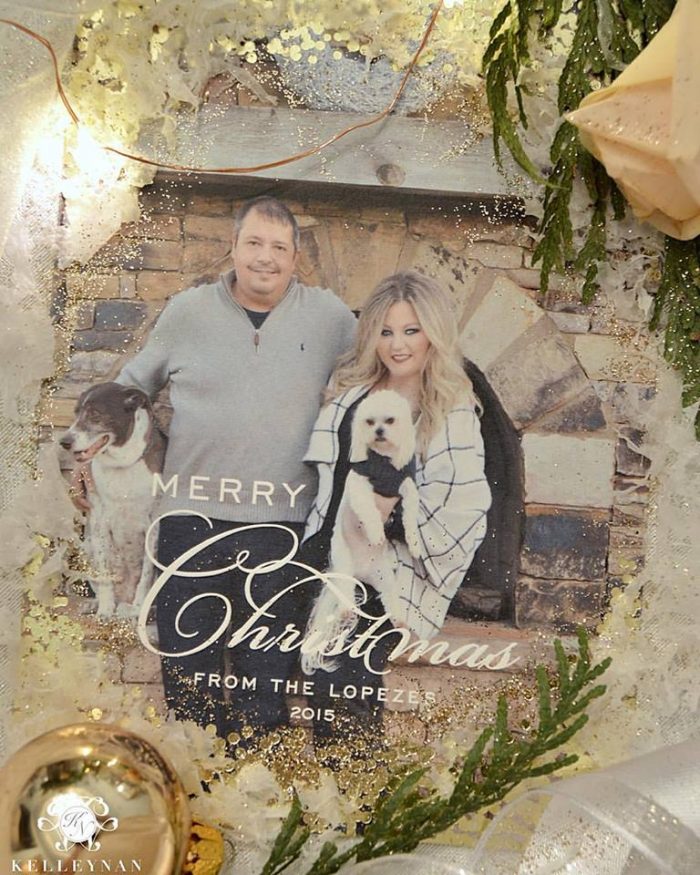 2. Christmas Gift List
Make list of people
Set budget
Don't forget: general host gifts
Don't forget: tokens of thanks for people in your life who provide regular services (housekeeper, mail delivery person, teacher, etc.)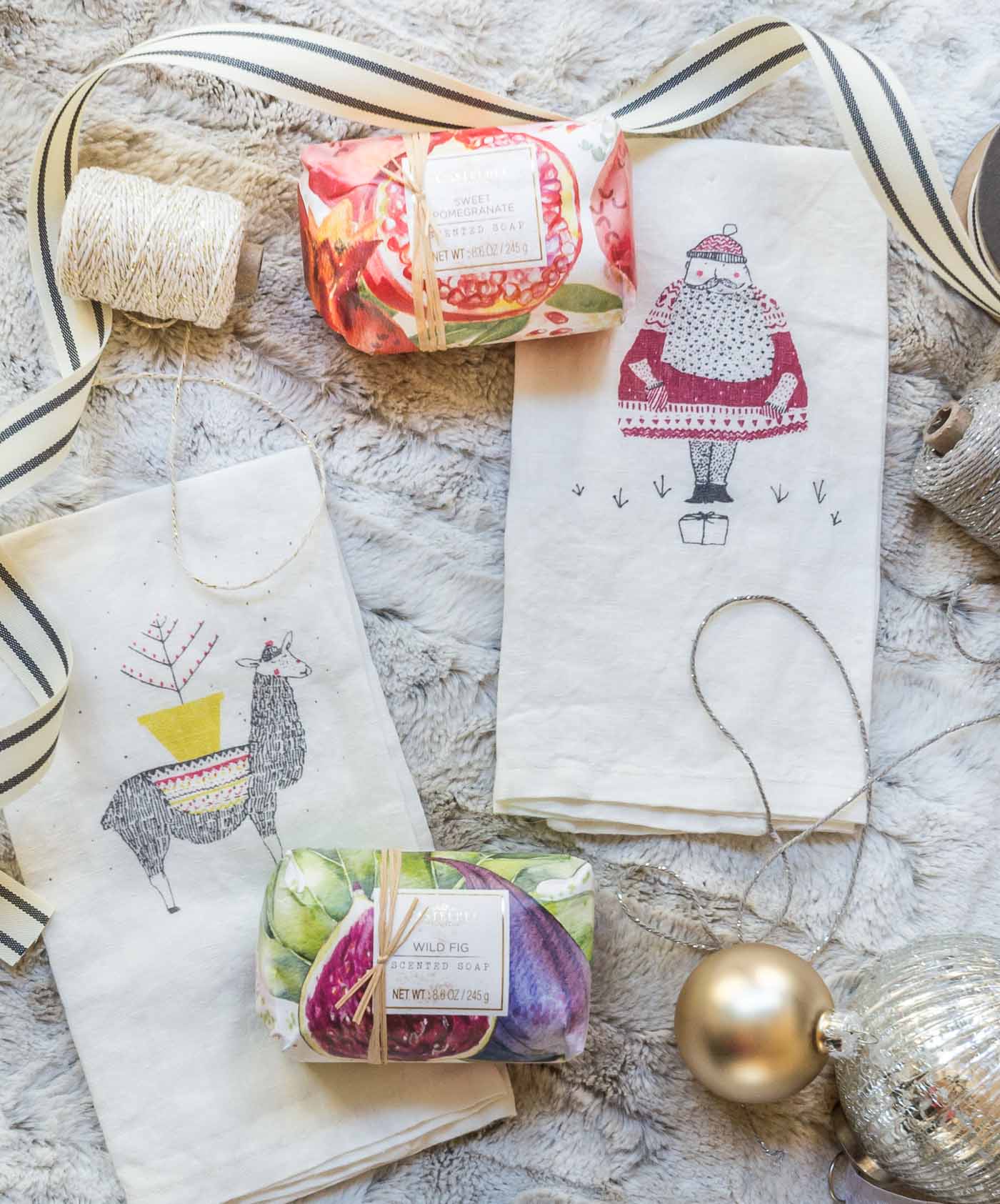 See some gift ideas from the past here:
3. Holiday Party Plan
Take a look at your calendar and pick a date, if you haven't already. If it's an intimate gathering, you can go ahead and ask friends/family to mark their calendars.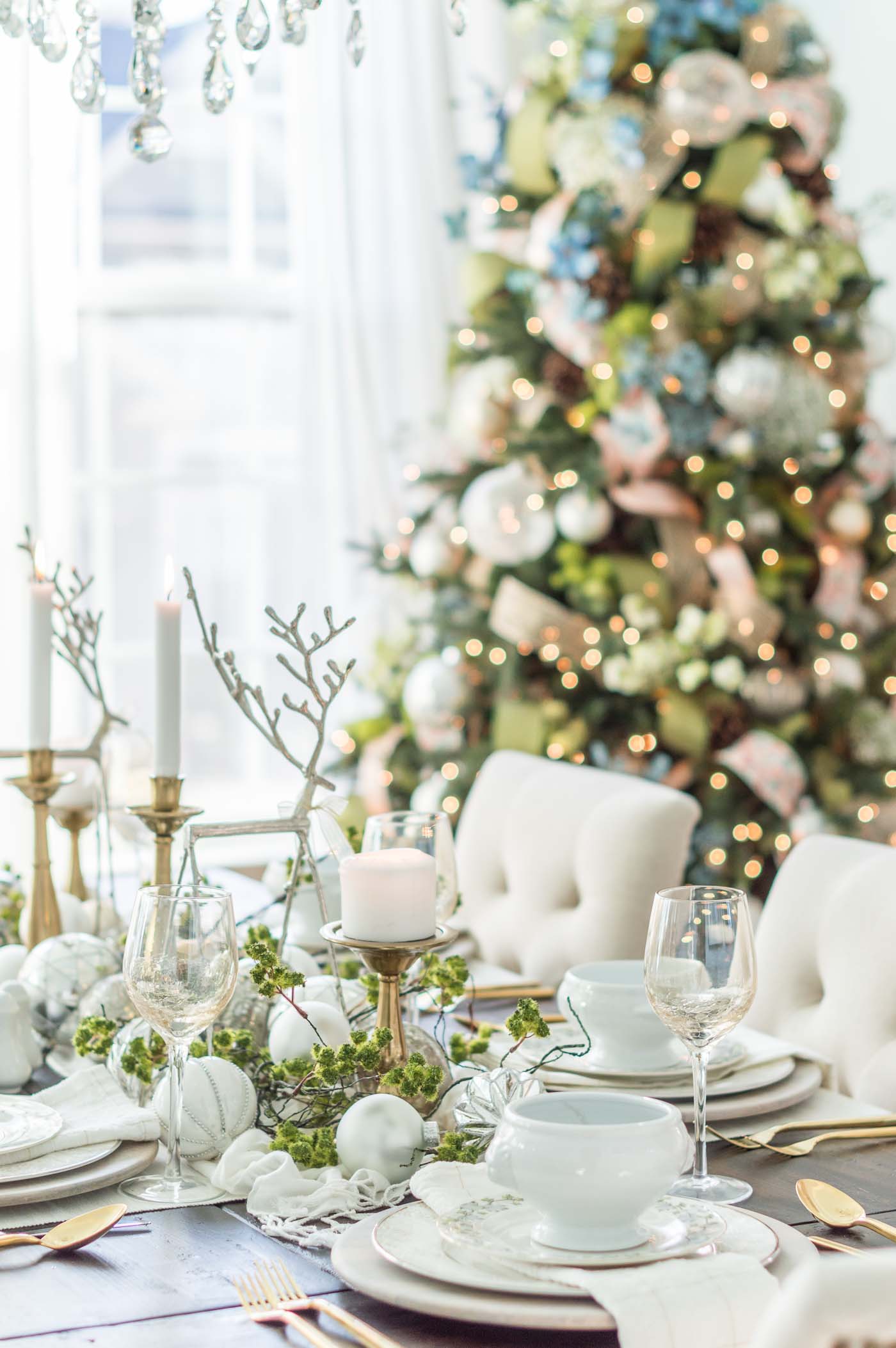 See some of my holiday entertaining ideas in the Christmas gallery HERE.
4. Home Decoration Plan
Do you decorate the same each year or mix it up with new themes and/or colors? Take inventory of what you have and what you need and write it all down. If you scored some goodies last year after Christmas, don't forget where you put them and add them to your arsenal.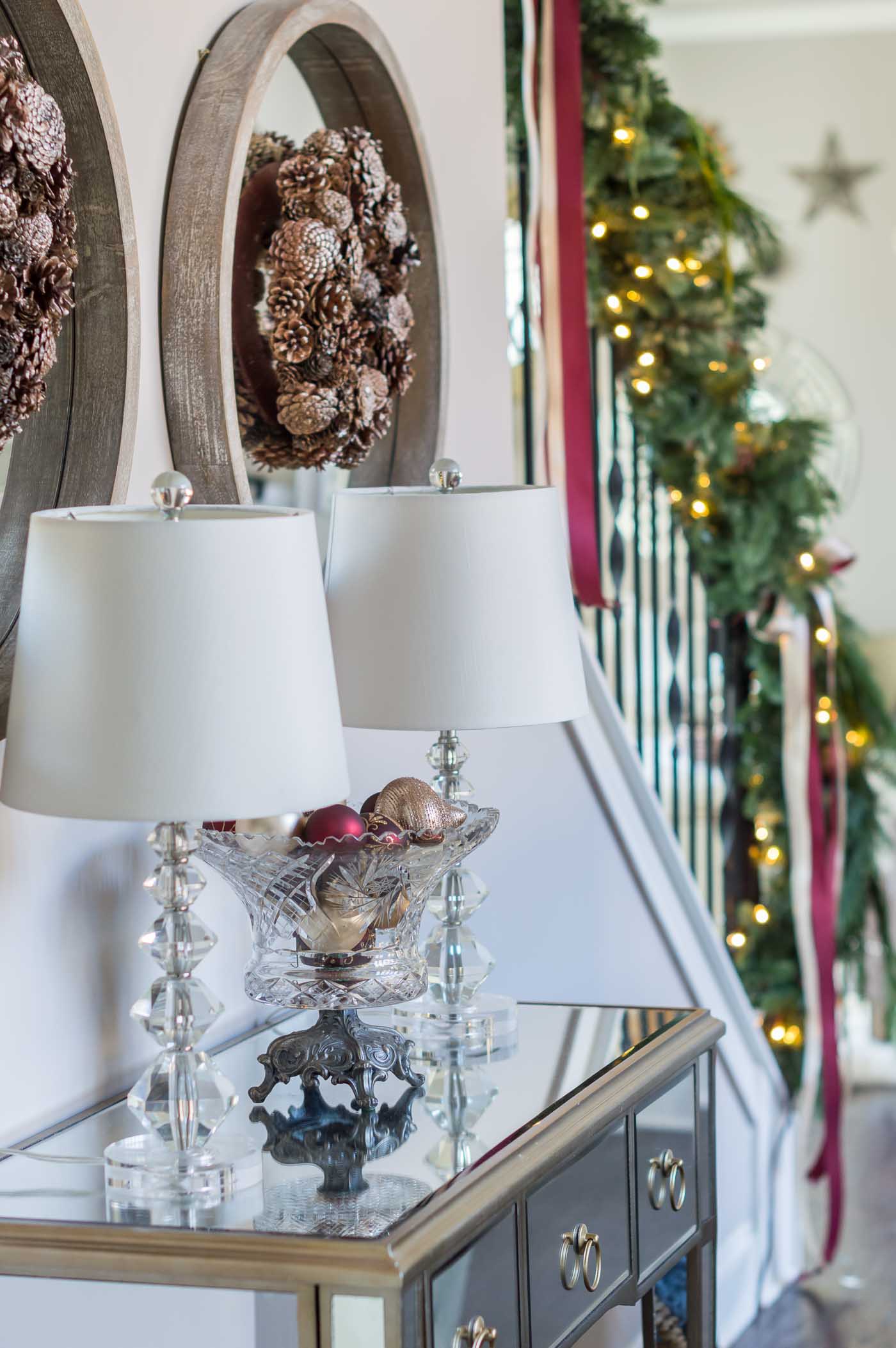 See my 2018 Christmas Home Tour HERE and the 2017 Night Lights version HERE.
5. Shop for New Decor
Christmas decorations have been out since well before Halloween and have already started to get picked over. If you do plan to add some more ribbon, ornaments, etc. to your arsenal, don't wait until after Thanksgiving to secure your loot. The best stuff usually disappears quickly 😉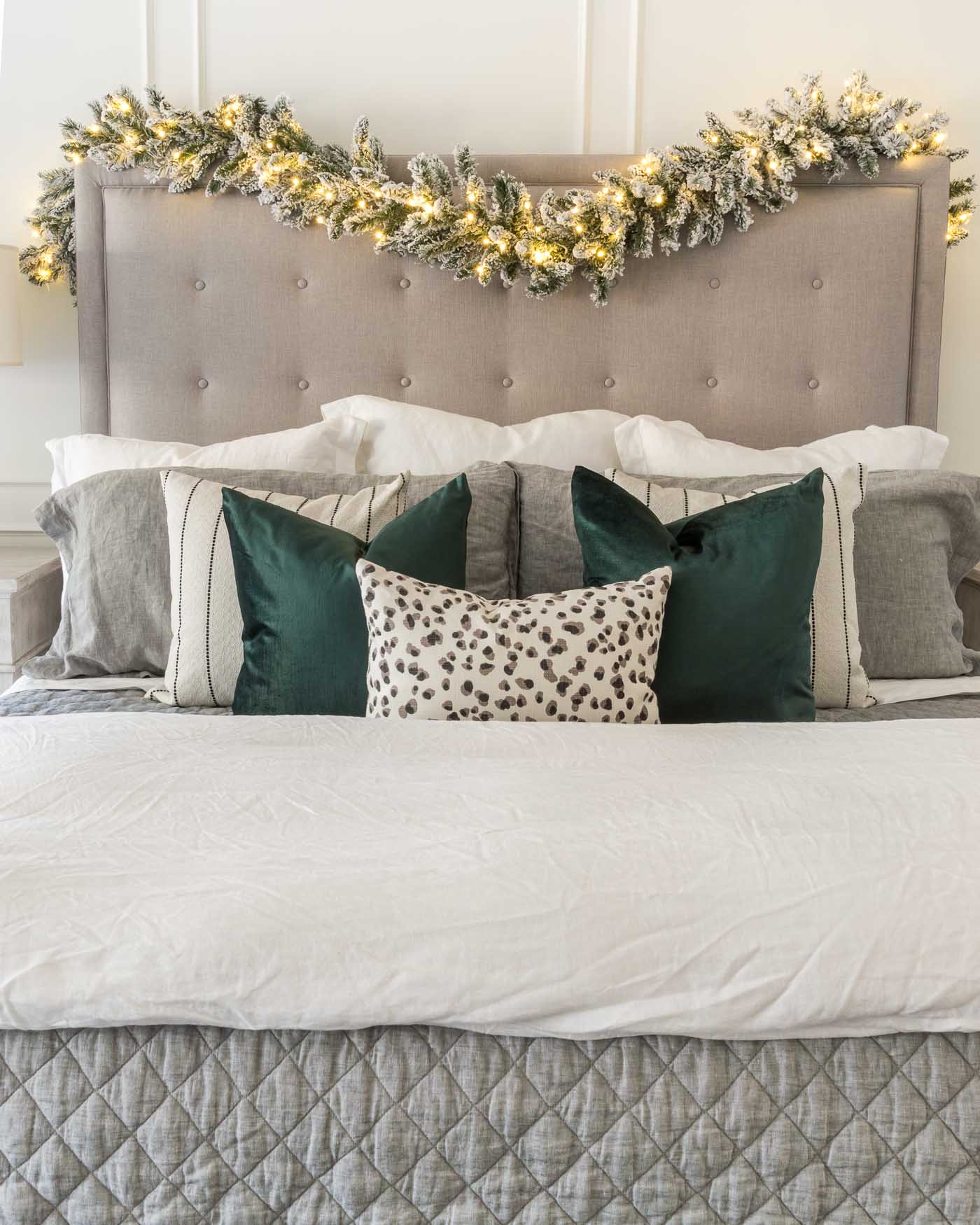 Scroll & Tap to Shop Christmas Bed

See my 2018 Christmas Home Tour HERE and the 2017 Night Lights version HERE.
6. Schedule Outsourcing
This may or may not apply to you but if you use an outside company to hang outdoor lights, wrap gifts, deliver christmas trees, etc., go ahead and get them scheduled.
7. Holiday Bucket List
Brainstorm a comprehensive list of all the fun activities, traditions, experiences, and trips you want to take. If something requires advanced booking, go ahead and schedule that now.
Bucket List Ideas:
Ride around to look at lights
Create a "Polar Express" experience (with pajamas, hot chocolate, and all the essentials)
Make food for Santa's reindeer
Day of Christmas baking
Watch Hallmark/family Christmas movies
Go to see a new movie in theaters
Take your family to ice skate
Pick out a Christmas tree
Map out your caroling route
Candlelight church service
Read 'Twas the Night Before Christmas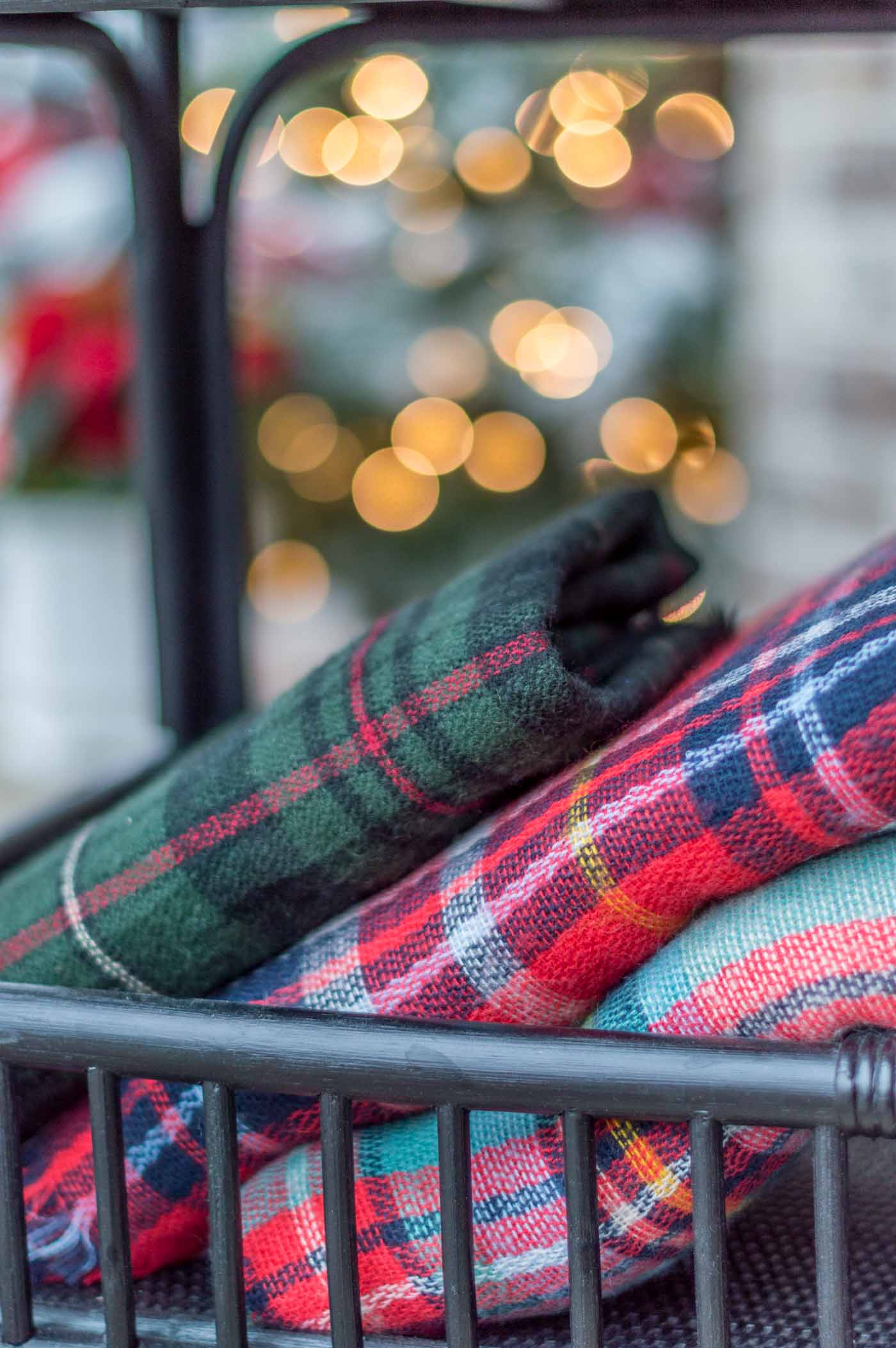 8. Secure Extended Family Visitation Schedule
Talk to family members and determine who is hosting what, and on which days and times. If you are planning a more "intimate" holiday with your immediate family, or don't plan to participate in family activities you have typically participated in the past, go ahead and have those conversations with family members so they aren't surprised when the holidays are here. *Remember to ask off of work if necessary.
9. Holiday baking
Make a list of treats, gather your recipes, and plan when you'll be in the kitchen, getting in the spirit. Will your goodies be for family only? Prepped for parties? Used as gifts? You don't want Christmas Eve to sneak up and realize you never got around to it.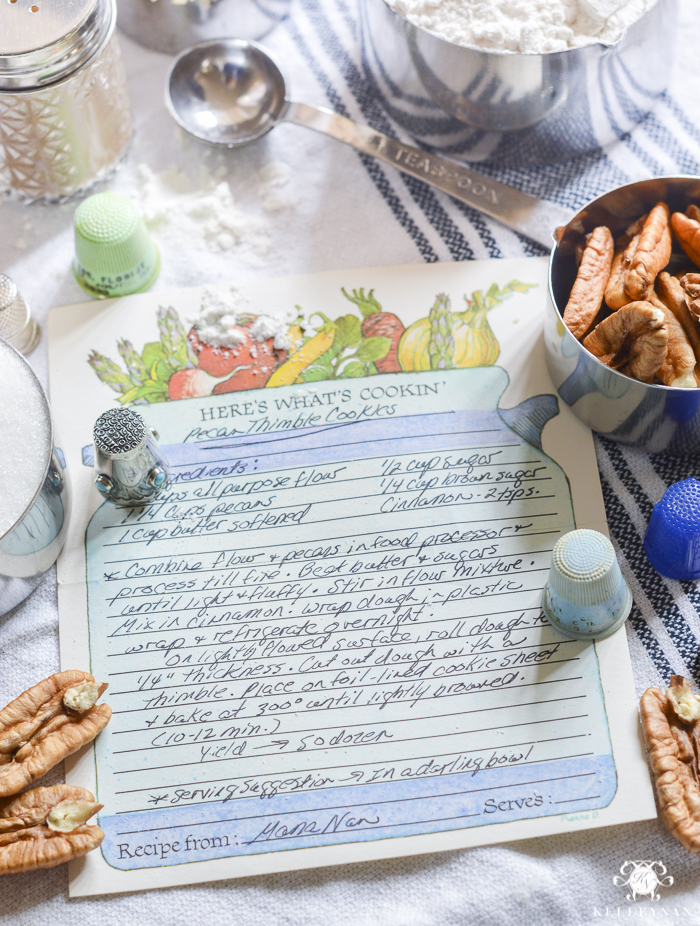 See a few holiday baking ideas here:
10. Trip to see Santa
Does Santa require an appointment? If so, schedule or at least make not on your calendar when you need to schedule that to make it happen.
11. Advent calendar
If you have one you use every year, great! If you want to come up with something new, that is something you can go ahead and start working on. You can even find a couples'/family advent calendar idea HERE.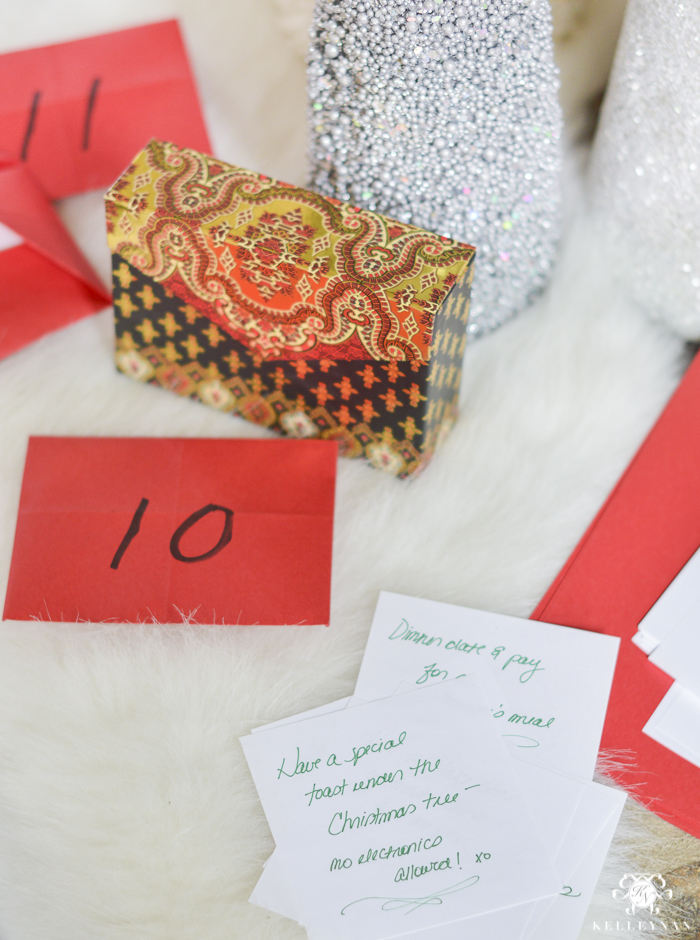 12. Gift Ordering
Set a goal for when you want to be "finished" and get to ordering! Reminder- most online sales around Thanksgiving are as good as Black Friday sales. Also, cyber Monday is not just cyber Monday anymore! Retailers are now running specials the entire week of Thanksgiving. IF there is something you need and there is a sale, go ahead and order it instead of wondering if the price will drop and risk losing out.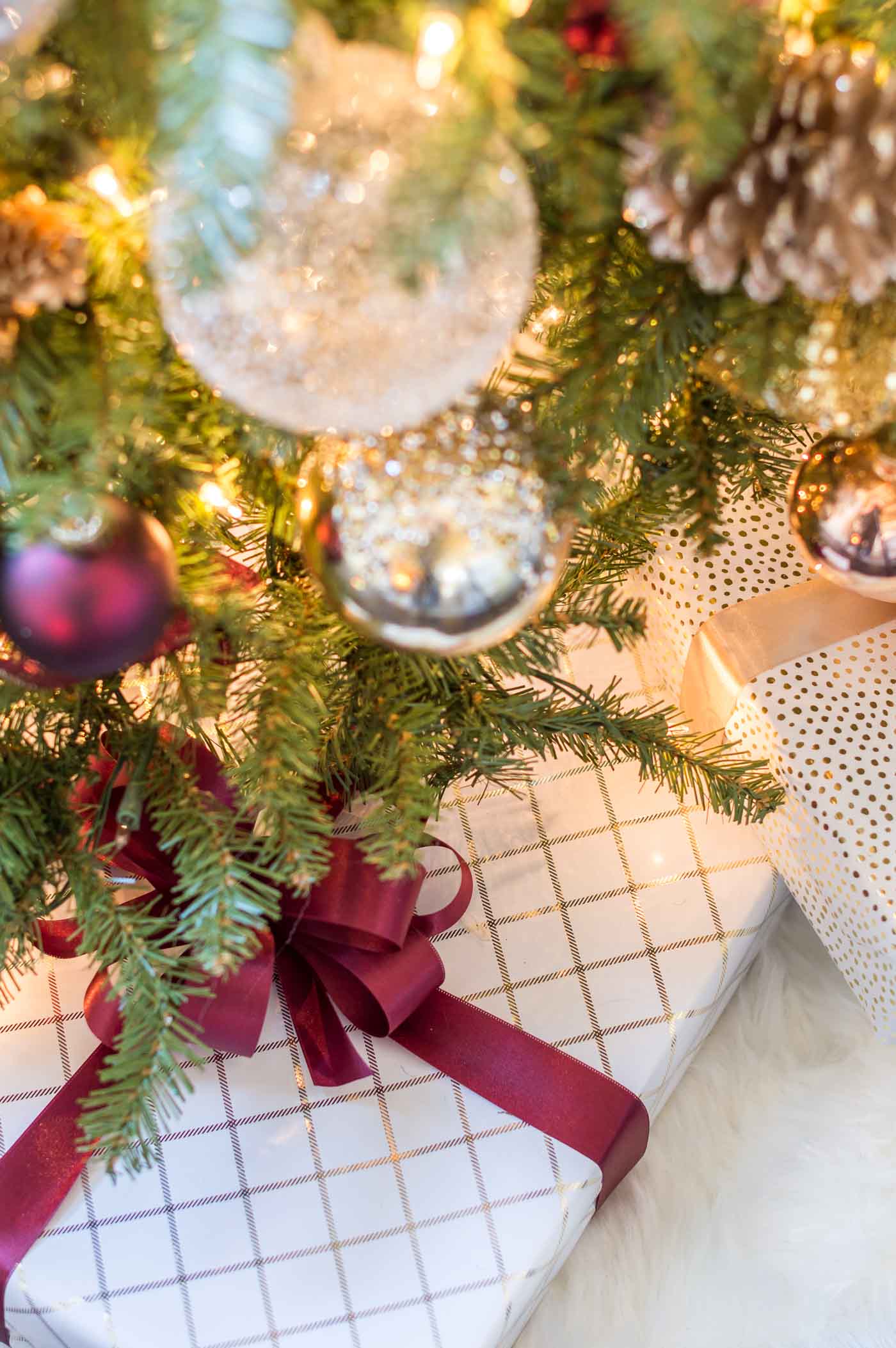 13. Christmas Traditions
Do you have a tradition of surprising your family with new ornaments and/or Christmas pajamas? If so, start ordering now. People get whipped into a frenzy over seasonal pajama bottoms and often run out before December has even begun.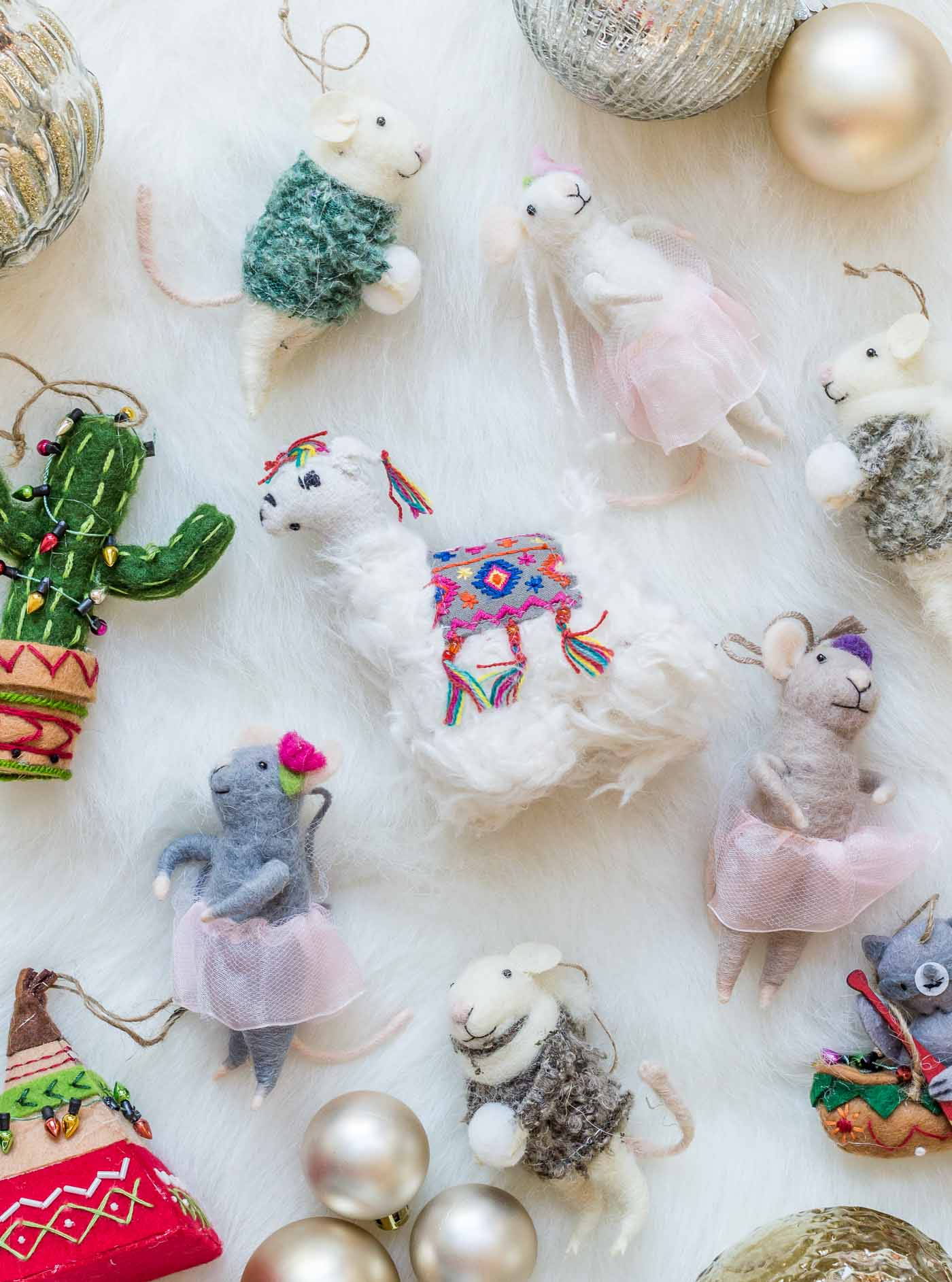 14. Elf on the Shelf
If an elf visits your home each holiday season, brainstorm ideas on activities/appearances and write them down; the disappointment of waking up to inactivity is real (so I've heard 😉 ). And, Elf on the Shelf doesn't have to be just for kids. To see some fun ways adults can bring elf magic into the home, click HERE.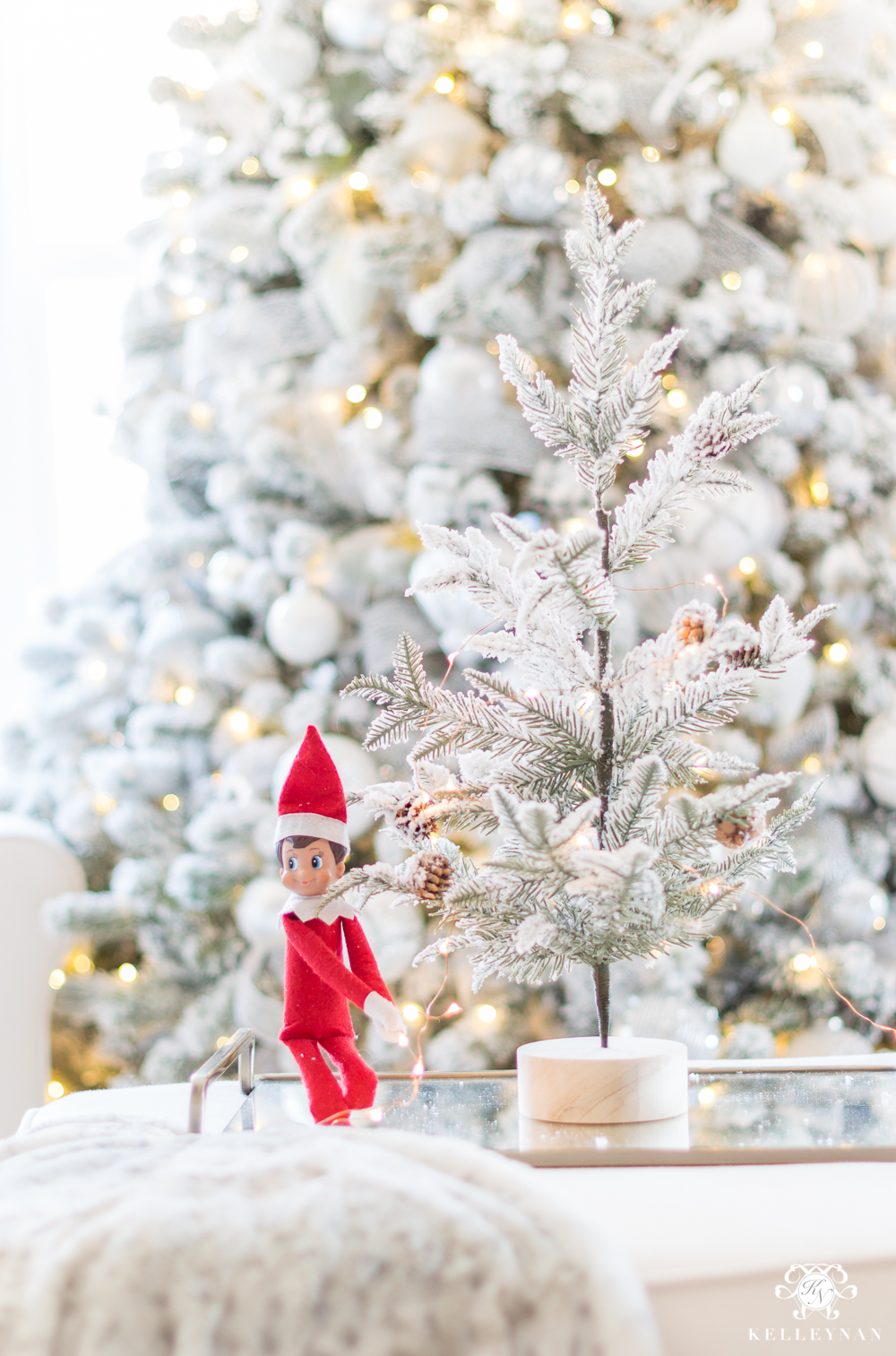 15. Christmas Menus
Create your menus for Christmas Eve and Christmas Day. In our house, we usually plan for a meal of appetizers on Christmas Eve, pastries/muffins Christmas morning, Christmas Eve leftovers as snacks, and then an early dinner of homemade lasagna.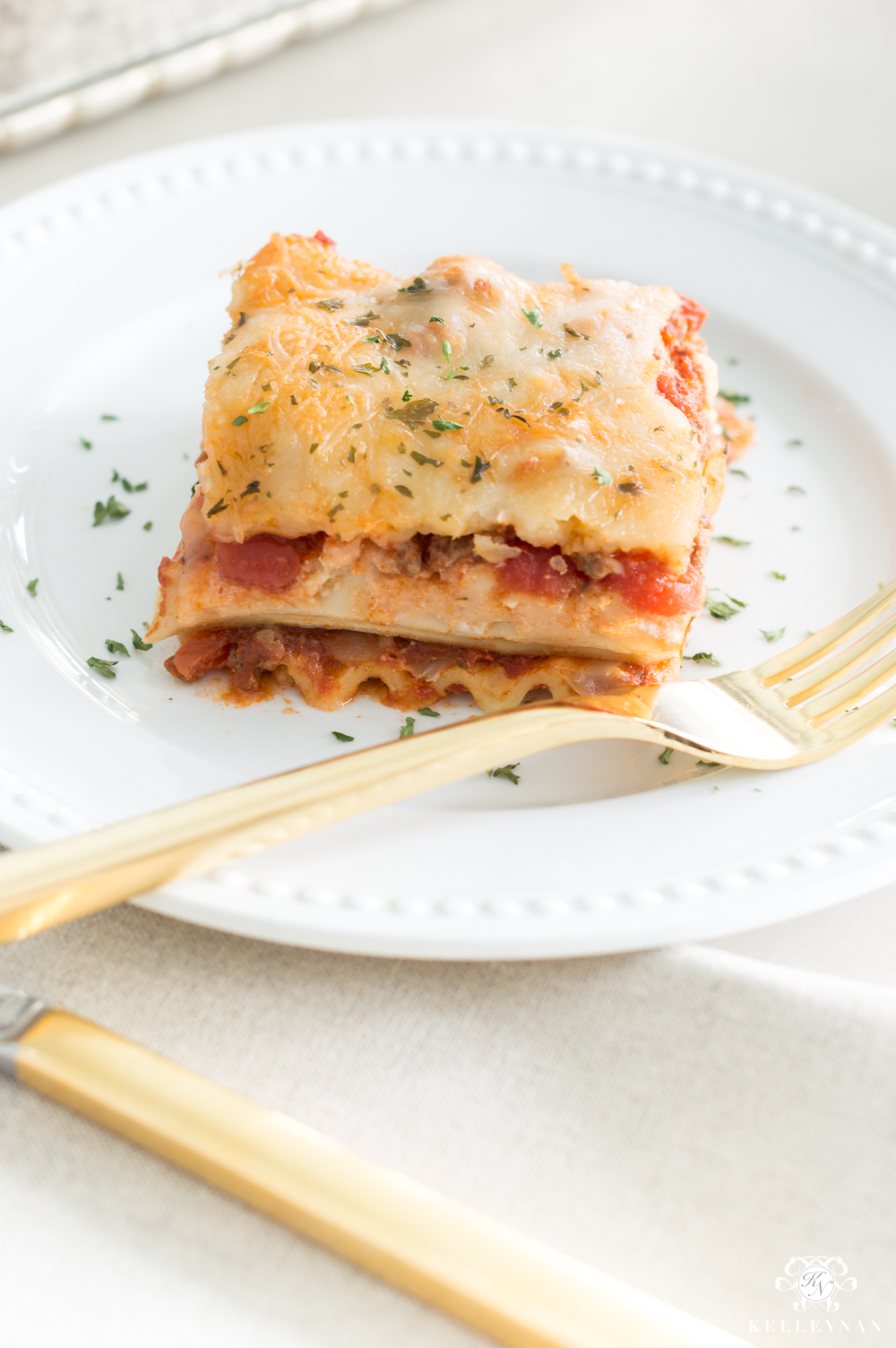 Check out my two-layer lasagna recipe HERE.
16. Gift Wrapping
If you can devote a few minutes to wrapping gifts as you get them, you won't be faced with the stressful, daunting task to tackle them all at once the day before Christmas!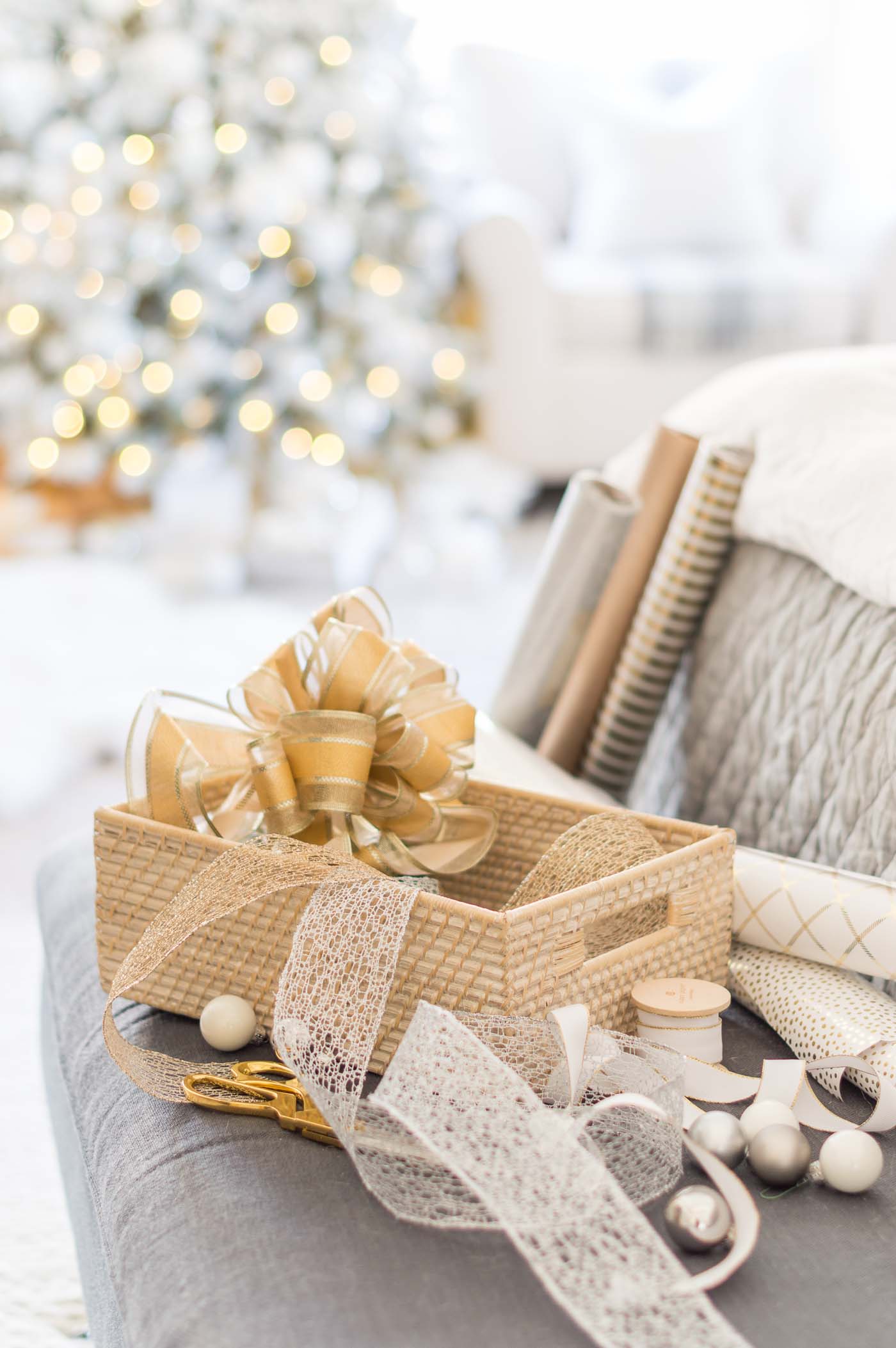 17. Holiday outfits
Are you going to need an outfit you don't already own? Think- pictures, cocktail parties, ugly sweater themed parties… if so, put it on your list. Spending the day of, at the mall in the midst of the holiday frenzy, sounds like the least fun thing ever.
18. Calendar Your Meat
This may sound silly but yes, go ahead and put the date you need to purchase your turkey/ham on your calendar. That thing will sneak up on your quickly and then it's the whole game of – will it thaw in time? Is it the right weight? Will the store even have it?
19. Book Your Regular Services
Schedule any regular services in advance (now)- when it comes to the holidays, even the most general tasks and services book early. If you are going to be due for a hair appointment, book it! Need a house cleaner before a party? Go ahead and get on his/her schedule now. *Don't forget your pets! Need to have someone watch them/have them boarded? Do they need to be groomed? Book your appointment(s) now.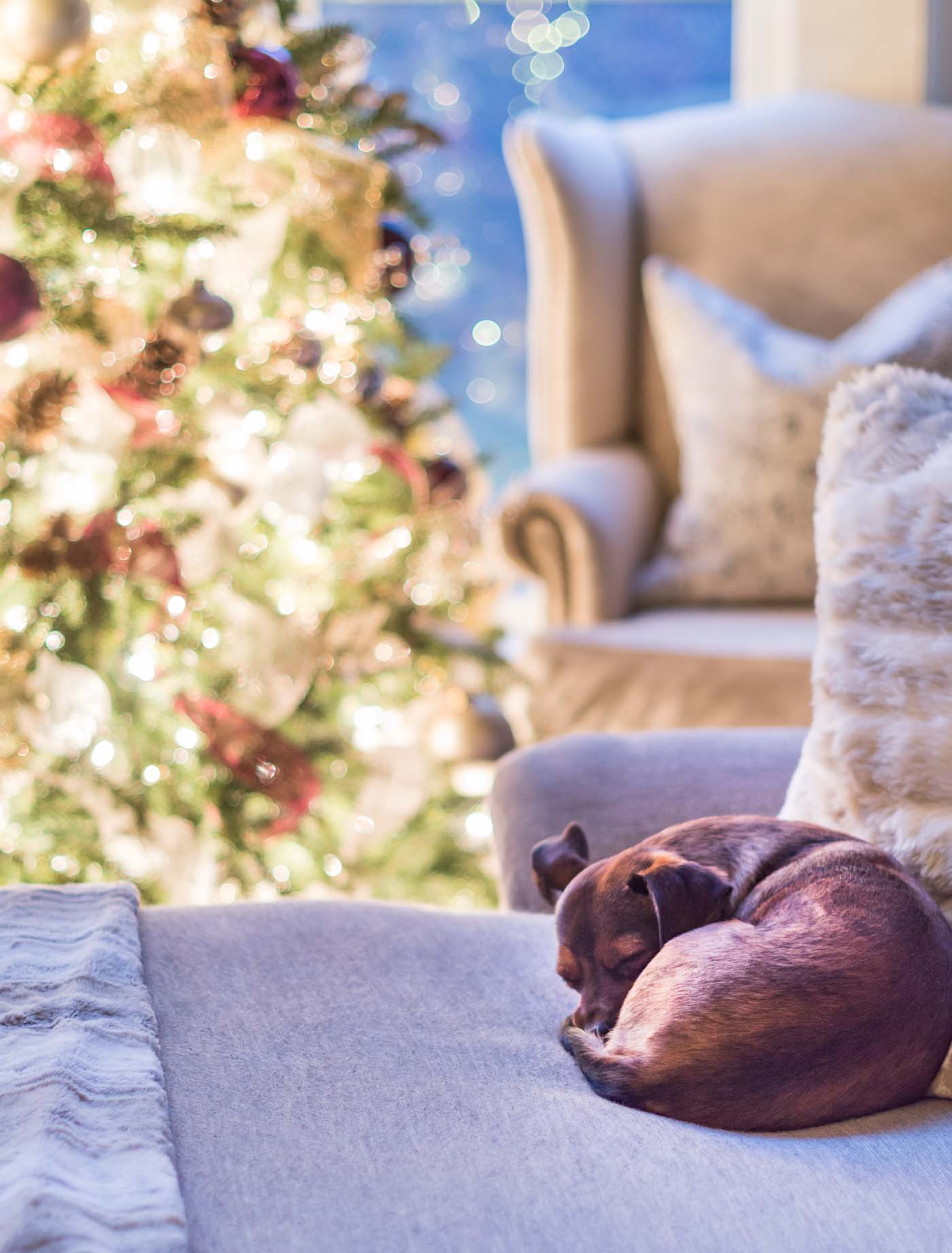 20. Fill the Stockings
Keep your eyes open for special small tokens and build your arsenal gradually, instead of trying to go exclusively for the offering at the checkout line, all at once 😉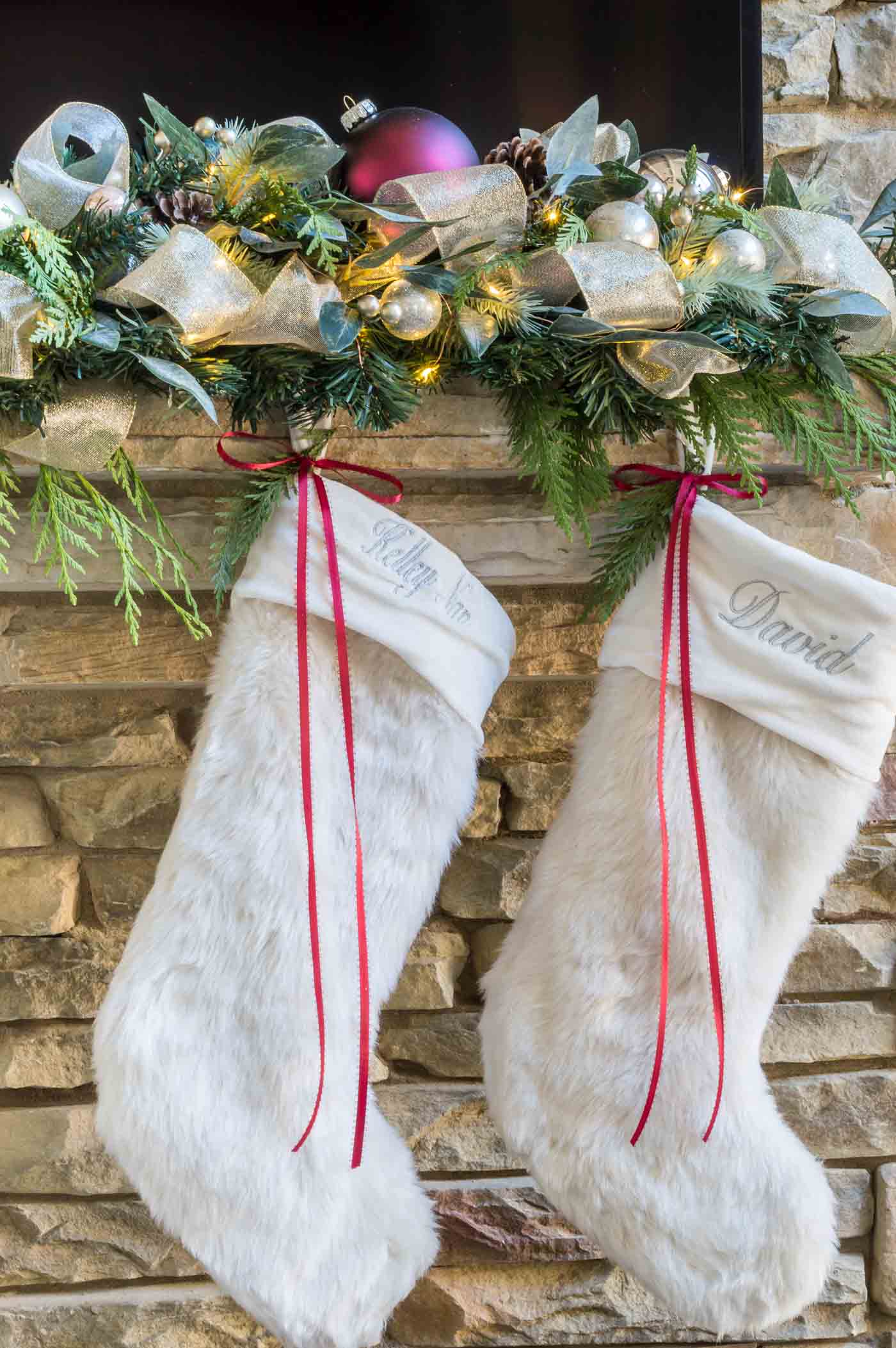 Scroll & Tap to Shop Favorite Stockings

See some stocking stuffer ideas for both HIM & HER HERE.
21. Give Back
Find ways to love on each other – both neighbors and strangers. Whether it's sponsoring a child for Christmas, volunteering your time at a local nonprofit, working on the church nativity, or even offering small acts of kindness to those you meet/see out, in the hustle and bustle of it all, make it a priority to do something to make someone else's season a little brighter.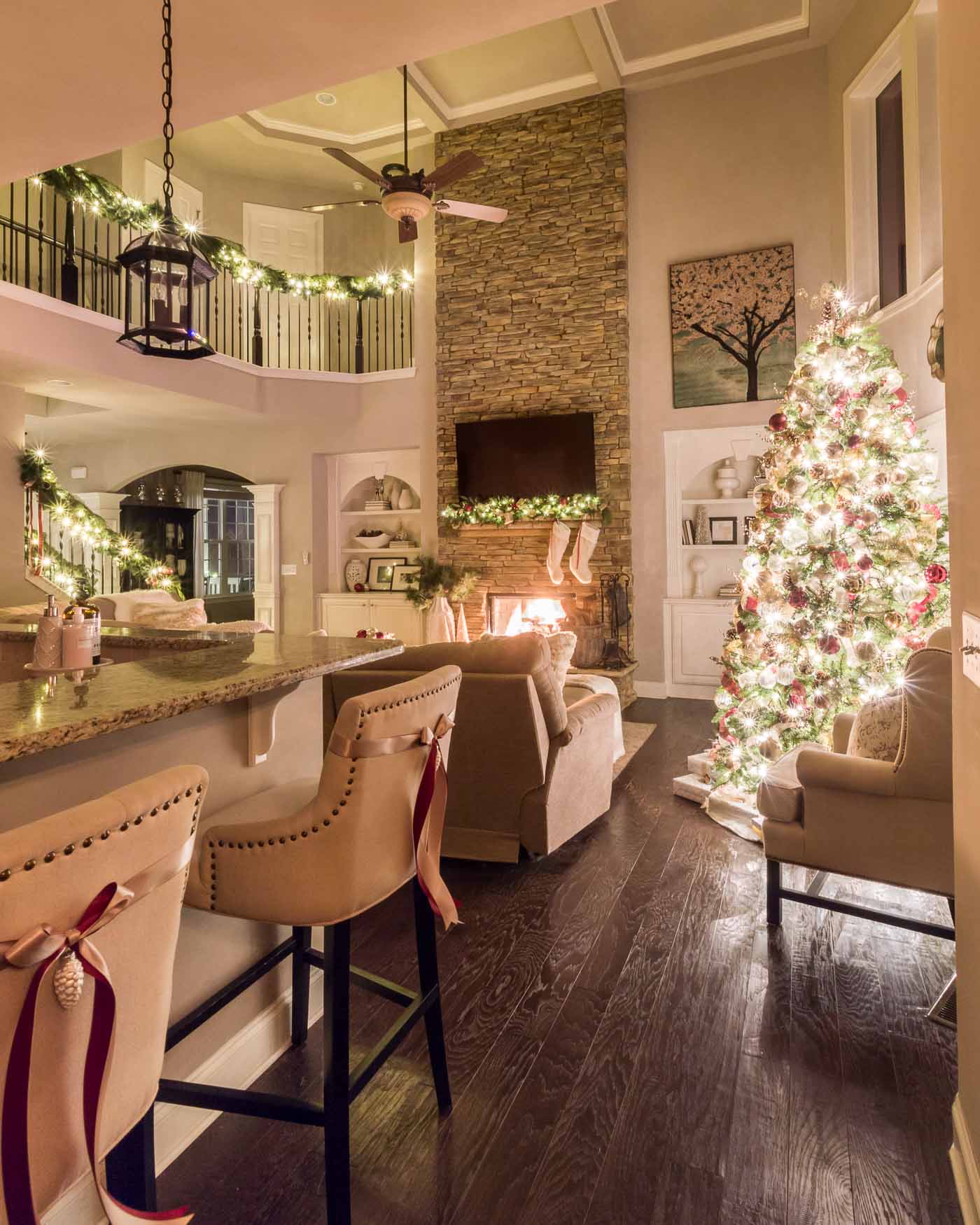 And, when all is said and done, do what you can and give yourself some grace. Don't get so focused on doing what you think you're "supposed" to be doing that you forget/run out of time to live and enjoy this holiday season. Cut yourself some slack. If you don't make it to Christmas cards this year, it's not the end of the world (totally giving myself permission here for the second year in a row haha). But, if you're like me and getting some key items squared away early in the season is super satisfying and puts your mind at ease, well, happy list tackling!
I have brand new Christmas content launching this Thursday. Subscribe to my emails at the bottom of this post and make sure to catch all the latest headed your way this season!