Do you have a go-to Christmas gift? Ties, socks, and glassware are all super common and that's ok- there's a reason they're tried and true and continue to be some of the most popular gifts each Christmas. But, if you're looking for a few simple ways to make typical gifts shine and just a little more special, this one's for you! Here's how to dress up seven common Christmas gift ideas and take the ordinary to original.
*Posts on KelleyNan.com may contain affiliate links. Click HERE for full disclosure.*
HOW TO DRESS UP SEVEN COMMON CHRISTMAS GIFT IDEAS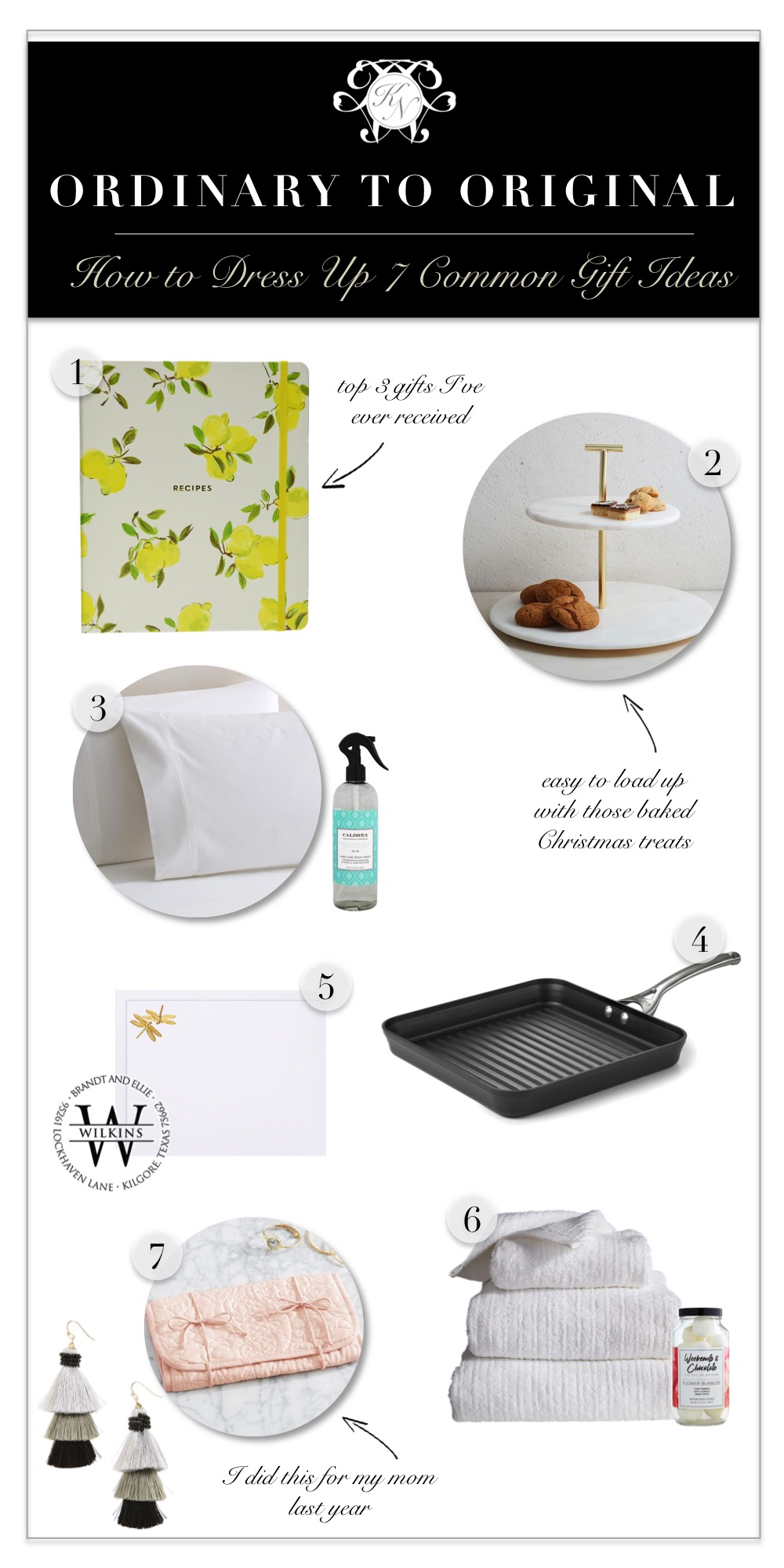 ---
Scroll & Tap to Shop

---
1. Recipe Book: One of my favorite gifts of all time was when my mom gave me a recipe binder. Now, the recipe book itself is just a recipe book but when I opened it up, she had taken the time to fill it with handwritten recipe favorites I grew up with. I use it more than any of my cookbooks or recipes I see online, but the sentiment behind it is truly special. Not necessarily the binder itself. (Kate Spade Recipe Binder)
2. Fresh Baked Holiday Treats: If you're planning to be busy in the kitchen this Christmas, cookies and sweets are a nice homemade gift. But, instead of taking out a cookie tin that likely won't see the light of day until it is ultimately re-gifted (or, how about the standard paper plate topped with cellophane?), what if you filled a gorgeous cake stand or tiered tray that can be displayed and used year round? (See my adorable thimble cookie recipe for a fresh cookie idea) I fell in love with this marble and brass beauty 😉 (Marble & Brass Tiered Stand)
3. Sheets: Ok, while sheets aren't a gift for everyone, upgraded sheets can be a great gift- especially for close family members. It's something that a lot of people don't want to invest in or purchase in multiples for themselves because- well, so many other household priorities. If you do gift sheets (extra set for laundry rotation, or, a nicer set to replace their current stained, ratty set), throw in a luxurious smelling linen spray. Again, that isn't something they would necessarily treat themselves to but is a super thoughtful add-on. This is also perfect if you're nabbing the sheet set off a wedding registry 😉 These are my new favorite sheets (super thick and soft and quality- my former sheets were discontinued but these are even better!) that we treated ourselves to in the new master bedroom. (700TC sheet set; Caldrea linen spray)
4. Grill Pan: Like sheets, quality cookware is a nice gift. It will most definitely be appreciated, especially to those who are still working to build their kitchen and cooking collections. (I used the same cheap cookware from college until I received a nice Calphalon set from my mom for our wedding). I have actually used this gift idea multiple times but if you are planning to give cookware (especially a grill pan like this Calphalon one) what if you throw in a custom seasoning blend? Or, pick up some quality fresh cuts at the local butcher? If they've been extra good, maybe both 😉 (Calphalon Grill Pan – now on sale!)
5. Stationery: I love stationery as a gift- remember my post a couple months ago? Including a starter sheet of stamps (and maybe even a custom address stamp) are couple little add-on touches to make it even more special. (Gold Dragonfly Stationery; Custom Address Stamp)
6. Towels: Similar to sheets, how many friends do you have use the same towels they've had for years? With pulls and stains? Maybe they've never even had a full set of matching towels. Or maybe, your "friend" is actually YOU 😉 Nice towels (especially a matching set) is a wonderful gift luxury but to up the "fun" factor, consider throwing in some bathtime treats like a set of bath bombs for relaxation. These are my personal towel set- over five years later and still white and fluffy with zero snags! (Ribbed Towels; Jar of Bath Fizzes)
7. Jewelry: This is an easy favorite that never gets old! Last year, I gifted my mom a few special pieces and enclosed them in a jewelry travel case. You don't have to go overboard and fill the case; even one simple piece would be special. I have these fringe tasseled earrings in a sold-out color but they JUST released this black, white and gray pair for $20! (Tasseled Earrings – $20!; Monique Lhhuilier Travel Jewelry Roll– under $30!)
You can see my other holiday gift ideas under the GIFTS tab at the top of the page but here are a few you won't want to miss.
From decor to gifts and recipes, you can get more holiday inspiration by checking out all of my Christmas posts in my gallery HERE.