Exquisite stationery, invitations, and specialty paper by Kelly Kay, and the launch of the Little Love Note Initiative – this post is in collaboration with Kelly Kay; as always, all opinions, concepts, and content are original to me. Post may contain affiliate links. For full disclosure, click HERE.
---
The Paper You Will Wish You Had Had
Friends, one of my favorite parts of what I do is not just working with huge brands and retailers, but connecting with small businesses that I share a passion with. I don't typically go into all the details on my partnerships but today is different. I have to share some of the back-story because if you were to ask me what "gracious living" means, I would probably just send you to Kelly Kay's website and tell you, "it's all there". I'll be honest. When I receive introductions from brands, I first look at what they sell. If I like it, I then look at quality. If it's something I think my readers can connect with, I try to find what's special about it. If it's a big piece of furniture but the quality is sub-par, it doesn't make it on the site. If it's a great company but I'm just not confident that it will resonate with my readers, it doesn't make it on the site.
Kelly Kay wasn't a familiar name when we connected a few months ago. I love thoughtful cards, pretty stationery, and all the "sweet little things" so I was interested in working together after seeing a peek of her designs, but what made me truly invested was hearing about Kelly, what she stood for, and finding that like me, grace, passion and sharing special moments with others through her art is what fuels her and her business. What she shares is inspired by her own traditions and using those as a way to connect people. That is what I hope I do here, on my site, for all of you.
Here's something I've noticed about stationery. I think because people rely on electronics so much these days that anything printed on paper becomes "cute". Even if it isn't that cute. Does that make sense? Like "I picked up some cute cards at the store today" probably means "I picked up some cards at the store today and because handwritten correspondence isn't that common anymore, it doesn't matter what the cards look or feel like- they're cute". Kelly has so many gorgeous hand drawn designs but it wasn't until I got my hands on them that I could truly appreciate them. They just aren't something you can pick up at the store. Dave was in the kitchen when I received the box and tore into it. I felt half guilty because she had packaged everything with such care but I was excited to see all the goodies. Y'all, I kid you not. By the second mini-box, I had to wrap everything back in tissue paper (before even seeing it all), and lay it neatly back in the box because I felt like I wasn't savoring and fully appreciating just how special and unique the designs were. THAT is the feeling that you get when you know you're onto something truly incredible.
Ok, so now that I've given you how my heart was touched (and I had to because this doesn't happen often), I'm going to share just a few things that were in that sweetly wrapped box.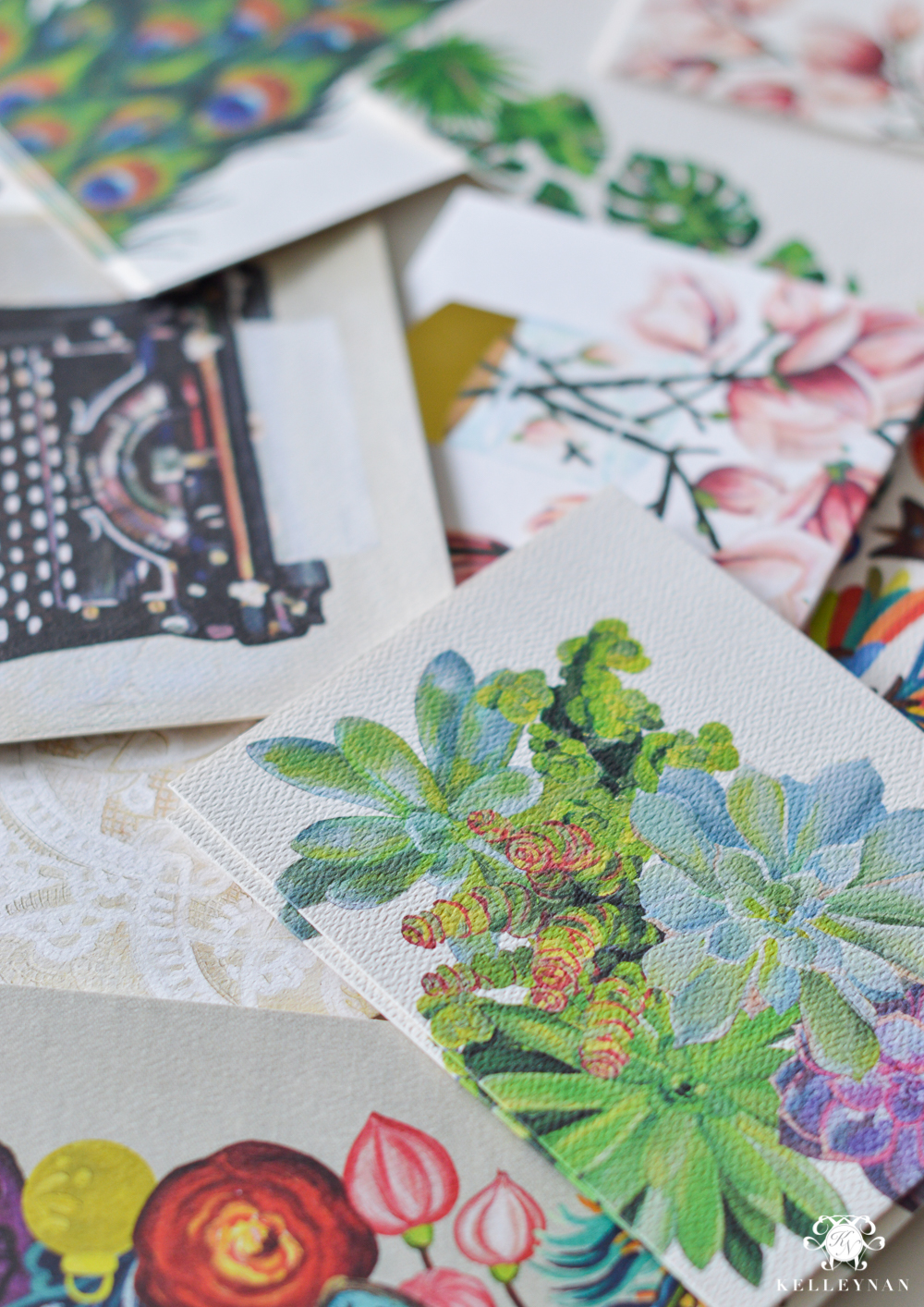 She included sample invitations for various types of events and I had a mixture of feelings- 1. "Holy cow, these are incredible"; 2. a little bit of jealousy that I didn't even use rehearsal dinner invitations; and 3. "I need to have an event soon, just so I can use some of these."
My favorite sample invitation she included was for this dinner party. It made me think of my own dining room, my family silver, my grandmother… so many feelings. I want to have this framed and hung in my home. THAT'S the difference in how the "cute" cards from the store vs. Kelly Kay's paper made me feel.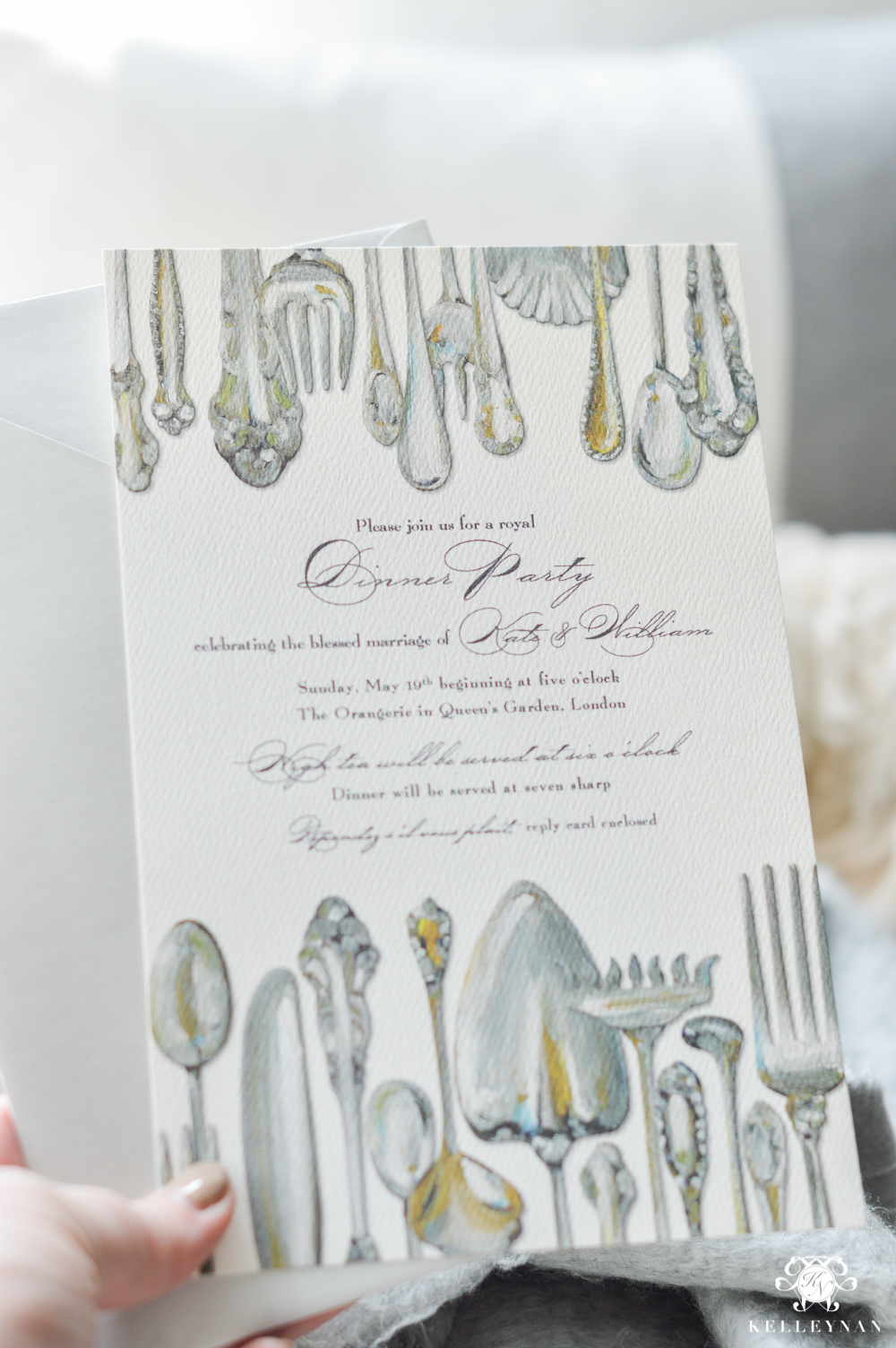 And if I framed the silverware, I would probably want to frame this tea set right next to it. She actually does sell individual art prints but there is something about a framed invitation… it's like framing a memory.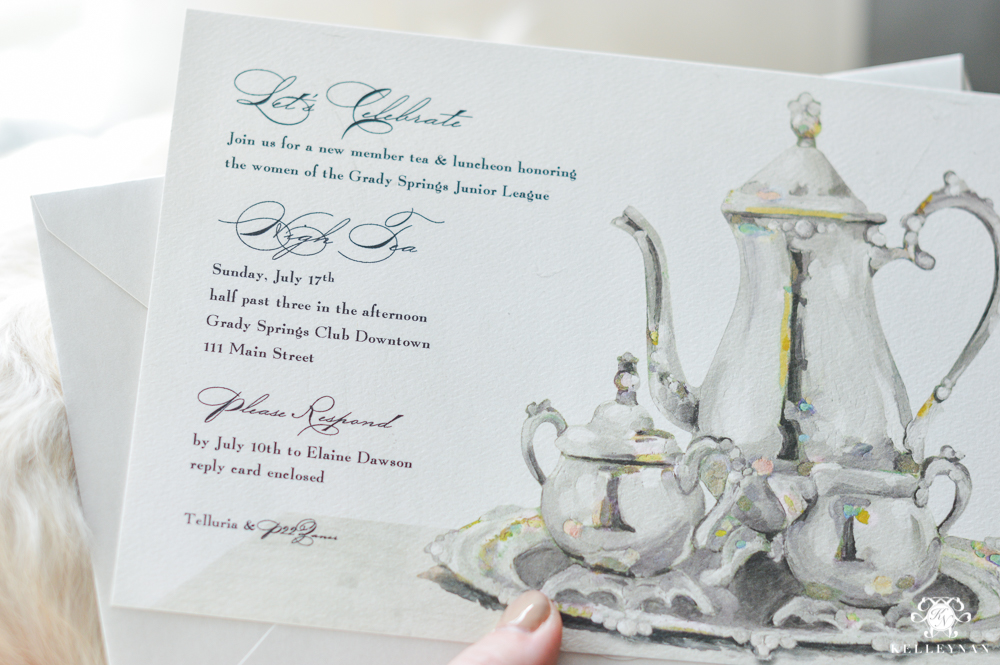 And then this made me want to host a mock bridal shower for myself haha. And if you actually do have one coming up, you'll want to bookmark this 😉 Each design is classic and timeless but they have a modern feel to them I can't explain.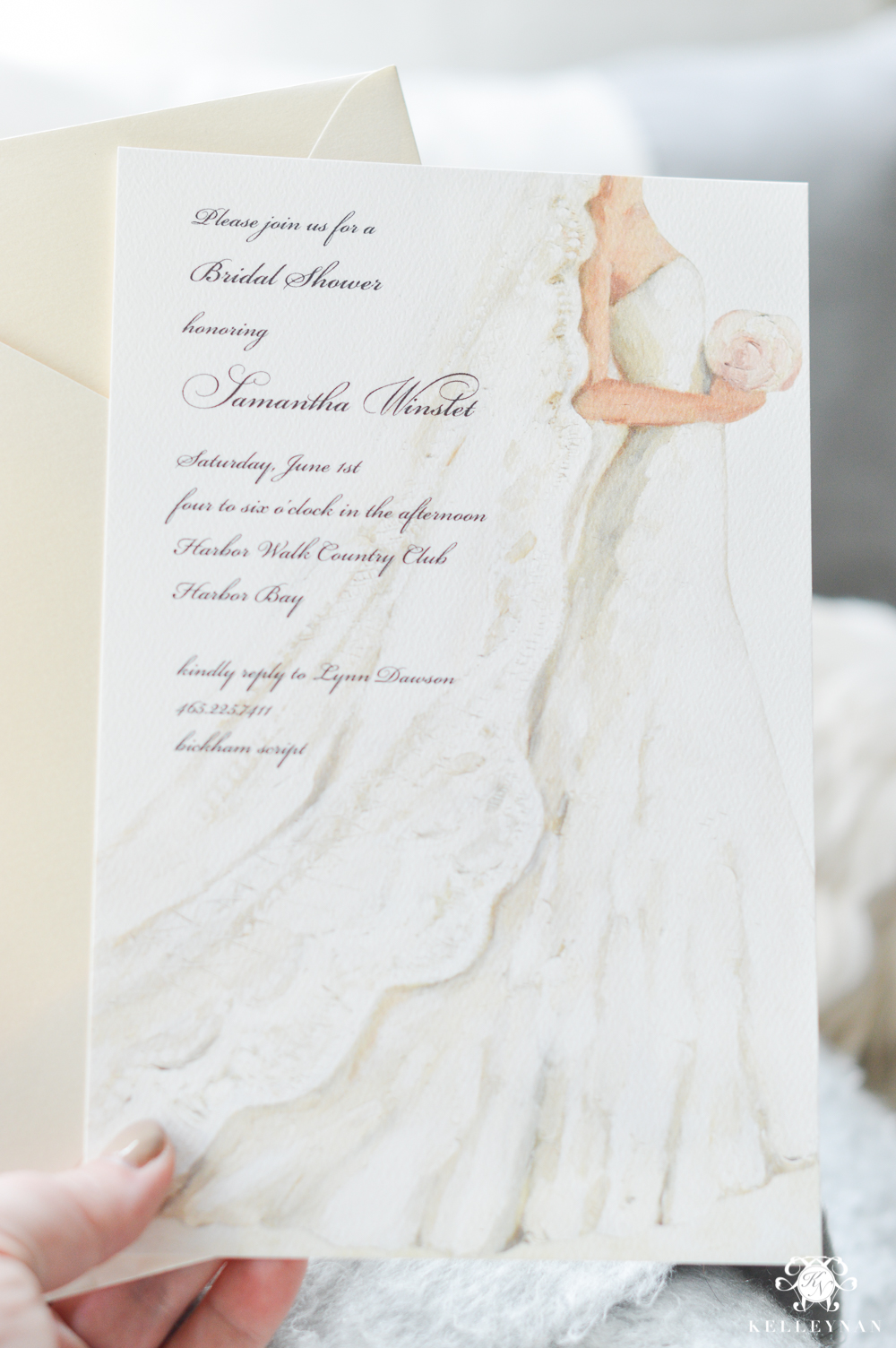 This bouquet on this invitation is actually a cut, loose embellishment, fixed to the card with ribbon. You can see all of her invitation designs HERE.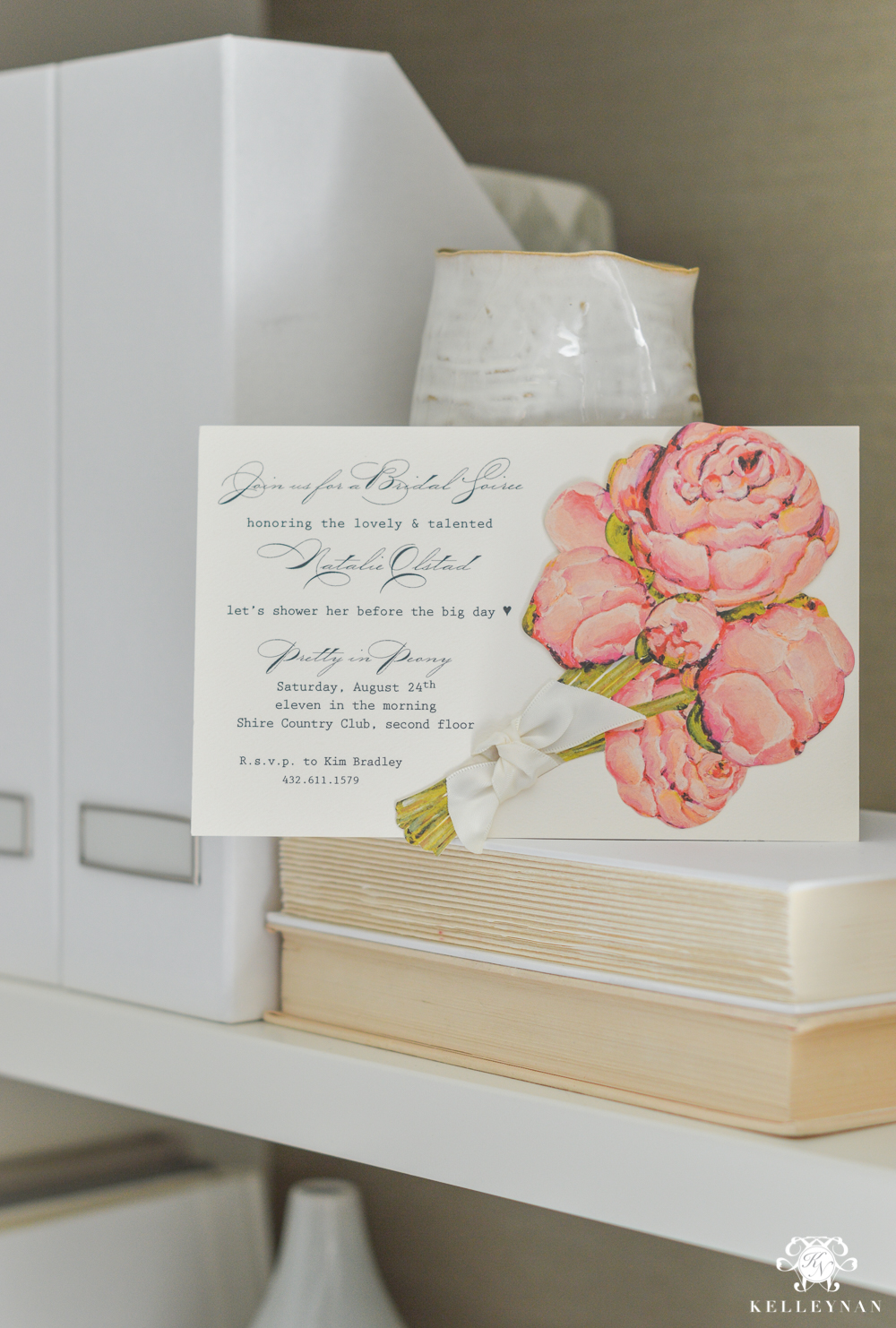 She has several greeting cards for different occasions, but I thought this one was adorable.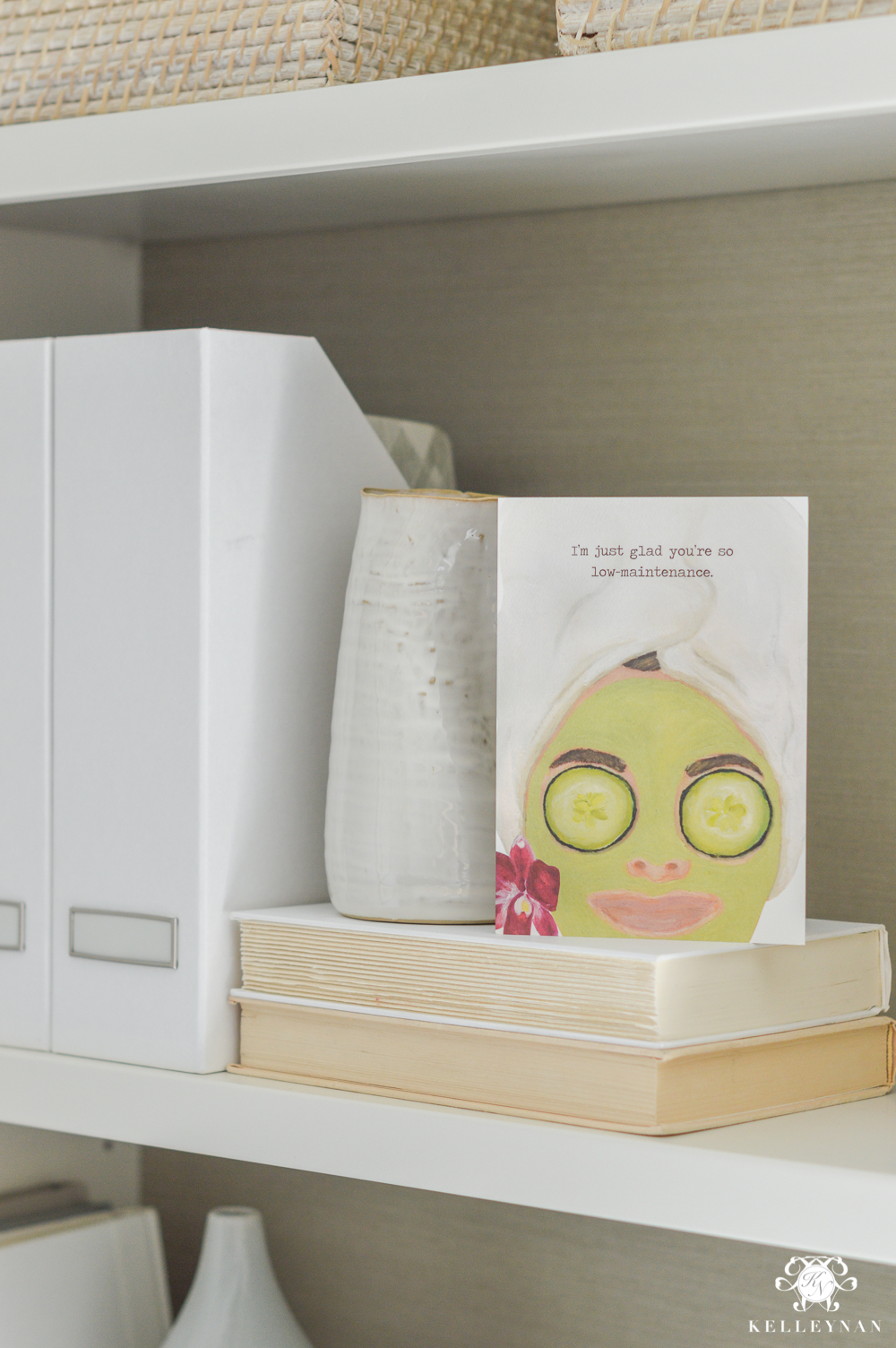 She told me one of her favorite items was her calendar, which comes with a set of month art prints and a brass or acrylic easel. When I set it up in person, it became a favorite of mine, too. I've set mine up on my desk but if you don't have a desk, it would be right at home in your kitchen or on your night stand.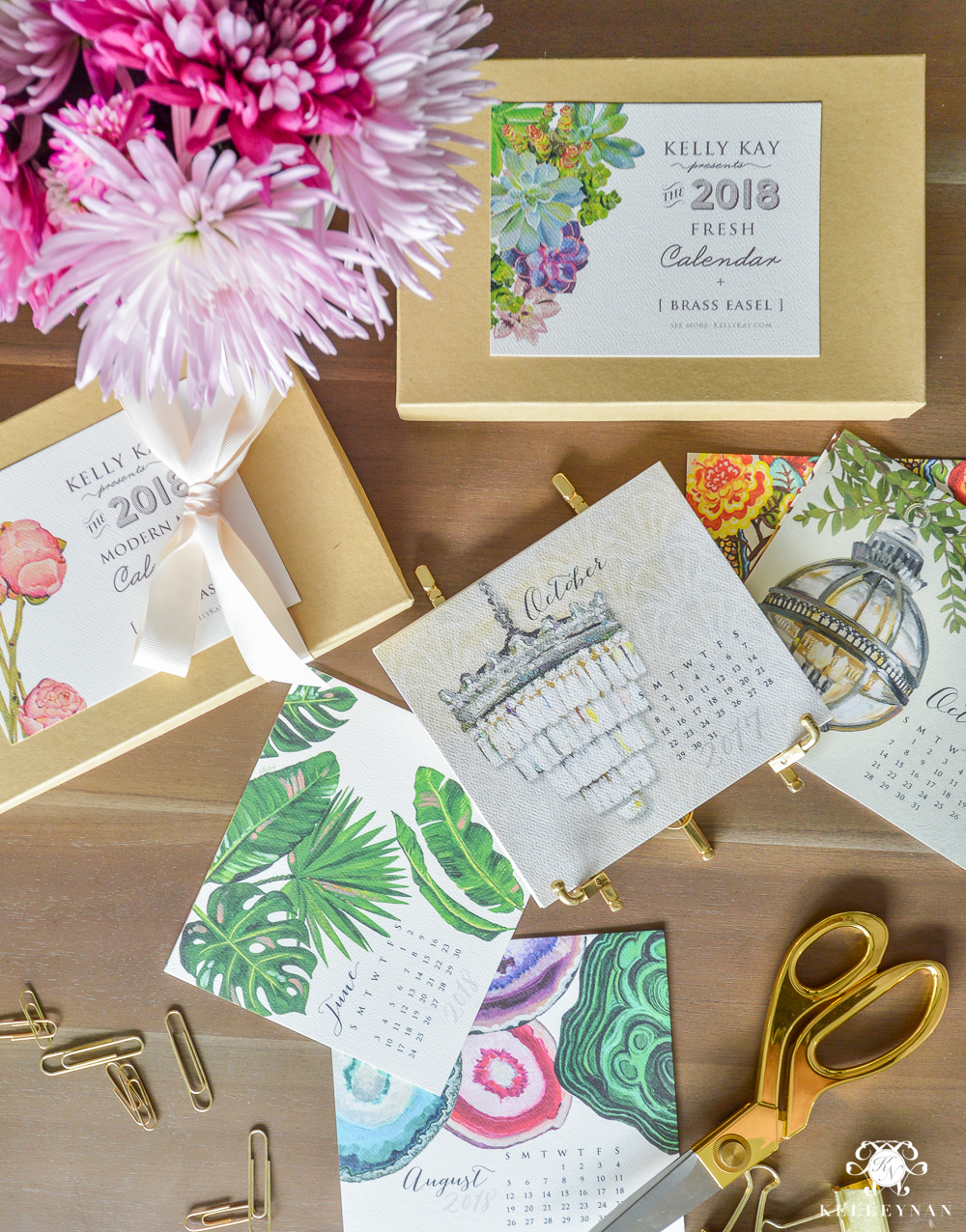 I love the brass but you can also select other stands; find her calendar options HERE.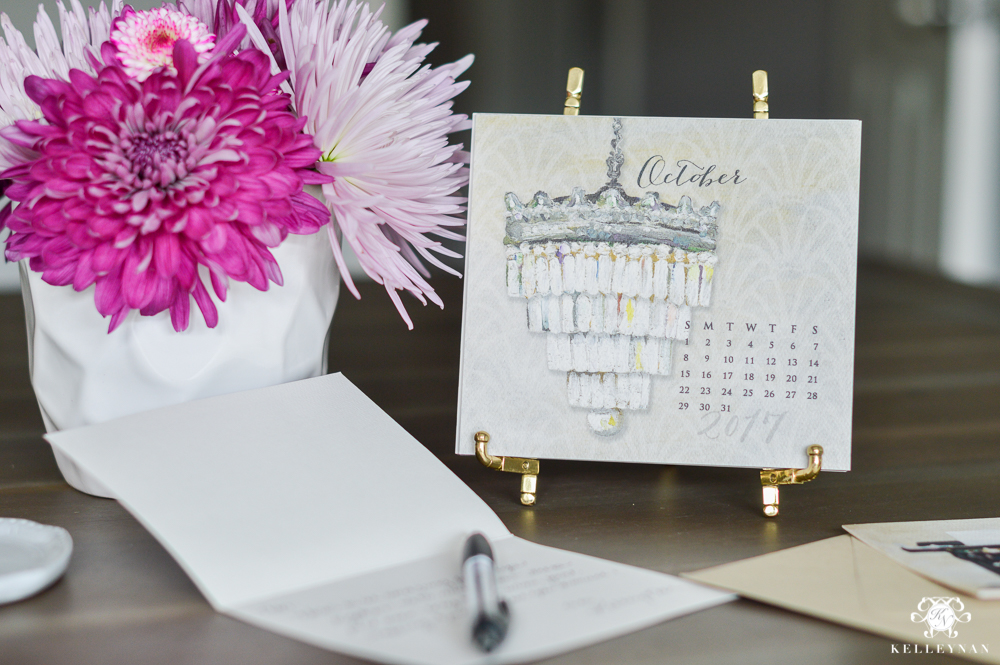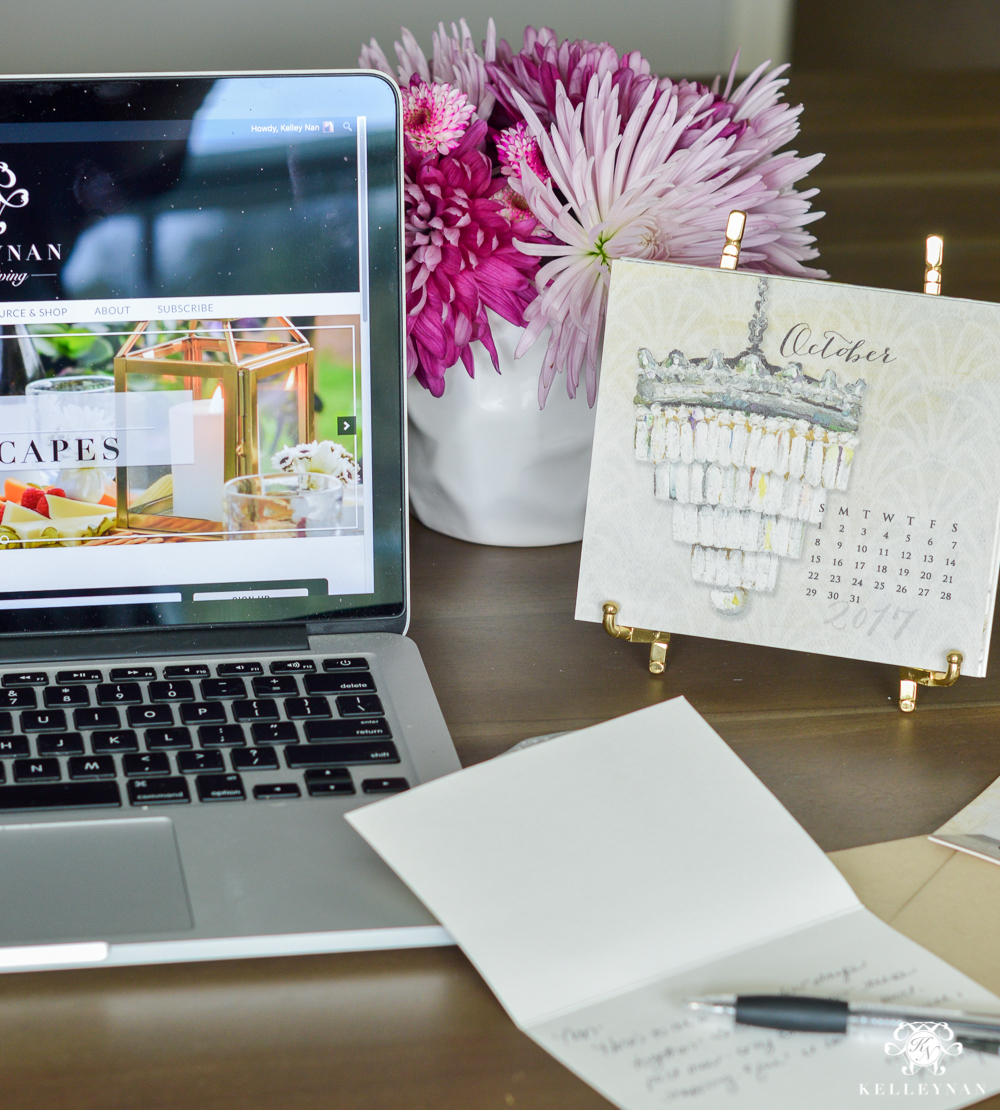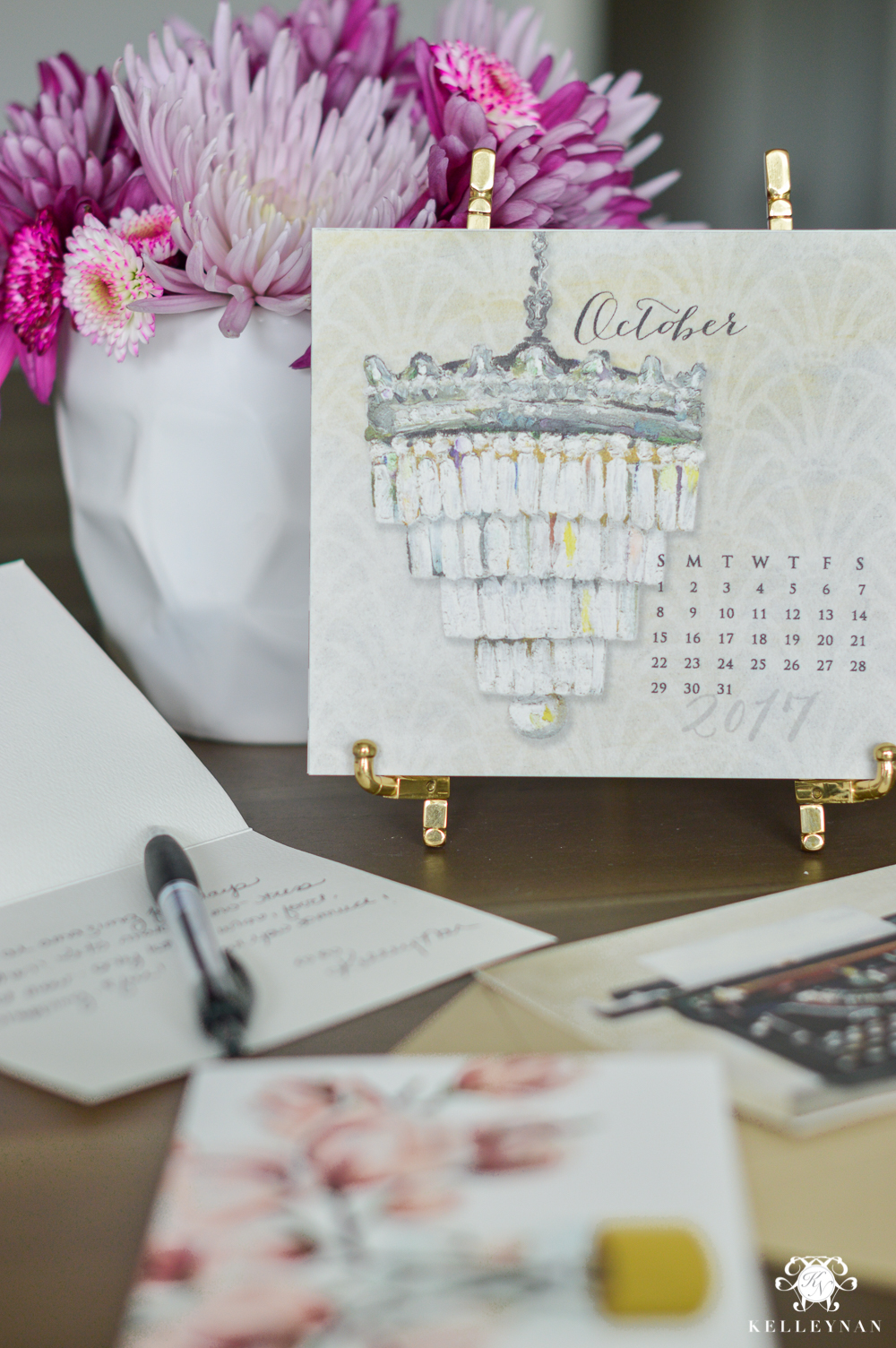 Ok, here's another favorite and if you watched my Insta-stories, you've already seen a peek. I had never heard of Table Grace cards. Basically, there are small prayer cards enclosed in this little box for each day of the month that can be read as the dinner blessing. Some are hymn lyrics, some are Bible verses, all are precious. These will also become a dining room staple. This was a tradition passed down by Kelly's grandparents and I think creating this unique way to pass along her own family's tradition to others is amazing. The holidays are coming and if you need a gift for someone special, someone who has everything, or even to bring this tradition into your own home, you can find it HERE.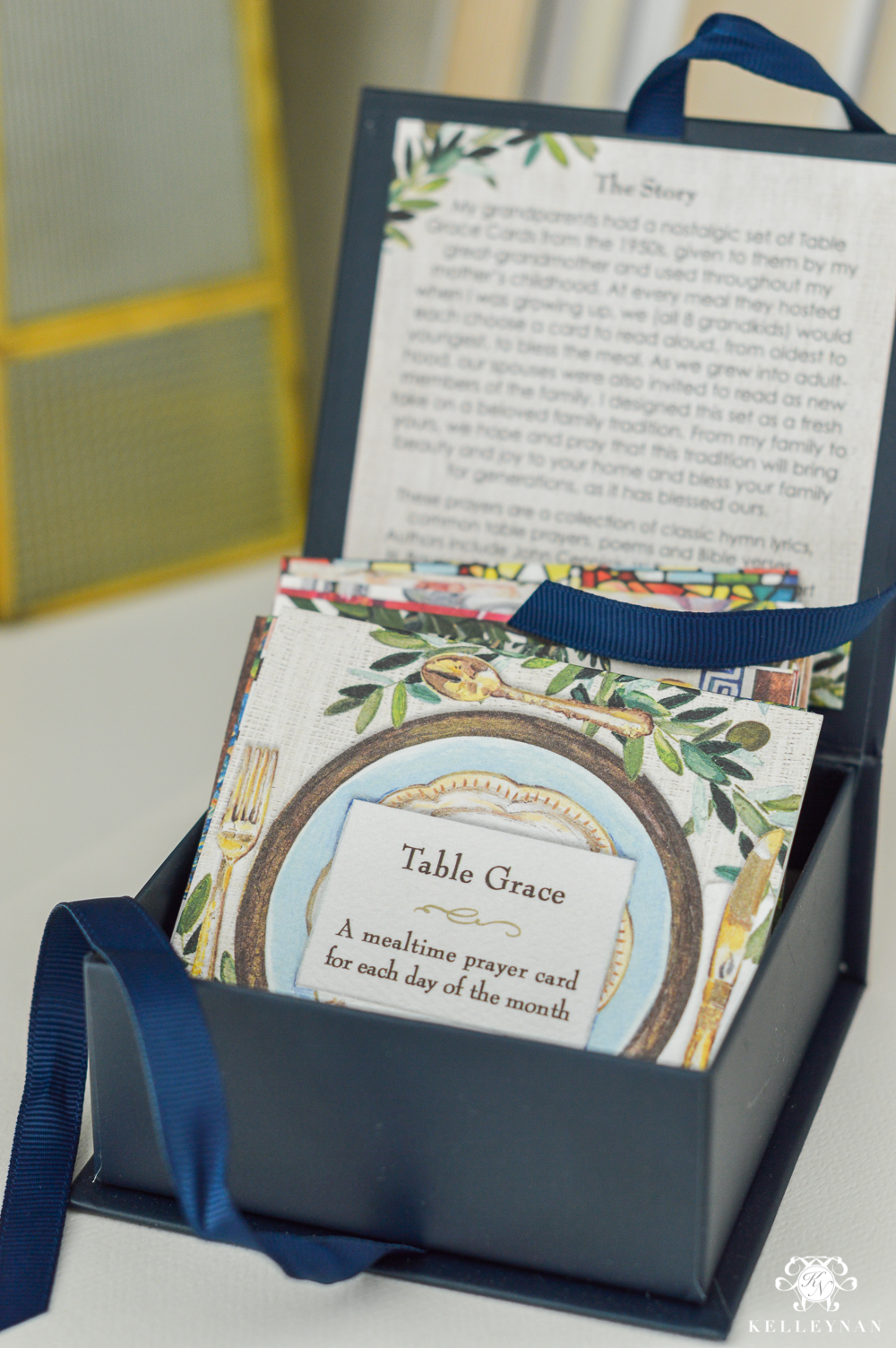 They aren't too long and are perfect for kids to be able to participate.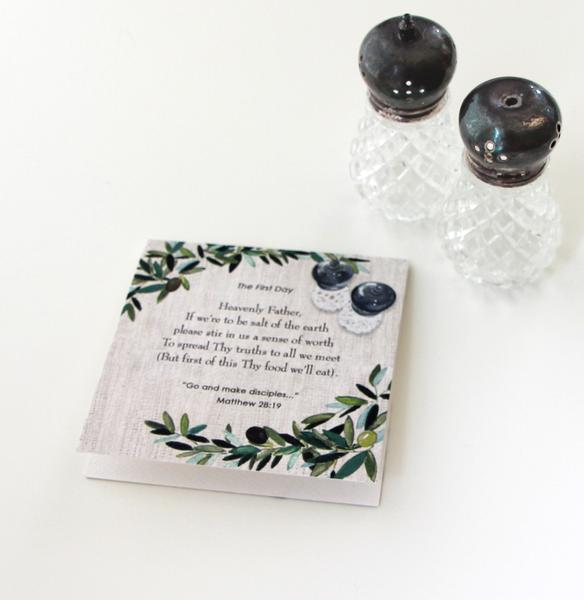 Above Photo Credit: KellyKay.com
The Little Love Note Initiative 
Are you feeling nostalgic yet? I hope so because this box alone gave me such incentive and desire to reach out to those I love and spread these special little gems. Kelly included several sets of her note cards which made me feel like I was back to school shopping and my mom said "you don't have to choose between the trapper keeper designs- you can have them all!" haha. Take a look at the sets below and tell me this creative soul didn't make the most perfect selections. Peacock feathers?! Palmetto and Philodendron leaves?!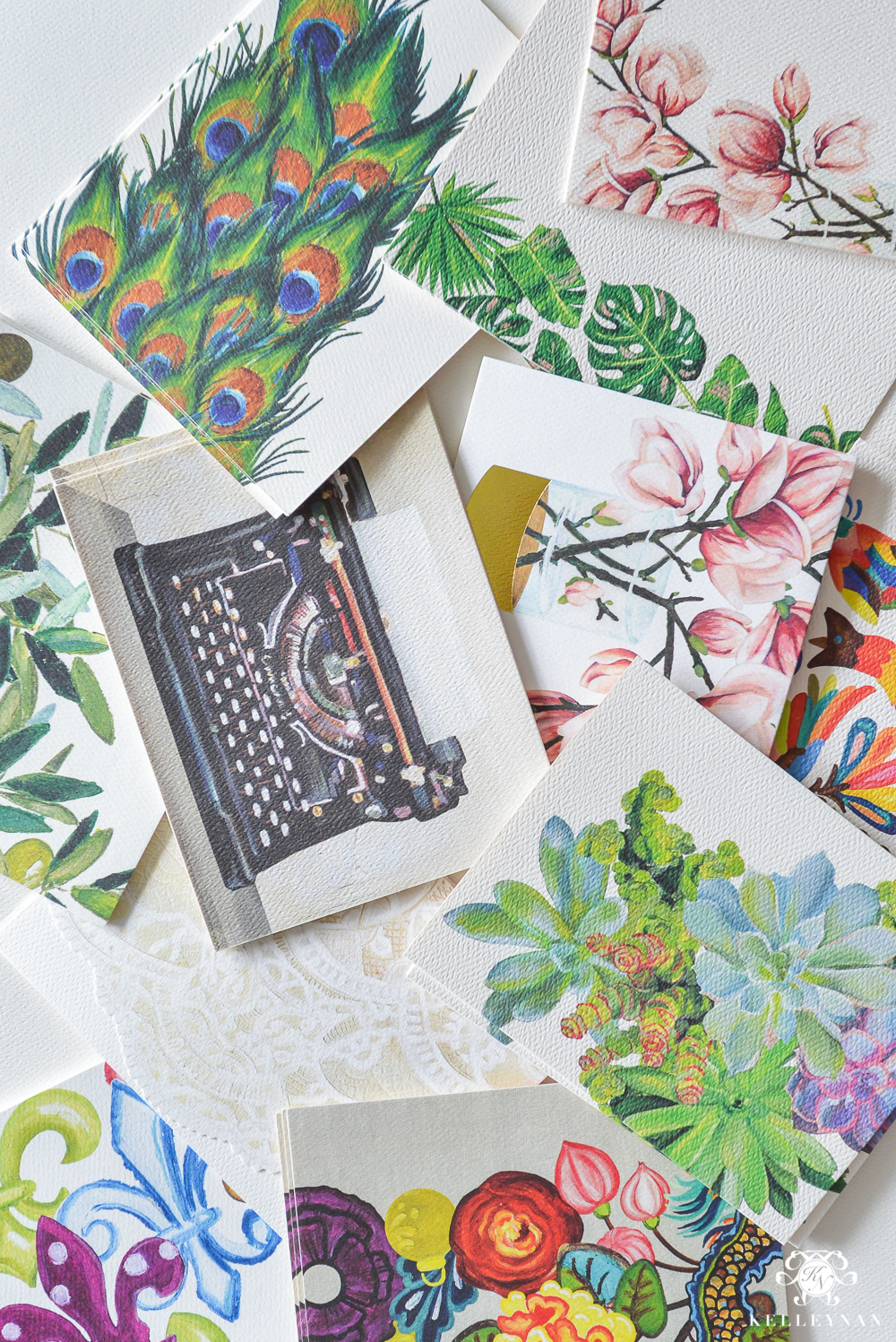 And I like to think that this collection of mini chandelier cards was designed specifically for me… You can browse your own special set of Kelly Kay stationery HERE.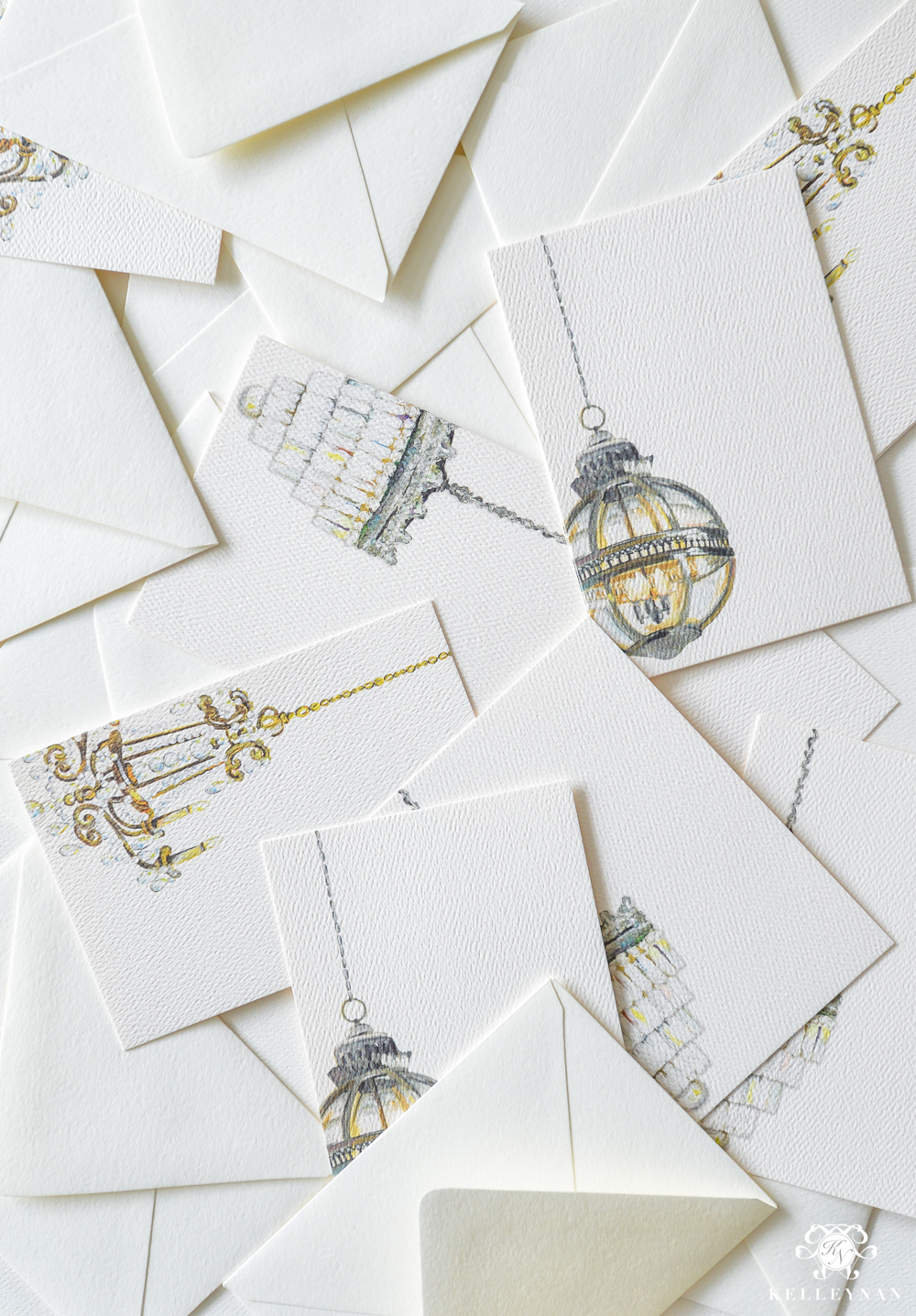 Ok, so back to the Little Love Note Initiative. Y'all, I said I was going to get better about birthday cards. I SAID! But, I haven't. They still show up late and unless you're a niece or nephew, you probably don't get one at all. I saw these note cards and a saw a huge pile of potential. They deserve to be seen. They deserve to have meaningful, heartfelt words written on these meaningful, heartfelt designs. And not just for special occasions, but any time. And just like that, the Little Love Note Initiative was born. It's a commitment, an act of kindness and a way to spread love. It's a way to make someone smile which let's be honest, lately with so many tragic events, we could all use. It's a way to make someone feel special. When is the last time you received a handwritten note in the mail from someone, just because? Ever? I remember mine- my Aunt Susan wrote to me about two years ago. Just to tell me she was thinking of me. And you know what? I still remember it and how it made me feel.
So, this is where I hope you'll join me. Pick one day of the week to spend five minutes writing a little note to someone in your life. Someone who is special or someone who you haven't talked to in a while. Anyone. Mine will be on Sunday nights. If that seems too much, choose your own timeframe whether it's once a month or once a quarter. I think the more frequent we do such a small, kind gesture, the more you will be fueled to continue. Making others happy is addicting. And, it usually makes you pretty happy too, in the process 😉
Think of random acts of kindness- paying for others' meals at a restaurant, covering the toll for the car behind you, taking out a neighbor's trash… it's like that except simpler. You can write about anything from just letting them know how much you care about them to a random moment when you thought of them. Or, maybe it's a wish for them to have a good week. This is something I am super pumped about, not only because I am long overdue to reach out to some very special people, but because I think we are probably all long overdue for some positivity. If you join me, I would love to hear about it. Share your story, share the reaction from your recipient, share anything you like. I can't wait to love on the people in our lives, right along with you.