It's been a minute since I've joined my friends for the seasonal Styled + Set Holiday Entertaining Tour, hosted by Lory of Designthusiasm, but today, I'm back because wouldn't you know it, Thanksgiving is less than one month away. Did I just say that?! Does that make you panic a little bit? If you are joining today from Celebrating Everyday Life with Jennifer Carroll, welcome! If we've never met, you wouldn't know it but table settings are my favorite thing. (You can see a comprehensive gallery HERE). If you are a regular reader, you will probably be surprised to find that I'm not sharing a new tablescape in today's post. (What?! haha) I'm mixing it up a bit instead with 10 practical tips for hosting Thanksgiving dinner. While some tips are table-centric, most are not 😉 You can have the most beautiful table in the world but if the flow of your day is off, well, let's not even go there.
*Post contains affiliate links. Click HERE for full disclosure*
---
TIPS FOR HOSTING THANKSGIVING DINNER
This will actually be the first year in several years that we aren't hosting Thanksgiving dinner at our home. But, alongside Mama Nan, I've had years' of practice and we'll be implementing the same traditions and practices as we always do, down south in LA (lower Alabama 😉 ). I've watching my mom prepare to feed the masses and each year, she makes the process look effortless. When I starting hosting co-hosting, I realized while it wasn't without some serious effort, planning and pre-planning (along with a little strategy) can go a long way in helping your day run more smoothly AND will help you maximize time to enjoy your guests. I bet I am totally twinning with some of you in our holiday dinner prep, but hopefully, you will find a few new nuggets to help alleviate that massive dinner stress.
BAKE DESSERTS AHEAD OF TIME
Thanksgiving is the biggest holiday for my mom's side of the family and it's usually the only day out of the year we can get together and with our small crew (my grandparents were only children so my mom and her two siblings had no aunts, uncles, or cousins). My stepfather passed away 10 years ago and Uncle John left us a few years back so our dinner usually only hosts 10-12. Because we are a small but tight-knit family, spread out across several states, this day truly is the most special day. Because it's the biggest day of our year, even when we host Thanksgiving at our house, my My mom always comes to town early so we can tag-team the planning and prep. One of the first tasks tackled is the baking. While we don't want to serve stale dessert, baking cakes and pies on Tuesday and setting them aside has been the norm for our family for years. She always makes a cake and her famous pecan pie. Sometimes, she'll get a little crazy and whip up a third sweet potato pie 😉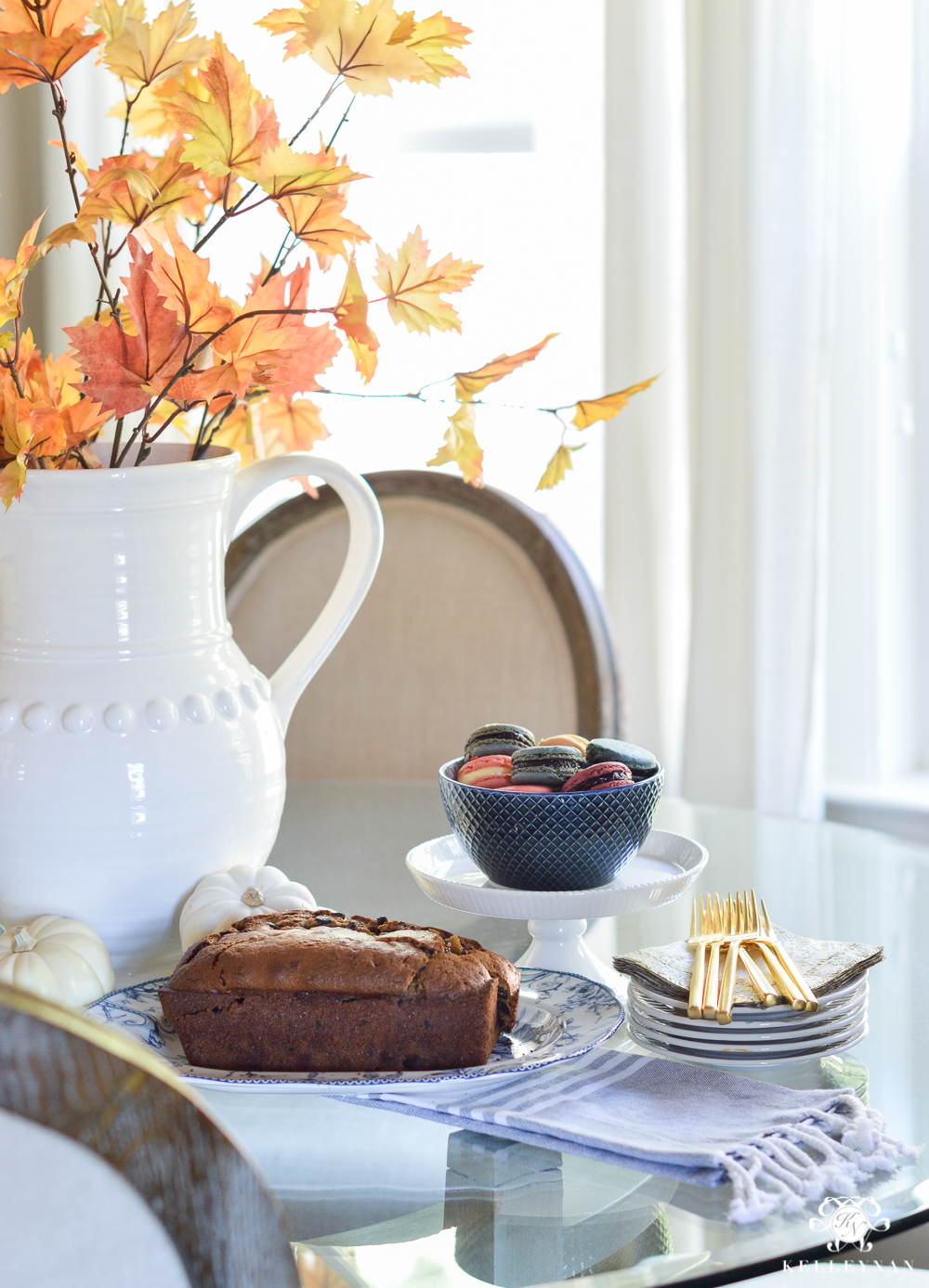 Even if you are preparing for four or are only planning for one dessert, this is something that can be checked off the list early. It's not Mama Nan caliber but the chocolate chip pumpkin bread I whipped up was pretty. Dang. Delicious.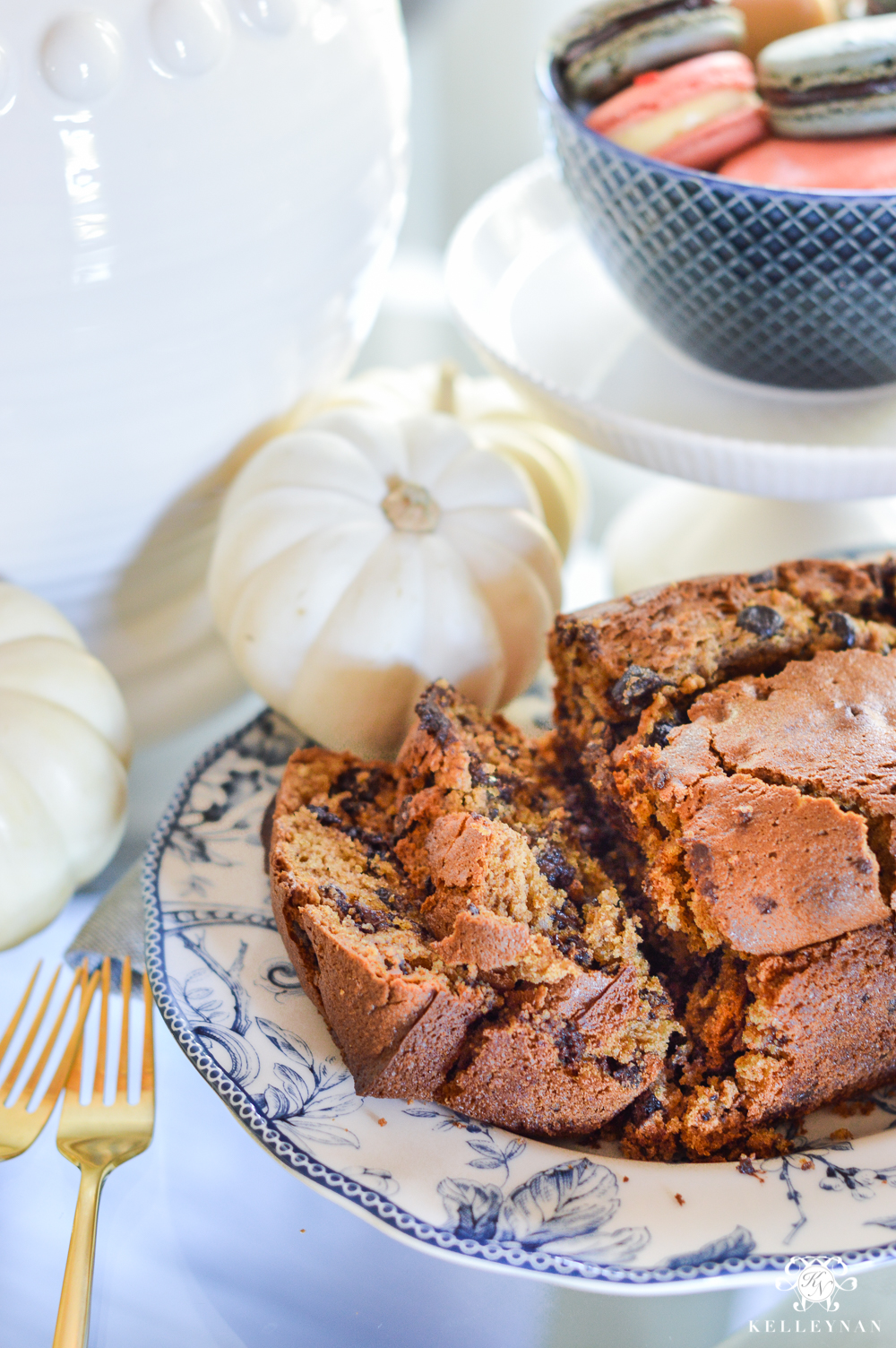 ---
Scroll & Tap to Get the Look

---

CLEAR OUT THE FRIDGE
The week of Thanksgiving, plan to eat out of your pantry, freezer, or even have a date night or two out. Nothing is worse than starting to prepare a huge dinner and realizing that you have zero space in the fridge to accommodate anything. And forget the drinks! I think of the week-of-Thanksgiving-fridge similarly to cleaning off the DVR. It's a project, but a fun project. (Anyone else feel super satisfied when you free off a bunch of DVR space after a day of binge-watching your fav shows?) Don't go throwing away perfectly good condiments, just because space is as a premium, but if you have been planning to toss expired goods, now is the time. You can check out my recent refrigerator organization post HERE. Or, if the fridge is already pretty lean, make it your goal to have zero leftovers. Have coolers on standby for holding water and sodas. You are gonna need that shelf space for food prep 😉

SET THE TABLE THE WEEK OF
The last thing you should be doing on Thanksgiving Day is setting the table. Again, even if you are planning a super simple setting with little to no embellishment, this is something than can be tackled well in advance. Make that Wednesday your deadline to have leaf extensions (if needed) in the table, your tablecloth pressed and in place, and each place setting tackled. I usually have to wash our rarely used special wine glasses/china/etc. as we go.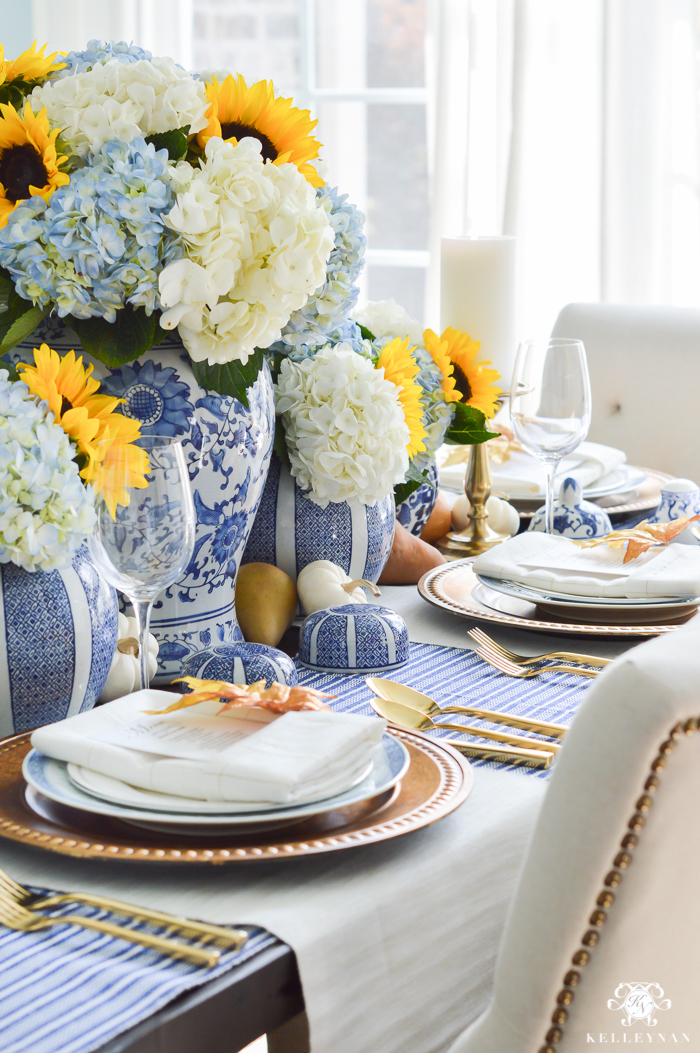 ---
Scroll & Tap to Get the Look

---
You can see this full table from last year HERE.

MAKE A SEATING ARRANGEMENT
My grandmother always assigned seats to everyone. My mother followed in her footsteps and now I do the same. This is especially handy if you set multiple tables or have different sets of guests coming. It ensures everyone has a spot with their significant other, no one has to try to be polite by guessing which spot they should take, and it gives a special "I prepared this place for this nice meal just for you" kind of feeling.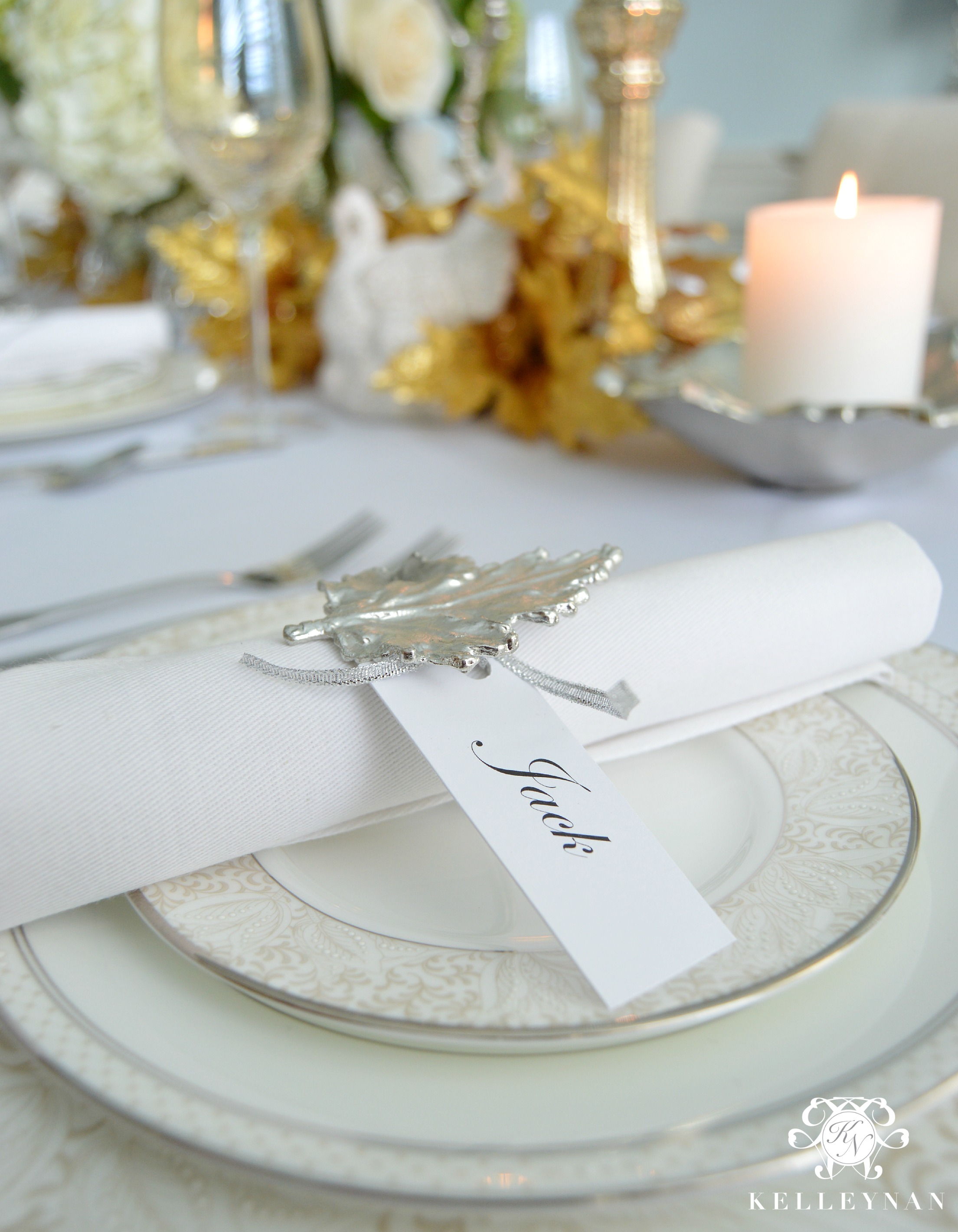 ---
Scroll & Tap to Get the Look

---

DITCH THE PAPER PLATES
If you have a smaller crew like us, you may have enough fine china to feed everyone. But if you don't or if you don't own fine china (which is totally ok!), you don't have to resort to paper plates. Example. If I had 8 china place settings and we were expecting 10 guests, I wouldn't go from wanting to feed my family off of my wedding china to bringing out the Hefty paper plates. If you are used to a family reunion style dinner with massive numbers of people coming and going, standing while eating, and being served from a buffet of food that would make any Baptist church fellowship hall proud, paper plates may be the way to go 😉 But if you are stuck just because you are hosting a few more than your immediate family unit, these simple porcelain buffet plates are my go-to. Seriously. I have had them for years and use them all the time. They come on the rack and while we have room in our kitchen cabinets, if we didn't, I would easily tuck them away in a closet.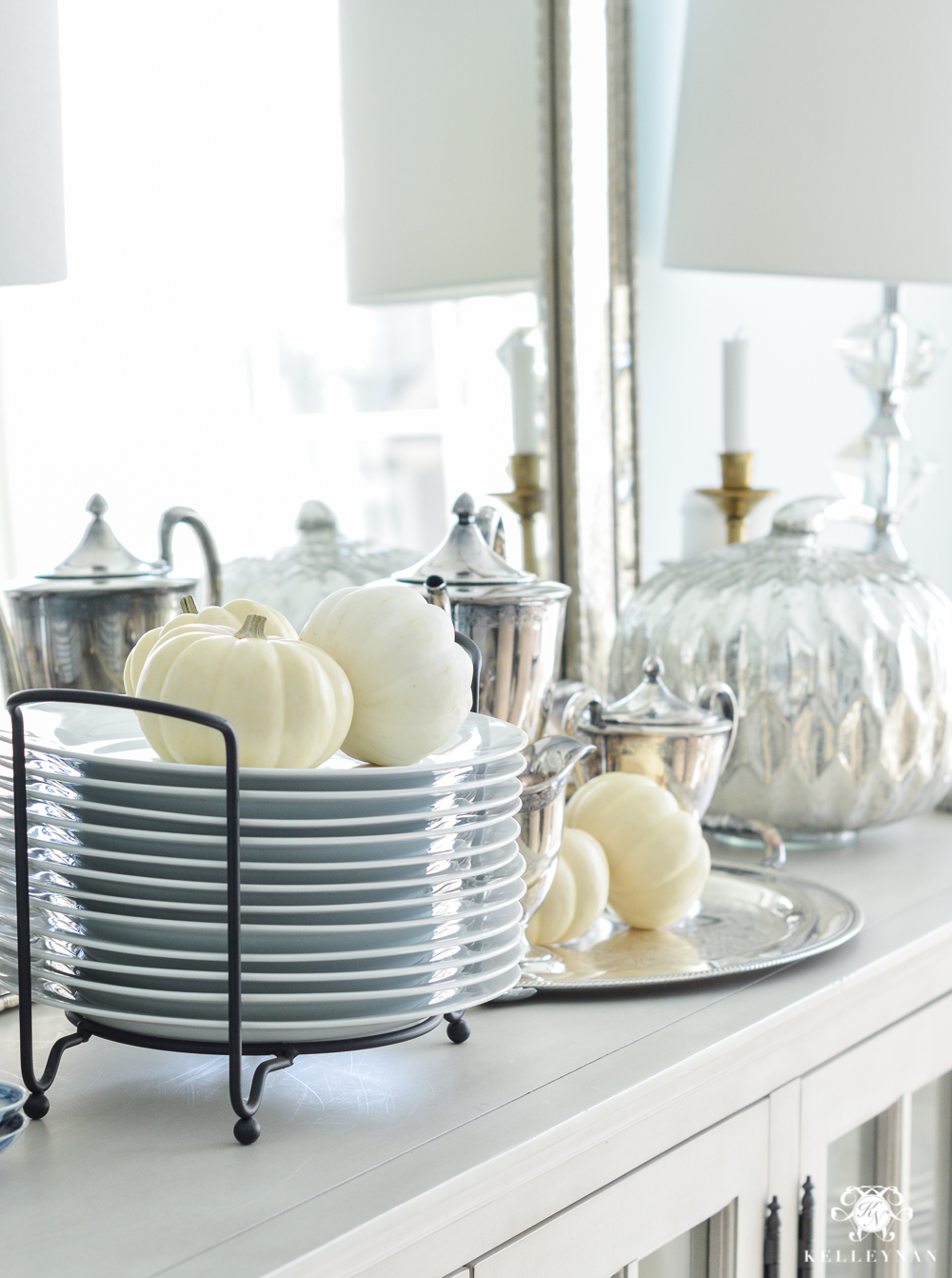 ---
Scroll & Tap to Get the Look

---

OUTSOURCE THE TURKEY
Ok, this will likely be a controversial tip. And some of you may be shocked. But, we have been doing this for about the last 10 years and I cannot tell you how much easier dinner preparation is because of it. We "outsource" our turkey. I live next to a meat market and every year, I call a few weeks prior to Thanksgiving and order two 10-pound fried turkey breasts. No one in our family is big on dark meat so it works well for us. You can specify your preferred weight and if you want the whole turkey, tell them when you want it to be ready, and then heat it up in the oven on Thanksgiving Day. I remember my grandmother stuffing the roasted turkey each Thanksgiving and when she passed, our traditions continued on but some of them were just "updated" a little. We usually pick up our fresh, deep fried turkey breasts the night before and y'all, if you've never had deep fried turkey, holy cow, the moistness! Another plus is that because it doesn't have to roast in the oven for hours on end, you have an easier time whipping up those sides. Plus, you still get to dig out the wishbone 😉

DON'T FORGET THE LEFTOVERS
Make sure you have enough containers on hand for 1. your own leftovers, and 2. for those who want to take leftovers home. For guests, it's a good idea to go ahead and pick up some disposable containers so you don't have to worry about returns. You don't even have to get seal-able containers; pick up some disposable baking pans and prepare to top them with aluminum foil.

PLACE SMALLS SNACKS OUTSIDE OF THE KITCHEN
When you are eyeball deep in prep and timing your casseroles, the last thing you want are people crowding the counters and drawers you are trying to access. I learned from those who hosted before me to set out small bowls and plates of snacks in gathering areas instead of setting up an appetizer station in the kitchen.We also set up the drink station away from food prep for the same reason 😉 Toasted nuts and pecans and and a homemade cracker mix are my mom's go-to's (made well in advance, of course 😉 ) and over the past few years, we've even whipped up a simple cheese board. We stick to snacks that require little prep so your guests don't fill up before the main event, and also because you don't want to detract from cooking the actual meal.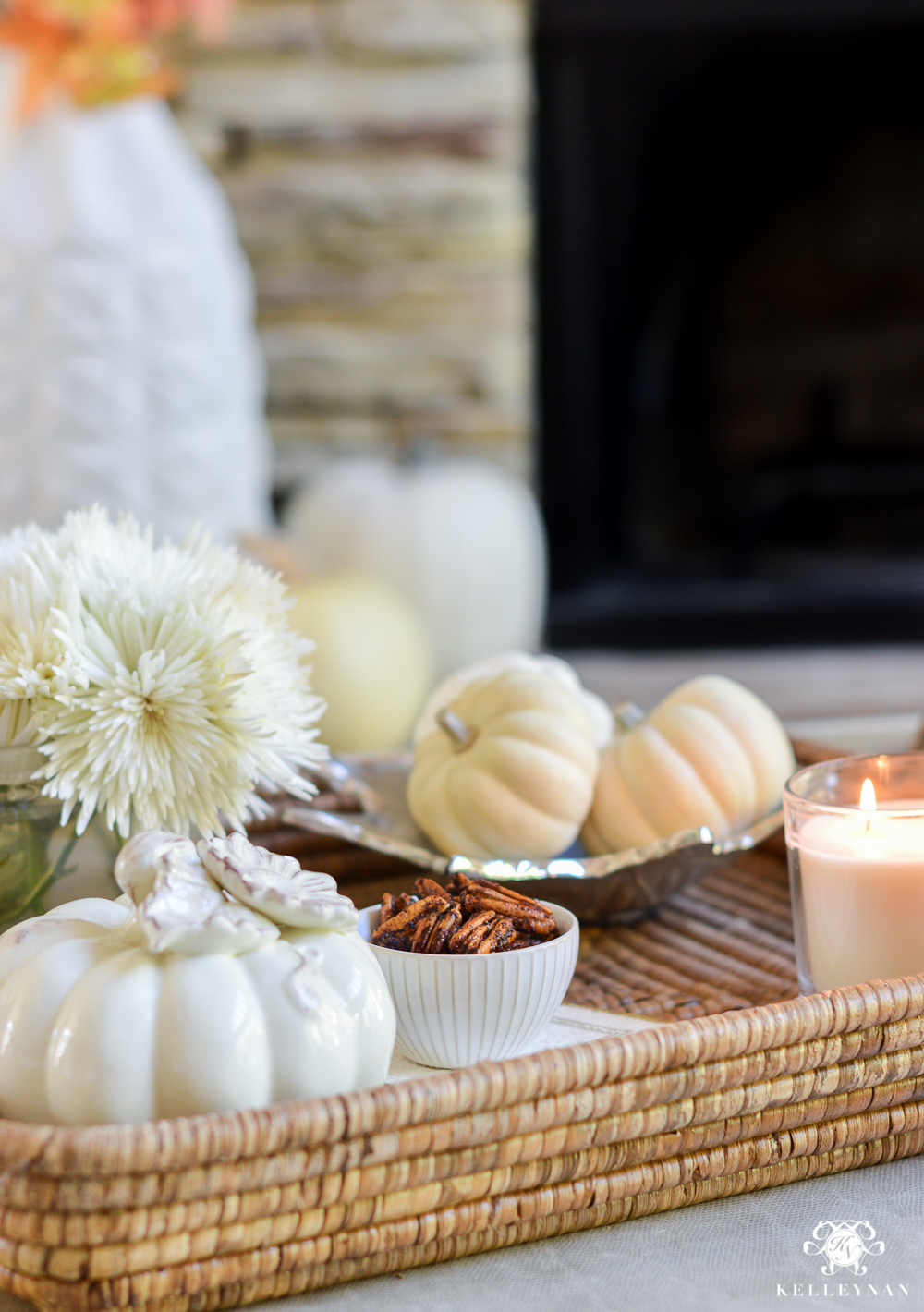 These sweet and spicy pecans are a fav in our house and are so simple! I shared them once before as an ingredient in the Baby Blue Salad (HERE), but here's a quick rundown of how to whip up these little delights.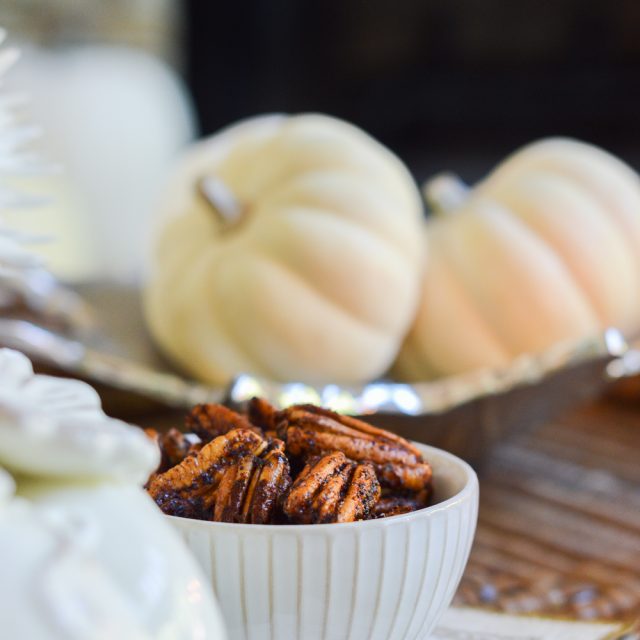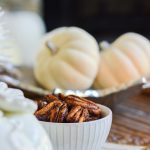 Sweet & Spicy Pecans
Ingredients
1/4

Cup

Sugar

1

Cup

Warm Water

1

Cup

Pecan Halves

2

Tbsp

Sugar

1

Tbsp

Chili Powder

1/8

tsp

Ground Red Pepper
Instructions
Add 1/4 cup sugar and warm water together in a bowl until dissolved. Add pecans and soak for 10 minutes

Combine 2 Tbsp. sugar, chili powder, and red pepper. Add pecans and toss to coat

Place pecans on greased cookie sheet and bake for 10 minutes (until lightly browned). Stir at the half-way point at 5 minutes.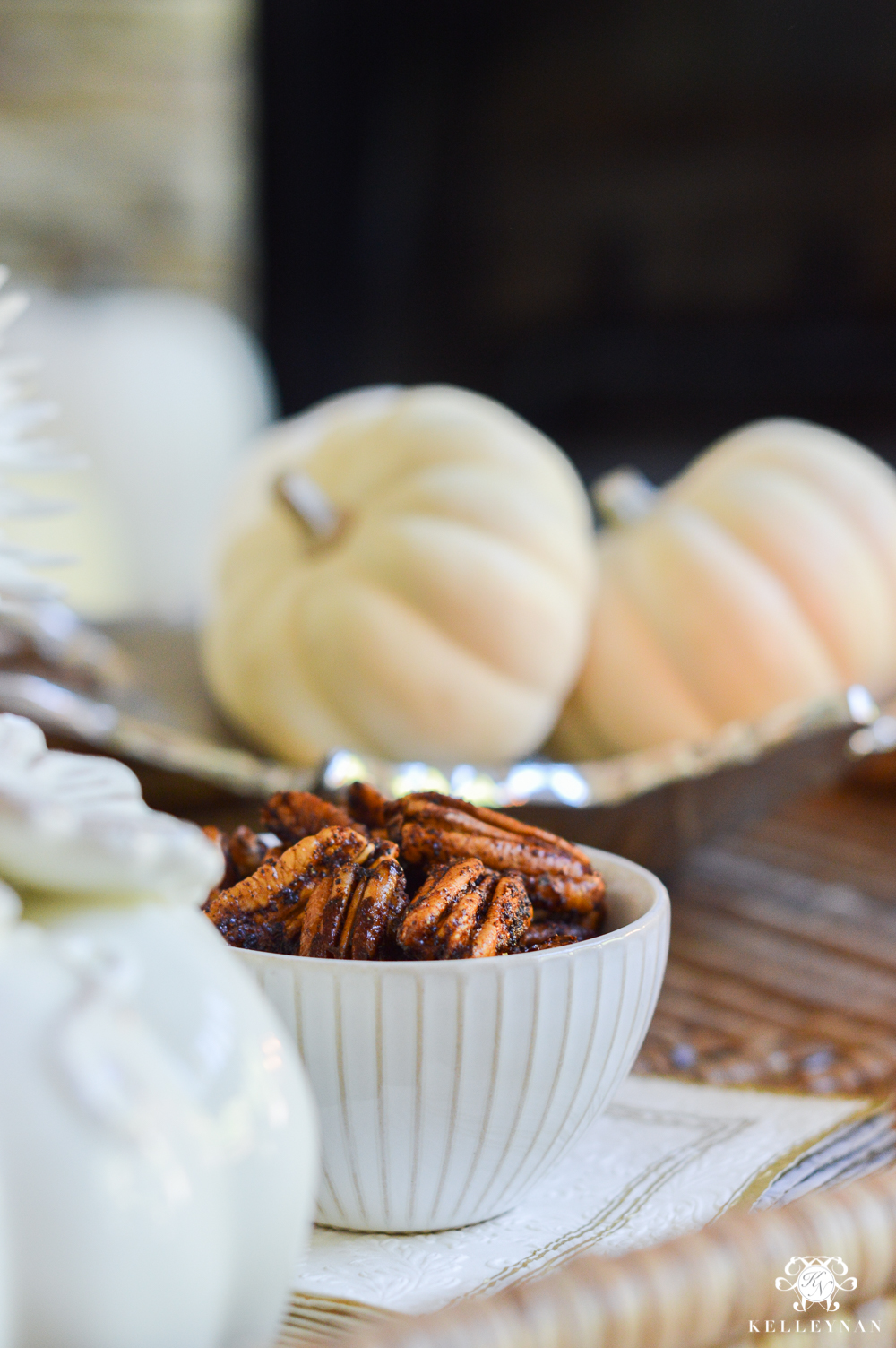 ---
Scroll & Tap to Get the Look

---

GIVE EVERYONE A JOB
I don't mean you want to put your guests to work, taking on manual labor haha. I mean, if you assign each guest a simple responsibility, it makes them feel important, needed, and involved. You can ask someone to say the blessing, fill the water pitcher, or set out one of those bowls of nuts. Uncle Jack is always responsible for serving up the Bloody Marys, in our house 😉 You can check out ideas for the ultimate self-serve Bloody Mary bar HERE.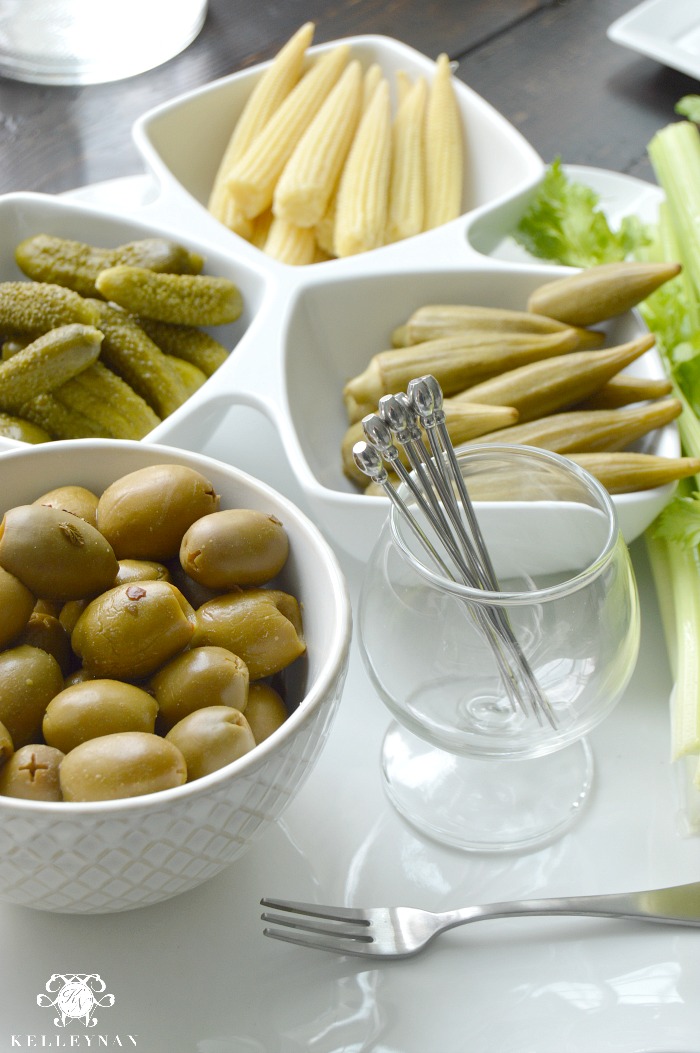 ---
Scroll & Tap to Get the Look

---

KEEP BREAKFAST SIMPLE
We have our dinner around 2:00 p.m. I'm not suggesting you starve your family, but with all the pre-planning and prep in the days leading up to Thanksgiving, don't make it hard on yourself by adding the task of cooking a full heavy breakfast (and subsequently washing all the dishes). Grab some containers of Costco muffins – anything that can be eaten without adding to the dishwasher is a plus. If you have in-town guests who prefer a full breakfast, have your spouse (or child) take them out for a simple early meal. (This will also give you some alone time during peek prep hours.
What are some of your Thanksgiving hosting traditions? I would love to hear about anything that's made your life easier when working to pull together a successful holiday event in the comment section below! If you were new here today, I'd love for you to visit again; you can sign up to receive my emails at the bottom of this post 😉
For more Thanksgiving entertaining ideas, next, head over to my friend Sarah of Life on Virginia Street. I adore her, her clean palette, and all of her rockstar seasonal ideas. Plus, I love her in real life, too (I called on her to be my "guts coach" before I left my corporate job to do this full-time blog thing 😉 ).
Here's the full lineup of those who are sharing their Thanksgiving entertaining today, plus, the entire list of talent who will be sharing throughout the week.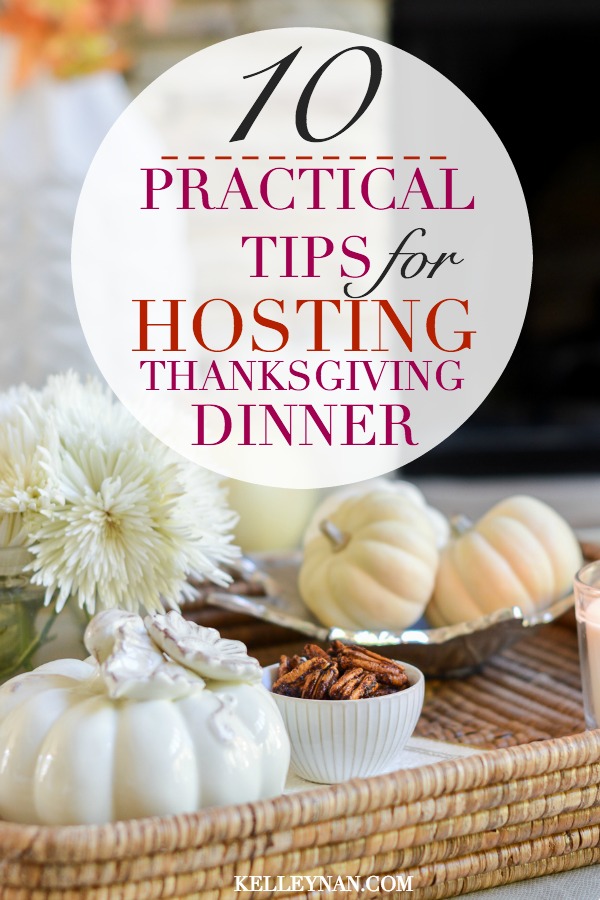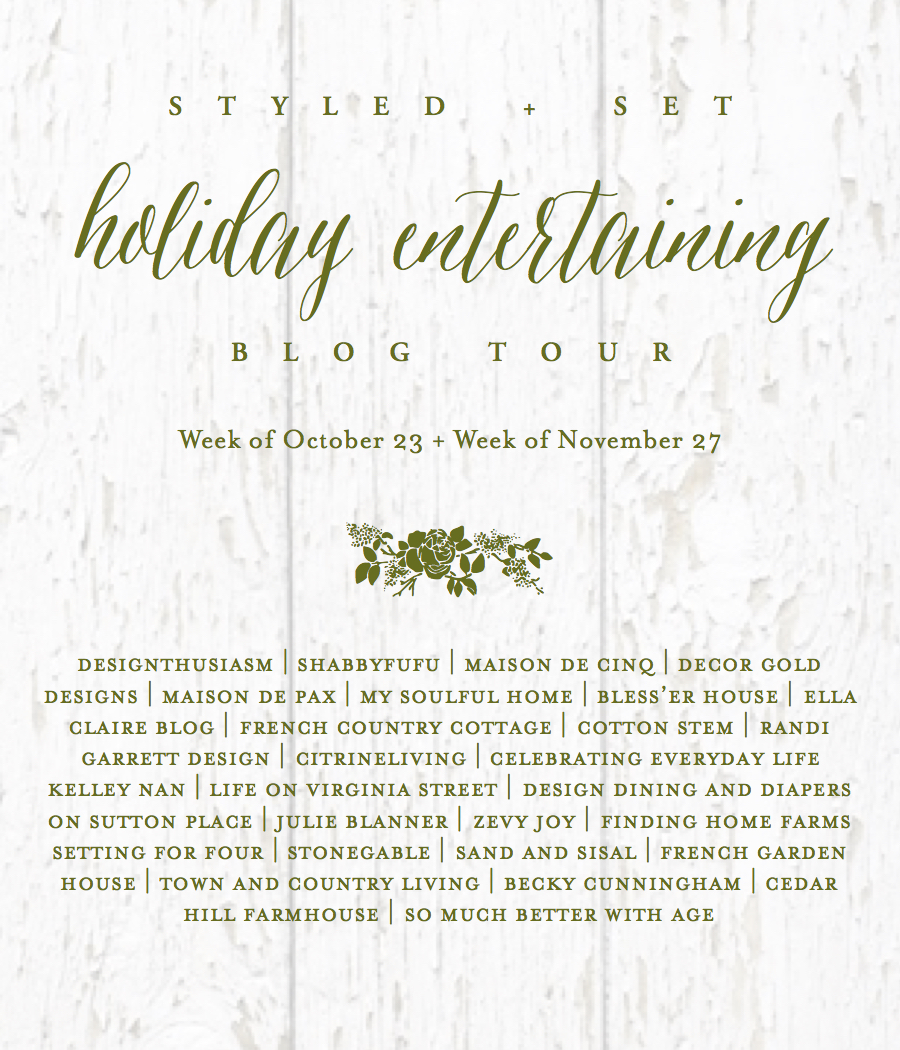 Catch today's Thanksgiving inspiration here: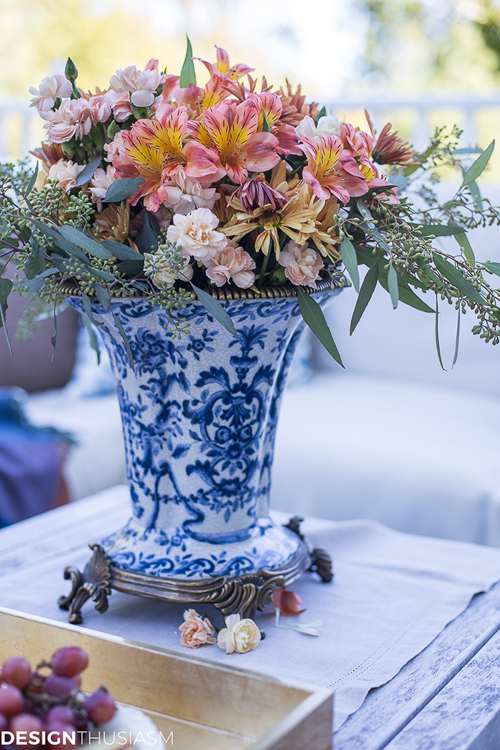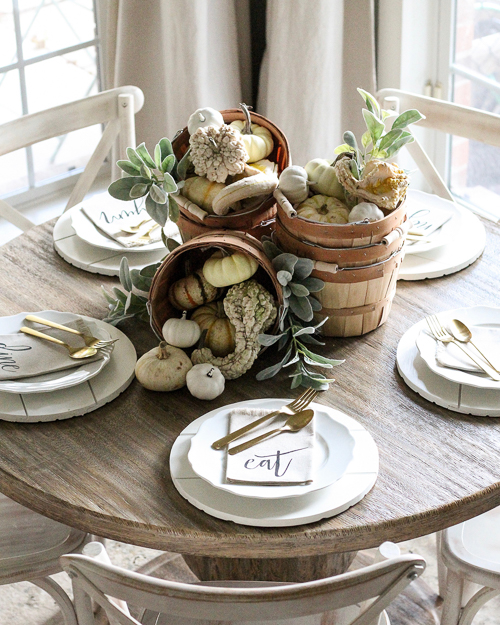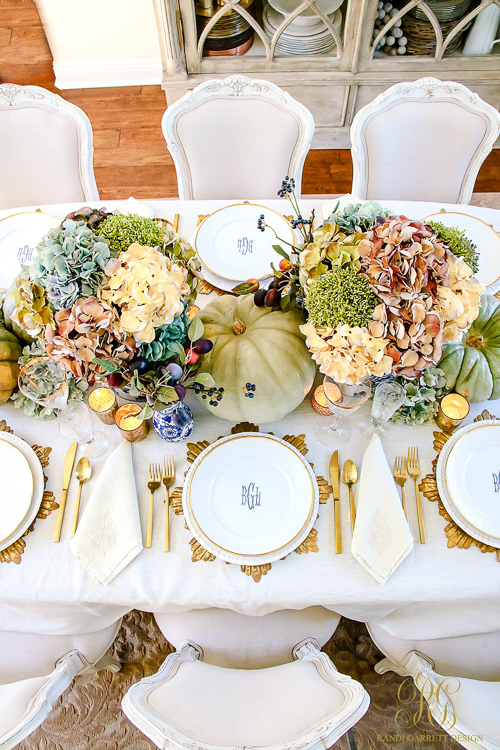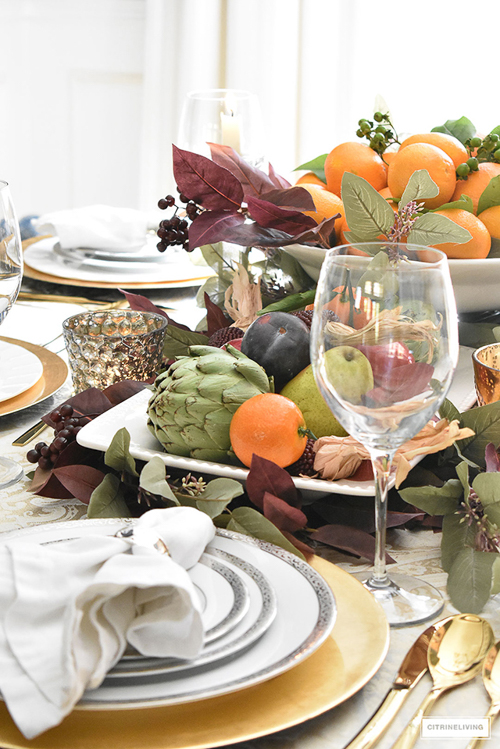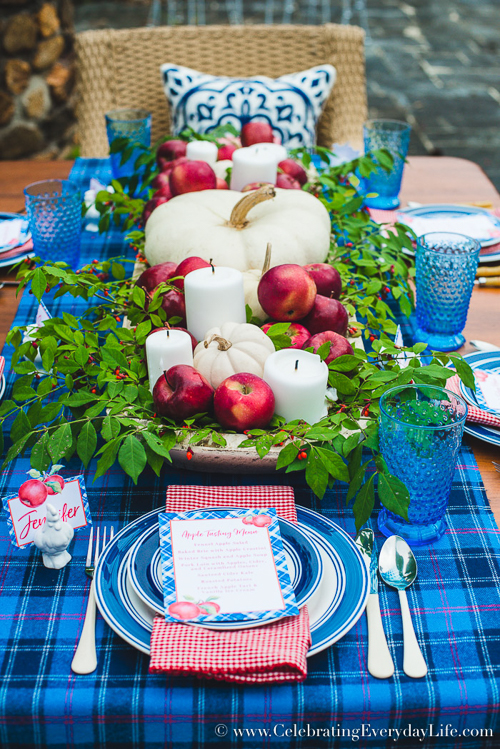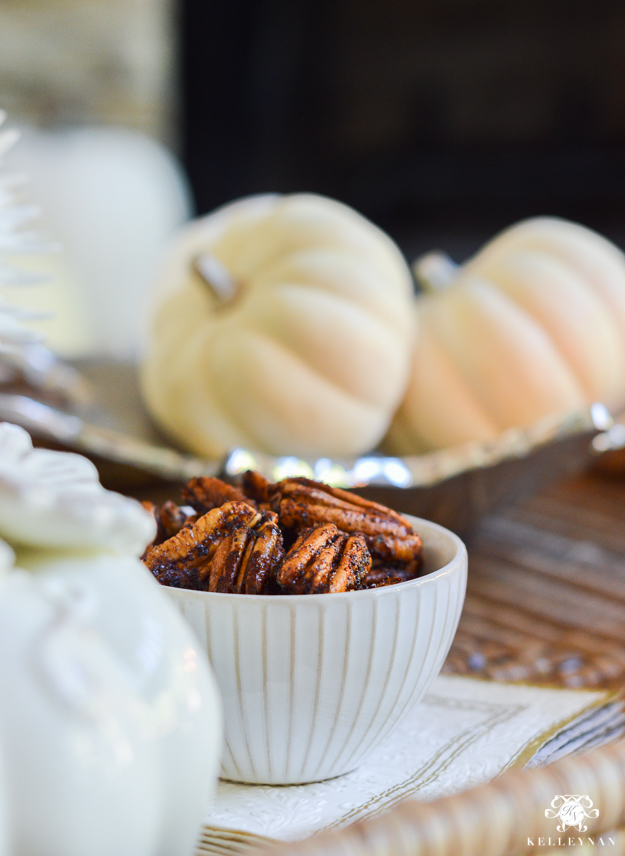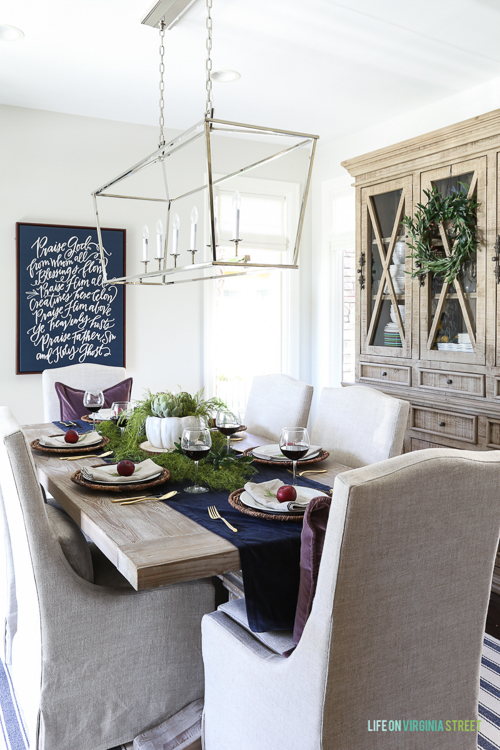 If you missed Monday's Posts

Maison de Cinq | Decor Gold Designs | Maison de Pax | My Soulful Home
Bless'er House | Ella Claire | French Country Cottage
Tuesday's Posts

Designthusiasm | Cotton Stem | Randi Garrett Design | Citrine Living
Celebrating Everyday Life | Kelley Nan | Life on Virginia Street
Coming Wednesday
Taryn Whiteaker | On Sutton Place | Julie Blanner
Zevy Joy | Finding Home Farms | Setting for Four
Coming Thursday
StoneGable | Shabbyfufu | Sand and Sisal
French Garden House | Town and Country Living | Becky's Farmhouse