I am a flower person. Period. And if you're even a semi-regular reader, you know that. But I'm willing to bet that even if you don't think you're a flower person, you totally could be one. Most people I've heard say "I'm not really a flower person" don't say it because they don't like receiving them, but because they don't know what to do with them after they have them. "Flowers die, and then what?" Well, fine food gets eaten but that didn't stop you from enjoying each bite of savory steak at the likely-too-expensive steakhouse, right? You eventually have to come home from vacation but that didn't stop you from having fun on your adventures while you were there. The fact is, some of life's greatest pleasures are temporary but that shouldn't keep us from enjoying them. Flowers are no different. But today, I want to share what I do to enjoy those beauties for as long as possible. I've partnered with FTD Flowers to share how to get the most out of your floral bouquets; you can find my full sponsored post and affiliate disclosure HERE.
---
HOW TO GET THE MOST OUT OF YOUR FLORAL BOUQUETS
My mom and I don't live close and without a doubt, having a flower arrangement delivered is my go-to gift for her, for any occasion. I like to imagine her face when she is surprised (kind of this humble-pout look, like "aw, you shouldn't have! (but I'm so glad you did") at work or opens the door at home to a deliveryman holding her favorite stems on a Saturday morning. She is also the person who taught me how to give nine lives to a flower arrangement, so I know whenever I send her flowers, she will enjoy them for upwards of a month. You may have noticed in the past that I can start off with a huge arrangement and even though that dwindles, I always seem to have little floral moments and buds spread throughout the house. If you have ever been the person to toss an entire arrangement if half goes bad (without salvaging the survivors), or the person who keeps all the stems in the same wide mouth vase, plucking one dead flower at a time, even when you are down to two awkward long stems, this is for you 😉 Today, I'm gonna break it down (no pun intended haha).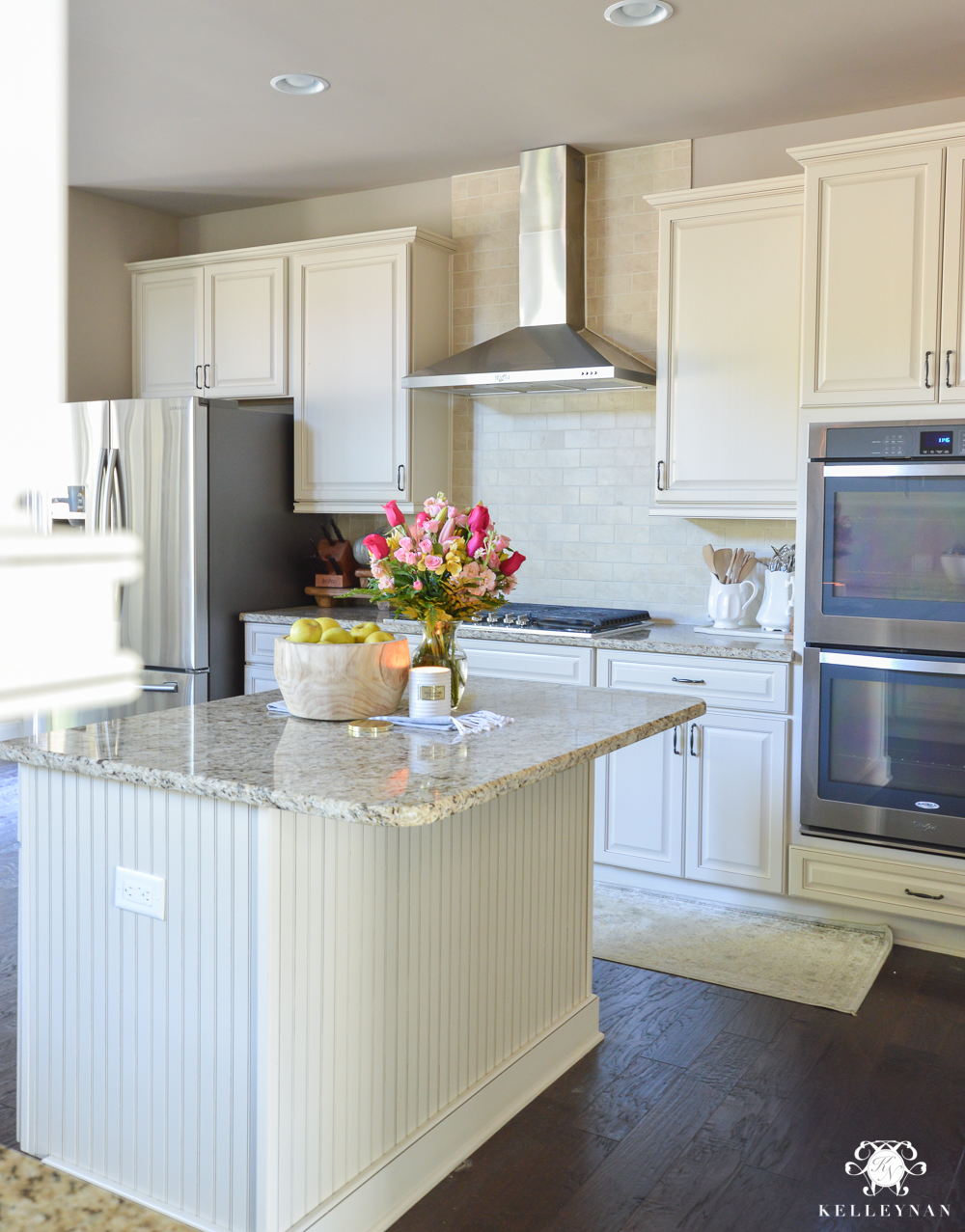 This beautiful bouquet by FTD was arranged and delivered by my local florist. When I receive a large arrangement, filled with all the good stuff, I like to use them as a stand-alone or centerpiece to really let them shine while all the stems are at their best. Save the bookshelf for later 😉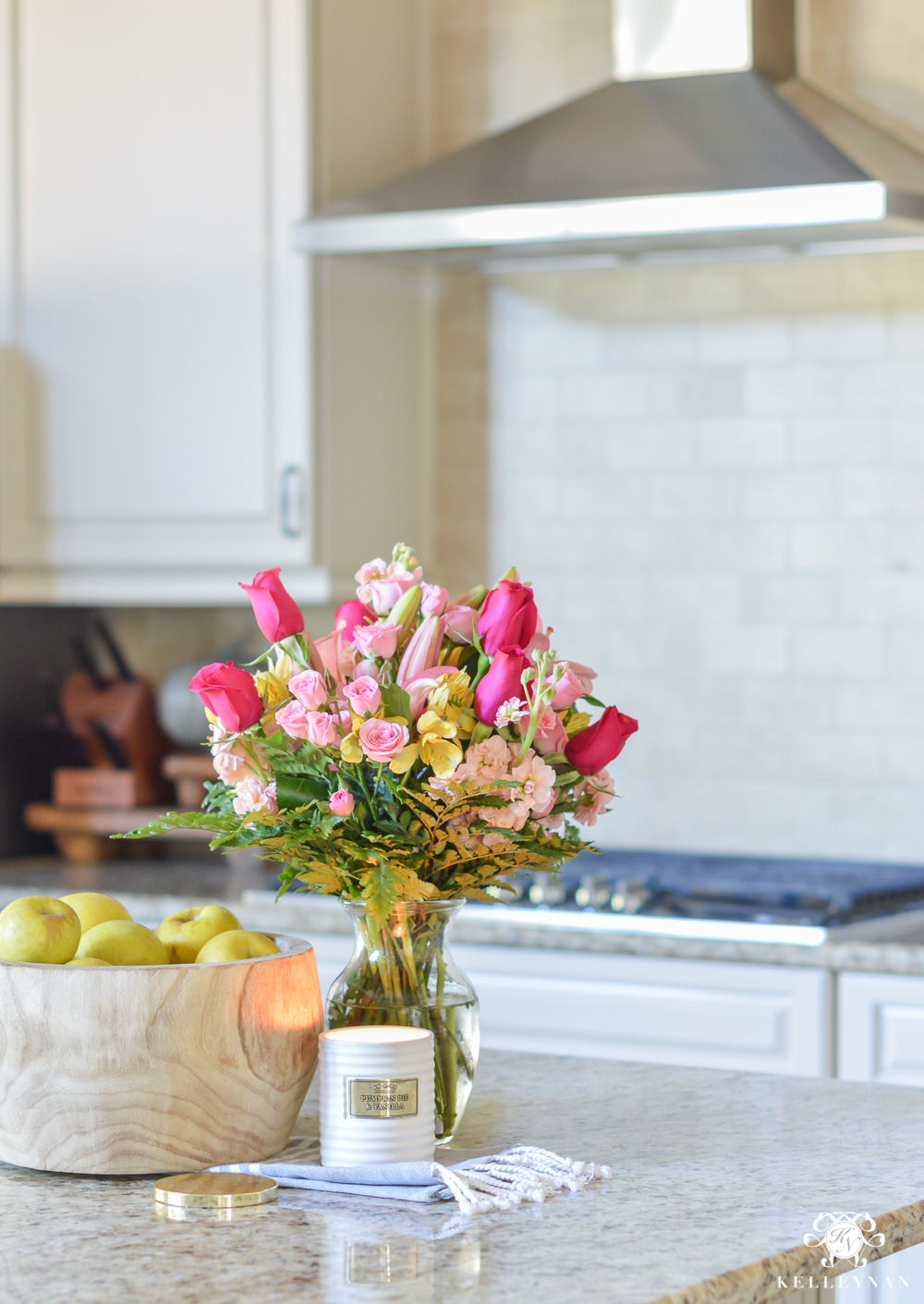 I try to pick out a spot they will immediately be noticed. And while you want guests to be able to see and enjoy them too, make sure to put them in a place you will see them and enjoy them often.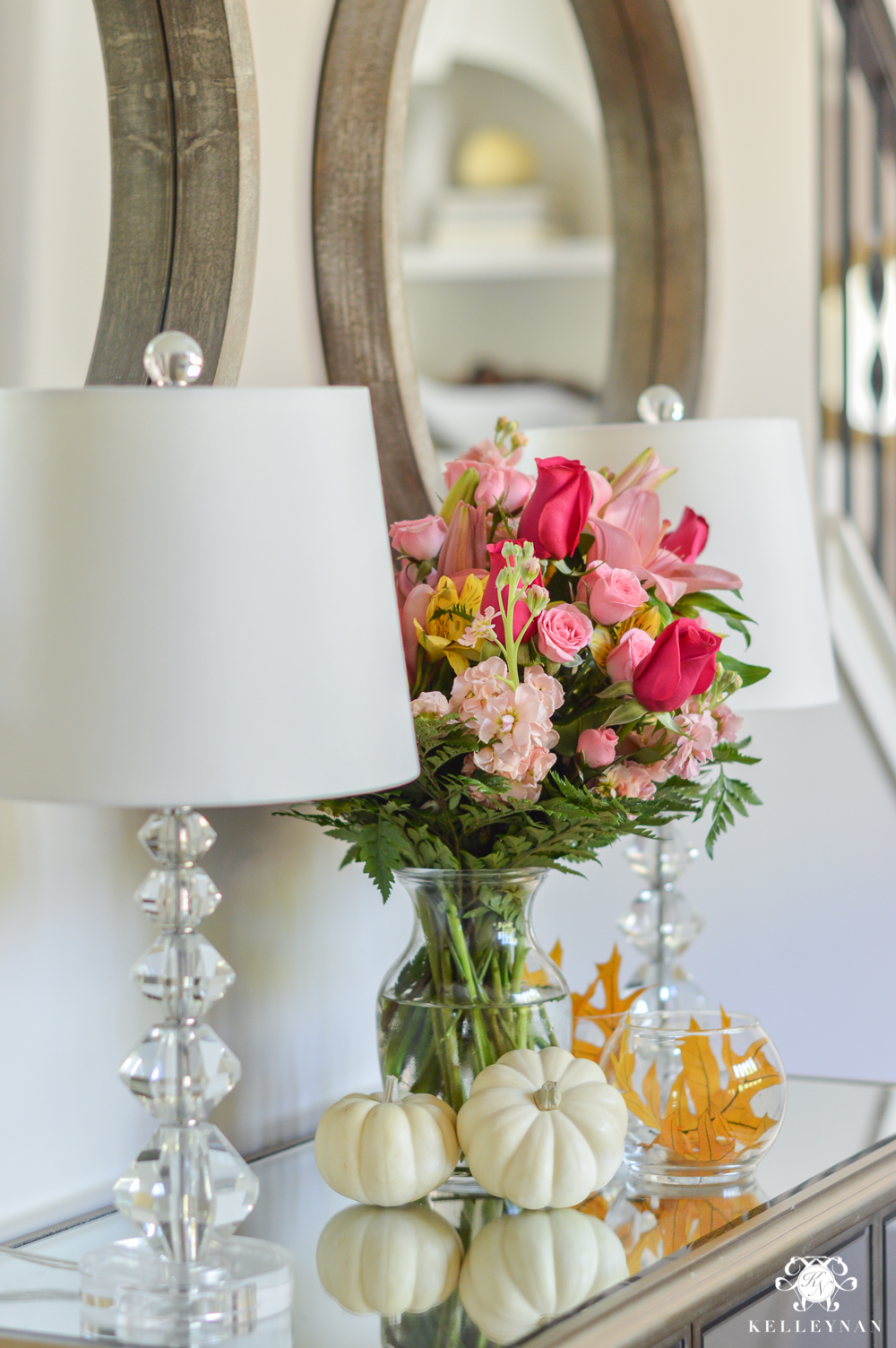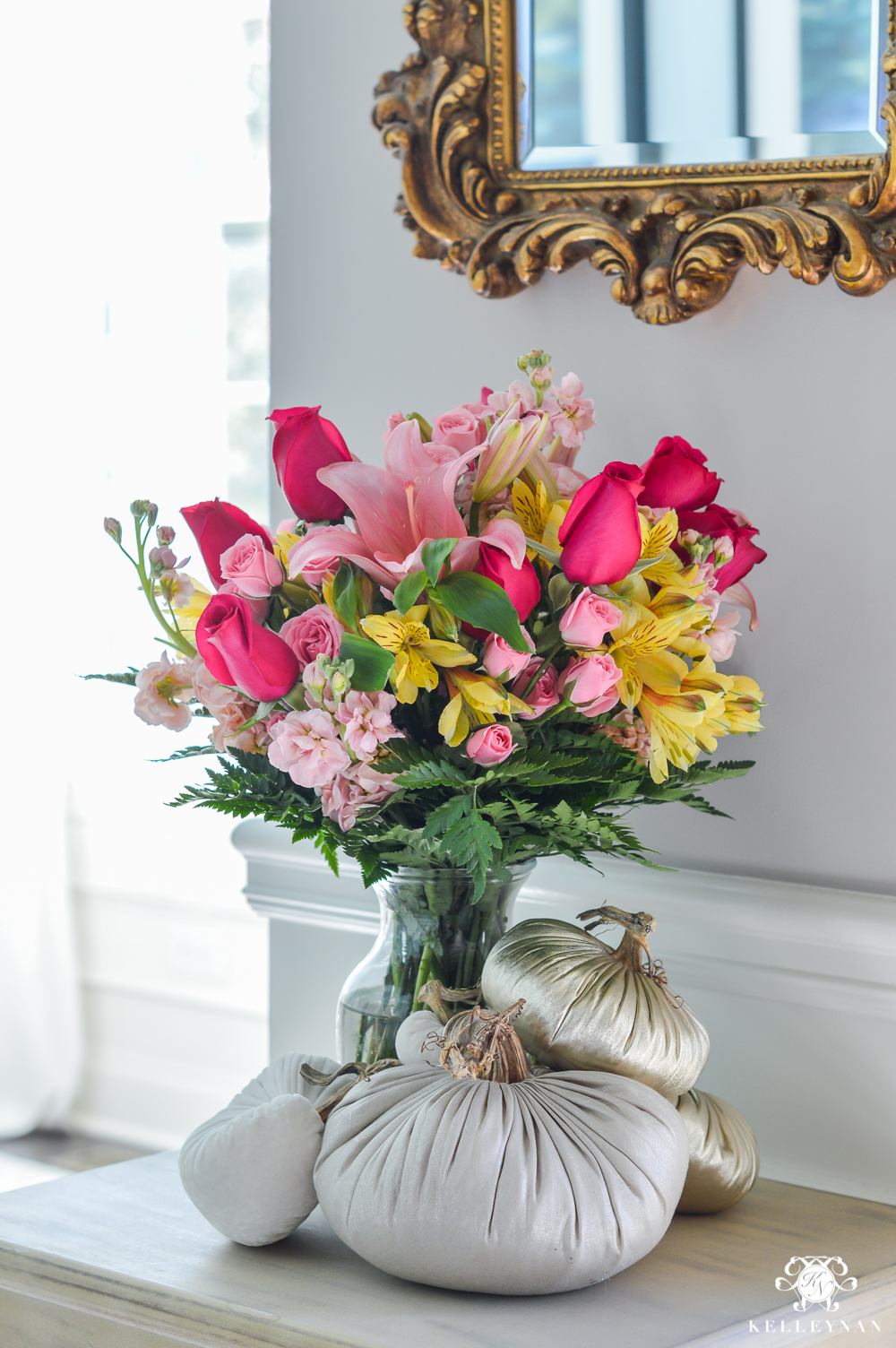 To maximize their bouquet lifespan, I try to do the following:
Change the water every other day and snip the bottom of the stems (I am bad at this and usually wait for the first hint one of my stems is starting to go- whoops!)
Know that certain flowers naturally last longer than others. Smaller field-like flowers and mums, gerbera daisies, carnations, dahlias, and alstroemeria are easy and an hang around (maybe even longer than you'd care for them to!)
Stay stocked up on flower food. I try not to hog an entire bin, but if I am picking something up at the grocery store, as long as there is no sign saying "one packet per arrangement" (and there never has been), I'll grab a couple packs of food at a time.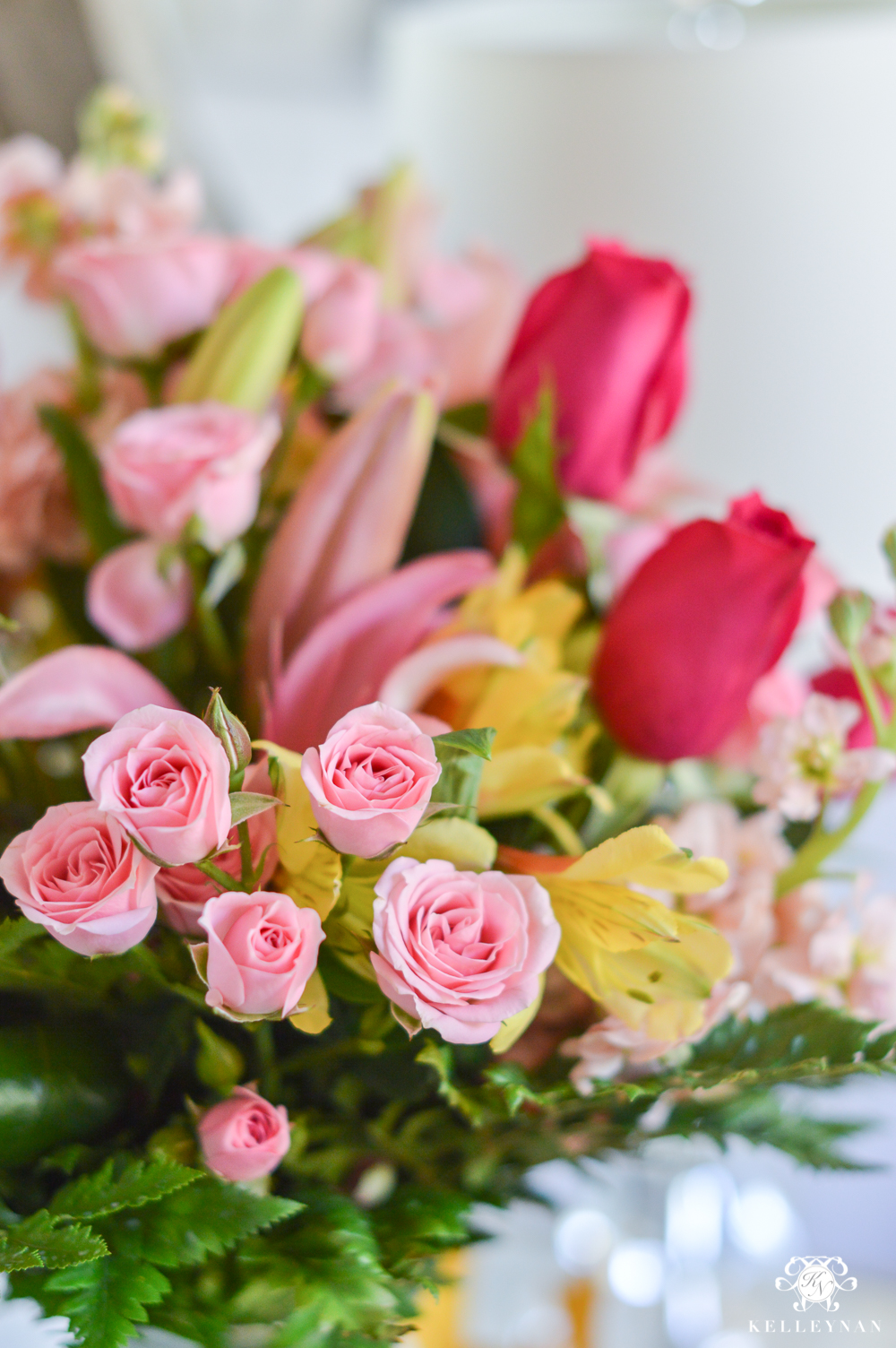 Ok, so when they start to go… what then? Well, that is probably my favorite time. If only a few stems have died, you can just remove them. If the vessel is suddenly too large or leaves holes, you can transfer them to another vase, all together. OR, this is when you can start splitting your arrangement for mini arrangements to fill your entire home. Depending on the arrangement, I usually start by gathering a few stems of the same variety. THIS is when I start utilizing spaces like my bookshelves.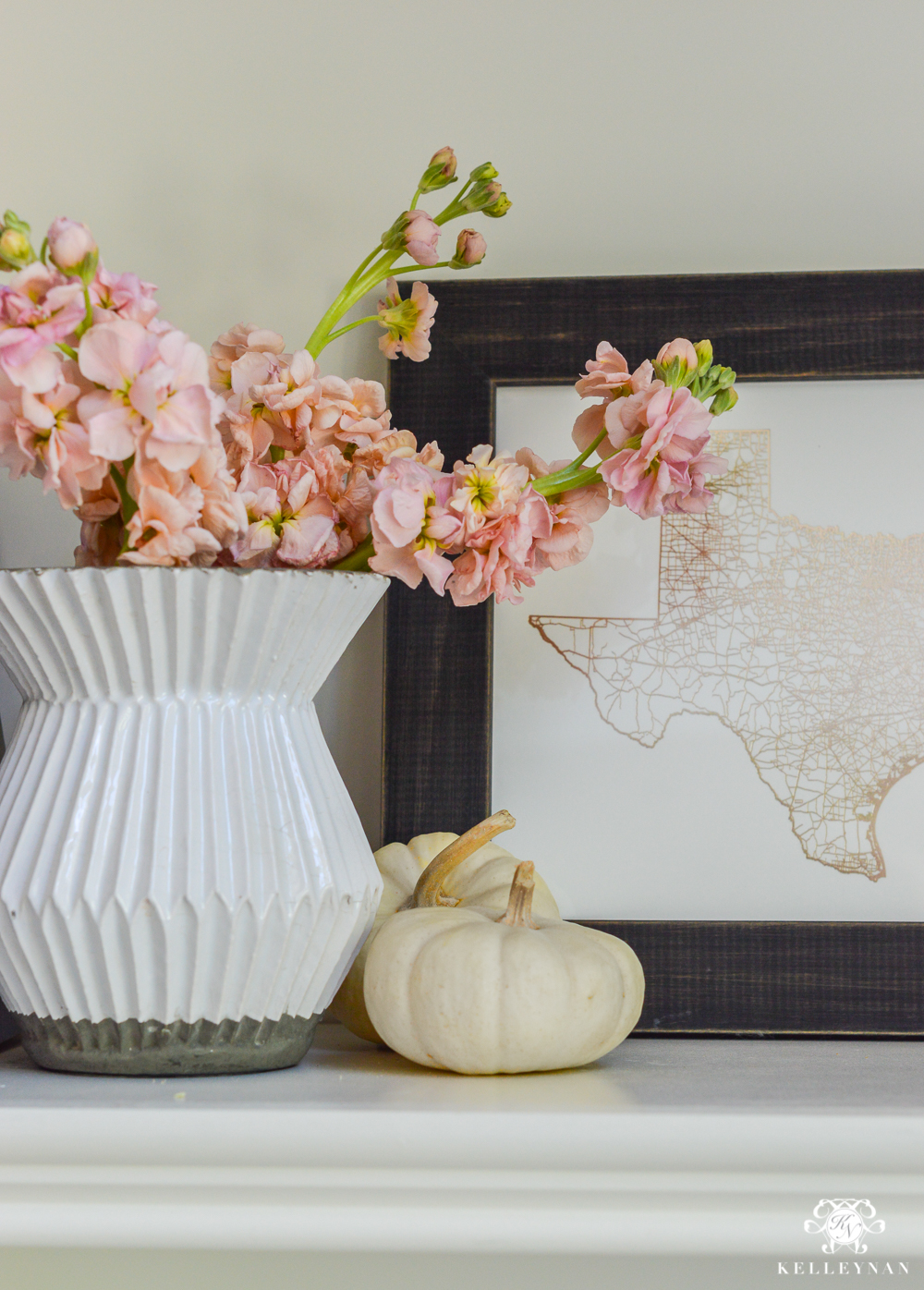 One stem, trimmed down, makes such an impact. At this point, I don't try to make my flowers the "star" of the show; I try to incorporate them into little vignettes that can be improved by adding some life and pretty petals.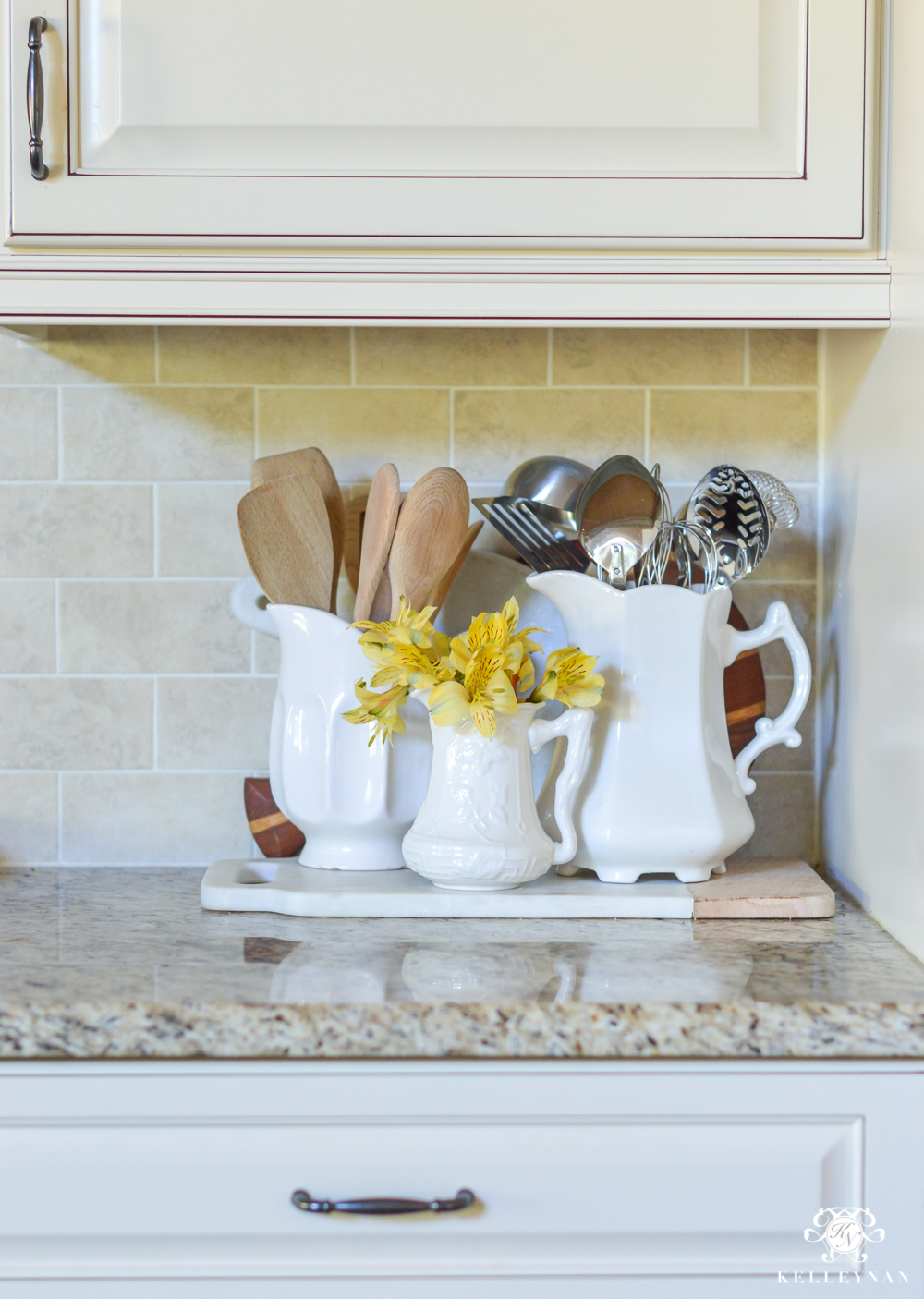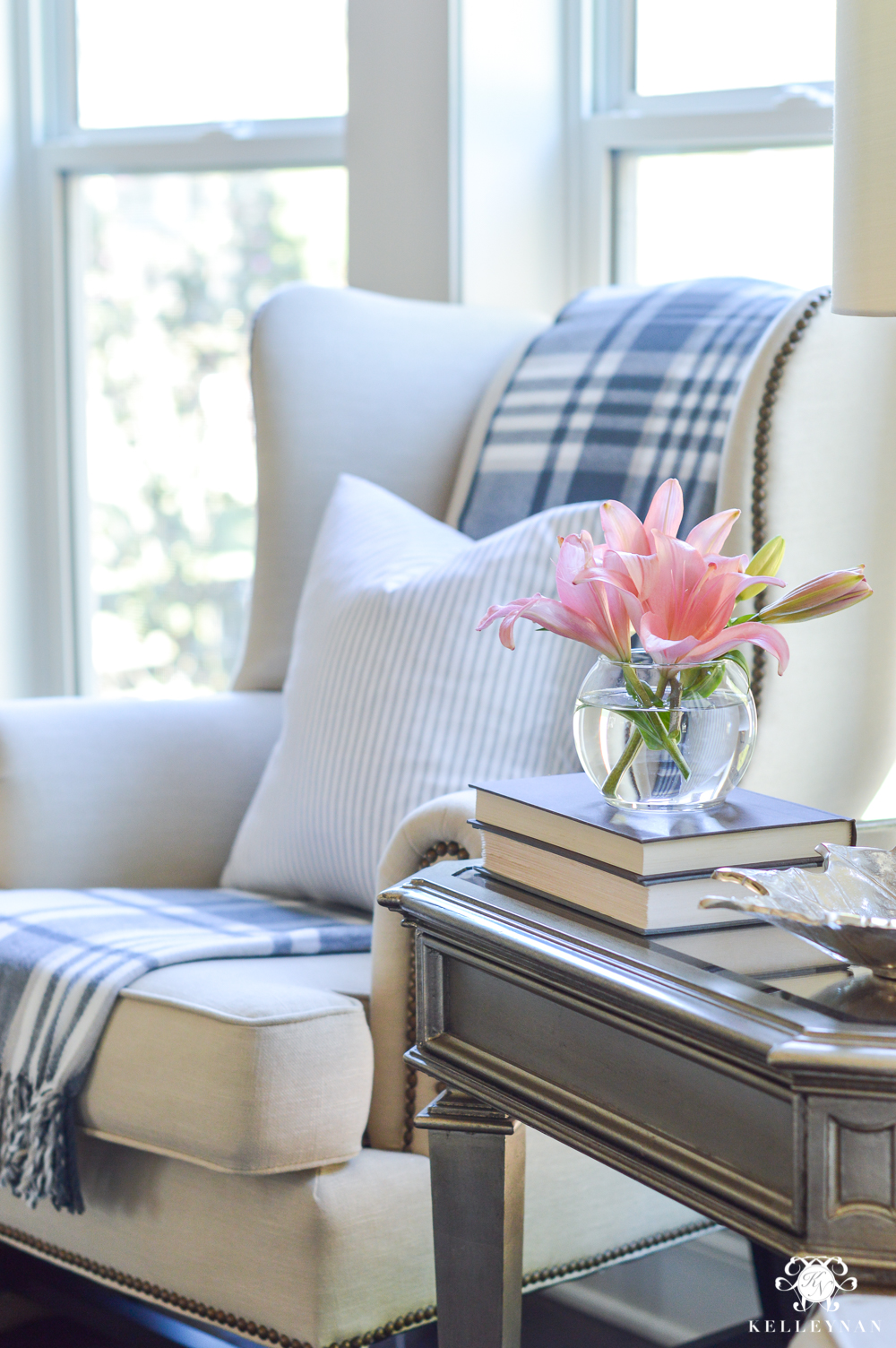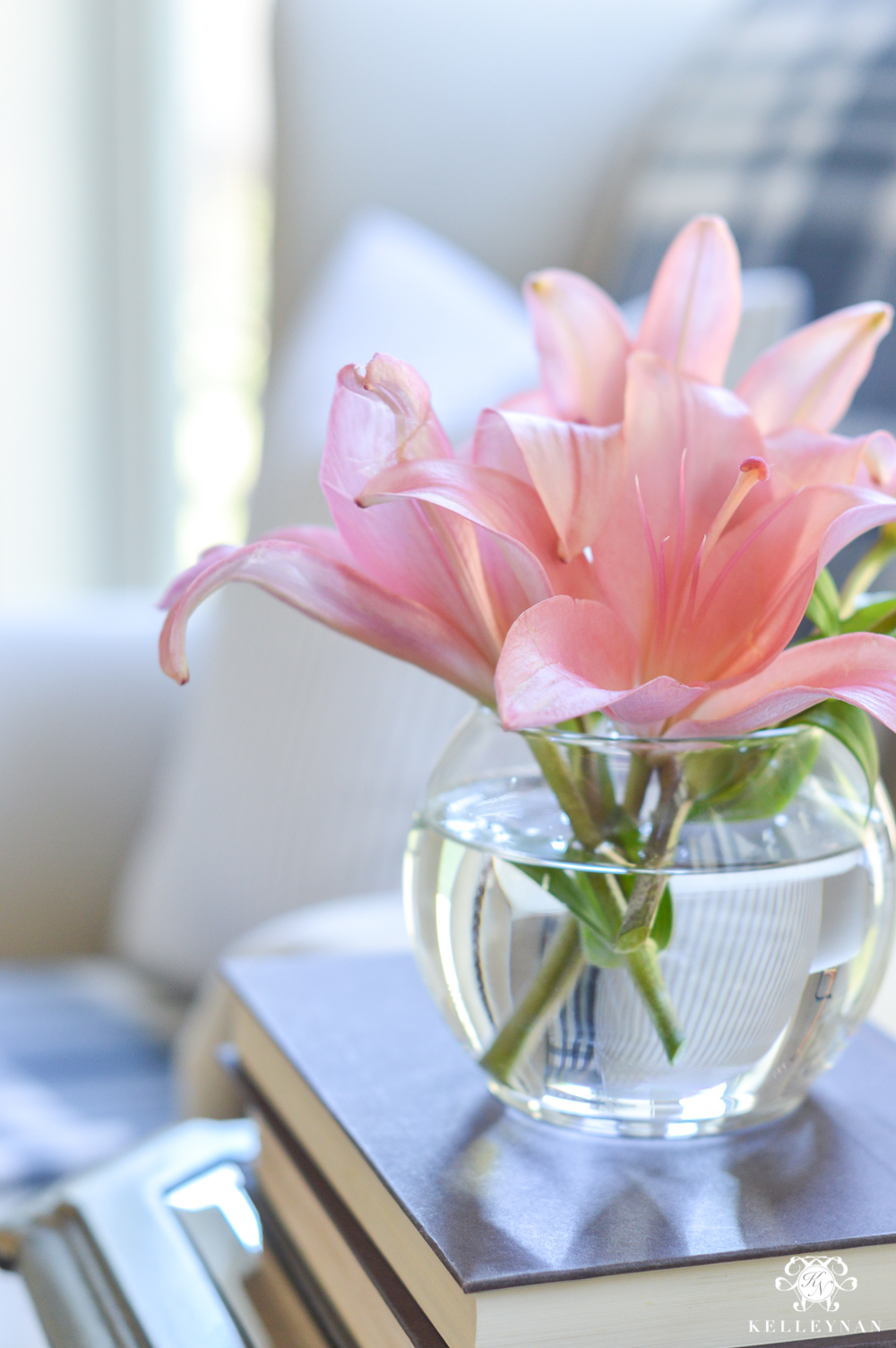 The first and the last place I will put my tiniest little floral moment is on the kitchen sink soap pedestal.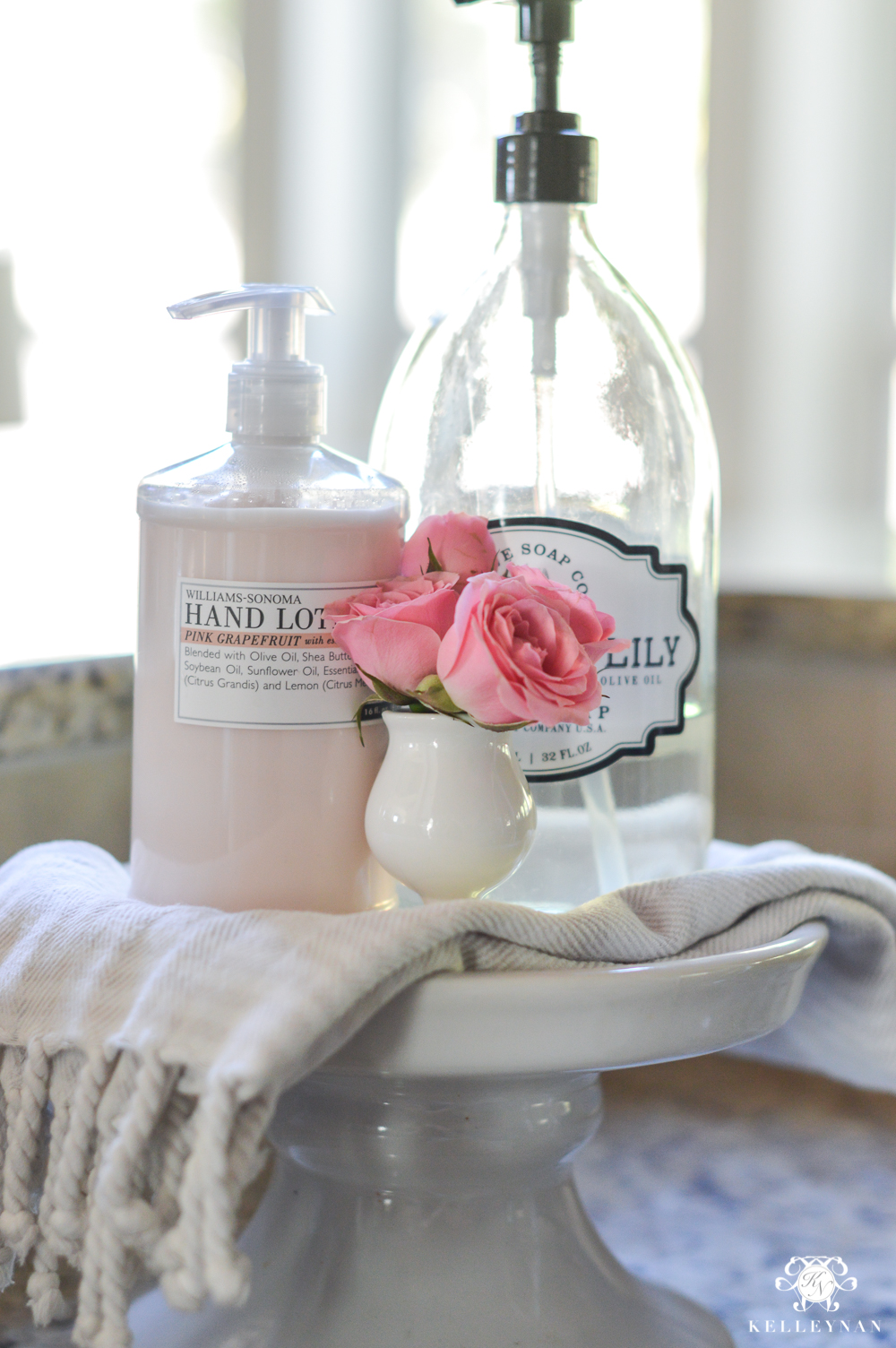 And I use every single part of the arrangement, down to the last sprig of greenery.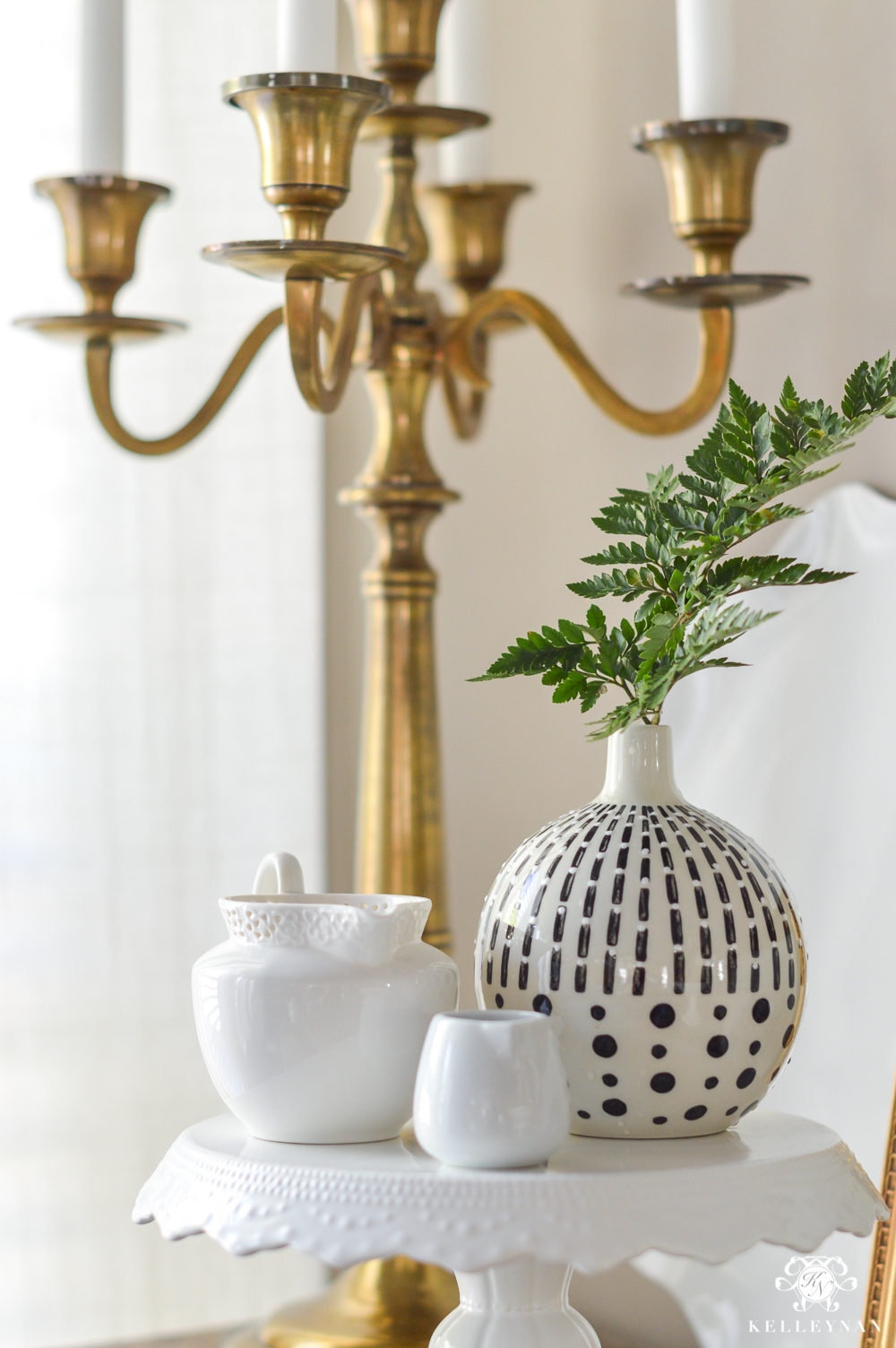 And undoubtedly, you will have a few blooms that start to outlive the others in their mini-arrangements. That's when I gather the survivors and bring them back together. I never limit myself to actual flower vases. You know my motto- if it has an opening and can hold water, it can hold flowers.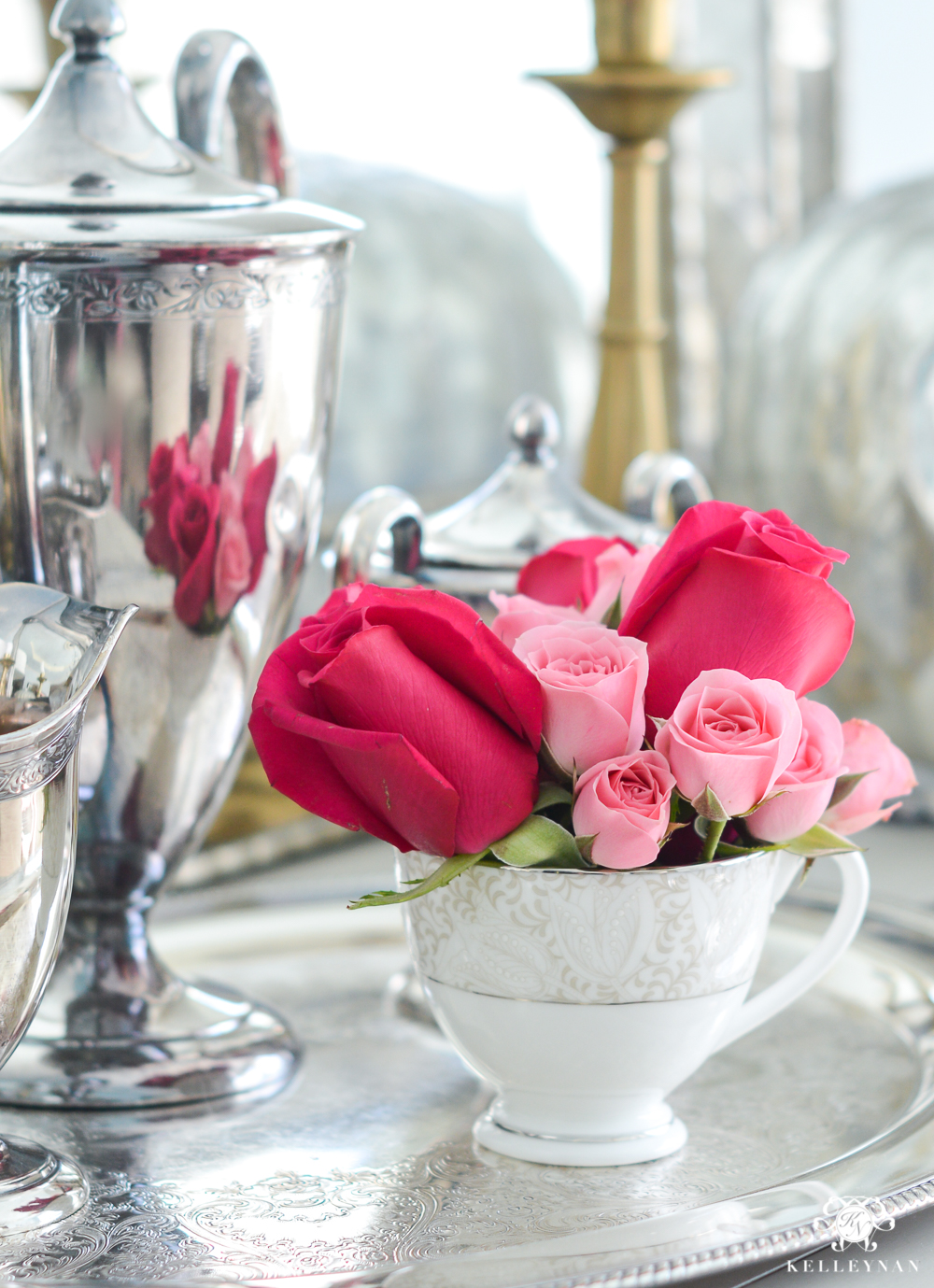 Do you naturally "stretch" your flowers and break them up or do you tend to see how long you can keep them together as one big family? When you start being more "involved" and realize just how long the final blooms can last, it won't matter how small or grand the arrangement is. You will start to look at a vase of flowers and immediately start to imagine them in all their life stages, spread on surfaces throughout your entire home. Last week, we talked about the impact a single "just because" card can make (HERE) (have you started yet??). Whether you want to help someone celebrate an upcoming special occasion, or you just want take that "just thinking of you" gesture a step further, you can see the full assortment of FTD's "We Can Arrange That" HERE, for any occasion (or non-occasion 😉 ). Have tips/go-to occasions for ordering flowers? I'd love to hear about them in the comment section below.