It's Week 4 of the ORC and I've got some progress, I've got some fun things to share, and I've got some news. Before we get to the best part of our weekly date, I'll start by sharing that the One Room Challenge has been extended by a week. We were granted the extension yesterday due to recent events and so many participants enduring unusual circumstances, along with other logistical delays. That means, pencil me in for a Week 7 date because on November 16, I'll be sharing the entire master bedroom makeover. And will hopefully be able to do it right. I hate the reasons for the extension but y'all, I can't tell you how relieved I am. I have several key pieces that haven't even shipped yet – and, things I do have can't be tackled because some of the outstanding items have to be installed first. We leave next week for our long awaited trip to New England. With the original schedule, I would have stressed about my final items arriving while I was gone, flown back home,  to finish installing, shopped last minute items, shot the room, etc., basically in one day. This extra week is such a gift and the best surprise I could have gotten. One full week between my trip and the reveal to finalize the room. Woo!
*Post contains affiliate links. For full disclosure, click HERE*
If you missed the first three weeks of progress, you can catch up on the project here:
See the final reveal HERE.
MASTER BEDROOM SITTING AREA
So, on to the progress since we last chatted. I have been waiting on rugs before starting any setup. I still don't have them but after feeling stagnant and paralyzed waiting on shipments and deliveries, I decided I didn't care if I had to re-do areas in a week or so, I was going to advance this room. We still aren't touching the main bedroom area just yet but I started hauling everything in for the sitting area, and y'all. It makes SUCH a huge difference when you properly use the space. Here's a look back at the before (on a messy day haha).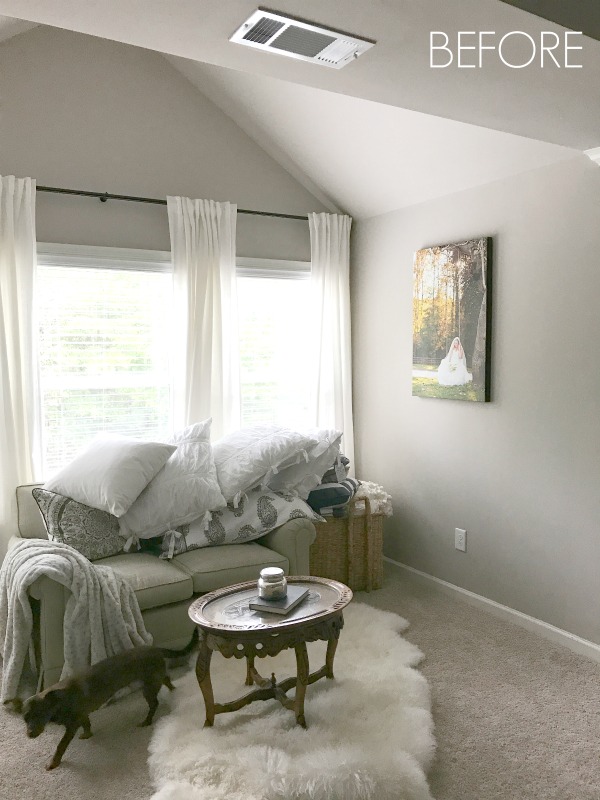 And here's where we are now.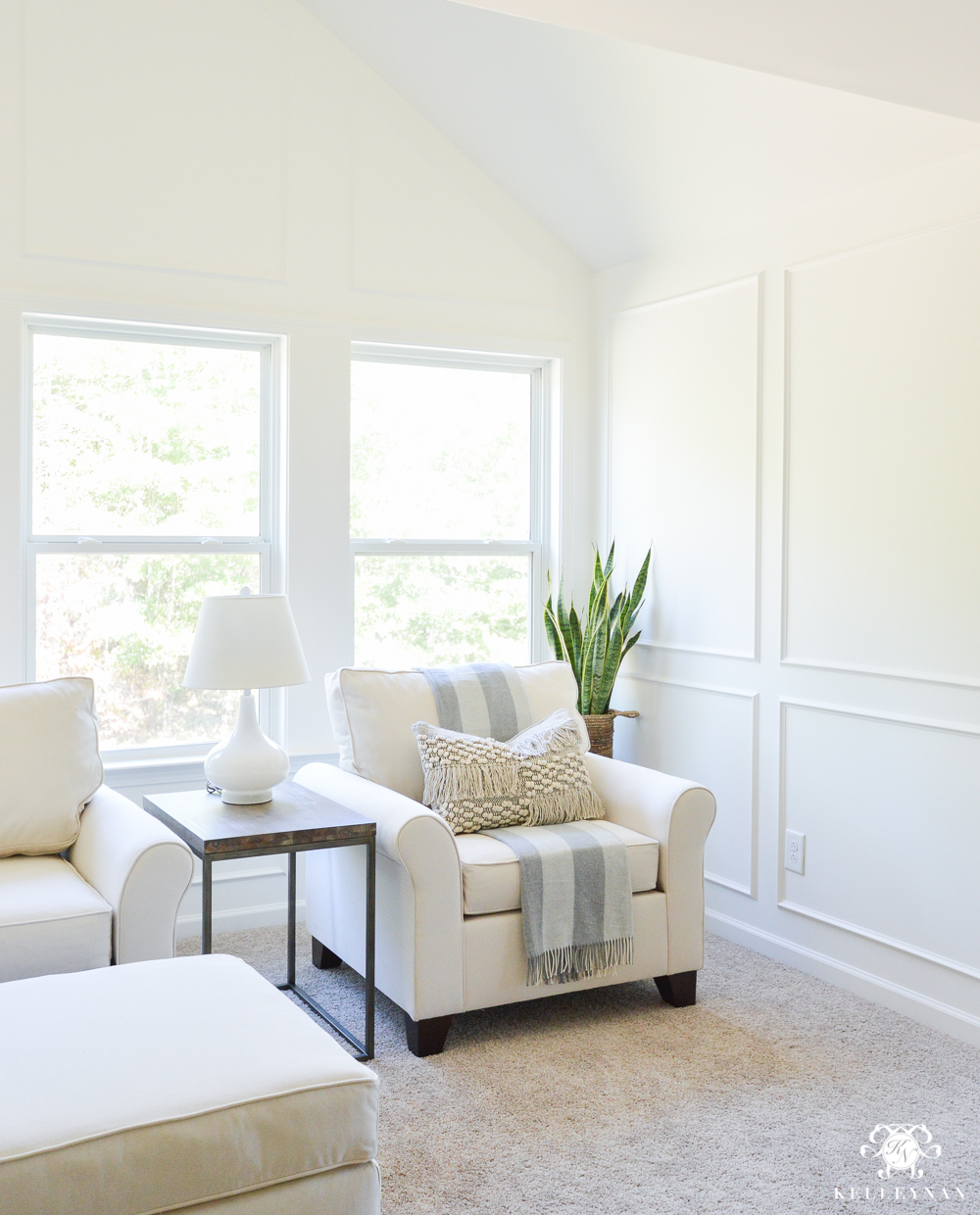 As a caveat, this area is far from finished. Art is on the way, I don't have a rug down, I used an interim pillow (HERE) to improvise until my new pillows arrive, window shades are on their way, I haven't accessorized… well, you get it. Even in this tiny area, there is a lot to accomplish. But, I'm so glad I finally got these big boys out of their boxes to give myself something new to love on. These chairs are oversized. And plush. And everything I wanted. I ordered one with an ottoman (HERE) and one without (HERE).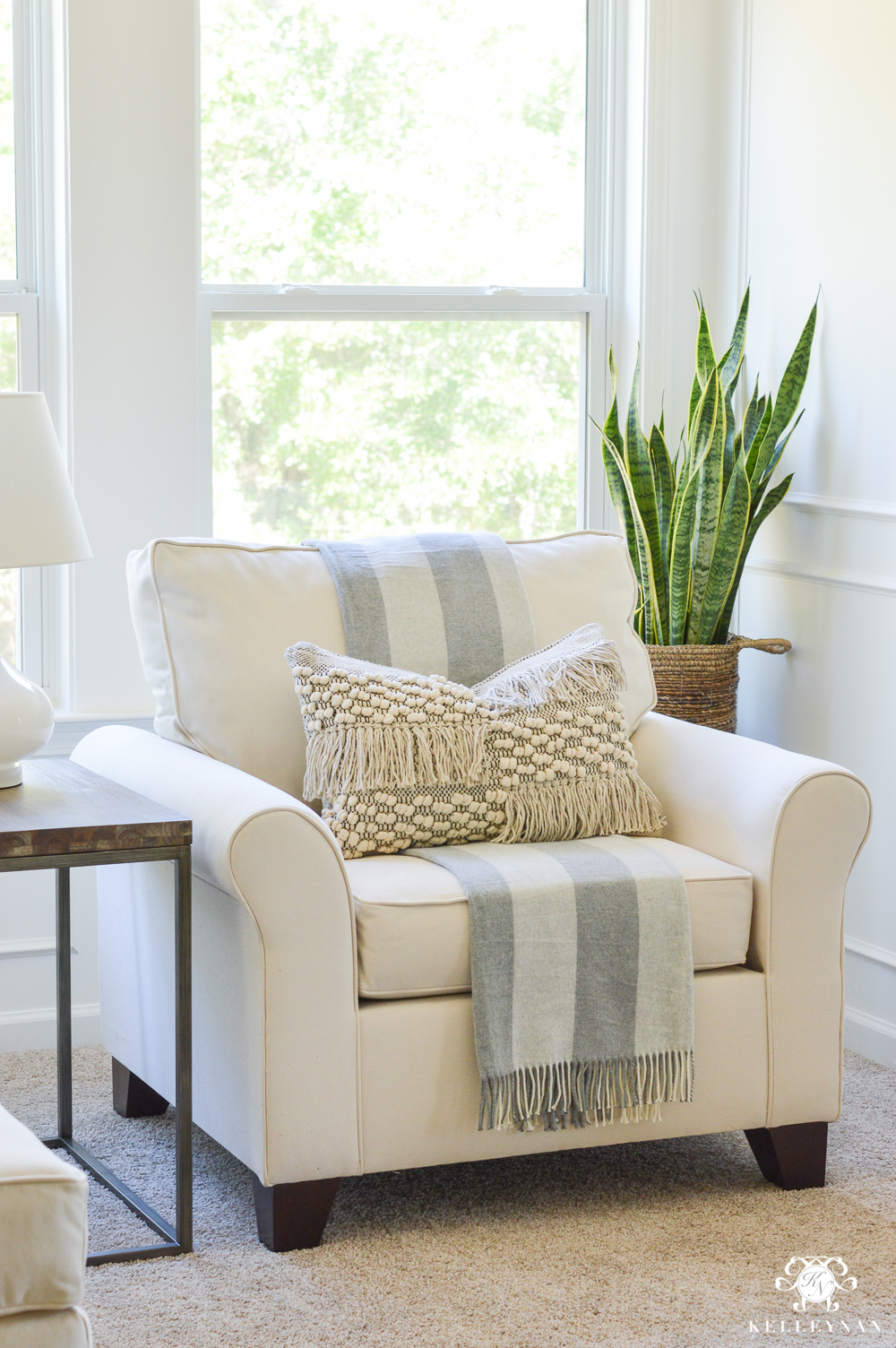 My throw pillows from Tonic Living are scheduled to arrive tomorrow (woo!) and I actually had a slight update to last week's pairing. I went back and forth between the gray and white vs. black and white flock pillow for these chairs; just before I ordered, I ultimately decided on the black and white. And, good news- all of the pillows below are currently on sale with code FALL15. There are so many delicious patterns and materials. You can check them all out HERE.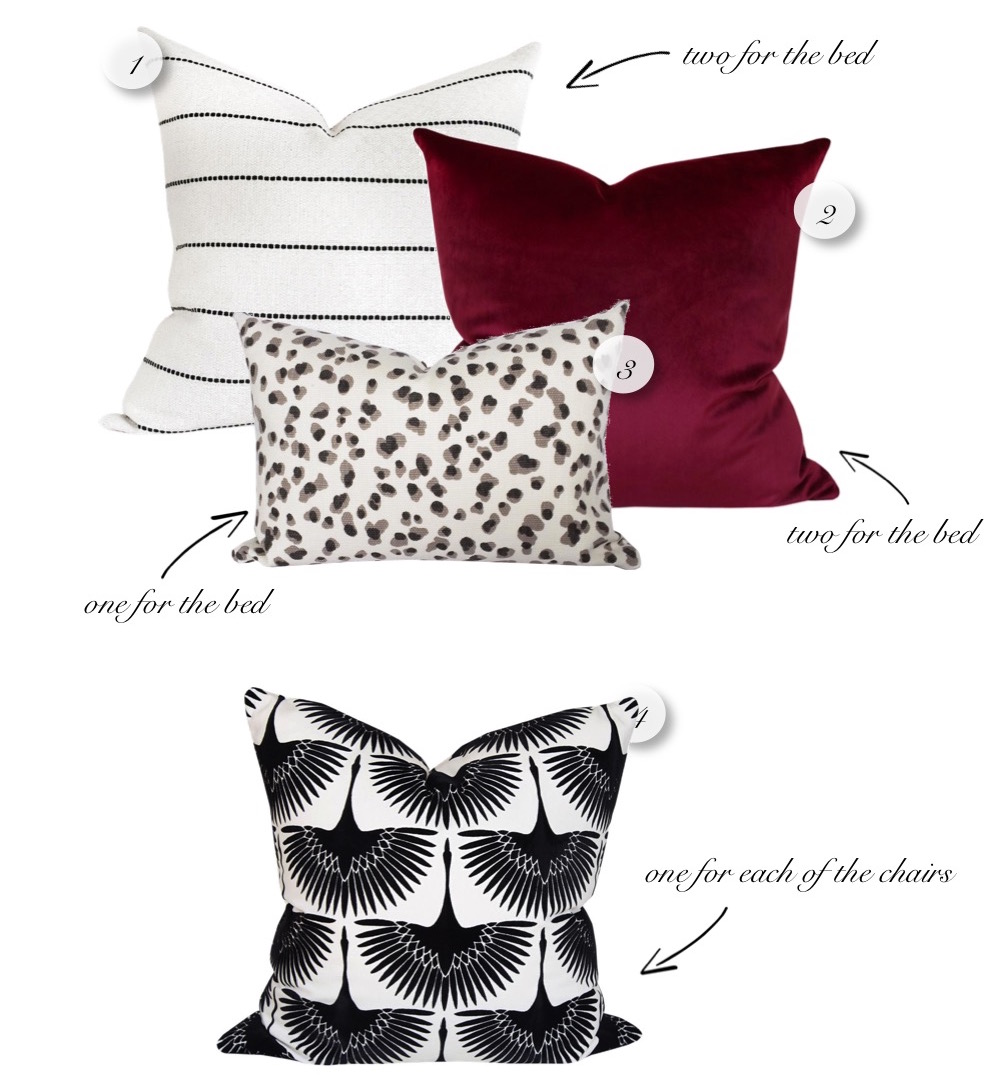 Pillow 1 | Pillow 2 | Pillow 3 | Pillow 4
This lamp actually comes as an affordable pair (and in about 56 different colors); I'm still scouting a location for its mate 😉 Because my bedside lamps are more elaborate and I also have this brass floor lamp planned for the sitting area, I went more simple on the table lamp.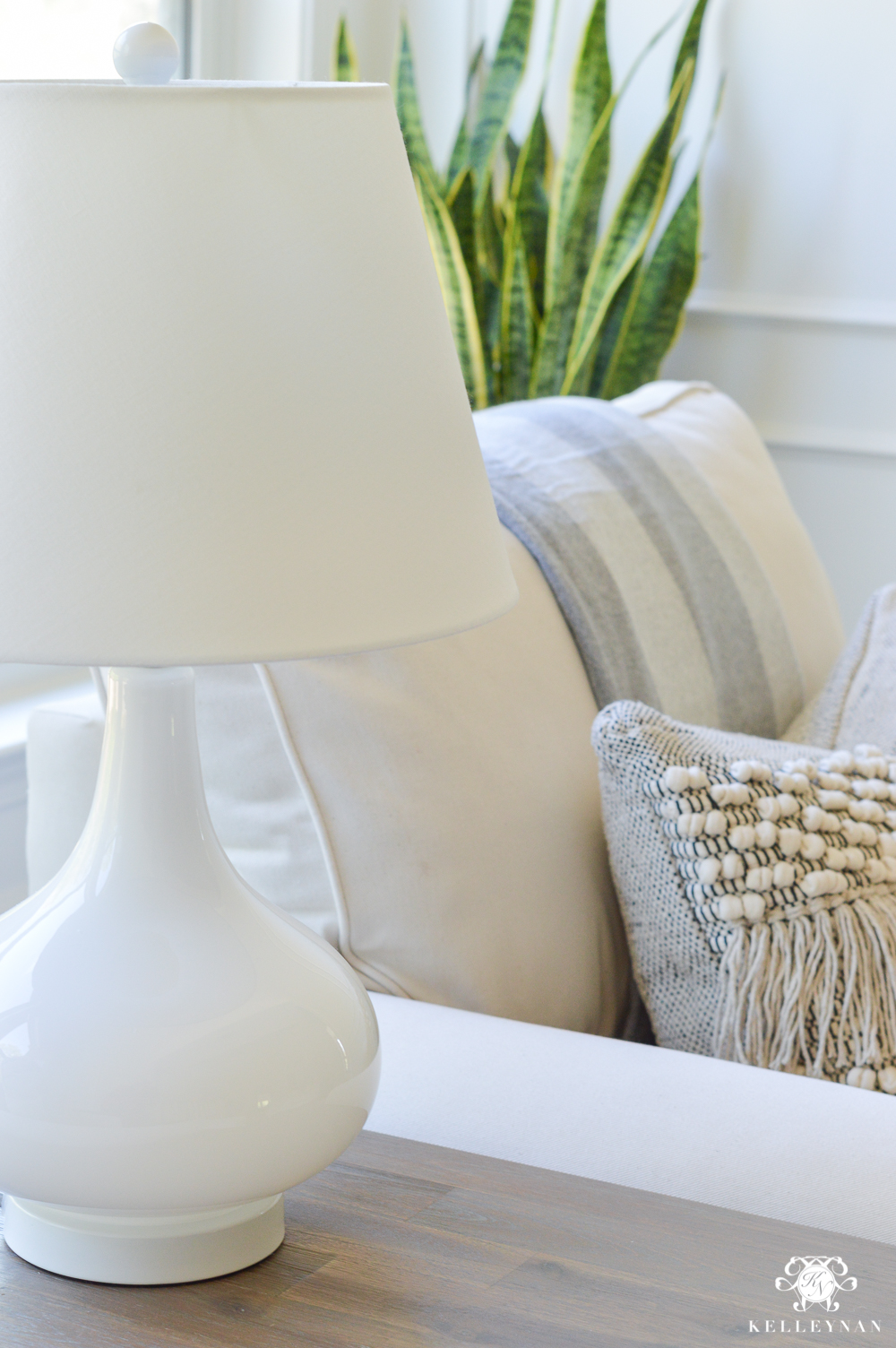 Speaking of tables, this one is the real deal. It actually shipped via freight in two different pieces- the base as one parcel and the top as another. The base is made of steel and the top is heavy,  solid acacia wood. I feel like if I were going to dance on a table, this would be the one! haha The finish is what has me celebrating with myself the most though; it goes with my RH metal dresser perfectly. It's one of those finishes that you can't really tell if it's brass or bronze or pewter or… it basically goes with it all and ties it all together. Yes!!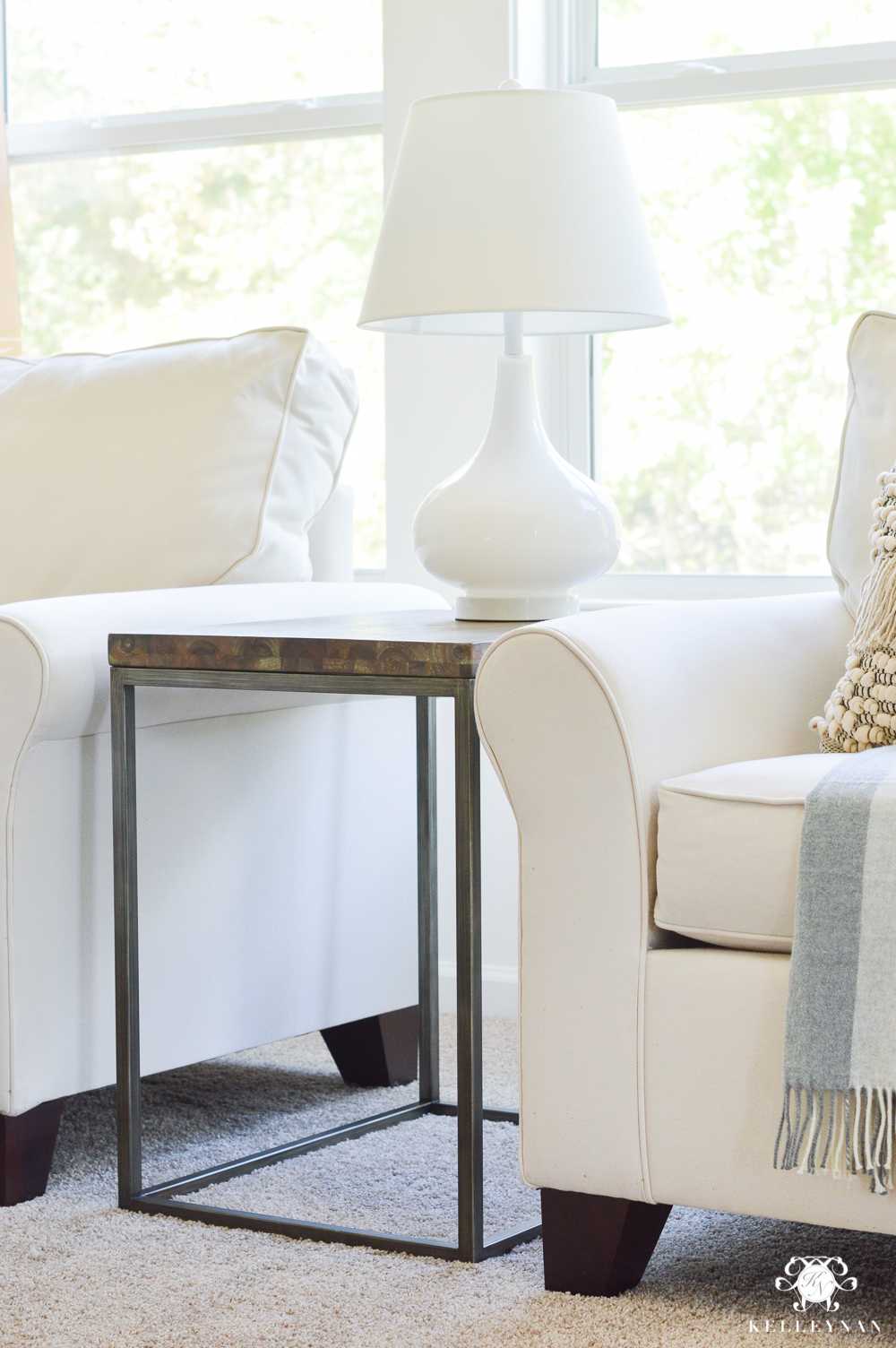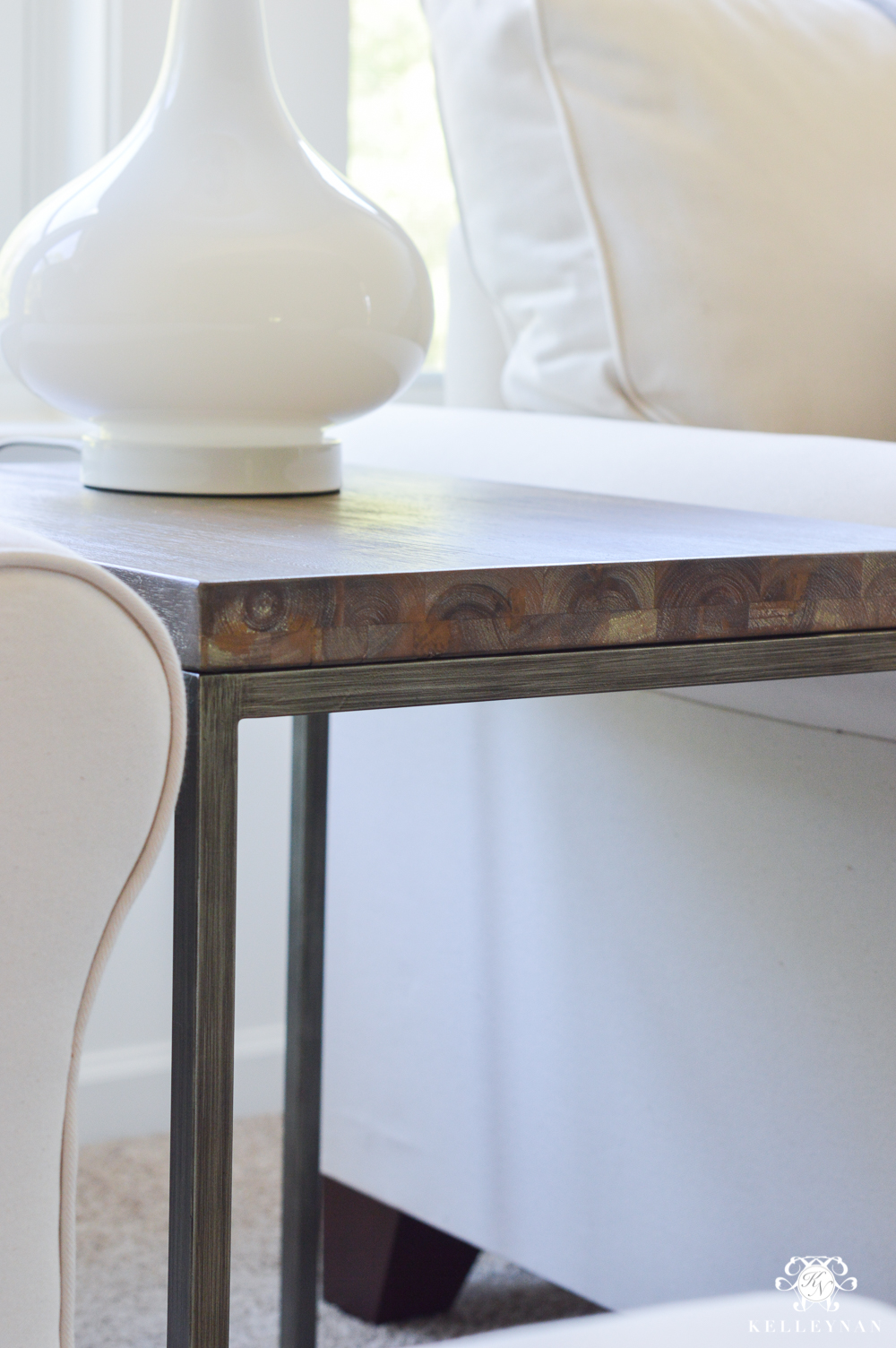 Because I was stuck and can't make shipments show up, I took myself out of the house today and did something I could control. I headed to Home Depot and picked myself up a new snake plant. It was a small thing but anything to shake up the stagnancy is a win for me this week. Ok, I also took myself to HomeGoods and picked up that gray striped throw 😉 (double win)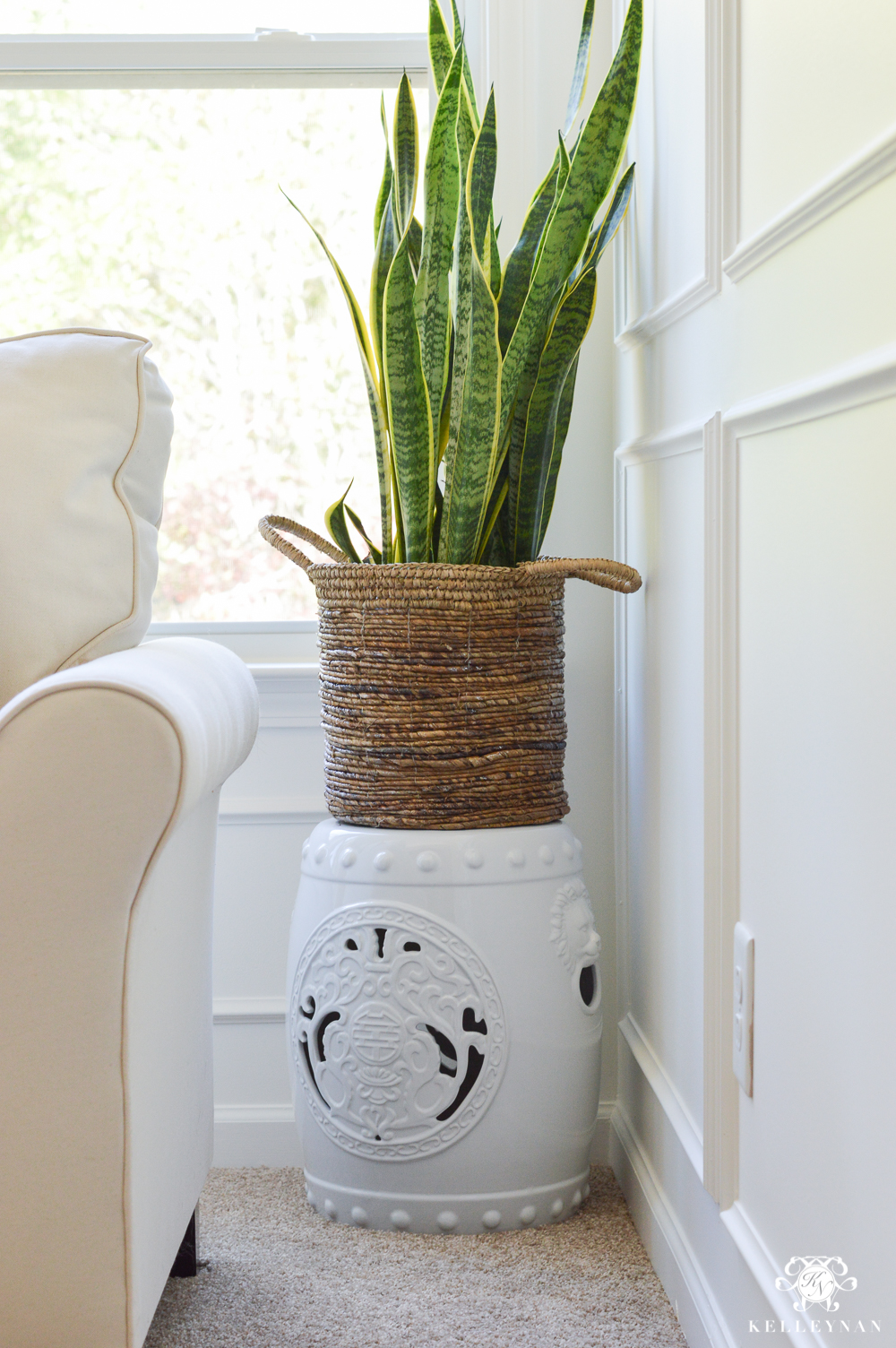 If you step back from this corner that looks like it's coming together, you will see the true state of the little nook.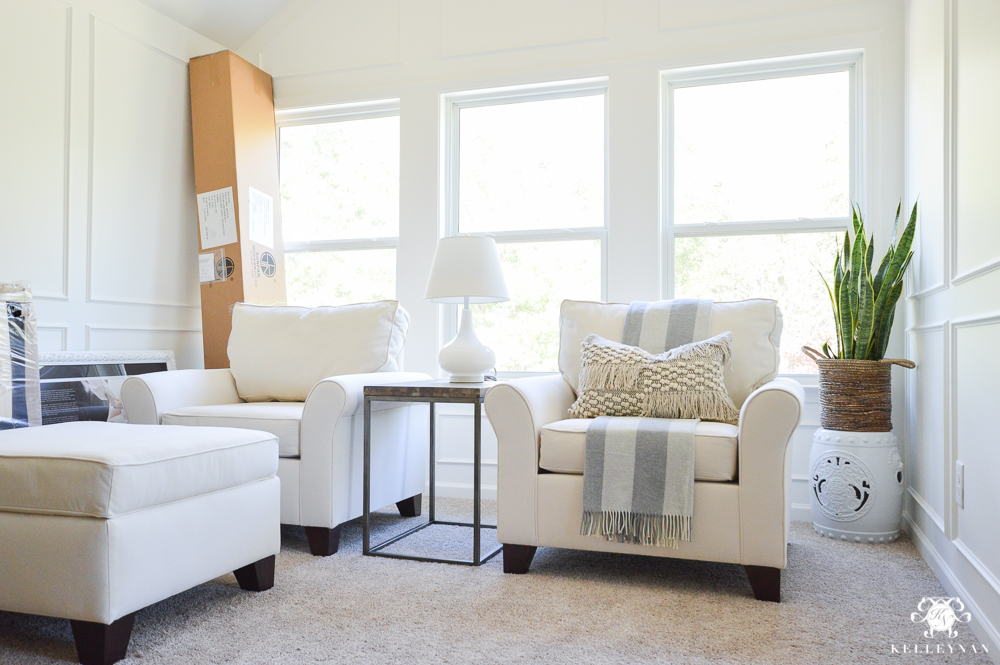 My woven shades are also on their way! I went with something much lighter (the Bali White from Select Blinds) so I'm anxious to see how they will turn out. I went with the cordless again – that call on our last set of shades in the guest bedroom was huge! Fingers crossed but I just may have those installed before we head out of town next week.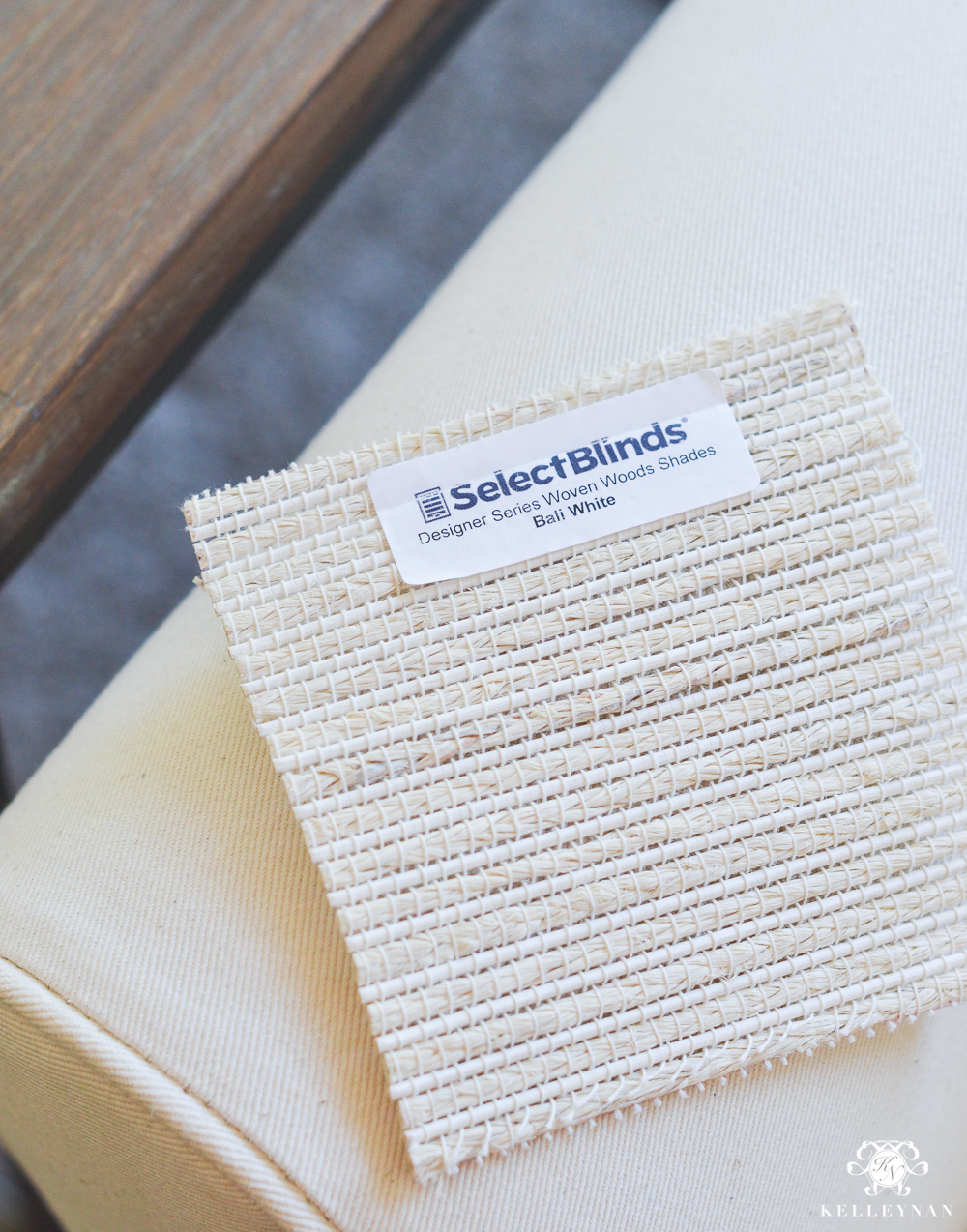 Unless you tune into my Insta-stories, you probably haven't heard about the bedding selection. Well, it arrived today and even though I could have gone with something totally different, I actually got pieces I already have in other parts of our house. That's how much I love it haha. I went with the Belgian Flax Linen Duvet Cover in White (HERE) and the Belgian Flax Linen Diamond Quilt in Flagstone (HERE).
Full disclosure, I was able to snap a quick shot of my camera shy little guy, enjoying "his new spot"…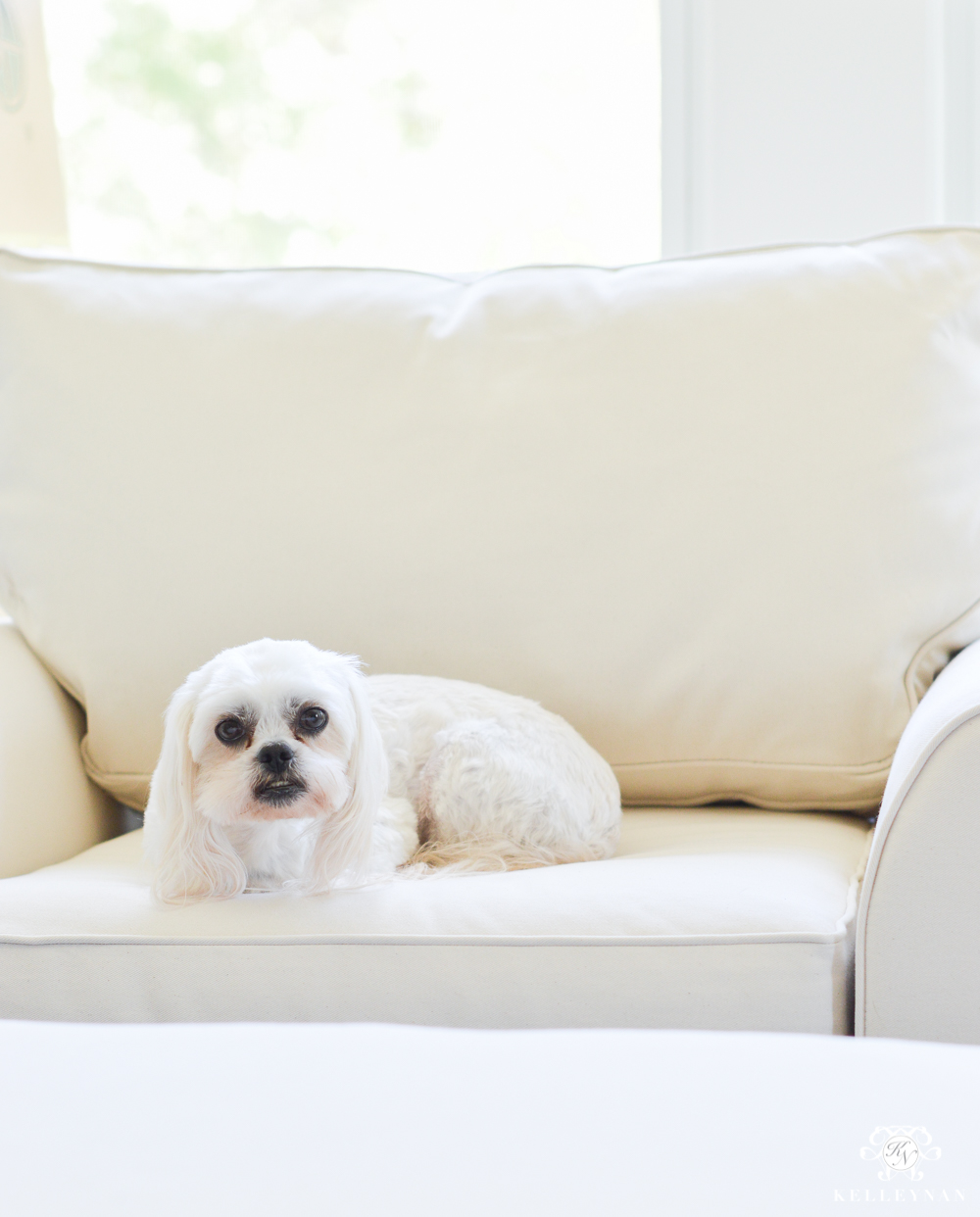 but then Maggie was a little jealous of the attention. Basically, it quickly turned into a mini puppy photo shoot.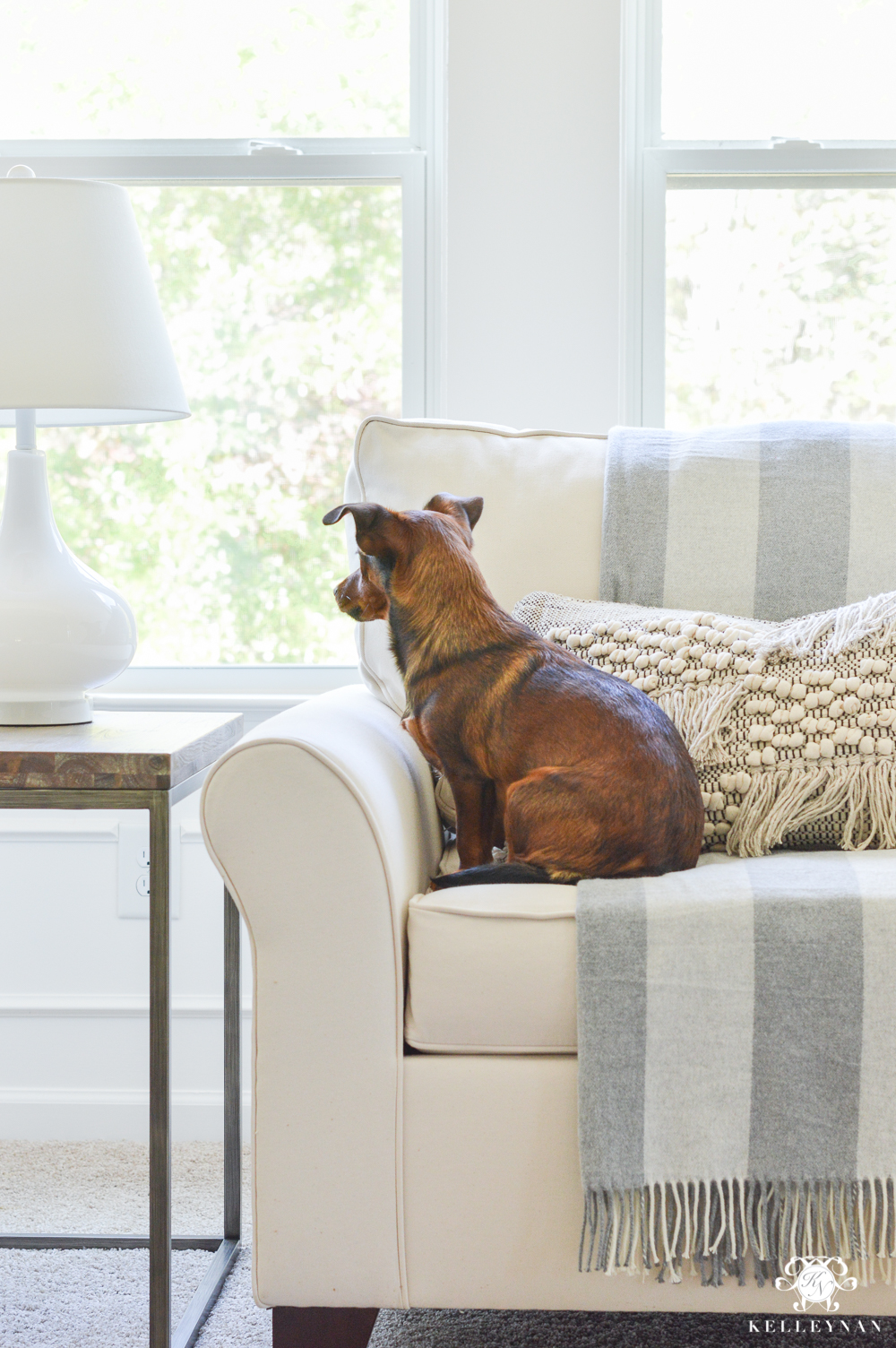 This has nothing to do with my progress but everything to do with how obsessed I am with my children haha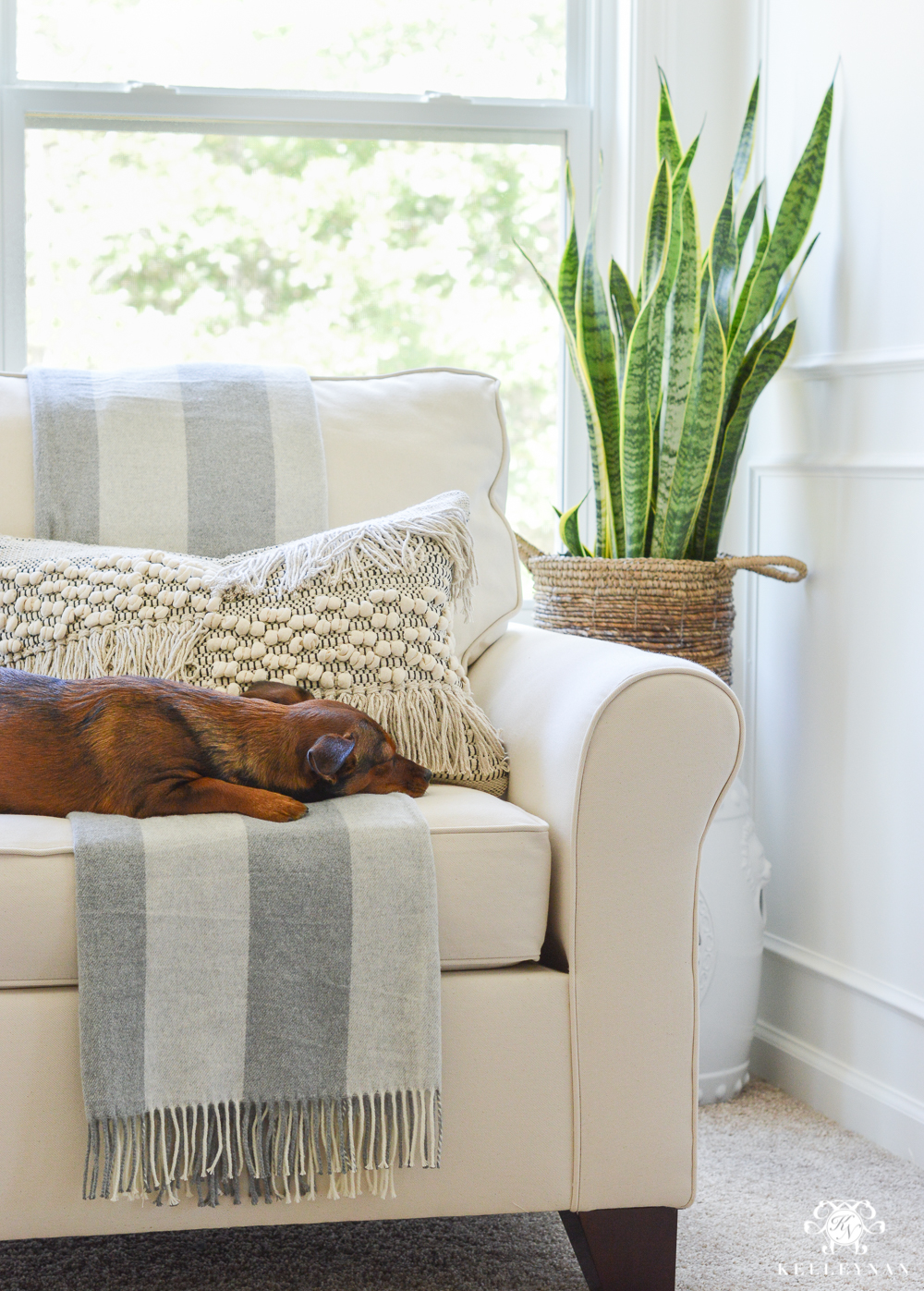 If you're still with me, let's recap quickly as to what still needs to happen:
Install window shades
Install rugs
Assemble bed
Assemble and hang chandelier
Receive, assemble, and install nightstands
Hang art
Have vows re-framed
Plan, order, and install barn door (project after the completion of the ORC)
Come up with plan to disguise dog bed/toys
Come up with plan to hide fan
Source and install accessories
Steam bedding
Hide all lamp and electronic cords
We are so getting there, y'all. Hang with me and I'll see you back same time, same place for next week's date. To get the latest updates each week, you can sign up for my emails at the bottom of this post.
A HUGE thank you to my room sponsors,  all of whom I believe in and none whom without I could pull off this transformation!
The Mine, Tonic Living | Minted | Pottery Barn | Select Blinds | Metrie | Wayfair 
See the final reveal HERE.
Be sure to check out the other participating bloggers and their project progress on the link-up page HERE. Here is where I am on the new furnishings I am planning.


NOTE: There are a LOT of discounts happening right now! Check the codes with each retailer.