I was THISCLOSE to not publishing stocking stuffers this year; it's one of my favorite gift idea posts since crunchtime is on the horizon, I considered skipping this year. Until… I had a handful of readers reach out and ask when I would be sharing some ideas. (<3 you guys!) So, I decided to pull together some of my personal recent purchases, favorite finds, proven hits, and a few sales/wishlist items I stumbled upon in my search. I finally finished my own shopping and am down to a few final stocking stuffers for Dave – here's to getting it done and enjoying the last couple of weeks leading up to Christmas!
*Posts on KelleyNan.com may contain affiliate links. Click HERE for full disclosure.*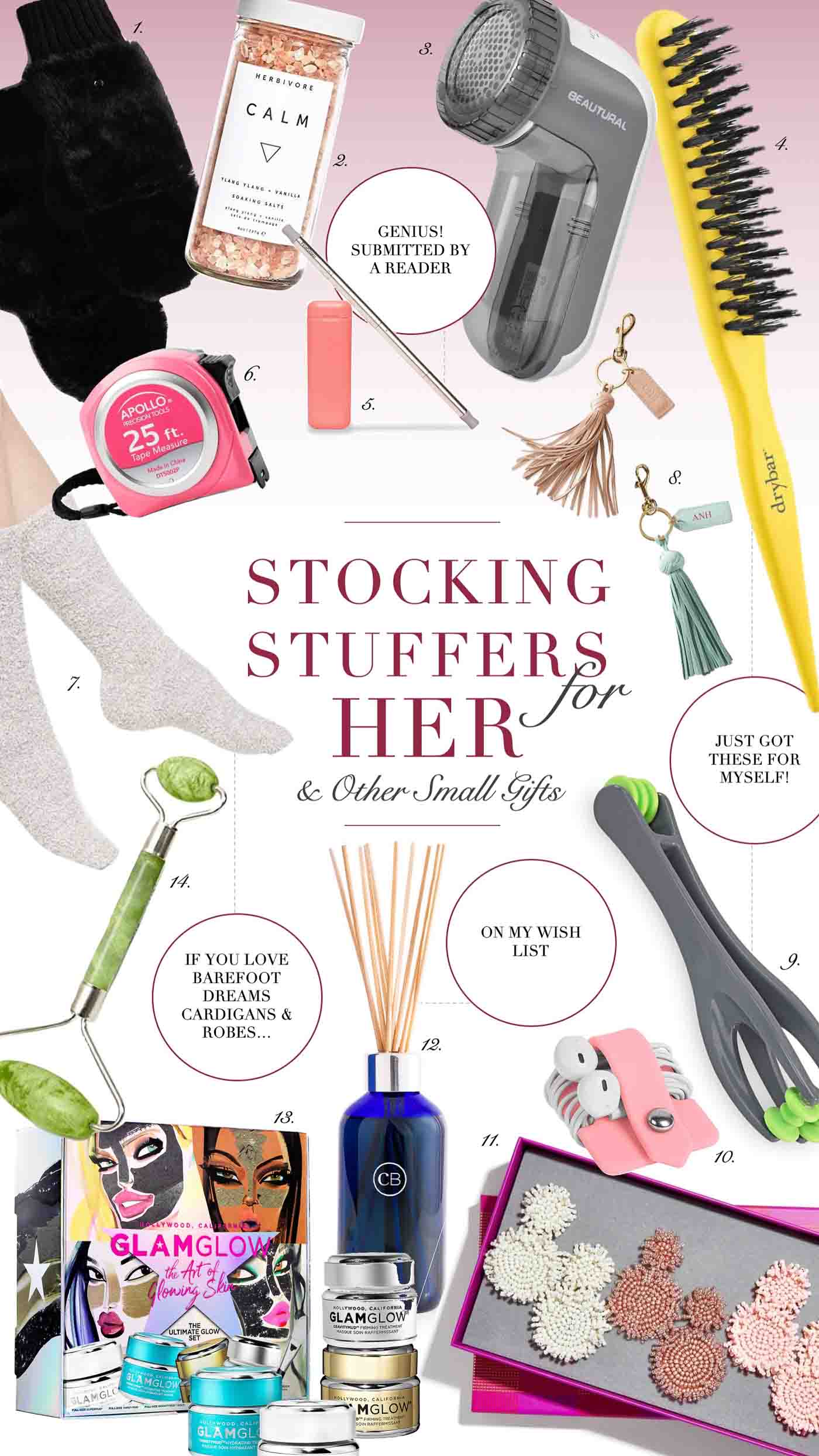 1. Faux Fur Convertible Gloves // 2. Herbivore Soaking Salts // 3. Lint/Fabric Pill Shaver // 4. Teasing Brush // 5. Final Straw Retractable Pocket Straw // 6. Purse Tape Measure // 7. Cozy Barefoot Dreams Socks // 8. Monogram Tassel Keychains // 9. Finger Massager // 10. Earbud Cord Organizer // 11. Baublebar Earring Set // 12. Capri Blue Volcano Diffuser // 13. Glam Glow Mask Set // 14. Jade Roller
I picked up THESE MITTENS earlier this month and love that the finger portion can flip back if you need to type on your phone. They come in a couple colors and are on sale for 40% off (under $10) right now. I swear by Herbivore's moisturizer and have expanded and am sampling some of their other products, but have never tried their BATH SALTS. More than sweaters, I love using my LINT SHAVER on furniture fabrics that tend to pill; while our new sofas haven't produced lint, it was  my saving grace with our last sectional.  After using little combs that I could never get quite right when it came to teasing my roots, I recently sprung for this TEASING BRUSH – I can't tell you how much of a game changer it has been! Someone on Instagram actually shared that their stocking stuffer of the year was THIS RETRACTABLE STRAW – with so many restaurants no longer carrying straws, this is the perfect solution! If you're shopping for someone who is always on the lookout for home furnishings/art/etc., a SMALL TAPE MEASURE that can be kept in a purse will definitely be appreciated. I'm dying to try THESE Barefoot Dreams socks– if you have experienced their cardigans/wraps/blankets, you can understand why.  After getting myself a new tasseled monogram keychain, I decided to grab one as a gift for someone else on my list in a similar style. I can't say who (she may be reading!) but I'm excited for her to open up THIS keychain. It's on sale as today's gift of the day, plus you get free shipping with code GIFTNOW (a way better deal than I got haha).  Another recent discovery that I've become addicted to is THIS finger massager. After texting/typing for a while, I can't explain the satisfaction I get from using this thing.  Right now, you can grab THIS Baublebar Earring Set for a crazy sale price – $54 (down from $126) with code JOLLY.  I have asked for THIS volcano diffuser from Dave so I can get my fav scent beyond when I'm burning the candle. It's on sale for 30% off right now!
---

---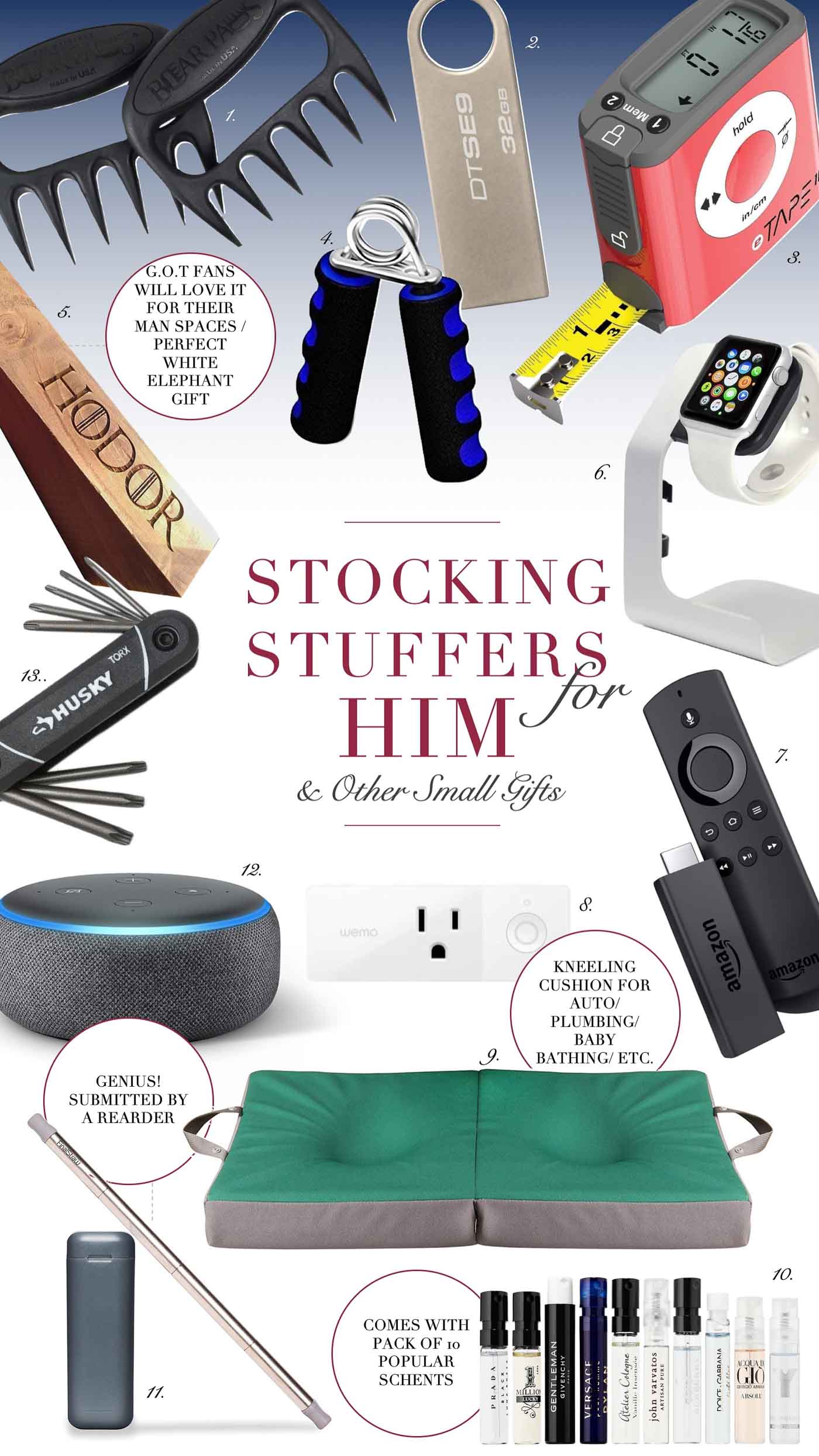 1. Bear Claws Meat Shredders // 2. Keychain Flash Drive // 3. Digital Tape Measure // 4. Hand Grip // 5. Game of Thrones Hodor Door Stop // 6. Apple Watch Charger Stand // 7. Amazon Fire Stick // 8. Wemo Smart Outlet // 9. Folding Kneeling Cushion // 10. Cologne Sampler Set // 11. Final Straw Retractable Pocket Straw // 12. Amazon Echo Dot // 13. Folding Hex Key Set 
If you are shopping for someone who loves to grill/smoke meat (think briskets and pork), THESE Bear Claws Meat Shredders are awesome- Dave loves his ;)/Speaking of Dave, his Keychain Flash Drive is around $5 and he uses it all the time from office to home. Whether it's for a man cave, office, closet or a white elephant gift, there isn't a GOT fan out there who wouldn't think THIS Hodor Door Stop was awesome.  I love my Apple watch – but I despise the dinky charger. This Apple Watch Charger Stand is under $10. This is an especially good add-on if you are also gifting an Apple watch. At this point, we have THESE in all our TVs (we went cable-free this past year, use Hulu Live (in addition to Netflix and Prime) and haven't missed it at all; we also have THESE throughout our house and use them daily. Dave even has one in his office. We use it for music, alarms, questions, syncing home audio, etc. Right now, you can grab Echo Dots for 1/2 off and under $20! A new addition this Christmas in our home were these Wemo Smart Outlets. We have our hard to reach Christmas light cords plugged into them and we're able to turn them on and off through a simple app on our phone instead of pulling furniture away from walls. Not only am I getting one of THESE for Dave, but I want one for myself haha. If you clean on your knees, find yourself on the floor organizing, getting under cabinets, bathing children, etc., THIS kneeling mat is such an awesome, portable gift! I love the idea of gifting an entire Cologne Sampler Set so the person on your list can experiment to see which scents they may want to commit to in a full bottle. These are also perfect to stash in the car/gym bag/travel dopp kits, too. There are 10 popular scents included. Just like in the ladies stocking stuff gift guide, I had to share THIS RETRACTABLE STRAW. Someone on Instagram actually shared that their stocking stuffer of the year, with so many restaurants no longer carrying straws – this is the perfect solution! Dave has used this Folding Hex Key Set more than I ever thought he would. If the guy on your list doesn't have one, he needs one!
---

---
A Few Other Stocking Stuffer Ideas
---

---
UPDATED 12/15: Anthropologie is having a rare 30% off everything sale so I went ahead and grabbed a few things I've had on my list. YOU CAN SHOP THE FULL SITE HERE. This mirror made the cut for our powder room; while the room is still on hold, it was too good of a deal not to go ahead and order it. It's far less expensive that its popular counterpart you may have seen 😉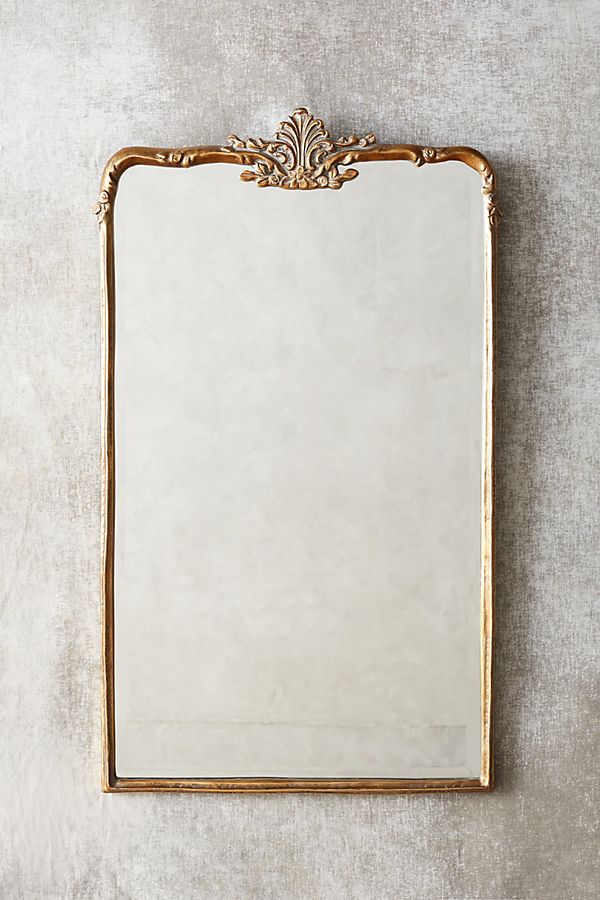 I also ordered several of these Volcano reed diffusers that I included in the guide above.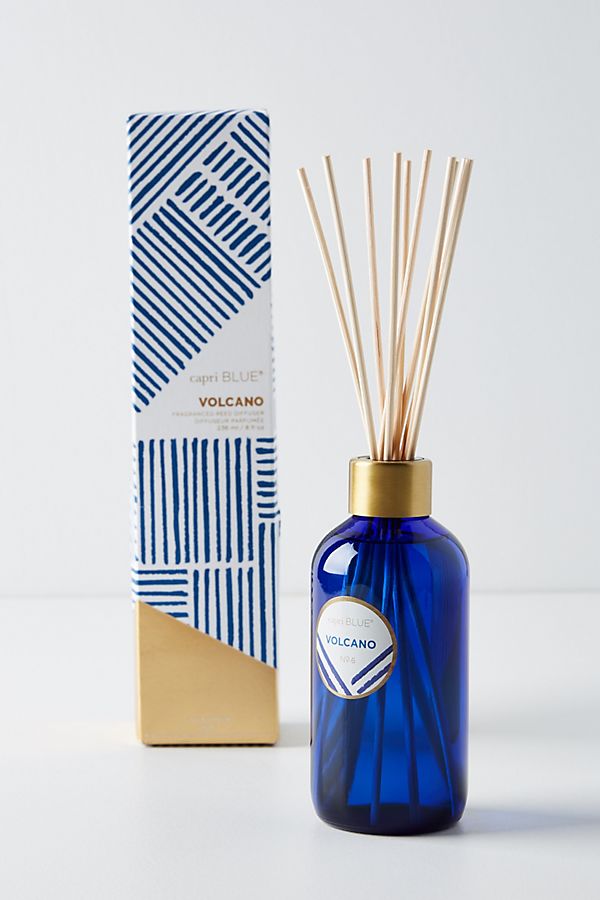 Two of my FAVORITE gift ideas I've talked about a few times this year are a fantastic deal- this fish bottle opener…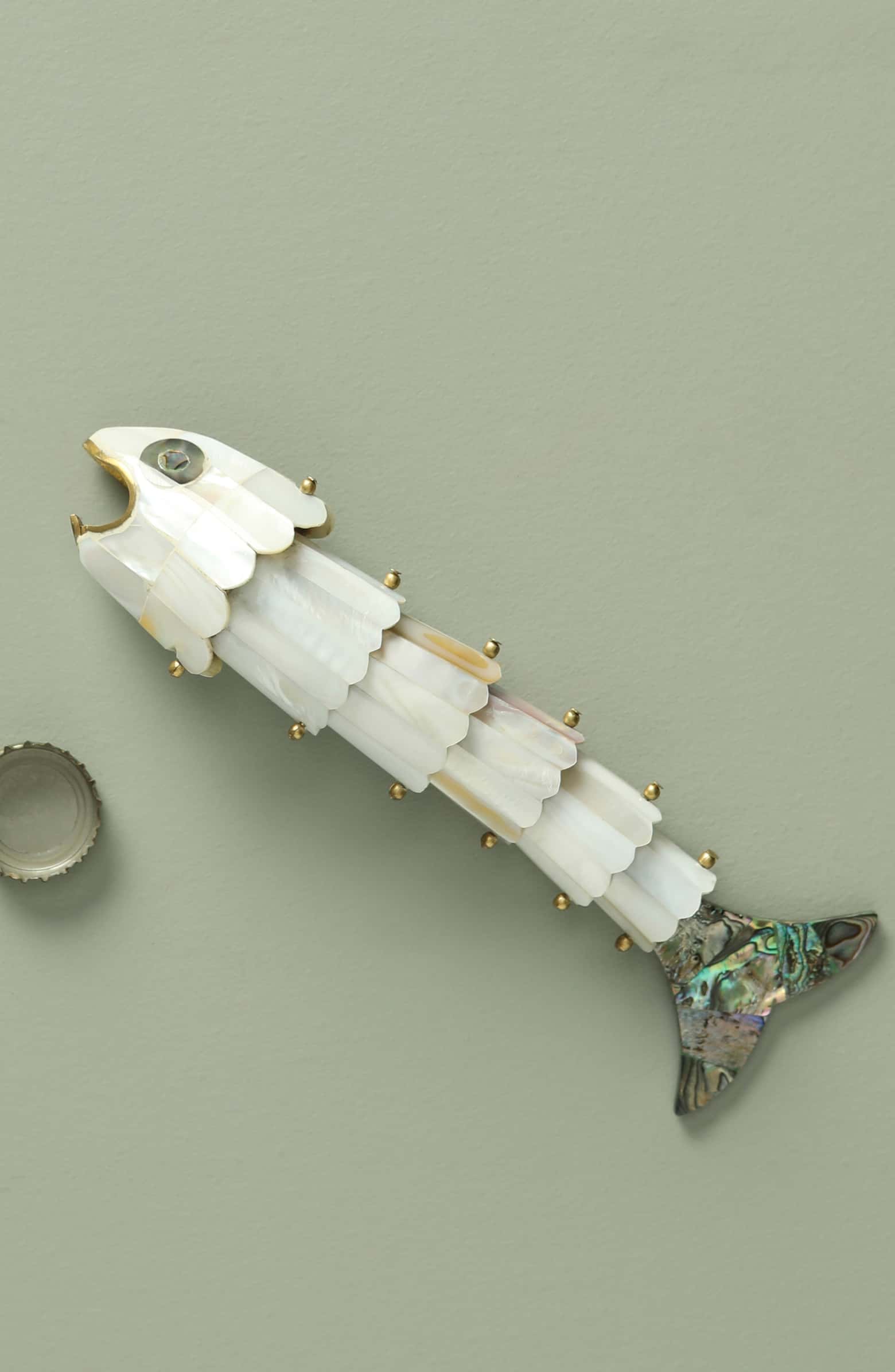 and these adorable cheese markers. You could even stock up on a few of these to keep on hand for hostess gifts/teacher gifts/birthday gifts.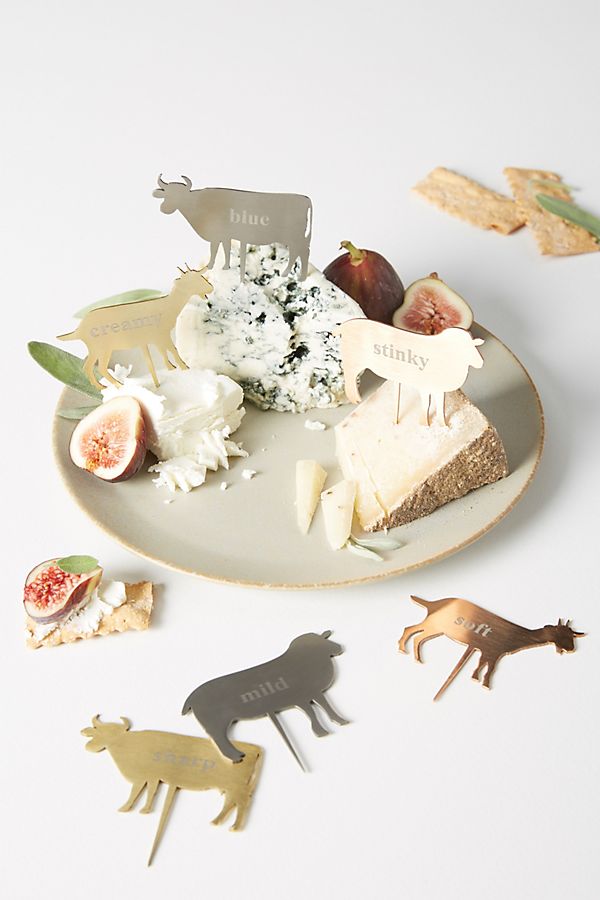 For more Christmas gift ideas, decorating ideas, and general festiveness, visit the two Holiday tabs in the menu at the top of the screen.
Lastly, I have one of these square pillows in white- it sold out quickly when I purchased it earlier this year but remains one of my favs.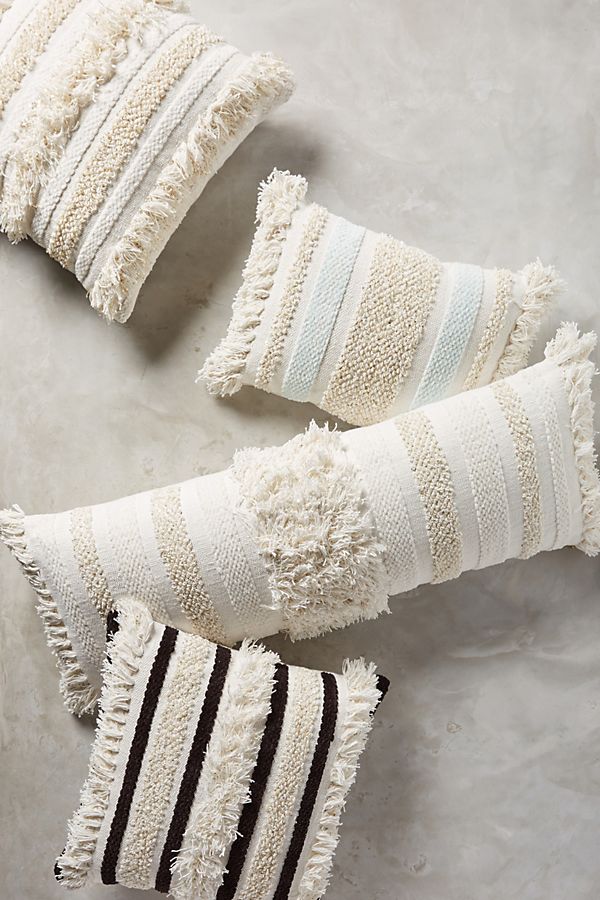 There are a TON of good deals and I scooped up quite a bit – I'll be sharing some of those soon! Shop the entire site at 30% off HERE.